Disclaimer: This page may contain affiliate links. Please review our full Terms and Conditions for more information and our Privacy Policy. Note that any pricing, operating hours, or other such information provided below may have changed since initial publication.
Compiled by the Road Trip Alberta team
Updated on February 6, 2023
Jasper's remote position in Alberta is precisely what makes it so appealing. It may not have the splash of its southerly counter-town of Banff, but it has no less beauty. And for those people from Calgary who have spent a lot of time in Banff – who wouldn't…it's gorgeous and so close by – they may want to try something different.
This post on how to get from Calgary to Jasper is for them, or for visitors who may have landed at Alberta's busiest international airport and want to figure out how to get to this jewel of the Canadian Rockies.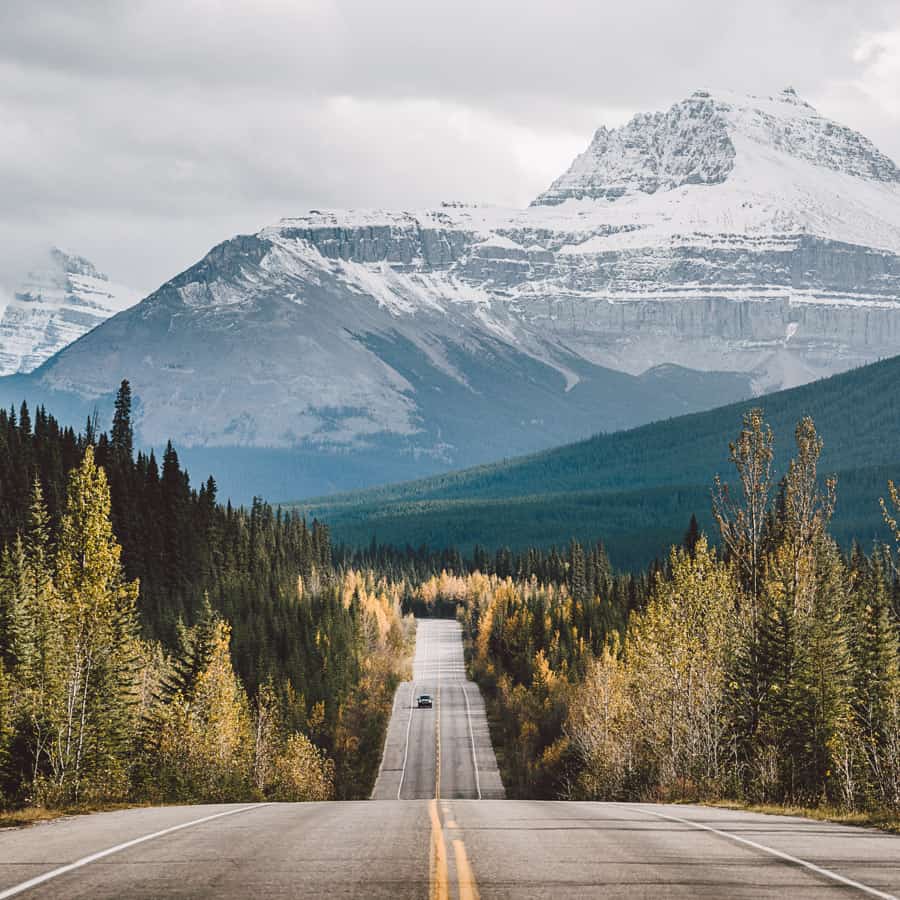 It's a bit of a haul, but worth every minute spent on the highway. Not only are there so many great things to do in Jasper, but the scenery along the jaunt there is also sensational. (If you're looking for a quick trip, we have an excellent itinerary for how to spend three days in Jasper.)
Calgary to Jasper Map
About the route
There are several options for this journey, but lucky for you, the quickest one also happens to be the most scenic. Before you decide on which way to go, however, be sure to check current road conditions. Highway 93 – the road that connects Banff to Jasper – commonly closes during winter because of unsafe conditions.
Note that in the winter months, winter tires or chains are mandatory to travel on Highway 93 due to avalanches and dangerous road conditions. It may be safer to have someone else get behind the wheel for this trip if you're not used to driving Alberta roads in winter. If the roads are clear, however, we highly recommend making the drive yourself so that you can enjoy all the stunning stops along the way.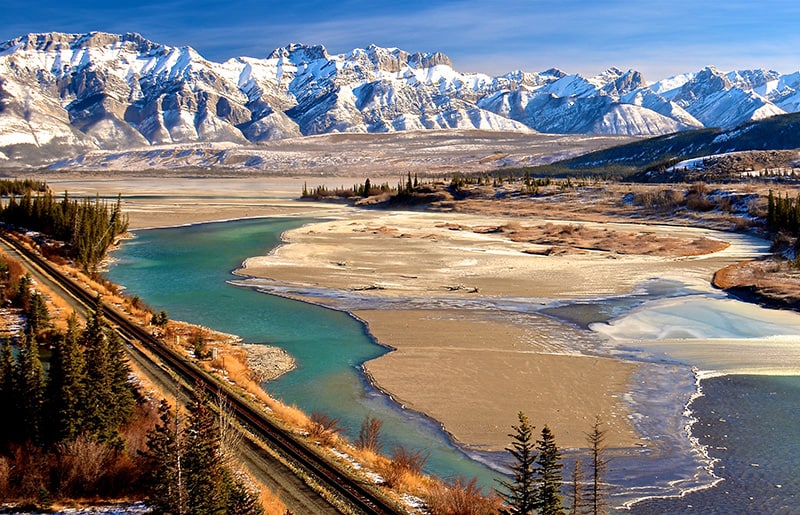 The Fastest (and Most Scenic) Route
The fastest route from Calgary to Jasper is 413 km or approximately 5 hours without stopping. Budget for more time as there will be plenty of photo stops along the way. You'll leave Calgary heading westbound on Highway 1, and then onto Highway 93 (the Icefields Parkway) northbound to Jasper.
Timing will certainly depend on traffic, weather conditions, and potential delays because of summer road construction. A park pass (see below) will be required to travel this route.
Alternate Scenic Route
Our alternative scenic route will take you through David Thompson Country. If you've done that first drive above several times, then you may want to switch things up a bit. For a slightly longer route, take Highway 2 north toward Red Deer. From there, take Highway 11 westbound until that road ends at Highway 93. Turning right, and heading northbound will take you right to Jasper.
In total, this 560 km route will take you around six hours. This is an excellent route to get beautiful mountain views inside of David Thompson Country including driving beside Abraham Lake, it's a little off the normal tourist trail.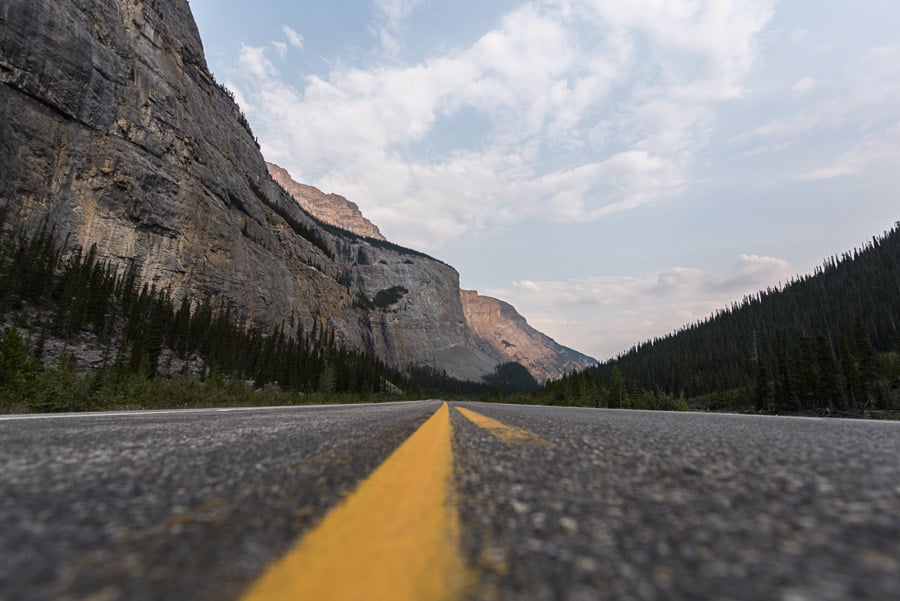 The Longest Route
If visiting Edmonton is on your to-do list, or Highway 93 is closed due to avalanches then this is the option for you. Take Highway 2 north from Calgary all the way to Edmonton, and then get on Highway 16 westbound until you reach Jasper.
If you drive this entire route non-stop from Calgary to Jasper it will take you a total of around 7 hours (665 km).
National Park Passes
Important: Note that a Parks Canada pass is required for driving the Icefields Parkway and for visiting Banff and Jasper National Parks.
Effective January 1, 2023 daily fees are:
Adult: $10.50
Senior: $9.00
Youth (up to 17 yo): FREE
Family/group (up to 7 people): $21.00
Commercial group (per person): $9.00
The daily passes expire at 4 pm the following day. If you're looking to enter multiple times or staying longer, consider the Parks Canada Discovery Pass. It gives you unlimited admission for a year to all the national parks in Canada.
Discovery Pass fees are as follows:
Adult: $72.25
Senior: $61.75
Family/group: $145.25
Driving the fastest route, you will need to buy the pass before reaching Banff (it is required for stopping anywhere in Banff or Jasper National Park, and for driving the Icefields Parkway). Along the alternate scenic route, there is a park gate to purchase a pass, but it is only open in summer. You can, however, purchase your pass online. If driving the longest route, there is a park gate near Jasper that is open year-round.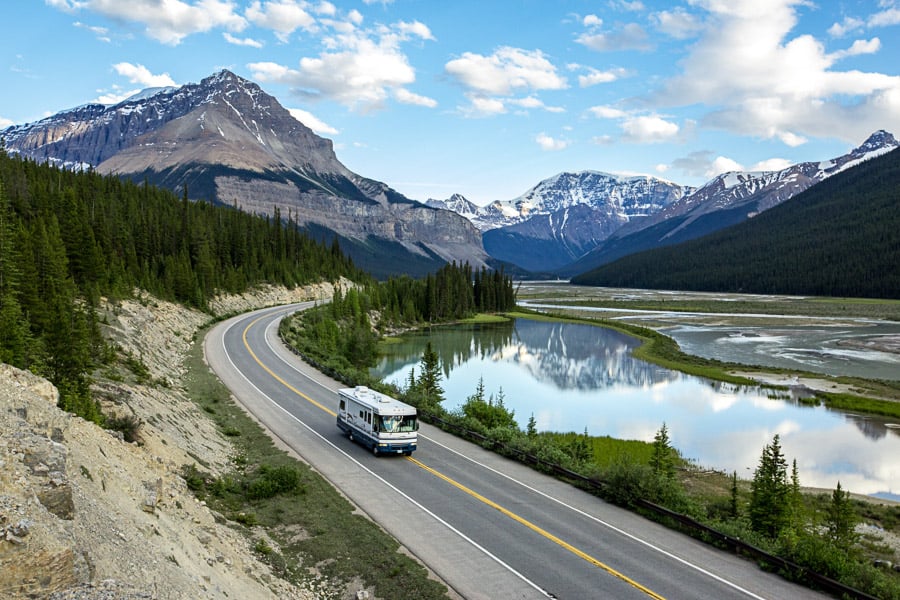 Calgary to Jasper by Car
The drive to Jasper is scenic and full of surprising sights, making it the perfect route for a road trip. Travelling by car will give you countless photography opportunities. It is also extremely easy to get a car rental at the Calgary airport.
We recommend that you book in advance to ensure less hassle. Use RentalCars.com, to select the cheapest rate or to book with whichever company you prefer.
If you are not interested in a traditional car rental through an agency, you can also rent cars through a website called Turo (think Airbnb for car rentals).
Just arrived in Calgary and need a hotel?
If you are not in a rush, or want to spend an extra night in Calgary because you arrive late, there are plenty of hotels in the area. Those right onsite at the airport tend to be more expensive, so we prefer these options:
Hotel Clique is a super chic and affordable hotel that has free parking, free WiFi, and a great restaurant onsite. It is a quick shuttle ride from the airport, and we have stayed here several times when we have an early flight out of Calgary. Bonus: it has two rooftop pools!
The Four Points by Sheraton is on the west side of the city, just off of Highway 1, and will ensure you get a jump on your drive the next day. Parking and WiFi are both free.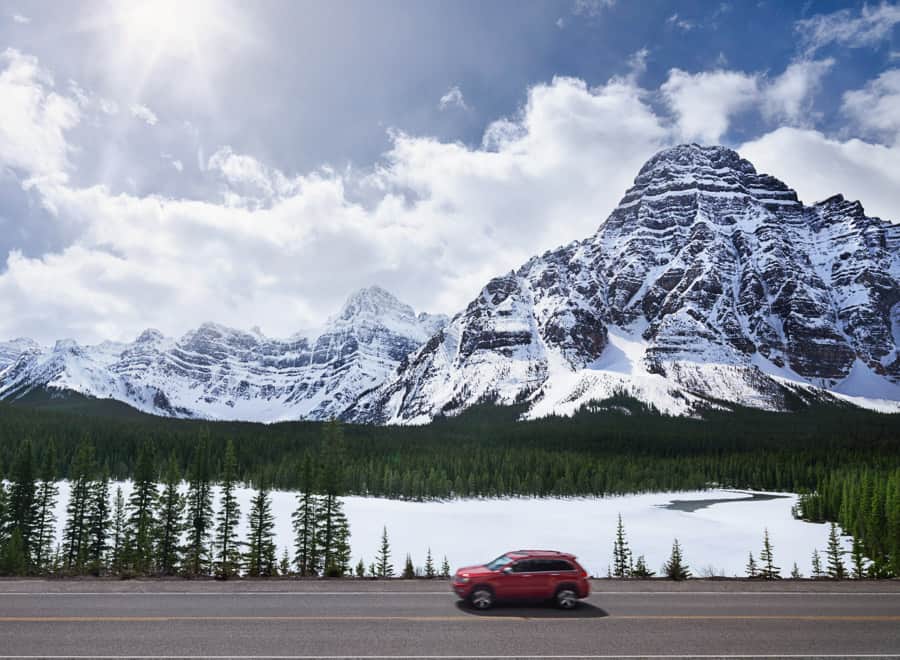 Calgary to Jasper by Bus
The only bus service covering this route is via Sundog Tours. But because it is such a long ride, there aren't that many departure times. The cost of a one-way ticket is around $124 at the time of publishing.
Calgary to Jasper by Private Transfer
It is possible to find private transportation that will take you from Calgary to Jasper. For example, this SUV to travel in style, or a sedan for those travelling alone.
Be aware, these options are expensive – driving such a long way in a private vehicle does add up. Note that out of the three options mentioned above, the cheapest is approximately $1,300 for the journey.
Calgary to Jasper by Train
It is possible to travel from Calgary to Jasper by train for some portion of the journey. The two options are by Via Rail and the Rocky Mountaineer and neither is direct. Via Rail only travels from Edmonton to Jasper, there is no link to Calgary. The Rocky Mountaineer starts its journey from Banff and goes to Vancouver and then onward from Vancouver to Jasper.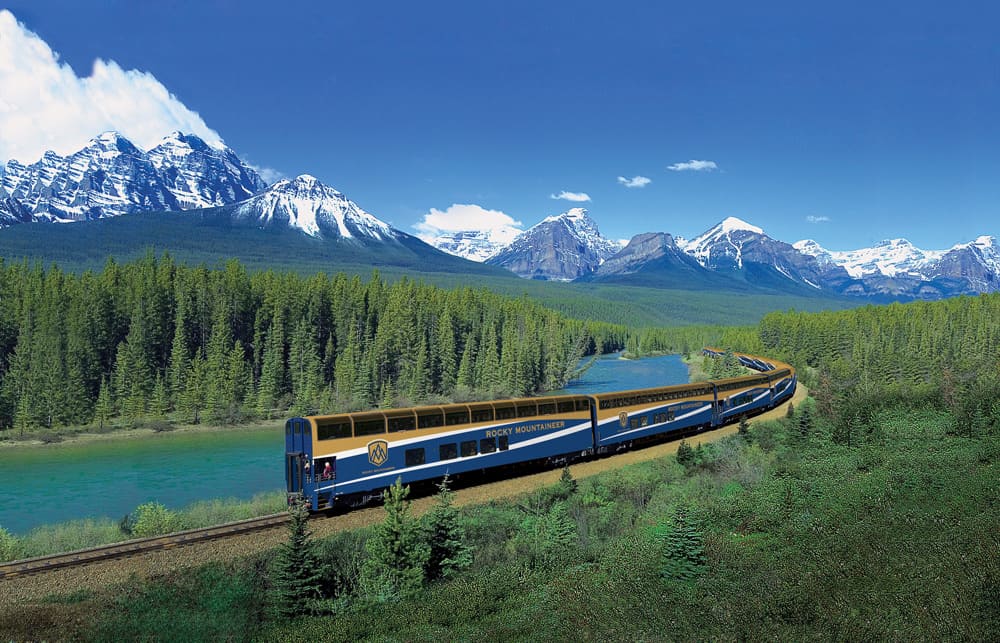 Calgary to Jasper by Air
There is no international or domestic airport in Jasper. The closest airports to Jasper are Calgary International Airport (YYC) and Edmonton International Airport (YEG).
Calgary to Jasper by Other Options
There are, of course, a large number of taxi and Uber options in Calgary, but convincing one of them to do this long of a drive may be a nearly impossible task. However, Poparide.com might have something for you. These are people who are already travelling to Jasper and are looking for people to fill up their car and help out with the cost.
Poparide charges per seat so you have an opportunity to meet other visitors. At the moment of writing this guide, there was one person offering one seat for $62.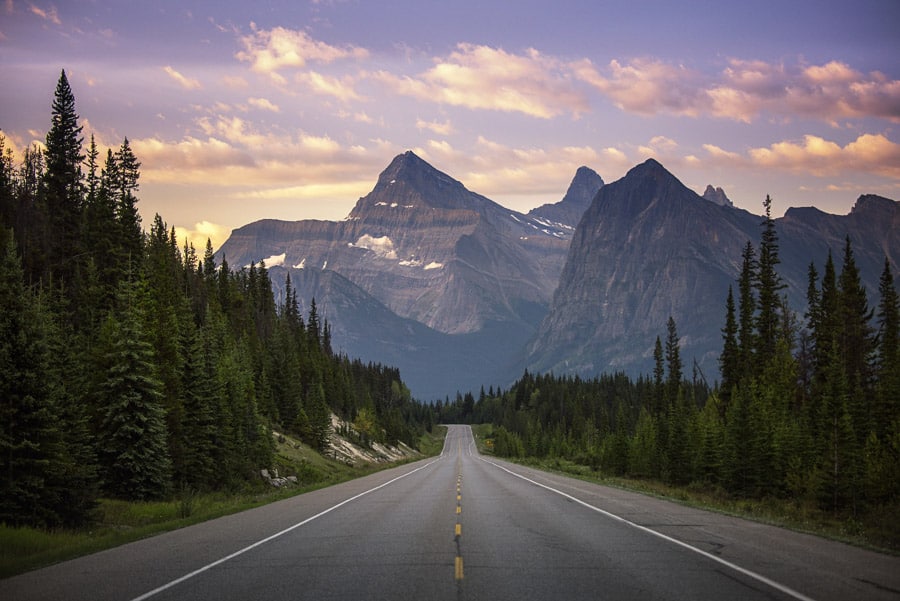 Fun Things to Do Along the Way from Calgary to Jasper
Be prepared to be overwhelmed with too many cool things to do, no matter what route you choose to get from Calgary to Jasper. You will be driving through the most beautiful part of Alberta, so if you have the time, consider making the trip over at least two days, even (or especially!) along the fastest route.
The Fastest Route – Things To Do
Yamnuska Wolfdog Sanctuary
Located on the way to Banff off of Highway 1A, the Yamnuska Wolfdog Sanctuary is a fantastic place to visit. If you have seen any of our other guides you already know that we love the place and recommend it every chance we get. It is one of the only sanctuaries in Canada to pair successful rehabilitation and re-homing of wolfdogs with public education. There are two tours that you can enjoy if you only have a few hours.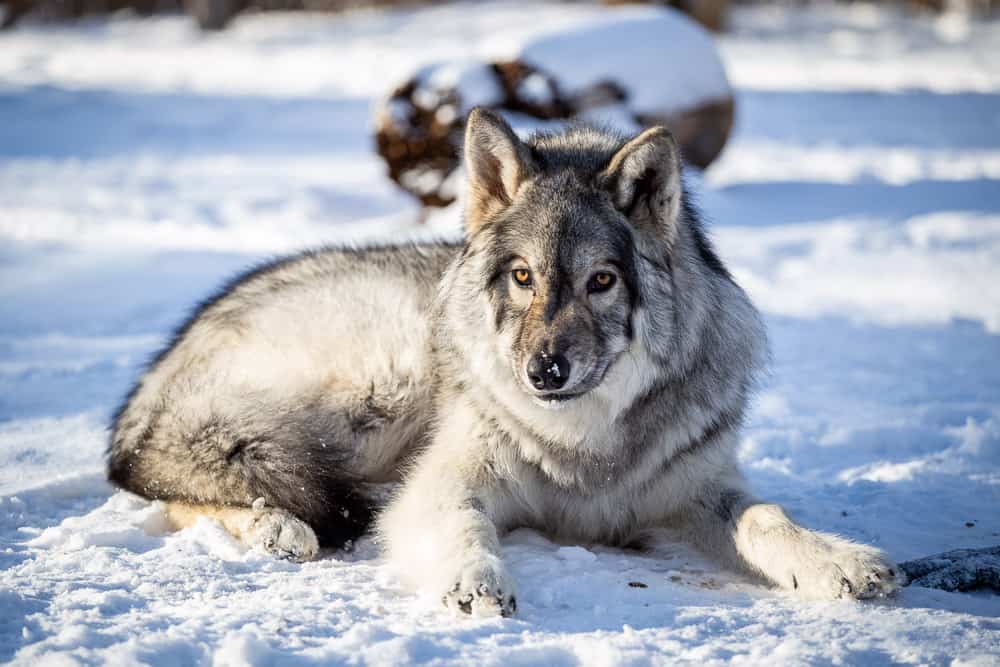 Visit Canmore
You can't just drive by the whole town of Canmore without a stop! This is a great place to grab something to eat. This is also a great place to enjoy a first taste of the Rockies by marvelling at the famous Three Sisters mountains. Read our complete guide of things to do in Canmore to find the right option for you.
Vermillion Lakes
Another great place to stop by to stretch your legs is the Vermillion Lakes, about 2km west of Banff. In it, you get to go on a 2km walk look where you can enjoy views of Mount Rundle as it towers over the lakes.
Lake Louise
If you don't have time for anything else, we recommend that you make it a priority to stop by Lake Louise. This just might be your most memorable stop along the way. Admire the beautiful, impossibly blue lake and the mountains towering above. The top activities are going up the Lake Louise Gondola or going on a hike.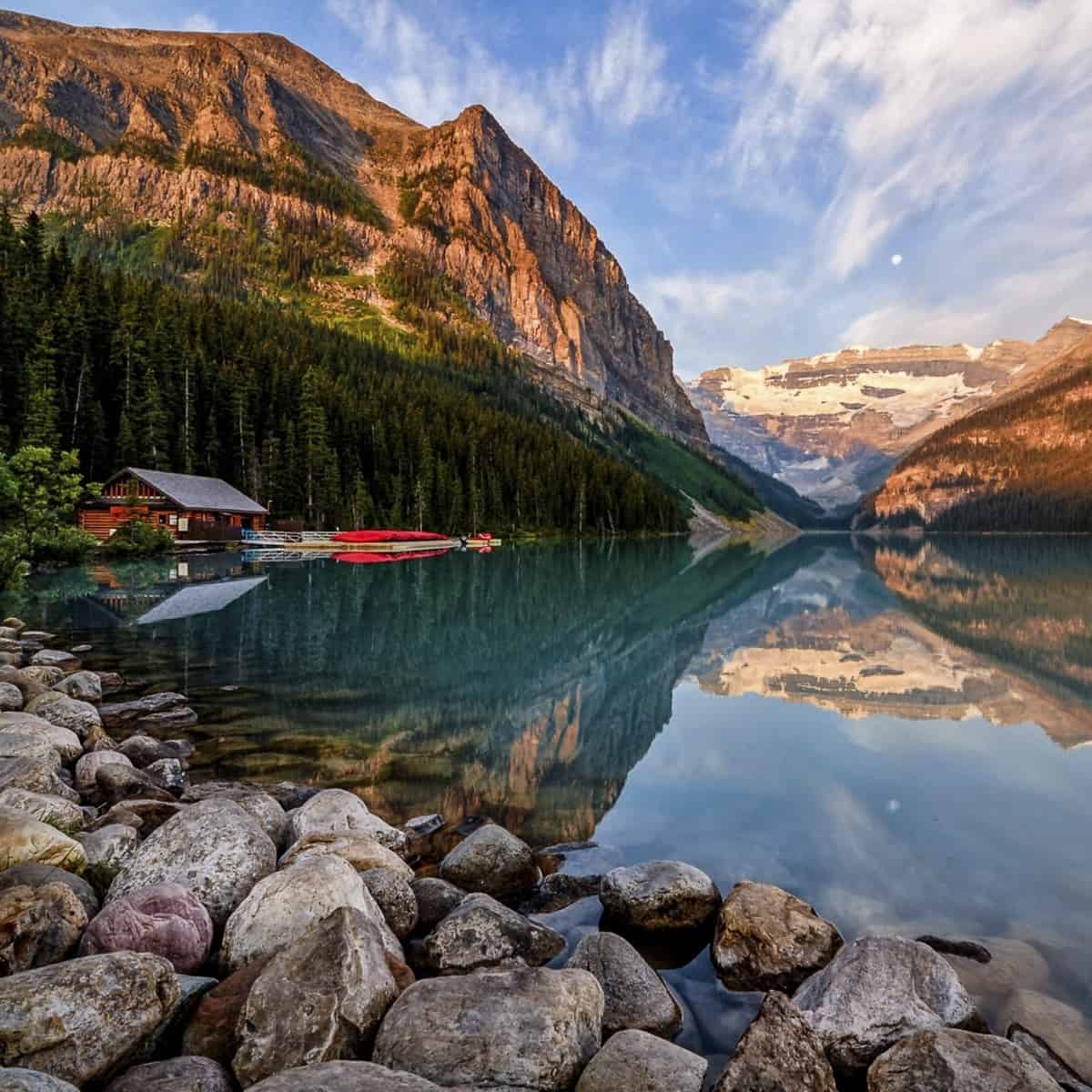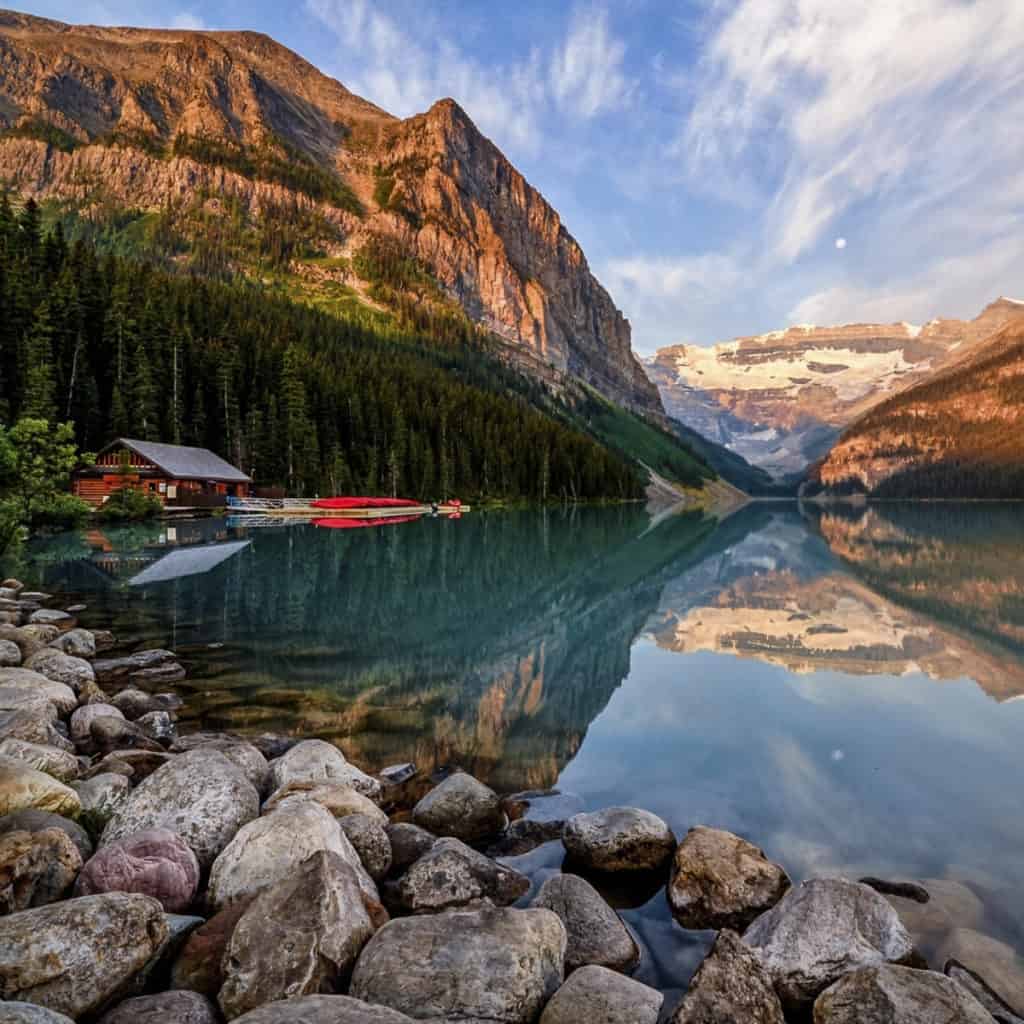 The Lodge on Bow Lake
After Lake Louise, you might want to stop at Bow Glacier Falls/ The Lodge at Bow Lake to admire this special spot. This picturesque lodge on the shores of Bow Lake is a center for storytelling in the Rockies. It is a hub for hiking and sightseeing with Bow Lake, Bow Glacier Falls, and Peyto Lake nearby.
Peyto Lake
Almost a third of the way between Banff and Jasper is the Bow Summit/Peyto Lake. (Note that the Peyto Lake parking area is closed for maintenance until August 2021). This is a perfect day hike to take while touring the Icefields Parkway! The return time on the Summit Lookout is only 2.5 hours, so it will also extend by a lot of your driving time, so account for that on your plans. This easy hike is 40 km north of Lake Louise and offers a gorgeous view of Peyto Lake.
Mistaya Canyon
A must-stop is Mistaya Canyon. This deep canyon has been formed by the Mistaya river and there is a 1.8km easy loop trail that will lead you to waterfalls and witness the rushing water as it curves through the cliffs.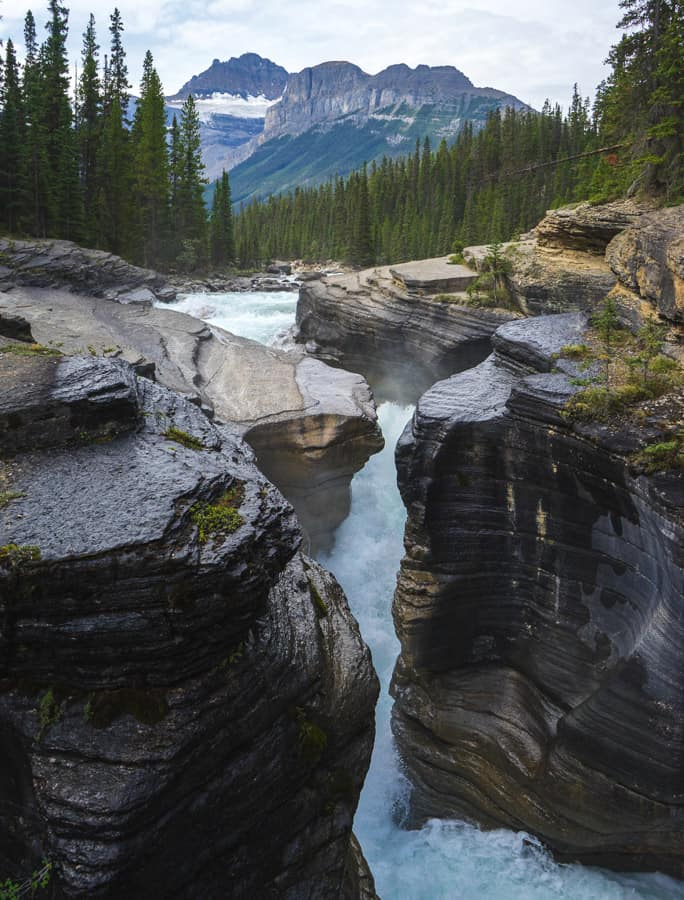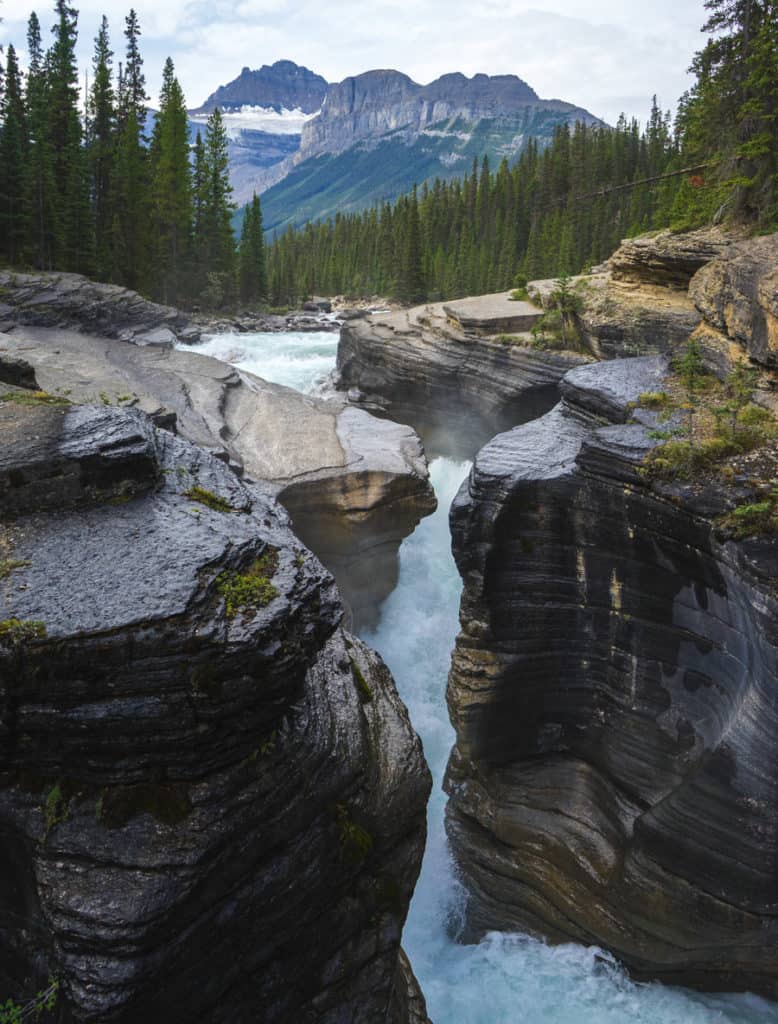 Columbia Icefields Experience
After the Mistaya Canyon, you will come through the Columbia Icefields, one of Canada's most impressive sights as it is the largest icefield in the Canadian Rockies. Tourists can pop into the visitor centre to get all the information about the glacier.
Sunwapta Falls and Athabasca Falls
Be sure to stop at two of the most popular waterfalls. Only about one hour away from Jasper, fed by the Athabasca Glacier, are Sunwapta Falls. This is one of the most beautiful waterfalls in Canada and the upper falls can be viewed from the viewpoint. Next towards Jasper is Athabasca Falls. There are paved walking trails leading to the falls that will get visitors up close and personal with the rushing water.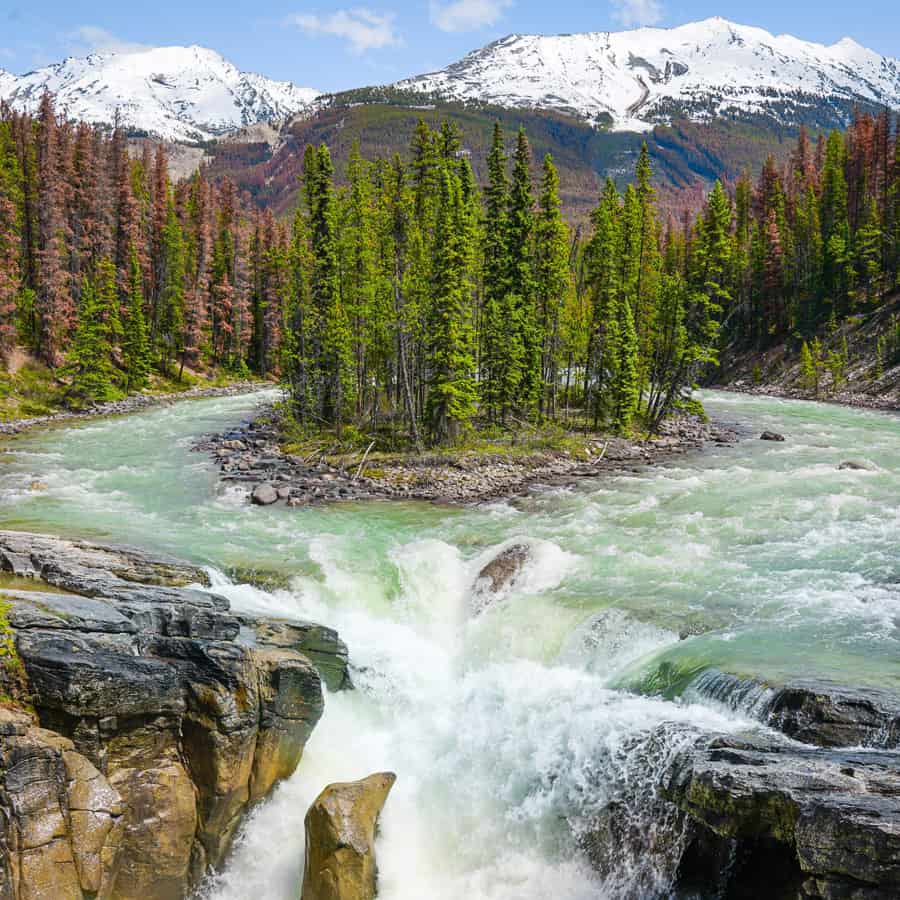 Alternate Scenic Route – Things To Do
Taking this secondary route won't make things easier on you – you will still have a hard time when it comes to choosing among the many cool places to stop by!
Visit the Donut Mill
If you want to stretch your legs within the first couple of hours of your trip, stop at the iconic Donut Mill for a pastry in Red Deer's "Gasoline Alley". It is easy to find because the storefront is a large windmill on the west side of the highway.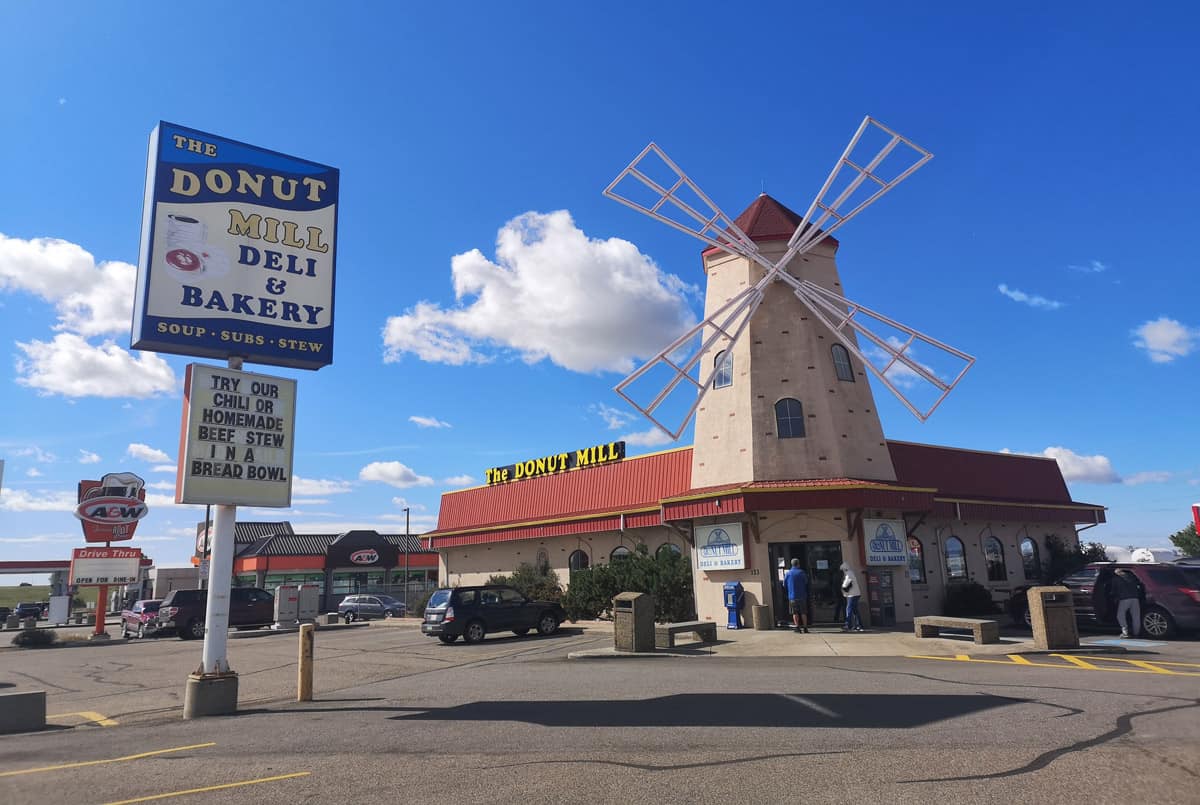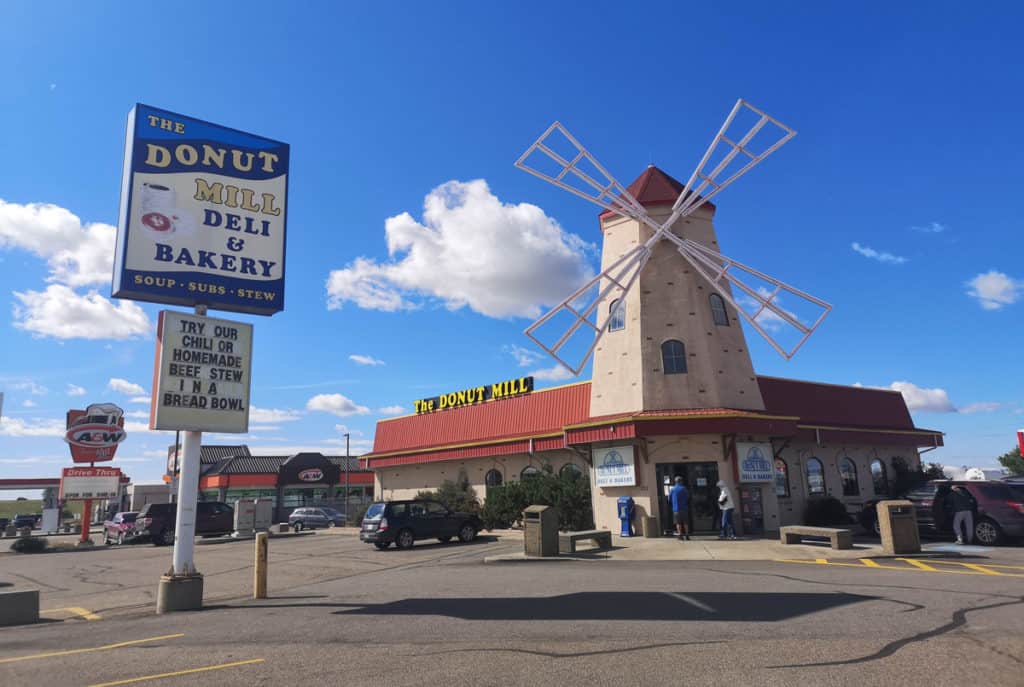 Rocky Mountain House National Historic Site
Once you are westbound on highway 11, consider stopping at the Rocky Mountain House National Historic Site to learn about how the fur trade shaped Canada. It has exhibits, archaeological remains of the four forts, and offers hands-on experience with Métis skills of the fur trade. You can even camp in Indigenous trapper's tents and tipis if you want to split up your trip!
David Thompson Country
There are plenty of places to stop and hike in David Thompson Country. Coliseum Mountain is a long one (14km) but offers beautiful views of the area near the town of Nordegg. If you want something easier (almost 5km), then trek to gorgeous Crescent Falls.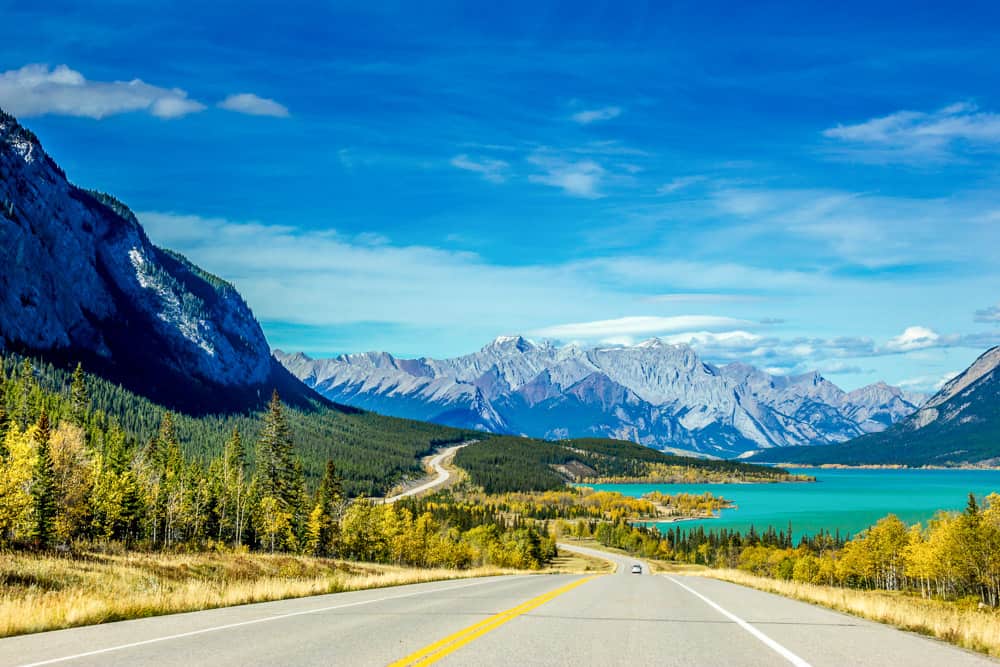 See the Ice Bubbles
If you are travelling through this area from about December to April, you might be able to catch a view of frozen ice bubbles at Abraham Lake. Decaying plants and tree limbs at the bottom of the lake release methane that freezes, which creates incredible ice bubbles on the surface (think of it as an icy lava lamp)! Take a walk or skate across the ice to capture some stunning photos. If you are there in summer, the blue-green lake water is also a beautiful sight.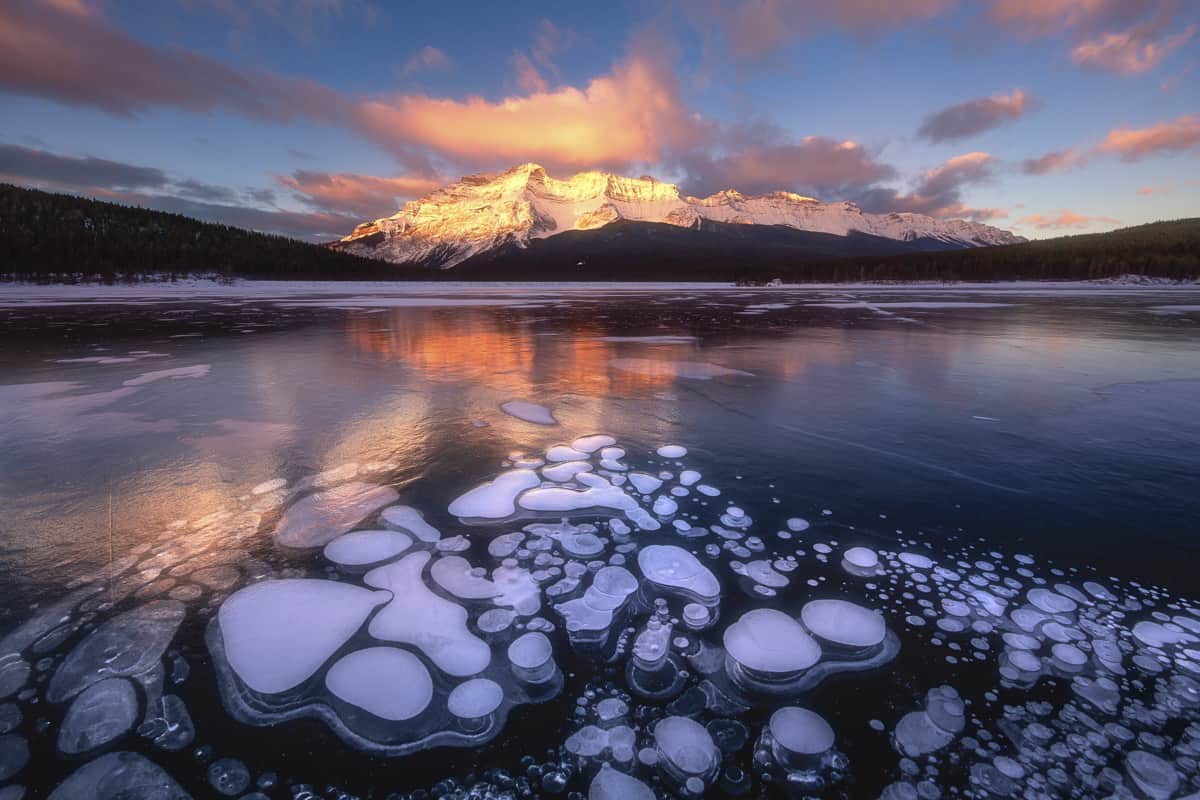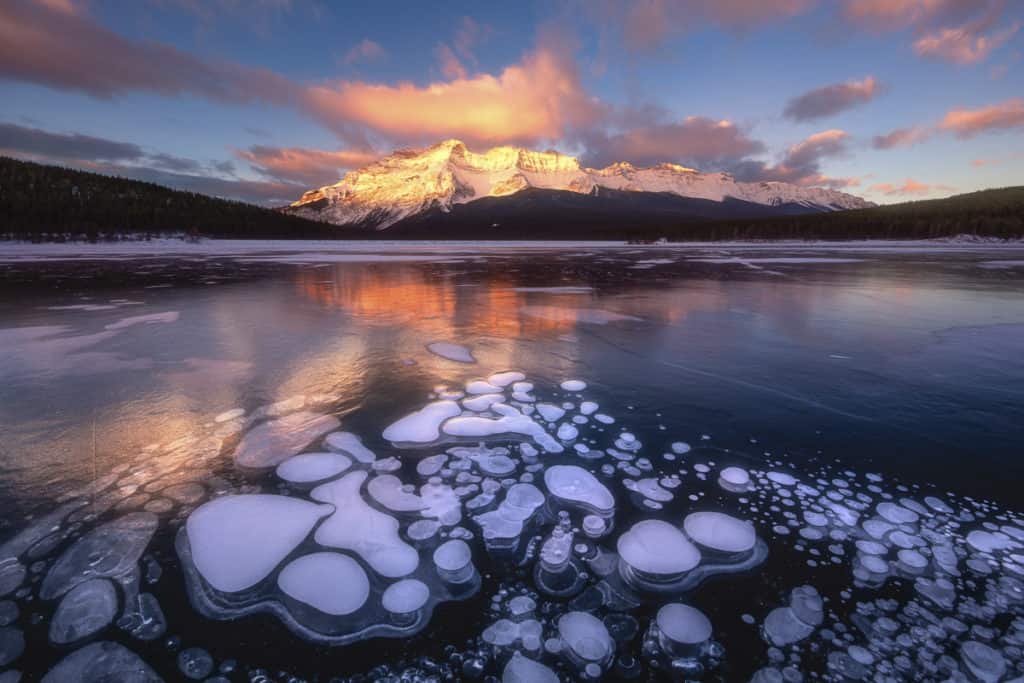 Once you are on the Icefields Parkway again, be sure to experience the Columbia Icefields and check out the waterfalls mentioned above in the fastest route en route to Jasper.
The Longest Route – Things To Do
Donut Mill and Big Bend Market
As mentioned above, a stop at The Donut Mill is a must and since you are already in Red Deer, the nearby Big Bend Market is very worth the stop for their made-to-order sandwiches, that way you have more than just sweets and snacks. This self-proclaimed "year-round farmer's market" offers a lot of products that are almost entirely locally made.
Heritage Ranch
During summer, save some time for Heritage Ranch to experience the thrill of being a fugitive! During this experience you'll be released onto the ranch with a map and a mission: capture all four flags within an hour while being chased by a tracker on a horse. The game starts at 3 pm and comes with a steak dinner.
Explore Edmonton
If you plan a stay in Alberta's capital city on this route from Calgary to Jasper, then there will be lots to keep you busy! Check out our guide to all the best things to do in Edmonton.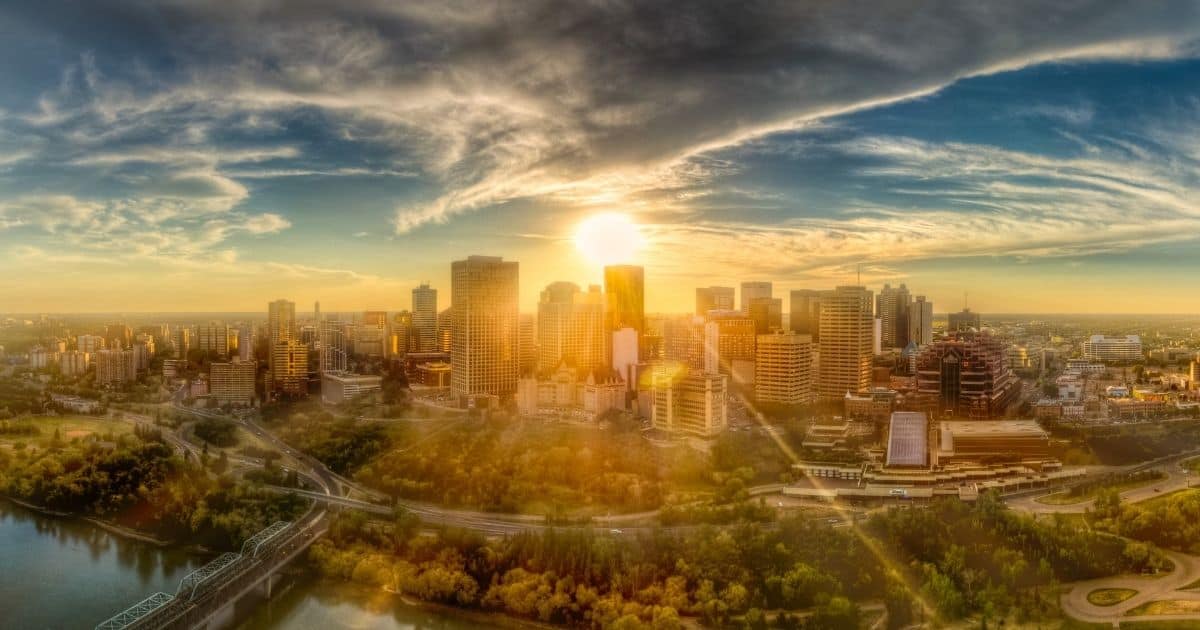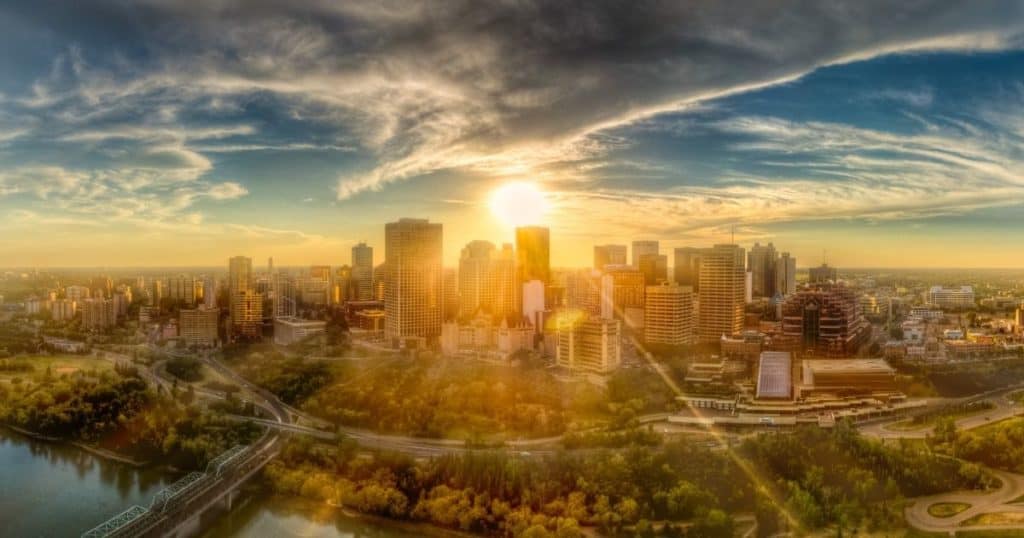 Galloway Station Museum in Edson
After heading west from Edmonton, the Edson Galloway Station Museum will get you a true glimpse into the region's wild-west past with a life-sized trapper's cabin, mine shaft and more. The museum is open seven days a week.
Visit Hinton – The Gateway to the Rockies
The town of Hinton is known as the "Gateway to the Rockies". Closer to Jasper, Hinton has a must-see 3km "Beaver Boardwalk" around Maxwell Lake. It is the world's largest freshwater boardwalk and a great way to see Beavers! There is also an iconic restaurant called The Old Grind which offers delicious food, vegetarian and vegan-friendly.
Take a Soak in the Miette Hot Springs
Before arriving in Jasper rest those weary muscles with a dip into the Miette Hot Springs. Relax and breathe in the crisp mountain air.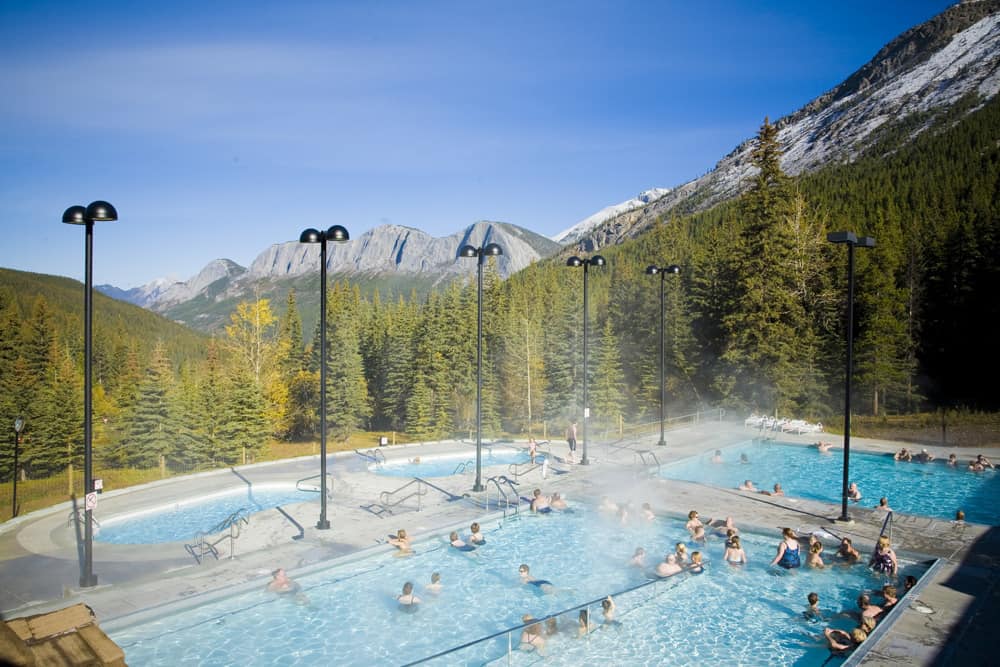 Upon Arrival in Jasper
You made it!
Things to Do in Jasper
If you would like to get some useful information on Jasper attractions, hiking trails, and more, check out our Jasper Destination Guide. Also, pay a visit to the Visitor Information Centre run by Jasper Tourism in downtown Jasper at 500 Connaught Drive.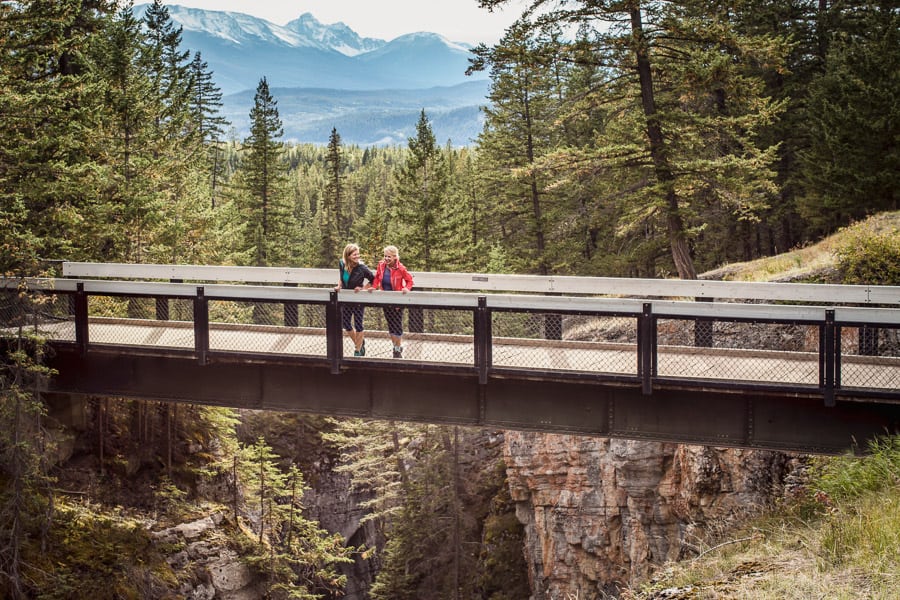 Eating in Jasper
You won't have any trouble finding a Jasper restaurant to eat at. There are some amazing options, and if you have a chance be sure to book a Jasper food tour!
Where to Stay in Jasper
We've published an entire guide on accommodations in Jasper, but if you want to look at a quick few options, see our picks below:
Fairmont Jasper Park Lodge (Luxury)
The Fairmont Jasper Park Lodge is an exemplary property with amenities for days. With impressive lakefront views of Beauvert Lake, 8 on-site restaurants, a spa, an array of on-site winter activities like skating and snow-shoeing, plus an award-winning golf course, this resort is very worth the splurge (which we've done twice ourselves)!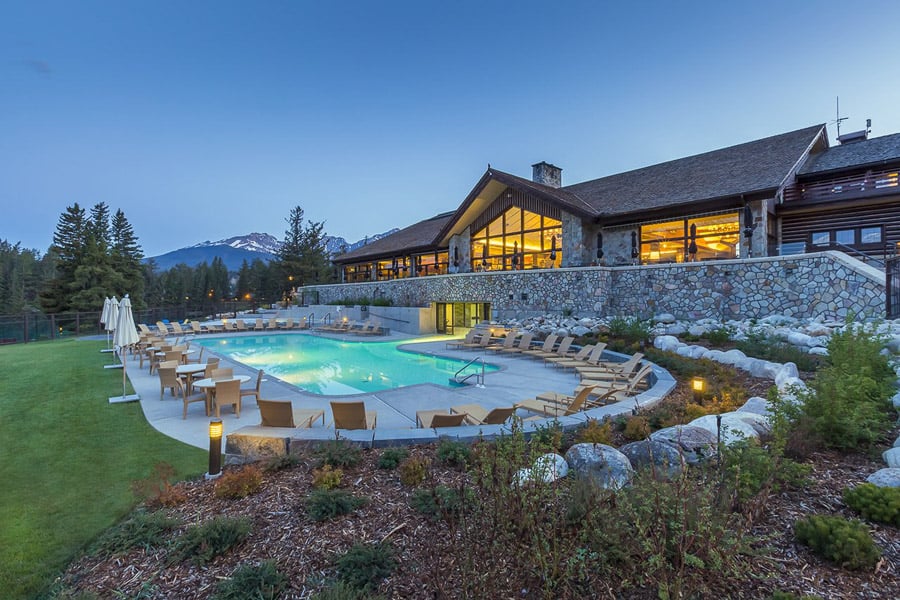 Jasper East Cabins (Mid-Range)
For a unique accommodation experience in Jasper National Park, we recommend renting a cabin at Jasper East Cabins. Enjoy your very own wood cabin that has all the amenities like a fireplace and kitchenette. (Want more choices? We have an entire article on cabins in Jasper.)
Camping in Jasper and Maligne Lodge (Budget)
Jasper is a year-round camping destination with options for every level of camper from rugged backcountry to family-friendly, all with easy access to amenities. And if camping is not your cup of tea, Maligne Lodge is a Jasper hotel that won't break the bank.