Disclaimer: This page may contain affiliate links. Please review our full Terms and Conditions for more information and our Privacy Policy. Note that any pricing, operating hours, or other such information provided below may have changed since initial publication.
Compiled by the Road Trip Alberta team
Last updated on January 18, 2023
Jasper is the little town that packs a big punch, situated in a national park by the same name. Often overlooked by Banff, its neighbour on the other end of the Icefields Parkway, it most certainly should not be. This mountain town may be a bit harder to get to, but it is definitely worth the effort. And the Jasper itinerary that we've outlined for you below will ensure that you get the most out of your trip there.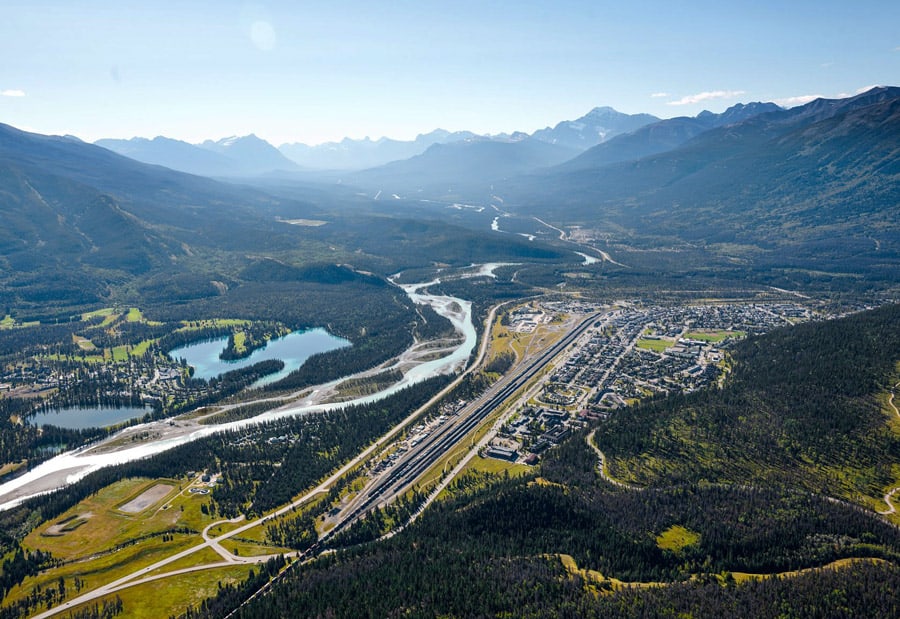 In all honesty, given the lengthy drive to and from Jasper, a weekend getaway won't give you nearly enough time. In fact, if you are a lover of outdoor adventures – we recommend a week! But for this itinerary, we've settled on a bunch of juicy recommendations for how to spend the perfect 3 days in Jasper.
Where to Stay in Jasper National Park
Before we get into the details of your Jasper National Park itinerary, it's important to figure out where you're going to stay. Thankfully, the town of Jasper has plenty of wonderful accommodation options, and no matter your budget, there are choices to suit your needs.
Luxury – If you're looking for all-out luxury on your trip, we recommended 2 accommodations to book for your 3 days in Jasper.
The Fairmont Jasper Park Lodge is a beautiful mountain resort overlooking Lac Beauvert; stay in one of the cedar chalets nestled among the forest trees for the ultimate in comfort, relaxation, and luxury. Or book a stay at the Tekarra Lodge, where you can have your own cabin while taking in the views of the surrounding mountains to make you feel as though you have the snow-capped Canadian Rockies all to yourself.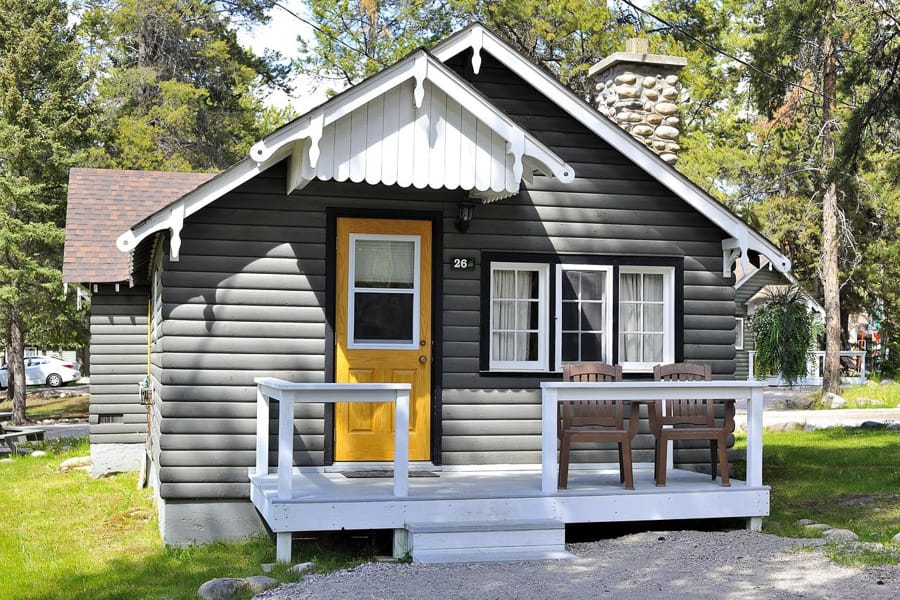 Mid-Range – For mid-range accommodation, we highly recommend the Jasper Inn and Suites. Located in the heart of the town of Jasper, it's an ideal base for exploring the town and the rest of Jasper National Park. With an indoor pool, dog-friendly rooms, and extremely welcoming staff, the Jasper Inn and Suites is perfect for families, couples, and anyone else hoping to explore Jasper for a few days.
Budget – For the budget traveller, try Tonquin Inn found in the town of Jasper. With comfortable rooms and friendly staff, the hotel is a great choice for some R&R after a long day of exploring the Rocky Mountains, especially if your day includes a hike on one of the many nearby hiking trails.
Looking for more options? We have an entire guide dedicated to Jasper accommodations and also our selection of the best Jasper Airbnbs.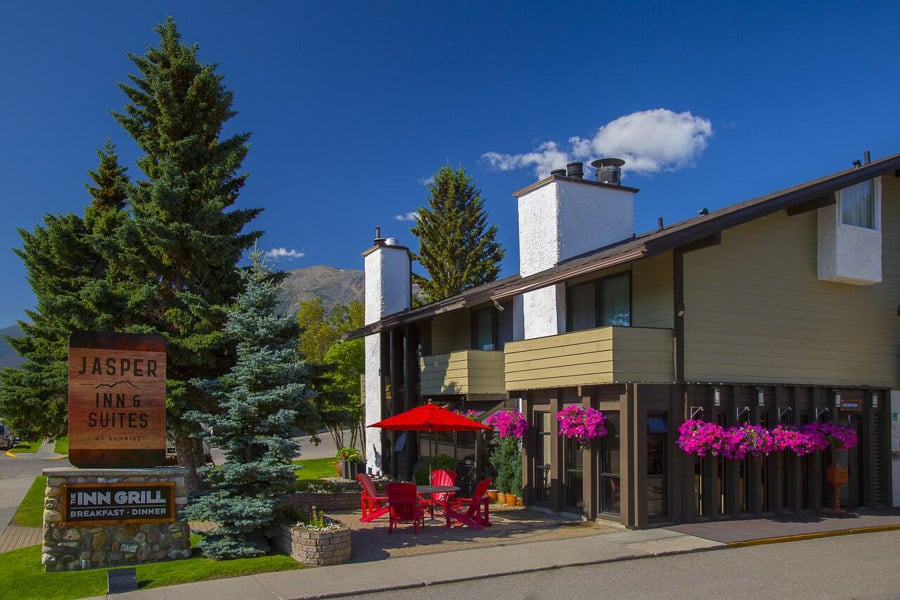 The Perfect 3 Days in Jasper Itinerary
Day 1
As Jasper National Park takes five hours along the Icefields Parkway (highway 93) from Calgary and four hours driving west of Edmonton, we assume you'll be arriving in Jasper mid-day. If you're coming directly from Banff National Park along the Icefields Parkway, that's 3.5 hours (minimum) of driving (assuming you don't stop for lots of photos along the way – which we're sure you will).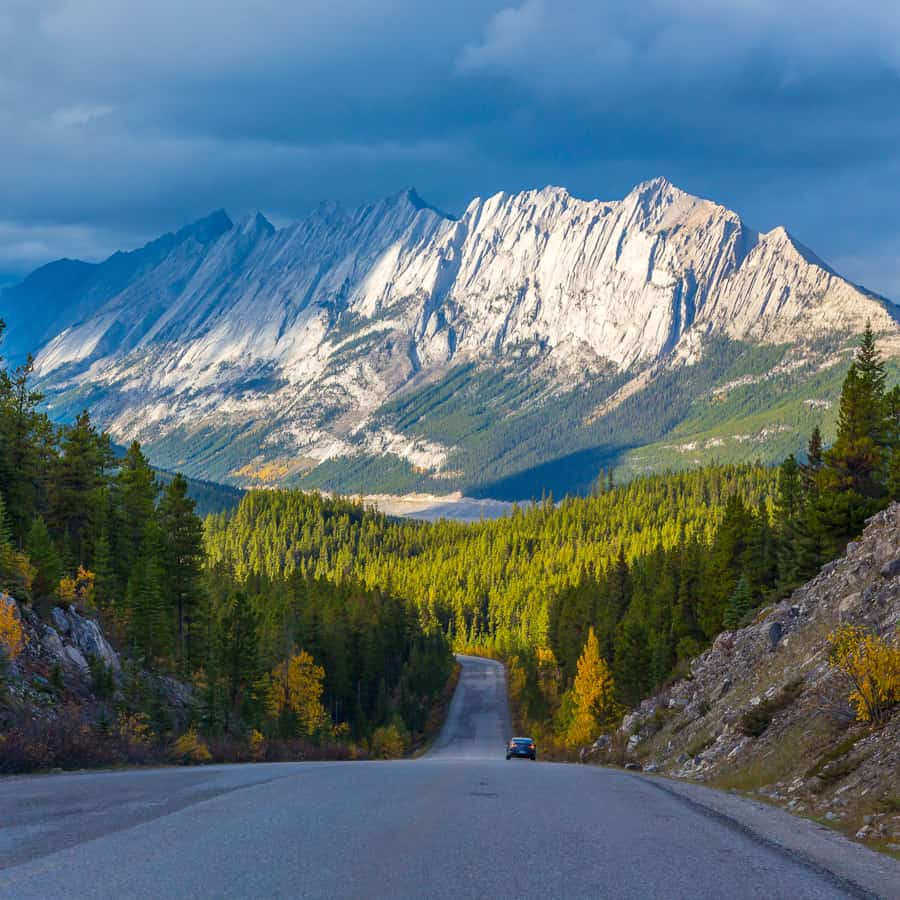 As many people combine trips to the Banff and Jasper National Parks, we do indeed encourage you to take in as much of the scenery on the drive, so start your journey to Jasper early. It's one of the most beautiful routes in Canada, after all!
Don't Forget!
You will need a parks pass to enter into Jasper National Park or to drive from Banff to Jasper. You can purchase your pass online or when you arrive at the gates. A word of caution, be prepared to wait in long lines during the summer months if you choose to purchase your pass at the gates.
Day 1 – Lunch in Jasper
But after all that driving, you're sure to be hungry. After checking in at your accommodation, start your trip in Jasper National Park by heading to one of Jasper's many lunch spots. Swing by the Patricia Street Deli for a hearty sandwich or enjoy the patio at Raven Bistro while you indulge in some Moroccan fusion.
Day 1 – Chasing Waterfalls
After lunch, it's time to chase some waterfalls. As Jasper National Park is home to some of the most magnificent waterfalls in Alberta (and Canada!), spotting a few of them is an absolute must during your days in Jasper. But don't worry, after a long morning of driving, we won't send you on any arduous hikes!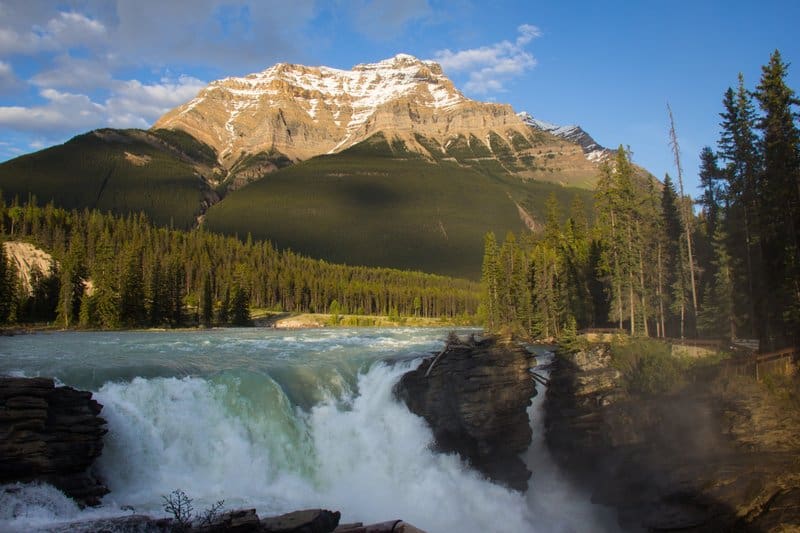 First, head to Athabasca Falls. Approximately 30 minutes south of the town of Jasper on the Icefields Parkway, you'll find a one-kilometre out-and-back hiking trail that is suitable for all levels. Take in the magnificent views of the canyon and the Athabasca River as you make your way to the thundering Athabasca Falls. This glacier-fed waterfall has plenty of viewpoints, so you can easily spend a few hours exploring the area. If you visit in the summer months, prepare for hot weather by bringing lots of water, sunscreen, and a hat to shield your face from the sun.
After your visit to Athabasca Falls, make your way to Sunwapta Falls, another one of Jasper National Park's gems and one of the most breathtaking waterfalls in Alberta. This pair of cascading waterfalls are found along the Icefields Parkway, approximately 40 minutes south of the town of Jasper.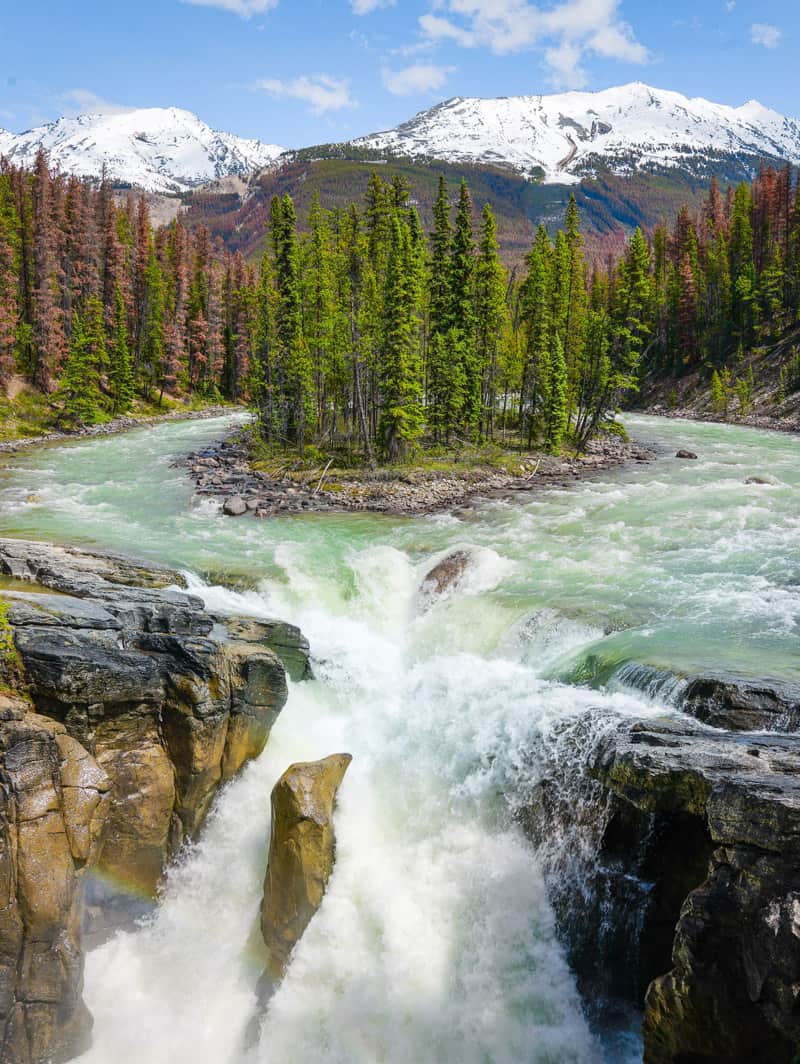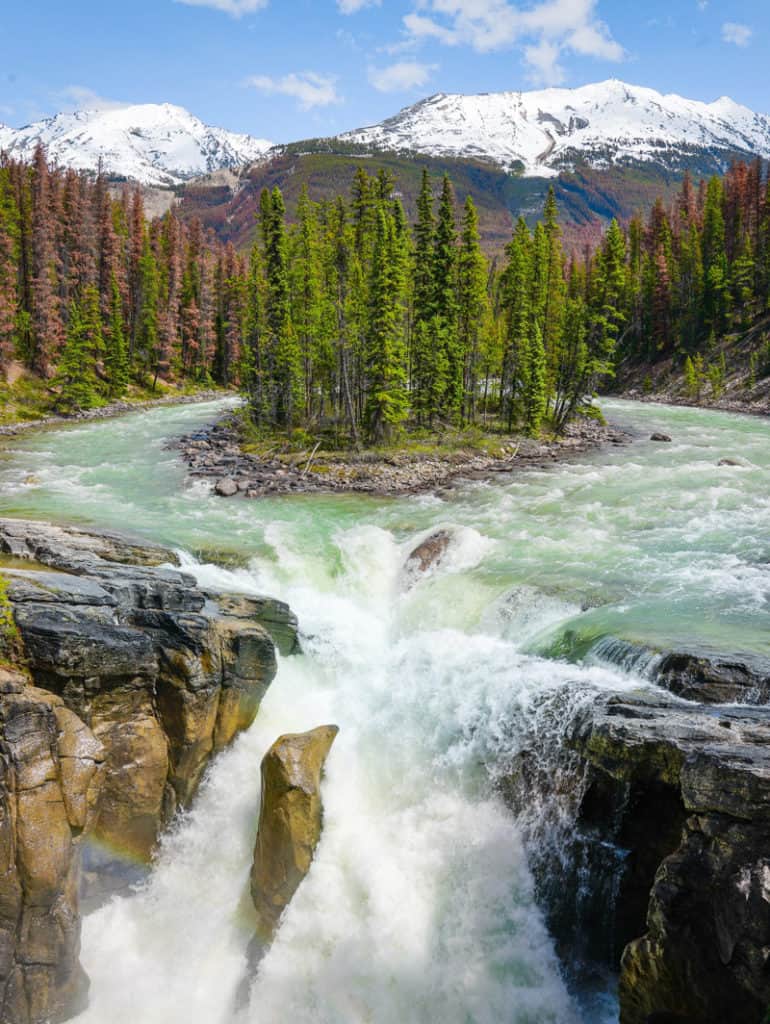 The Upper Falls are found just next to the road and don't require much of a walk from the parking lot, so they're hard to miss! After taking a few photos here, you can choose to hike to the Lower Falls; this short out-and-back trail allows you to explore gorgeous forest and mountain scenery, culminating in the view of the majestic Lower Sunwapta Falls.
Day 1 – Dinner in Jasper
After your waterfall adventure, head back to Jasper. For a small town, there's a fantastic array of Jasper restaurants to choose from for dinner, but we recommend the Maligne Canyon Wilderness Kitchen, found on Maligne Lake Road.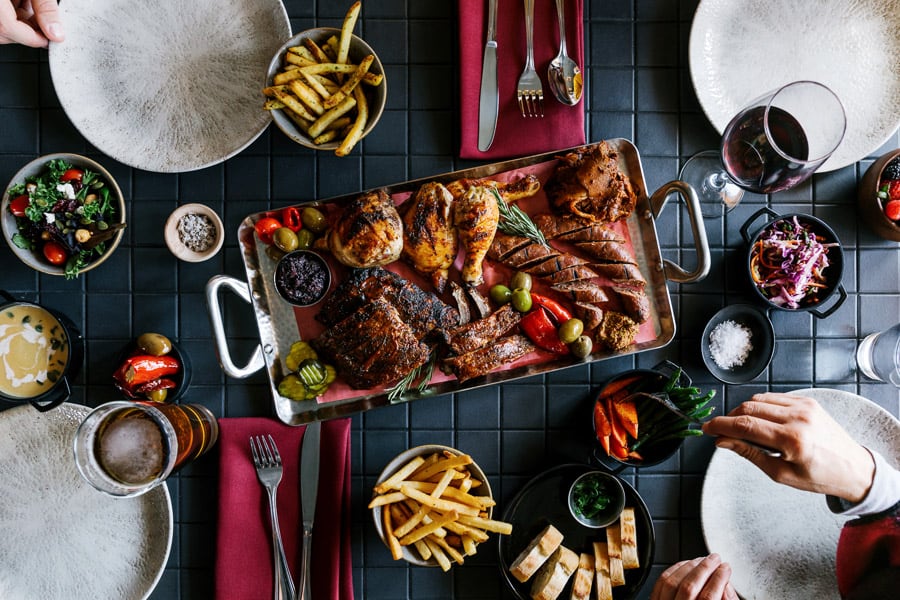 Listen to the sounds of the river and try to spot wildlife as you enjoy one of their Wilderness Platters featuring locally-sourced ingredients; there are lots of gluten-friendly and vegetarian options, too. You can't go wrong with a stunning view and a delicious menu to match.
After dinner and a full belly, head back to the hotel and get some rest – tomorrow will be busy!
Day 2
Day 1 introduced you to Jasper National Park, but your time in the region is only just beginning. Though some may think a day trip to Jasper is all you need, we think you'll really appreciate having days 2 and 3.
Day 2 – Breakfast in Jasper
If you're not having breakfast at your hotel, head to Sunhouse Cafe in Jasper's town centre for a mouthwatering meal. Reviews for the café consistently place it as one of the best breakfast spots in Jasper, if not the best. Fill up, because it's going to be an active day!
Day 2 – Jasper by Motorcycle or Maligne Lake Boat Tour
Jasper Motorcycle Tours
Next on the itinerary is a bit of adrenaline. See the Canadian Rockies through a whole new lens as you ride sidecar on a motorcycle tour through Jasper National Park. Trust us, this is one experience you'll never forget! With Jasper Motorcycle Tours, you can sit back and take in the views all while you feel the wind through your hair.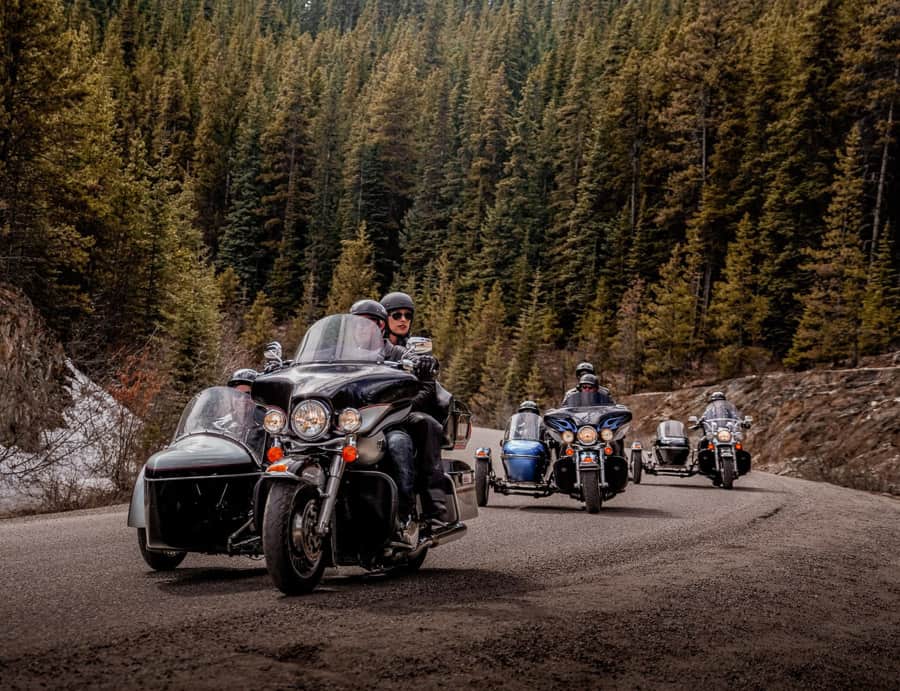 Explore the famous Icefields Parkway while your experienced tour guide fills you in on the geology and history of the region. Each sidecar can hold two passengers, including children, and you can choose your length of trip ranging from one hour to three hours.
Maligne Lake Boat Tour
If motorcycles aren't for you, head to Maligne Lake for a chance to experience one of Jasper National Park's most beautiful attractions: Spirit Island. This small island is one of the most photographed spots in Jasper; surrounded by the mountain peaks of the Canadian Rockies and the turquoise waters of Maligne Lake.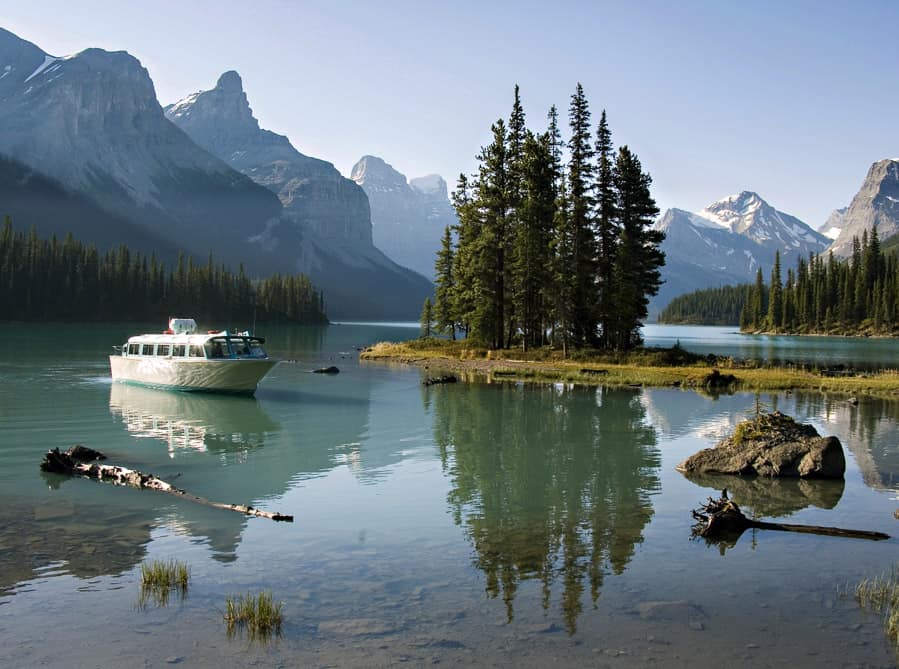 It's the image of Spirit Island that many people think of when they think of Jasper National Park. In fact, a visit to Maligne Lake and Spirit Island is rated as one of the top boat cruises in Canada, and is sure to be a highlight of your trip to Jasper.
Want to check out more guided experiences? We've got a whole article about Jasper tours.
Day 2 – Lunch in Jasper
After your half-day adventure, head back into town for lunch. Our choice is Harvest Food and Drink, a cozy spot known for its excellent service, generous portions, and wonderful use of locally sourced ingredients. There are many vegetarian and vegan options, too.
Day 2 – Experience Jasper From Above
After a relaxing lunch, next on the itinerary is a visit to the Jasper SkyTram. This is one of the most popular activities in Jasper National Park, and it's easy to see why. Found just minutes from town, experience the sensation of being whisked above the mountains for a panoramic view of Jasper and the encompassing area.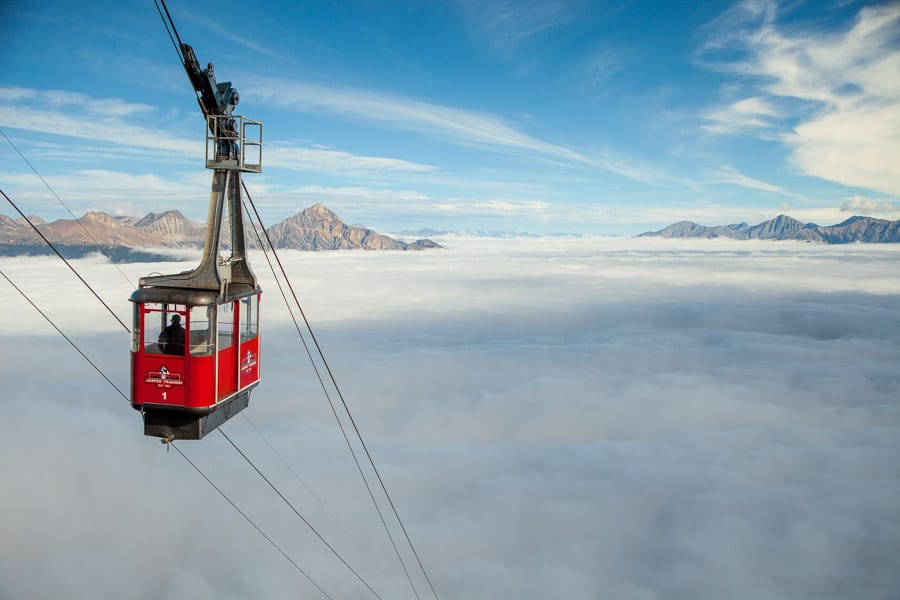 As the Jasper SkyTram is the highest and longest aerial tramway in Canada, you'll travel to over 2,200 metres above sea level for some of the best views in the country.
Once at the top of the mountain, there are a couple of options before taking the Jasper SkyTram back down to Jasper. If you're feeling energetic and in the mood for hiking, the Whistlers Summit Trail is a moderate out-and-back trail that will take a couple of hours to explore. It's steep in areas, but well worth the views once you get to the top of the mountain!
If a hike isn't in the cards for you, spend some time in the Summit Restaurant and Café, where you can choose to sip a hot chocolate or have dinner to take in the views of Jasper National Park at your own pace.
Day 2 – Dinner in Jasper
For dinner, make your way back into Jasper for your choice of cuisine. Meat lovers will want to check out Syrahs of Jasper, while those after a bit of seafood should head to Fiddle River Restaurant. With so many amazing options for restaurants in Jasper, it may be difficult to narrow it down to one!
Day 2 – Seeing Stars in Jasper
If you're feeling tired, head back to the hotel for some much-deserved sleep. But if you've caught your second wind, we highly recommend a tour with the Jasper Dark Sky Preserve. Jasper National Park is one of only 17 Dark Sky Preserves in Canada, making it a phenomenal place to go stargazing. See the sky like you never have before as you witness the mind-boggling amount of stars visible above you.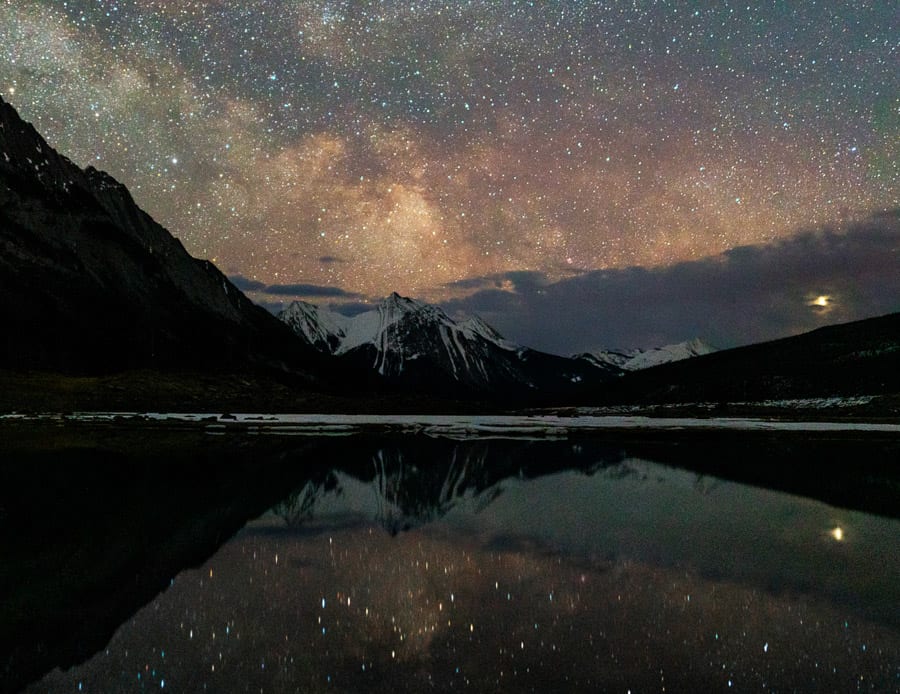 Day 3
Doesn't it feel like your 3 days in Jasper National Park are flying by?
Day 3 – Breakfast in Jasper
Start Day 3 with a good breakfast, either at the hotel or at SnowDome Coffee Bar in town. Don't be shocked that the coffee bar is in a laundromat. It's known as being home to the best baristas in Jasper, so grab a strong coffee and some breakfast bites before your busy day.
Day 3 – Take a Hike in Jasper
After breakfast, head out on one of the many hikes in Jasper National Park. The Maligne Canyon Loop Trail is one of our favourite hiking trails, and at 3.4 kilometres, it's a great way to start your day of adventure. The trail features waterfalls, six bridges (if you dare to do all of them), and unbelievable views throughout the canyon. As always, there are plenty of opportunities to stop and take in the majestic Canadian Rockies that surround you.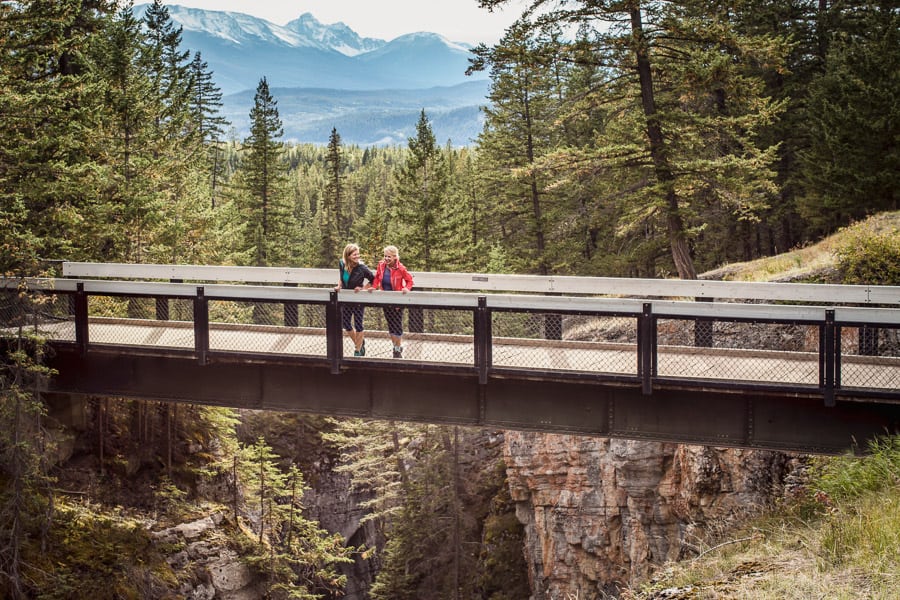 Another potential hike to take in Jasper National Hike is the Valley of the Five Lakes Loop. Rated as a moderate hiking trail off of the Icefields Parkway though still suitable for beginners, views of mountain peaks can be found as you walk through lush forest around the lakes. Make sure to set aside at least two hours to complete the loop, as you're sure to spend lots of time taking photos of the snow-capped mountains and the shimmering lakes. You might even be lucky enough to spot some wildlife!
Day 3 – Paddling a Canoe in Jasper
If you're not into hiking, a paddle on a lake may be more your speed. There is simply nothing like paddling on the pristine waters of Pyramid Lake while taking in the fresh air and mountain views. Choose from kayaking, canoeing, stand-up paddleboarding, and more; rentals are available from the Pyramid Lake Resort.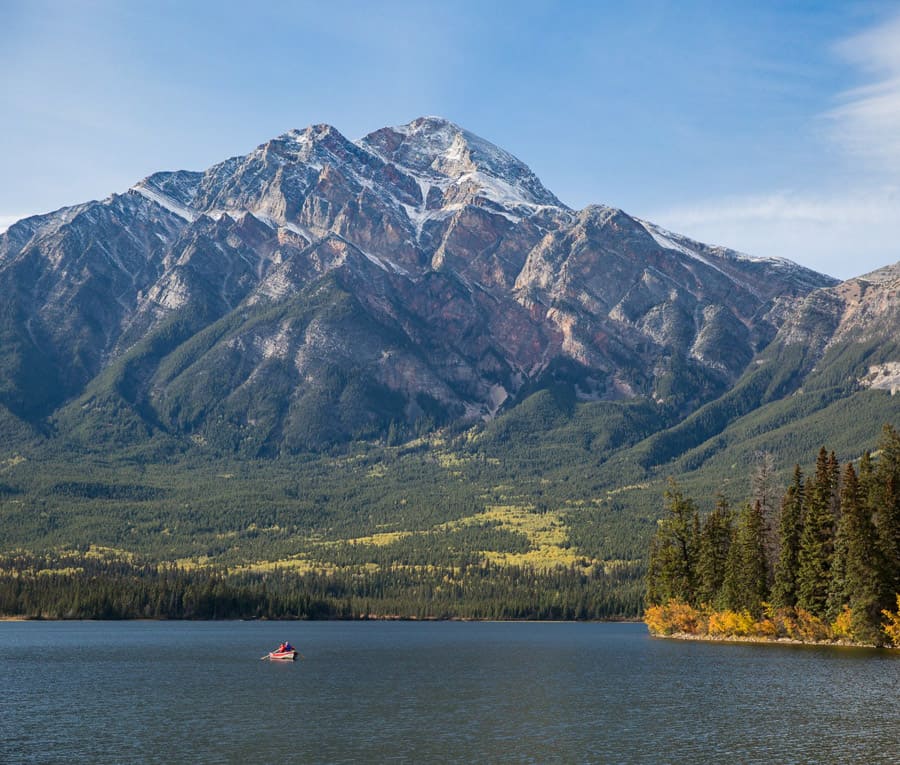 While you're near Pyramid Lake, make sure to visit Pyramid Island. A short but beautiful walk around the small island is perfect for bird watching, wildlife spotting, photography, and, of course, taking in the scenery and the fresh mountain air. *Note that reservations with Parks Canada may now be required to visit Pyramid island.
Day 3 – A Food Tour in Jasper
It's time to head back into town because up next on the itinerary is one for the foodies: a food tour of Jasper! From 2:30 to 5:30 every day, take a 1.5-kilometre guided walk through local restaurants. Your guide will fill you in on lots of Jasper insider knowledge while you sample some of the best of Jasper's cuisine. What could be better?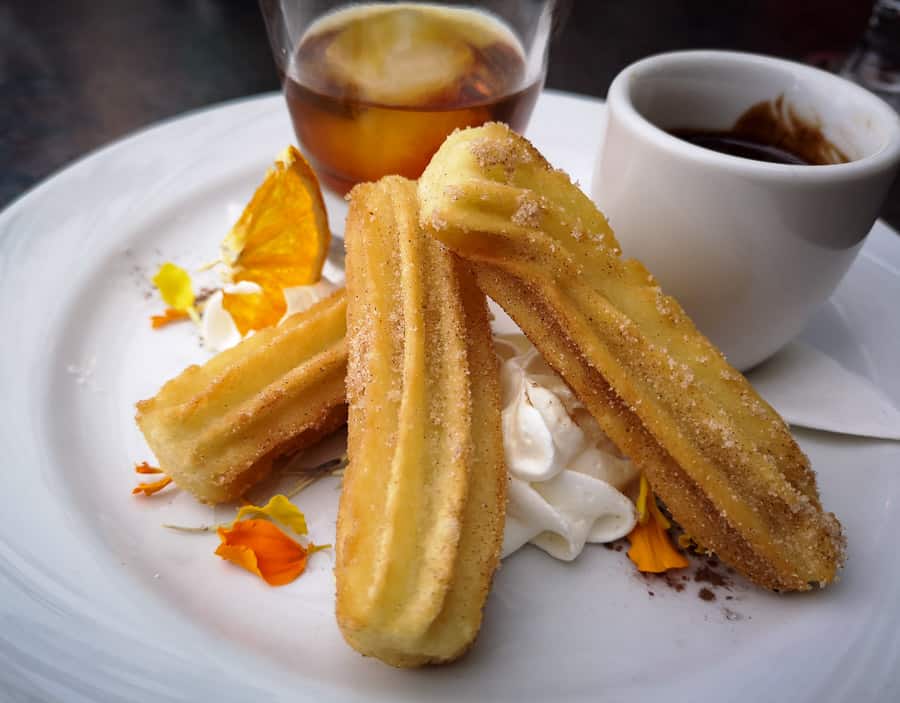 Alongside the memorable culinary scene in Jasper National Park, there's also a fantastic shopping scene. Stroll through the town of Jasper to explore the multitude of local shops selling everything from mountain-inspired souvenirs to contemporary fashion and so much more.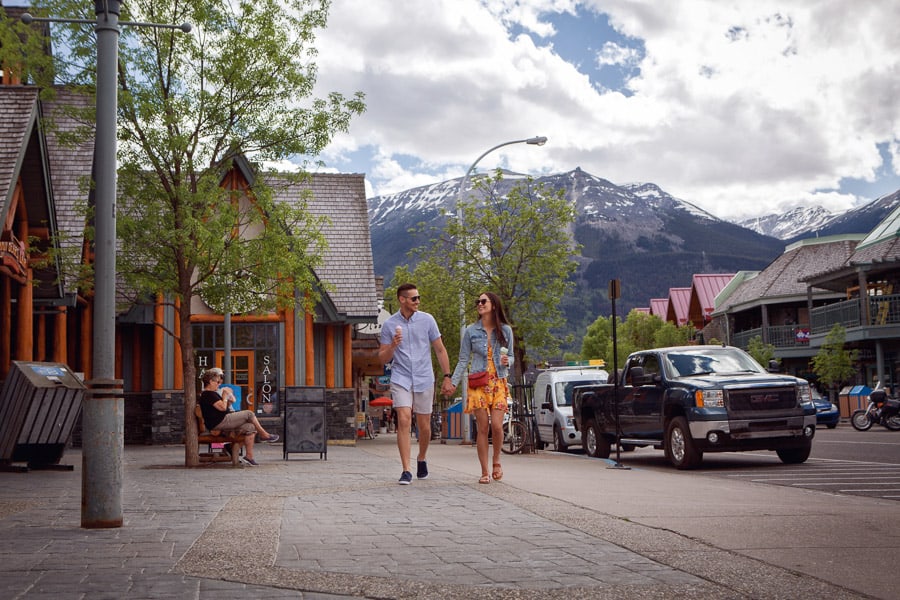 Day 3 – Dinner in Jasper
Can you believe that your 3 days in Jasper National Park are already coming to the end? Make sure to pick a memorable dinner spot to commemorate your time in Jasper. We recommend The Pines Restaurant situated on Pyramid Lake for an exceptional meal made from locally-sourced ingredients, including fresh meat, fish, and produce. Relax by the lake and reminisce about your amazing time in Jasper National Park!
On Your Way Out
And that's it! That's your perfect 3 days in Jasper. From here, you can head back to Calgary, Edmonton, Banff National Park, or your next Alberta destination. If you're heading back to Calgary, enjoy the Icefields Parkway in the opposite direction. If you're heading back to Edmonton, be sure to stop at the Miette Hot Springs for a soak (some of the best water of all the Alberta hot springs). Your body will appreciate it and your eyes will appreciate the view.