Disclaimer: This page may contain affiliate links. Please review our full Terms and Conditions for more information and our Privacy Policy. Note that any pricing, operating hours, or other such information provided below may have changed since initial publication.
Compiled by the Road Trip Alberta team
Last updated on January 12, 2023
Nestled in the Canadian Rockies and Banff National Park, there are plenty of options for Lake Louise restaurants in the small mountain village. If you are craving pub grub, salads, pizza, or perhaps a fondue, you can find them all here. And if you really want to splurge, book yourself into the Chateau Lake Louise or the Post Hotel and have restaurant choices that only registered guests can dine at.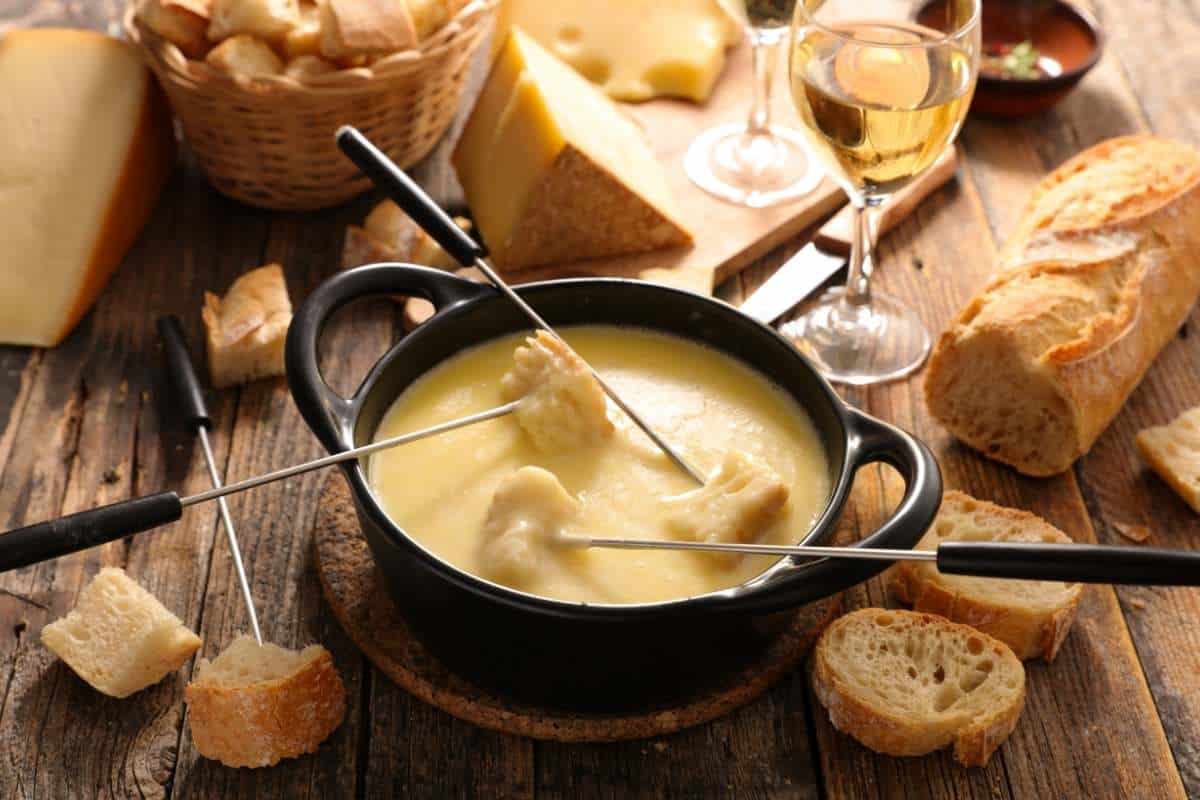 Whatever the case, take in the amazing views, breathe the crisp alpine air and satisfy your hunger with these popular restaurants in Lake Louise. In our experience, it's really hard (maybe impossible!) to go wrong.
The Best Restaurants in Lake Louise
Whitehorn Bistro
Location: 1 Whitehorn Rd
It's not every day you get to dine on top of a mountain, but the Whitehorn Bistro lets you do just that. It helps that the mountain just happens to be in one of the most beautiful ranges in the world! Head to the Lake Louise Gondola on the ski resort and experience eating a meal at 2,042 metres (6,700 feet) above sea level in the warmer months. Only a short walk from the ski lift, it's an excellent spot for lunch or a snack when taking in the mountain views of Banff National Park.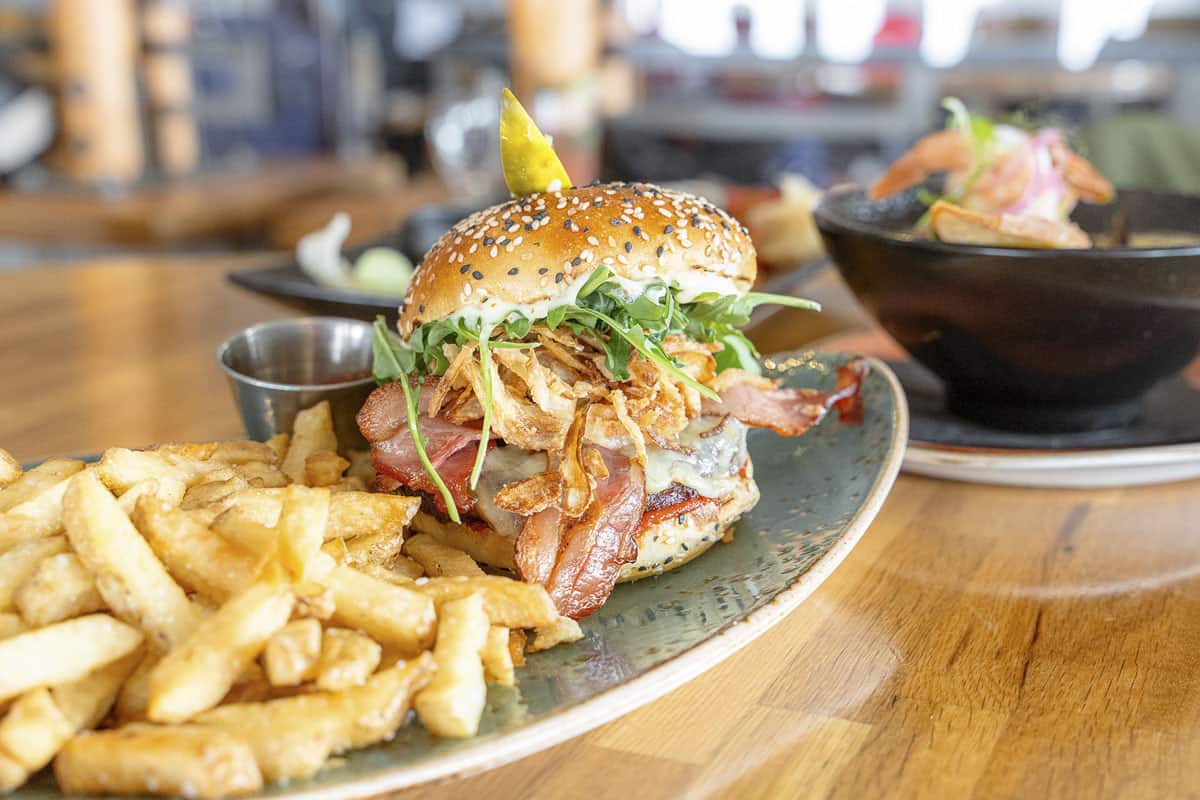 Calling itself a "Canadian Alpine-themed restaurant", you can expect meals at the Whitehorn Bistro to be made with local and seasonal ingredients, including elk, Alberta beef, and a multitude of locally-grown fruit and vegetables (think kennebec potatoes, heirloom carrots, and seasonal chutneys). Their wide range of popular dishes has included Roasted Arctic Char with Beetroot Gnocchi, Sun Gold Farms Lamb Meatballs with Pear Lentils, and Elk and Beef Carpaccio with Grilled Artichokes.
There are also sharing plates of cheeses, charcuterie, cheese fondue, or even a beautifully cooked 26oz bone-in ribeye steak for two. Don't forget the wine or beer – it's also all locally sourced, as they feature over 25 craft beers from around Canada!
The Station Restaurant
Location: 200 Sentinel Rd
For a unique experience, try eating at The Station Restaurant, also known as the Lake Louise Railway Station and Restaurant. One of the most iconic of the Lake Louise restaurants, The Station Restaurant is in multiple parts of an old train station, including an old dining car. With fantastic attention to detail throughout, you'll feel as though you've stepped back in time when you visit. The atmosphere is unmatched anywhere in Lake Louise.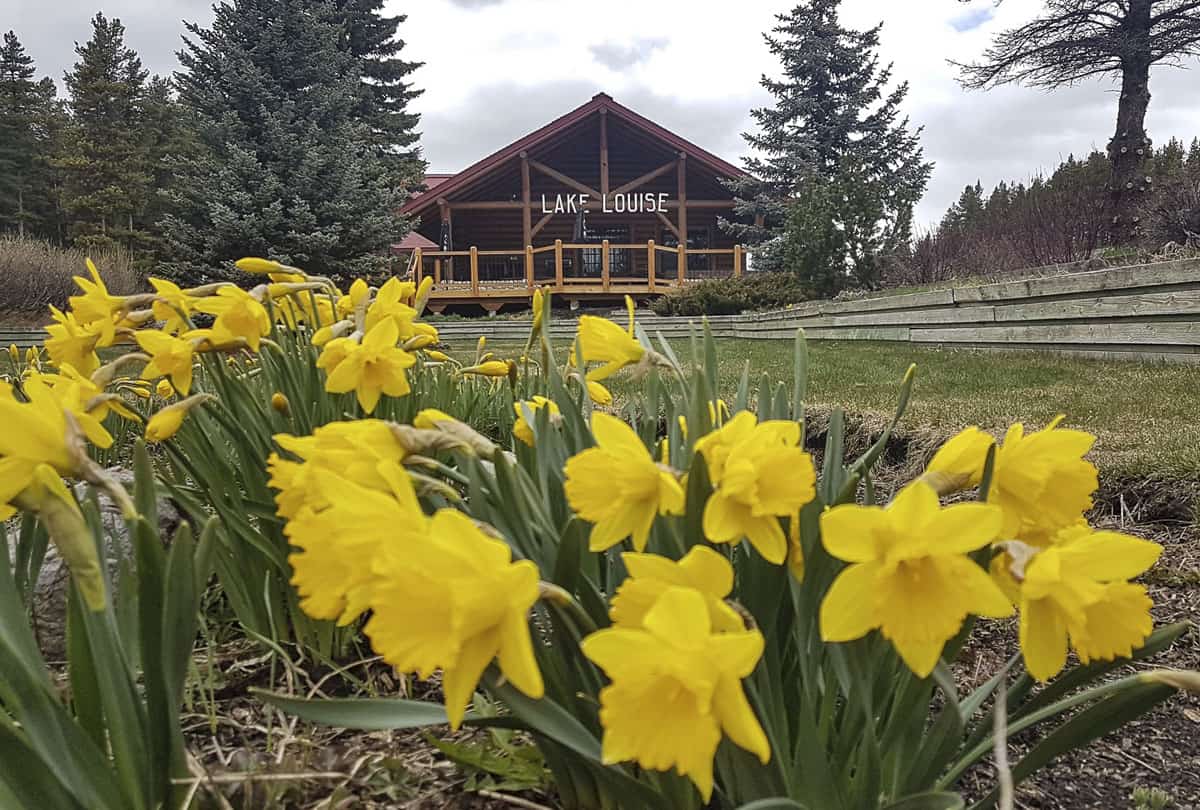 As for the menu, there's a good mix of dishes that include Traditional Pork Schnitzel, Alberta Bison Ribs, and a Walnut Lentil Loaf. While the menu is small, the dishes are all full of inventive flavour; people rave about the Bison Lasagna in particular!
Please note: the restaurant has various opening times depending on the season, so it's imperative to check online before visiting. Reservations are recommended.
Plain of Six Glaciers Tea House
Location: Along the Plain of Six Glaciers Hike
One of the best hikes in Banff National Park – The Plain of Six Glaciers Hike – has the added bonus of a lovely little tea house for hikers who need a respite for an hour or two. While the hike is a moderately challenging one (it has a distance of 13.8 kilometres round trip), the hike itself is absolutely breathtaking and the tea house is well worth a visit. Originally built in 1927, the tea house was purchased by Joy Kimball in 1959; her daughter, Susanne, now runs the Plain of Six Glaciers Tea House.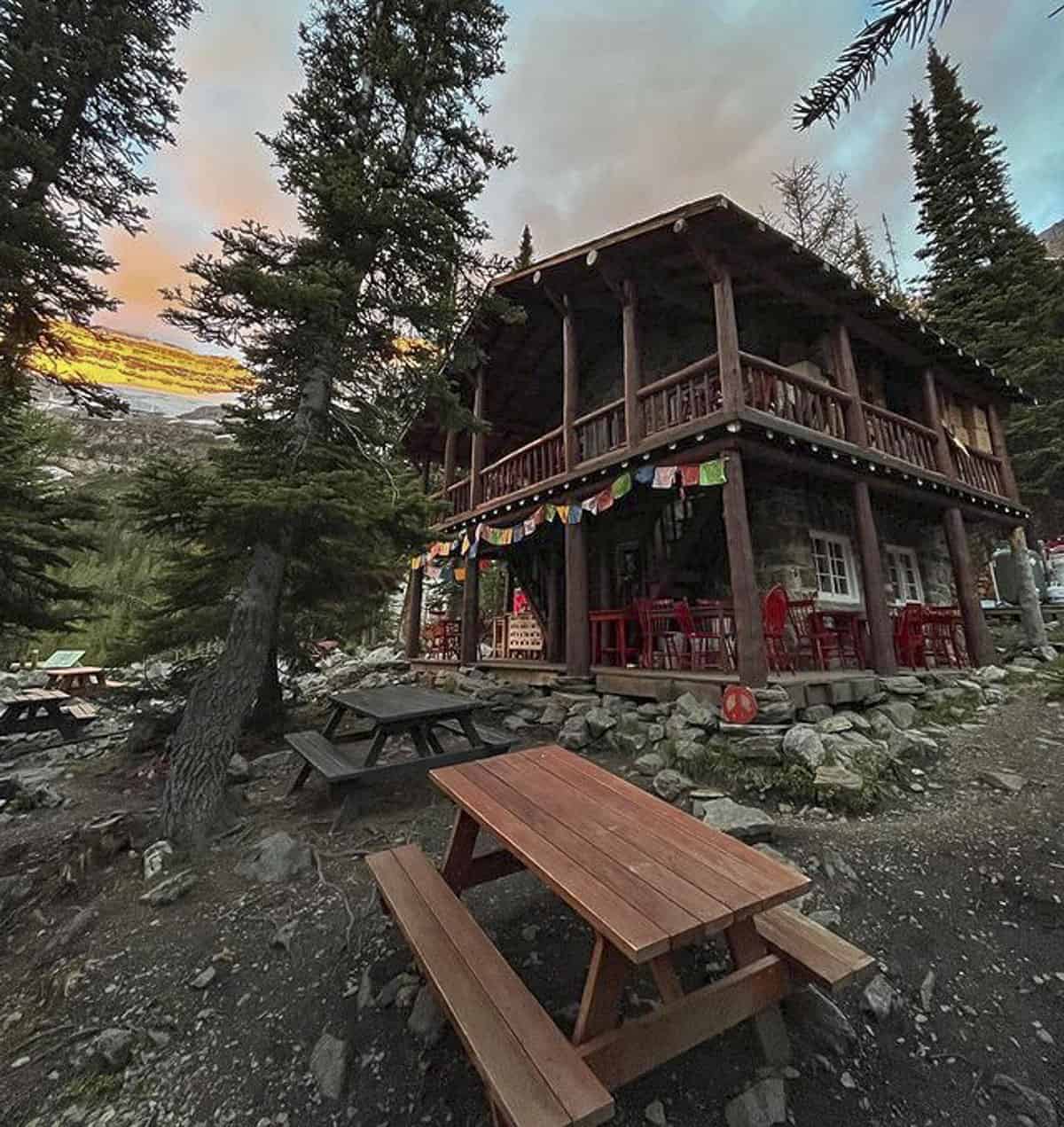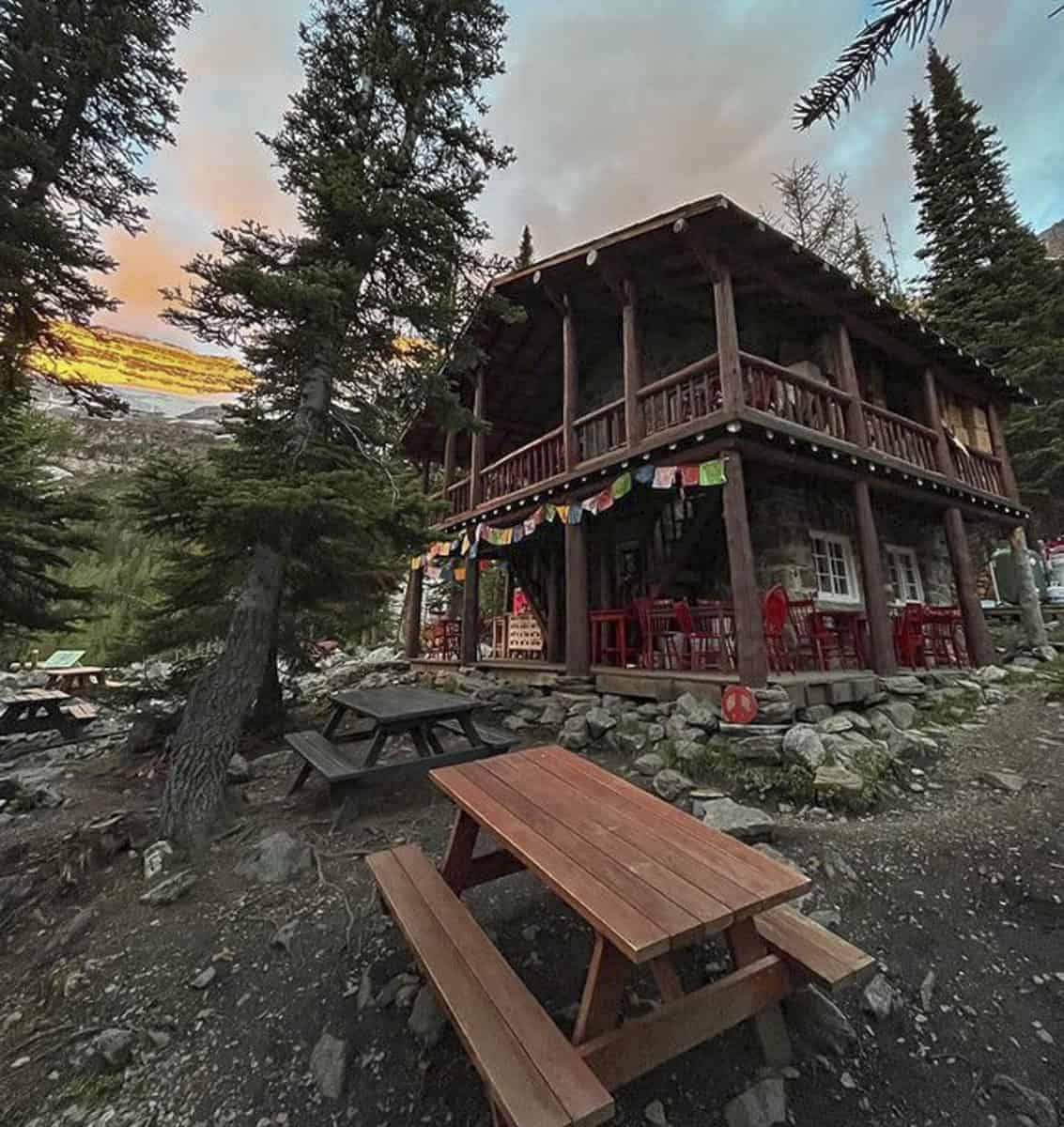 Offering light lunches, desserts, and drinks, everything is prepared fresh on-site with ingredients brought up the mountain daily by staff. Soak up the stunning vistas with a delicious hot chocolate in hand, or perhaps one of their soups or sandwiches. No matter what, it's a wonderful reward after a considerable hike, and sure to stand out in your memories of Lake Louise.
Please note: the cafe is only open from spring to fall and closed for the winter season, check with their social accounts for opening times. Also, Canadian dollars in cash is the preferred method of payment!
Bill Peyto's Cafe
Location: 203 Village Rd (inside the HI Lake Louise Hostel)
Regarded as one of the best Lake Louise restaurants, Bill Peyto's Cafe is well-known and a locals favourite. Found in the HI Lake Louise Alpine Centre, the laid-back vibe and hearty meals are welcomed by travellers on a budget. Perfect for quick and easy meals, Bill Peyto's Cafe offers breakfast, lunch, and dinner at the cafe.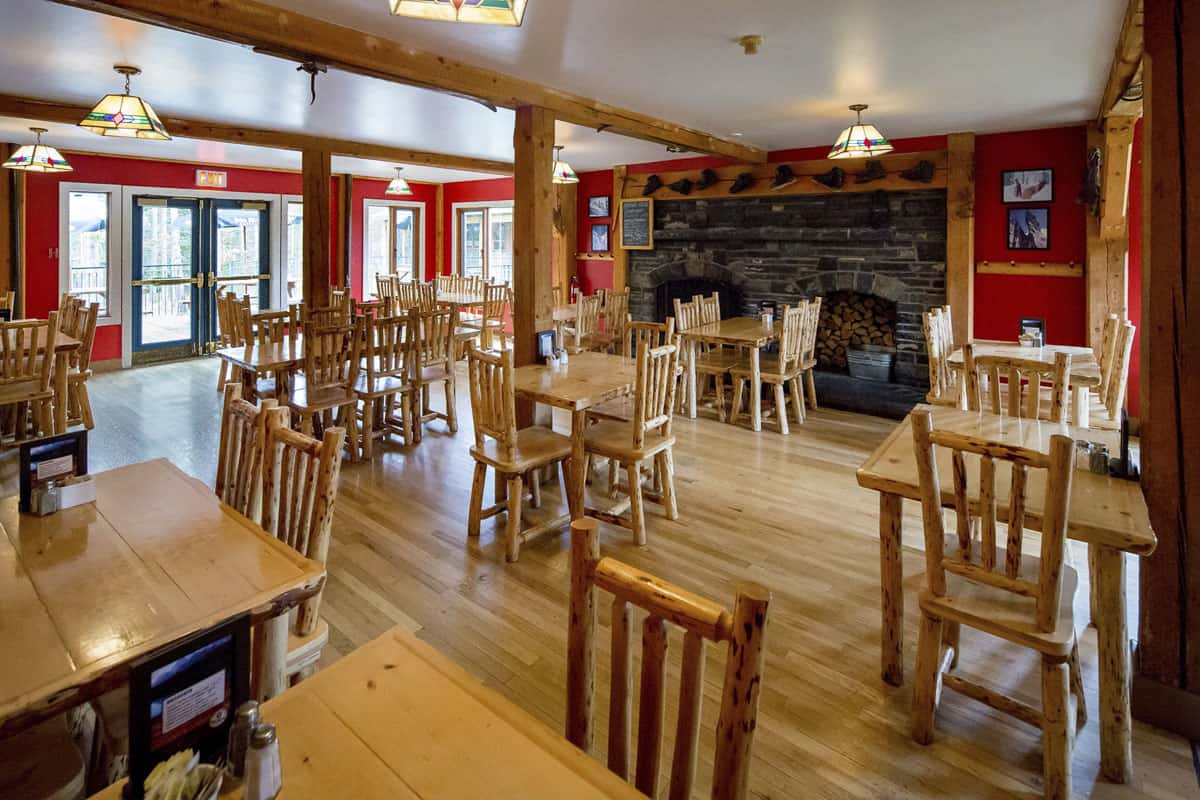 Breakfasts include the typical grand slams, pancakes, bagels, and fruit bowls, so you can choose a full hot breakfast or something a lot lighter. Lunch has a great selection of sandwiches, burgers, wraps, chicken fingers, poutine, and more, while the dinner menu has tasty pasta, butter chicken, and a stir-fry. There's also a fantastic kids' menu to choose from (of course there are french fries). Unassuming but delicious, Bill Peyto's is a tasty little cafe in Lake Louise.
The Fairview Bar and Restaurant
Location: 111 Lake Louise Dr
With views of beautiful Lake Louise, the Fairview Bar and Restaurant is a stellar choice for a drink, afternoon tea, or a meal of Rocky Mountain cuisine. Found within the Fairmont Chateau Lake Louise, the Art Deco detailed space makes for a stylish stop during your time in Banff National Park. With a colourful, extensive menu, there really is something for everyone here, and the charming and elegant setting are an exquisite match for the food. Please note that this is one of the only places you can dine at the Fairmont if you are not a registered guest; afternoon tea is available to day visitors to Lake Louise.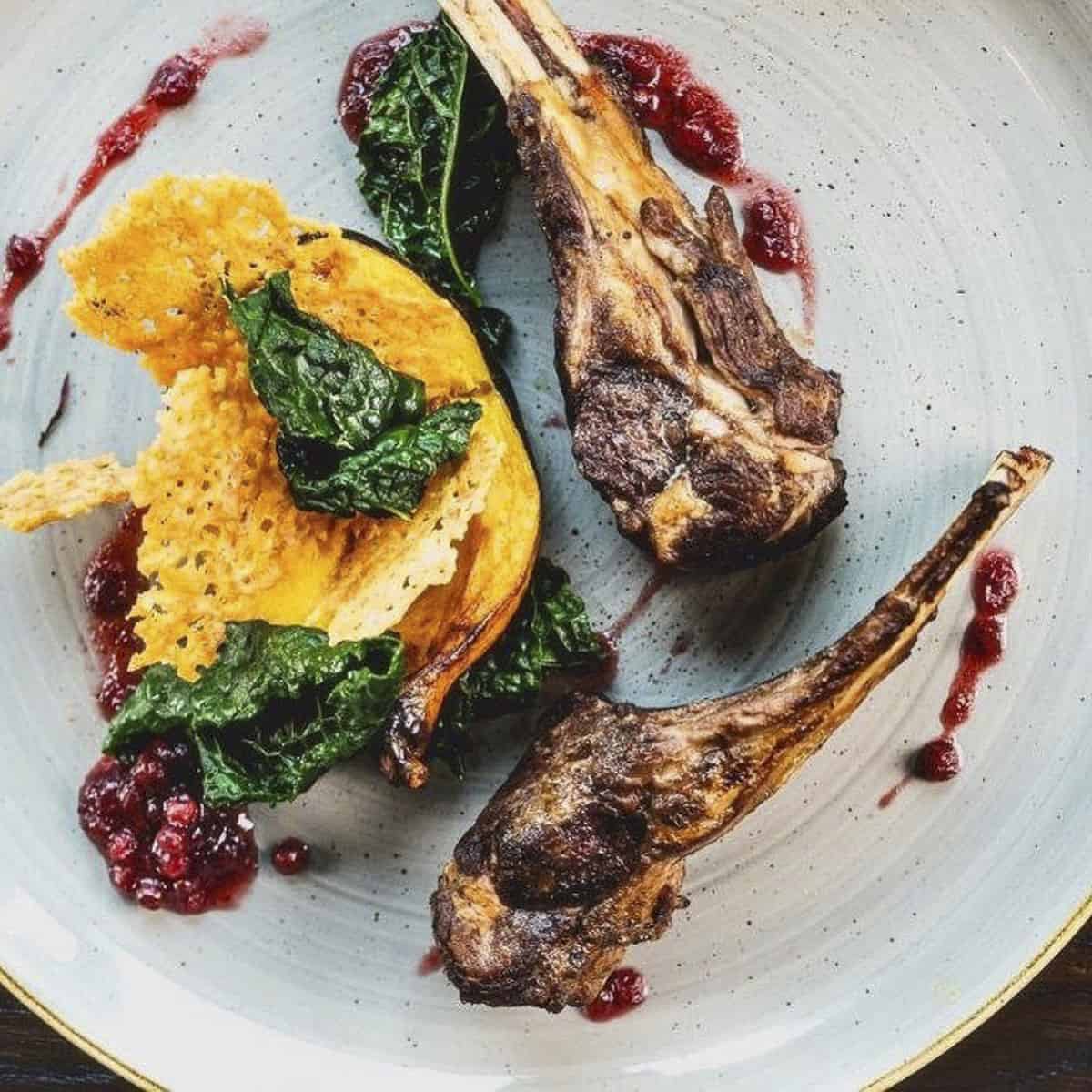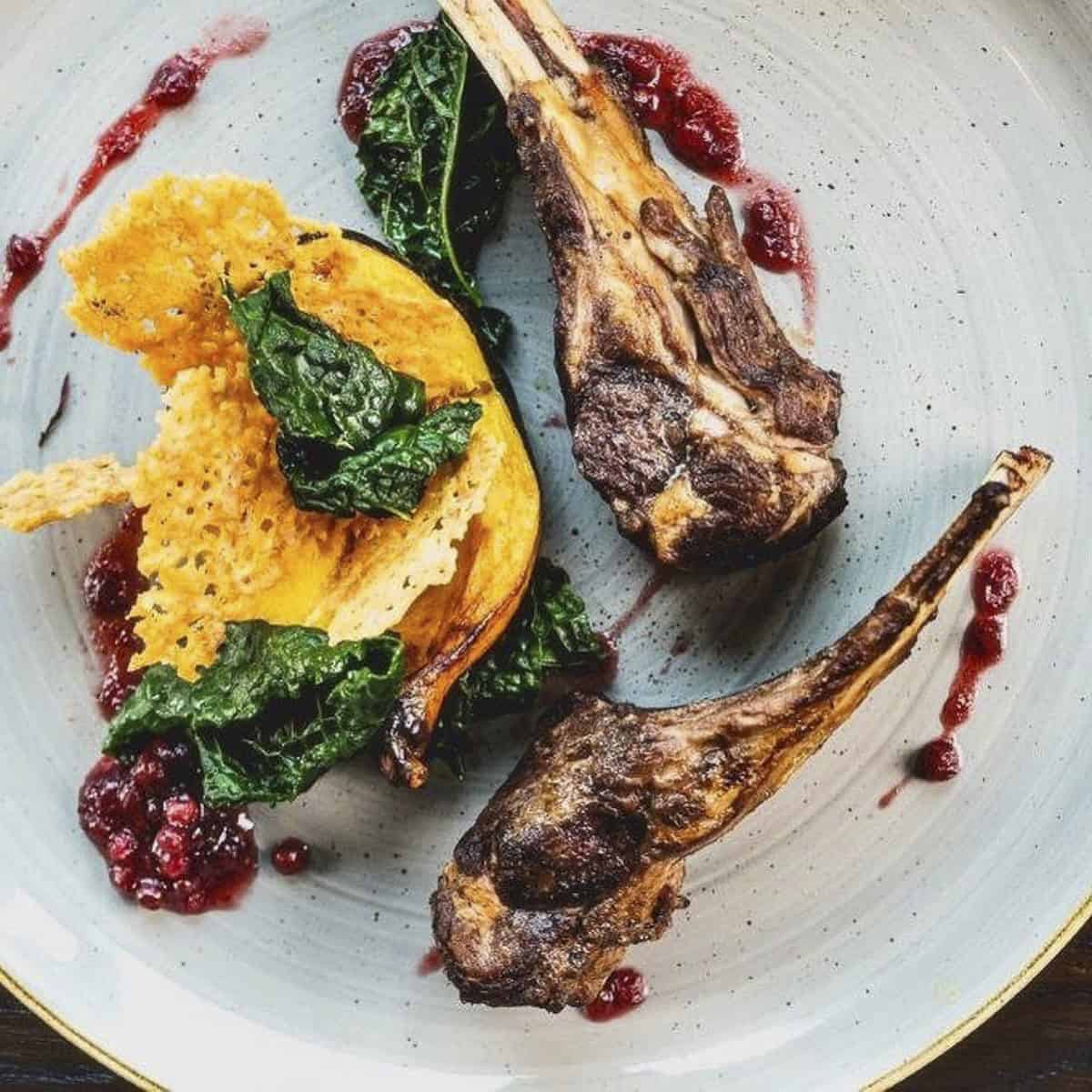 Head here for the extremely popular afternoon tea of scones, finger sandwiches, and desserts, but make sure to book ahead! There's also a delightful kids' afternoon tea for the little ones, as well as vegan and vegetarian options. Lunch has a wonderful selection of appetizers, mains, and share platters – the Candied Farmers Vegetable Bowl and Pistachio Crusted Sockeye Salmon are drool-worthy – while dinner brings deliciously prepared beef and game dishes, among many other options. And don't forget to try one of the inventive cocktails; the Louise is our favourite, a lake-blue cocktail made with limoncello, chartreuse, and prosecco.
Lake Agnes Tea House
Location: Lake Agnes
Another tea house to make the list of the best restaurants in Lake Louise! Open seasonally in the summer months – the tea house is closed from Canadian Thanksgiving until June of the following year – the Lake Agnes Tea House is a terrific treat after some moderate hiking (to Lake Agnes is 7.4 kilometres round trip starting from the Lake Louise parking lot). With the fresh mountain air and great views all around you, indulge in a warm mug of tea (there are over 100 teas to choose from!) or anything from the selection of hot and cold drinks. There are also sandwiches, soup, lunch combos, and desserts on the menu.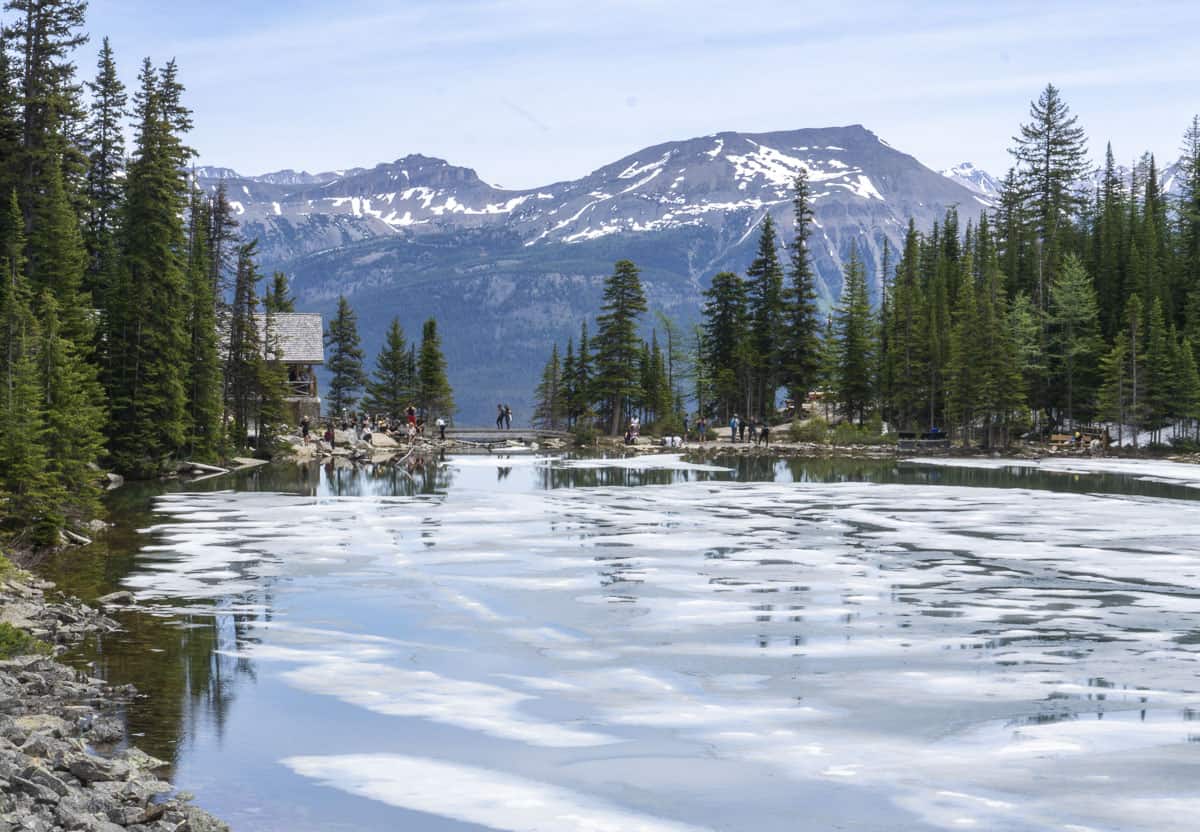 But the tea house is more than just a stunning restaurant… it's also a little slice of history, and there's a reason it's so often mentioned as one of the best things to do in Lake Louise. Open since 1905, the tea house has been serving people for over a century in the Canadian Rocky Mountains, and is named for the original First Lady of Canada, Lady Agnes MacDonald. Even cooler? The Lake Agnes Tea House still features the original windows, tables, and chairs. Today, it's a family-run establishment, and is one of the most iconic places to eat in Lake Louise.
Fondue Stubli
Location: 200 Pipestone Rd
Found inside the Post Hotel, Fondue Stubli is an extremely popular restaurant in Lake Louise. Stubli means "small room" or "parlour" in Swiss German, and that's exactly what this restaurant is: an intimate, cozy space where only a few tables are available every night.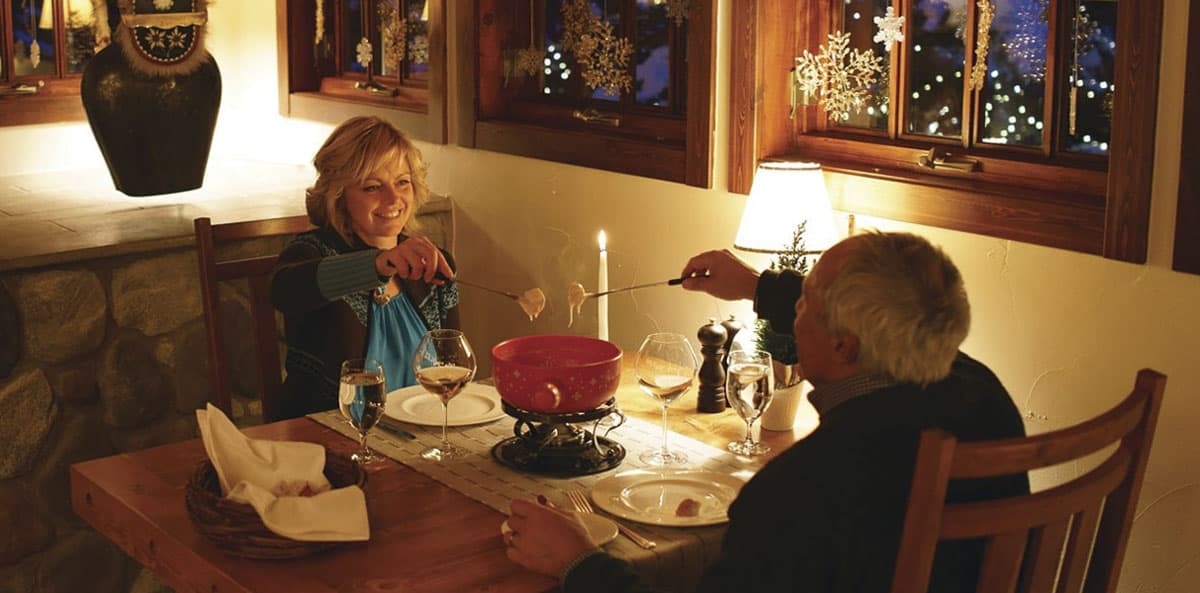 Featuring traditional Swiss-style fondues, you can choose from cheese fondue, fondue "bourguignonne" or fondue "chinoise". You'll be served a four-course menu that includes a charcuterie board, appetizer (also of Swiss cuisines, such as spatzle), your choice of fondue, and dessert. We also recommend sampling some of their fantastic wine, as they have a wine cellar with over 25,000 bottles!
Please note: Fondue Stubli is reserved for guests of the Post Hotel, but outside guests may call the day of to see if there is any availability.
Post Hotel Dining Room
Location: 200 Pipestone Rd
Also found in the Post Hotel, just outside the main part of Lake Louise Village, you'll find the Post Hotel Dining Room. Known for its fine dining, the tricky thing about the Post Hotel Dining Room is that it is reserved for registered hotel guests only; non-hotel guests can call the day of and see if there is availability. That being said, the food really is worth it; there's a daily changing four-course meal of the highest quality, and the wine list is just as noteworthy. Courses have included such dishes as seared venison, risotto, sautéed lobster, and beef tenderloin.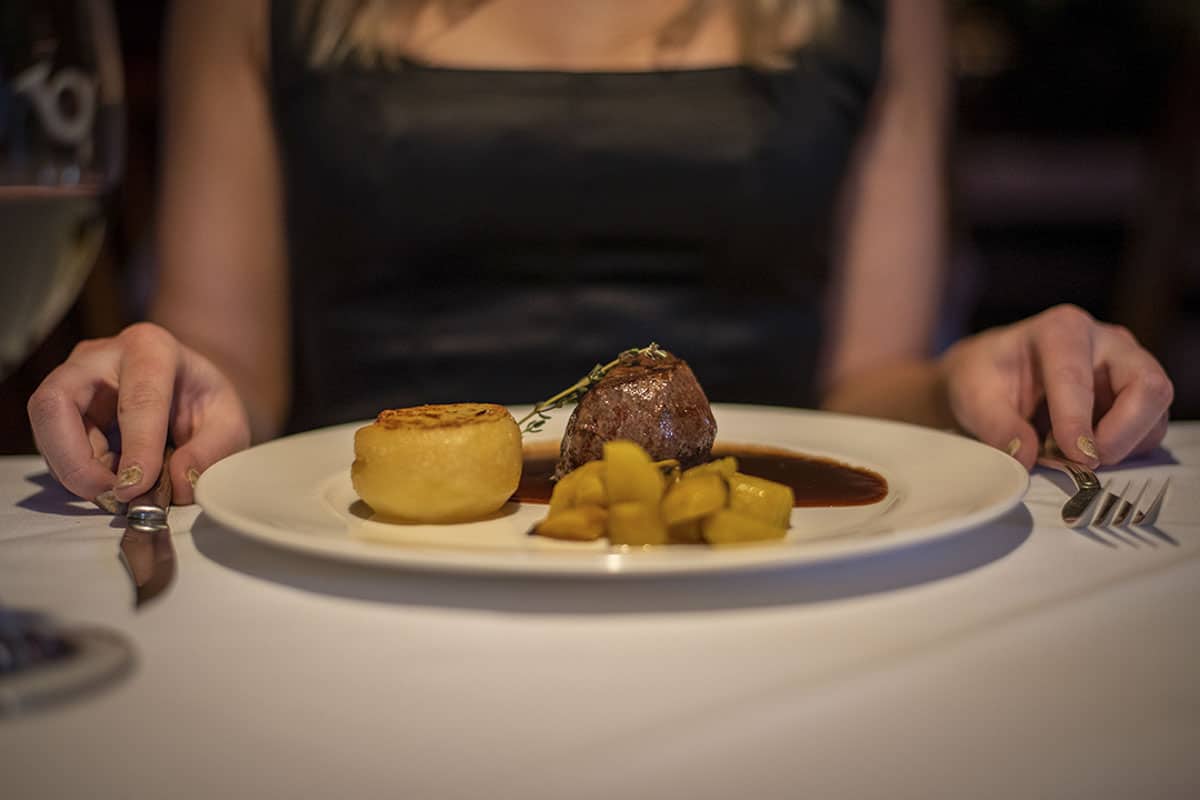 This is the kind of place to relax by the fireplace as you enjoy your fine dining experience after a day of exploring. While eating at the Post Hotel Dining Room is certainly a more formal affair than some of the other Lake Louise restaurants on this list, it's a fantastic spot if you're looking to splurge on a meal to remember.
The Walliser Stube
Location: 111 Lake Louise Dr
Located within the Fairmont Chateau Lake Louise, the Walliser Stube boasts elegant and vibrant dishes, a gorgeous wooden interior, and stunning views of Lake Louise. What more could you ask for? Serving gourmet comfort food – think gooey fondues, melt-in-your-mouth steak, and pan-seared Arctic char with brown butter – it's no wonder the intimate Walliser Stube restaurant is consistently ranked as one of the best Lake Louise restaurants. While the price is steeper than other places to eat in the area, it's an ideal place for a celebration or special event.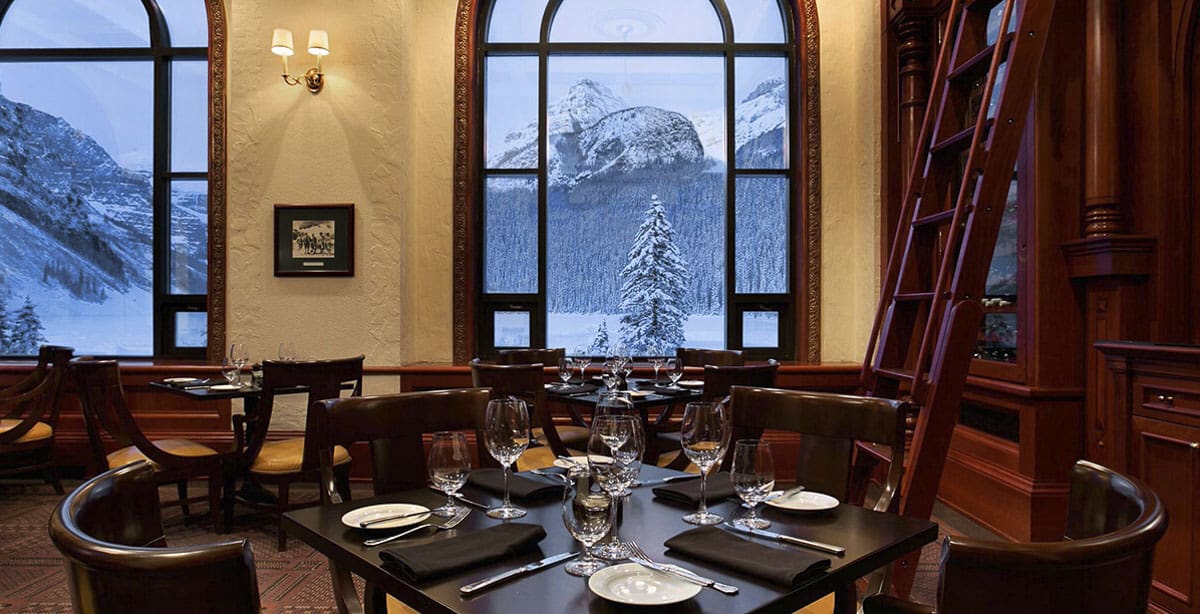 And while the entire menu is absolutely delicious at this upscale restaurant, people flock here for the cheese fondue (made with Gruyere, Emmental, and Appenzeller cheeses) and the bouillon style fondue (made from a 72-hour bouillon of caramelized veal bones). With one bite, you'll swear you're in the Swiss Alps, not the Canadian Rockies! The innovative European Alpine cuisine at the Walliser Stube makes for an amazing fine dining experience, and it is sure to impress.
Once again, the restaurants at the Fairmont are only available to registered guests (with the exception of afternoon tea).
Trailhead Café
Location: 101 Lake Louise Dr
Looking for a quick bite for takeaway? Make your way to the Trailhead Café in the Lake Louise Village Market for a fast and easy meal on the go. From coffee to baked goods to salads and sandwiches, there's a good selection of snacks and lunches to choose from.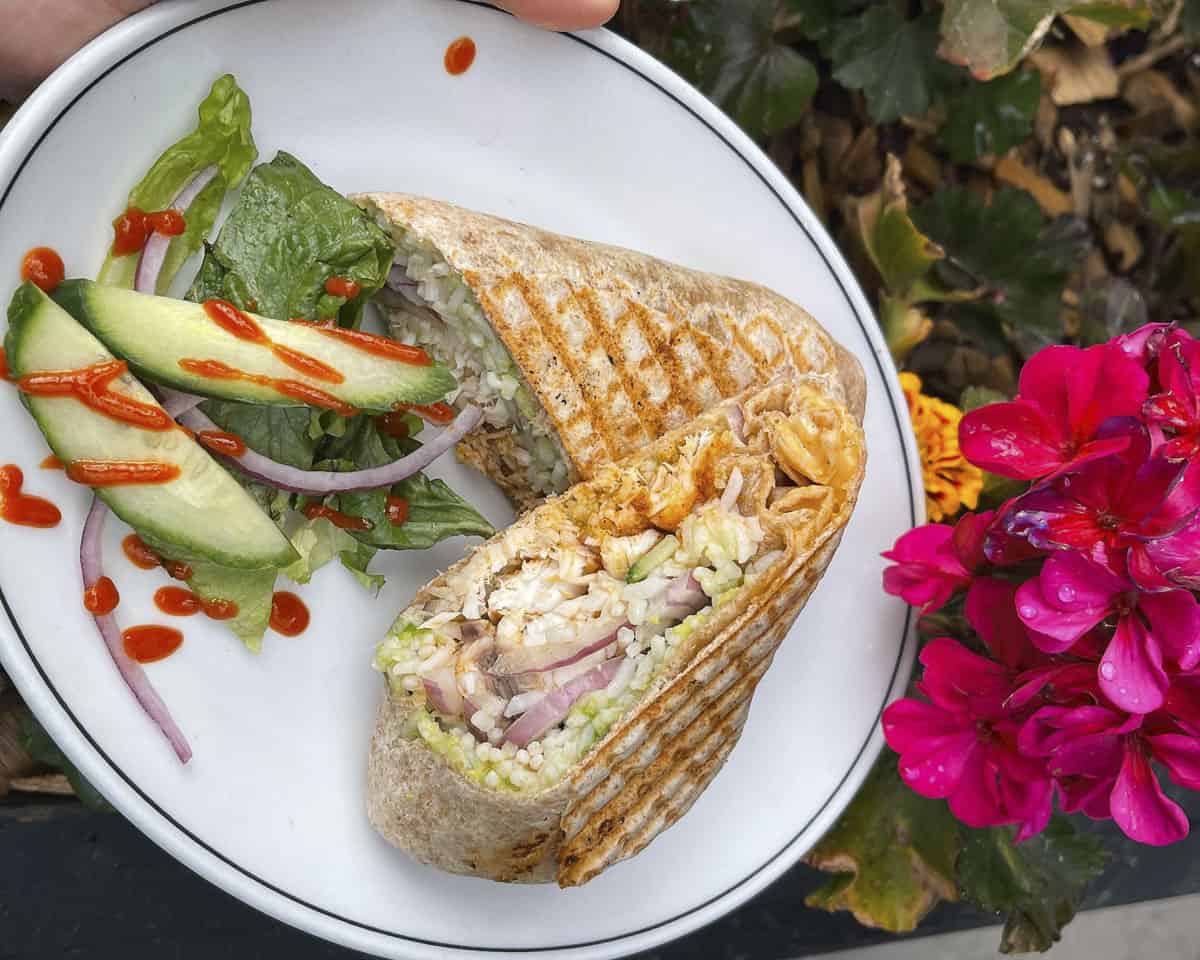 There are also quite a few gluten-free, vegetarian, and vegan options! Our tip: go early if you plan on stocking up before a hike, as many people will have the same idea. The breakfast sandwiches and breakfast burritos are very popular and make good food to go!
Timberwolf Pizza and Pasta Café
Location: 210 Village Rd
Found inside the Lake Louise Inn in Lake Louise Village, Timberwolf Pizza and Pasta Café is a wonderful spot for a casual but tasty meal. Almost always packed, it's certainly a popular place, especially on the weekends! Famous for their pizzas, people love the Timberwolf, a 12-inch pizza comprised of smoked bacon, ham, roasted garlic, pesto-marinated tomatoes, mushrooms, and mozzarella.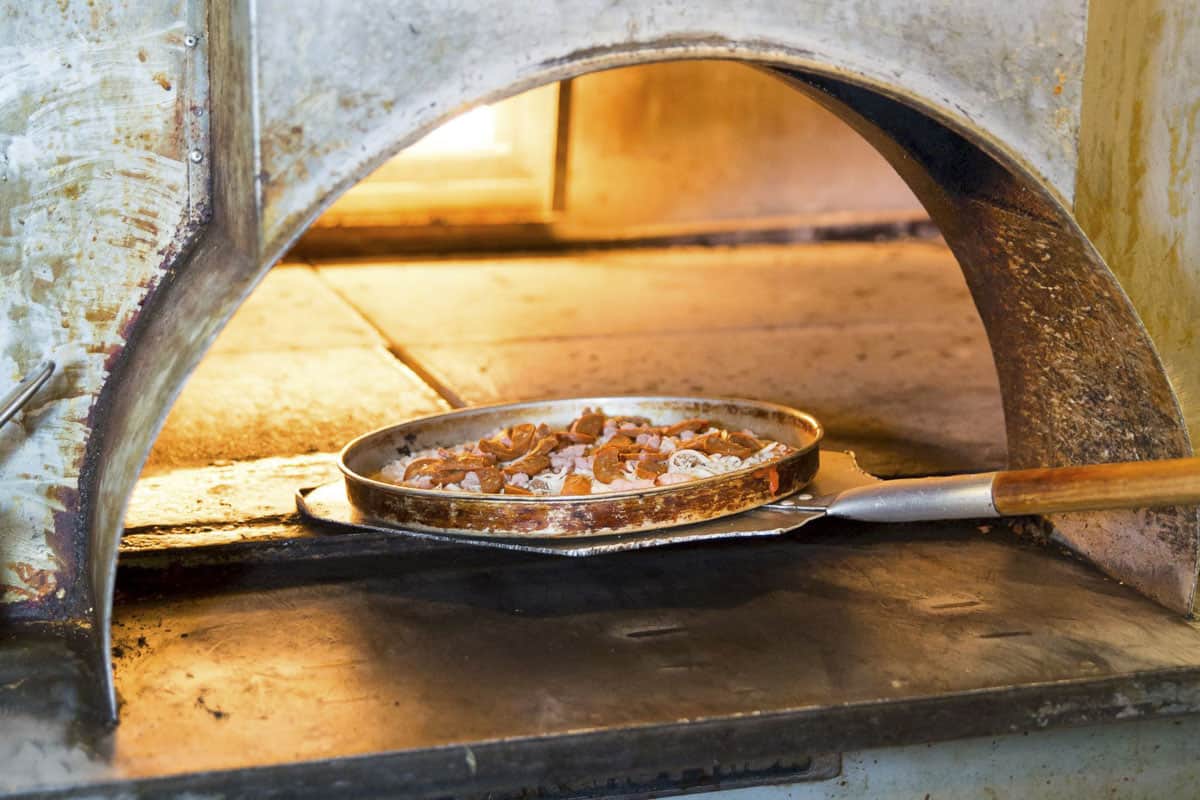 Not in the mood for pizza? Well, the name says it all… there's pasta, too! The Lake Louise Lasagna is a popular choice, as is the Chicken Parmesan. Make sure to save room for dessert, as there are some mouthwatering choices on the menu. All in all, Timberwolf Pizza and Pasta Café is a great family-friendly option in Banff National Park. And don't forget to check out Legends Restaurant, another restaurant in the Lake Louise Inn that's open for breakfast, lunch, and dinner.
Alpine Social
Location: 111 Lake Louise Dr
Alpine Social is another of the Fairmont Chateau Lake Louise's restaurants and the hotel really does take the cake when it comes to the dining options in Lake Louise. But again, it is only open to registered guests of the hotel. Head to the Alpine Social to "meet, eat, and celebrate", as the space is inspired by those who love climbing mountains and talking about them. With hearty meals and a warm interior inspired by mountaineering, a visit here makes for a lively, cozy evening.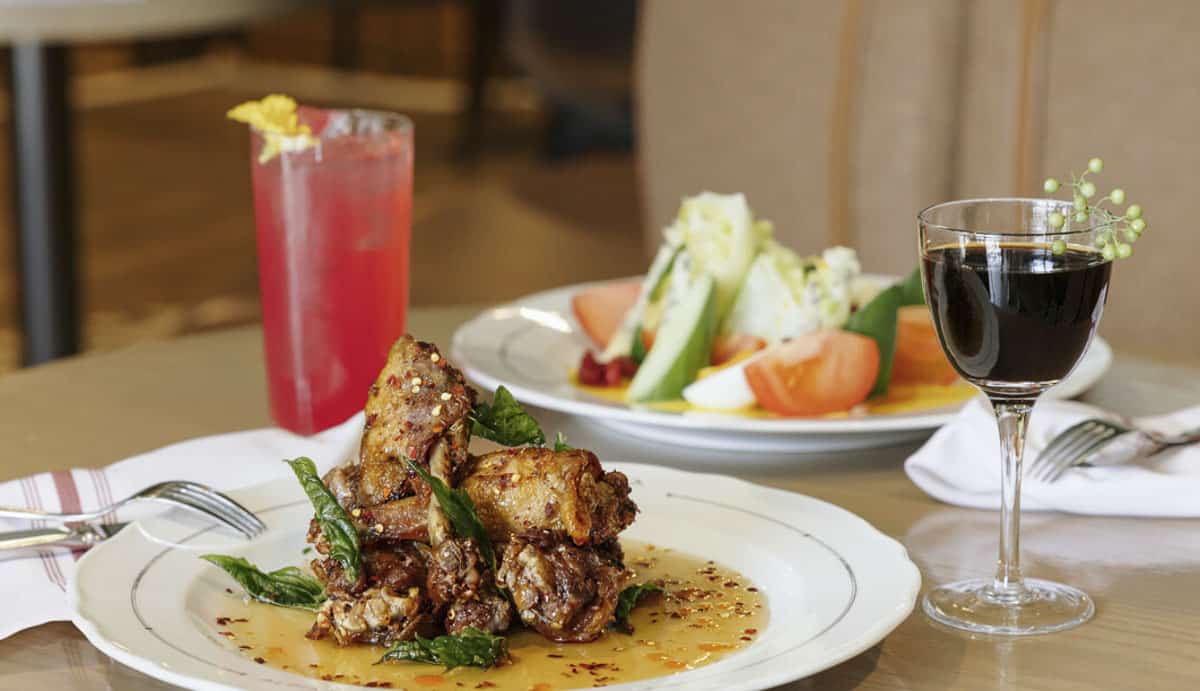 Open for dinner and into the late night, choose from a Caramelized Tamari Chicken Sandwich, AAA Angus Beef Burger, Homemade Bison Ravioli, or an Umami Mushroom Sandwich (among others). There are also share plates, small plates, and all your fave appetizers. And if you like your spirits, this is the place for you; there's an amazing list of Canadian Whisky, Scotch, and so much more. Is there anything better than an Old Fashioned after a mountain adventure? But don't worry, they have non-alcoholic cocktails, too! Perfect for a late-night meal and a great drink, it's no wonder Alpine Social has made its way on this list. And don't forget to check out the Lakeview Lounge, Lago Italian Kitchen, and The Guide's Pantry, all other restaurants at the Fairmont available to registered guests.
Mountain Restaurant
Location: 200 Village Rd
A family-owned restaurant since 1984, Mountain Restaurant in Lake Louise boasts gorgeous views of the surrounding mountain peaks. With its rustic setting, local cuisine, and extremely friendly service, it's an excellent choice when it comes to restaurants in Lake Louise. It's a great place to warm up after a long day in the snow or for some much-needed fuel after a day of hiking, and the staff here aim to make everyone feel at home as soon as they walk in the door.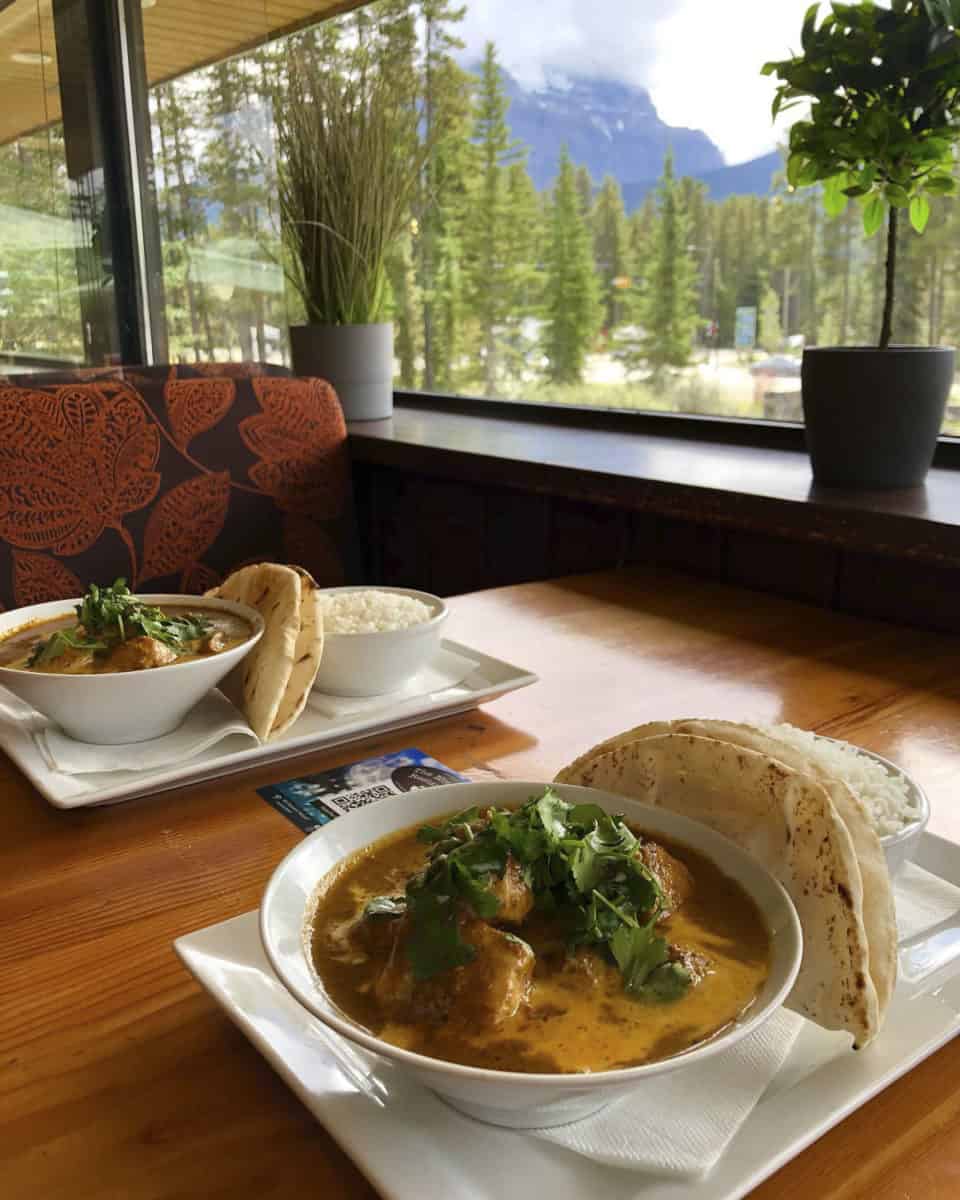 On the menu, you'll find Canadian staples such as burgers, pizza, steak, pasta, and mains such as Thai Curry Shrimp Noodle Soup, Indian Chicken Curry, and – a fan favourite – the Chicken Bulgogi. A few of the dishes can also be vegetarian if requested. Interested in a coffee after your meal? Check out the Javalanche Cafe right next door.
Outpost Pub
Location: 200 Pipestone Rd
Another restaurant found in the Post Hotel, the Outpost Pub is the most casual of the restaurants there. Open to both hotel guests and outside patrons, the English-style pub is the perfect place to unwind or catch up with friends, and it has one of the warmest atmospheres in all of Lake Louise. It's also a spot to catch sports events, as they regularly play sports on their TVs.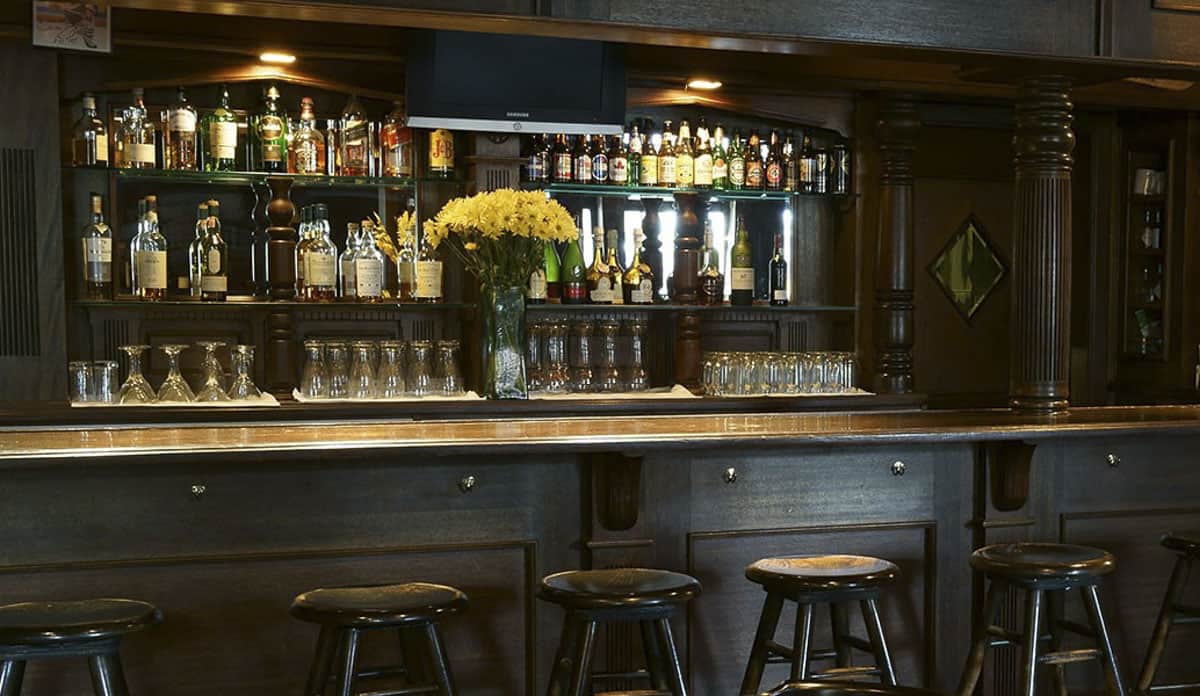 Regulars rave about the exceptionally friendly service and the wooden and cozy interior. As for the food, this is where you eat if you're after tasty, filling pub fare, including burgers, steak, pasta, and more. Also check out the Sir Normal Lounge at the Post Hotel, which is perfect for an après ski, après hike, or a light snack!
Looking for more about Lake Louise? Here are some suggestions: