Disclaimer: This page may contain affiliate links. Please review our full Terms and Conditions for more information and our Privacy Policy. Note that any pricing, operating hours, or other such information provided below may have changed since initial publication.
Compiled by the Road Trip Alberta team
Last Updated on January 24, 2023
From endless mountain vistas to countless brilliant blue lakes, Banff is home to some of the most breathtaking views in the world. Although, with all of the sights, hikes, and great Banff restaurants, there's just too much to experience in a single-day trip to Banff. Fortunately, spending the night is far from a chore, as there are many stellar hotels and accommodations in Banff to choose from.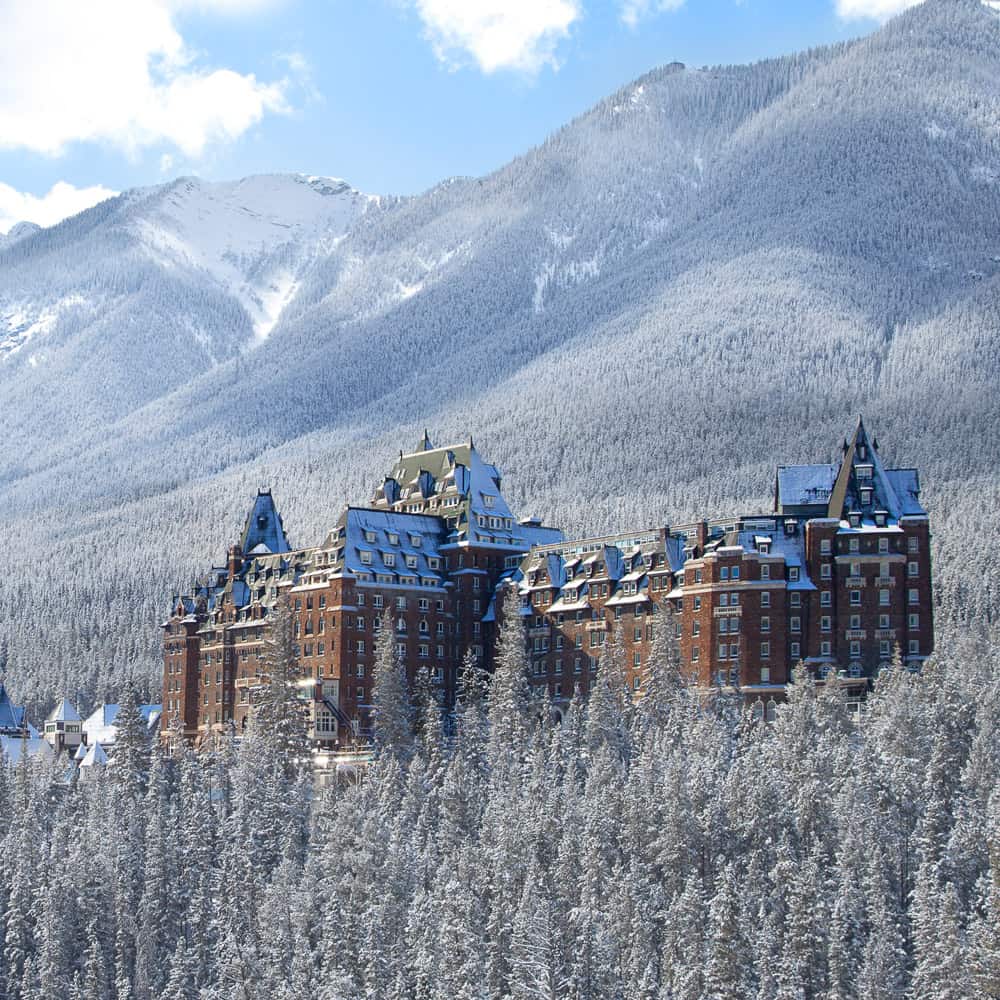 Plan a LONGER trip to Banff!
Make your trip to Banff a multi-day event, especially if your visit intends to capture the best photo spots in Banff. Because who doesn't want to extend their stay in a quaint, bustling mountain town?
(Well, perhaps the Grinch wouldn't. But Banff isn't Whoville. Moving on!)
Where to Stay: Accommodations in Banff, Alberta
Planning for an extended stay in Banff calls for some quality lodging. To help you find the right hotel, hostel, or campground, we've gathered a list of our favourite places to stay in the townsite and more expansive Banff National Park.
Our Picks for Banff Hotels
There are plenty of hotels in Banff to choose from – but sometimes, the more choices of places to stay, the more difficult it is to decide. For example, you Google a term such as 'the best hotels in Banff, Canada', and not shockingly, you're flooded with a list of options – each more beautiful than the last. But which ones are using some creative photo-shop skills? Or snapping pictures of that one newly renovated room that almost no one gets to stay in?
Good news! We've been to Banff a lot, so we can speak from experience. We know the best Banff hotels, the best Banff cabins and bed and breakfasts, and the best Banff campgrounds to stay at.
Here's our list of where to stay in Banff (according to budget):
Fairmont Banff Springs (Luxury)
Banff's fairy tale castle – the Fairmont Banff Springs Hotel – will take your breath away with its luxury suites and old-world charm. It's "the" Banff hotel that comes to mind when thinking of a place to stay. There are highly-rated restaurants on-site (including 1888 Chophouse, The Vermillion Room and Castello Italiana), gorgeous views, a phenomenal spa, and a wealth of history to absorb just by being there.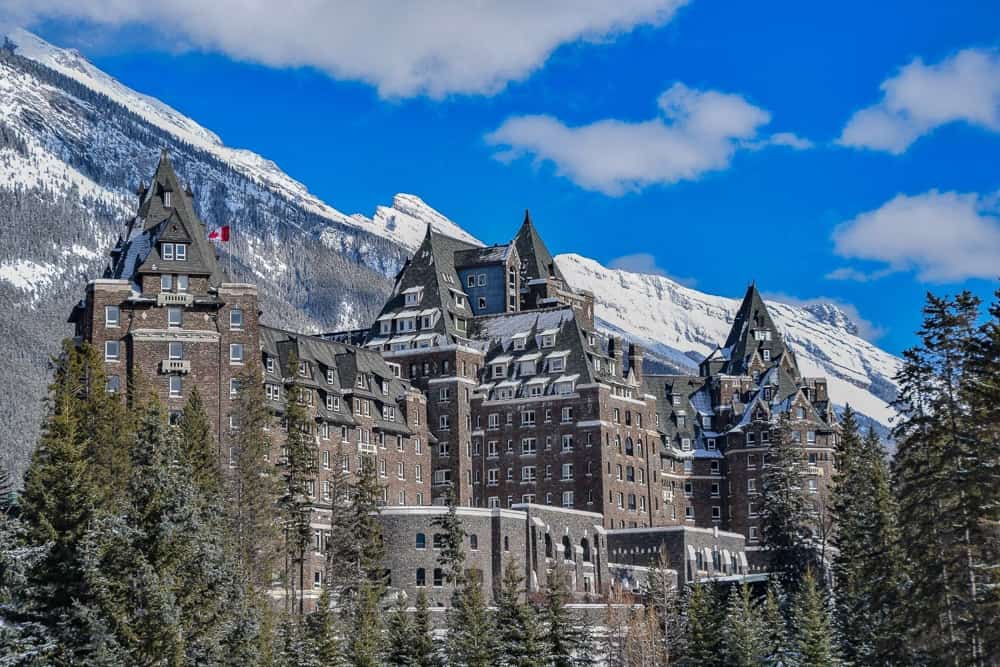 Staying at the Banff Springs Hotel is, without a doubt, one of those once-in-a-lifetime experiences that all the cool kids talk about.
See Reviews | Check Availability
Rimrock Resort Hotel (Luxury)
The Rimrock Resort Hotel highlights the best feature of Banff National Park: the view. However, it's also classified as a luxury hotel for a reason. Guests have access to two restaurants, two lounges, a swimming pool and hot tub, a fitness center and a stellar on-site spa (go for the facial!).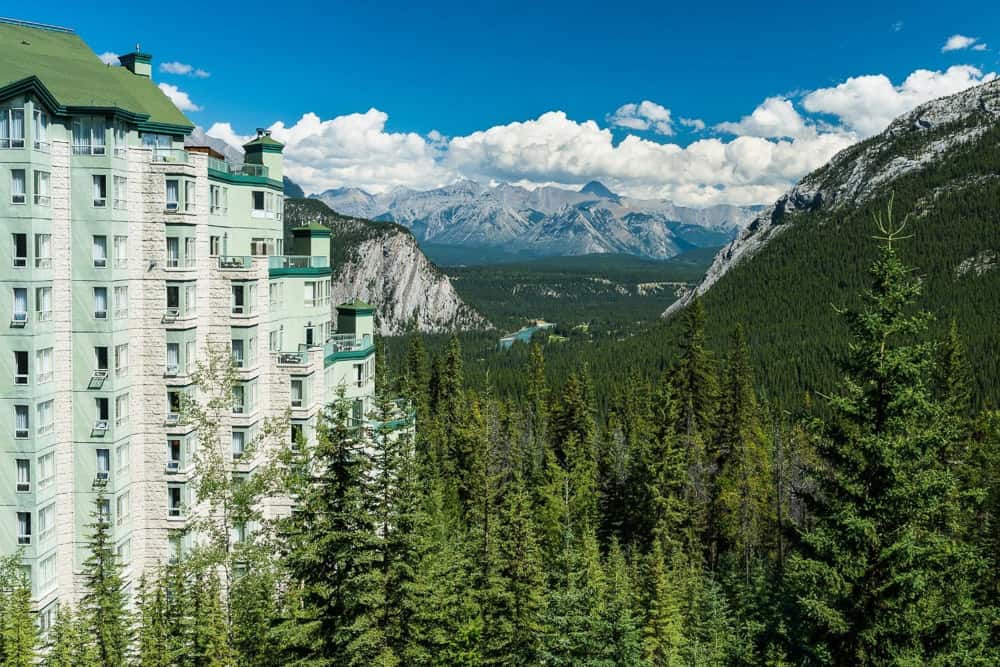 This popular Banff hotel is next to the Banff Gondola and Banff Upper Hot Springs pools. By staying at the Rimrock, there's more to experience here than just this hotel's epic mountain vistas.
See Reviews | Check Availability
Canalta Lodge (Mid-Range)
Canalta Lodge is one of the newest hotels on this list, boasting a mountain-lodge casual charm that is very family-friendly. It's one of our favourite accommodations in Banff because of the four-season patio, complete with hot tub(s) and fire pits.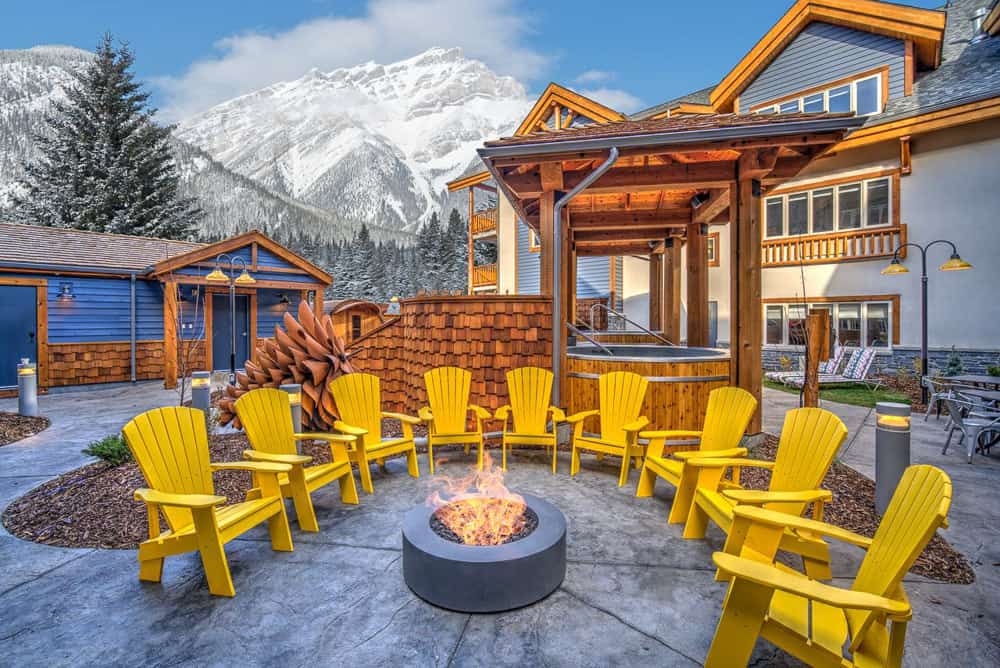 The scene creates a picturesque backdrop as you spend time with friends and family. And, with its close proximity to downtown Banff, dining out on the town is the ideal choice.
See Reviews | Check Availability
Moose Hotel and Suites (Mid-Range)
Smack dab in the middle of all the action, Moose Hotel and Suites is just a quick jaunt (a one to two-minute walk) from downtown Banff, making getting around town simple. After a day meandering Banff Ave, those tootsies will be craving some TLC – and the Moose Hotel has you covered.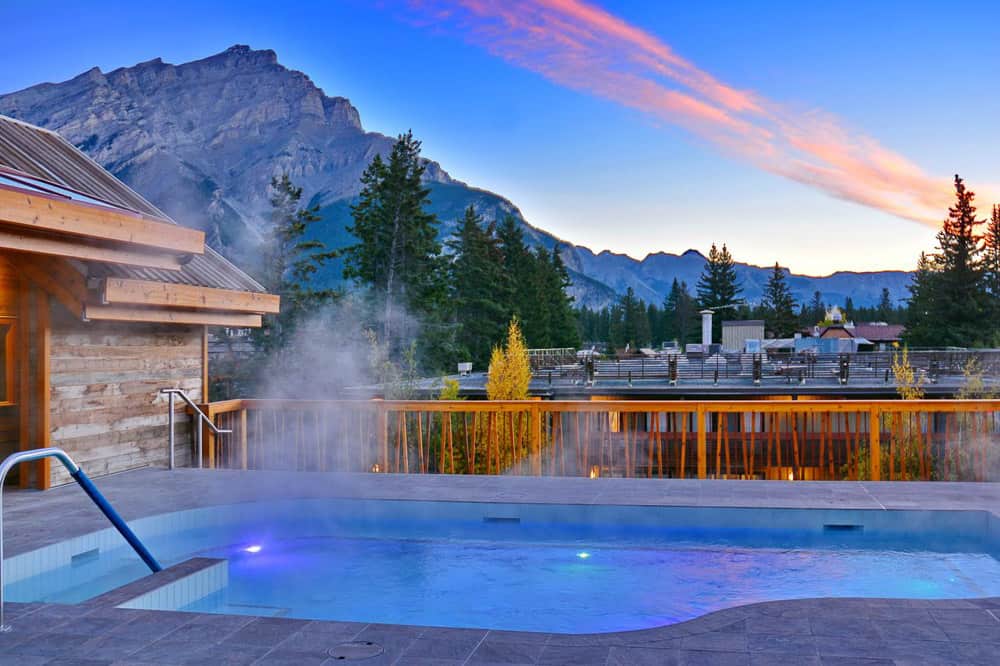 Unwind at the spa, or head to the rooftop for some 'next-level' relaxation, where two outdoor hot tub pools await to unravel those achy muscles. It's a 'Moose-do' activity!
See Reviews | Check Availability
Basecamp Suites Banff (Mid-Range)
Now, THIS is our kind of digs. Right smack in the heart of downtown Banff is the new Basecamp Suites Banff. The property has 21 large apartment-style suites, each designed with a modern mountain aesthetic. It's a home-away-from-home style accommodation for guests with all the amenities of a boutique hotel combined with gorgeous Rocky Mountain views.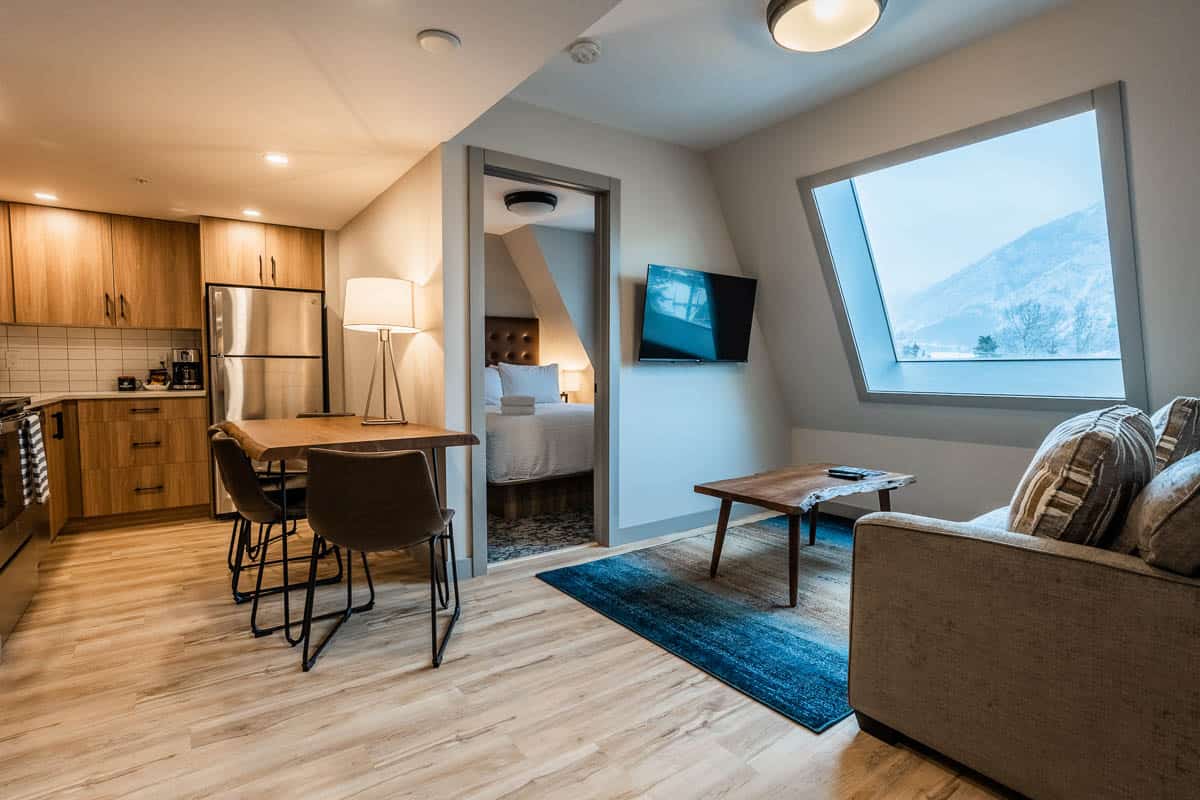 There are options for one to three bedrooms, and every suite comes with a fully equipped kitchen, perfect for making your own meals after a day of hiking or being on the slopes. It's an ideal spot to stay for a couple, family or a group of friends.
Fox Hotel and Suites (Mid-Range)
The Fox Hotel and Suites are completely inspired by natural elements from Banff National Park, making it one of our favourite Banff Hotels. More specifically, their hot pool is entirely modelled after the Cave and Basin National Historic site.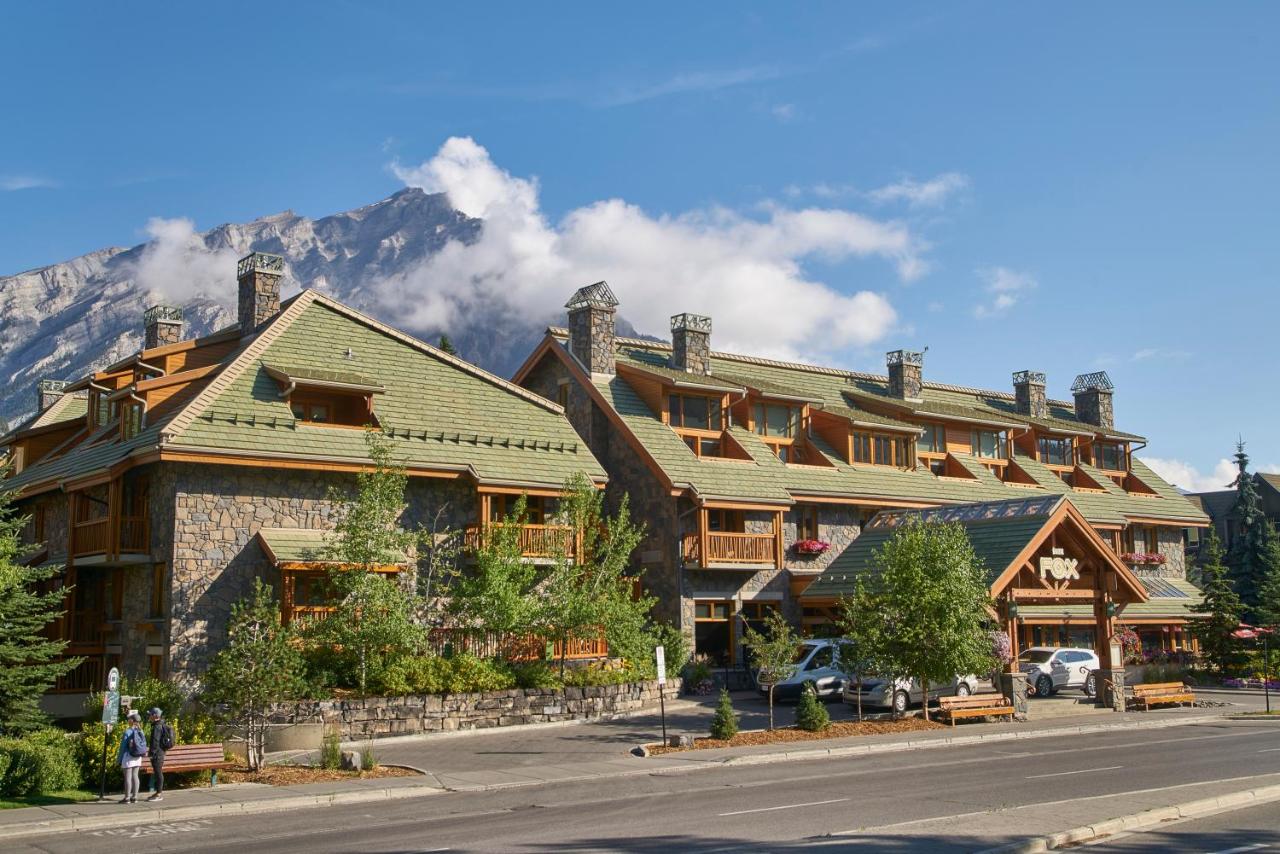 We love to stay here for many reasons, including the included continental breakfast, complimentary Banff Local Roam bus passes and FREE heated underground parking – perfect for our cold winter visits. It's also within walking distance of some amazing bakeries and restaurants.
See Reviews | Check Availability
Peaks Hotel and Suites (Mid-Range)
A relatively new hotel, The Peaks Hotel and Suites is one of the best accommodations in Banff in terms of comfort and location. It's right smack-dab in the middle of town, making it very convenient for visitors to experience everything Banff offers.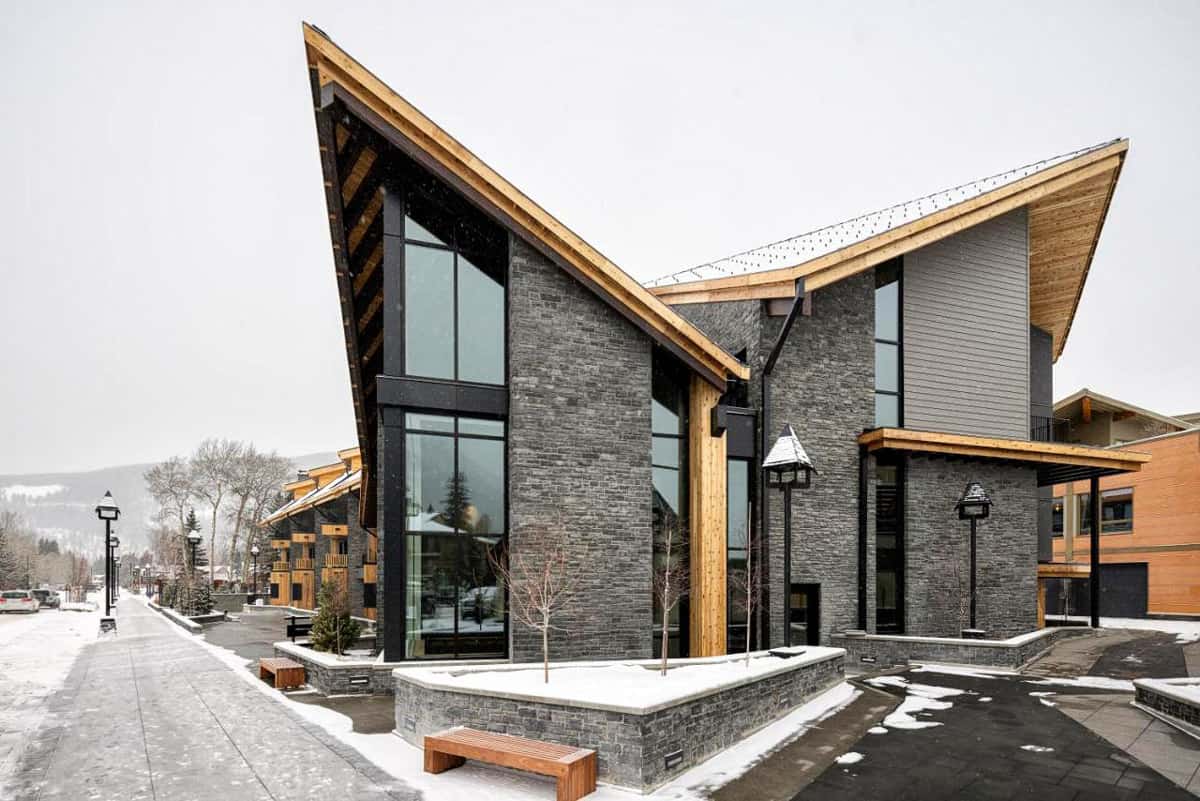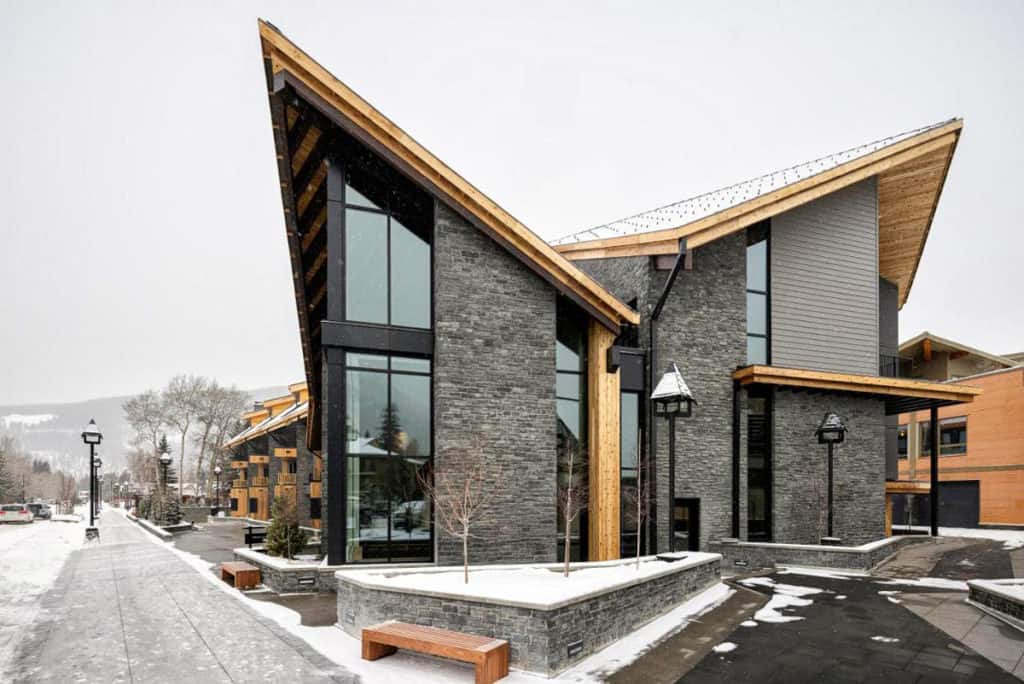 The hotel is extremely nicely finished, with outstanding woodwork in the common areas giving it a comfy and cozy feel. The service gets 'excellent' reviews from other visitors, and the suites are equipped with everything a traveller could want.
See Reviews | Check Availability
Banff High Country Inn (Budget)
Comfortable, clean, pet friendly and close to downtown, the Banff High Country Inn is one of our recommended budget-friendly accommodations in Banff while offering easy access to everything the mountain town has to offer.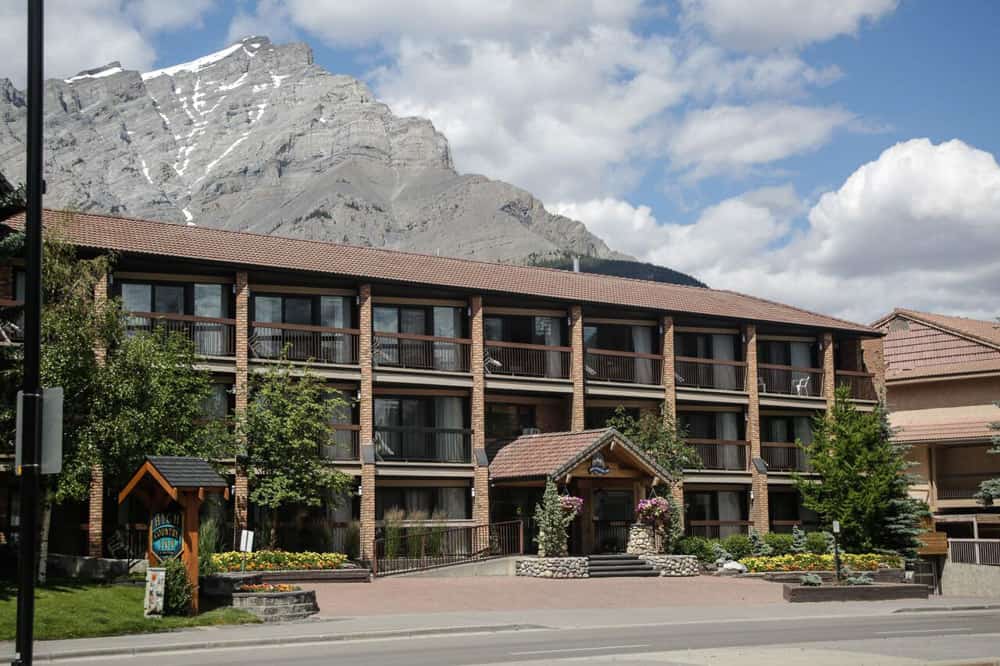 This budget-option hotel has many good amenities, including free wi-fi, an indoor pool and free parking, so it's perfect for those looking to save money for more activities in and around town – perhaps like skiing!
See Reviews | Check Availability
Banff Bed and Breakfasts
The only thing cozier than a bed and breakfast is one that is nestled deep in the Canadian Rockies. With a more personal touch and a home-style breakfast versus a hotel in Banff, a good bed and breakfast makes you feel at home. There are a few B&B options in the Banff townsite.
So go ahead – enjoy good company and great food at these charming Bed and Breakfasts in the town of Banff! (Note that Airbnb's in Banff are not permitted, but there are options nearby and just outside the town.)
Mountain View Bed and Breakfast
Tucked away at the edge of town, choose between a room at the carriage house or one in the main house at this quaint B&B. A quick walk from both downtown and to the Lower Tunnel Mountain Trailhead, Mountain View offers activities for hikers and townies alike.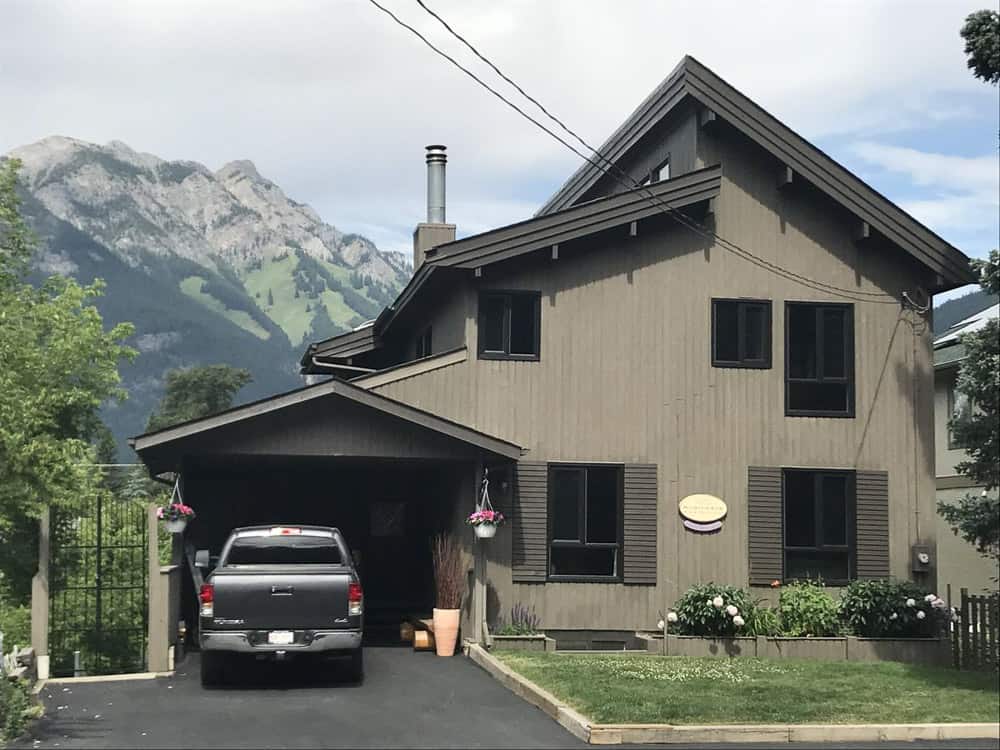 This Banff B&B offers very comfortable guest rooms, a hearty breakfast, free wifi and ample free parking.
See Reviews | Check Availability
Beaujolais Boutique B&B at Thea's House
Heavy on the second 'B', The Beaujolais Boutique offers guests both breakfast and brunch (maybe we should call it a B&B&B?).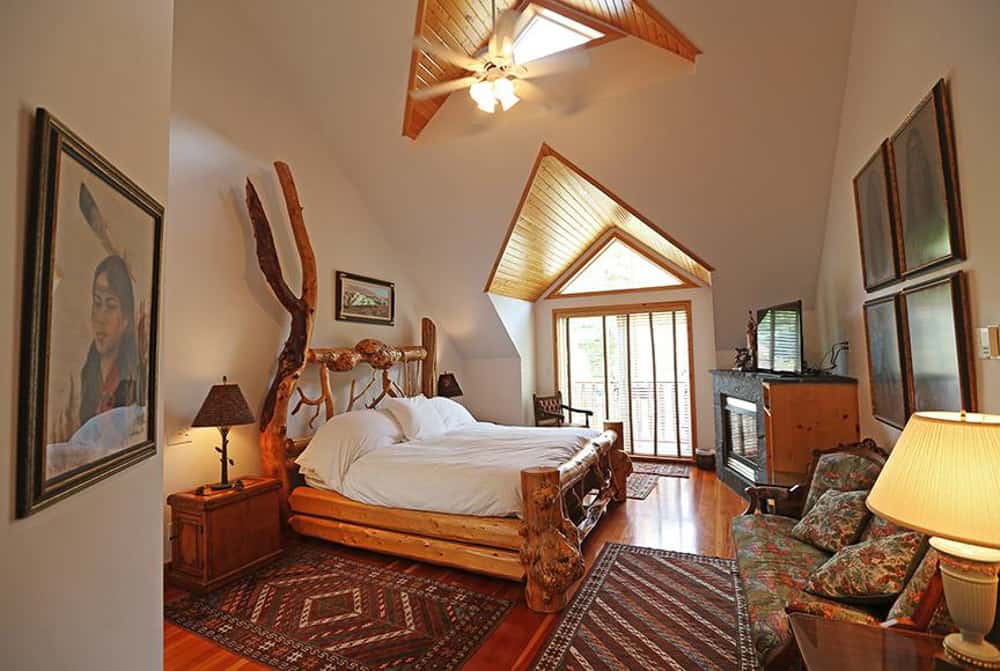 From homemade jams and locally roasted coffee to fresh cheese and charcuterie, Beaujolais Boutique offers an enjoyable spread and some hearty hot breakfast options!
See Reviews | Check Availability
Hostels in Banff
From the weary backpacker to those looking for a simple place to crash after dominating the slopes, the hostels in Banff are the perfect answer to staying in the village without breaking the bank.
HI Banff Alpine Centre
Located on the outskirts of town, HI Banff Alpine Centre is a twenty-minute hike from downtown Banff's bustling energy but only a short walk to the deep woods and serenity of nature.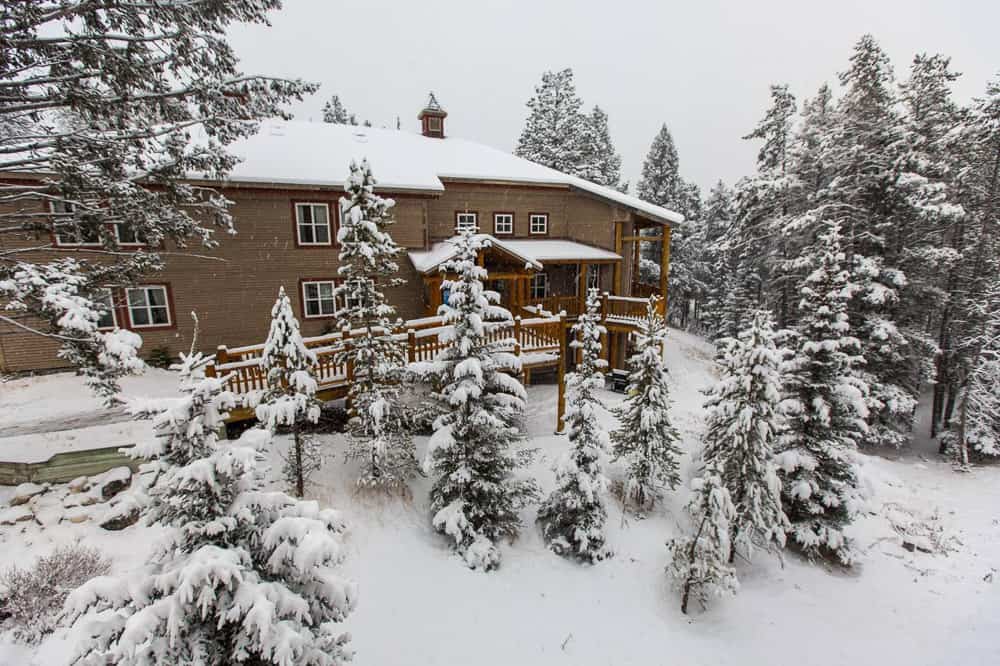 Choose to bunk with some friends-to-be or get a room of your own (and even a bathroom) and enjoy this charming Banff hostel.
See Reviews | Check Availability
Banff International Hostel
A five-minute amble to downtown, the Banff International Hostel is a hive of energy and, likewise, a perfect place to meet new friends.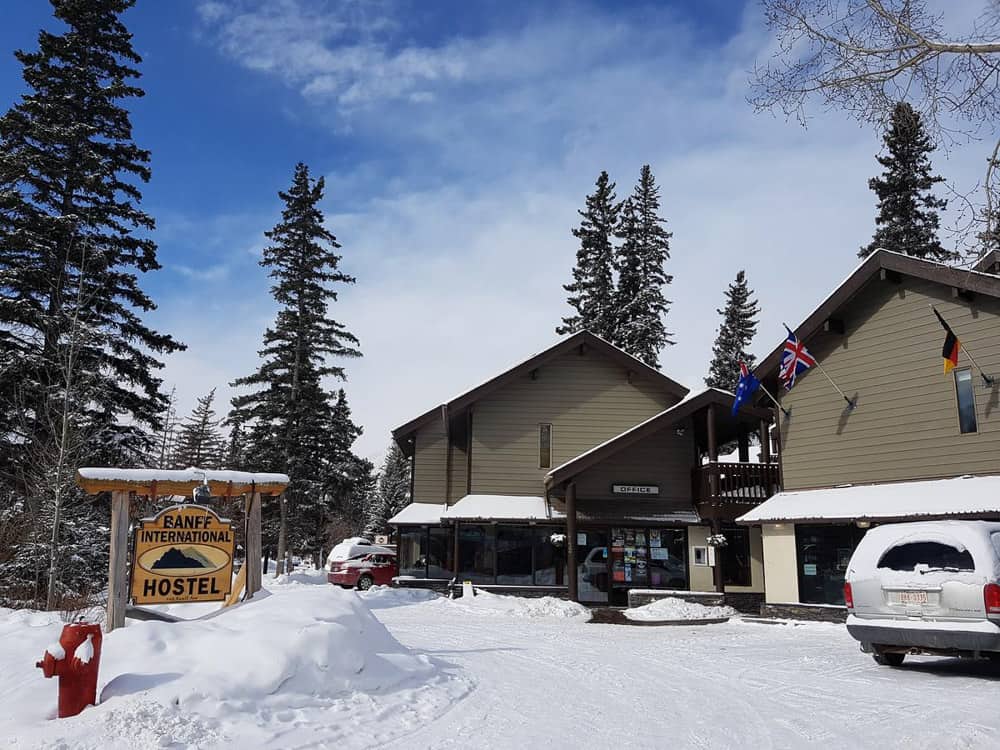 Choose from private group rooms or bunk up with travellers worldwide. Whatever you choose, you're sure to make some great new connections.
See Reviews | Check Availability
Cabins in Banff
Looking to live your #bestmountainlife?
Few places are more rustic than a rugged old cabin cuddled deep into the Canadian Rockies. Add in a crackling fireplace, some authentic log furniture, and of course, incredible mountain views, and your cabin accommodations in Banff will indeed embrace your inner lumberjack. While we've got a few prime ones listed below, see our post on cozy cabins in Banff for more options.
Banff Log Cabin Guesthouse
The classic Banff Log Cabin Guesthouse is cozier than a mother bear in her den (and almost every Banff hotel). Situated in the heart of the Rocky Mountains, the cabin is quiet, with quick drives to both hiking trails and downtown activities.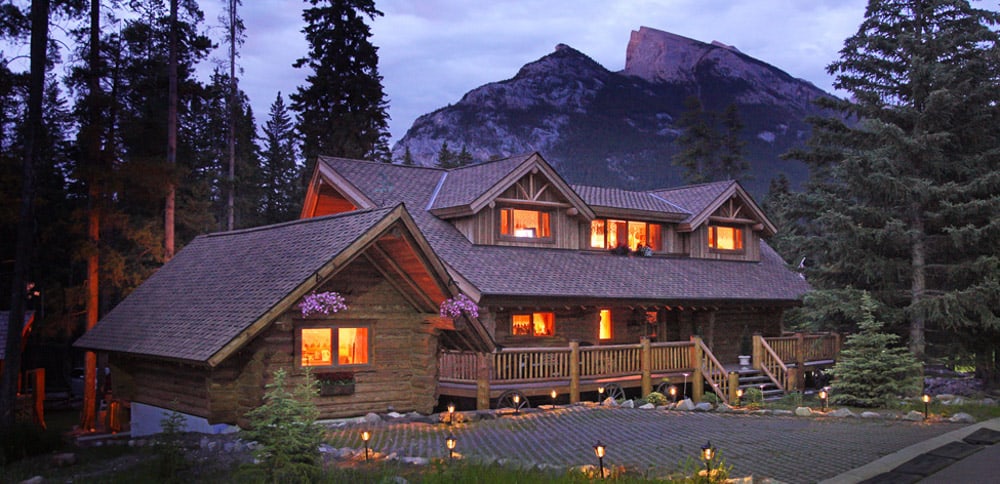 Just be aware with a hearty homemade breakfast delivered daily to your (quaint pine) door, you may never want to leave. Fair enough.
Check reviews and availability
Storm Mountain Lodge
Is 'rustic' your middle name? Then Storm Mountain Lodge is for you. Roughly halfway between Lake Louise and the Banff town site, this cabin is nestled amongst trees and mountains, with little else around to break nature's spell.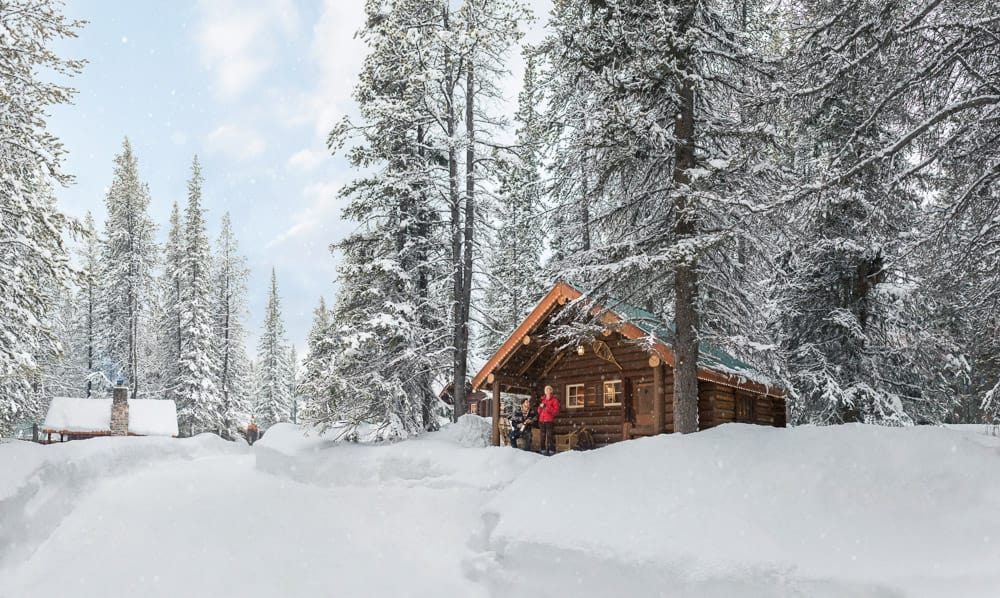 The lodge has an on-site lounge, restaurant, and a summer deli for packing your hiking lunches. The Storm Mountain Lodge has everything you need without hustle or bustle.
Check reviews and availability
Camping in Banff, Alberta
Sometimes all you need is a tent and a yearning for adventure. For those who want to experience accommodations in Banff National Park without walls, there are plenty of beautiful campsites in Banff that eschew the hustle and bustle of a Banff hotel in favour of the wild, rugged beauty of the Rocky Mountains.
We don't always camp in Banff, but when we do, it's at one of the following campgrounds:
Tunnel Mountain Campground
On the outskirts of town, Tunnel Mountain Campground offers easier access to hiking (a couple of minutes' walk to the Tunnel Mountain Trailhead) than it does to the restaurants and bars downtown (a ten-minute drive).
With plenty of sites available for both tenting and RV campers, this campground features indoor washrooms (with showers), fire pits, and plenty of trees for privacy. For camping, it's one of the most popular accommodations in Banff.
Two Jack Lake Campground
Just across the road from Two Jack Lake, this campground puts you smack dab in the middle of nature. A popular year-round destination, with fishing and hiking in the summer and skating and viewing frozen gas bubbles in the ice during winter, Two Jack lake offers plenty to do – with enough peace and quiet for all campers to enjoy.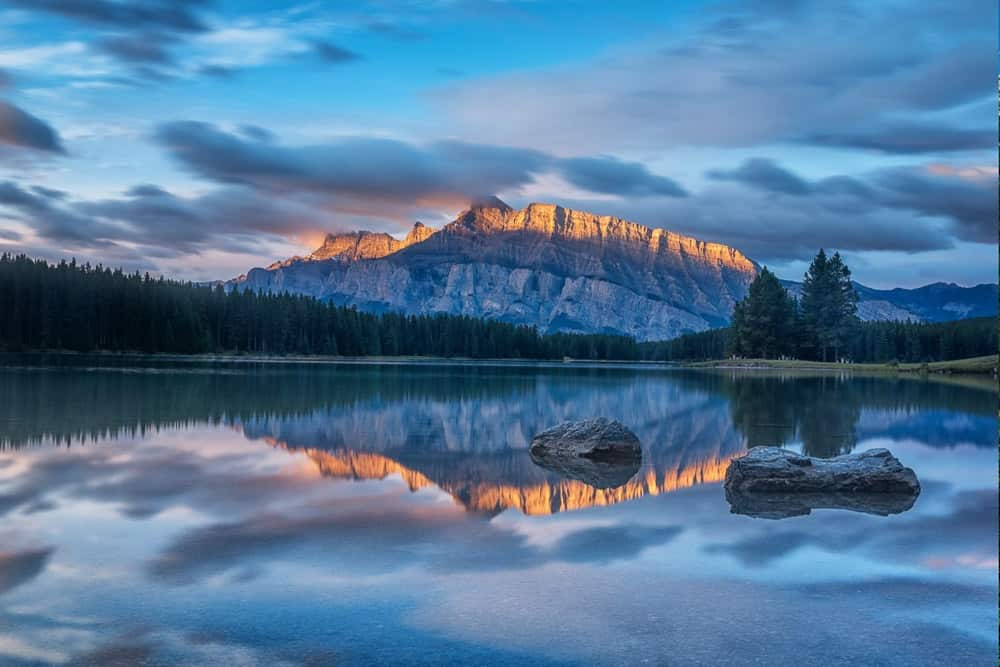 Practical Information for your Banff Trip
Getting to Banff is relatively easy, no matter which direction you are travelling from. But if you want to make the most of your mountain drive, we've got tips on what to see along the way:
We've also done a lot of groundwork to make sure that your stay in the area is the best it can be, click through to read our articles on the top things to do in Banff (like the Banff gondola experience!), where to find the best brunch in Banff, plus the best Banff restaurants to eat at for every meal!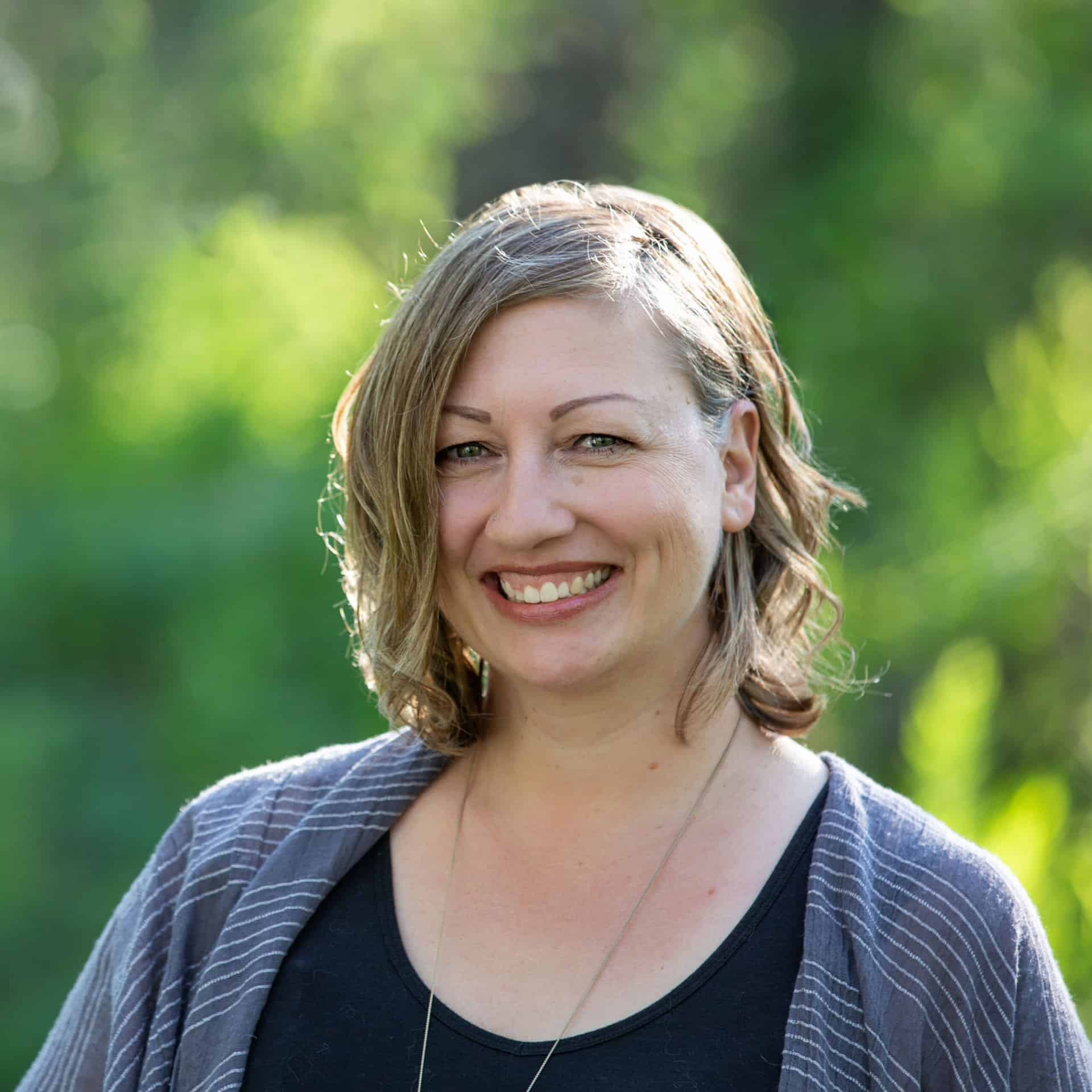 Dalene Heck is a co-founder of Road Trip Alberta. She was born in Edmonton, grew up in the Peace Country, and has ventured to almost every corner of Alberta and the world (she's travelled to 60 countries)! She is a serial blogger, the CEO of HMI Marketing, co-creator of the Trip Chaser card game, a leukemia-slayer, and cat whisperer.