Disclaimer: This page may contain affiliate links. Please review our full Terms and Conditions for more information and our Privacy Policy. Note that any pricing, operating hours, or other such information provided below may have changed since initial publication.
Compiled by the Road Trip Alberta team
Last updated on November 24th, 2023
When people think about Canada, the first image that comes to mind is one of snow-capped mountains and brilliant turquoise lakes. In other words, it's Lake Louise! Its portrait is most often used in selling our country abroad, and for good reason. It's as picture-perfect as it is sold as. It lives UP to the hype.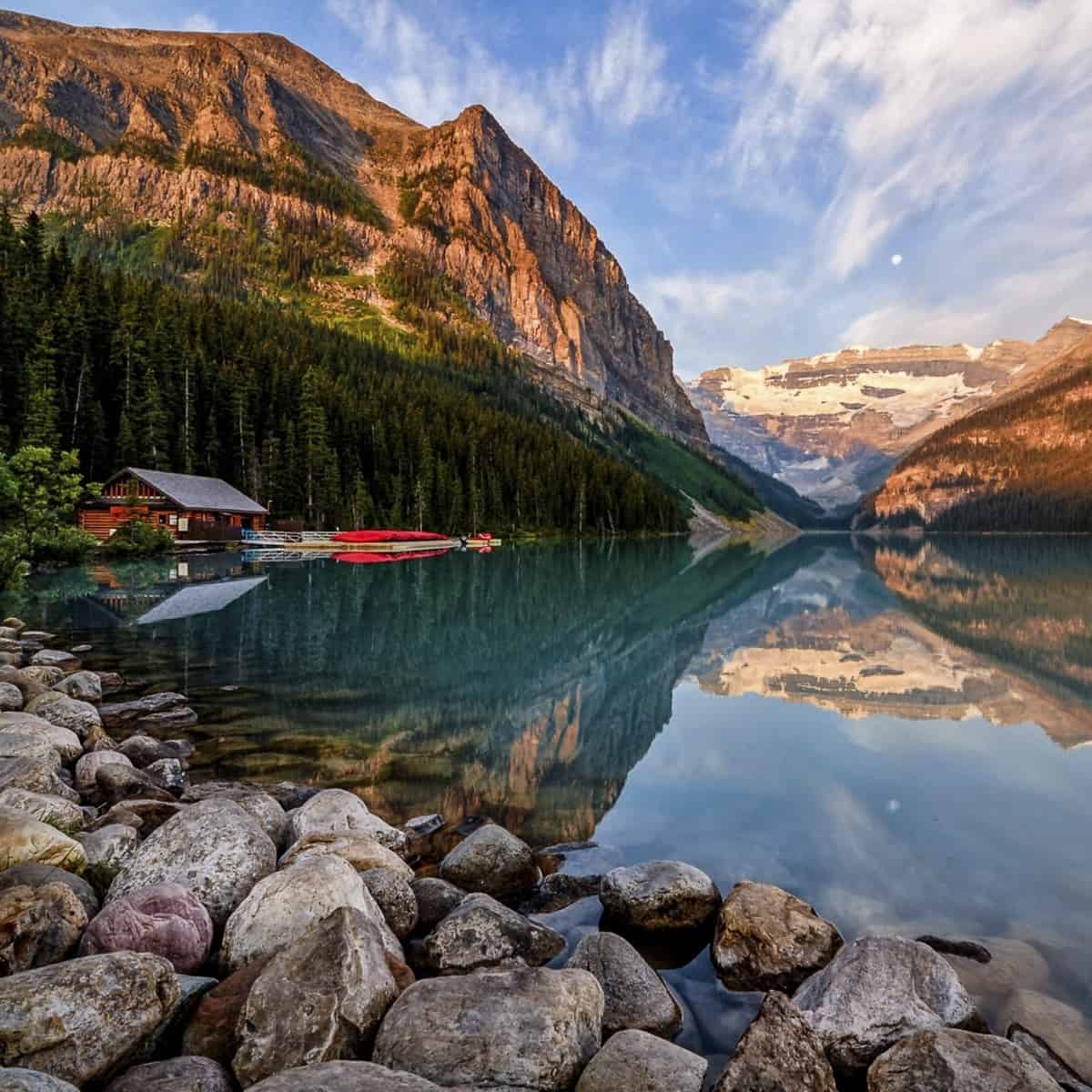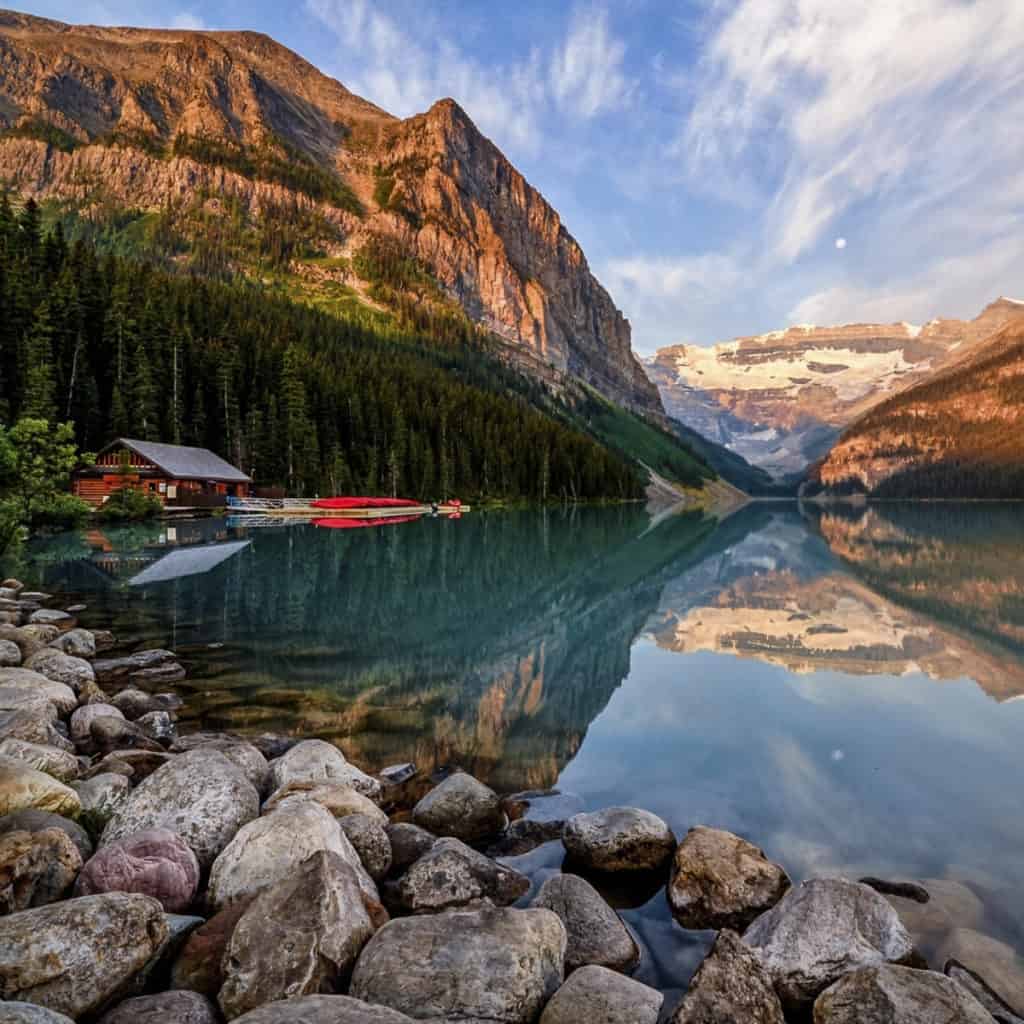 But more than just a pretty picture, this lake, village, and region, offer a wide range of activities. And in this article, we're excited to share our ultimate guide of things to do in Lake Louise.
Acknowledments
Lake Louise is located on the traditional lands of Treaty 7 Territory including the Stoney Nakoda Nations of Wesley, Chiniki, and Bearspaw; three Nations of the Blackfoot Confederacy: the Pikani, Kainai, and Siksika; and the Tsuu T'ina of the Dene people. Lake Louise is also shared with the Métis Nation of Alberta, Region III.
Getting There
Driving to Lake Louise
Lake Louise is a hamlet in Banff National Park. Found on Highway 1 (the Trans-Canada Highway), it is 183 kilometers from Calgary to Lake Louise and 470 kilometers from Edmonton. If you're coming from the town of Banff, it's approximately 57 kilometers north along Highway 1. If you are traveling from Jasper, it is approximately 230 kilometres along the Icefields Parkway and will take just under 3 hours to drive with no stops.
There is no airport in Lake Louise and the nearest airport is the Calgary International Airport (YYC).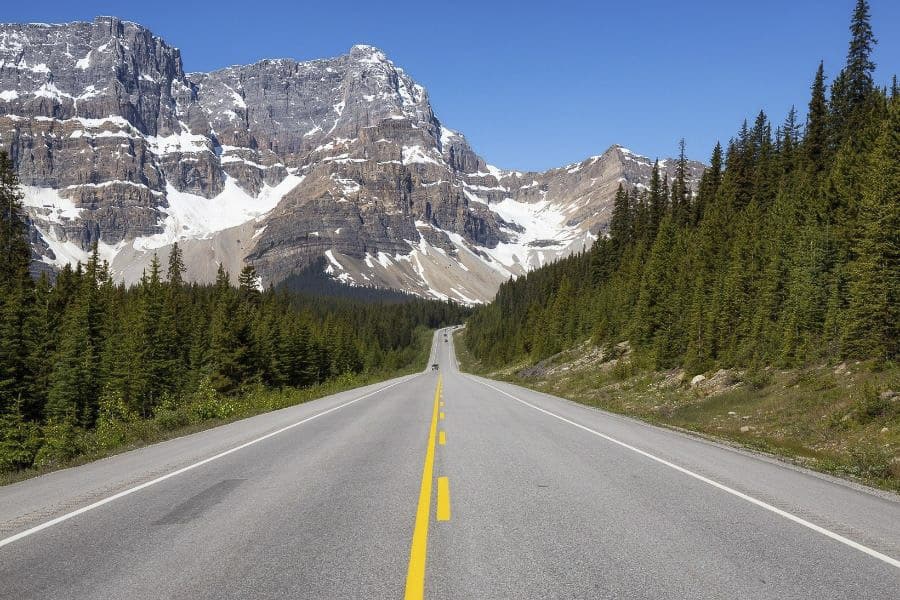 Parking at Lake Louise
Parking your vehicle, especially during the summer months, is extremely limited at the lakeshore. The lots are often full by sunrise and remain full throughout the day. From May – October, the Lake Louise Lakeshore parking lot is mandatory paid parking from 7am to 7pm and all vehicles must have a valid National Park Pass.
Parks Canada Shuttle Bus
From May to October to avoid the congestion and hassle of parking at Lake Louise plan to take the Parks Canada Shuttle to the lakeshore. The shuttle operates daily and does require a reservation. Drive to the Lake Louise Park and Ride (6 km east of Lake Louise village) and take the Parks Canada shuttle.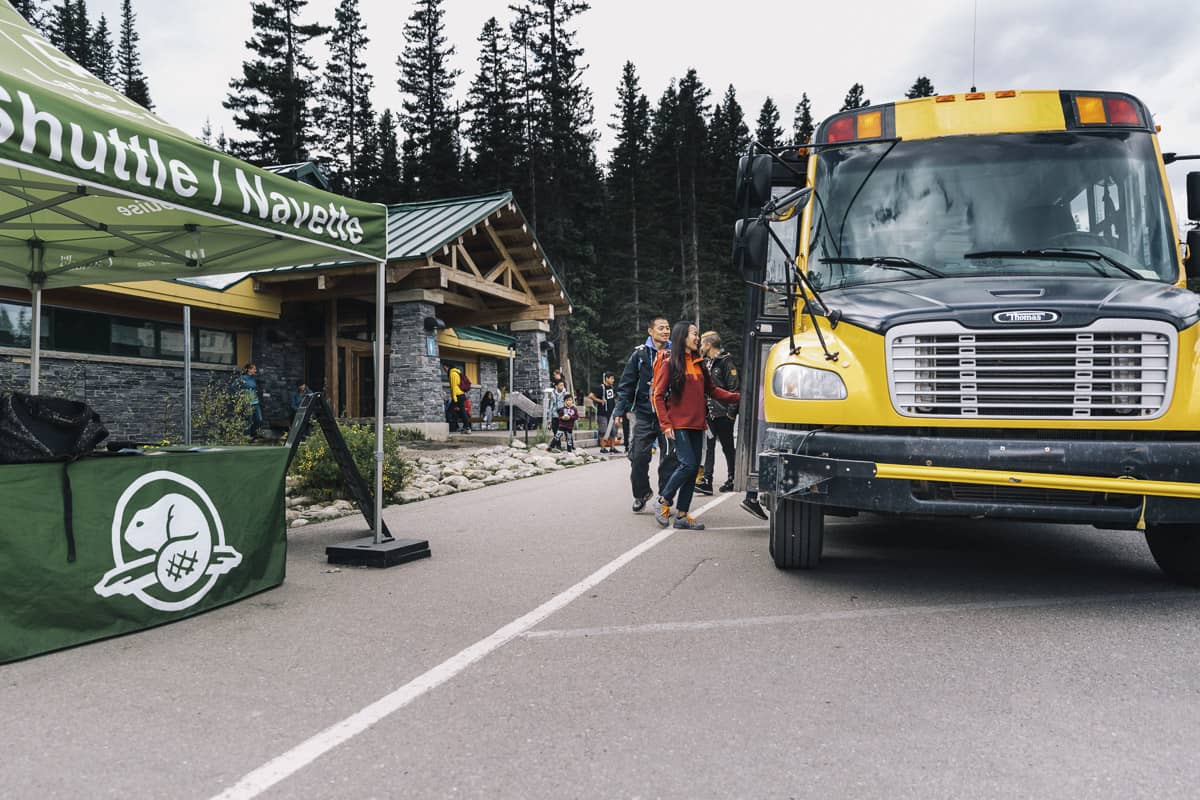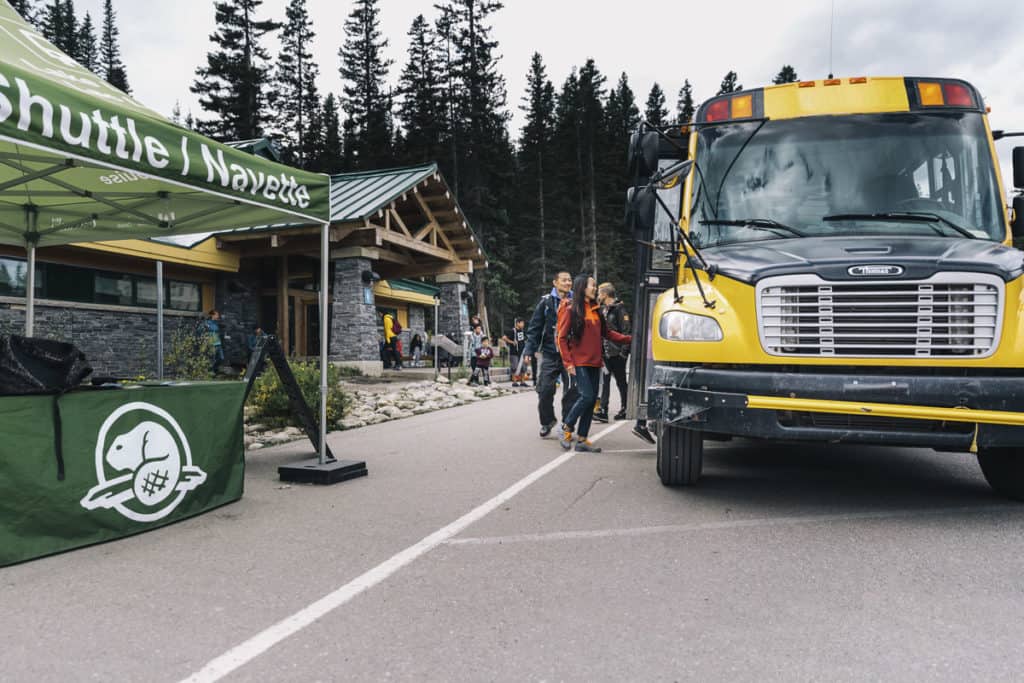 Banff Shuttle and Bus to Lake Louise
Roam Transit
Roam Transit makes it easy to get from Banff to Lake Louise. In the summer months, there are approximately 15 departures daily. Route 8X is the Lake Louise Express and will take you direct (non-stop) from Banff to Lake Louise Village. There is also Route 8S which is the Lake Louise Scenic Route. This bus travels along the Bow Valley Parkway and makes stops at Johnston Canyon, Castle Junction, Protection Mountain, Baker Creek and Lake Louise Village.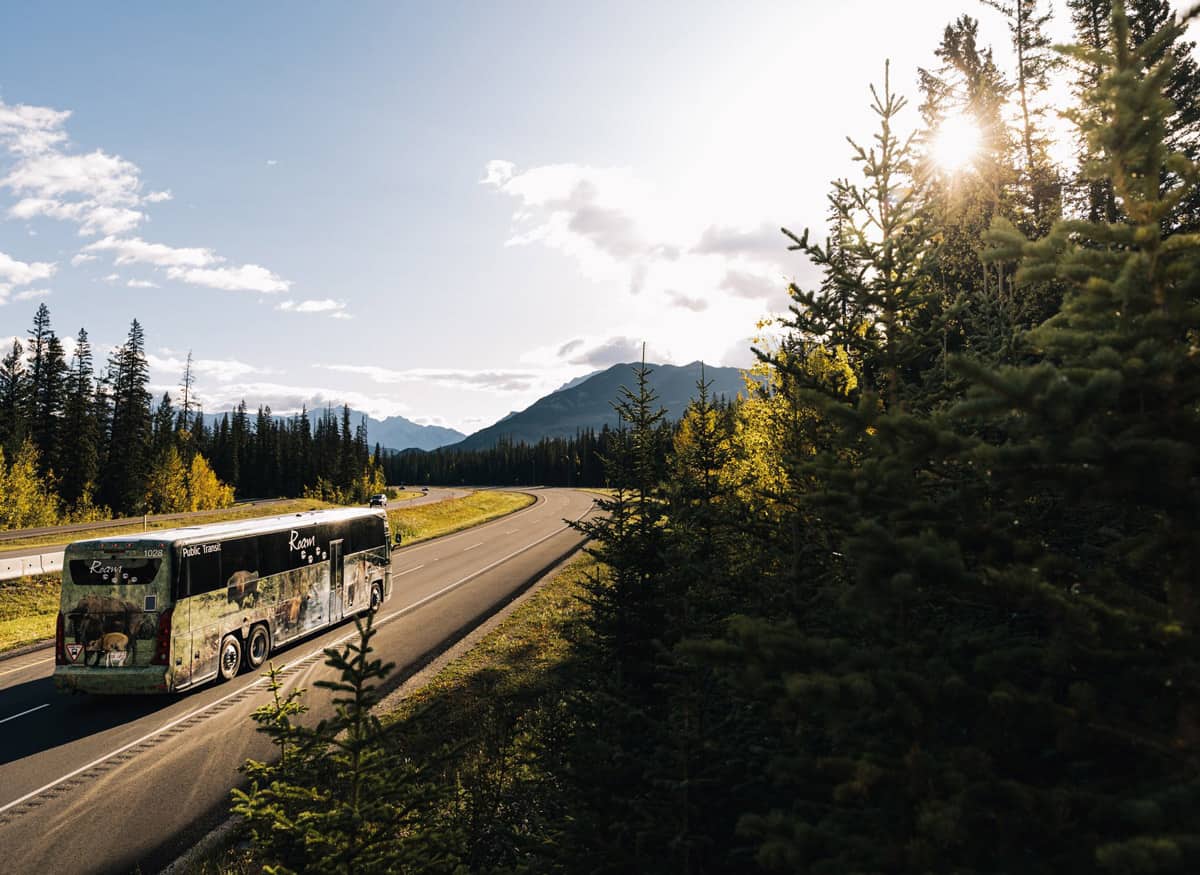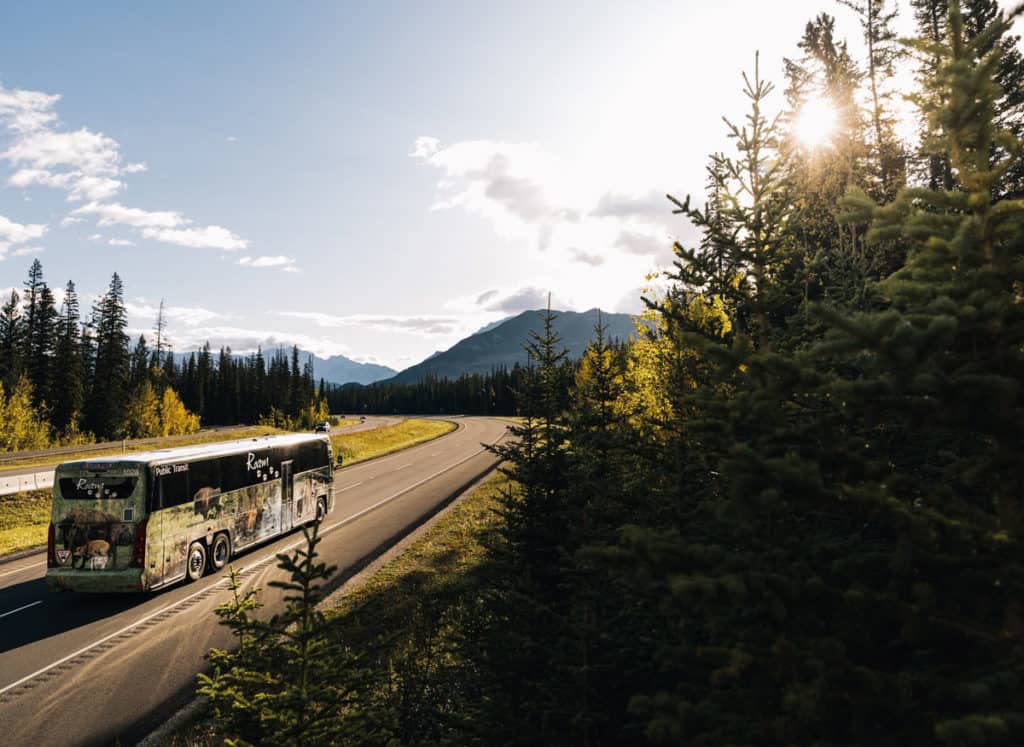 When to Visit
Lake Louise is stunning any time of year, although there are definitely better months to visit depending on what you're after. The good news is, no matter which month you visit, you'll always have spectacular views of the Canadian Rockies and the lake itself!
June, July, August, and early September are excellent months for hiking and other summer activities in Banff National Park and Lake Louise, especially getting on the lake in a canoe. You'll get to see the world-renowned turquoise waters of the lake all while taking in the lush greenery of the surrounding forests.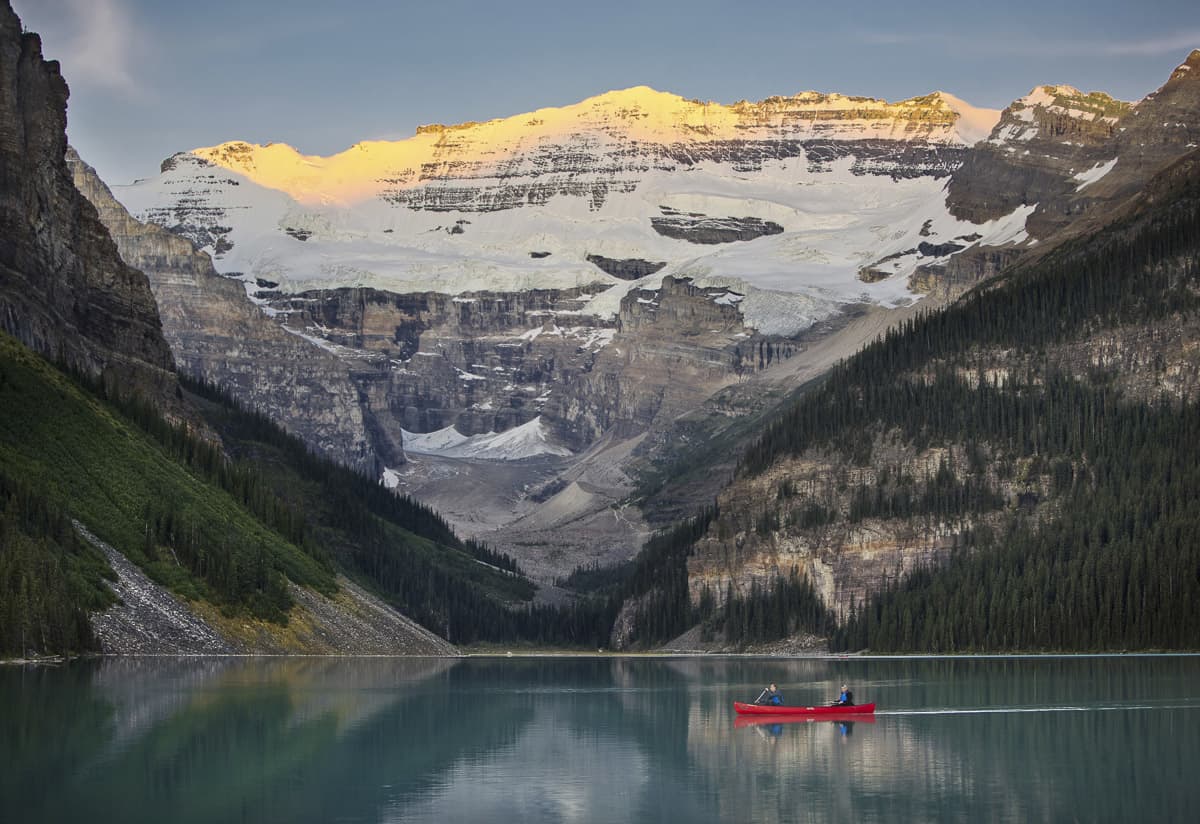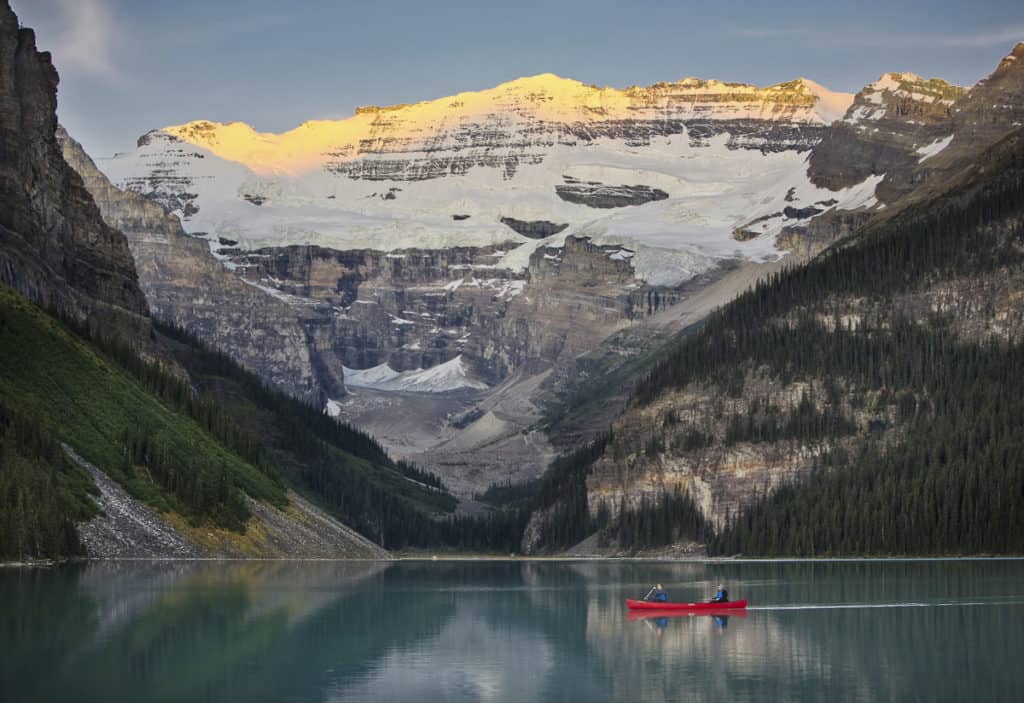 Roughly by mid-September into mid-October, you will enter the golden larch season, although be warned that the weather can change quite rapidly from day to day. October and November are very cold but often without enough snow to take full advantage of the skiing, while the Lake Louise Ski Resort and ice skating on the lake tend to open up again in late November.
The best months for skiing and other winter activities are December, January, February, and early March. You'll experience skating on the frozen lake, the infamous ice sculptures, and lots of skiing and snowboarding opportunities, all while being surrounded by snow-capped mountains. By late March and into April and May, the ground can be quite slushy while there will still be the occasional very cold days.
Weather in Lake Louise
As you'll be visiting the Canadian Rockies, it's always important to pack for all types of weather – you never know how the climate may change from one day to the next! Even in the summer months, bringing a lot of layered clothing is ideal.
In winter (December to February) expect daily highs of -6°C and lows of -20°C, with lots of snow. March can still be very cold, while April and May bring highs of 8°-13°C. By the summer months of June, July, and August, you can expect highs of 20°C, although prepare for chilly weather at night. September and October become quite cool and you can expect to see snow. By November, prepare for negative temperatures and winter conditions.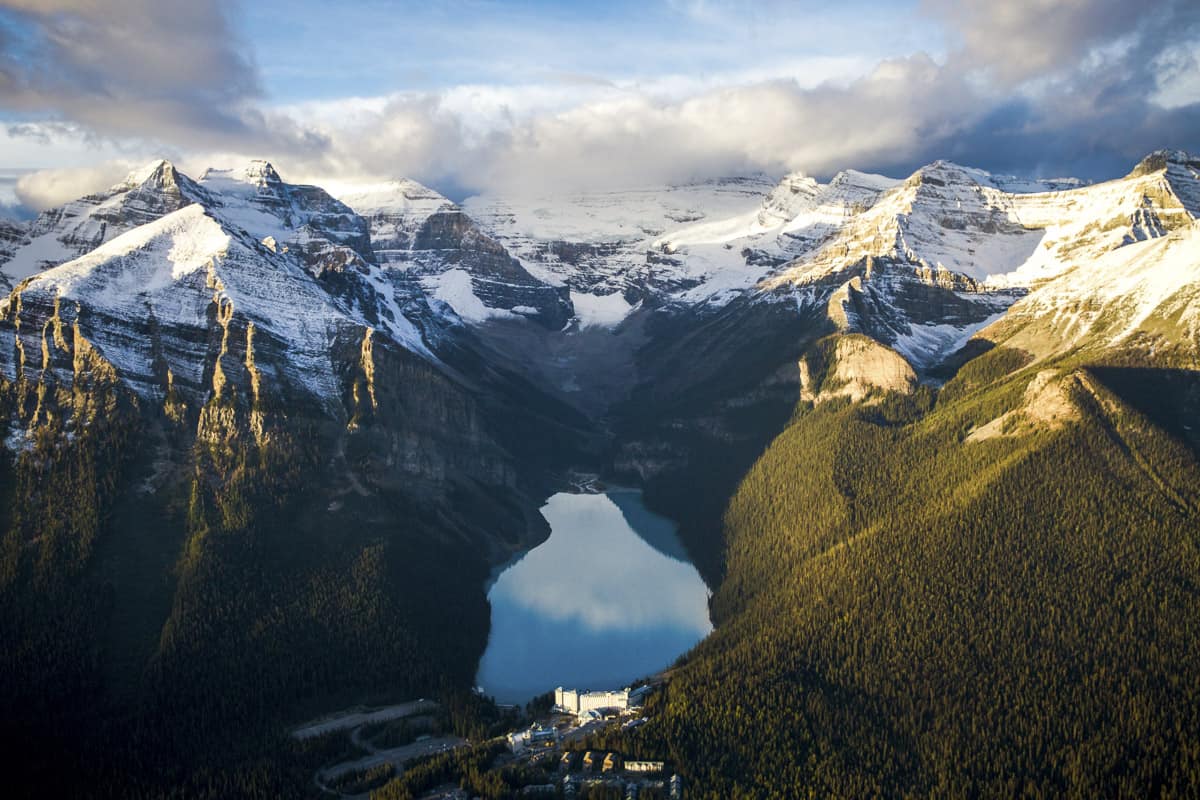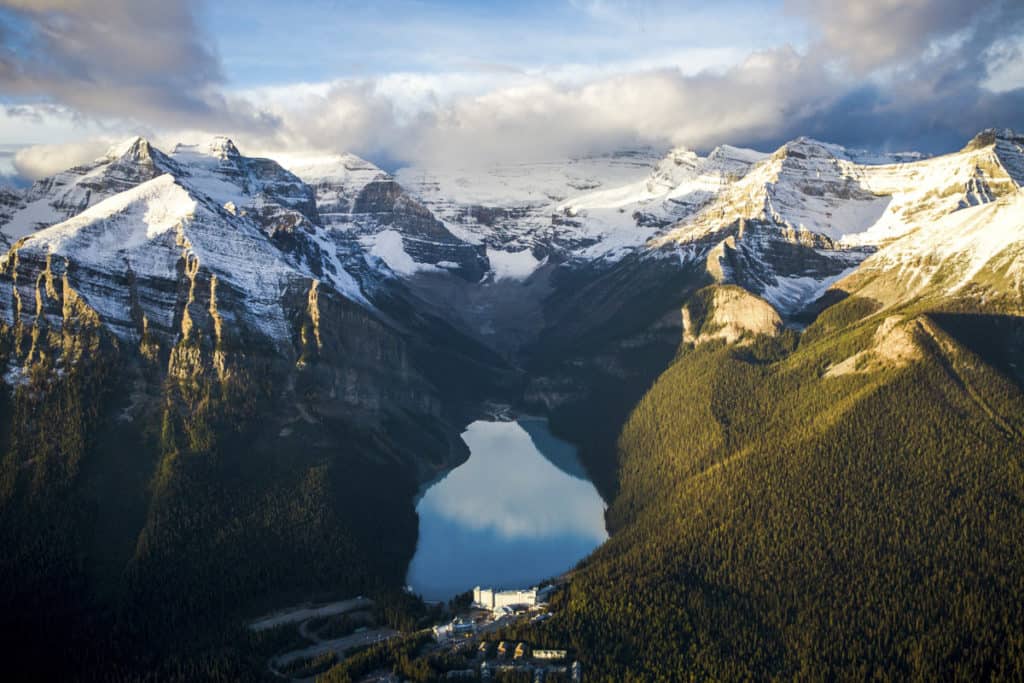 Accommodations in Lake Louise
Part of making sure you have the best experience possible in Lake Louise is making sure you pick the best accommodation for your needs! With so many things to do, it's important to have a place where you can rest comfortably and feel rejuvenated for the activities ahead. Here are a few of our recommendations for where to stay on your trip to Lake Louise.
Hotels
Fairmont Chateau Lake Louise (Luxury)
The Fairmont Chateau Lake Louise is perhaps one of the most famous hotels in all of Canada and is known around the world as a bucket list destination. This luxurious hotel comes with an absolutely stunning view; it is situated directly on the shimmering lake itself and is encompassed by the Rocky Mountains and the Victoria Glacier. A perfect base for outdoor enthusiasts who love a little luxury, expect excellent service and lavish amenities, including access to canoe rentals, horseback riding, and many more outdoor adventures. With a fantastic spa and incredible dining options, the Fairmont Chateau Lake Louise is one hotel experience you won't soon forget.
Mountaineer Lodge (Mid-Range)
This charming Mountaineer Lodge can be found in the heart of Lake Louise village, so the location puts you right in the middle of the best dining and shopping options. With views of the Rocky Mountains all around you, enjoy the hot tub, steam room, and convenient shuttle services. The Mountaineer Lodge is a cozy, inviting place to stay while you're on vacation in Lake Louise.
HI Lake Louise Alpine Centre (Budget)
Don't worry, there are indeed budget options in Lake Louise! The HI Lake Louise Alpine Centre is technically a hostel, but there are private room options for those who aren't comfortable sharing. With classic mountain decor and exceptionally friendly staff, the hostel is a terrific place to rest, relax, and even meet a few new friends after a full day of activities. Its location also makes it a very attractive option; you're a stone's throw from many restaurants and tour operators in town.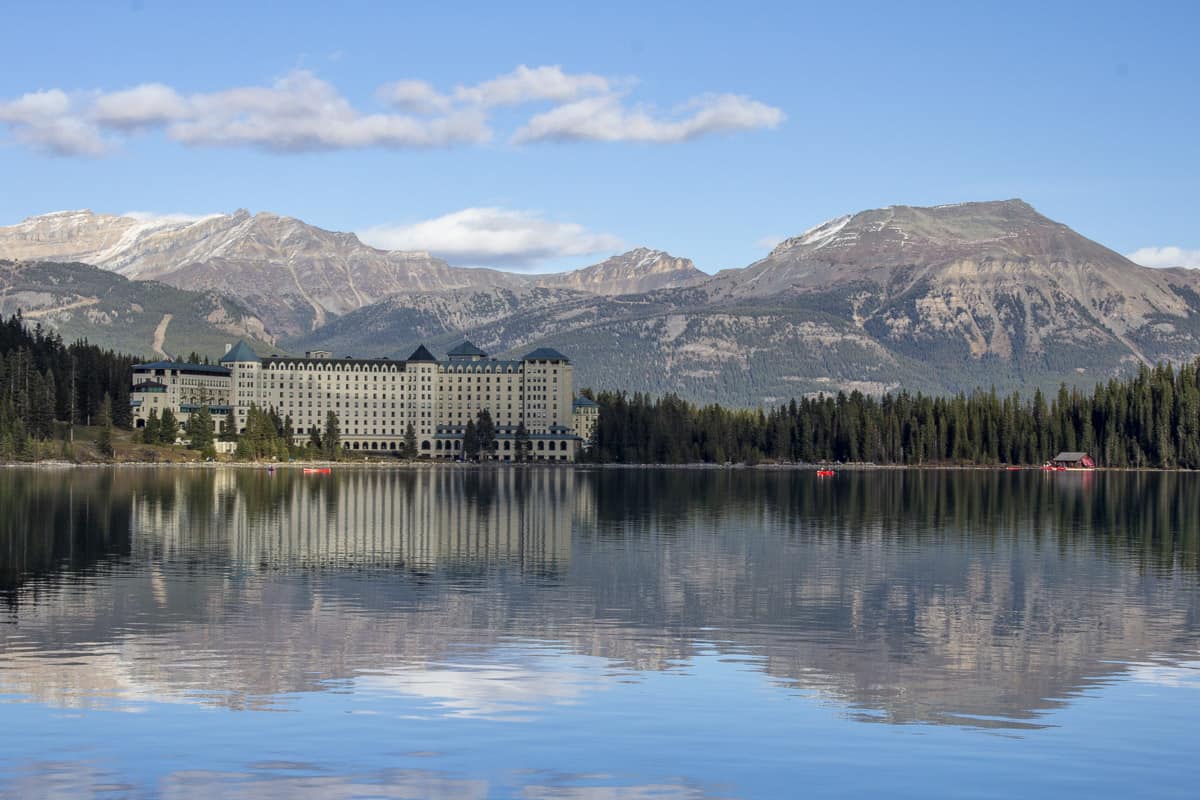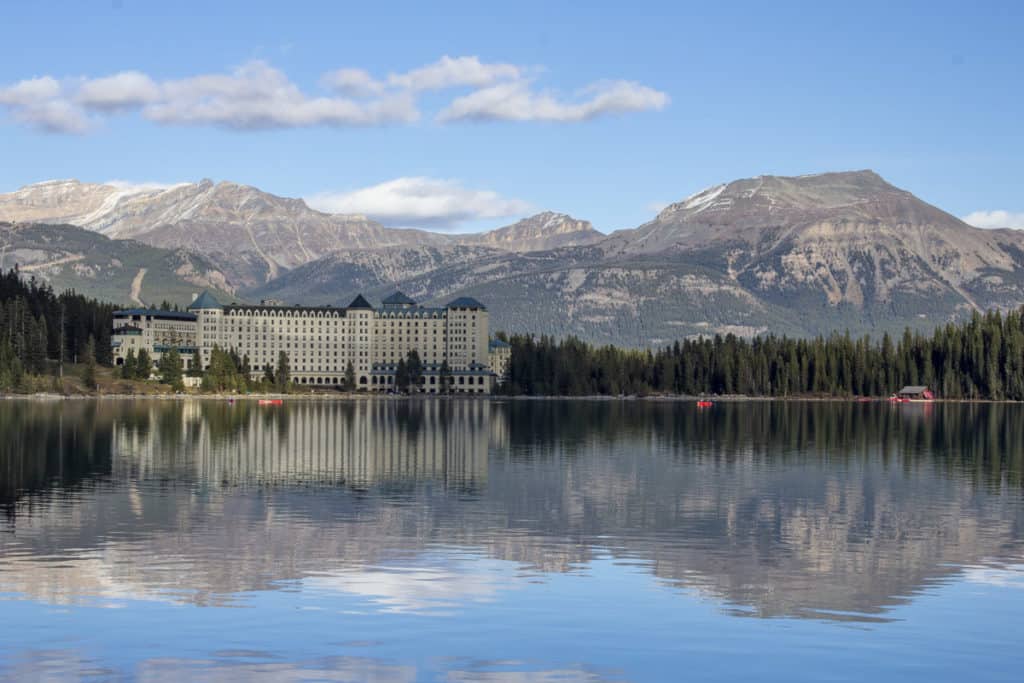 Airbnbs
If Airbnbs are more your style, thankfully there are plenty of incredible options. Ranging in price – anywhere from approximately $150 for a room to over $1000 for a cabin – you'll find tons of choices. While there are certainly lots of stays in Lake Louise village, you'll also find many AirBnBs in offbeat spots around Banff National Park, so if you have access to a car, you're in luck.
Cabins
Castle Mountain Chalets
Found in the heart of Banff National Park between Lake Louise and Banff's townsite, the Castle Mountain Chalets are a wonderful choice for those wanting an alpine holiday. With close access to many of Banff National Park's hiking trails, the chalets are a nature enthusiast's dream. Each chalet comes with a fireplace and kitchenette, so it's easy to feel right at home here.
Baker Creek Mountain Resort
One of Lake Louise's best-kept secrets, the Baker Creek Mountain Resort is a favourite amongst travelers. Found on the scenic Bow Valley Parkway between Lake Louise and Banff, the resort offers a series of cabins and chalets that boast a rustic charm sure to fulfill all of your mountain getaway dreams. Many of the cabins have fireplaces, jacuzzi tubs, and spectacular views of the Canadian Rockies.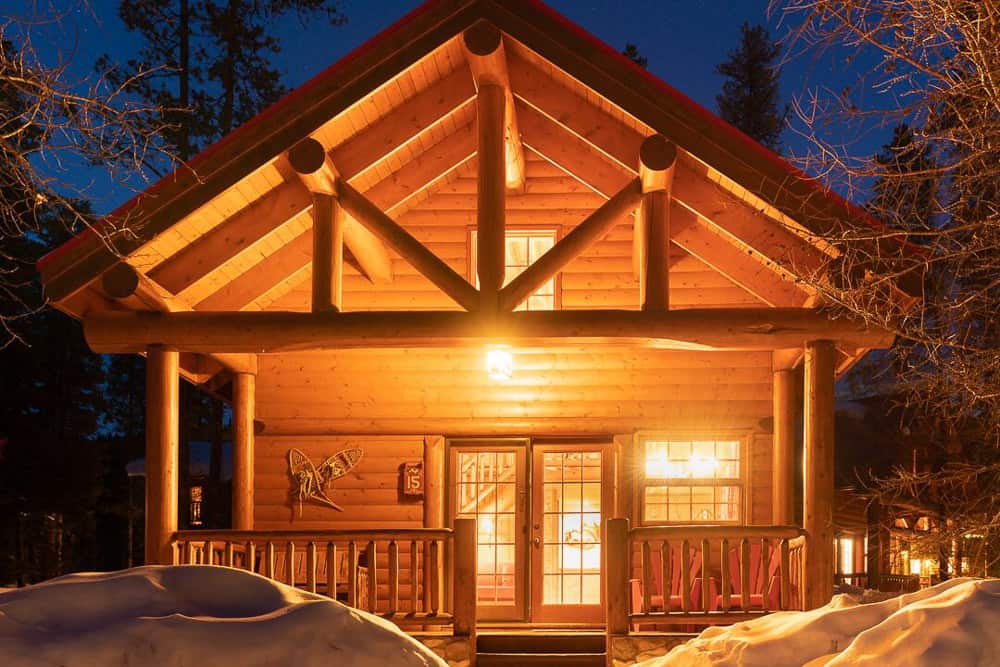 Camping in Lake Louise
Thankfully, there are plenty of camping options in Lake Louise. We've listed a few of our favourite camping spots below, but you can always check the Parks Canada website for reservation options in Banff National Park.
Lake Louise Campground
Found just minutes from Lake Louise village, this tenting campground has 206 sites. Most come with fireboxes, while all have picnic tables. Other amenities include flush toilets, showers, hot and cold running water, and a safety fence to protect from any curious grizzly bears. With access to lots of hiking and biking trails around Lake Louise, this is a great campsite for nature lovers. Just be sure to arrive early for a spot – competition can be high for camping spots here, especially in the peak summer months.
Mosquito Creek Campground
If you don't mind driving outside of Lake Louise, Mosquito Creek Campground is a terrific option. Again, arrive early, as the 32 sites fill up quickly! With a creek flowing directly through the campground, you can't get much more scenic than this. Expect pit toilets and cold running water… but worth it for all of that mountain air.
Lake Louise Trailer Campground
With absolutely amazing access to the best of Lake Louise's premier attractions, it's no wonder this trailer campground fills up quickly. Only hard-sided trailers are allowed here due to bears, but the campground has many modern amenities and, of course, those world-class mountain views.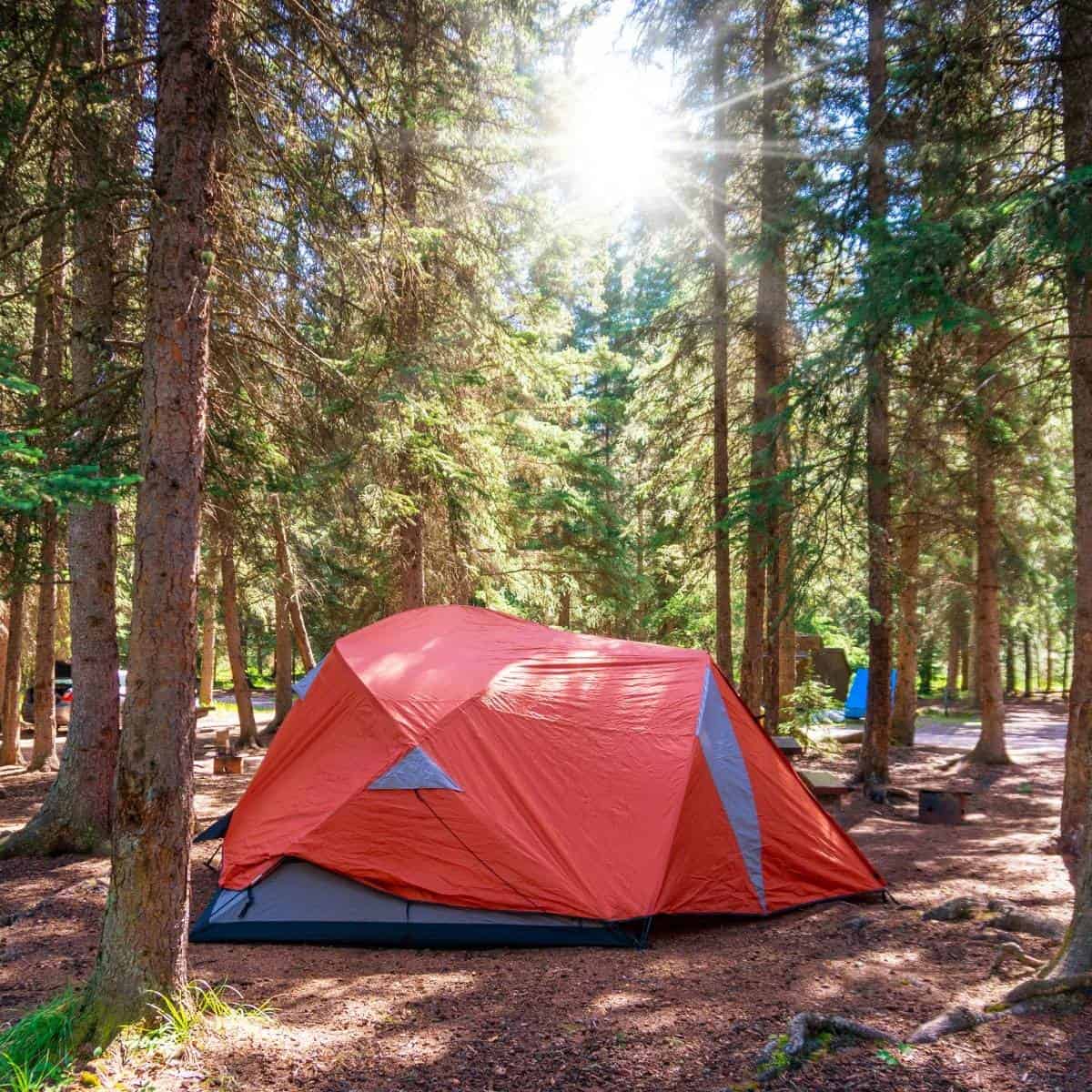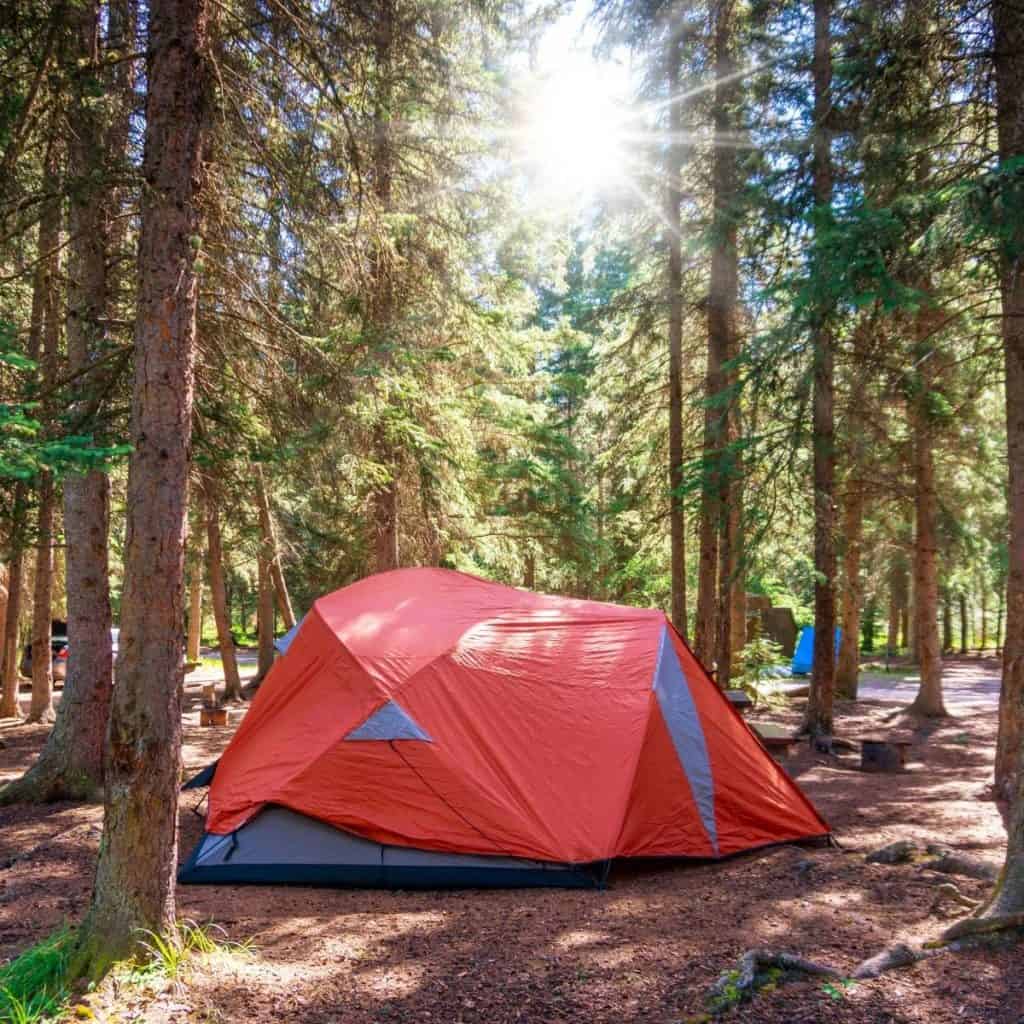 Lake Louise in Summer
It would be hard to pick a favourite season to visit Lake Louise, but one thing's for sure: summer means seeing that brilliant turquoise lake that is famous the world over. Thankfully, summertime also brings a multitude of things to do in Lake Louise. Here are a few of our favourite activities for those sunny, warm days by the lake.
Hiking
There are hikes for all levels of experience in Lake Louise. Whether it's a mere stroll along the lake's waterfront or an epic multi-kilometre hike there are plenty of options to choose from.
Hiking is best in the summer, although some trails remain open year-round, so it's best to check before you depart for the hiking trail. Always remember to bring lots of water, snacks, sunscreen, bug spray, sturdy hiking boots, and bear spray, especially if you are heading to more remote trails.
Lake Agnes Tea House Trail
The Lake Agnes Tea House Trail is one of the most famous hiking trails, and for good reason. Starting at the Fairmont Chateau Lake Louise, this moderate out-and-back trail has a length of 7.4 kilometers. There's a fairly steady incline on the way to the Lake Agnes Tea House itself, but the views of the beautiful lake and the Canadian Rockies make it all worthwhile!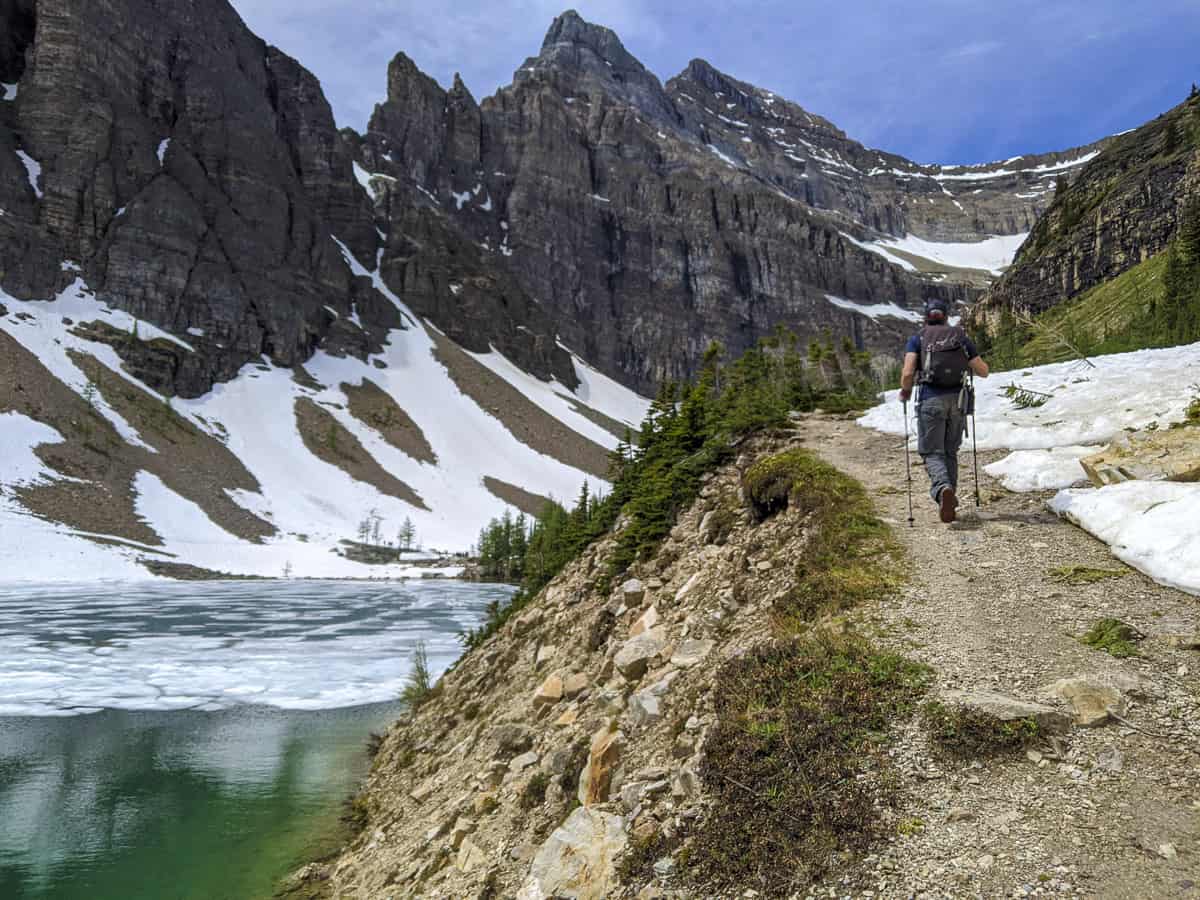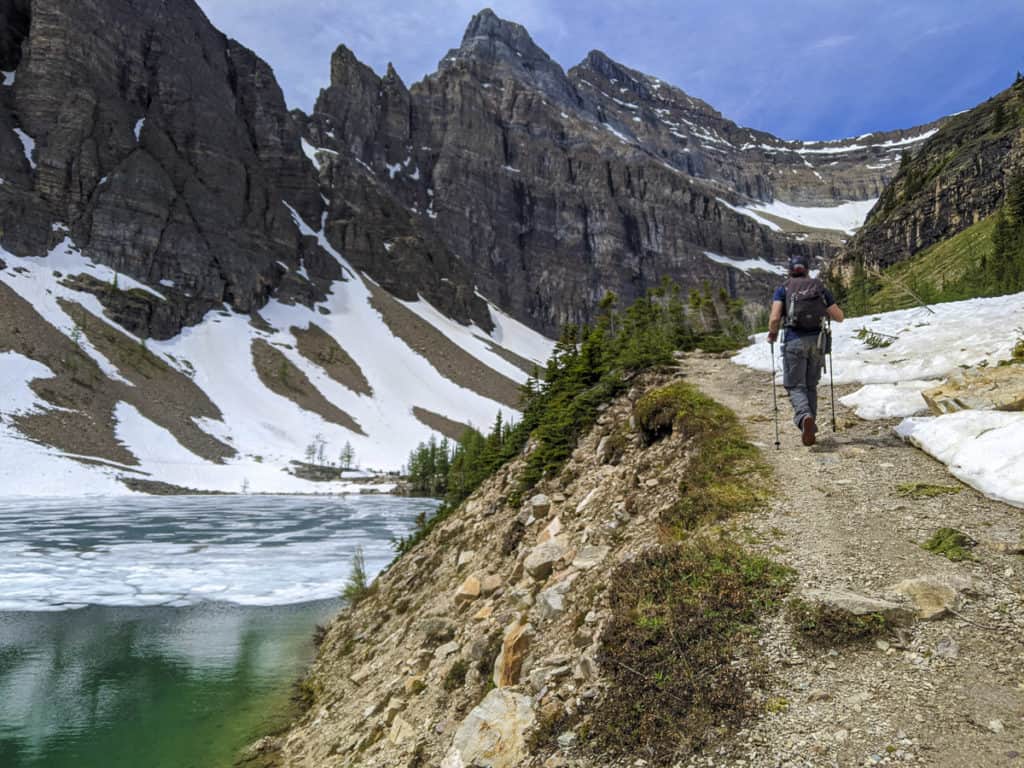 Plain of Six Glaciers Trail
The Plain of Six Glaciers Trail is rated as a moderate out-and-back trail of 14.6 kilometers, and it's known as one of the most scenic trails near Lake Louise. Beginning with the hike to Lake Agnes and the tea house, you continue on to the ridge out to the Plain of Six Glaciers. With lots of potential for wildlife spotting and unbelievable views of the Rocky Mountains all around you, this is one of the top hiking trails in all of Banff National Park.
Big Beehive and Little Beehive Trails
Also at Lake Agnes, you can make the decision to continue along either the Big Beehive or Little Beehive trails (or you can even do a circuit that includes both!
Just past Lake Agnes is a small trail to your right, take that to hike the Little Beehive. It's only a 1.2 km round-trip add-on, so a fairly easy detour (with some elevation) and it offers some phenomenal views of Lake Louise and Mount Fairview.
If you've got more energy to burn, consider the more popular Big Beehive. Follow the north shore of Lake Agnes to begin it, which will lead you to a variety of terrain including some scree, boulders, and of course, plenty of switchbacks. Still considered only moderately challenging for an avid hiker, it adds another 2.8 kms to the Lake Agnes hike (for an overall elevation gain of 776 ms), and the jaw-dropping views certainly make it worth it. Another option is to also continue on the popular (but challenging) Devil's Thumb trail, or instead, save time to stop for afternoon tea at the Lake Agnes Teahouse on the way down!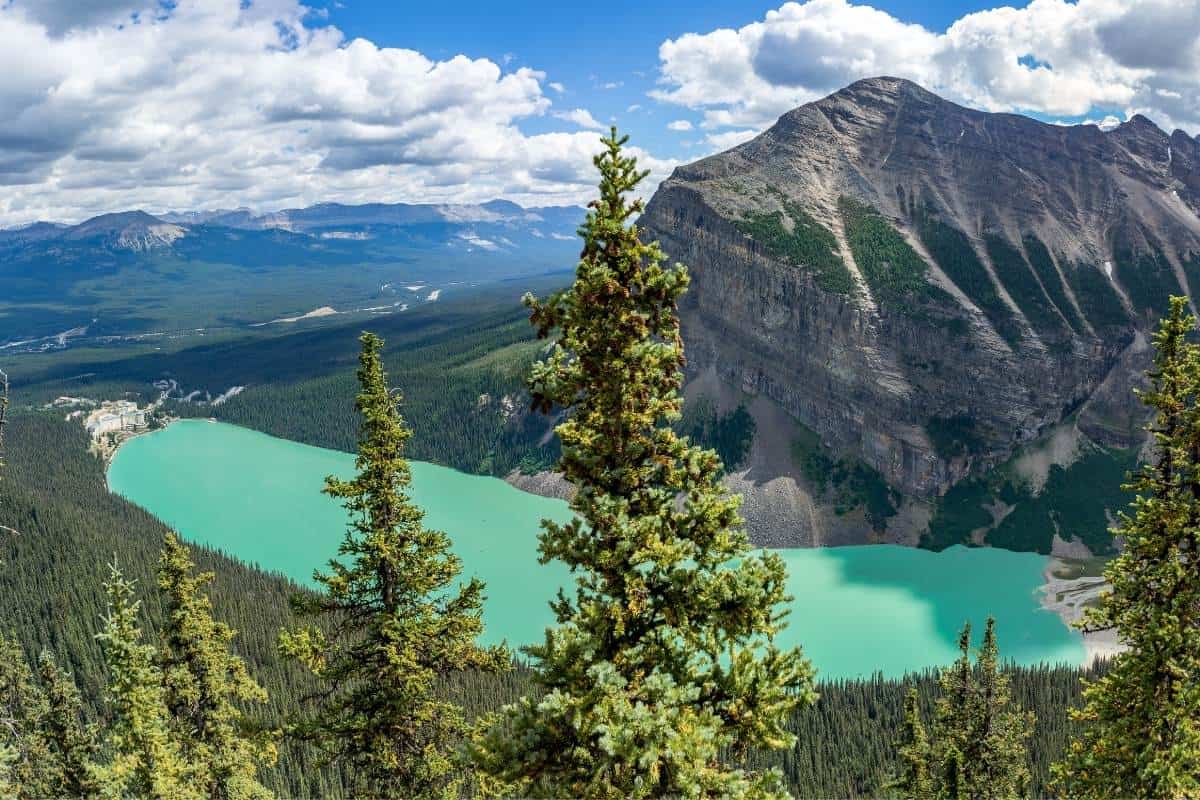 Moraine Lake Trail (The Rockpile and Lakeshore Trail)
The Moraine Lake Trail is found just outside Lake Louise and is rated as an easy 3.4-kilometer trail. With some of the best views in Canada (seriously!), it's a popular trail, and note that the parking lot is no longer open to personal vehicles. You need to book a shuttle from Banff or from Lake Louise via Parks Canada. Once there, you'll be rewarded with a stunning view of the Valley of the Ten Peaks rising up behind Moraine Lake itself. Trust us, it's one of the best things to do in Lake Louise area in summer.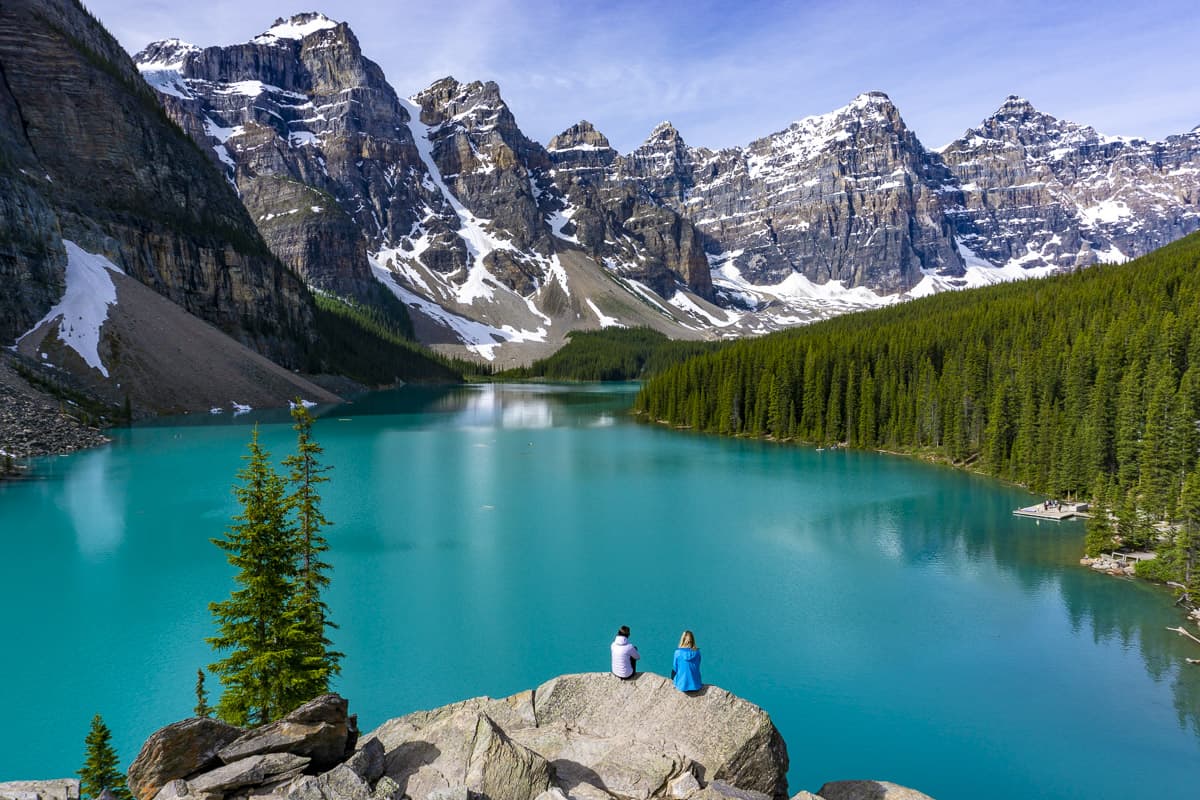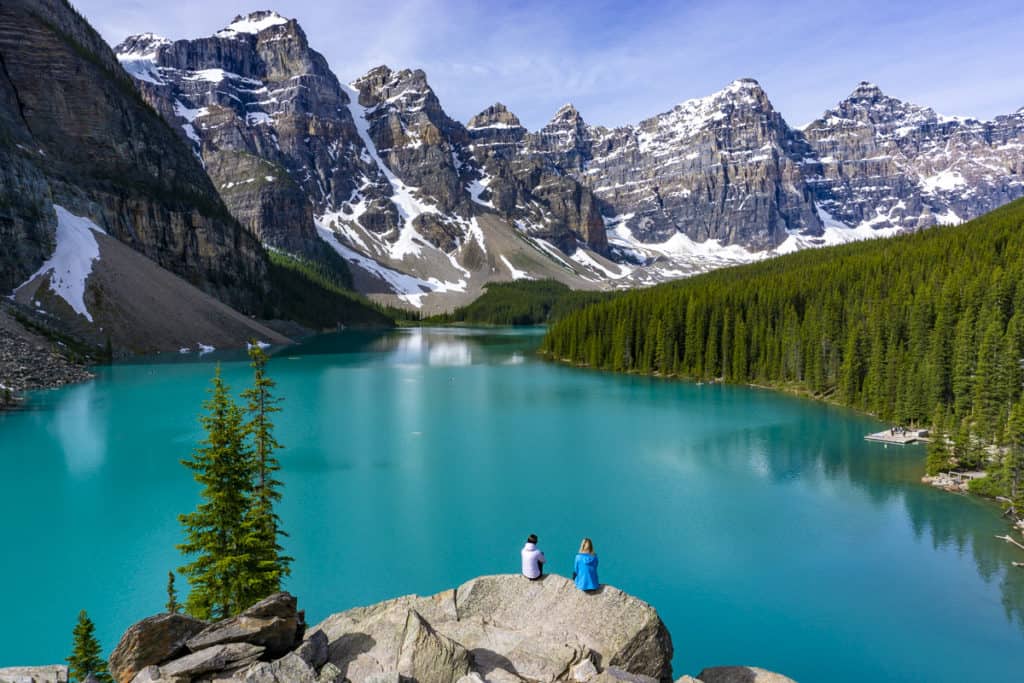 Sentinel Pass / Larch Valley
Save this one for fall, when the larches turn to golden yellow and it becomes the most scenic spot in Banff National Park!
Starting at Moraine Lake, the Larch Valley hike begins just past the lodge. While the first couple of kms are a bit of a slog, once you get to the Valley, the stunning views open up. Surrounded by some towering peaks above the trees, you'll continue on Sentinel Pass right through the middle of them (the Larch Valley hike ends at 4.7 kms in). Heading up on the Pass, note that the trail is often only wide enough for one person and as it can get quite busy, it can be a slow trek. Worth it, though? Absolutely! At 11.1 kms total, it is a challenging hike even for avid hikers, but a phenomenal one.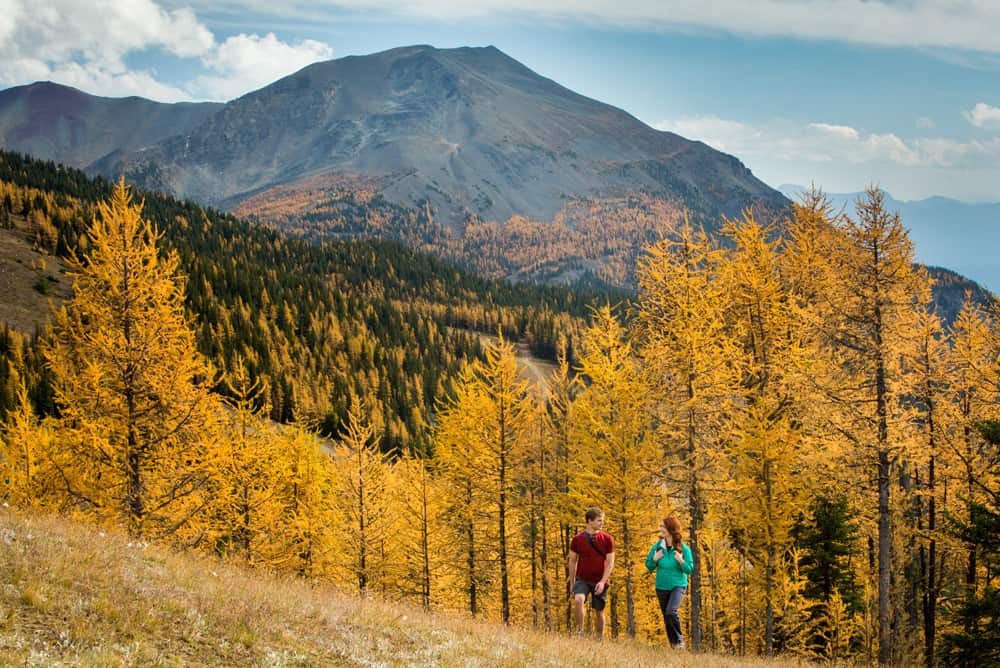 Canoeing
Canoeing on Lake Louise is an amazing way to get up close and personal with the glimmering lake itself. Rent a canoe and grab a paddle at the Fairmont Chateau Lake Louise Boathouse on the west shore of the lake to get the best views of the Rocky Mountains, Victoria Glacier, and, of course, the turquoise waters of Lake Louise. Canoe rentals are done by the hour and are on a first-come, first-served basis.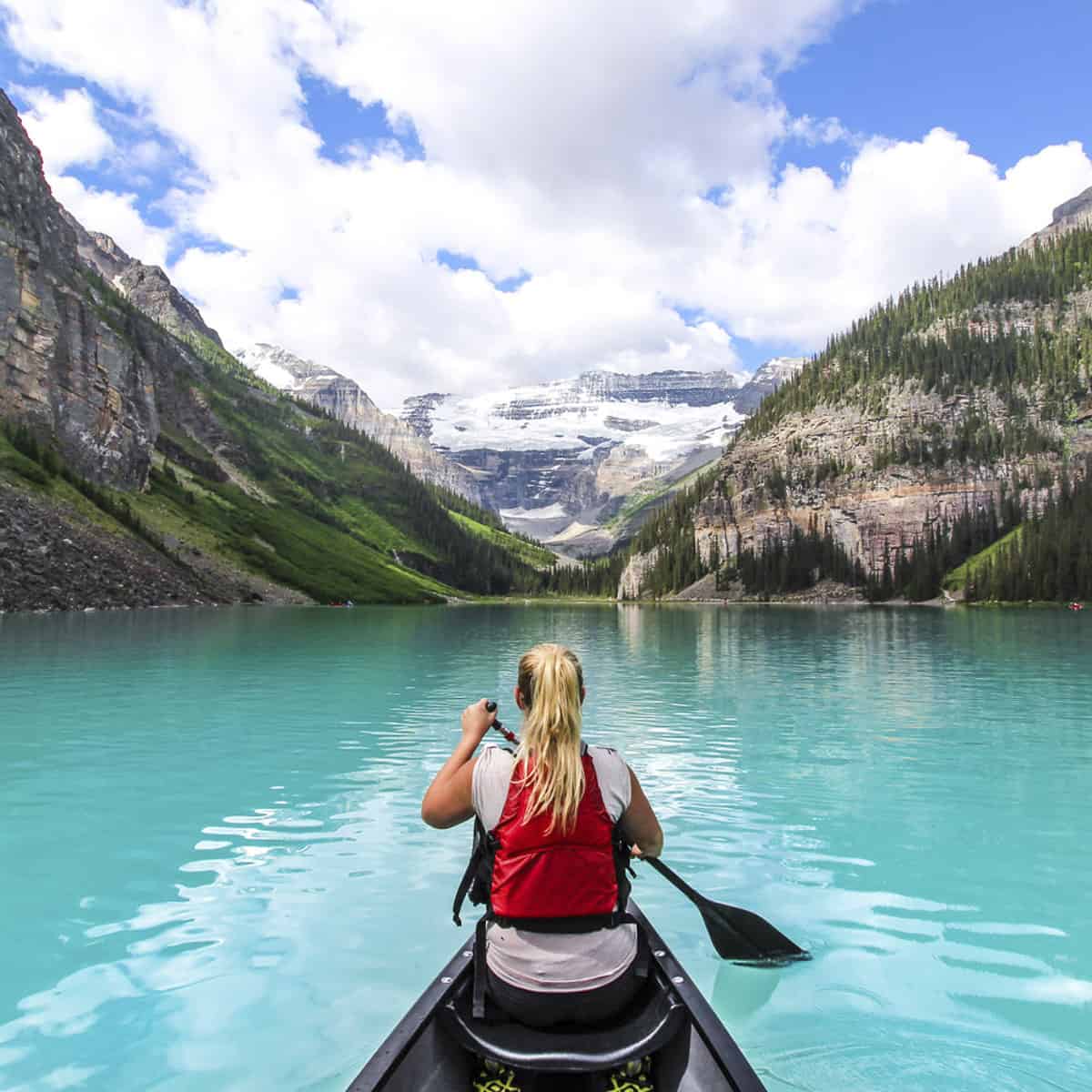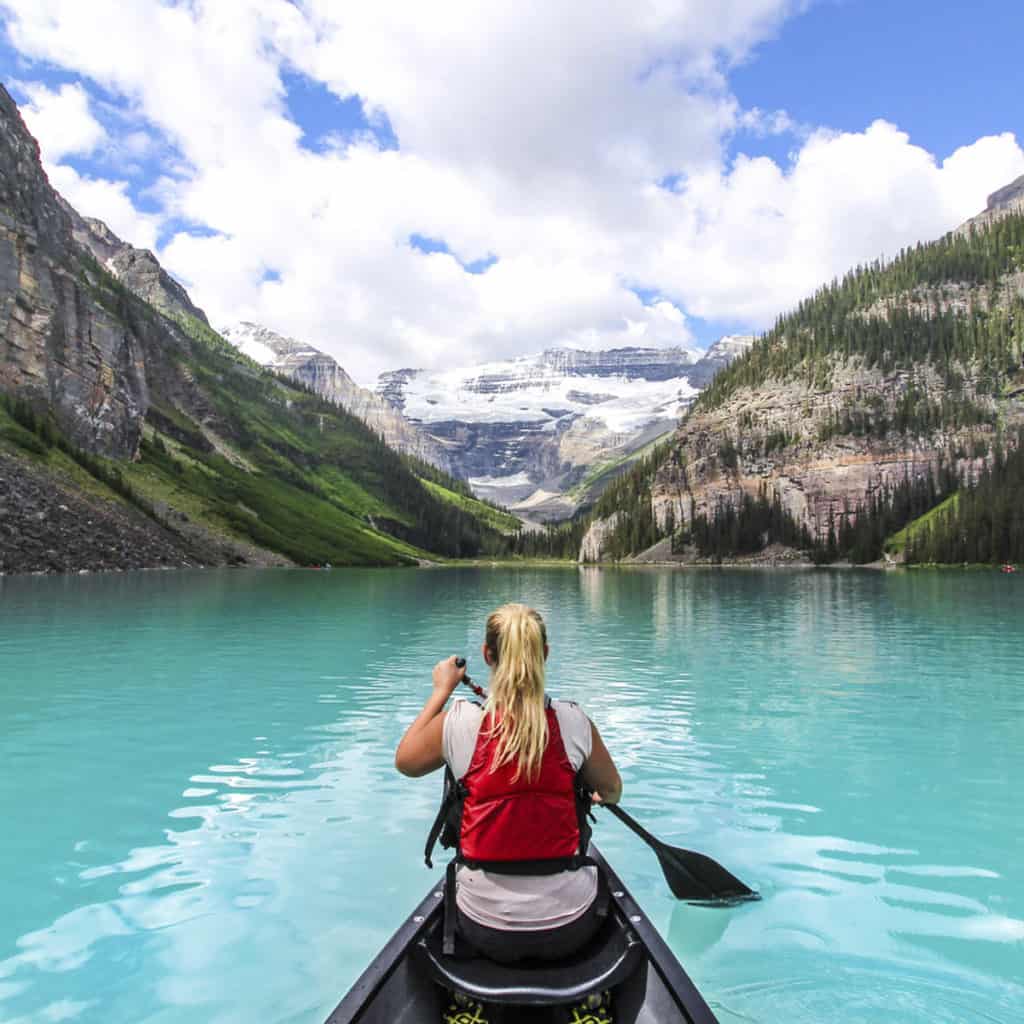 Lake Louise Gondola
Fancy seeing Lake Louise from above? Head to the Lake Louise Ski Resort for a ride on the sightseeing gondola. Soar over the treetops to get the best views of the mountains and lake… just make sure to keep an eye out for wildlife! The Lake Louise Gondola is notorious for being a terrific way to spot bears, lynx, moose, elk, and many other animals, all at a safe distance.
Horseback Riding
One of the most unique ways to sightsee in Lake Louise is by horseback riding. Arrange your horseback riding through Brewster Adventures, where you can try one of the summer trail rides that can take you to the Agnes Lake Tea House, Plain of Six Glaciers, Paradise Valley, and more. Feel as though you've stepped back in time, all while taking in the views around Lake Louise.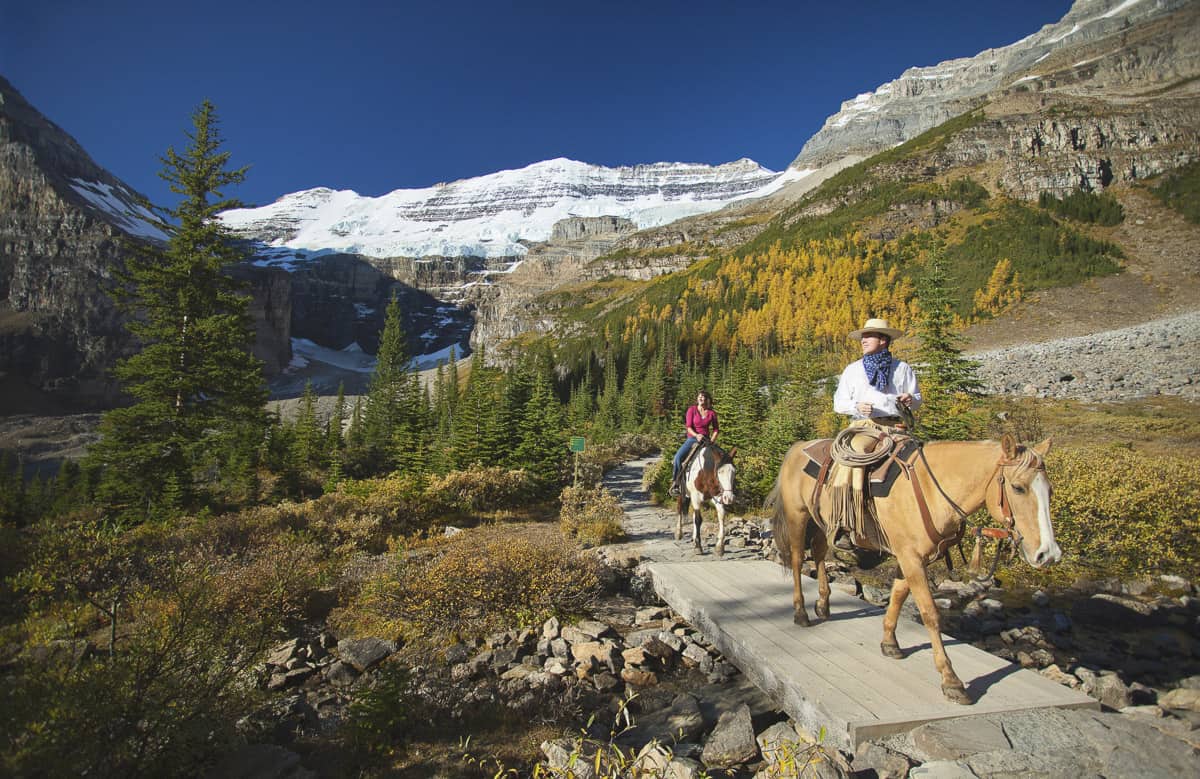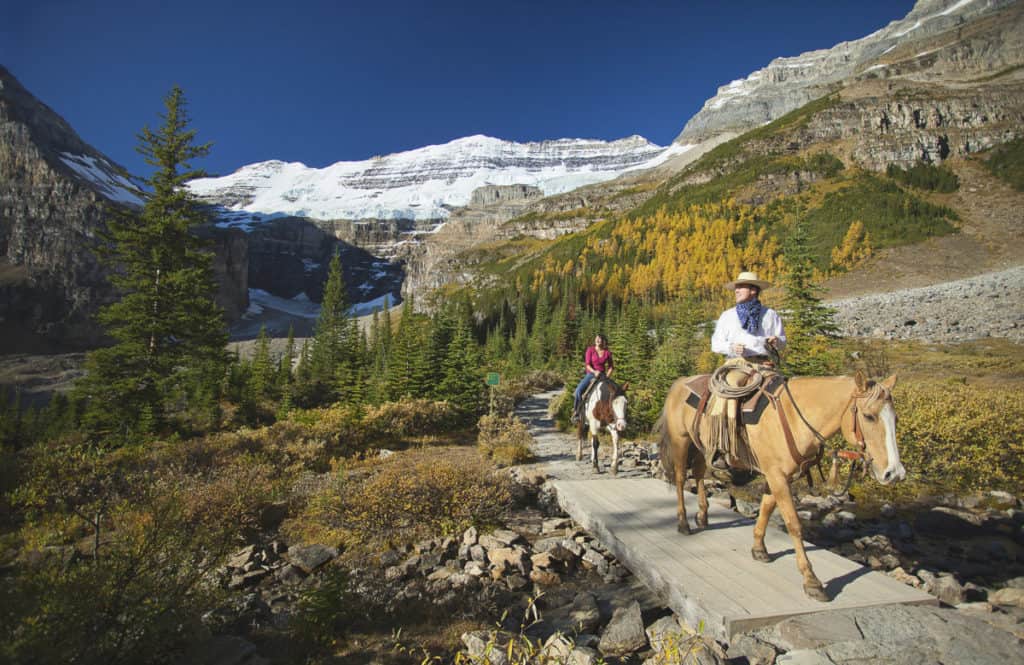 Get the Photo
Because it's a once-in-a-lifetime destination, you want to have some once-in-a-lifetime photos! Book a private photography session at any time of year to ensure you take home something frame (and brag)-worthy.
Lake Louise in Winter
Lake Louise becomes a real-life winter wonderland every year; think snowcapped mountains, a frozen lake, and tons of winter activities to keep you busy. Don't be fooled by the cooler temperatures… there are still plenty of things to do in Lake Louise in winter! Here are a few of our favourites.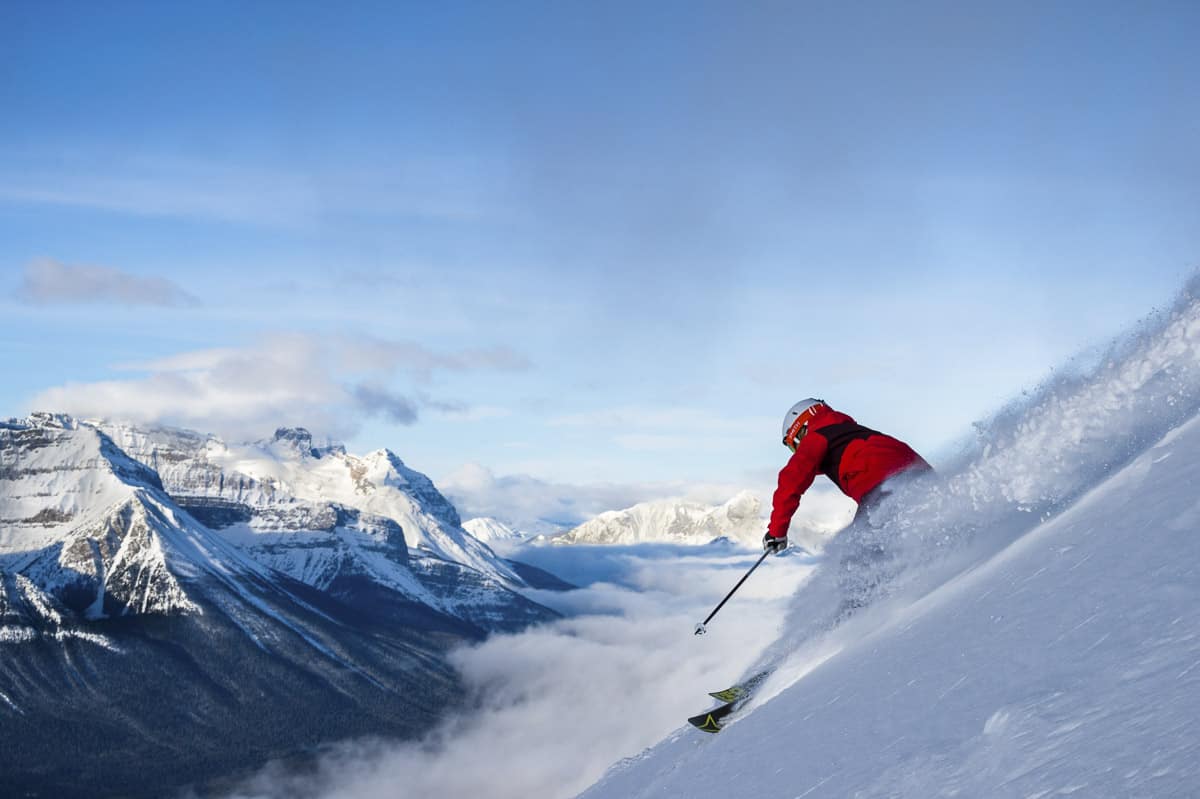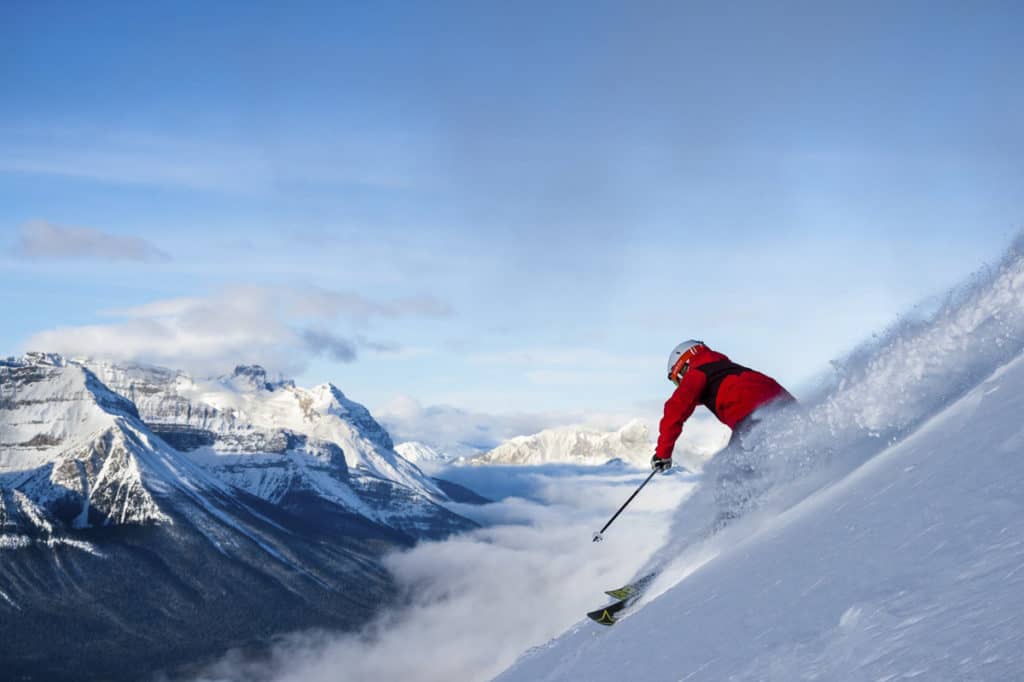 Downhill Skiing
Head to the Lake Louise Ski Resort for some of the best skiing in Canada! Purchase your ski passes and tickets online to find the best deals – the Lake Louise Plus Card is a great option for those spending a few days or more in the area – and get ready to hit the slopes. Lessons are available, and there are options for all levels of skiers, with 160 named runs across four mountain faces. From the beginner to the expert, a visit to Lake Louise Ski Resort is sure to make your winter holiday a success. (Fancy testing your skis on mountains all over the province? Then you're going to want to check out our guide to skiing in Alberta.)
Ice Skating
In the summer you'll need your canoe… but in the winter you'll need your ice skates! Skating on Lake Louise itself is one of the best winter pastimes to be had in Banff National Park, and it has often been called "the world's best ice skating rink". Honestly, how can you beat those alpine views? If you don't have your own skates, you can rent some from Alpine Social Rentals at the Chateau Lake Louise.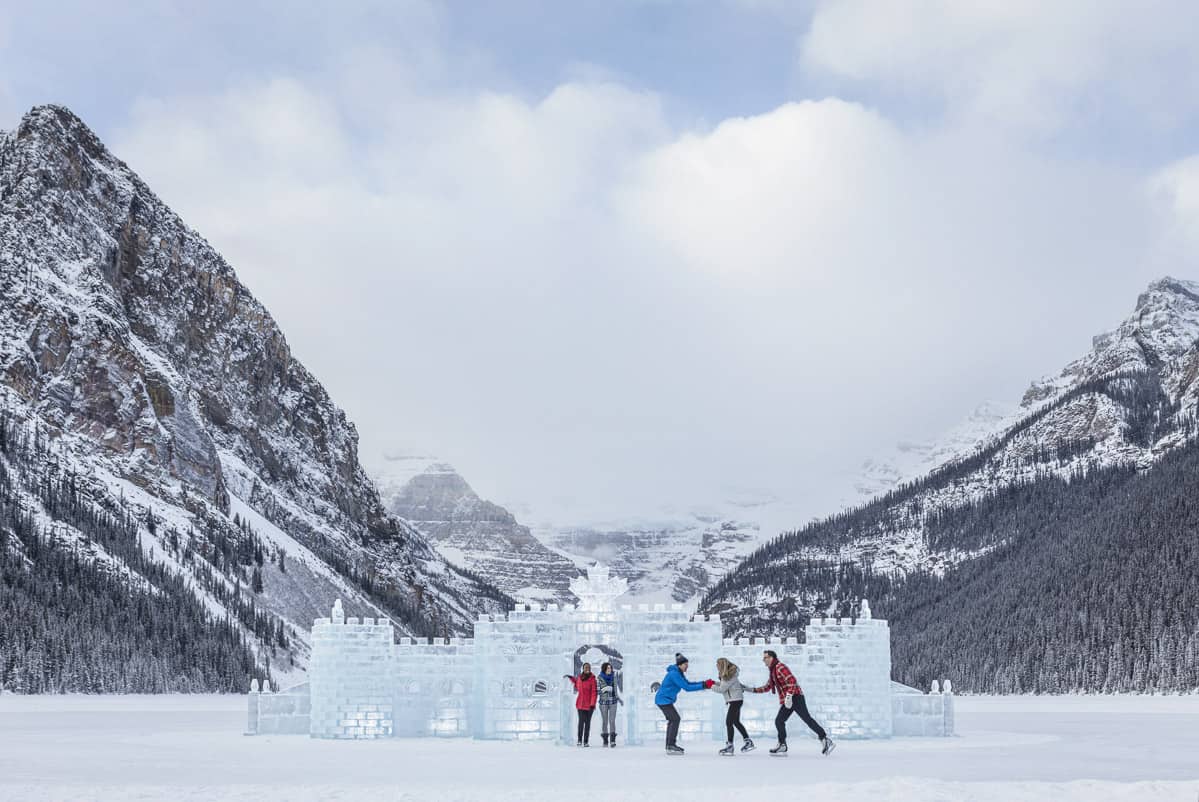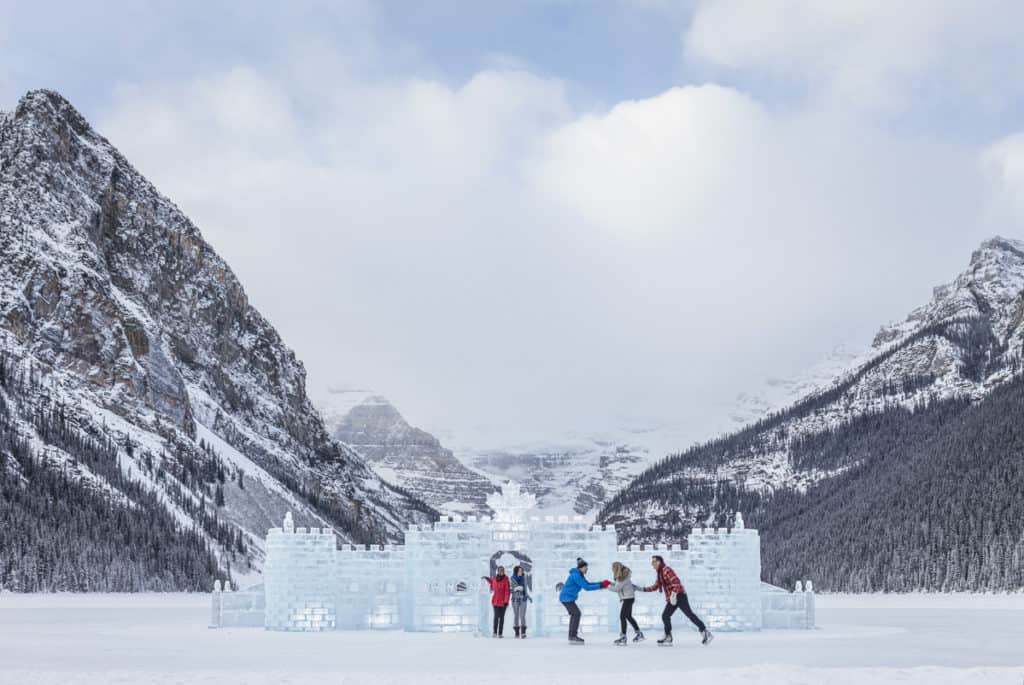 Lake Louise Ice Castle
Head to the annual Ice Magic Festival on Lake Louise, a competition of all-Canadian artists who carve ice into beautiful objects. Walk out on the frozen lake in the winter months to experience the ice carvings, including the infamous ice castle (perfect for photos to commemorate your time in Lake Louise). It's something the whole family will love!
Snowshoeing
One of the best ways to see Lake Louise is by snowshoeing, and trust us, it's difficult to find a more magnificent setting to snowshoe. Guided snowshoe tours are available, and you can also rent your own snowshoes in Lake Louise village. There's nothing like walking through the forest trails along the lake, taking in the mountain air as you go.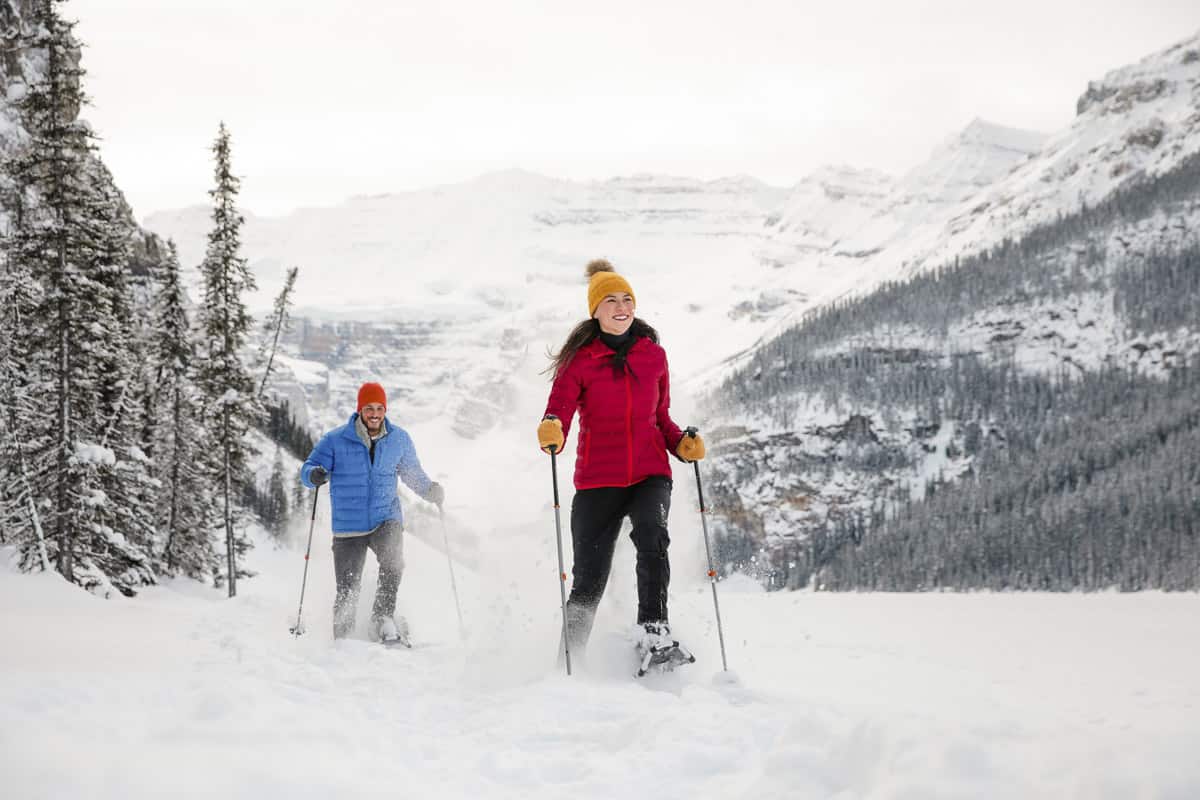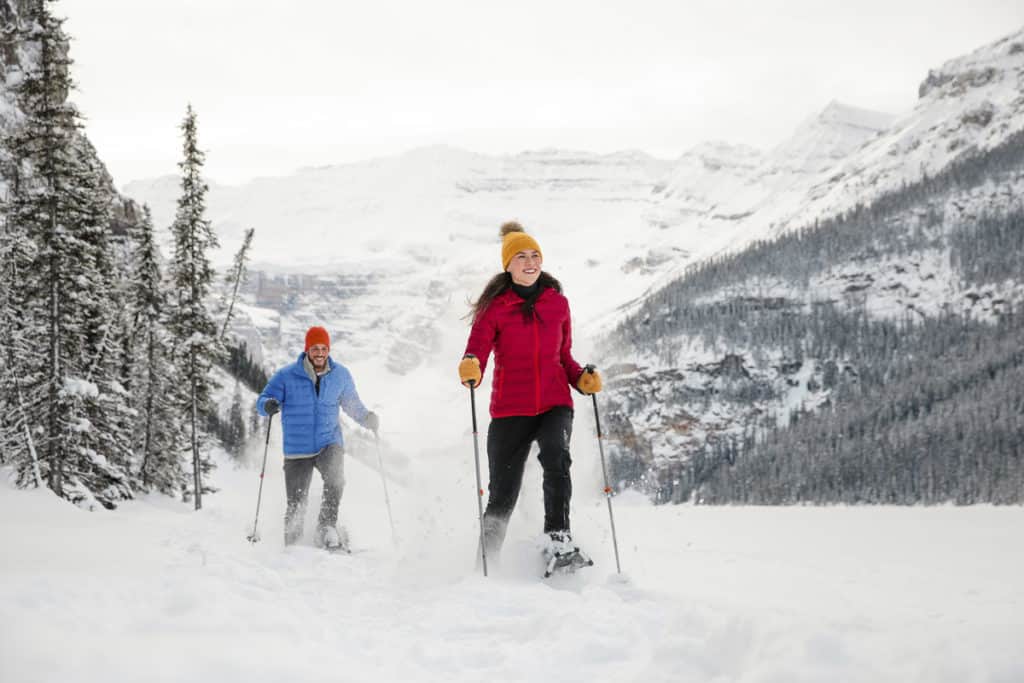 Where to Eat
For such a small village, there is an abundance of fantastic Lake Louise restaurants and cafes to eat at. Most are open year-round so here are a few of the top spots:
Whitehorn Bistro
Head to Whitehorn Bistro for delicious Canadian cuisine… with the best view around! Found at the Lake Louise Ski Resort, one of the best things to do is combine a day of activity with a terrific meal at this dining room to follow. With an extensive menu inspired by the highest quality ingredients that Canada has to offer, expect lots of Alberta beef, Atlantic salmon, and a mouthwatering Game and Artisan Cheese Platter.
Walliser Stube
You'll find Walliser Stube at the Fairmont Chateau Lake Louise, where the atmosphere is almost (almost!) as good as the food. As the menu takes influence from Austrian, German, and Swiss cuisine, try their infamous cheese fondue, said to be the best in the world outside of Switzerland. Enjoy one of the many signature cocktails or locally-produced beers, and for dessert? Why, there's chocolate fondue, too. (Note that you can only eat here if you also have a room at the Chateau.)
Bill Peyto's Cafe
For a budget-friendly and laid-back option, head to Bill Peyto's Cafe, found in the HI Lake Louise hostel. With friendly service and a menu sure to please even the pickiest eater, you can count on filling breakfasts, hearty sandwiches and burgers, and an extensive list of pastas. There's also a kid's menu with all the usual favourites.
The Station Restaurant
If you're after a memorable meal in Lake Louise, head to The Station Restaurant. Once the site of a station on the Canadian Pacific Railway, the restaurant has maintained its turn-of-the-century ambiance. The menu is filled with inventive meals, including locally sourced products, vegetarian and vegan options, and some of the best Alberta bison ribs around.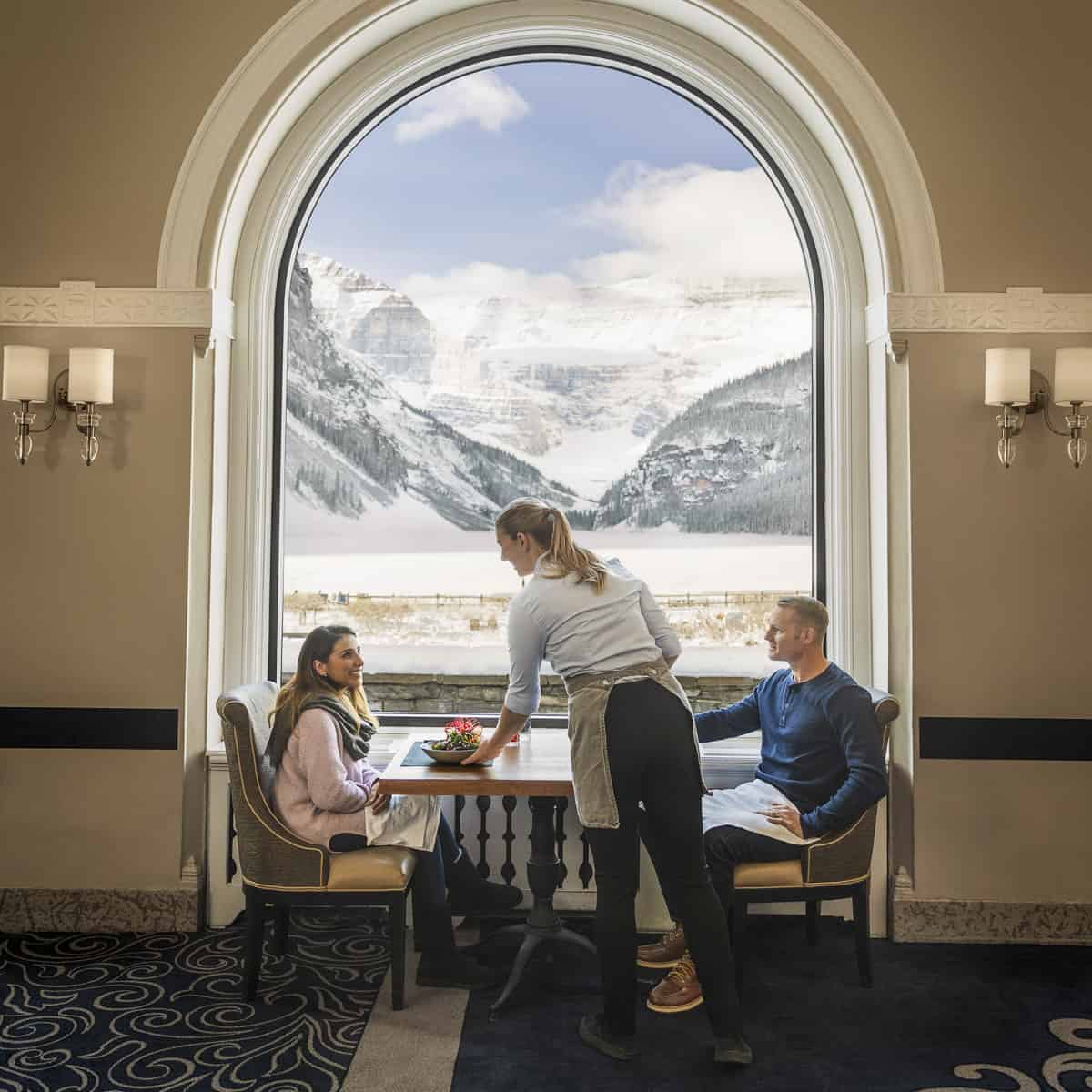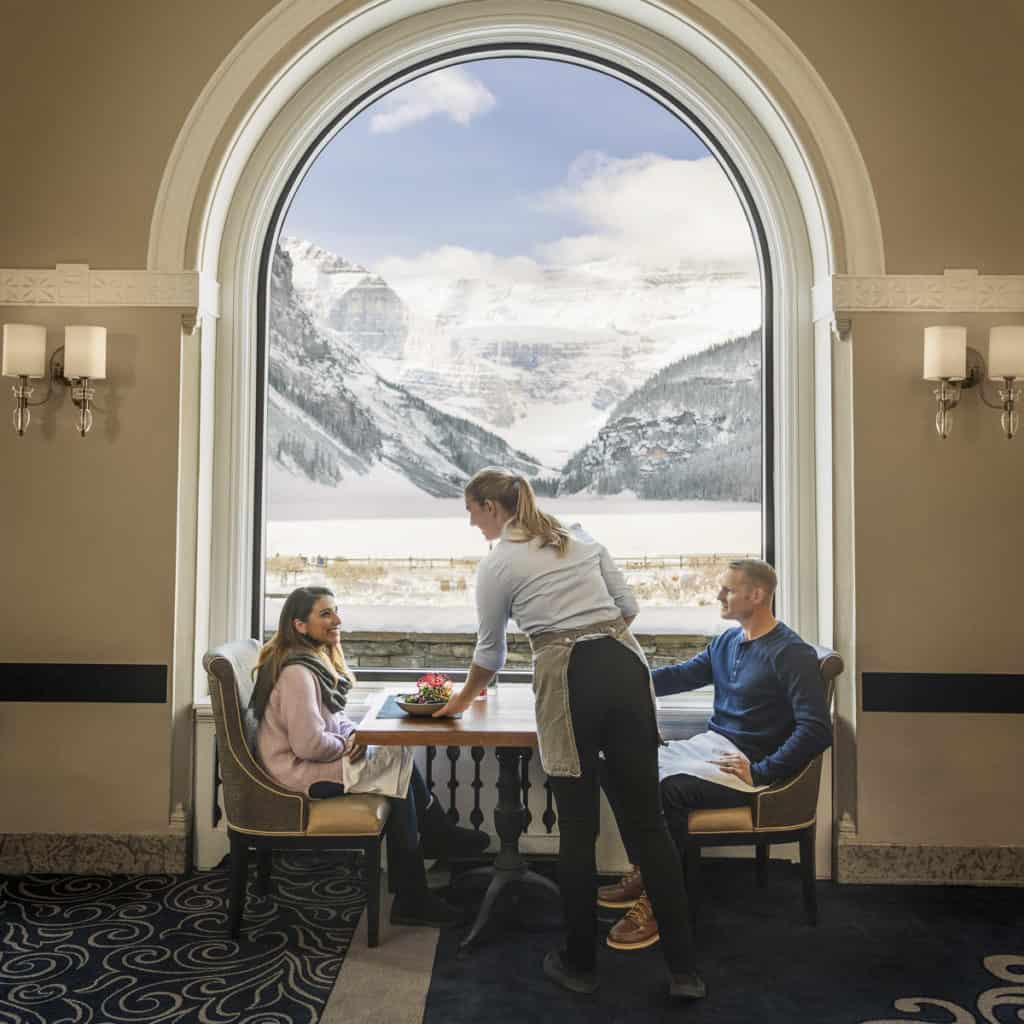 Things to Do Near Lake Louise
It should come as no surprise by now that there are a lot of things to do in Lake Louise, but that also includes the surrounding area. Base yourself in Lake Louise to explore the rest of Banff National Park, including the following activities.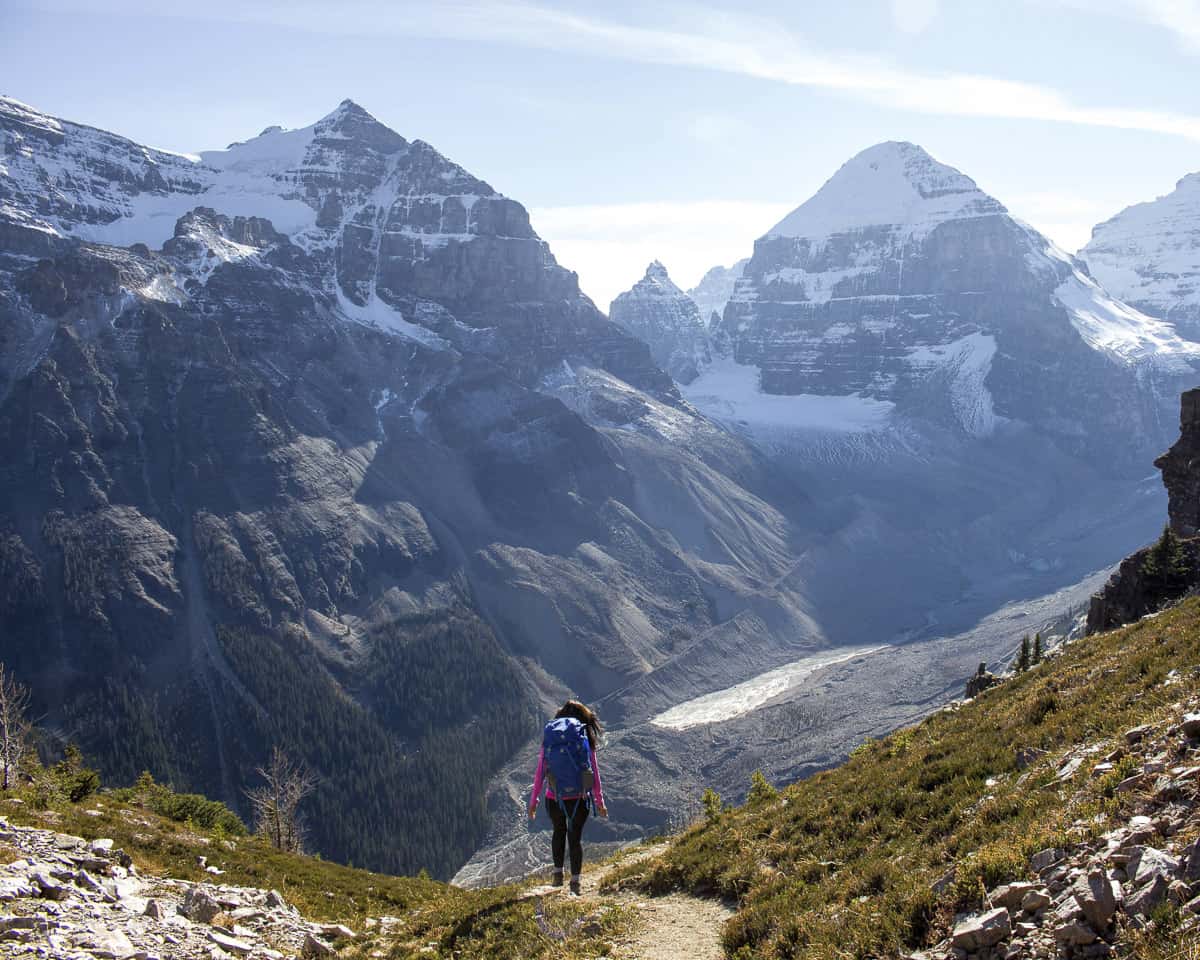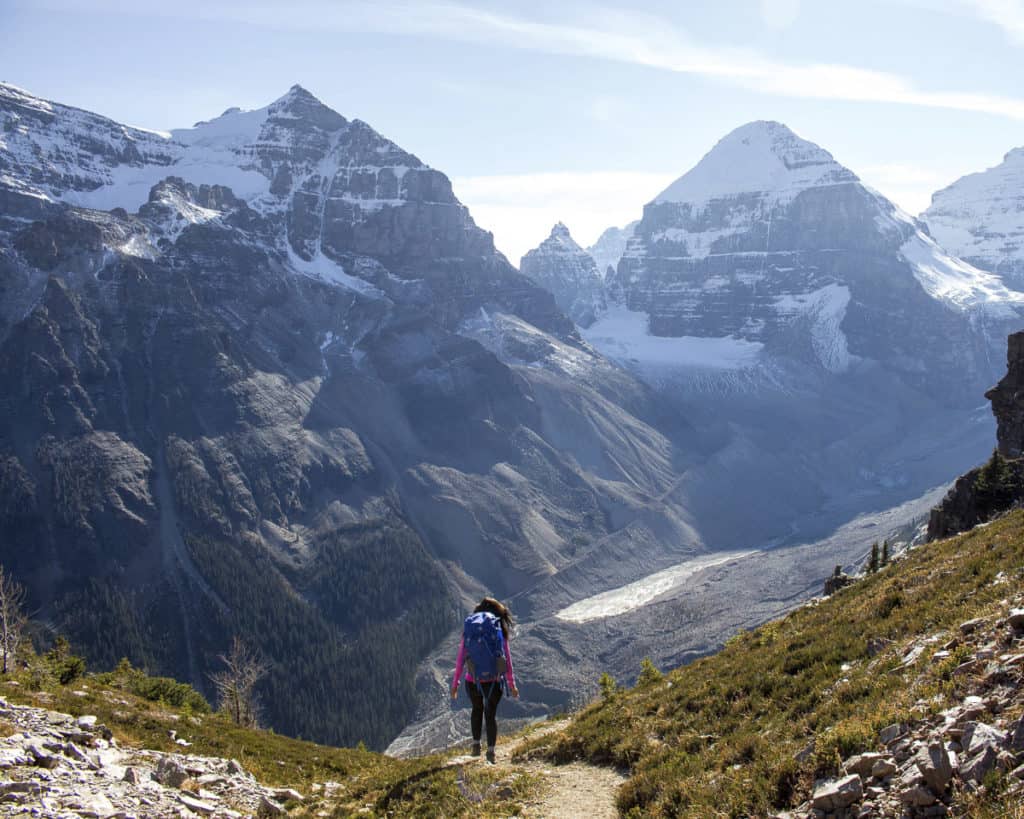 Visit Moraine Lake
A visit to Moraine Lake is a must when you're in Lake Louise, and it's one of the most beautiful lakes in Alberta. Found approximately 14 kilometers from Lake Louise, this glacier-fed lake offers crystal-clear water, views of the Valley of the Ten Peaks, and some excellent hiking options, too. In fact, the view from the Rockpile was once on the back of the Canadian $20 bill!
Visit Bow Lake
Drive 30 minutes north of Lake Louise and you'll come across Bow Lake, another one of Alberta's gems. Here you can picnic, hike, canoe, kayak, and even fish.
Hike to Bow Glacier Falls
One of the most popular hikes in Banff National Park is the hike to Bow Glacier Falls. One of the best waterfalls in Alberta, it's well worth the gentle 9-kilometer out-and-back trek. Take in the views of the shimmering lake, the Rocky Mountains, and, finally, the Bow Glacier Falls themselves. The hike makes for an amazing day out in nature, and a less-intense option than other hikes in the area.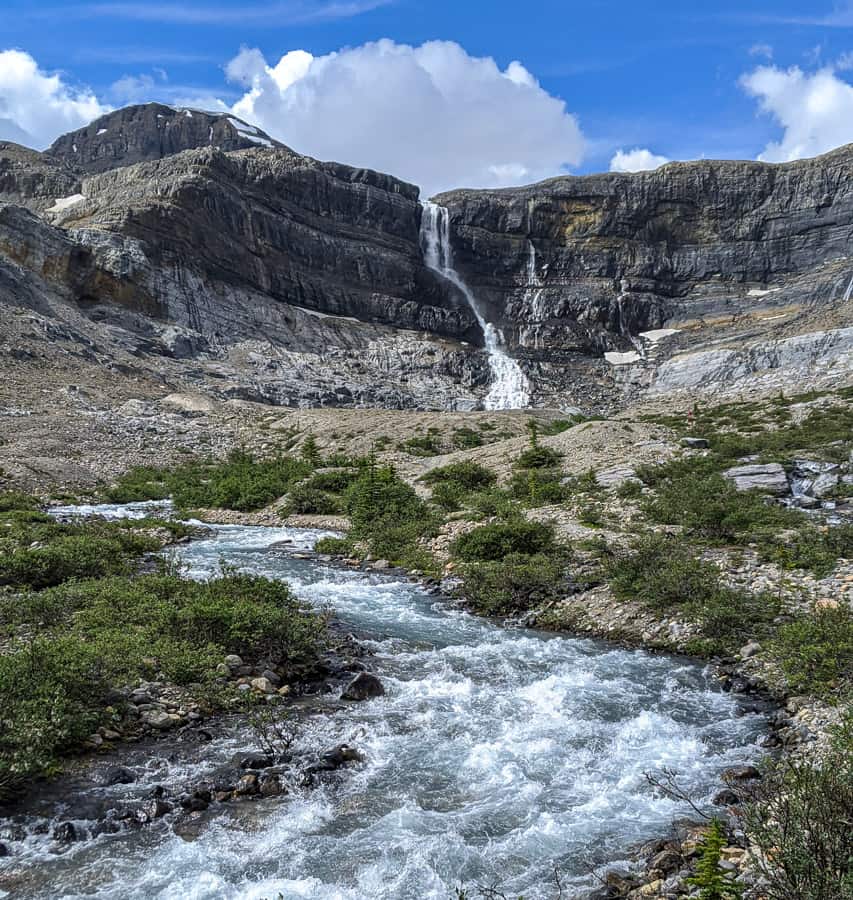 Visit Num-Ti-Jah Lodge
Head to the Num-Ti-Jah Lodge for a little slice of Alberta history. Jimmy Simpson left England for Canada in 1896, and was a true mountain man. His love of Bow Lake inspired him to build the first log cabin on the lake, and today, Num-Ti-Jah is a fully-functioning lodge for hotel stays, events, and more. Stop in for a meal, or base yourself here for a few days to take advantage of the stunning scenery and the multitude of hikes in the area. Please note that Num-Ti-Jah is only open in warmer months.