Disclaimer: This page may contain affiliate links. Please review our full Terms and Conditions for more information and our Privacy Policy. Note that any pricing, operating hours, or other such information provided below may have changed since initial publication.
Compiled by the Road Trip Alberta team
Last updated on July 5, 2023
In the long hot days of summer, fewer things are as compelling as standing at the foot of a beautiful waterfall. Not only for the reward of the stellar visual of cascading water but also for the chance of feeling the cool and refreshing spray. It's a little like being baptized by nature! And if you could use a little more of that sort of joy in your life this summer, then below we've summarized 20 incredible waterfalls in Alberta to get you started.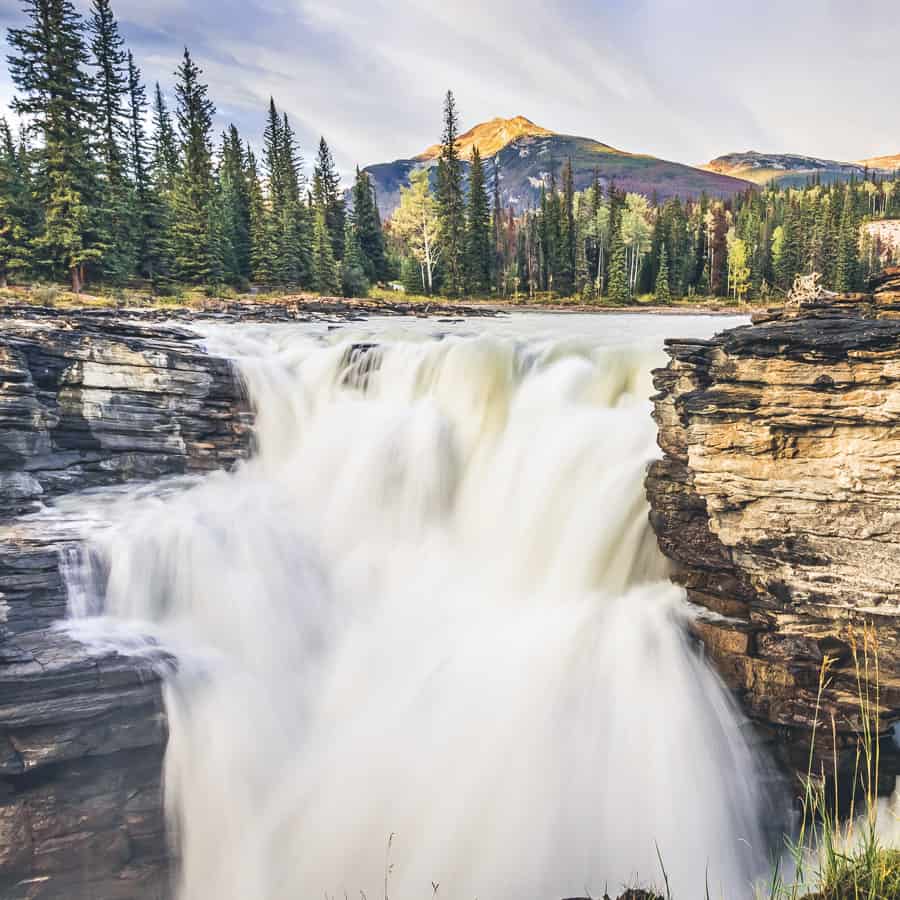 A strong word of advice and caution: stick to the pathways and trails that lead you there. Some of these waterfalls in Alberta are mighty forces that have claimed lives in the past. As compelling as it can be to shower under them or get close enough for an epic selfie, please respect their power and err on the side of caution.
The Most Spectacular Waterfalls in Alberta
Waterfalls in Banff National Park
Bow Glacier Falls
One of the most popular hikes in Banff National Park is to Bow Glacier Falls. A moderate hike with an in-and-out trail length of approximately 9 kilometres and a light incline, the trek to see the falls makes for an amazing day in the Canadian Rockies. Follow the shores of Bow Lake, passing through a rocky gorge, until you get to the base of the magnificent falls themselves. Of course, you can also try to see the falls from a distant viewpoint on the lake, but it's much more impressive seeing the falls up close and personal and feeling the mist on your face.
As with all of the destinations in Banff National Park, Bow Glacier Falls is a great option for a day trip from Calgary!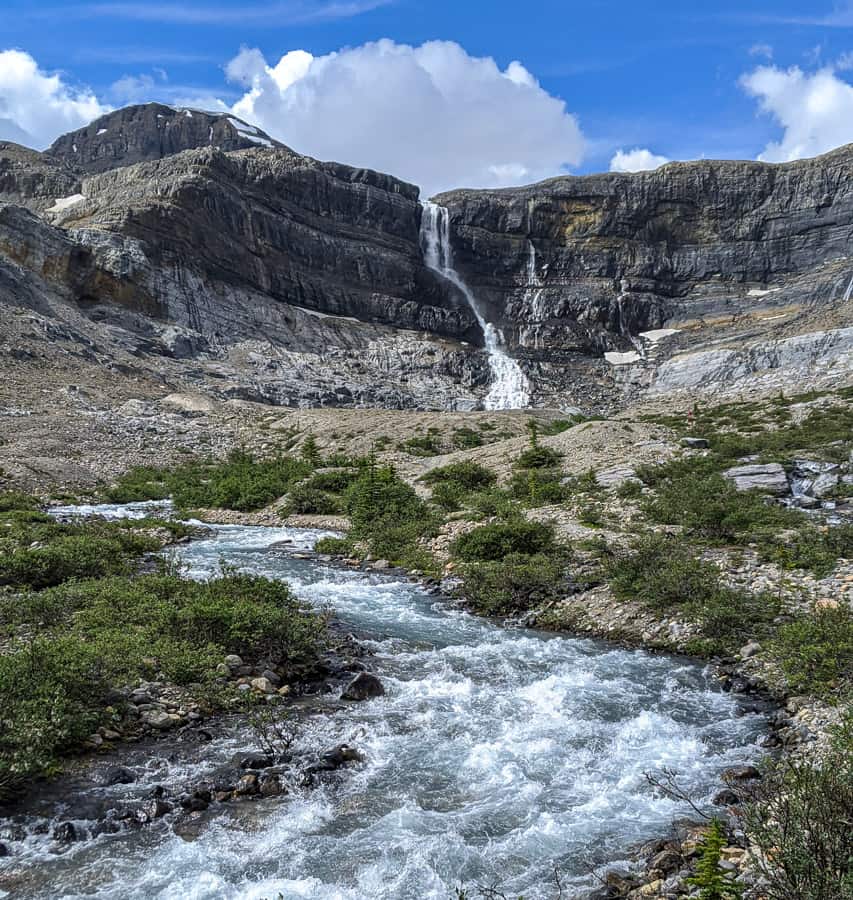 Mistaya Canyon Falls
For those who aren't a fan of hiking or are looking for an easy trail, head to Mistaya Canyon Falls. With a stunning path that leads you through lush forest, you'll soon arrive at the rushing Mistaya River and its views of the canyon. Trust us, this is one of the most scenic spots in the mountains… and one you may not have heard about, which makes it even better!
With rock formations, tumbling waterfalls, and views of the mountains all around you, Mistaya Canyon Falls is the perfect photo opportunity.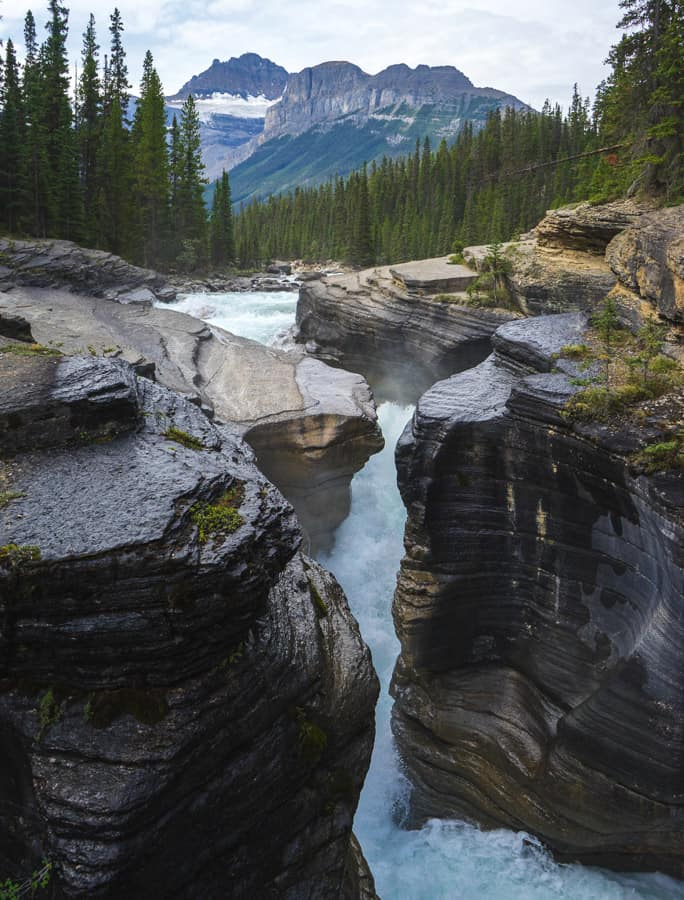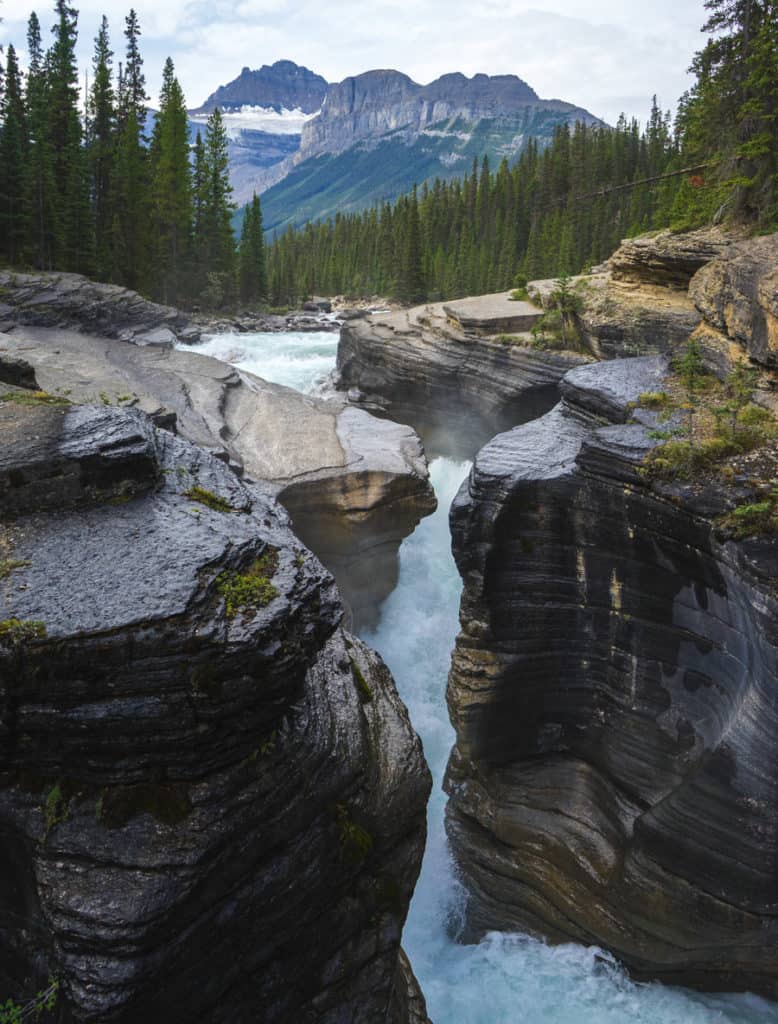 Johnston Canyon Falls
This extremely popular hiking trail is known for its unbelievable views of the falls and the surrounding scenery. With sturdy walkways taking you along the canyon walls, there are plenty of viewpoints for you to stop and admire the roaring water below.
The falls are located down the Bow Valley Parkway and in summer 2021 can be accessed via Castle Mountain Junction. Alternatively, you can rent a bicycle from Banff and cycle 25km to the falls. We definitely recommend getting to Johnston Canyon Falls as early as possible, as parking fills up quickly and the trail is known for becoming crowded in peak summer months.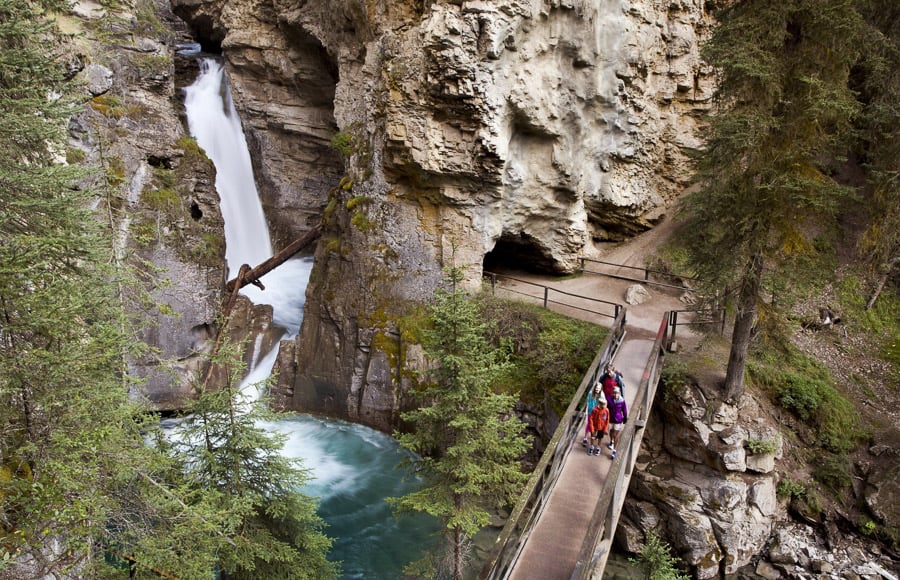 Bow Falls
One of the most visited waterfalls in the Rocky Mountains, Bow Falls is a fantastic choice for those looking to see a waterfall near the town of Banff. To hike to the falls from the townsite it's an easy 1.7km trail with not much elevation gain. It's perfect for people of all ages who have a couple of hours to explore.
Follow along the Bow River through a picturesque forest before emerging at a platform overlooking the falls themselves. With lots of viewpoints and benches along the way, Bow Falls also makes for a lovely picnic spot. If you are in a time crunch, you can drive to the falls and there is a large parking area right beside the viewing area.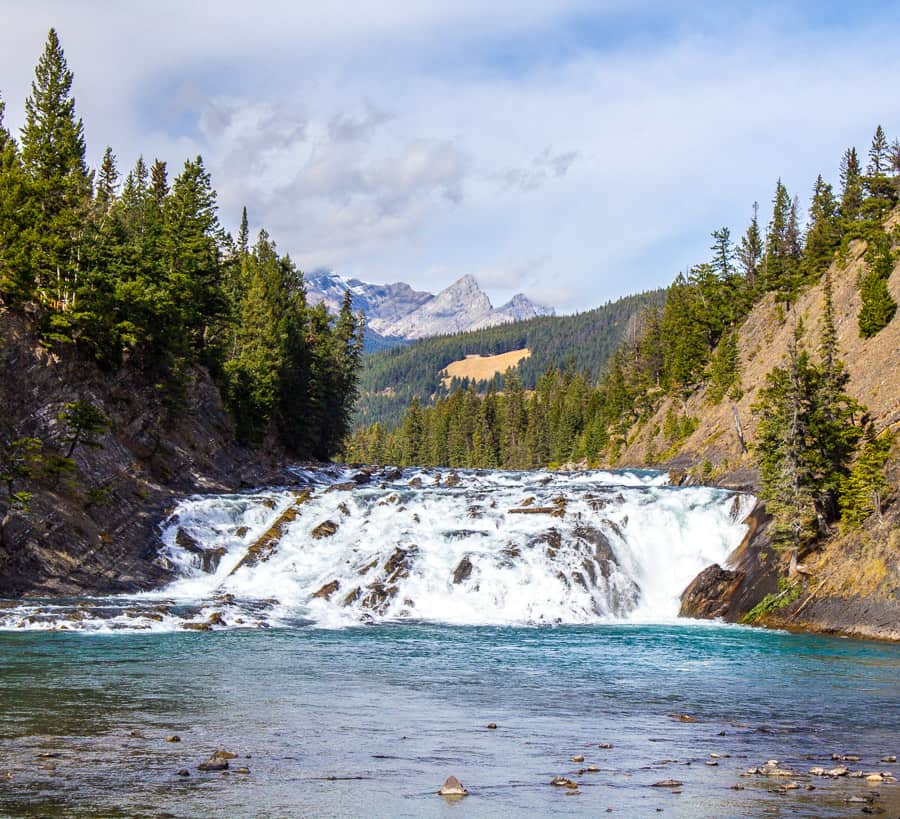 Waterfalls in Jasper National Park
Athabasca Falls
Located along the Icefields Parkway, this short walking trail features paved pathways, making it stroller and wheelchair-friendly. With plenty of breathtaking viewpoints of the falls and the narrow canyon, the kilometre walk may take longer than you think… only because you'll be stopping for so many photos!
A highlight of visiting Jasper National Park, Athabasca Falls can become crowded mid-day and in summer, so make sure to go early to avoid the crowds.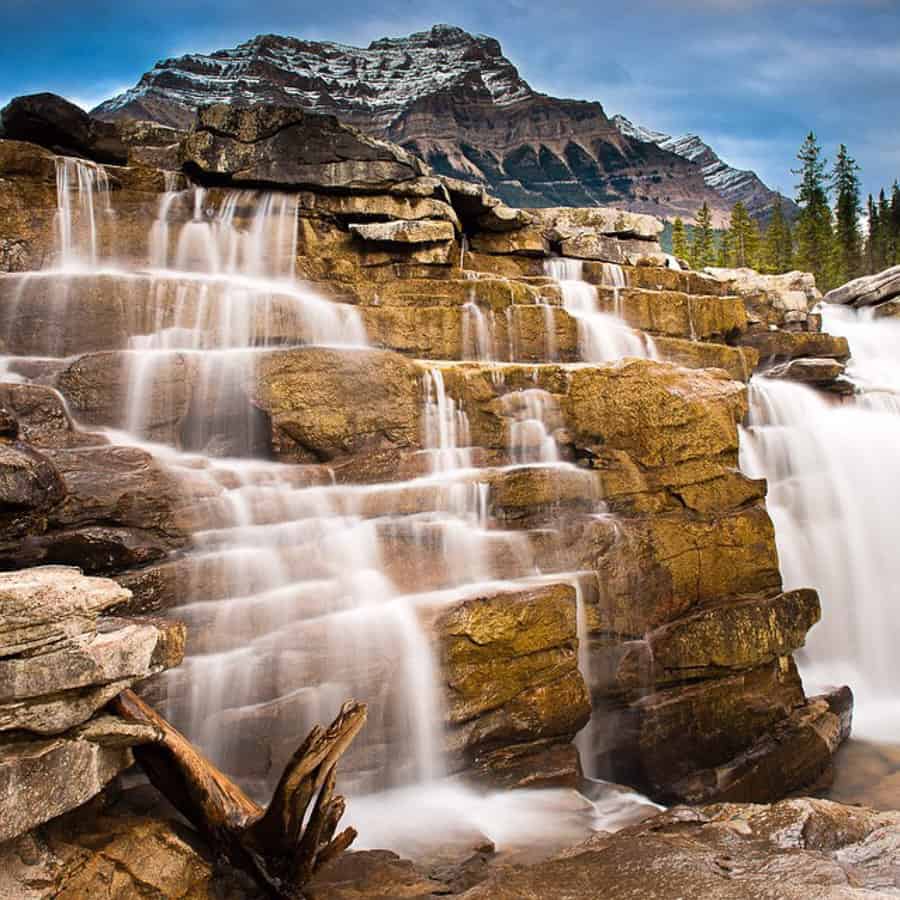 Sunwapta Falls
Fed by the Athabasca glacier, the upper and lower falls of Sunwapta should be a must-see on your list of things to do in Jasper. If you're strapped for time, the upper falls are easily accessible from the parking lot; with an incredible drop of almost 18 metres (59 feet), you're sure to be blown away by the view.
A short hike down through the forest takes you to the three lower falls, which are equally impressive. Our tip: visit in late spring, when the falls are at their fullest due to recent snowmelt.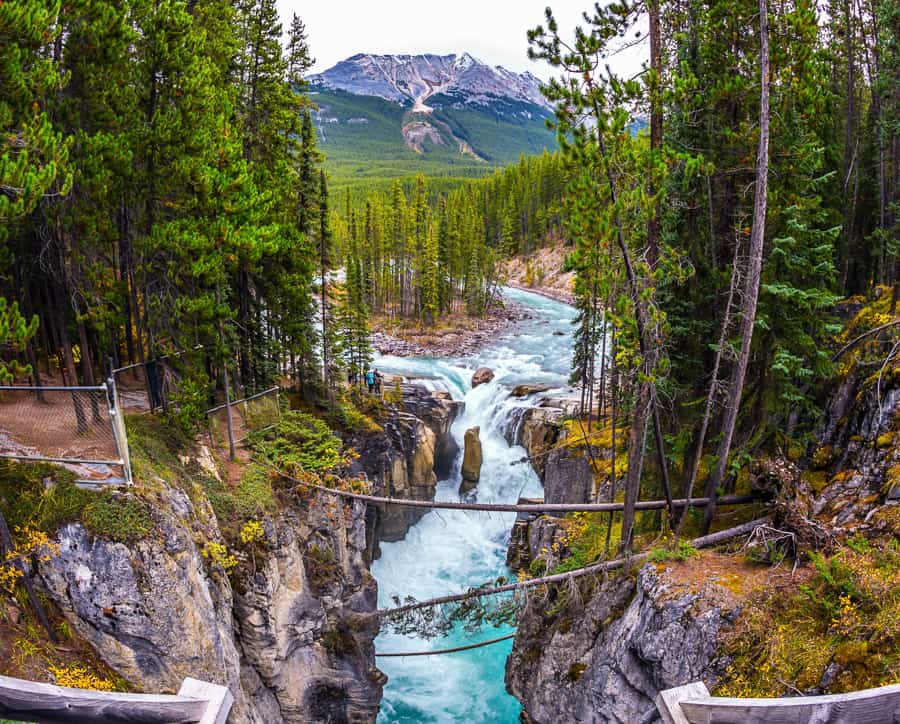 Waterfalls in Waterton Lakes National Park
Cameron Falls
One of the most popular waterfalls in Alberta, Cameron Falls is found in the townsite of Waterton Lakes National Park. With plenty of parking and easy access to the falls, there's no excuse not to visit! Spend time on the viewing bridge to get so close to the waterfall that you can feel its mist on your skin.
And while the water flowing over the falls is normally crystal-clear, heavy rains can sometimes stir up sediment called agrolite, turning the falls a pale pink colour in the sunlight. It's not every day you get to see pink waterfalls, but at Cameron Falls, you might just get the chance!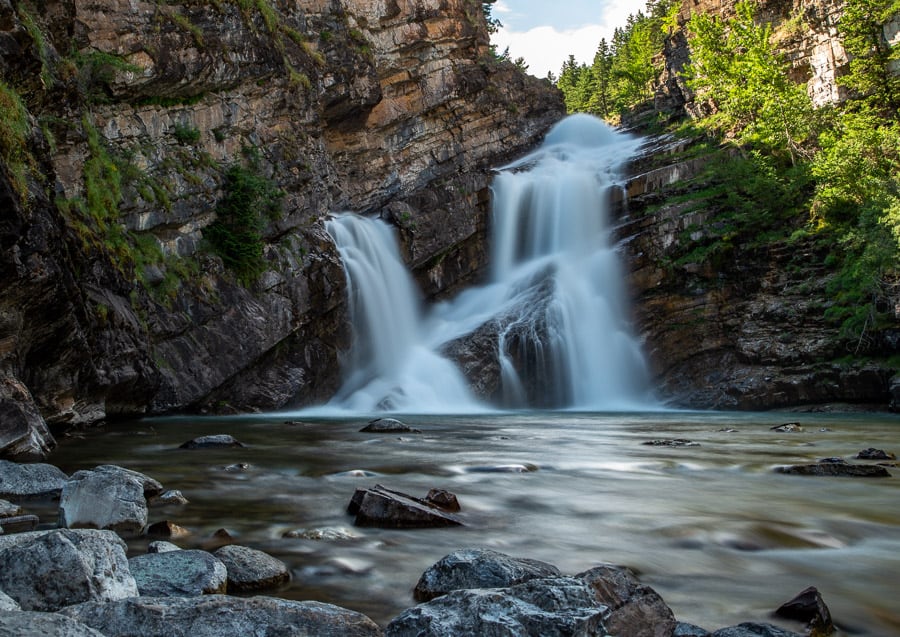 Blakiston Falls
If you're looking for things to do in Waterton Lakes, look no further than Blakiston Falls. This easy, 2.5 kilometre hiking trail is ideal for families and has newly renovated lookout points to maximize your viewing experience. With mountain views in the distance and verdant trees all around you, taking some time to listen to the rush of the waterfall is an amazing way to take in the fresh air and connect with nature.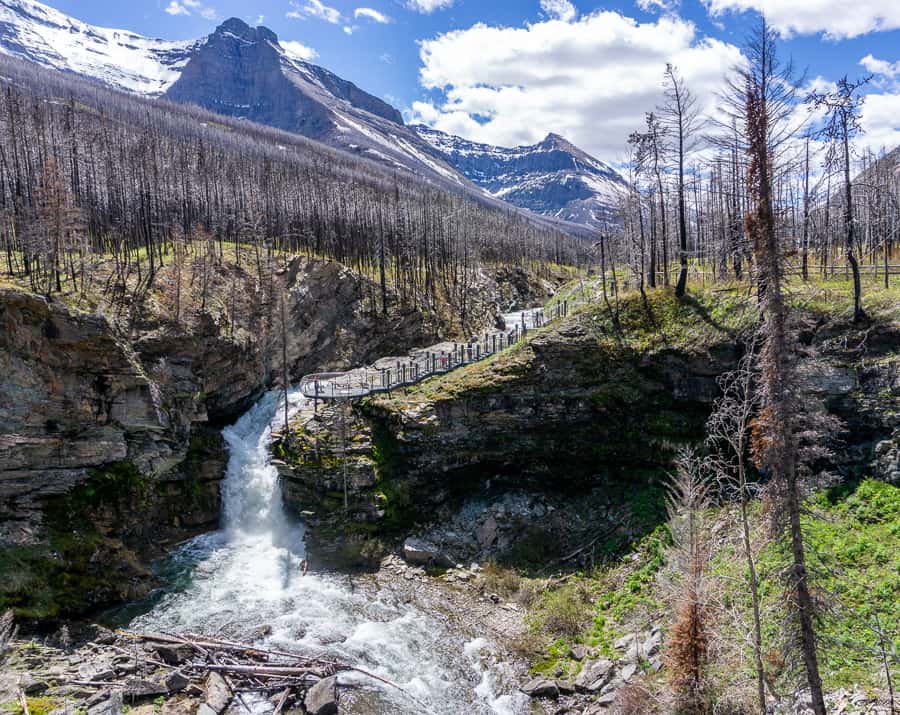 Lower Bertha Falls
For those with a bit of time to explore and some hiking experience, the moderate trail to Lower Bertha Falls in Waterton Lakes National Park is a wonderful choice. With a distance of 5.2 kilometres and an elevation gain of 175 metres, this half-day hike brings you to the cascading waterfalls in the middle of an abundant forest. Pack a lunch in order to make this the ultimate picnic spot, and don't forget to try to spot wildlife along the path.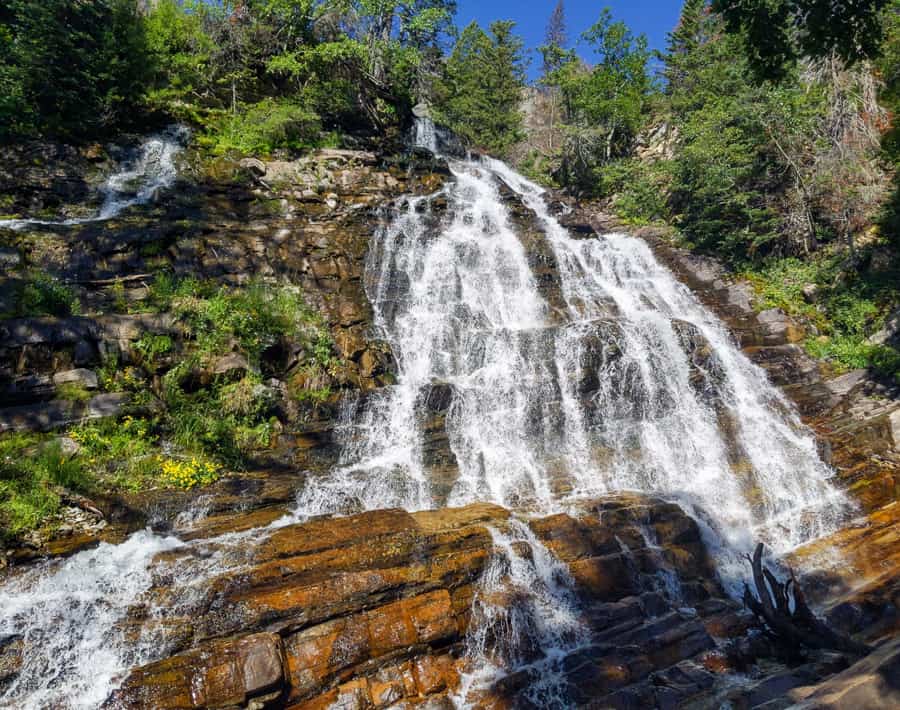 Waterfalls in David Thompson Country
Ram Falls
If you're looking for a spot further away from the crowds of Banff and Jasper, head to David Thompson Country, where gems like Ram Falls await. There's so much to do and see in this part of the province that it should definitely be part of your next Alberta road trip!
Visit Ram Falls for a chance to camp in its rustic campground, spot one of the many Bighorn Sheep on the rocky cliffs, and, of course, to take in views of the majestic waterfall that gives the area its name. A viewing platform a short hike near the campsite makes for a marvelous photo opportunity.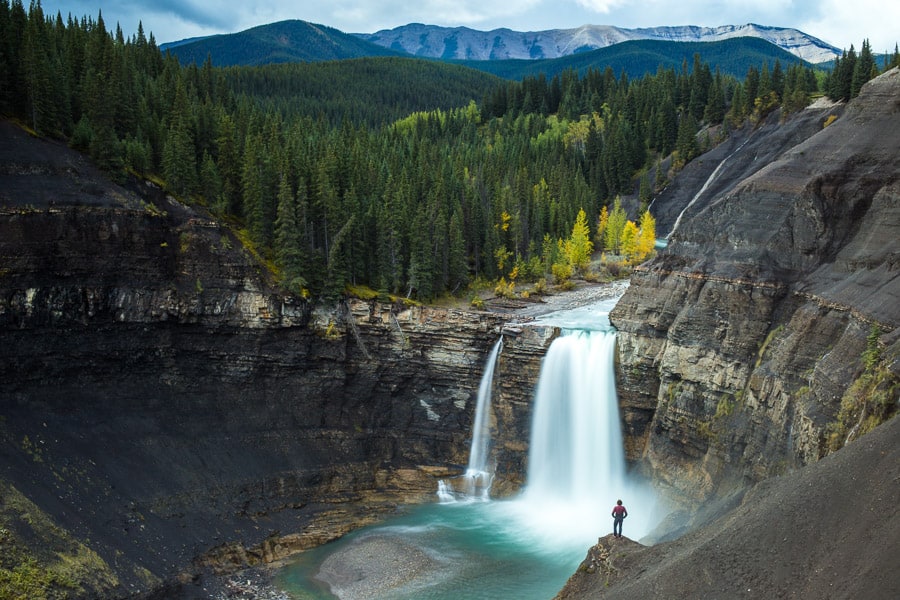 Crescent Falls
This has to be one of the most gorgeous waterfalls in Alberta. Located on the Bighorn River, Crescent Falls is actually a series of two waterfalls. Though perhaps not as famous as some of the spots in the bigger provincial and national parks, Crescent Falls is absolutely worth a visit when you're in the region. Named for the crescent cliff over which they fall, there is a small area for camping as well as a trail that gives you beautiful views of the Bighorn River Valley.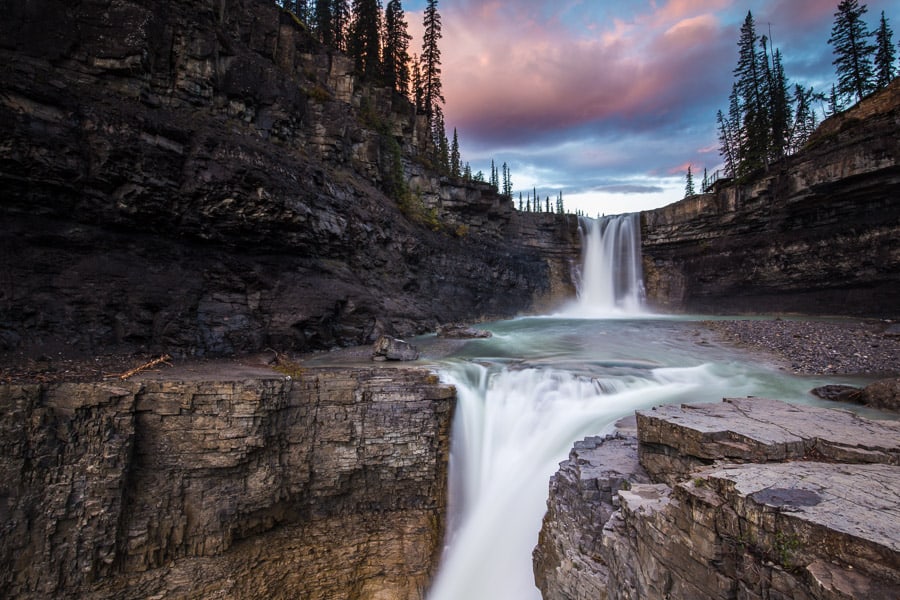 Siffleur Falls
Rated an easy to moderate hike, the trail out to Siffleur Falls is beloved among hikers in Alberta. An easy-to-follow path with plenty of signs to keep you on track, you'll hike through grasslands, over bridges, along the North Saskatchewan River, and finally to the gorgeous Siffleur Falls, all with views of the canyon along the way.
Make sure to bring your hiking boots though, this out-and-back trail is just over 14 kilometres! Start early, avoid hot summer days, and bring plenty of water for everyone in your party.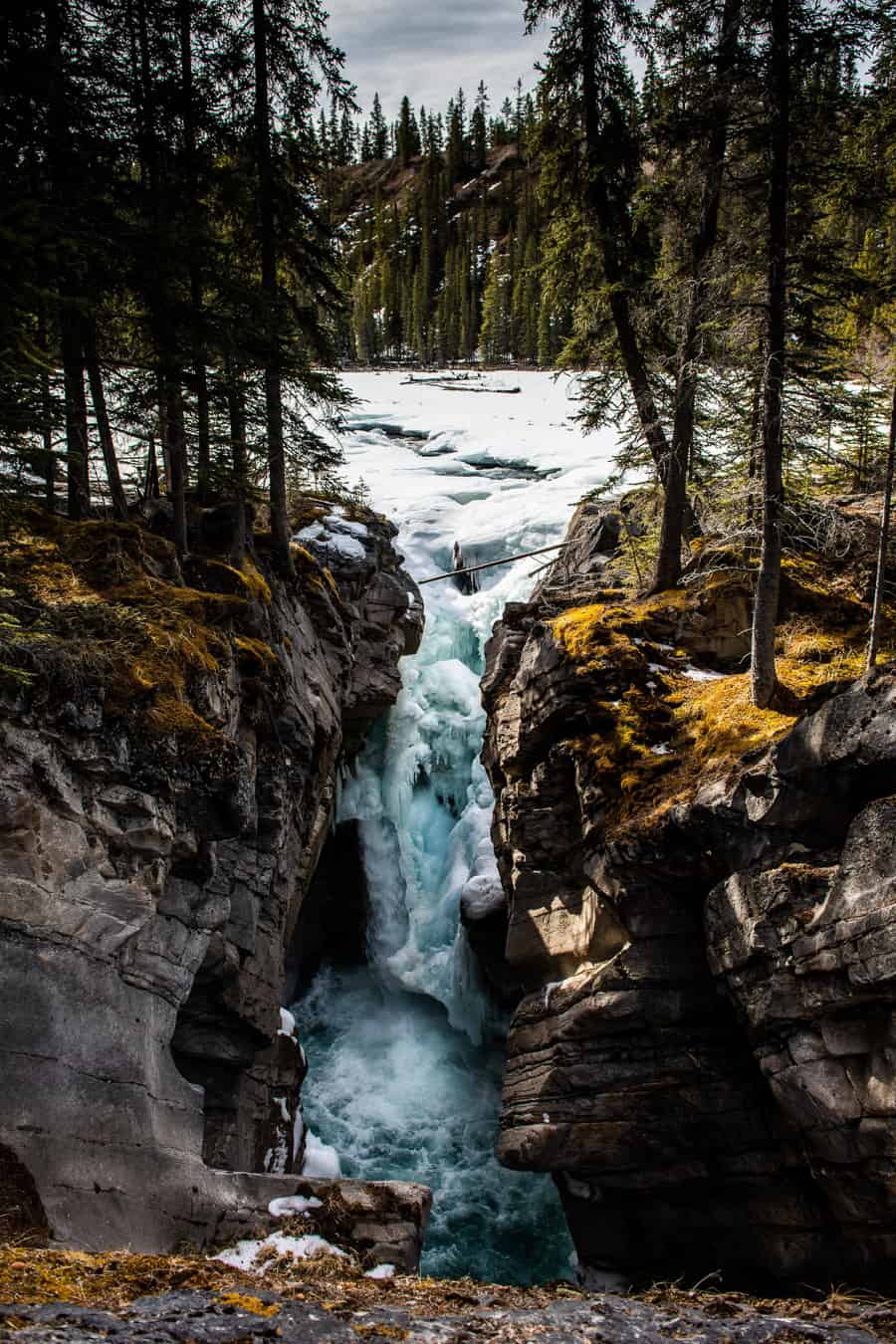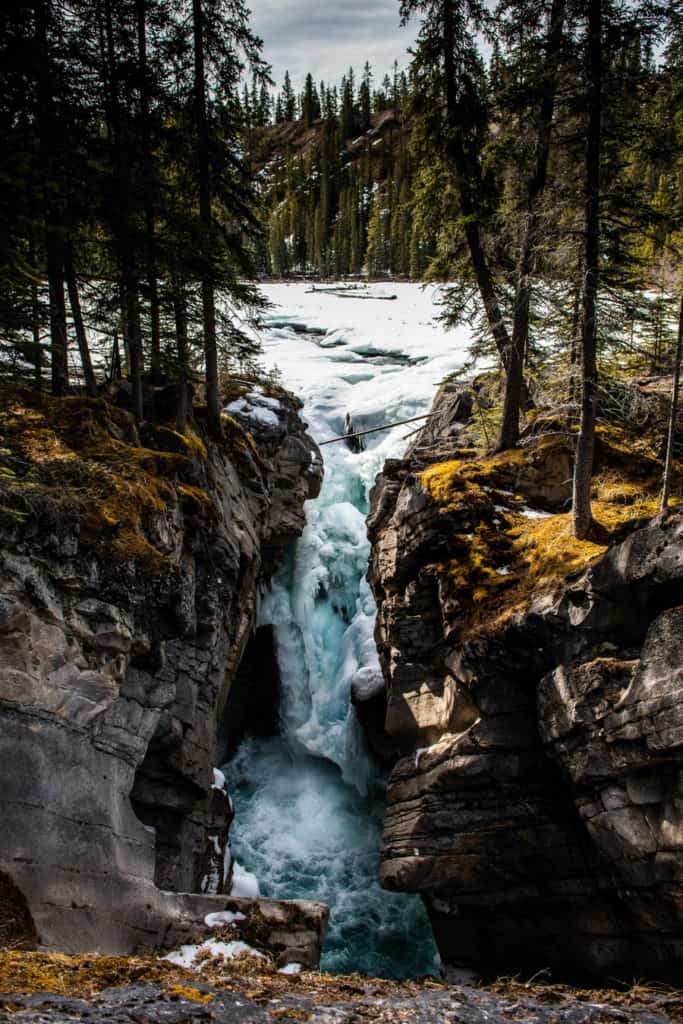 Waterfalls in Canmore and Kananaskis
Elbow Falls (Bragg Creek)
Found near Bragg Creek, a forty-minute road trip from Calgary, Elbow Falls makes for an amazing day trip or addition to an adventure through the Kananaskis region. This easy loop trail is accessible all year round, even in winter, and each season brings a new beauty to the site. With scenic viewpoints of the falls, plenty of benches to sit and relax, and even opportunities to wade in the icy water further down the riverbed, a visit to Elbow Falls is a chance to experience the wildlife, serenity, and nature of this part of Alberta, Canada.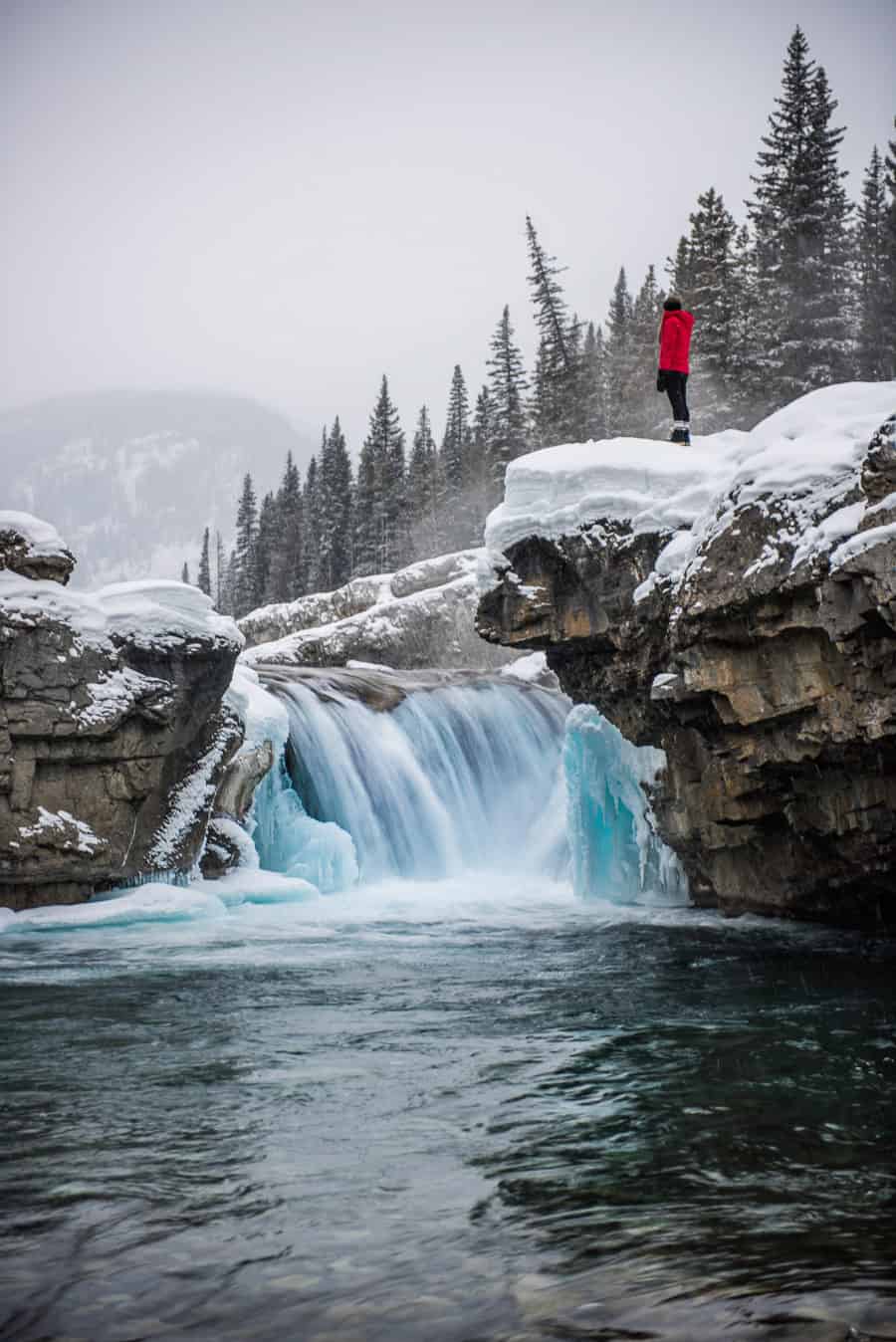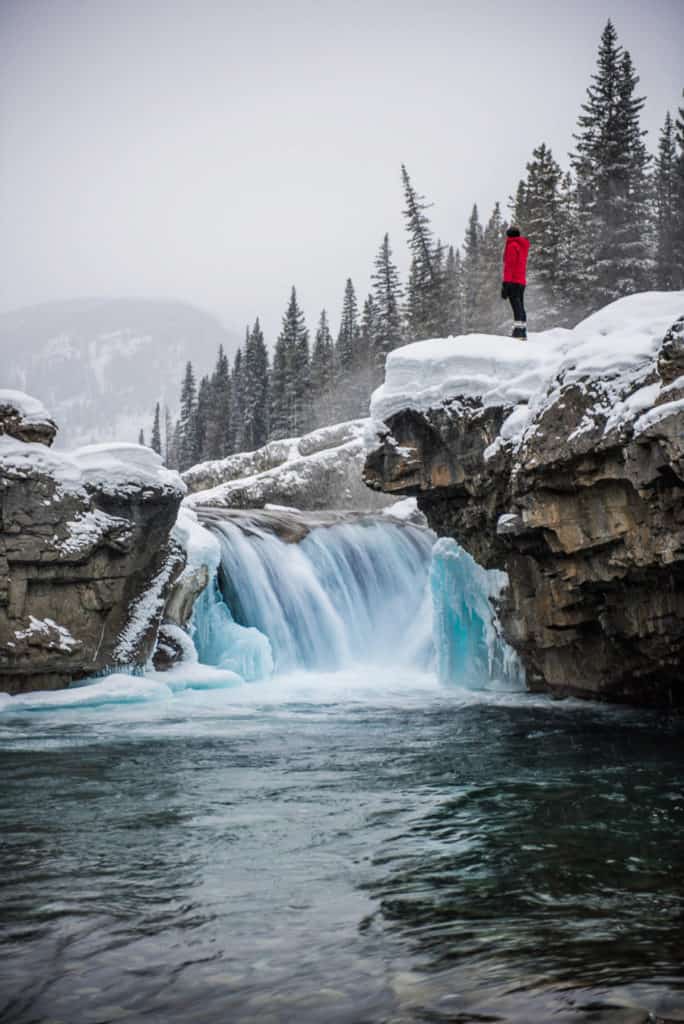 Sheep River Falls
The short trail that leads you to Sheep River Falls is fantastic for those short on time or new to hiking. Although it gets busy in the summer months, the view makes a visit absolutely worth your time. The rocky landscape, mountains in the distance, and raging river make you want to stop and stare in awe; it's sometimes difficult to grasp that this is all within an hour and a half drive from Calgary!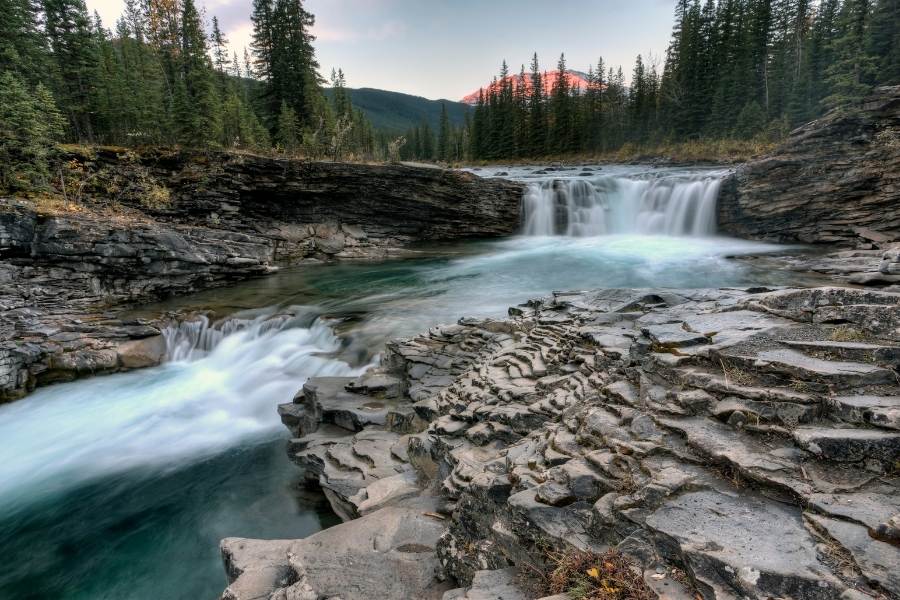 Grassi Lakes Waterfall
One of Canmore's most popular hikes, the stunning Grassi Lakes Trail offers two trails; take the easier route directly to the turquoise Grassi Lake, or choose the slightly more challenging trail that will take you to the waterfall along the way. If you choose the latter, you'll also have views of the Bow Valley and even Canmore in the distance! Don't worry, there's a very clear sign to point you in either direction. But if you're a fan of waterfalls, and want to see one of Alberta's best, the choice is clear.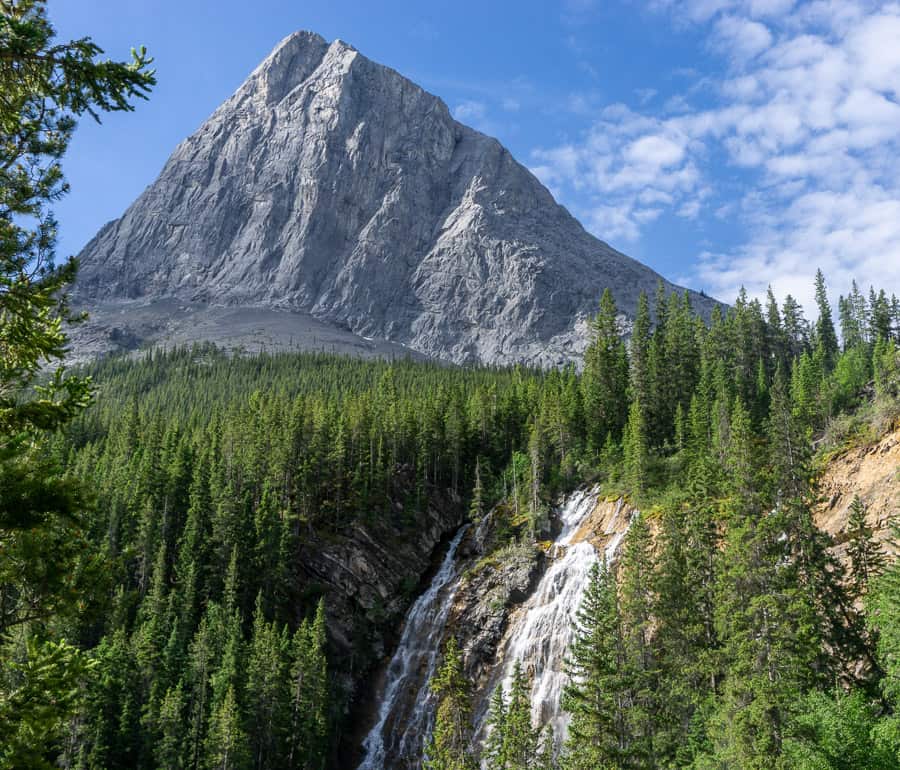 Troll Falls
Popular for hiking in summer and snowshoeing in winter, the Troll Falls hike is an easy trek that culminates in views of the waterfall. With views of the creek, forest, and nearby mountains, you may find yourself stopping every few minutes for photos. It's no wonder it's one of the most popular waterfalls in Alberta. Just be sure to stay on the designated pathways as rockfall hazards are in effect.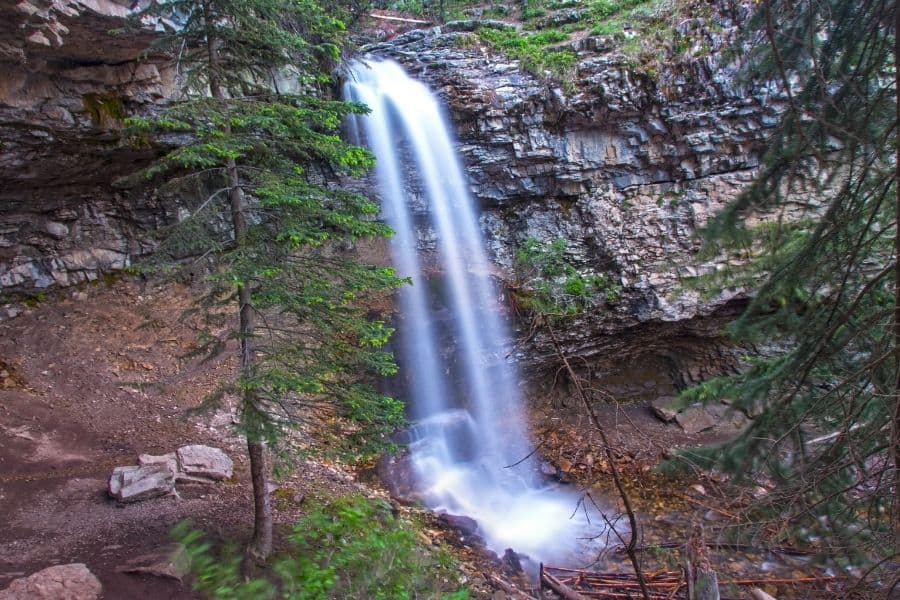 Other Incredible Waterfalls in Alberta
Big Horn Falls (Sundre)
Not to be confused with Crescent Falls, which previously went by a similar name, Big Horn Falls near Sundre is an excellent sightseeing option for those exploring the Cowboy Trail. Found on the Ya-Ha Tinda Ranch, there are two ways to see the falls: a quick walk from the parking lot near the falls, or a much longer hiking loop. If you're after the latter, the Lower Big Horn Falls loop is a moderate, 8km hike. If you're pressed for time, there's a parking lot nearby the falls. Either way, you're sure to be bowled over by the view.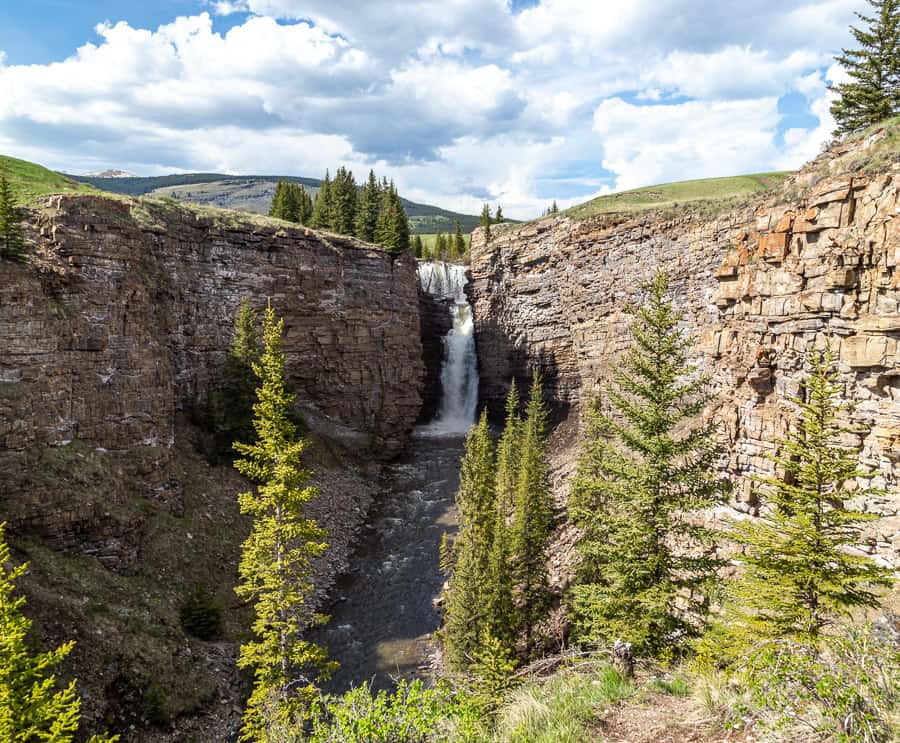 Castle Falls (Castle Provincial Park)
Head to Alberta's southern Rocky Mountains to experience the beauty of Castle Falls. Although not one of the biggest waterfalls in Alberta, this gem is found in Castle Provincial Park and is a terrific spot to camp, swim, kayak, hike, and fish. You might end up feeling like the park is a hidden gem. In fact, it's not rare to be the only one on the hiking trails, even in peak season!
Discover the turquoise waters at the swimming hole of Castle Falls, conveniently found right near the campground. It's not the biggest waterfall by any means, but it's sure beautiful!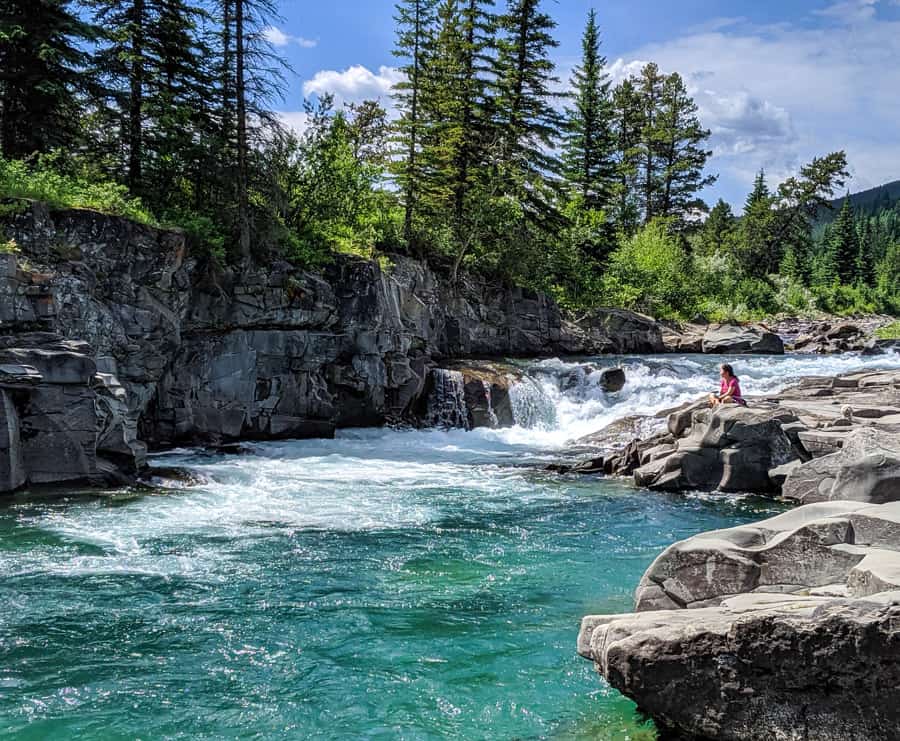 Part of the Crowsnest River, Lundbreck Falls is a beautiful addition to a road trip through Southwest Alberta or as a holiday all on its own. With nearby camping, as well as fishing and swimming options in calmer waters, you can easily spend a few days exploring the area.
The highlight, of course, is the twin waterfalls side by side; thankfully there are plenty of viewing opportunities and platforms from all angles. It can get crowded in peak season so make sure to go early to avoid the crowds.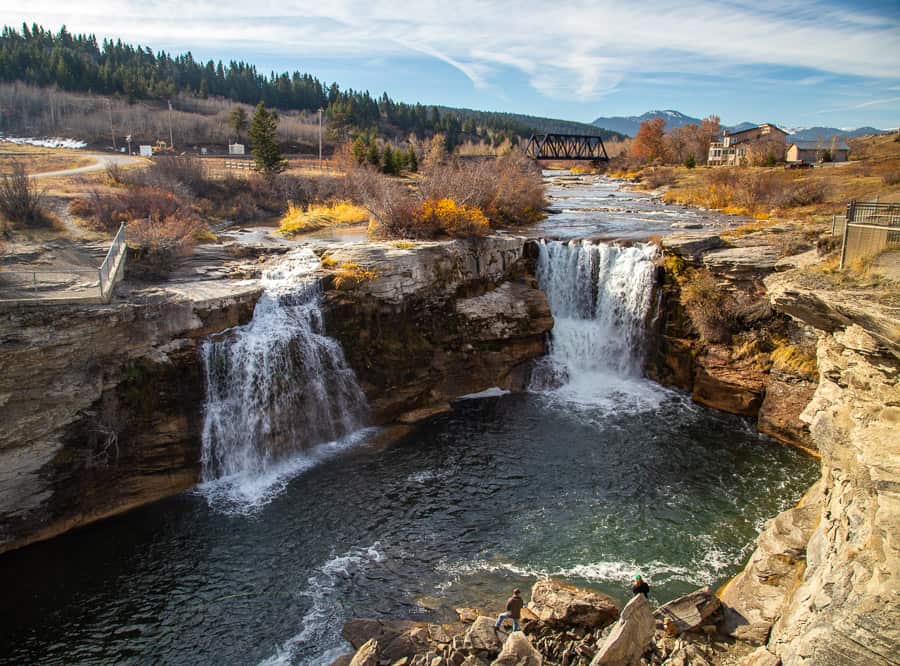 Kakwa Falls (Kakwa Wildland Provincial Park)
Deep in Kakwa Wildland Provincial Park near the British Columbia border, you'll find an off-road vehicle trail that leads you to the thundering Kakwa Falls, one of the tallest waterfalls in Alberta. More than two hours north of Jasper or five hours west of Edmonton, a visit to Kakwa Falls is for the diehard adventure lovers who are seeking a spot all to themselves. Bring your ATV or off-road vehicle to the day-use area; from there, the falls are just a short hike away. Kakwa Falls are tough to get to, but absolutely worth the journey.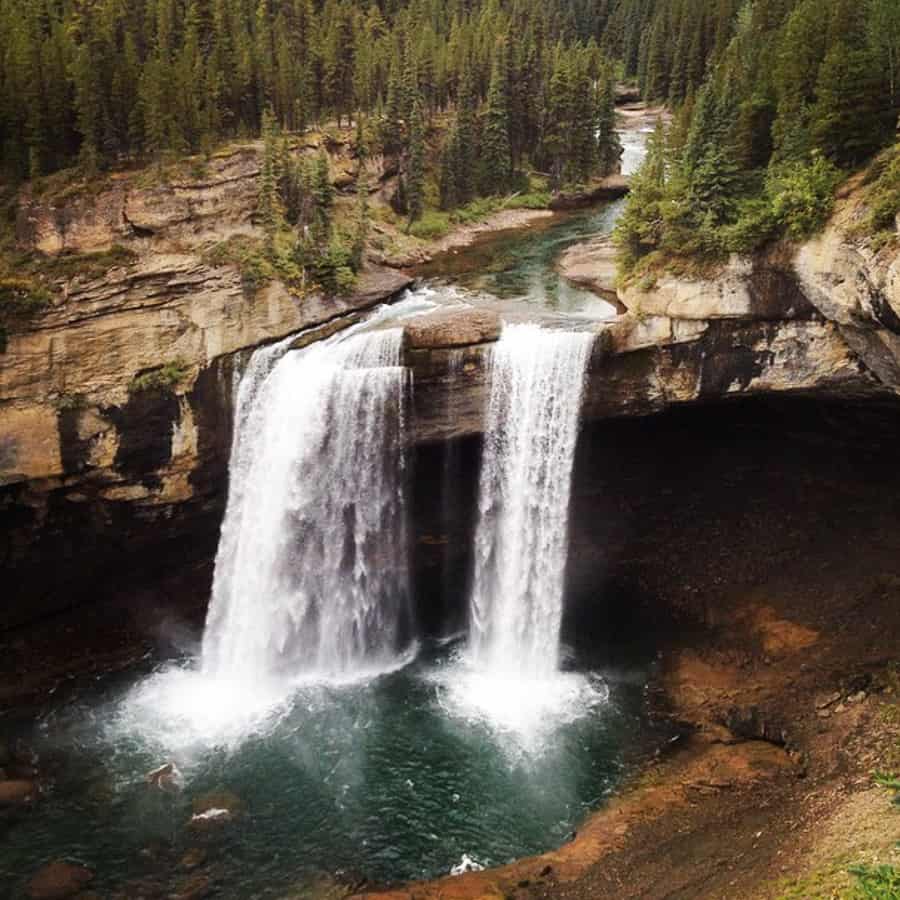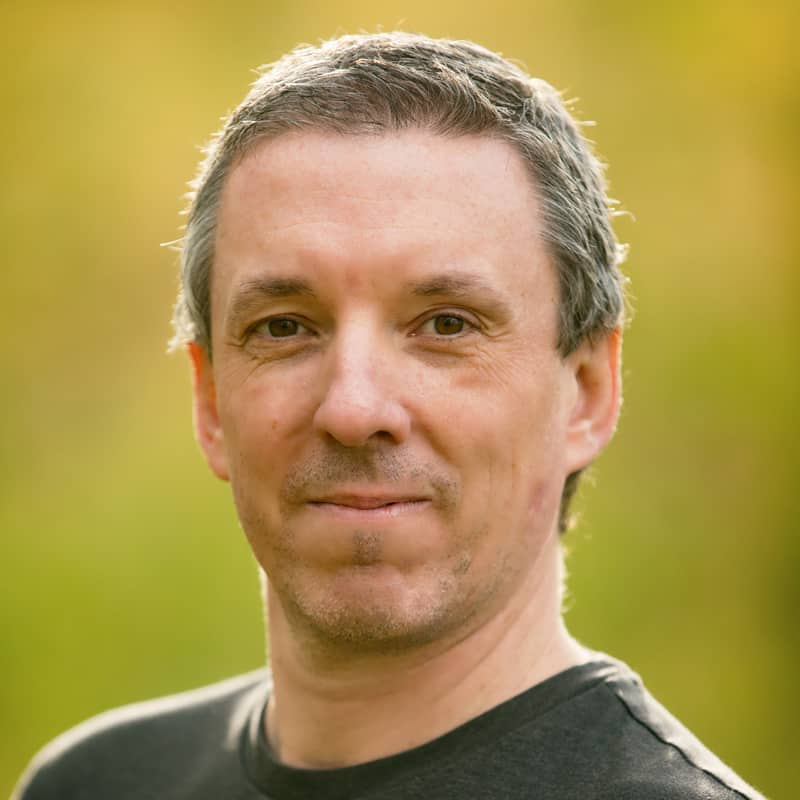 Pete is a co-founder of Road Trip Alberta. Growing up in Edmonton he has an extensive knowledge of Alberta and everything the province has to offer. He loves to eat good food, hike (especially in the winter), play tennis and curl. Apart from running Road Trip Alberta, he is a director with HMI, a digital media agency, half of the Hecktic Travels duo, and a co-creator of the popular card game Trip Chaser.