Disclaimer: This page may contain affiliate links. Please review our full Terms and Conditions for more information and our Privacy Policy. Note that any pricing, operating hours, or other such information provided below may have changed since initial publication.
Southwest Alberta is ripe for exceptional road tripping – with mountains to the west and prairies to the east, the region provides a veritable feast for the eyes. Given that it is fairly impossible to experience all of the area in a single day, we recommend planning a few days to explore it all.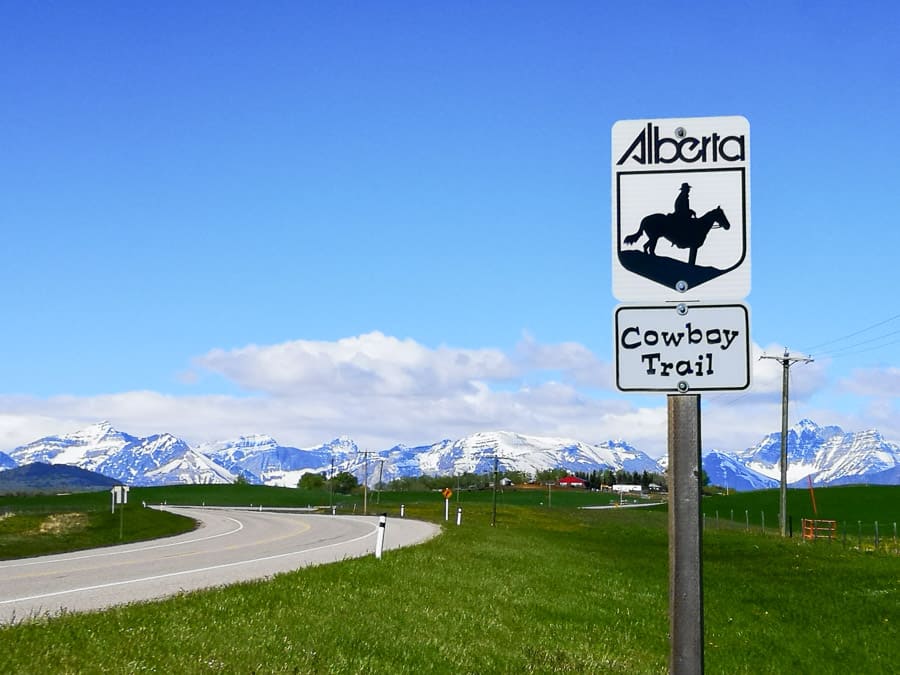 Starting in Calgary, journey south on Highway 2 and connect with the Cowboy Trail after Cardston to make a complete loop of the Alberta southwest. Wondering what to do along the way? We've got you covered with our favourite activities and food stops highlighted below. Also included are suggested overnight stops at two locations en route.
Map of Southwest Alberta Road Trip
Exploring Southwest Alberta
Nanton
Less than an hour's drive south of Calgary, your first stop should be in Nanton. Small but mighty, this southern Alberta town packs a real punch and is definitely worth at least half a day of your time.
Nanton is the historian's dream. Home to the Bomber Commander Museum of Canada, the museum is a fascinating place to spend a couple of hours as you take in all of the aircraft and aviation history. Here you'll find one of the world's only remaining Avro Lancaster FM159s, alongside other aircraft used in WW2.
For such a small town, you'll also find a great selection of antique stores, most of which are clustered around 20 Avenue. Nanton is extremely walkable, so spend some time window shopping and poking around for the perfect antique. For a final stop, head to The Candy Store in Nanton, famous for its wooden shelves and glass jars packed with every type of candy you can imagine!
Where to eat in Nanton:
Sweet Queen Burgers, Stuthornes, Wild Thyme Café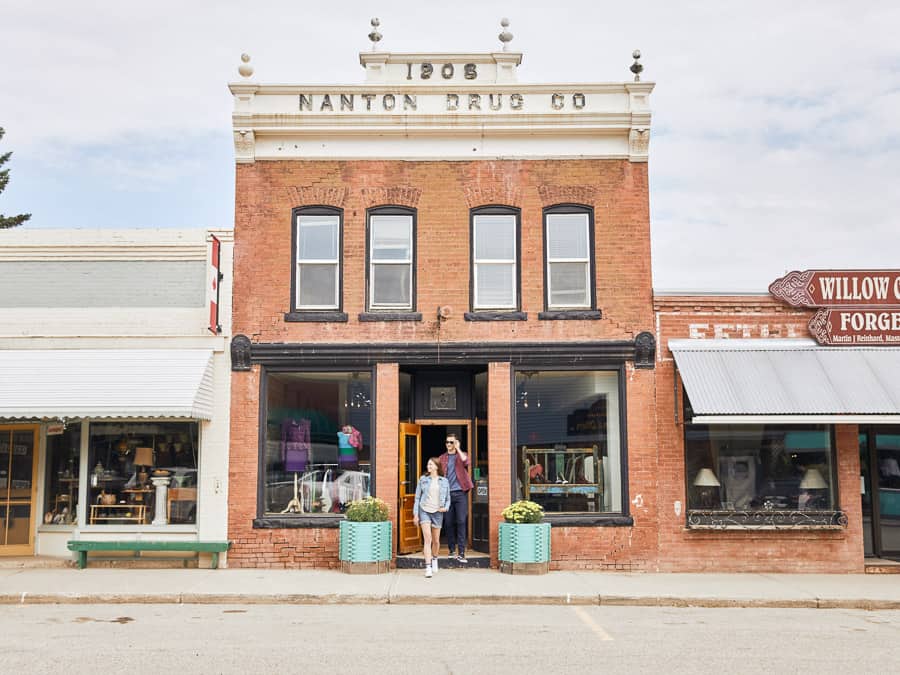 Head-Smashed-In Buffalo Jump World Heritage Site
Head-Smashed-In Buffalo Jump World Heritage Site should absolutely be included on your road trip through the southern Alberta region. This UNESCO-designated site preserves the culture of the Plains people, and the history here dates back 6,000 years. You should plan for a minimum of three hours at the site, which is also wheelchair and stroller friendly.
The cliffs at Head-Smashed-In Buffalo Jump are where buffalo were driven off to their deaths, therefore providing food, furs, and bones used for tools for the Indigenous peoples of the region. Although it was abandoned by the Blackfoot peoples in the 19th century after European settlement, today you're able to take in the landscape by walking along the cliff trails.
There is also an excellent interpretive centre built directly into the sandstone cliffs that highlights the ecology, mythology, lifestyle, and technology of the Blackfoot peoples in Canada. The interpretive centre also has a gift shop, cafeteria, and picnic tables, so you can spend time relaxing before your next drive. From April to October, try the buffalo burgers, chili, or stew at their Buffalo Jump Café.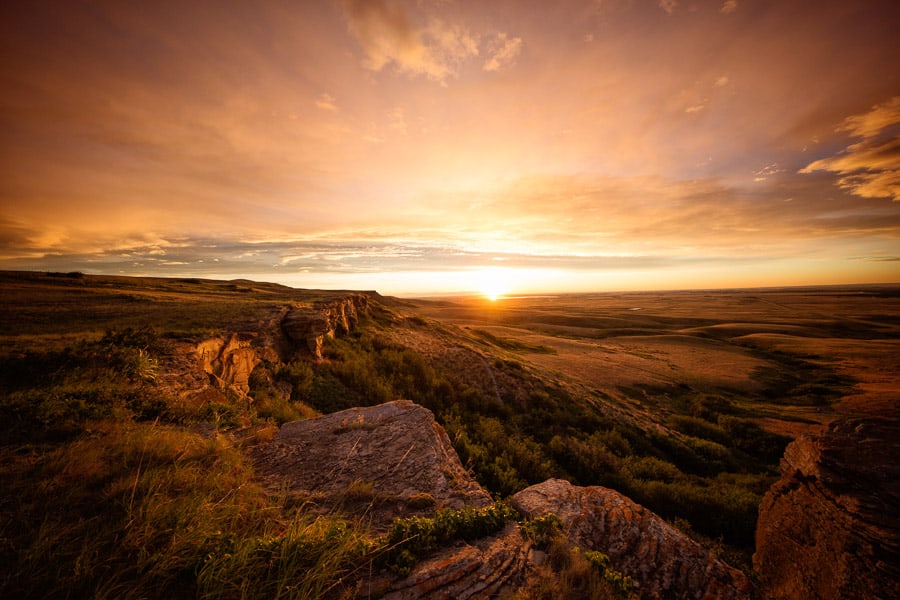 Fort MacLeod
After your visit to Head-Smashed-In Buffalo Jump, head to the nearby southern Alberta town of Fort MacLeod. There's plenty to keep you busy here, so plan accordingly!
Your first stop should be The Fort, officially known as The Fort Museum of the North West Mounted Police and First Nations Interpretive Centre. With an extensive collection of artifacts – over 9,000 of them, in fact – The Fort is a captivating place to take in southwest Alberta's history. Don't miss the NWMP Musical Ride in the summer months, an awesome display of horses and their riders.
If you're in the mood for some entertainment, check out the Empress Theatre, one of Canada's most beautiful heritage movie theatres. Open since 1912, the Empress hosts live theatre, film festivals, movie screenings, musical performances, and so much more. Afterward, check out Stronghold Brewing for a taste of Fort MacLeod's craft beer scene.
Where to eat in Fort MacLeod:
Café Orange, MacLeod's Restaurant, Johnny's Restaurant, Homestead Bakeshop.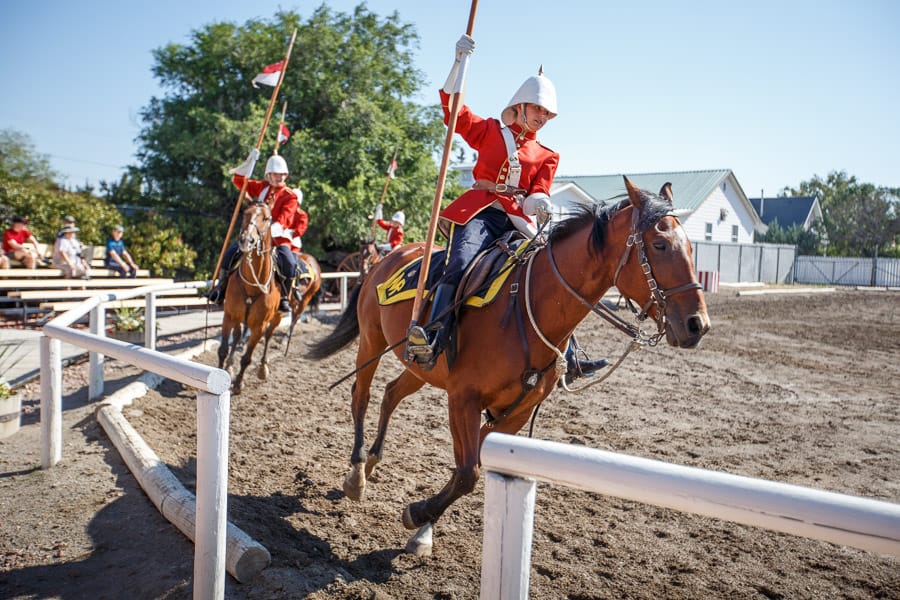 Cardston
Your next stop along your southwest Alberta road trip is Cardston. Head to The Remington Carriage Museum, the largest of its kind in the world. Here you'll find a museum dedicated solely to the history of horse-drawn transportation in North America, including 330 vehicles once used alongside horses in everyday life.
Other spots to consider for your time in Cardston and the region include the Courthouse Museum and the St. Mary Reservoir Provincial Recreation Area where you can swim, windsurf, picnic, and even camp.
Where to eat in Cardston:
Dave's Drive-In and Sports Grill, La Pita, Sauce Pizza.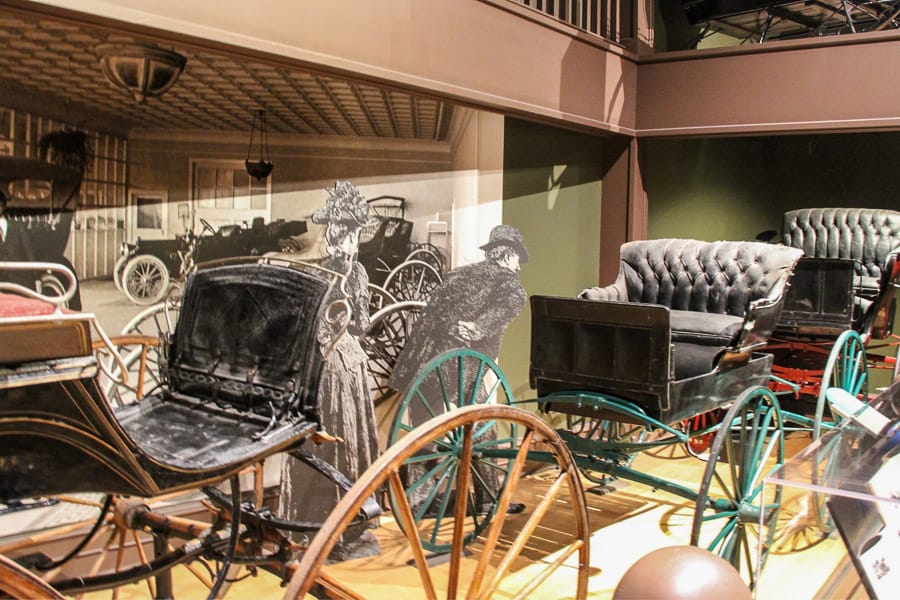 Waterton
You're now in the heart of the "Crown of the Continent", a large transboundary region in Canada (Southwest Alberta and British Columbia), and the United States (Montana) that has been identified as one of North America's "geo-tourism" destinations. In other words, have your camera ready, because this region is one of the most picturesque in all of Canada and North America. Though it's difficult to choose a favourite stop on this Southern Alberta road trip, you should definitely plan for a few days in the Waterton area. With so many things to do in Waterton Lakes National Park, it's an outdoor enthusiast's dream. It doesn't hurt that the views of the Rocky Mountains are there to keep you company!
There's almost no limit to the activities available in Waterton Lakes National Park: hiking, biking, stand-up paddle boarding, scuba diving, canoeing/kayaking, horseback riding, and golf are just some of the many activities on offer. Camping in Waterton is also one of the best ways to be up close and personal with the park.
In Waterton's townsite, check out Cameron Falls, or take afternoon tea at the Prince of Wales hotel after a bit of window shopping.
Where to eat in Waterton:
Wieners of Waterton, Windflower Corner Café, Thirsty Bear Kitchen and Bar, Lakeside Chophouse. (See our guide to the best Waterton restaurants for more great choices!)
Where to Stay in Waterton
Waterton is the perfect mid-point along your southwest Alberta road trip to find a hotel and spend a night or two. There are plenty of hotels to choose from and if there's availability, a stay at the iconic Prince of Wales Hotel is a must. Other hotels we recommend are either the Waterton Glacier Suites or the Bayshore Inn and Spa.
Want to see more options? See our exhaustive guide to Waterton hotels.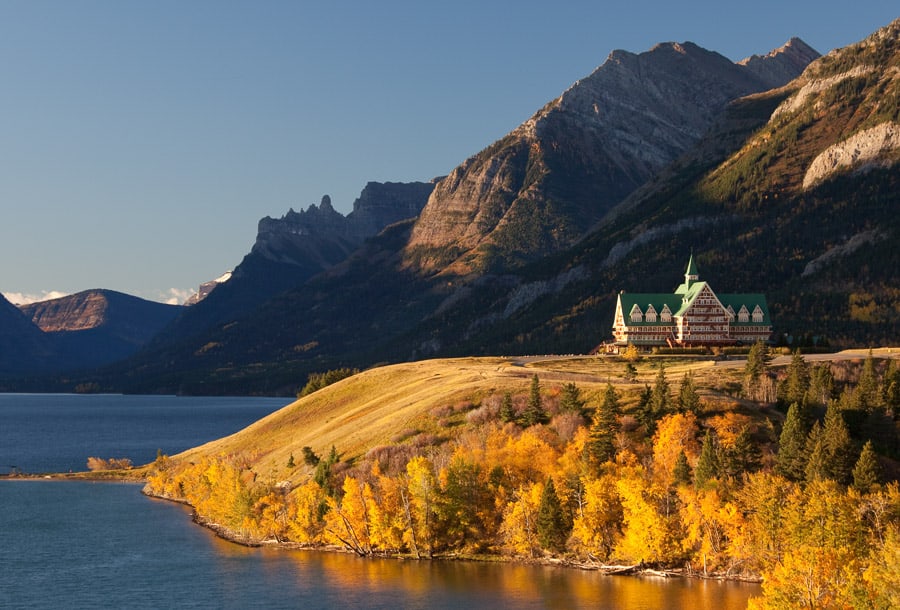 Pincher Creek
Right on the cusp of the Rocky Mountains, you'll find your next stop: the Alberta southwest town of Pincher Creek. Here there is the Kootenai Brown Pioneer Village, a spot where the whole family can easily spend a few hours. Established to preserve the area's pioneer heritage, today you can find authentically restored buildings filled with artifacts and everyday objects used by the pioneers of southwest Alberta.
Other popular nearby stops in the region include the Heritage Acres Farm Museum, the Lebel Mansion, the Oldman River Dam, and nearby Beauvais Lake Provincial Park, where you can fish, bird watch, hike, and mountain bike.
Where to eat in Pincher Creek:
Harvest Coffeehouse, Green Bamboo Peking House, A-1 Pizza.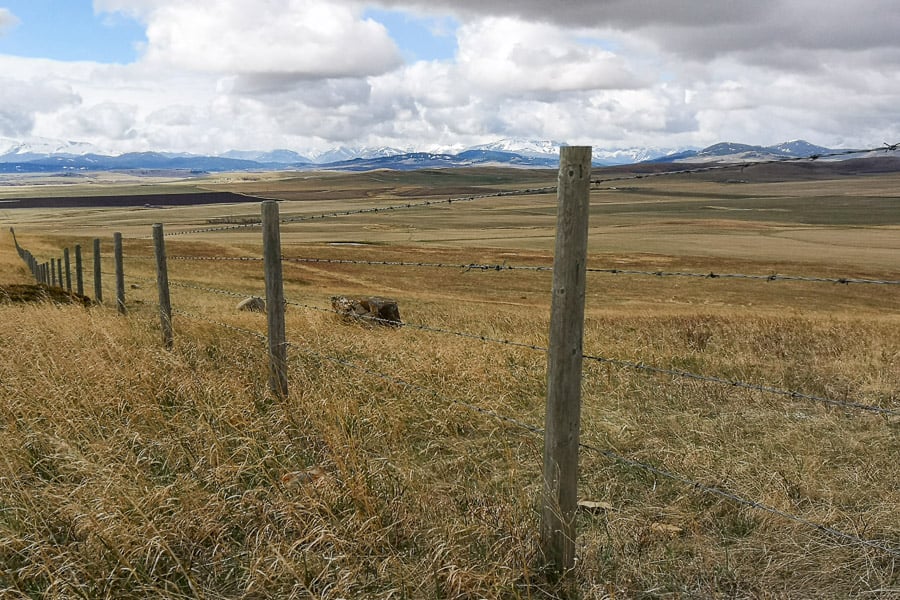 Castle Provincial Park
Don't be surprised if your jaw drops as you drive into Castle Provincial Park, the newest provincial park in Alberta. This absolutely stunning area is home to views of the Rocky Mountains, abundant forests, and some of the top hiking trails in the province. Castle Provincial Park is one of the best spots on this southern Alberta road trip to do some camping, though as always with camping in Alberta and the fact this is one of the most popular Alberta regions, we recommend booking your camping spot well in advance.
Hikers of all levels will find a trail to love in Castle, though some of the favourites include Table Mountain and Mount Haig Lake Trail. Fishing is also popular in the park, but those who want to just relax and take in the beauty of their surroundings will also enjoy all the picnic spots to choose from. Don't forget to stop at the Beaver Mines Miner's Mercantile & Bakery for a delicious gourmet sandwich (try the pulled pork!) or a sweet treat.
No matter what you get up to in Castle Provincial Park, we guarantee it will be one of your favourite stops on the trip.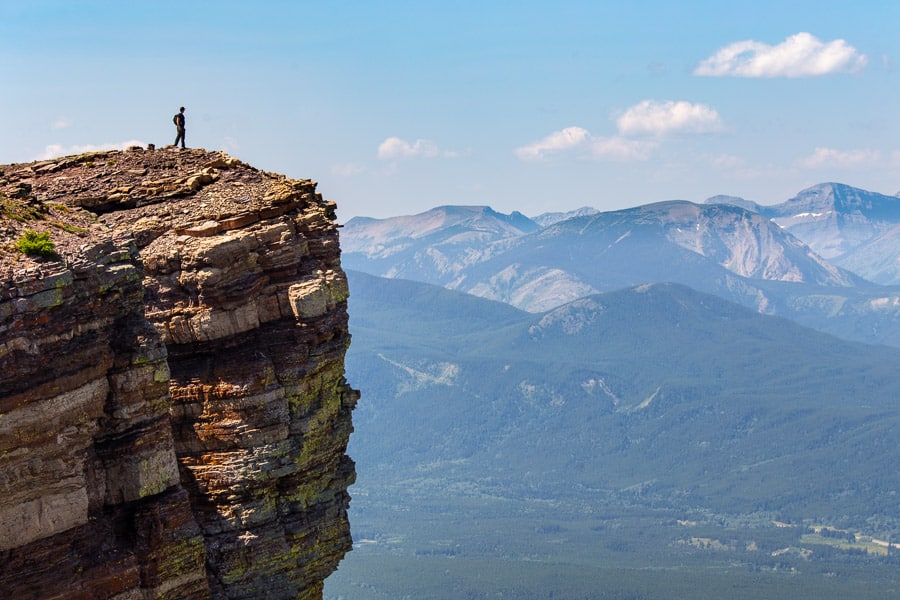 Lundbreck Falls
Lundbreck Falls makes for a very worthwhile addition to your road trip in the Alberta southwest. You can easily visit for a few hours, visit on your way to the next stop, or camp overnight (again, it is recommended to book in advance). Either way, the falls are absolutely breathtaking, and can't be missed.
With two distinct waterfalls side by side, it's difficult not to get a beautiful view of the natural wonder, whether you're viewing the falls from the parking lot, the other side of the bridge, or from the viewing platforms down below. It can get crowded on weekends, so be sure to head there as early as you can for the most unencumbered views.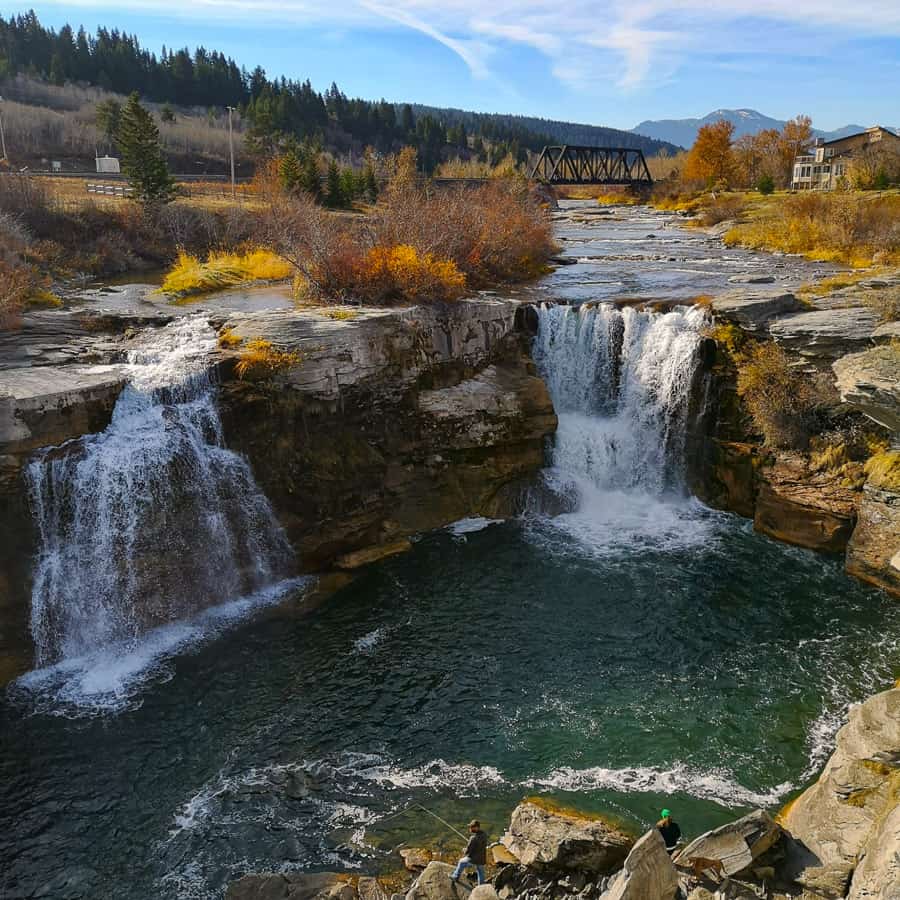 Crowsnest Pass
Crowsnest Pass, or "The Pass", is your next stop, an amalgamation of five historic mining towns surrounded by the beautiful Rocky Mountains of southwest Alberta. The five towns include Hillcrest, Blairmore, Frank, Coleman, and Bellevue, and together they make for one of the most scenic regions in all of Southwest Alberta. The area is also packed with things to do, so make sure to leave sufficient time on your road trip itinerary to explore! (See our full guide on things to do in Crowsnest Pass.)
Head to the Frank Slide Interpretive Centre, where you can learn all about Canada's deadliest landslide and see the aftermath of the night that Turtle Mountain fell. Also worth visiting is the Bellevue Underground Mine where you can walk in the miners' footsteps and take in the history of one of Canada's former coal mines.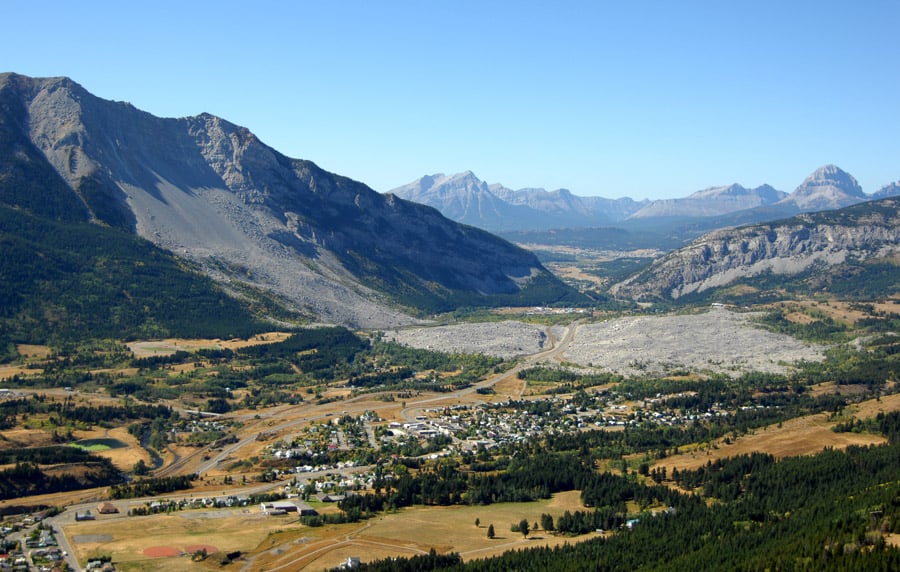 And for fans of the outdoors, you're in luck: Crowsnest Pass is home to outstanding hiking and biking. Favourite hiking trails include the Turtle Mountain Trail, Window Mountain Lake, and the strenuous Crowsnest Mountain hike. Golfers will love the Crowsnest Pass Golf Club in Blairmore, where you can golf on lush fairways with views of the Rocky Mountain foothills surrounding you.
Where to eat in Crowsnest Pass:
The Rumrunner (Coleman), Stone's Throw Café (Blairmore), Cafe & Fly Shop (Coleman), Limber Pine Smokehouse (Coleman), and The Pass Beer Company (Blairmore).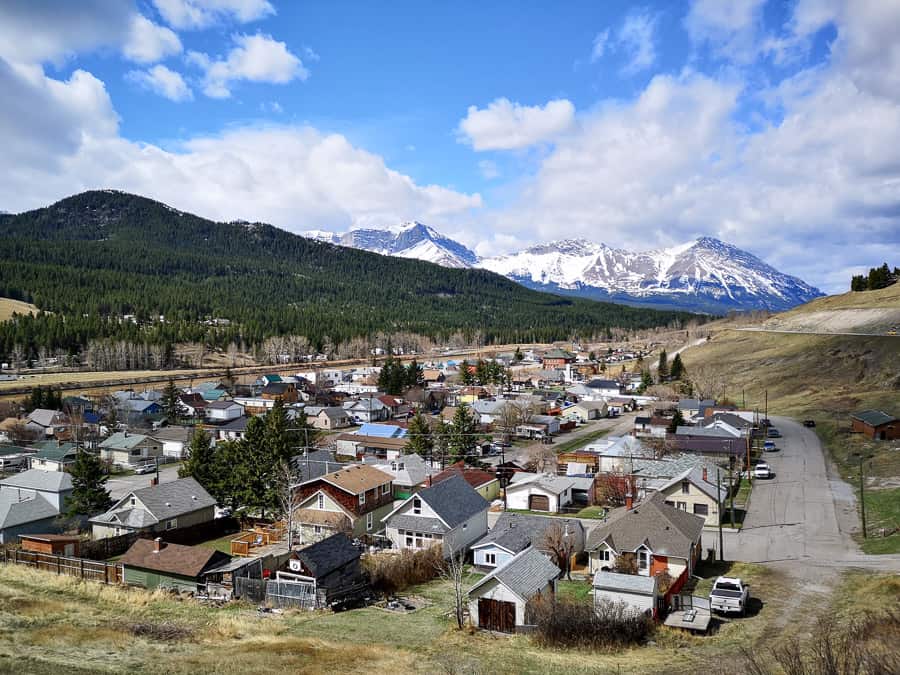 Chain Lakes Provincial Park
As you make your way to Chain Lakes Provincial Park, you're officially on the famous Alberta Cowboy Trail. It's a scenic route along Highway 22 that takes you through the foothills of the southwest Rocky Mountains. You know what this means… get ready for horseback riding, guest ranches, and cowboy-themed attractions!
Sometimes called "an oasis on the prairie", Chain Lakes Provincial Park is a fantastic spot to spend a day or two. Take in the fresh Southwest Alberta air as you enjoy swimming, canoeing, fishing, wind-sailing, and so much more. We recommend camping in Chain Lakes, as it's the best way to really soak up the relaxed vibe of the park.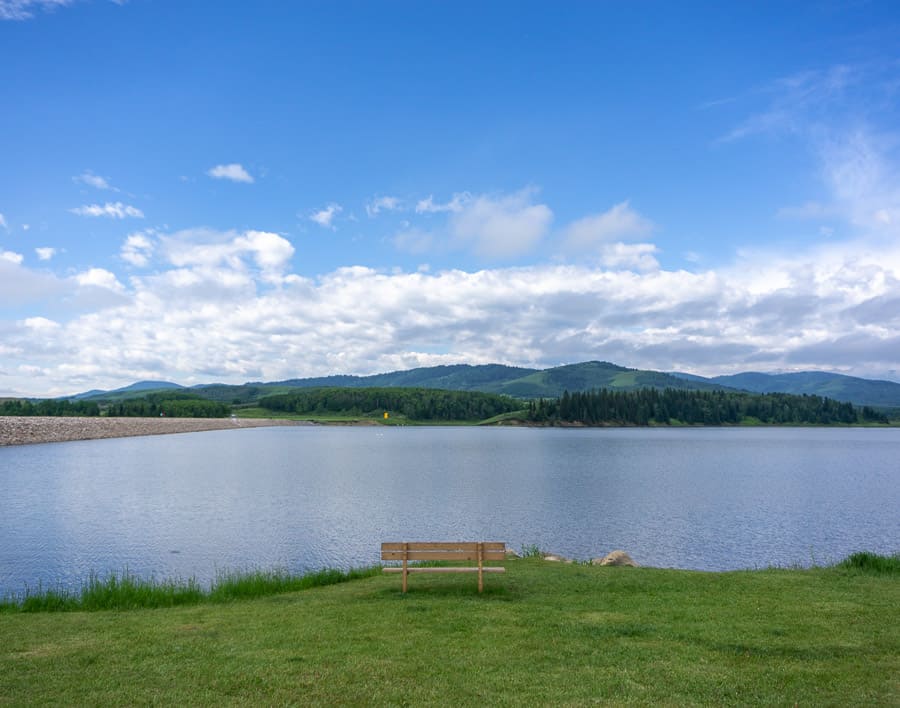 Longview and Turner Valley
If you want to see cowboy country, you've come to the right place. This small southern Alberta town is known for its beef, but there's more than meets the eye with Longview.
For one of the best introductions to the ranching lifestyle that has shaped so much of Southwest Alberta, head to Bar U Ranch National Historic Site, found about a ten-minute drive out of Longview. Here you'll experience wagon rides, learn about authentic ranching tools and techniques, and even try your hand at a few cowboy skills, all while being encompassed by the Rocky Mountain foothills.
And we weren't lying about the beef… meat-eaters absolutely have to visit the Longview Steakhouse for some of the best Alberta beef in the province. It's pricey, but if you're going to splurge on one meal during your Southwest Alberta road trip, make this the meal. And a stop in Longview isn't complete without popping into the Longview Jerky Shop for some of the best jerky in the province.
If beef isn't your thing, a unique experience is taking a walk or hike where you can learn about edible plants. In Turner Valley, Full Circle Adventures offer tours to take you on a journey through the foothills of Kananaskis country where you can "discover the wild, edible, food forest right under your feet!".
Where to eat in Longview and Turner Valley:
Longview Steakhouse, Sugar Shack Ice Cream for dessert, Little New York Bistro, Little Apple Café and Bakeshop.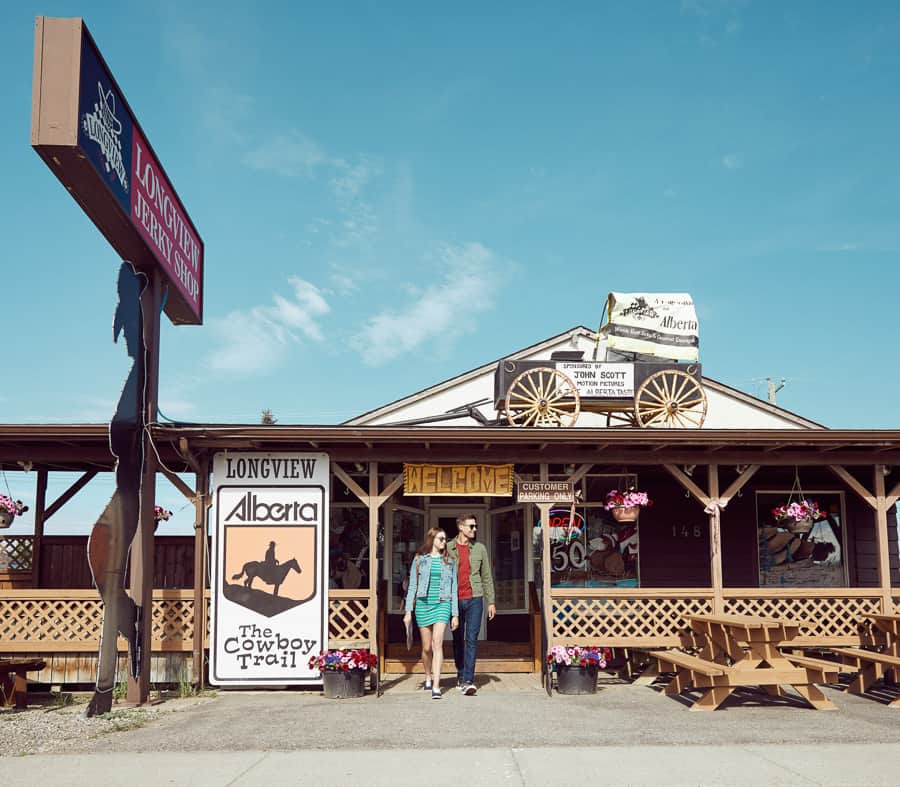 Sheep River Falls
The scenic southwest Alberta drive to Sheep River Falls is well worth it as the windy road is only open in the summer months for vehicles. When arriving at the falls, there is a 250-metre hike to the viewing area where you can see the rushing water, crystal blue water, and the Rocky Mountains all in one scene. There is also plenty of hiking and scenic views throughout this whole area, so plan to spend some time here.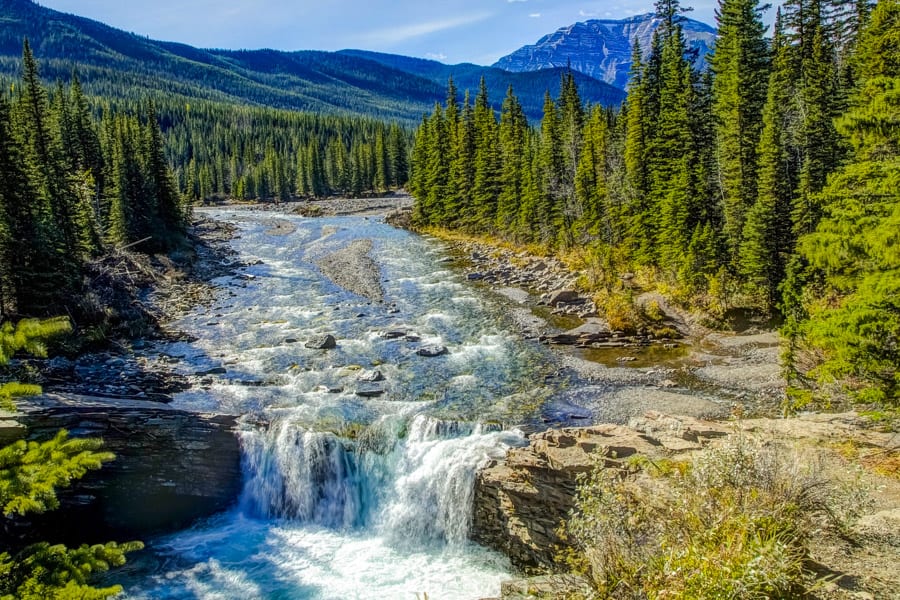 Okotoks Erratic
The final stop on this epic road trip through Southwest Alberta is at the Okotoks Erratic. Okotoks means "Big Rock" and no, we're not kidding… It's a 16,500-tonne, 9-metre tall, 41-metre wide boulder that lies on the otherwise completely flat prairie landscape.
Big Rock was originally part of a mountain in what is now Jasper National Park, but about 30,000 years ago, a rockslide pushed boulders onto the surface of a huge glacier. Big Rock, along with many other boulders along the Foothills Erratics Train, was carried on the glacial surface until the ice melted, therefore depositing it in its current home. And for what a journey Big Rock endured, don't you think you should honour it with a visit? It truly is an Alberta sight to behold!
Where to eat in Okotoks:
ChaCha John's, Pho Hoai Okotoks, The Saskatoon Farm Café, Plaka Greek Taverna Okotoks. (Want more options? We have an entire guide to Okotoks restaurants.)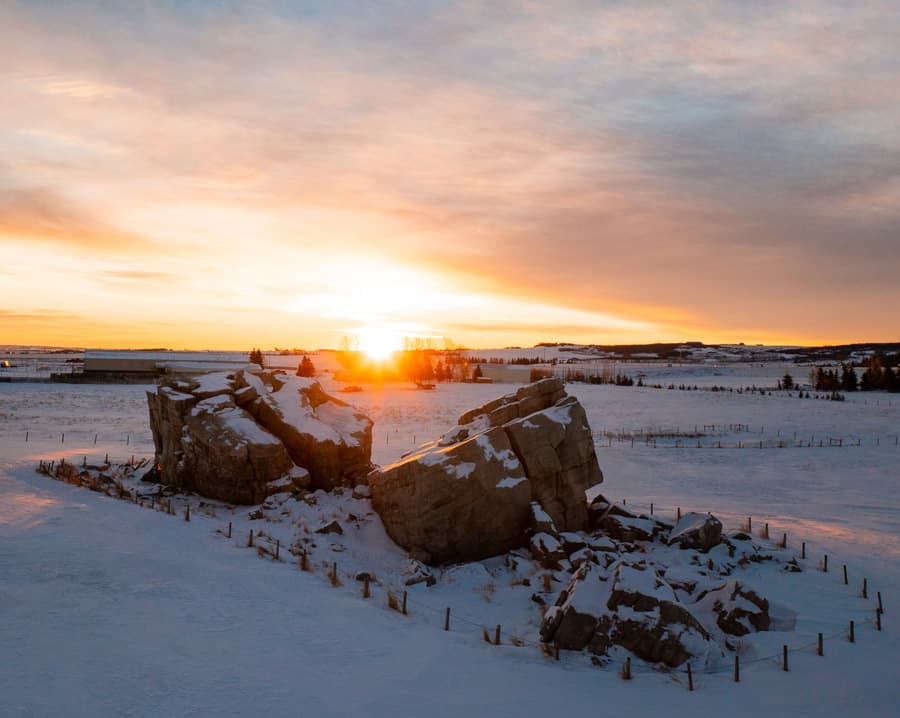 Finishing up your Road Trip of Southwest Alberta
From Okotoks, you have a 40km drive back to Calgary, where your southern Alberta road trip all began. You've seen so much of what this region in Canada has to offer: the history, the geography, the culture, the landscape, and the cuisine. And if you're anything like us, you're already planning to return.