Disclaimer: This page may contain affiliate links. Please review our full Terms and Conditions for more information and our Privacy Policy. Note that any pricing, operating hours, or other such information provided below may have changed since initial publication.
Compiled by the Road Trip Alberta team
Last updated on January 30, 2023
Enjoying this province's great outdoors has always been a cherished pastime, but in the past year, the number of people that have gone camping in Alberta has skyrocketed. That trend is expected to continue.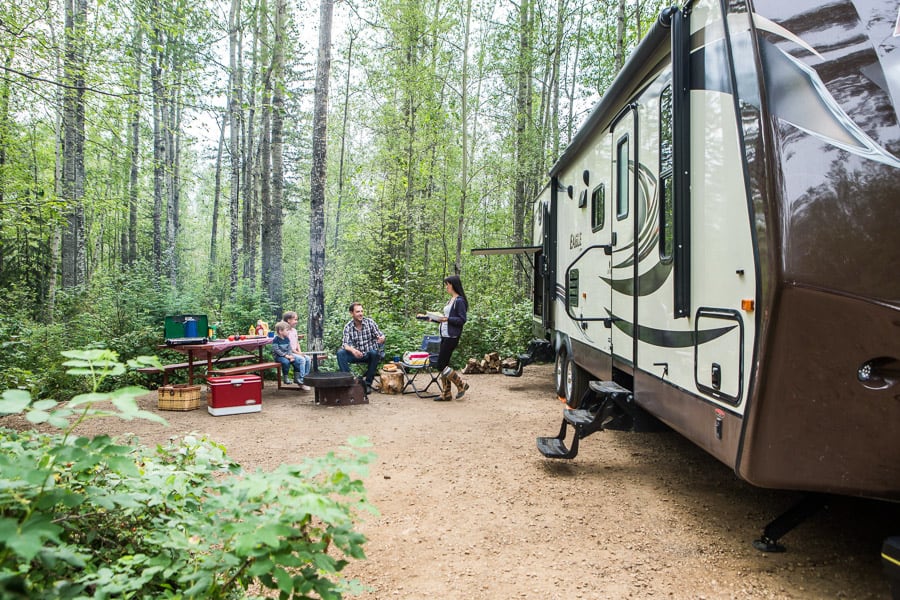 This means that planning ahead is key, especially if you want to camp in the prime summer months of July and August. Campsites book up hella early, and those popular areas that offer "free" camping in Alberta (known locally as crown land camping) become crowded and sometimes overrun well before the weekend.
We've created this resource so you have a one-stop page in order to plan out your camping adventures. Below you'll find where and when to go, links to other posts we have on specific topics, along with an extensive list of resources to allow you to make the most of your experience.
Where to go Camping in Alberta
Our Top Picks
We've accumulated a lot of road trip miles and have also done our fair share of camping in this gorgeous province. Our list of cool campsites in Alberta will take you from the Rocky Mountains to hoodoos to even a cool inner-city campground with a height-defying playground!
Camping in Alberta National Parks
Alberta is blessed with five national parks that span the province and protect the most pristine (and thus coveted!) land. All of the parks allow camping, with some offering several more options than others.
Front-Country Camping
The opening dates for the reservation system are noted below(the actual dates varies by park).
Banff National Park: Booking starts on Thursday, March 23, 2023, at 8 am MT. There are 17 different campsites inside the park that allow everything from tents to RVs, and even some "oTENTiks" (semi-permanent wooden structures covered with canvas). Nightly fees for 2023 range from $16.75 up to $75.75. On top of that is an $9.50 charge for a fire permit (firewood included) and the standard National Park access fees. oTENTiks are available at Tunnel Mountain and Two Jack Lakeside for $128/night. See our top picks for camping in Banff, or also use this link to sort through all of the options and make your reservation.
Jasper National Park: Booking starts on Thursday, March 16, 2023, at 8 am MT. There are 13 campsites in the park that offer a lot of diversity, including oTENTiks. In addition, backcountry camping permits will allow you to get deep into the beautiful nature of the area. Nightly fees at the campsites range from $16.75 to $50, and a night in an oTENTik is $128. All fees now include firewood. This is on top of the standard National Park access fees. Camping in Jasper is extremely popular, and there have been summers where access to the park has been stopped entirely because it has simply been full. (Book early so that you don't get turned away!) Check out our guide to the best Jasper camping spots and book your reservations using the links within.
Waterton Lakes National Park: Booking starts on Thursday, March 30, 2023, at 8 am MT. There are three campsites, but the Crandell Mountain Campground is still closed due to damage from the 2017 Kenow Fire. That leaves Belly River and the Townsite Campground, the latter has 135 serviced sites along with a number of unserviced spots for tents. Belly River is primitive camping only. Nightly fees range from $16.75 to $40.75, plus the standard Parks Canada fee. Check out our guide to camping in Waterton and book your reservations using the links within.
Elk Island National Park: Booking starts on Thursday, March 30, 2023, at 8 am MT. This park is a popular place for Edmontonians to go for a day trip – it's only 50kms to the east – but smart people spend the night! There are several camping options for all levels of camper, including oTENTiks and equipped camping sites fitted with a tent, sleeping pad, and more. Nightly fees range from $16.75 to $27.25 for an equipped site, and oTENTiks are $128. Fire permits are $9, and the standard Parks Canada fee also applies. Click here to reserve your spot.
Wood Buffalo National Park: Booking starts on Thursday, March 30, 2023, at 8 am MT. This is the largest national park in Canada but with limited road access to it. The only option for regulated camping is the Pine Lake Campground, located 60km south of Fort Smith, NWT, and the group site called Kettle Point Group Camp. Cabin rentals are also available ($106.50 a night). Standard Parks Canada entry fees also apply.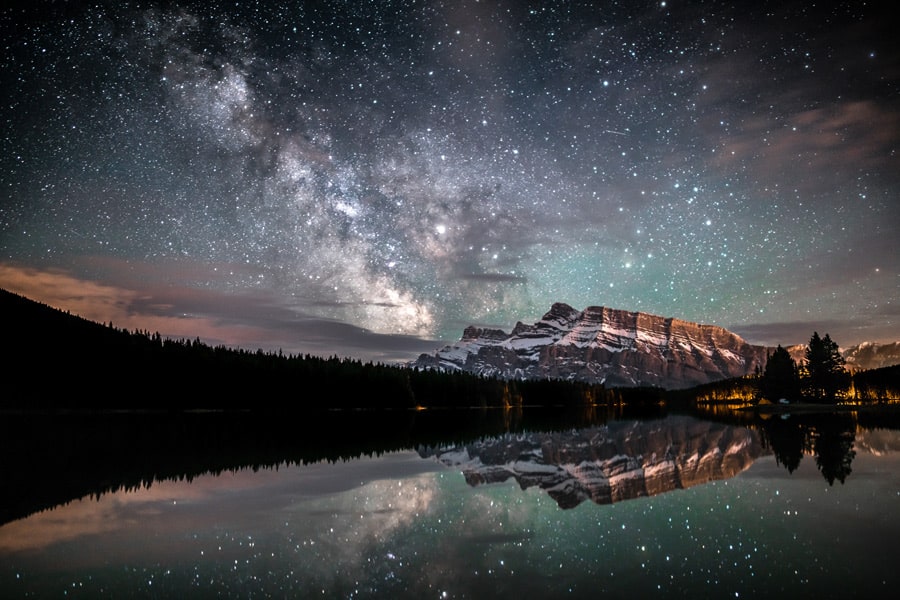 Back-Country Camping
The national parks in Alberta encompass a lot of area, and campers aren't restricted to the drive-in sites noted above. You can literally walk as far as your legs will take you and find some great spots to stay in the vast wilderness. And if you aren't a fan of sleeping in a tent, there are even some lodges that can be booked.
All of them require the purchase of a backcountry permit which starts at $12.75 per camper, per night, plus a booking fee. Again, the system for booking starts to open in late January, and varies by location.
Banff National Park: The Parks Canada website has some great trip ideas based on length, and you can buy your permit online when it opens.
Jasper National Park: There are more than 1,000kms of hiking trails which means there are a lot of options to choose from. Reservations can be made starting in early February. Download this backcountry camping guide to familiarize yourself with everything as you plan your trip.
Waterton Lakes National Park: There are 10 backcountry campgrounds inside the park (a couple are currently closed due to damage sustained by the 2017 Kenow fire). Reservations can be made by calling (403) 859-5133. For more info, click here.
Elk Island National Park: There is only one option for backcountry camping here (at Oster Lake), and only six campsites available. It is only a 6km hike in, so may be a great spot for beginners! Reservations can be made here.
Wood Buffalo National Park: The park is your oyster, and you can literally camp anywhere in this massive area. There are, however, two backcountry campsites (at Rainbow Lakes and Sweetgrass Station). Register and purchase your park permit at the Visitor Reception Centre in Fort Smith or Fort Chipewyan before you head out.
Camping in Alberta Provincial Parks
Alberta currently has 179 provincial parks which have campgrounds – this provides for a fantastic number of options! This also means that there are too many for us to list here. (But we're noting some of our favourites below.)
In order to alleviate stressful launch dates (see the National Park system!), starting in 2022, the reservation system became available year-round. Reservations for individual sites will open 90 days in advance, and group and comfort camping will open 180 days in advance. Additionally, campers can only book 10 consecutive dates, as opposed to 16 in years past.
Fees vary by campsite, with details on the ranges given here.
Sites are certainly going to go quickly, and Alberta Parks offers some great tips on how to secure a reservation.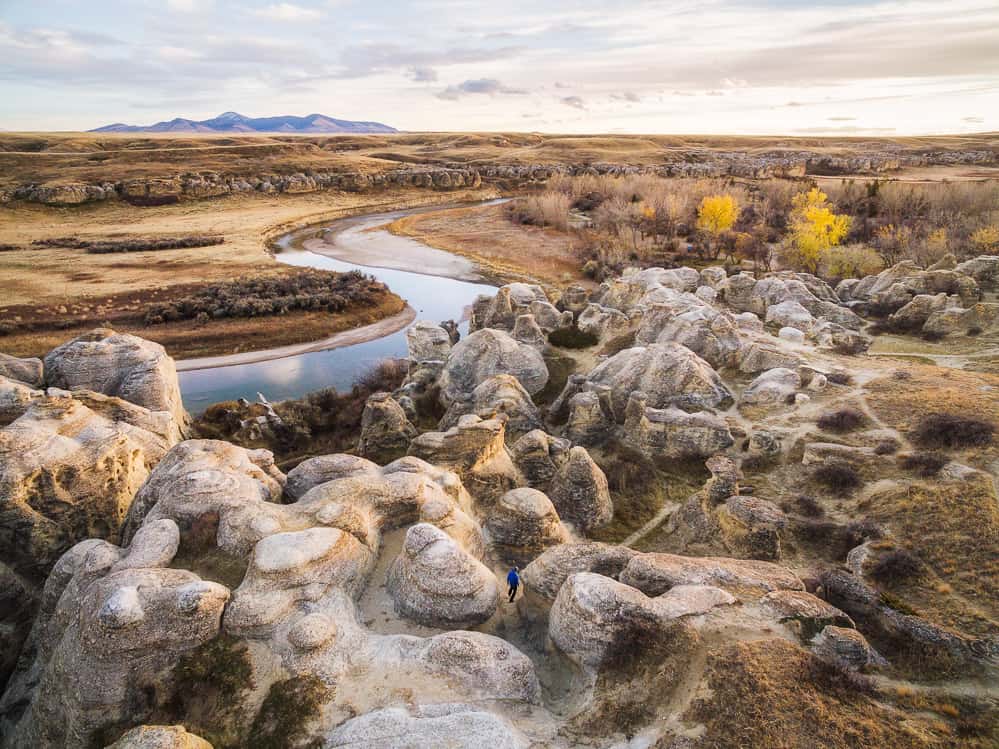 Some of our Fave Provincial Park Campgrounds
All reservations for the below campgrounds can be made here.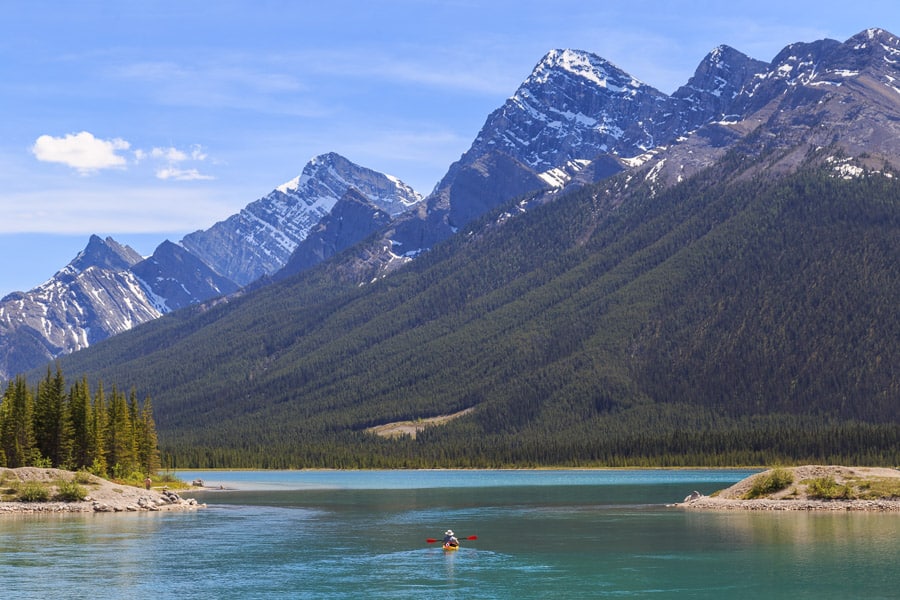 Private Campgrounds in Alberta
Nearly every city or town has at least one private campground on offer, plus more in the surrounding areas, and they can be found as simply as googling camping in the region. These options are usually well-appointed, easy to access, and can be more economical than camping in government-regulated parks. It is our intent to provide more detailed guides by region, but for now, start with this guide to the best Drumheller camping spots, if you're looking for a great experience in the Canadian Badlands. We also have articles on Gull Lake campgrounds and Sylvan Lake campgrounds, if you feel like beaching it for a few days!
We also have some of our favourites highlighted in this coolest campsites in Alberta post.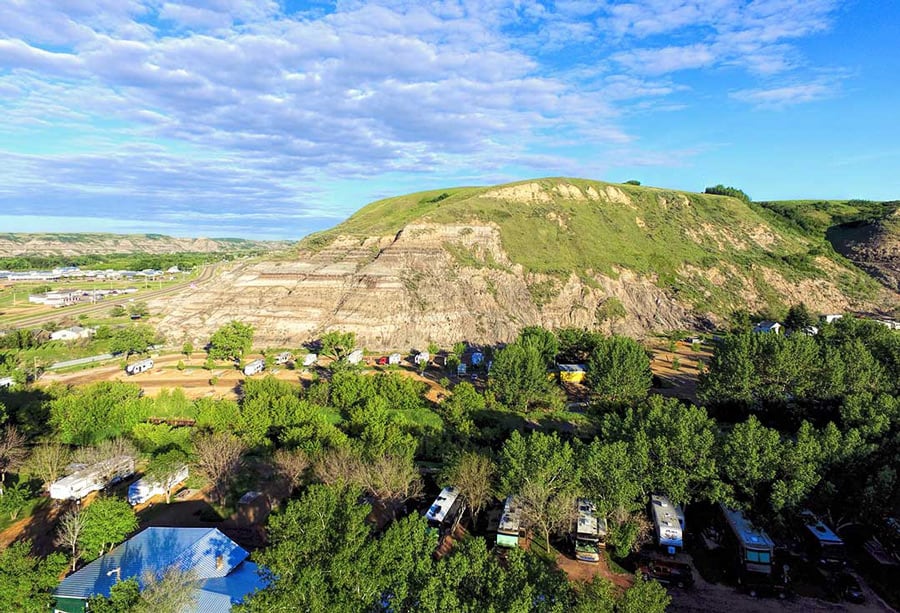 Crown Land Camping
Beyond the public and private sites across the province that you can camp in for a fee, Alberta residents are also able to peg their tent or drive an RV onto public (aka "crown") land. It is also commonly known as "backcountry" camping, "random" camping, or "boondocking".
Roughly 60% of Alberta's land is not privately owned, which means that crown land can be found all over (although mostly in the northern half of the province). And if you want to take advantage of camping on public land, not only do you benefit by not paying a site fee, but if you're lucky, you'll also find a beautiful slice of nature that you can enjoy all to yourself.
Finding that heavenly spot can be a bit of a challenge for beginners, so check our guide to Alberta crown land camping to help you get started.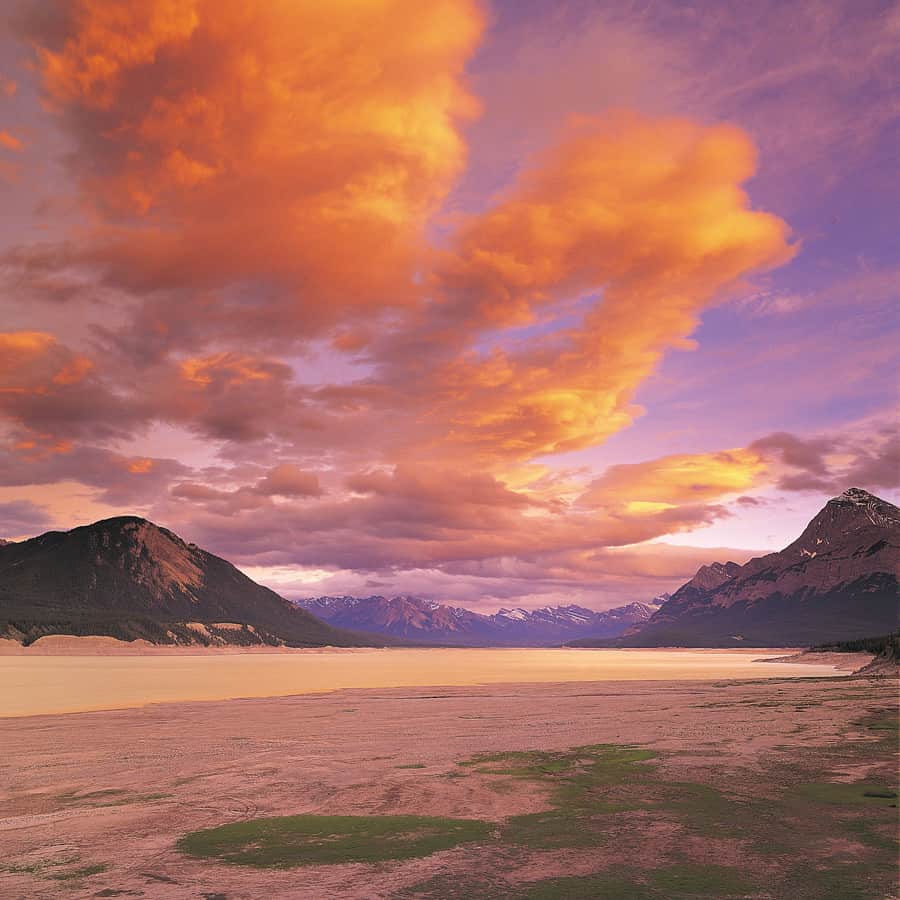 When to go Camping in Alberta
Deciding on when to go camping is dependent on how adventurous you are!
The busy season is typically during July and August – not only because school is out and that is when families and friends are most likely to go camping in Alberta together, but also because the weather is most optimal. While you still should not be surprised if you find snow on your tent in July in the mountains (it happens!), temperatures across the province usually reach daytime highs of 20-25C, and can even get into the low 30s. Expect cooler days in the shoulder season (May-June, and Sept-Oct) and a greater chance of pesky snow flurries. It is best, no matter when you go camping in Alberta, to be prepared for all weather.
Winter Camping in Alberta
Yes, you can pitch your tent in the winter months too!
If you're up for a frosty adventure, we have a whole guide dedicated to Alberta winter camping that will help you decide where to go and give you lots of tips on how to keep warm and do it safely.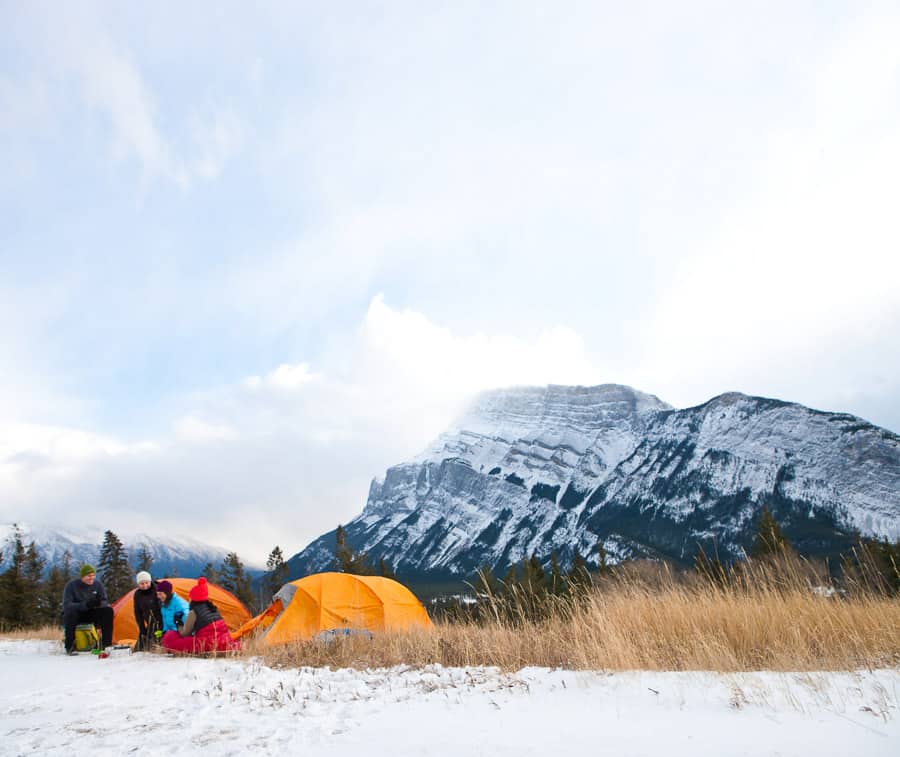 Camping in Alberta: Resources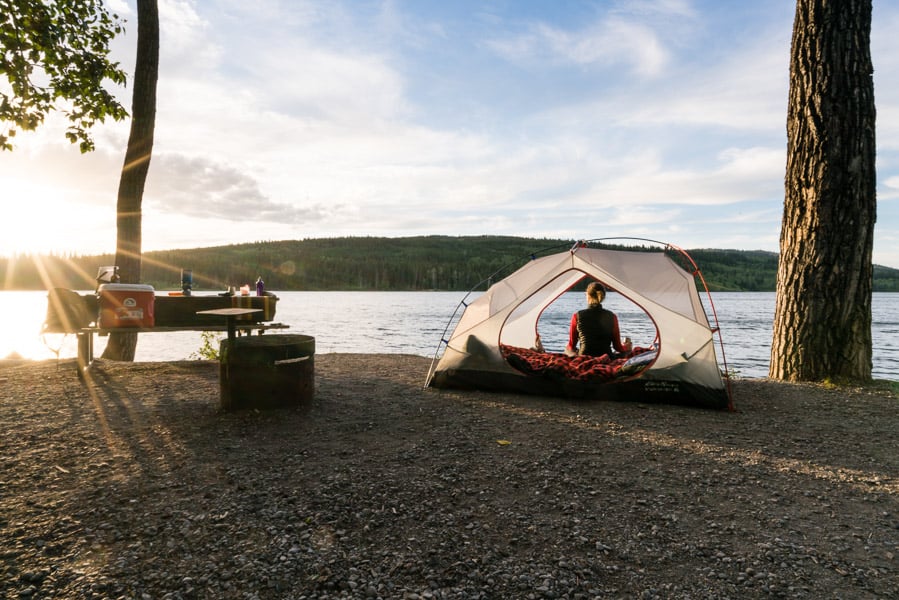 Road tripping to your camping spot is made much more fun if you're also ticking items off on your FREE Road Trip Alberta bingo cards. Don't forget to download them before you go!