Disclaimer: This page may contain affiliate links. Please review our full Terms and Conditions for more information and our Privacy Policy. Note that any pricing, operating hours, or other such information provided below may have changed since initial publication.
Compiled by the Road Trip Alberta team
Last updated on August 30, 2023
Imagine waking to fresh air and the babble and chatter of birds and a nearby creek. The tent fabric glows with dawn's early light, and you pull yourself from the warmth of your sleeping bag, curious. Unzipping the door of your tent, you're startled by the alien landscape: green and golden coulees stretch as far as the eye can see, and strange pillars of stone loom in the distance, their different rock-texture-bands circling them like the rings of a tree trunk.
This is the Canadian Badlands. And this is your guide to the best Drumheller camping spots to make the above experience happen!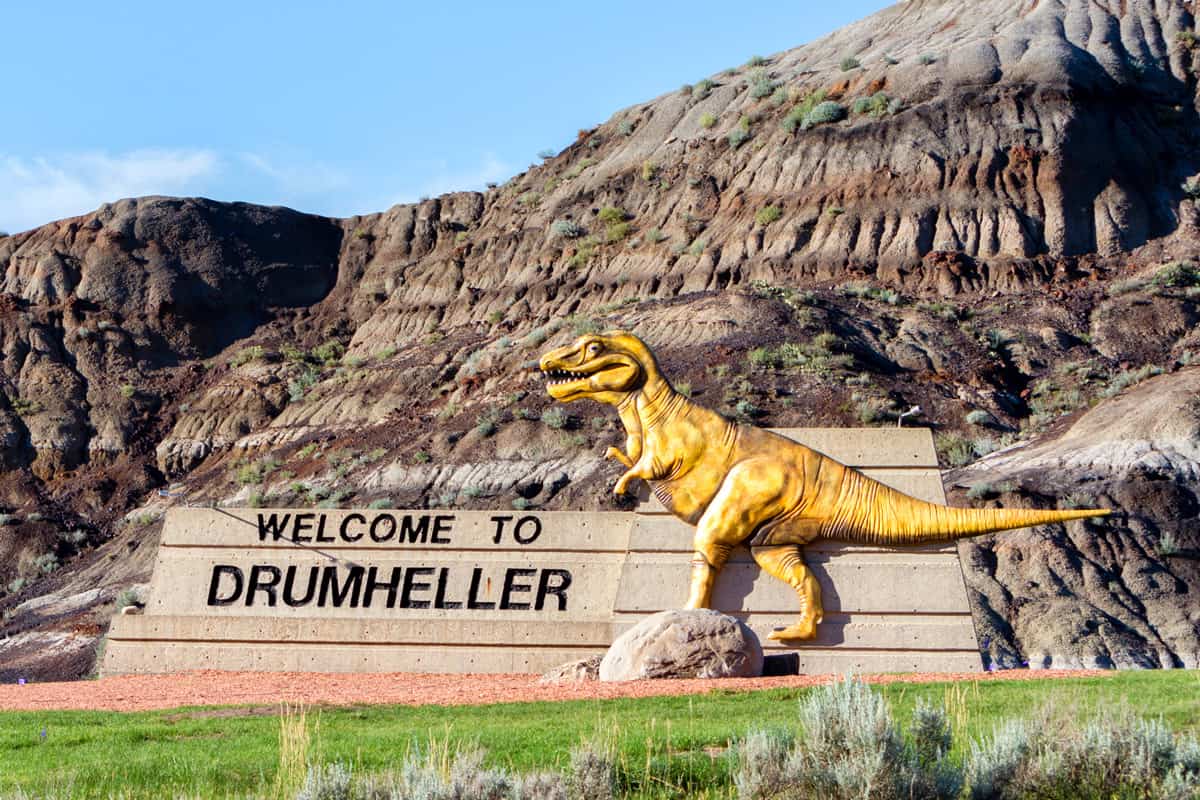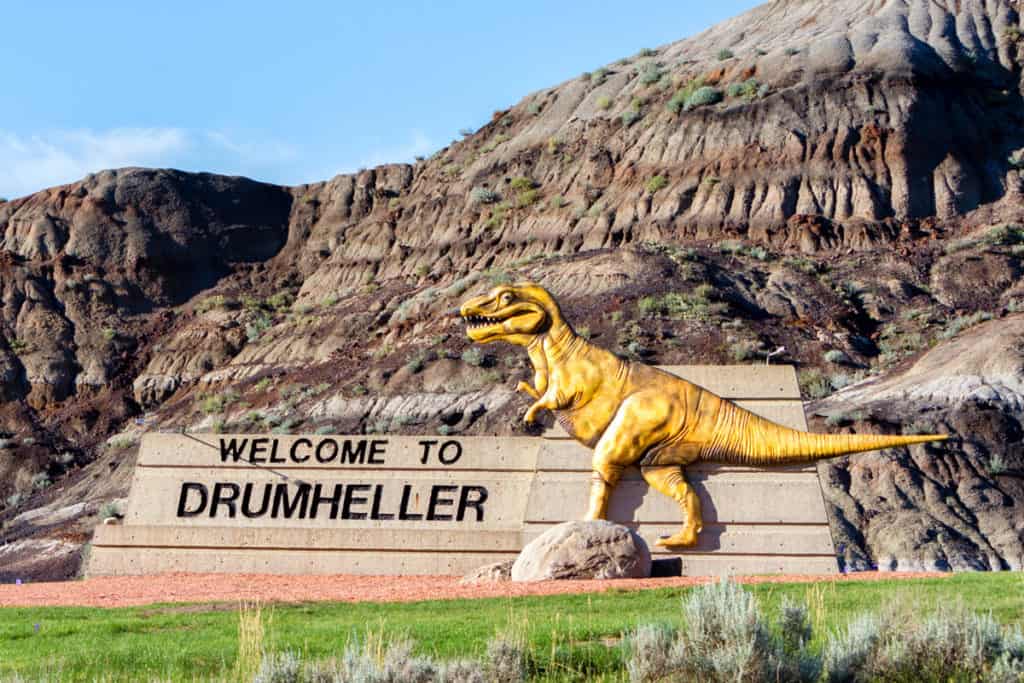 With its paleolithic-meets-alien landscapes, there are few places on earth that offer vistas as dramatic as the Southern Alberta Badlands, and parking your tent or RV in a Drumheller camping spot puts you right in the centre of it all. With meandering Drumheller hiking trails for every skill level, endless jaw-dropping backdrops, and access to the Royal Tyrrell Museum, Drumheller boasts the best of Southern Alberta in one convenient package.
So whether you want to visit the Canadian Badlands for just a couple of days, or you're planning on being out for the whole summer, you need a camping spot that's perfect for you and your family.
Drumheller Campgrounds – RV Parks and Tent Camping
We've chosen the campgrounds below based on their atmosphere, price, and proximity to unique attractions. From primitive spots to pitch your tent to picturesque places to park the RV, we've included the whole range of campgrounds so that you can find the right one for you!
River Grove Campground
Nestled along the Red Deer River and lost amidst tall, rustling trees, River Grove is perfect for those looking for a comfortable yet quiet camping experience. There are tons of secluded sites and enough amenities (such as wifi) to make you feel right at home.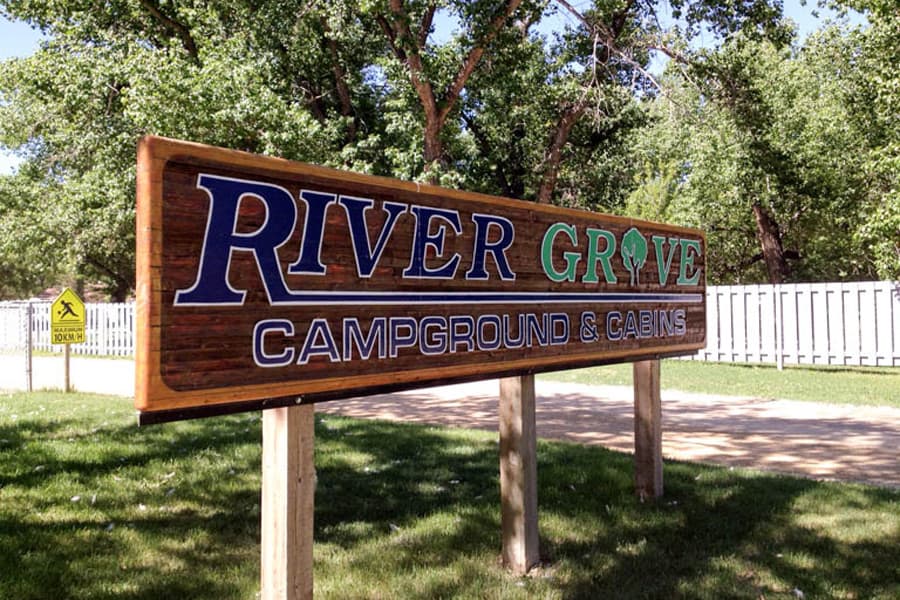 Downtown Drumheller is just a short walk away, meaning you can wander into town for fresh coffee, eats and treats if you suddenly aren't feeling like roasted hot dogs and marshmallows for dinner.
Check out their site for cozy little cabins to rent, too!
Quick take: Isolated and rustic, yet close to the action.
Contact Info:
Website: https://www.camprivergrove.com/
Email: info@camprivergrove.com
Phone: (403) 823-6655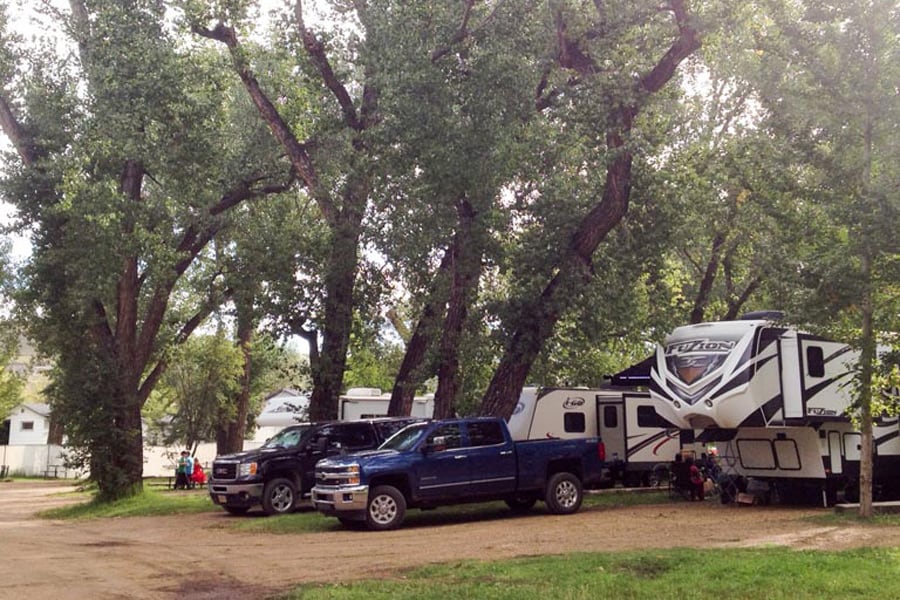 Dinosaur RV Park & Dino's RV Nest
Another campground right inside the town, Dinosaur RV Park and Dino's RV Nest are kitty-corner to each other and situated at Drumheller's north entrance (right after you pass the 'Welcome to Drumheller' road sign). These two campgrounds are full of RV-style camping sites with plenty of on-site amenities.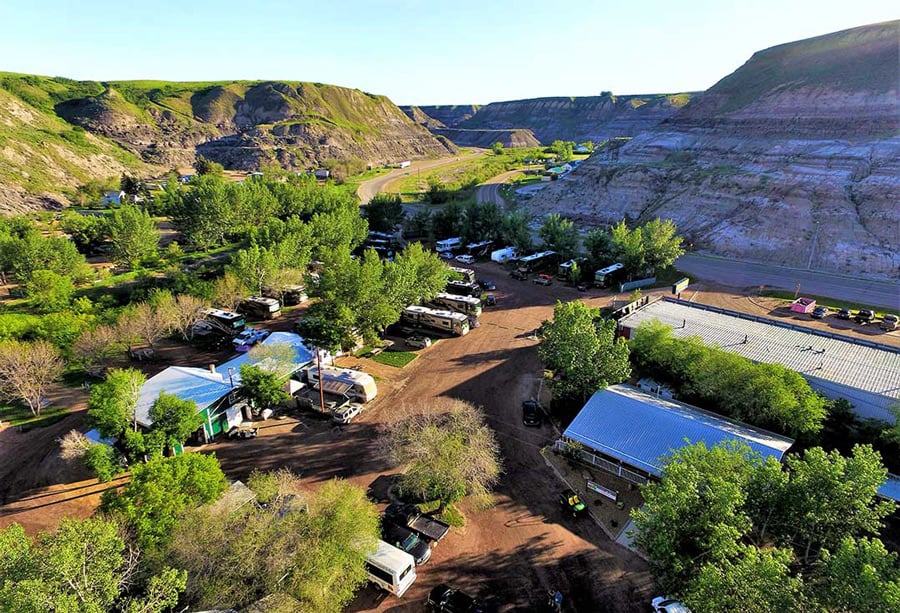 They're in a prime spot for those hungry for action, as Red Deer River Adventures can hook you up with kayak or e-bike rentals and even guided tours. It's also the perfect spot for those craving a proper breakfast, as WHIFS Flapjack House nearby offers hearty and delicious diner-style fare!
Quick take: RV camping with a view you'll remember forever (especially with The World's Largest Dinosaur nearby).
Contact Info: Dino's RV Park
Website: https://www.dinosaurrvpark.ca/
Email: reservations@dinosaurrvpark.com
Phone: (403) 823-3291
Contact Info: Dino's RV Nest
phone: (403) 823-3288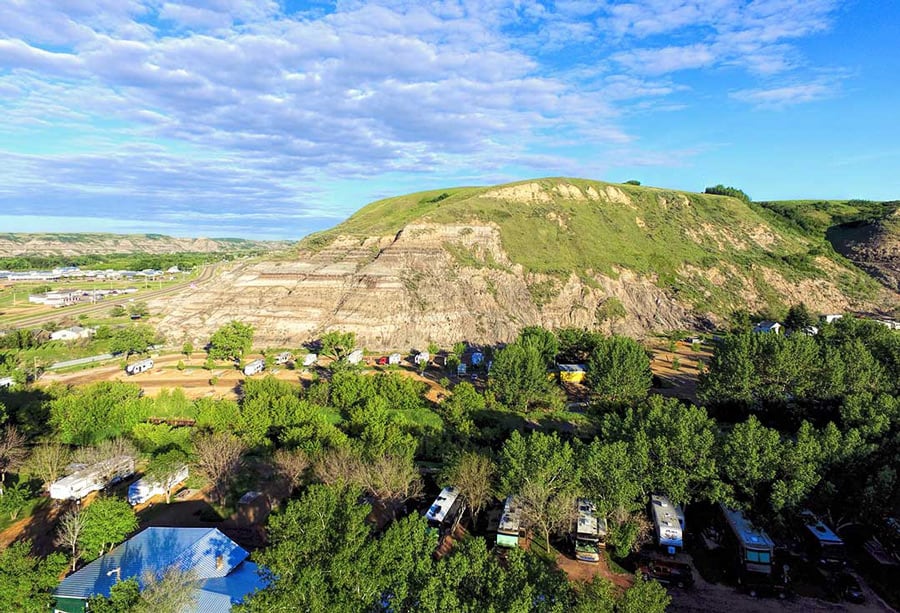 11 Bridges Campground, RV and Cozy Cabin Park
A quick, 10-minute drive southeast of Drumheller, this family-owned and operated campground is snuggled into the banks of Rosebud River. The quiet and secluded campsites surrounded by giant cottonwood trees will make you feel like you're a part of nature! And, if you're feeling like travelling light, there are a handful of cute cabins and full RV trailers available for rent – so all you need is your bug-out bag.
Quick take: A relaxed space just off the beaten trail.
Contact Info:
Website: http://www.11bridgescampground.ca/
Email: info@11bridgescampground.ca
Phone: (403) 823-2890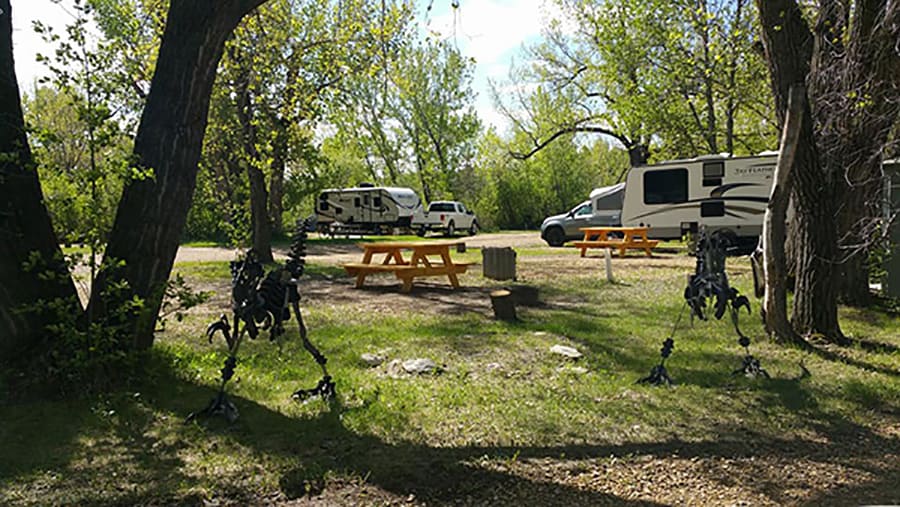 Bridgeview Hideaway
Bridgeview Hideaway is brand new to the Drumheller area and has both glamping and camping options. There are eight different glamping options to choose from and if you want traditional camping, they have this too! The campground can accommodate vehicles up to 30ft in length and is suitable for travel trailers, pop-up campers, Class B and C RVs, and campervans.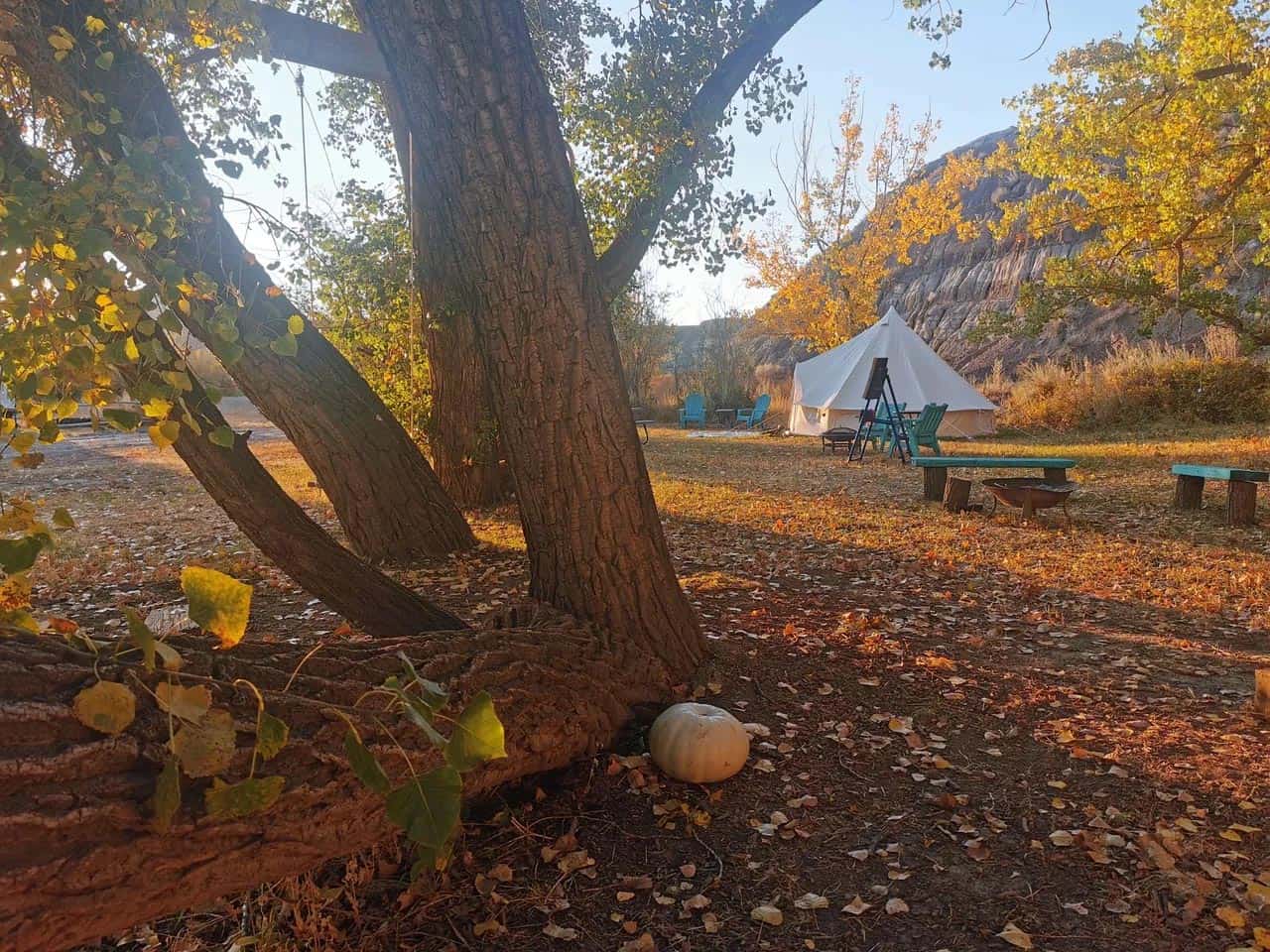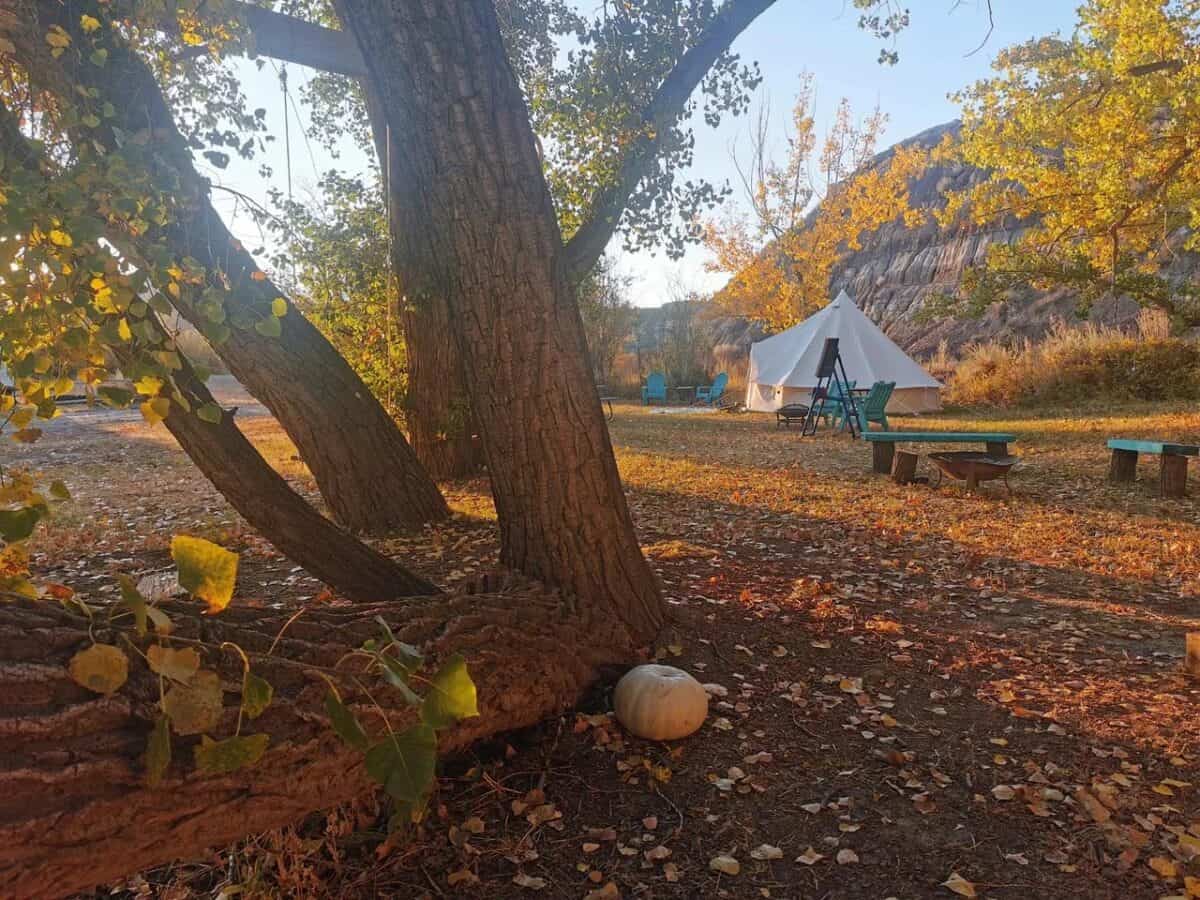 For the glamping, it's an easy way to experience the outdoors without having to pack all the necessities. The yurts can accommodate between 2 and 8 people, so they are perfect for both couples and families. And the scenery here is absolutely gorgeous as the grounds are nestled on 14 private acres right in the coulee with the famous 11 Bridges route in view (hence the name). One thing here is certain: you'll be enjoying your morning coffee whilst soaking in Drumheller's breathtaking landscape.
Quick take: Gorgeous location and glamping options available
Contact Info:
Website: https://bridgeviews.ca/
Email: info@bridgeviews.ca
Phone: (403) 820-0049
Horseshoe Canyon Campground
It's big, it's friendly, and it even has ice cream! This amenity-rich location is perfect for families looking for a Drumheller camping spot to stay in for a while. It has plenty of camping options, from tenting spots to 30 and 50-amp hookups, so Horseshoe Canyon Campground is ready for you, whatever your idea of camping is.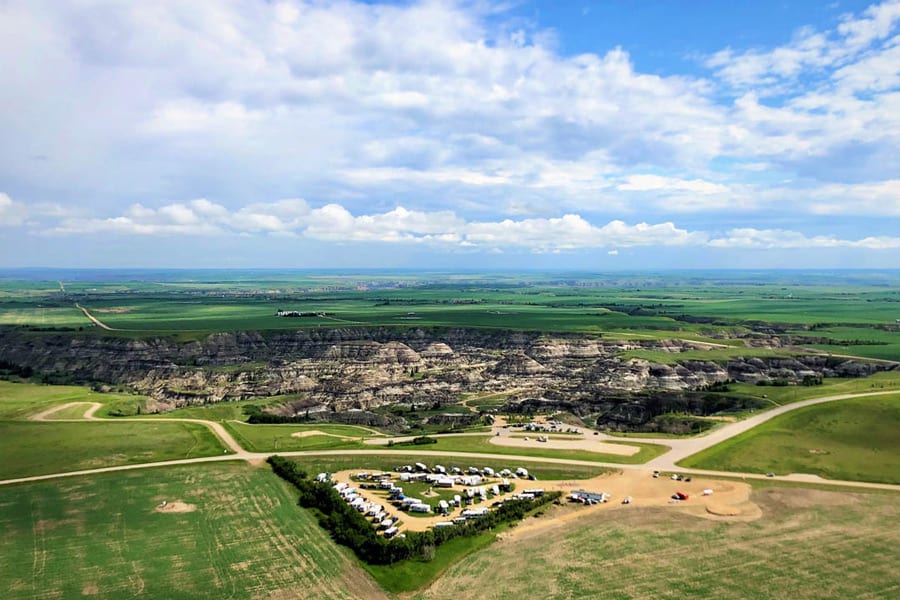 The grounds are a pleasant 15-minute drive to Drumheller and just a one-minute drive (or a five-minute walk) to the breathtaking Horseshoe Canyon hike.
Quick take: RV camping on the edge of an 'alienesque' landscape.
Contact Info:
Website: https://horseshoecanyon.ca/
Email: info@horseshoecanyon.ca
Phone: (403) 856-8107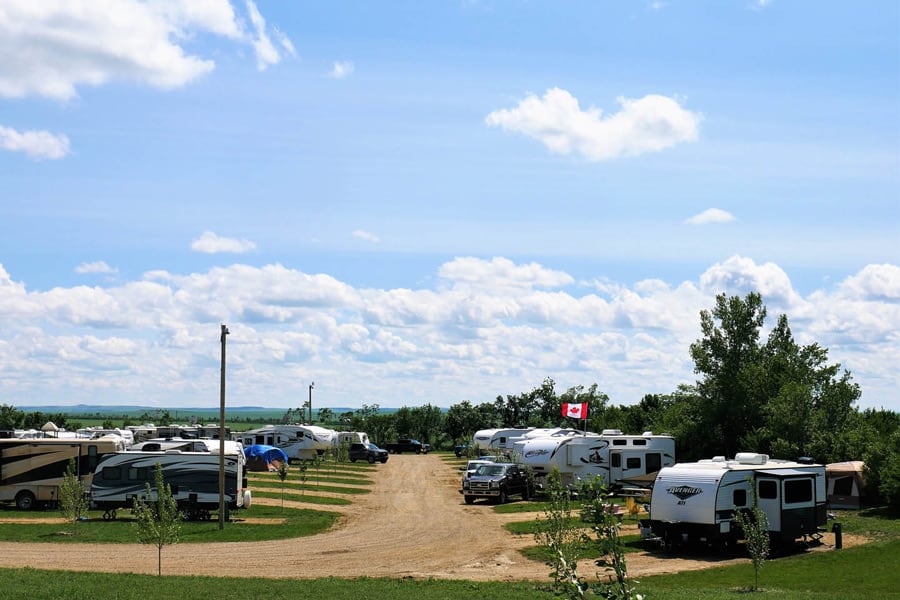 Dinosaur Trail RV Resort & Cabins
Located along N. Dinosaur Trail Roadway, just a 5-minute drive from the Royal Tyrrell Museum, this campground boasts tons of amenities, including a horseshoe pit, a heated pool, a convenience store, and even some quaint cabins to rent.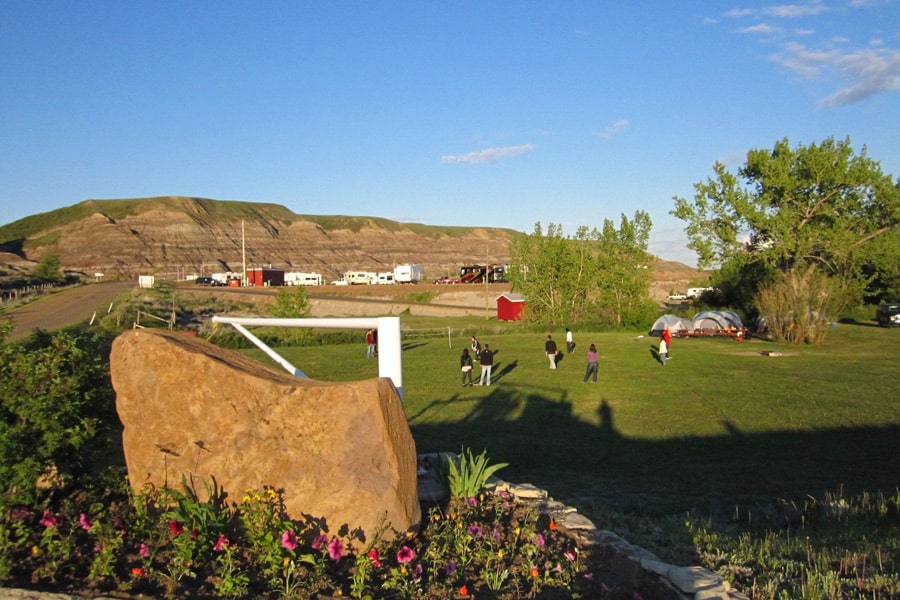 Just a six-minute drive from Horsethief Canyon, this location is perfect for those looking to get an early start on the breathtaking views in and around this historic gorge. This super-friendly site also hosts regular movie nights and pancake breakfasts, so it's sure to be a hit for families!
Quick take: So many amenities you may end up staying longer than you think.
Contact Info:
Website: http://www.holidaytrailsresorts.com/dinosaur-trail-rv-resort-cabins/
Email: dinosaur@htr.ca
Phone: (403) 823-9333
Hoodoos RV Resort & Campground
Drumheller's largest campground boasts some beautiful coulee-views, and oodles of green space, making it the perfect Drumheller RV park for miles. To the north, it's a 13-minute drive to Drumheller, and to the south, a 5-minute jaunt to the famous Hoodoos Trail hike – a must-see spot while you're visiting the Badlands.
After an afternoon exploring the out-of-this-world-looking hoodoos, you can head back to camp for a quiet, relaxing evening next to a crackling fire. This campground has room enough for large RV units (lots are approx. 40′ – 45′ wide and 50'+ deep) and tons for families to do, as there are two children's playgrounds and two full-sized baseball diamonds.
Quick take: Sandwiched between a river and sprawling coulees, this RV campsite offers great panoramic views.
Contact Info:
Website: https://www.hoodooresort.com/
Email: reservations@hoodooresort.com
Phone: (403) 823-2790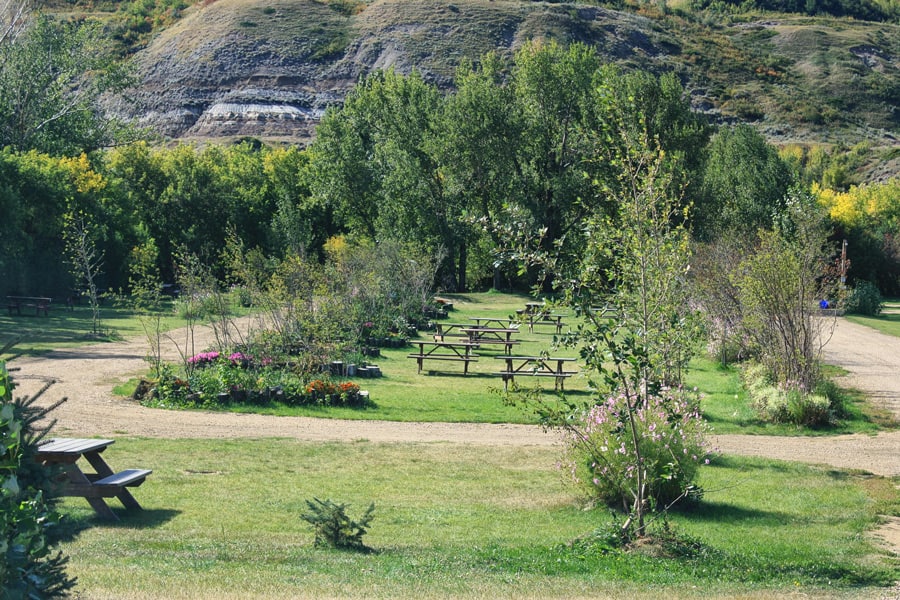 Kneehill Country Campground
Located 10 km from downtown Drumheller, the Kneehill Country Campground is a popular spot to set up your trailer or tent and spend a few nights. The owners are extremely nice and they keep the grounds very well. Despite a prairie oasis, there are plenty of trees throughout for a bit of privacy. In addition to the campsites, there is a community BBQ pit, a beach volleyball court and a playground for the kids. But be warned, there are only seven spots, so it may be tricky to find availability in the busy summer months.
Contact Info:
Website: Kneehill Country Campground
Email: kneehillcountrycampground@gmail.com
Phone: (403) 334-0738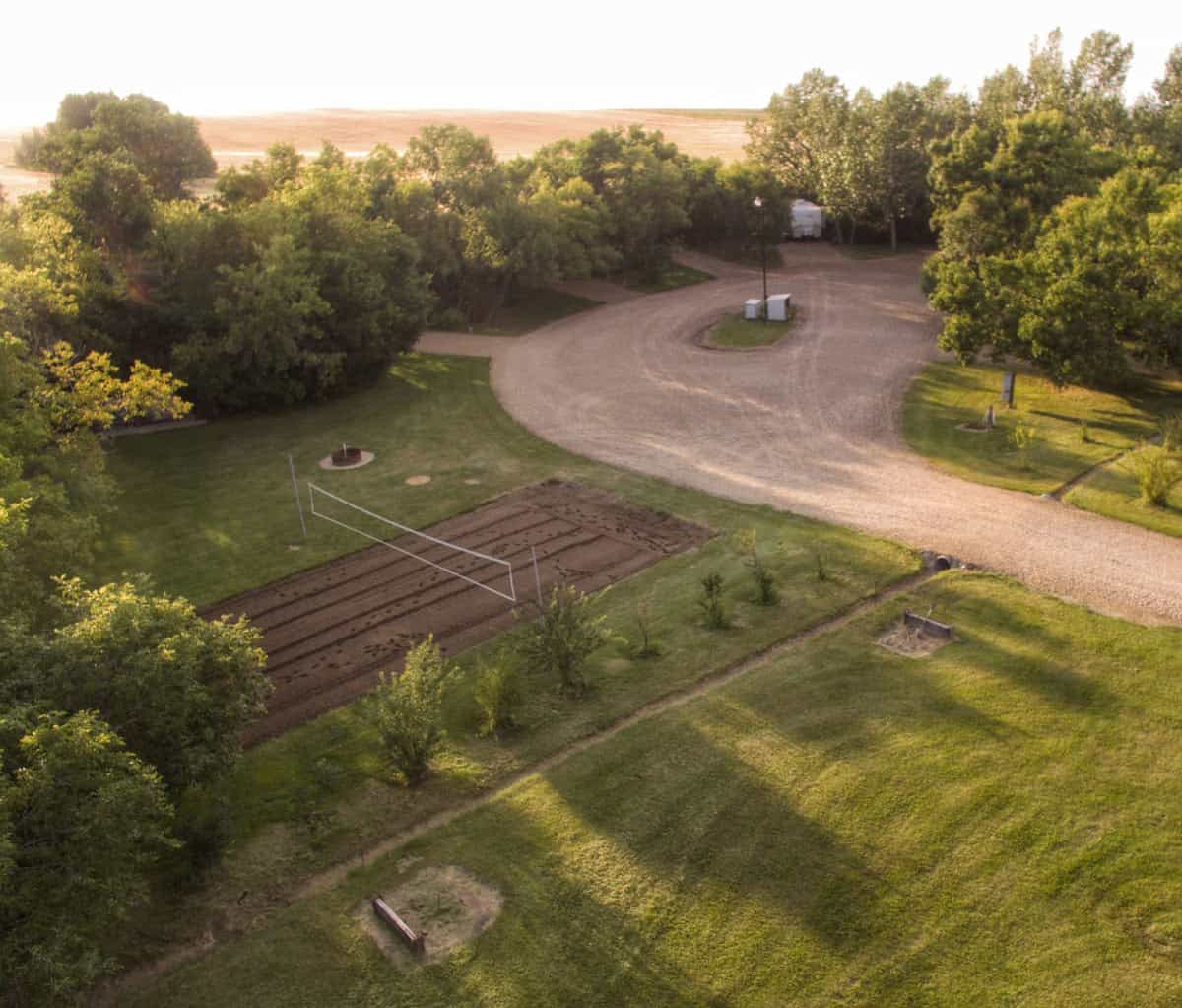 Bleriot Ferry Provincial Recreation Area
This spot is a local's favourite as campers can relax amongst the Cottonwoods at the Bleriot Ferry Campground. There are 28 first-come first-served, unserviced (no water, no electricity) campsites. Staying here in the heart of the Alberta Badlands, campers have plenty of things to do with easy access to the Red Deer River which is popular for fishing, canoeing or tube floating.
Contact Info:
Website: Bleriot Ferry Provincial Recreation Area
Email: n/a
Phone: n/a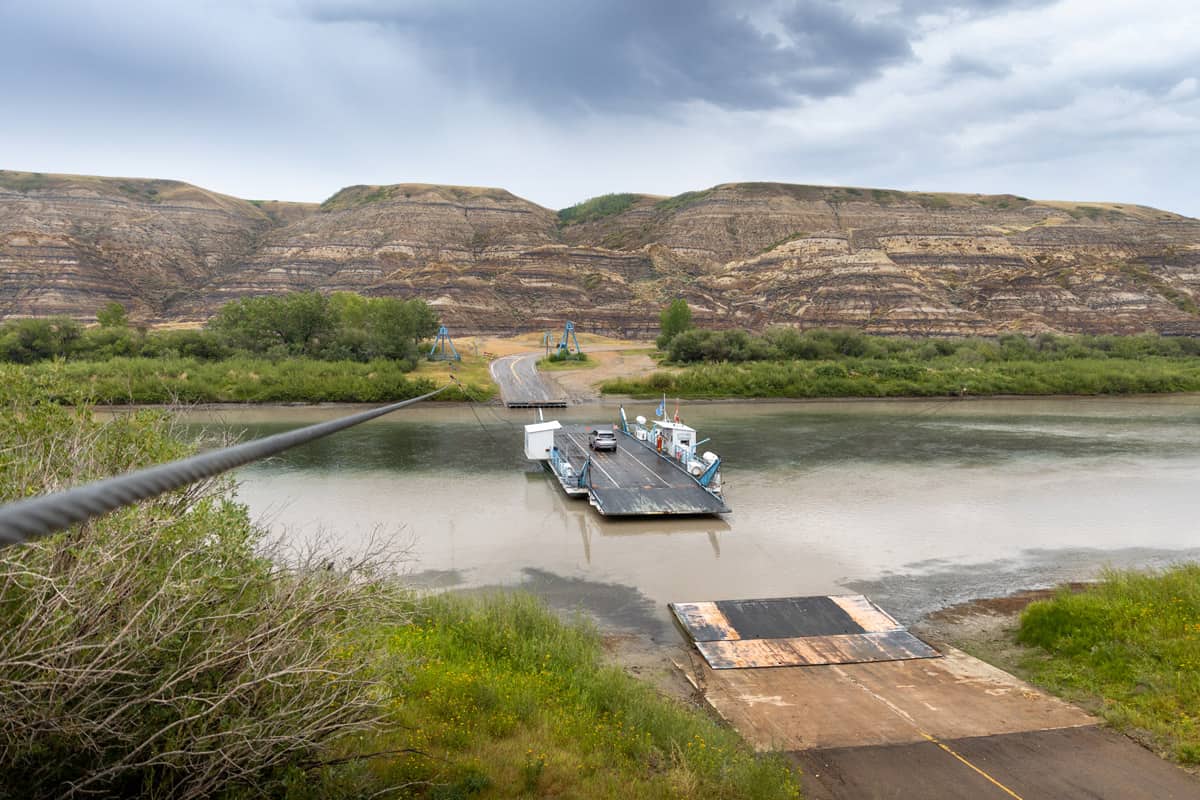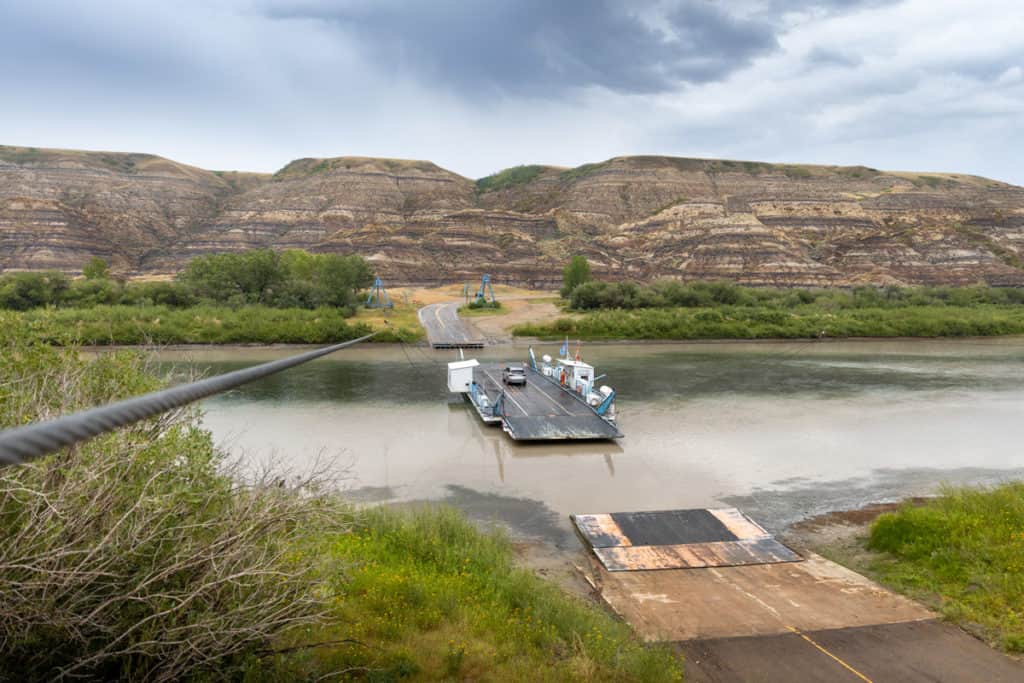 Start Your Planning Now
Now that you've got an idea of which Drumheller camping spots there are, it's time to start planning your trip, and we can help you out here, too!
For starters, if you need to rent an RV to make all of your camping dreams a reality, read this extensive guide on RV rentals in Alberta.
Wherever you're starting your journey, we've got a guide on how to get to Drumheller without missing any must-see attractions along the way. And for all you hikers out there, we have a comprehensive guide to the best hikes in Drumheller, as well as a giant article of all the things to do in Drumheller. And finally…we just added an article on Drumheller restaurants!
Camping is very popular across the province this summer, so if you find that your chosen campground is full, you might want to look into Alberta Crown Land Camping.
Don't forget that while you're on the road, you can download our FREE Road Trip Alberta bingo cards, to make it just that much more fun!