Disclaimer: This page may contain affiliate links. Please review our full Terms and Conditions for more information and our Privacy Policy. Note that any pricing, operating hours, or other such information provided below may have changed since initial publication.
Compiled by the Road Trip Alberta team
Last updated on January 26, 2023
Dinosaur Provincial Park is a UNESCO World Heritage Site situated in the Red Deer River valley in southeastern Alberta. Full of iconic badlands scenery and just a two hours drive east of Calgary, the site is best known for its renowned fossil assemblage and contains the richest collection of dinosaur fossils in the world.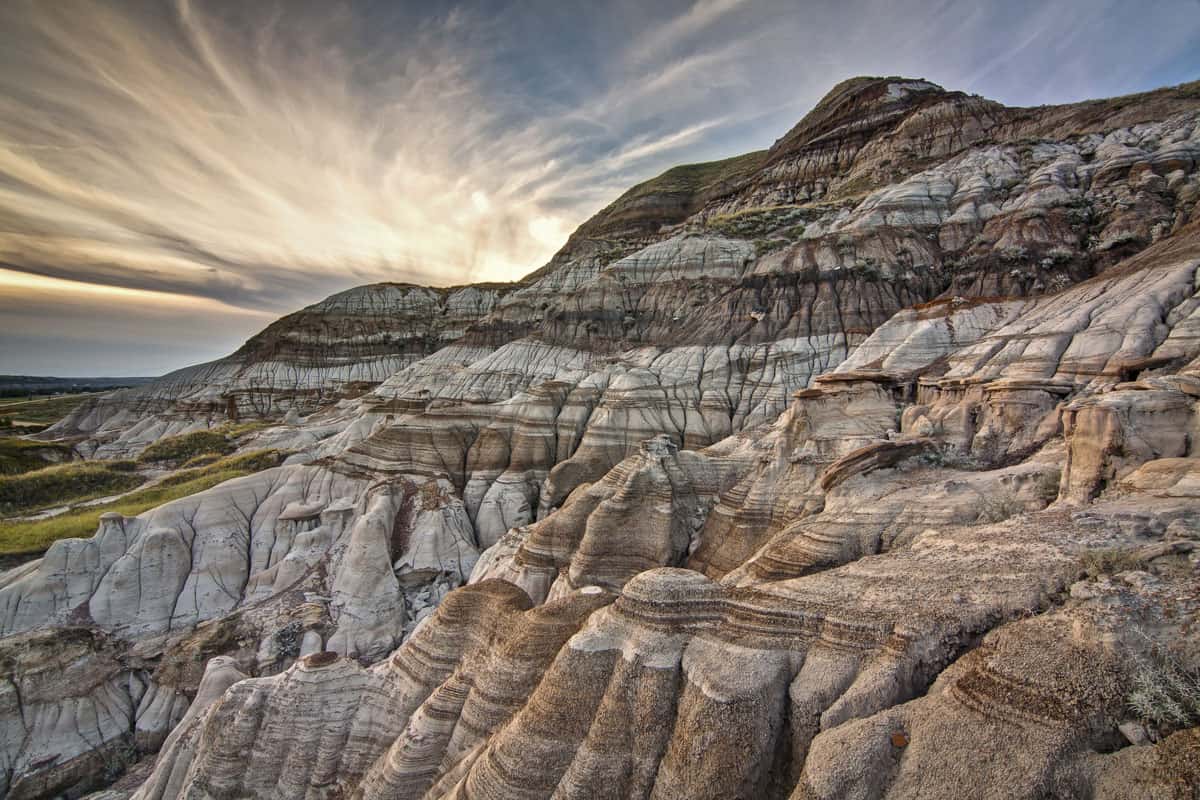 Fifty-eight dinosaur species have been discovered here and more than 500 specimens have been removed and placed on display in museums around the world.
Out of all of the provincial parks in Alberta, Dinosaur Provincial Park is arguably the most distinguishable. Whether you are a paleontology or geology enthusiast or just a group of self-proclaimed fossil hunters with a penchant for history, Dinosaur Provincial Park is worth a trip for people of all ages!
Land Acknowledgment
Dinosaur Provincial Park is on the traditional territories of Cree, Assiniboin, Salteaux, and Chipewyan First Nations. We acknowledge all of the many First Nations, Métis, and Inuit whose footsteps have marked these lands within and around Dinosaur Provincial Park for centuries.
About Dinosaur Provincial Park
The landscape of Dinosaur Provincial Park in the late Cretaceous Period (75 million years ago) was very different than what it looks like now! It was filled with lush greenery, teeming with large bodies of water, and of course, epic dinosaurs roamed the land and flew the skies.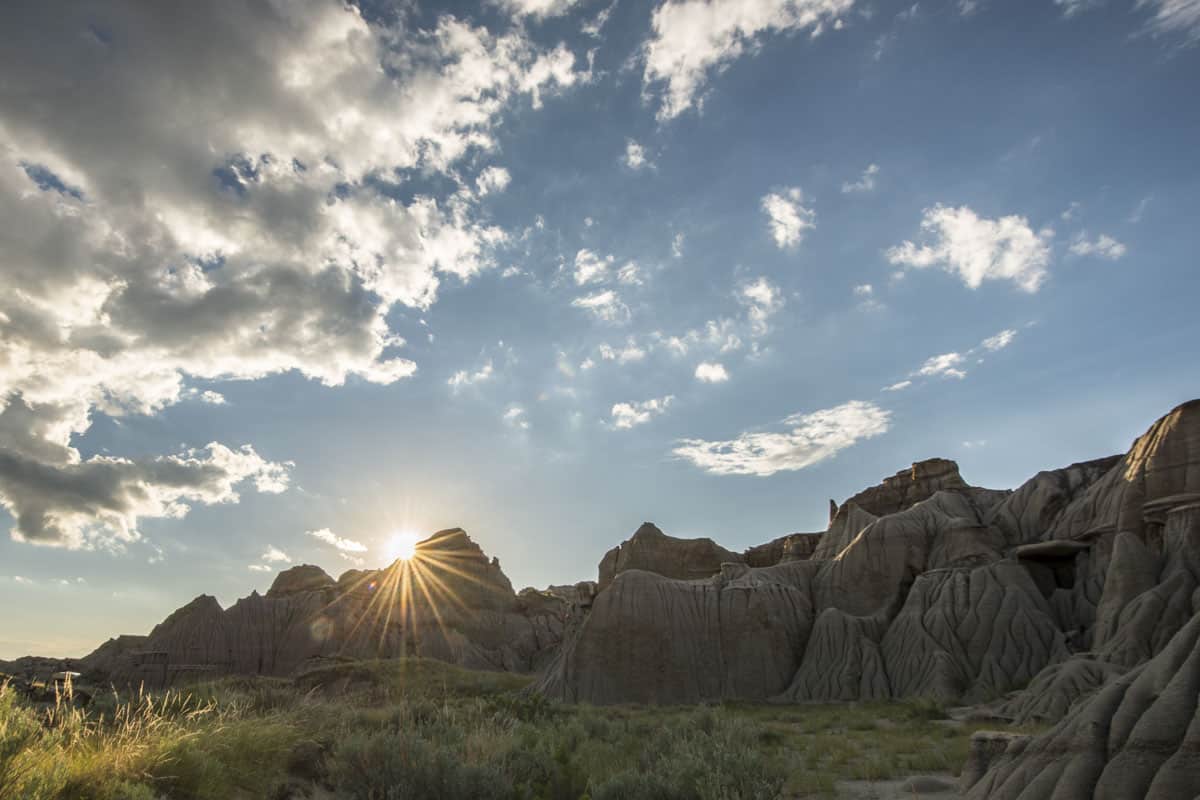 The conditions were perfect to preserve all of these life forms as fossils. In fact, after a century of excavations in Dinosaur Provincial Park, over 150 complete dinosaur skeletons and over 50 dinosaur species have been discovered within. Concentrations of "bone beds" have been unearthed, as well as another 450 fossil organisms including a diverse group of freshwater vertebrates (sharks, frogs, salamanders, reptiles, etc), mammal fossils, and plant fossils (fern fronds, leaves, pollen, and spores, and more).
So, contrary to what it's name suggests, Dinosaur Provincial Park is not just filled with dinosaurs! Even more fossils from this incredibly unique site are continuously being discovered and some can even be found just by walking the trails in the area.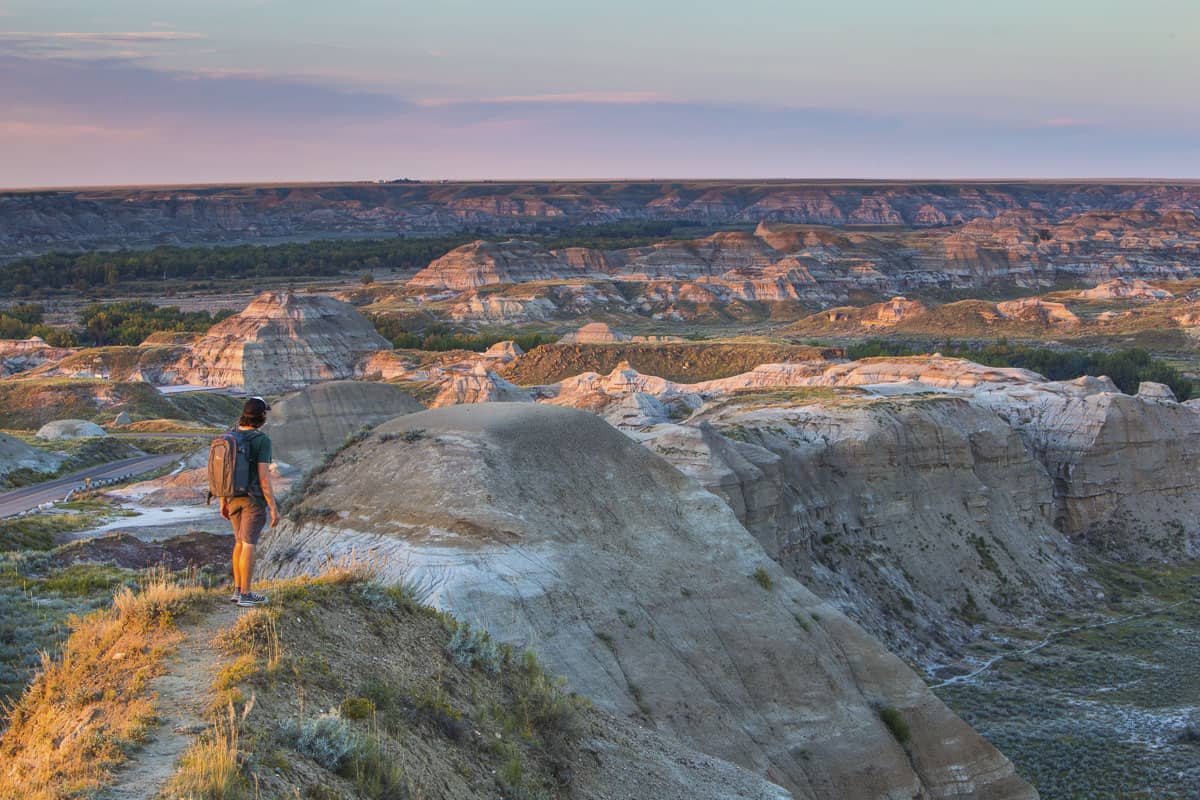 Dinosaur Provincial Park was created by the Government of Alberta in 1955, and was further recognized internationally as a UNESCO World Heritage Site in 1979. Three significant natural features were recognized in the park to achieve this designation:
An abundance and diversity of dinosaur and other fossil specimens: 4-5% of the world's known dinosaur species from the Late Cretaceous Period have come from here!
The largest representation of badlands scenery in Canada.
Extensive groves of plains cottonwood trees that provide critical living space for many bird species.
Not only was Dinosaur Provincial Park rich in biodiversity back in the age of the dinosaurs, but it remains an important ecosystem in the current age; hence why a large portion of the park is a natural preserve accessible only through guided programs. Encompassing an area of 8,086 hectares (19,980 acres), it remains an instrumental lens into the past.
The Best Time to Visit
Although the park is open year-round, due to the amazing guided interpretive tours available in the warmer months, we highly recommend a visit between May and September. To combine a visit with camping in this otherworldly landscape, July and August are ideal (although expect it to be quite busy and sites should be booked well in advance).
Getting to Dinosaur Provincial Park
From Drumheller to Dinosaur Provincial Park
Note that Dinosaur Provincial Park is NOT located near Drumheller (that is a common mistake)! Drumheller is about 200 kilometres (or roughly a 2-hour drive) away.
To make this trip, take AB-56 south out of town. Take the exit for the Trans-Canada Hwy/AB-1 E to Patricia for 157 km (approximately 1.5 hours). From there, take Range Rd 125 to Township Rd 210A for 13 km (10 minutes). Follow the signs to the provincial park.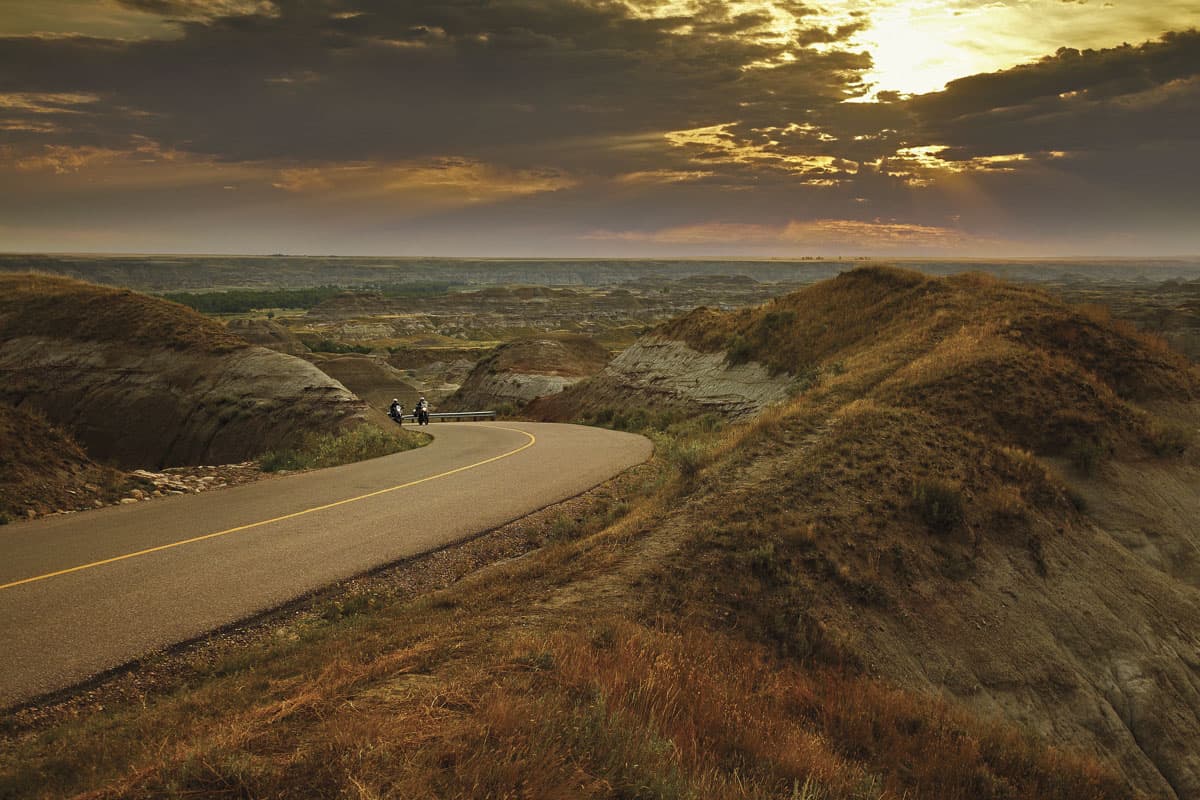 If you are wanting to do a dinosaur-specific trip that includes both the Royal Tyrrell Museum (one of the best things to do in Drumheller) and Dinosaur Provincial Park, we recommend giving yourself ample time to explore both locations sufficiently. Trying to squeeze both in within a day is unrealistic and we would suggest allowing at least 2 1/2 days for a combined visit to both sites.
From Calgary to Dinosaur Provincial Park
The fastest way to get from Calgary to Dinosaur Provincial Park is to take Trans-Canada Hwy/AB-1 east out of the city for 1 hour and 45 minutes (180 km). Continue to AB-544 E and turn right to follow the signs to Patricia for 34.5 km (23 minutes). From there, turn left onto Range Rd 125A and continue onto Township Rd 210A which will take you past the entrance sign for the park.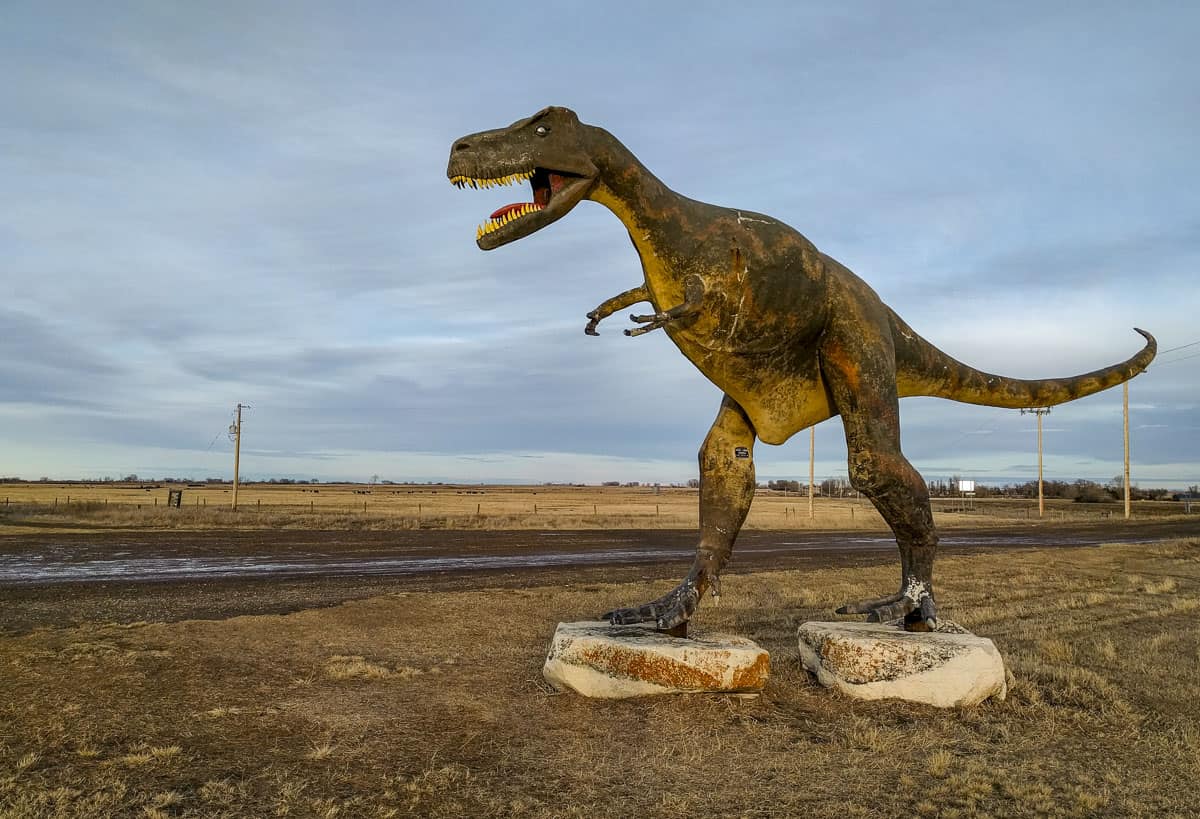 To get to the visitor information centre, park at the main parking lot near the concession. It is a short walk on the uphill trail to the centre and there are 4 parking spots closer to the visitor centre to assist those with limited mobility.
Camping at Dinosaur Provincial Park
Camping at Dinosaur Provincial Park is open year-round and the campsite is maintained by Alberta Parks. Keep in mind that peak season (July and August) is incredibly busy and there is no overflow area for camping, so campsites are available by reservation only during the summer season through Alberta Parks either online or by phone. From October to April, sites are first-come-first-served and no reservation is required.
There are over 120 RV and tent-friendly sites at the Dinosaur Provincial Park campground. These include un-serviced, power hook-ups, and pull-through options. In addition, campers also get access to a fast-food concession, pit/vault toilets, playground, showers, and laundry facility. (Need an RV? Check out our guide to RV rentals in Alberta.)
From October to April, select campsites are available for the fall/winter season on a first-come, first-served basis. However keep in mind that firewood sales, concession, showers, and flush toilets are only available until early October.
Additionally, the sani-dump station is available for dumping year-round, but campground water is shut off from early October until early May.
There are two other provincial campgrounds nearby to consider when Dinosaur Provincial Park is full.
Comfort Camping
In addition to the traditional tent and RV camping sites available in Dinosaur Provincial Park, there are also seven comfort camping tents available from June to October!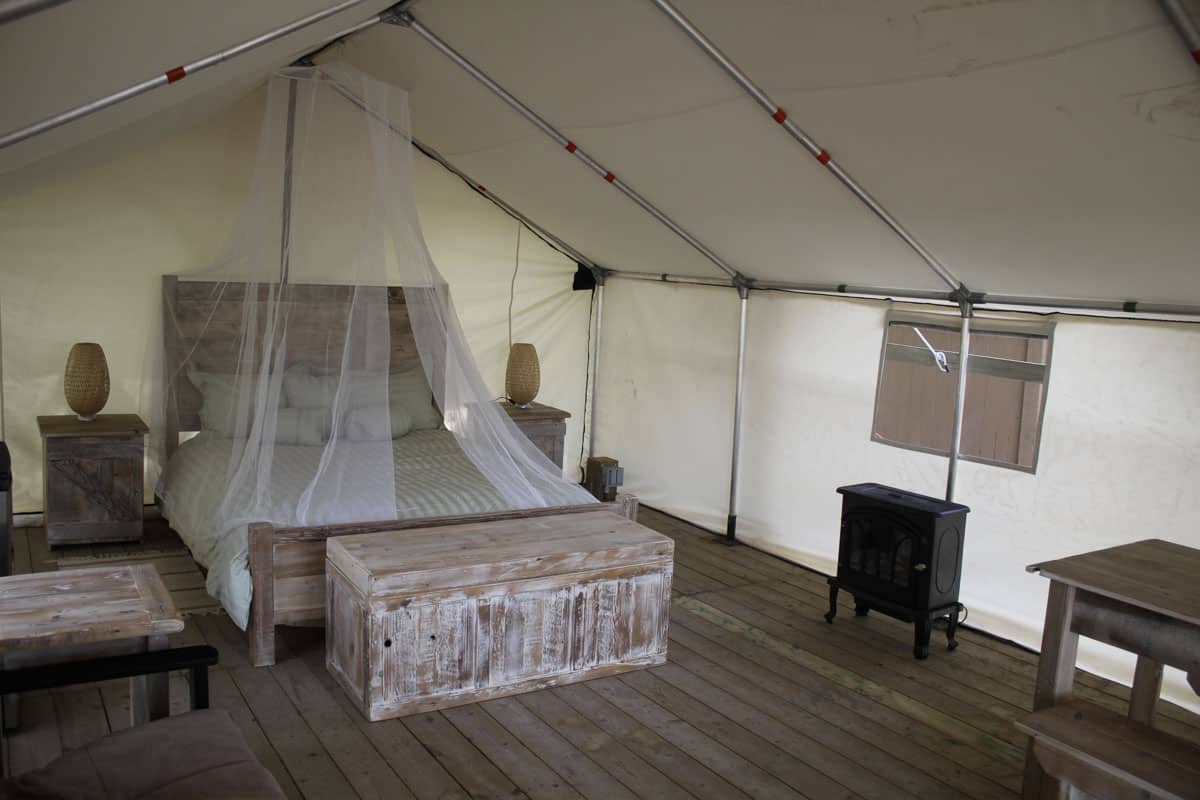 The comfort camping sites are located apart from the main campground and offer riverfront or park views, private decks, beds, bar fridges, and electrical outlets for some additional comfort. The cabins can house a maximum of 4 people and the only things you need to bring are bedding and your own kitchen equipment (pots, pans, plates, cutlery, etc). For easy reference, Alberta Parks has put together a full list of what to bring while comfort camping in Dinosaur Provincial Park.
Things to do at Dinosaur Provincial Park in Summer
The activities in Dinosaur Provincial Park are plentiful! You'll find exciting adventures such as guided tours and fossil hunting, or gentle experiences such as paddling a canoe down the Red Deer River. Strolling through the beautiful scenery in the evening, exploring the cottonwood groves, or witnessing a prairie sunrise or sunset are all things not to be missed while you're there.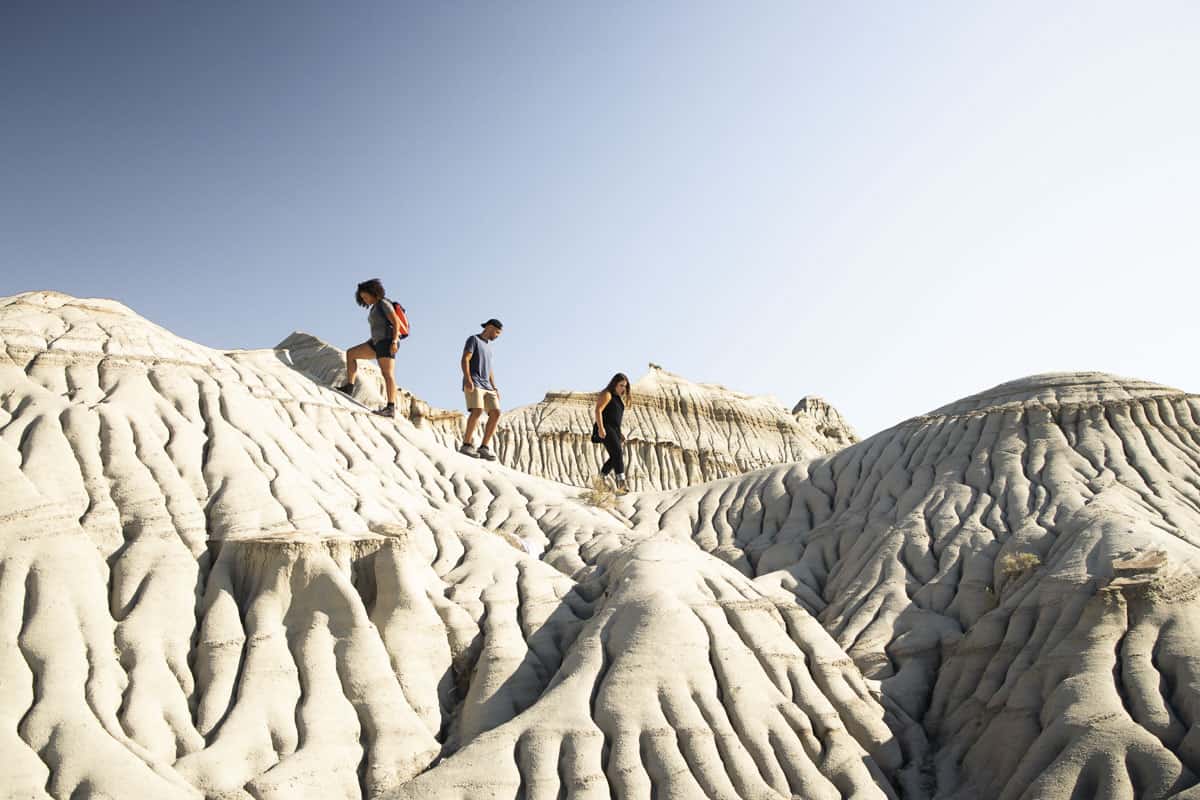 Fossil Hunting
The biggest draw to Dinosaur Provincial Park is of course the plethora of dinosaur fossils to be discovered! The park is unique in that real dinosaur bones are littered amongst the rocks on the trails so it doesn't take much effort or active exploration to explore fossil beds. A quirky technique to tell the difference between a rock and a fossil is the lick it and stick it method. The minerals in a fossil will become sticky when you give them a lick as opposed to a regular stone, which will just become wet. If it sticks to your tongue, it's a fossil!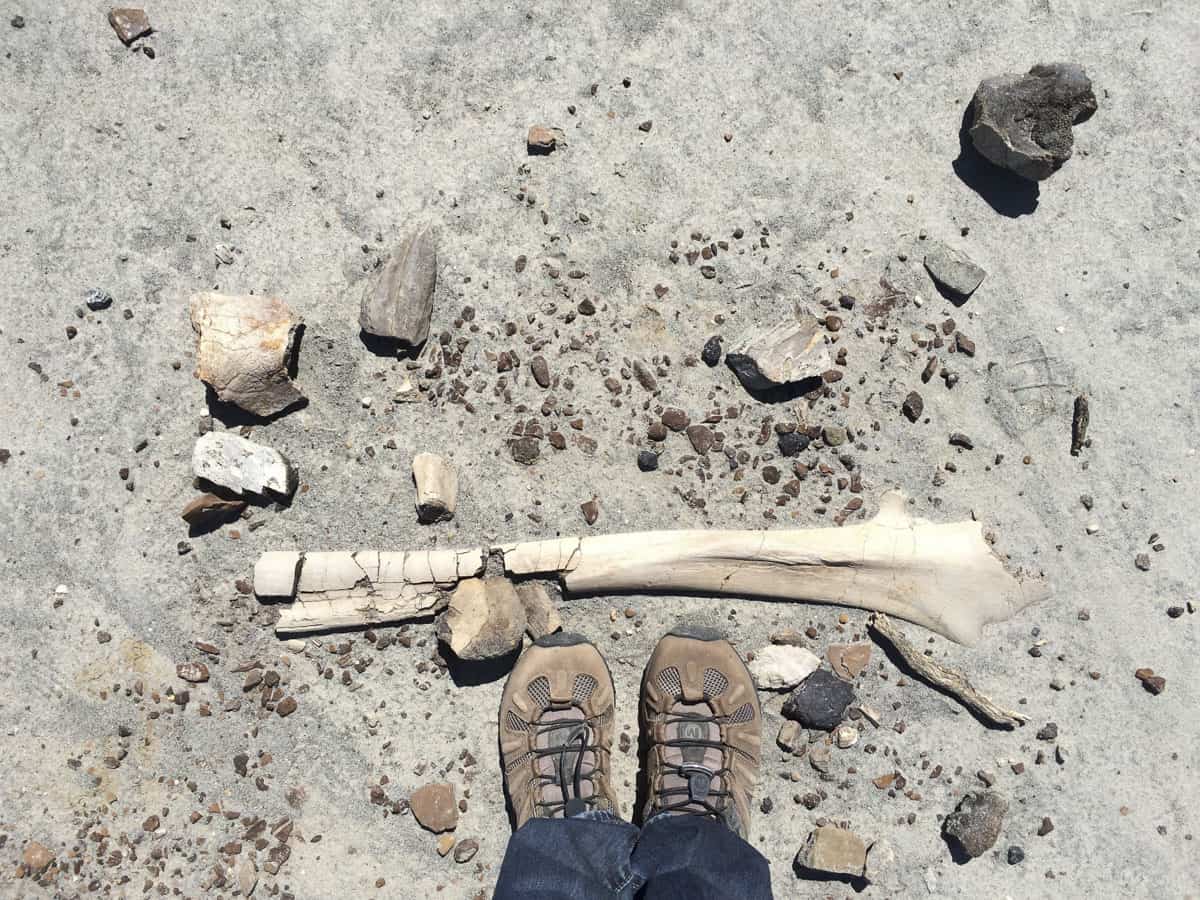 Note: Although it is extremely easy to find dinosaur bones in the park, it is extremely illegal to take any home.
Hiking
There are 5 self-guided hiking trails to explore in Dinosaur Provincial Park. The distance of the hikes ranges from just 300 metres to 1.4 km.
In addition, there is a 3.5 km scenic road through the beautiful badlands that is accessible year-round to drive, walk, or bike. The road is also where visitors can see the Fossil Display Houses which are two outdoor interpretive fossil displays; one showcasing the bones of a duck-billed dinosaur still partially encased in the sediment that buried them 75 million years ago, while the other is a re-creation of a palaeontological quarry or dig-site.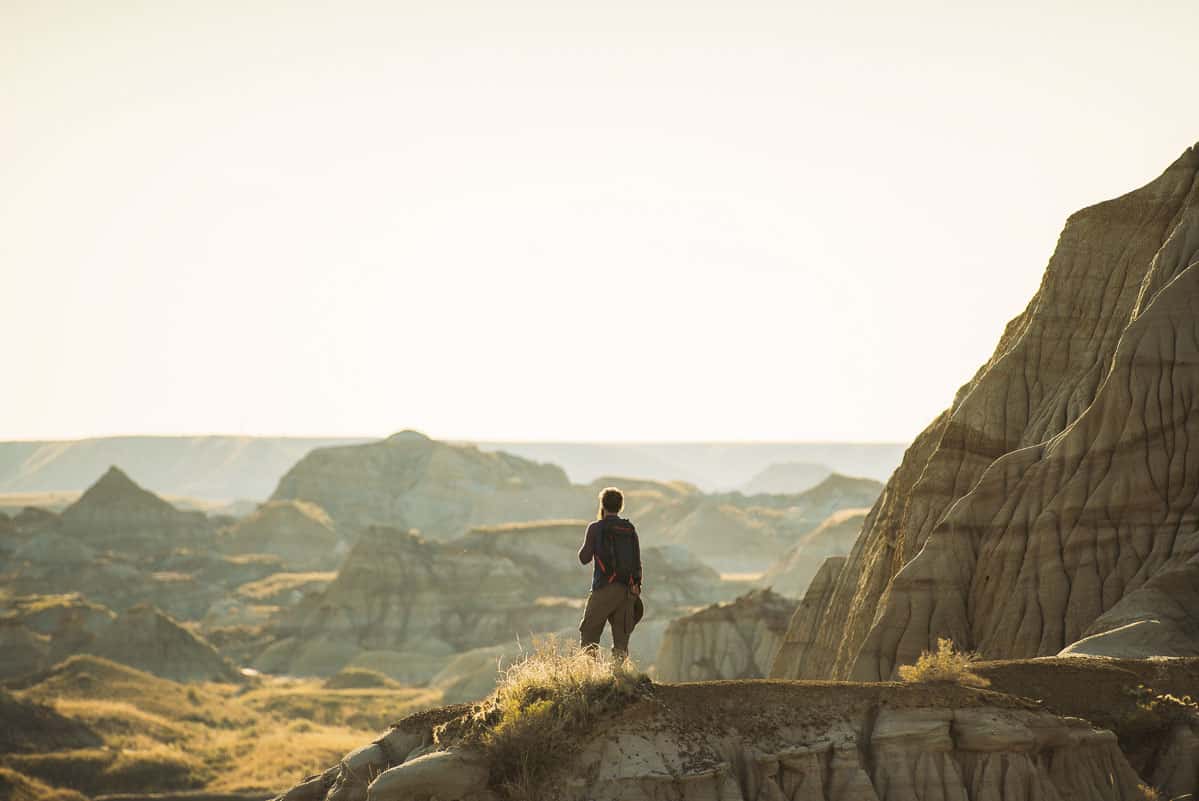 Although independently exploring the park can be extremely satisfying, the best hiking trails can be found on an interpretive tour.
Tours
All interpretive programs (with the exception of Family Theatre programs) are ticketed. Alberta Parks offer a limited schedule of guided tours in May, June, September, and October and a large variety of tours each day in July and August. However, due to popular demand, guided tours sell out quickly so it is strongly recommended that you book your selected tour ahead of time to avoid disappointment.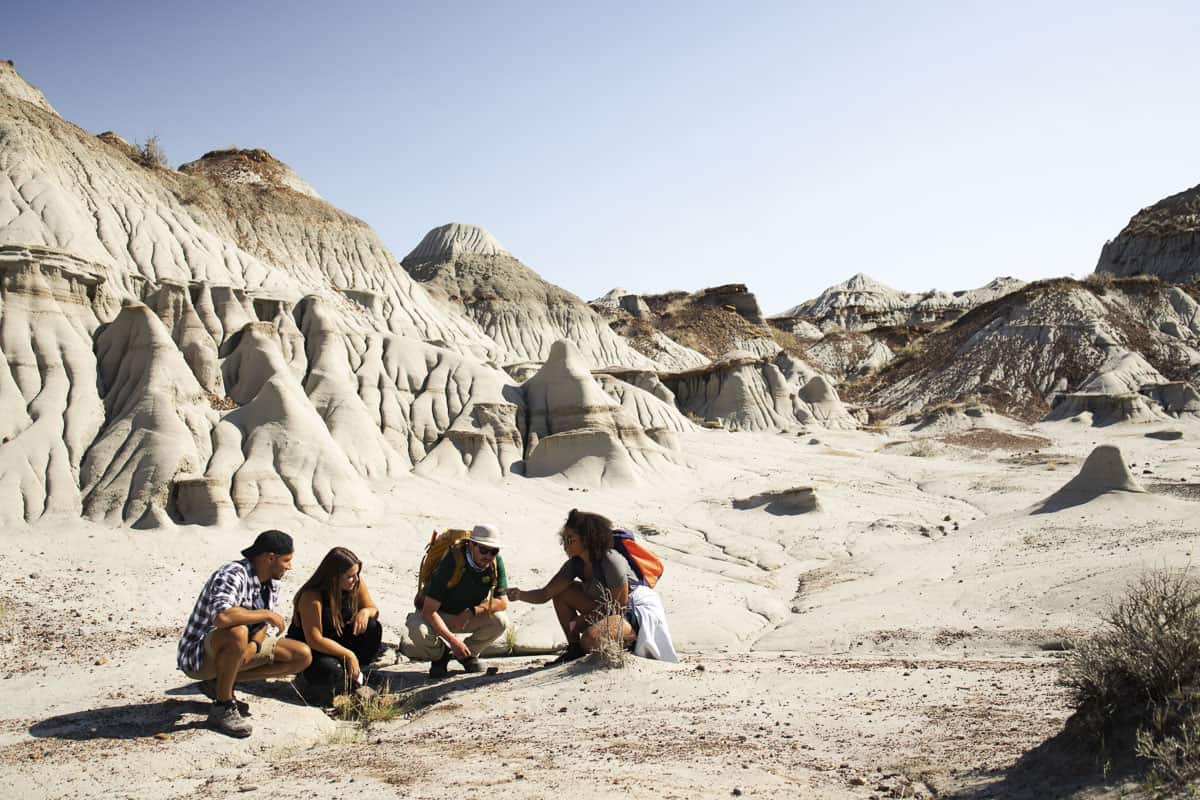 Take a fossil safari, trek the Camel's End Coulee hike with an interpretive guide, do a family dino stomp, or even partake in a night hike! Alberta Parks offers a large selection of interpretive programs and tours for all ages and all levels of physical ability.
Note: Pets are not allowed on any of the interpretive tour programs, including the hikes into the backcountry.
Dinosaur Provincial Park Visitor Information Centre
To fully understand the impact that Dinosaur Provincial Park holds, a journey through the visitor information centre is a must! The centre is open year-round, however, from December 1 to March 31 it is open Monday to Friday by appointment only.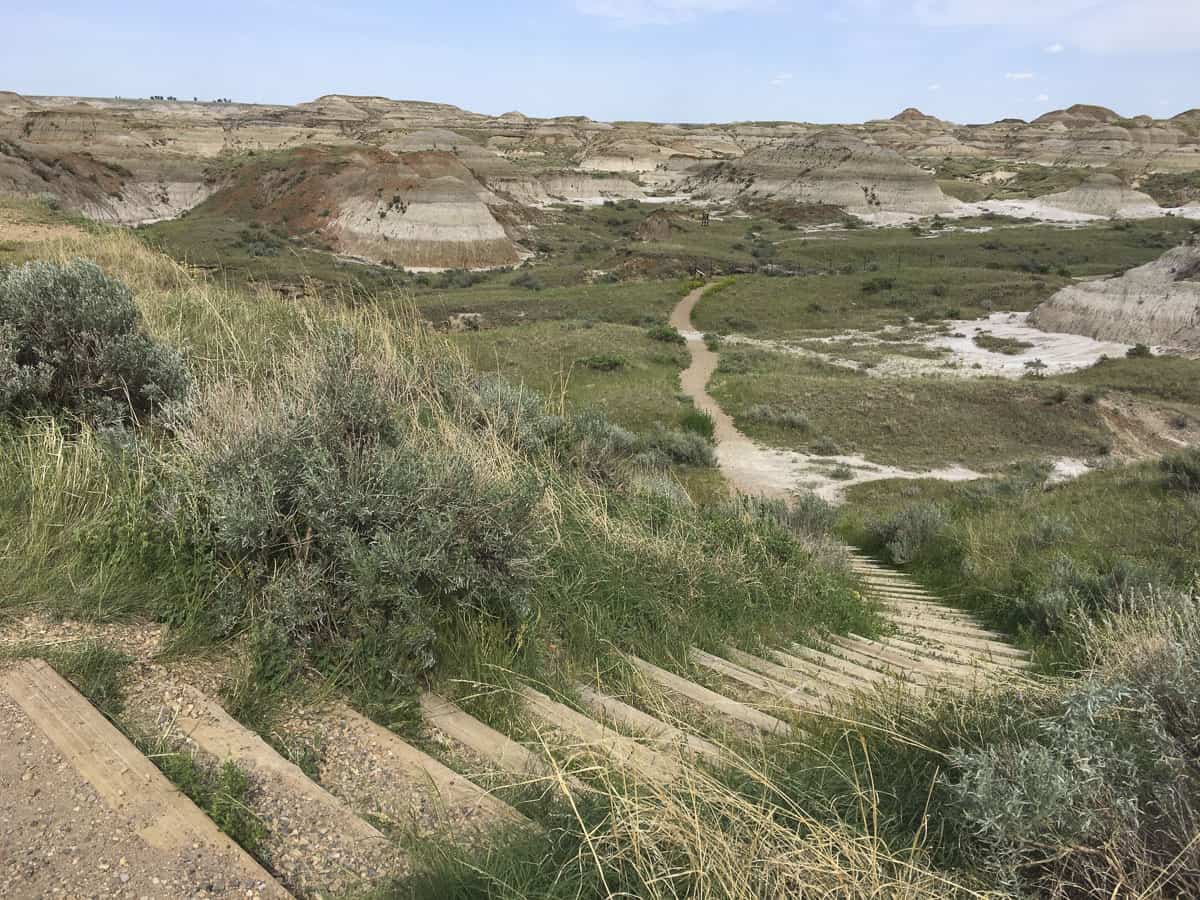 During the summer season, there are numerous facilities available. Grab a bite at the Cretaceous Cafe (concession building), stroll through the interactive exhibits, take in an educational movie in the 80 seat theatre, and grab a souvenir in the gift shop to remember the experience!
Bonus: As the park functions as a summer research location for the Royal Tyrrell Museum, you may even see real-life paleontologists working on a dig.
Although there is no fee to enter the park, there is an extra cost to get into the Exhibit Gallery in the visitor information centre. As of 2023, admission costs are as follows:
Child (3 yrs and under) – FREE
Youth (4-17) – $2
Adult (18-64) – $4
Senior (65+) – $3
Nature and Wildlife Viewing
Dinosaur Provincial Park houses three distinct landscapes within its boundaries: badlands, riverside, and grasslands. Each zone contributes a unique ecosystem and ideal living situation for a variety of birds, plants, and animal species.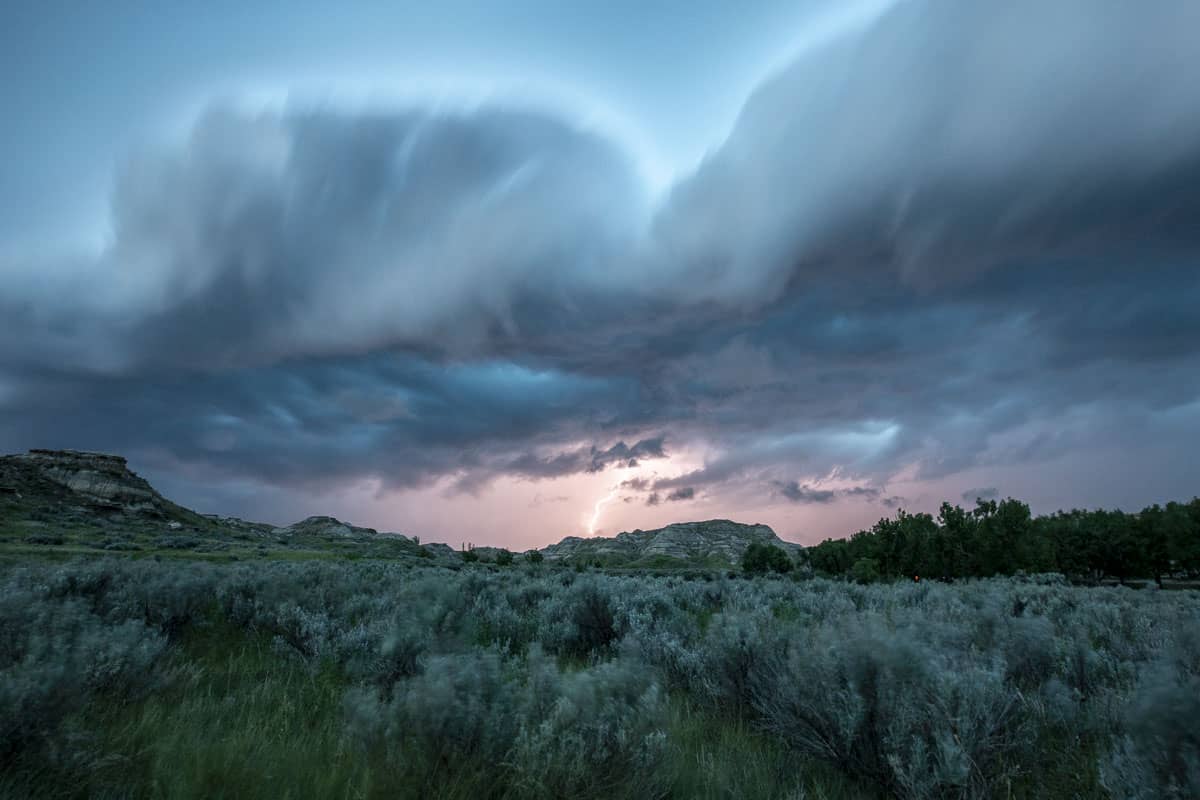 Watch for varieties of deer, cottontail rabbits, pronghorn antelope, coyotes, and of course snakes and other reptiles. Bird watching is excellent in Dinosaur Provincial Park as 160 different bird species can be seen, especially in May and June in the cottonwood groves in the river valley. Also look up to see golden eagles, prairie falcons, and mountain bluebirds. Watch for spectacular fall foliage in September and keep an eye out for flowering cactus varieties in May through June.
Although a lot can be seen through self-exploration, the best opportunity to be immersed in the diversity and abundant wildlife is to actually go into the nature reserve, which can only be accessed on select interpretive tours.
John Ware's Cabin
Who is John Ware and why is his cabin in Dinosaur Provincial Park?
John Ware is a remarkable figure in history who helped to lay the foundations of the ranching industry in western Canada while simultaneously defying stereotypes. Born a slave in the United States, after the American Civil War, he learned the fundamentals of ranching in Texas and ended up in Canada via jobs driving cattle. After a stint working at the historic Bar U Ranch, he settled with his wife Mildred and their five children on the banks of the Red Deer River in 1900.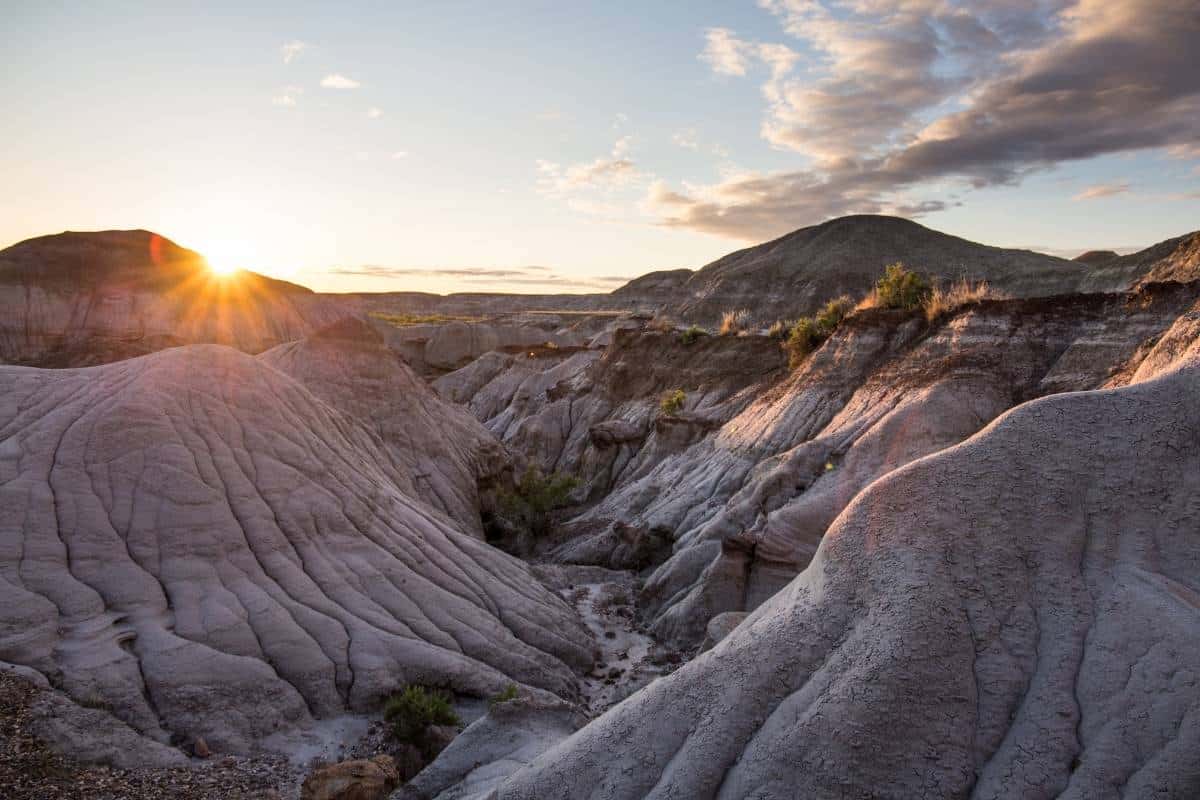 Sadly, that home was destroyed in a spring flood in 1902 and the family relocated to higher ground in a spot overlooking a stream now called Ware Creek. A series of unfortunate events after the relocation saw both Mildred and John pass away in 1905. The children were sent to live with their grandparents and the property was sold.
The cabin went through extensive deterioration and in 1998, Parks Canada finally restored the cabin based on traditional log structure building techniques. After the cabin was completed, new interpretive displays were installed and the cabin became a site to behold in Dinosaur Provincial Park.
Ware became one of the most well-respected figures on the Albertan frontier and is still an important part of Alberta's history. His cabin sits near the visitor centre and you can access on weekend afternoons in July and August or by special appointment.
Photography
The stunning badlands topography is out of this world so definitely bring your camera and an empty memory card for this trip! Plan for some late nights as well – while Dinosaur Provincial Park is not an official Dark Sky Preserve, it certainly deserves to be as the nighttime photography opportunities are as abundant as those available during the day.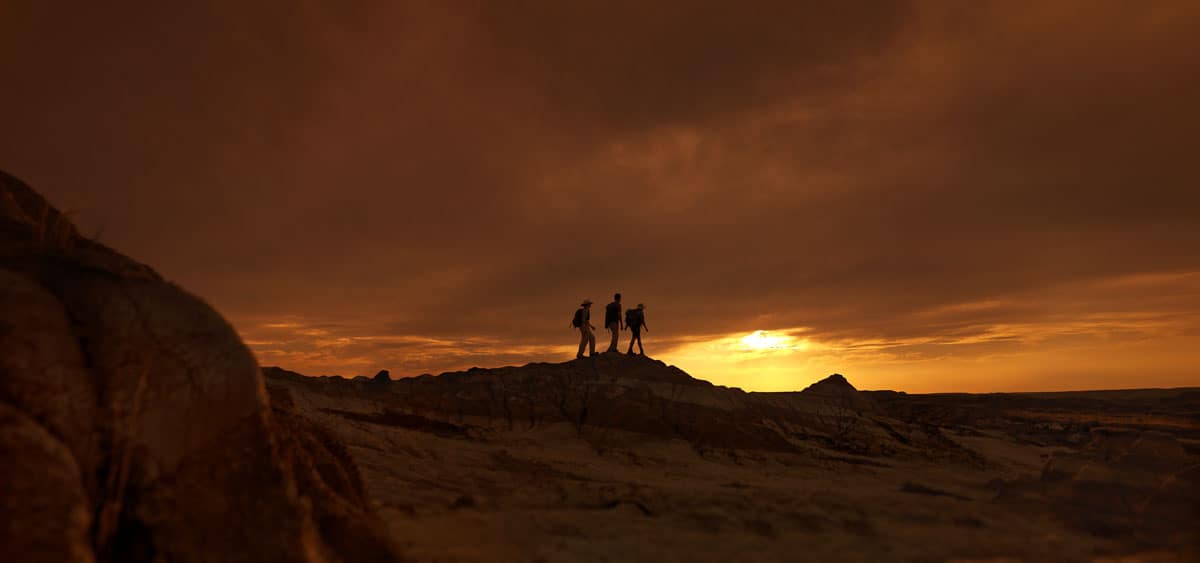 Whether at sunrise, sunset, full sun, or nighttime, the unique geology and structures found in the park make for an awesome backdrop to capture a photo. Although all of the available public tours offer great photo opportunities, Alberta Parks also offers a Sunset Tour that is designed specifically for photographers. Be guided to some of the secret areas of the nature preserve and hone your skills to get the perfect shot.
Safety at Dinosaur Provincial Park
The two biggest safety concerns in the park are rattlesnakes and heat stroke.
Rattlesnakes are drawn to the warm rockfaces of the hoodoos and crevices to hide in, which means you could be in for a surprise. If you do encounter a rattlesnake, walk slowly away and give it plenty of room to escape. It is also highly advisable to stay in mowed areas or on established trails to avoid an encounter. In addition to rattlesnakes, also look out for scorpions and black widow spiders.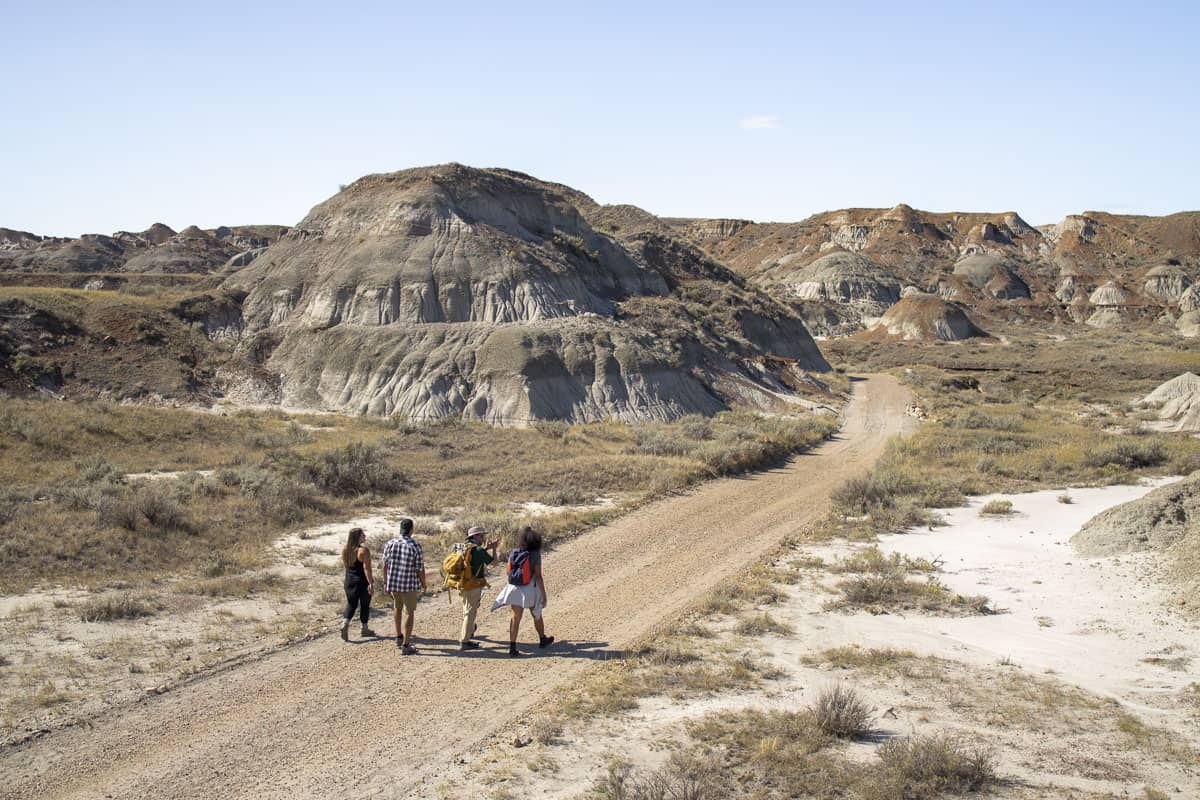 In the summer months (July and August), the park's daytime temperatures can reach 35 degrees Celsius (95 degrees Fahrenheit). Especially when hiking and climbing, protect yourself with sunscreen, a wide-brimmed hat, and sufficient water for everyone in your group. If you feel ill, seek shelter and potentially seek medical attention if symptoms do not improve.
In addition, due to the landscape of the park, erosion, natural caves, and sinkholes are common. Watch closely for these when hiking and avoid standing or walking directly over them. Always wear sturdy closed-toe walking shoes (not sandals) while hiking and stay on the trails.
Accessibility at Dinosaur Provincial Park
The Dinosaur Provincial Park visitor information center is a wheelchair-accessible building. In addition, the fossil displays and two of the five hiking trails (Prairie Trail and Cottonwood Flats Trail) are "barrier-free" for physically challenged visitors. There are also outdoor fossil displays that are wheelchair accessible.