Disclaimer: This page may contain affiliate links. Please review our full Terms and Conditions for more information and our Privacy Policy. Note that any pricing, operating hours, or other such information provided below may have changed since initial publication.
Compiled by the Road Trip Alberta team
Last updated on January 12, 2023
Imagine our surprise – on our most recent visit to Elk Island National Park – when what we first thought was a big clump of dirt on the side of the road ended up being an actual bison, almost as soon as we passed the entrance! While we had seen both woods bison and plains bison there before (it's one of the best parks in North America for viewing them), it was a quick reminder to us of how special this park is.
The bison themselves come with a fascinating history, but there is also a lot more to enjoy when visiting Elk Island National Park. Only a 30-minute drive east of Edmonton, and even closer to the city of Fort Saskatchewan, Elk Island National Park is easily accessible and offers a variety of activities for the whole family.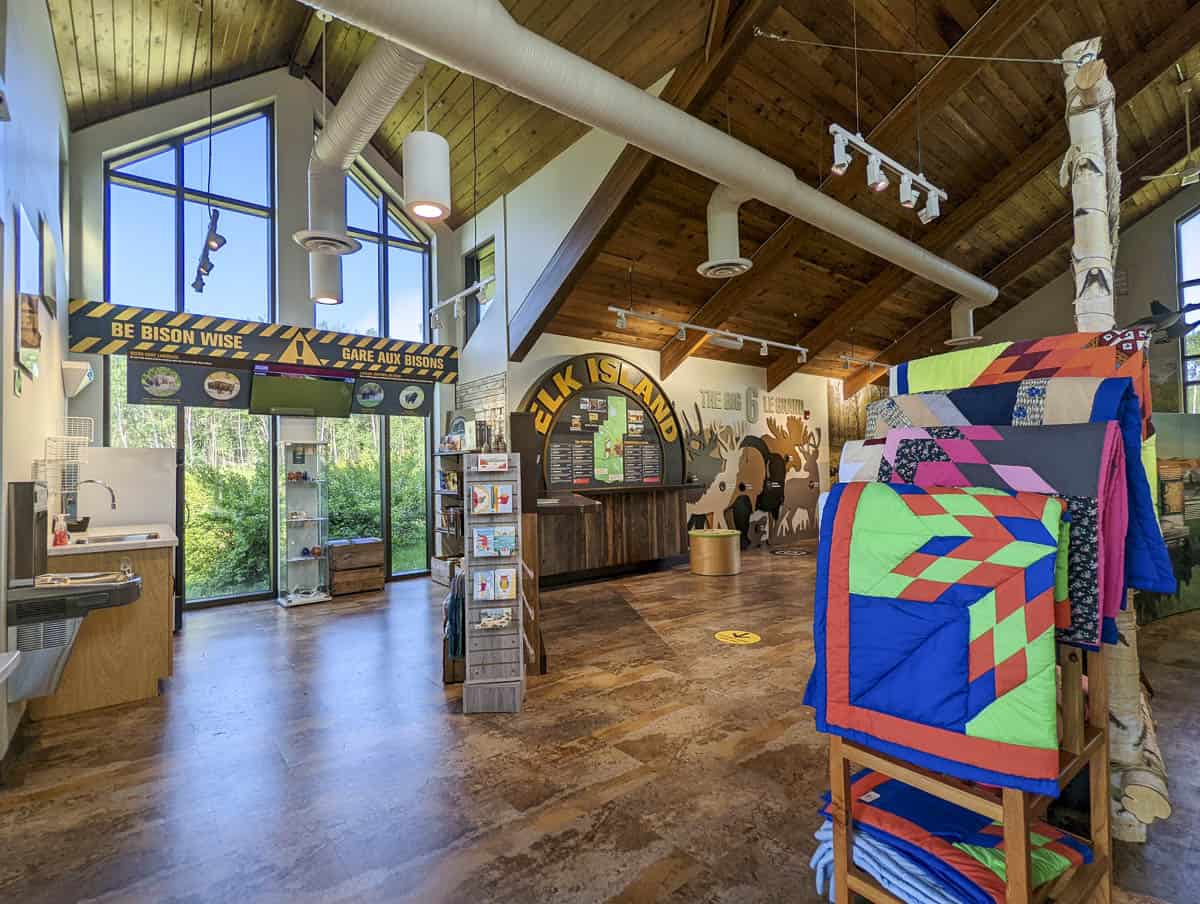 Stop at the Wahkotowin Visitor Centre just before the south park entrance (see a map here) to get the lay of the land, view their interpretive exhibits, and also purchase some unique souvenirs and other useful items for your visit.
Things to Do at Elk Island National Park
Hit the Hiking Trails
If you like hiking, you'll absolutely love Elk Island National Park. With 11 hiking trails to choose from, ranging from family-friendly, easy hikes like the Living Waters Boardwalk Trail (less than 30 minutes) to the difficult Wood Bison Trail or Tawayik Lake Trail (4-5 hours), there really is a hiking trail for everyone in the park. No matter which of the hiking trails you choose, you're sure to enjoy some wildlife viewing as well as some spectacular scenery of Astotin Lake, the aspen, poplar, and spruce forests, and/or the wildflower meadows within the park.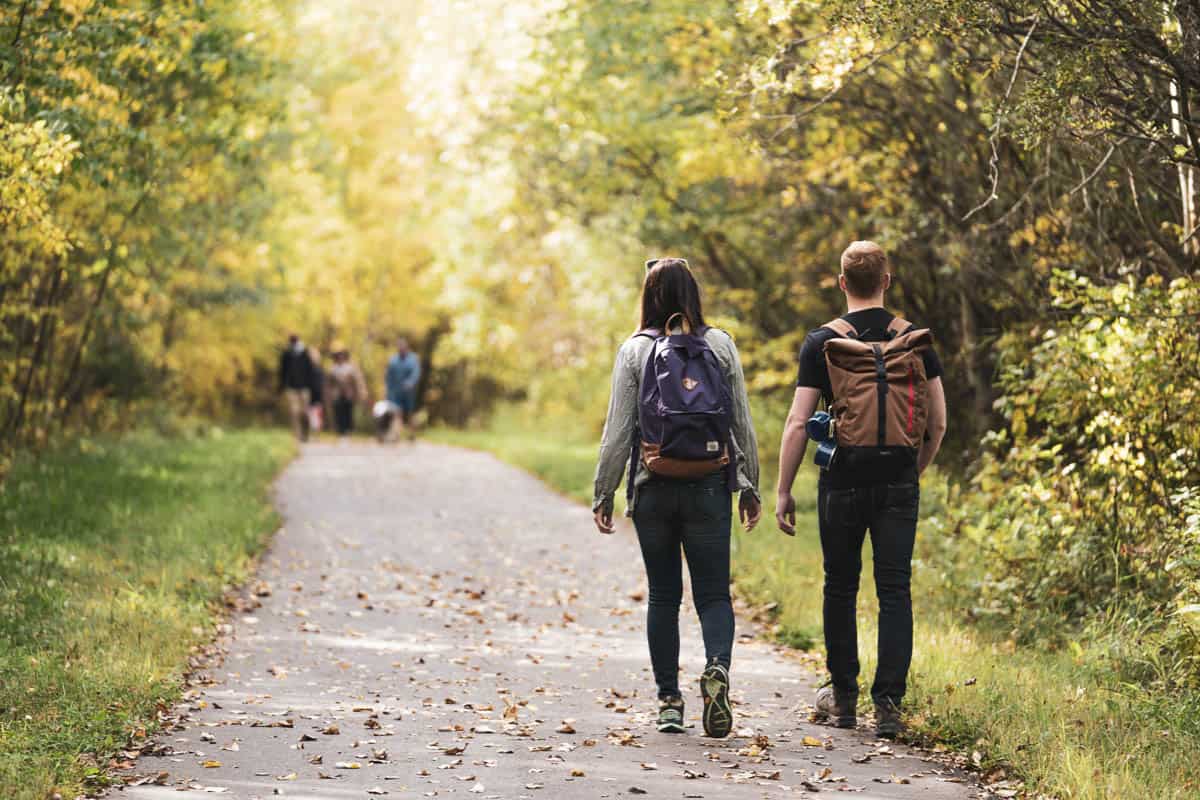 Note that the Shoreline Trail is paved, making it stroller and wheelchair accessible (although there are some steep areas to be mindful of).
Keep an Eye Out for Wildlife Viewing
While spotting an animal is never guaranteed, wildlife viewing in Elk Island National Park is definitely one of its most popular activities, especially bison viewing. With patience and a little luck, you can expect to spot bison, elk, beavers, birds, white-tailed deer, and so much more. While wildlife tends to hang out in the dense forest during the day, you have a good chance of spotting animals if you visit the park at dawn or dusk.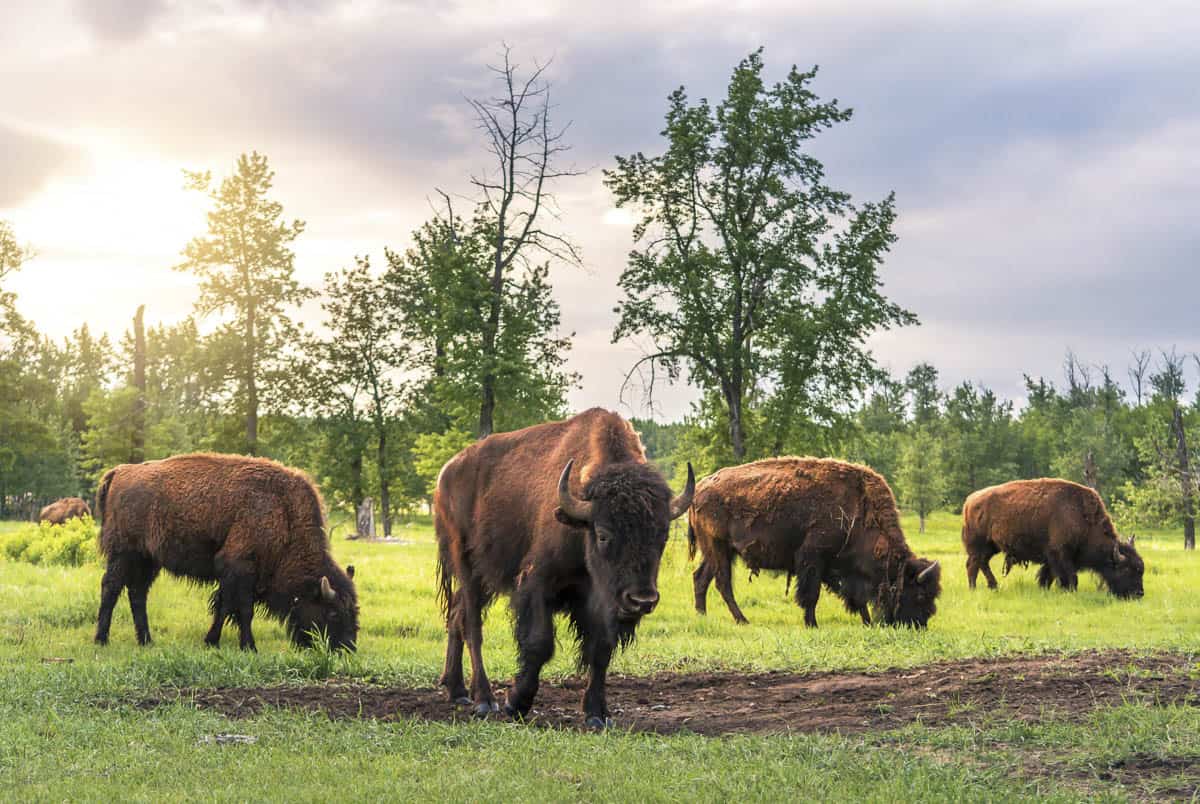 A fun fact about Elk Island National Park? It's Canada's only completely fenced-in national park, meaning there's a very good chance you'll see some bison. At any given time, there are about 400 plains bison and 300 wood bison within the park. Please remember that bison are wild creatures and can be very dangerous to humans; it's always best to maintain a lot of distance and follow these safety tips to be "bison wise".
Get Out On The Water
Astotin Lake is one of Alberta's most beautiful and calm lakes, and there are many opportunities to get out on the water. Whether it's kayaking, canoeing, stand-up paddle boarding, or sailboating, spending time on the water is a great way to take in the beauty of Elk Island National Park; because motorized boats are not allowed on the lake, it seems especially serene. With any luck, you'll even be able to see some wildlife from the water!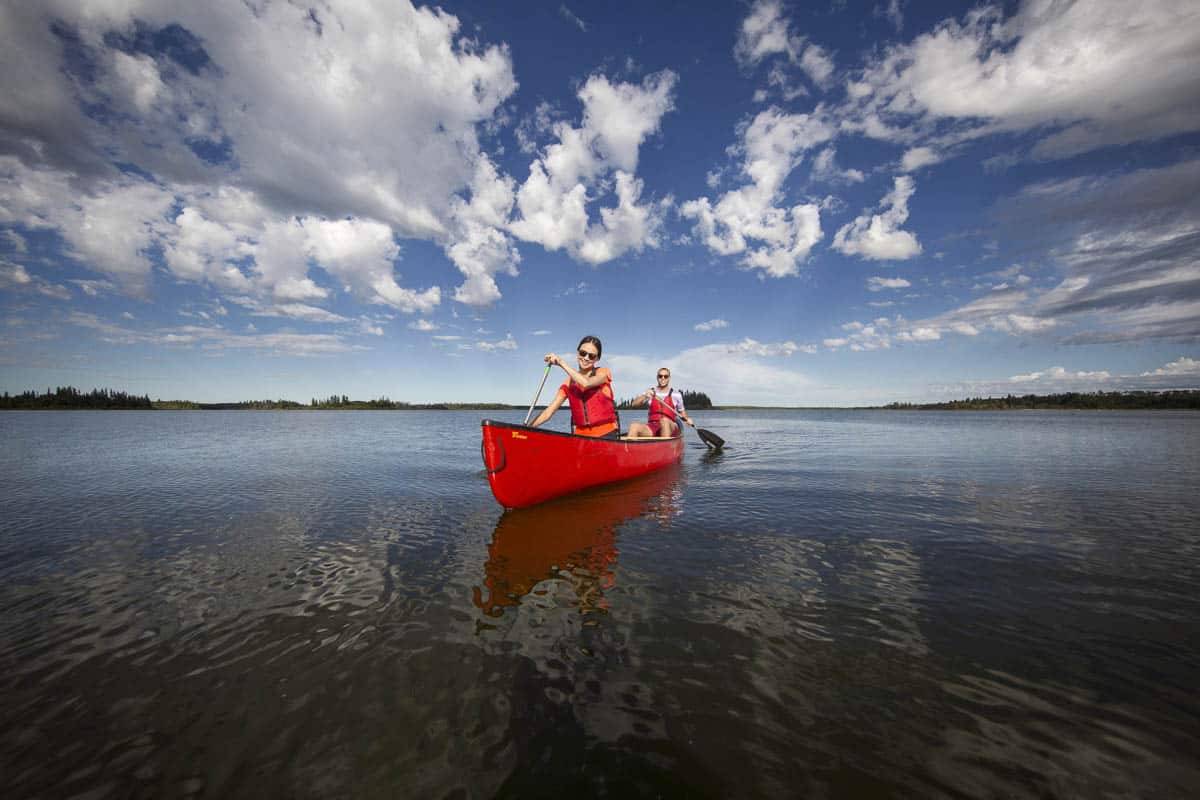 You'll find the boat launch at the north end of Astotin Lake, where you can rent canoes, kayaks, and stand-up paddleboards from the Astotin Lake Recreation Area. Make your way around the many islands of the lake to really get to know the area and see a side of the park you can't experience from land.
As always when it comes to being near water, take as many safety precautions as possible, including wearing a personal flotation device at all times. Even if you are a confident swimmer and the water looks calm, conditions can change quickly and it's good to be prepared.
Relax on the Beach
Just because you aren't near an ocean doesn't mean there aren't some great beaches in Alberta! With a sandy lakeshore to relax and play on, it's also a good launch spot for your canoe or kayak. Enjoy the picnic tables, shelters, fresh water showers, washrooms, and fire pits nearby, too.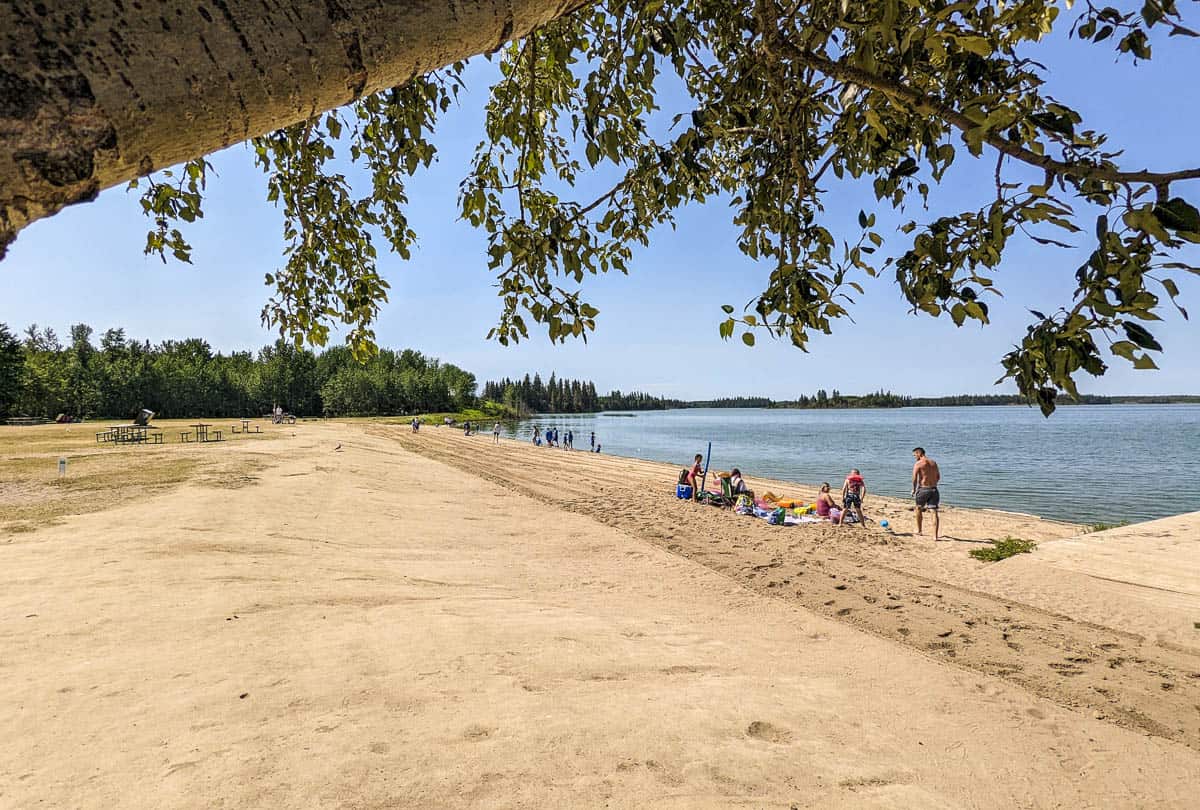 Some things to note: just as with most national parks, there are no lifeguards on duty, so it's recommended to always wear a personal flotation device in or near the water and to always keep a close eye on children. Swimmer's itch can also sometimes occur after spending time in Lake Astotin, so limit your time swimming or spending time in the water and rinse off with fresh water afterwards!
Play a Round of Golf
* Note that the golf course is closed for 2023.
Yep, that's right… there's a nine-hole golf course in Elk Island National Park! Established in 1936, this golf course is one of the oldest in all of Alberta. Play a relaxing game of golf surrounded by the beautiful landscape of the park, and then enjoy a meal in the air-conditioned clubhouse (the only meal service available in the entire park).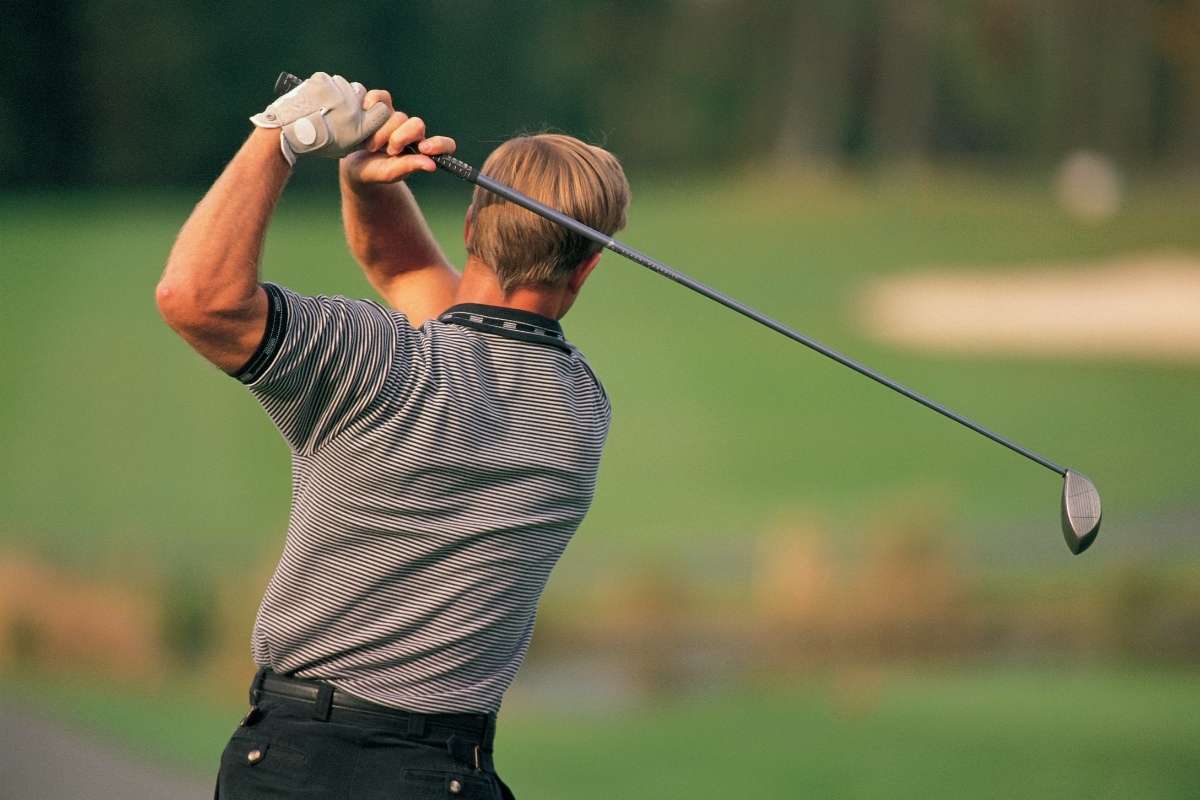 Whether you're a seasoned pro or a beginner, the golf course in Elk Island is guaranteed to be a fun few hours out on the green. Call (780) 998-3161 for more information or to book a tee time.
Camp at Elk Island
Thankfully, there is fantastic camping in Elk Island National Park, and it's a fabulous way to spend a bit more time in the park to truly soak it all in. As you can tell from this list, there are so many things to do in Elk Island National Park that it makes sense to spend at least a few days camping in order to take advantage of all there is to do and see!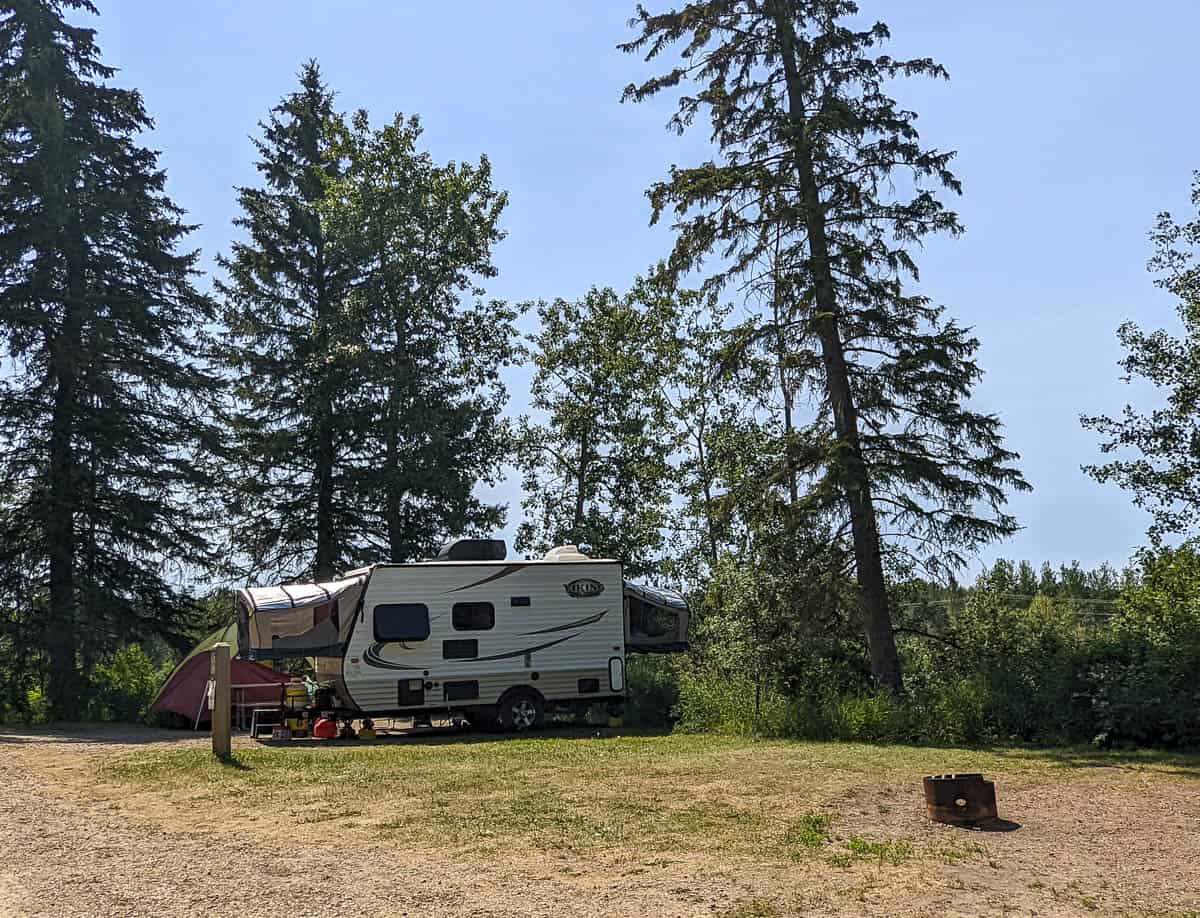 There are many ways to go camping in Elk Island National Park. You can choose from the Astotin Lake Campground (75 non-serviced sites, including 15 walk-in tent sites), a Parks Canada oTENTik (there are five to choose from), the Astotin Lake Group Camping Area (perfect for large groups or company retreats), and the Oster Lake Backcountry Campground. We recommend reserving your campsite as soon as possible, as reservations fill up quickly every year.
And if you can't find a spot in the National Park, there are options nearby. Elk Island Retreat has yurts, trapper cabins, a tipi and the new Geo Domes for visitors to stay in. The domes are for a maximum of two people and make for a very romantic getaway, plus an amazing way to stargaze!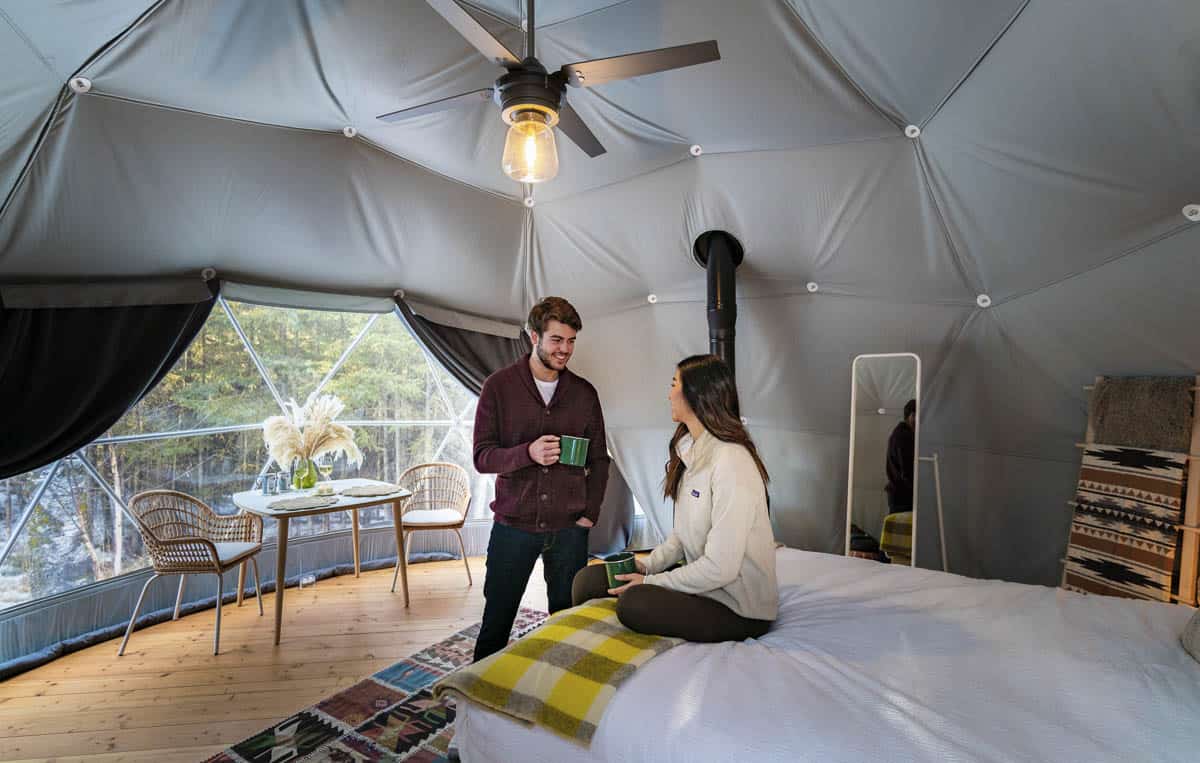 Spend Time at the Astotin Theatre
It's not often you find a theatre within a park, but Astotin Theatre in Elk Island National Park is definitely a treasure. Watch a movie on the big screen, learn about the park from Parks Canada interpreters or from some of the artifacts preserved in the theatre, dress up like your favourite animal, explore the interactive learning space, or even rent a "Discovery Kit" for the day. A visit to the theatre is a must if you have children in tow!
Play in the Playground
It's no secret that Elk Island National Park is the perfect place to visit with children, what with wildlife and nature to explore. Another perk? The playground! Found in the Astotin Lake Area, this extensive playground is a fun place to spend some time climbing, sliding, and meeting other kids. There are picnic tables nearby if you want to enjoy a meal or a snack after playtime.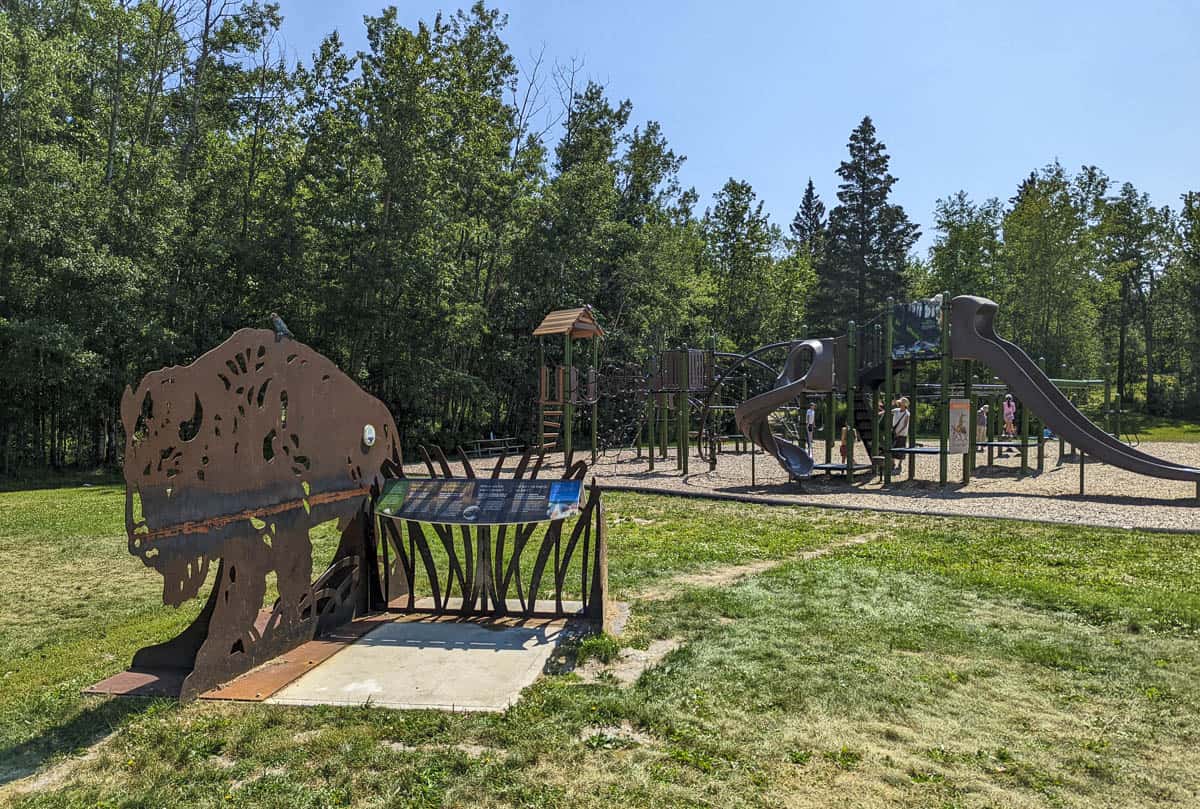 Drive the Bison Loop Road
There are a few scenic drives to take through Elk Island National Park, but the Bison Loop Road has to be one of the best. It's not uncommon to be stuck in a "bison traffic jam" here! The best time to drive the Bison Loop Road is at dawn or dusk, or on cloudy days; if it's too sunny or hot, the bison will most likely be sheltering in the nearby trees and you may not see them. Make sure to drive slowly in order to keep both you and the wildlife safe at all times, and always stay in your vehicle when there are animals around.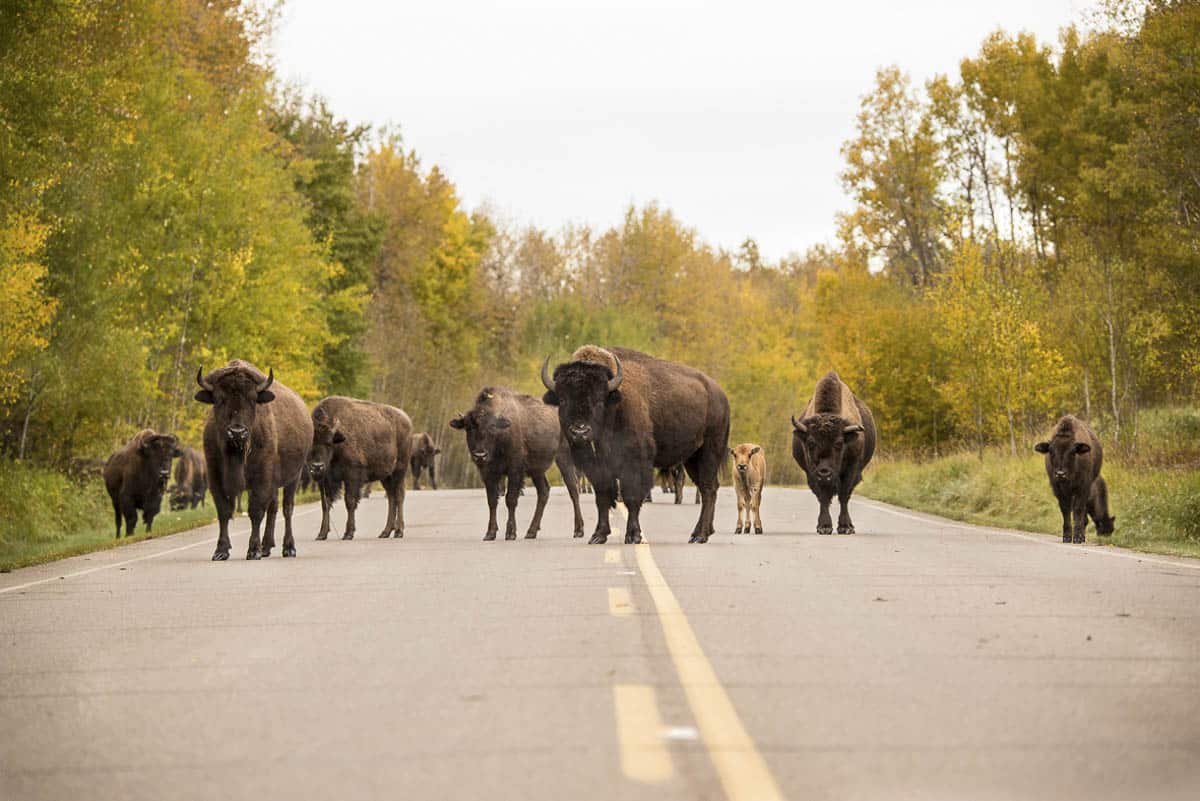 You can also try driving the Yellowhead Highway to spot both plains bison and wood bison, while the Elk Island Parkway is also a route with a good opportunity to spot wildlife from your car.
Enjoy a Family Picnic
As there is no food service in Elk Island (other than at the golf course's clubhouse), we highly recommend you bring some food with you into the park. Thankfully, there are plenty of fantastic spots for a picnic, including near the beach, the playground, the iconic Red Chairs or even the campground. Just remember, your food is for humans only… don't feed the wildlife!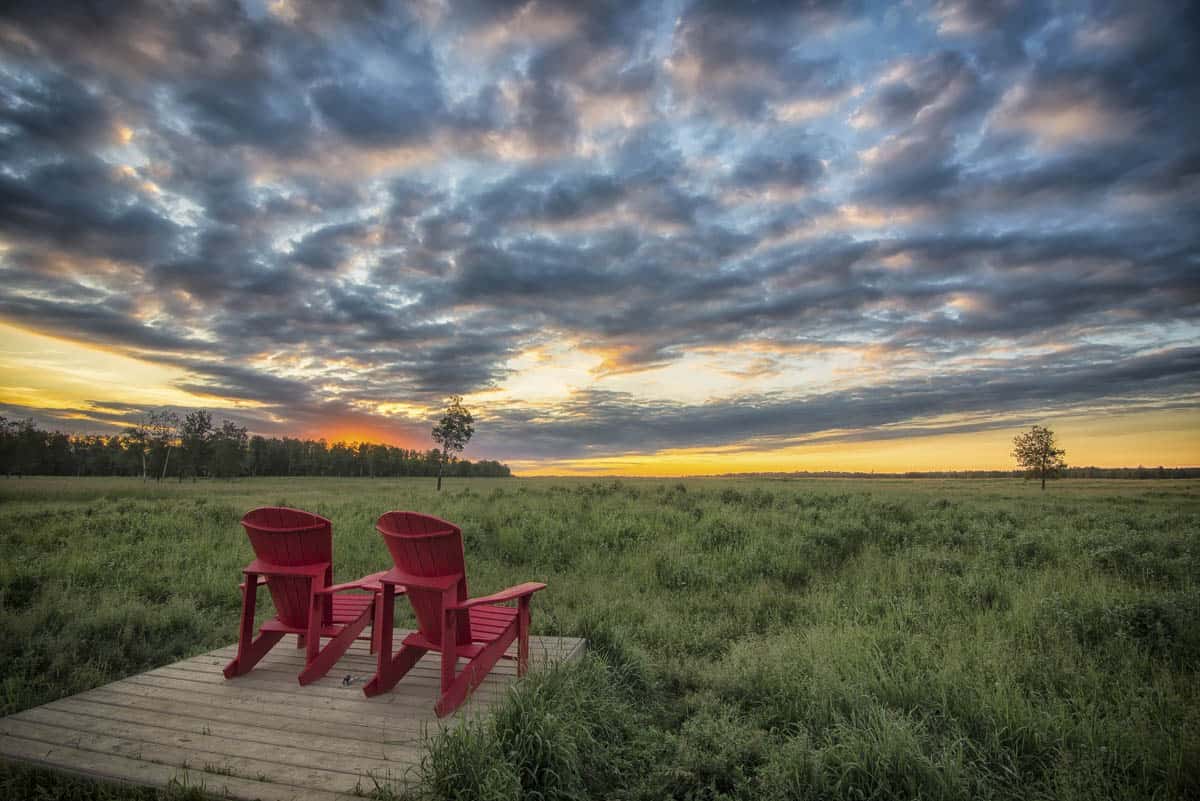 Join an Elk Island National Park Interpretive Program
Run by Parks Canada interpreters, joining an interpretive program at Elk Island National Park is an amazing way to learn about the park and the plants and animals that call it home. There are plenty of programs to choose from both on weekdays and on weekends in the warmer months, including ones about bison conservation, archeological digs, why beavers are called "ecosystem engineers", and so much more.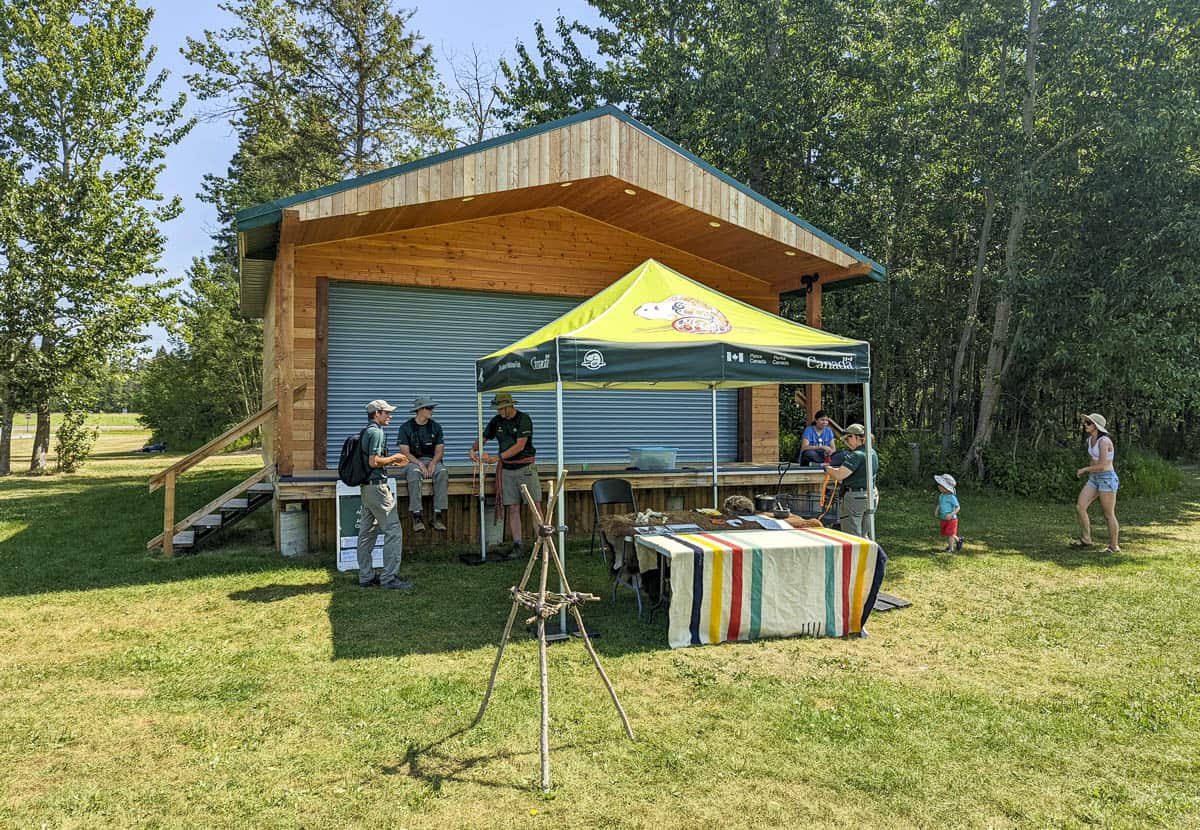 Kids will love the "daily discoveries", as you never know what the afternoon's adventures will hold. Our favourite program in Elk Island National Park? Definitely the evening programs around the campfire, where you can hear stories about the rise and fall of bison or about the stars above. Make sure to arrive early in order to secure a spot!
Grab Your Bike and Cycle the Trails
For an amazing way to see the park and get some exercise as well, try cycling in Elk Island. As there are paved roads and speed limits of 40km, it makes for an enjoyable ride. You can also go off-road, with a few trails such as Moss Lake Loop and the Shirley Lake Trail being popular choices. Make sure you're up to date with bison safety and always try to stay at least 100m from any of the bison you may encounter along your route.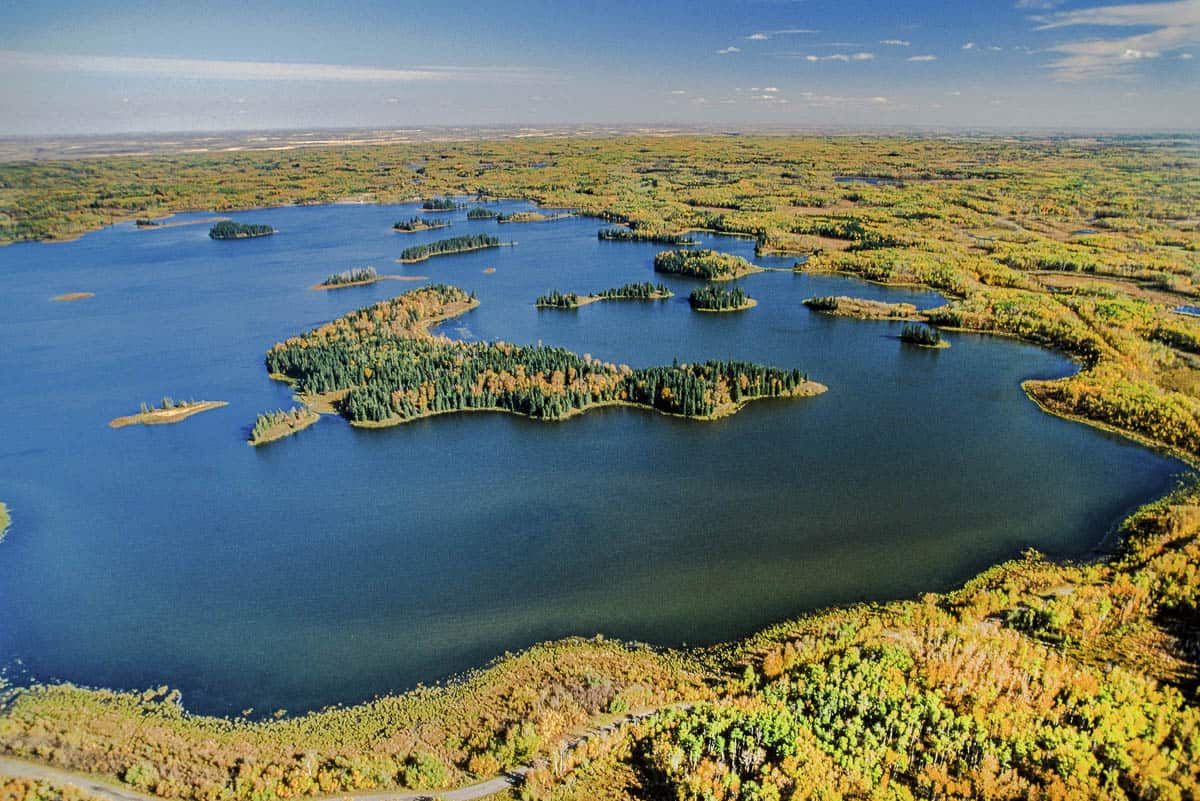 Stargaze and Maybe See the Northern Lights
Elk Island National Park is part of the Beaver Hills Dark Sky Preserve, making it a great place for stargazing and night sky watching. Thankfully, the park is open all day every day, meaning you can take advantage of a clear sky any night of the year. It also happens to be one of the best spots for viewing the northern lights in Alberta, as it's an easy and quick drive to get away from the big city lights of Edmonton that could hamper the view.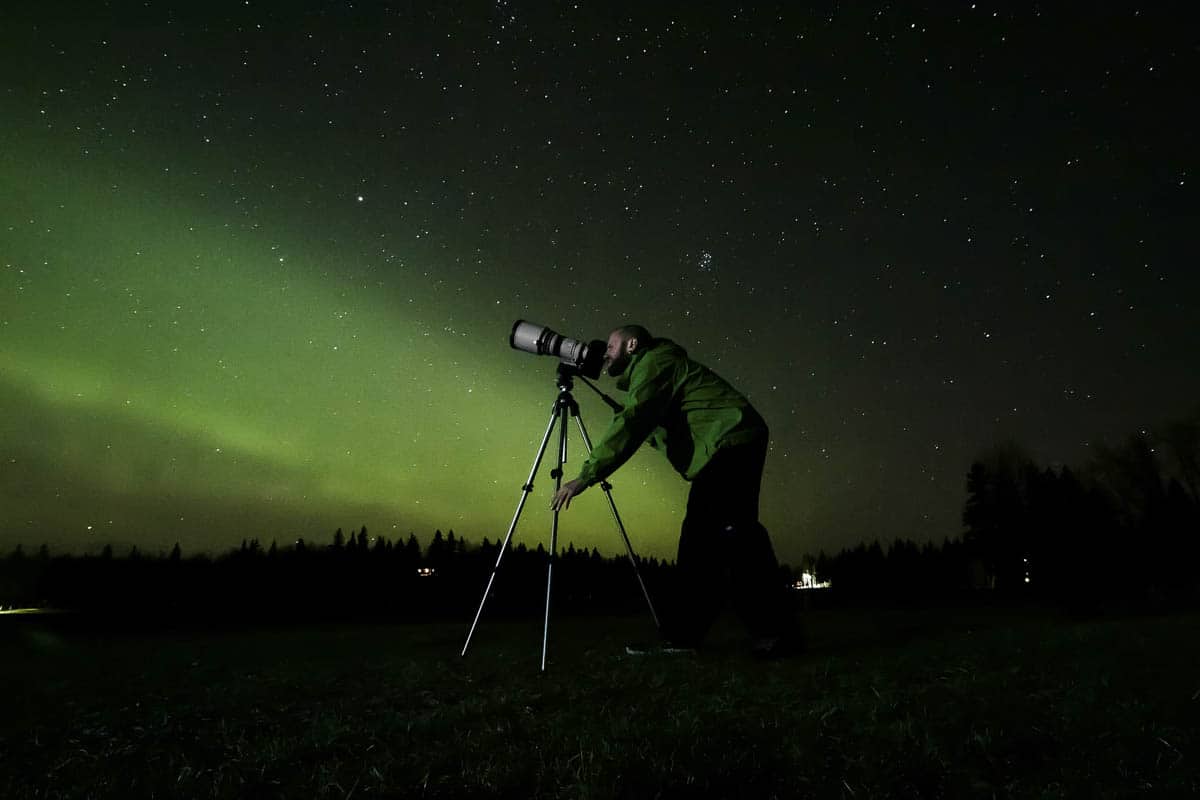 Make sure to dress appropriately; even on a hot summer's day, the temperatures can become quite chilly at night, especially near the lake.
Go Cross-Country Skiing or Snowshoeing
Elk Island National Park isn't just a place to visit in the warmer months… it's an excellent destination in the winter months, too. With plenty of cross-country skiing and snowshoeing trails, you can explore the park in the snow for a beautiful new perspective. You can even rent snowshoes from the Astotin Lake Campground kiosk from 9:30 am to 4:30 pm daily. Just remember to dress warmly!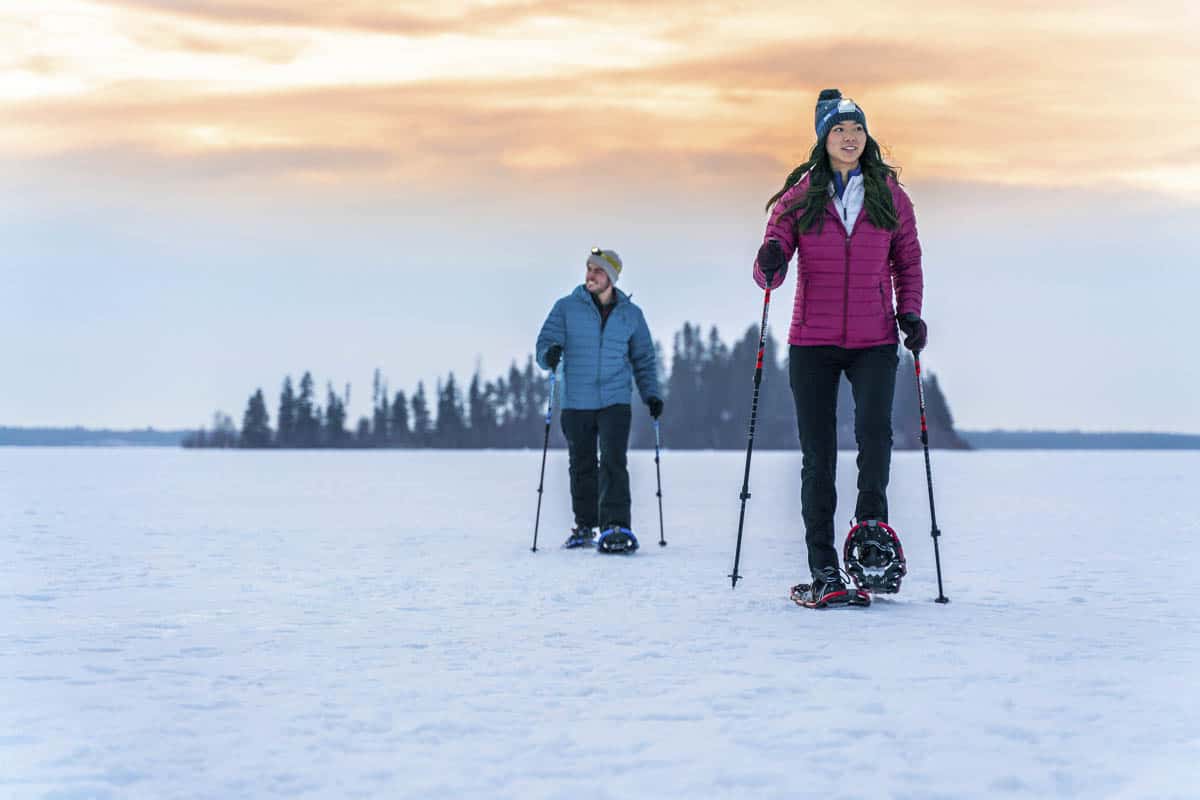 Ice Skate on Astotin Lake
Similarly, the lake isn't just for summer sports! Once Astotin Lake is frozen over, ice skating here is extremely popular. You'll often see a group of people playing hockey on the lake, so don't hesitate to bring along your sticks. Another incredible way to experience Elk Island National Park in winter? Go ice skating at night under a blanket of stars, one of the most romantic evenings we can imagine.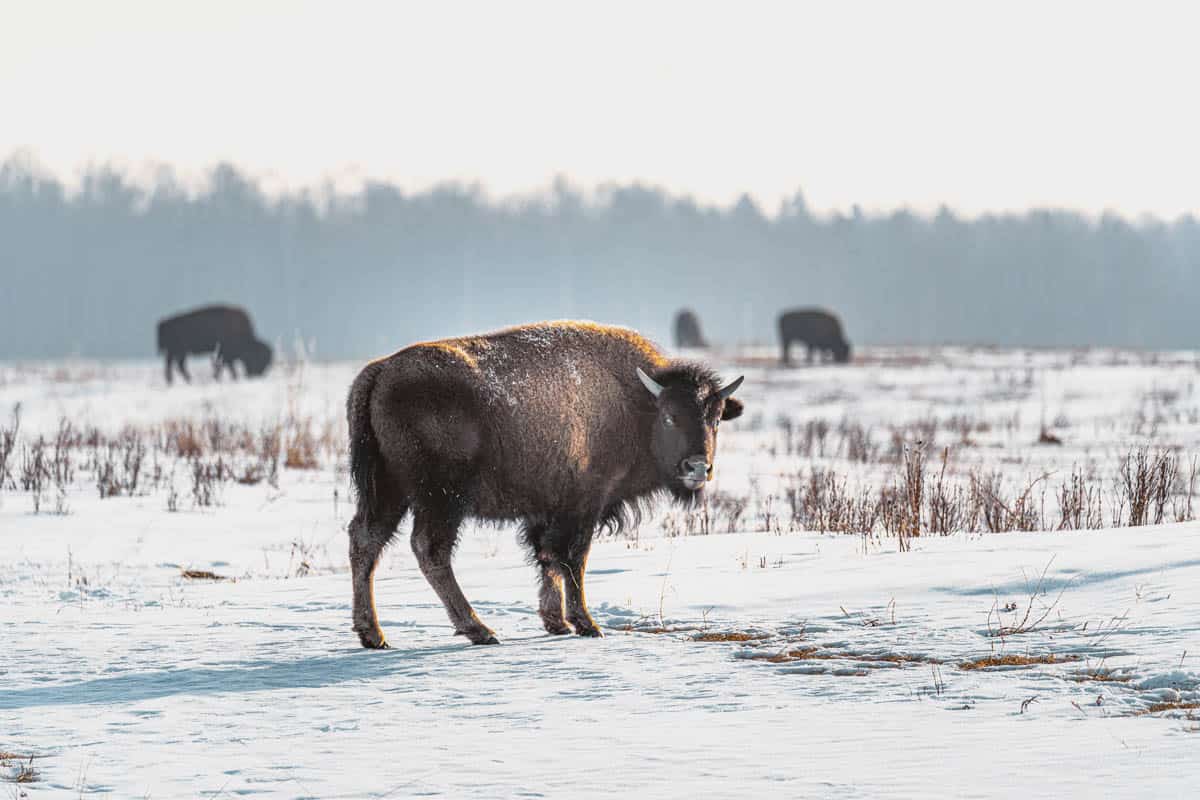 If you're planning to base yourself in the capital city before visiting Elk Island National Park, don't miss out on these resources: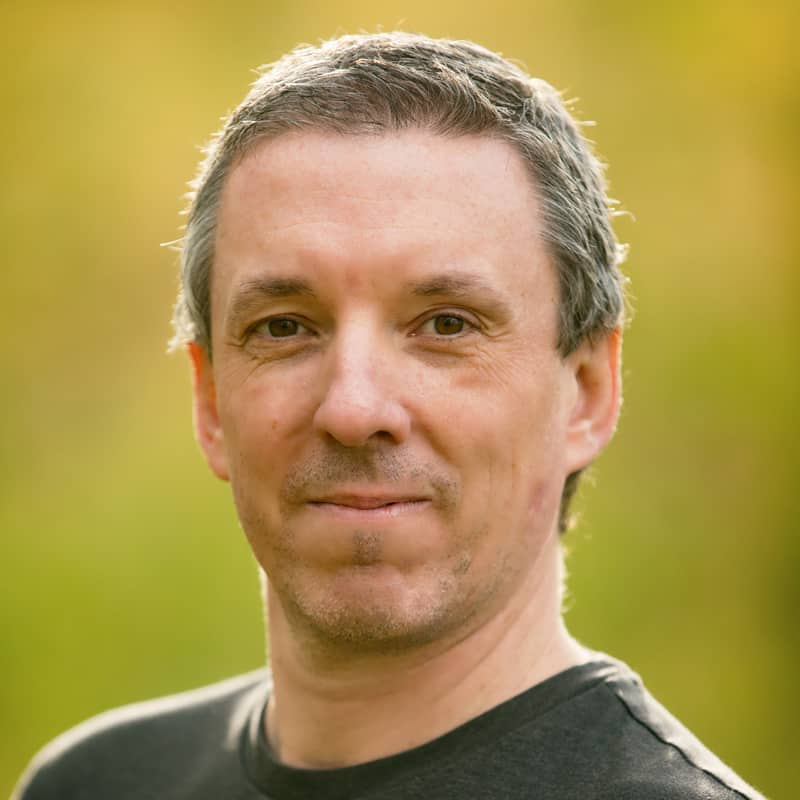 Pete is a co-founder of Road Trip Alberta. Growing up in Edmonton he has an extensive knowledge of Alberta and everything the province has to offer. He loves to eat good food, hike (especially in the winter), play tennis and curl. Apart from running Road Trip Alberta, he is a director with HMI, a digital media agency, half of the Hecktic Travels duo, and a co-creator of the popular card game Trip Chaser.