Disclaimer: This page may contain affiliate links. Please review our full Terms and Conditions for more information and our Privacy Policy. Note that any pricing, operating hours, or other such information provided below may have changed since initial publication.
Compiled by the Road Trip Alberta team
Last updated on January 26, 2023
While Alberta's capital city has plenty to offer on its own, if you want to escape the bustle of the city for a day during your trip, there are many options to choose from. Day trips from Edmonton can include bison-spotting, exploring a cultural heritage village, or strolling on a beach! Those activities (and much more) are all possible.
So pack up early from your Edmonton hotel and hit the road for a unique experience in the areas surrounding the city.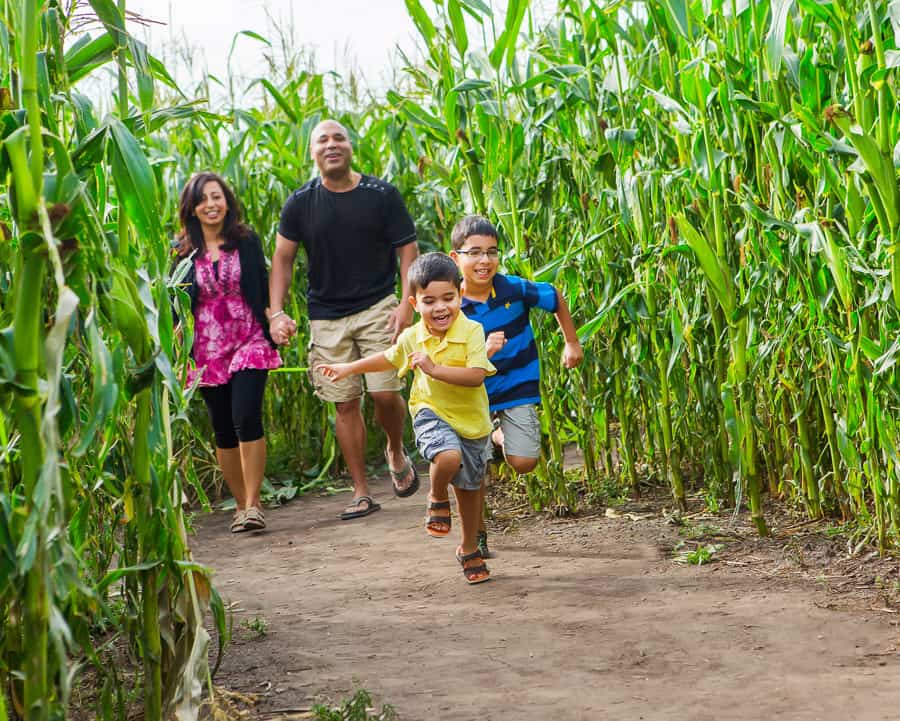 Ideas for Day Trips from Edmonton
A Ukrainian Tour including the Ukrainian Cultural Heritage Village
With hundreds of thousands of people claiming Ukrainian heritage in the province, Ukrainian immigration has played a huge role in shaping Alberta's cultural identity. Explore that side of Alberta's culture with a day trip to the Ukrainian Cultural Heritage Village, a living museum found approximately 45 minutes east of Edmonton. There, you can walk through more than 40 authentic homes and buildings restored to their original early 20th-century appearances, or visit the main museum to learn about Ukrainian history through exhibits and galleries. The Ukrainian Cultural Village is open from June to September – Wednesday to Sunday and visitors should plan for two or three hours to tour the museum and see all the buildings.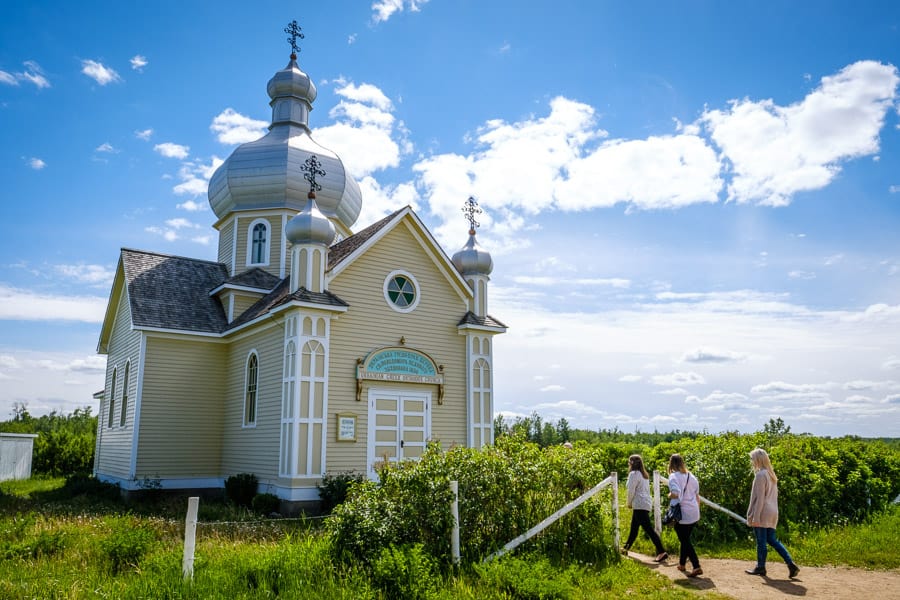 But the Ukrainian tour doesn't have to stop there! Other notable Edmonton day trips for a Ukrainian experience include a visit to the Glendon Pyrogy (the world's largest pierogi sculpture), the Vegreville Pysanka (a giant Ukrainian-style Easter egg), and a taste of the world-famous Mundare sausage (found at Stawnichy's Mundare Sausage).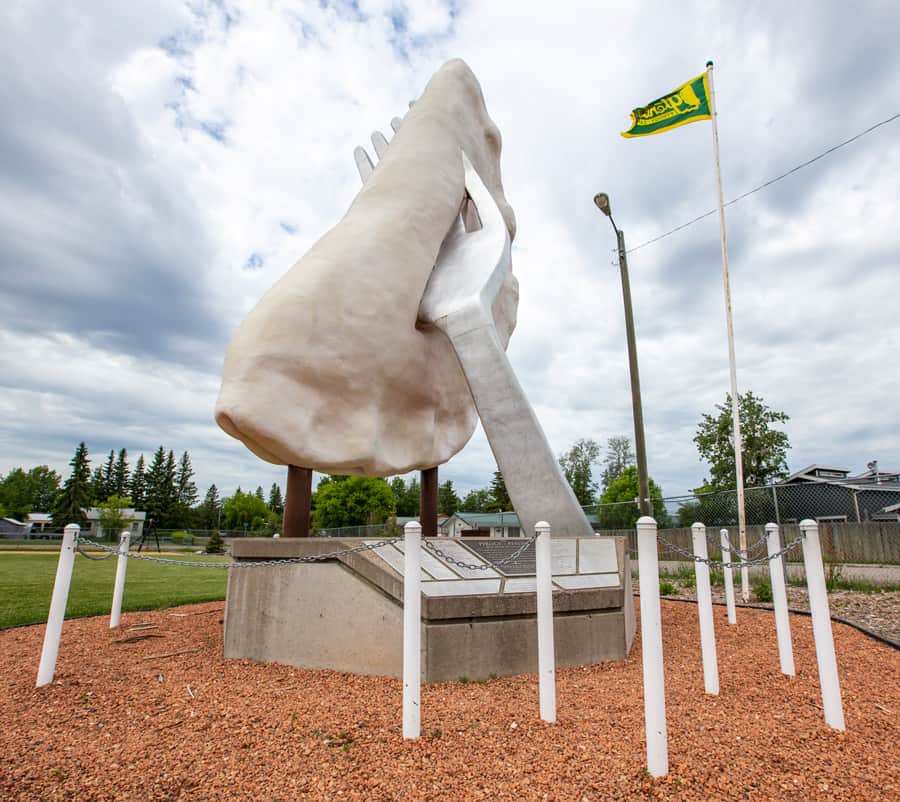 Elk Island National Park
Found only a half-hour drive east of Edmonton, Elk Island National Park is one of our favourite day trips from Edmonton. Perfect for families, the park focuses on the conservation of the Plains bison. A refuge for bison, elk, and more than 250 types of birds, the park is excellent for wildlife viewing, stargazing, picnicking, cycling, and even camping. It's also a fantastic spot for viewing northern lights in Alberta so be sure to check the forecast.
Hikers will love the 80 kilometres of trails to explore, while kids will absolutely love witnessing a "bison traffic jam" – a herd of bison crossing the street – all from the safety of your vehicle. If you're looking for a reprieve from city life, Elk Island National Park might just be it.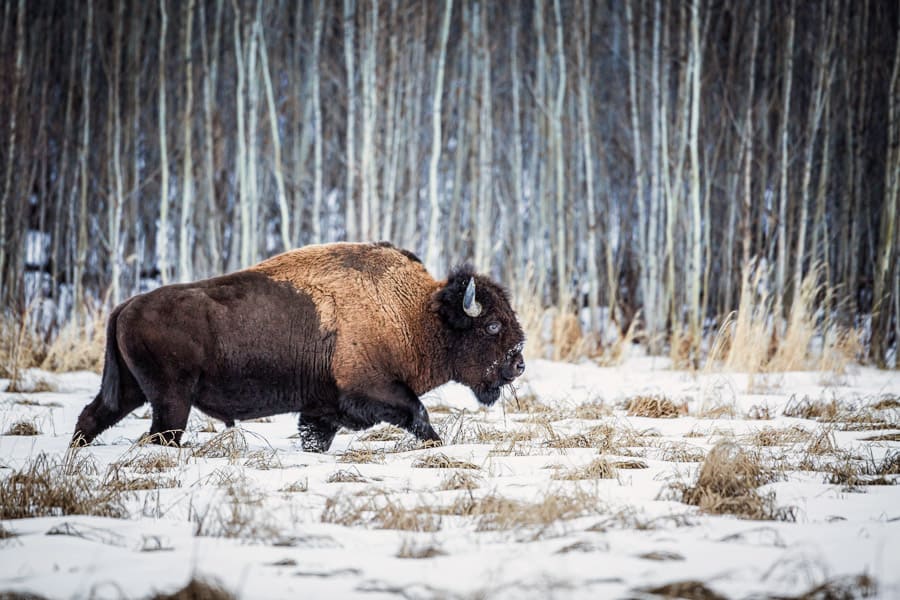 Anthropological History in Alberta
With such rich and diverse anthropological history in Alberta, it's hard to pinpoint exactly the best day trips from Edmonton to experience it for yourself. The Historic Markerville Creamery Museum, approximately two hours south of Edmonton, is a terrific place to start.
Head to this traditionally Icelandic community where you'll see the original building and learn about butter production in the early 20th century. Just make sure to enjoy an ice cream afterward! You can also visit nearby Stephansson House, once the home of Icelandic poet Stephan G. Stephansson. Often called the "Poet of the Rocky Mountains" this farmer by day, poet by night was inspired by the natural beauty of Alberta.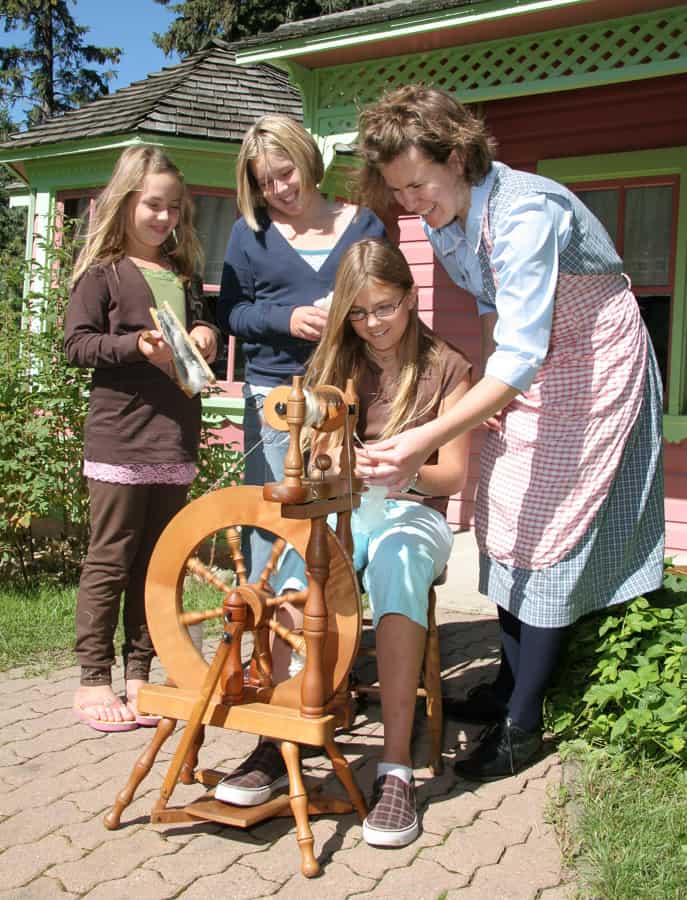 If you're interested in the Indigenous history in Alberta and don't mind a slightly longer road trip, head south of Edmonton to Sundre. Here you'll find guided tours through the Mahikan Trails, where you can learn about the significance of the nature that surrounds you.
You can also head to the Painted Warriors Indigenous Outdoor Experience, a place to experience the traditional and present-day lifestyle, skills, and activities of the Saulteaux and Cree peoples of Alberta. (This is one of many exceptional Indigenous experiences in Alberta.)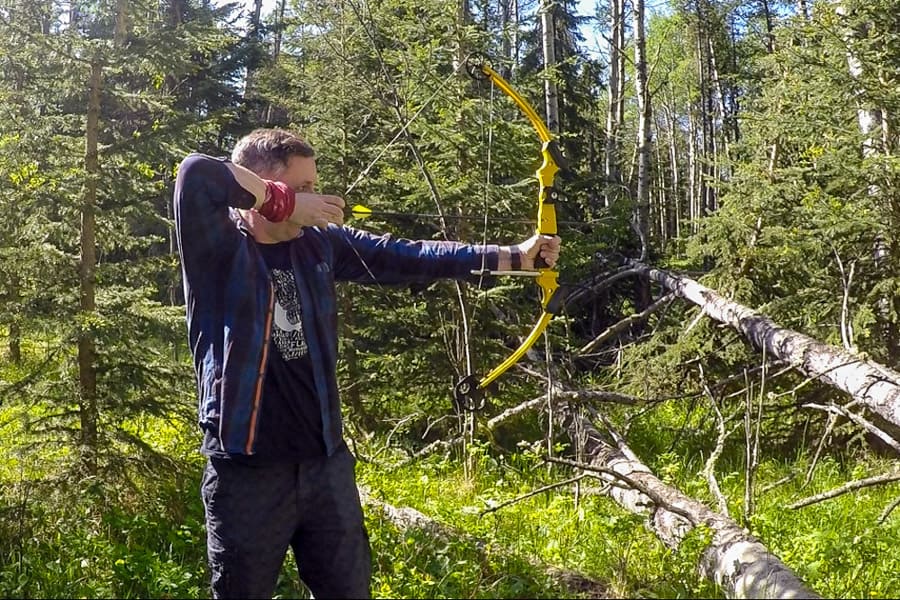 Sylvan Lake
We shouldn't play favourites, but one of our top picks for day trips from Edmonton has to be Sylvan Lake. Less than a couple of hours from Edmonton (south), this town has it all: superb shopping and great restaurants in Sylvan Lake, gorgeous views over the water, and plenty to do.
In summer, spend your day on the lake in a kayak or stand-up paddleboard, while in winter, take advantage of the local rentals of snowshoes and ice-fishing shacks. With a golf course, farmer's market, and aquatic playground on the lake, it's almost guaranteed there's something for everyone in Sylvan Lake.
Nearby, you'll also find Sylvan Lake Provincial Park, where you'll find fantastic walking and hiking trails, a beach, and picnic spots (though be warned, the beach gets busy on the weekend!). All in all, a visit to Sylvan Lake is worth the road trip. For more info, check out our article on all the fun things to do in Sylvan Lake.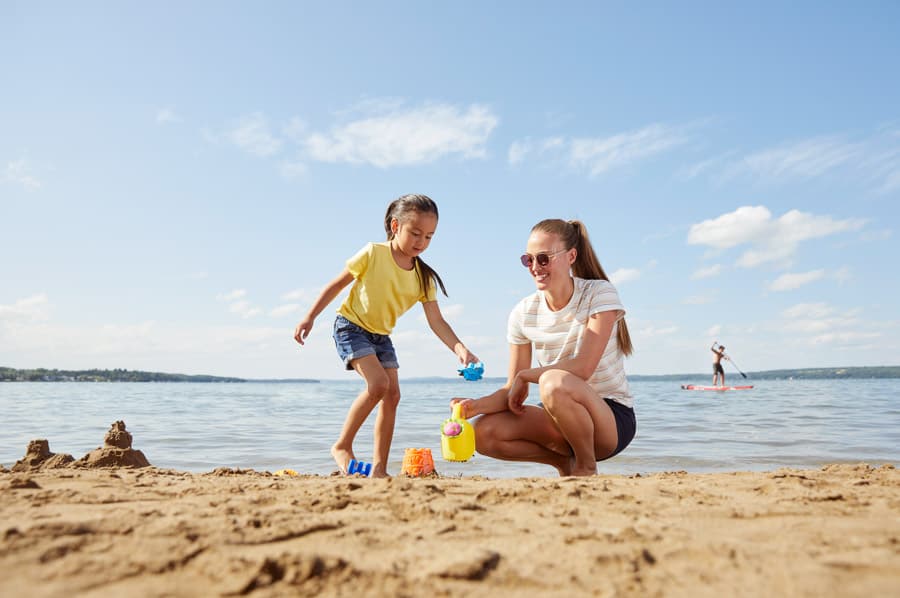 Lacombe
About an hour and a half south of the city, Lacombe is an amazing choice when it comes to day trips from Edmonton. A walk through Lacombe may feel as though you've stepped back in time, especially when you head to the Blacksmith Shop Museum or Michener House Museum, or if you sample some of the farm-to-table cuisines served at local restaurants and the farmer's market.
A real highlight of a trip to Lacombe is a visit to the Kraay Family Farm; in summer, the farm is home to a giant corn maze, tractor pull, petting zoo, mini-golf, obstacle courses, and so much more, making it an amazing place to take children.
Lacombe is also the site of Alberta's first provincial park: the Aspen Beach Provincial Park. Gull Lake continues to be a popular vacation spot within the park; head here for a day on the beach, where you'll find a boat launch, picnic tables, fire pits, and a play area for the kids.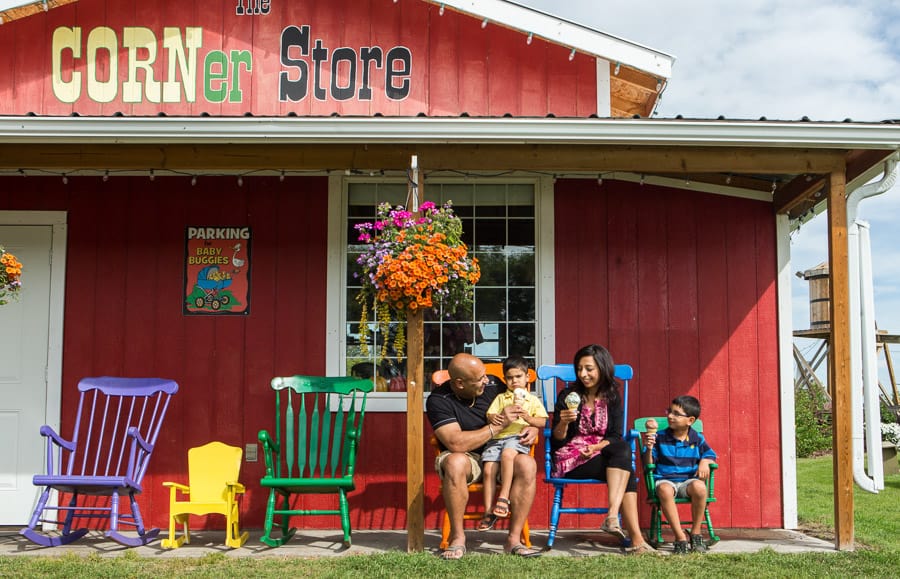 Leduc
Just south of the city, a visit to Leduc is one of the best things to do near Edmonton. Leduc's Main Street alone could keep you busy for a day… think bakeries, a craft brewery, and restaurants serving cuisine that represents the diverse immigrant history in Canada. Shopaholics will love the range of local boutiques, selling everything from vintage clothing to sustainable bath products to Canadian-made housewares, while nature enthusiasts will enjoy the scenery, wildlife, and water activities available at Telford Lake.
A city that prides itself on its artistic inclinations, expect to see a lot of musical instruments around town, too; xylophones, drum sets, and sound tubes are installed all over the city to encourage people to play, have fun, and make some art of their own. We'd say that this makes a day trip to Leduc perfect for kids, but let's face it, adults will find the instruments just as fun!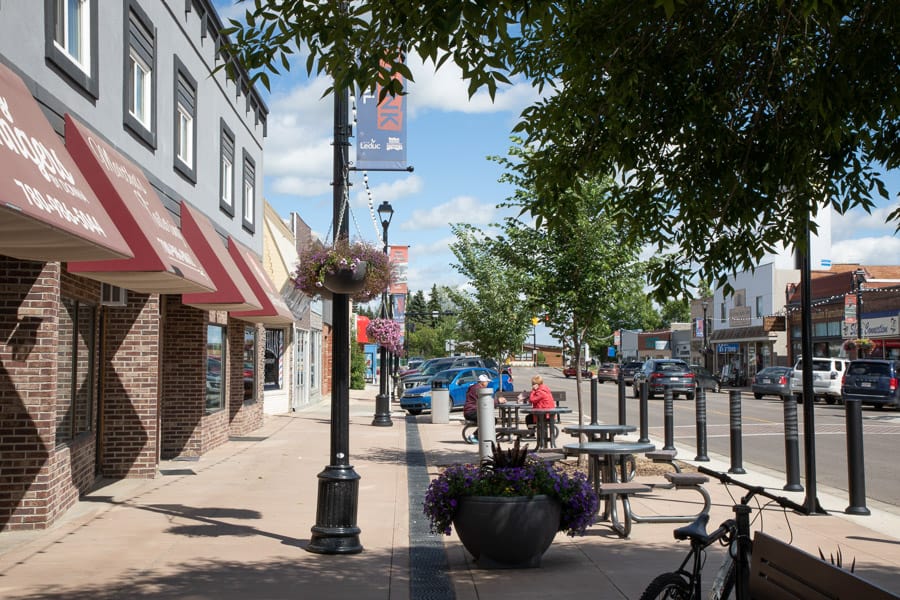 Wetaskiwin
Coming from the Cree word wītaskiwinihk, meaning "the hills where peace was made", Wetaskiwin is a small city about an hour's drive south of Edmonton. History buffs will love exploring the community, as it's home to Canada's Aviation Hall of Fame, the Wetaskiwin District Heritage Museum Centre, and the Reynolds-Alberta Museum, where you'll find an outstanding collection of antique planes and automobiles.
Nearby, you'll also find the Alberta Central Railway Museum, a charming railway museum featuring the history of the rail and grain industries in Central Alberta and their impact on Canada as a whole.
But there's more than just museums – there are lots of fun things to do in Wetaskiwin. Spend some time in the local cafés and coffee shops, go for a walk in By-the-Lake Park, shop at Wild West Gallery for Indigenous art and jewelry, and head to the water tower in town, one of the oldest in Canada.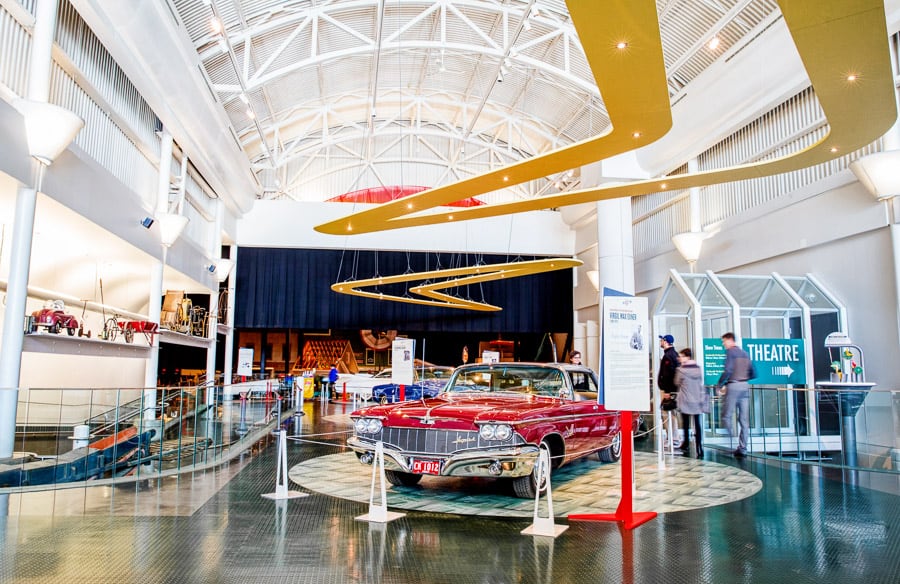 Jurassic Forest
Perfect for a fun day trip with the kids, you'll find Jurassic Forest about 40 minutes north of Edmonton. This 40-acre prehistoric reserve is home to a beautiful boreal forest and, most excitingly, dozens of animatronic dinosaurs that can be seen from wooden trails (wheelchair and stroller friendly).
Known as THE spot to learn about dinosaurs in Canada, Alberta naturally has plenty of opportunities to study extinct animals, and Jurassic Forest is no exception. It's quite the thrill to walk through the forest and see what life may have been like for these Jurassic creatures! Both educational and entertaining, this is one of our favourite day trips from Edmonton and you can spend hours exploring one of the best interactive experiences in all of Western Canada.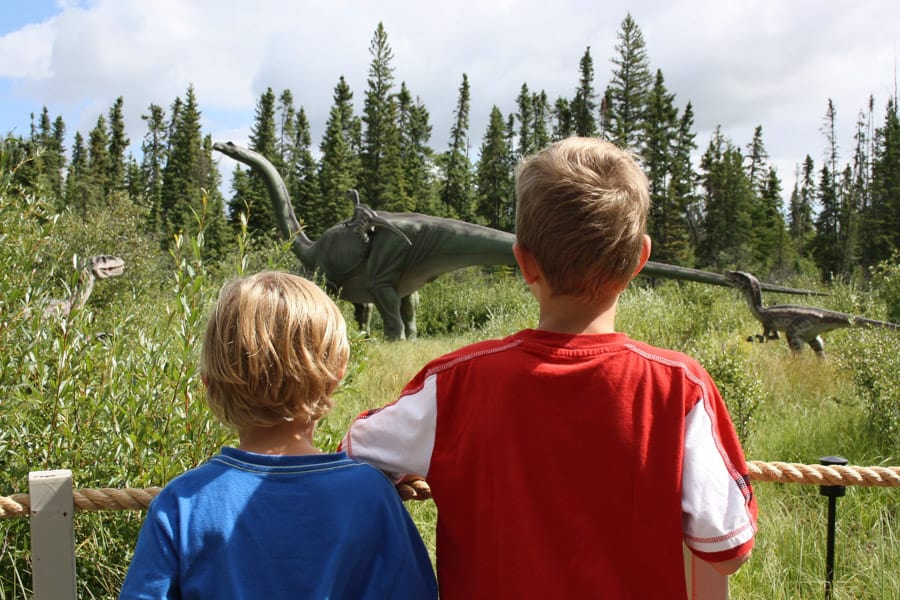 University of Alberta Botanic Gardens
The University of Alberta Edmonton Botanical Gardens is Alberta's largest botanic garden, and it's certainly worth taking the time to explore. Found a short distance west of Edmonton, the 97 hectares are filled with botanical beauty representing the best of Alberta and around the world. Spend several hours or a whole day in nature as you picnic, walk along the trails, and take in one of the many exhibits or specialty gardens, including the Kurimoto Japanese Garden, the Indigenous Garden, and the Aga Khan Garden. Book a twilight picnic experience in June or July to celebrate a special occasion, or take advantage of one of the many events that take place all summer.
In the colder months, head to the University of Alberta Botanic Garden to participate in Luminaria, where all of the trails become illuminated with lights and candles to create a magical winter wonderland.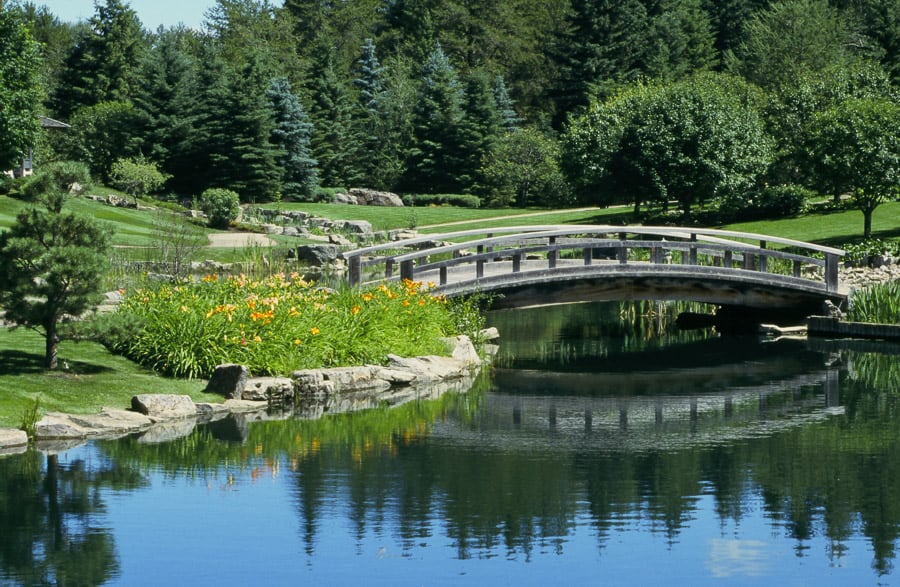 UFO Landing Pad
A UFO Landing Pad? In Alberta? That's right, about two hours east of Edmonton you'll find this quirky landmark in the town of St. Paul. Perhaps one of the most fun and unusual Edmonton day trips, the landing pad was proposed and approved in 1967. Although it's yet to be used… one never knows when it might come in handy!
While you're not on the search for Martians, explore the town, play a round of golf at the St. Paul Golf Course, or wander through one of the local museums.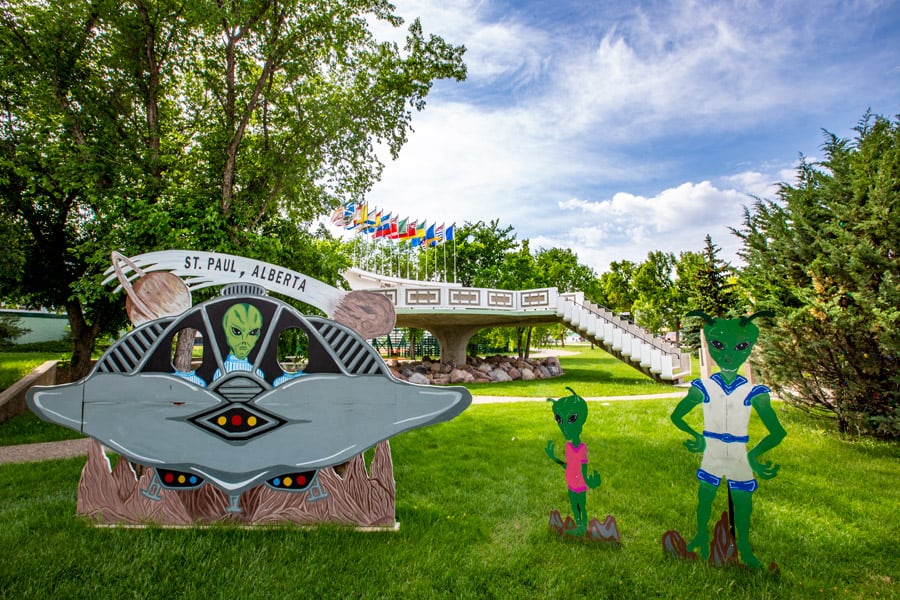 Hiking in Athabasca
Don't be fooled into thinking that all the best hiking in Alberta is done in the Rockies. There are great hiking day trips from Edmonton, too! Your best bet is to head north of Edmonton to the Athabasca region, where you'll find plenty of hiking trails with beautiful views over Central Alberta, including Poacher's Landing, Peace River Trail, Muskeg Creek Trail, and the Athabasca Landing Trail. Many of the trails are also used as biking trails in summer, while snowmobilers will love the region in winter.
Most trails include interpretive signage to explain the history of the region and the wildlife you may spot along the way. Pack a picnic, enjoy the fresh air, and spend a few hours in nature to relax and rejuvenate.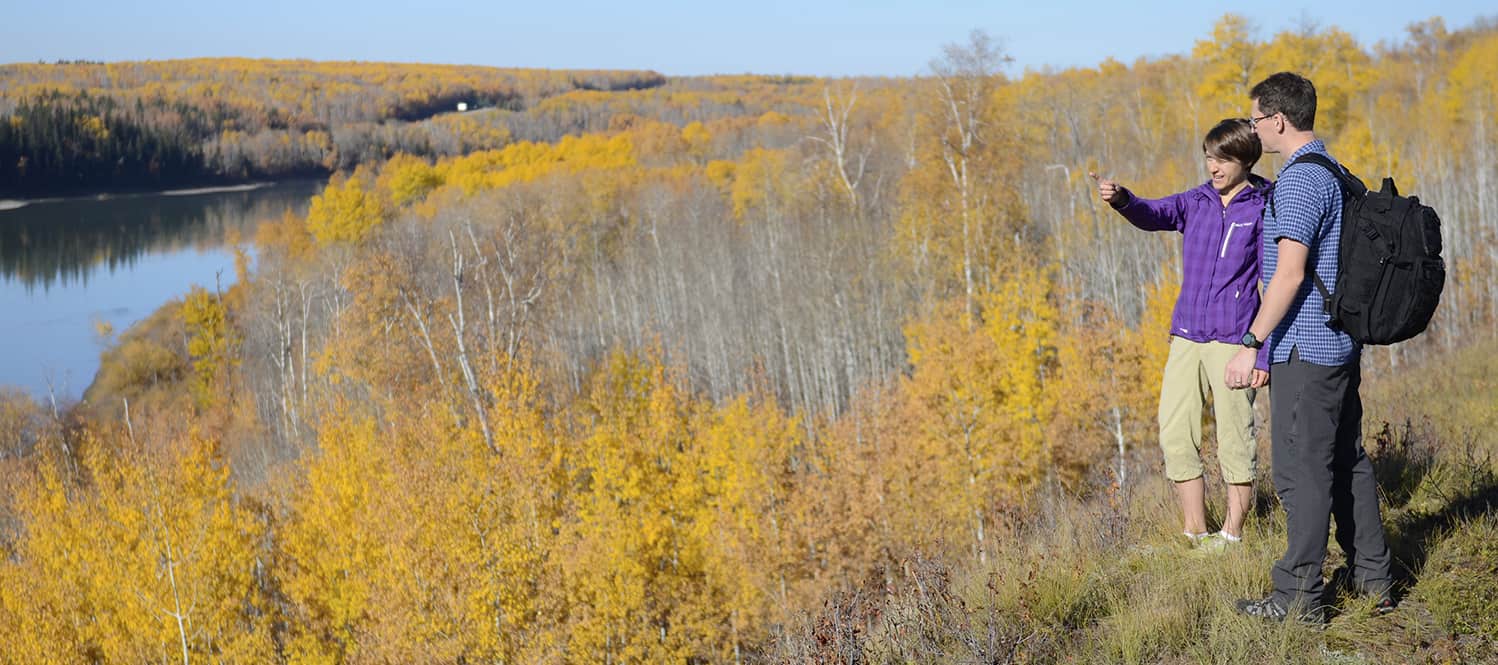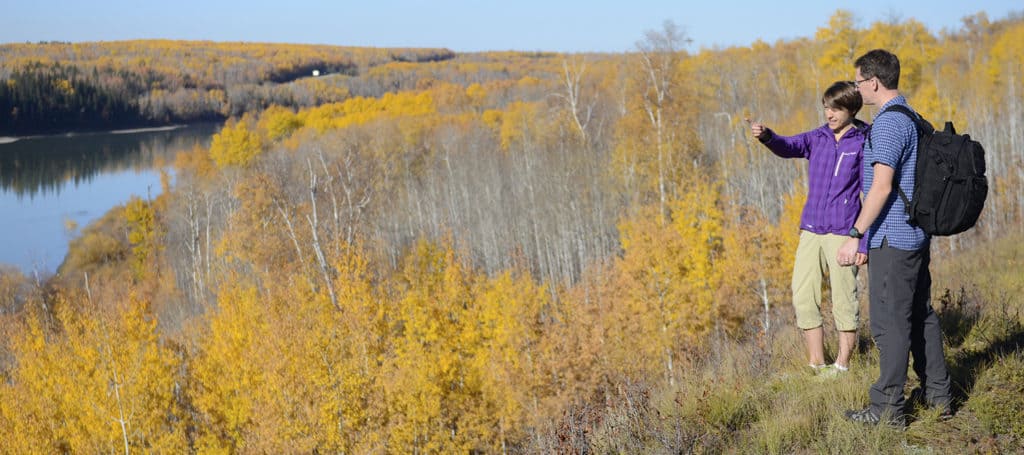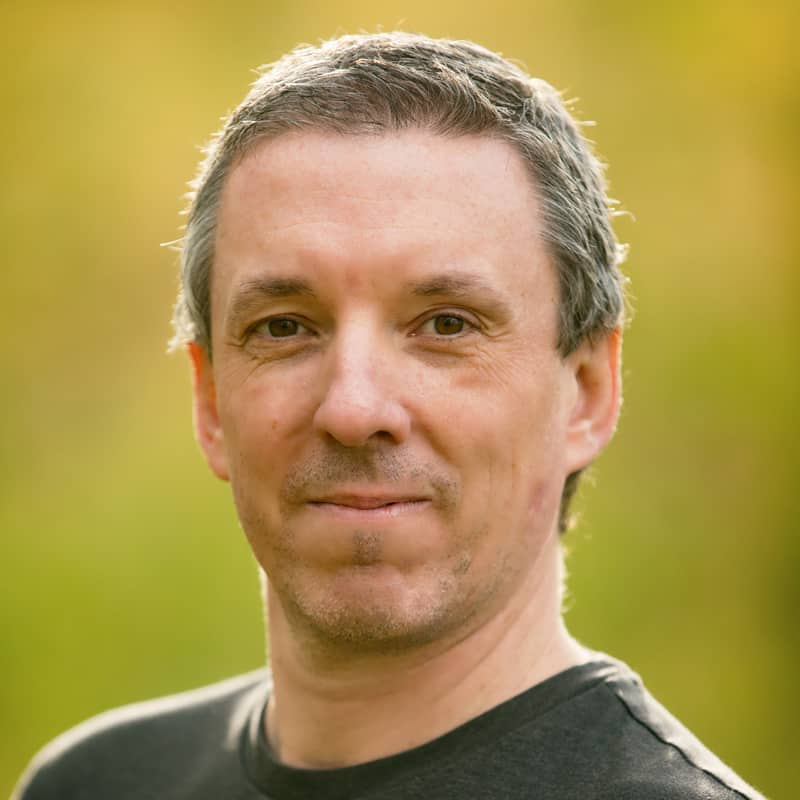 Pete is a co-founder of Road Trip Alberta. Growing up in Edmonton he has an extensive knowledge of Alberta and everything the province has to offer. He loves to eat good food, hike (especially in the winter), play tennis and curl. Apart from running Road Trip Alberta, he is a director with HMI, a digital media agency, half of the Hecktic Travels duo, and a co-creator of the popular card game Trip Chaser.