Disclaimer: This page may contain affiliate links. Please review our full Terms and Conditions for more information and our Privacy Policy. Note that any pricing, operating hours, or other such information provided below may have changed since initial publication.
Words and Photos by Chelsey and Kurtis Hawkins
Last Updated on January 23, 2023
How often do you really get to see your hometown as a tourist? I was born and raised in Lacombe but moved away over a decade ago. Since then, my time spent there has been to visit family during holidays. However, recently my husband and I had the chance to visit the area through the lens of a tourist and compile a list of what we believe to be the best things to do in Lacombe County.
The community has evolved so much in the last decade that it truly did feel like a new experience.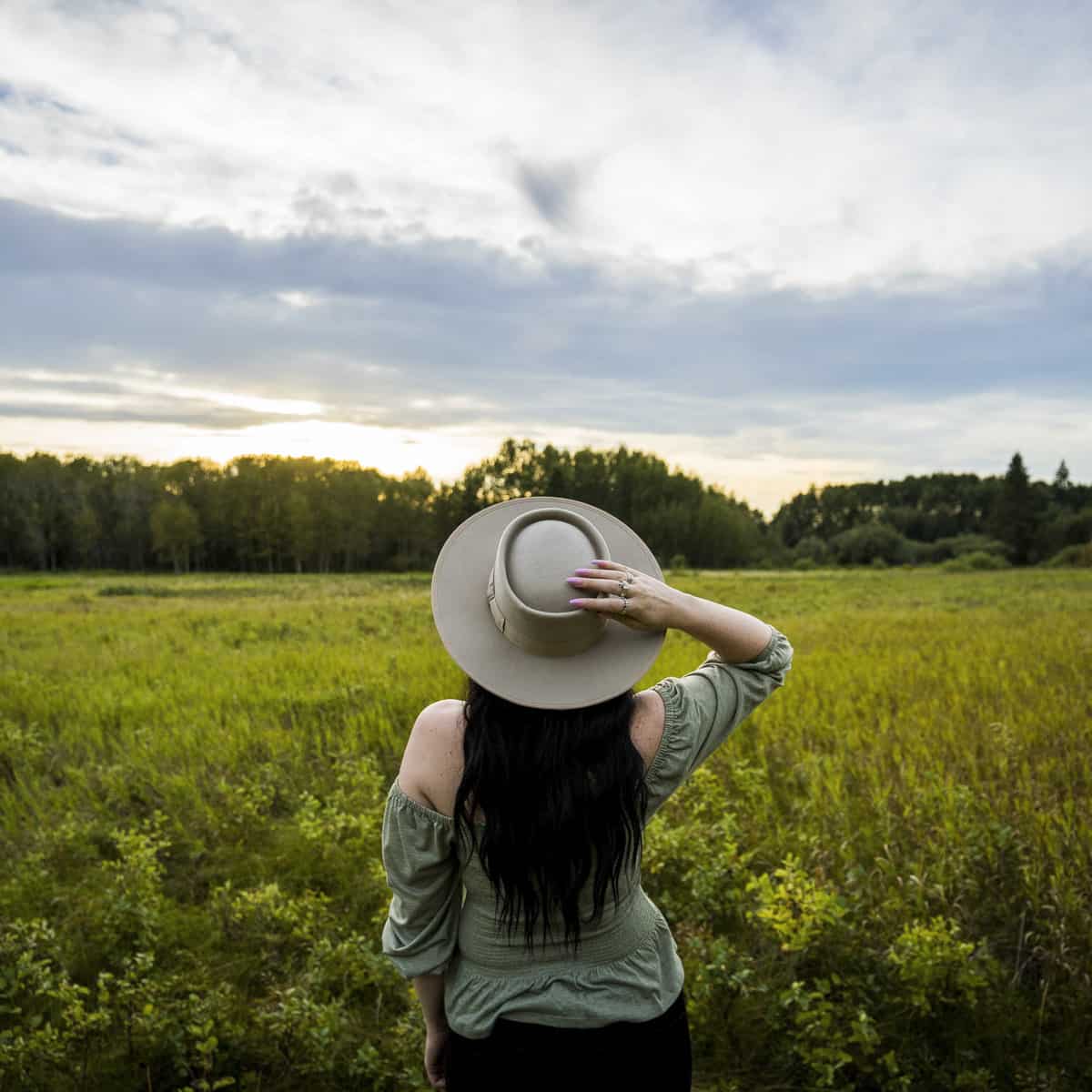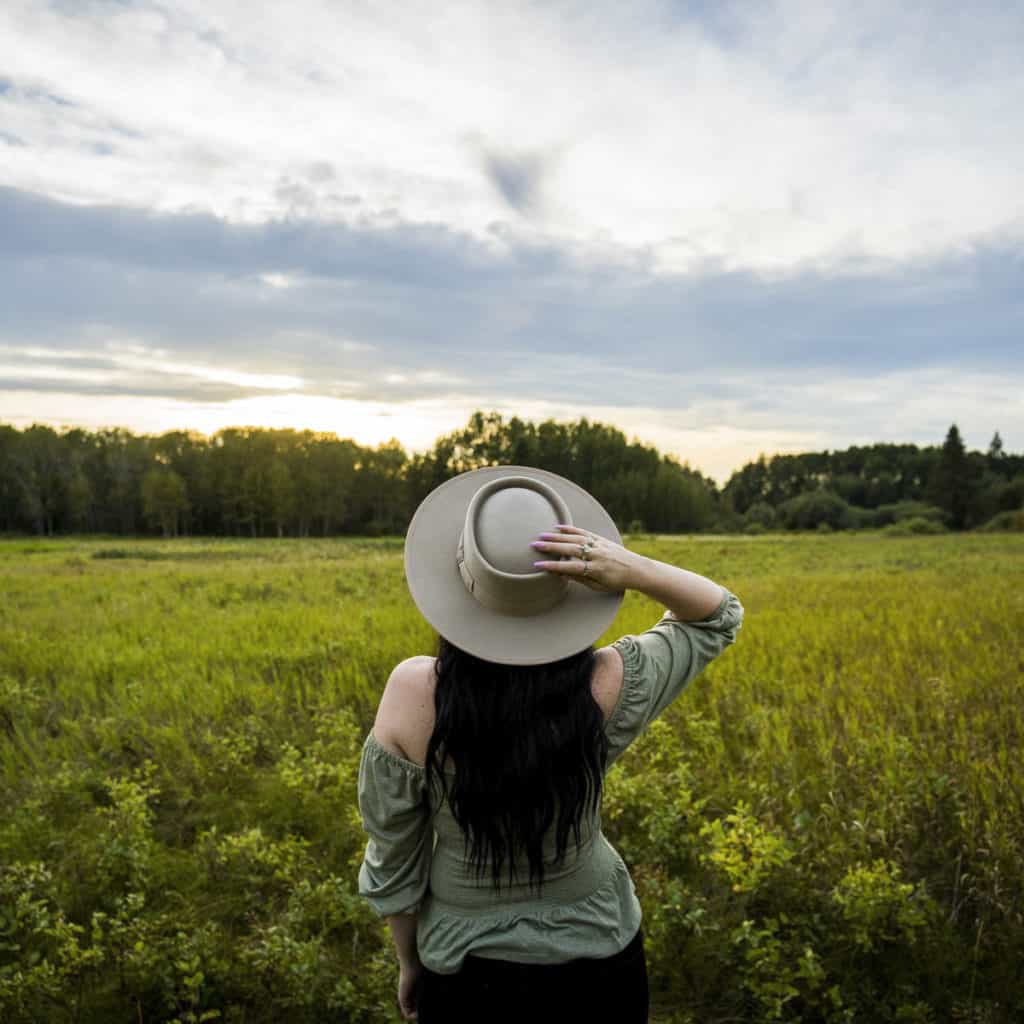 About Lacombe County
Lacombe County is located in central Alberta, almost exactly smack dab between Edmonton and Calgary. Within the area are more than 5 different communities, the largest of which is the city of Lacombe. The area has scenic lakes, nature preserves, charming communities, exciting businesses, and even a world-record-breaking attraction.
The area stretches west past Eckville and as far east as Mirror. It also borders three of the largest (and arguably best) lakes in Central Alberta. Gull Lake, Sylvan Lake, and Buffalo Lake are great for boating, fishing, or even for a beach day.
To explore the area, we recommend using the city of Lacombe as a hub and making day trips to surrounding communities from there. You will have no problem finding dining options in the surrounding communities, however, Lacombe offers the best options for accommodations.
Best Things To Do in Lacombe County
Explore Downtown Lacombe
Lacombe's historic downtown is one of the most charming small city centers in the province. There are coffee shops, retail stores, restaurants, museums, and parks all located within a few small blocks of each other.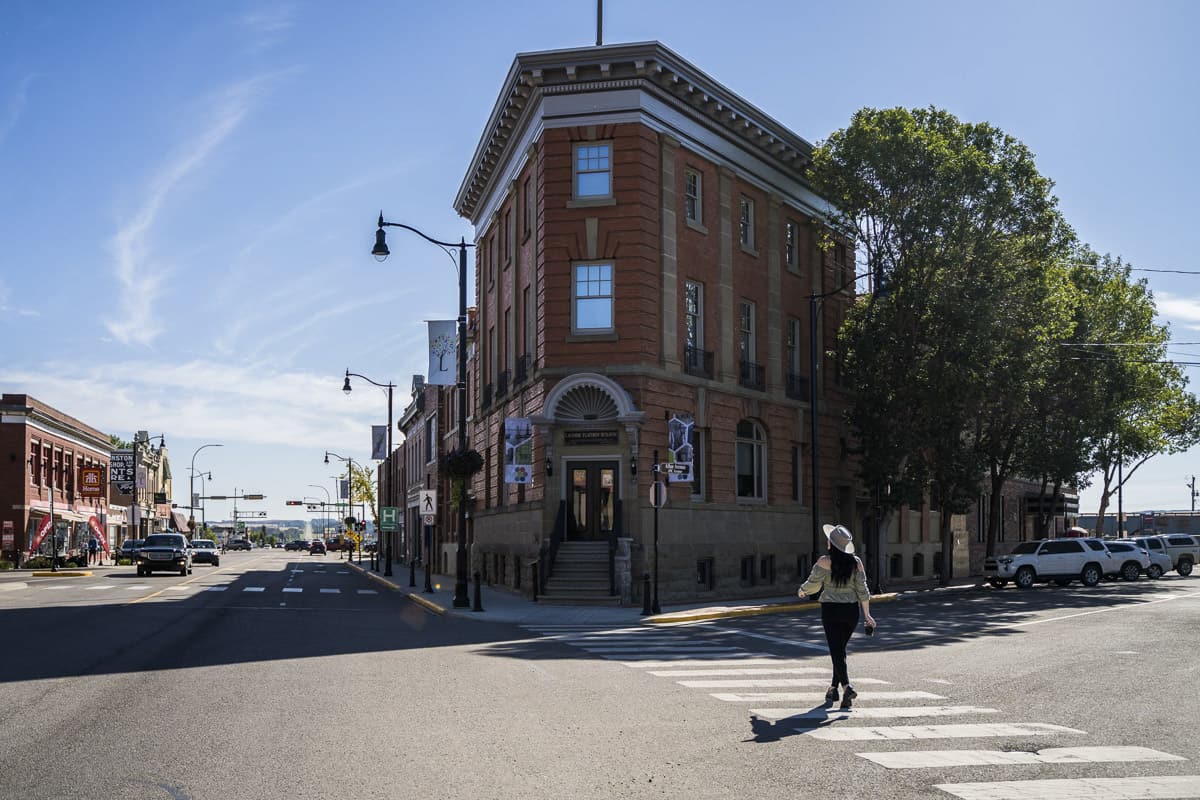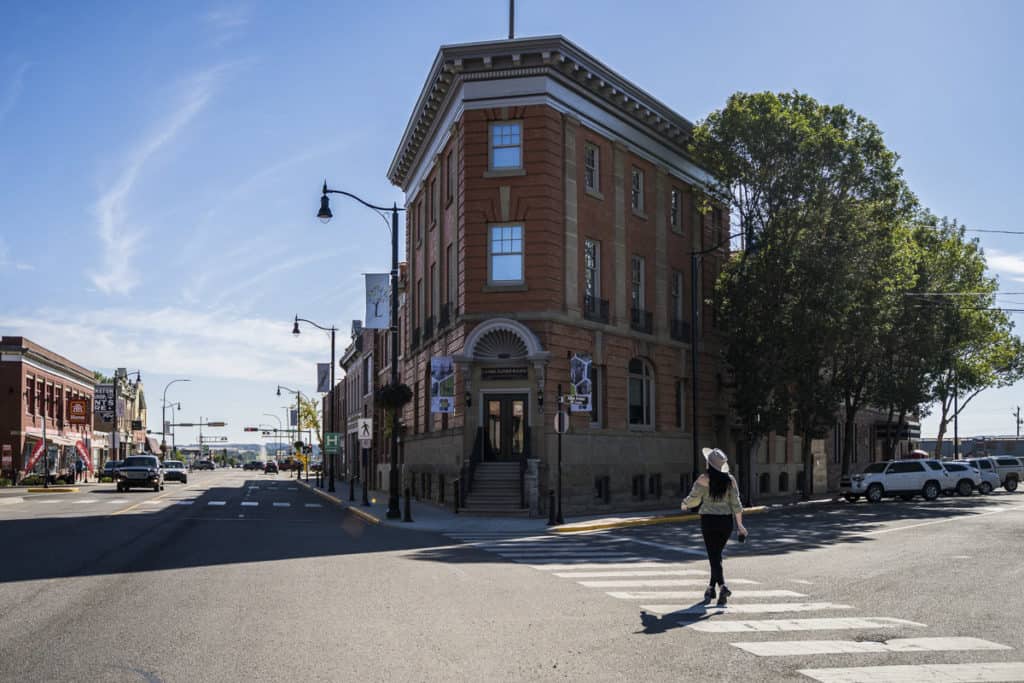 The community has done a great job of ensuring that historical architecture is preserved, making it so incredibly picturesque. The streets are walkable and local businesses and attractions are abundant. We even stumbled upon a blacksmith museum where students were hard at work.
Lacombe has also given itself the title Mural Capital of Alberta and rightly so – there is an abundance of them! These murals are meant to give you a glimpse of what the street and communities may have looked like during different decades. Take a self-guided tour through the murals to acquaint yourself with them.
Visit the World's Largest Fishing Lure
Proudly manufactured in Lacombe since 1929 are Len Thompson fishing lures – so this is the perfect spot to plant the world's largest fishing lure as recognized by the Guinness Book of World Records. It is pretty new – having only been completed in 2019 – and beat out the previous record-holder by almost 25 feet! The lure is located next to a stocked trout pond, and the pond is catch-and-release only, providing anglers with access to great recreational fishing within the city limits.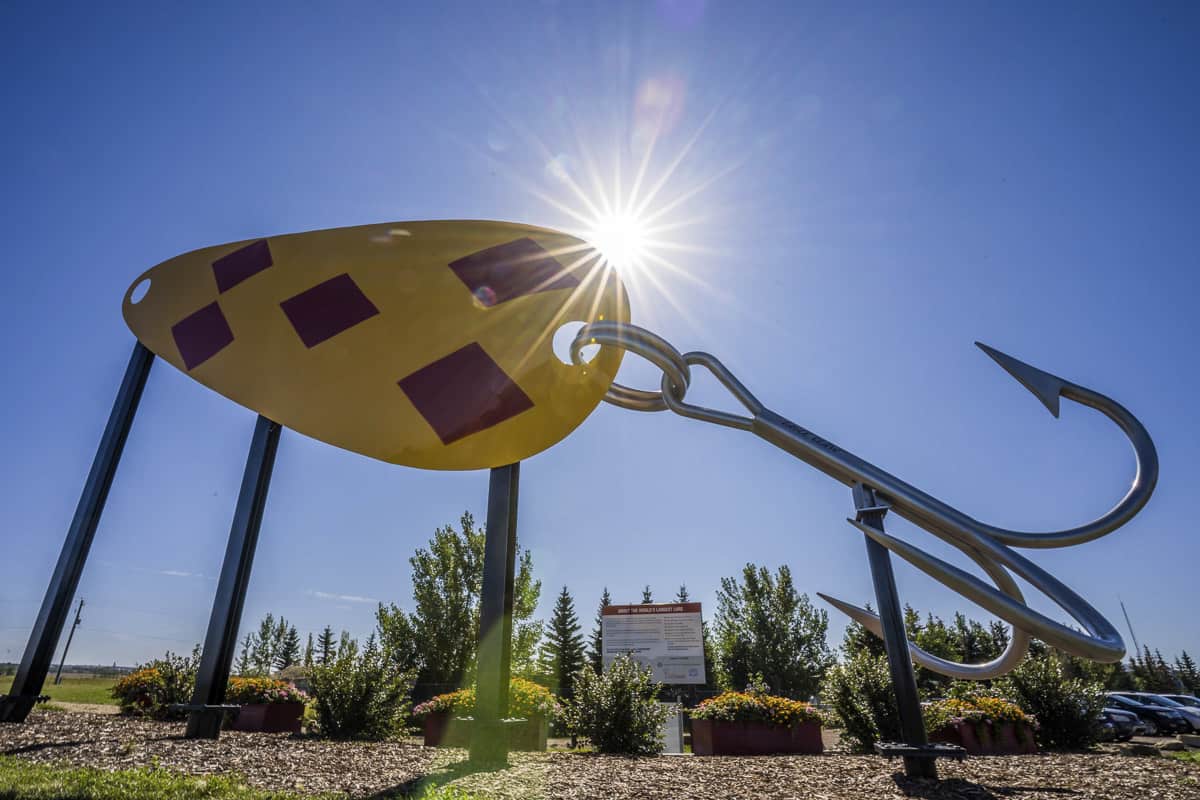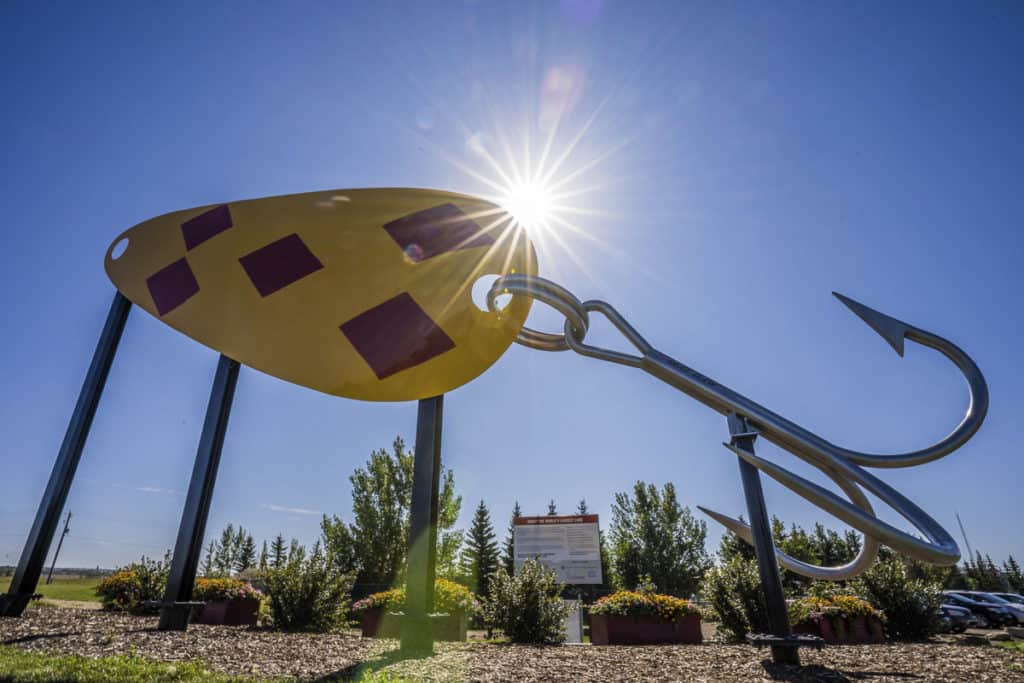 Location: From Hwy 2A head East on Wolf Creek Drive, and turn North (left turn) onto Len Thompson Drive. The Len Thompson Trout Pond (and the World's Largest Lure) is located at the end of the road. Public parking is available.
Sample Craft Beer at Blindman Brewing
Alberta is booming with craft breweries but Blindman Brewing really stands out from the pack. Blindman's distribution has expanded across the province which has made them a household name. They are continually developing new products and seem to have something for everyone, from beer aficionados to brew-newbies (brewbies?) We had a quick tour of their production and it was impressive to see how they have expanded over the years.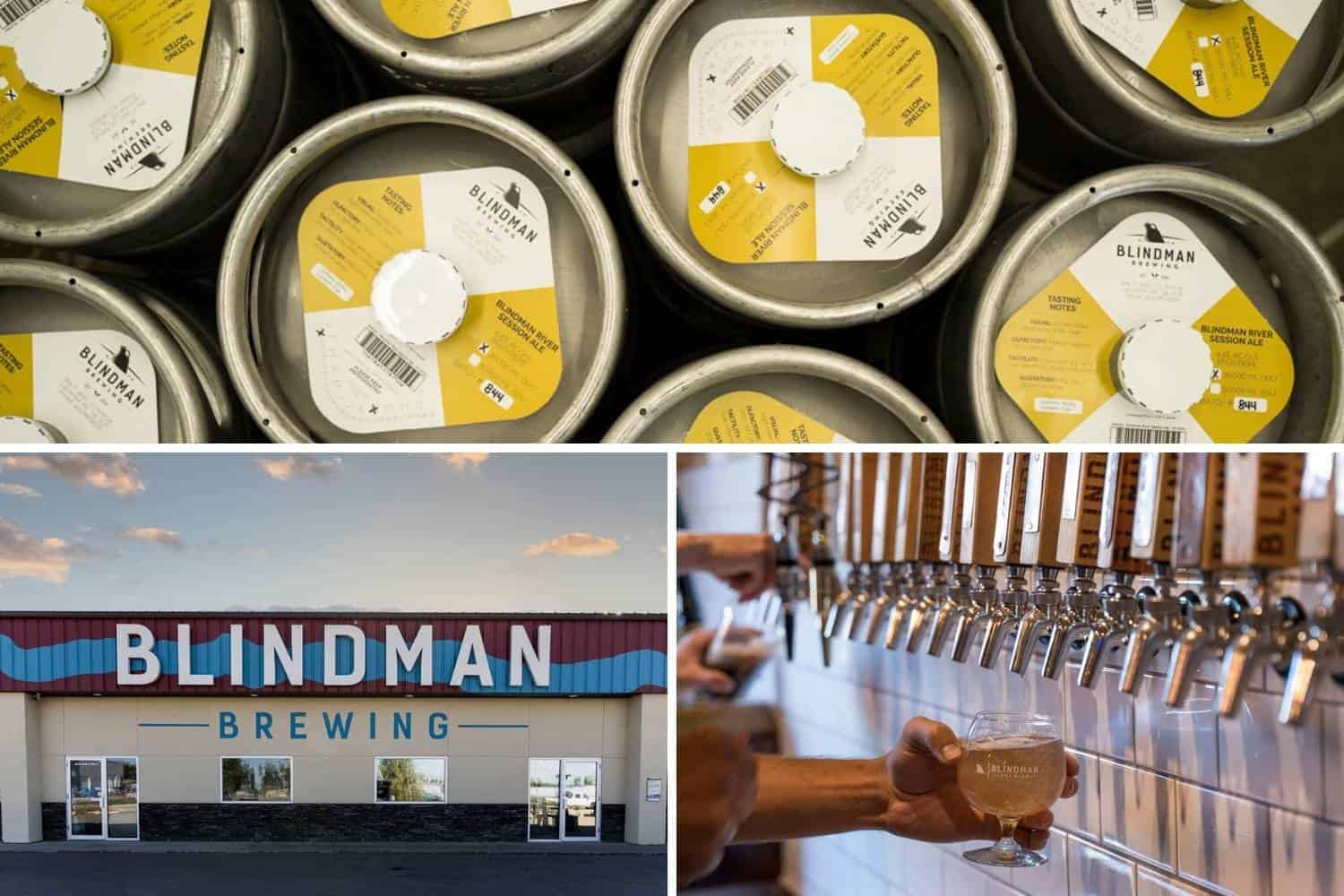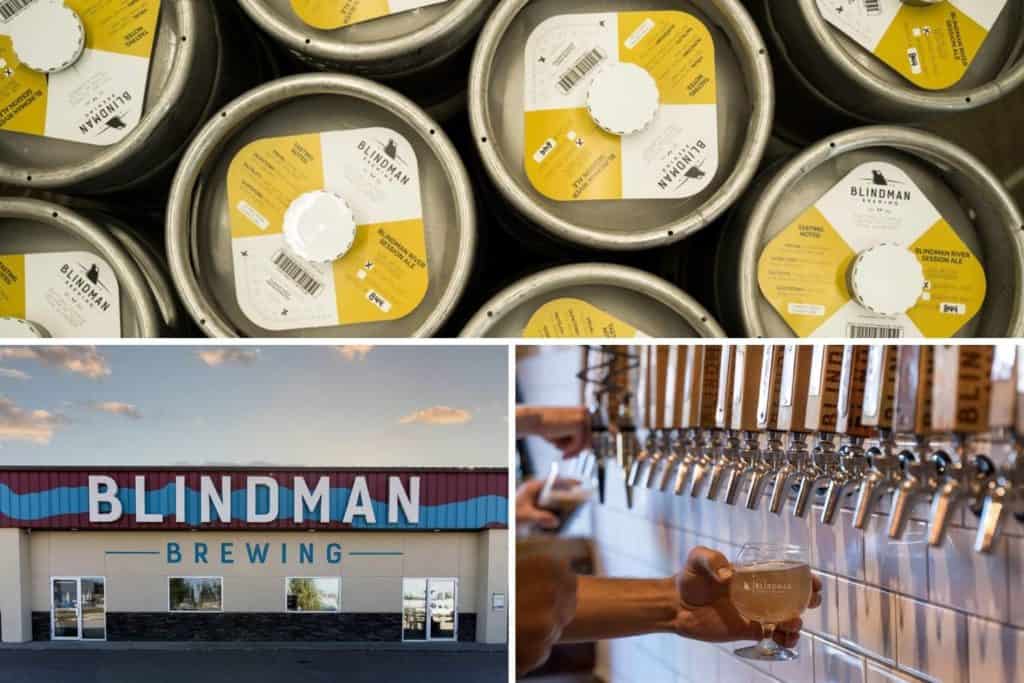 The atmosphere in the taproom and patio was exceptional – they have created a huge patio complete with canopies, heaters, and most importantly, cornhole! They also often feature food from local restaurants. Blindman has their hometown pride on display with the 5 of Diamonds Beer – this is a must-try! Named after the signature Len Thompson 5 of Diamond fishing lure manufactured in Lacombe.
Location: In the Lacombe Industrial Area at Bay F, 3413 53 Ave.
Go Fishing on Gull Lake
One of our favourite features of this province is all the pretty lakes in Alberta – and what better way to experience them than with some fishing! Adventure Ice Fishing took us out for an afternoon excursion on their 20-foot pontoon boat. This fishing trip felt pretty luxurious – it was as simple as showing up, strolling onto the boat, and try catching some fish.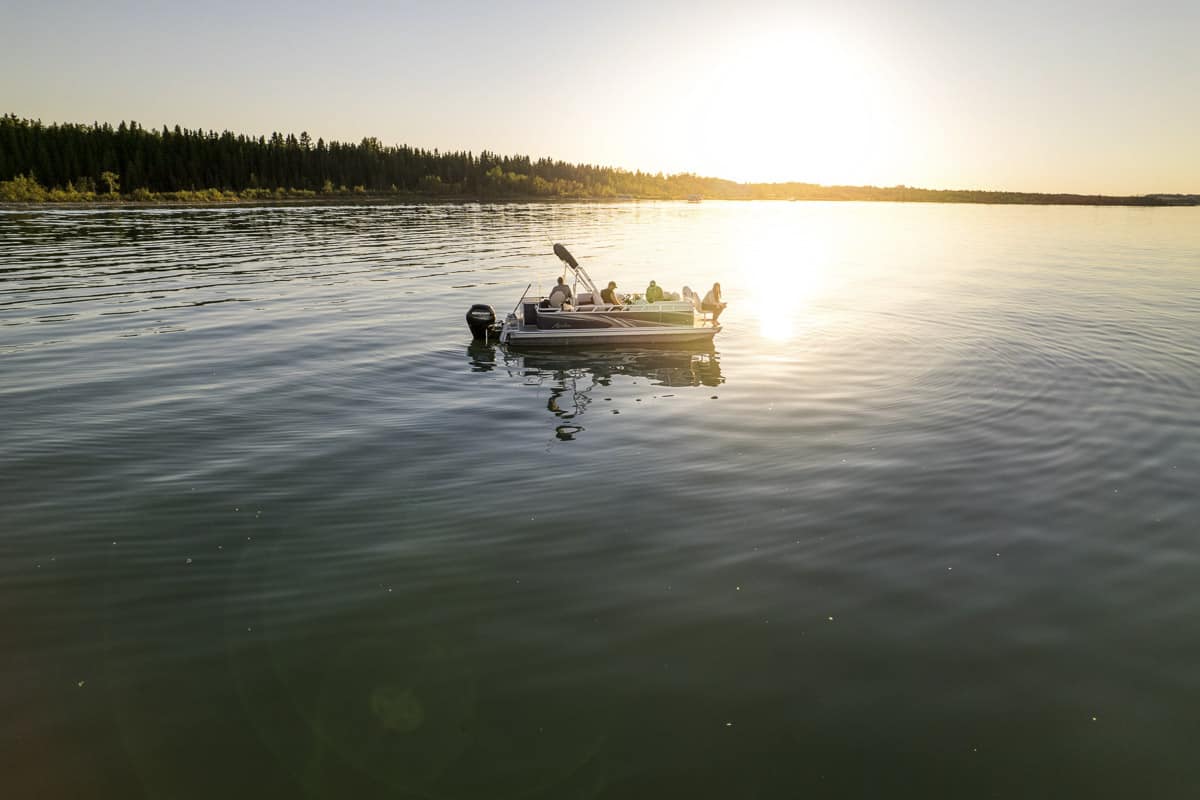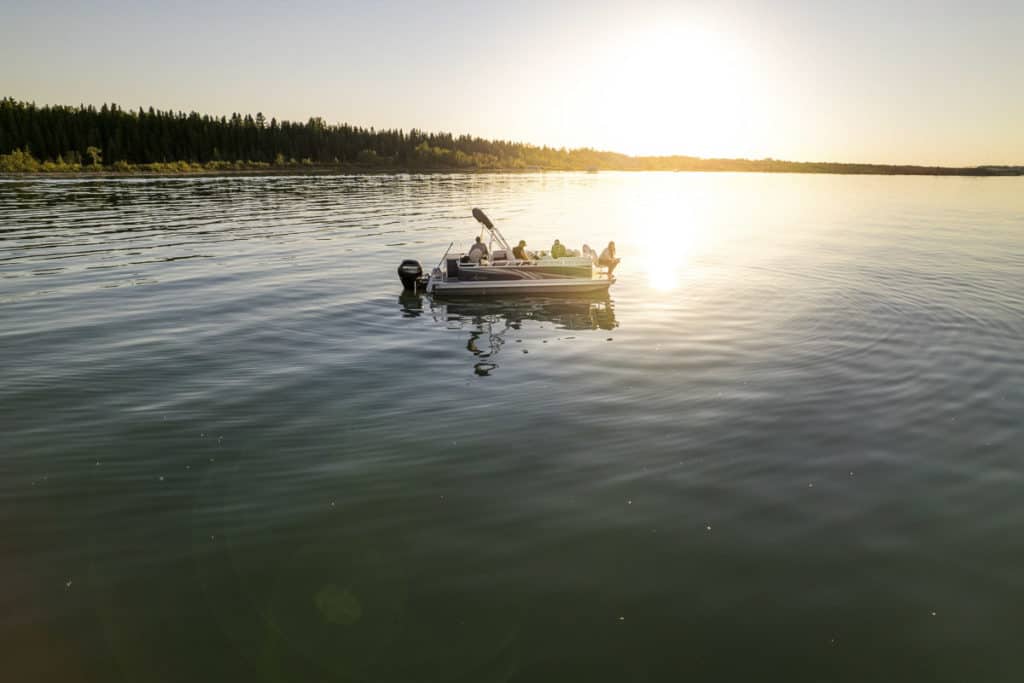 Using a charter like this is great for both experienced anglers and beginners. It allows you to make the most of your time on the water with the least amount of work. If you are a beginner, there is someone there to show you the ropes and help where needed.
Maybe fishing isn't your thing but you still want to get into the water – book a sunset cruise!
Camping is also popular here – check out our guide to Gull Lake campgrounds to ensure a great stay.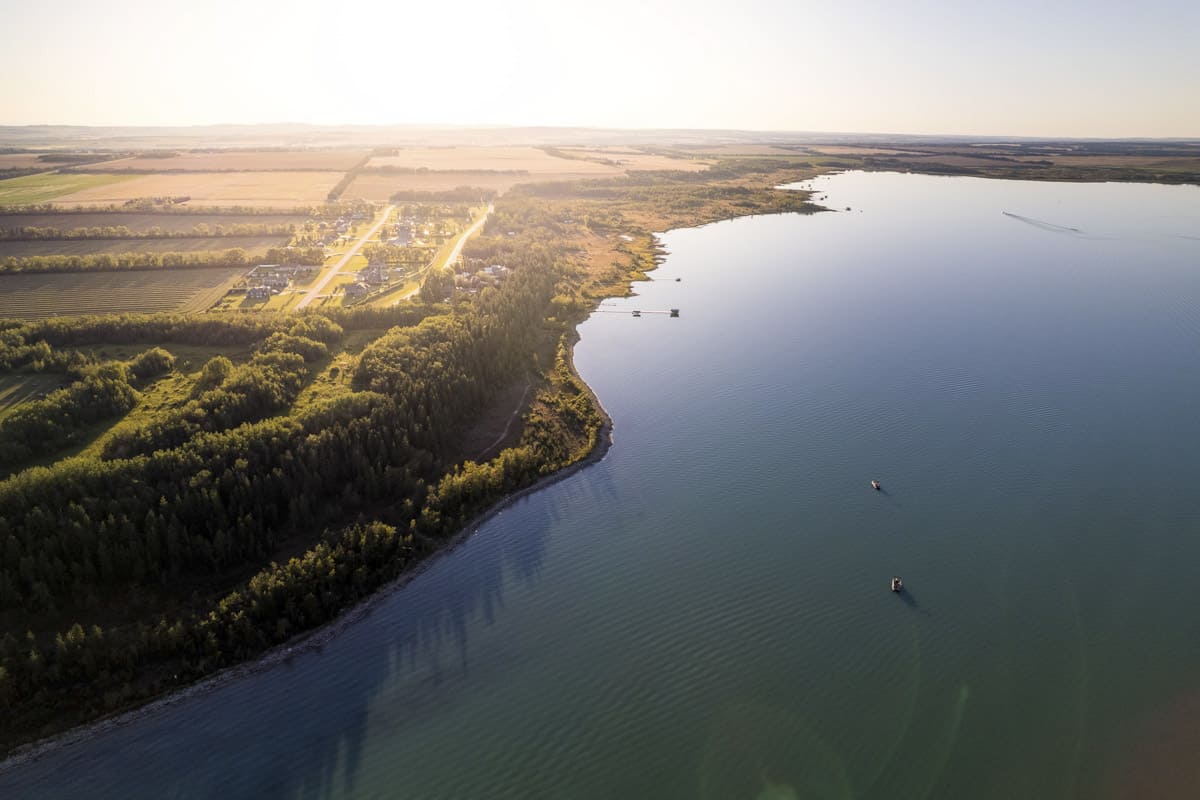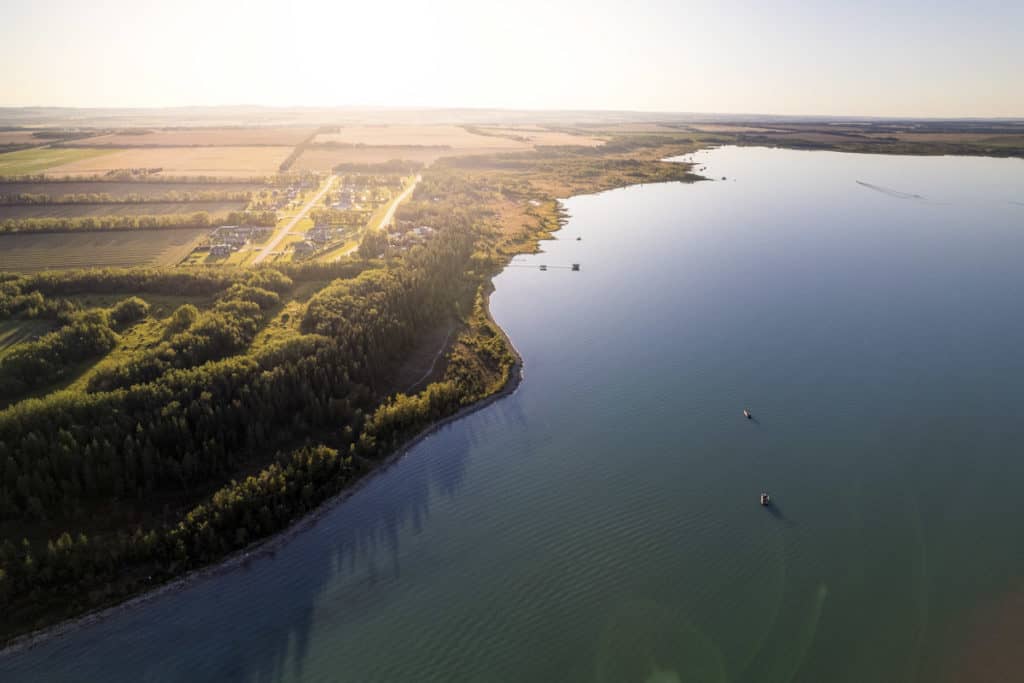 Visiting in winter? No problem! This is actually Adventure Ice Fishing's top offering: available for rent are ice fishing cabins. They are built for overnight expeditions and have everything you need for a comfortable stay and successful fishing trip including rods, bait, bbq, heaters and so much more.
Location: From Hwy 2 head west on Hwy 12 for 16.5 km, and turn right on RRD 10. Go straight for 1km to the next stop sign, then straight down to the lake to find the cabins near the shore.
Make a Stop at Gull Lake Honey
Honey is a product that we commonly use but how often do you have an opportunity to have a glimpse of what it takes to make it onto your table? The Gull Lake Honey Company blends the values and culture of a small family farm with full-scale commercial honey production. It was fascinating to learn the science behind bees and get up close and personal with some hives. The Prins family was welcoming, and happy to answer all of our questions, and we could really tell they love what they do.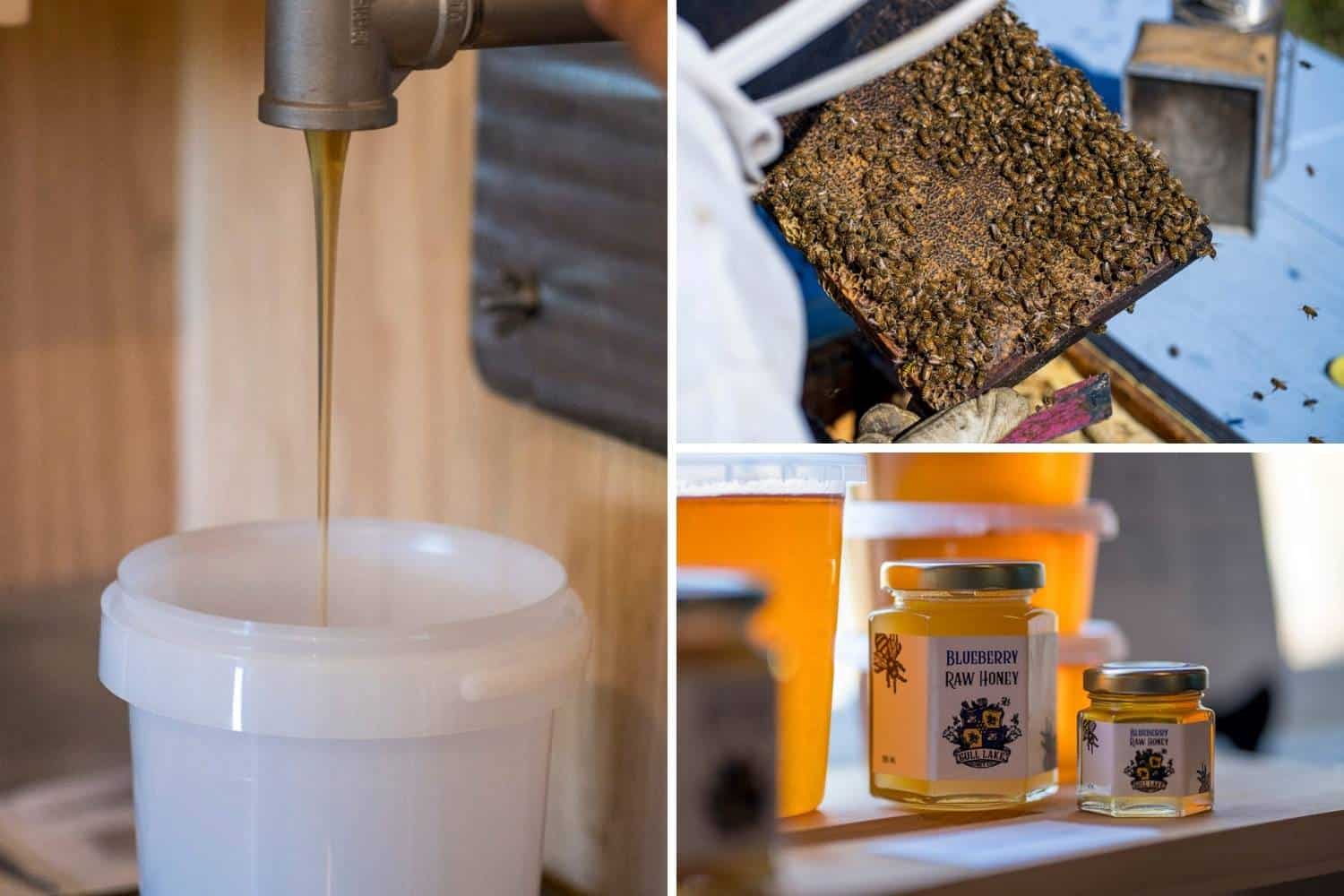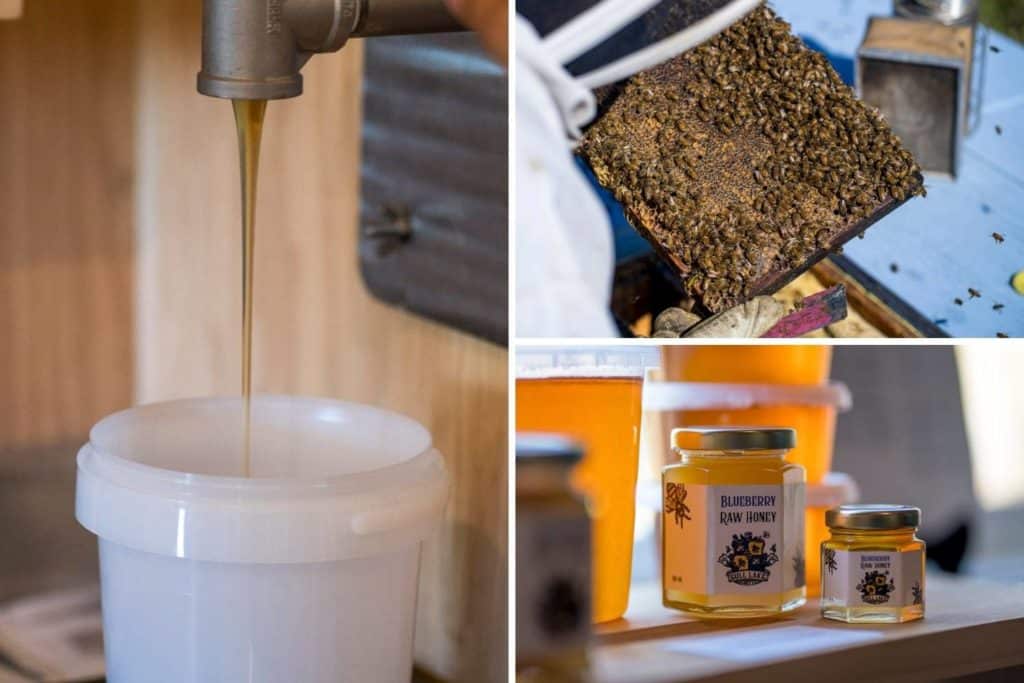 Onsite is also a cute shop where they sell honey and related products like beeswax candles. They also sell products from other artisans in the area but most spectacularly there is a honey tap where you can fill your container with a seemingly endless flow of honey. As a bonus, this family farm also has Bison and a small petting zoo. During our visit there we were able to pet some goats and even a baby bison!
Location: 41113, Range Rd 282, Lacombe.
Don't Miss the Monkey Top
Monkey Top Saloon has been a staple in central Alberta for decades. It is a favourite destination for bikers in the summer and in the winter snowmobilers pop in when they are done on trails around Gull Lake.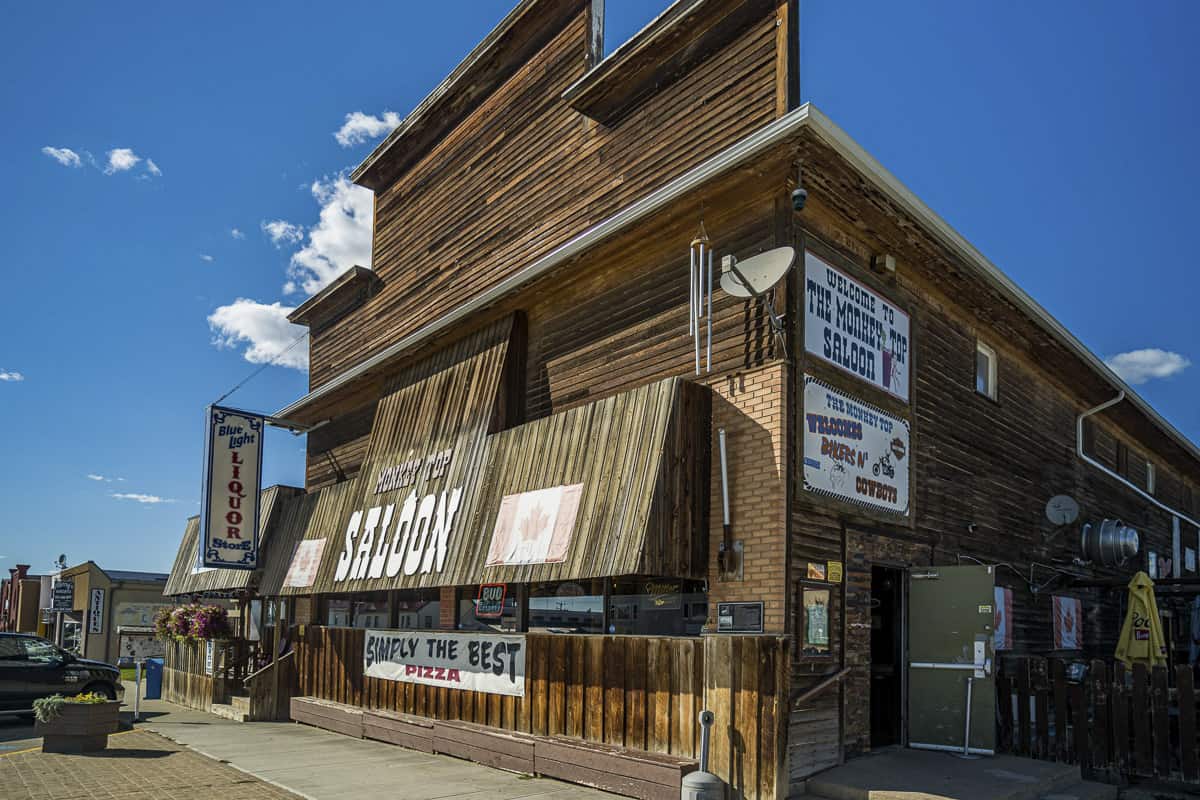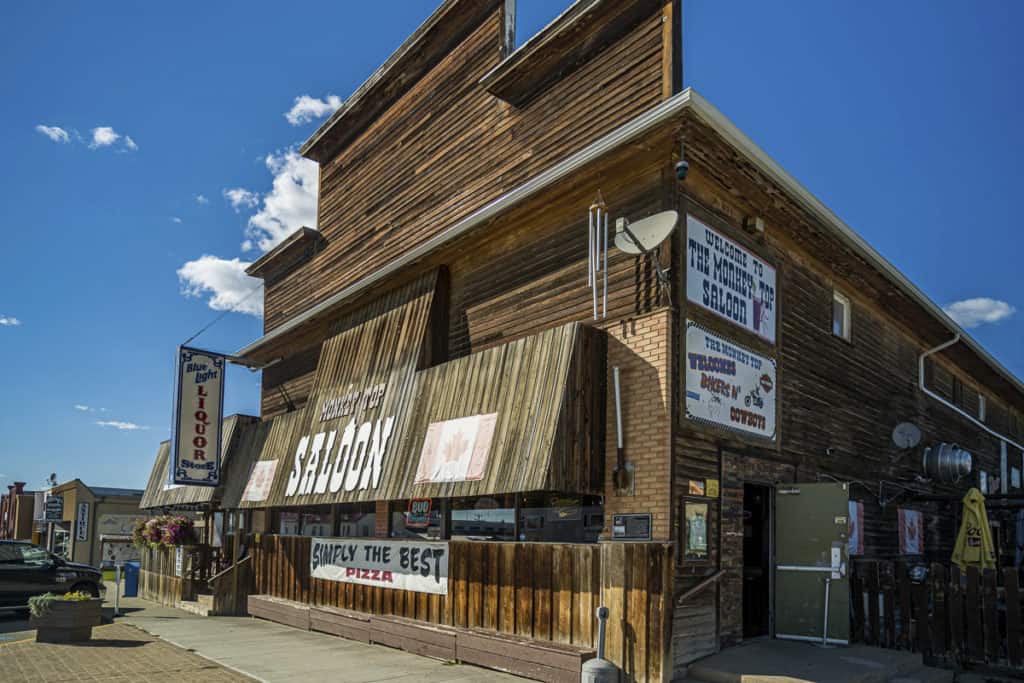 The Monkey Top is known for its Caesars, garnished with every accoutrement you can think of! Don't worry, Monkey Top Saloon is family-friendly until 8 pm so no one has to miss out. They have also established themselves as a live music destination. If you really want to experience the atmosphere of Monkey Top and see why people flock to this spot come on a night when there is live music.
Location: 5002 50 Ave, Bentley.
Have a Meal at Cilantro and Chive
Since its opening Cilantro and Chive has been making waves, offering quality food and a menu that you would expect from culinary destinations in larger centers. This family-owned and operated restaurant has strong community values but most importantly the food is exceptional.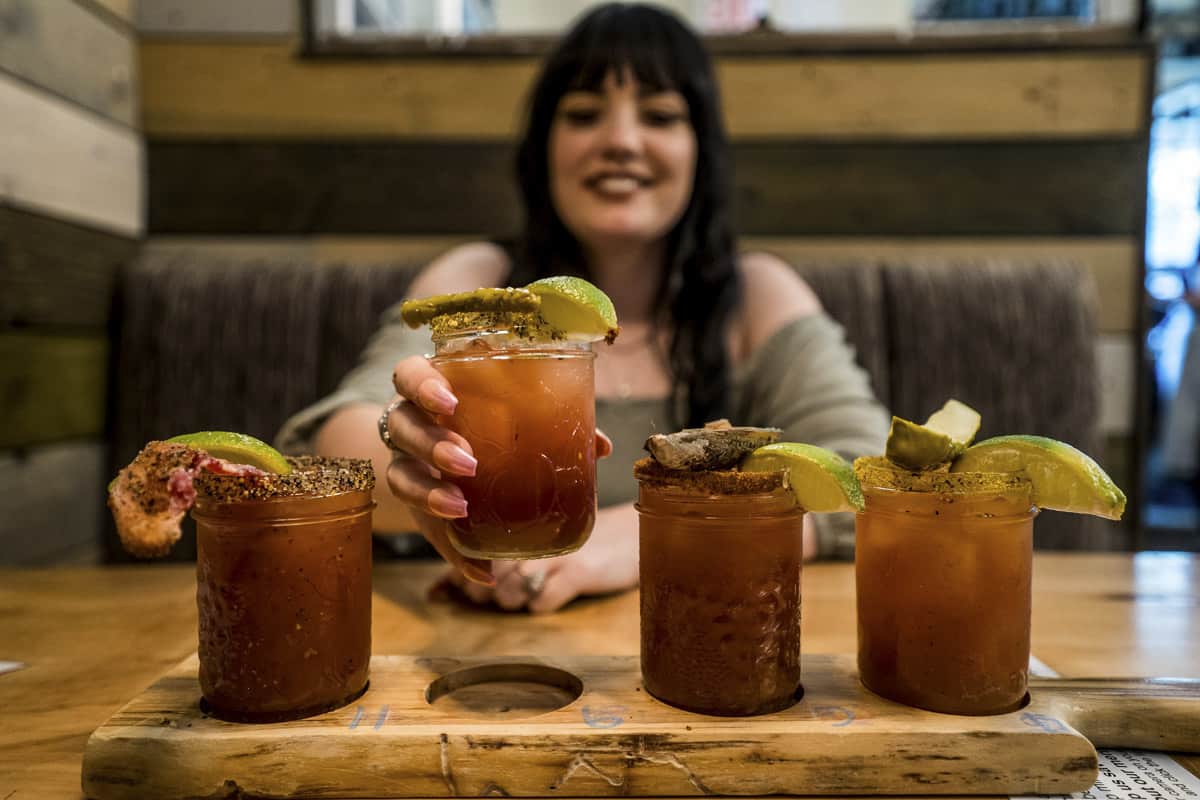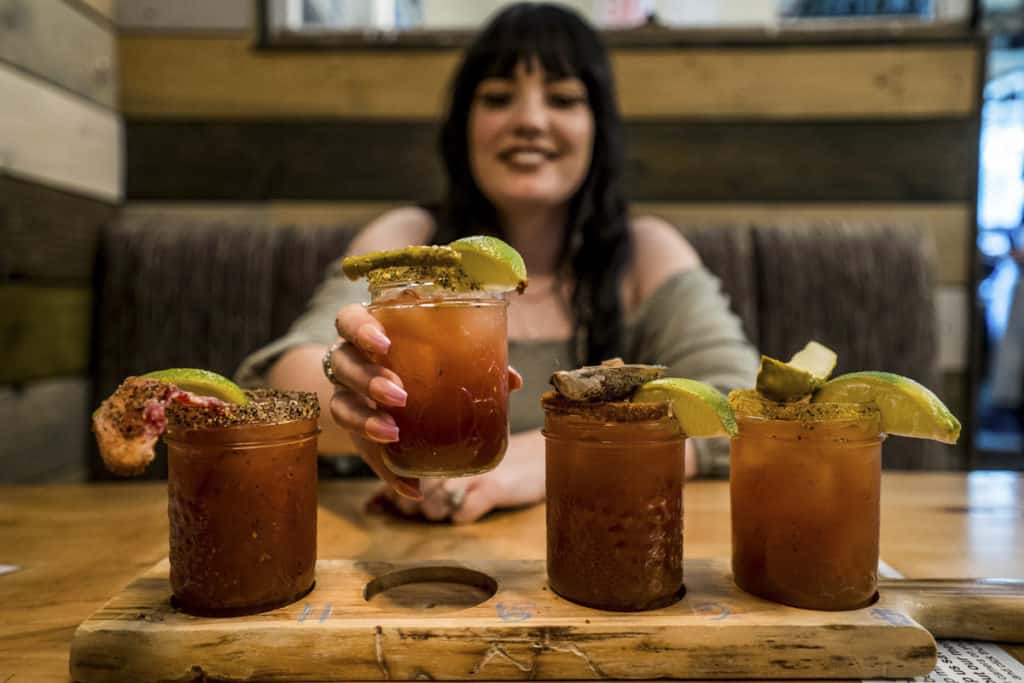 We found the menu creative and everything we had was delicious! Be sure to try their "burger of the month" – these burgers are created by local guest chefs and feature seasonal ingredients sourced from local vendors. Also don't miss their signature Caesar flight or a "Caesar that eats like a meal" – you won't be disappointed.
Location: 5021 50 St, Lacombe.
Visit the JJ Collette Nature Center
Just north of Lacombe is a vast 635 acres of nature preserve. There are 18 km of groomed walking trails making this a great place to experience the true landscape of the area. We went for a sunset walk through the preserve; Alberta sunsets are famous and this was a great spot to take one in. During our walk, we saw a beaver dam, hundreds of varieties of plants, and others on the trail showed us photos of a moose that was in the area.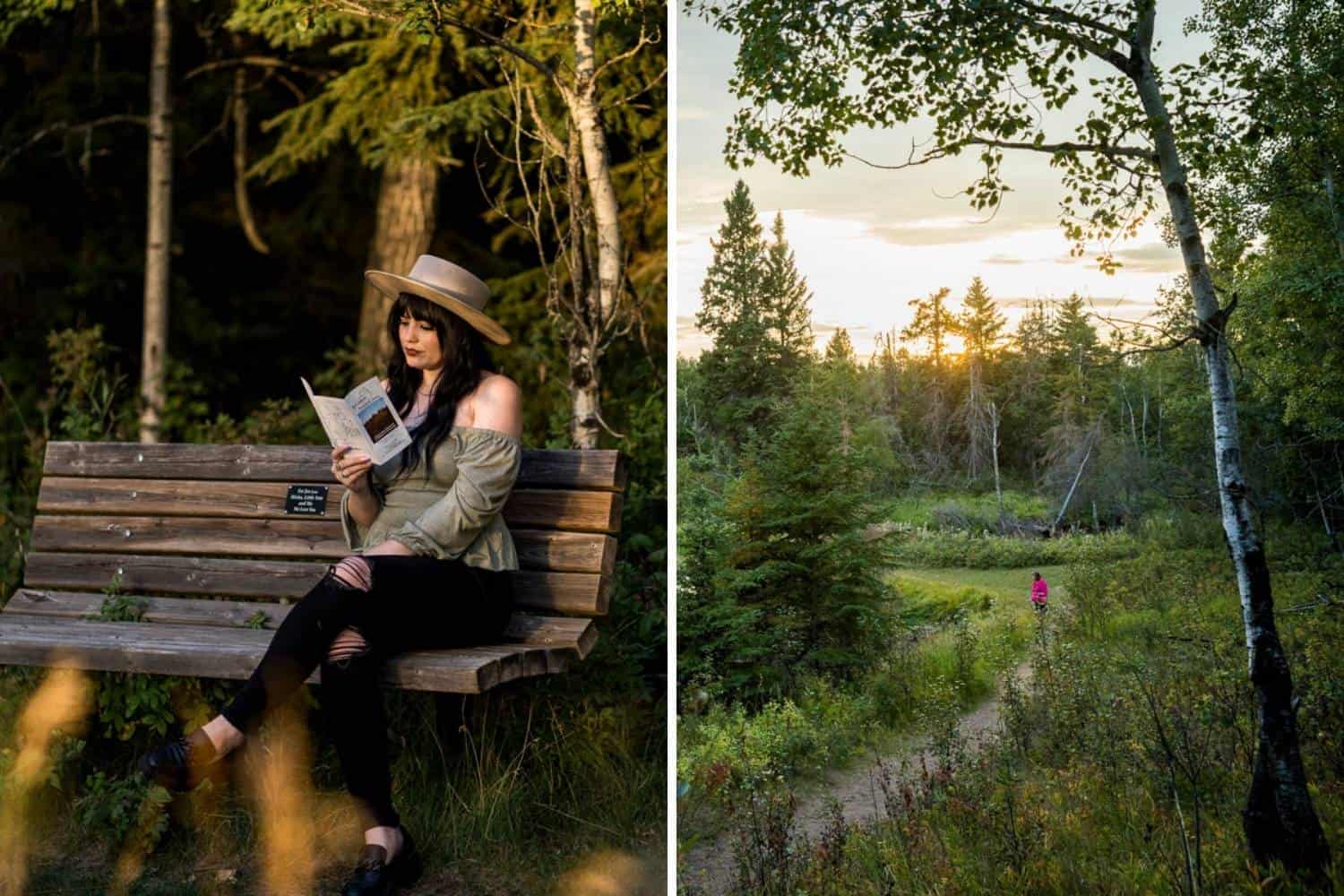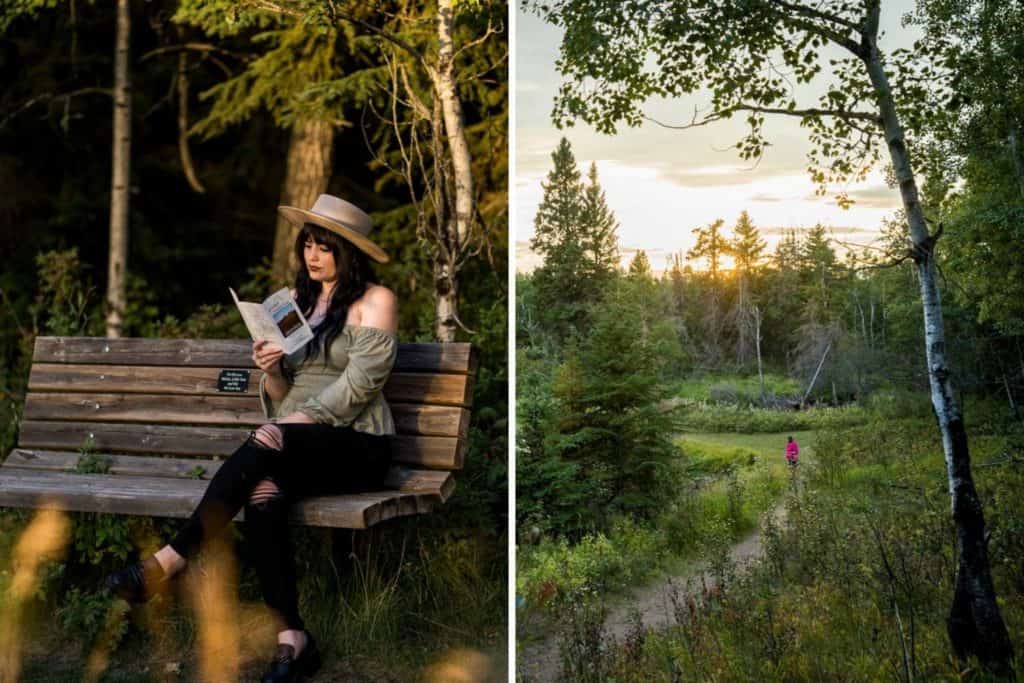 Their website has a fun checklist of all of the animals, plants, butterflies, and other natural beauties that are common to the area.
Location: R.R.4, Site 5, Lacombe.
Eat at Tollers Bistro
Having opened in 2018, Tollers Bistro is pretty new to the Lacombe food scene but they certainly aren't rookies! In just a few years' time, they have already become famous for their sandwiches and donuts. Their focus is to offer local and seasonal food, featuring the best of what is currently on offer in the area.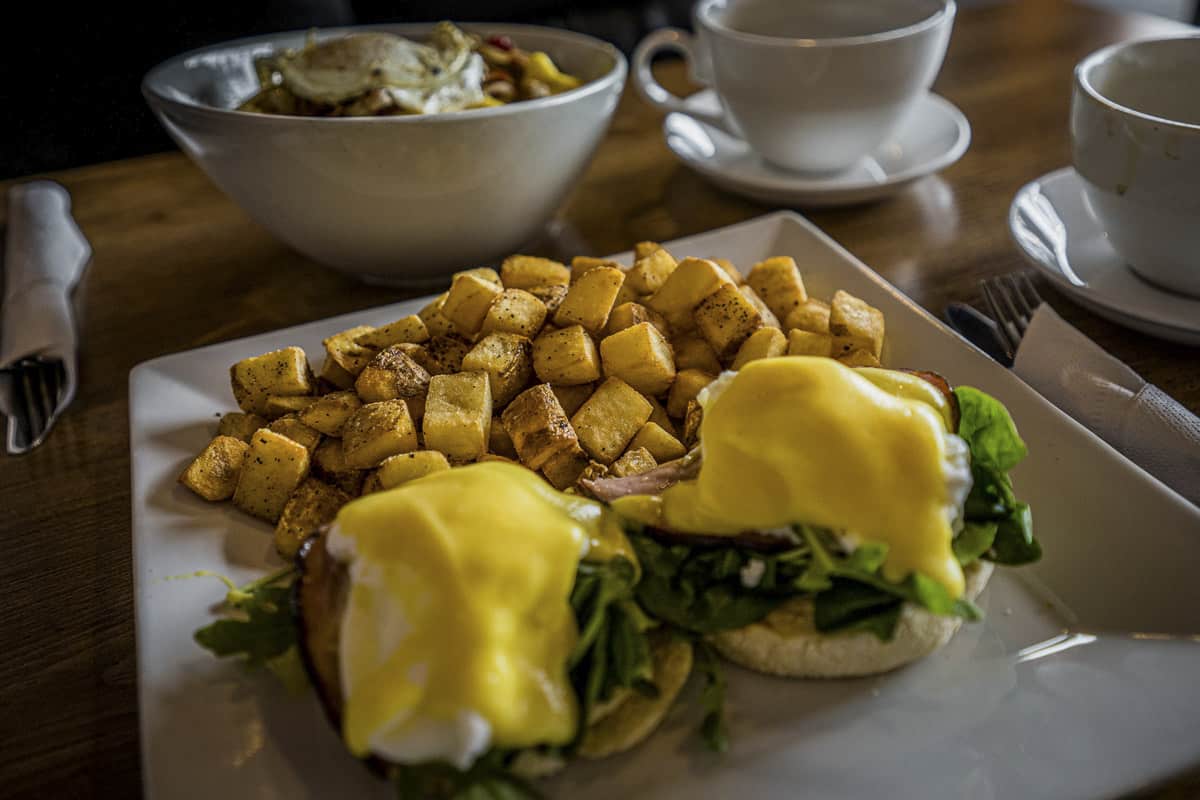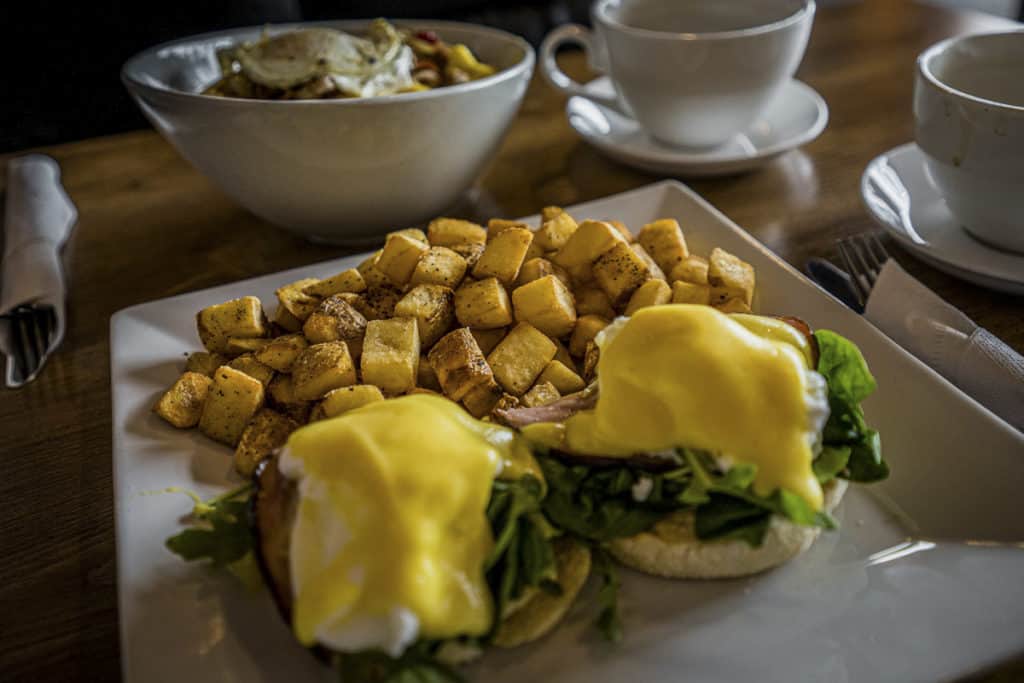 We also had Sunday brunch while we were there and sincerely enjoyed it- breakfast poutine, need I say more! The atmosphere was calm and relaxing, exactly what you would expect from an upscale bistro. Their donuts are worth mentioning one more time. They are some of the best we have ever had, with a great selection available and creative flavours!
Location: 2-4801 63 St Bay 2, Lacombe.
U-Pick at Billyco Junction Gardens
The farm at Billyco Junction Gardens is beautiful, scenic, and immaculately maintained. There were fruits and berries that we had never even heard of before, plus every variety of the ones we had heard of. I didn't even know there were that many different kinds of raspberries!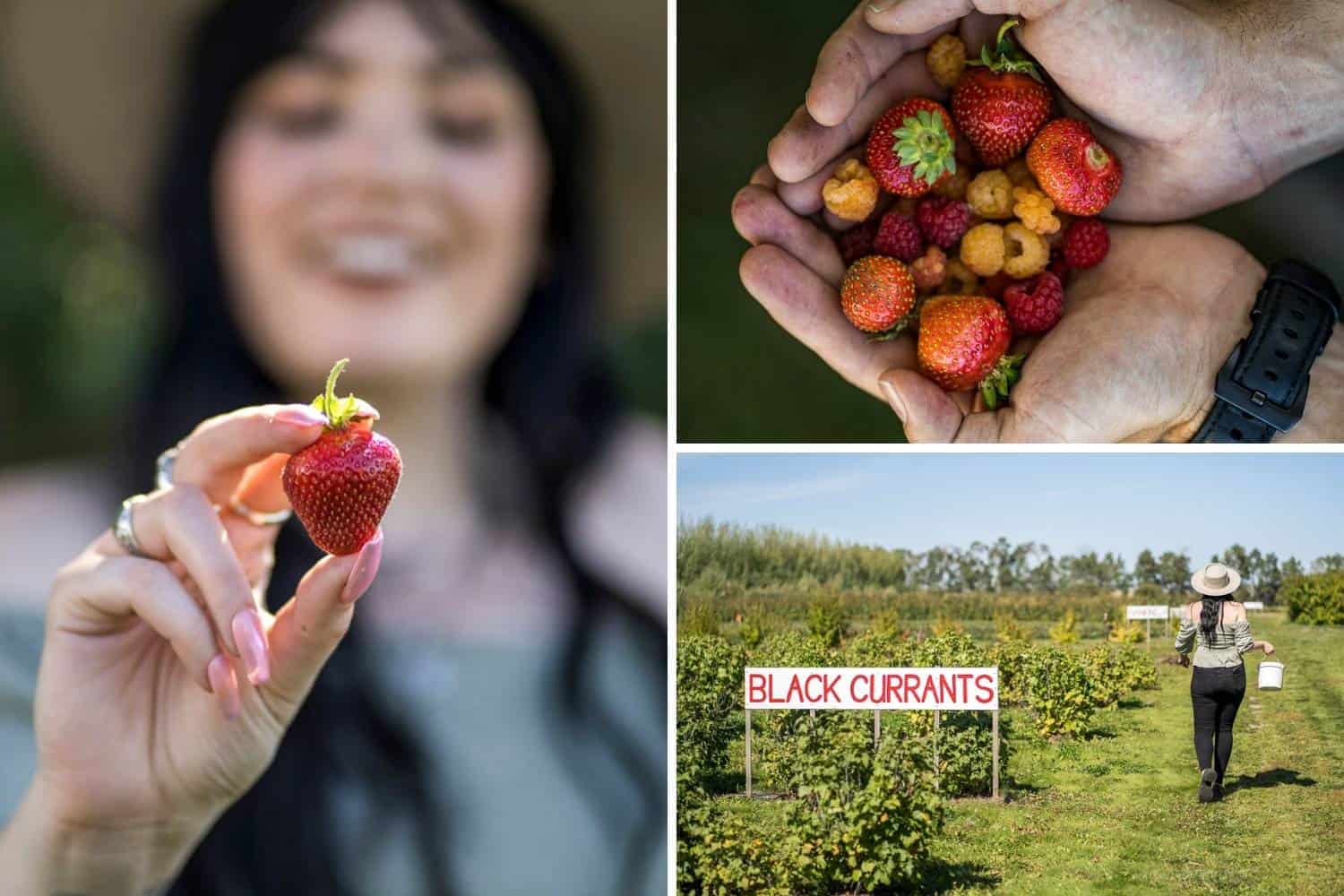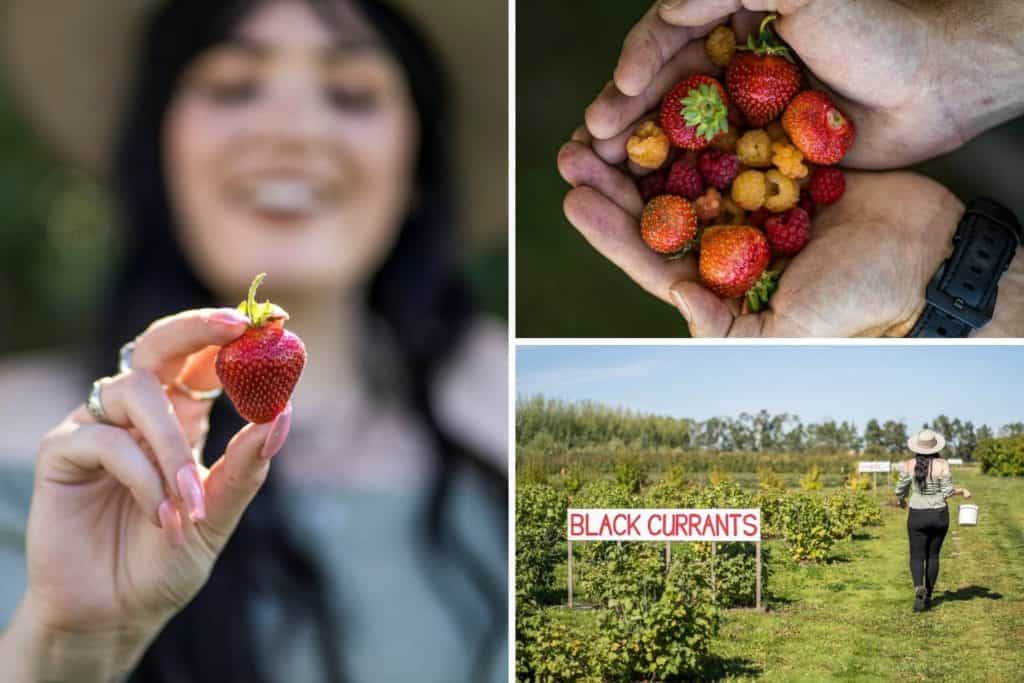 This is a great opportunity to delight in homegrown fruits and vegetables because nothing beats the taste of berries straight from the garden. Located on the farm is also a charming bed and breakfast. Visiting Billyco Junction makes for easy exploration of the natural beauty of the region and would be a peaceful option for someone looking to experience a little taste of country living. It's one of the more popular things to do in Lacombe County.
Location: 40110 RR260, Lacombe.
Take a Swing at Haunted Lake Golf Course
This golf course is very scenic and great for beginners and experienced golfers alike. It's located right up against a lake and has lots of stunning rolling hills. Its laid-back environment made it less intimidating for the beginners in our group.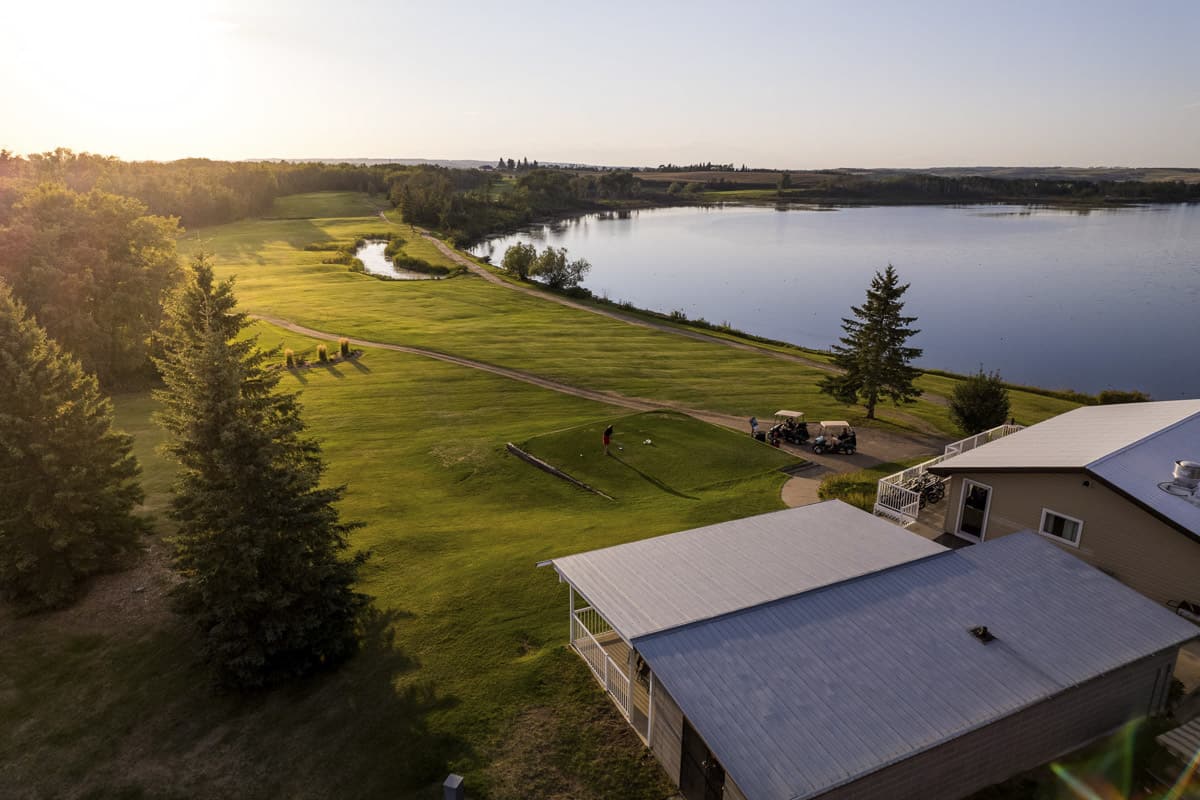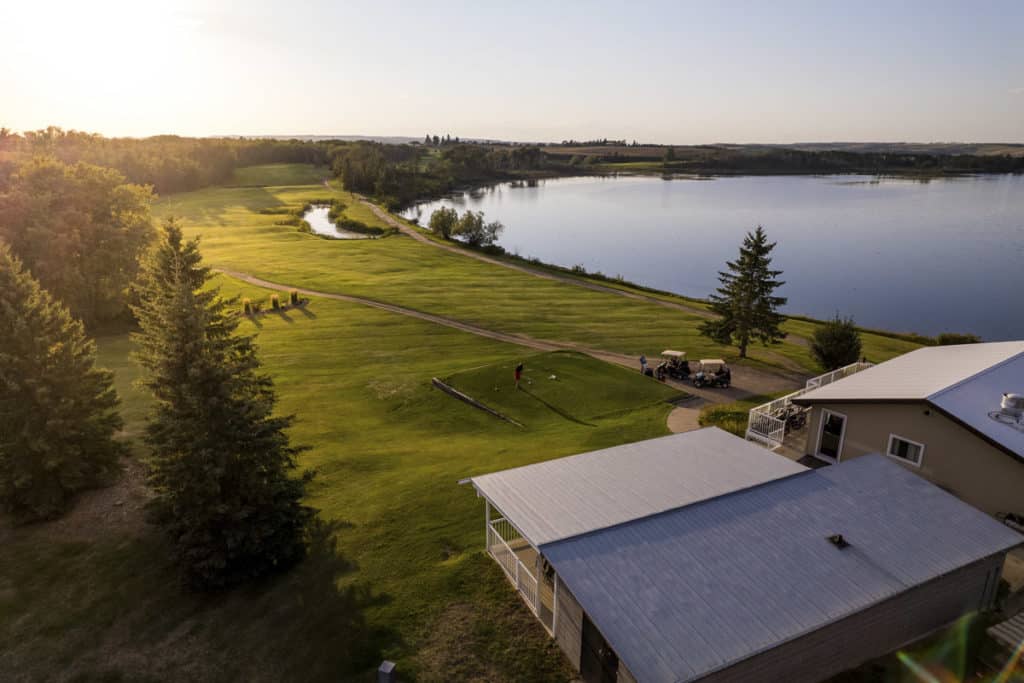 They also have a lakeside campground to pull in your trailer for a weekend of golf, great views, and a quiet weekend getaway.
Location: Hwy 601, Alix.
Bonus: Check out Alix Lake. On our way to the golf course, we decided to drive through the village of Alix. It is another great example of the beautiful lakes in Central Alberta and things to do in Lacombe County. This lake has hosted large water skiing/wakeboarding competitions and has a great beach!
This blog post was produced by us and sponsored by Lacombe Regional Tourism.