Disclaimer: This page may contain affiliate links. Please review our full Terms and Conditions for more information and our Privacy Policy. Note that any pricing, operating hours, or other such information provided below may have changed since initial publication.
Compiled by the Road Trip Alberta team
Last updated on January 7, 2022
Alberta is a golfer's heaven. There are over 300 courses across the province, including some that are ranked best in the world. It's no wonder the province attracts so many visitors who tote their clubs along with them. From challenging mountain courses (be sure to bring bear spray!) to links-style courses in the prairies, to courses winding through coulees and hoodoos, Alberta golf courses will certainly wow and challenge any player.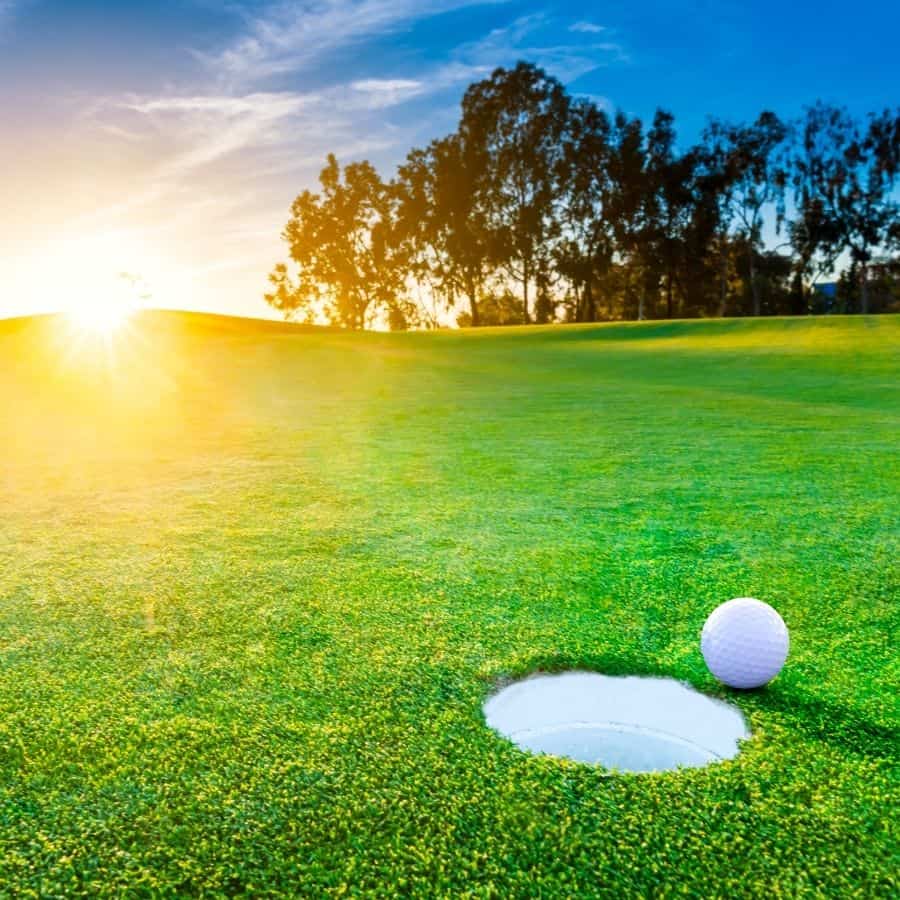 Popular Golf Courses in Alberta
Golf Courses in Edmonton Area
The Quarry Edmonton
If you're looking for one of the best Edmonton golf courses, look no further than The Quarry. With a stunning location in northeast Edmonton along the Fort Saskatchewan River, you'll feel as though you've escaped the city the second you step onto the course. With yardages from 5,100 to 7,600 yards as well as putting and chipping greens, The Quarry is fantastic for both serious golfers and beginners. Make sure to check out the excellent restaurant patio for some post-game grub.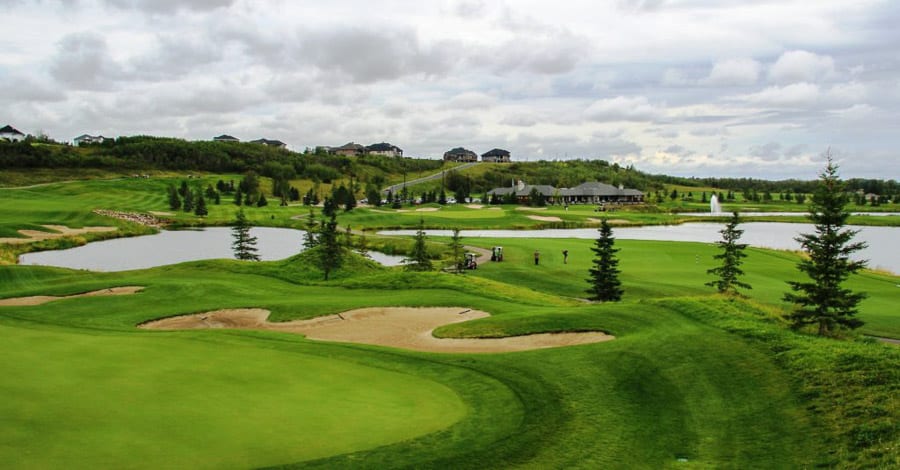 RedTail Landing Golf Club
Found conveniently in Nisku, right near the Edmonton International Airport, RedTail Landing Golf Club is often cited as one of Edmonton's top links-style golf courses. With 234 acres of land, pros and beginners alike can take advantage of the 65,000 square feet of teeing area, the putting and chipping greens, and the five practice bunkers on site. Their practice facility is one of the best in Alberta, with 19 acres dedicated to helping you become the best golfer you can be. There are also junior camps as well as private lessons for all ages, so don't hesitate to reach out if you're looking to improve your swing.
Book a tee time at RedTail Landing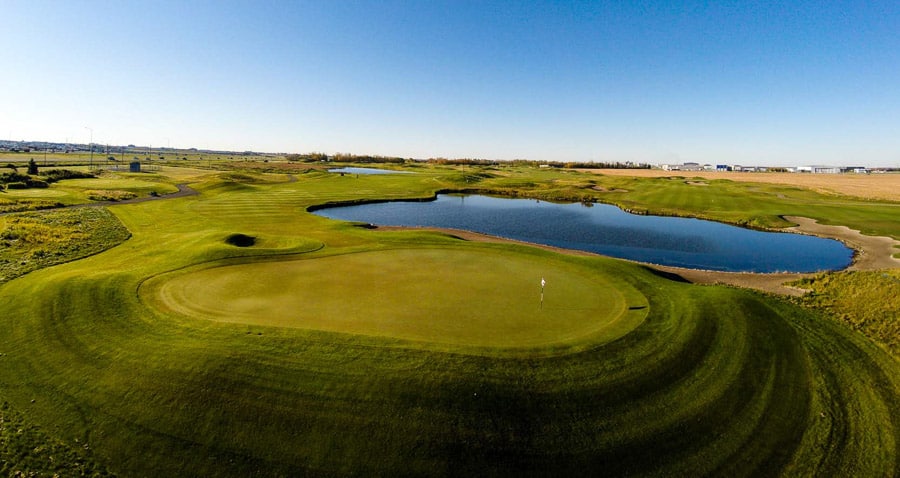 Jagare Ridge Golf Club
An Edmonton favourite of intermediate and advanced golfers, Jagare Ridge is known as one of the best Alberta golf courses. With drop-dead gorgeous scenery, Jagare Ridge is a technically challenging course, perfect for those who want more than just a straightforward game of golf. When designing the course, the owners wanted the natural land to dictate the design, so be prepared for lush foliage, elevation changes, and the gentle flow of the Whitemud Creek running beside you as you play. There's even a man-made waterfall! Also make sure to visit the clubhouse restaurant, where you'll find Alberta beef and cold beverages for your post-game celebration.
Book a tee time at Jagare Ridge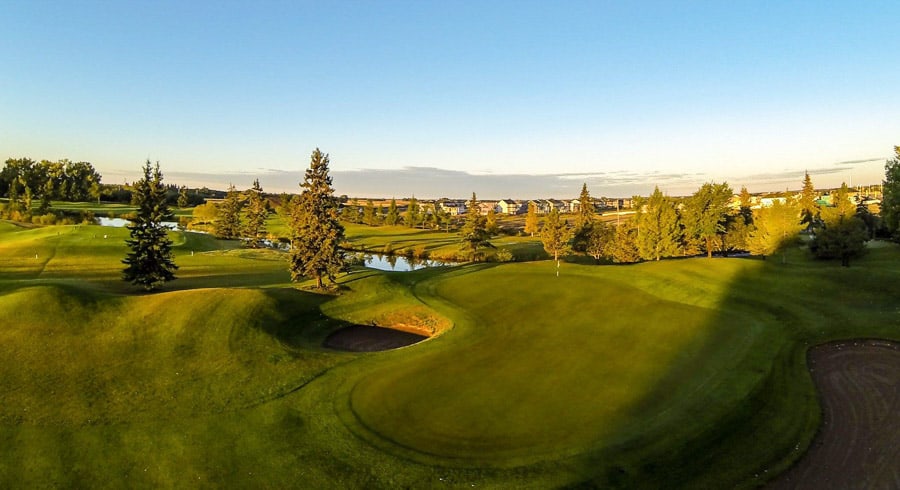 Golf Courses in Calgary Area
Blue Devil Golf Club
The Blue Devil Golf Club is rated as one of the best Calgary golf courses. Along with the course being described as beautiful and serene, it's known to be "deceptive, disarming and devilishly crafted". It will give any golfer a challenge and live up to its name. The 18 holes wind through Fish Creek Park and the river valley and there is an additional "Lil Devil 9 hole course" made up solely of par 3's and 4's making it a perfect golf facility for any golfer.
Book a tee time at Blue Devil Golf Club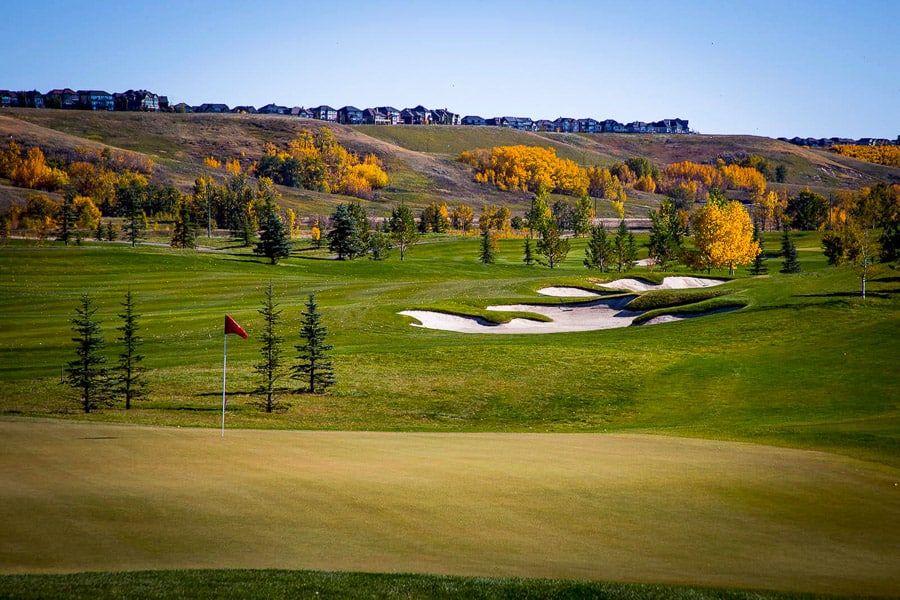 Heritage Pointe Golf Club
You'll forget that you're even near a city when you head to Heritage Pointe. Found in the Pine Creek Valley, this beautiful golf course has it all: manicured fairways, white sand bunkers, a practice facility, and a clubhouse with a warm atmosphere. Beginners will love their Golf Academy, where you can find lessons, coaching programs, and camps for all ages. Also coming soon: Indoor golf simulators, perfect for those cold winter days! Heading here for a day of golf is definitely one of the best things to do in Calgary.
Book a tee time at Heritage Pointe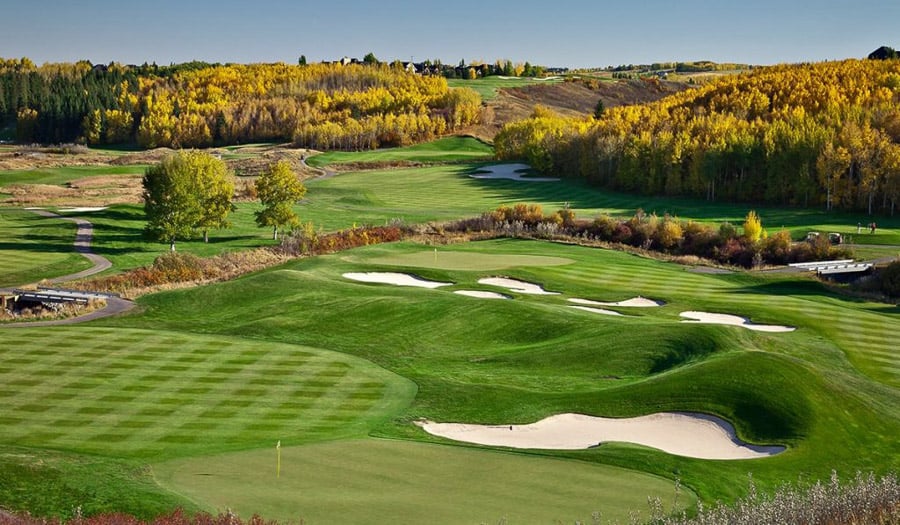 The Links of GlenEagles
Rated as one of Alberta's top public golf courses, The Links of GlenEagles routinely wows golfers of all skill level. Found just outside Calgary near the town of Cochrane, it's not every day that you can golf with a view of the Rocky Mountains, but that's what you'll get at each of the 18 holes. With a challenging mix of fairways, bunkers, and changes in elevation, The Links of GlenEagles is one of the province's most exciting golf courses. There are also lessons, camps, and a junior academy, so the entire family can find fun at this Alberta golf course.
Book a tee time at The Links of GlenEagles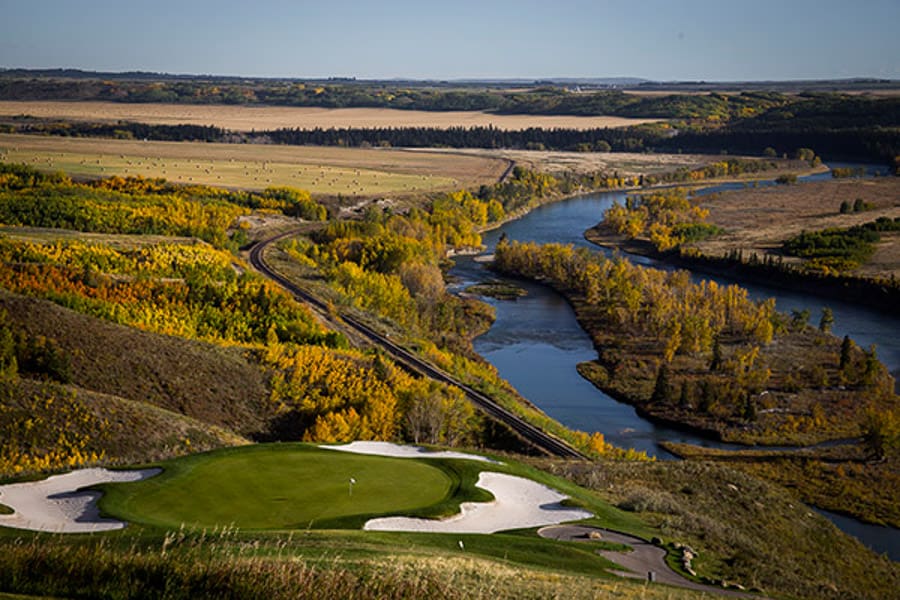 Mountain Golf in Alberta
Kananaskis Country Golf Course
We'll warn you right now: the mountain views from Kananaskis Country Golf Course are so stunning that you might even get distracted from your game! You can't get much better than the verdant fairways and silica sand bunkers of the course surrounded by the Rocky Mountains, the Kananaskis River, and the majestic scenery and wildlife you'll find at every turn. There are also plenty of ways to turn a visit to the Kananaskis Country Golf Course into a holiday, including their stay and play packages and their fantastic Summit Restaurant. With an aim to suit all levels of players, the course has something for everyone who chooses to golf here.
Book a tee time at Kananaskis Golf Course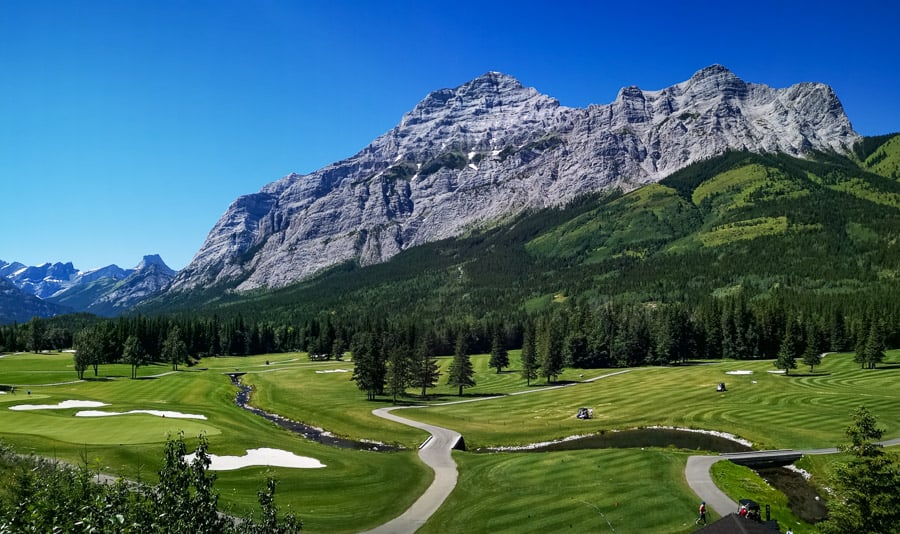 Stewart Creek Golf and Country Club – Canmore, AB
This outstanding course is found in Canmore and is one of the most beautiful golf courses in Alberta. If you're looking for the marriage of excellent golf and unbelievable scenery, Stewart Creek Golf and Country Club is for you. With 18 holes designed around the Rocky Mountain landscape that makes for your backdrop, expect forests of rich pine and crisp mountain streams as you play. With perfectly maintained fairways and challenges for every level, it's difficult not to love this golf course.
Book a tee time at Stewart Creek Golf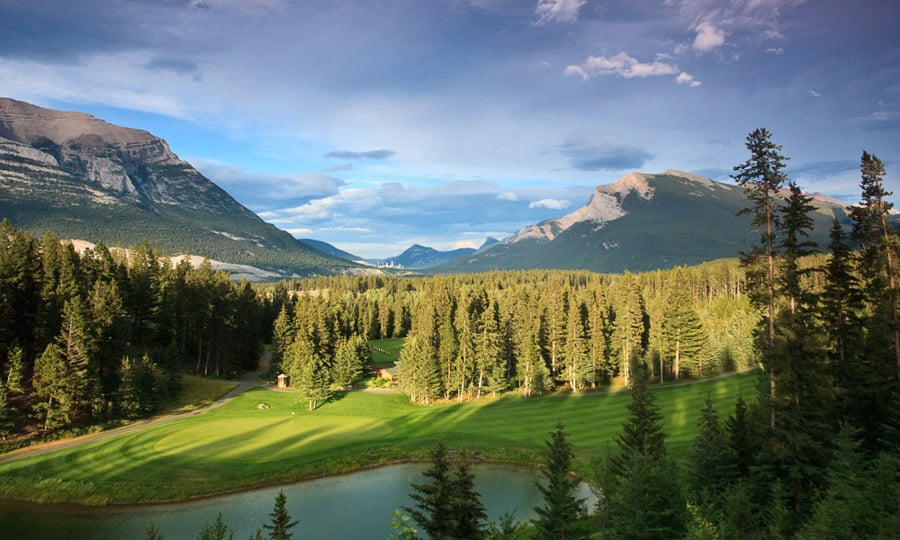 Fairmont Jasper Park Lodge Golf
Where else in the world can you play golf surrounded by snow-capped mountains, turquoise lakes, and emerald green pines? If you're looking for a golf paradise, look no further than the Fairmont Jasper Park Lodge Golf. Inspiring awe since 1925, this golf course in the heart of the Rocky Mountains has maintained its rugged beauty and excellent fairways across its 18 holes for almost a hundred years. Cap off the day at Thompson's Terrace with a cold beverage as you look out across the stunning vistas. This is the kind of golf course that would make even a non-golfer want to take up the sport.
Book a tee time at Jasper Park Lodge Golf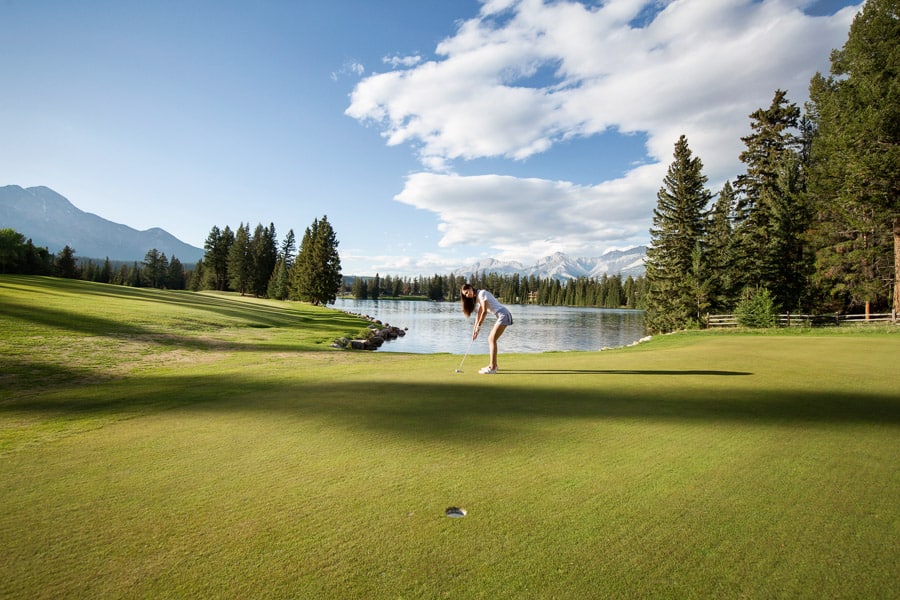 Fairmont Banff Springs Golf Course
If you've been to Banff, you know just how beautiful the area is. The Fairmont Banff Springs Golf Course is no different, with amazing panoramic views of the Rocky Mountains that will stop you in your tracks. It might even be said that the scenery itself is a hazard! With optical illusions created by the mountains and challenging hole designs, this course is so much more than just its beauty; it's a game of golf you'll remember for years to come.
Book a tee time at Banff Springs Golf Course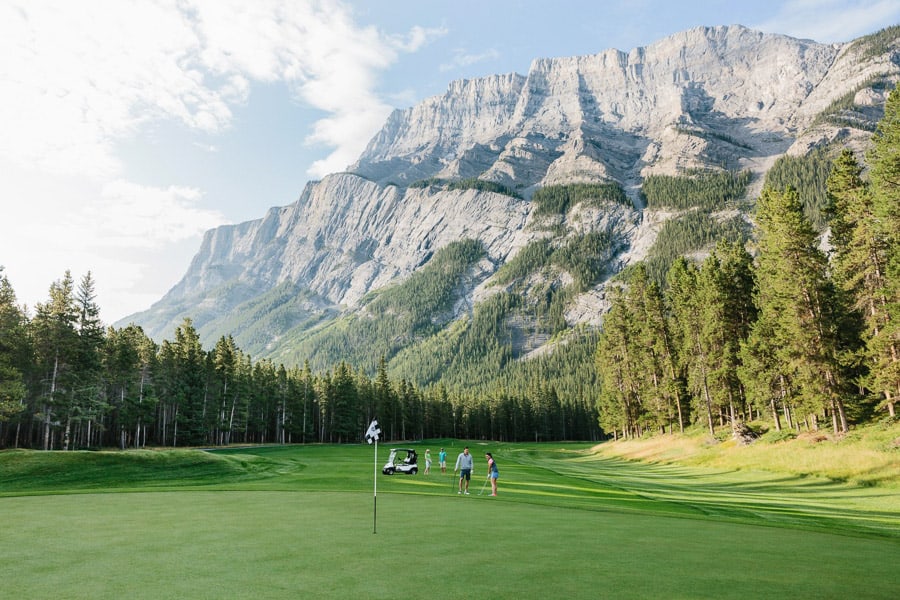 Waterton Lakes Golf Course
Found next to the stunning Waterton Lakes National Park, this course will make you fall in love with the game all over again. While the course has challenges for all skill levels, the real draw is the scenery; think abundant forests, pristine lakes, and views of the Rocky Mountains everywhere you look. Often regarded as one of Canada's "masterpiece" golf courses, it's also one of the oldest, as its construction began in 1929. Don't miss this golf course, one of Alberta's best.
Book a tee time at Waterton Lakes Golf Course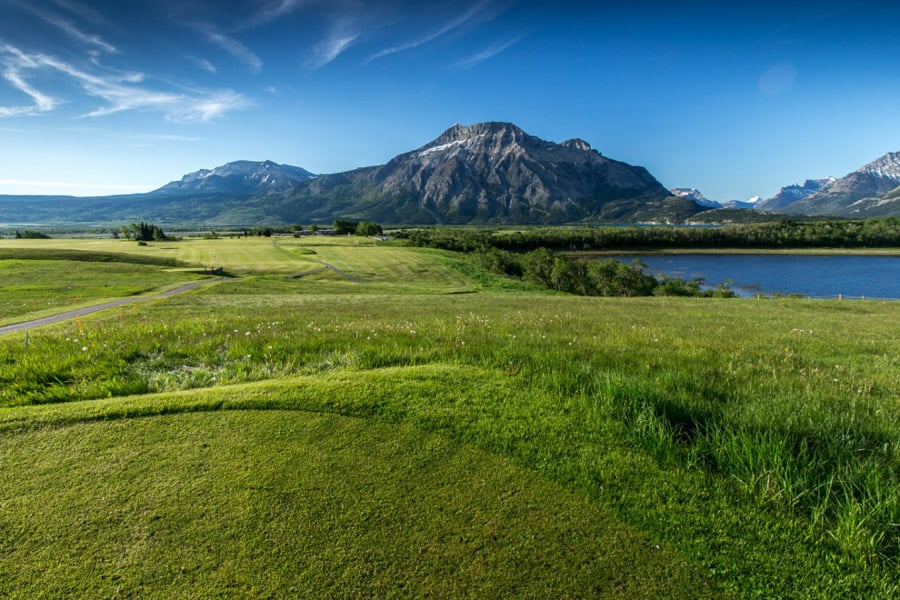 Silvertip Golf Course – Canmore, AB
Nestled in the heart of Canmore, the Silvertip Golf Course is home to 600 acres of lush valleys, rocky peaks, and beautifully maintained fairways. With a course length of 5,100 to 7,200 yards depending on your tee placement, golfers of all skill levels can enjoy a day out on the links. A favourite of golf pros, this course offers the beauty of Alberta in all its glory and is second to none when it comes to a memorable game. Make sure to check out one of the dining options – there are both formal and informal options available – for a post-game toast.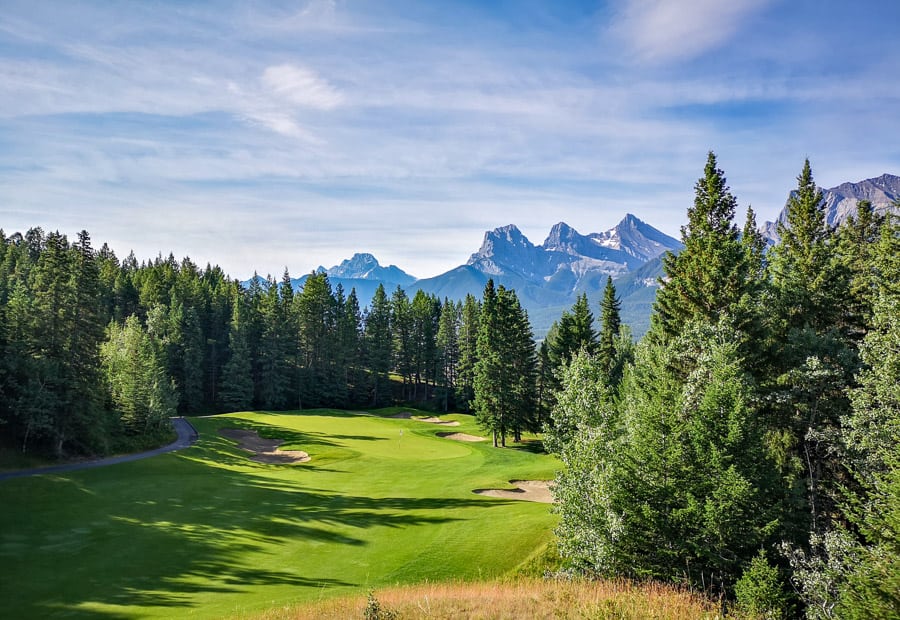 Crowsnest Pass Golf Club – Blairmore, AB
The Crowsnest Pass Golf Club opened its refreshed, new course in 2019. It's rated as one of the most scenic courses in Western Canada (as well as one of the best things to do in Crowsnest Pass), and rightly so with stunning views of the mountains from all sides. Along with a challenging course golfers get to breathe the clean mountain air, feel ice-cold glacier water, and smell the fresh pine from the surrounding forests. Playing 18 is a first-class experience and will give every golfer views of Crowsnest Mountain, Turtle Mountain, and the Crowsnest Range.
Book a tee time at Crowsnest Pass Golf Club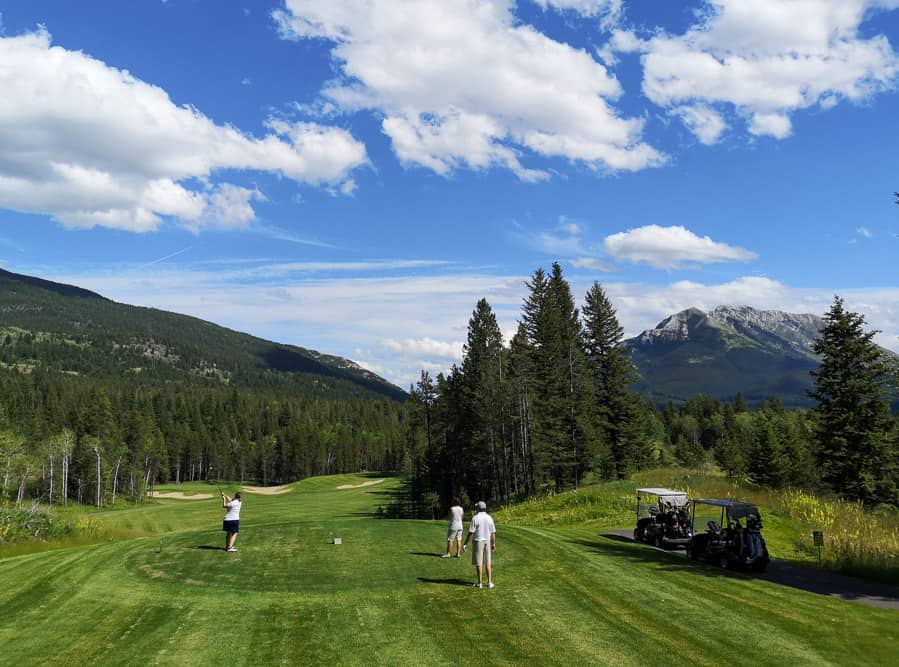 Other Popular Courses in Alberta
Dinosaur Trail Golf & Country Club – Drumheller, AB
Play a round of golf where the dinosaurs once roamed. Amaze, challenge, and reward yourself with 18 unique holes of golf at the Dinosaur Trail Golf and Country Club. The front nine winds along the Red Deer River and prepares the golfer for an epic back 9 that is set amongst the hoodoos. It has been described as being of "the most unique, scenic, and memorable 9 holes golf you will play".
Book at tee time at Dinosaur Trail Golf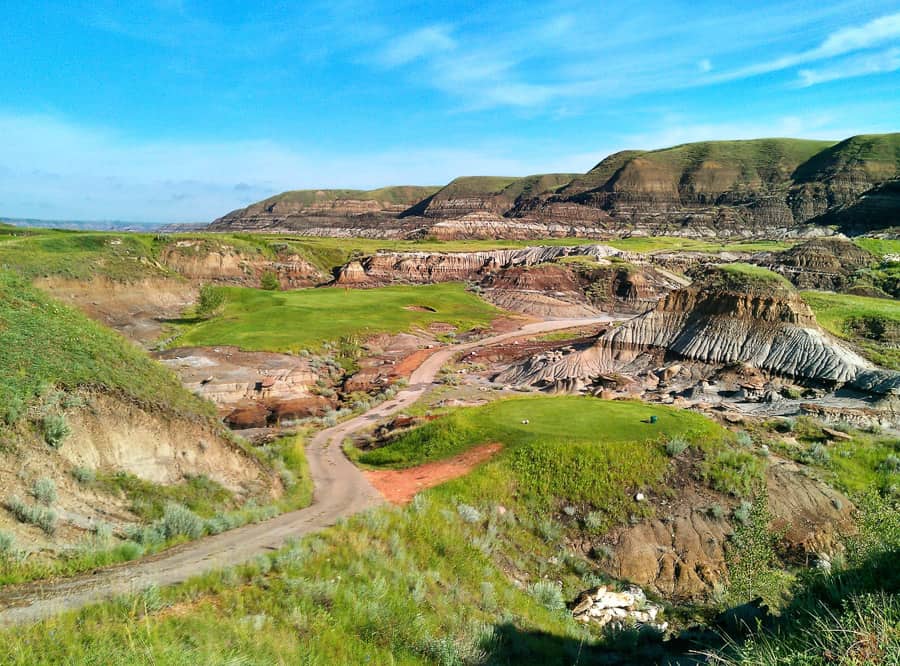 Paradise Canyon Golf – Lethbridge, AB
If you're looking for one of the best golf courses in Southern Alberta, look no further than Paradise Canyon Golf Resort. Found in Lethbridge along the Oldman River, the course aims to please golfers of all skill levels. With onsite accommodations as well as a clubhouse, you can easily spend a few days enjoying the course and the surrounding area, as there are tons of things to do in Lethbridge!
Book at tee time at Paradise Canyon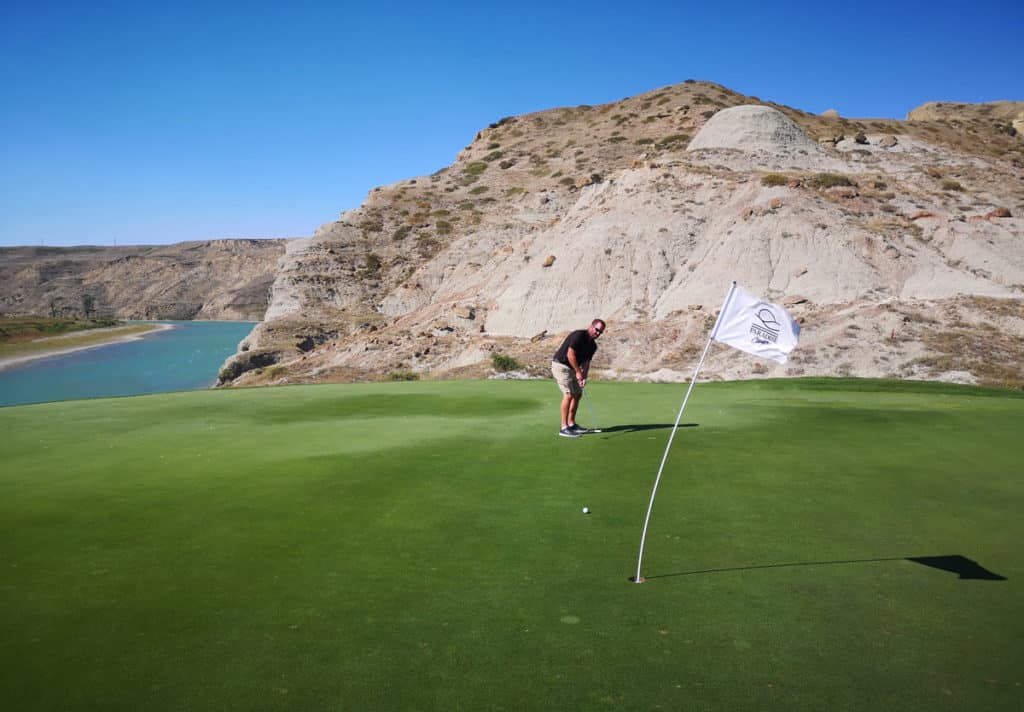 Innisfail Golf Club – Innisfail, AB
You'll find the Innisfail Golf Club about half an hour south of Red Deer in the town of Innisfail, and it doesn't disappoint. With such gorgeous scenery all around you, you're guaranteed a great day on the green! With many challenges along the way – think lots of surrounding forest, water hazards, and changes in elevation – the Innisfail Golf Club is considered a must-play course in Central Alberta.
Book a tee time at Innisfail Golf Club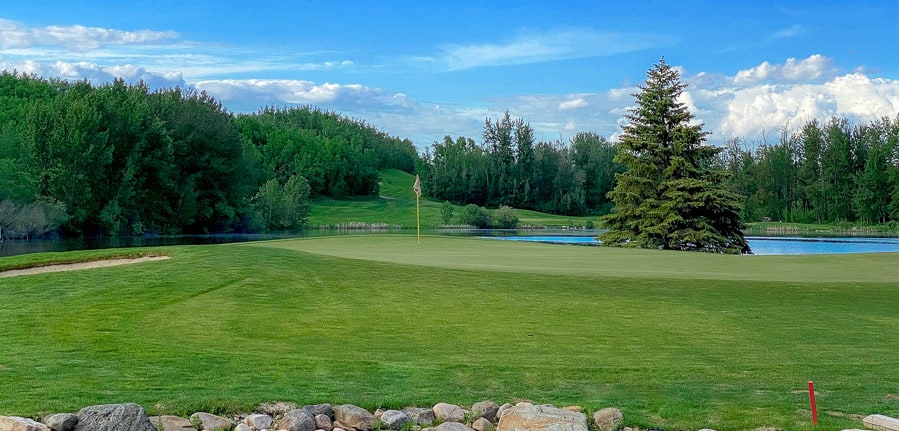 Wolf Creek Golf Resort – Ponoka, AB
Wolf Creek Golf Course is an inland links course that winds in and out of the Wolf Creek bed. Their tagline is, "Where Canada meets Scotland". Found approximately a half hour's drive north of Red Deer, it's easy to make the comparison between the historical home of golf and this exquisite course! With both the Old Course and the Links Course to choose from, Wolf Creek has hosted the Alberta Open and is often considered one of the world's premier golf courses.
Book a tee time at Wolf Creek Golf Resort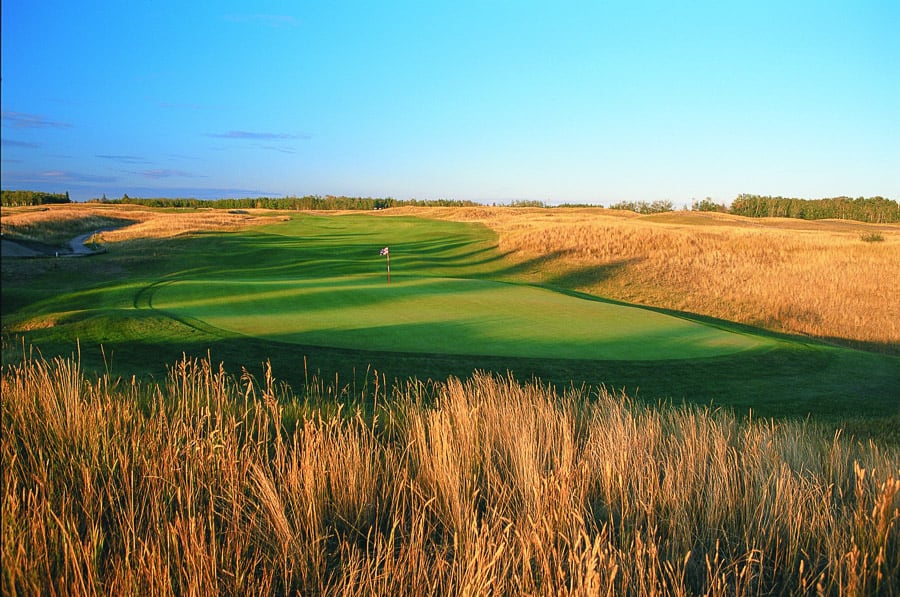 Coal Creek Golf Resort – Ryley, AB
Found approximately an hour's drive southeast of Edmonton, the Coal Creek Golf Resort is well worth the visit. Often listed as one of the best Alberta golf courses, this interesting course is known for its smooth greens and black sand bunkers. The site itself has a mining history, creating a unique landscape that will prove to be a challenge for any golfer. Memorable, challenging, and well-maintained, you can't ask for much more from a golf course.
Book a tee time at Coal Creek Golf Resort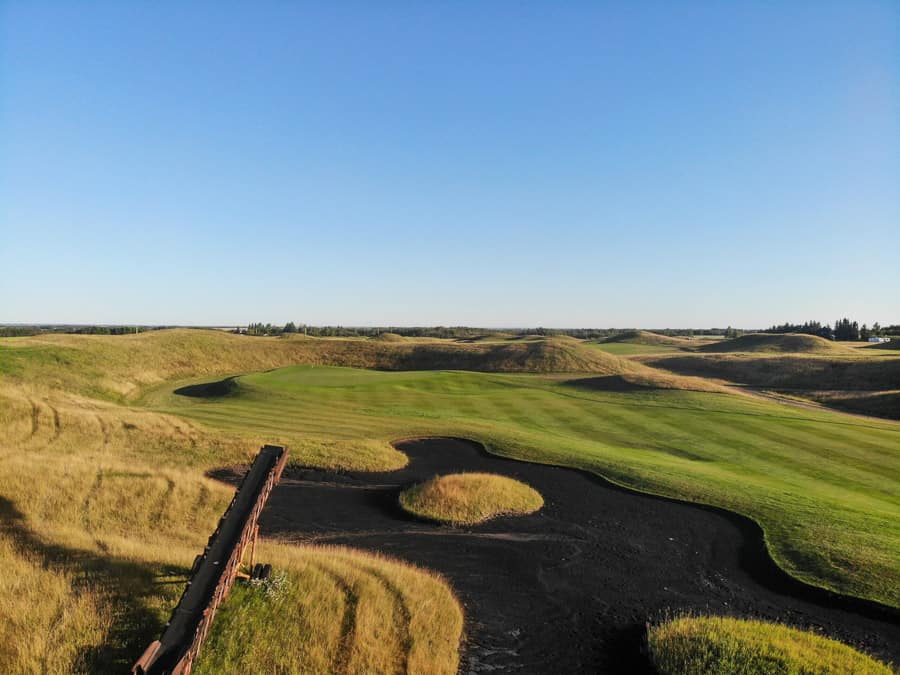 Planning an Alberta golf vacation? We can help!
Need a hotel?
We can plan a customized itinerary exclusively for your trip! Contact us for more details.