Disclaimer: This page may contain affiliate links. Please review our full Terms and Conditions for more information and our Privacy Policy. Note that any pricing, operating hours, or other such information provided below may have changed since initial publication.
Compiled by the Road Trip Alberta team
Last updated on October 23, 2023
As one of the largest urban parks in North America, Fish Creek Provincial Park stretches 20km at the south end of Calgary, Alberta. It is close enough to the city to experience nearby attractions but also provides a dose of nature for those looking to escape the hustle and bustle of the city. Within close proximity to the city center, Fish Creek Provincial Park is similar to Edmonton's River Valley Park; providing urbanites with easy access to an expansive outdoor park featuring miles of hiking and biking trails, water, and wildlife.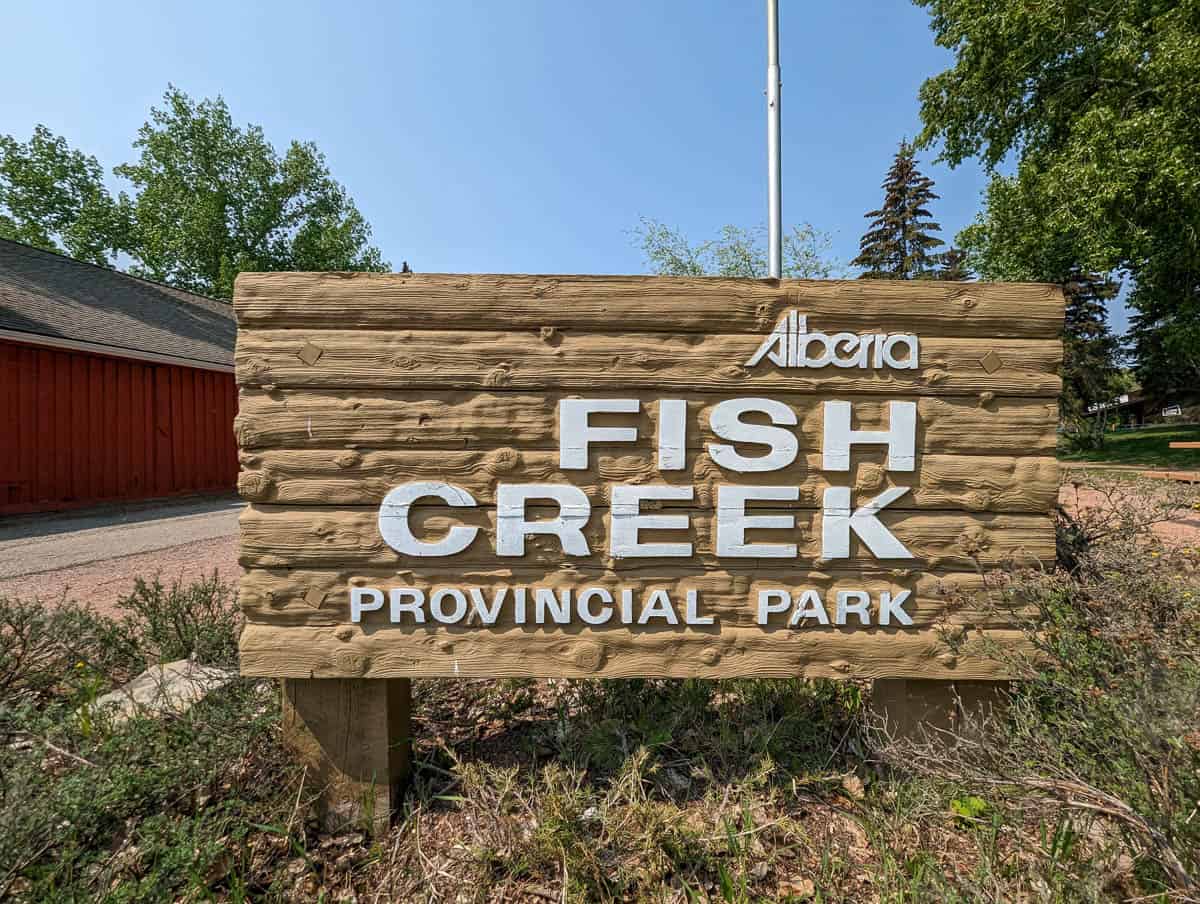 Fish Creek Provincial Park offers opportunities for recreational activities year-round, all within the Calgary city limits! Read on to find out more about Fish Creek Provincial Park.
Land Acknowledgement
We acknowledge that the land that Fish Creek Provincial Park sits on is the traditional territories of the Blackfoot Confederacy, including Siksika, Kainai, Piikani, the Tsuut'ina, the Îyâxe Nakoda Nations, the Métis Nation (Region 3), and all people who make their homes in the Treaty 7 region of Southern Alberta.
About Fish Creek Provincial Park
Don't let the urban location fool you, this slice of heaven is an oasis, being the second largest urban park in Canada, it is a spacious park full of trails and a large manmade lake for swimming. Fish Creek flows throughout the length of the park, joining the Bow River on the east side. With more than 100 km of both paved and unpaved trails, the park is a popular spot for a plethora of outdoor activities, including, hiking and biking, picnicking, swimming, fishing, and wildlife viewing.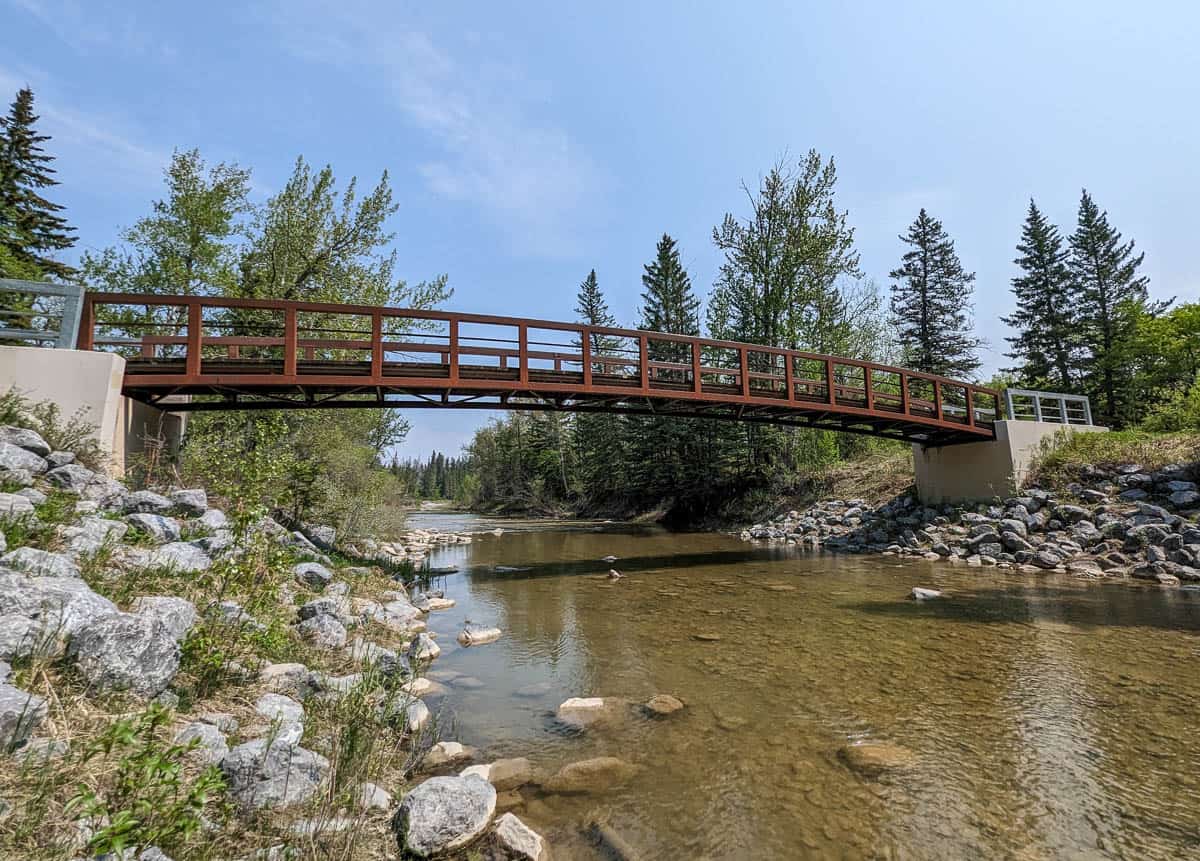 Facilities at the park include a visitor center, an environmental learning center, picnic shelters, group day-use areas, a restaurant, concession stands, Sikome Lake, a boat launch at the Bow River, and a golf course close is close by for those interested. Swimming is permitted at Sikome Lake, and fishing is permitted in Fish Creek and the Bow River.
There is a visitor centre with a wheelchair-accessible entrance onsite providing information and interpretive programs. Keep in mind that the park is a day-use area, so there is no camping allowed. Additionally, off-highway vehicles (OHV), horses and equestrian riding are also prohibited.
Getting To Fish Creek Provincial Park
By Car
There are so many access points to Fish Creek Provincial Park in the south end of Calgary, and each with a spacious parking lot to utilize. Perhaps the easiest access to the park would be via Macleod Trail, as it goes straight through the middle of it and is close to more of the trails and wilderness. However, it doesn't provide access to amenities like the visitor centre or Sikome Aquatic Facility, which both require access via Bow Bottom Trail SE.
To get to the visitor centre from Macleod Trail, exit onto Canyon Meadows Drive SE, which can then lead straight to the popular bird-watching site of Mallard Point, or turn off onto Bow Bottom Trail SE and head south until you see signs for the visitor centre on the right-hand side.
By Public Transit
Access to Fish Creek Provincial Park is quite easy as it's within the city of Calgary! If driving yourself is not an option, the city's rapid transit system has a stop very close to the park. In fact, the station is in the name: Fish Creek–Lacombe station (also commonly called just Fish Creek LRT station).
The station is located in the southwest quadrant of the city by the residential neighbourhood of Shawnee Slopes. The station is west of MacLeod Trail and just to the north of James McKevitt Road. On the south end of the station, there is a park-and-ride parking lot as well as a pedestrian overpass that conveniently connects to Fish Creek Provincial Park.
Fish Creek Provincial Park Visitor Centre
Bow Valley Ranche Visitor Centre at Fish Creek Provincial Park is open 5 days a week year-round (closed Saturdays & Sundays).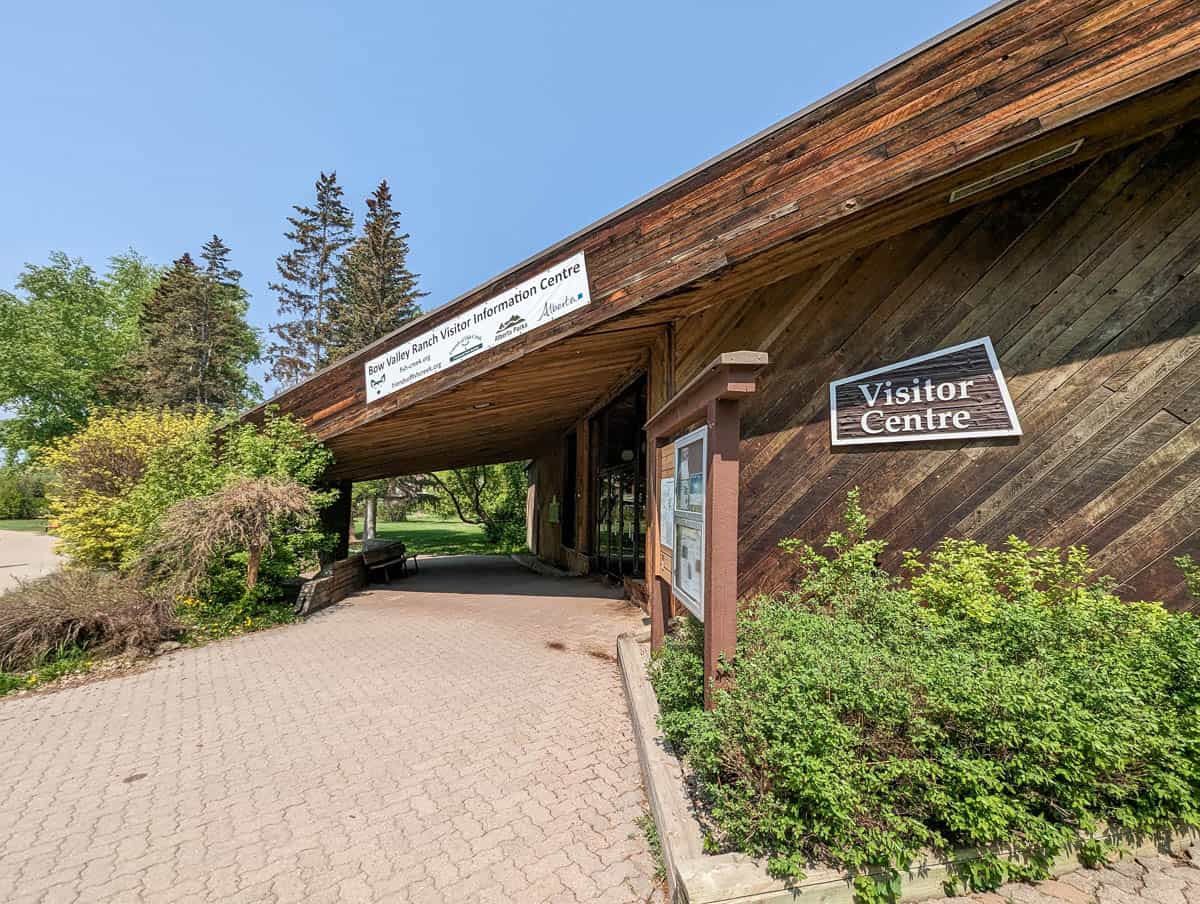 The building itself is wheelchair accessible and surrounded by paved pathways ideal for visitors in wheelchairs or using strollers, as well as paved parking lots. Bow Valley Ranch Visitor Centre houses an information kiosk manned by Alberta Parks employees providing information and leading educational programs and events. Additionally, the visitor centre has a theatre and exhibit area, washrooms with flush toilets, a water fountain, and a pay phone.
Fish Creek Environmental Learning Centre
The Fish Creek Environmental Learning Centre is an onsite facility for students and private groups to engage with Alberta Parks staff and be educated about the surrounding natural park. Utilizing 5 classrooms, an amphitheatre, and close access points to nearby trails and pathways, the nature school hosts students in science education from Calgary and area schools.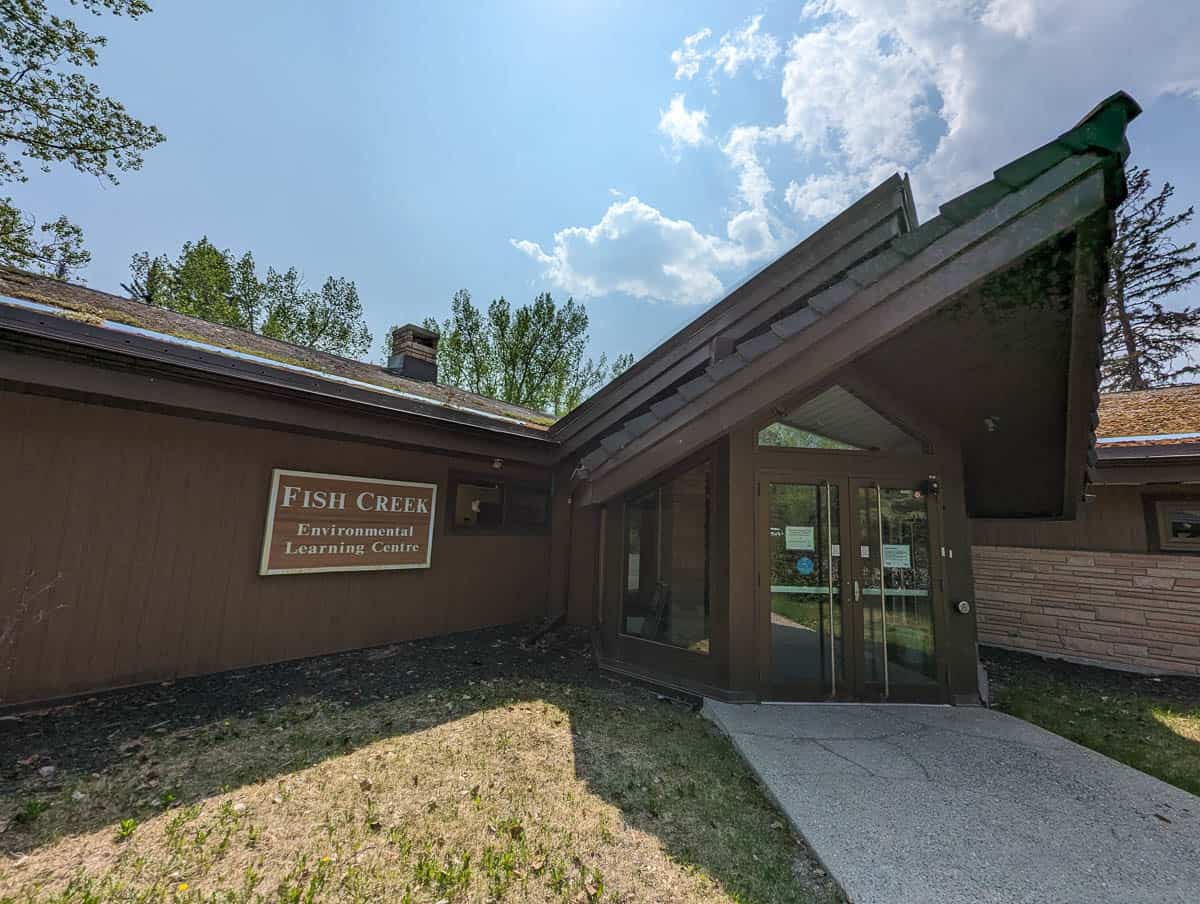 Although there is no public access while education programs are occurring, the facility is open to the public for a variety of scheduled presentations and events or available to rent when the space is available.
Things To Do At Fish Creek Provincial Park in the Summer
Wildlife Watching
Much of Fish Creek Provincial Park is forested with old-growth trees and is home to a variety of natural wildlife, including deer, coyotes, owls, and beavers, as well as snakes and frogs. More than 200 bird species have been seen in the park, including great blue herons that are attracted to the river.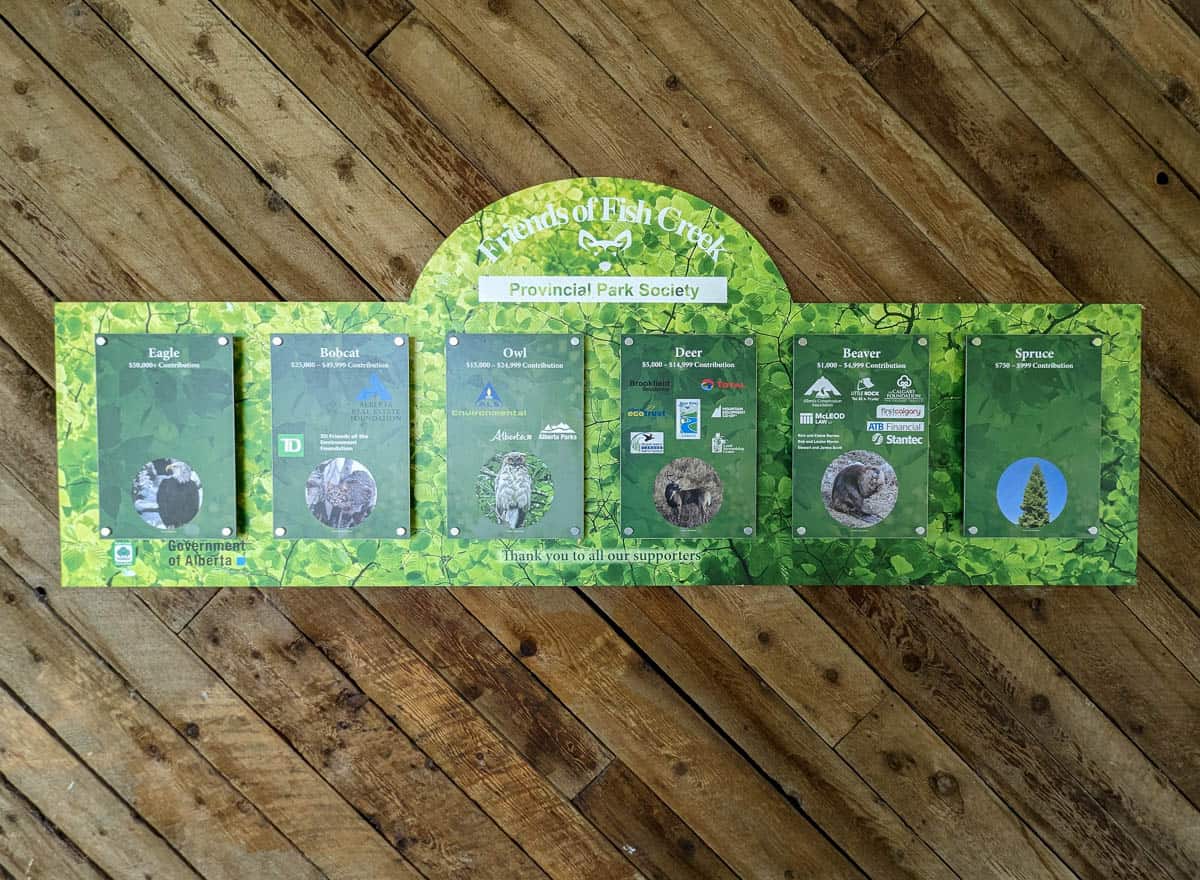 While you plan to take time to meander throughout the numerous paved and unpaved pathways (there really are so many trails!) in the park, make sure you also become familiar with Alberta Parks wildlife safety tips beforehand.
Hiking Trails
Fish Creek Provincial Park has more than 80 km of pathways – 30 km paved and 50 km of shale so the exploring opportunities are endless! This map is a great resource to find the perfect route for you. Some areas have been closed to encourage natural vegetation and reclamation, so it is imperative to stay on the marked trails.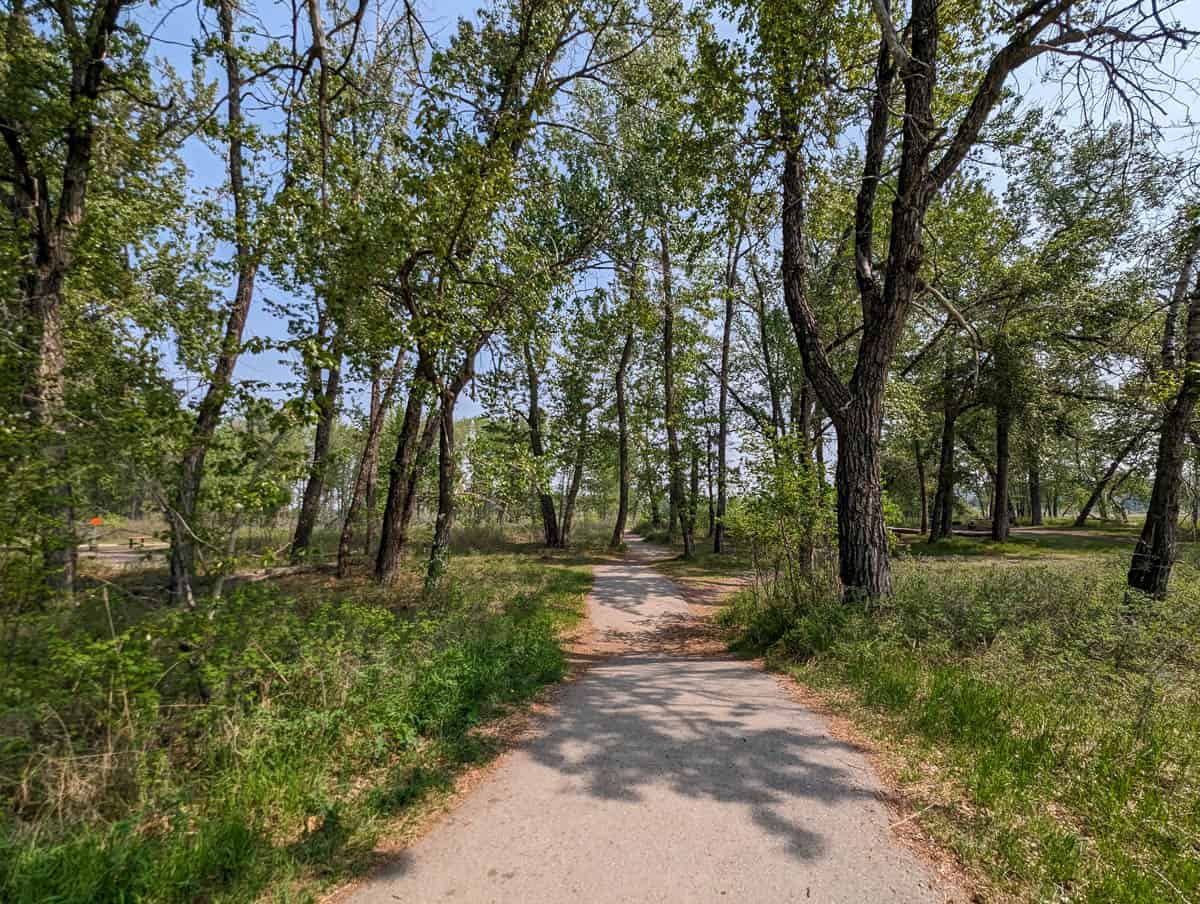 Some of the most popular spots include:
Shannon Terrace
Shannon Terrace Hiking Trail is a nature lover's paradise, characterized by a woodsy atmosphere that evokes a deep sense of tranquillity and natural beauty. The trail meanders through an area adorned with large spruce trees that create a captivating forest canopy. This woodsy landscape is perfect for hiking enthusiasts, offering well-maintained trails that wind through the woods and provide opportunities to immerse oneself in nature's wonders.
Shannon Terrace also boasts abundant wildlife, from graceful deer to playful squirrels and a variety of bird species. This trail is an ideal choice for those seeking a profound connection with a wooded environment, where the scent of pine needles and the rustling of leaves in the breeze create an enchanting experience in the heart of the forest.
Hulls Wood
Hulls Wood Hiking Trail is a conveniently located natural retreat near a Visitor Centre, making it easily accessible to all. This trail system offers a classic hiking experience, with well-marked paths winding through the forested area. It caters to a range of skill levels, ensuring that both novice and experienced hikers can enjoy its serene ambiance.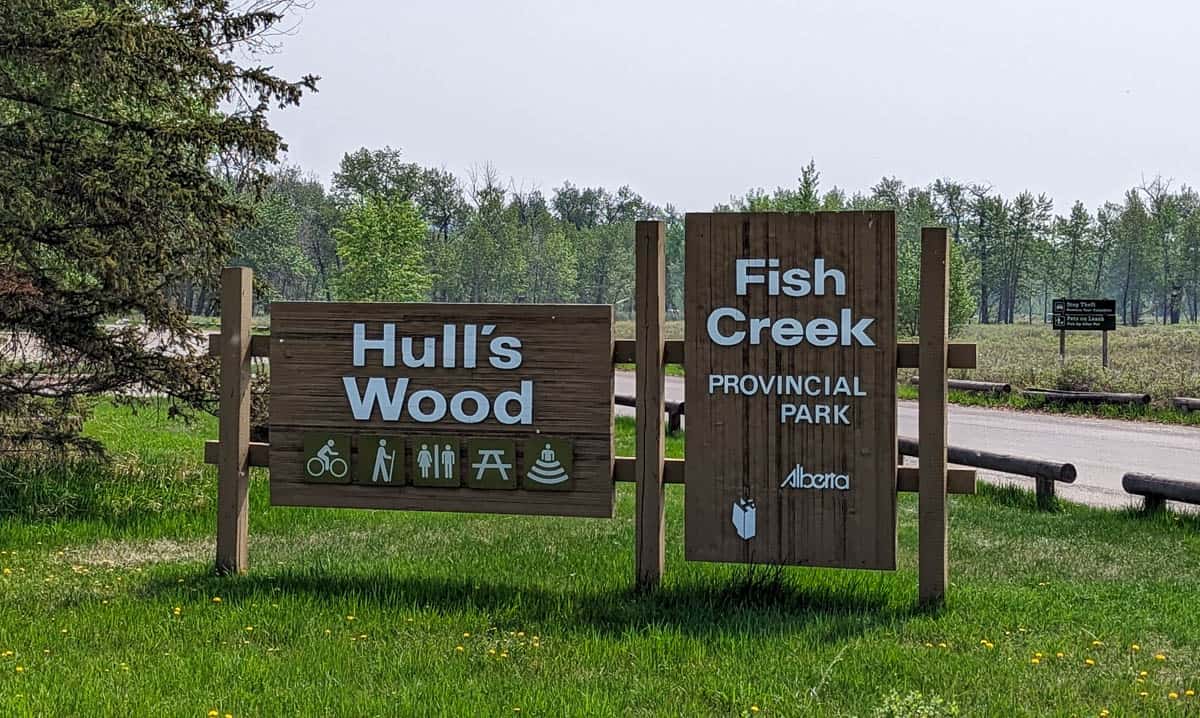 Hulls Wood stands out for its tranquil and immersive forested environment, allowing visitors to reconnect with nature in a peaceful setting. Whether you prefer a leisurely stroll or an invigorating hike, Hulls Wood provides a harmonious escape into the heart of the woods.
Mallard Point
Mallard Point Hiking Trail is a nature enthusiast's haven located along the picturesque Bow River. This trail is renowned for its excellent fishing opportunities, with the Bow River offering a rich variety of fish species. Birdwatching is another highlight, as the area is home to a diverse range of avian life. While exploring the well-marked pathways, visitors can soak in the serene beauty of the Bow River corridor.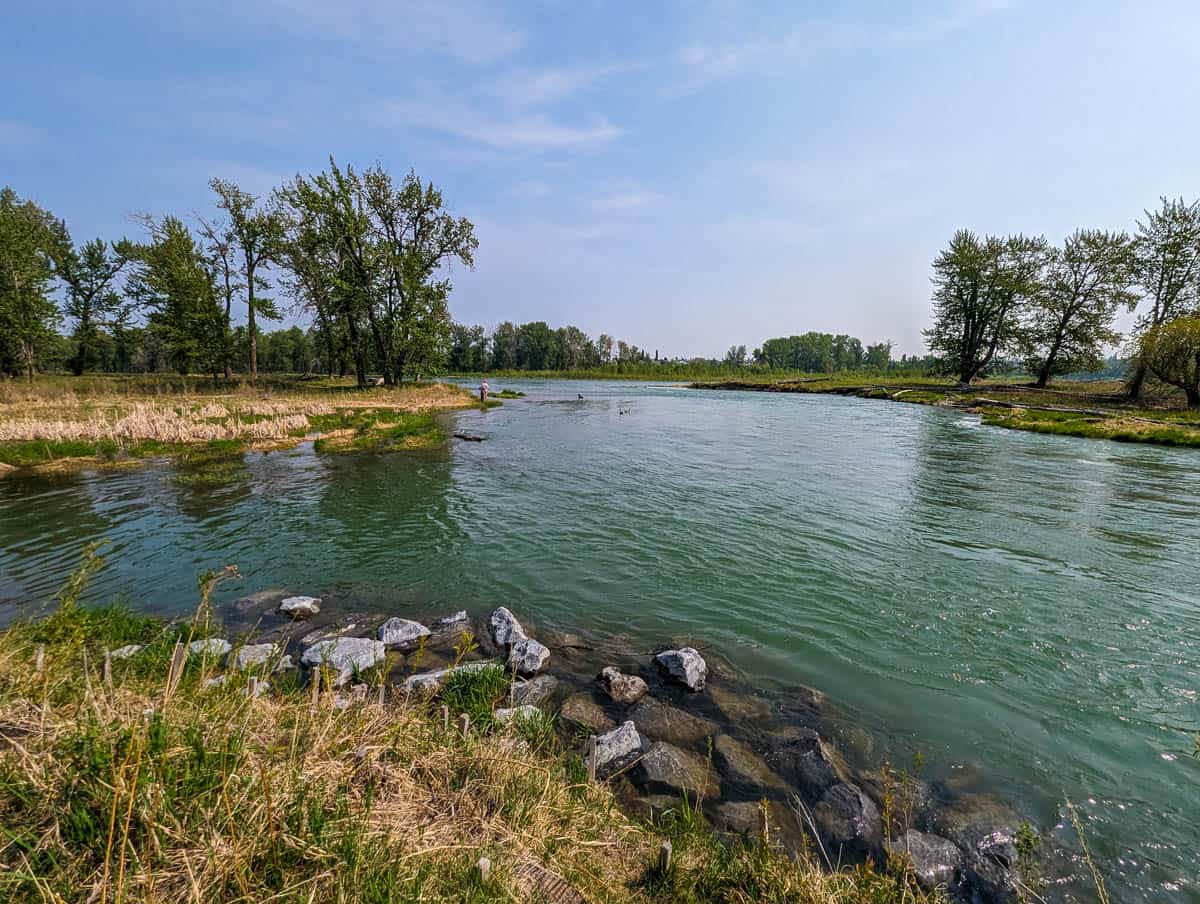 However, it's important to note that there are no picnic tables at this site, and fires are not allowed, underscoring the commitment to preserving the natural environment and ensuring safety. Mallard Point provides a balanced outdoor experience, combining angling, birdwatching, and scenic walks by the river.
For a fun option: try bringing your rollerblades and gliding on the paved pathways!
Swimming
There is swimming within Fish Creek Park at Sikome Aquatic Facility. The manmade lake has a sandy beach area to set up your towel spot and wade into the waters on a hot summer day! With a water treatment plant onsite that tests the water regularly to assure water quality, you can splash and play to your heart's content! Please keep in mind at Sikome Lake, there are no lifeguards, so bring flotation devices and keep a close eye on children.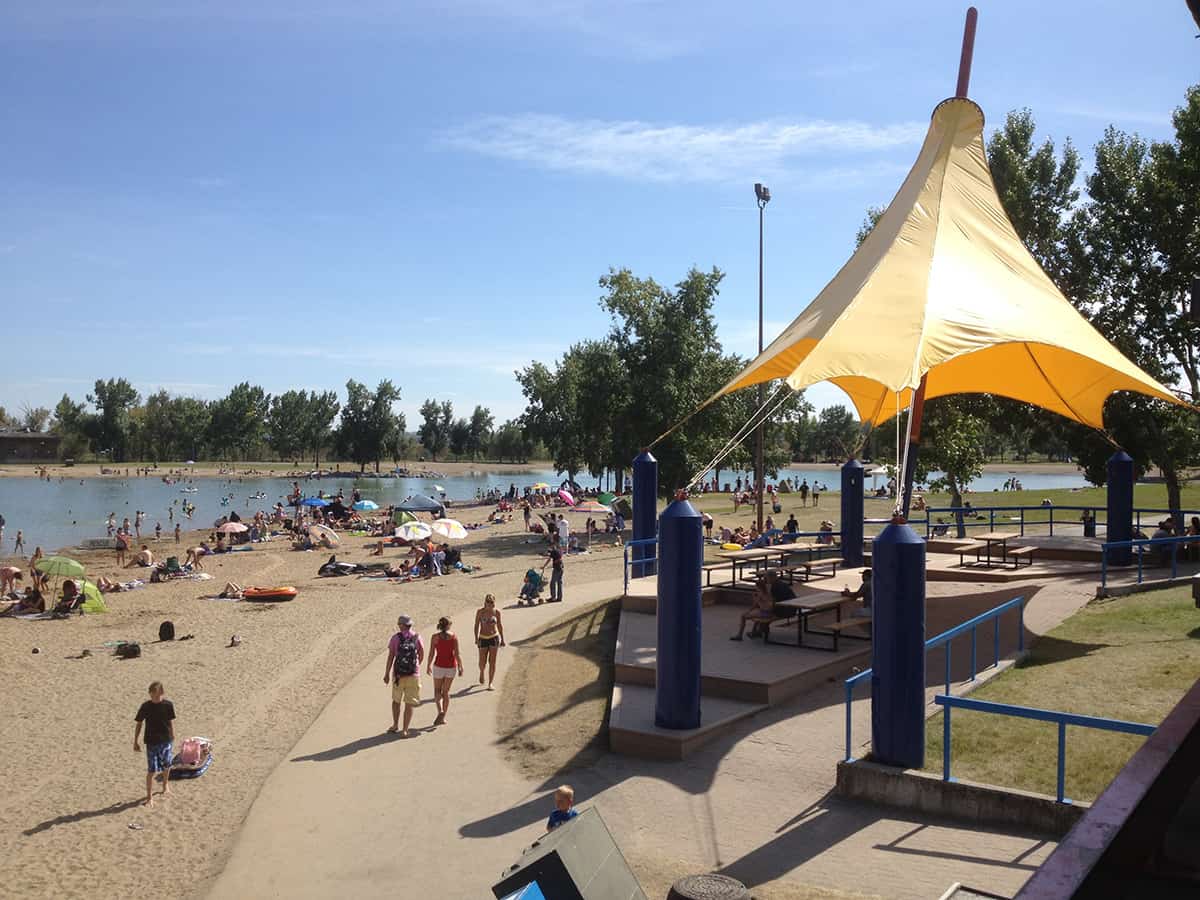 The facility opens for the season in June and usually closes in September, depending on the weather. There are three different gates to enter from and also three parking lots for parking with an overflow lot at the South entrance. There is a fee to enter and admissions are processed on a first-come, first-served basis with no group rates or reservations available.
Admission rates for 2023 are as follows:
Family (max 2 adults and up to 4 children) $10
Persons with disabilities (Aides enter for free) $2
Adult (18-64) $5
Senior (65+) $4
Children + Youth (6-17) $3
Child (0-5) Free
Access to the beach and water closes at 7:00 PM, so make sure to plan accordingly.
Picnics
The picnicking opportunities in Fish Creek Park are abundant! There are many day-use areas with several picnic sites, including picnic shelters, picnic tables and firepits close to washrooms to have a relaxing picnic lunch surrounded by nature.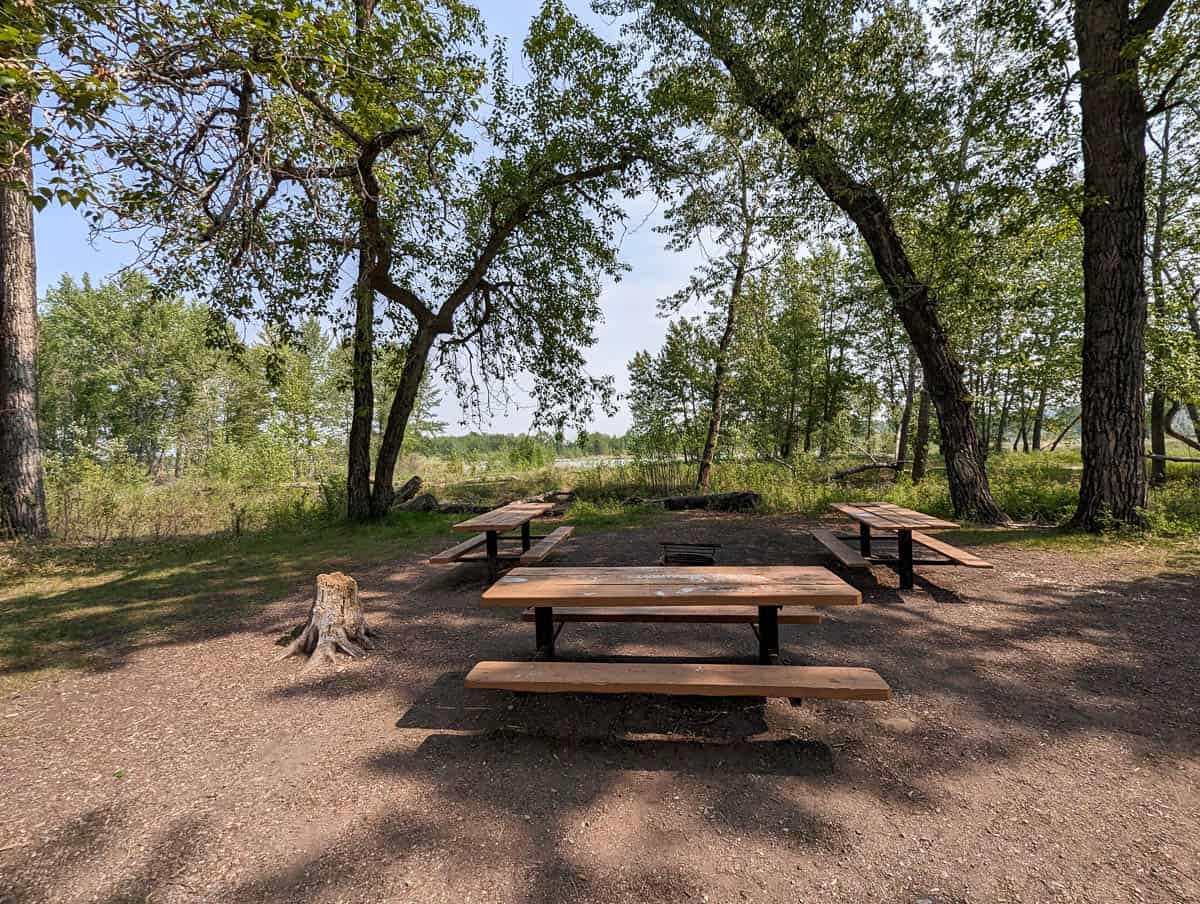 Liquor is permitted in the Bankside and Hull's Wood Day Use areas only. Check out the day use listings for details on specific locations.
Fishing
There are two fantastic fishing spots in Fish Creek Provincial Park; Bow River and Fish Creek. The Bow River is known for being world-class for trout fishing and Fish Creek has rainbow trout, brown trout, and Northern pike.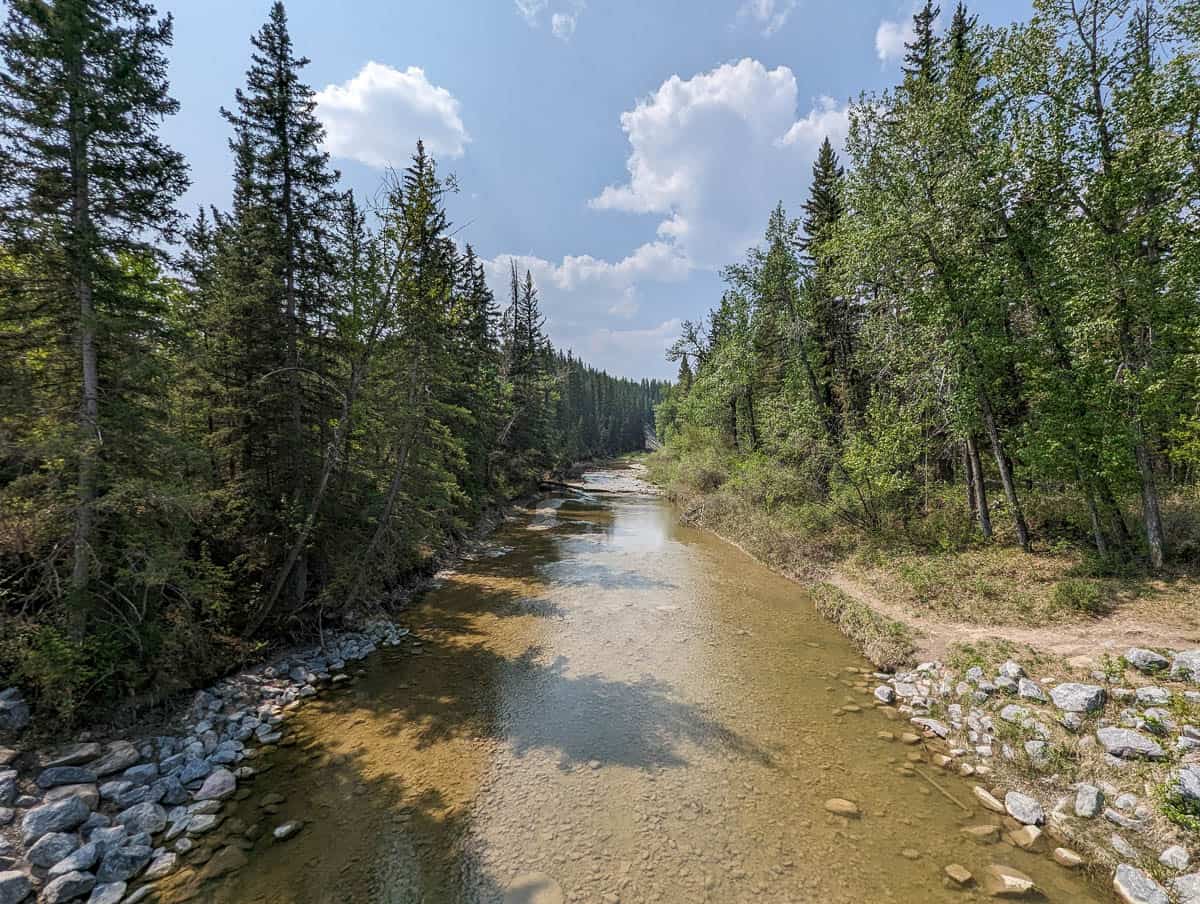 Check Alberta Guide to Sportfishing Regulations for bait restrictions and catch limits.
Boating
Boating on the Bow River is a great way to view the natural landscape of Fish Creek Provincial Park in a new way! The boat launch is located off Bow Bottom Trail S in the boat launch day use area. Note that there are no picnic tables in this area, and fires are not permitted. Pit toilets are available on-site and are open from April 1 – September 30.
The boat launch area is open from April 1 to October 31 and operates under the same hours as day-use facilities throughout the park (same as the parking lot). Make sure to check the facility schedule and plan accordingly.
Birding
Birding, or bird watching, is a popular activity in Fish Creek Provincial Park due to the sheer number and variety of bird species that frequent the area. The various habitats in the Park offer refuge for a wide variety of bird species. Without this natural area, many of these birds would not be able to exist in Calgary.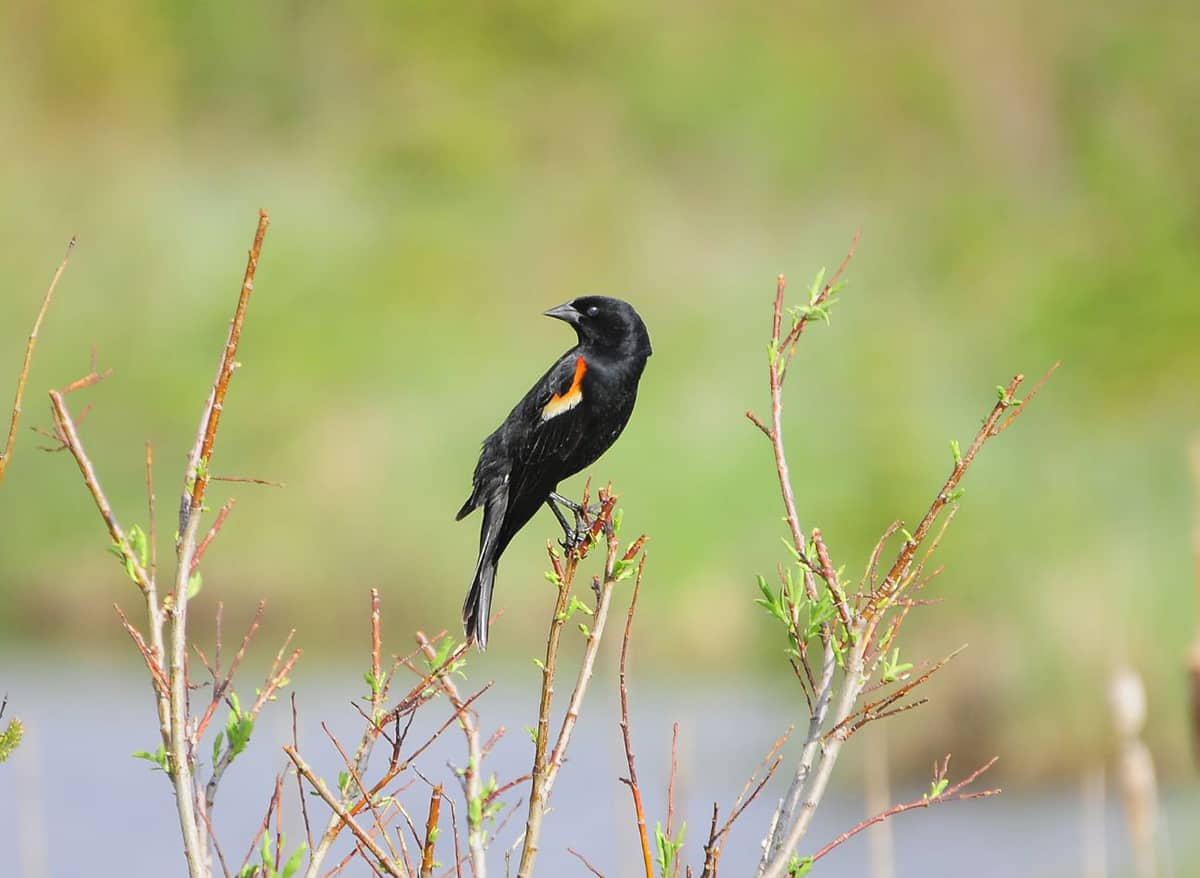 More than 200 bird species have been observed (here is a fun checklist of the different kinds you may see!) from Great Blue Herons, bald eagles, owls, and various songbirds. Remember: do not feed the birds. They are wild and get enough food from the natural environment. In fact, it is unlawful to feed all wildlife in the Park.
Biking
The paved bike paths throughout the park make a bike ride a breeze to explore nature throughout. If more fast-paced bike riding is up your alley, there is a convenient mountain bike skills park to jump on! For those interested, the skills park is located next to the Burnsmead Day Use parking lot.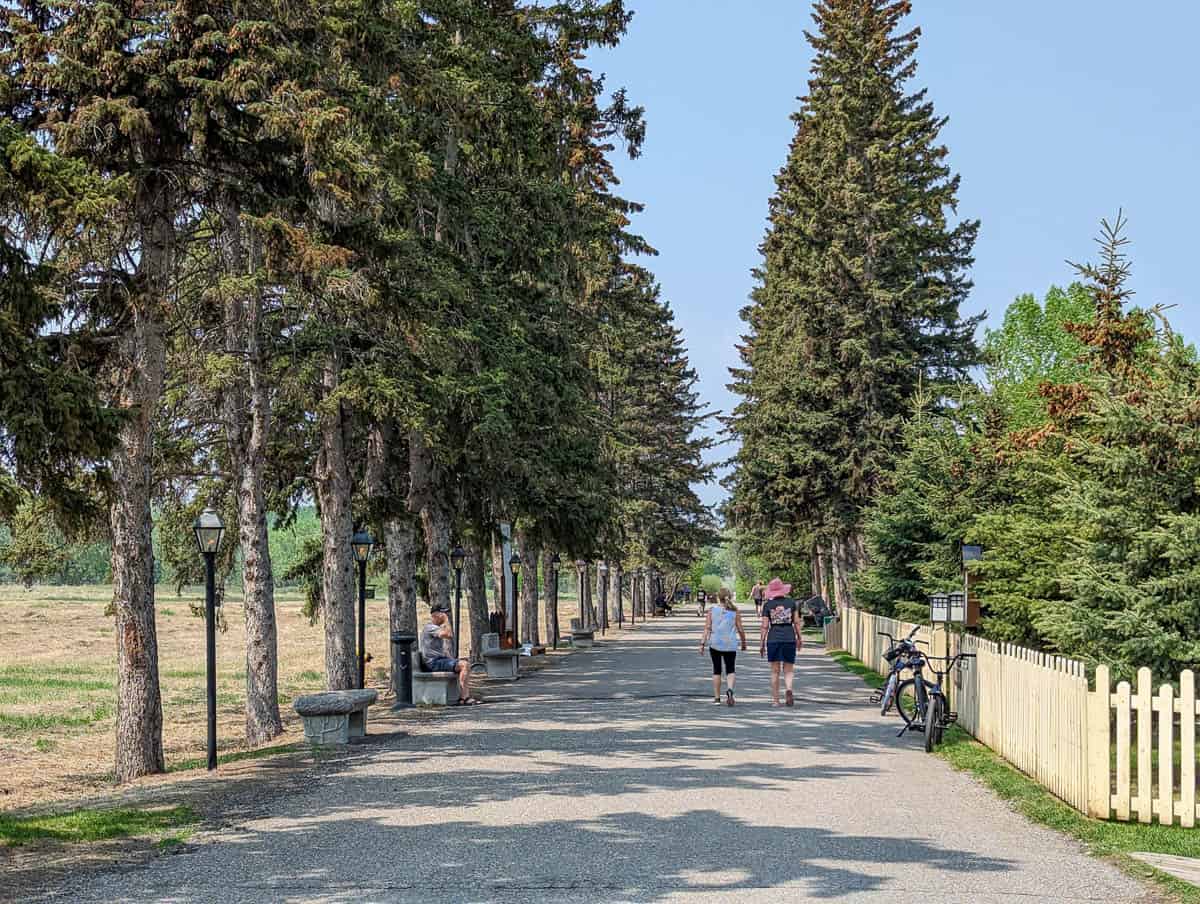 Note: biking is permitted on pathways in the park except those in the Sikome Aquatic Facility and in front of the Bow Valley Ranch visitor centre.
Bow Valley Ranche Restaurant
Bow Valley Ranche restaurant is a fine indoor dining establishment and is listed as one of the top places to eat in Calgary. The restaurant is located surrounded by the beautiful Fish Creek Provincial Park, just north of Sikome Lake. The sprawling ranch house was built in 1896 and throughout its many years, the house has always had a reputation for holding unforgettable parties. Now, and since 2014, the restaurant focuses on using sustainably grown, fresh ingredients to create their stunning plates.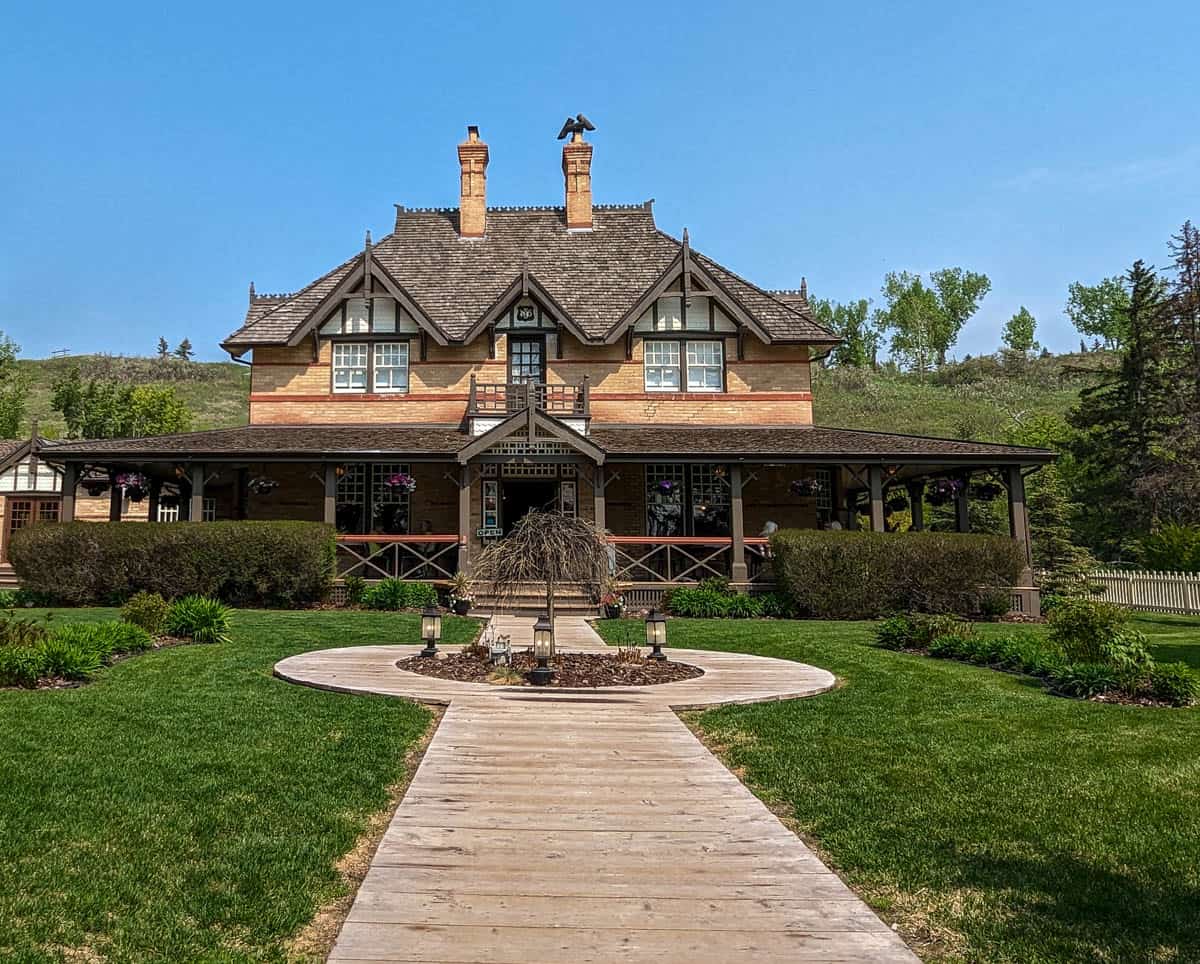 Tip: keep an eye out because this location regularly hosts Foodies In The Park – a creative pop-up restaurant where people enjoy their meals within glass domes.
Things To Do At Fish Creek Provincial Park in the Winter
Even in the cold months, many people choose Fish Creek Park to visit! Popular winter activities include cross-country skiing and snowshoeing, however, keep in mind that the pathways are not groomed or maintained for cross-country skiing. Some pathways in the park are cleared of snow during winter for easy access but don't expect it throughout. For example, on the five-minute walk through the forest from the visitor centre, snow is not removed from the pathway in the winter.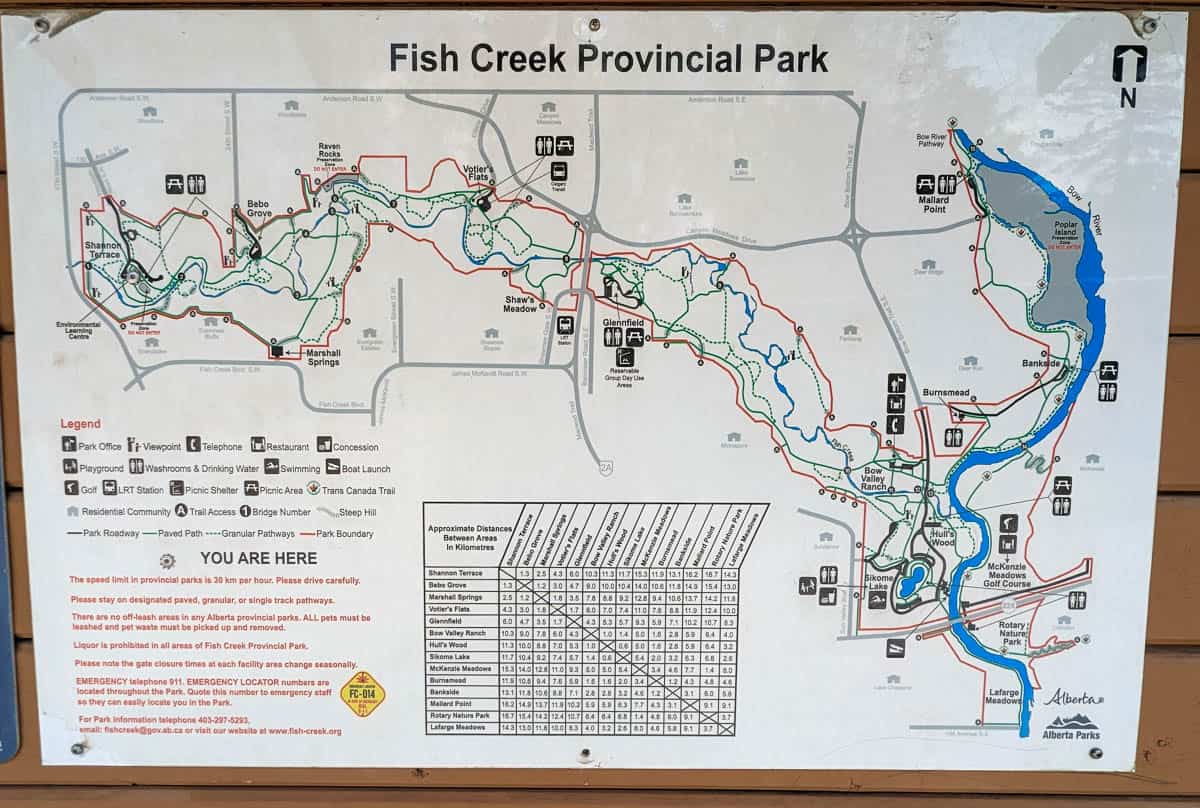 Ice conditions on Fish Creek are potentially hazardous throughout winter, so activities like ice fishing or walking on the ice are not recommended. Additionally, tobogganing is not encouraged due to natural hazards such as fallen logs and rocks on the trail edges.
But don't let that deter you! Other popular winter activities include: winter bird watching, utilizing the fire pits at a picnic shelter for a winter campfire, checking out the ice falls (located at the south end of the park along the Stream Loop, near Bow Bottom Trail), and warm up with an afternoon tea at Bow Valley Ranche.
There's plenty more to do in Calgary!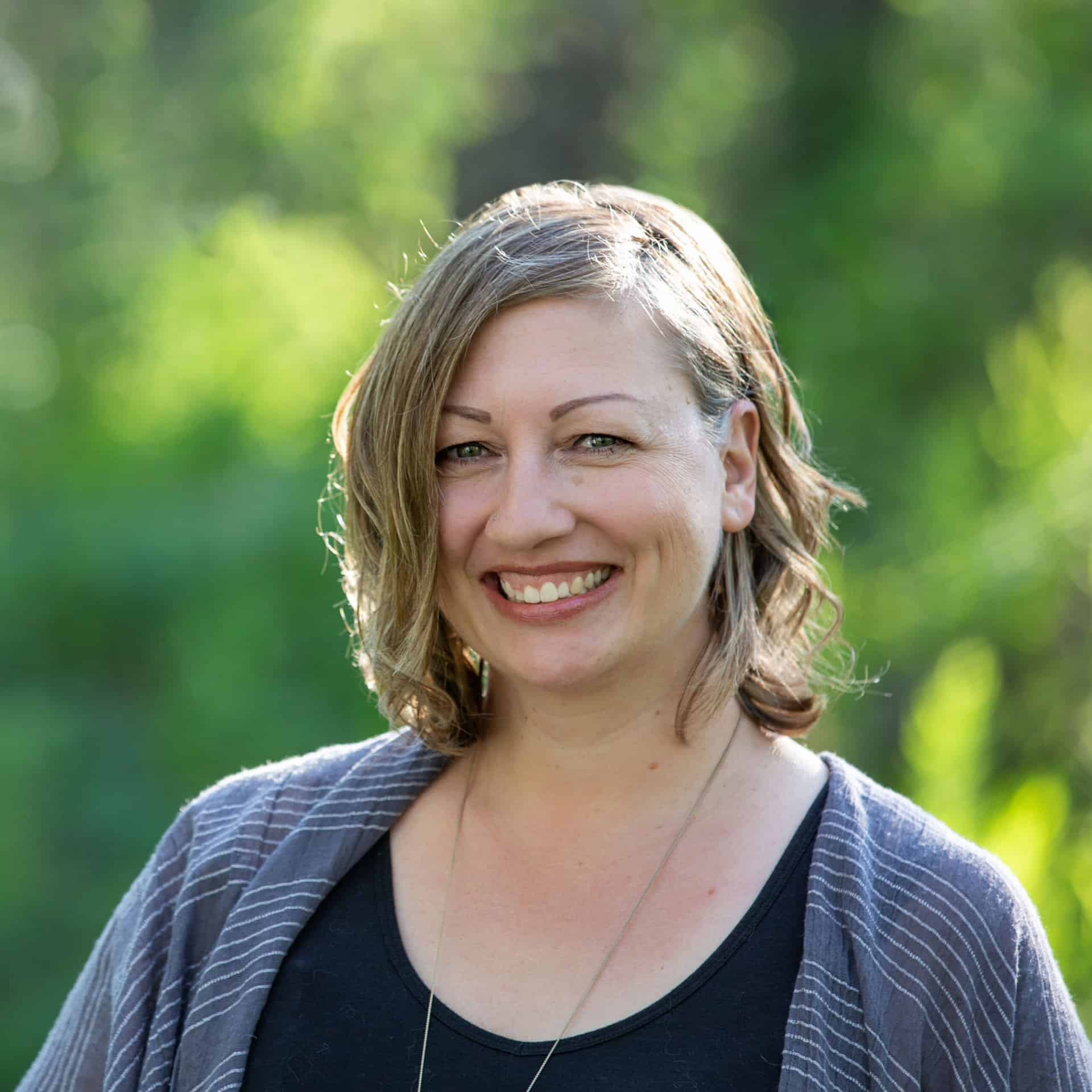 Dalene Heck is a co-founder of Road Trip Alberta. She was born in Edmonton, grew up in the Peace Country, and has ventured to almost every corner of Alberta and the world (she's travelled to 60 countries)! She is a serial blogger, the CEO of HMI Marketing, co-creator of the Trip Chaser card game, a leukemia-slayer, and cat whisperer.