Disclaimer: This page may contain affiliate links. Please review our full Terms and Conditions for more information and our Privacy Policy. Note that any pricing, operating hours, or other such information provided below may have changed since initial publication.
Compiled by the Road Trip Alberta team
Last updated on May 19, 2023
The craft beer scene in Edmonton has certainly amped up over the past few years. With so many different options now available in the city, it's no wonder that Edmonton breweries are getting worldwide recognition for their offerings. It's amazing to not only see the creativity in the suds that are produced but also the unique naming of the brews and decorative artwork on the cans.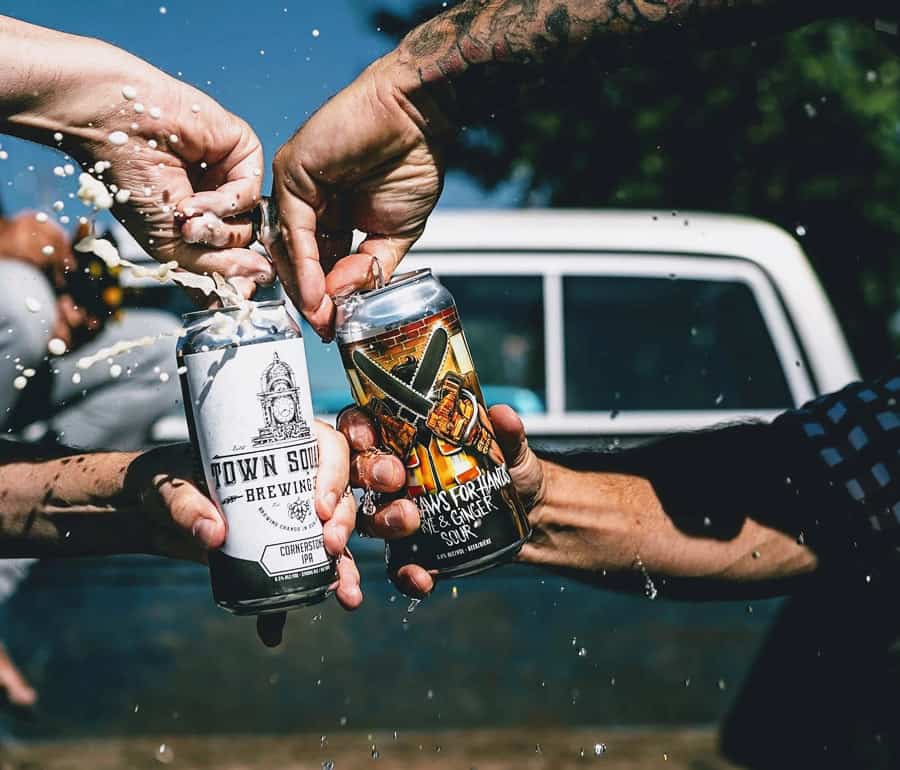 If you are having trouble deciding which beers to try or what breweries to go to, we've narrowed it down to 12 of our favourites. Apart from getting it at the source, you can find many of the beers for sale in liquor stores throughout the city and province. And be sure to download the Explore Edmonton Brewery Pass which will get you discounts to many of the Edmonton breweries we suggest.
Don't Miss These Edmonton Breweries
Sea Change Brewing
Address: 9850 62 Ave NW
Often noted as one of the best breweries in Edmonton, Sea Change Brewing is a local favourite. Passionate about beer, music, and the Edmonton community, the brewery is known for its continuously innovative creations. You can tell the brewery is artist-owned, because each of their can designs is a work of art in itself – and while you shouldn't judge a book by its cover, the quality of their beer does indeed match the stunning artwork on each of their offerings.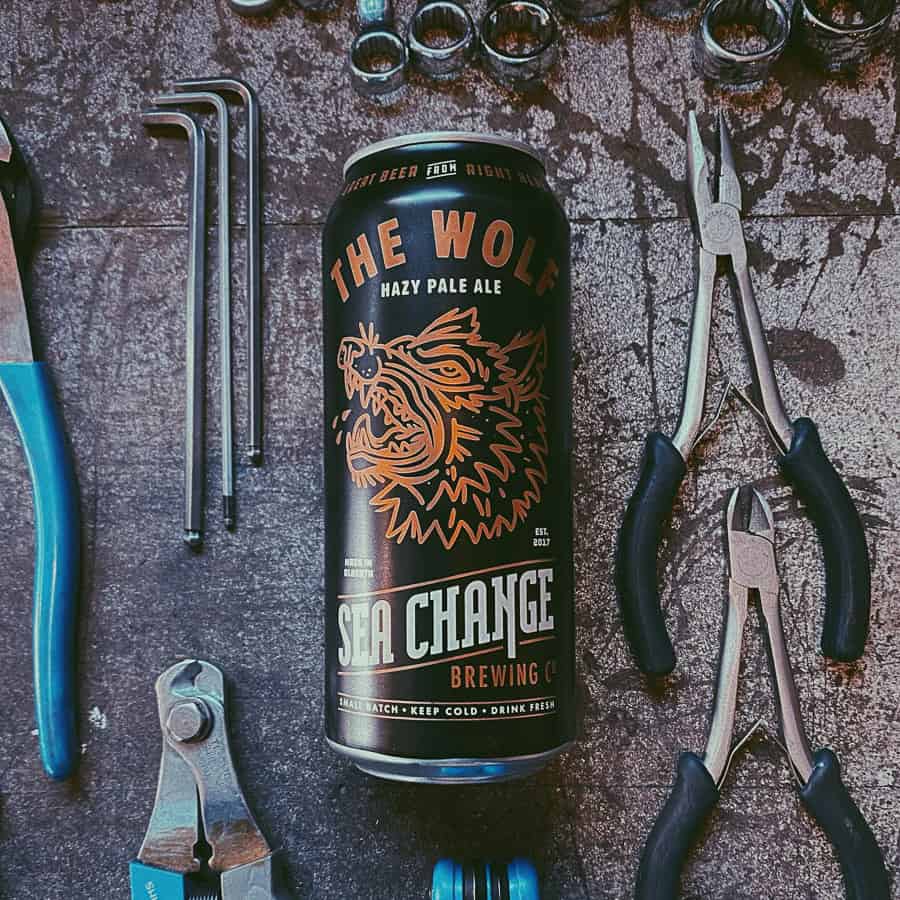 With staples like blonde ales, Irish red ales, and IPAs, Sea Change also experiments with local flavours, meaning there's always something new for you to try. The Prairie Fairy, with notes of tart blackberry and raspberry, is an ongoing favourite, while their Wolf, a pale ale made with Alberta-grown oats and wheat, is so famous that many patrons have been tattooed with its logo.
If you get a chance to visit their taproom, the atmosphere is friendly and fun, serving up excellent street food choices to go alongside their beverages (try the banh mi). You can also find many of their beers on menus at other restaurants around Alberta – the Keg has a few Sea Change options – so make sure to try this Edmonton craft beer whenever you can.
Analog Brewing
Address: 8620 53 Ave NW
Analog Brewing proudly bills itself as Alberta's nerdiest brewer – and who can resist a title like that?! Created by two best friends who share a love of both craft beer and video games, a night spent in their taproom is a guaranteed good night out: Think top-quality beer and an extensive collection of board games, cards, and video games. There are even a few retro arcade games to try in between sips of your beverage of choice!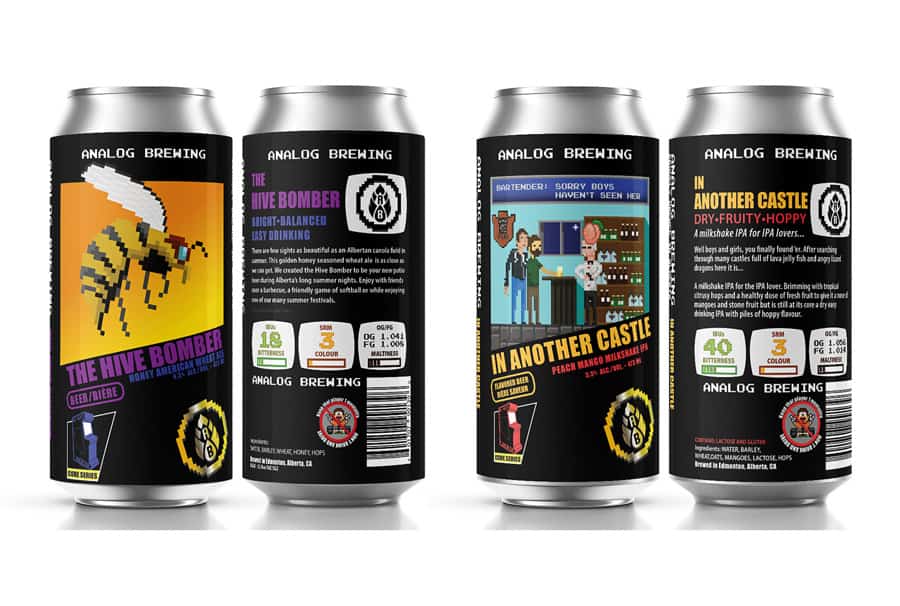 But it's not just the taproom that's the draw; their beer easily places them in the top Edmonton breweries. With a goal of making delicious beer with a retro twist, their selection includes Ready Paler One (an IPA with a strong citrus character), The Hive Bomber (a wheat ale with locally-sourced honey and barley), and In Another Castle (a peach mango milkshake IPA that will knock your socks off).
Analog Brew also aims to make "sessionable" beers; this means that they focus on making sure you can drink a few pints without being overwhelmed by flavour profiles or intoxication. Their ABV is naturally a little lower than some crafts – often between 4% and 5% – but that just means you can enjoy them responsibly!
Blind Enthusiasm
Address: 9570 76 Ave NW
Blind Enthusiasm has not one but TWO breweries in Edmonton. Their "Market Brewery" is located at the Ritchie Market in Biera (one of the best Edmonton restaurants). The other "The Monolith" is nearby on 99th Street and 78 Ave. Here the brewers create completely unique brews using barrel fermentation (move over wine and whisky!). Each beer brewed here takes one to three years to ferment and yields awesomely complex and distinct flavours.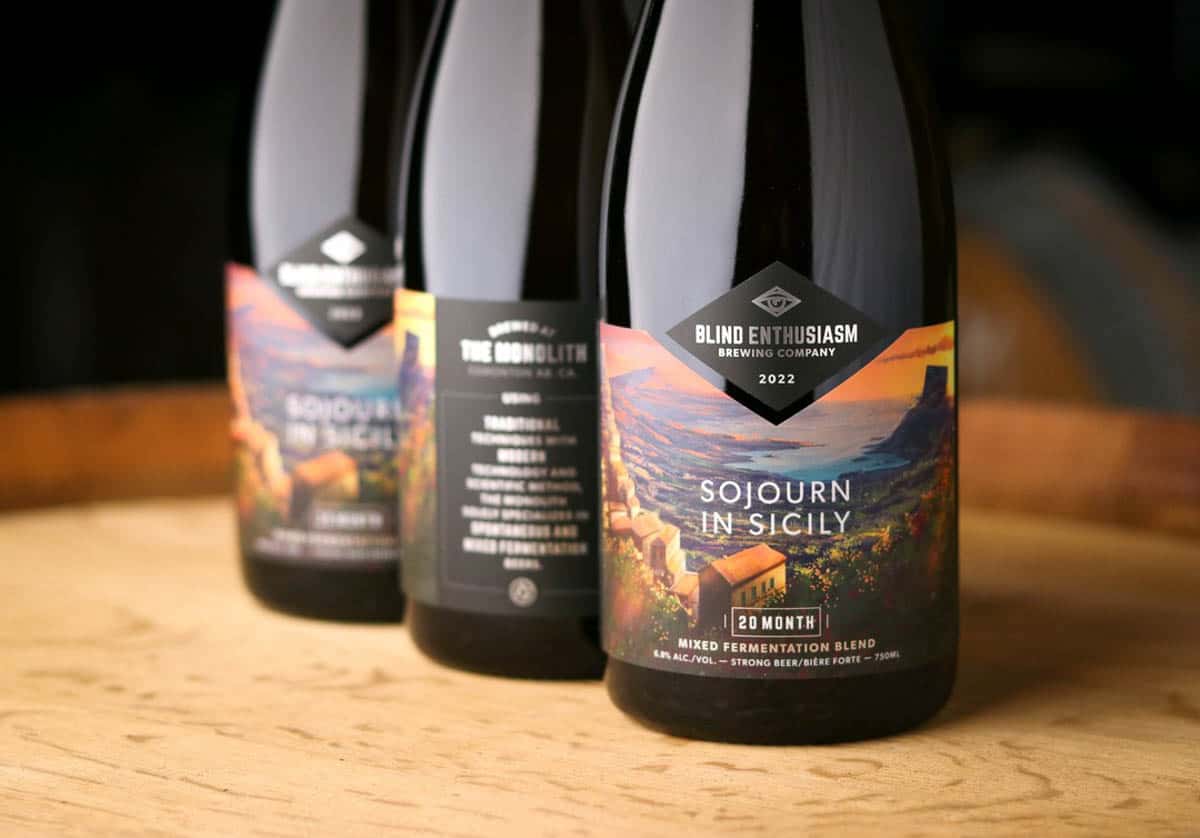 Our favourite from the Market is the 'Düncan', an ode to a previous brewer that has chocolate wafer, cola, and dark cherry notes. And from the Monolith, the award-winning 'Sojourn in Sicily' that is fermented for 20 months using a Sicilian Marsala barrel resulting in a beer with walnut and maple flavours and subtle red berry and rose water undertones.
Campio Brewing
Address: 10257 105 St NW
This highly-recommended craft brewery in Edmonton is renowned for its outstanding service, mouth-watering food menu, and – you guessed it – top-notch beer. With a great atmosphere and plenty of patio space, Campio Brewing's taproom is one of the best in the city for a lively and memorable afternoon or evening. Their pizza, whether enjoyed in-house or with home delivery, is often hailed as some of the best in all of Alberta!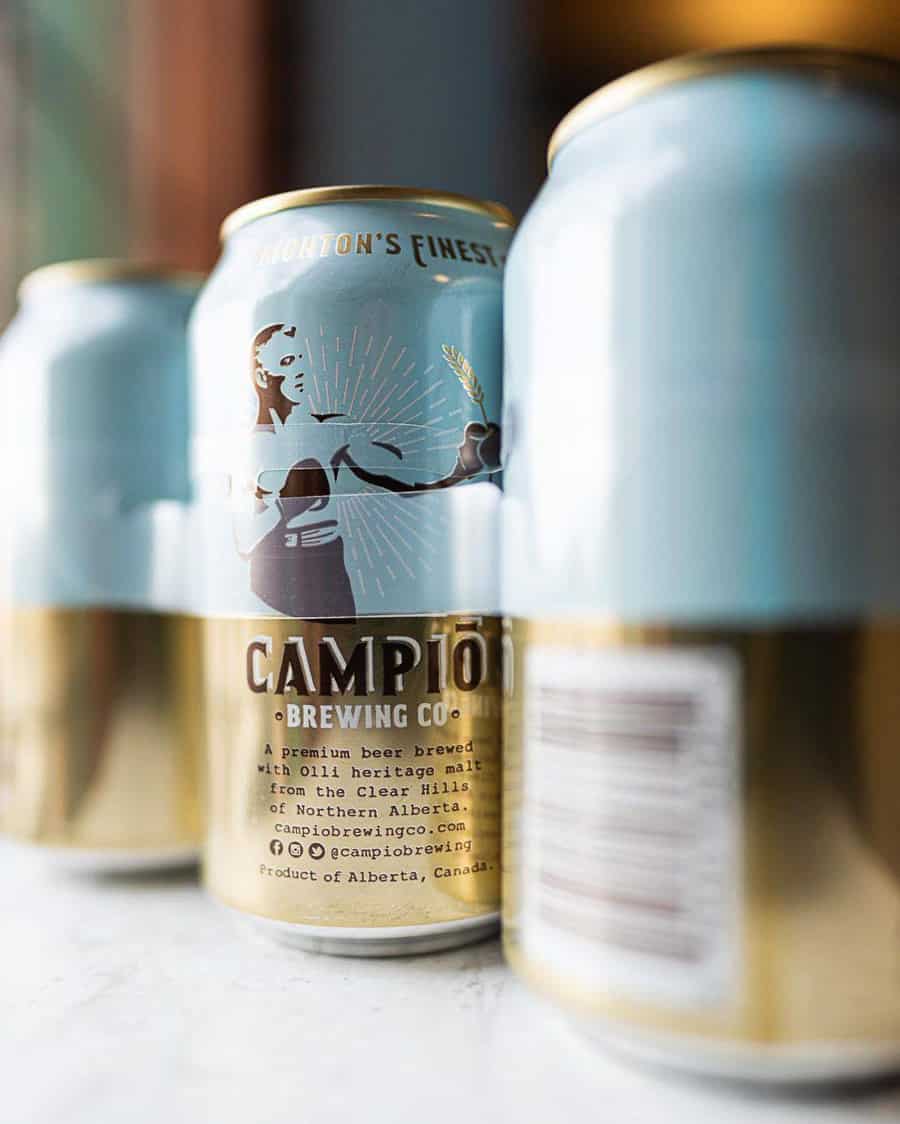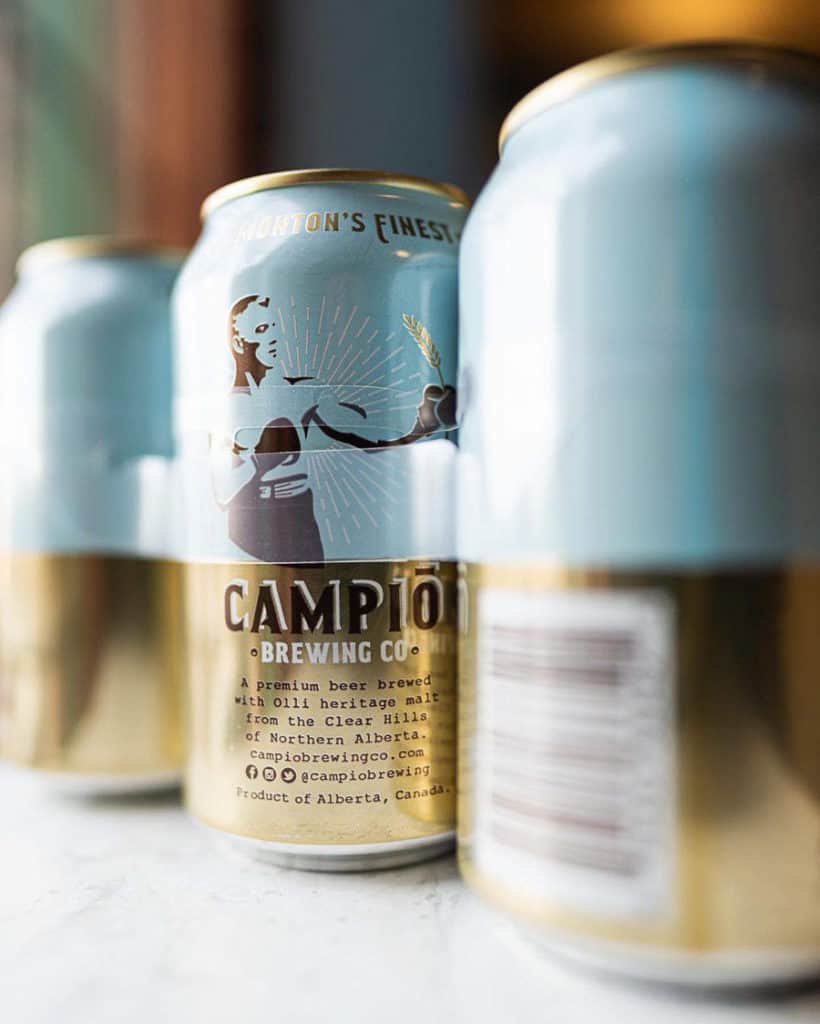 But let's talk about the beer. With a wide range of flavour profiles to choose from, you can try something new every day of the week (and then some). With staples like their flagship Campio Premium Lager to the tart fruit ale that's aptly named the Alberta-sour-us, you won't be disappointed with their selection. Try their Elevator Love Letter if you can, a German hefeweizen made with Canadian wheat, notes of spice, and a hint of banana flavour.
Odd Company Brewing
Address: 12021 102 Ave #105
With a tagline like, "Good cheer, better beer", you know that Odd Company Brewing is going to be a fun brewery to visit in Edmonton! They claim their brewers are chemists above all else, and with a combination of "mad science and fine art", their beers are some of the most creative of all of the Edmonton breweries.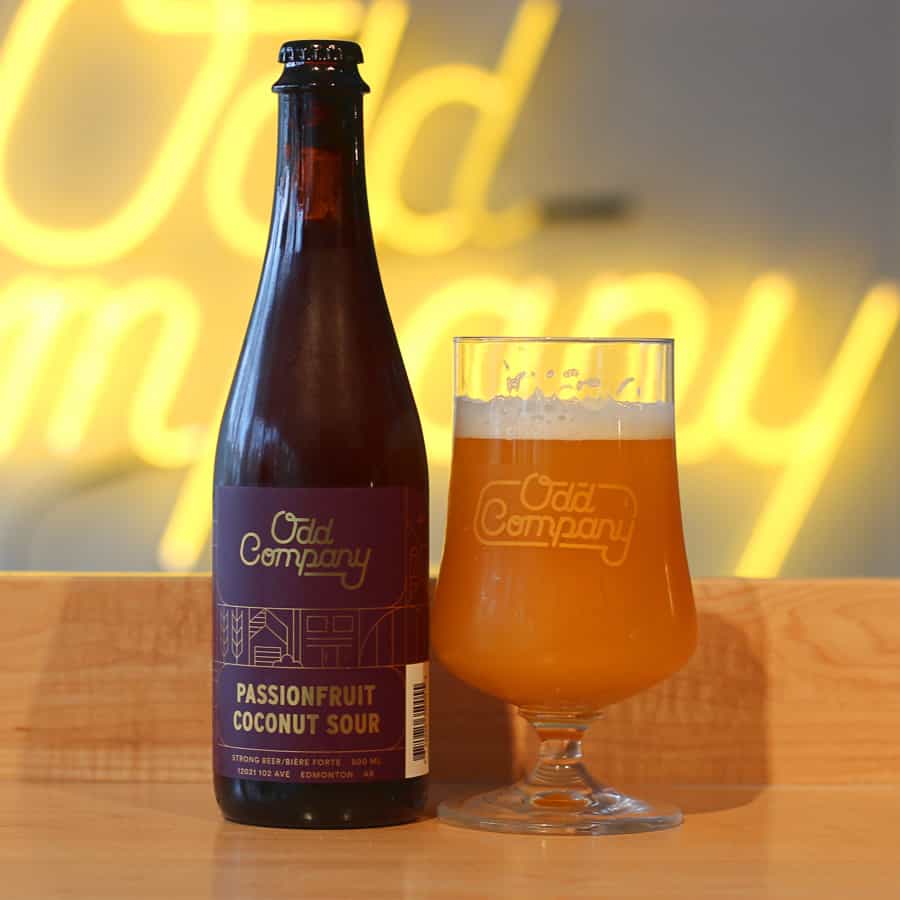 Make sure to try their Good Chemistry IPA (smooth and easy to drink with lots of tropical notes, it's perfect for summer weather), their Passionfruit and Coconut sour (it's as good as it sounds, with a strong finish of coconut), or their Dark Pilsner (think chocolate, buttercream, and roast coffee… how can you not like this beer?).
With a fantastic patio, a spacious taproom, and knowledgeable staff, this brewery makes for a perfect afternoon or evening with friends.
Omen Brewing
Address: 9942 67 Ave NW
Omen Brewery is one of the most unique of the Edmonton breweries in that it is the only one that specializes in dark beer. Family-owned and operated, their aim is to make everyone fall in love with dark beer, regardless of past taste preferences.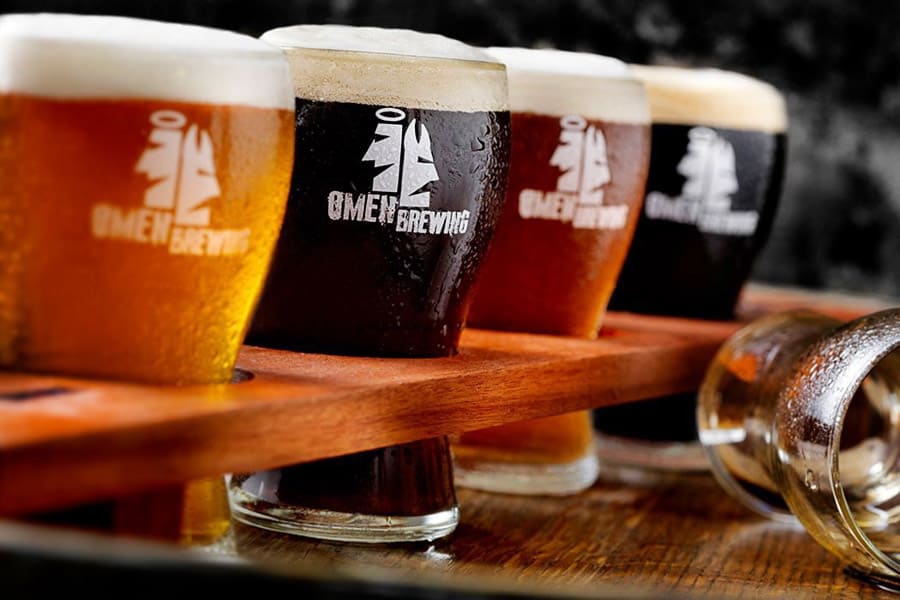 They certainly succeed in doing so with their Spilt Milk (a creamy milk stout), their Claustrophobic (an IPA with a jet-black colour, thanks to its dark malt bill), and their Raven's Head (a black lager… who would have thought?). Their innovative approach to brewing means that even craft beer lovers who think they've seen it all will surely find something new at this brewery. Their taproom is warm and inviting, too, so be prepared to make Omen Brew your new go-to spot in Edmonton.
Arcadia Brewing
Address: 10712 120 Street NW
At Arcadia Brewing, their mission is to bring people together through beer, music, sports, art, and social causes. One thing is for certain at this Edmonton craft brewery, they are all about community. They are all-in for supporting services in their own backyard, whether that's artists for their merch and labels, or suppliers for their delicious beer.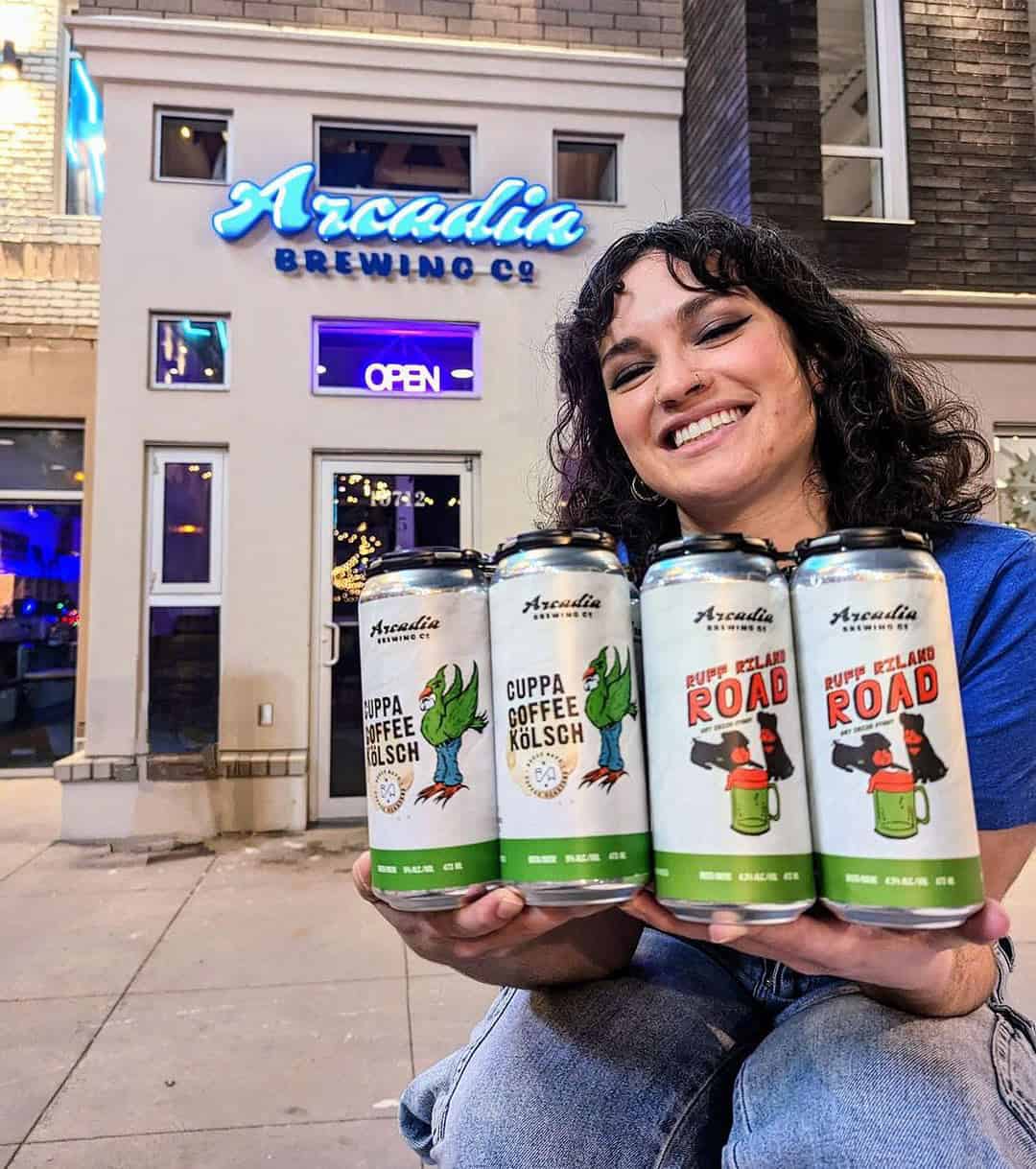 Their brewery is located in the trendy Manchester Square and serves up some fine craft brews from Tuesday thru Sunday. The "Whistling Pig" a hazy pale ale, the "Coliseum" a blonde ale, and the "Love Ire and Sour" a sour (duh) are a few of the crowd favourites from their core beers. Our favourite though has to be the "Riff Riland Road" stout, which always leads to a second pint. And be sure to check out for happenings on their event page, as they host weekly pub trivia and other cool events throughout the year.
Town Square Brewing
Address: 2919 Ellwood Dr SW
With a goal of catering to every type of beer lover – whether you're after a quick afternoon flight or an evening lounging in the taproom with one of their artisan pizzas and a few pints – Town Square Brewing is one of the locals' favourite breweries in Edmonton. They also give back 10% of all proceeds to a selected charity every month, helping to support the local community.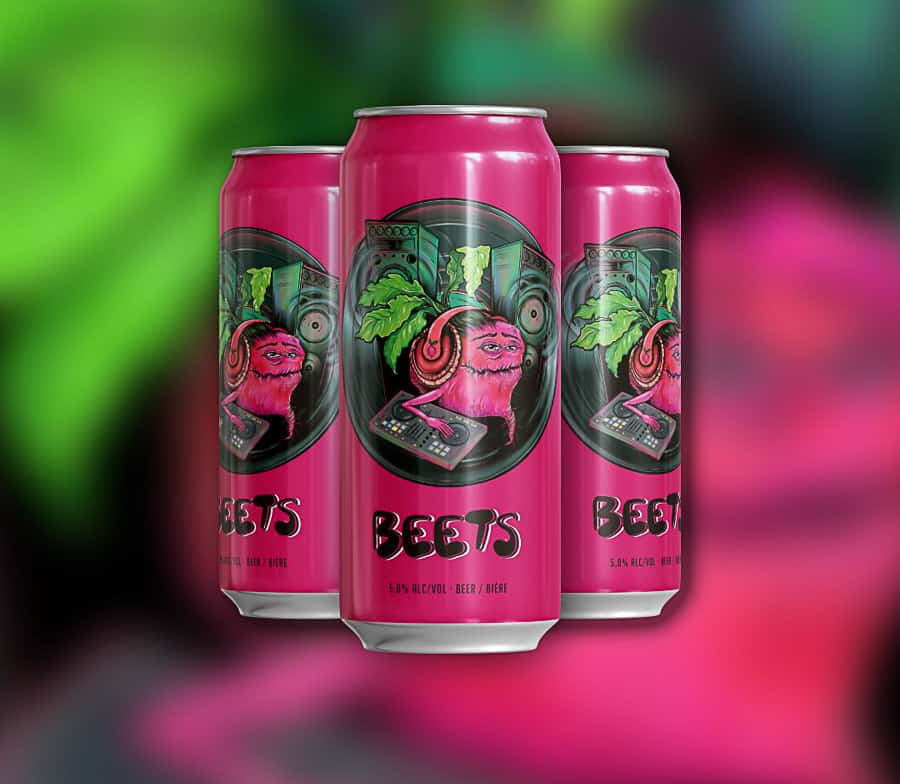 And one thing's for sure: Their beer does not disappoint. With a huge array of IPAs, sours, pilsners, lagers, and stouts, you'll never get bored of the Town Square Brew selection. All packed with flavour, our favourites are the 'Popular Slice of Life NEIPA', 'Apricot Green Tea Sour', or the Beets Kettle Sour which is created using 140 pounds of hand-peeled beets mixed with tart citrus flavours.
There's a welcoming taproom with views of the brewery, a large fireplace, and comfy chairs, don't be surprised if this quickly too becomes your favourite craft brewery in Edmonton.
Bent Stick Brewery
Address: 5416 136 Ave NW
Founded in 2015 by four brewers, this brewery serves up some of the best craft beer in Edmonton. With a no-frills taproom, it's clear that Bent Stick Brewery is all about the beer, and it shows in its craftsmanship and dedication to producing the perfect pint.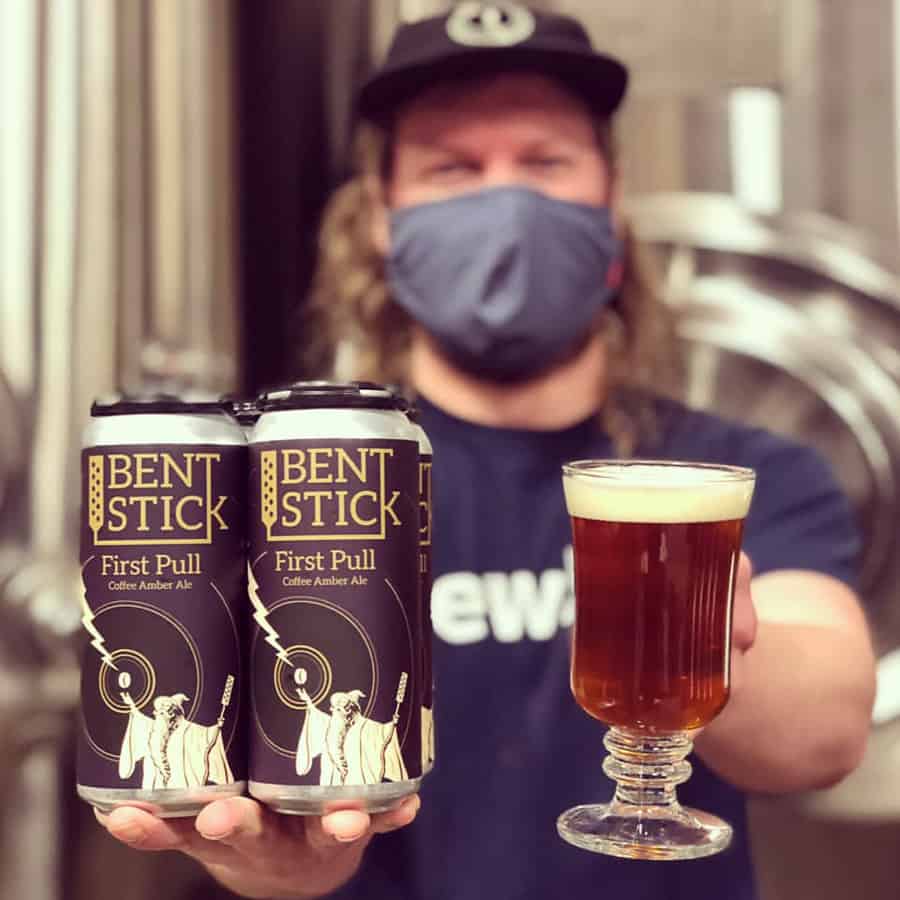 And when it comes to their beer, you'd be hard-pressed to find another Edmonton brewery that matches their creativity. Some of their best include the Hay-Maker (an Alberta wheat pilsner, creating a "Bent Stick twist on a European classic"), the Electric Boogaloo (a double dry-hopped IPA with sweet and fruit-filled flavours), the First Pull (an amber ale made with coffee beans from a local roasting house), and There Will Be Blood Orange (a delicious Radler that will keep you cool on hot summer nights).
There's something particularly home-grown and down-to-earth about Bent Stick's beer, and it's no wonder it made it to our list of the top Edmonton breweries.
S.Y.C. Brewing
Address: 11239 180 St NW
Don't be fooled by this intimate but sparse taproom: they're saving all the bells and whistles for their beer. With an incredibly friendly and knowledgeable staff, S.Y.C. (Share Your Craft) Brewing is the kind of place you go when you want to chat about the beer you're drinking and get to know the brewers face-to-face.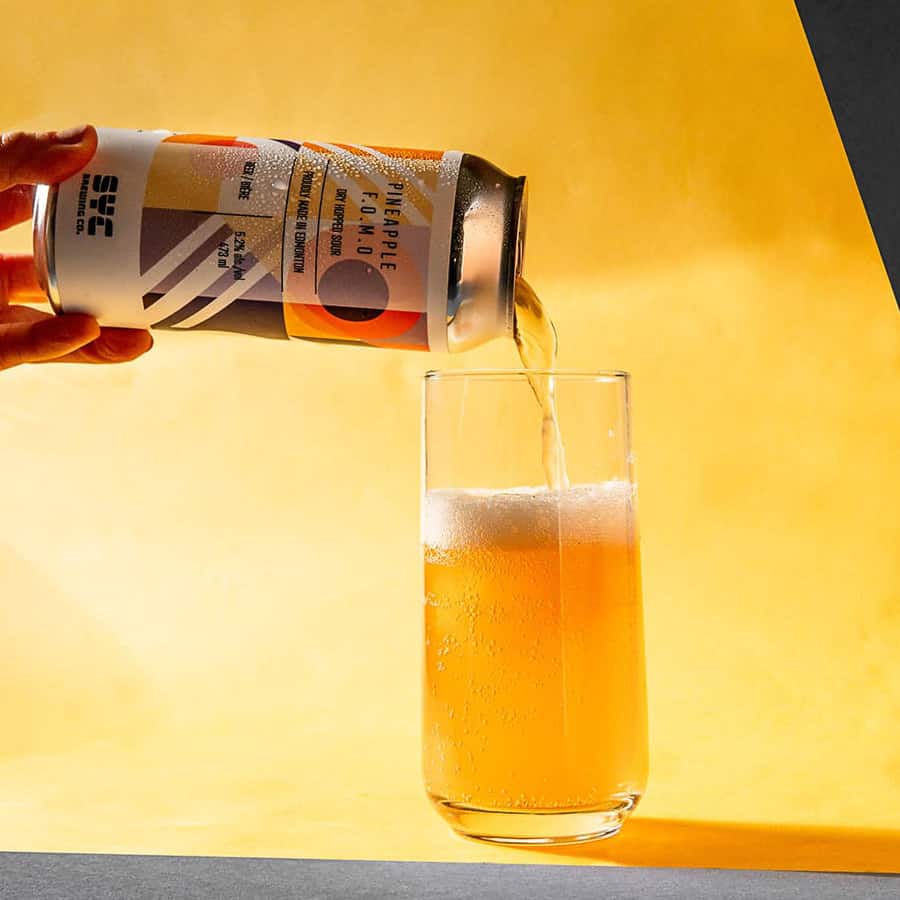 And do they ever know their beer! Their rotating lineup of beers on offer is outstanding, so you're bound to find a new favourite no matter when you visit. Top choices include the Pineapple F.O.M.O. (a dry-hopped sour with a tart kick), Good as Gold (a golden Dortmunder lager with spicy European hops), and the Tarasque (a dry Irish stout with hints of chocolate, caramel, and nuts).
Irrational Brewing
Address: 10643 124 St #109
Newer to the Edmonton craft brew scene is Irrational Brewing. Their name comes from their creations with unique and exotic ingredients. Nathan Marculis and his wife Wafa Veljee opened their brewery in downtown Edmonton in the historic Street Railway Substation building which once was used to power the streetcars in the city.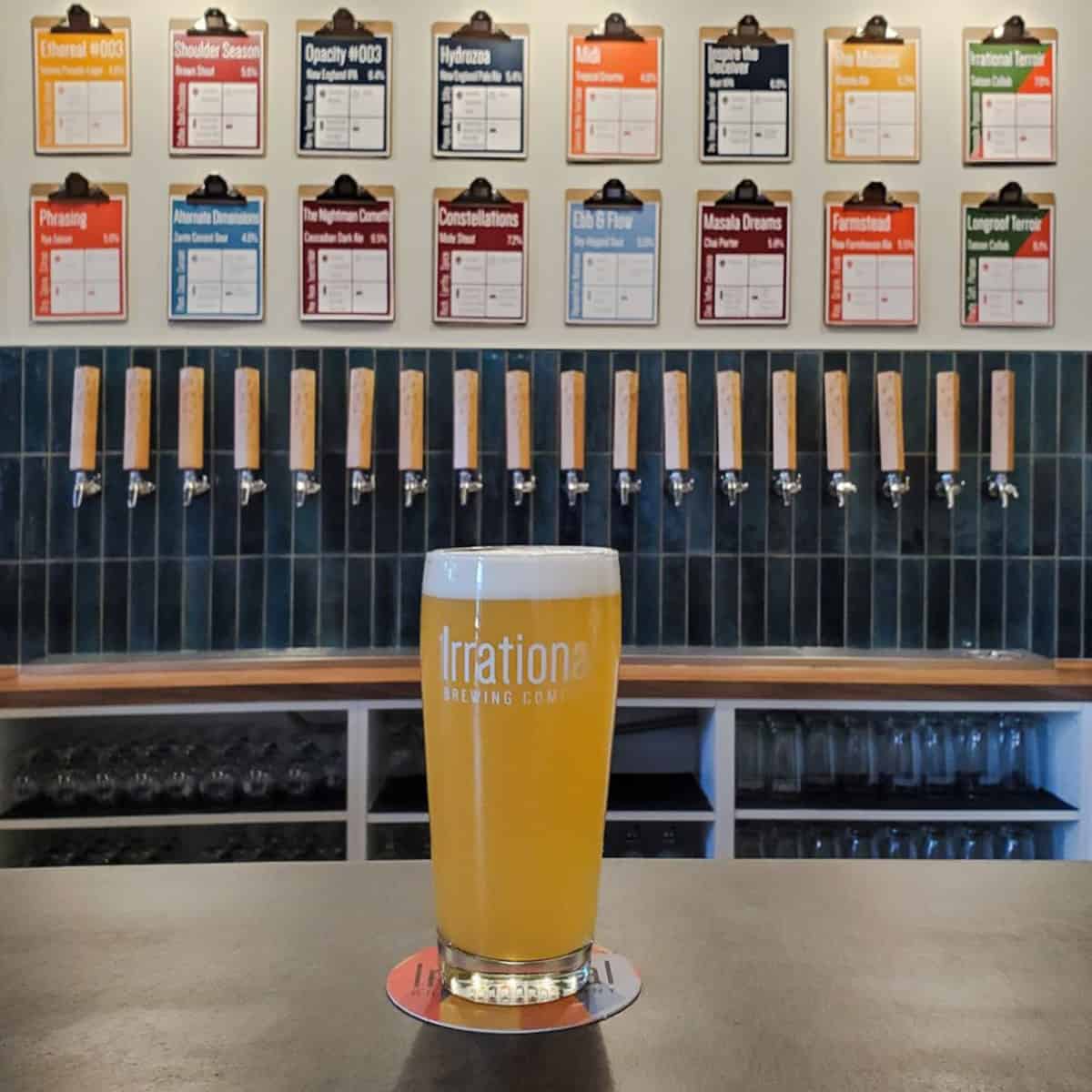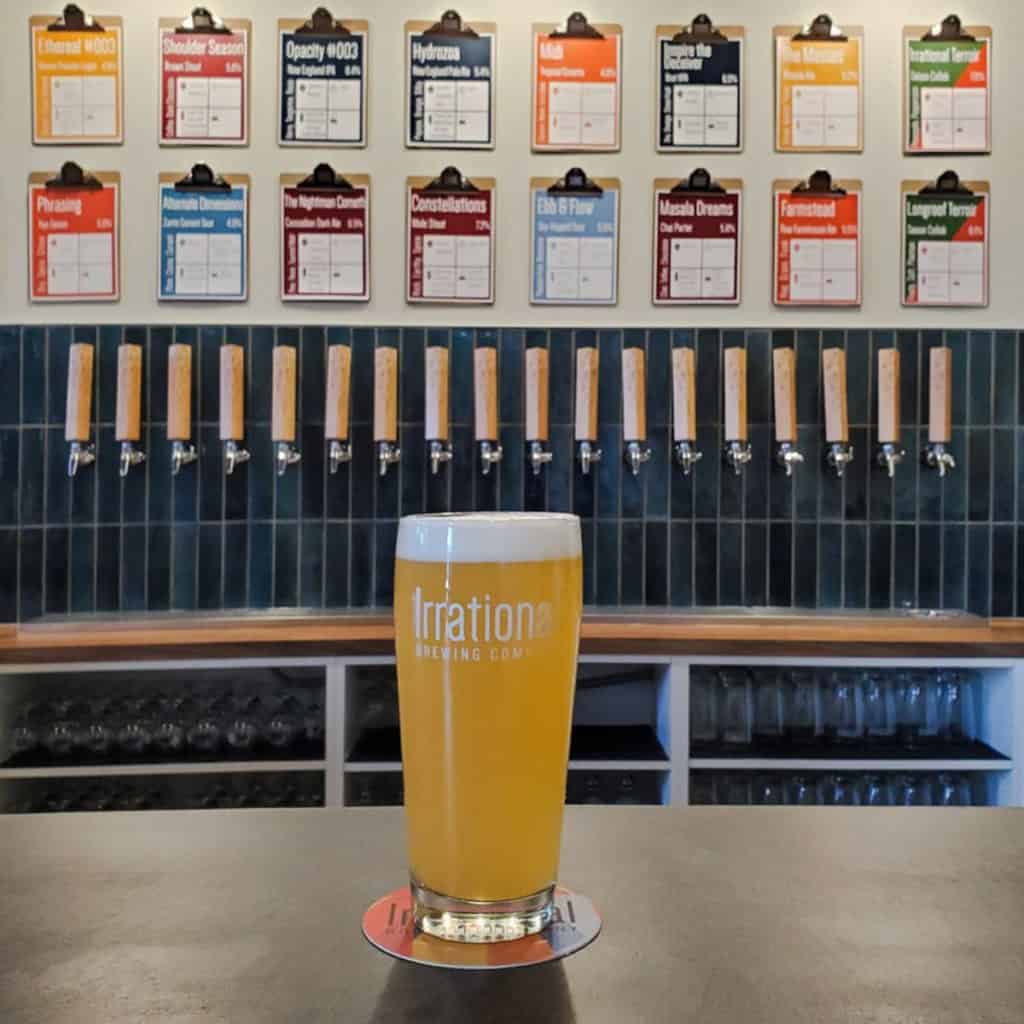 Their lineup of 16 beers on tap will correspond with the seasons having refreshing light beers in the summer months and hearty beers for the cold winter months. Relax and have a pint in their gorgeously designed taproom or on their patio when the sun is out!
Longroof Brewing Co.
Address: #104, 9916 72 Avenue
Another craft brewery newer to the Edmonton craft beer scene is Longroof Brewing. They invite their customers to not only experience their beer, but to actually see it produced. Their open-design taproom not only features the original bar from the Empress Ale House on Whyte Avenue, but the open concept gives their visitors the "Full Monty" to see their whole operation.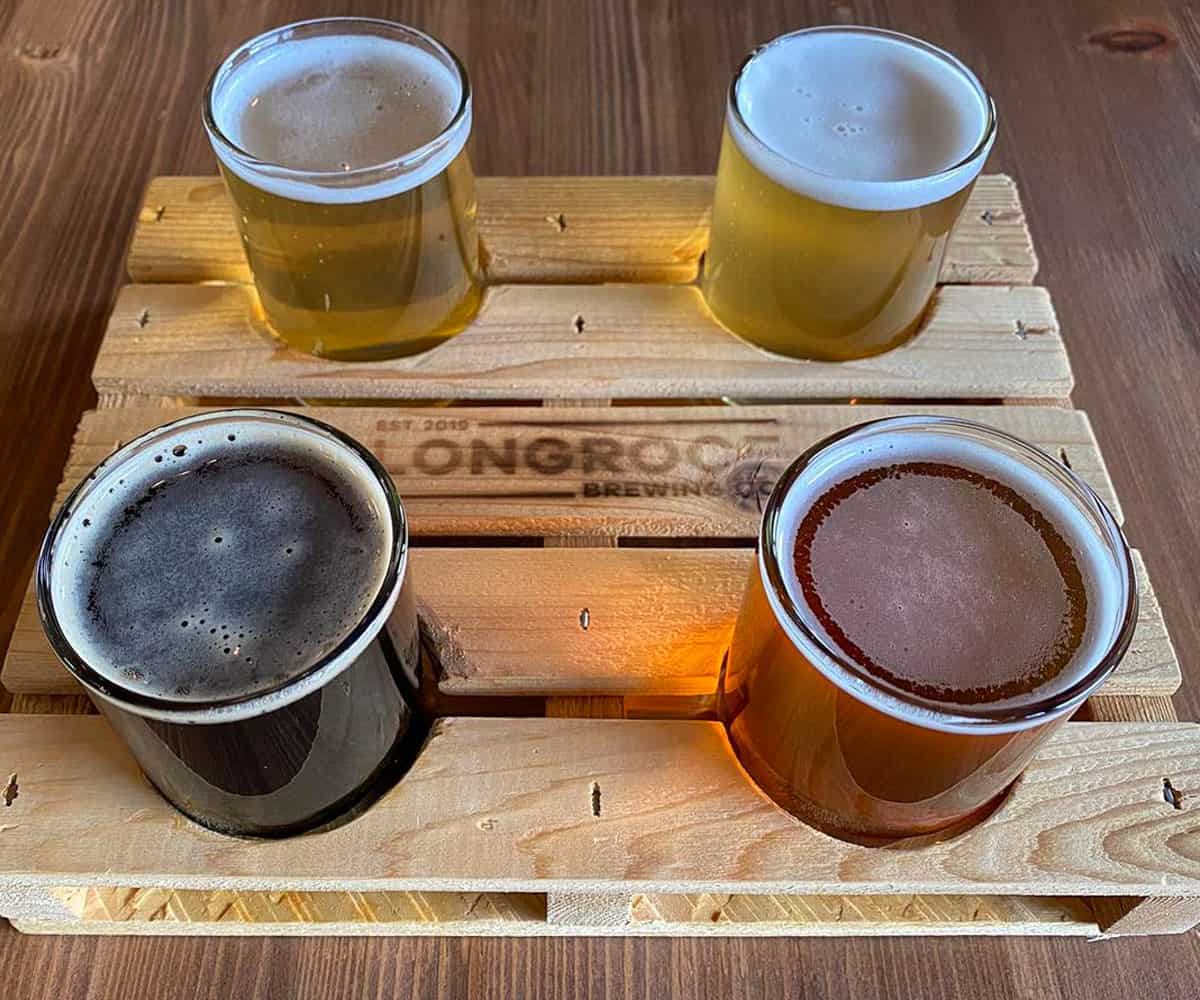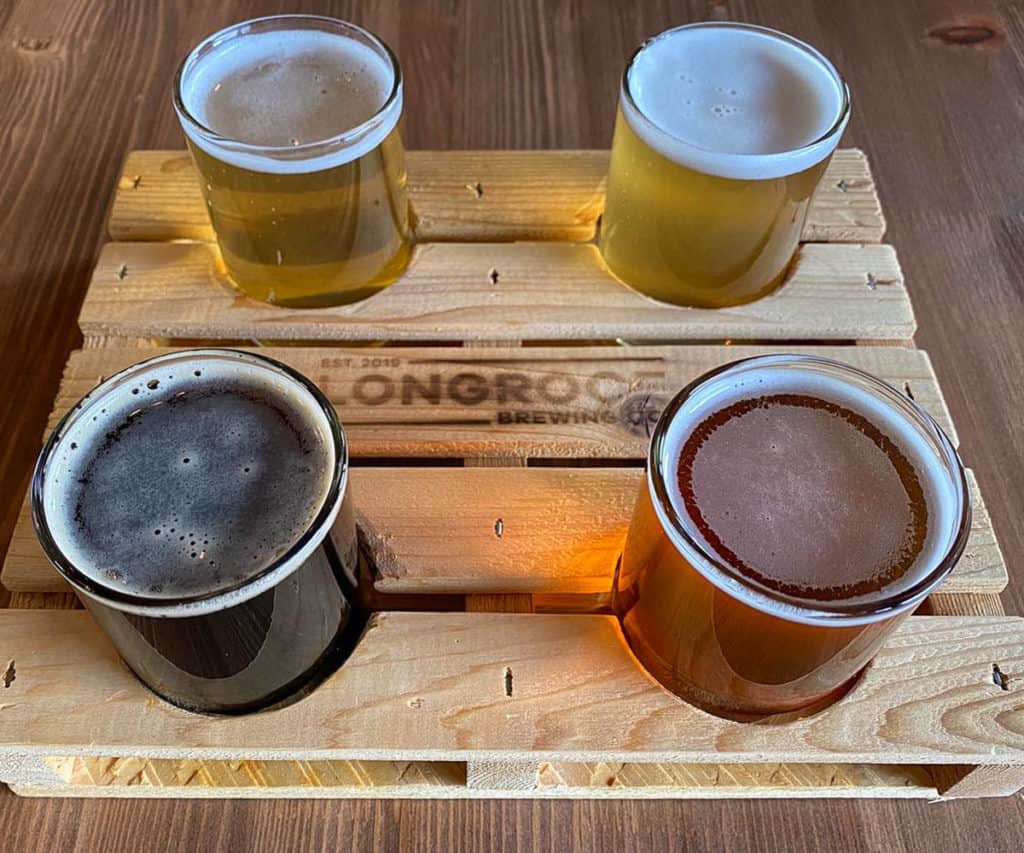 Longroof creates "edgy beers that will delight and entice the palate" and their constantly rotating taps means there will most likely be something new when you return.
So come on down, bask in the brew, and grab a pint. Or better yet a flight pallet!
Map of Our Favourite Edmonton Breweries for Craft Beer
Looking for good beer in other parts of the province? Take a peek at our guide to the best Alberta breweries!