Disclaimer: This page may contain affiliate links. Please review our full Terms and Conditions for more information and our Privacy Policy. Note that any pricing, operating hours, or other such information provided below may have changed since initial publication.
Compiled by the Road Trip Alberta team
Last updated on January 7, 2022
Edmonton offers a lot for its visitors: First thoughts from many are of the great shopping and festivals that the city has. But Alberta's capital is also rich in history and cultural experiences which should not be overlooked. Bookmark this guide to the top Edmonton museums for your next visit!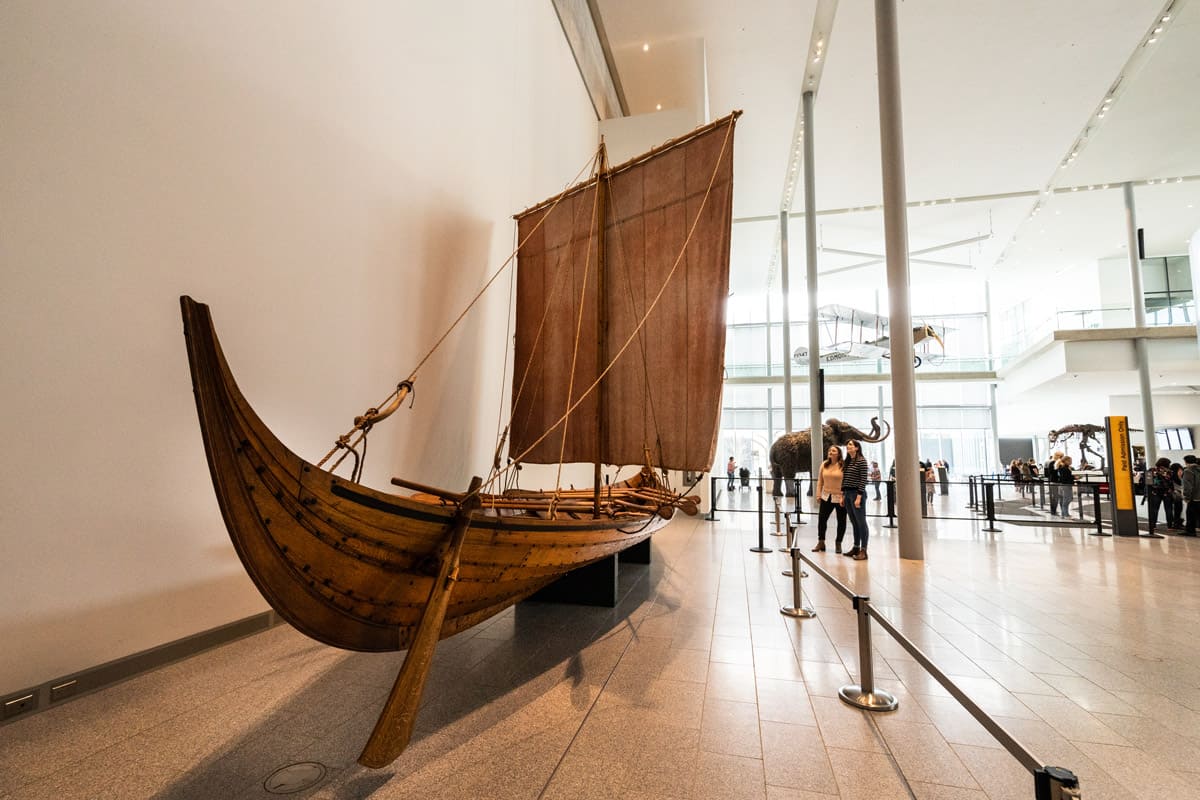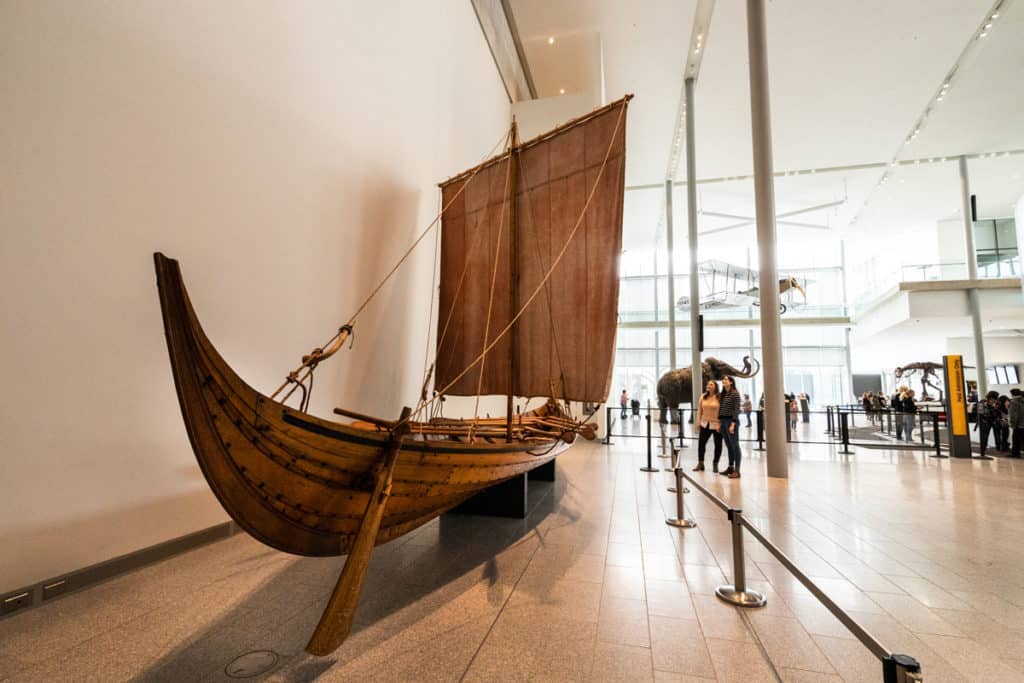 The Top Edmonton Museums To Visit
Royal Alberta Museum
If you're looking for one of the top Edmonton museums, look no further than the Royal Alberta Museum (RAM). The largest museum in Western Canada, RAM was opened to the public in 1967. Since then, its aim has been to showcase all that makes Alberta so incredible, with exhibits covering the province's archaeology, botany, Indigenous culture, political history, zoology, geology, and so much more. It's the perfect place to indulge all your curiosities about the history of Edmonton, Alberta.
Give yourself plenty of time to wander the 419,000 square foot museum, as it houses more than two million objects and artifacts! Kids will love the Children's Gallery and the Bug Gallery, where you can get up close and personal with all types of live invertebrates. Other highlights include the Western Canadian History collection, the Indigenous Studies collection, and the Cultural Communities collection, where you can take in oral histories and photographs from the diverse range of people who have called Alberta home over the years.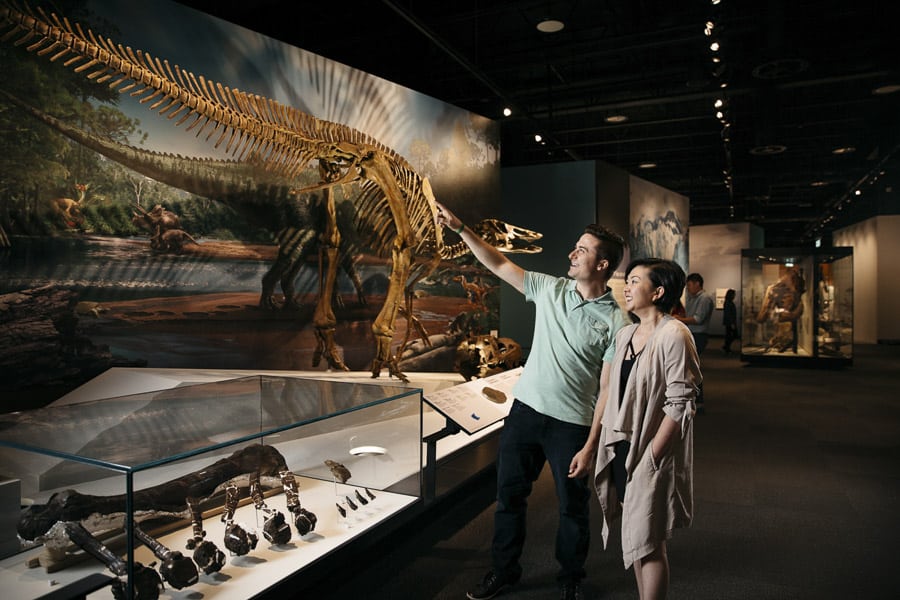 Fort Edmonton Park
Found in River Valley, Fort Edmonton Park is one of the best-known Edmonton museums. It's also Canada's largest living history museum, so it deserves at least a day of your time! The open-air museum features recreations of Edmonton at various stages of its history, including architecture from 1885, 1905, and 1920. With working streetcars and costumed staff, you'll truly feel as though you've stepped back in time.
Already one of the best places to learn about the history of Edmonton, Alberta, new expansions at the museum will include the Indigenous Peoples Experience as well as additions to the Hotel Selkirk. That's right, you can even stay at the historically decorated hotel in Fort Edmonton Park!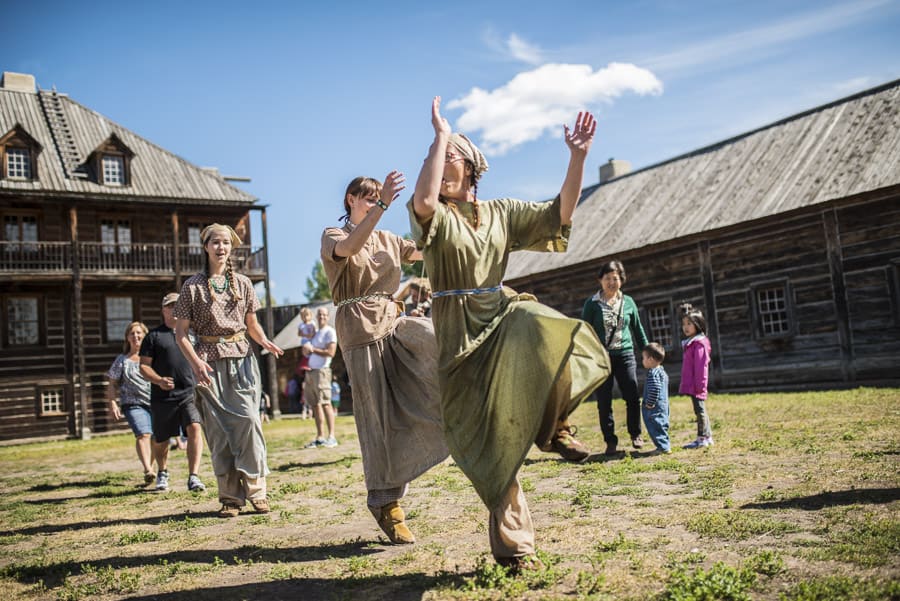 Alberta Railway Museum
The perfect place for families and/or train enthusiasts, there's a reason the Alberta Railway Museum is so often found on the top of lists for Edmonton museums. Found a short drive outside of the city centre – so be sure to check opening hours before you head out – the volunteer-run museum is a hands-on experience that includes a huge variety of railway relics. Climb aboard historic cars, cabooses, and engines at the outdoor exhibit, taking in all of the history and heritage of Alberta's trains and railways.
The railway museum also showcases a replication of a terminal that makes for an excellent photography backdrop, so make sure to bring your camera!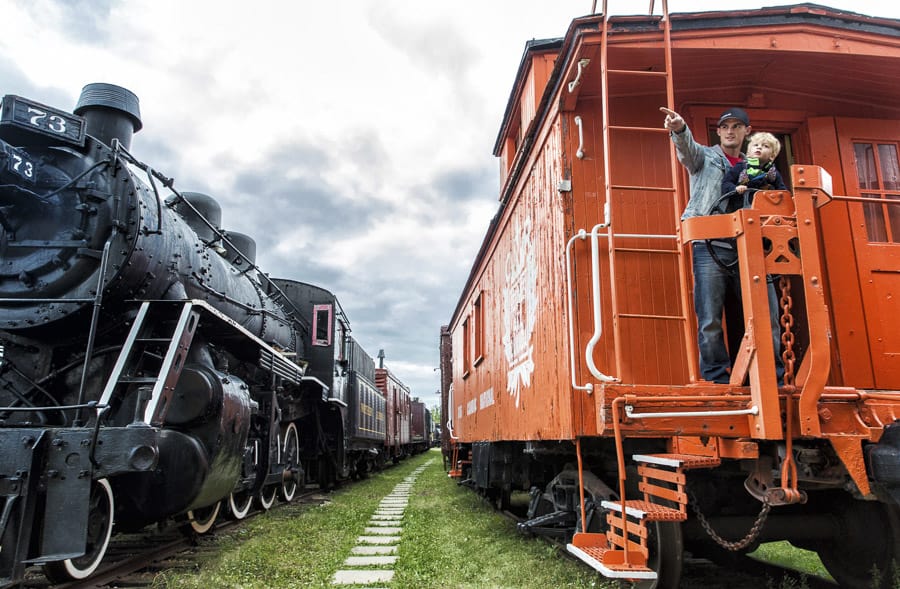 Neon Sign Museum
This outdoor Edmonton museum is utterly unique and makes for an incredibly fun stop whether you're a resident of the city or just visiting. With 20 historic neon signs collected by the City of Edmonton, this display is one of the most photographable Edmonton museums in the city. Plaques are found below each sign detailing where the sign once hung, so you can imagine the signs in their original homes.
Found on the east wall of the TELUS building and the south wall of the Mercer Warehouse building on 104 Street and 104 Avenue, our suggestion is to grab a takeaway coffee from nearby and stroll along the buildings to witness the neon signs in all their glory. And if you get a chance to visit at night, even better, as all of the signs have been restored to light up again! The icing on the cake? The Neon Sign Museum is totally free and open 24/7, so you can visit whenever you'd like.
John Walter Museum
This Edmonton museum consists of the three homes John Walter lived in throughout his life in the city. One of the city's most notable entrepreneurs, Walter moved to Canada in 1870 from Scotland. In 1875, he acquired land in Edmonton, and thanks to his enterprising actions (including ferry operations, a general store, a coal mine, and a lumber mill) that neighbourhood is now known as Walterdale.
Head to the John Walter Museum to learn even more about his numerous business ventures and to spend time in the three houses he called home, seeing as they grew in size and luxury. There are also beautiful gardens surrounding the museum, so plan on a few hours to explore the grounds.
Ukrainian Cultural Heritage Village
The Ukrainian Cultural Heritage Village is an open-air museum showcasing the history of Ukrainian settlements in and around Edmonton, specifically from the years 1899-1930. Costumed interpreters show visitors exactly what life would have been like for the pioneers, you can witness a piece of living history for yourself! With more than 40 refurbished buildings, kids will love the hands-on exhibits highlighting everything from common tools to cooking methods (don't miss the handmade ice cream for purchase!). Walkthrough typical shops, churches, and even a grain elevator from the era.
Found 50kms east of Edmonton in Lamont, there is a large outdoor area with tables and a fire pit (wood not provided), so you could easily make a day out of a visit to the heritage village by bringing along a picnic. Food services are also provided if you want to sample some delicious Ukrainian cuisine.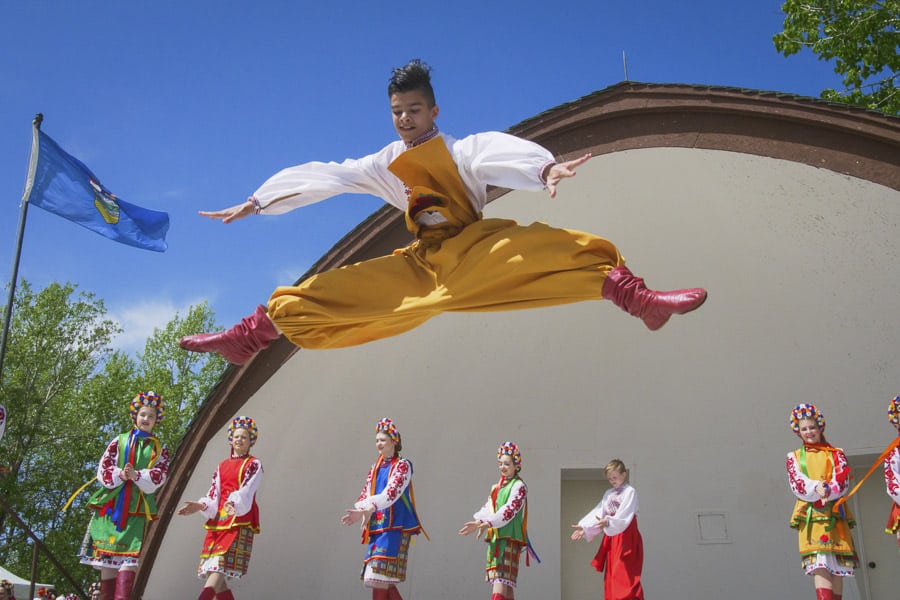 University of Alberta Paleontology Museum
If you're looking for a dinosaur museum, you've come to the right place. Head to the University of Alberta Paleontology Museum for hundreds of fossils, meteorites, and specimens. With such an amazing background in paleontology – Alberta is notoriously the richest source of dinosaur fossils on the planet – it's no wonder there's so much to see at the Paleontology Museum in Edmonton.
Free to visit, the museum is small enough that you can cover a lot of ground in a short period of time. With highly detailed information about each artifact, visiting the Paleontology Museum is a great way to spend a cozy couple of hours.
Alberta Aviation Museum Edmonton
Ever wonder why Edmonton is called, "Canada's Gateway to the North"? For nearly a century, flight enthusiasts and pilots have helped grow Edmonton into a city on the forefront of aviation, creating a link to northern Canadian communities. That's just a fraction of what you'll learn about at the Alberta Aviation Museum!
Found in the Blatchford Hangar – the last double-long, double-wide hangar from the WWII era in Canada – the Aviation Museum Edmonton makes for a perfect wander over a couple of hours. Explore Alberta's rich aviation history by taking in the bombers, jets, bush planes and so many other relics from the last 80 years at Blatchford. Often listed as one of the best Edmonton museums for kids and adults alike, the museum is filled with educational displays, hands-on activities, historical war artifacts, videos, and so much more.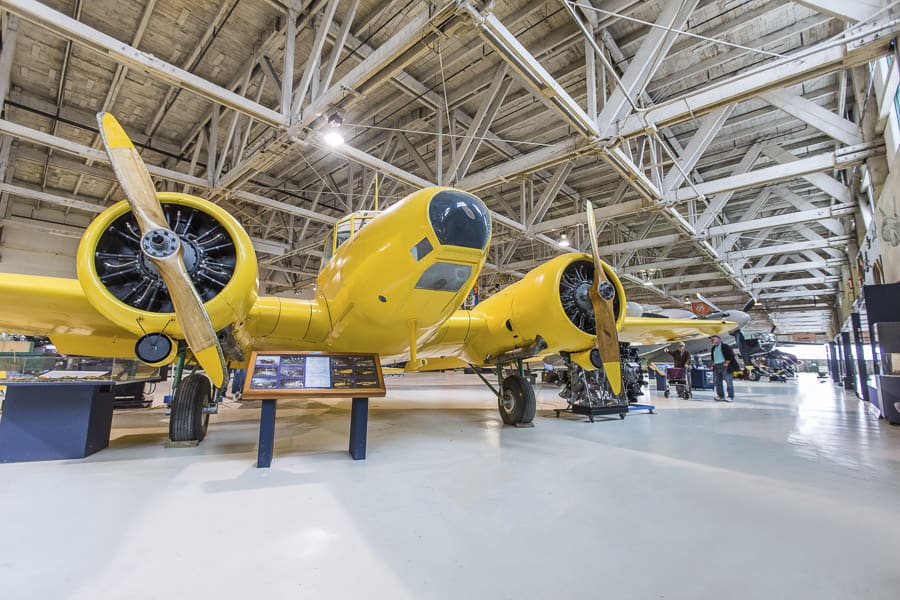 Reynolds-Alberta Museum
Located approximately 70kms south of Edmonton, the Reynolds-Alberta Museum is home to one of Canada's best collections of machinery. With an impressive array of historic cars, airplanes, farming equipment, and so much more, this is the place to go to learn about Alberta's mechanical history and heritage. The museum showcases vehicles you can actually touch – and in some cases, sit in – the museum is perfect for an interactive family day out.
The museum has an extremely knowledgeable staff, fantastic gift shop, and even an on-site restaurant, it's no wonder so many people call the Reynolds-Alberta Museum a hidden gem.
Musée Héritage Museum
Found just northwest of Edmonton, in St. Albert, the Musée Héritage Museum is a small museum that packs a real punch. With displays that change a few times a year, the focus is always on local exhibits that have shaped Alberta's history. This means that, at any given time, you can see an exhibit on cultural tattooing of the Northwest, internment camps in Canada, or the 1850s gold rush… it's always changing and always fresh.
In addition to the main museum building, there are a few heritage sites to explore nearby, including the St. Albert Grain Elevators, Father Lacombe Chapel, and the Little White School. The latter is a restoration of a schoolhouse from 1948, allowing you to step back in time and see what life was like in Alberta following WWII. All in all, you can't go wrong with a visit to the Musée Héritage Museum.