Disclaimer: This page may contain affiliate links. Please review our full Terms and Conditions for more information and our Privacy Policy. Note that any pricing, operating hours, or other such information provided below may have changed since initial publication.
Compiled by the Road Trip Alberta team
Last Updated on January 12, 2023
When visiting Alberta, travellers are keen for the full 'Canadian Experience': snow-capped mountains, lush forests, golden prairies, and of course, how to see Alberta wildlife. While it's incredible to experience bears, beavers, and bobcats in the wild, it's unfortunately not always a guarantee that you'll see them. But, with proper planning, it is possible to see at least some of those animals on your 'Great Canadian Wishlist'.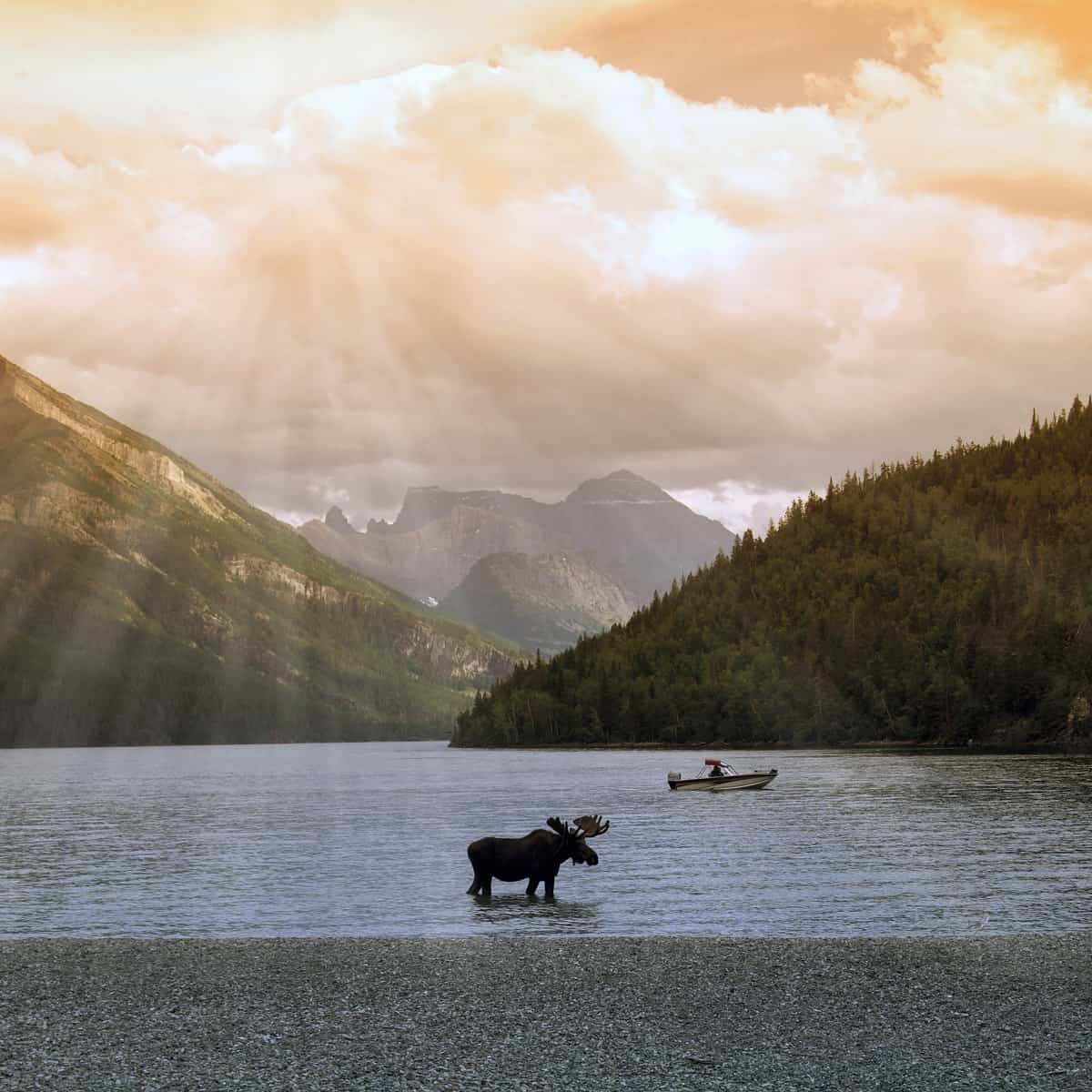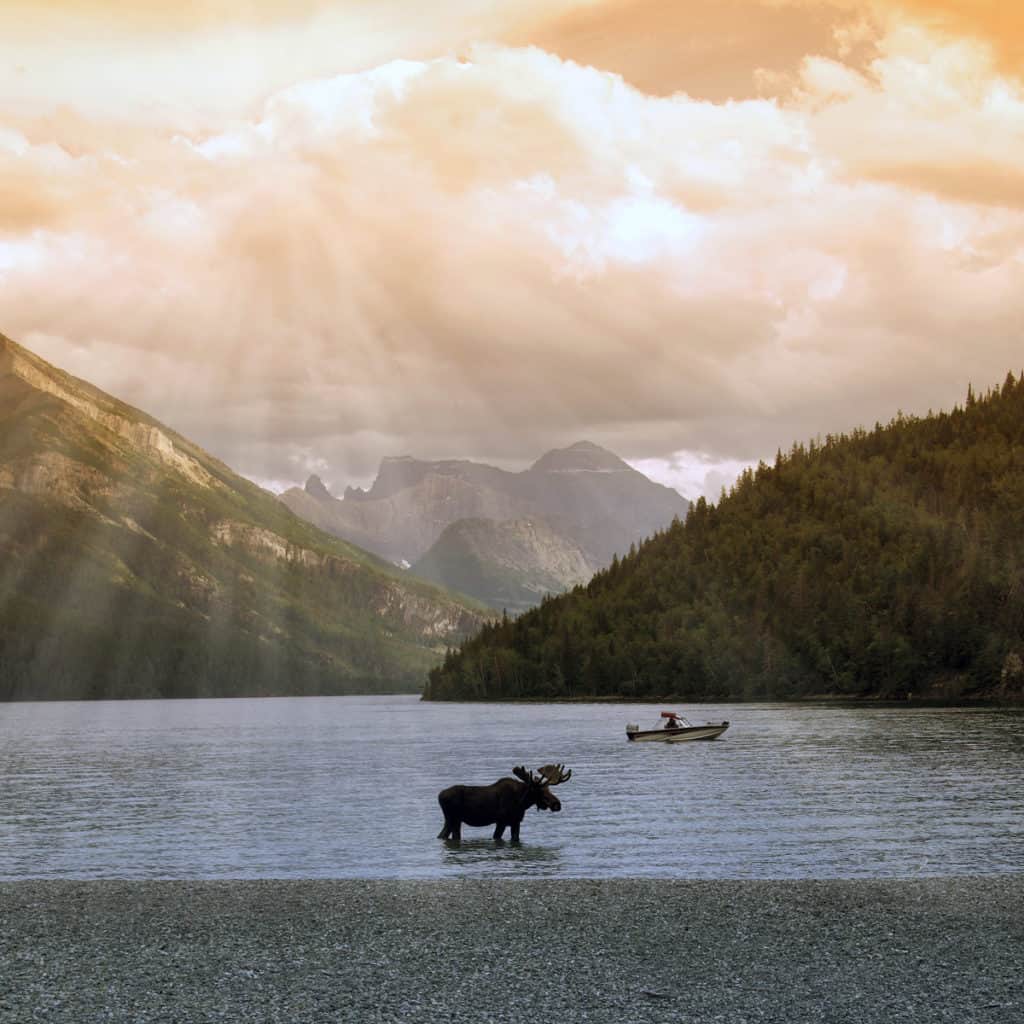 To help with your planning, we've gathered a list of our favourite places to see and even interact with wildlife in Alberta. From wolf and owl sanctuaries to the breathtaking Canadian National Parks, you can find those majestic photo-ops for moose, bear, beaver and more – you just need to know where to look!
How to experience wild animals in Alberta
Be Mindful and Respectful of Alberta Wildlife
First things first…mind your wildlife manners! As amazing as it is to see wild animals in their natural habitat, it's important to remember to respect their space and keep interaction to a minimum – both for your safety and for the safety of the animals.
What Wild Animals Can You See in Alberta?
The regulars probably pop into your head when you think of Canadian animals: bear, beaver, moose, and loons, but the truth is, there are plenty more where they come from! There's a menagerie of animals scuttling about in Alberta like:
Large Animals in Alberta
Bear (Grizzlies and Black)
Wolf
Coyote
Cougar (mountain lion)
Wolverine
Moose
Elk
Antelope
Deer
Pronghorn
Caribou
Big Horn Sheep
Bison (Buffalo)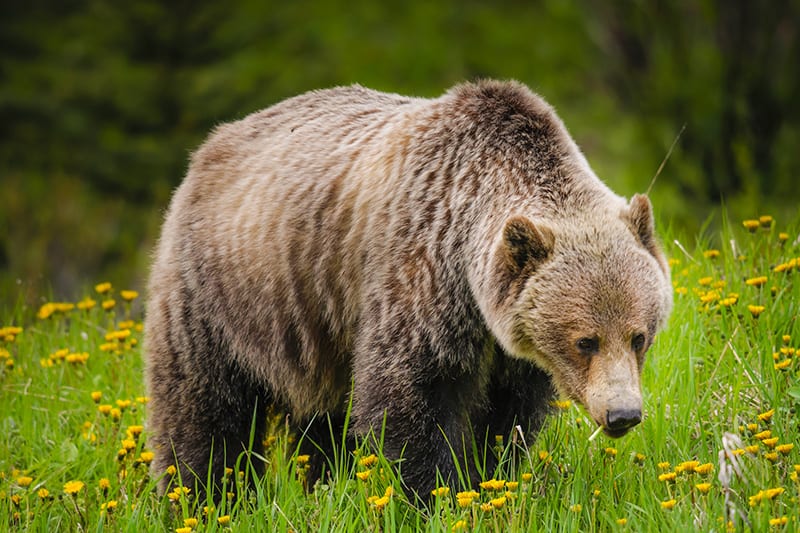 Small Animals in Alberta
Beaver
Marmot
Porcupine
Badger
Gopher
Squirrel
Chipmunk
Raccoons
Mice
Alberta Birds
Golden and Bald Eagle
Hawk
Falcon
Burrowing Owl
Great Horned Owl
Canadian Goose
Whiskey Jack
Loon
Chickadee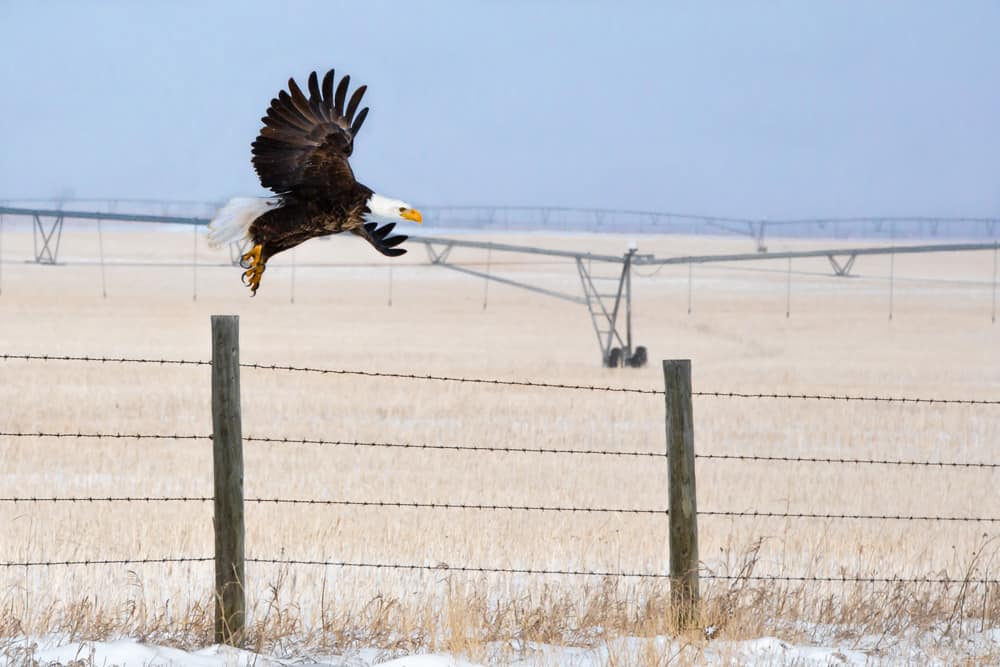 How to See Alberta Wildlife: Up Close and Personal!
The surest way to see some of the most majestic wildlife in Canada – those animals that tend to avoid humans in the wild – is to check out an Alberta sanctuary, conservatory or zoo.
Many of the places listed below exist to ensure wounded, or otherwise compromised animals are protected or rehabilitated, giving them a chance to thrive. They also act as beacons of information, educating visitors about the importance of safeguarding these animals.
Yamnuska Wolfdog Sanctuary (Cochrane)
Wolves, so wild and silent, are notoriously difficult to spot in nature. (You might say, they're the 'lone-wolf' types!) But at the Yamnuska Wolfdog Sanctuary, wolves and wolfdogs roam in 1 – 2 hectare paddocks where you can see them plain as day.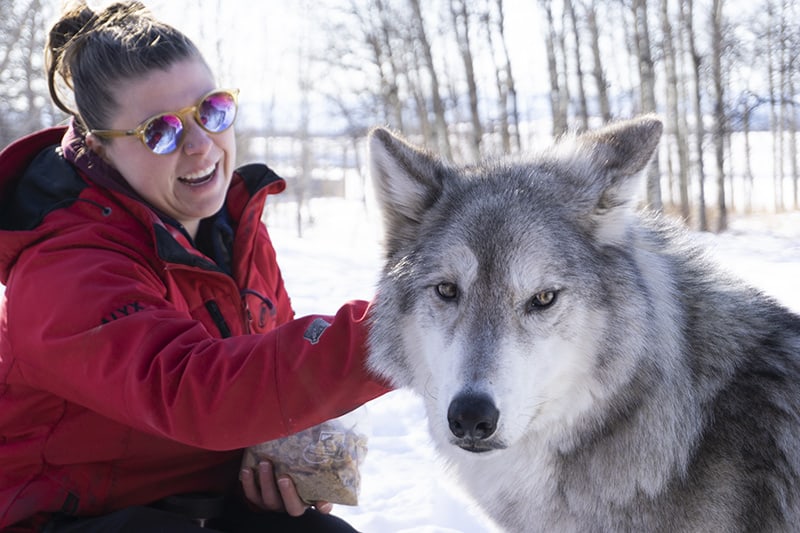 Depending on the tour you choose, you can watch them wander from outside, or you can have the opportunity to go right inside and experience these beautiful animals face to face. The sanctuary is devoted to informing the public about the importance of protecting wolves and their habitats as well as promoting responsible wolf-dog ownership.
Location: 1 hour east of Banff, Alberta – View Google Maps Location.
Contact: 587-890-WOLF (9653) or email them here.
Prices for experiences at Yamnuska Wolfdog Sanctuary:

Sanctuary Walk – General – $25 per person / Youth (6-11years) – $15 per person – no reservation required.
Intro Tour – $38 per person – minimum age of 10 years old, drop-ins welcome.
Wolfdog Interactive Tour – $63 per person – minimum age of 15 years old, and requires advanced booking.

Hours: Monday – Thursday, from 10:00 am – 5:00 pm.
Season: Open year-round.
What to bring:
Closed footwear
Jeans or shorts
No loose, dangling clothing or fur (faux, included)
Leave dogs and cigarettes at home
Alberta Birds of Prey Centre (Coaldale)
Nothing will melt your heart faster than a tiny burrowing owl's big, curious eyes staring into your own. The Birds of Prey Centre is a Southern Alberta bird sanctuary created to protect and rehabilitate birds like owls, eagles, and hawks that can no longer survive in the wild.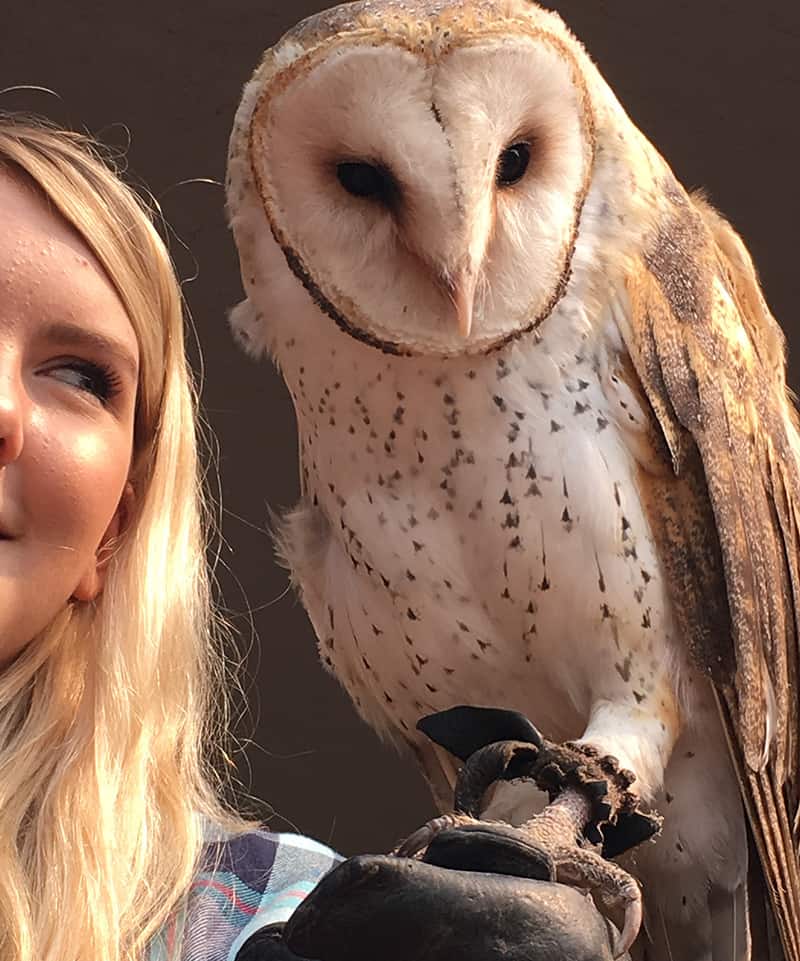 Visitors can get up close with a variety of rescued owls and other birds of prey, learning all about the different species, and even interacting with them! Let wild owls perch on your hand, or watch a live educational eagle feeding. And while you're at it, why not help a bald eagle cool off from the heat of summer with a mid-day shower? It's a bird of a good time!
Location: 2 hours southeast of Calgary in the small town of Coaldale, Alberta. View Google Map Location.
Contact: 403-331-9520 or email the Birds of Prey Foundation here.
Price: Adults $13, Seniors (60 and over) $11, Youth (6 to 18) $8.50, Children (3 to 5) $6, Children Under 3 Years FREE.
Hours: Open 7 days a week from 9:30 am – 5:00 pm.
Season: May 20th to Labour Day Monday (First Monday in September).
What to bring:
Closed footwear
Jeans or shorts
Limited bright or dangling jewelry (they are curious birds, after all!)
Bison at Elk Island National Park (Elk Island)
In the gorgeous Elk Island National Park near Edmonton, you can watch wild bison roam free and learn how these majestic creatures were saved from near extinction. But, the park features more than just bison. It's home to more than 250 bird species, and, as the name suggests, elk wander free in the park, delighting guests as they forage for food.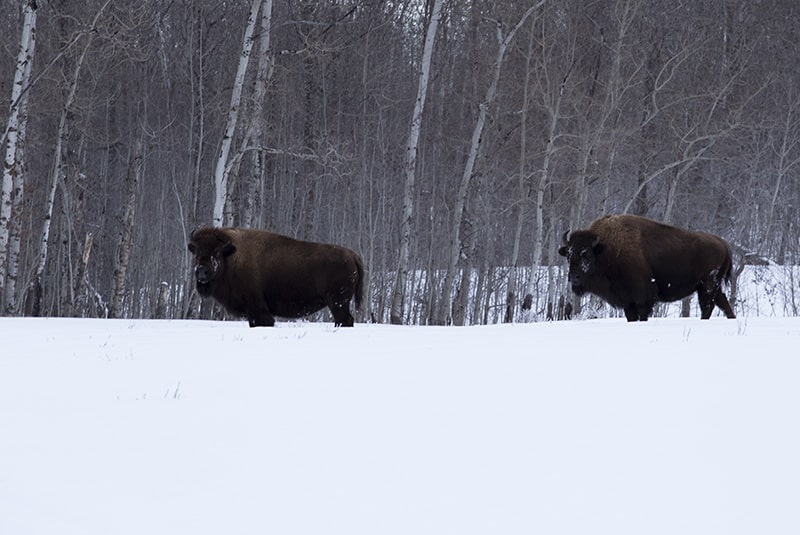 With picnic facilities and even overnight camping available, Elk Island is the perfect place to bring the whole family to escape the hustle and bustle of the city. So kick back, relax, and enjoy the fresh air, wide-open skies and of course, the wildlife!
Location: 35 minutes East of Edmonton, Alberta. View Google Maps Location.
Contact: By telephone at 780-922-5790 (Toll-free: 1-888-773-8888), or by email: pc.pnelkisland-elkislandnp.pc@canada.ca
Price: Parks Canada fees apply. The current daily fees for Elk Island are Adults $8.50, Seniors $7.25, Youth (up to 17 years) FREE, Family/group (up to 7 people) $16.75., Commercial group $7.25 per person.
Hours: Park is open 24/7, 365 days a year. See full services and facility-hours here.
Best time to see bison: At dusk and at dawn, and the best time to see baby bison is in June.
Season: Open year-round.
What to bring:
Sturdy footwear
Layers of clothing in case of inclement weather
Sunscreen and hat
Waterton Bison Paddock – Watch MORE Elusive Bison
Take a drive around a massive paddock where wild bison roam free at the Waterton Bison Paddock which finally opened again in 2021 after it was closed due to the 2017 Kenow Wildfire which swept through Waterton National Park. In spring, summer, and fall, you can take a short drive and view plains bison in their natural grassland habitat.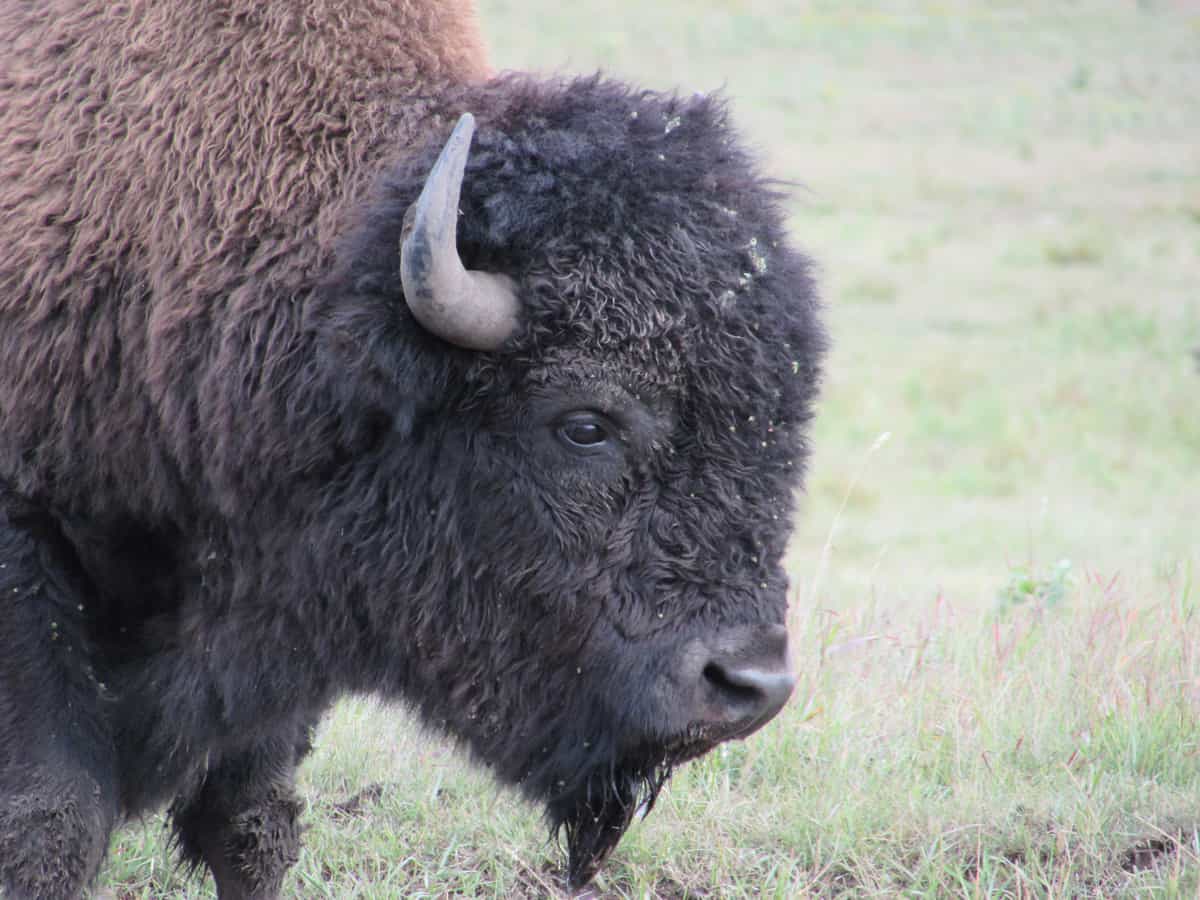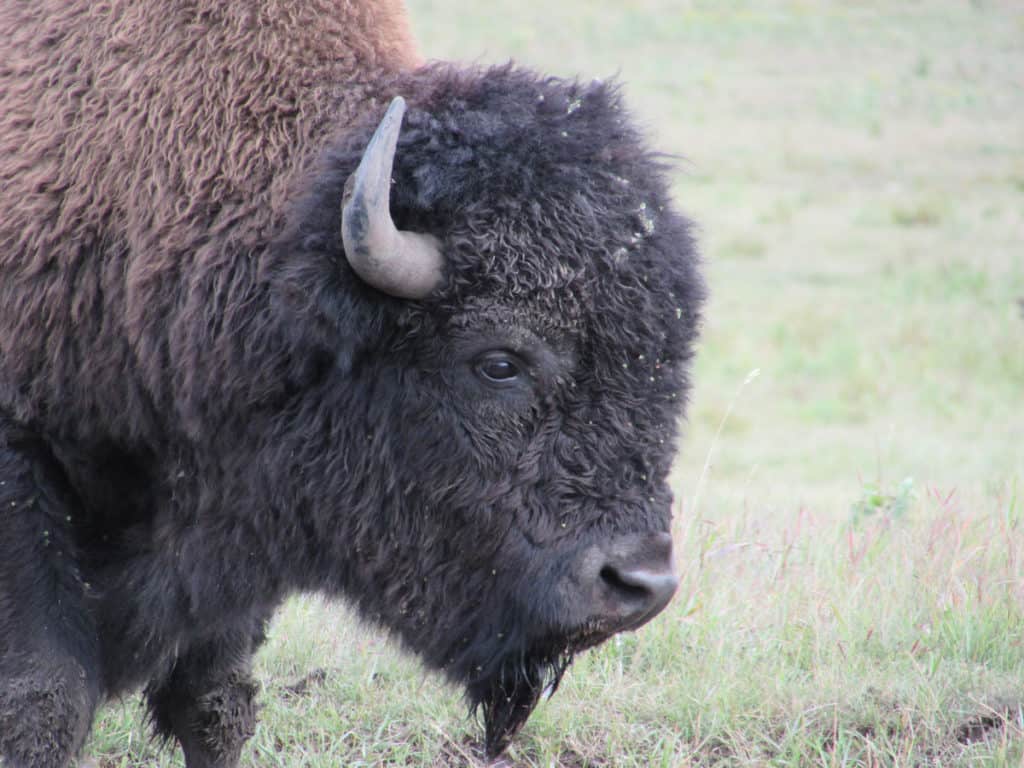 Location: Adjacent to Highway 6, just inside Waterton National Park, Alberta. View Google Map Location.
Price: Parks Canada fees apply. The current daily fees are: Adults $10.50, Seniors $9, Youth (up to 17 years) FREE, Family/group (up to 7 people) $21, Commercial group $9 per person.
Hours: Park is open 24/7.
Best place to see bison: They are often found around the various natural springs, but may even also be on the road itself!
Season: The road is closed during winter months.
What to bring:
Just your camera! Note that you must stay in your car at all times.
Experience the Full Range of Canadian Wildlife
For those visiting Southern Alberta, the Calgary Zoo hosts the Canadian Wilds Exhibit, which gathers together some of Canada's most impressive and elusive wild animals. As you wander through the forested pathways of the exhibit, you'll see indigenous animals most Canadians will never get to see in the wild, including wild wolves, cougars, and bison.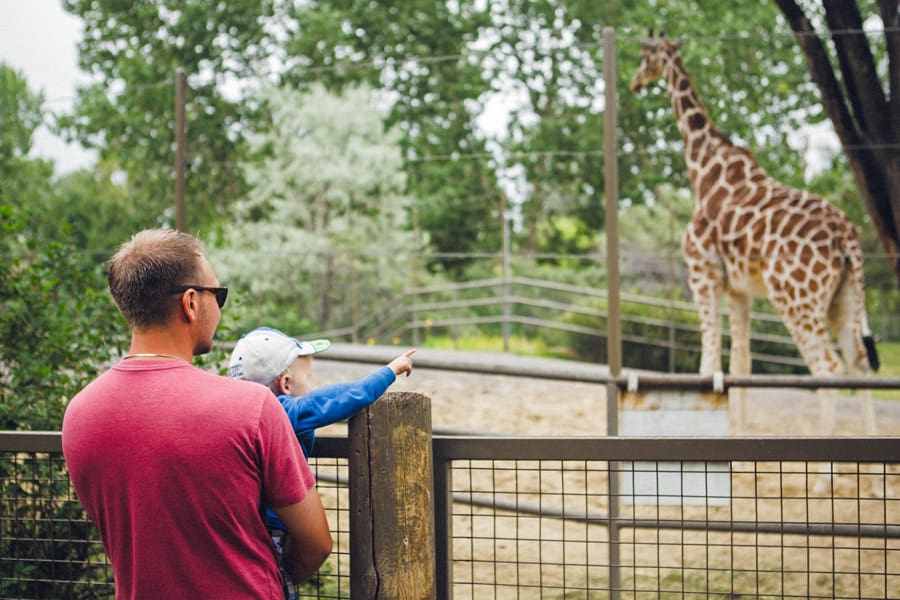 Location: 210 St. George's Drive NE, Calgary, Alberta. View Google Maps Location.
Contact: 1-800-588-9993 or email them here.
Price: Adult $29.95, Senior (60+) $27.95, Child/Youth (3—15) $19.95, Infants (2 & under) Free. Note that a $12 parking fee (per day) also applies.
Hours: Gates open at 9:00 am and close at 5:00 pm. Zoo Grounds are open from 9:00 am – 6:00 pm.
Season: Year-round, except Dec. 25.
What to bring:
Comfortable footwear
Layers of clothing in case of inclement weather
Sunscreen and hat
How to See Alberta Wildlife: In the Wild!
Visit a Canadian National Park
Because animals are protected in Canadian National Parks, the local wildlife is plentiful, which means that seeing wild animals can be as easy as driving through one of the five national parks in the province.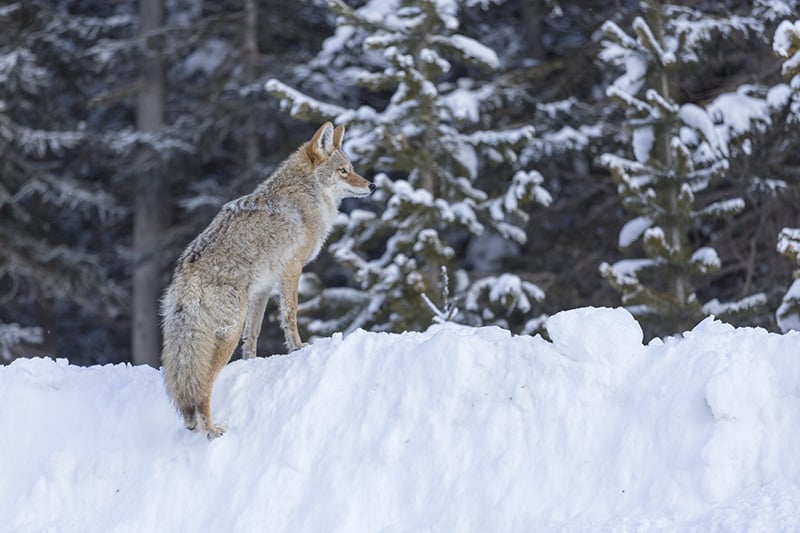 Hiking is also a great way to spot local wildlife, and the best part is, you'll be experiencing a more 'rounded' Canadian experience by getting into the great outdoors – so you can check that off on your 'Great Canadian Wishlist' too! Remember, if you do see a wild animal, DO NOT try to feed it, and always respect their space by keeping your distance.
Wildlife in Banff & Lake Louise
Perhaps the most popular national park in the Canadian Rockies, Banff draws travellers from all over the globe to experience its rugged mountains and abundant wildlife. You're almost guaranteed to see something during your time there, even right in town! When you do, take proper precautions to protect yourself and the animals.
Want to venture a little further to increase your chances? Hiking is a great way to do so. The same precautions apply if you want to take on one of the great hikes in Banff and/or Lake Louise.
Planning on spending some time in the Banff area? We've got an extensive Banff travel guide to help you start planning!
Wildlife in Jasper
Jasper National Park covers 13,000 square kilometres of the Canadian Rockies, from Banff National Park in the south to Kakwa Provincial Park in the north. With fewer tourists than Banff and more amenities than Waterton or Wood Buffalo Park, Jasper offers a great compromise with smaller crowds and more dining options in town. Plus, fewer people mean you have a greater chance of seeing more wildlife in nature!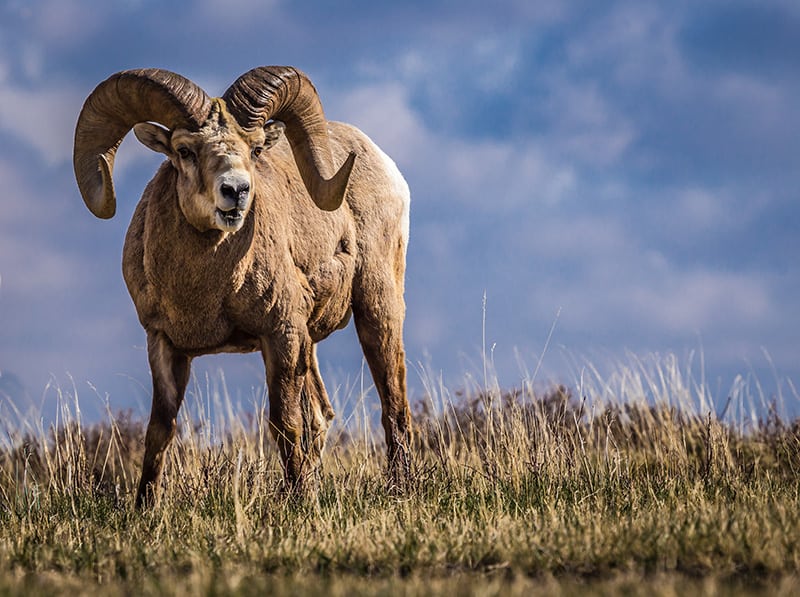 Wildlife sightings are common near the townsite. And because it's the largest national park in the Canadian Rockies, there are a lot of great Jasper hikes to explore! There are great chances you'll see an abundance of mountain-dwelling animals like bighorn sheep and mountain goats in Jasper.
Wildlife in Waterton
A hidden gem of a national park, Waterton Lakes National Park is one of the least crowded in the province and makes for some lightly trafficked trails, increasing your chances of spotting wildlife. Keep your eyes peeled while in town and driving around, but you can also hit the hiking trails to see what you find. (Note that because of the 2017 Kenow Fire, many hiking trails are closed, but some great routes remain open.)
Jasper is an exciting destination (even beyond the wildlife sightings!) We've got an extensive Jasper travel guide to help you start planning your trip there.
Wildlife in Wood Buffalo National Park
Straddling the Alberta/Northwest Territories border, Wood Buffalo National Park is Canada's largest at 44,807 km² – that's bigger than the entire country of Switzerland! The park is also the world's largest dark sky preserve, making it great for stargazers and those hoping to spot the Northern Lights.
Best known for its free-roaming herds of bison, the park is home to a variety of species unique to the northern boreal forest. Key spots for viewing them can be found here. In contrast to the national parks in the Rockies, Wood Buffalo features delta, grasslands, making hiking less strenuous as you're keeping an eye out for native wildlife. The hiking opportunities are also plentiful!
The Best Time of Day to See Alberta Wildlife
Just like humans, animals have typical circadian rhythms. But instead of rising in the morning and hitting the hay at night, most of the wild animals listed above tend to take a big nap through the afternoon. That means dawn and dusk are the best time to see wildlife in Alberta, as that's the time when they usually come out to 'scare up some grub'!
Book an Alberta Wildlife Tour
Wildlife tours offer visitors the best of both worlds: the chance to see a wild animal in nature and up close and personal! Banff and Jasper are your best bet for year-round wildlife tours, and you can check out both Tourism Jasper or our guide to Banff tours for a comprehensive look at what is available!
As you cruise around Alberta looking for wildlife, don't forget that we have FREE Road Trip bingo cards to make your trip more fun! (Also, there are many species on the "Iconic Sights" card, so be sure to mark those off as you see them!)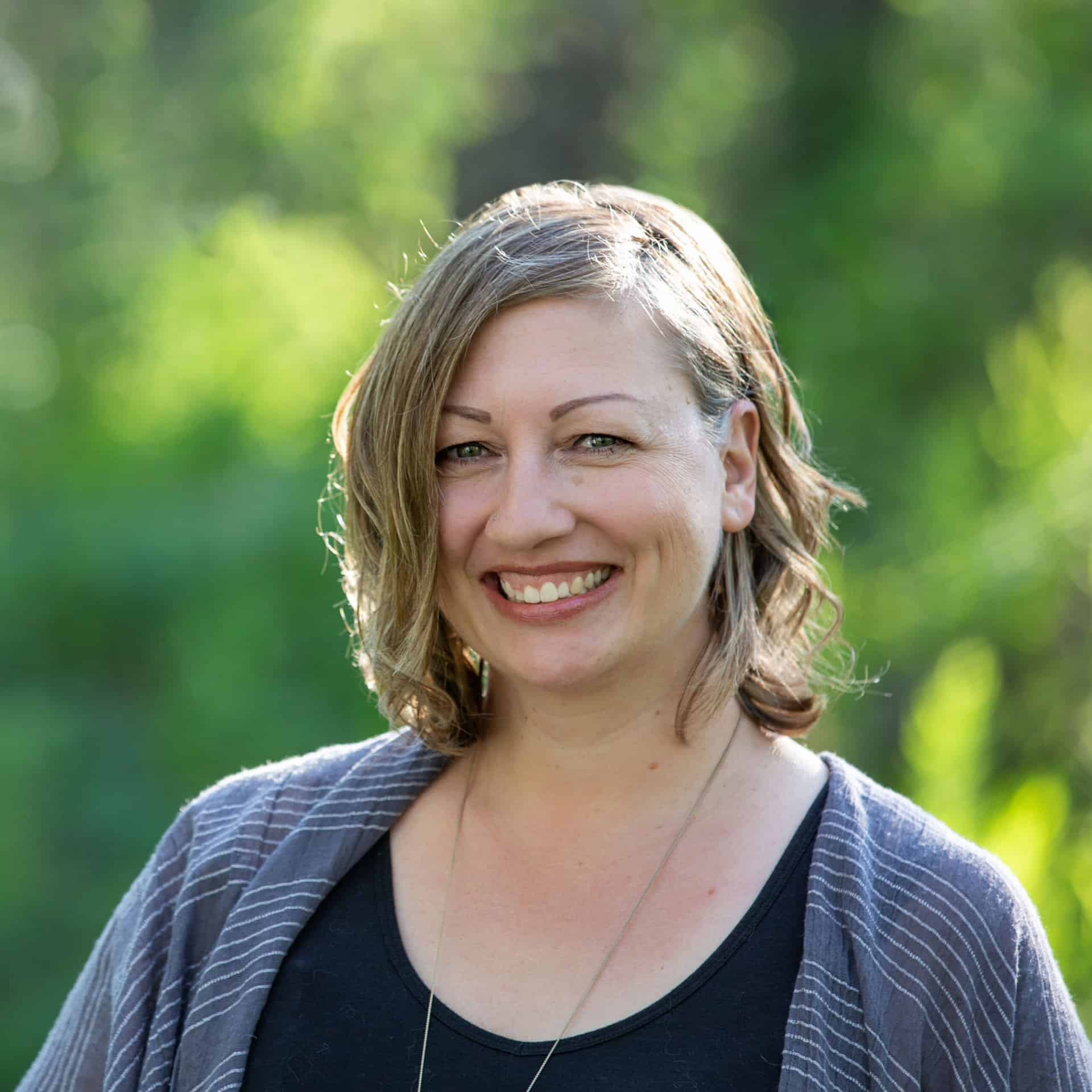 Dalene Heck is a co-founder of Road Trip Alberta. She was born in Edmonton, grew up in the Peace Country, and has ventured to almost every corner of Alberta and the world (she's travelled to 60 countries)! She is a serial blogger, the CEO of HMI Marketing, co-creator of the Trip Chaser card game, a leukemia-slayer, and cat whisperer.