Disclaimer: This page may contain affiliate links. Please review our full Terms and Conditions for more information and our Privacy Policy. Note that any pricing, operating hours, or other such information provided below may have changed since initial publication.
Compiled by the Road Trip Alberta team
Last updated on July 18, 2023
If you happen to have an old Canadian twenty-dollar bill (printed from 1969 to 1979), flip it over and see if you recognize the spot. Now imagine that image in full colour – with the water a crisp blue-green and Canadian Rockies that dazzle in the sunlight – and you're looking at the renowned Moraine Lake, one of the best views in the Canadian Rockies! This stunning lake in Alberta is one of the most photographed in the world, not only because of its jaw-dropping turquoise colour but because of the views of the mountains around it. It's no wonder it was chosen to grace our national currency.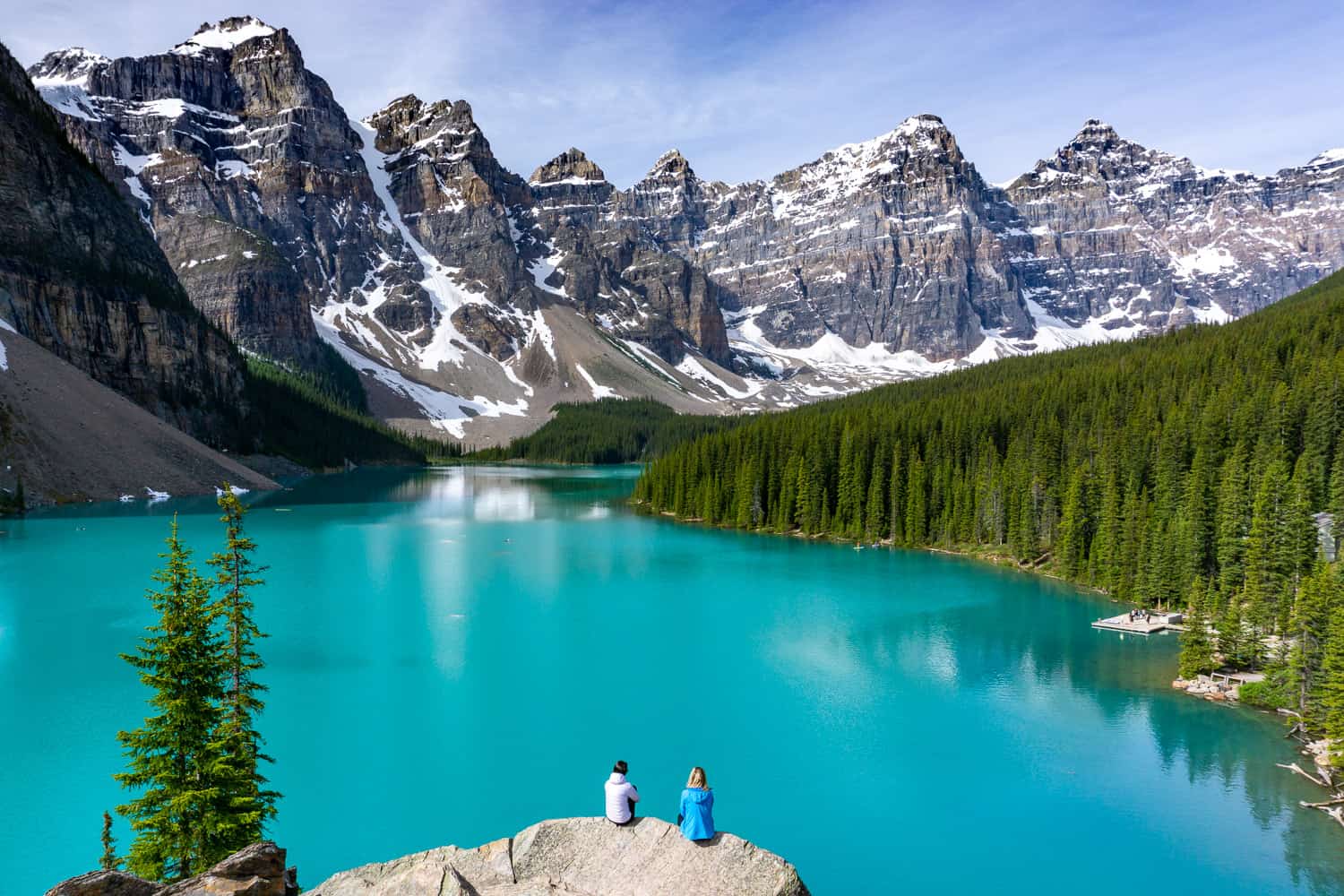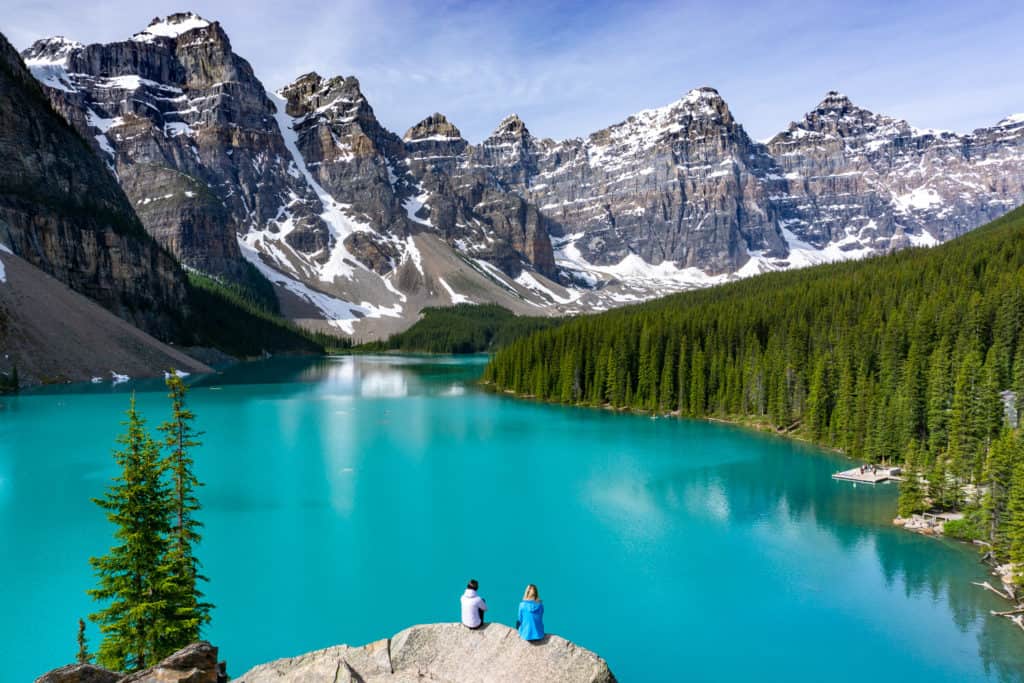 Found in the Valley of the Ten Peaks, Moraine Lake is approximately 14 kilometres from Lake Louise and is known as one of the most beautiful lakes in Canada. With a surface area of 120 acres, the lake reaches its crest in mid to late June; that's also when it has the most brilliantly blue colour. But whenever you choose to visit Moraine Lake, you're always in for a beautiful view!
Everything You Need to Know About Moraine Lake
Why is Moraine Lake so Blue?
Did you know that the lakes in the Rocky Mountains are some of the clearest lakes in the world? That's because these glacier-fed lakes are filled with fine rock dust created by huge glaciers that are continuously rubbing against bedrock.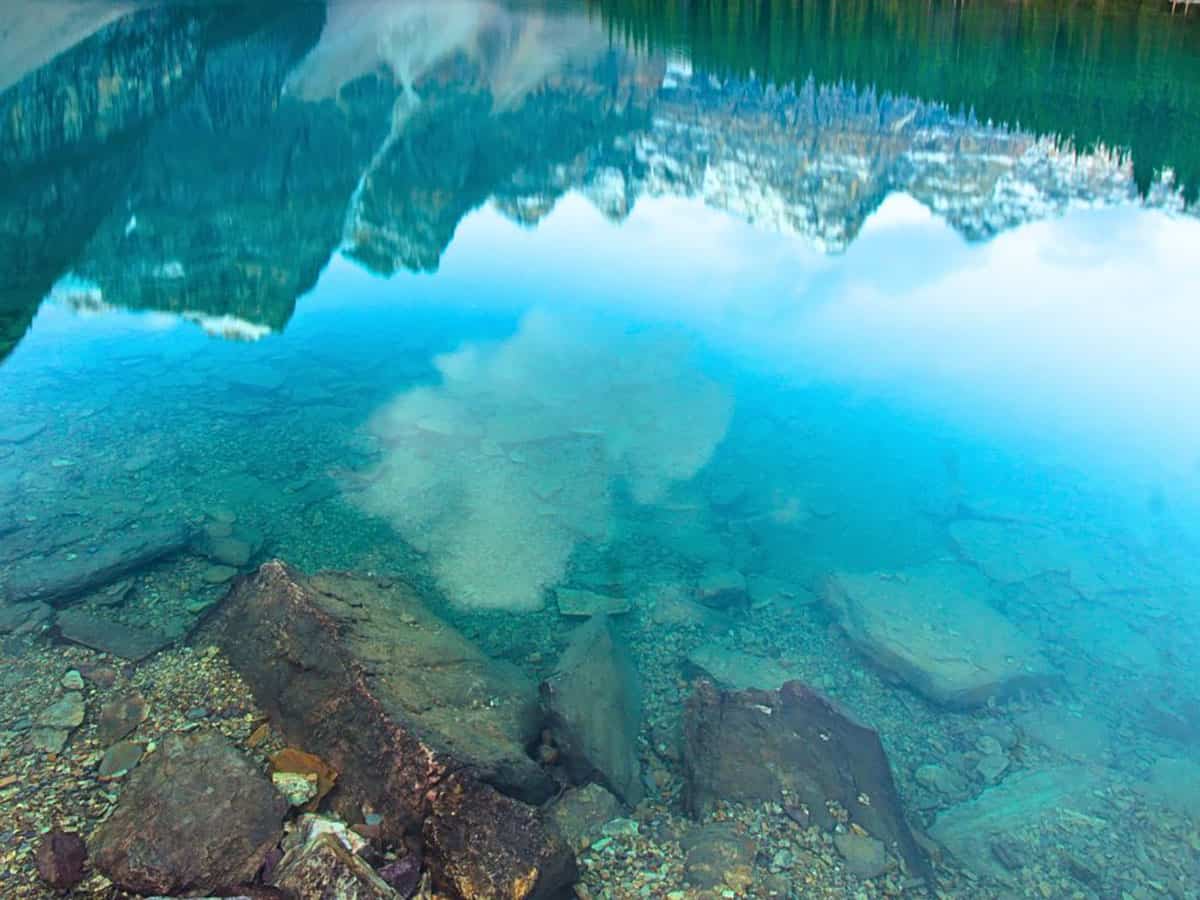 The dust stays suspended in the water and reflects sunlight, which in turn creates that stunning turquoise-blue colour of the lake. Interestingly, scientists have figured out that, as the surrounding glaciers shrink, the colours of Moraine Lake will eventually turn a darker, more sapphire-coloured blue.
When is Moraine Lake Open?
As of 2023, Moraine Lake Road will be closed to all personal vehicles, meaning you will have to take a shuttle bus to the lake if you want to visit (more on that below). Parks Canada shuttles, Roam Public Transit, and commercial buses are permitted from June to mid-October. We recommend booking your visit as far in advance as possible, as things definitely book up quickly!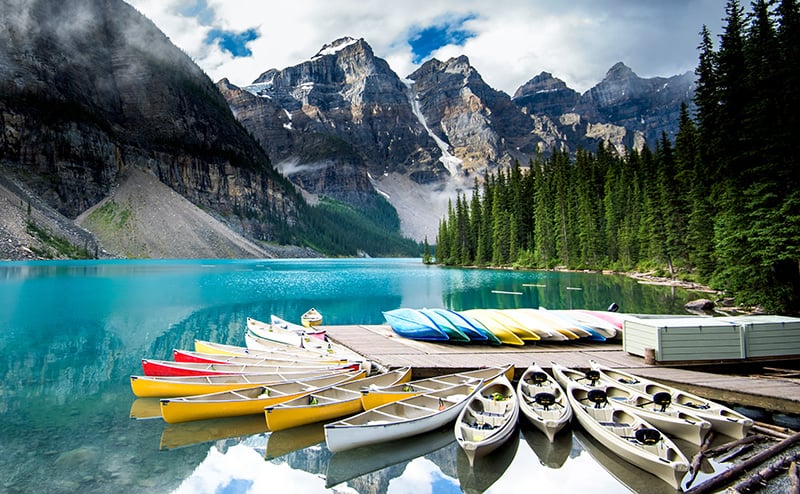 While Moraine Lake Road is only open to vehicles for a few months of the year, the road is set for cross-country skiing in winter. That being said, there is a high risk of avalanches in winter, so we recommend you proceed with extreme caution if you want to visit Moraine Lake by cross-country skiing.
The Best Time to Visit
Moraine Lake is open from June until mid-October, depending on the weather and snowfall. While the summer season is extremely busy, there is a slight decrease in the number of tourists in September and the first part of October; you also might find a bit of snow on the Ten Peaks during these months, which always makes for a lovely view.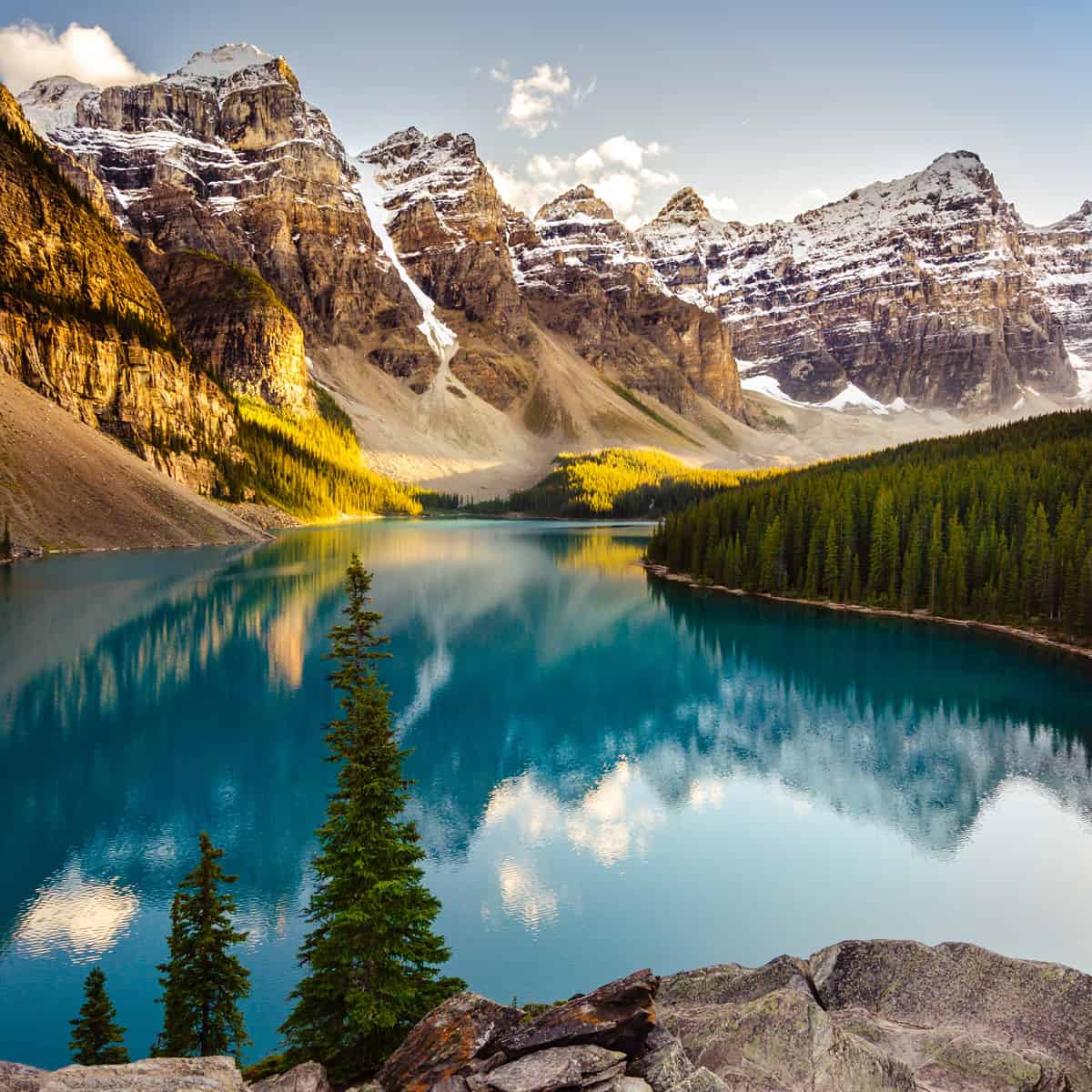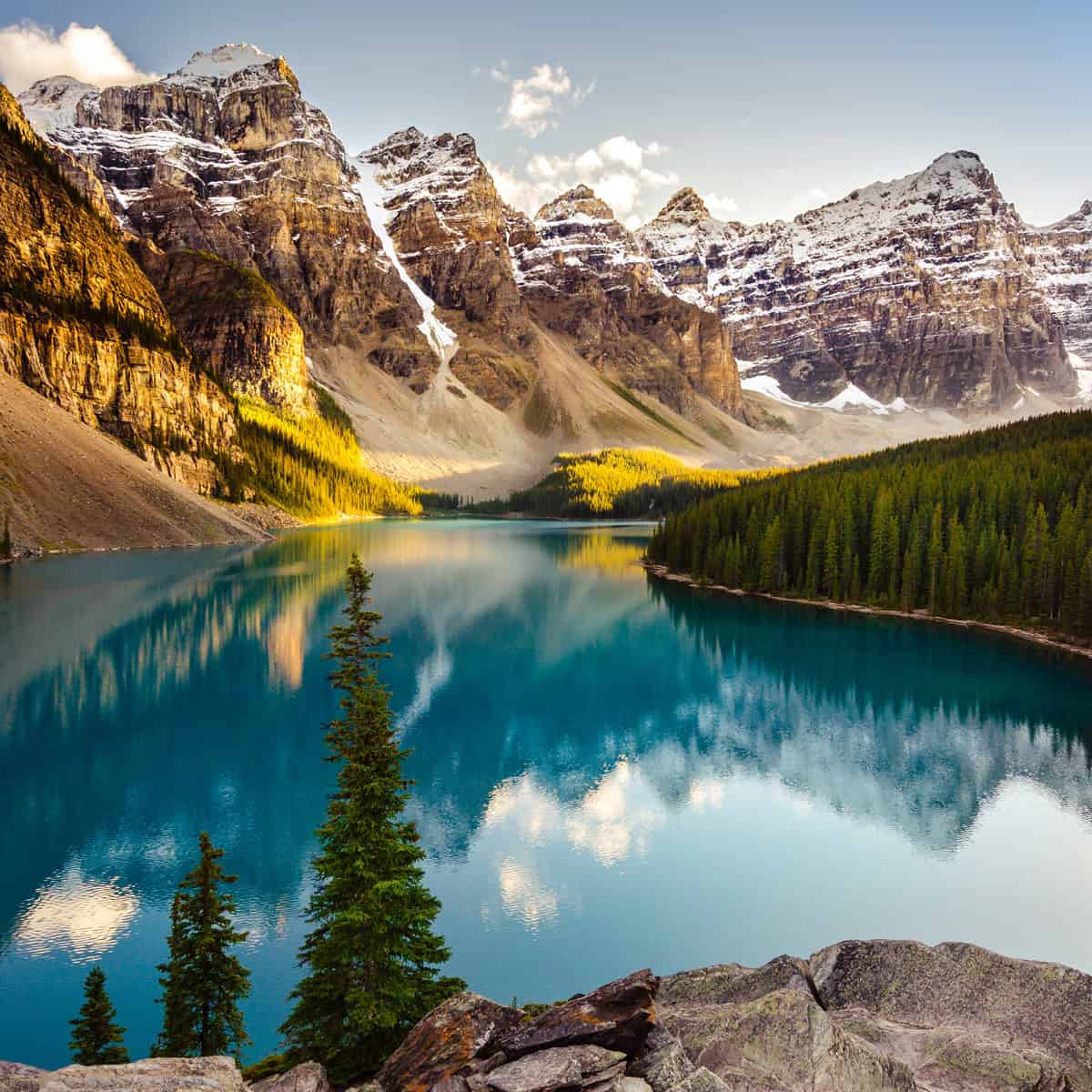 The best time of day to visit is as early as possible. The sunrise and still reflecting water is absolutely stunning. However, the only way to get to Moraine Lake for sunrise is to take a shuttle or other commercial vehicle (such as a tour or the shuttle service we've recommended below). Note that Parks Canada does not provide a sunrise shuttle.
If you are unable to get there for sunrise, early morning as well as late afternoon or evening are also wonderful for photography as you won't have the harsh overhead sun that midday often brings.
Weather
Seeing that Moraine Lake is in the Rocky Mountains, the weather in the area can be fairly chilly, even in summer! In June, July, and August, you can expect average daily highs of 16ºC to 19ºC (61ºF to 66ºF), while the temperature drops to around 2°C (36°F) in the evening. By September, the average high is only 13°C (55°C) with an average low of -2°C (28°F). And by October, expect an average high of 6°C (43°F) and a low of -7°C (19°F)! All of this is to say – pack accordingly and prepare for cold weather when you visit.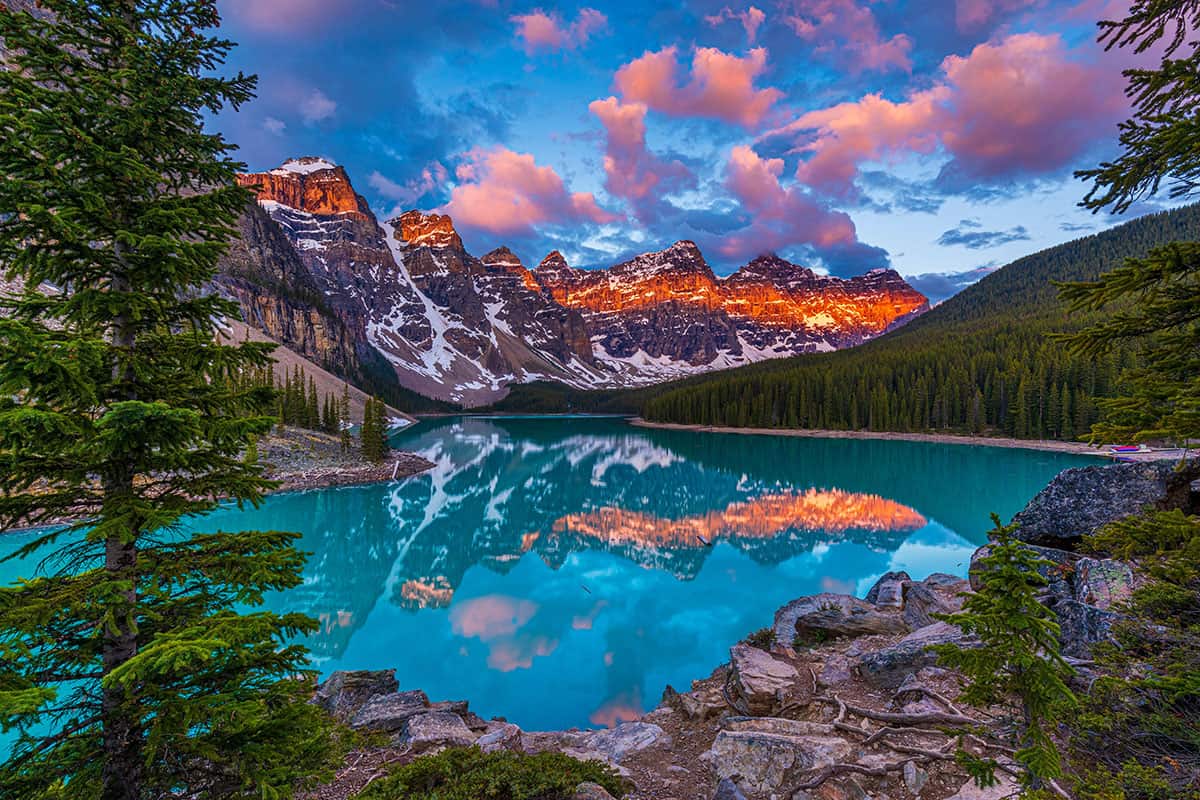 If you plan on visiting Moraine Lake in winter by cross-country skiing, prepare for freezing temperatures; December, January, and February can see temperatures drop well into the -20°C (-4°F) range and colder.
It can also be quite rainy and/or snowy, depending on the time of year. June is the rainiest month, so pack some rain gear just in case.
How to Get to Moraine Lake
As mentioned, the road to Moraine Lake is now closed to all personal vehicles. The only ways to get to there are by Parks Canada shuttle, Roam Public Transit, commercial buses/tours, or by bicycle.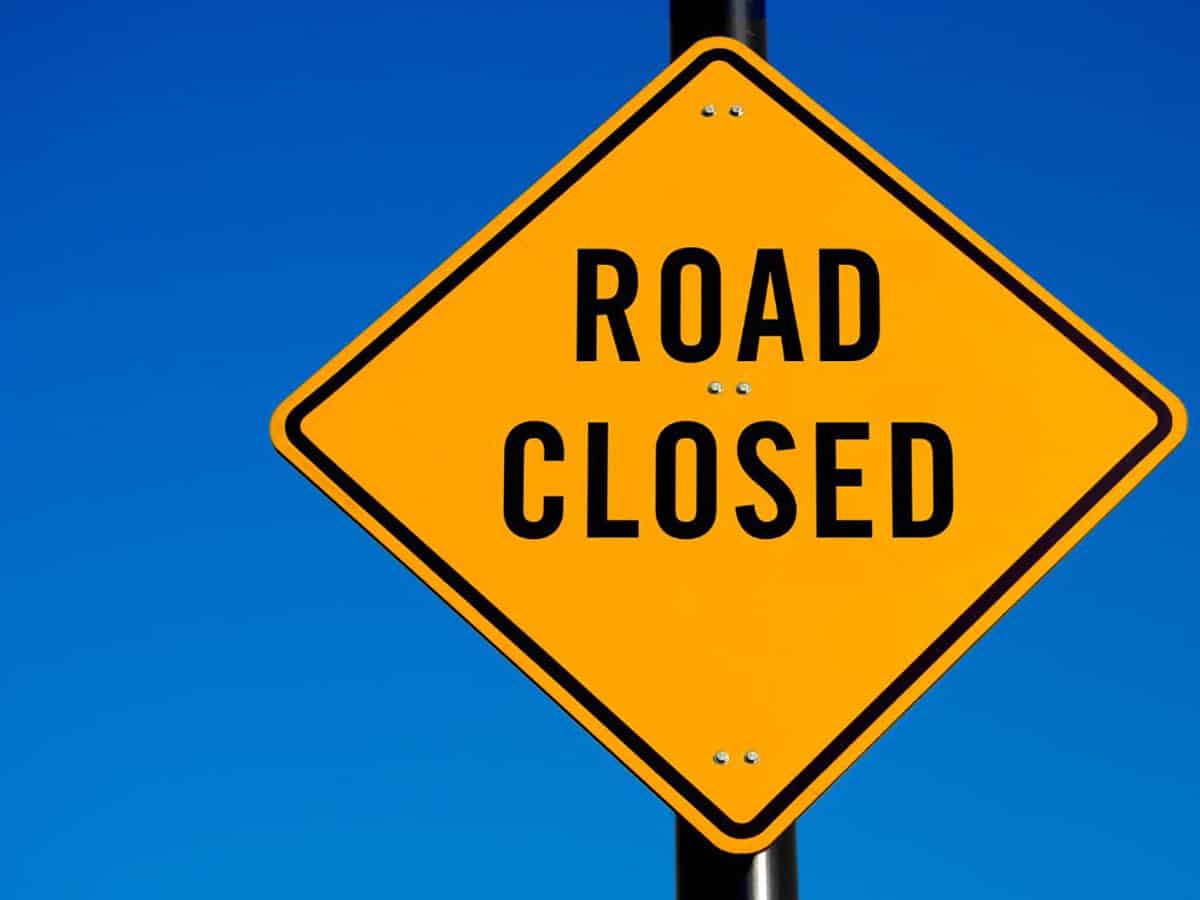 Taking a tour, public transit, or a shuttle is incredibly easy and, quite frankly, the only way to ensure you see Moraine Lake. Booking your tour or shuttle in advance is required, and it is recommended to book as far in advance as possible.
How to Get to Moraine Lake from Banff
Moraine Lake is approximately 72 kilometres from Banff. There are multiple options of transportation between the two spots, including the Park Canada shuttle, Roam Public Transit, or commercial shuttle or tour, all of which will connect in Lake Louise.
You are also able to take your own car, but can only go as far as Lake Louise, and will then have to take a shuttle or public transport to Moraine Lake (more on that below).
Driving
It is no longer possible to drive your own personal vehicle to Moraine Lake. You have to take a shuttle, tour, or Roam Public Transit, and we highly recommend booking these options as far in advance as possible.
If you choose to drive to Lake Louise, please note that the parking lot gets extremely full. If you aren't staying in Lake Louise, we recommend arriving in Lake Louise as early as possible to hopefully find a parking spot. If you are staying in Banff, the easier and less stressful option is to simply take a shuttle or Roam Public Transit from Banff directly to Lake Louise, and then on to Moraine Lake.
Read our guide for getting from Banff to Lake Louise for more!
Taking a Shuttle
There are multiple Moraine Lake shuttle options to choose from, as there are numerous companies now operating a shuttle service from Lake Louise to Moraine Lake. Our recommendation is the Moraine Lake Bus Company.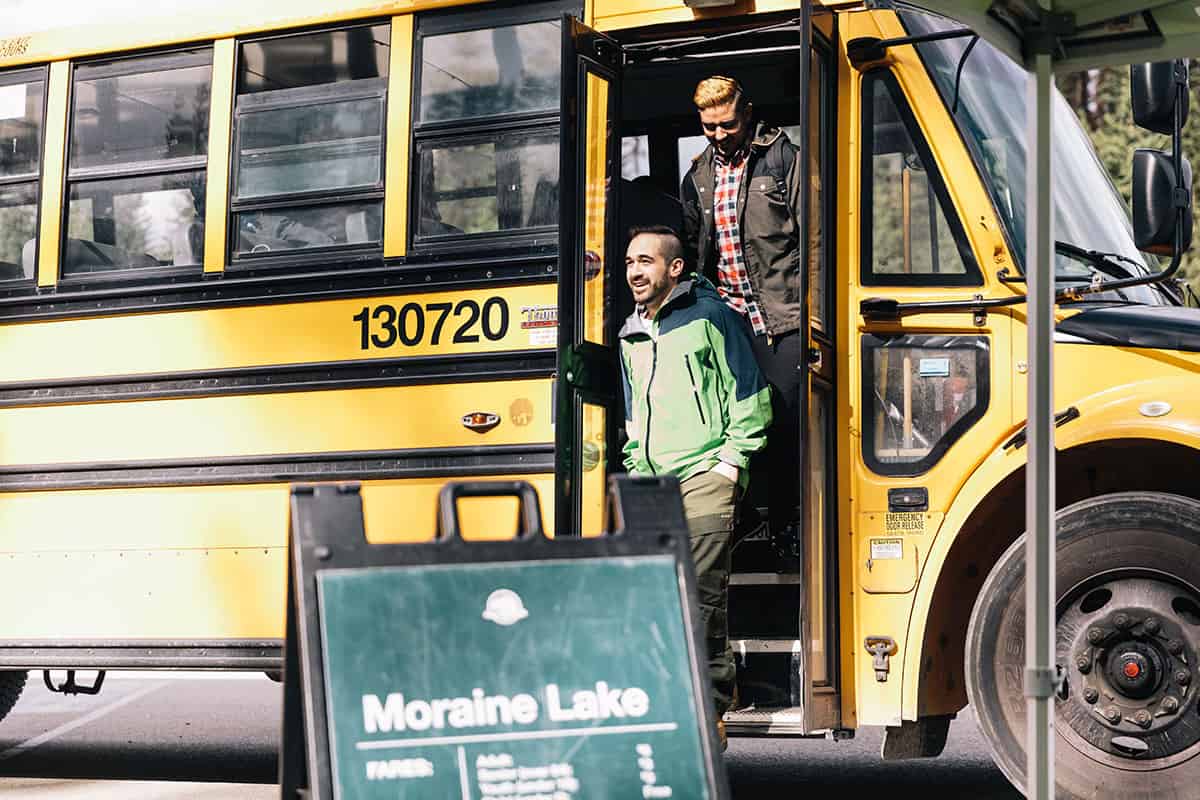 With multiple options throughout the day to get you from Lake Louise to Moraine Lake, Moraine Lake Bus Company is our top choice for commercial Moraine Lake shuttles. There are even sunrise options, so you are able to get to Moraine Lake for those coveted sunrise photos. Moraine Lake Bus Company is also the only shuttle company that lets you pre-book your return journey so you won't be left waiting in line.
Parks Canada Shuttle
Parks Canada has its own shuttle service from Lake Louise to Moraine Lake (you can also take a Parks Canada shuttle from Banff to Lake Louise, and then on to Moraine Lake from there).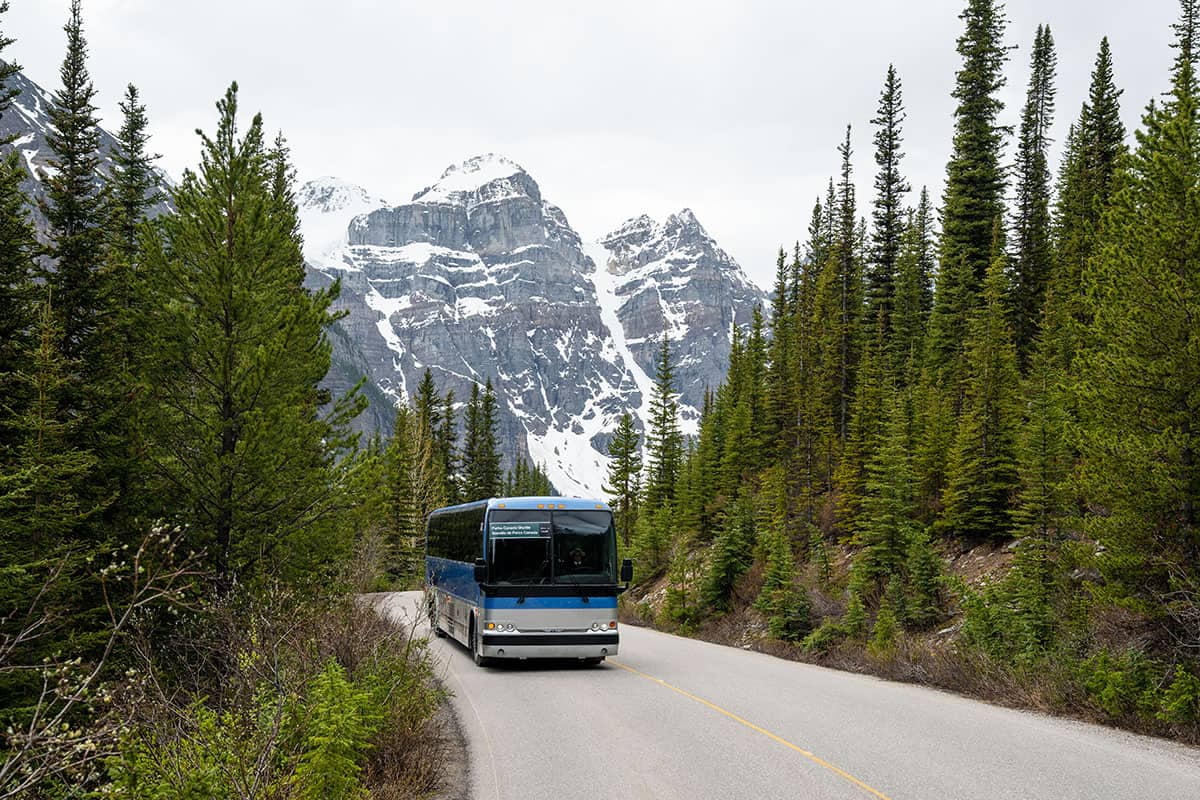 First, reserve your shuttle ticket online. You can do so in advance, but additional tickets are also released at 8 am two days prior to departure day. On the day of your visit to Moraine Lake, park your vehicle at the Park and Ride, located at the Lake Louise Ski Resort. You will first take the shuttle to Lake Louise itself, and then connect between Lake Louise and Moraine Lake on a first come first serve basis, via the Lake Connector shuttle (available to Parks Canada Shuttle reservation holders only). Your ticket includes a return shuttle service from either lake back to the Park and Ride when you are ready.
Heads up: your shuttle ticket does not include a Banff National Park entry fee and your Banff National Park entrance fee does not serve as a shuttle ticket. Both are required to visit Moraine Lake.
Moraine Lake Tours
There is no shortage of tour companies that visit Moraine Lake. The only challenge is finding the right tour company for you! Many tour companies offer combination tours of Moraine Lake and Lake Louise, while some include Banff and beyond. There are bus tours with short stops, hiking tours, and so much more. If you want to sit back and let somebody else do the planning, or you want a guaranteed way to see Moraine Lake, a tour might be the perfect option for you.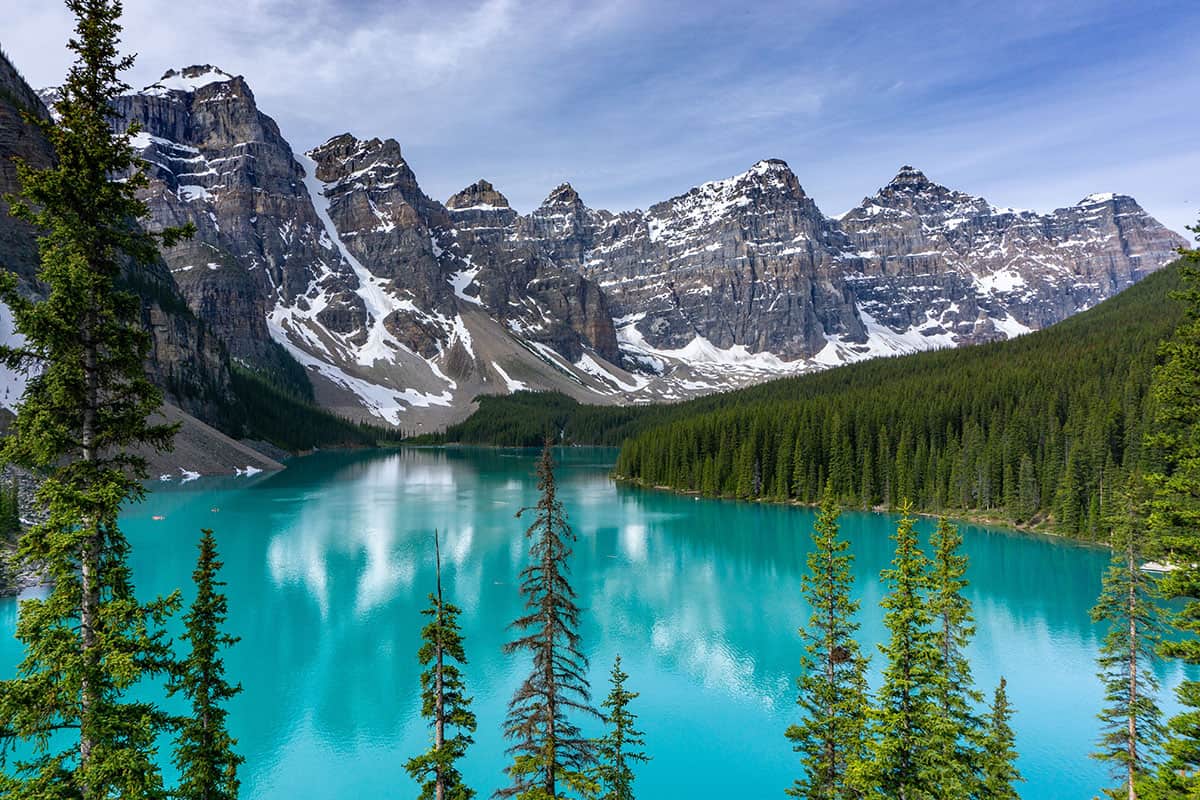 Hiking
The distance between Lake Louise and Moraine Lake is 14 kilometres each way, so Parks Canada does not recommend hiking or walking to Moraine Lake. Remember: there is no camping allowed at Moraine Lake.
Biking
Up for an adventure? It's totally possible to bike to Moraine Lake! The journey from Lake Louise to Moraine Lake is 14 kilometres, and there are bicycle racks at the lake to lock your bike. Just make sure to save your energy to bike back! Thankfully, there are quite a few bike rental places in Lake Louise.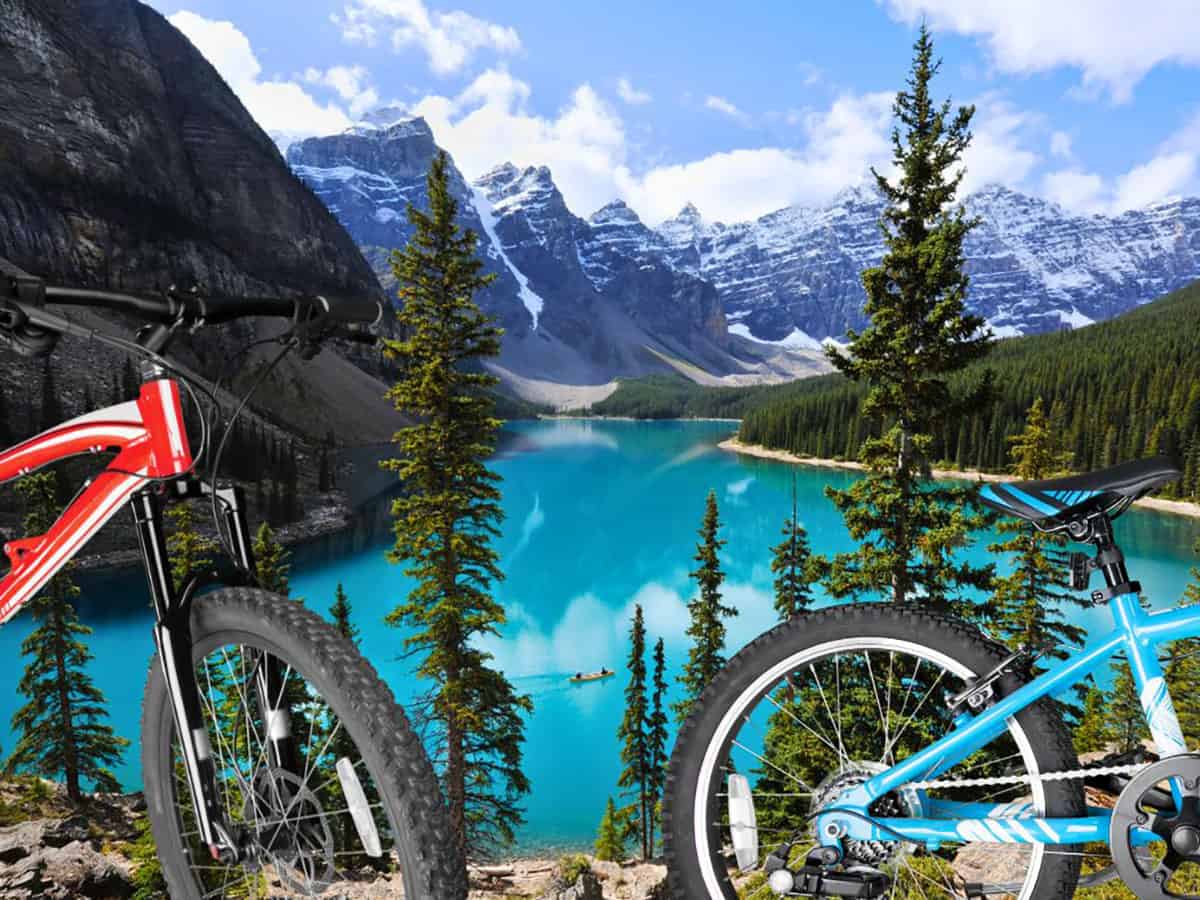 Cross-Country Skiing
In winter, the only way to access the area around Moraine Lake is by cross-country skiing from Lake Louise. However, there is severe avalanche risk in the area, so it is only recommended to cross-country ski to Moraine Lake using extreme caution.
Things to Do at Moraine Lake
The Famous View from Rockpile Trail
Everyone who visits Moraine Lake wants a photo from the famous Rockpile Trail, and it's easy to see why… you can't beat that view! Thankfully, the trek to get to this viewpoint is fairly easy (see the hiking section below). We definitely recommend walking the 0.8-kilometre trail in order to get as many photos as you can of Moraine Lake if you are able, because it truly is an unbelievable view.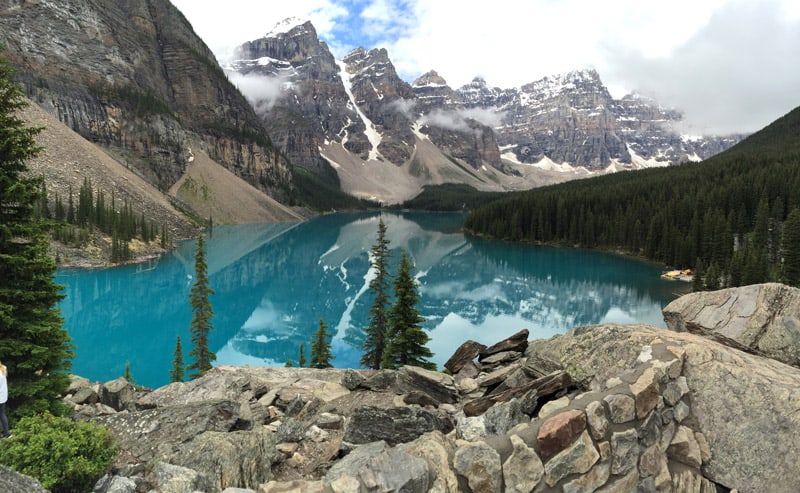 Canoeing
If you want to get out on the water, you can rent a canoe from Moraine Lake Lodge. As one of the most beautiful places in the world to canoe, we highly recommend it! If you are staying at the lodge as a guest, canoes are complimentary, but all others have to rent canoes on a first come, first served basis (so try to arrive as early as possible). Canoe rentals are only available from mid-June until mid-September.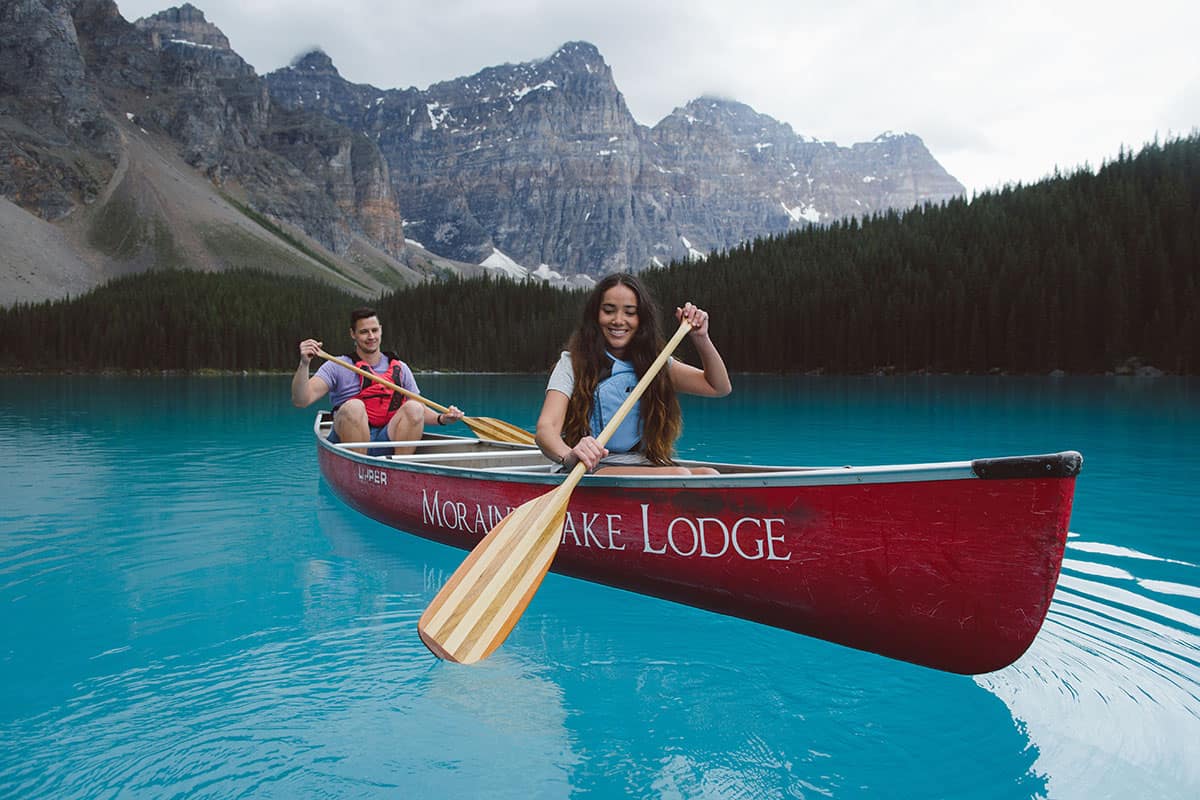 Hiking Nearby
As there are tons of amazing hiking trails in Banff National Park, there are quite a few hikes near and around the lake to choose from. The best part? No matter which one you choose, it's guaranteed to have beautiful views of the park, the Ten Peaks, and Lake Moraine! We've rounded up a few of the most popular Moraine Lake hikes below.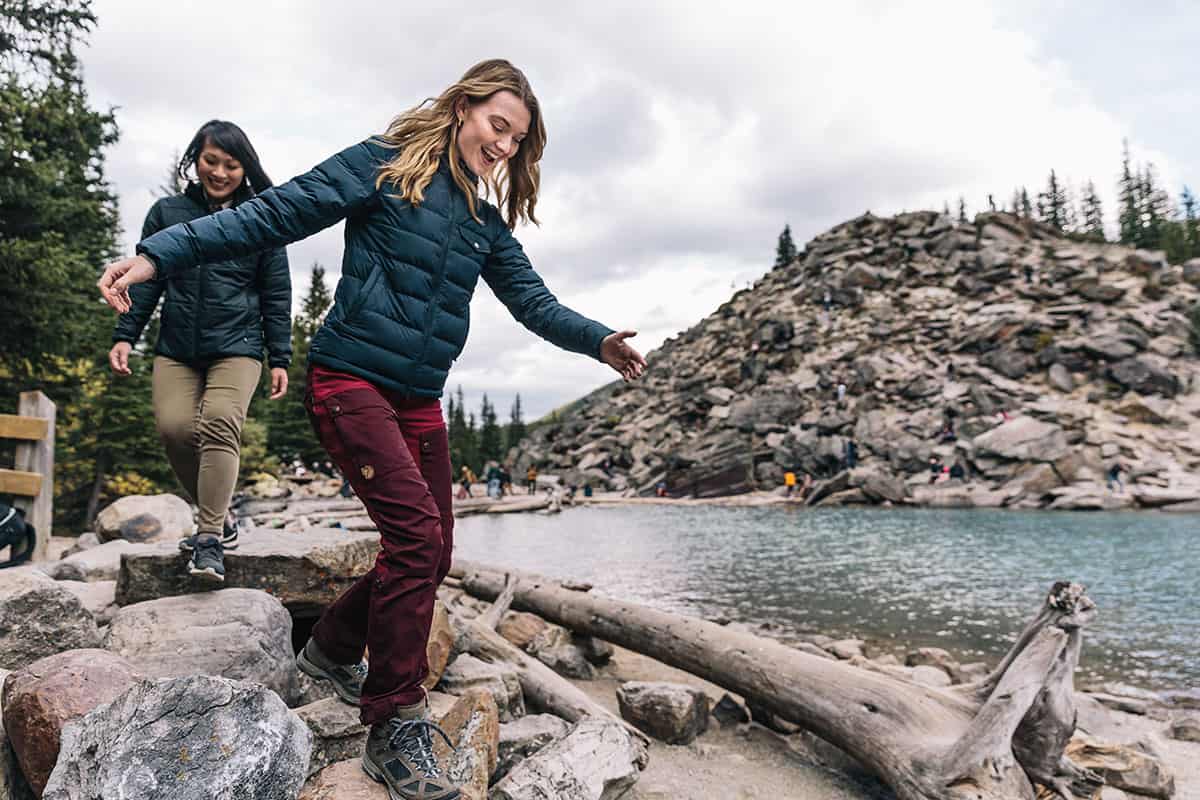 Rockpile Trail
One of the most popular hikes in Banff National Park, the Rockpile Trail is considered an easy trail of 0.8 kilometres. While the estimated hiking time is only about 25 minutes, we imagine you'll spend much longer on the trail taking photos! This is a great trail for beginner hikers or people who didn't bring much hiking equipment with them (a pair of runners is fine for this trail).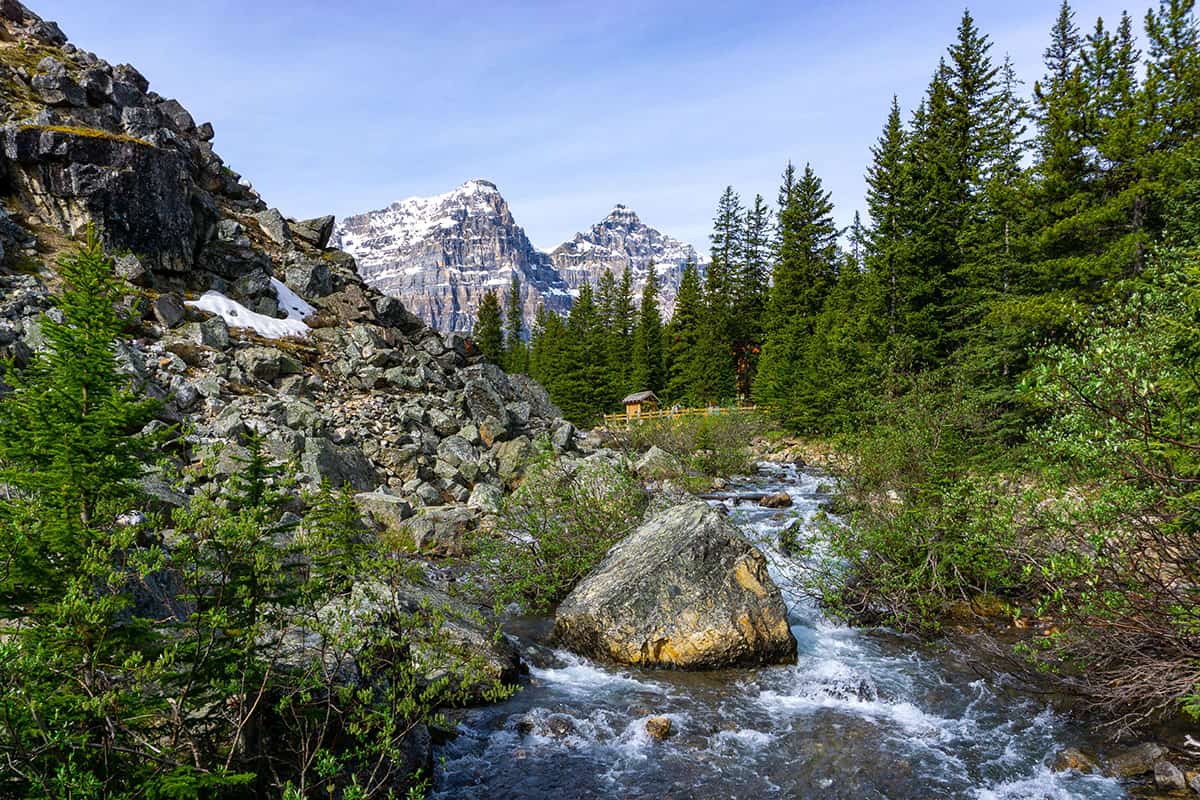 Moraine Lakeshore and Consolation Lakes Trail
Considered a difficult trail, the Consolation Lakes Trail is an out-and-back trail of 7.4 kilometres. The walk to the first lake is fairly easy, but to get to the upper lake, there is some scrambling over boulders involved. For avid hikers, this is a fantastic way to spend a day at Moraine Lake and the surrounding area!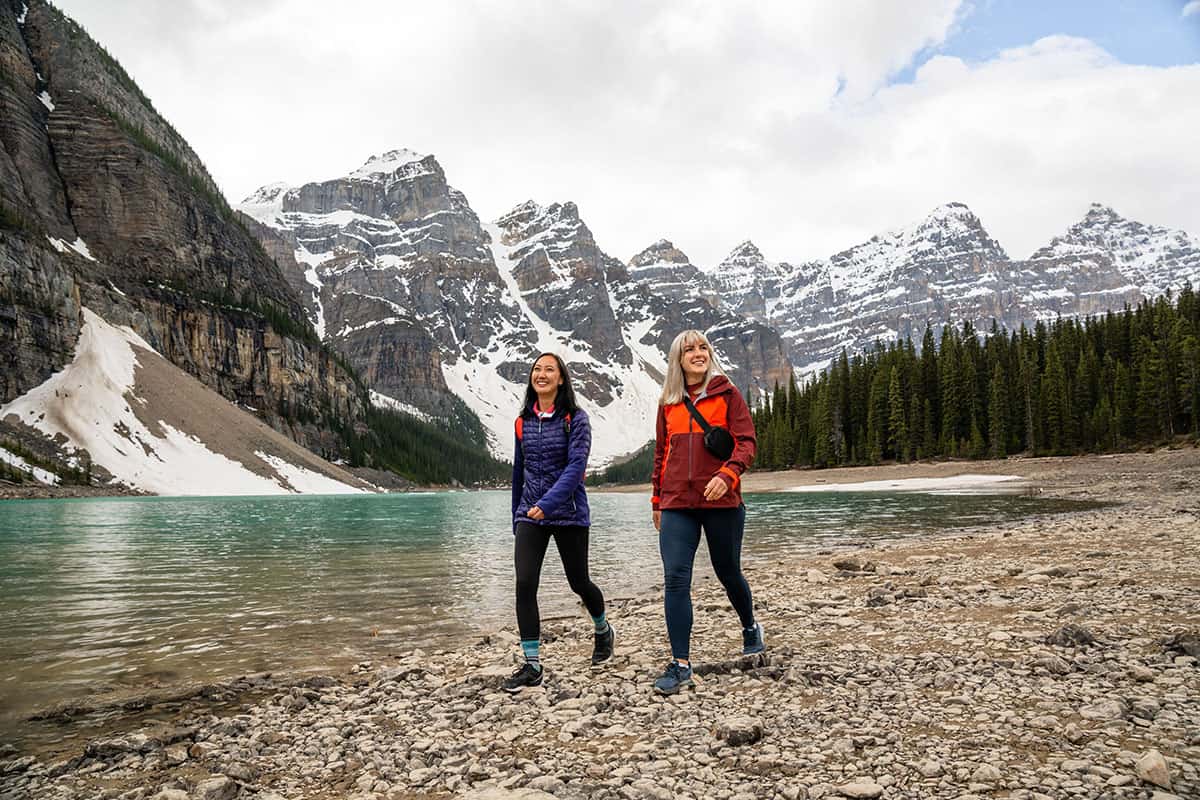 Larch Valley and Sentinel Pass
If you're looking for a moderate hike around the lake, try the Larch Valley and Sentinel Pass hike. This 8.9 kilometre, out-and-back hike takes about 4 to 5 hours, and peak season is usually around mid-September (when the larches change colour).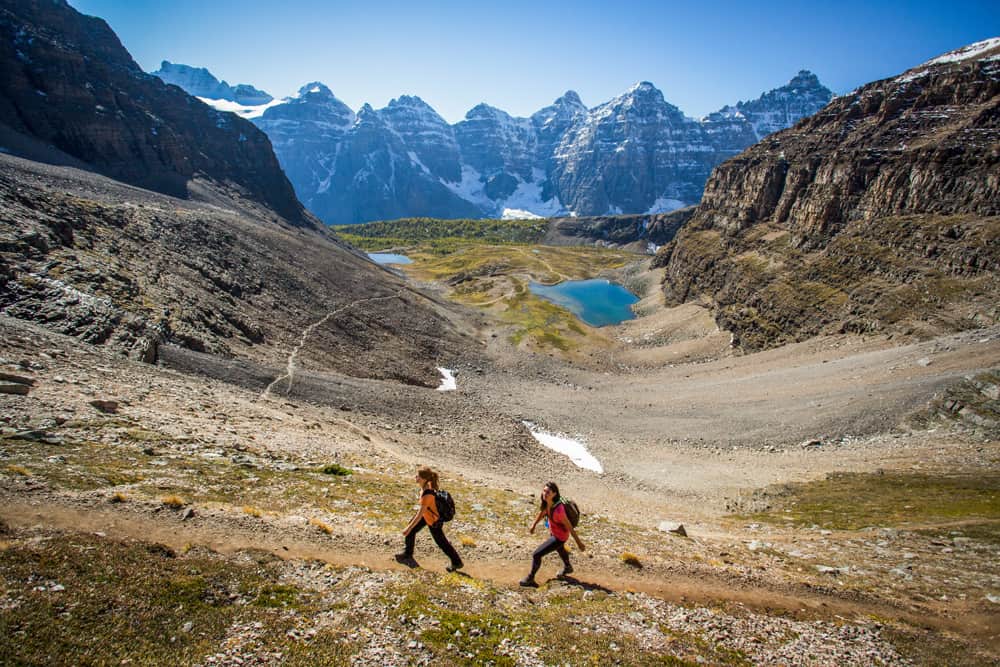 Note: Due to bears, some hikes in the area may require a minimum number of hikers per group, but hikers are often waiting at the trailhead to be grouped together. Check before hiking to see if there is Group Access in effect.
Moraine Lake in Winter
The Moraine Lake Road is closed in winter (usually from October thru May). Although it is possible to cross-country ski in the area, there are severe avalanche risks. Access to the lake itself is closed in winter.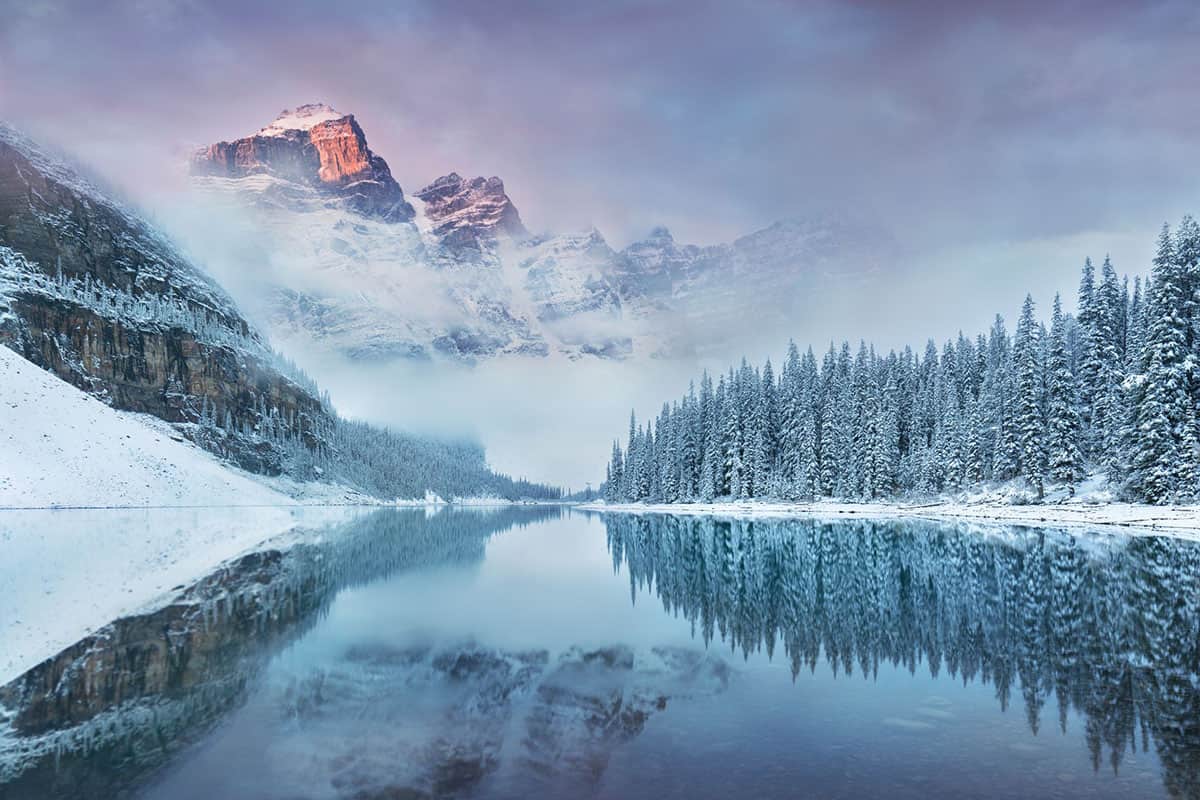 Where to Stay
Unfortunately, there is no camping at Moraine Lake itself, although there is an option nearby (more on that below). Thankfully there are a few other accommodation options, and places nearby including Lake Louise and Banff.
Moraine Lake Lodge
The Moraine Lake Lodge is your best bet for staying as close to the ten peaks as possible. With some truly epic views – and we don't throw the word epic around often – it's a luxury accommodation that offers you some of the most amazing scenery of the "Jewel of the Rockies".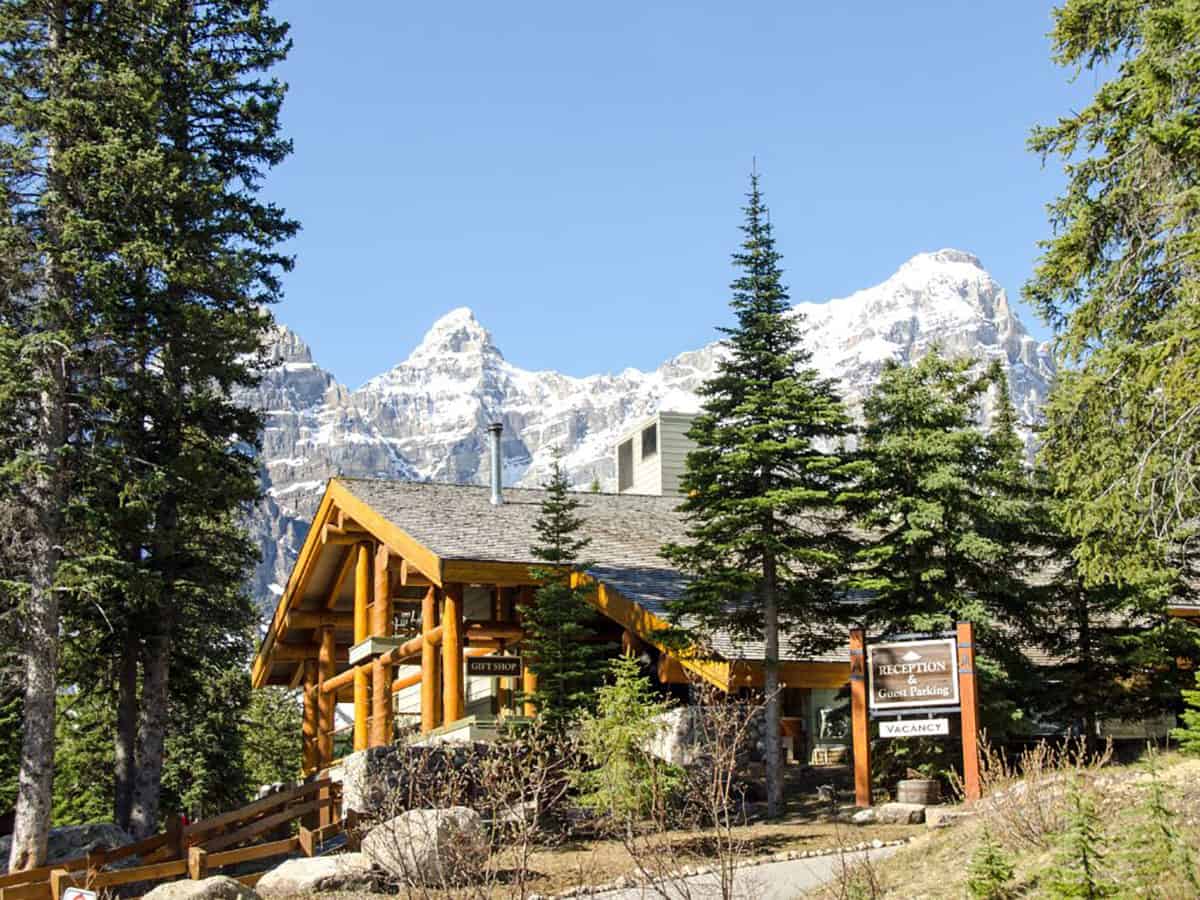 With dining options, lots of activities, and plenty of other amenities, you can choose from an assortment of cabins or rooms to stay in. It's perfect for a honeymoon, a special occasion, or when you simply want to have the trip of a lifetime!
Accommodations Nearby
Lake Louise
Thankfully, there are plenty of places to stay in Lake Louise. For a luxury stay, try the Fairmont Chateau Lake Louise, which is one of the most famous hotels in Canada and certainly in the Canadian Rockies. A good mid-range hotel is the Mountaineer Lodge, while there's also a HI Lake Louise Alpine Centre for a more budget option. There are also AirBnbs near Lake Louise, as well as a few cabin rentals. Check out all of the options in our guide on things to do in Lake Louise.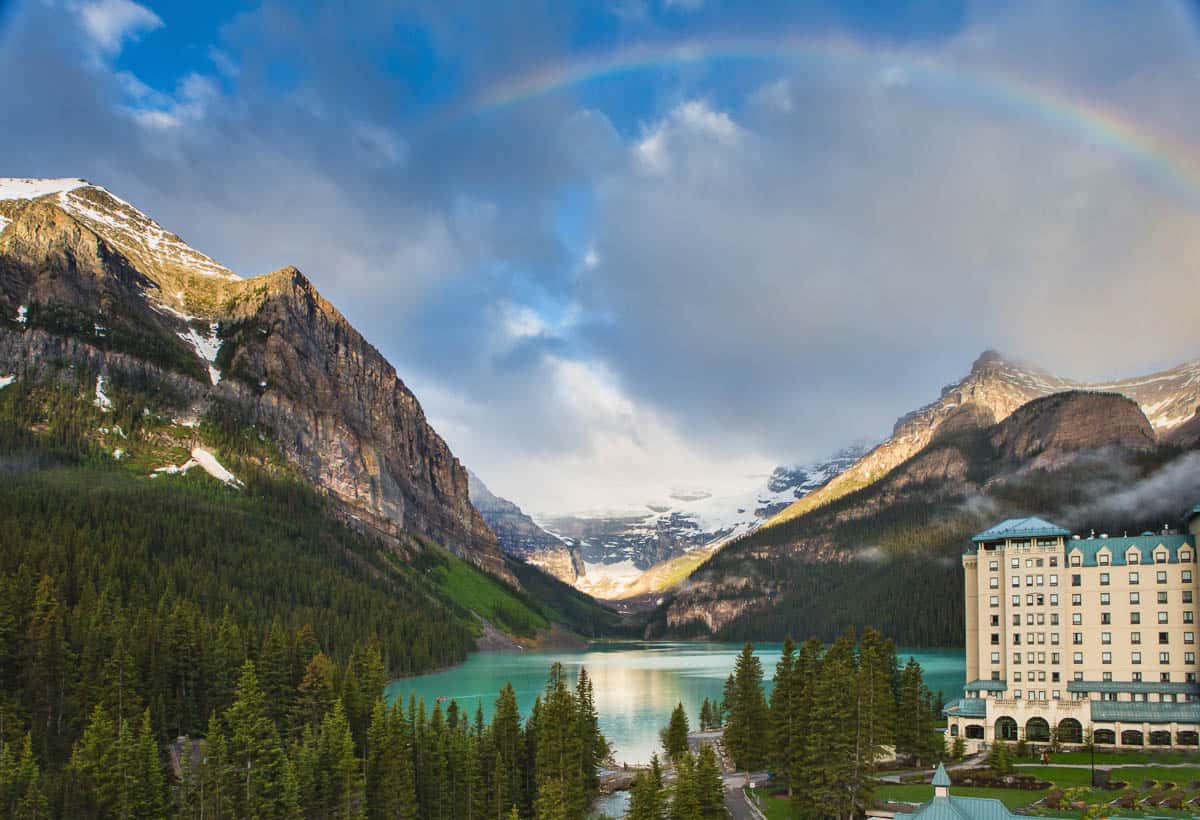 Banff
There is a lot of choice when it comes to places to stay in Banff. The Fairmont Banff Springs is a beautiful hotel if you're after luxury, while the Moose Hotel and Suites and the Basecamp Suites Banff are good picks for mid-range. For those on a budget, try the Banff High Country Inn. There's also great camping in Banff.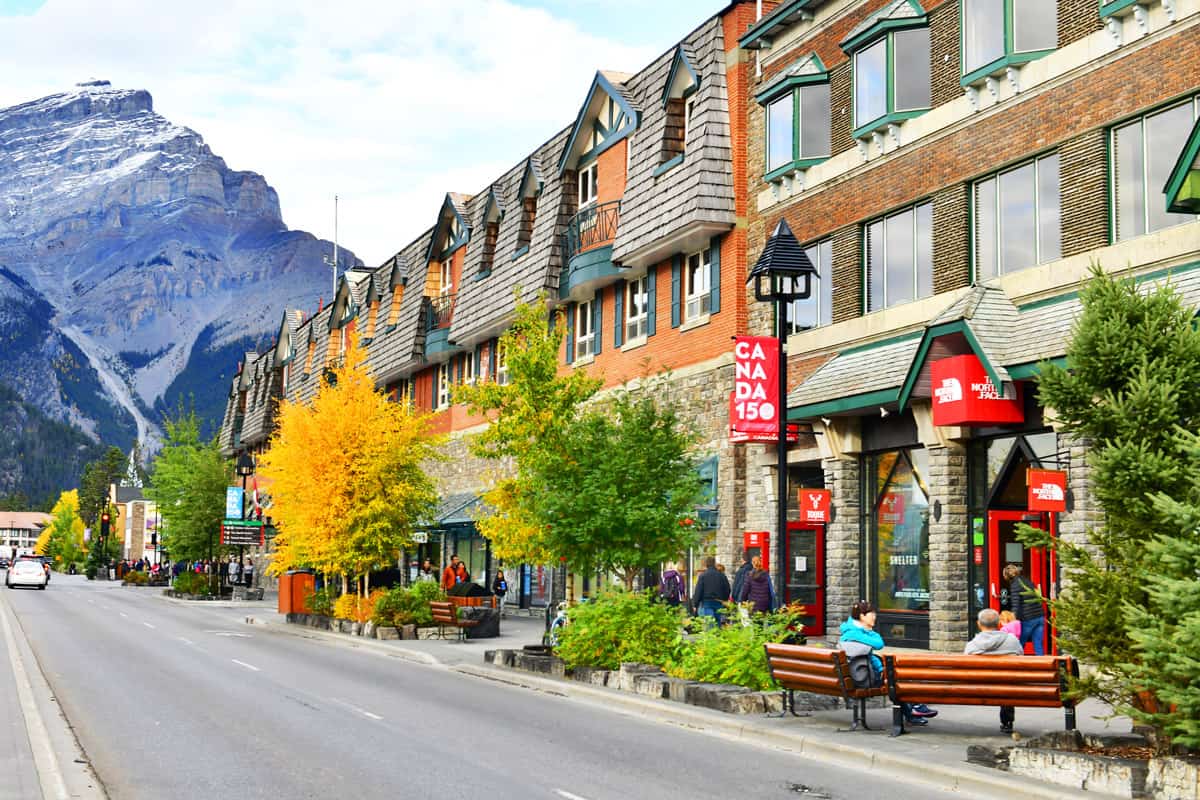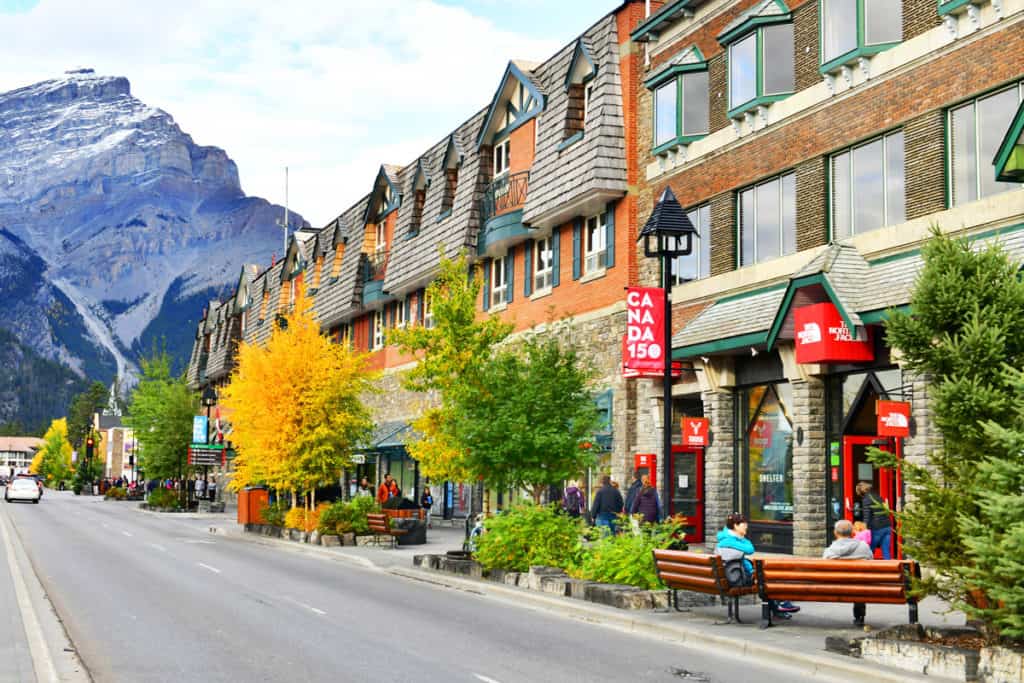 Camping
The closest camping spot to Moraine Lake is the Lake Louise Campground. With both "hard-sided" and "soft-sided" campgrounds, we recommend booking as far in advance as possible, as they both fill up quickly every year. A bonus? Visitors to the Lake Louise campground enjoy free access to the Park and Ride Connector service linking the campground with Lake Louise Village, although tickets for the Lake Louise Lakeshore and Moraine Lake shuttle service must be reserved in advance.
Tips and Recommendations for Visiting Moraine Lake
How to Avoid the Crowds
There's no sugarcoating this: Moraine Lake is extremely crowded, as it's one of the most popular tourist destinations in the Canadian Rockies. In fact, that's why the road to the world's most popular lake is officially closed; the parking lot was full 24 hours a day, causing a great toll on the environment as well as on the people trying to take care of it.
While Moraine Lake is busy from sunrise to sunset, we do recommend taking a very early shuttle (there are some as early as pre-sunrise with Moraine Lake Bus Company) as not as many people will brave the wee hours of dawn. The same goes for the latest hours of the day; many people will have already returned to their accommodation for dinner.
Eating at Moraine Lake
There aren't many options for buying food at Moraine Lake, so we recommend bringing a picnic lunch or snacks. Of course, if you're on a tour, they may provide food, too!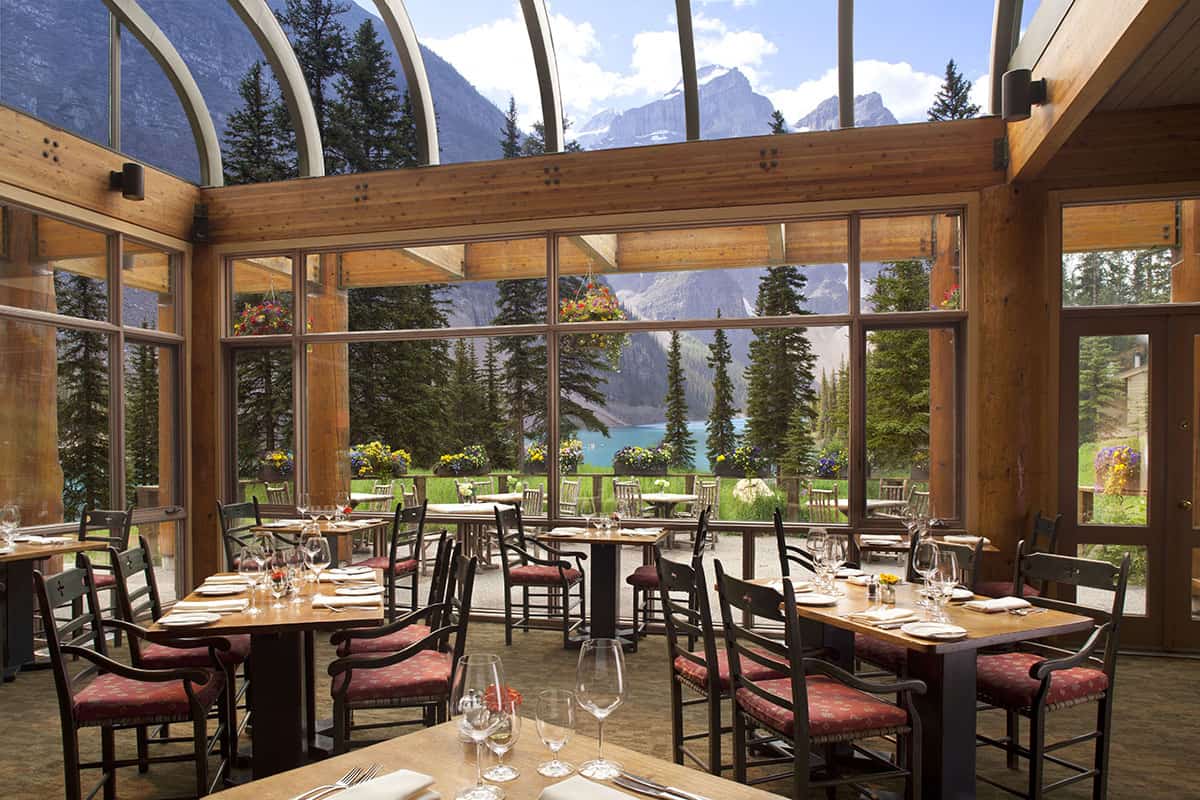 Otherwise, your only option to eat in Moraine Lake is the Moraine Lake Lodge. However, the dining room is for guests only; all others are able to pick up snacks from the lodge's café.
Another option for the area is to eat in Lake Louise. There's a great selection of Lake Louise restaurants to choose from!
Cell Reception at Moraine Lake
There's none. That's right… there's no cell reception at Moraine Lake, so plan accordingly! You won't start to gain cell service again until you're closer to Lake Louise, which is about 14 kilometres away.
Be Bear Safe
Bears are a serious threat in the Lake Louise and Moraine Lake area, so it's crucial that all visitors to the area who plan on hiking or spending time on a nearby trail know basic bear safety. At various times throughout the year, certain hiking trails may be closed and/or there may be Group Access in effect.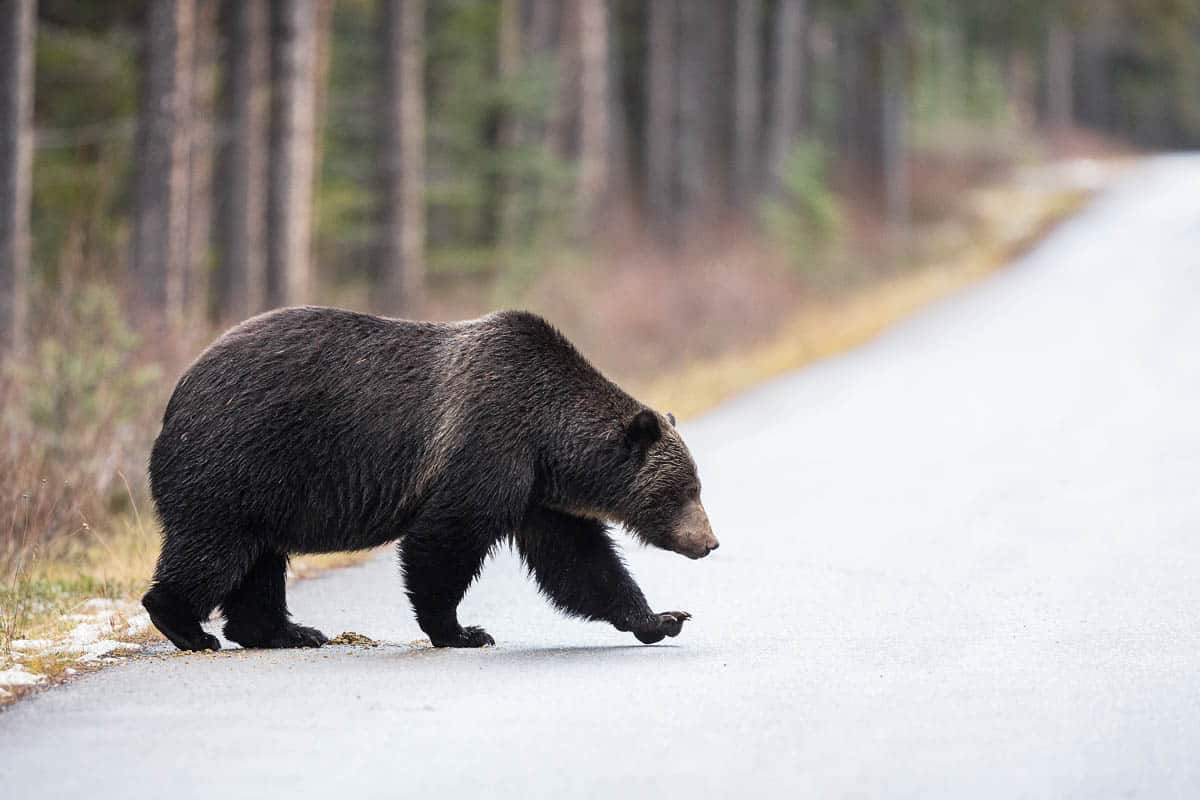 Group Access means that you are legally required to hike in a tight group of four or more people on certain trails, including the Consolation Lakes, Larch Valley, Sentinel Pass, Wasatch Pass, Eiffel Lake, Wenkchemna Pass, Sheol Valley and Paradise Valley, as well as a 3.8 km section of the Moraine Lake Highline Trail.
If you plan on hiking in or around Lake Louise or Moraine Lake, we recommend reading Parks Canada's recommendations for remaining safe in bear country.
Parking
No need to worry about parking at Moraine Lake anymore… since personal vehicles are no longer allowed on Moraine Lake Road, there is no parking available. Only shuttles and commercial vehicles can park at the lake itself. However, the parking lot is a good place to situate yourself for hiking trailheads, finding your shuttle back to Lake Louise, and so on!