Disclaimer: This page may contain affiliate links. Please review our full Terms and Conditions for more information and our Privacy Policy. Note that any pricing, operating hours, or other such information provided below may have changed since initial publication.
Compiled by Bailey from Destinationless Travel and the Road Trip Alberta team
Last Updated December 1, 2022
Lake Minnewanka has long been one of the most visited lakes in Alberta. Conveniently located next to the town of Banff and neighbouring Two Jack Lake, this glacier-fed lake lies on the eastern side of Banff National Park and is the second-longest body of water in the Rockies.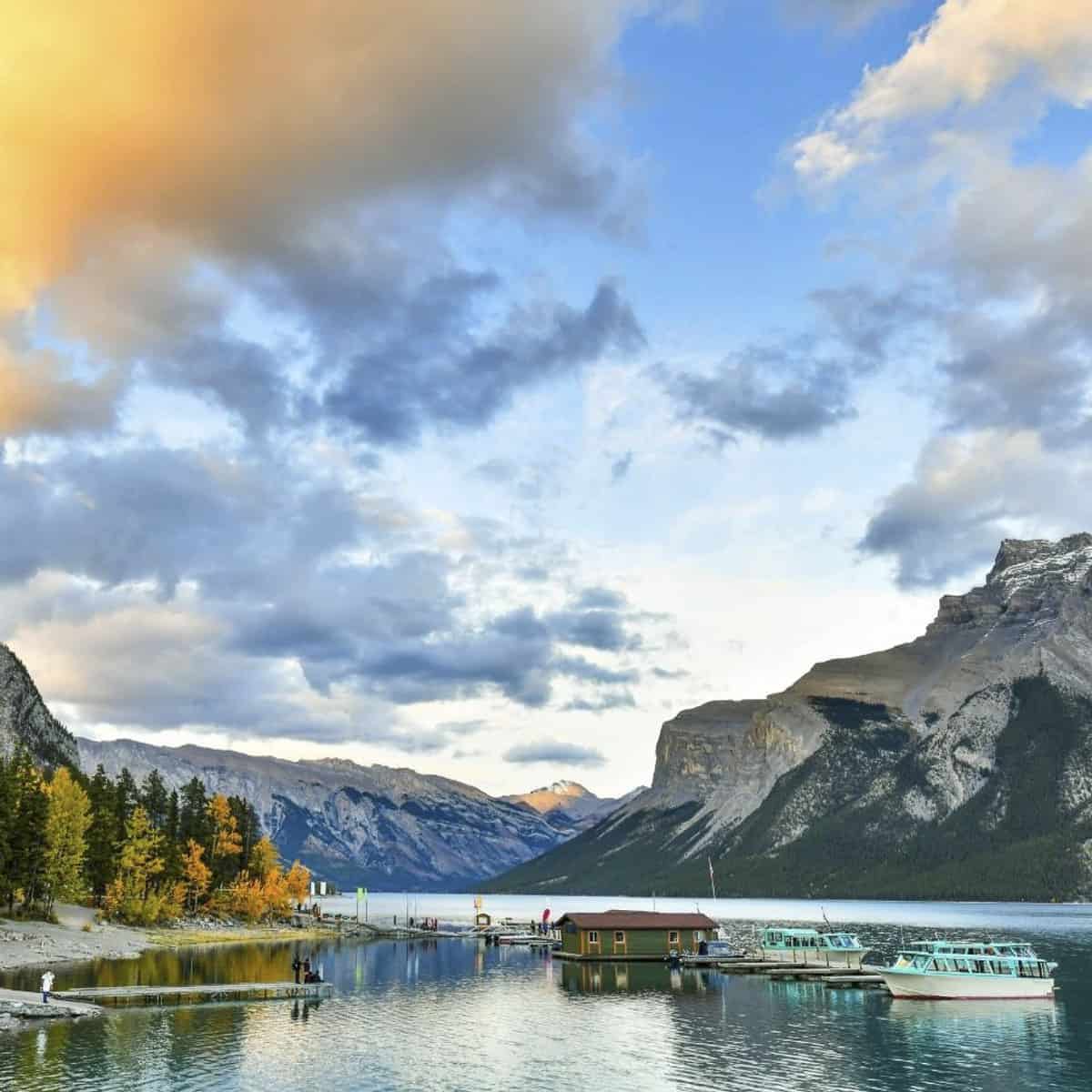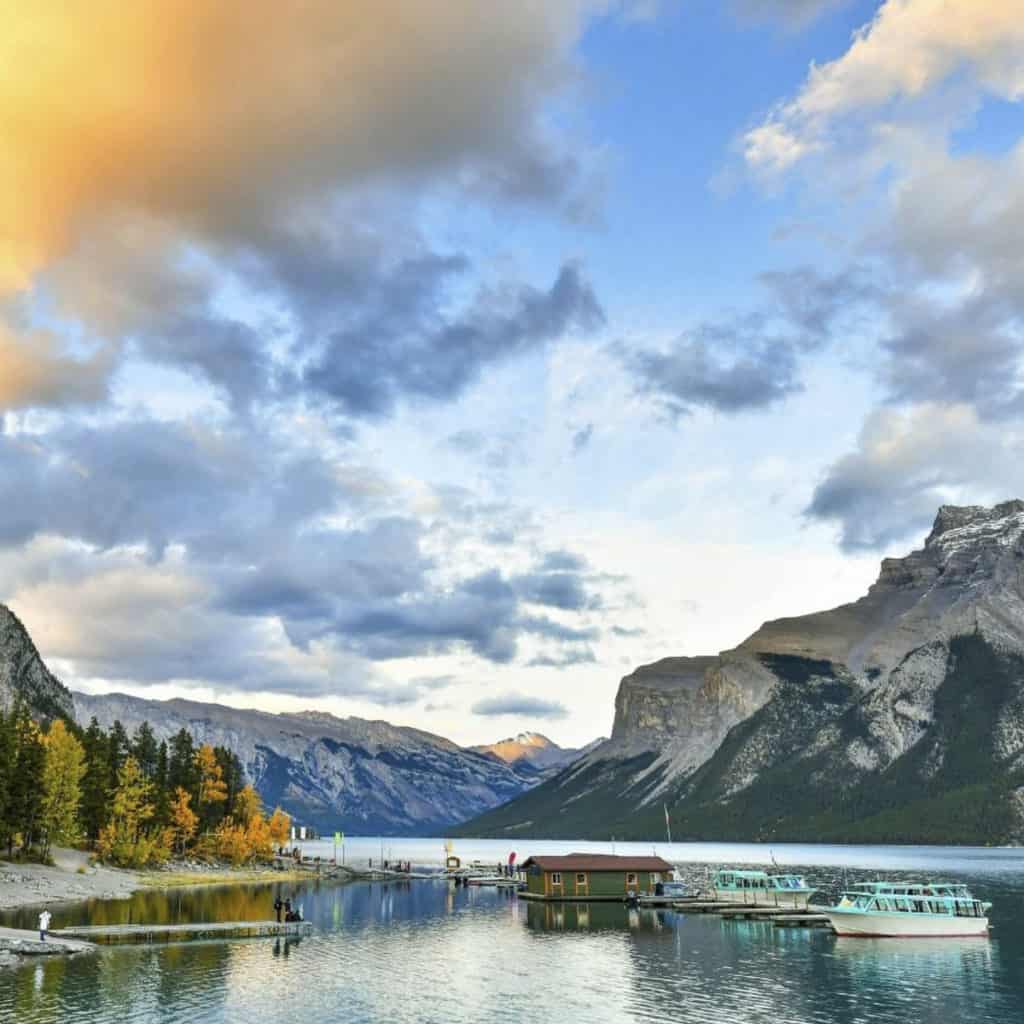 The lake and surrounding landscape provide a gorgeous place to enjoy the great outdoors all year round. In fact, the lake even puts on a show of beautiful colours in fall, which means no matter when you're visiting the resort town of Banff, a trip to Lake Minnewanka should be on your itinerary.
As with any popular place to visit in Banff, there's plenty to know before you go. This includes parking, activities, and the facilities at the lake. So, read on, and come prepared to enjoy this gorgeous Rocky Mountain lake!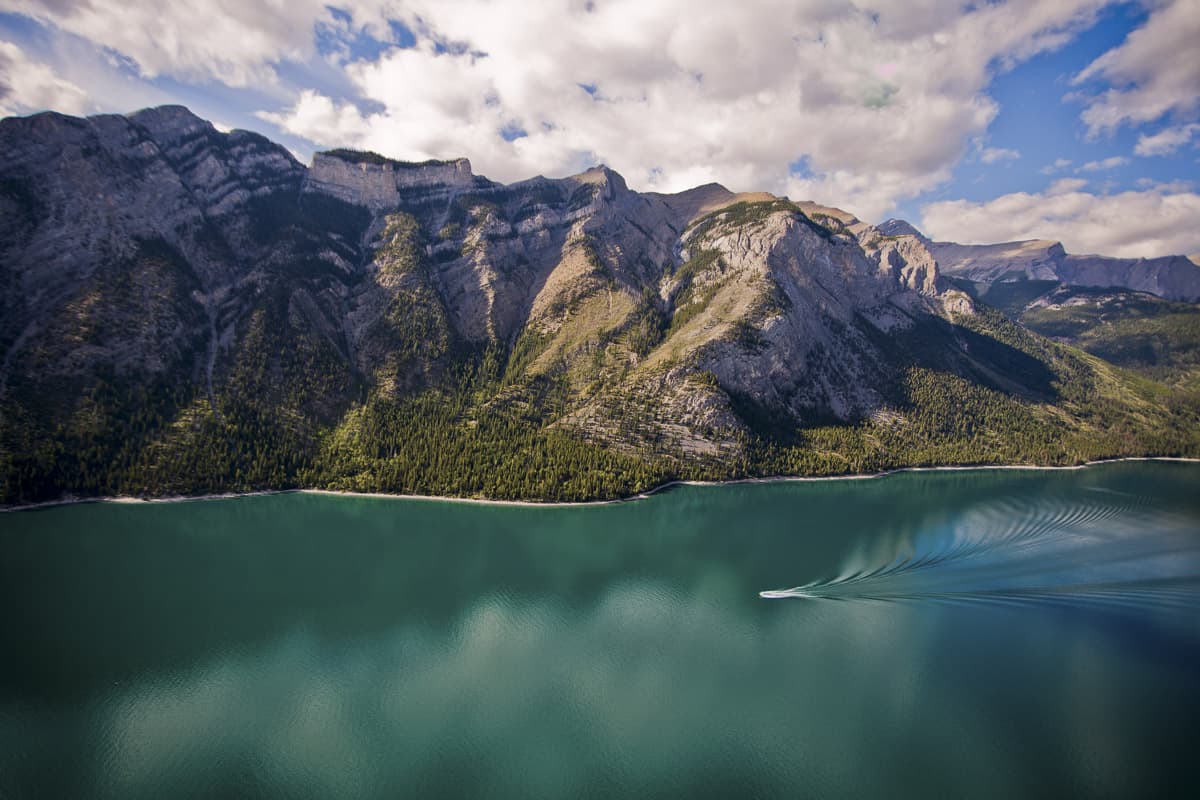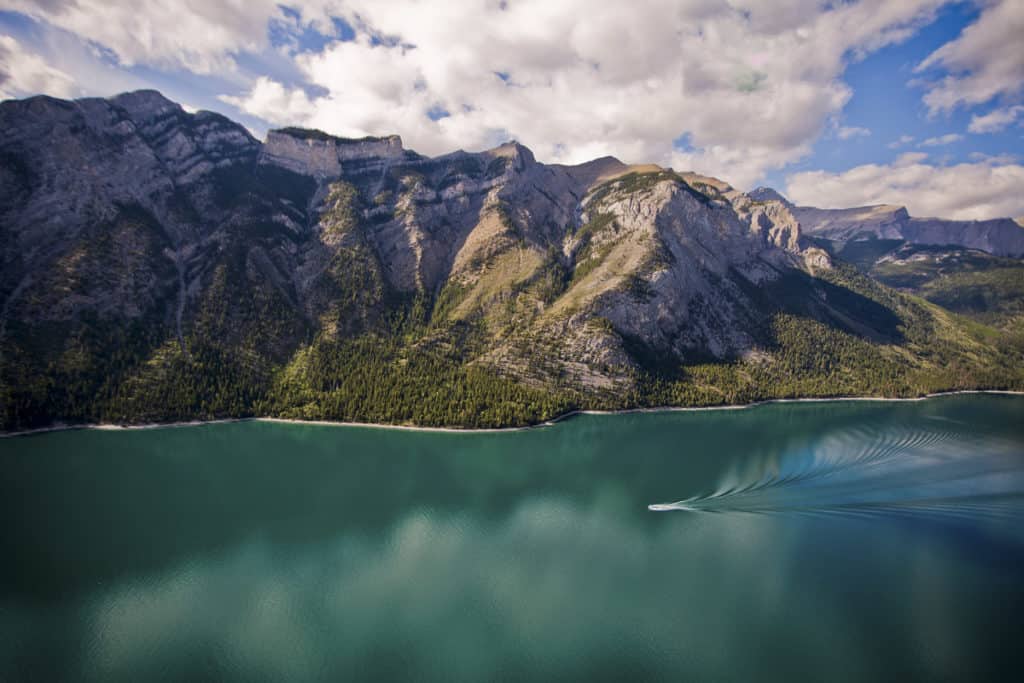 History
For as long as the area has been inhabited, people have lived along the shores of this lake. The Indigenous Stoney Nakoda people called it "Minn-waki", or "Lake of the Spirits"; early European visitors referred to it as the "Devil's Lake".
A log hotel was built along its shores in 1886, and by 1912 a small village (called Minnewanka Landing) which was comprised of only four avenues and three streets was established. Nowadays, this early village can only be seen by scuba divers as it is completely submerged.
The first dam was completed in 1895, another was built in 1912 to hold water for a hydroelectric plant, and the final dam was completed in 1941.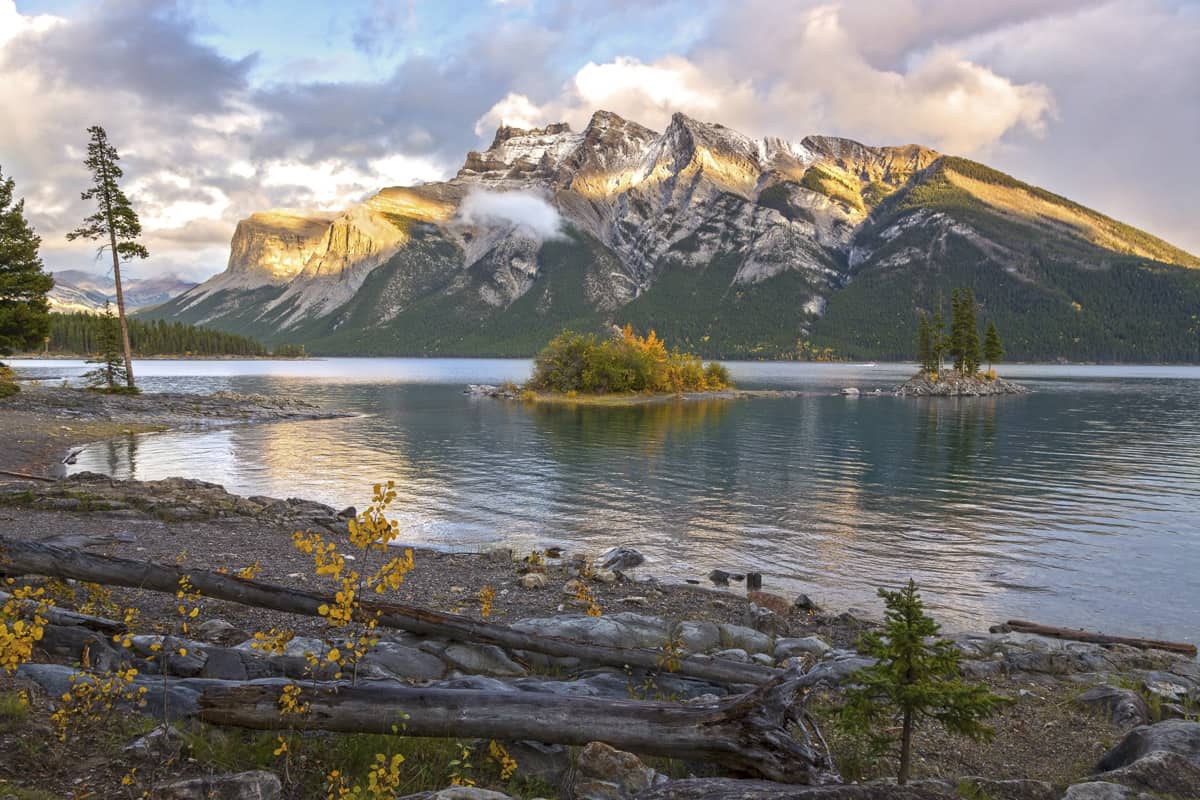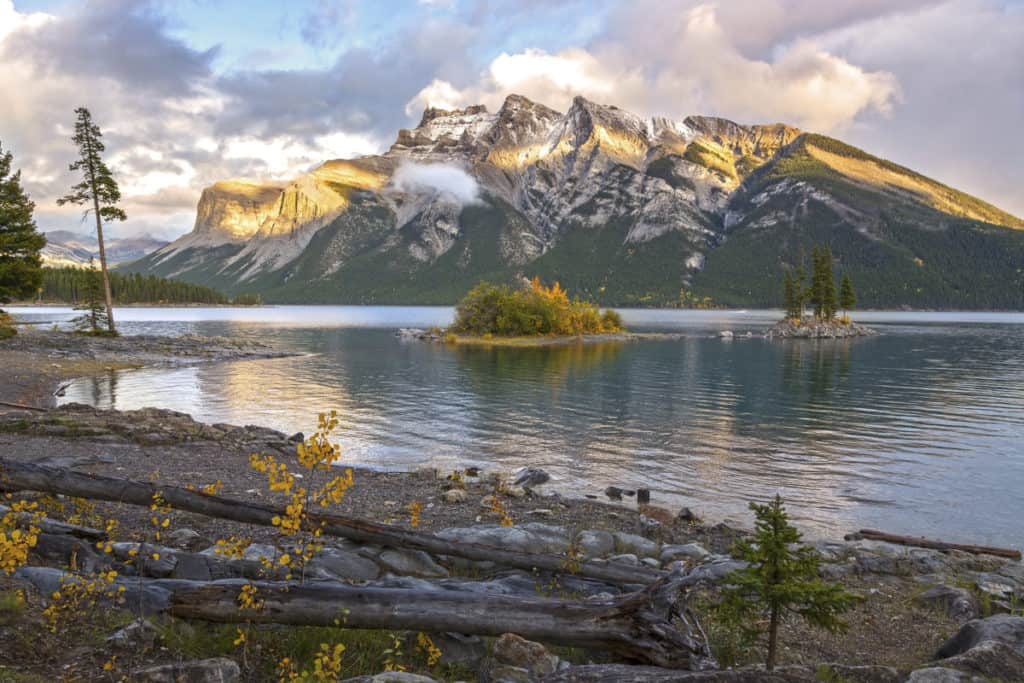 When to Visit Lake Minnewanka
While it is accessible year-round, the warmer summer months provide the most opportunities to enjoy Lake Minnewanka, and is thus the best time to visit. Typically from mid-June to early October, boat cruises will be available, kayaks will be rentable, and treks along its shoreline are accessible.
It starts to freeze up in December and when it is snow-free, is a great place to go skating. The ice starts to get untenable in May – so proceed with caution!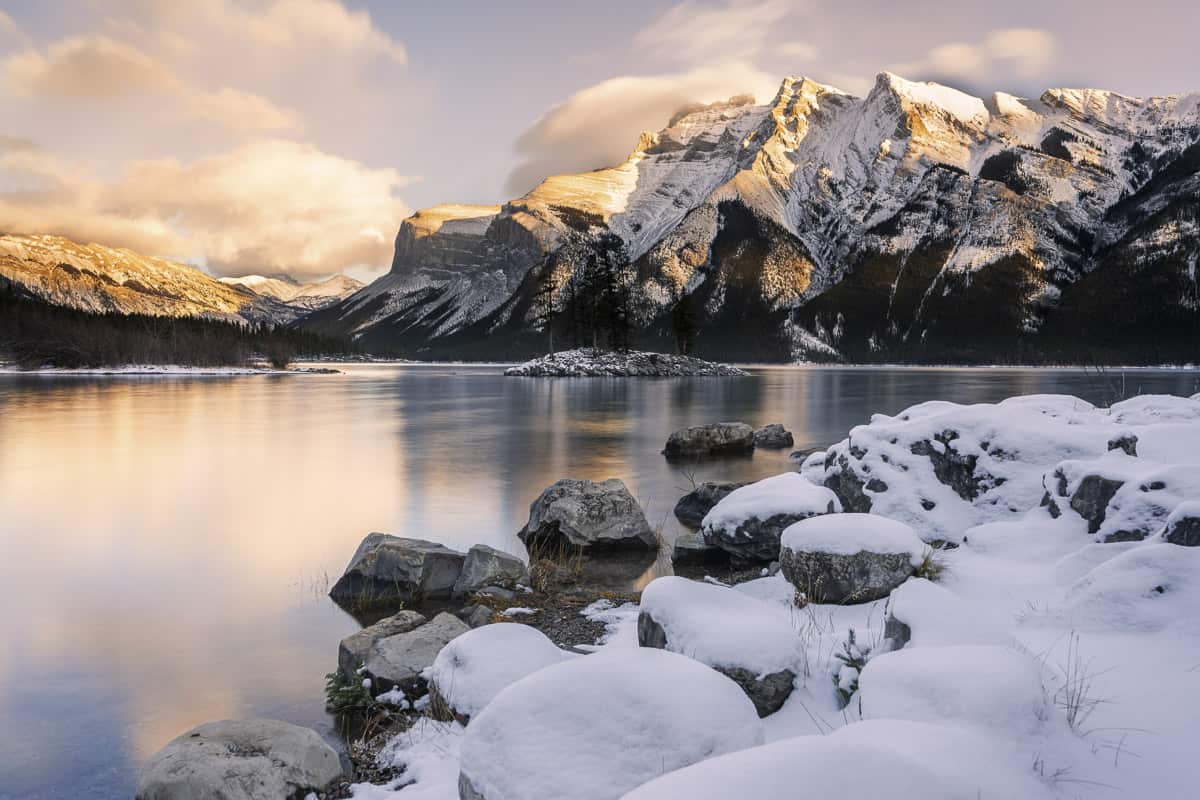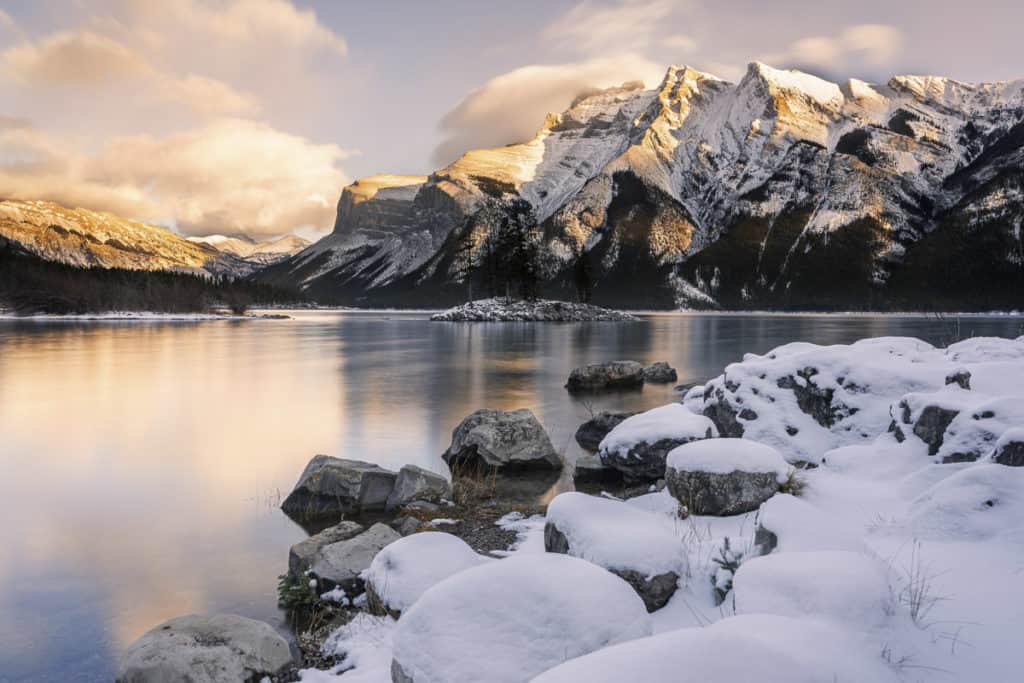 Getting to Lake Minnewanka
If heading west, drive the route from Calgary to Banff, and then take the exit marked "Banff/Lake Minnewanka Loop" from Highway 1 (the Trans-Canada Highway) to reach the lake which is about 11 km from the Banff townsite). Keep right at the fork, and then follow the signs for Cascade Pond/Two Jack Lake. Merge onto Lake Minnewanka Scenic Drive and voila, you're there.
Note that the driving loop is only partially open in winter, the western section is closed from mid-November to mid-April as it is used as a special travel corridor for wildlife. To reach the area in winter, access it via the eastern section of the loop.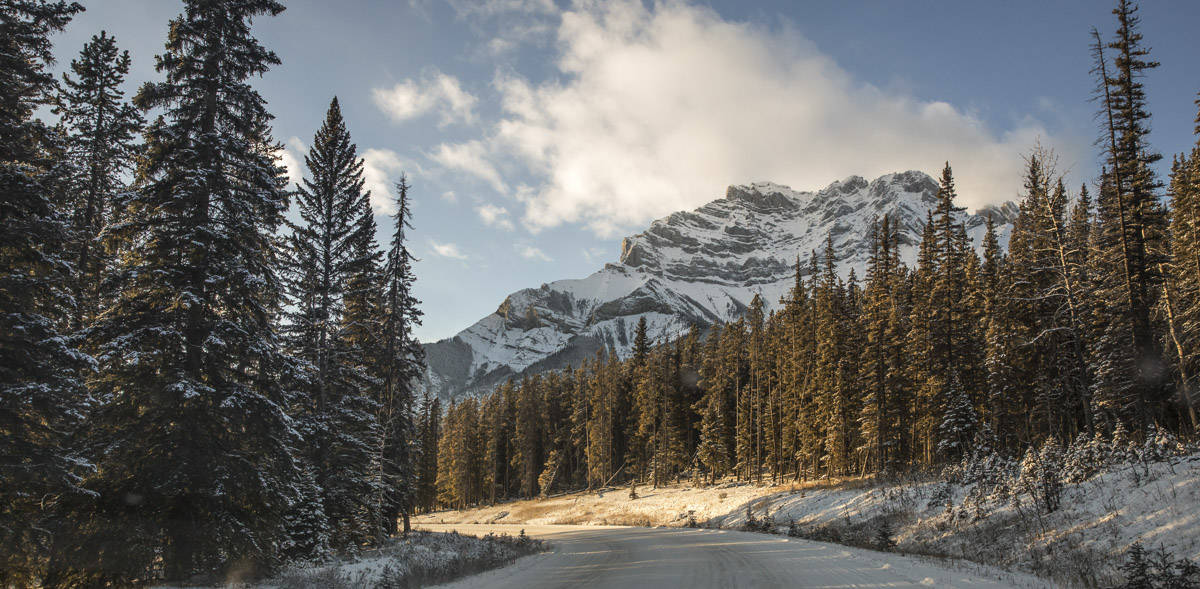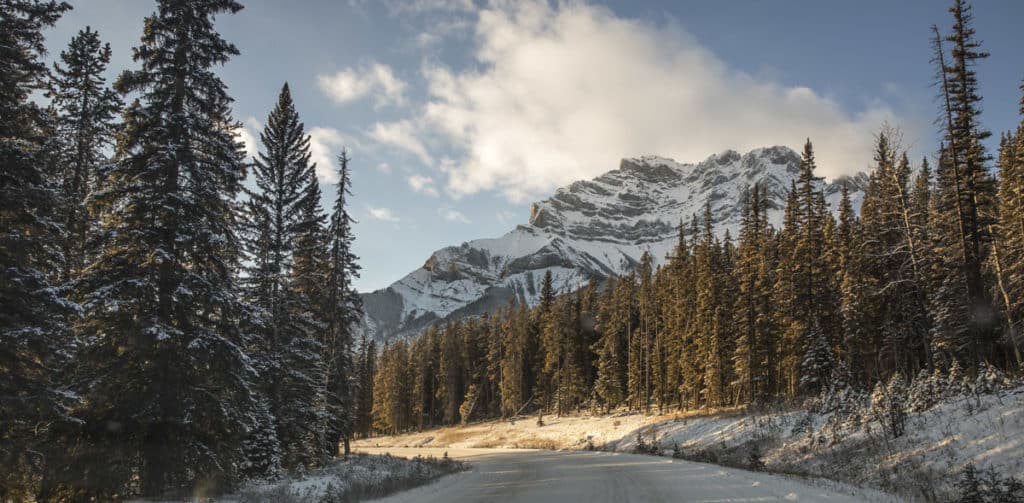 Parking at Lake Minnewanka
On the shores of the lake, there is a large parking lot that caters to the significant number of visitors. There are two sides to the parking lot – one side is for small vehicles and the other for larger campervans and motorhomes. However, bringing a large 5th-wheel trailer is not recommended because it's limited to campers no bigger than 14 meters (45 feet.)
In the summertime, the parking lot fills up during the day with visitors from Banff. Luckily though, waiting for 10 to 15 minutes usually means you'll get yourself a spot. So just be prepared if you've booked a cruise or tour on the lake and arrive at least 45 minutes early.
Before leaving for the lake, check the Banff Now website for live parking information (this is a lifesaver)!
Public Transport
If there are significant parking delays noted on the Banff Now website, you can also catch the Roam public bus to Lake Minnewanka.
In summer, route 6 services Lake Minnewanka, leaving every 30 minutes 7 days a week from downtown Banff. The bus takes 25 minutes to reach the lake.
The cost of this bus is $2 for adults and $1 for children (13 to 18) each way. Children under 12 are free. However, Roam also has day and multi-day passes available.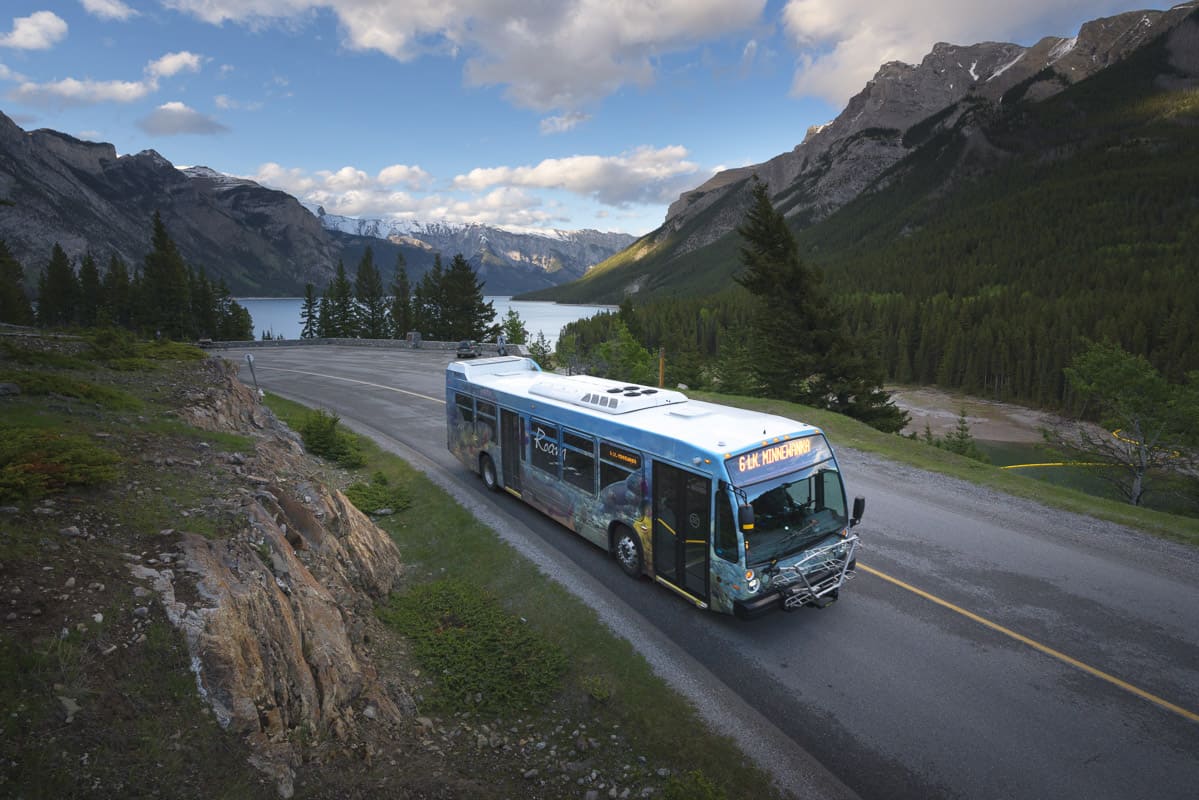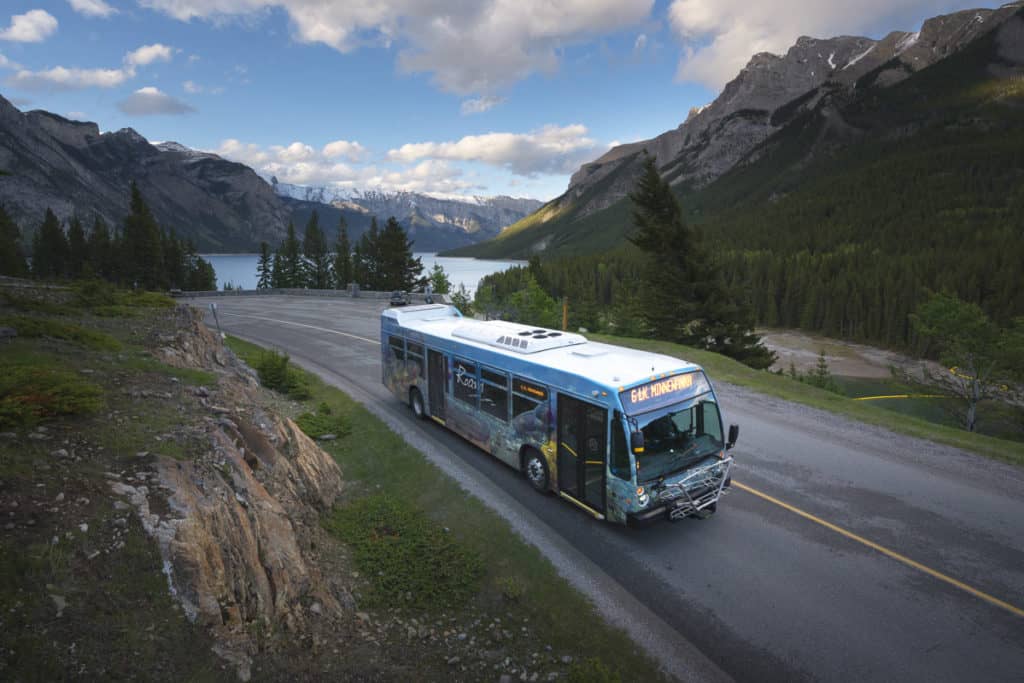 Lake Minnewanka Restaurants and Facilities
Although the lake may be in the wilderness, there are facilities to make your visit more comfortable.
Black Anchor Snack Shop is Lake Minnewanka's only cafe/restaurant. The food sold here is basic but delicious and consists of barista-made coffee, ice cream, and snacks. Prices are reasonable and the cafe is open during the summer season when the cruise operates.
You'll find toilets in the Lake Minnewanka parking lot as well as picnic benches along the edge of the lake if you walk to the Lake Minnewanka Picnic Spot. This small picnic area is the perfect place to relax on a beautiful day. So, bring yourself a packed lunch and enjoy one of the most beautiful lakeside picnics.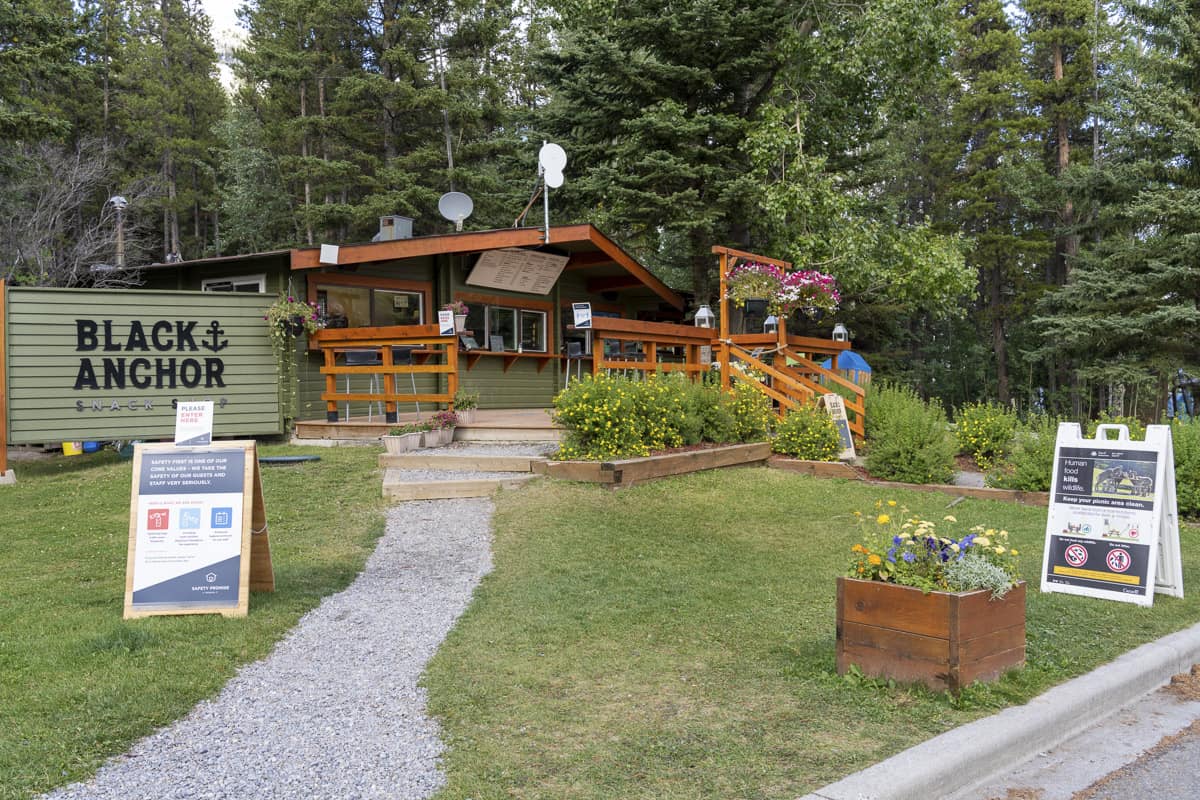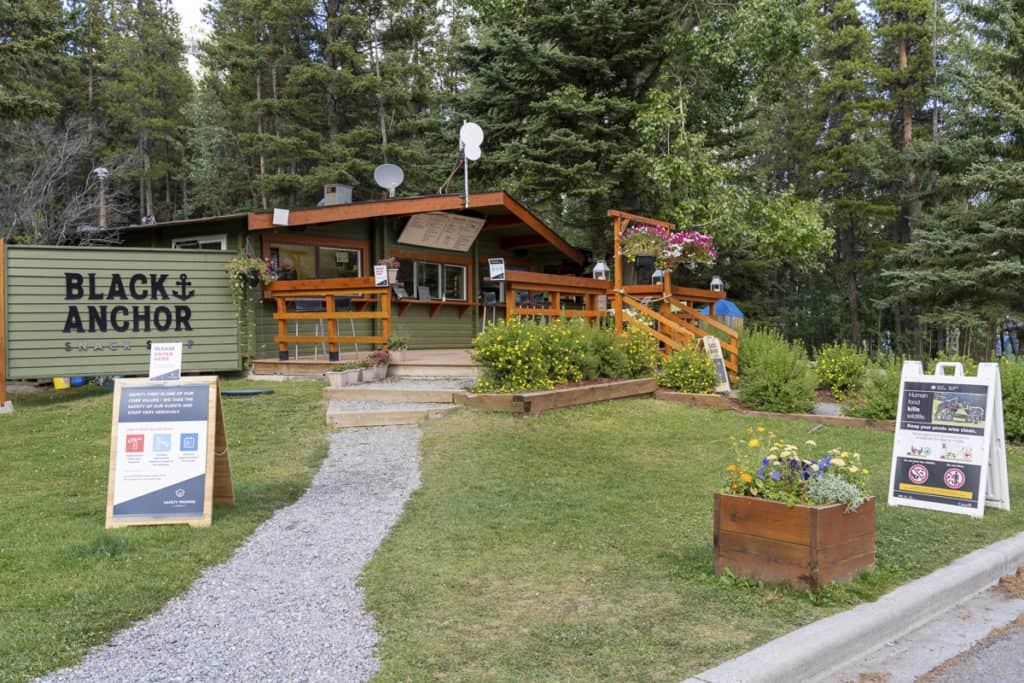 Camping at Lake Minnewanka
There are no drive-in campsites at Lake Minnewanka. However, there are options nearby. Two Jack Lake Main Campground (open June until September) and Two Jack Lake Lakeside Campground (open May until October) are the two closest options. Both campsites cater to tents, motorhomes, and RVs.
The lakeside campsite is much nicer, and here you can choose from walk-in sites, trailer sites, and even oTENTik sites, which are a mix of a tent and A-frame cabin all set up ready for guests. What we love about the lakeside campground is the proximity to Two Jack Lake. Some of the campsites are meters from the water!
The main campground has larger trailer sites and tent sites, and although still lovely, it's further from the lake on the other side of the highway. Both campgrounds are unpowered but do come with showers and flush toilets! They are only a few minutes down the road from the lake.
Reservations are required and book up fast. You'll need to watch the Parks Canada website for updates on when reservations open and act fast. (For more options in the area, check our post on camping in Banff.)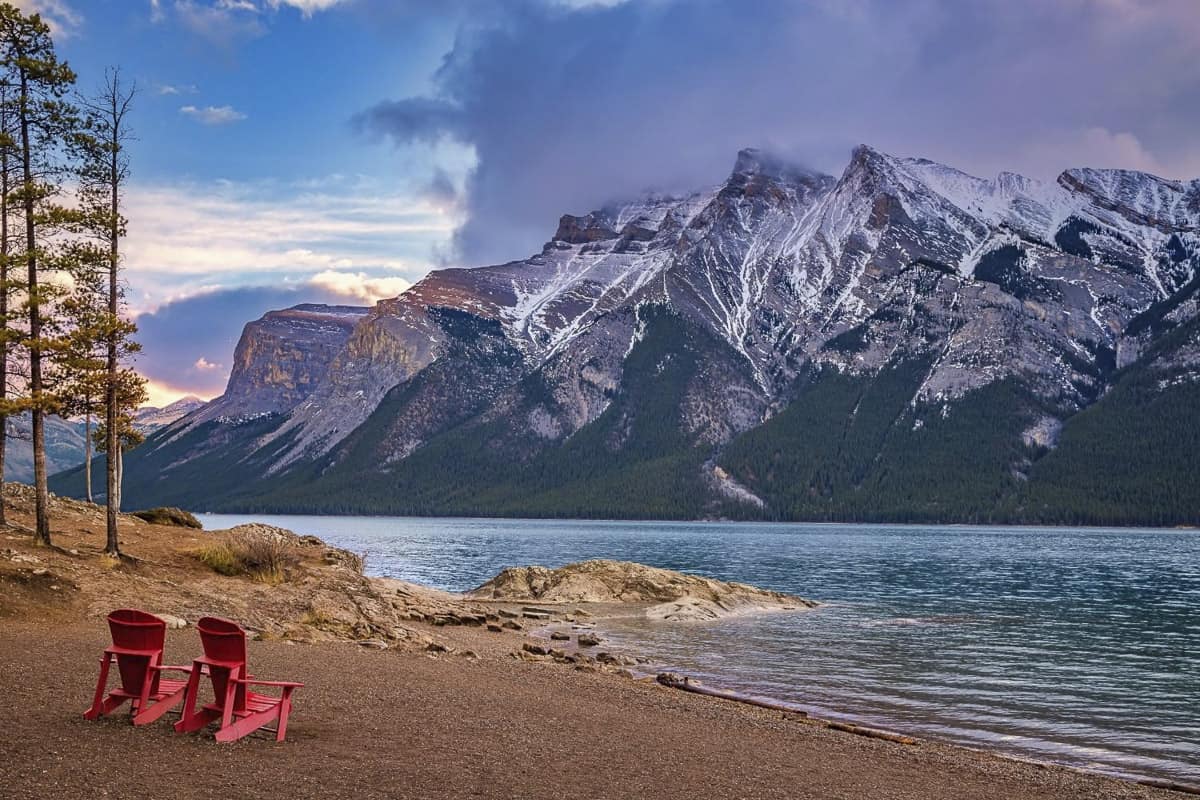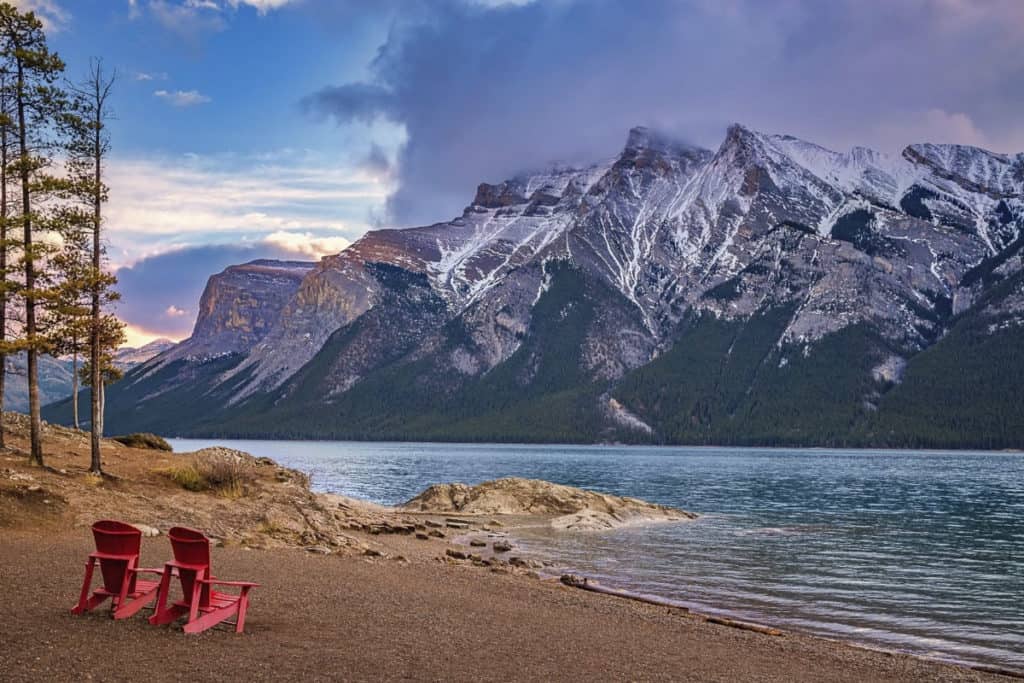 Backcountry Camping
For hikers, there are some backcountry campsites near Lake Minnewanka. The most popular are LM8 Aylmer Pass Junction Campground, LM9 Aylmer Canyon Campground, and LM11 Mount Inglismaldie Campground. These are all hiked to on overnight and multi-day backcountry hikes.
There are also three more called LM20 Mount Costigan Campground, LM22 The Narrows Campground, and LM31 Ghost Lakes Campground. However, these campsites are much further from the lake parking lot and are recommended for more experienced backcountry hikers only.
Hot tip: The campsite number indicates how far the campsite is from the trailhead. For example, LM20 is 20 kilometers from the beginning of the trail whereas LM9 is only 9 kilometers away.
Things to Do at Lake Minnewanka
Walk around the Lake
Although you can't walk around the entire perimeter of Lake Minnewanka, there are lots of great trails you can enjoy along the edge of the lake.
The longest is the Lake Minnewanka Trail which travels from the parking lot to the LM31 Ghost Lakes Campground. This trail is a 62 km return hike. For a shorter trail, the hike to LM11 Mount Inglismaldie Campground is very popular.
Of course, most visitors won't be packing in and out of the backcountry area. So instead, take a short walk along the lake. A popular route is to the Stewart Canyon Bridge, which is around 1.5 km from the parking lot and part of the Stewart Canyon Trail.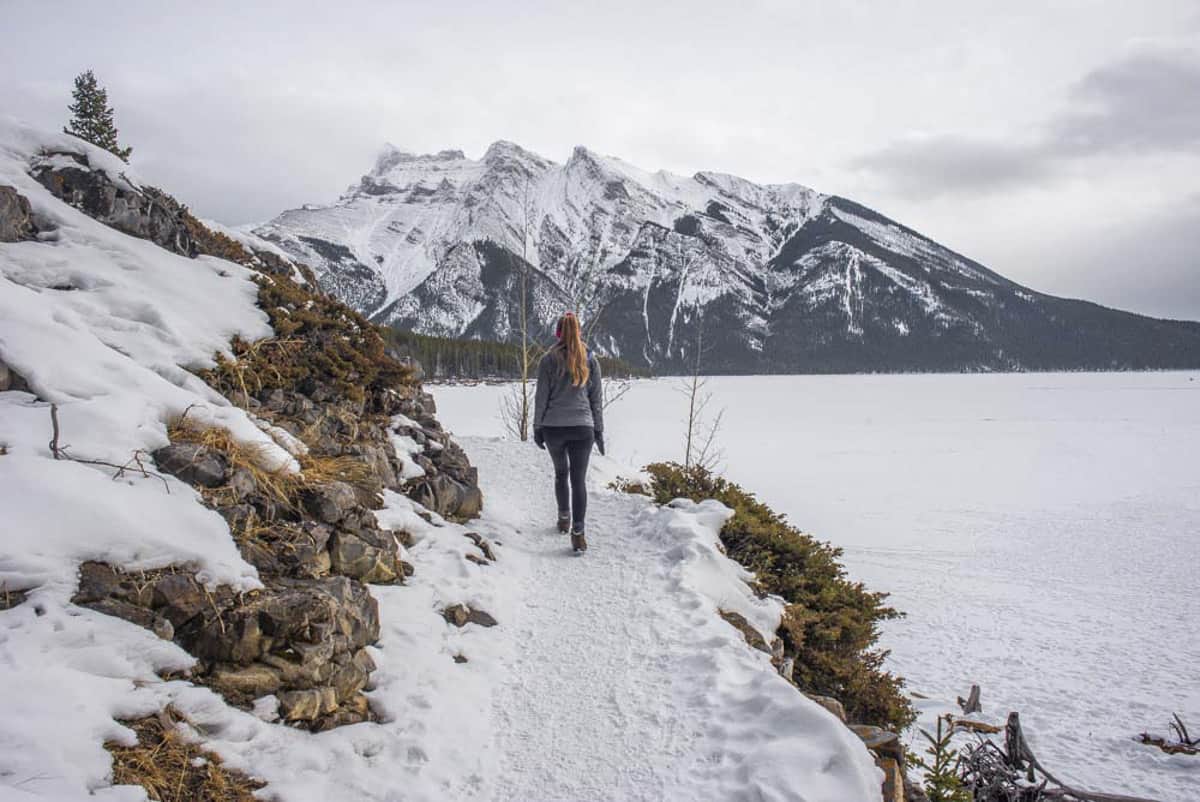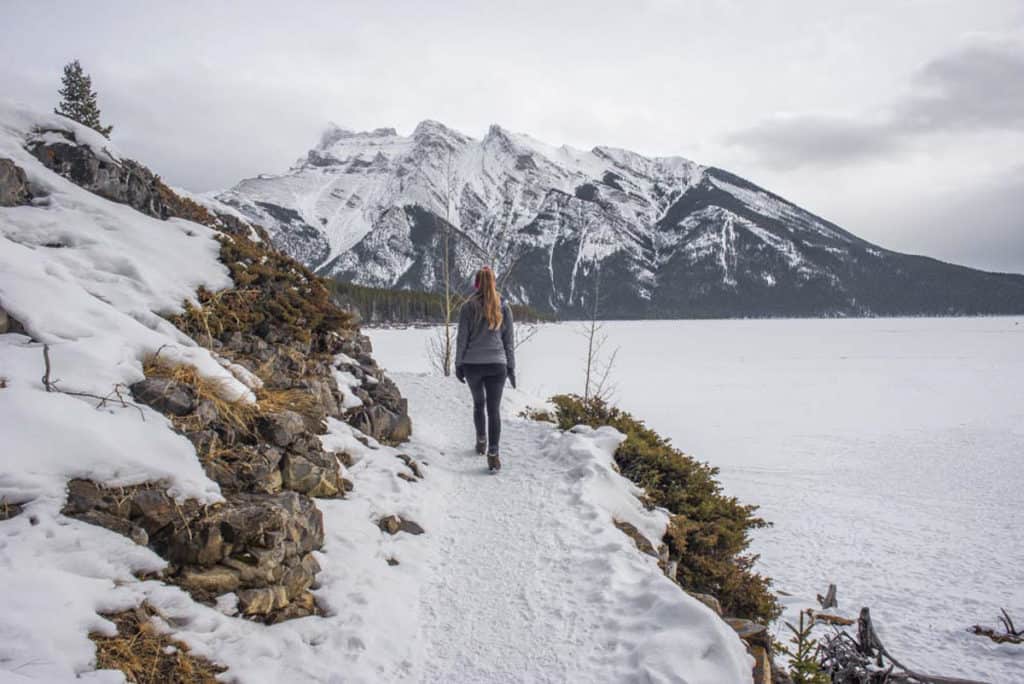 Hiking
There are plenty of options for hiking at Lake Minnewanka, from easy to hard hikes. Here are a few of the most popular trails:
Stewart Canyon Trail
Stewart Canyon Trail is the most popular hike at Lake Minnewanka. As mentioned above, the trail begins from the parking lot and travels along the lake's shoreline edge for around 1.5 km to the Stewart Canyon Bridge.  From here, you can walk another 2.2 km along the canyon to enjoy stunning views. Stop at the end or when you're satisfied and turn around and walk back. The trail is relatively flat, and there is only a slight elevation gain of around 80 m. It's the perfect Lake Minnewanka hike for the entire family including kids!
You can hike the trail all year round, but during winter, ice cleats are recommended. (This trail really reminded us of the beautiful Lynn Canyon in BC, one of the best things to do in Vancouver!)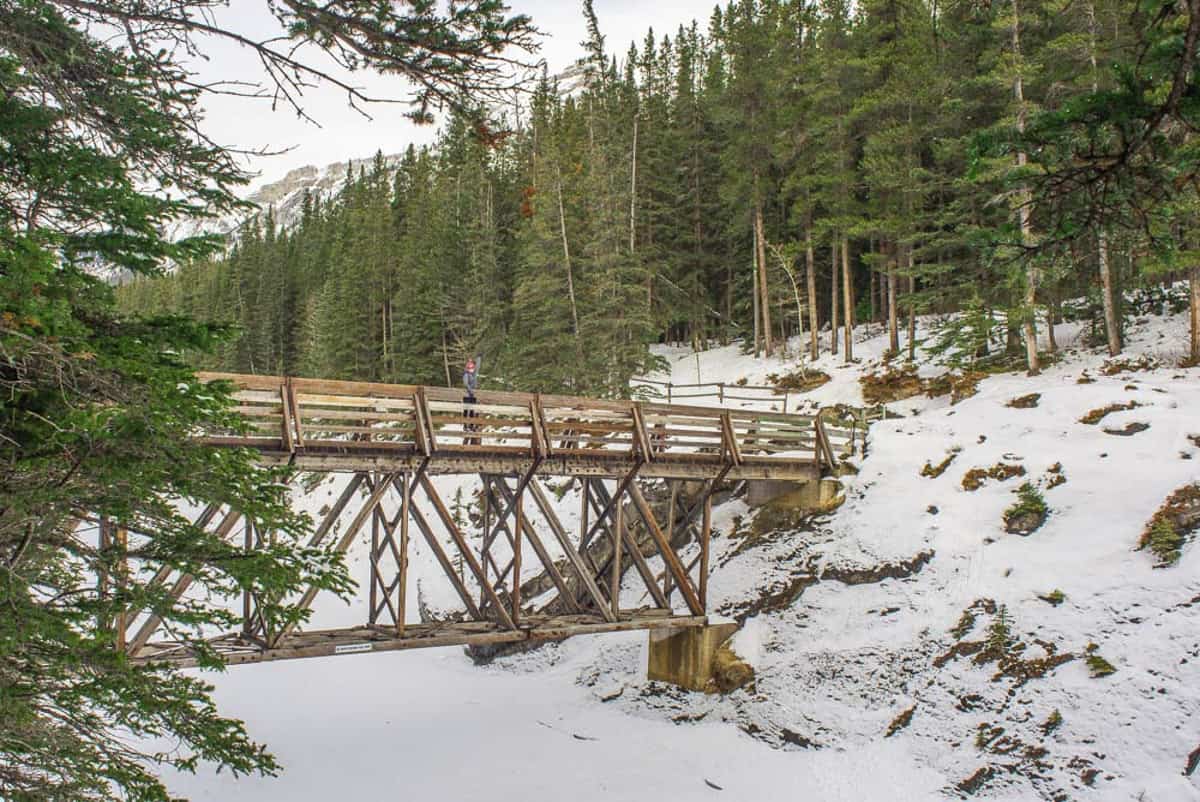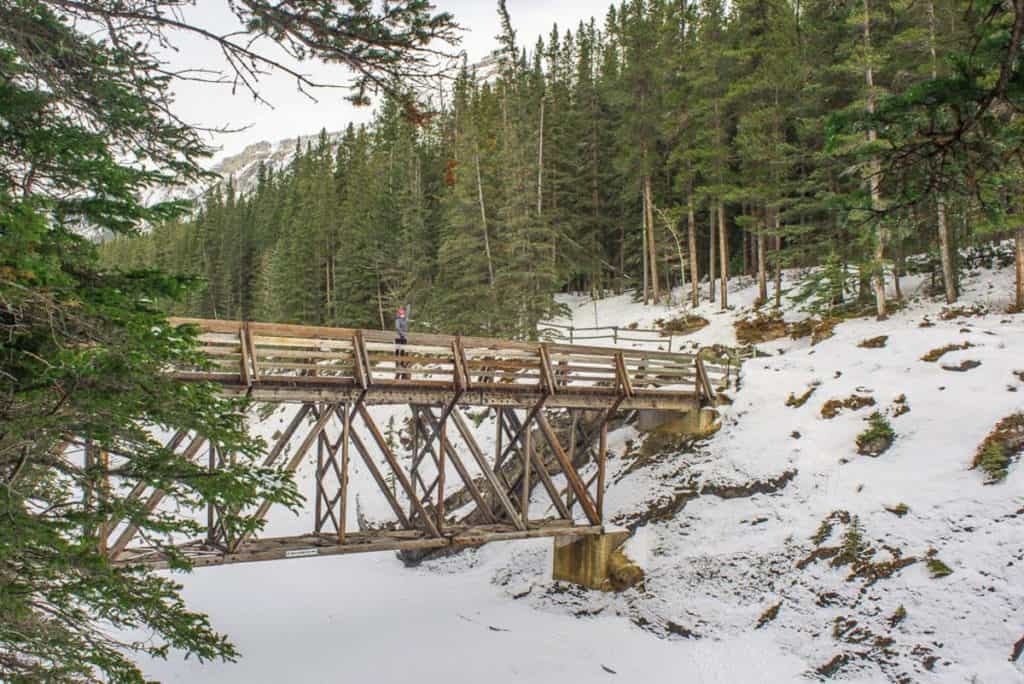 Lake Minnewanka Trail
Another very popular trail is the Lake Minnewanka Trail. It's an out-and-back trail that departs from the Day Use area and from here it doesn't take long to leave the crowds behind.
Hiking this trail will wind you through the forest and offer stunning views of surrounding mountains and the lake. The trail continues for approximately 15 km to the warden's cabin and the best part about this hike is that you can make it as long (or short) as you want). As always, be sure to bring bear spray as the abundant amount of berries along the trail shows why the bears love to hang out near here.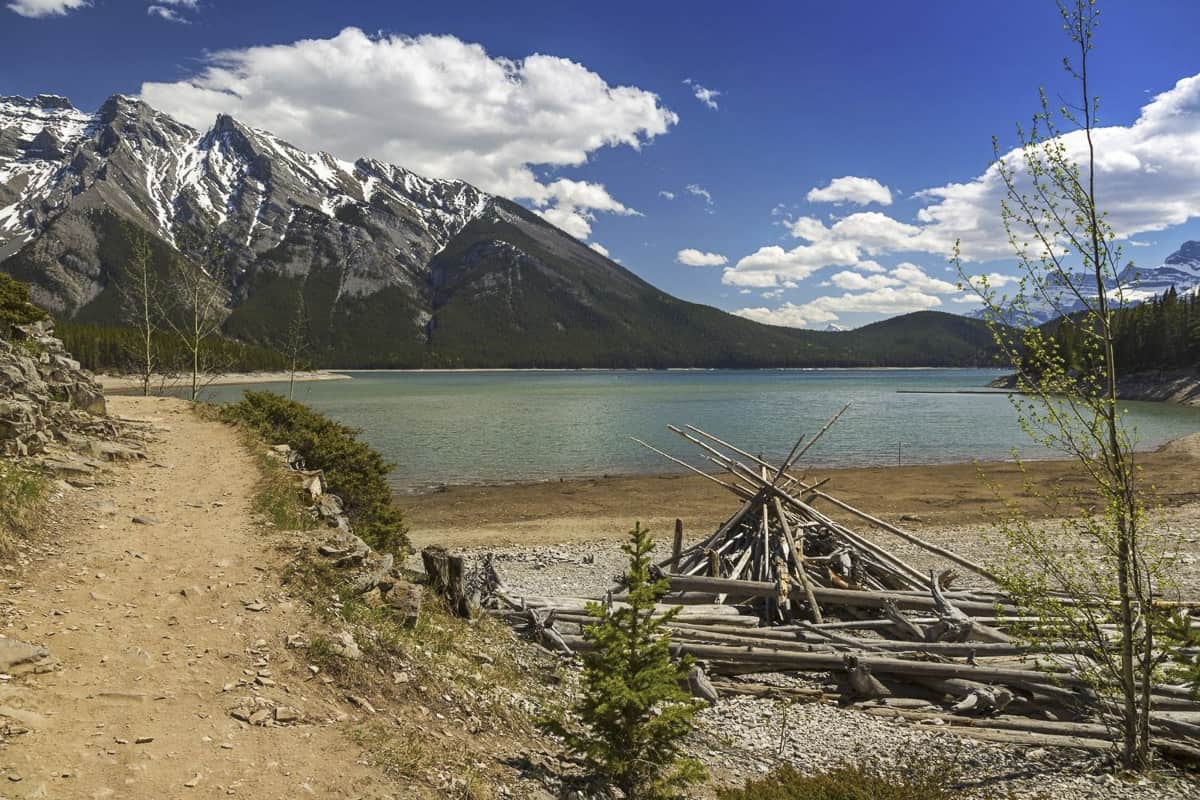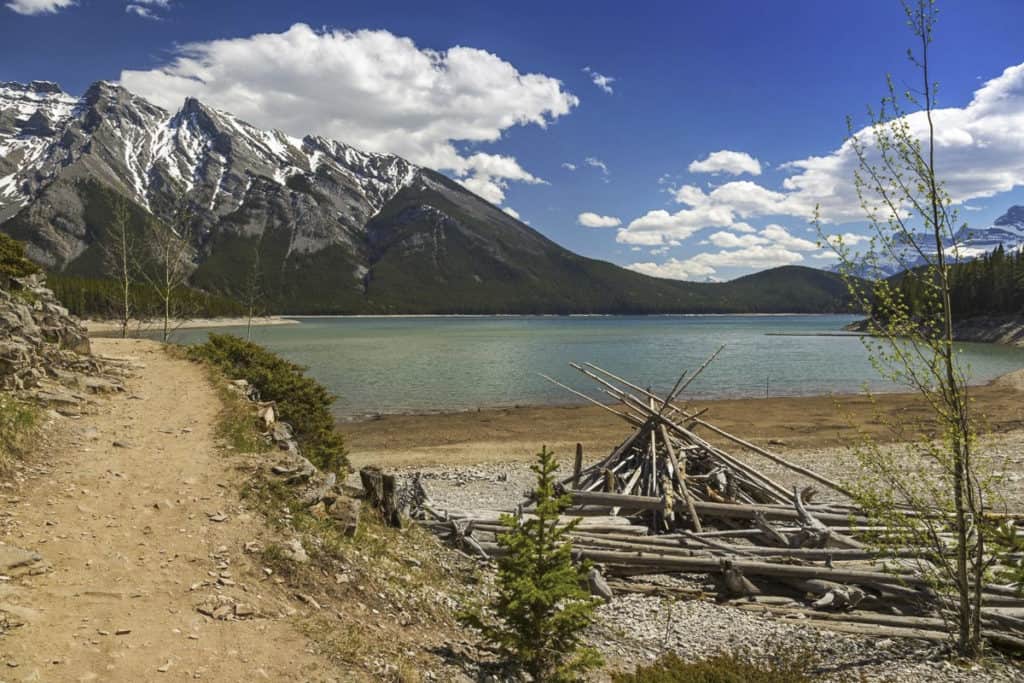 Aylmer Lookout Hike
If you're feeling very ambitious then tack on another 8km to the Lake Minnewanka Trail on this out-and-back trail. Hikers that take on this challenging hike are rewarded with some of the most stunning views in Banff National Park including Lake Minnewanka, Two Jack, and Tunnel Mountain plus much more.
Combined with the Lake Minnewanka Trail it's approximately 24 km of hiking, so be prepared to rest your feet when you're finished.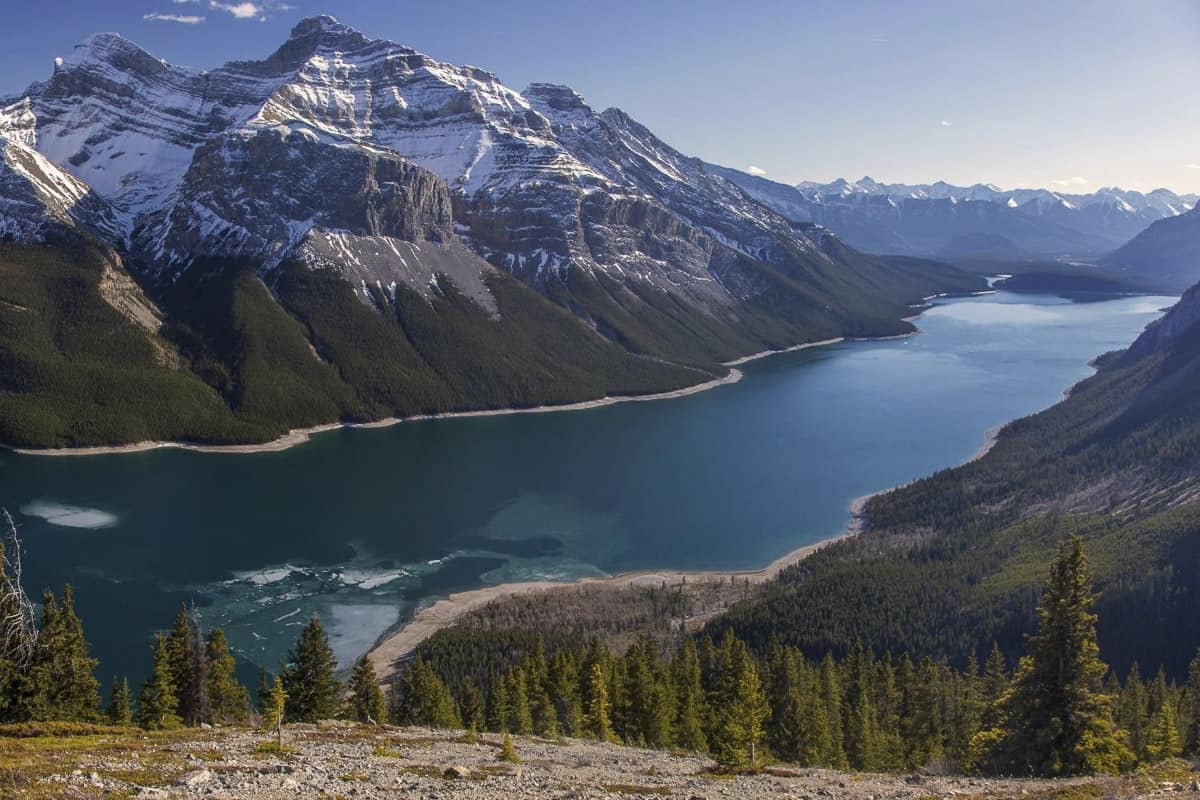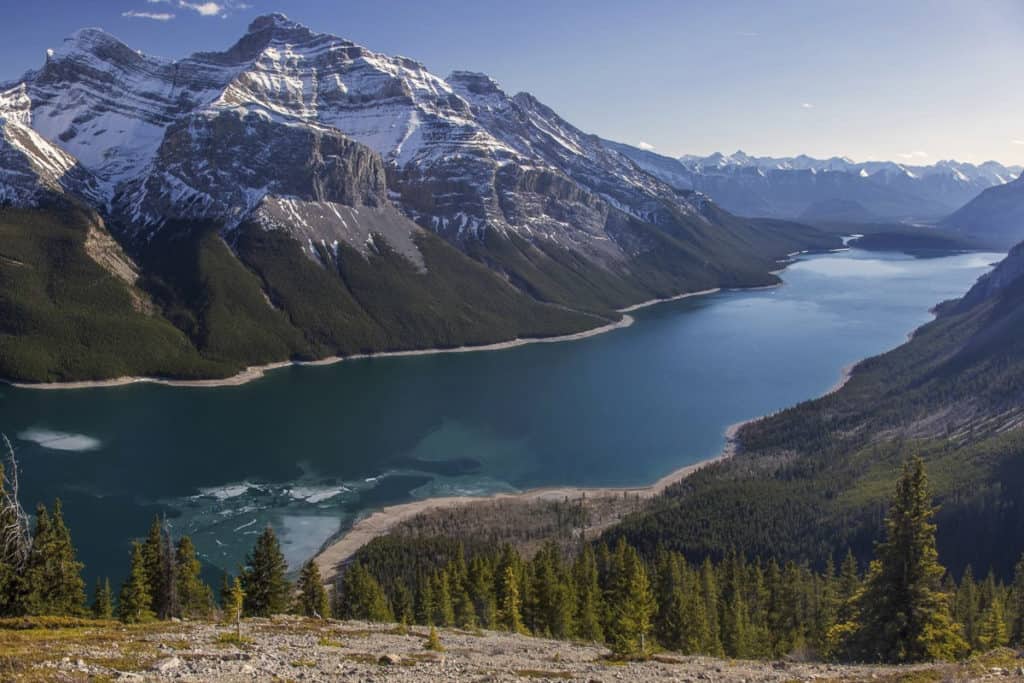 Red Chairs at Lake Minnewanka Picnic Area
Without a doubt, the best free thing to do at Lake Minnewanka is to pack a picnic lunch and head to the Picnic Area to enjoy a bite to eat with friends and family. The picnic area is a 5 to 10-minute walk from the parking lot so try to pack light. Also, the picnic tables are popular during the busy summer season, so have a plan B in case you can't get a spot.
Near the picnic spot, you'll also spot the famous Parks Canada Red Chairs. These chairs are placed around Banff National National Park in breathtaking locations for visitors to enjoy. Be sure to get yourself an excellent photo sitting in the chairs and just enjoy the view! And another tip is to arrive in the early morning to catch the sunrise!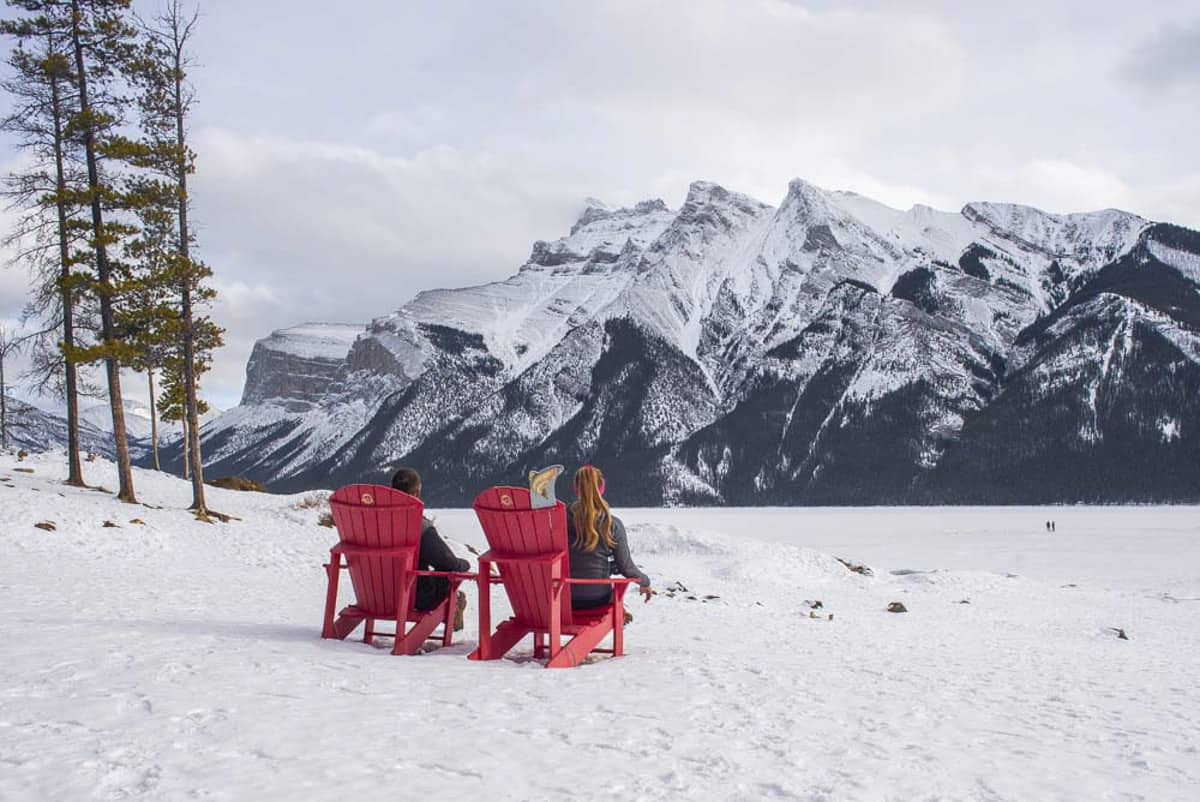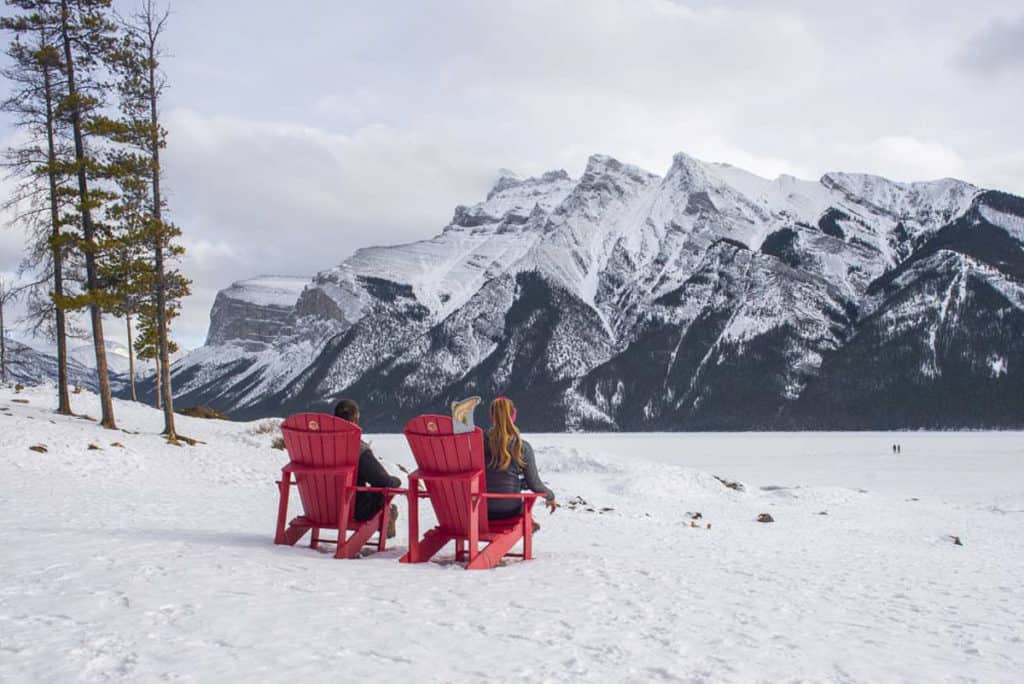 Lake Minnewanka Cruise
The best way to see Lake Minnewanka in a short amount of time is on a cruise! The cruise is an affordable, hour-long adventure that has you exploring the lake on a heated boat.
The lake cruise itself is very informative, and you learn a lot about the history of the lake. On top of that, the views are spectacular, and you can even get some fresh air on the back deck to enjoy them.
The Lake Minnewanka cruise includes an expert guide as well as your safety gear. Cruises only run during the summer months depending on the weather, since in the winter the lake freezes! More details (including pricing) can be found here.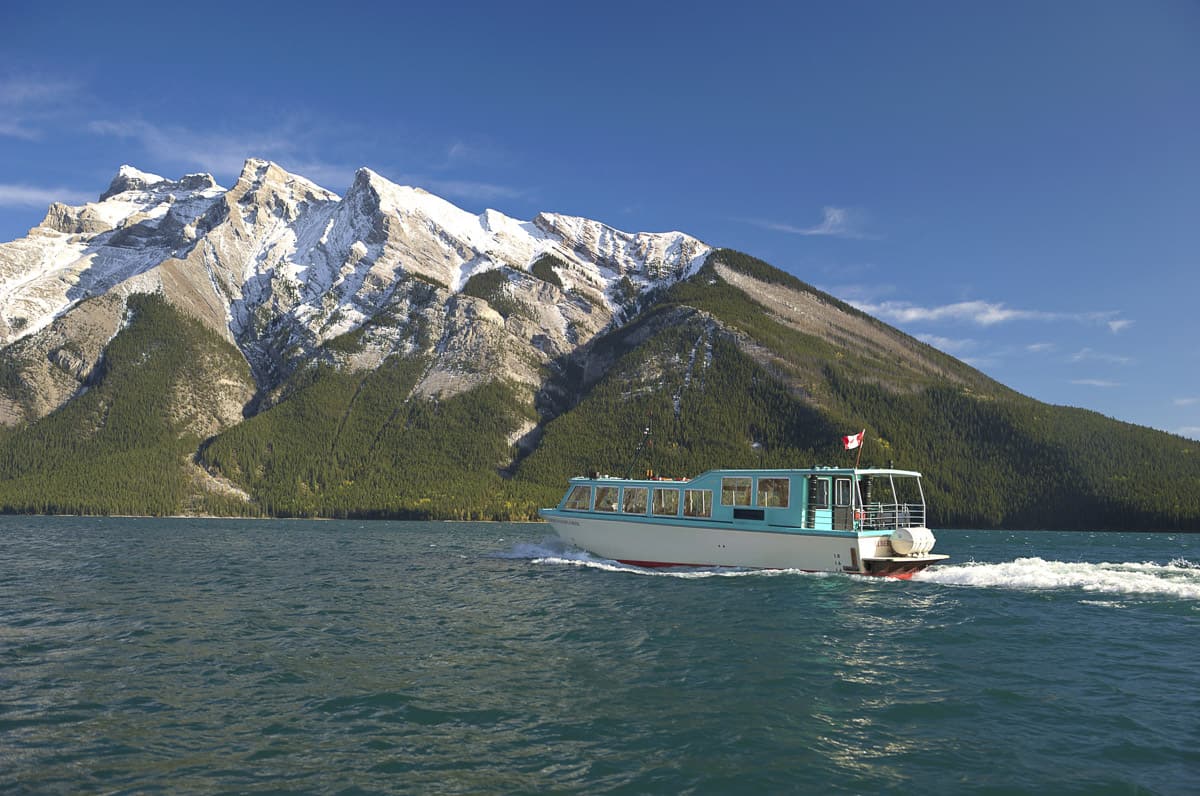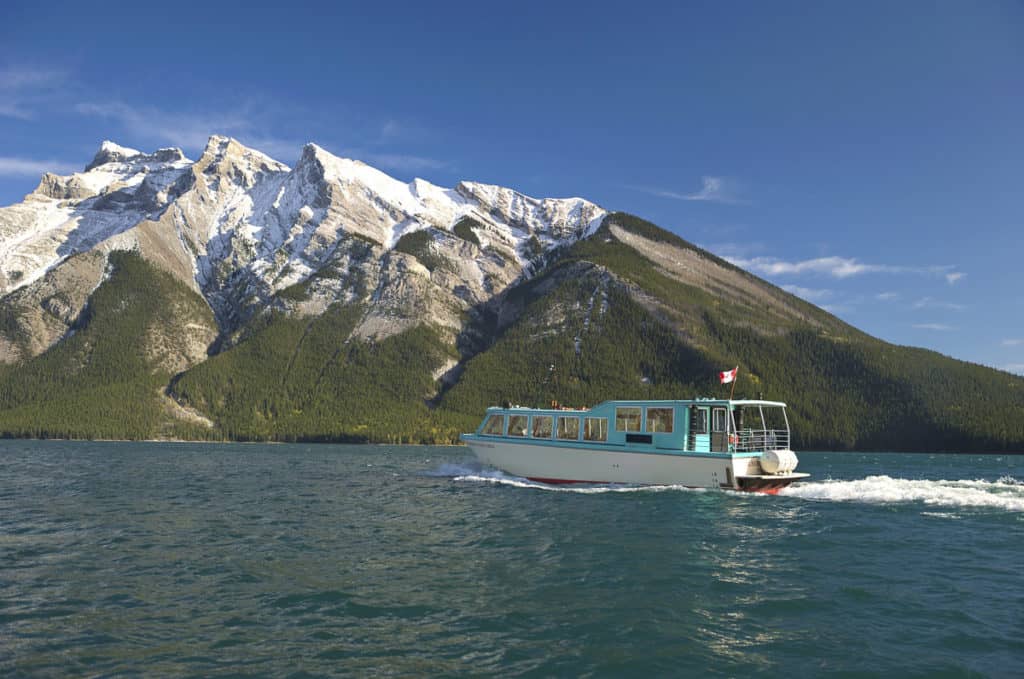 Fishing
Few people know that Lake Minnewanka is one of the top ten places in Canada to fish for lake trout and oversized Rocky Mountain whitefish. In fact, it's one of the most popular fishing lakes in Banff National Park.
There are options for anglers here. You can launch your boat and explore the deeper parts of the lake or fish from the shore. Either can end well but heading out deeper increases your chances. If you don't have your own boat, keep reading for rental information! 
There are also fishing charters available, and they're recommended for the less experienced. On the charter, you'll head out on a boat for 4 to 6 hours with an expert local guide in search of massive trout and Jumbo Rockies. They include all the legal equipment needed, and they'll even short your fishing license out for you!
Most importantly, be aware of the rules you need to abide by, especially fishing in a national park. Make sure to read up on them before you cast a line.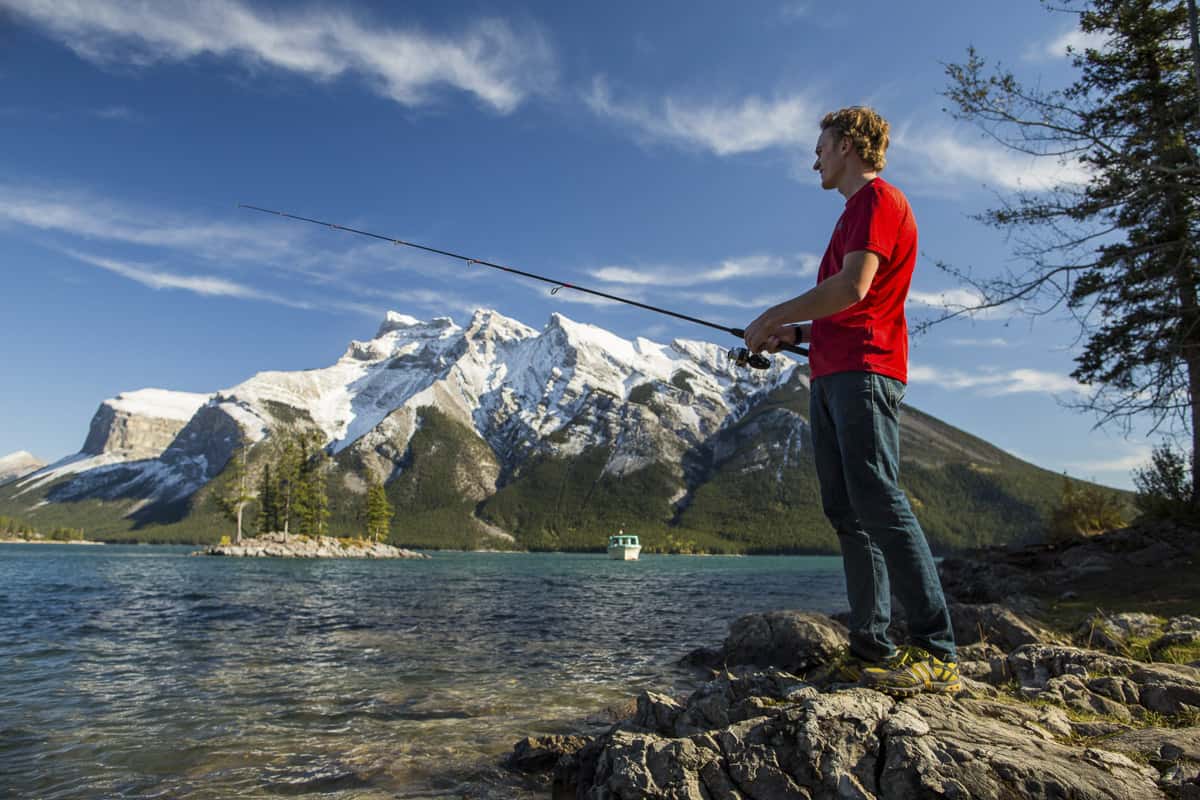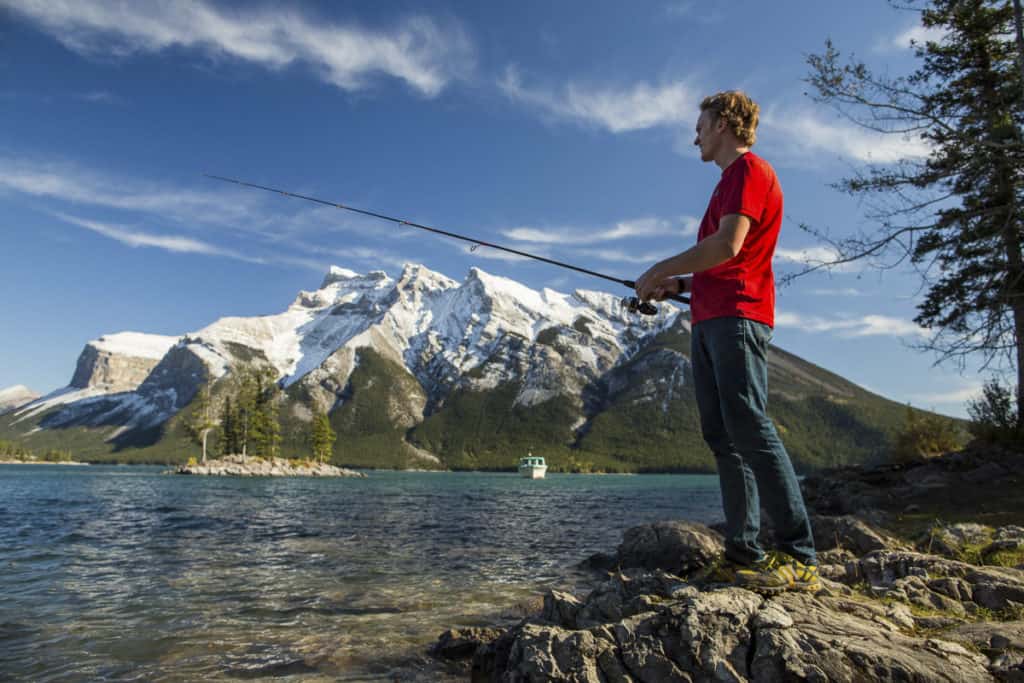 Lake Minnewanka Boat Rental
Those without a boat need not worry. Boat rentals are very affordable at Lake Minnewanka and are available all summer.
The boats for rent are 16-foot aluminum motorboats, and a day license is provided to the operator. The best part is, boat rentals start at only $115 CAD for your first hour and $65 every hour after that. There are even half-day packages available for $295!
Kayak and Canoe Rentals
Few activities are as relaxing as paddling a canoe or kayak on a stunning glacier-fed lake. This picture-perfect Canadian activity is one of the best things to do in Banff and especially here.
You can explore around Lake Minnewanka as much as you'd like and even spot wildlife such as bears, deer, elk, bighorn sheep, and more from the water. Seriously, this is such a fun activity!
From the lakefront dock, you can rent canoes and kayaks for very affordable prices. A Canadian Canoe for up to three people starts at $85 CAD for the first hour and $45 for every additional hour. Kayaks are slightly cheaper, with a double kayak costing $75 for the first hour and a single $45.
My recommendation is to get yourself a canoe if you just want to explore closer to the dock and get a kayak if you really want to adventure far. (We made this mistake once while exploring Green Lake, one of the best things to do in Whistler, and were very tired by the end.)
Mountain Biking
There are a few options for mountain biking at Lake Minnewanka, depending on the time of year you're visiting.
The Lake Minnewanka Trail is the most popular off-road trail and as mentioned above, leads all the way to LM31 Ghost Lakes Campground. The trail does close from July 10 to September 15 to protect riders and bears in the area. (Oh, and don't expect crazy downhill trails as you'll find in Golden or Revelstoke, BC, this is more of a leisurely mountain biking trail.)
Another popular trail is the Lake Minnewanka Loop which isn't an off-road trail and instead follows the road to the lake. The full loop heads to Lake Minnewanka via Range Road before driving back via the Scenic Drive. All up, it's a 13 km ride.
Visitors can rent bicycles in the town of Banff from a number of different businesses and if they choose to do so, can ride to the lake from there.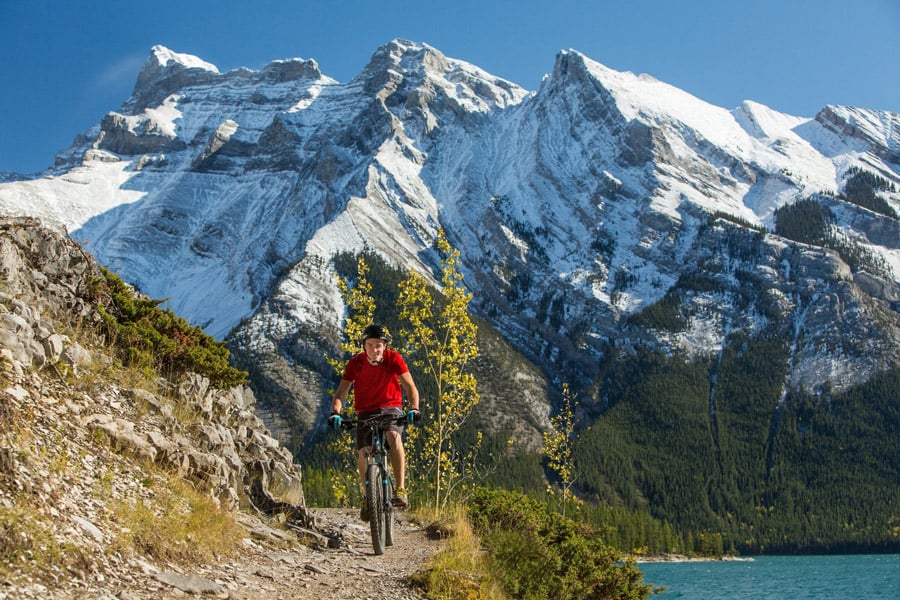 Scuba Diving
I bet you didn't know you could go scuba diving in Banff National Park?! Better yet, did you know there is a resort under the water in Lake Minnewanka!
That's right, the landscape you see today at Lake Minnewanka wasn't always there. In fact, when the dam was built, the area was flooded almost 100 feet more. Unfortunately, this meant the bustling tourist resort that once sat on its shores ended up underwater!
What's even crazier is the resort, before its end, was home to four avenues, dozens of cottages, three streets, hotels, and restaurants! It's now the most popular dive site in Lake Minnewanka!
Unfortunately, diving in Lake Minnewanka is for experienced divers only. Not only will you have to be prepared for freezing temperatures, but you'll need to be able to read the map to find the dive sites. As of right now, there are no dive tours available in Lake Minnewanka.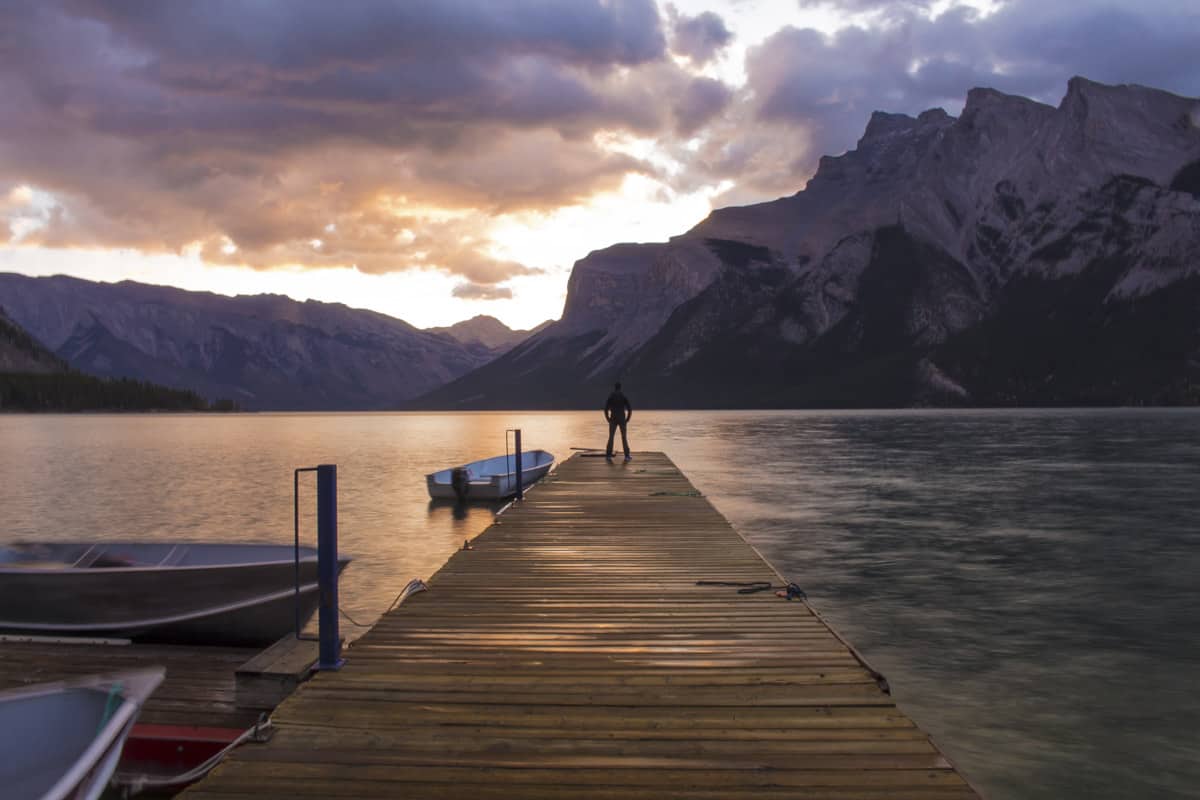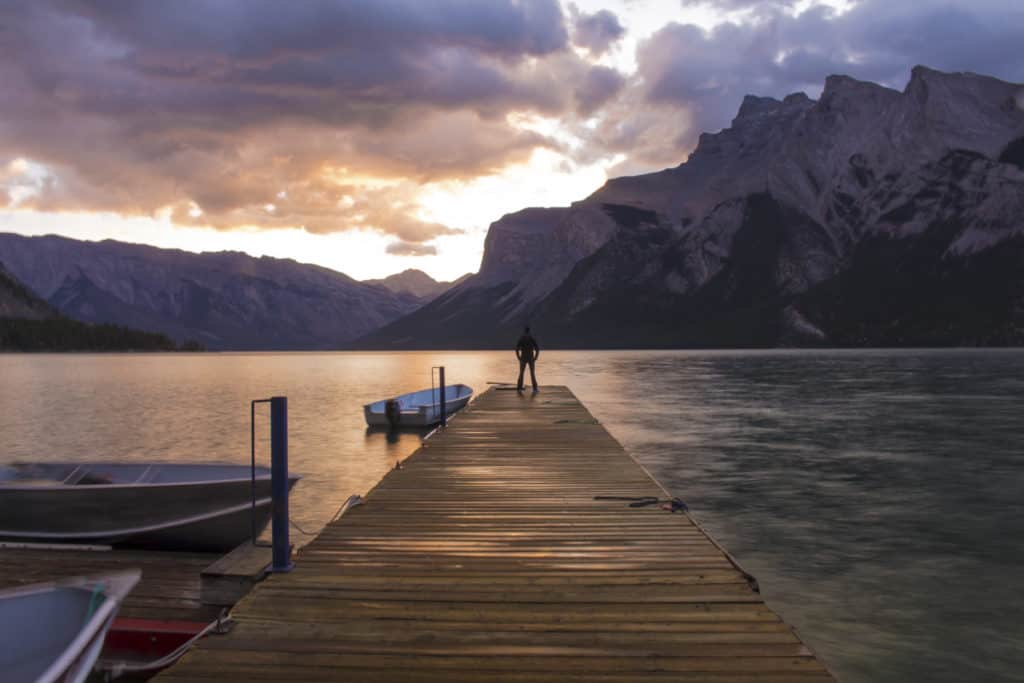 Lake Minnewanka in Winter
Ice Skating
In winter, ice skating on Lake Minnewanka is one of the most popular activities to do in Banff National Park!
Imagine skating on a frozen lake with a breathtaking mountain backdrop. It's truly a special Canadian experience and one I recommend. Although the frozen lake gets covered in snow, the wind usually clears it enough to skate on. On top of that, lots of people bring down snow shovels to remove the snow themselves. That means there is always somewhere to skate on the lake!
Note that there are no skate rentals available, nor is the lake patrolled by Parks Canada. For this reason, you need to exercise caution whenever ice skating on the lake. Be sure to wait until the ice is thick enough, usually late December, and always stay close to areas you have checked the ice thickness. Here are some important safety tips for ice skating on frozen lakes.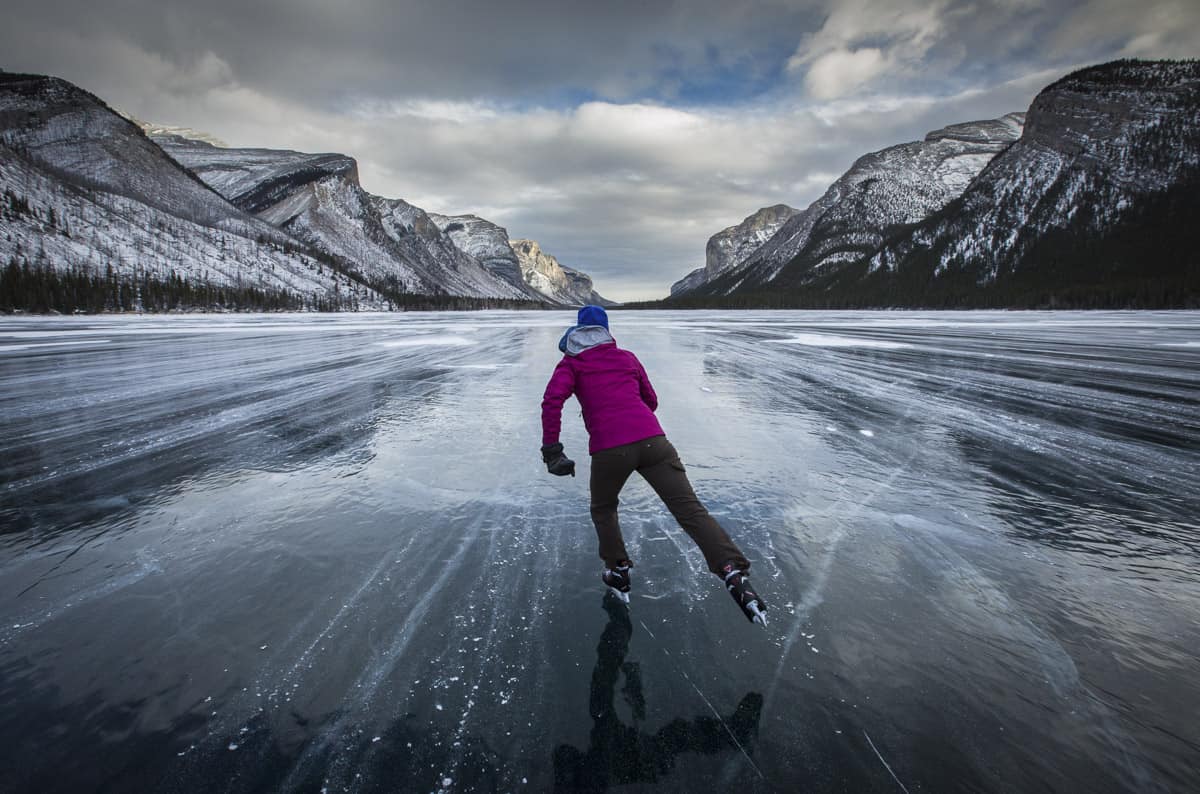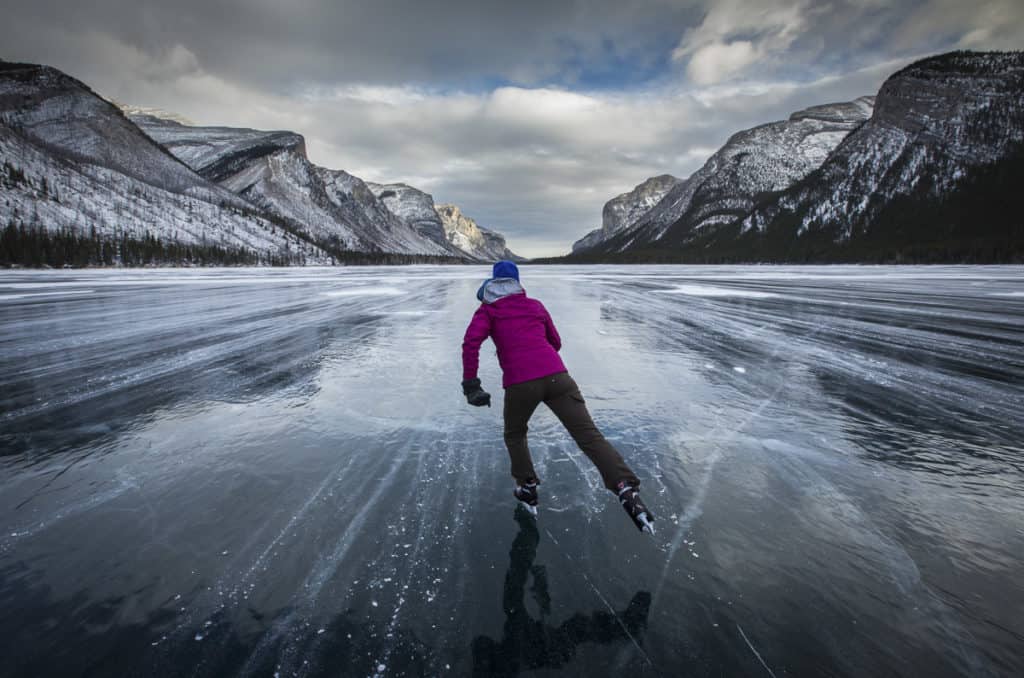 Ice Bubbles on Lake Minnewanka
Most people flock to Abraham Lake to see the unique frozen methane bubbles that form when the lake freezes. But did you know that Lake Minnewanka has them too? They are normally found on the far end of the lake, but if you're lucky they can be along the road en route to the lake.
If you do spot them, approach the lake carefully as conditions on the lake can be dangerous and change quickly.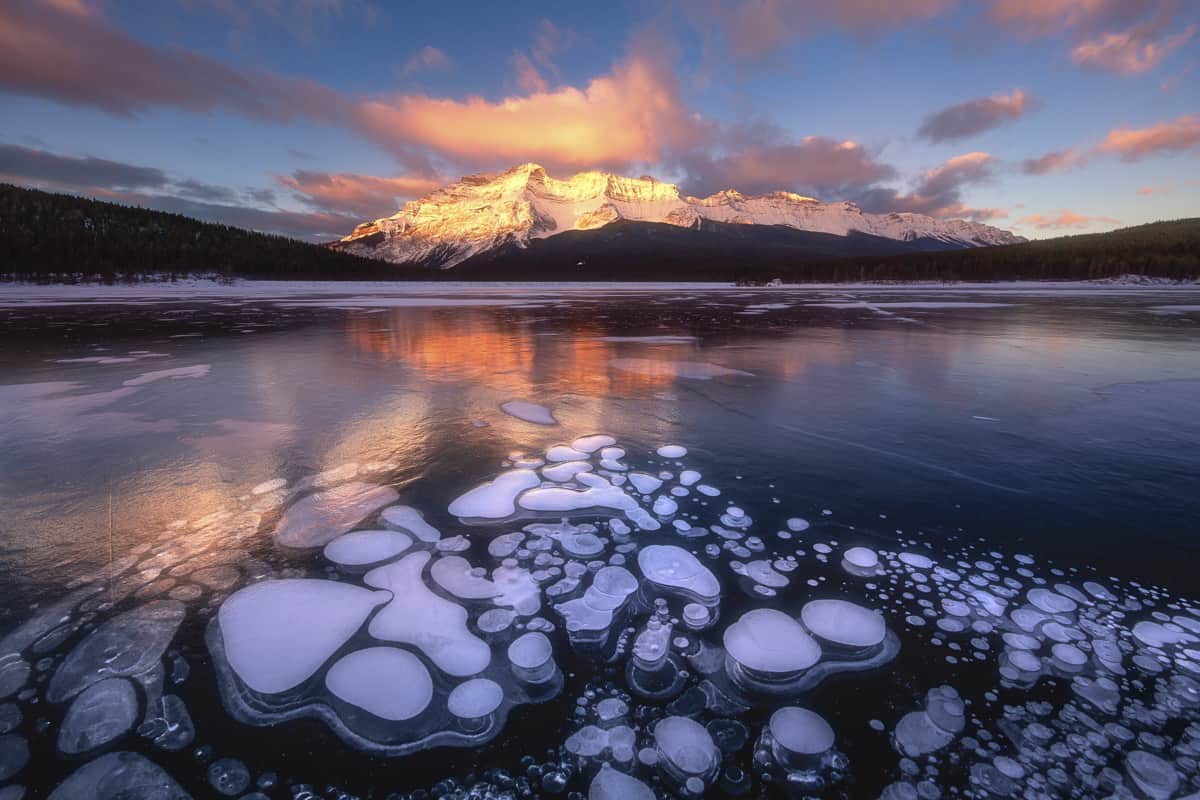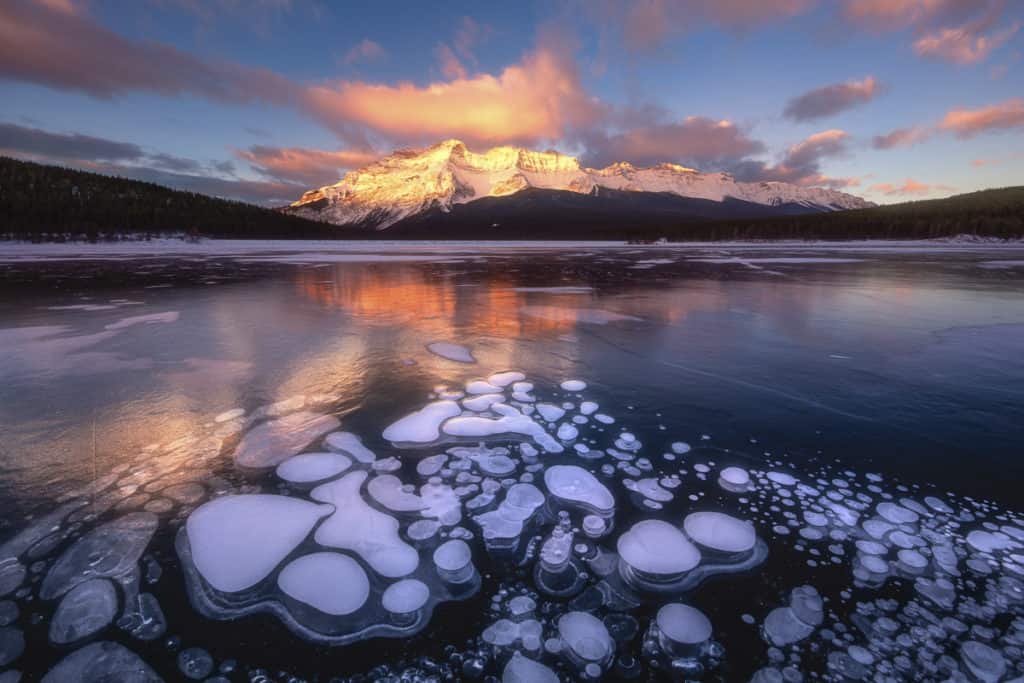 Northern Lights at Lake Minnewanka
One of the most popular spots for viewing northern lights in Alberta and Banff National Park is at Lake Minnewanka. Because of the extended amount of dark skies during the night, photographers will flock here with the hope of capturing the dancing lights.
If the forecast is good, grab your camera and tripod, some warm clothes, a thermos of hot coffee or tea, a blanket and best of luck seeing the auroras above the lake and mountains.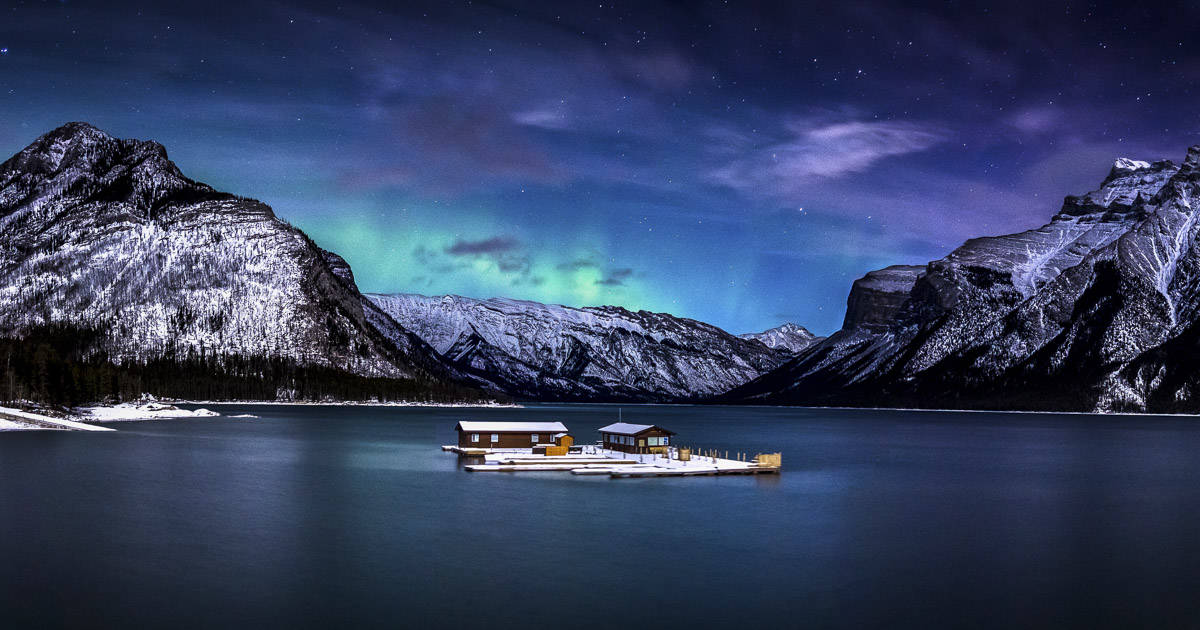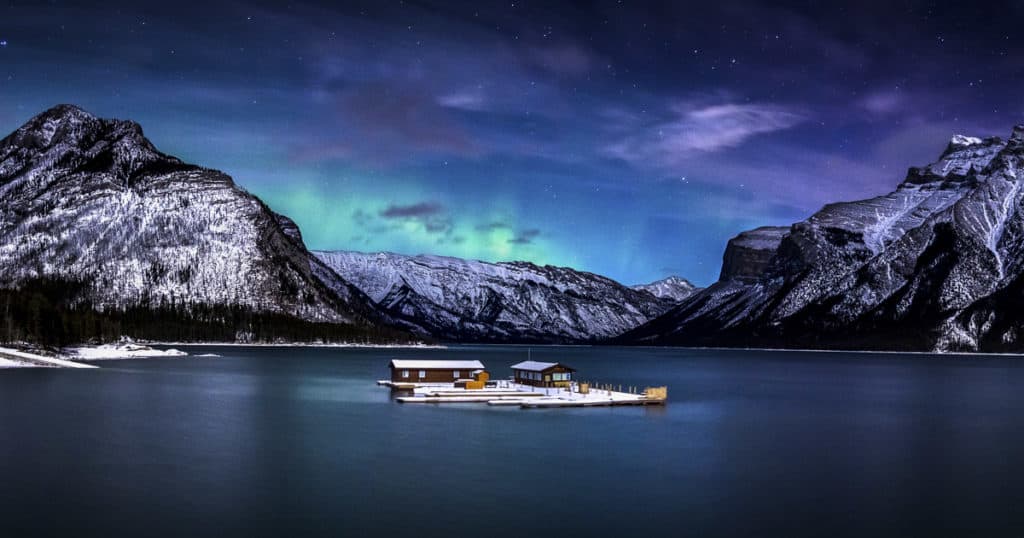 Snowshoeing
In the summer, we hike, and in the winter, we snowshoe! Snowshoeing at Lake Minnewanka is another extremely popular activity in winter.
Although you can snowshoe some of the trails mentioned above, most people snowshoe one of the access roads called Range Road, which is closed in the winter to vehicles. This makes it the perfect place to snowshoe and even cross-country ski.
You can rent your snowshoes in Banff Town at Banff Adventures for $15 per day. Cross-country skis are also available and only $20 per day. 
If you need some exercise on your winter trip to Banff, snowshoeing or cross-country skiing to the lake is the best way to get it! 
If you get bored at Lake Minnewanka, you're doing it wrong!
Lake Minnewanka truly is one of the best lakes and places to visit in Banff National Park. As you can see, it's not only home to unspoiled natural beauty but also tons of awesome things to do!
Bailey is a Canadian travel blogger who grew up in Edmonton. As much as she loves traveling the world. she loves exploring her home country too, especially the mountains in BC and Alberta. Alongside her partner Daniel, the couple is constantly in search of new adventures. They love to hike, eat great food, and explore beautiful places. You can follow Bailey and Daniel on their Instagram.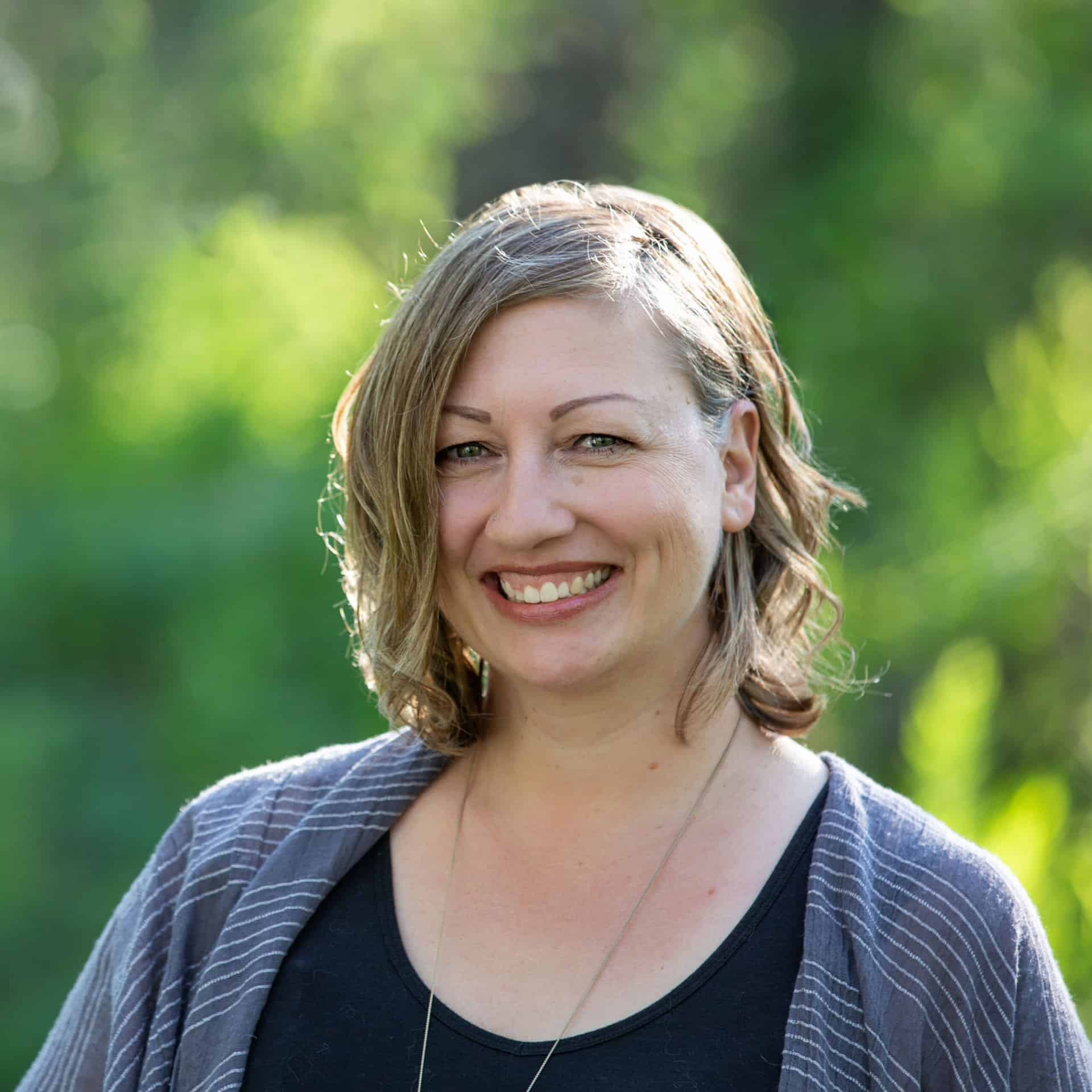 Dalene Heck is a co-founder of Road Trip Alberta. She was born in Edmonton, grew up in the Peace Country, and has ventured to almost every corner of Alberta and the world (she's travelled to 60 countries)! She is a serial blogger, the CEO of HMI Marketing, co-creator of the Trip Chaser card game, a leukemia-slayer, and cat whisperer.