Disclaimer: This page may contain affiliate links. Please review our full Terms and Conditions for more information and our Privacy Policy. Note that any pricing, operating hours, or other such information provided below may have changed since initial publication.
Written by Dalene Heck
Last updated February 3, 2023
I remember while growing up in northern Alberta, I'd often hear my mom's voice yell out from across the house: "Girls! The northern lights are out again!"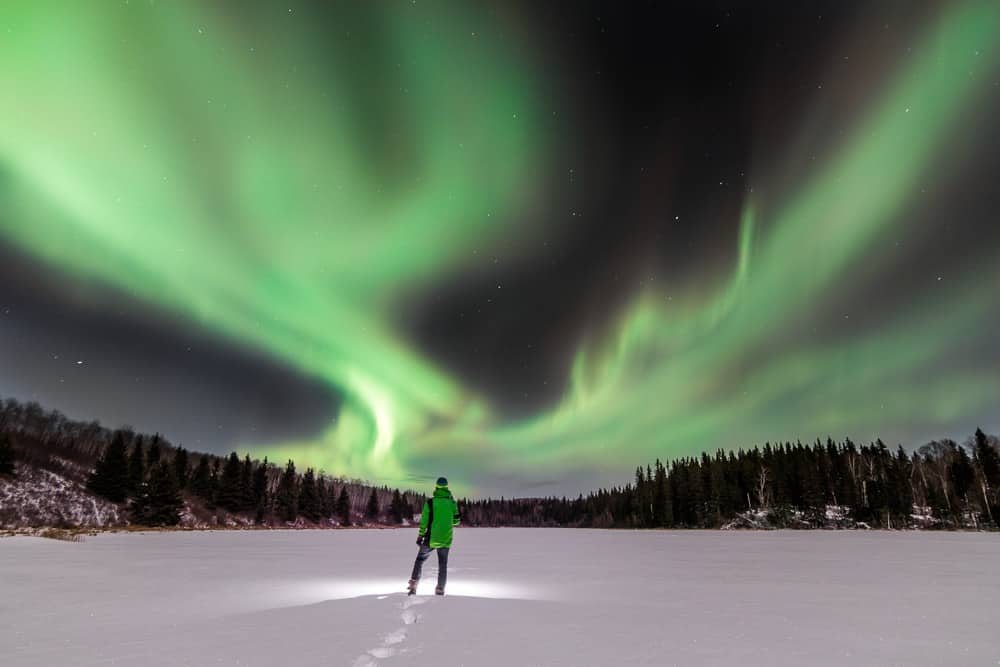 My sisters and I would most often ignore the call and turn back to whatever we happened to be watching, reading, or doing. Been there, seen that. In the 18 years that I spent living north of the 55th parallel, it never occurred to me that seeing the aurora borealis was such a privileged experience. And it never occurred to me to savour every available moment to watch them dance across the sky.
Not until I moved away and met people from around the world, hearing them declare their bucket list item of seeing the northern lights did I realize what a wondrous phenomenon it is. Of course, as Albertans, we may have to deal with devastatingly cold winters and ferocious grizzly bears. Still, we certainly are fortunate to have the opportunity to see bright lights dance across dark skies, along with another significant number of natural wonders in Alberta.
How to see 8 incredible natural wonders in Alberta
Aurora Borealis (Northern Lights)
They come in a variety of colours and levels of intensity. When electrically charged particles from the sun hit the earth's atmosphere as the result of a "solar wind", the reaction upon entry causes the sky to light up. Different types of particles cause different colours: super-rare, all-red lights come from high altitude nitrogen particles, and the most common yellowish-green comes from oxygen at lower levels.
The best season to view the northern lights starts in late fall through winter (roughly from the end of August to the middle of May), and as far north as you can go will increase your chances! This website by the University of Alberta is a great one to keep an eye on for forecasts and current readings across the province, and the Aurora Alert app is handy as well (especially if you set the alarm to wake you up during the night when the lights are at their peak)!
Remember that the lights are hit and miss, and there is never a guarantee that you'll see them on any given night. Not only does it depend on the strength of a solar wind, but the weather is certainly a factor as well.
Fort McMurray is the biggest city in northern Alberta and is well-suited to provide an excellent viewing experience. You'll definitely need a car while you're there; heading out of the city and away from the city lights will ensure a better viewing experience. (For more info, click through to read about seeing the northern lights in Alberta.)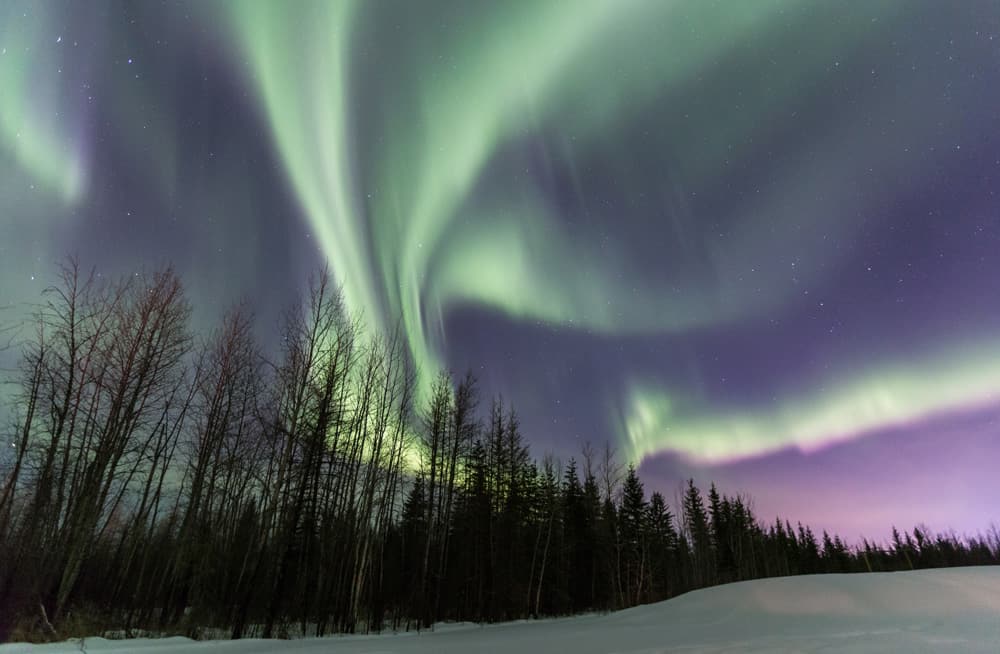 Athabasca Sand Dunes
While you're up at that end of the province, venture another 200-kilometers north to see Alberta's largest ecological reserve and a windswept natural wonder.
The Athabasca Sand Dunes are a literal moving desert. Wind shifts it up to 1.5-kilometers per year and over time the dunes have buried forests and lakes, leaving behind barren plains. The natural features of it are dramatic: its 12-meters high dunes and 60-meters high kames are some of the largest in the world. With a large variety of protected flora and fauna in the area, it is a nature lover's dream.
How to see Alberta's own Sahara Desert
Getting to Fort Chipewyan to access the dunes is part of the adventure. In summer, the small town is only accessible by boat or plane. In winter, you can drive ice roads to get a whole new experience! From Fort Chip (as it is known locally), get on an ATV to the Maybelle River Wildland Park which surrounds the dunes. For more info, read this.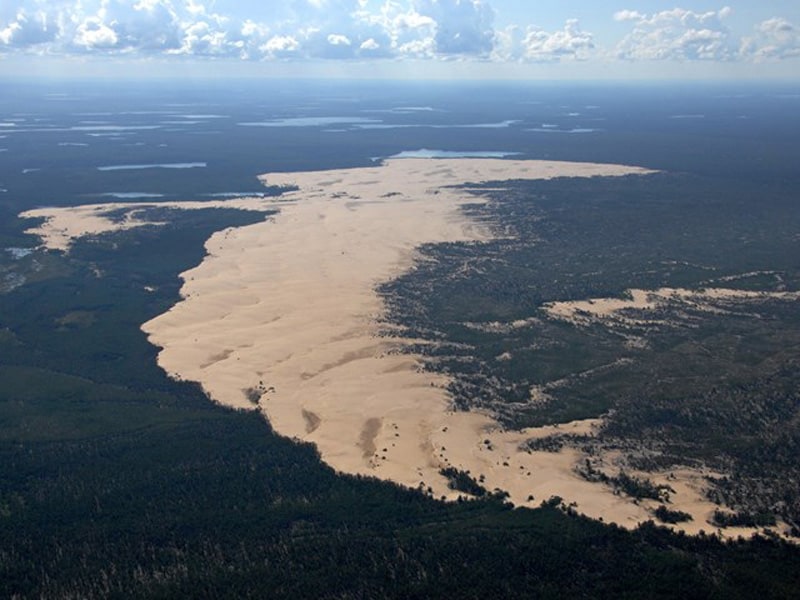 Lake Louise
Lake Louise is not Alberta's only natural wonder in the "glacial-fed lake" category, but it is the most famous!
Many of the lakes of the Canadian Rockies are extraordinary in colour. They sparkle in brilliant blues and greens and get this way from "rock flour" that trickles down into the lake when the glaciers that feed them melt. The refraction of light off of the flour causes these dazzling hues, and they are most intense in the summer months of July and August when the glacier melt is at its highest. (It is not caused, as some might believe, by the painting of the bottom of the lake.)
How to see these brilliant lakes
There are several to choose from and many are accessible by car. While Lake Louise is a must-visit for many reasons, you could do a literal "lake crawl" by hitting up nearby Peyto Lake, Moraine Lake, Grassi Lakes in Canmore, and more. Ideally, base yourself in Banff or Canmore and branch out from there.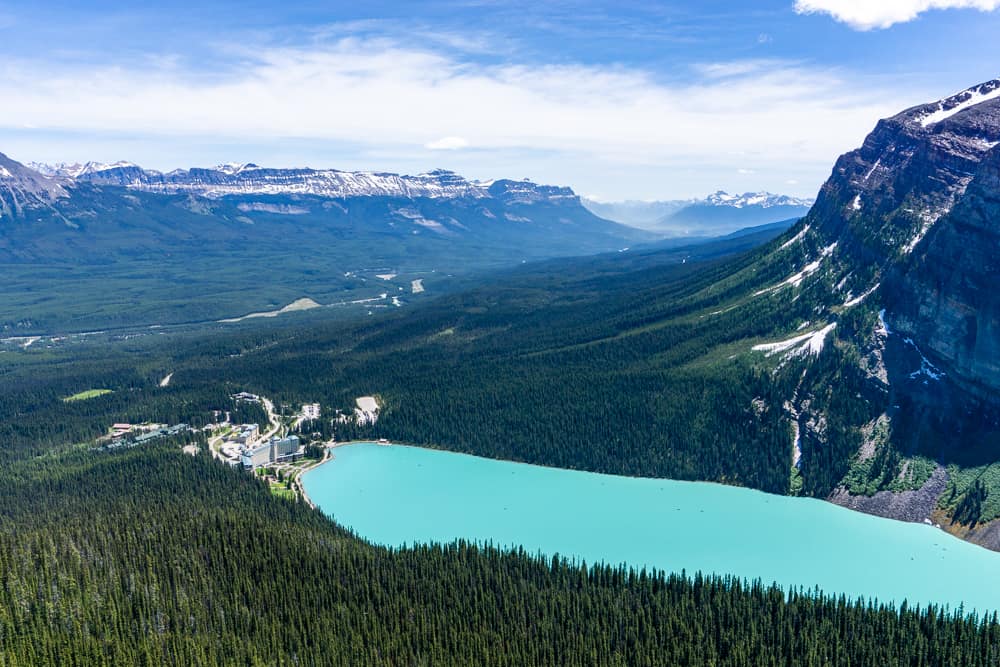 Frank Slide
Not all natural wonders in Alberta are just about awe-inspiring scenery.
Early in the morning on April 29, 1903, 110 million metric tonnes of limestone slid right off of Turtle Mountain in southwestern Alberta. It is one of the largest and deadliest landslides in the history of Canada, and the small hamlet of Frank lost about 70 to 90 of its residents. Most remain buried there.
The town was relocated in fear of another slide, and the site of the disaster remains largely untouched. It is an astounding and sobering sight and has since become a popular attraction for tourists.
How to see the Frank Slide
It is just over a two-hour drive to the area from Calgary and can't be missed as the disaster site is split by the major Highway 3 west. An interpretive center offers visitors engaging displays and first-hand stories of what happened that day.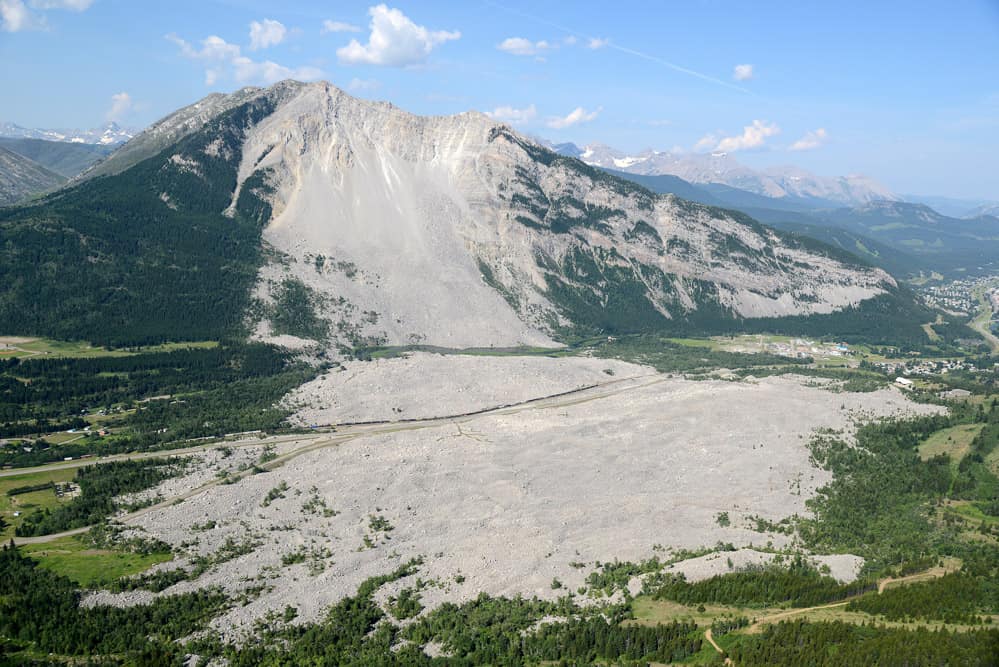 Okotoks Erratic
As glaciers move across land, they shape and distort it, carving valleys and leaving mountains on the edge. And sometimes, they leave stuff behind. BIG stuff.
The Okotoks Erratic can be found near a small city by the same name in southern Alberta (Okotoks literally means "Big Rock" to Indigenous Blackfoot peoples). This large boulder was left behind by a glacier between 10,000 to 30,000 years ago, and now sits in the middle of a grassy field. The 16,500-tonne boulder looks oddly out of place, measuring 9-meters tall, 18-meters wide, and 41-meters long.
How to see the Big Rock
If starting out in downtown Calgary, then expect a roughly 40-minute drive south to reach the Erratic just past the city of Okotoks. (And if you get hungry while you're there, check out our guide to restaurants in Okotoks.)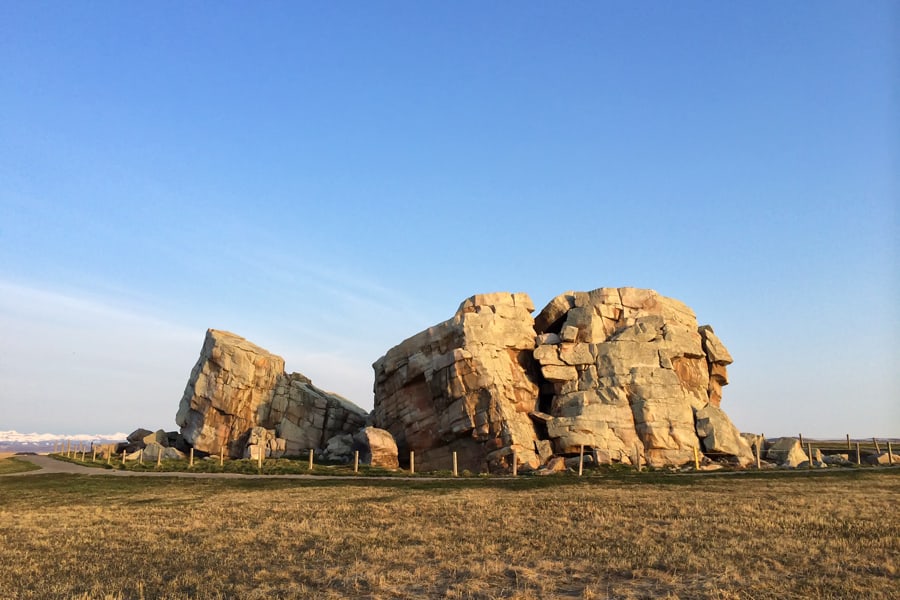 Frozen Bubbles in a Lake
If you're a follower of any popular Instagram accounts belonging to Albertans, you will undoubtedly have seen photos of this incredible phenomenon pop up in your feed during the coldest winter months. As soon as the water freezes on some mountain lakes, photographers flock to bubble hot spots to capture and share them with the world.
The spectacle is worthy of the hype. For a handful of lakes in Alberta, large white bubbles form when the temperatures dip. Bacteria within the water feeds on decaying organic matter and releases methane; this is what forms the bubbles. When the water freezes, they are trapped in the ice for a remarkable display.
How to see Frozen Bubbles
There are several spots to go bubble-spotting: Lake Minnewanka and Vermillion Lakes are closest to the tourist hubs of Calgary and Banff and easiest to access. Abraham Lake, while a bit out of the way, is the prime spot to view them and the best time to see them is January – March. Regular high winds across the lake's surface ensure that loose snow is removed and the ice is clear to view through. Abraham Lake is a 3 ½ hour drive from Calgary.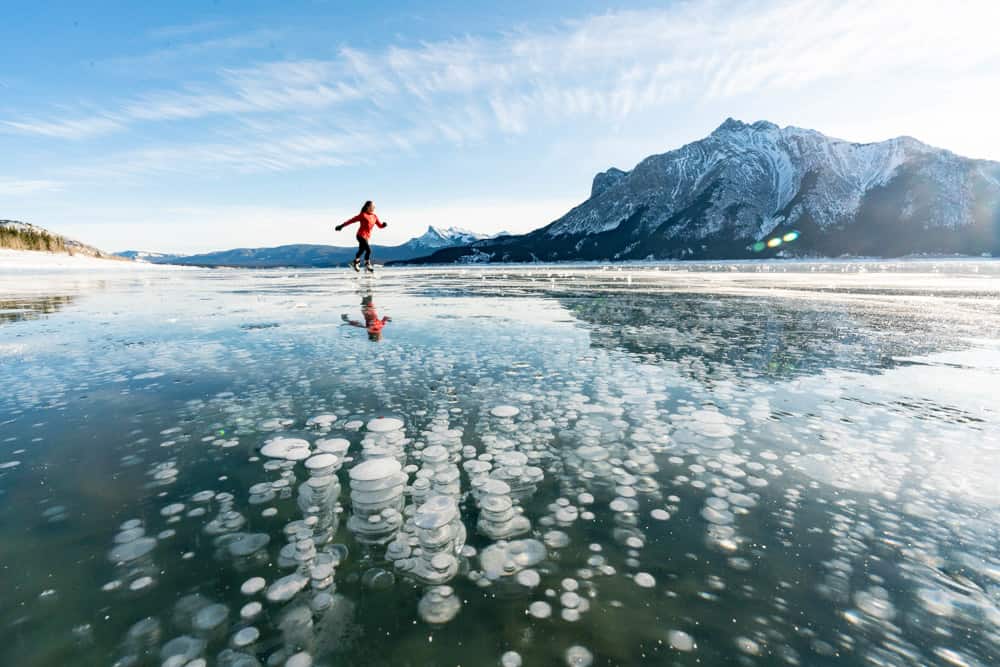 Where do you Hoodoo?
The Canadian Badlands are most famously known for their dinosaur-rich past, but one should not forget about these sandstone relics that are still standing (suck it, dinos)! In fact, hoodoos take millions of years to form and are essentially oddly-shaped pillars capped off with a large stone. They are fragile and constantly shaped by wind and water, some standing as high as 7-meters.
How to see hoodoos
You can find them all over the Badlands, but the easiest spot for tourists to see them is near Drumheller; getting to Drumheller from Calgary or Edmonton is a long day trip, but it's possible.
Our favourite spot to see hoodoos will take you a little bit further. Writing-on-Stone Provincial Park, in the southeast corner of the province, has a vast field of hoodoos available to hike through. This is also a sacred place for the Blackfoot and other Indigenous people and recently earned recognition as a UNESCO World Heritage Site for the extensive concentration of rock art on site.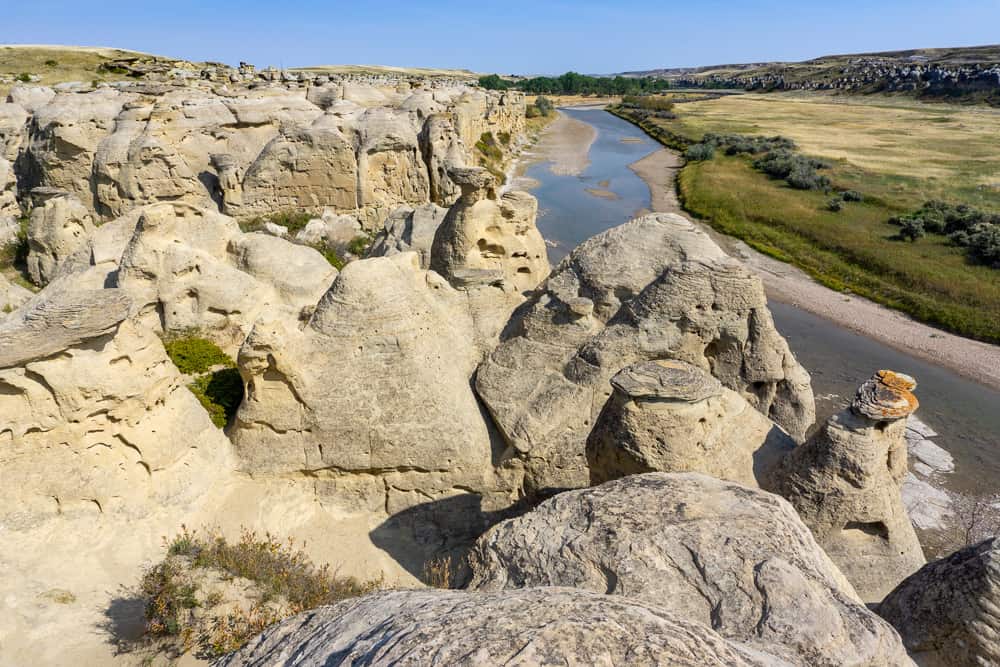 Red Rock Coulee
Step out of your car on Highway 887 and onto another planet. It will feel that way for a minute, we promise.
The coulee itself is like many that line the Canadian Badlands, but what makes this one a natural wonder in Alberta are the large spherical concretions that appear placed by an alien (or two). The reddish boulders are up to 2.5-meters in width! The concretions (some of the largest in the world!) have eroded out of soft bedrock and turned red from iron oxide. Look close enough and you may even see growth rings from their formation millions of years ago.
How to see the red rocks
Some can be seen along hiking trails in the same area, but the best spot to view them is at a designated spot right off of the aforementioned road. It's a lofty 3 ½ drive from Calgary; the best place to base yourself if exploring more in the area is the city of Medicine Hat, less than a half-hour drive away.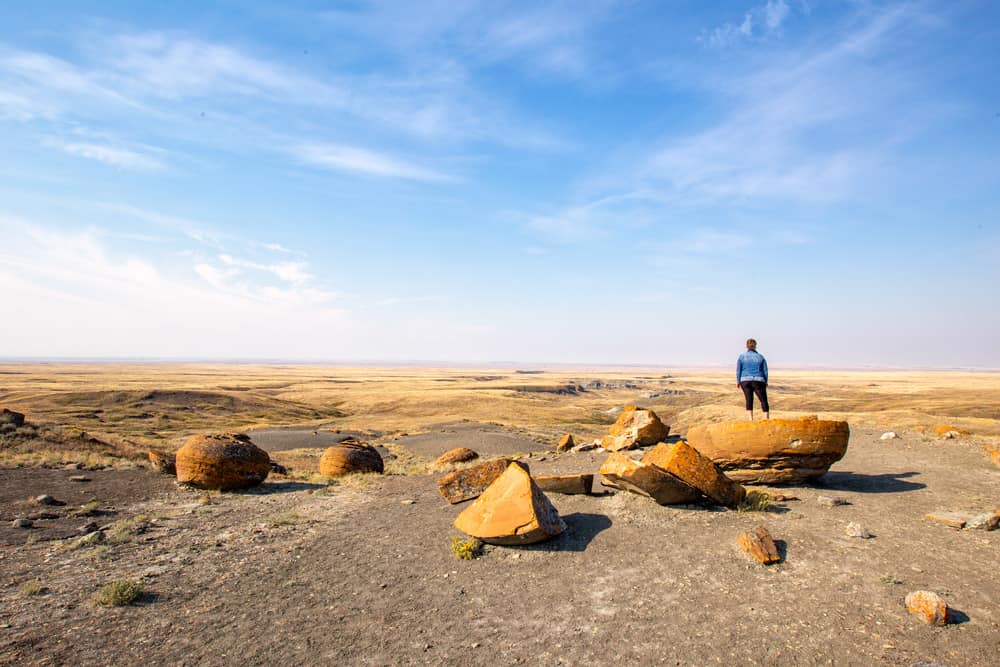 Don't Forget!
While you're enroute to these natural wonders in Alberta, be sure to download our FREE Road Trip Alberta bingo cards to amp up the fun!