Disclaimer: This page may contain affiliate links. Please review our full Terms and Conditions for more information and our Privacy Policy. Note that any pricing, operating hours, or other such information provided below may have changed since initial publication.
Compiled by the Road Trip Alberta team
Last updated on July 5, 2023
Full of numerous outdoor adventuring opportunities, Canmore, Alberta is a hiker's paradise just east of Banff National Park. Breathe in the crisp mountain air, indulge in lesser-known hiking trails, and see why this area feels like it's full of magic (hint: it's all about the mountains).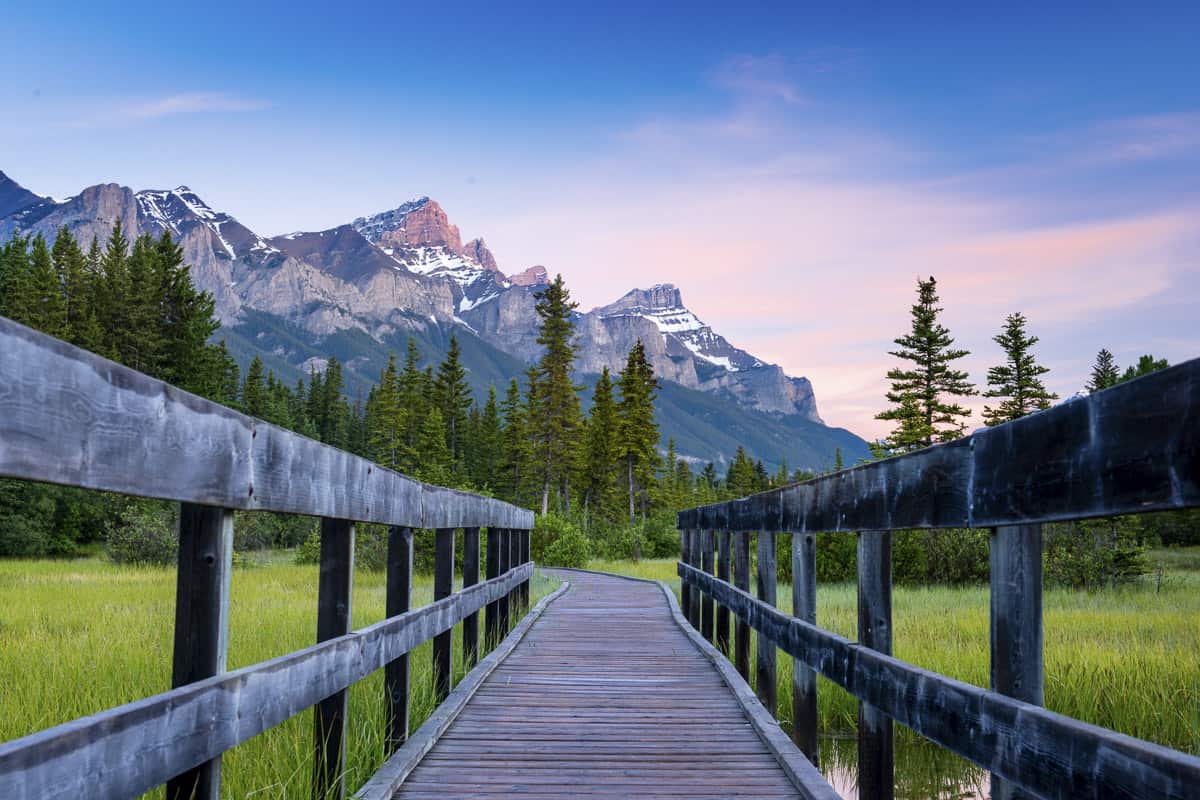 With its location nestled in the Bow Valley amidst the Canadian Rocky Mountains, there are no shortages of peaks to climb and areas to explore. From easy townsite strolls to moderate mountain treks, hikers of all skill levels will delight in these popular Canmore hikes and walks.
Before You Go
While scenic and enjoyable, there are preparations that should be made before trying any of the following Canmore hikes. If not properly acclimated to the Canadian Rocky Mountains, even an easy trail can turn into a not-fun experience. Here are some points to be aware of:
Bring appropriate clothing and hiking equipment. Research your walk/hike ahead of time to make sure that you have any extra hiking gear (ie: walking poles) that you may need. Dressing in layers and having comfortable hiking boots or crampons in the winter is always a good idea.
This area is right in a wildlife corridor! Some of these paths go right through their natural habitat so just be aware and bring bug spray and bear spray to be safe. It is also very important to stay on the trails and leave no litter behind.
Dogs are allowed on all of the hikes listed below, but they must be on a leash.
Although you are not required to have a Kananaskis Conservation Pass for the Town of Canmore, there are some areas where the pass will apply (ie: if you park at provincial recreation sites such as Grassi Lakes or the Canmore Nordic Centre). To get the full experience of the region and to save the trouble of the extra research, it would be best to just default to get one.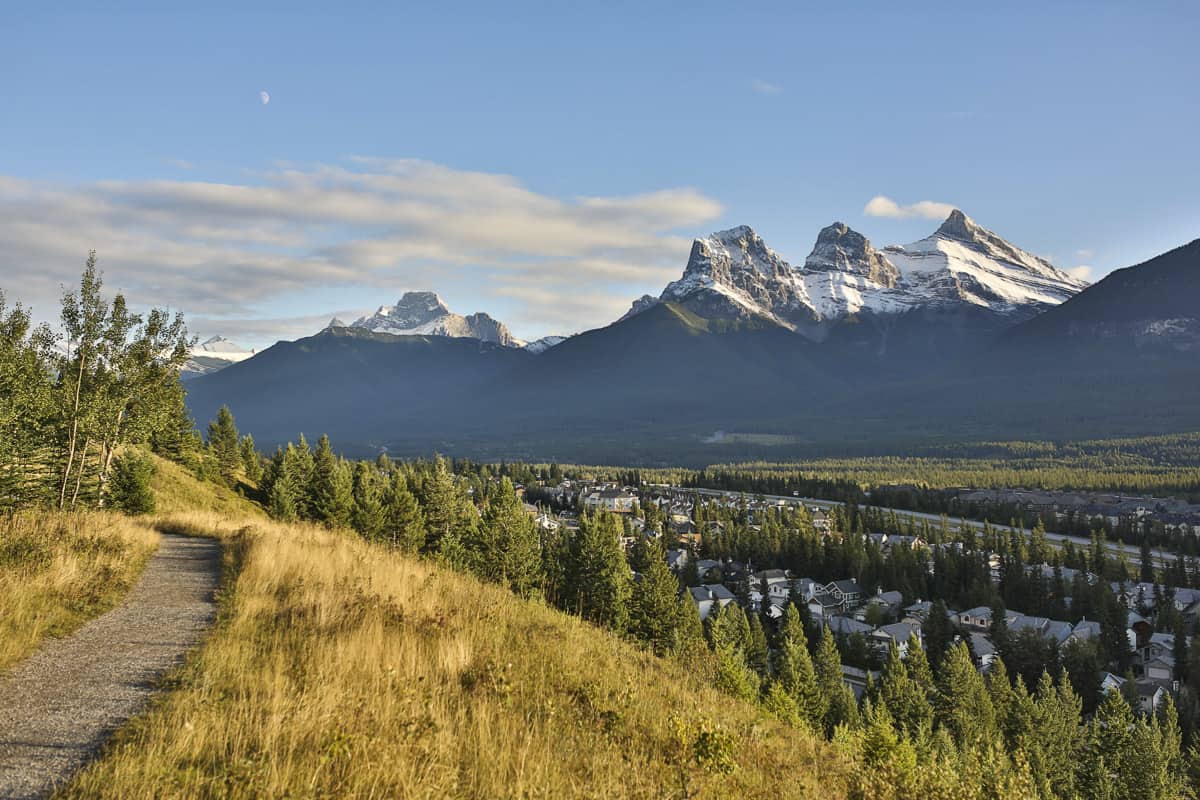 Easy Walks in Canmore
Bow River Loop
Starting with the easiest of the easy walks in Canmore, Bow River Loop is a beautiful, scenic 2 km loop that is perfect for a quick 20-30 minute stroll in any season. This family-friendly walk offers one of the best views in Canmore of the Three Sisters mountain peaks.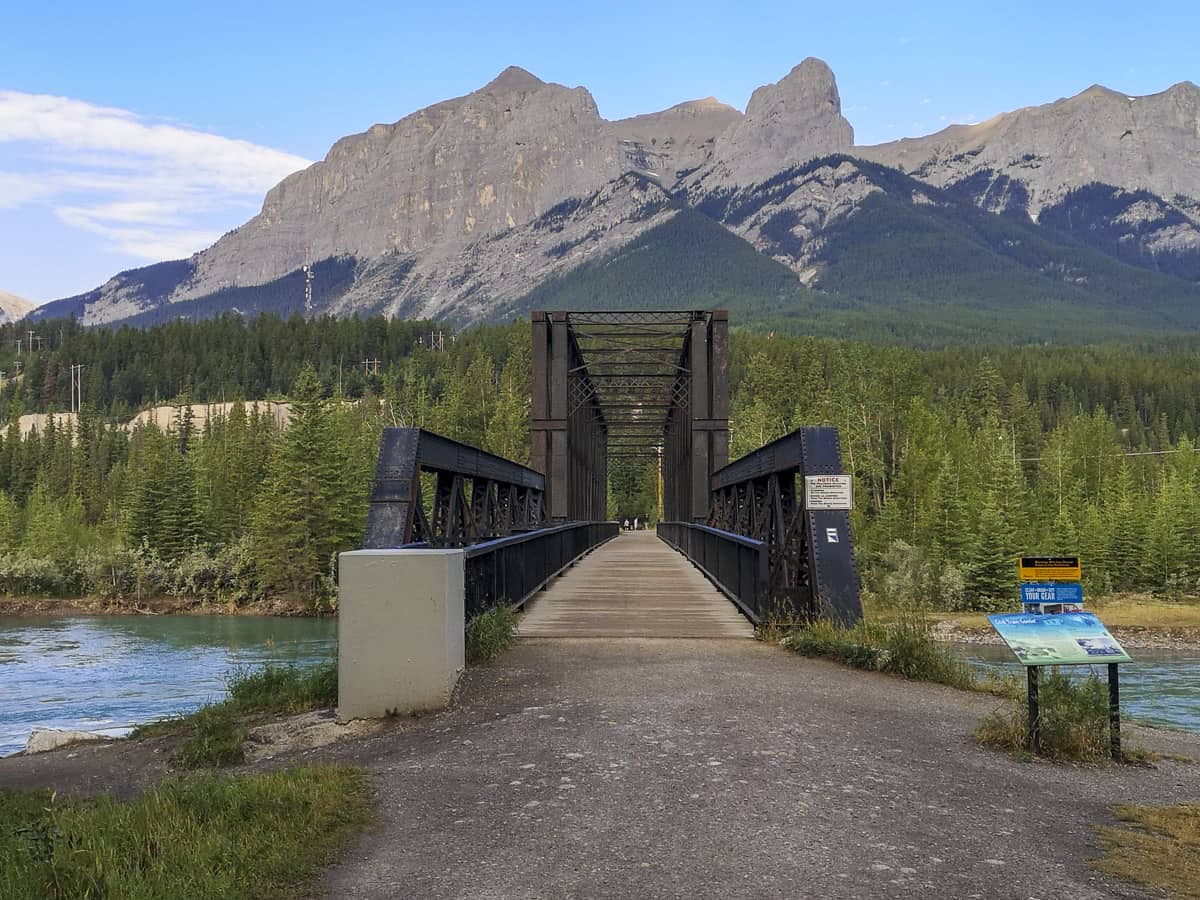 Kids will delight in crossing over the Bow River on not one, but two steel pedestrian bridges during the scenic Bow River Loop walk. Additionally, parents will rejoice that there are plenty of park benches lined along the river's edge on the trail available for a quick rest stop, a place to sit to take in the nature views, or even to enjoy a picnic lunch. If more exploring is needed, several offshoot trails from the Bow River Loop offer more opportunities to tour.
Difficulty: Easy
Hiking Time: 20 minutes
Elevation Gain: 54 m
Distance: 2.1 km
Seasonality: Year-round
Larch Island Interpretive Walking Path
For a quiet, relaxed walk, take a wander around Larch Island, which passes right next to the beautiful Bow River. If you're lucky enough to visit during the fall when the larch trees turn gold, then you're certainly in for a treat! And keep your eyes peeled for wildlife – this is a quieter part of town and it's not uncommon to see some animals like elk on this loop.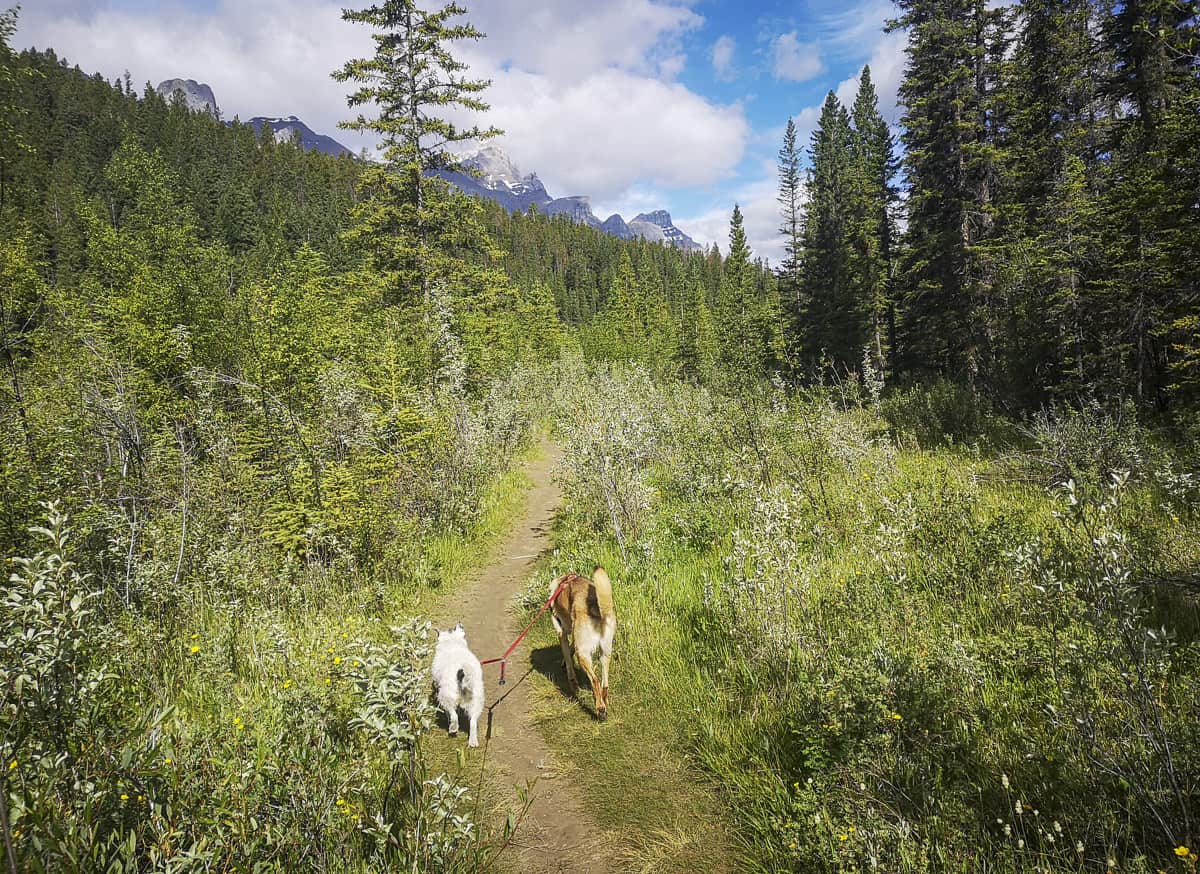 An access point is available just beyond the Bow River Loop when walking north on the east side of the river, north of the Canmore engine bridge.
Difficulty: Easy
Hiking Time: ~30 minutes
Seasonality: Best used from April to September
Policeman's Creek Boardwalk
An easy route that works for all skill levels, Policeman's Creek Boardwalk is a 4 km man-made walkway that runs alongside Policeman's Creek.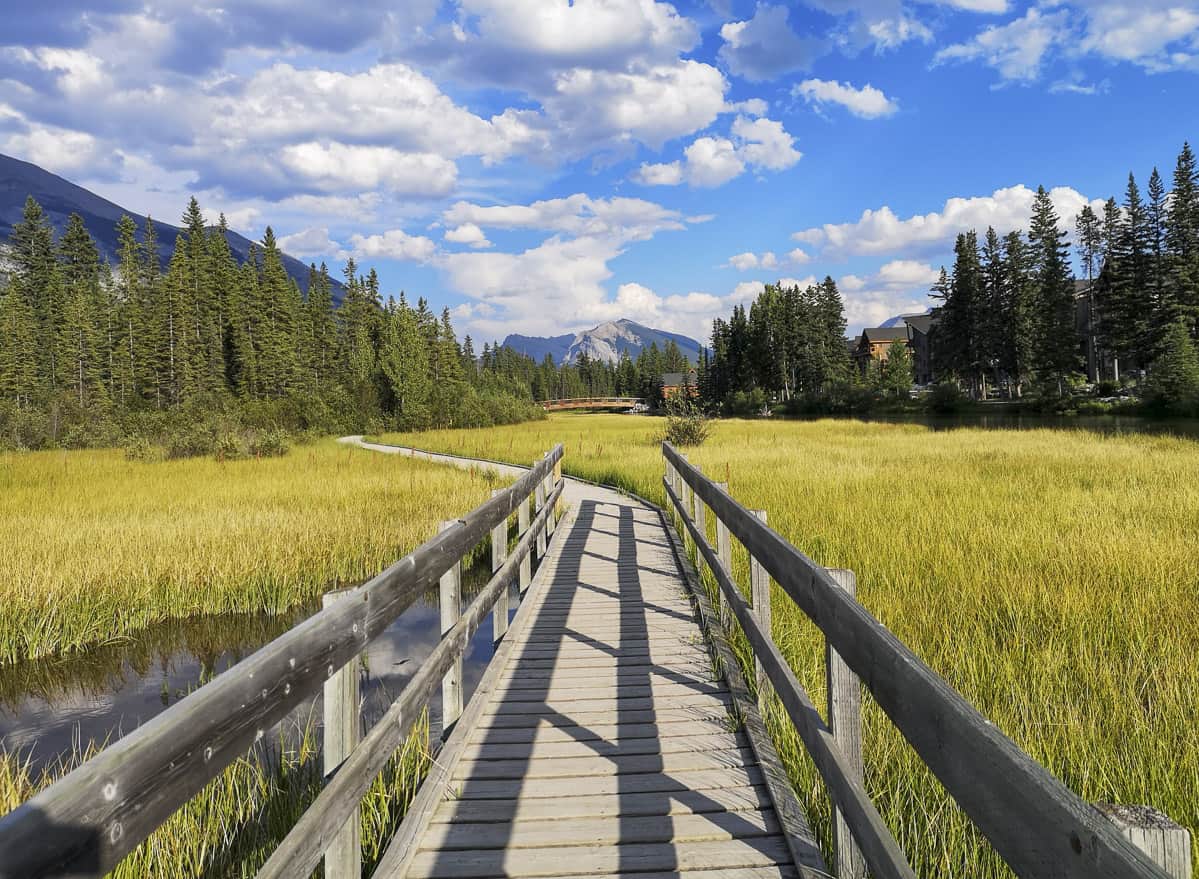 The beginning of the route is easily accessed from downtown Canmore and starts near the iconic Big Head sculpture, but with the central location of the trail, you can also simply access the boardwalk from many intersections and streets in town. Additionally, since the boardwalk connects to the larger town's trail system, it is easy to add on some extra kilometres for more adventure opportunities, or even to detour for a quick bite at one of many awesome Canmore restaurants.
Although this walk is smack dab in town, the sights are still plentiful including numerous ducks swimming on the ponds, birds singing, mountain views, and if you're lucky you can catch a glimpse of an elk or deer.
Difficulty: Easy
Hiking Time: 40 minutes
Elevation Gain: N/A
Distance: 4 km
Seasonality: Year-round
Three Sisters Pathway
For an in-town walk that has some length to it, the Three Sisters Pathway follows the Bow River downstream out of Canmore towards the Three Sisters and the Three Sisters Mountain Village. A mix of gravel and paved paths, the 13.5 km trail is an out-and-back trail that moves alongside the river and passes several meadows, creeks, a sulphur pond, and even an old mining site.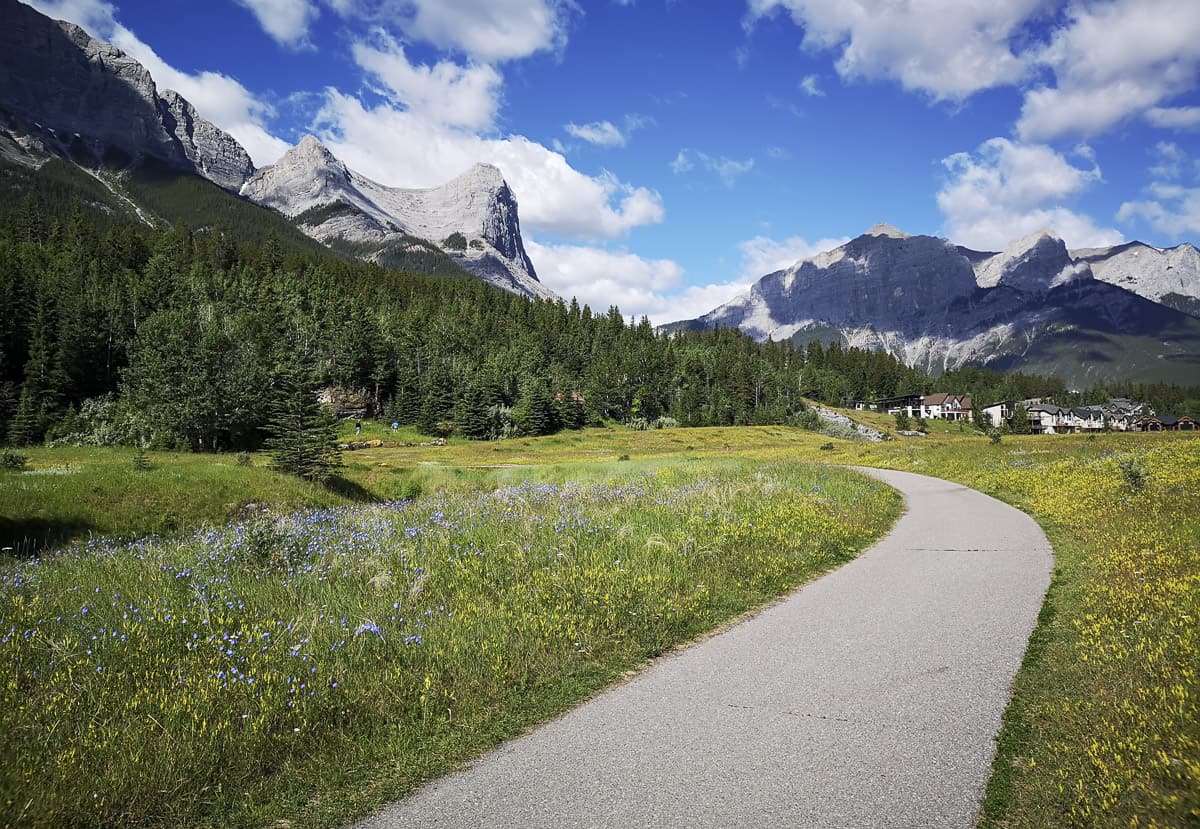 Surrounded by mountain views, this is a popular Canmore path for walkers, runners, and mountain bikers alike. This trail is great for all skill levels but does have an incline depending on which end you start from. The easiest place to begin is after the bridge on Rundle Drive, you'll find the path to the river just beyond the parking area. Just aim towards the Three Sisters mountains (three of the most notable peaks in the Canadian Rockies)! Alternatively, you can also begin from the east access at Three Sisters Mountain Village at Stewart Creek Landing Pavilion.
Difficulty: Easy
Hiking Time: 30 minutes – 4 hours
Elevation Gain: 315 m
Distance: 13.5 km
Seasonality: Year-round
Quarry Lake Loop
A very popular spot for both visitors and locals alike, Quarry Lake Loop is less of a hike and more of a 1 km walking loop that neighbours an off-leash dog park. Quarry Lake is the former site of the Canmore mine that has been revitalized and is now a nice loop where the trail begins from the parking lot, around Quarry Lake, and back again. Of course, there are also several offshoots of trails into the surrounding area (some of them on the far side, into the dense forest) if you're interested in extending your stroll.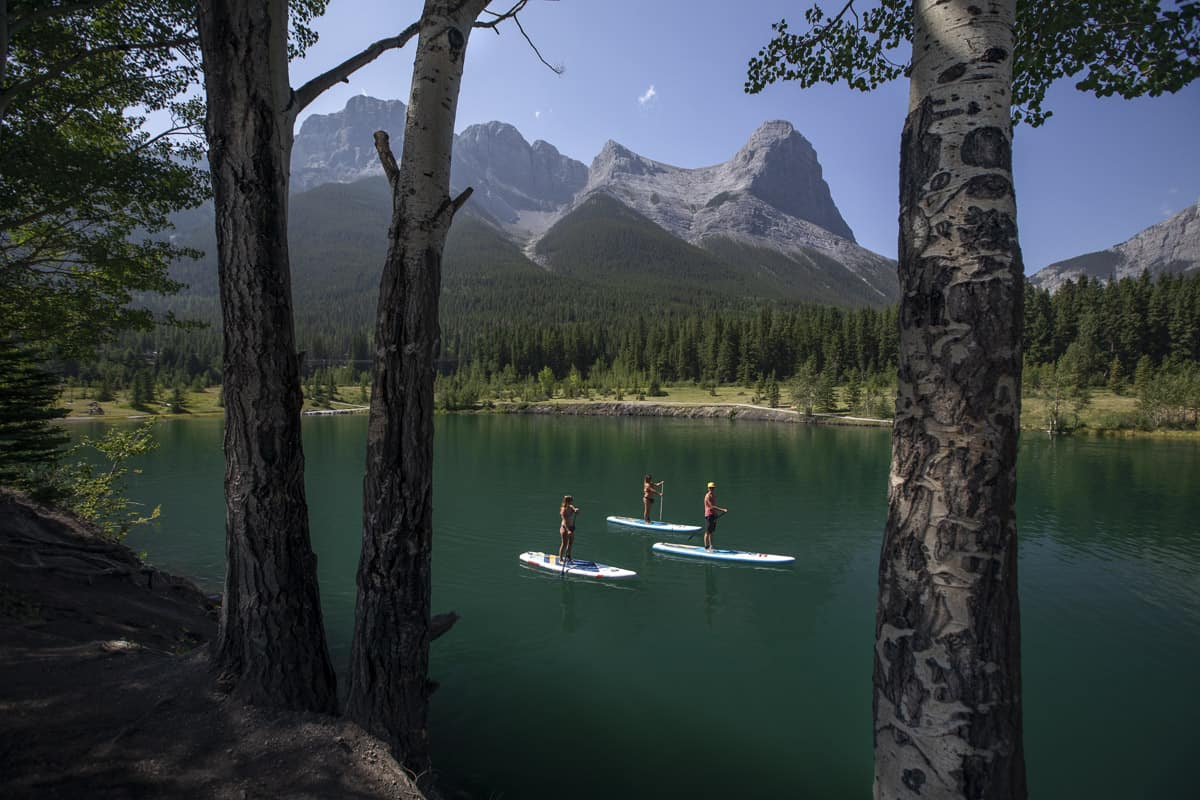 The lake is surrounded by an open park area that is perfect for a picnic or enjoying the sunshine, and since there is a $20 fee for parking for 4 hours anyway, it is recommended to make an afternoon of it rather than just come for the short walk alone. If you're visiting in the summer months, be sure to bring a swimsuit and take advantage of the swimming opportunities as Quarry Lake is fed by an underground mountain spring! Note that it does get exceptionally crowded, so if you can visit on a weekday, all the better.
Difficulty: Easy
Hiking Time: 30 mins – 1 hour
Elevation Gain: 15 m
Distance: 1.1 km
Seasonality: Best used from March until November
Easy Canmore Hikes
Grassi Lakes Trail
If you're looking for one of the best options for a quintessential family-friendly hike, the newly renovated Grassi Lakes is it! The 3.4 km out-and-back trail only has a 125-metre elevation gain and leads you past a few smaller lakes before ending up at the magnificently-coloured Grassi Lake.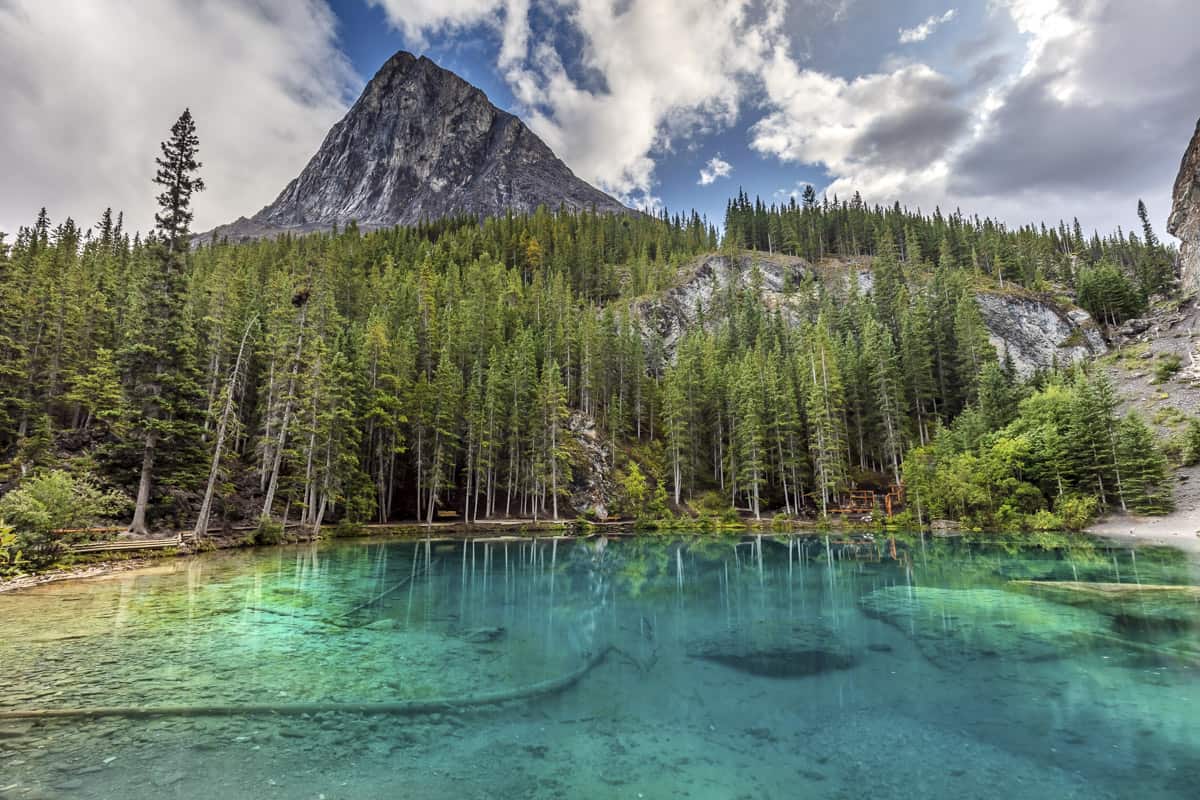 For a bit of an extra challenge, there is a fork in the trail a couple of minutes in, and going to the left will bring you to a "more difficult" trail. This route still ends up at Grassi Lake but adds some stairs leading you to a waterfall for an extra view (highly recommended). This part of the trail usually closes in the winter due to icy and steep conditions but the regular Grassi Lakes Trail stays open all year round and offers wonderful views in any season.
The trail begins at a parking lot on the outskirts of Canmore, past the Canmore Nordic Center on Ken Richie Way. The trail is a popular choice in both winter and summer for a quick and easy outing, however, keep in mind that during summer months, the parking lot gets very crowded (especially on weekends), and arriving earlier on in the day is recommended.
Difficulty: Easy
Hiking Time: 1-2 hours
Elevation Gain: 178 m
Distance: 3.4 km
Seasonality: Year-round
Grotto Canyon
The Grotto Canyon hike is an out-and-back, well-marked trek that will take you just over 7 km through an impressive canyon, past waterfalls, an Inukshuk Garden, and even some ancient rock paintings! Arguably the most unique of the numerous hikes near Canmore, this is also one of the rare occurrences that experiencing it in winter surpasses summer as Grotto Canyon's floor gets covered by snow and ice and the waterfalls freeze solid; offering numerous ice climbing and ice walking opportunities.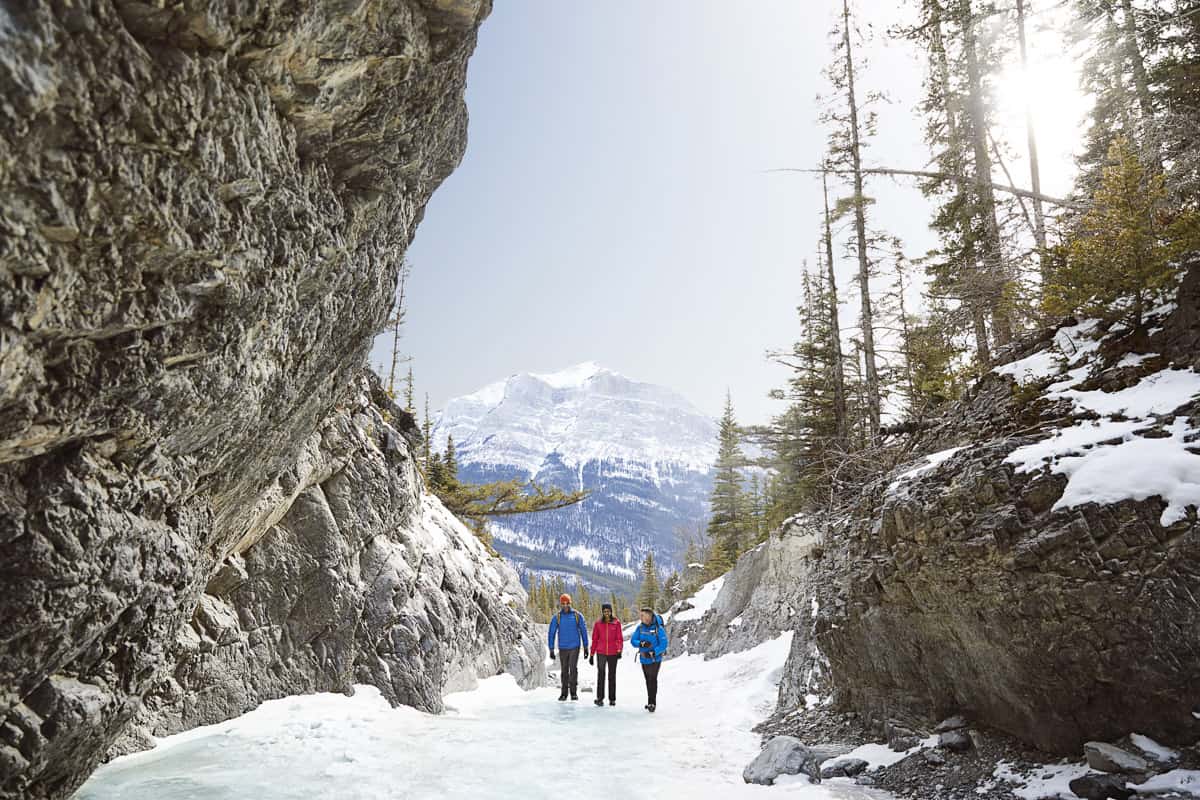 Because of the varied terrain, it is recommended to wear appropriate footwear: waterproof shoes in summer, and good quality hiking boots or crampons in the winter.
Technically, Grotto Canyon is about 13 km away from Canmore along Highway 1 A, but although it is still a moderately easy trek, the average person will take a couple of hours to complete it in full so the short drive is worth it.
Difficulty: Easy
Hiking Time: 2-3 hours
Elevation Gain: 395 m
Distance: 7.1 km
Seasonality: Year-round
Three Sisters Viewpoint
The best viewing opportunity of the Three Sisters is not found after hiking a steep climb, but instead via a simple walk on the east end of town! While not an official Canmore hiking trail, this spot has become popular in photography groups as the ideal view of the iconic mountain peak trio.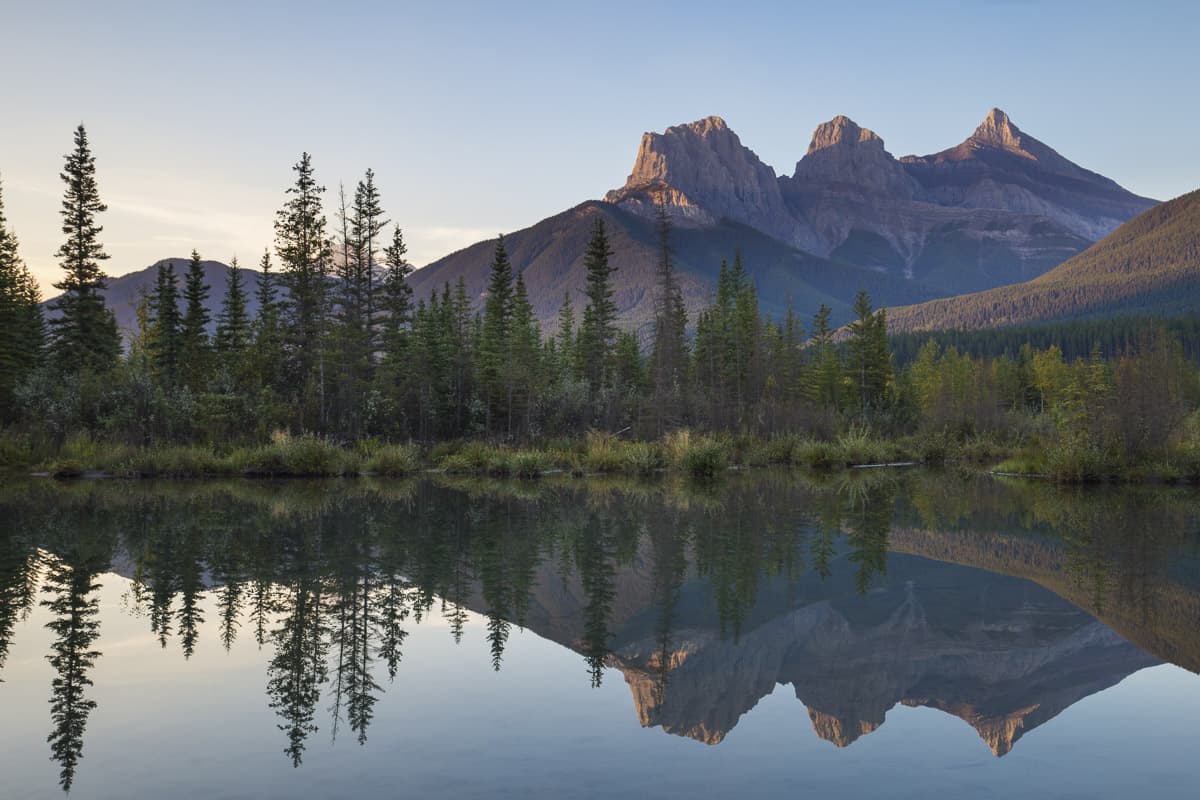 This spot is not just for photographers though, visitors of all ages can appreciate the beauty and the view in any season after only a 5-10 minute walk from the off-leash dog park. There are no markings, but across the street and under the train bridge, you'll find a pathway into the forest that will lead you to the spot. After about 5 minutes on the path, you'll know that you're there when the view of the Three Sisters is incredible and reflected on a small creek. There are also several small, worn trails to follow in the area to get more steps in.
Difficulty: Easy
Hiking Time: 20 minutes
Elevation Gain: N/A
Distance: 300 m
Seasonality: Year-round
Canmore Hoodoos (Benchlands Ridge Trail)
Not many people are aware that Canmore houses a few of the famous sandstone formations that other places in Alberta are famous for! Of the many hiking trails in Canmore, the Benchlands Ridge Trail is the only spot where visitors can spot some hoodoos. This trail is a 3 km out and back that offers some great wildlife viewing and is a good choice for all skill levels.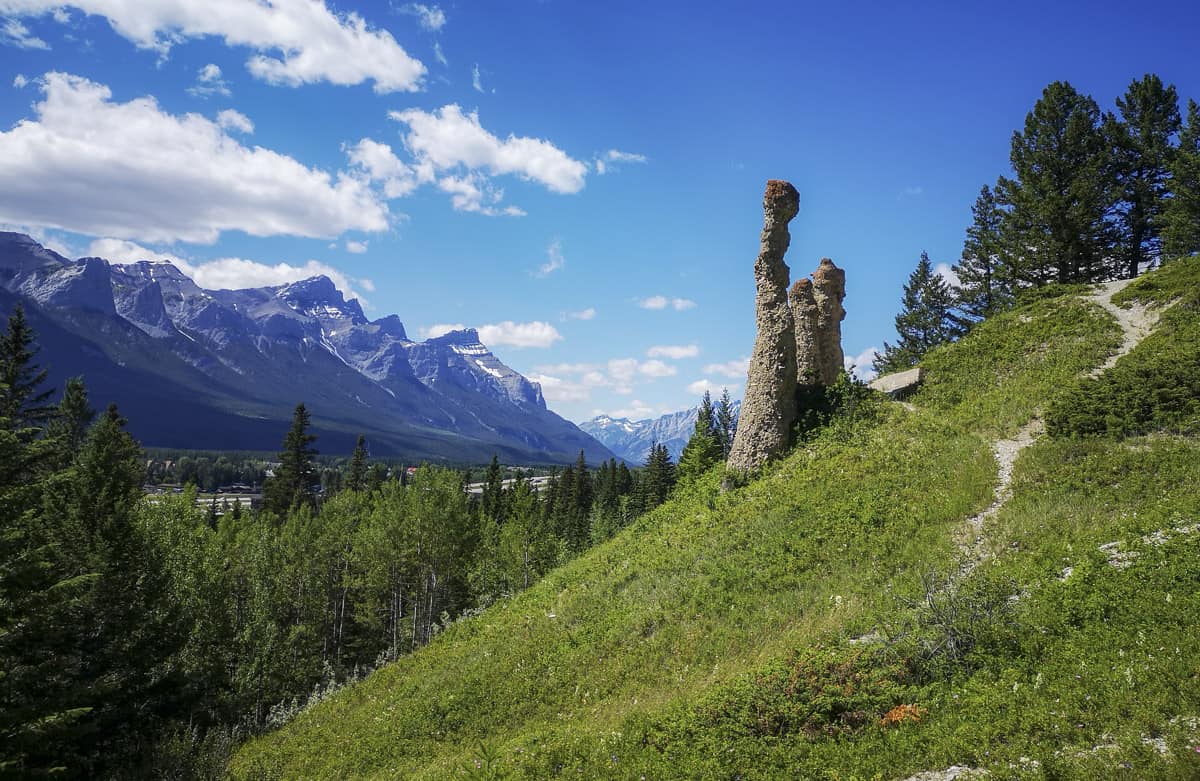 This relatively easy hike begins (technically) in downtown Canmore and takes you over a bridge across the highway. However, for an easier start, you can park at either Cougar Creek or the Benchlands Trail Bike Park. The path veers off from the Benchlands Trail and climbs to eventually lead to a ridge overlooking Canmore. This is where a few hoodoos can be found and combined with the panoramic views, gives an interesting perspective for a Canmore hike! You can either just turn back around at the hoodoos or combine the trail with the Montane trail to make a longer loop.
Difficulty: Easy
Hiking Time: 1 hour
Elevation Gain: 154 m
Distance: 2.9 km
Seasonality: Best used from March until November
Horseshoe Loop Trail
Horseshoe Loop Trail is the perfect hike for those looking for an easy loop to be done within 2-3 hours. Other than a slight incline at the beginning, this path is mainly flat and meanders through the forest for 5.6 km. This is one of the few Canmore hikes without mountain viewpoints, but it allows for a peaceful, forested stroll on a less busy trail than some of the other easy hikes in Canmore.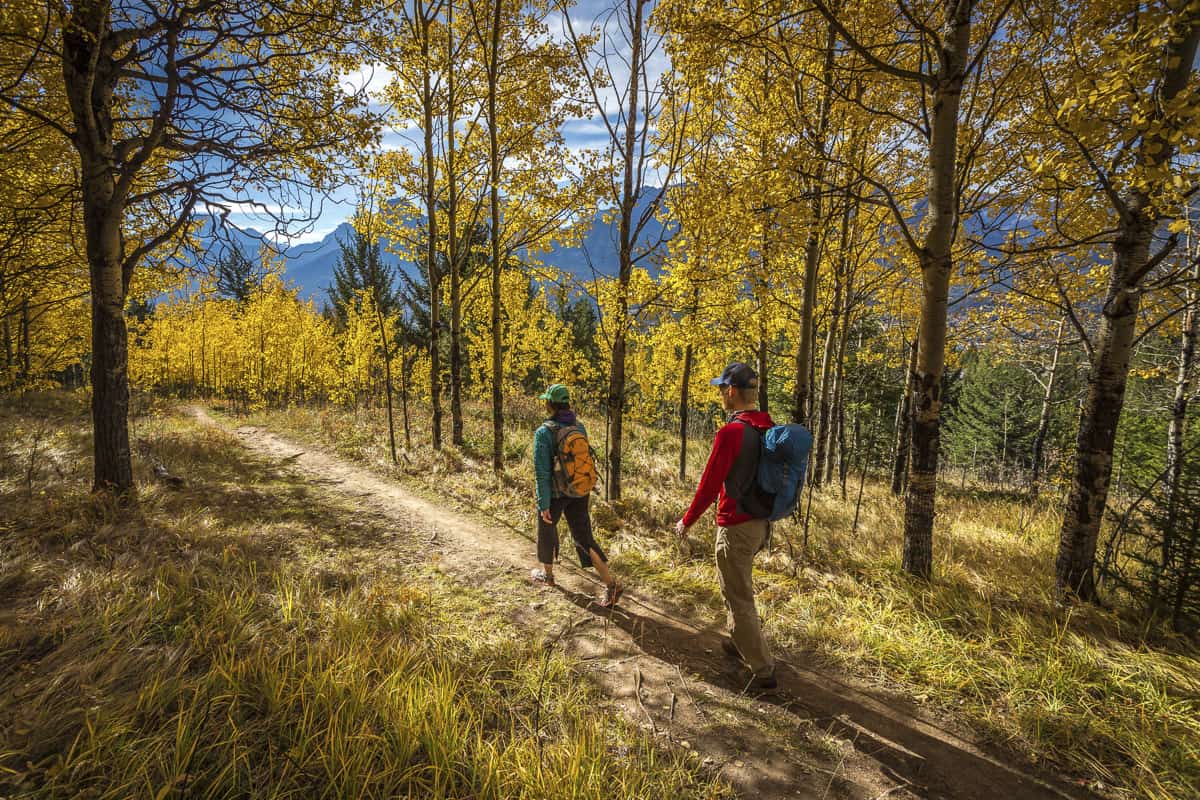 To hike Horseshoe Loop Trail, start at the Cougar Creek parking lot and walk along the creek until signage for Horseshoe Loop appears. From there, the trail leads right into the forest. Keep in mind that the trail is multi-use and quite popular, making lots of smaller trails branch off the main path. There is signage to keep you on track, but a good rule of thumb is to stick to the larger, more clear path just in case.
Difficulty: Easy
Hiking Time: 2-3 hours
Elevation Gain: 250 m
Distance: 5.6 km
Seasonality: Best used from May until October
Troll Falls
Troll Falls is a 3.4 km out-and-back trail that takes approximately 1-2 hours to complete. Although this hike is in the Nakiska Ski Area in the Kananaskis, a 35-minute drive from Canmore, it is worth the drive! We promise. (And if you want to do more in the area, check out all of these Kananaskis hikes.)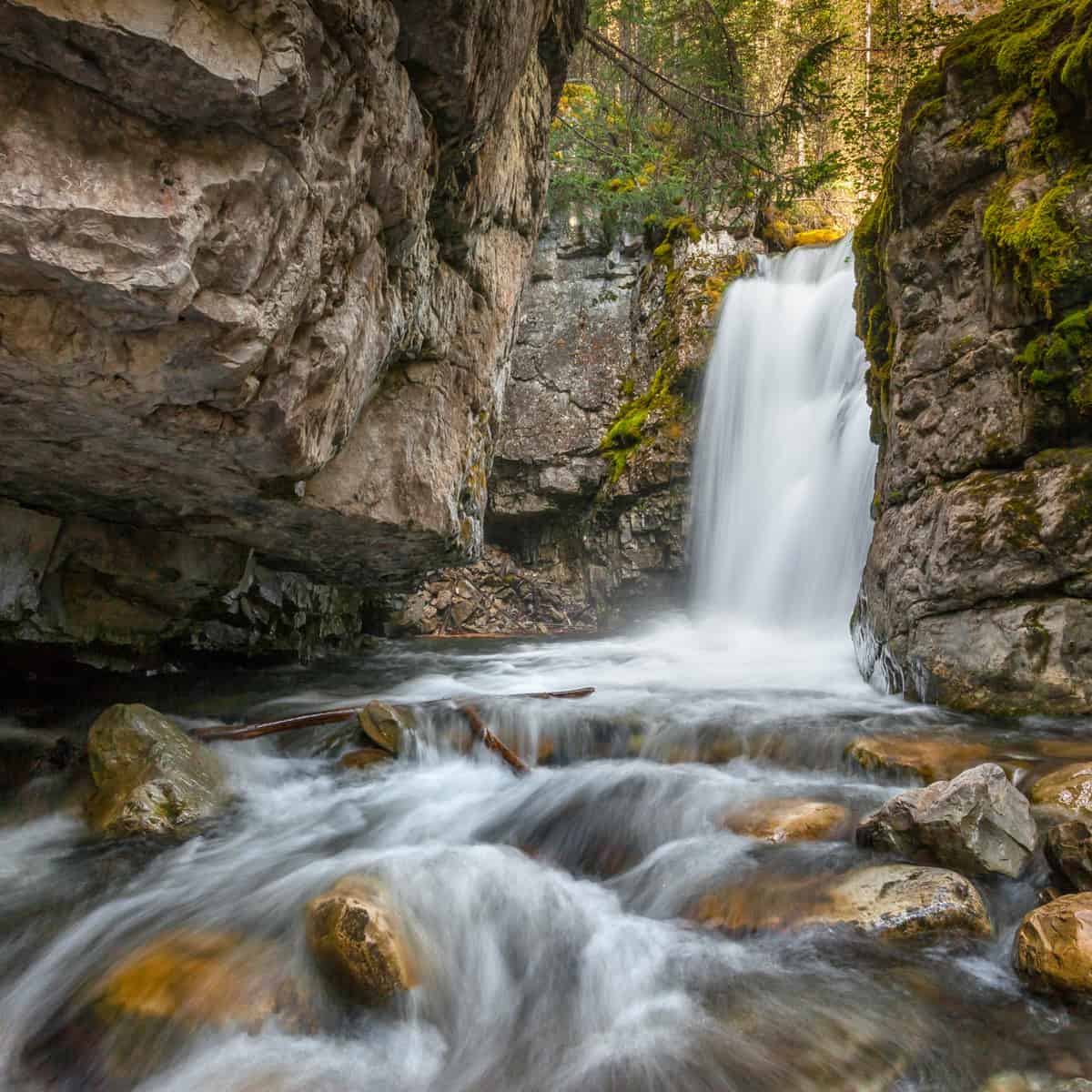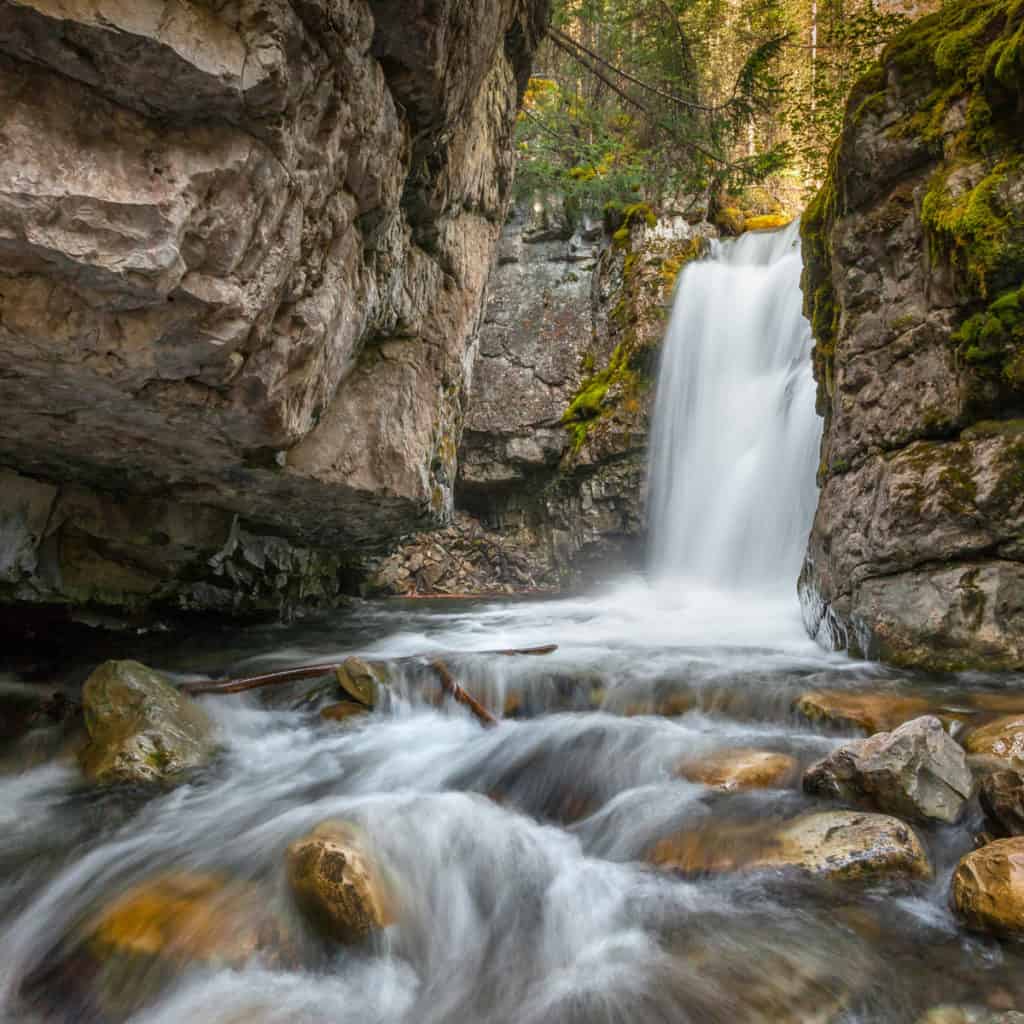 With plenty of parking and a well-maintained path throughout, the Troll Falls hike is a popular pick for families looking to get some fresh air. The trail goes through a forested area that has an easy path to follow even with a hiking stroller. The path ends at a waterfall that completely ices over in the winter months. In the summer months, the waterfall gives a reprieve from the heat and another viewpoint is available above the waterfall via some stairs with a steep incline, just follow the signs.
Difficulty: Easy
Hiking Time: 1-2 hours
Elevation Gain: 154 m
Distance: 3.4 km
Seasonality: Year-round
Bow River Trail
Walking the Bow River Trail is a great way to experience the Bow Valley, and this path is especially notable due to the well-marked, family-friendly trail, similar to Grassi Lakes in that it is also stroller friendly. The Bow River Trail is an out-and-back route spanning 6.1 km throughout the Bow Valley. Partially paved, it follows the Bow River for a time and gives hikers a wonderful walk along the water.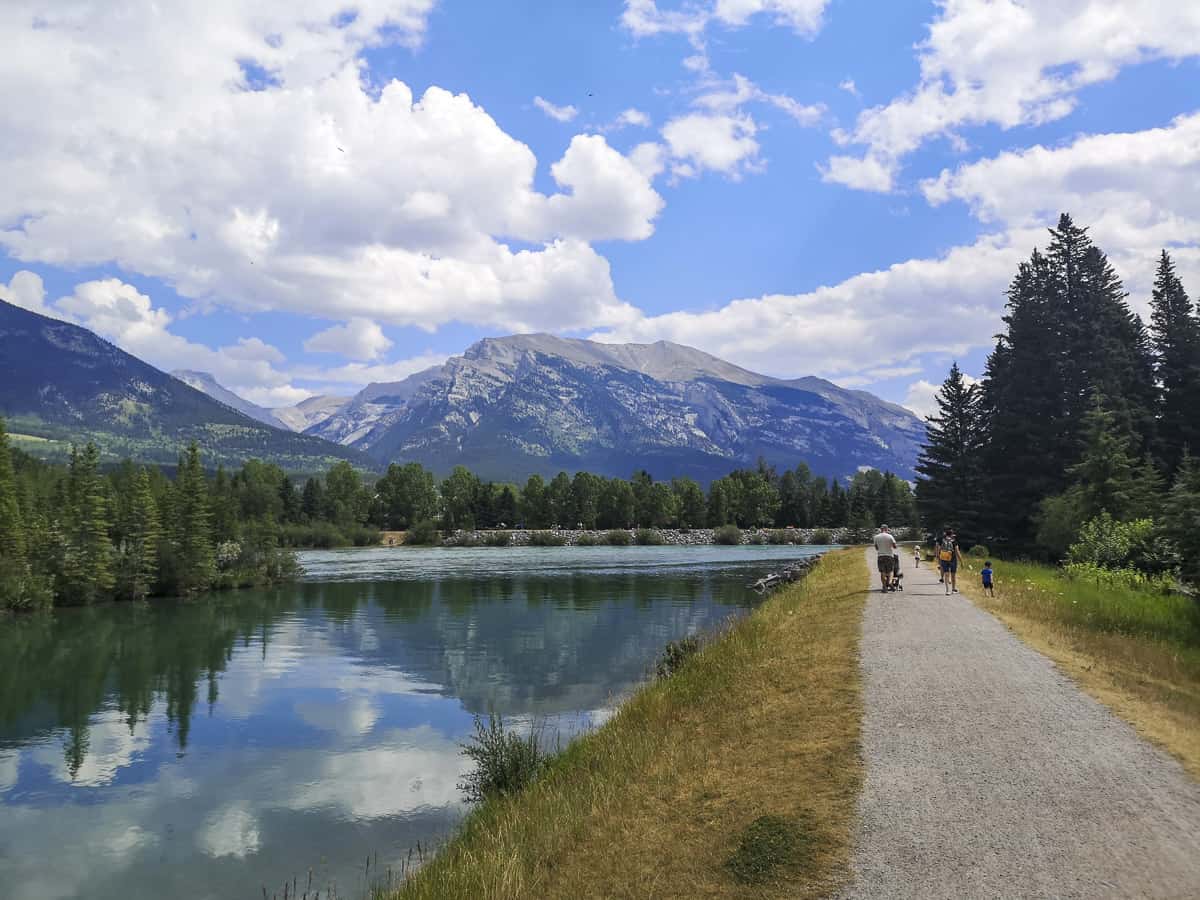 The trail deviates from the Bow River for a few kilometres and turns into a flat forested walk that occasionally offers nice views of the Three Sisters. The Bow River Trail also passes through a meadow and by a unique milky white lake before you reach your final destination. The view at the end is arguably the best to be found of the Bow Valley, with the river flowing to the north flanked by the Canadian Rockies on either side. Tip: due to the close proximity to water throughout the trail, it's a good idea to bring bug spray!
Difficulty: Easy
Hiking Time: 2.5-3 hours
Elevation Gain: 131 m
Distance: 6.1 km
Seasonality: Best used from April until September
Moderate Canmore Hikes
Ha Ling Peak
Strap on your hiking gear and let's really get moving in the Canadian Rockies! Ha Ling is probably the most well-known and most popular hike of all the Canmore hikes and at a 7.2 km return trip, it is easily conquered in under 5 hours. Ha Ling has an elevation gain of over 800 meters to really get the blood pumping. If you are ready for this challenge (and you should be as it also made our list of top Alberta hikes!), do not forget to bring proper equipment (we recommend hiking poles), and dress in layers since the top can get very cold in summer and is prone to high winds.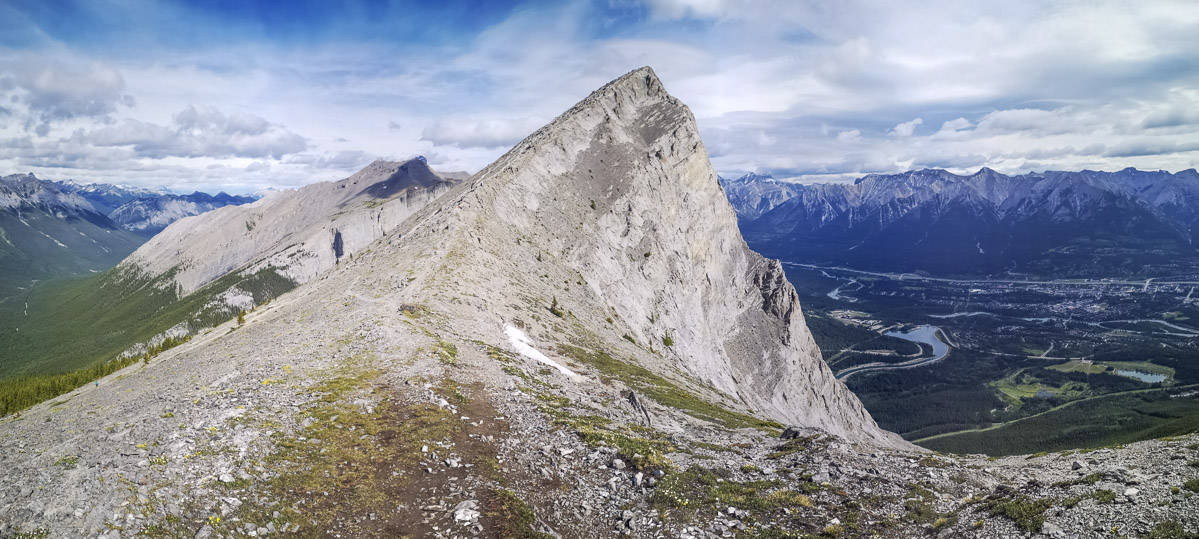 The trail starts off with a series of switchbacks through the forest, and the views open up when the treeline ebbs away. Two large sets of stairs have been added to help hikers reach the saddle. You can stop here for the view or keep going to the mountain peak. Take a breath once you reach the summit and take in the remarkable 360-degree views!
Difficulty: Moderate
Hiking Time: 3-4 hours
Elevation Gain: 748 m
Distance: 7.2 km
Seasonality: Best hiked in summer and fall
Miners Peak
A slightly easier alternative to Ha Ling Peak, Miners Peak is an 8.2 km out-and-back trail that is rated as moderate. Miners Peak actually begins on the same trail as Ha Ling Peak and follows the same route until the saddle. At this point, instead of turning left to head up to Ha Ling Peak, turn right to summit Miners Peak instead.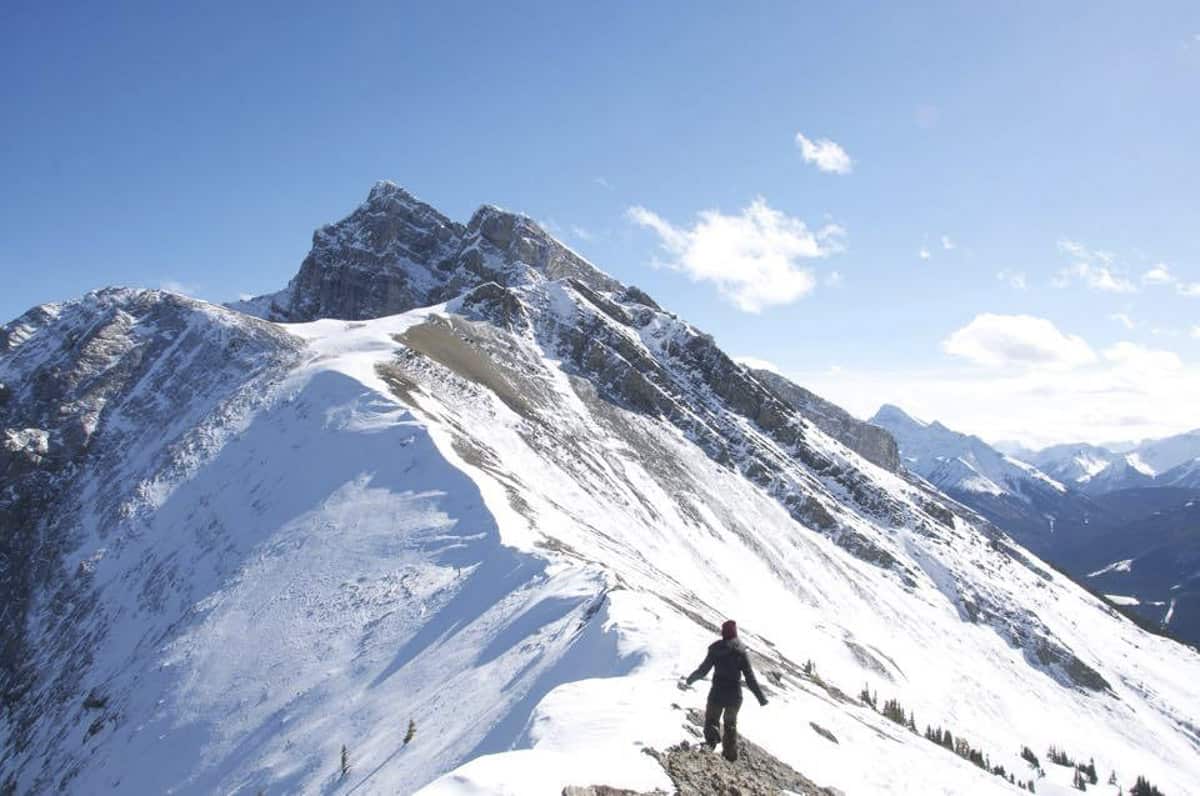 With a more established trail and less elevation gain, Miners Peak is a great choice for those who are tired upon reaching the Ha Ling Peak saddle but can still get the accomplished feeling of scaling a mountain peak! Take some time at the top to soak in the stellar view of Canmore and the Canadian Rockies before turning around to go back down.
Difficulty: Moderate
Hiking Time: 3-5 hours
Elevation Gain: 872 m
Distance: 8.2 km
Seasonality: Best used from May until October
Lady Macdonald Tea House
For an 8 km trail, this Canmore hike on the edge of Bow Valley Provincial Park packs a swift elevation punch with an elevation gain of nearly 1,000 m! The majority of the Lady Mac hike is spent in the forest, but it opens up and at the top is a large platform that looks like a helipad but was initially intended as a mountaintop tea house that never came to be.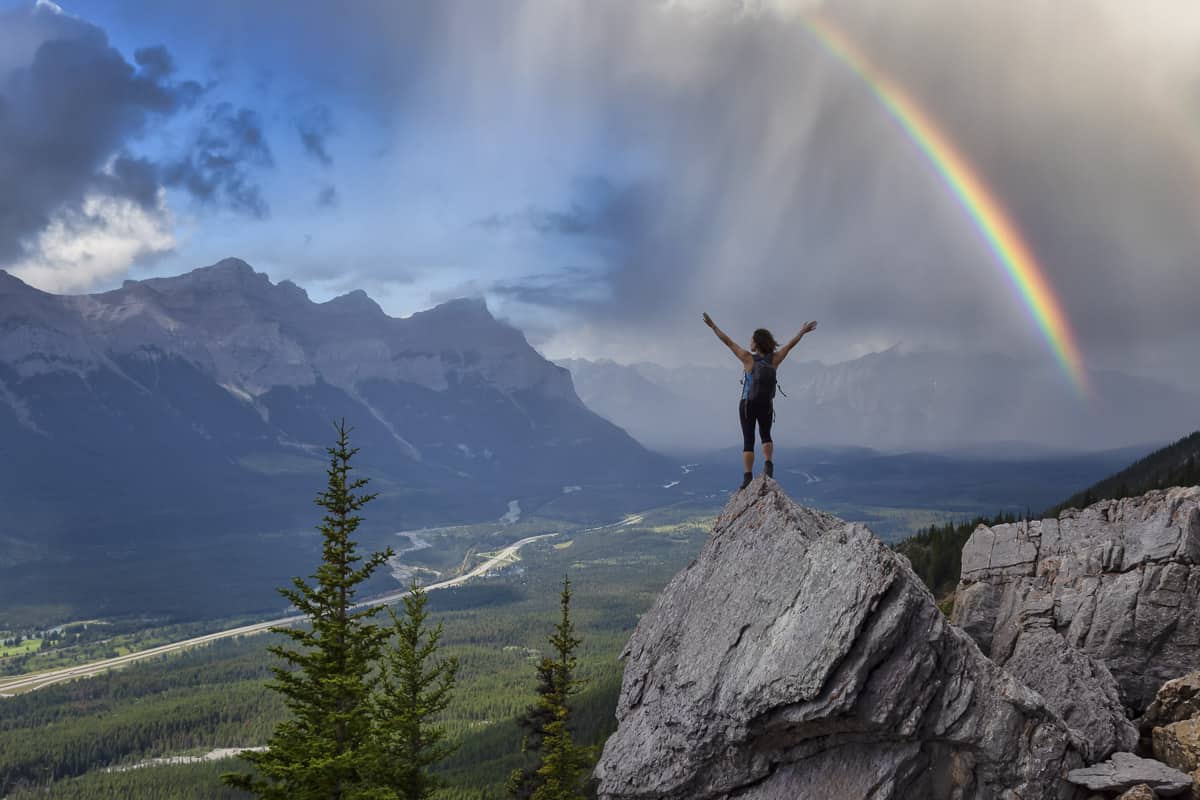 The "tea house" can be the ending point, or more experienced hikers may enjoy continuing along to the true summit. Exposed scrambling to a very narrow ridge (read: the ridge is 1 m wide with a sheer drop on both sides) will bring you to some absolutely unreal views and hopefully also help you face your fear of heights, or help determine if you have one in the first place. **Note that it is currently closed for construction.
Difficulty: Moderate
Hiking Time: 1.5-5 hours
Elevation Gain: 976 m
Distance: 7.9 km
Seasonality: Best used from April until November
With the impressive scenery and gorgeous mountain views, Canmore hikes are varied and unique; giving access to a plethora of hiking opportunities for hikers of all levels of skill and age. Whether you visit on a warm sunny day or try out one of the above Canmore hikes in the winter months, you'll be sure to experience a once-in-a-lifetime hike.