Disclaimer: This page may contain affiliate links. Please review our full Terms and Conditions for more information and our Privacy Policy. Note that any pricing, operating hours, or other such information provided below may have changed since initial publication.
Compiled by the Road Trip Alberta team
Last updated on August 9, 2023
There are many amazing things to do in Calgary, plus other fantastic other reasons to visit Alberta's biggest city. Food is definitely one of them, especially with a number of fantastic spots earning their rank in the 'top 100 restaurants list' in Canada. And the current breakfast food scene in Calgary is nothing to balk at either.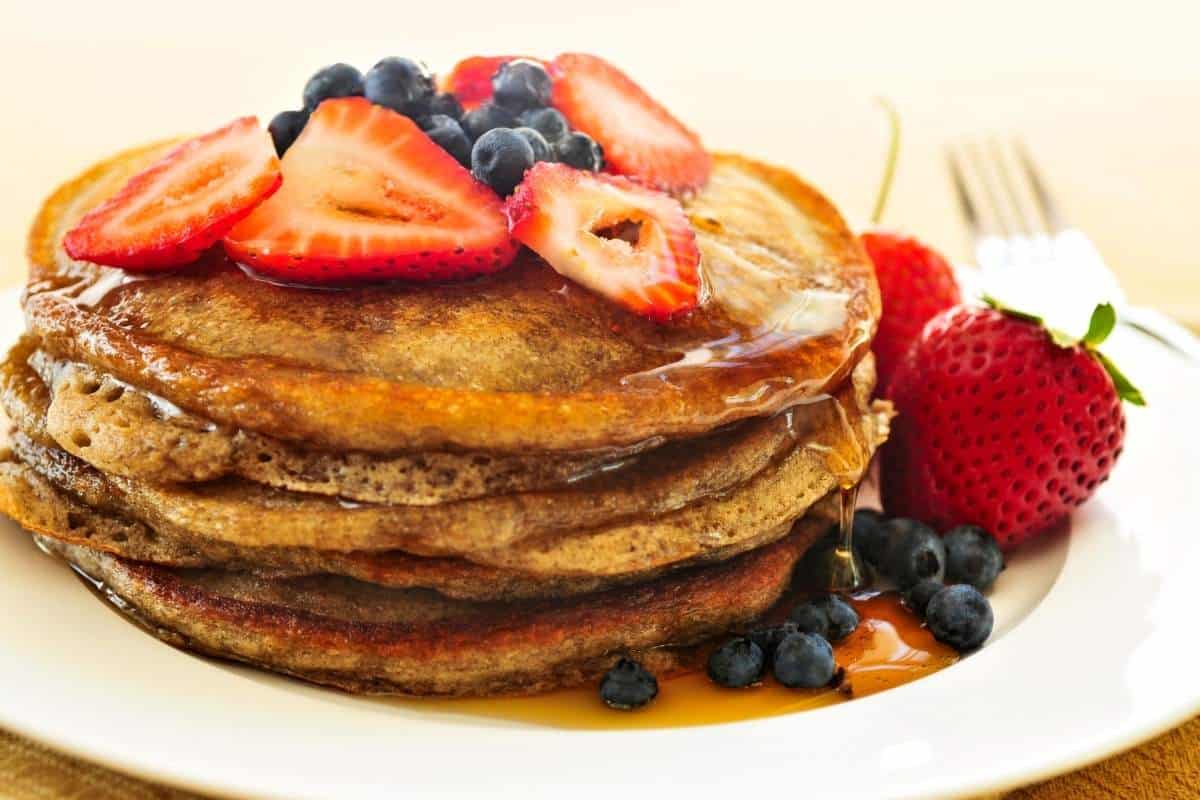 To make the most of any weekend visit, be sure to add "devour a delicious brunch in Calgary" to your to-do list. Want some help finding the best place to indulge? Read on to find our picks for where to go.
Where to Brunch in Calgary
Bro'kin Yolk
Locations: #130, 12580 Symons Valley Rd NW / #1410 7 Mahogany Plaza SE / 5691 Signal Hill Centre SW
With three Calgary locations, Bro'kin Yolk is one of the city's best brunch spots. Serving farm-to-table, locally sourced food, expect organic, free-range ingredients in every single dish. Choose from classics like chicken and waffles, a farmer's breakfast, one of their many eggs benny selections, or go for something you don't find on many menus in Calgary: the Fili breakfast bowl with longanisa sausage, the vegetarian Cali poutine, or the Bro's Breakfast, which is a spin on the owners' favourite breakfast growing up.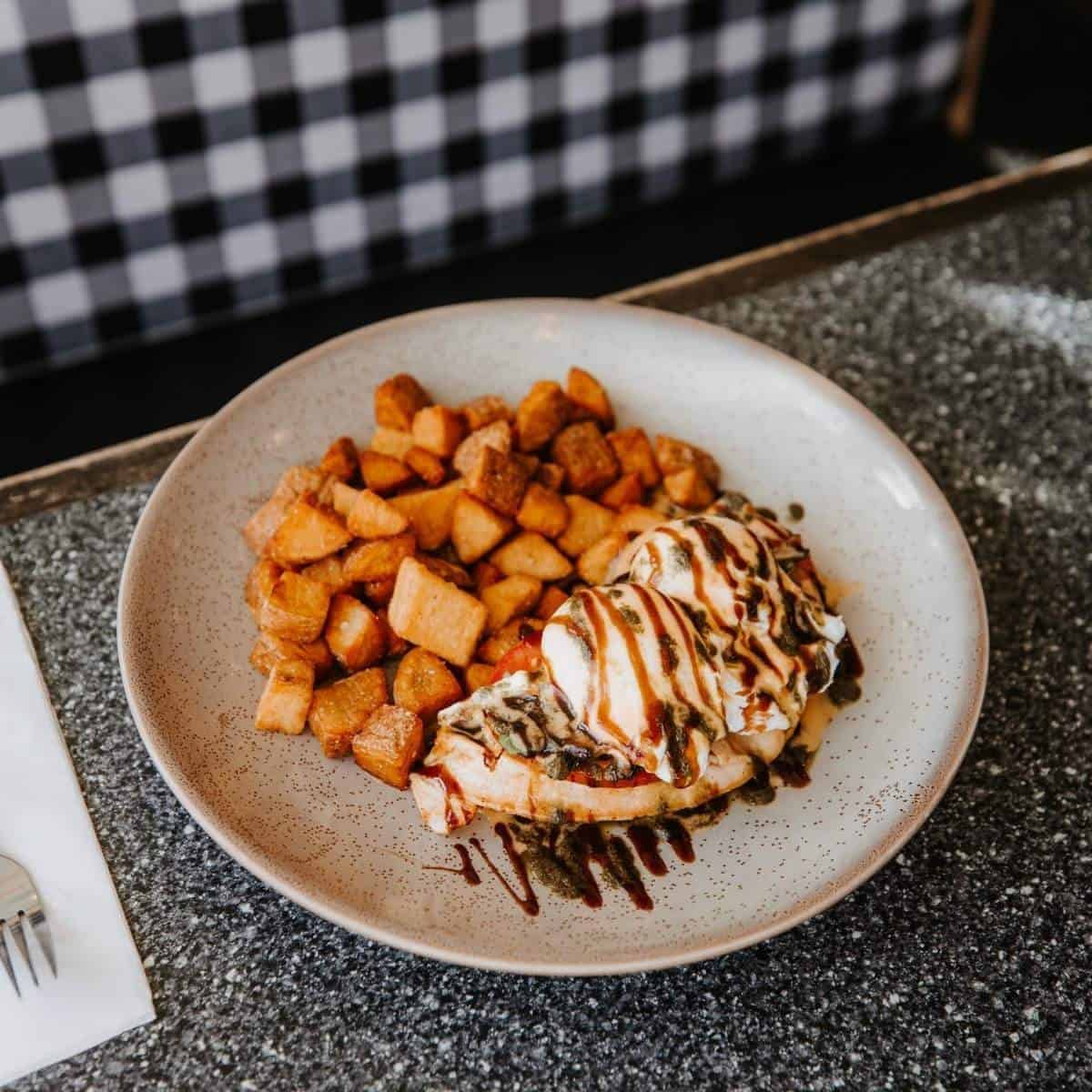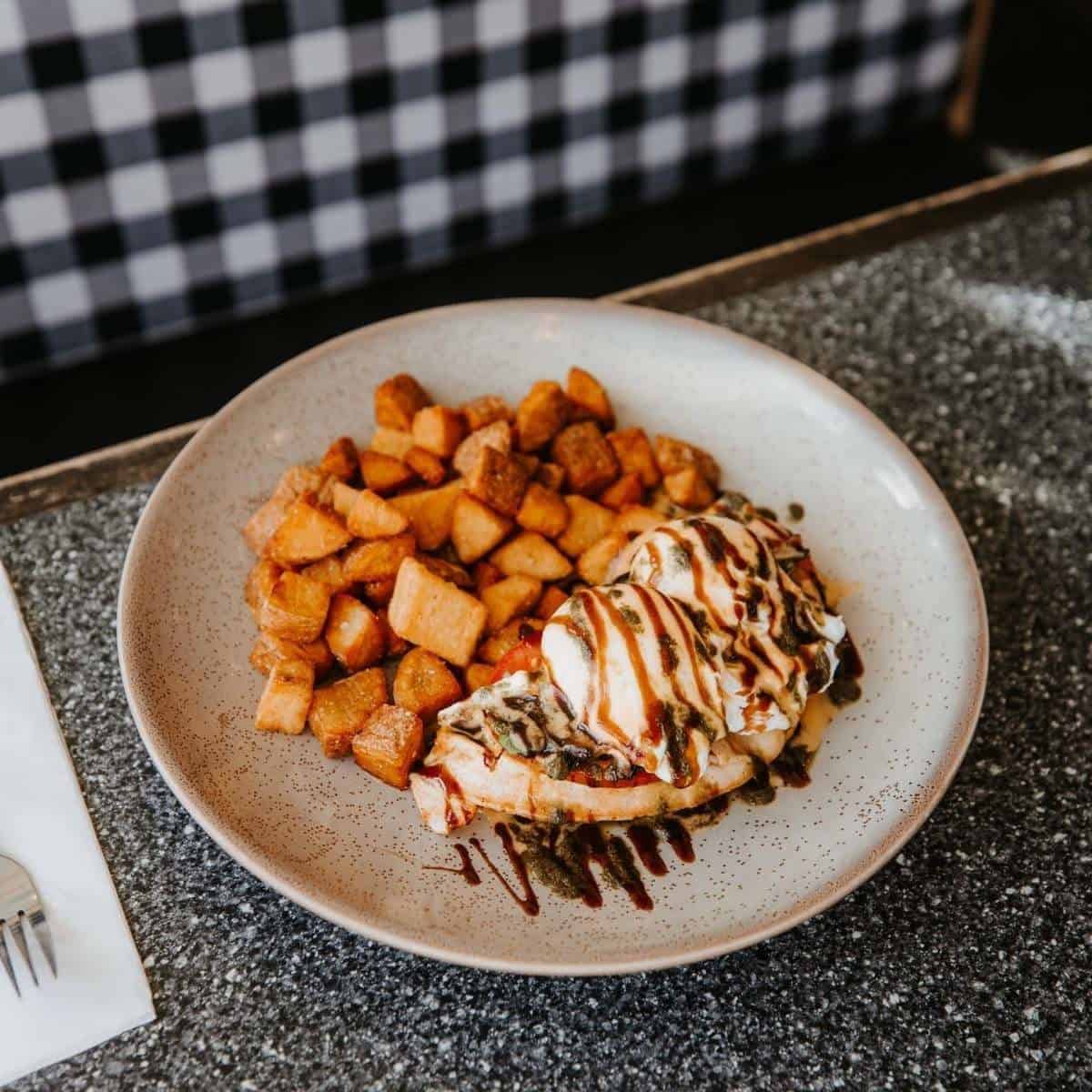 With a warm atmosphere and friendly service at each location, Bro'kin Yolk is sure to become one of your favourite brunch restaurants in Calgary.
The Beltliner
Location: 243 12 Ave SW
Priding itself on its stylish touches and gourmet versions of all of your brunch favourites, The Beltliner is a reimagined diner perfect for catching up with a friend over a breakfast cocktail, a family brunch, or a solo morning with a coffee and a good book (and is our personal fave).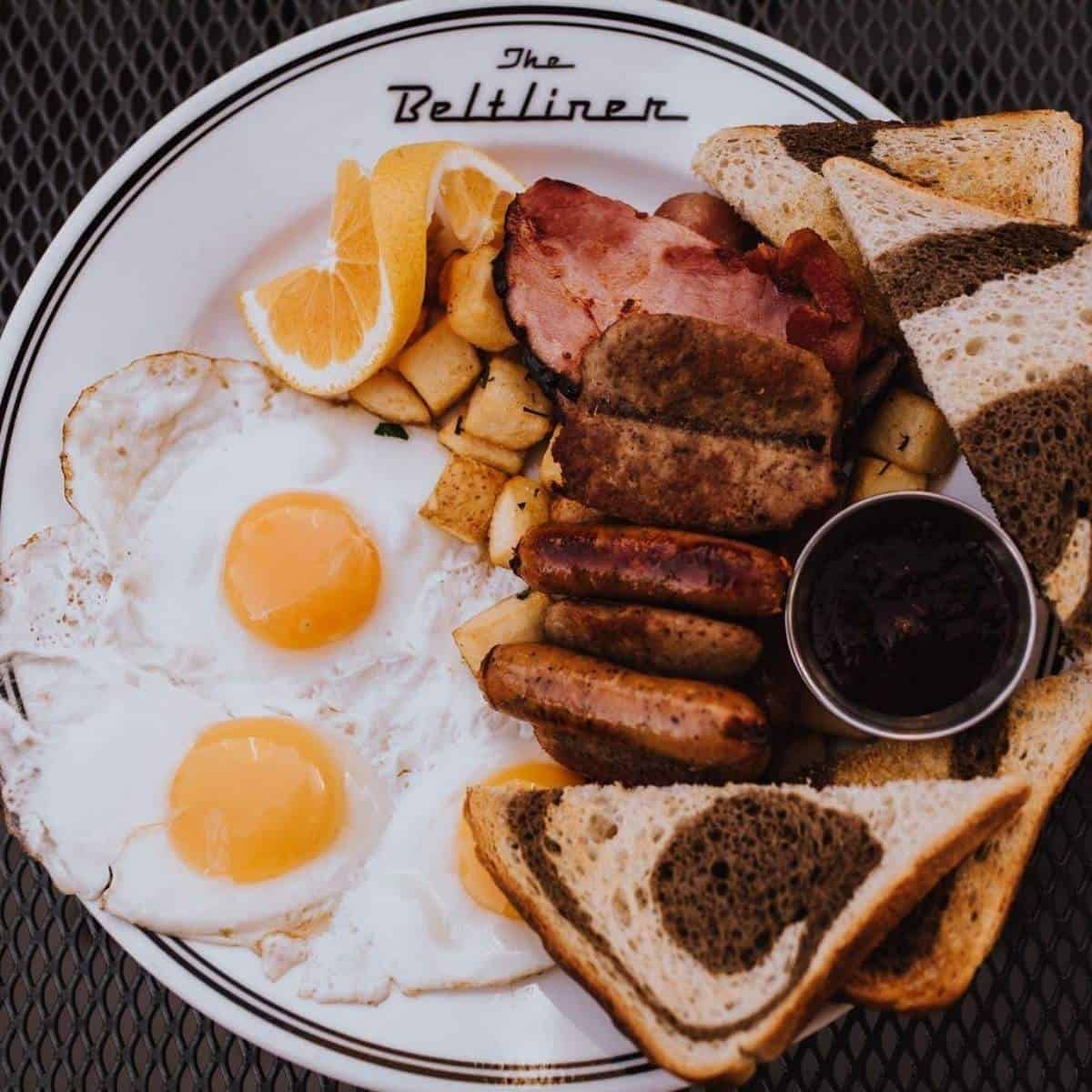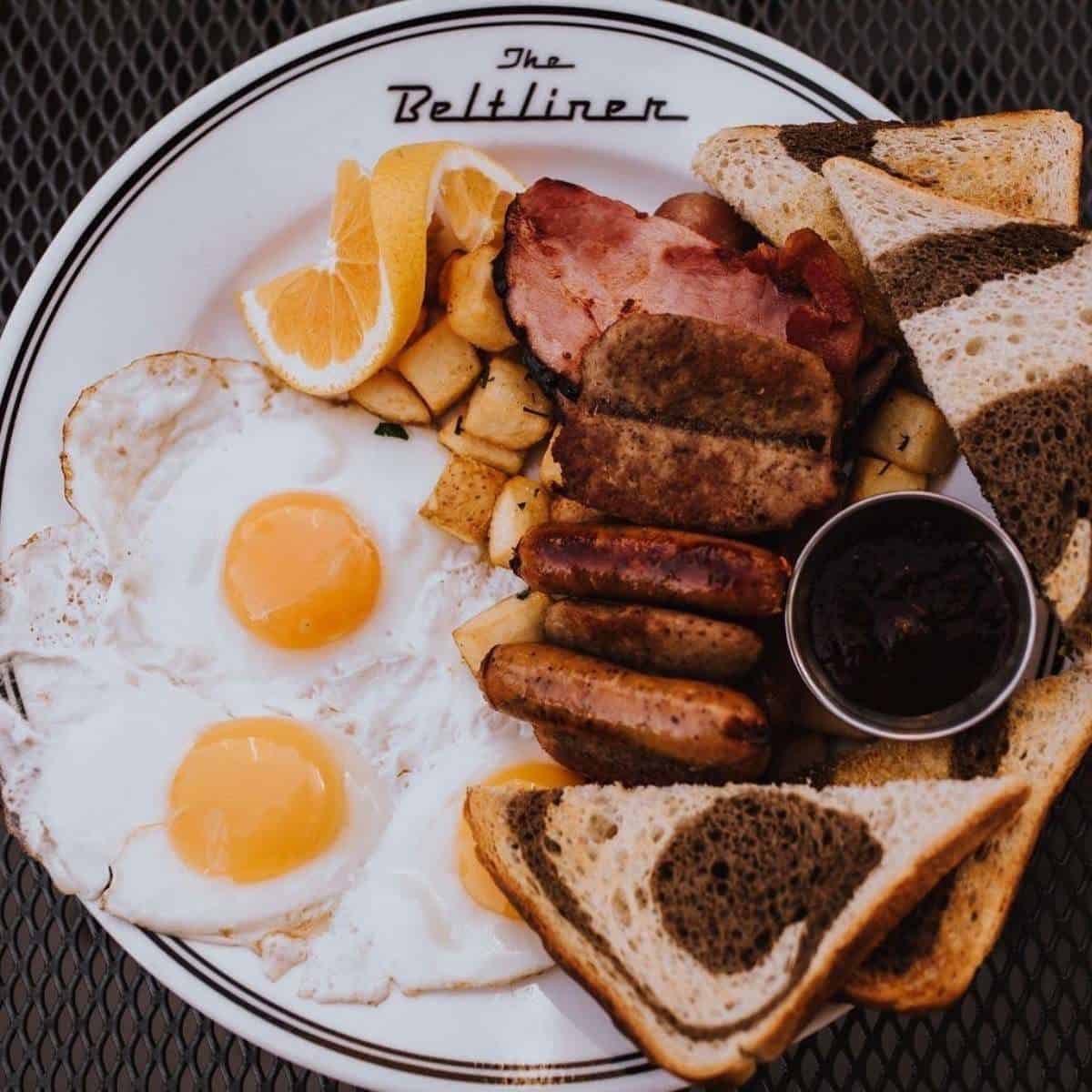 With lots of delicious options on the menu ("eggs", "diner classics", and "health nuts" are just a few of the categories), you can be sure there's something for you no matter what you're in the mood for. Our recommendation: Don't miss the brown butter waffles! With a vow to use seasonal, artisanal, and local ingredients in each dish, the modern decor and cozy feel are bound to impress at the Beltliner.
Yellow Door Bistro
Location: 119 12 Ave SW
This contemporary spot, found inside the Hotel Arts, is a new hot spot to eat brunch in Calgary. Head to the Yellow Door Bistro for brunch on Saturdays and Sundays, although they are also open for breakfast Monday to Friday from 7 am to 11 am.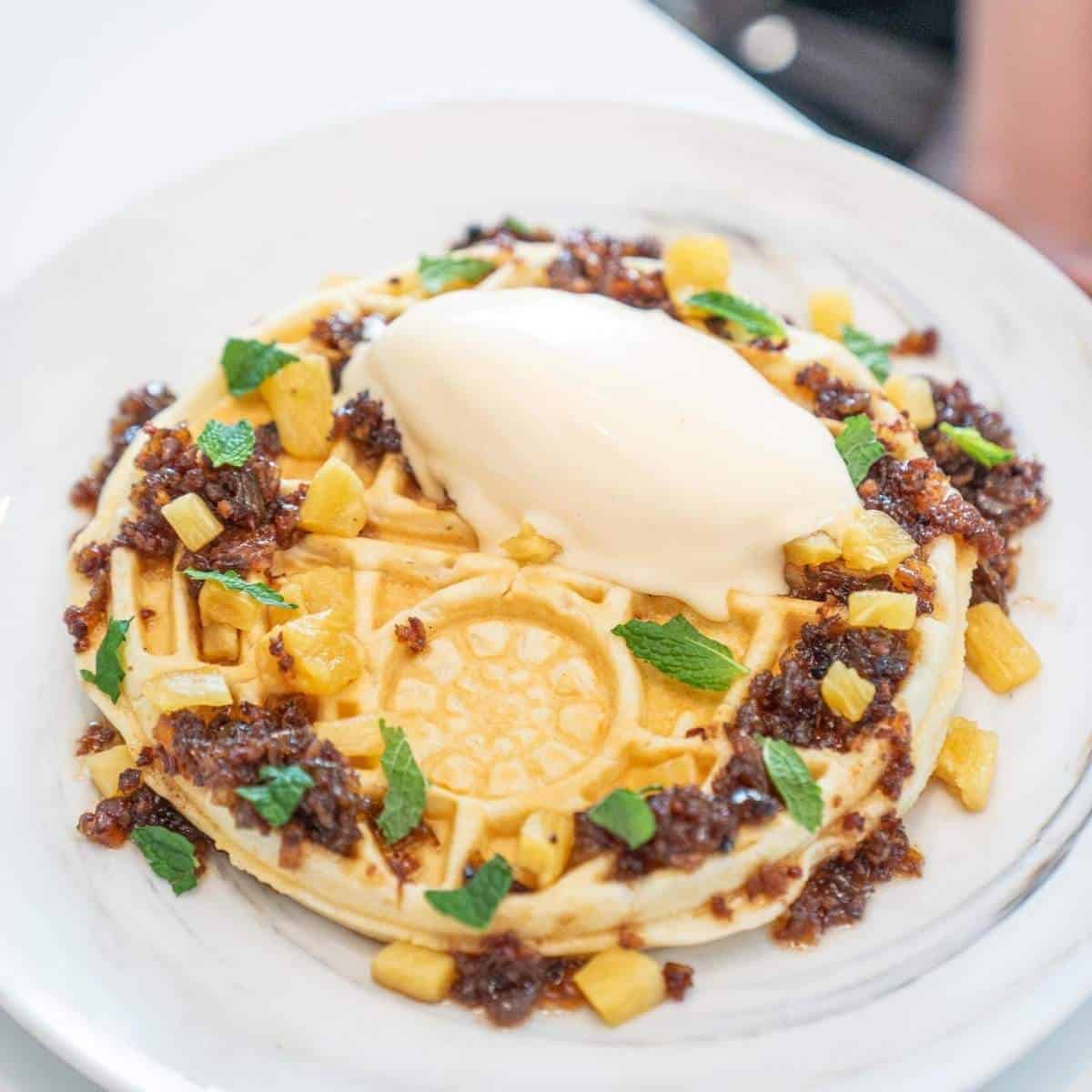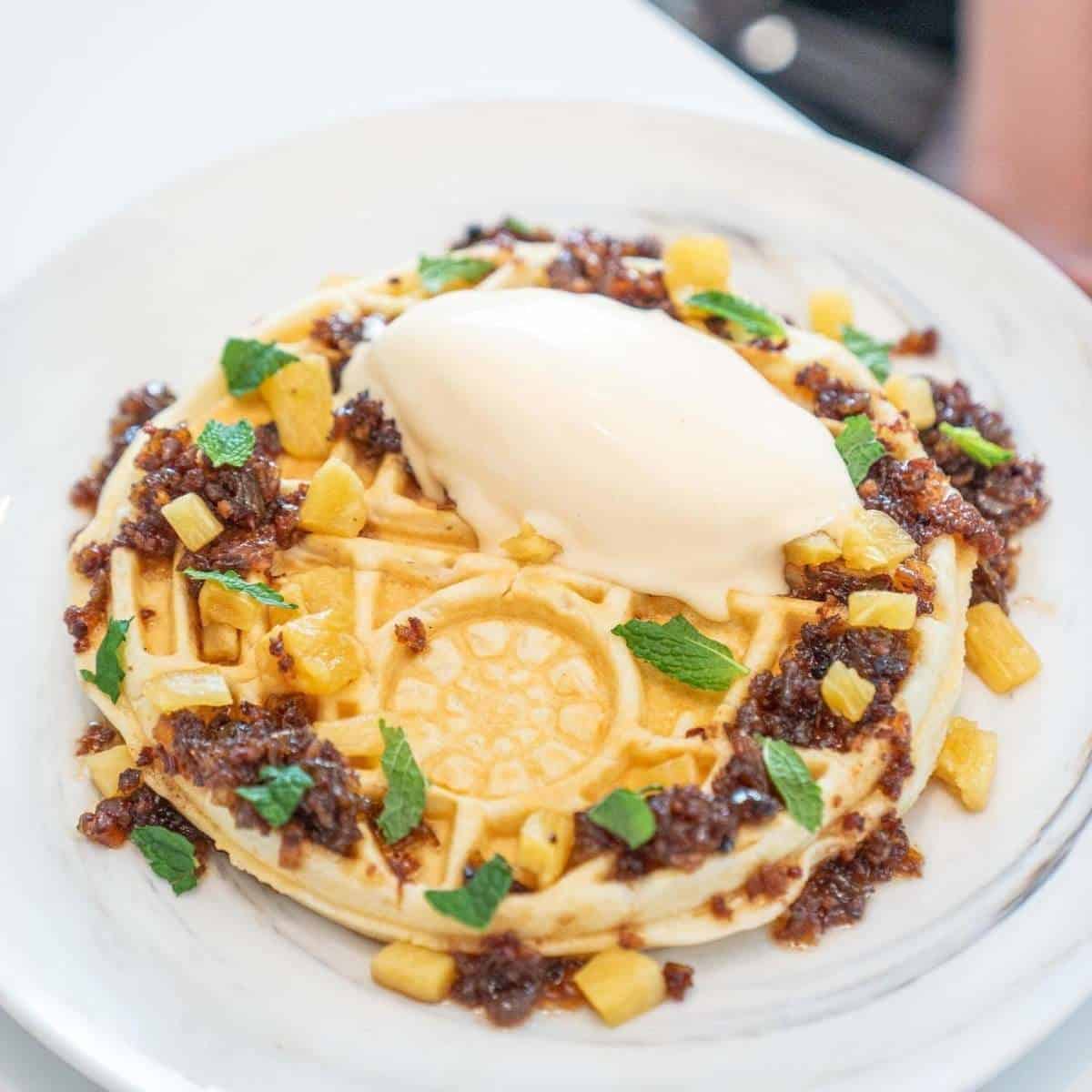 While you can order classics such as omelettes, stuffed French toast, and mimosas a la carte, there's a weekend brunch buffet that has an exceptional selection of simple yet inventive dishes. The fantastic service and a cool, modern vibe, are more reasons you might find yourself craving brunch at the Yellow Door Bistro again and again.
River Café
Location: 25 Prince's Island Park SW
Found in Prince's Island Park, River Café is a long-time staple in the city and an excellent choice for brunch in Calgary with a view. Open for Saturday and Sunday brunch, this upscale spot has a rustic charm and delicious food to boot.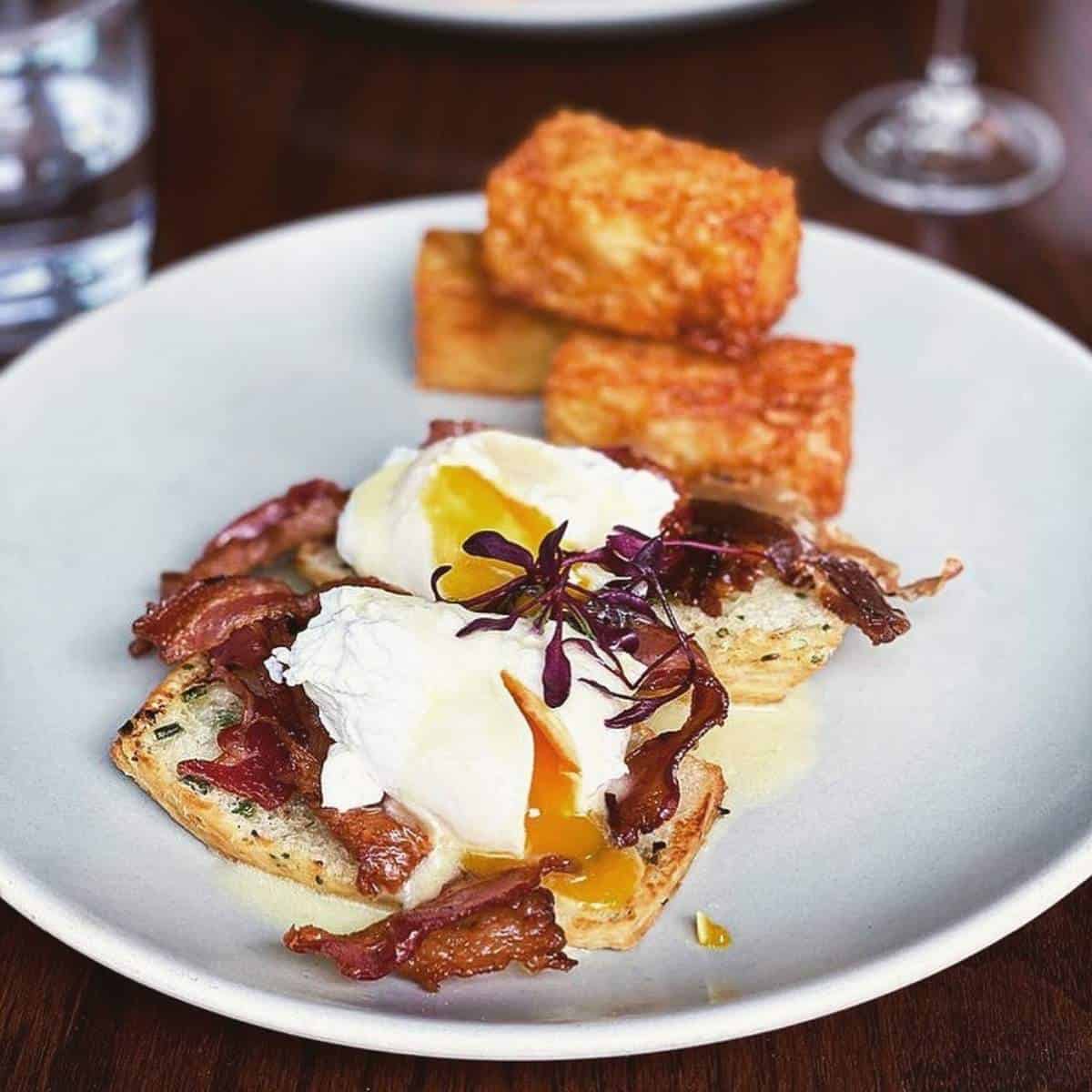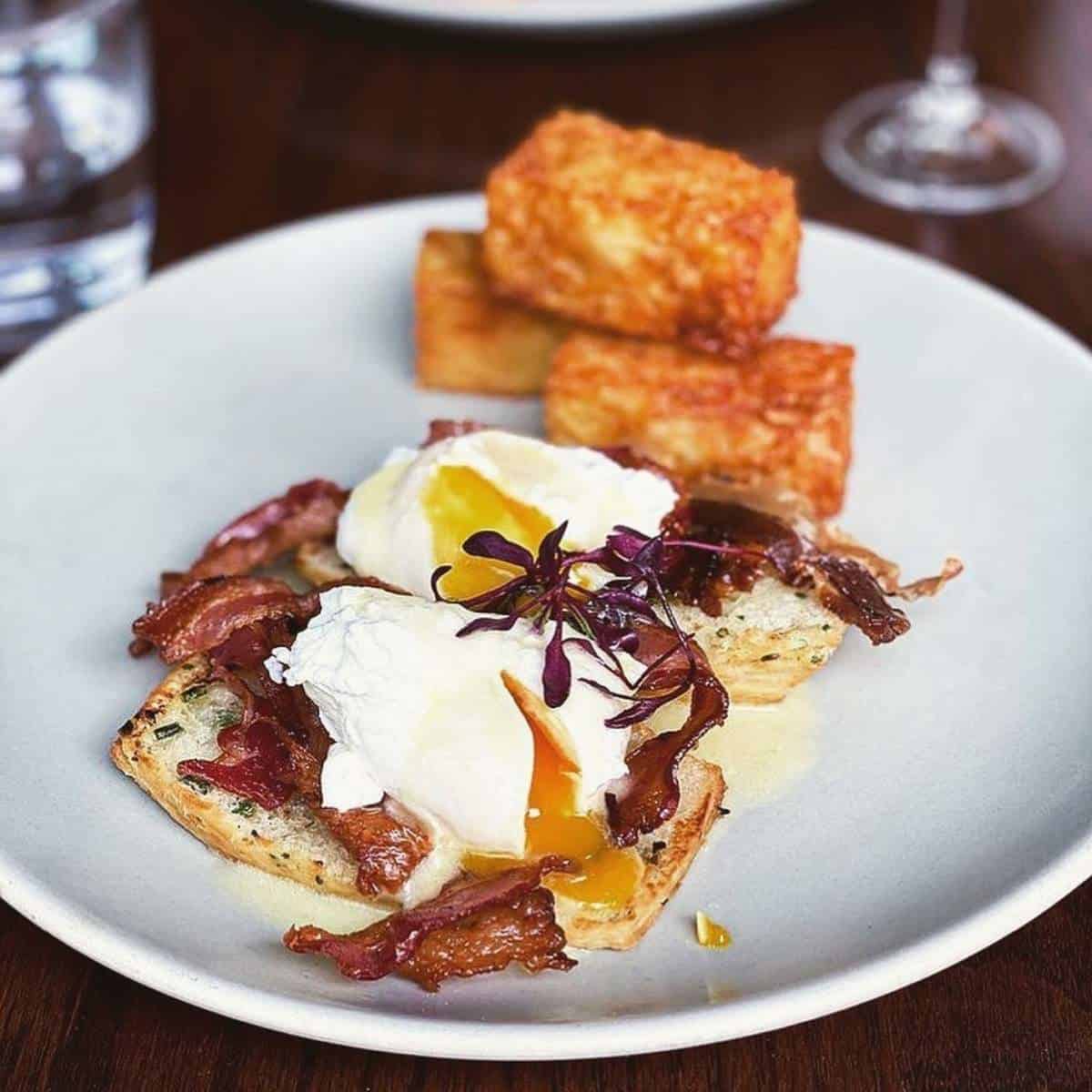 The beautiful setting and exceptional service complement the menu perfectly; choose from seasonal dishes that include only the freshest and highest-quality ingredients. Recent favourites have included the Haida Gwaii Halibut Cakes, the Croque Madame, or the scrumptious Buttermilk Pancakes. Perfect for special occasions, the River Café brunch is sure to be a meal you remember.
Phil's on 11th
Location: 1239 11 Ave SW
Open at 6 am every day of the week, Phil's on 11th is a staple in the Calgary culinary scene. With a history that dates back to 1956, the emphasis has always been on serving excellent food with efficient service.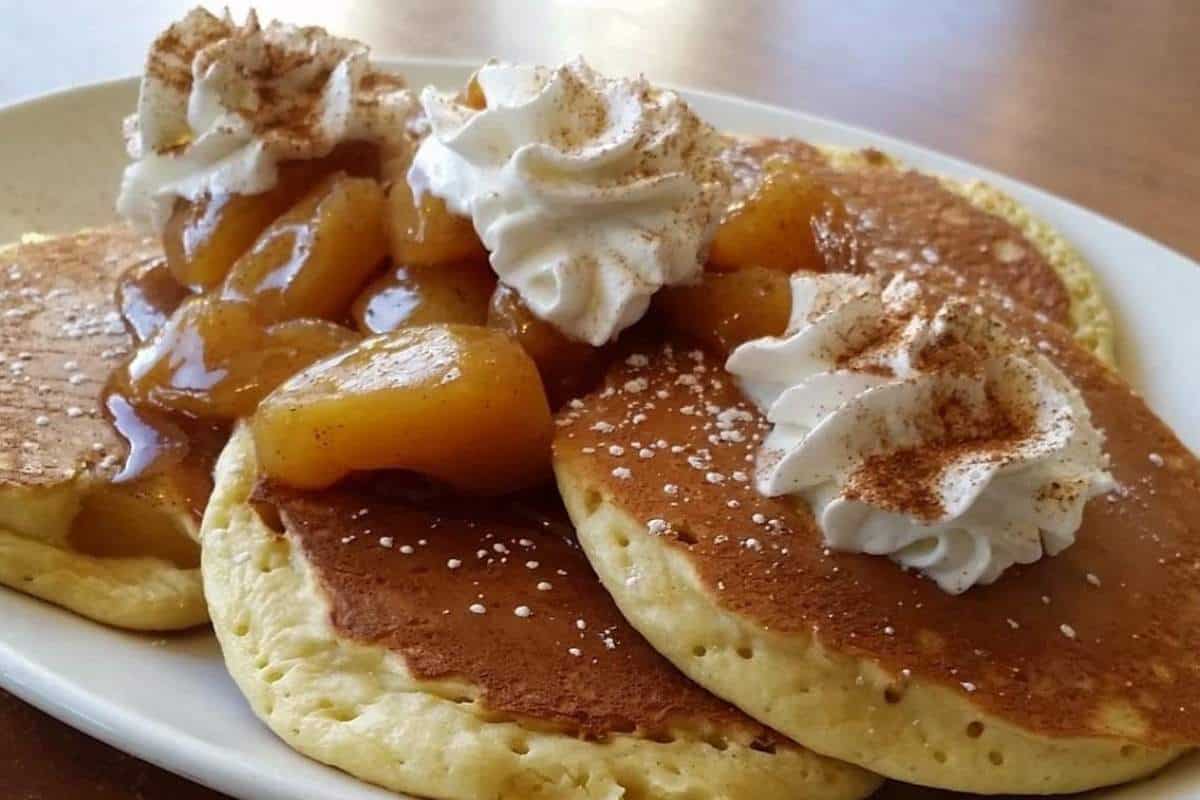 There are diner classics like pancakes and two egg breakfasts, and also a healthy mix of more modern brunch choices; choose from the tasty smoked salmon Benedict, breakfast quesadilla, or the hearty hangover poutine. If you're looking for a great brunch at a great price, this is your place.
Vendome
Location: 940 2 Ave NW
This trendy spot is the perfect addition to the list of brunch spots in downtown Calgary. With over a decade in the business, you know the food is going to be top-notch! Make your way to Vendome for a daily brunch that has brought joy to the Sunnyside community for many years; the berry stuffed French toast, buttermilk waffles, or any of the breakfast platters, bowls, or eggs benny are to die for.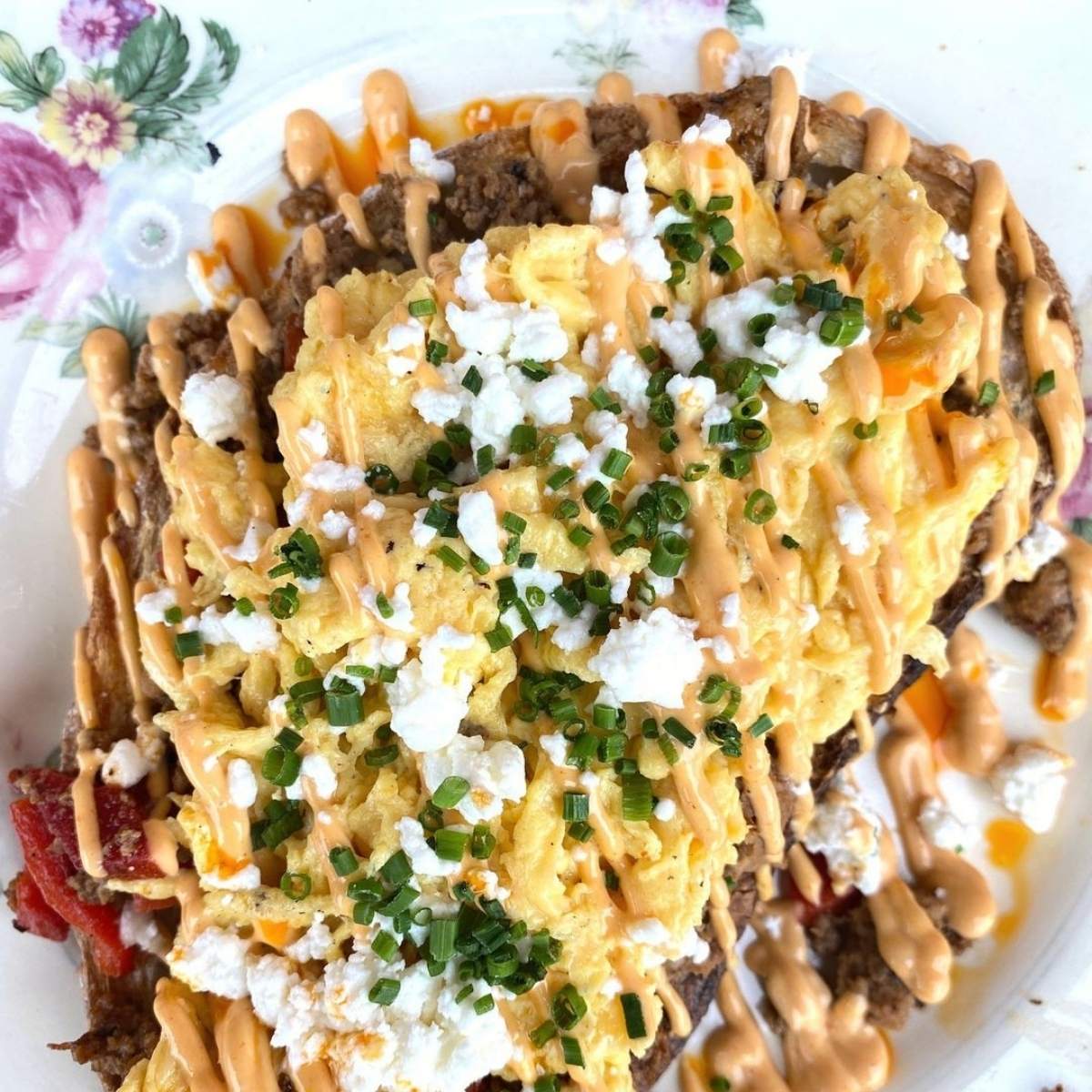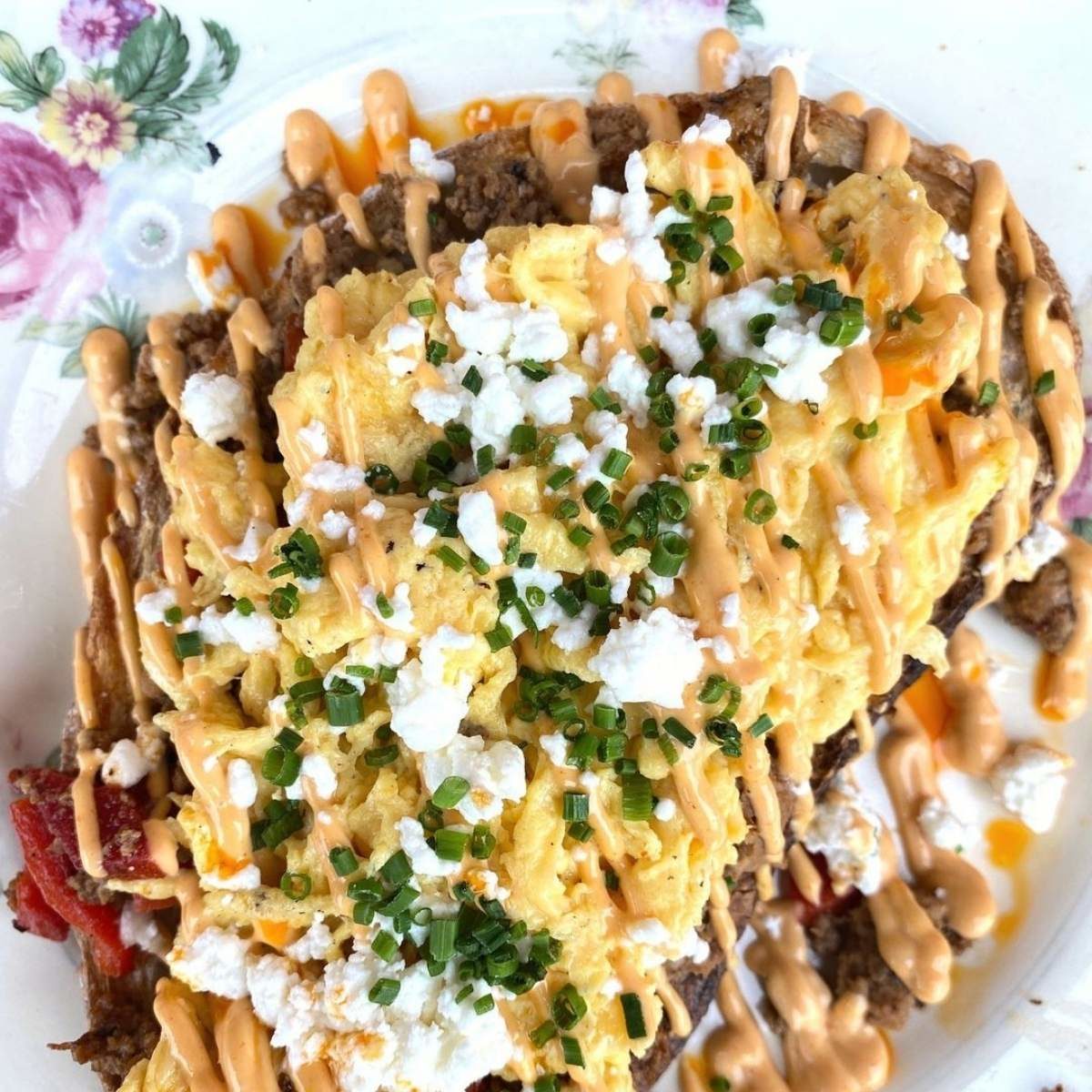 Any place that offers choices like truffle mushroom béchamel or confit garlic cream in their dishes deserves a visit in our eyes. Relaxed, homey, yet serving the best of the best when it comes to their menu, Vendome is one of our favourite picks for places to eat brunch in Calgary.
Donna Mac
Location: 1002 9 St SW
Equal parts fresh and indulgent, Donna Mac is a fun, community-based spot that serves up a mean weekend brunch in Alberta's biggest city. When we think of Donna Mac, we think of bright colours – both in the decor and the food – and an innovative menu that we can't wait to make our way through.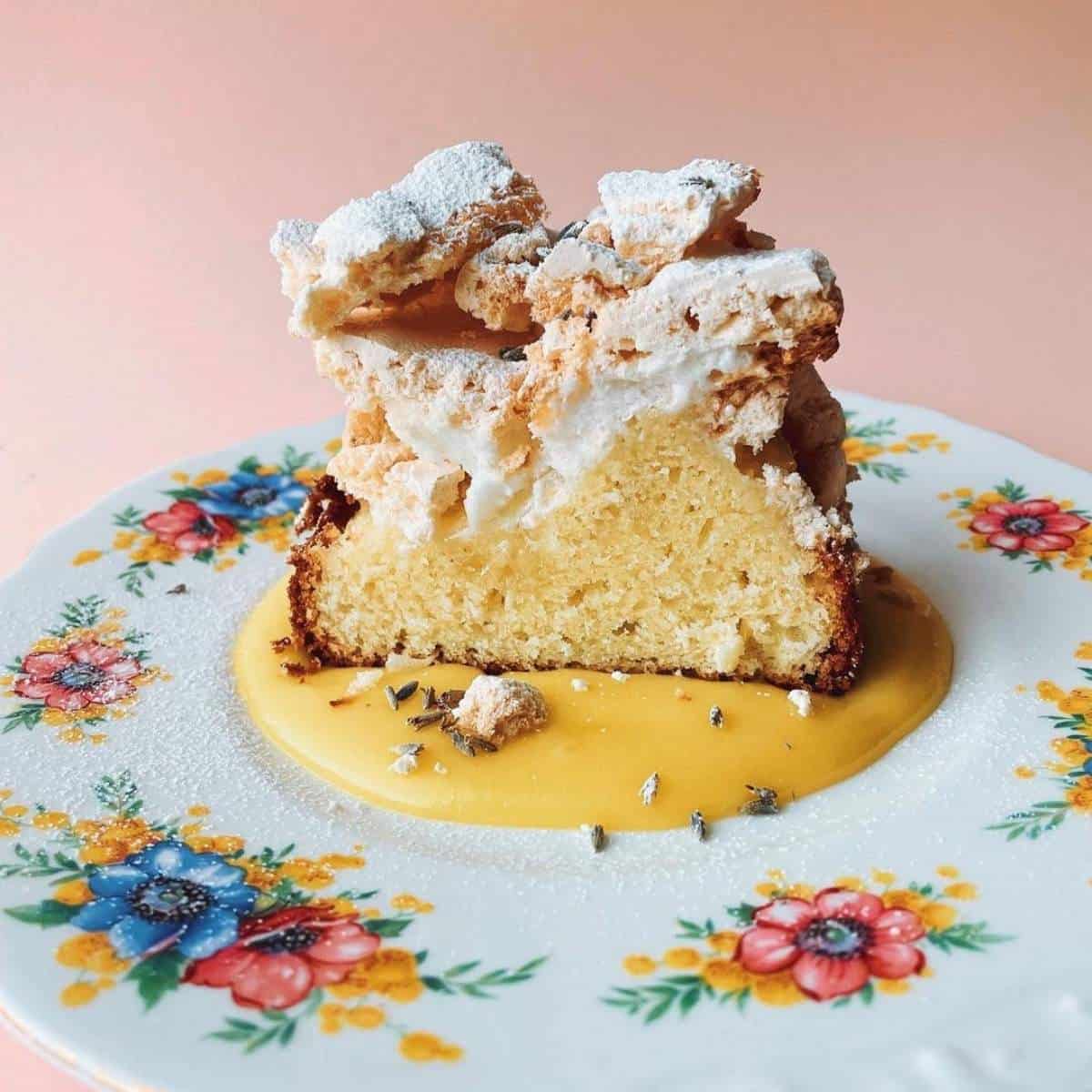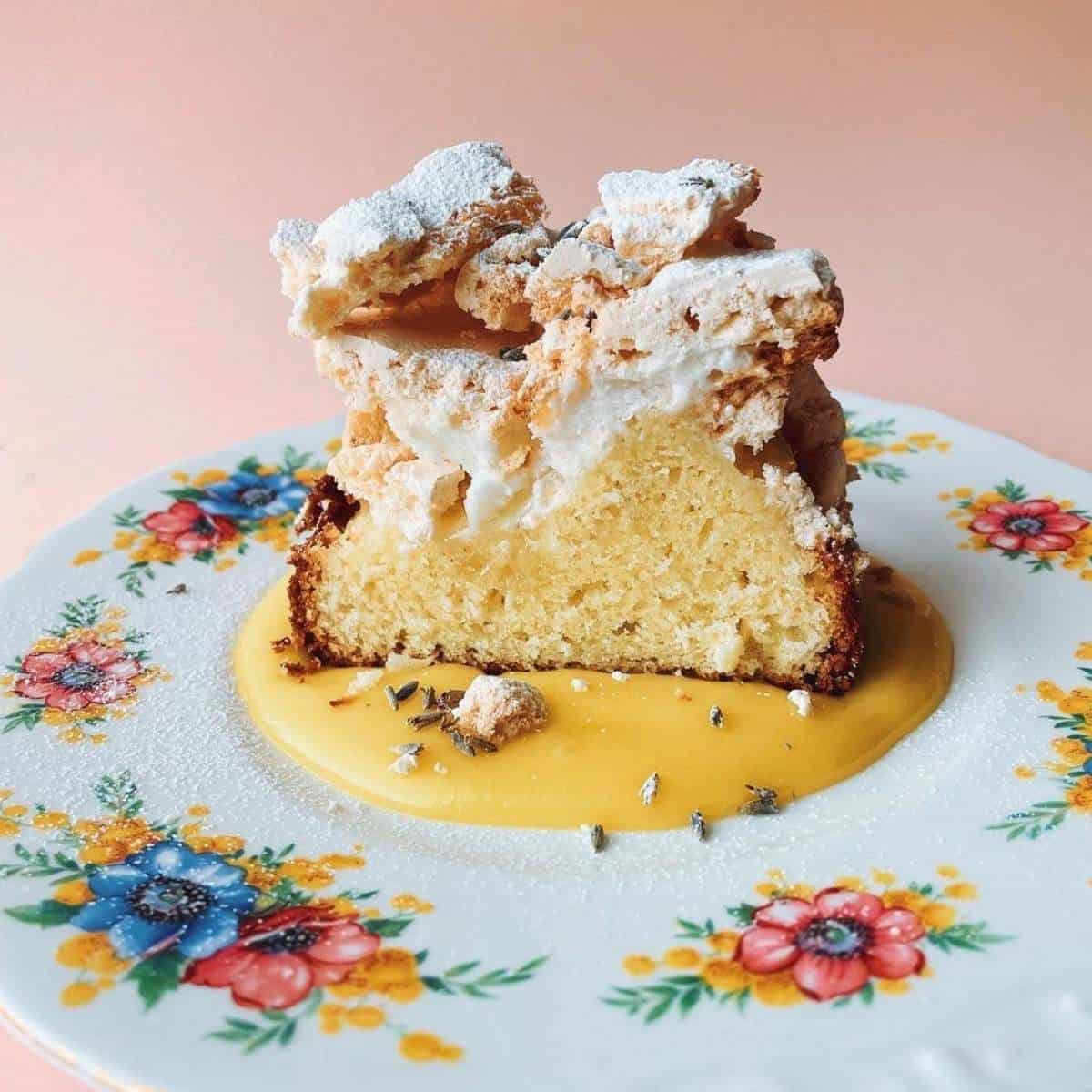 Try the Turkish eggs, the Vietnamese crepe, the Icelandic cod, or the simple yet delicious grilled sourdough with whipped ricotta. No matter what you choose, you're in for a real treat.
CHIX Eggshop
Location: Attached to the ALT Hotel, 624 6 Ave SE
Accessible through the ALT Hotel lobby, CHIX Eggshop is a fantastic spot for brunch whether you're a local or a tourist in downtown Calgary. While they offer in-house dining, the restaurant is also perfect for those on the go; order ahead and pick up your meal at their to-go counter.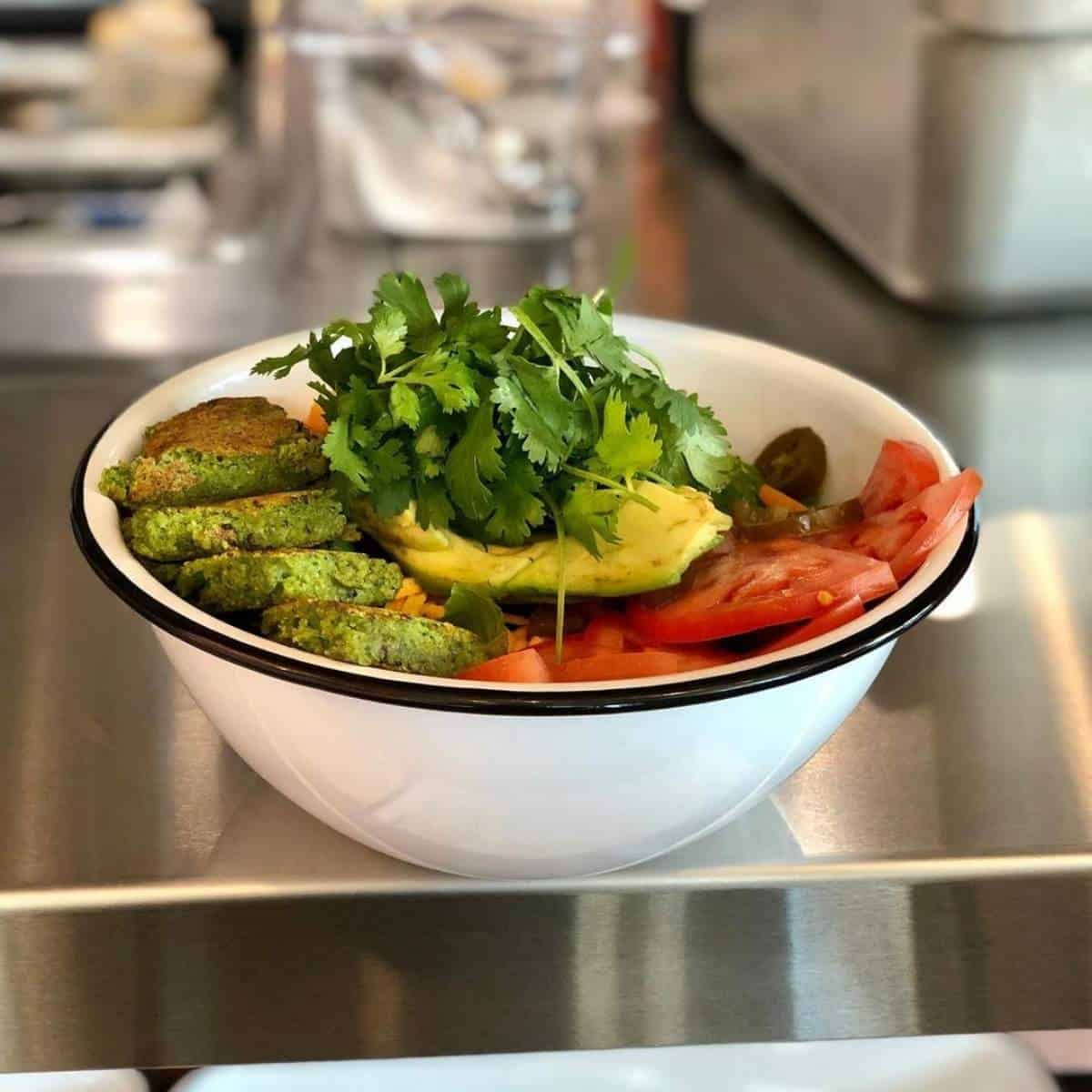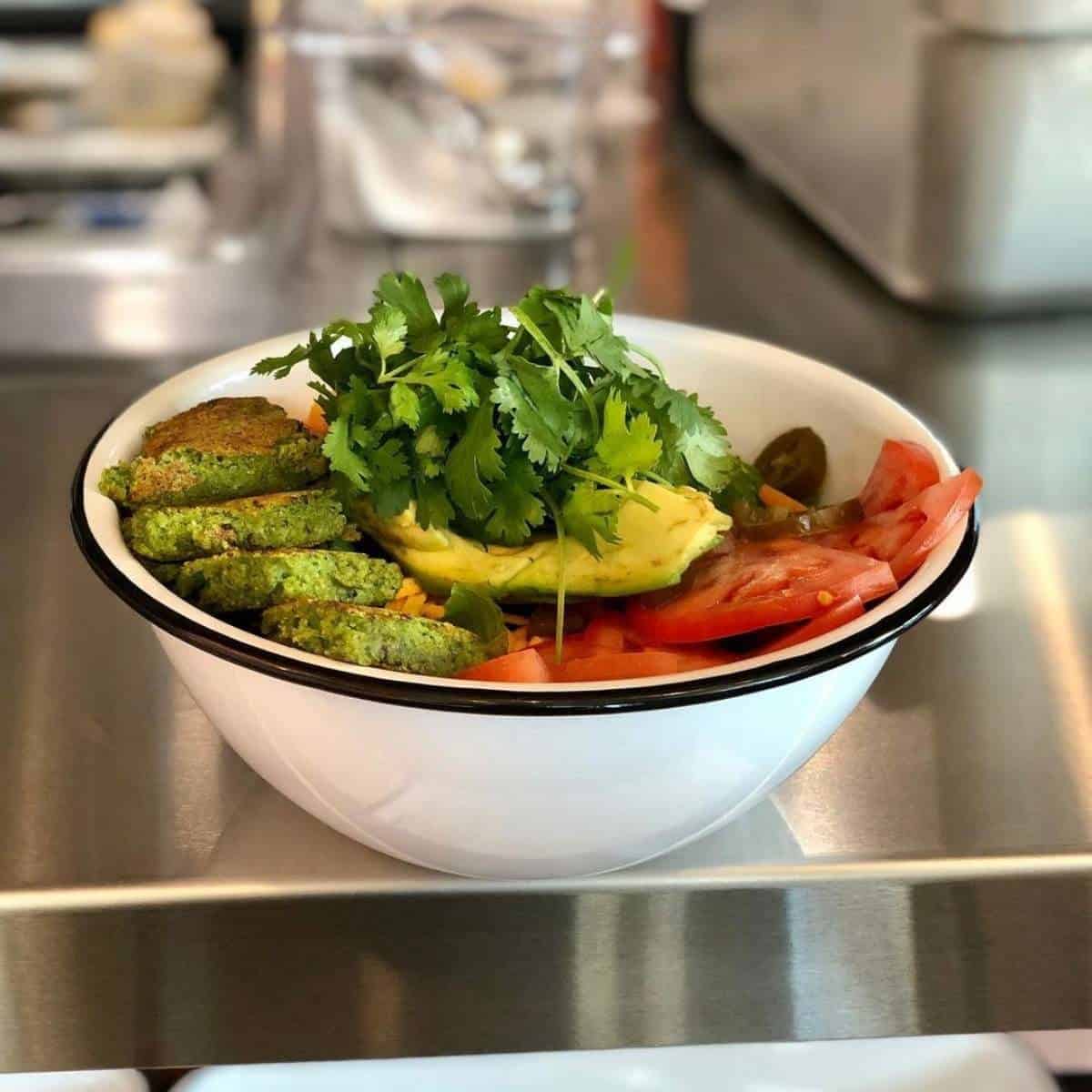 Given the name, it's no surprise that chicken and eggs are the main ingredients at CHIX Eggshop, and their egg sandwiches and fried chicken are some of the best in the city. They also have a small but delicious children's menu. Dining in? Make sure to try one of their fantastic cocktails.
Galaxie Diner
Location: 1413 11 St SW
Billing itself as the best all-day breakfast restaurant in Calgary, Galaxie Diner surely deserves its spot on this list! This fun old-fashioned diner takes you back to the days of retro design and plates piled high with filling food. With a history that goes back to 1996, it has long been a favourite on the Calgary brunch scene, and we imagine it will stay that way for many more years to come.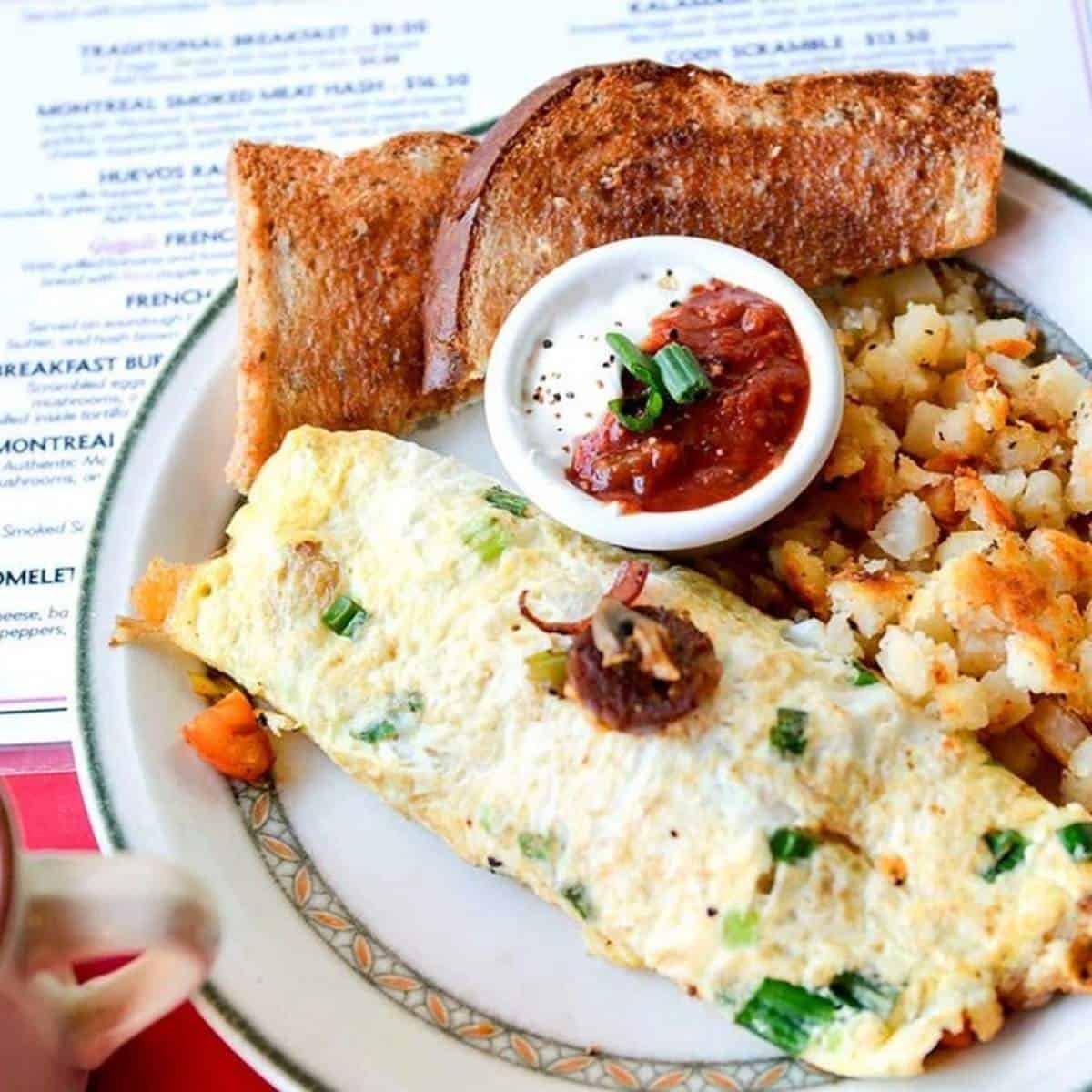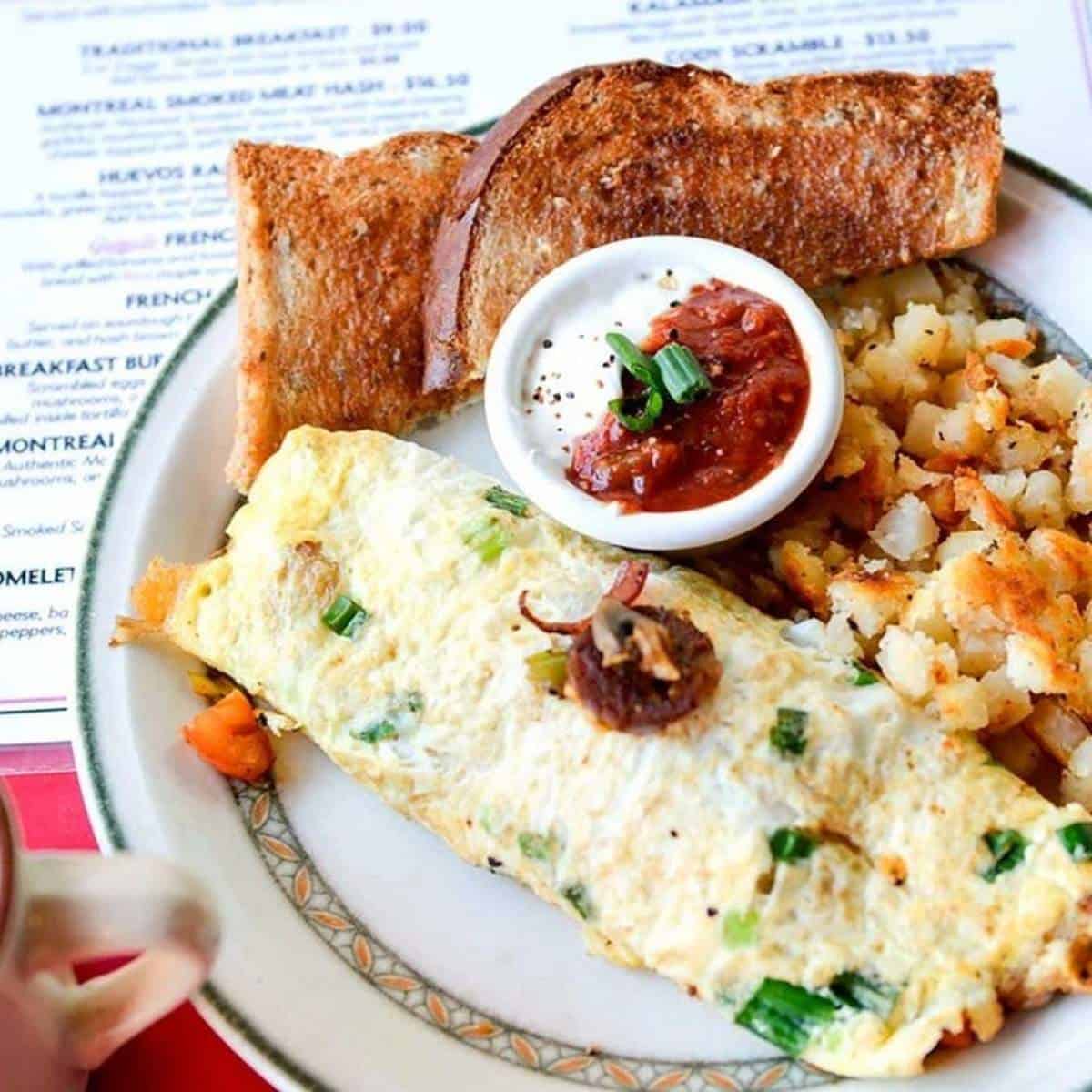 Take a seat in one of the booths and enjoy one of their omelettes, Eggs Benedicts, or breakfast sandwiches, all including bottomless hash browns and endless toast. What could be better? Just don't forget to order one of their classic milkshakes!
Queens Breakfast Cocktails
Location: 3927 Edmonton Trail
Serving up breakfast and brunch staples in a space filled with rustic charm, Queens Breakfast Cocktails is so much more than just their (extensive and tasty) cocktail menu. With dishes like the spicy ahi tuna crudo poutine, lemon ricotta pancakes, and a croque nduja, you can expect a great flair for innovation alongside flavour in each and every bite.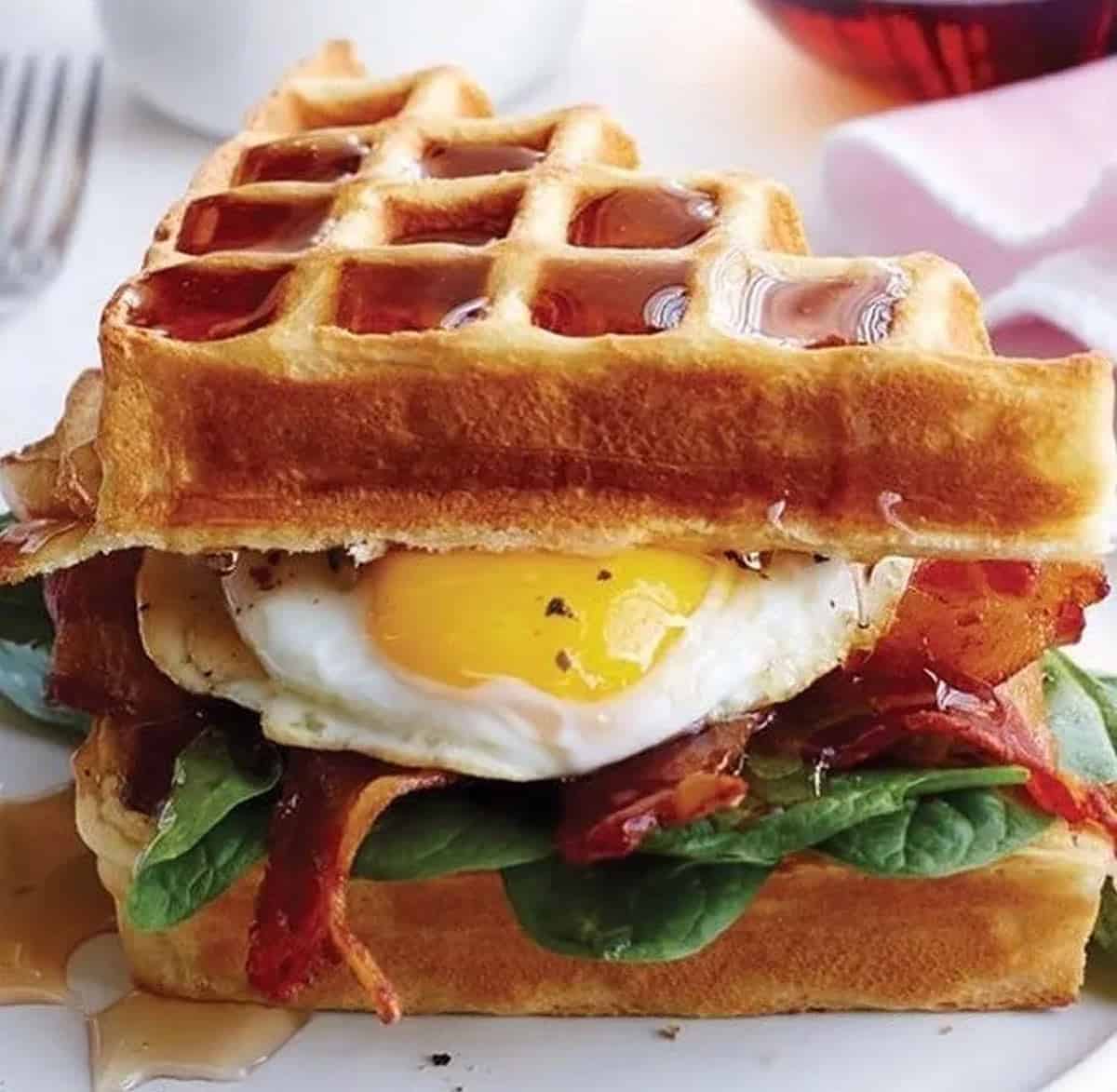 You should also try the cocktails, as they have an amazing selection of Bellinis, Negronis, and the delectable Wakey Wakey Eggs and Bakey, a cocktail made with bacon-washed bourbon, lemon, egg foam, maple syrup, and – if you can believe it – a slice of bacon.
Belmont Diner
Locations: #19, 2008 33 Ave SW / #116 332 Aspen Glen Landing SW
This family-run diner has been in business since 2000, and it shows: expect friendly service, tasty meals, and an experience that'll make you want to return for more. With two Calgary locations, Belmont Diner is known for its retro decor and lively atmosphere.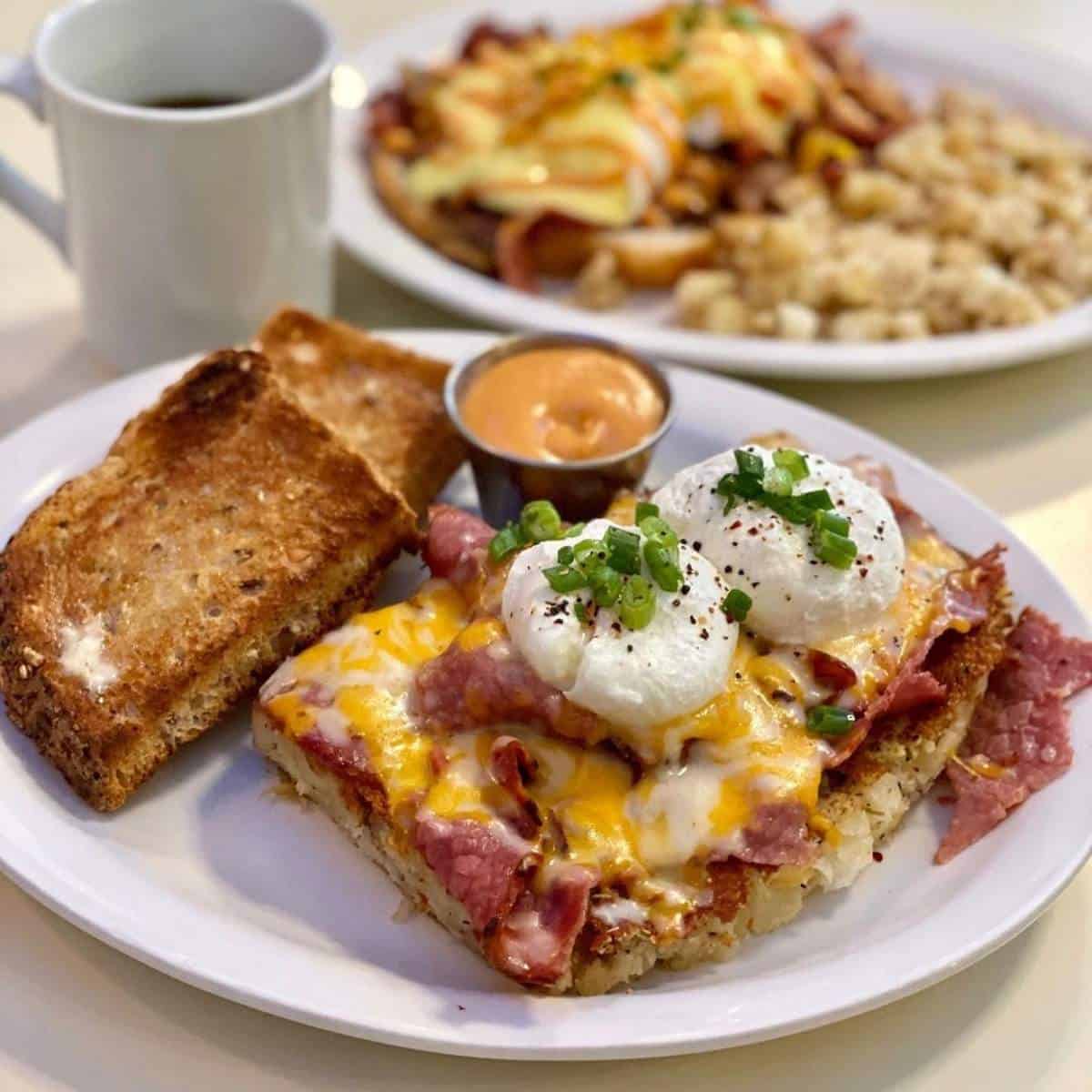 With brunch standards such as Eggs Benedict, French Toast, and breakfast burritos, kids will especially love the unbelievable pancake art that the chefs have perfected. From butterflies to frogs to just about any special request you have, don't forget to take a photo of your pancake before you dive in.
Diner Deluxe
Locations: 804 Edmonton Trail; 106 Mahogany Centre SE
With two Calgary locations, Diner Deluxe focuses on using local, ethical, seasonal, and sustainable ingredients in its food. Don't be shocked if there's a lineup to get in… this spot is known for its delicious brunch! With a fantastic list of healthy options, hearty dishes, and everything in between, there's a little something for everyone on the Diner Deluxe menu.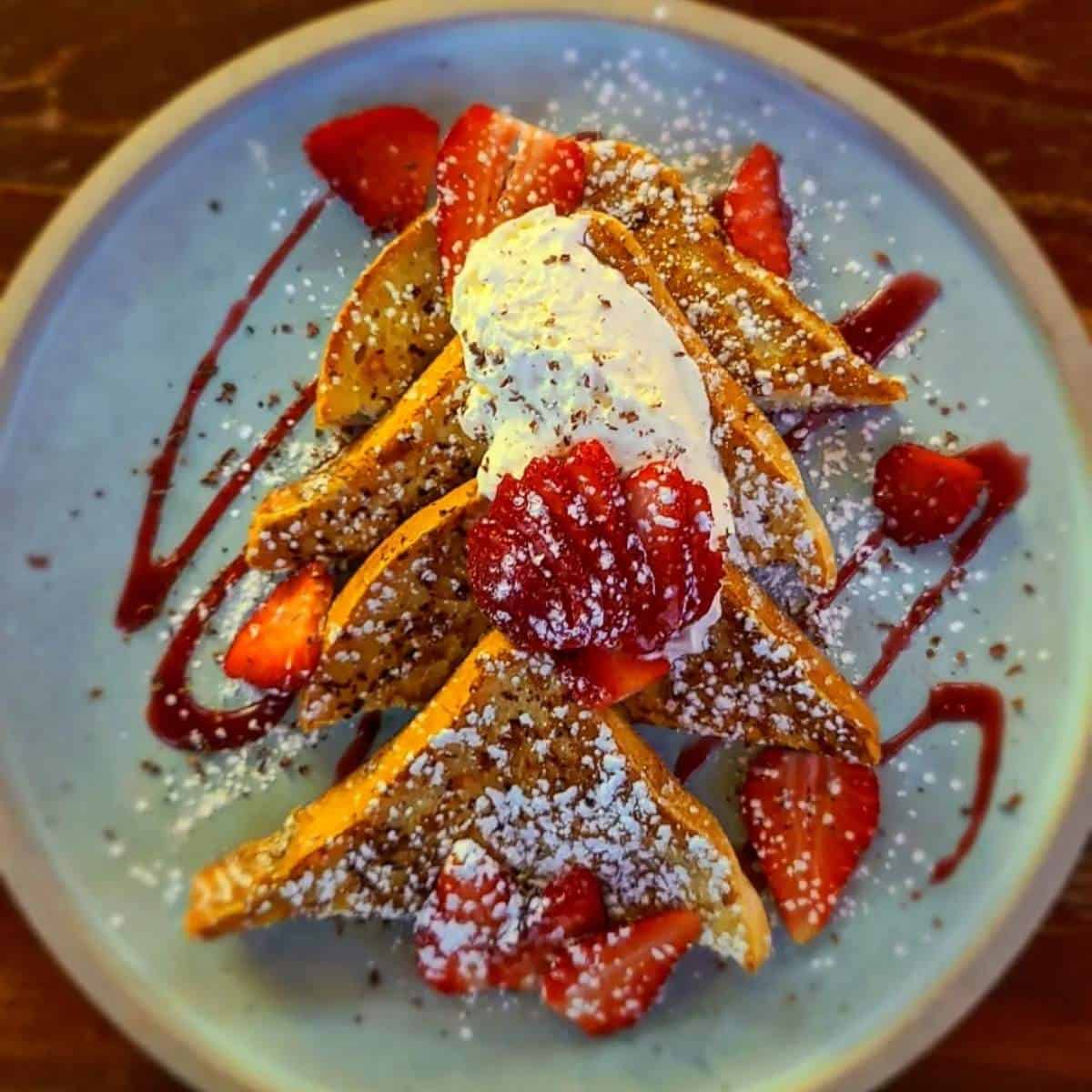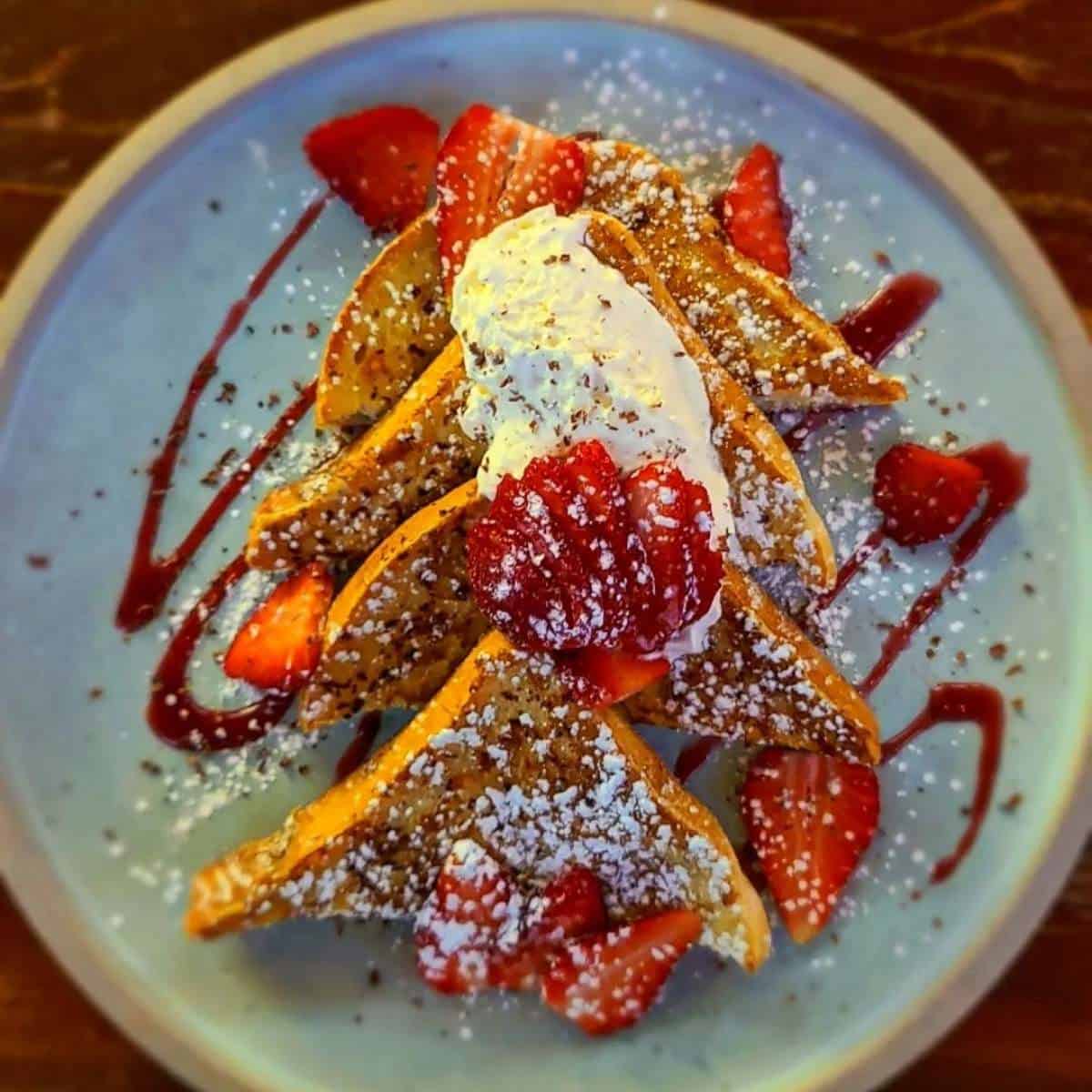 Favourites include the breakfast poutine, the bbq pulled pork hash, and the smashed avocado toast. With Instagrammable decor (and equally Instagrammable meals), there's a reason this restaurant is so beloved in Calgary.
Deane House
Location: 806 9 Ave SE
Open for brunch only on Saturdays and Sundays, Deane House serves Canadian cuisine in one of the most stunning settings in Calgary. Found in a historic house with a series of beautifully designed rooms, this restaurant is perfect for a special occasion or celebration.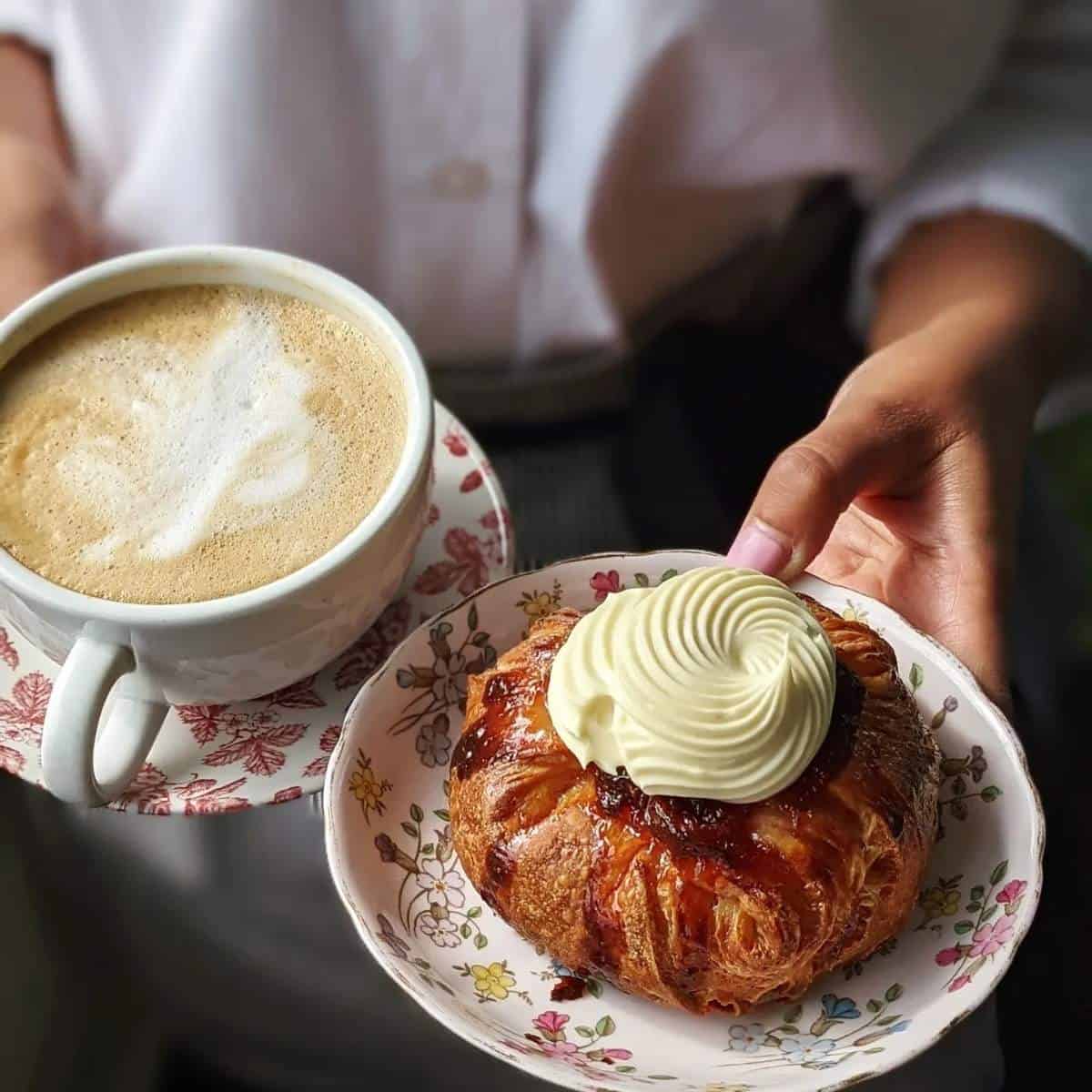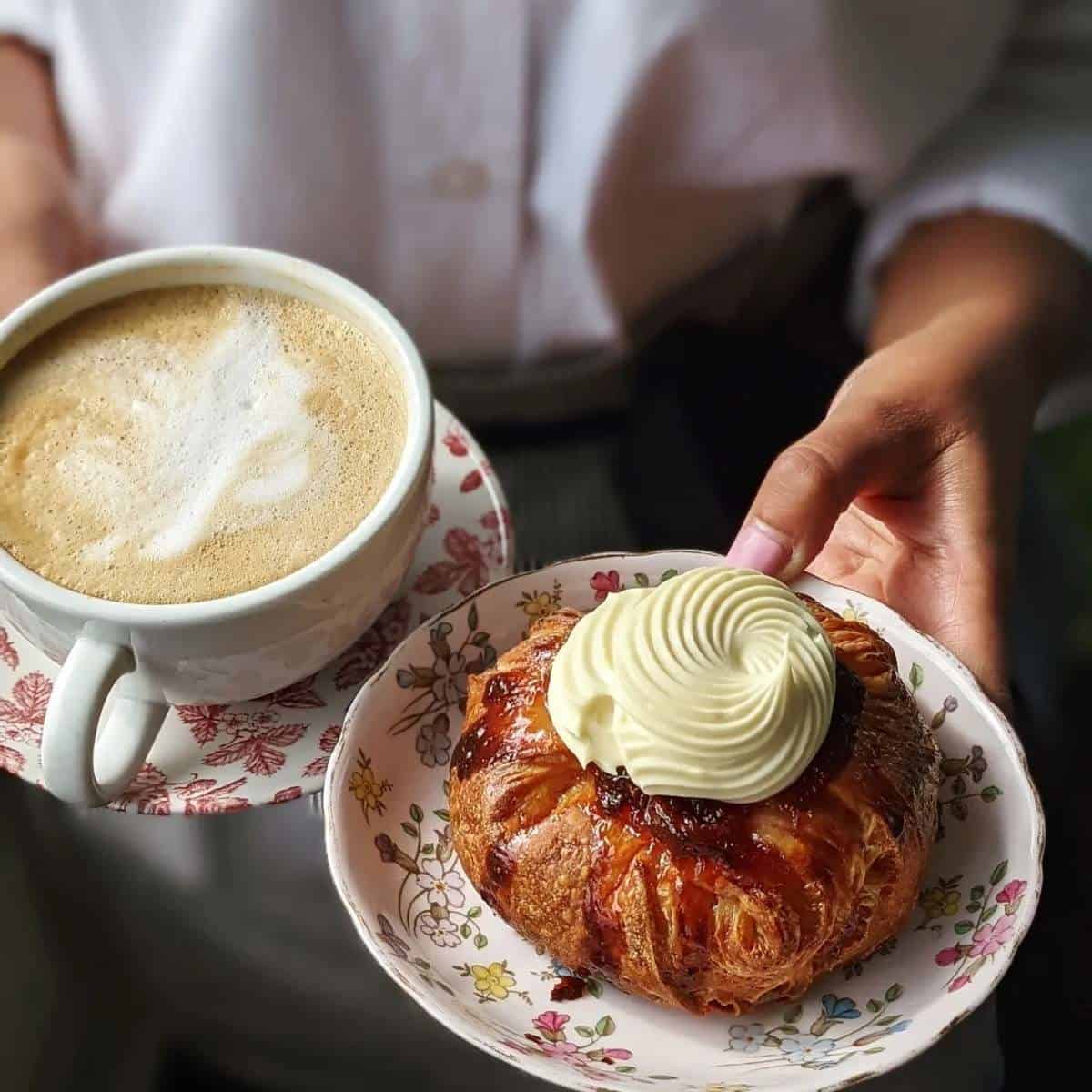 The brunch menu is small but mighty, with options such as braised bison pierogi gratin, kale and pancetta quiche, and Pacific halibut and wild rice cakes with poached eggs and spinach béchamel. Often listed as one of the best places to eat in Calgary, the brunch meets the high quality that you'd expect from such a recognized restaurant.
Namo Café Bistro
Location: 824 Edmonton Trail
Open for breakfast, brunch, and lunch, Namo Café Bistro is known for its international fare made with locally sourced ingredients. This family-owned and operated restaurant has hearty plates of Angus brisket, huevos rancheros, karaage fried chicken with poached eggs, and an amazing selection of Eggs Benedict (including ones made with lobster, Baja chicken, or truffled mushrooms).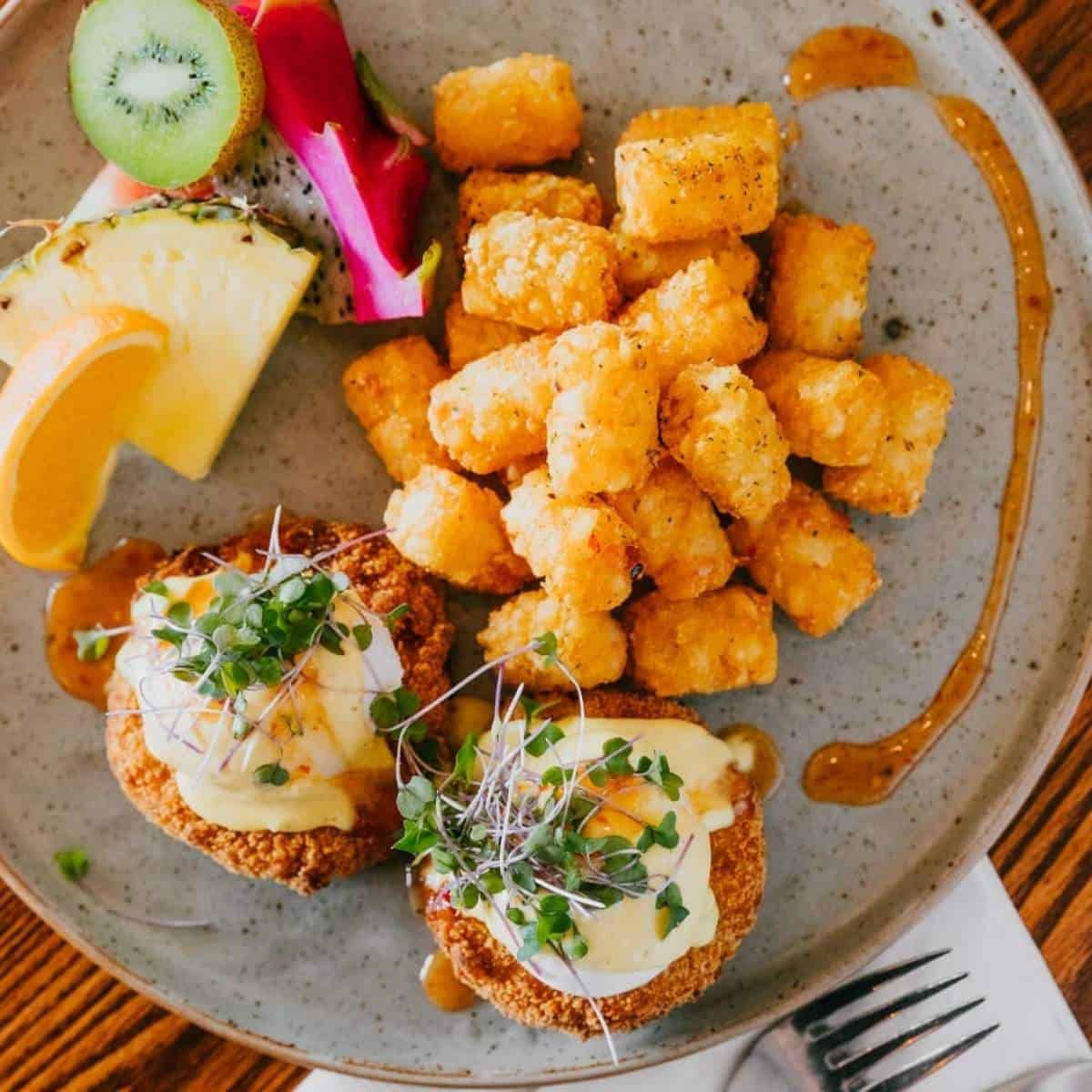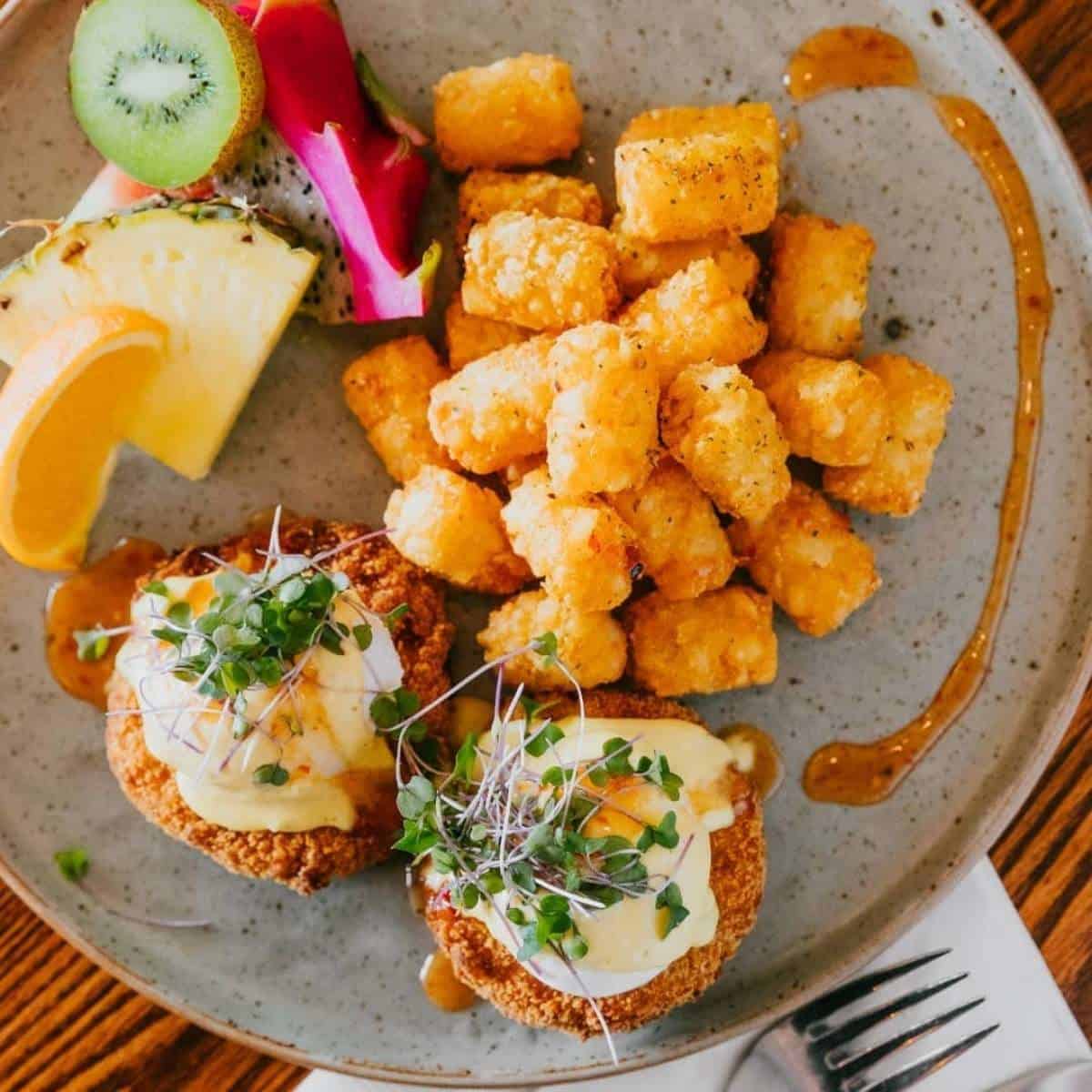 For those with a sweet tooth, try the brioche French toast or the tiramisu waffle. Honestly, we doubt you'll be able to pick a favourite from the menu! It's one of our top choices for brunch in Calgary.
Pfanntastic Pannenkoek Haus
Location: 2439 54 Ave SW
In the mood for Dutch food? Look no further than the Pfanntastic Pannenkoek House, home to Calgary's famous Dutch pancakes! While in the Netherlands, pannenkoeken are usually eaten for lunch or dinner, there's thankfully a good breakfast/brunch selection at the Calgary location.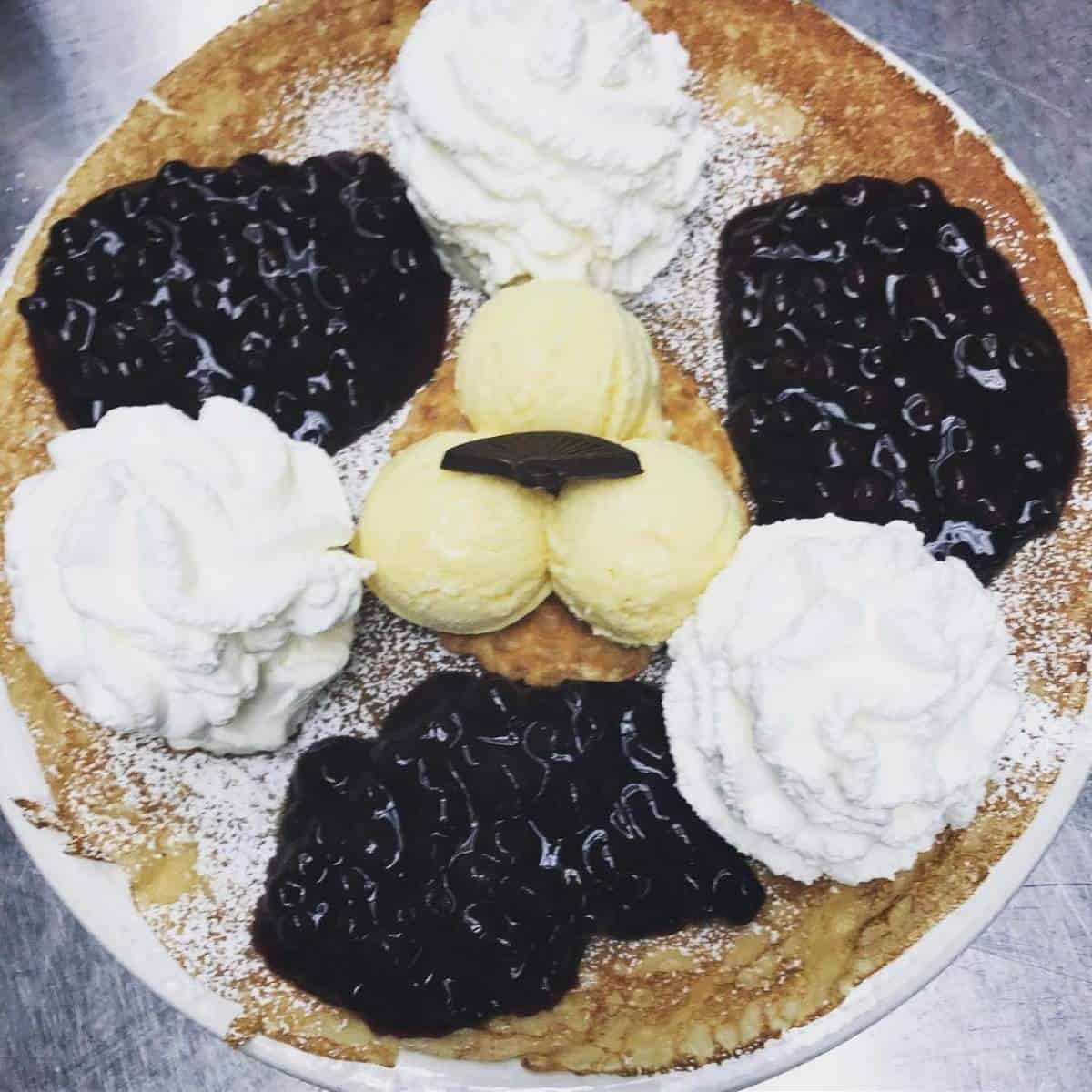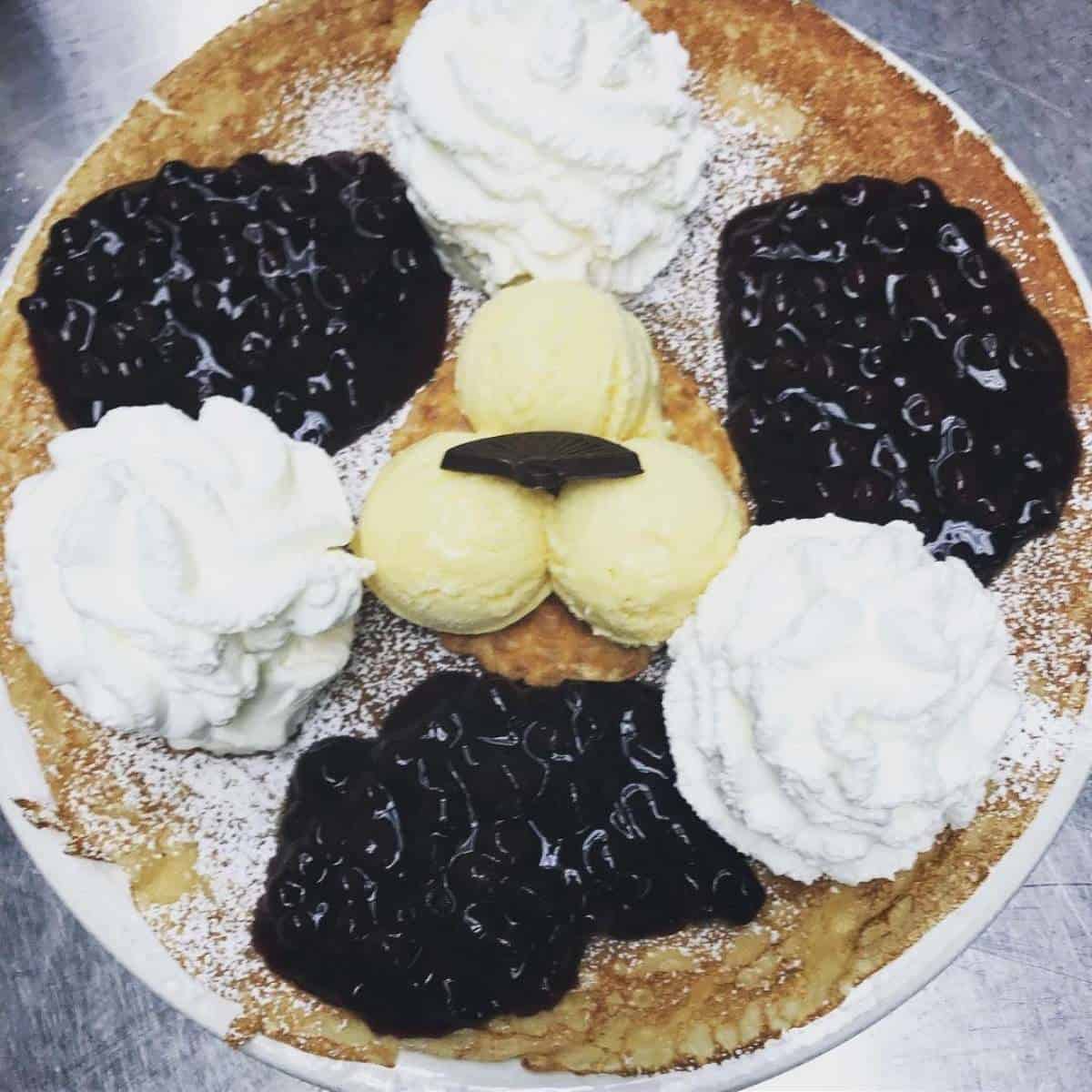 With over 45 different flavour combinations on the menu, plus options of omelettes and breakfast uitsmijters (open-faced sandwiches), the spot is a great choice for a fun brunch date. Whether you're craving something savoury or sweet, there's a pannenkoek for you.
OEB Breakfast
Locations: #110 222 5 Ave SW / 825 1st Ave NE / 2207 4 St SW / 4132 University Ave NW
With a whopping four locations in Calgary, including the new location near the University, OEB Breakfast is often touted as one of the best brunches in Calgary. With an emphasis on modern decor, a meaningful message, and, most importantly, absolutely fabulous food, no matter which OEB Breakfast location you visit, you won't be disappointed.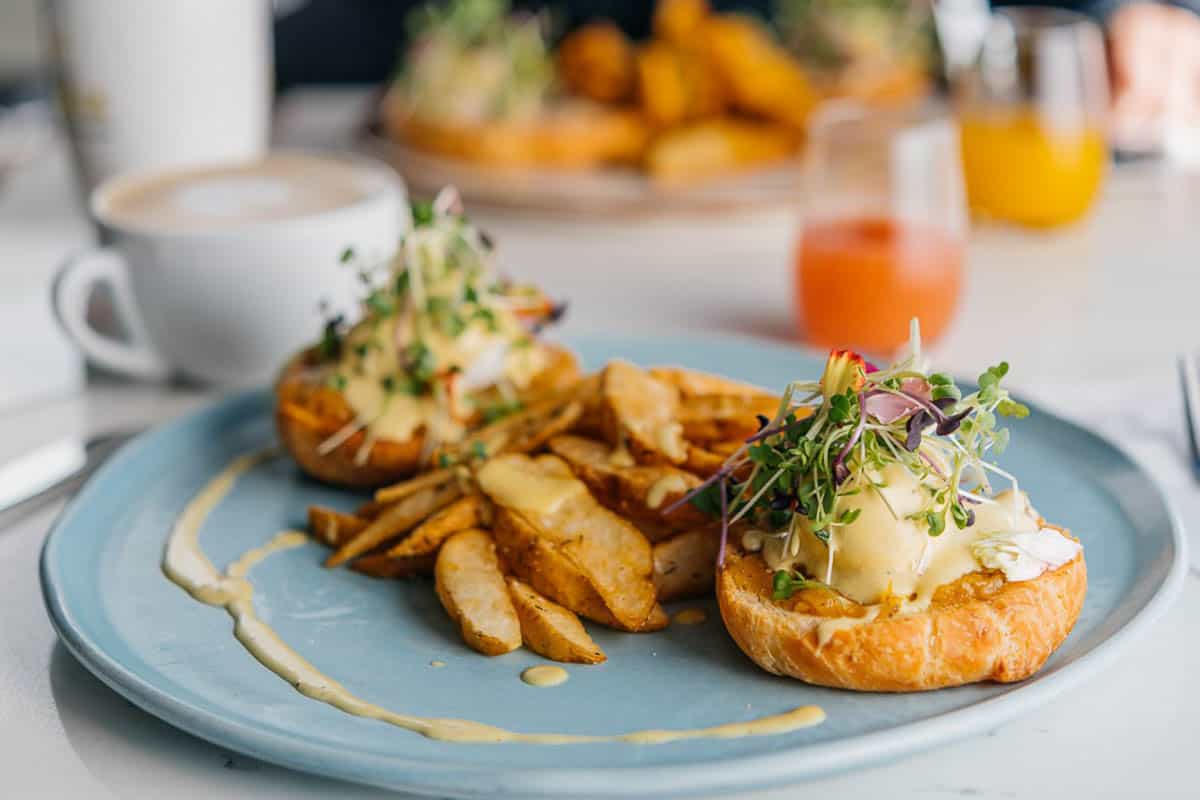 There's an extensive menu that includes delicious breakfast poutines, sweet crepes, and savoury sandwiches, make sure to save room for one of the fruit smoothies; the tropical mango is an especially bright treat on a gloomy day.
ZCREW Cafe
Location: 401 11 Ave SE
When a place is known as a brunch restaurant, it's no surprise that ZCREW Cafe does, indeed, serve up a mighty delicious brunch. With a beautiful interior and an amazing staff, you can find both savoury and sweet dishes as well as vegan, vegetarian, gluten-friendly, and keto options. Try tasty brunch items such as the Korean fried chicken benny, Belgian waffles, and your pick of a fantastic variety of bowls, sandwiches, wraps, and more.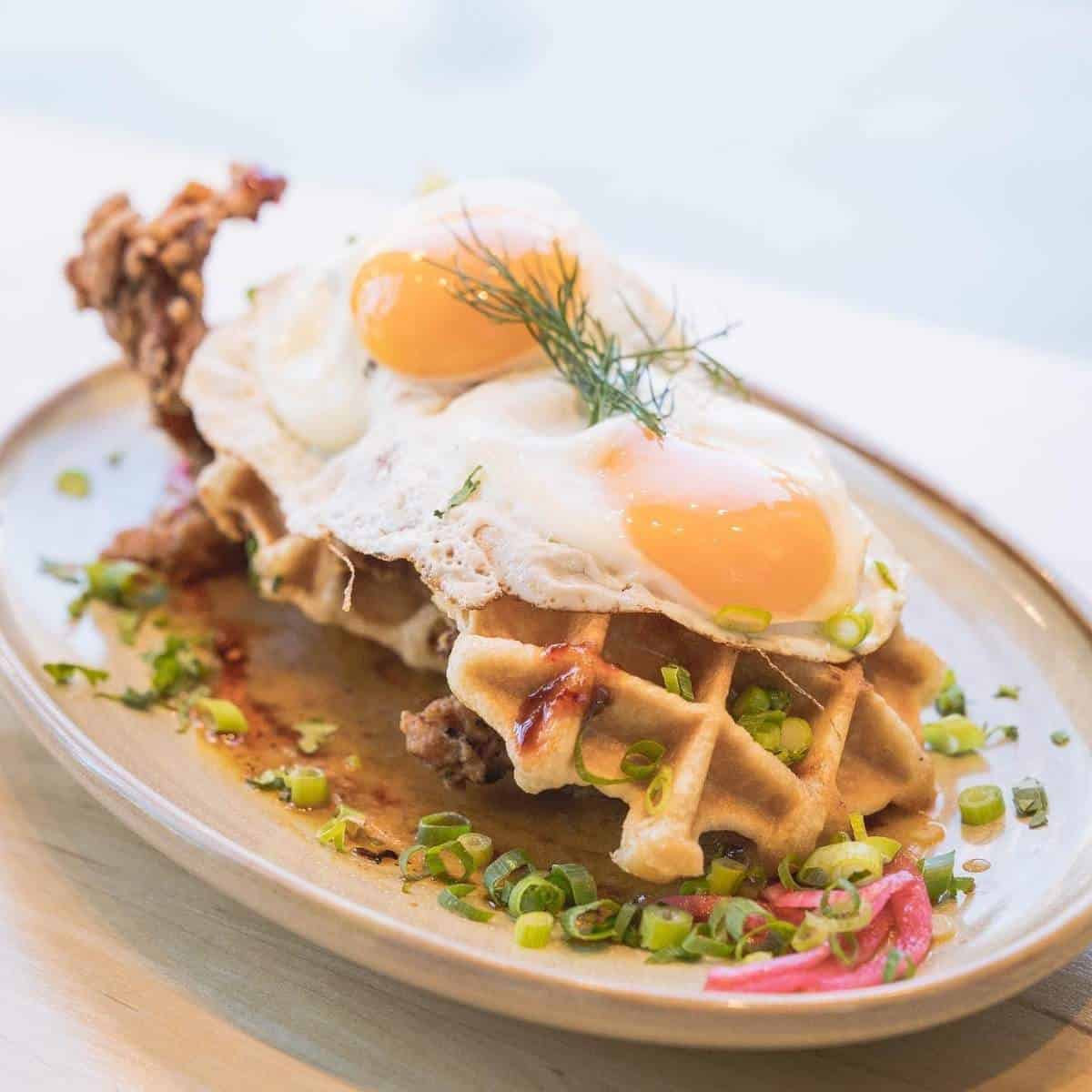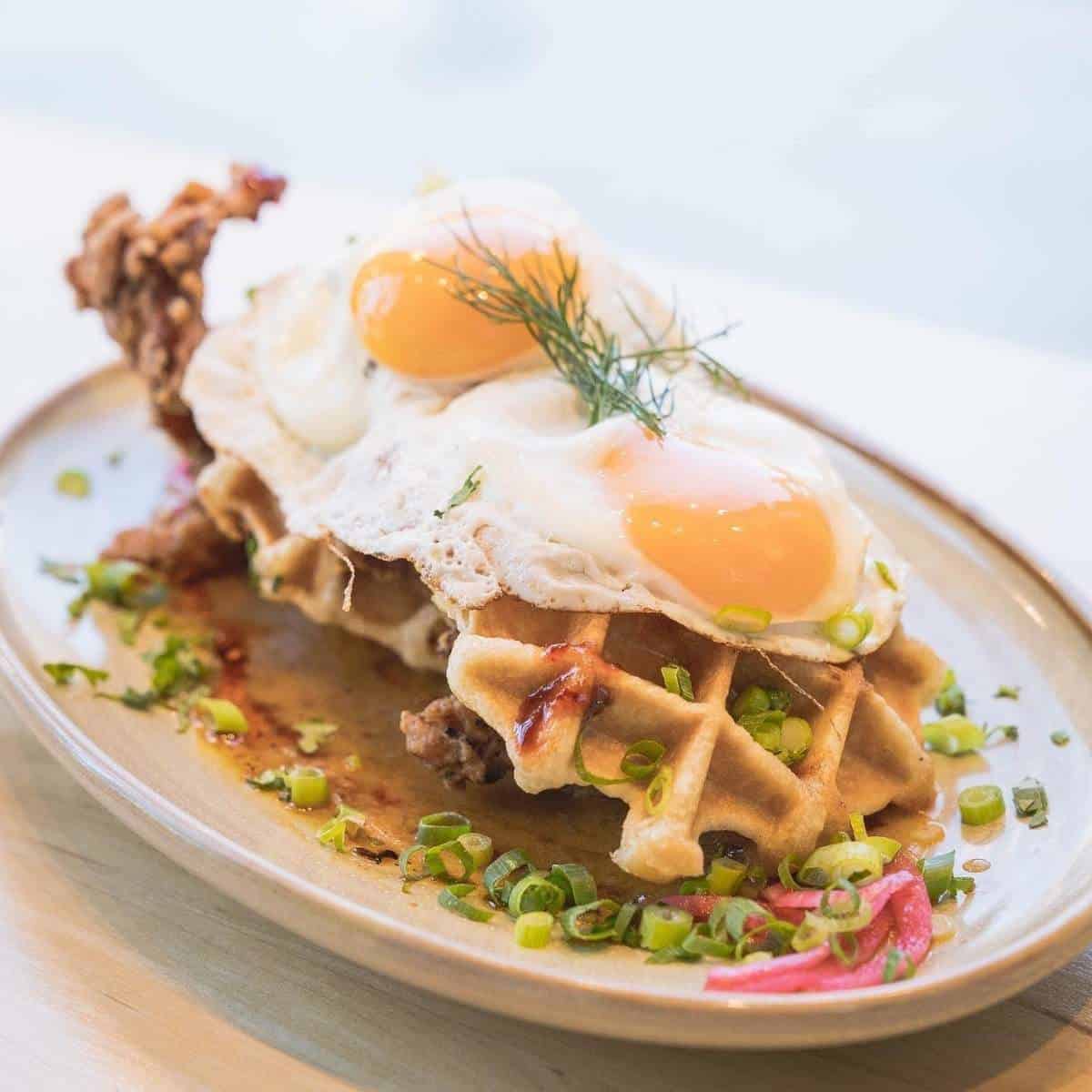 Expect handmade ingredients – their house-made sourdough is drool-worthy – and great service along the way, all making ZCREW Cafe the place to be for one of the best brunches in Calgary.
Monki Bistro
Locations: 1301 10 Ave SW / 4 -1420 9 Ave SE
With two locations in Calgary, Monki Bistro's mantra is to "do brunch in Calgary differently". Featuring local and artisanal producers, there's an impressive array of eggs benny, French toast, and breakfast poutines. And the "hangry monki" section of the menu offers up dishes such as the Monki pierogis, pancake breakfast tacos, and the not-so-classic huevos rancheros.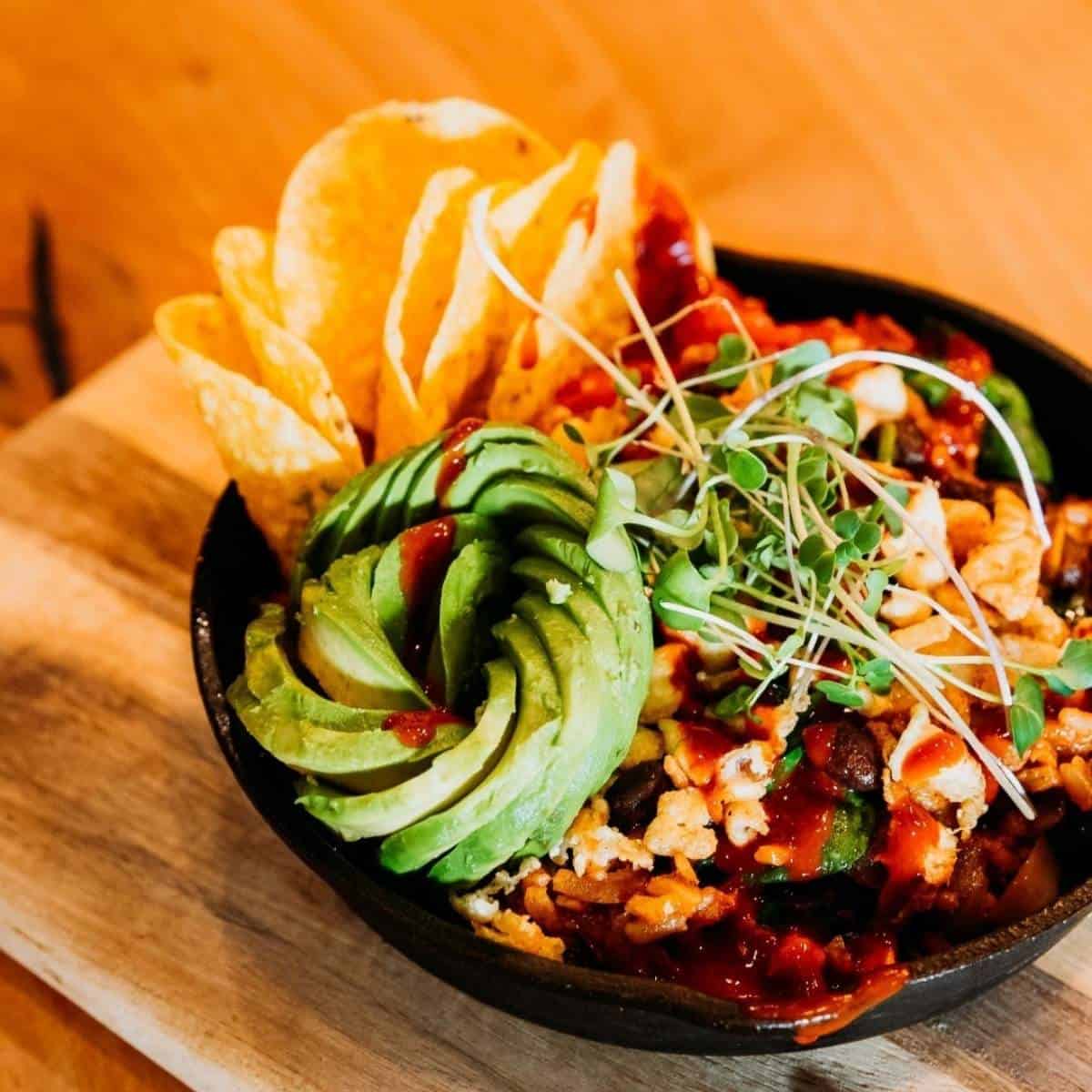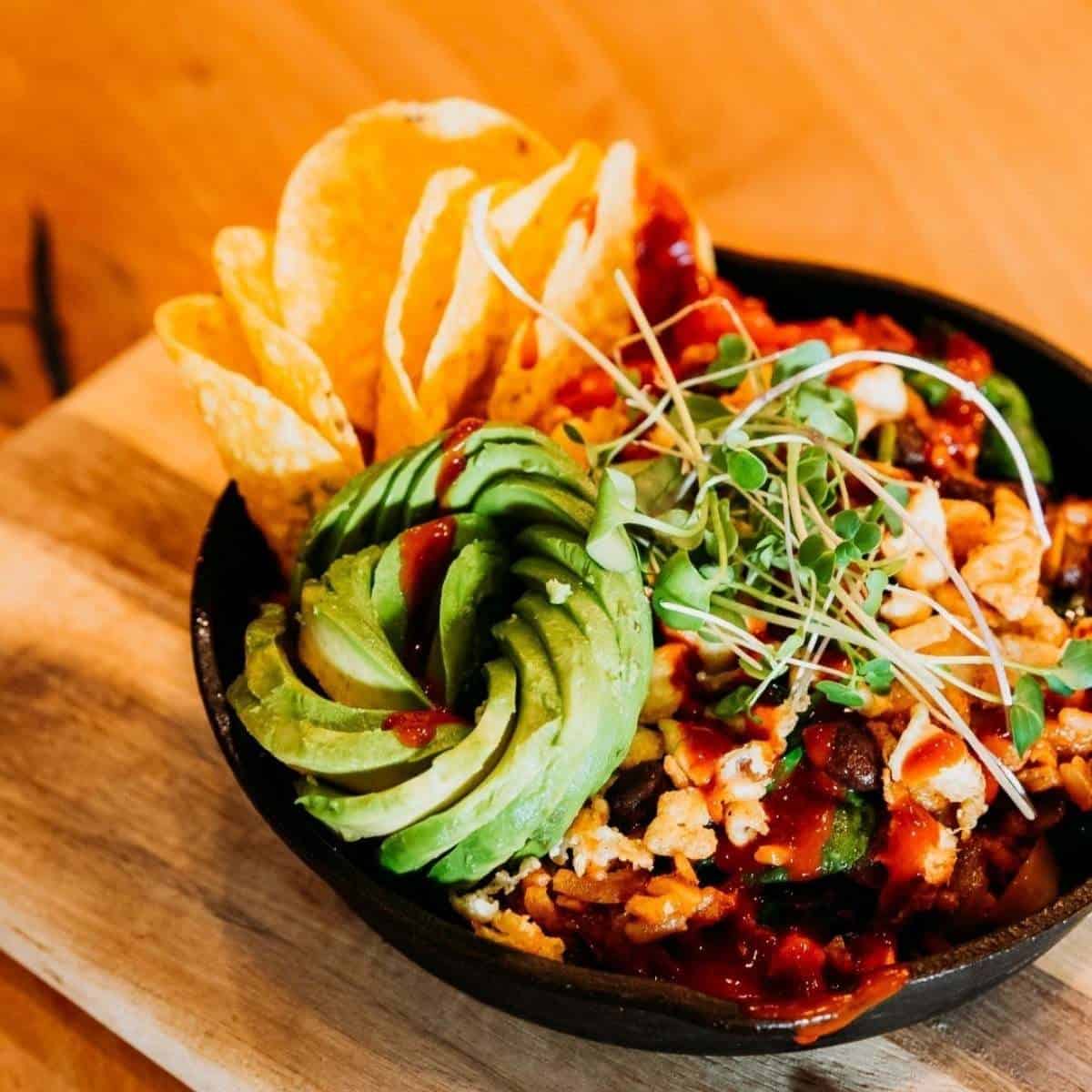 With a history that dates back to 2012, Monki Bistro focuses on fun, freshness, and innovation in every dish. There's always a new dish to try at Monki Bistro, and we guarantee you'll have a great time working through them all.
Starbelly Open Kitchen and Lounge
Location: 19489 Seton Crescent SE #220
If you're on the search for the best brunch in Calgary, you'll want to add Starbelly Open Kitchen and Lounge to your list. Bright and airy, the restaurant serves up brunch every weekend from 10 am to 2 pm. The Starbelly breakfast is simple yet tasty, with two farm-fresh eggs, house jam and toast, and your choice of Canadian bacon, regular bacon, or maple sausage.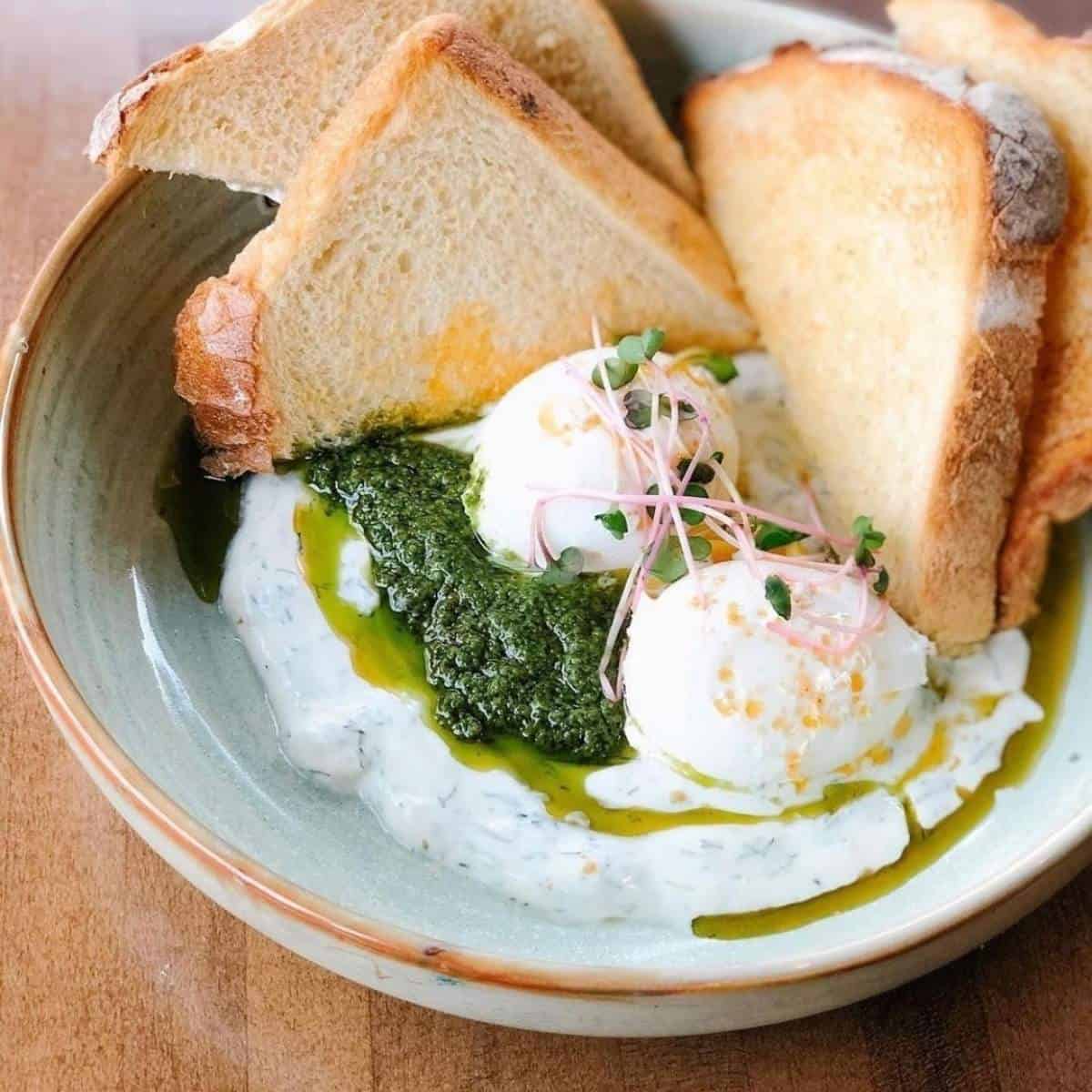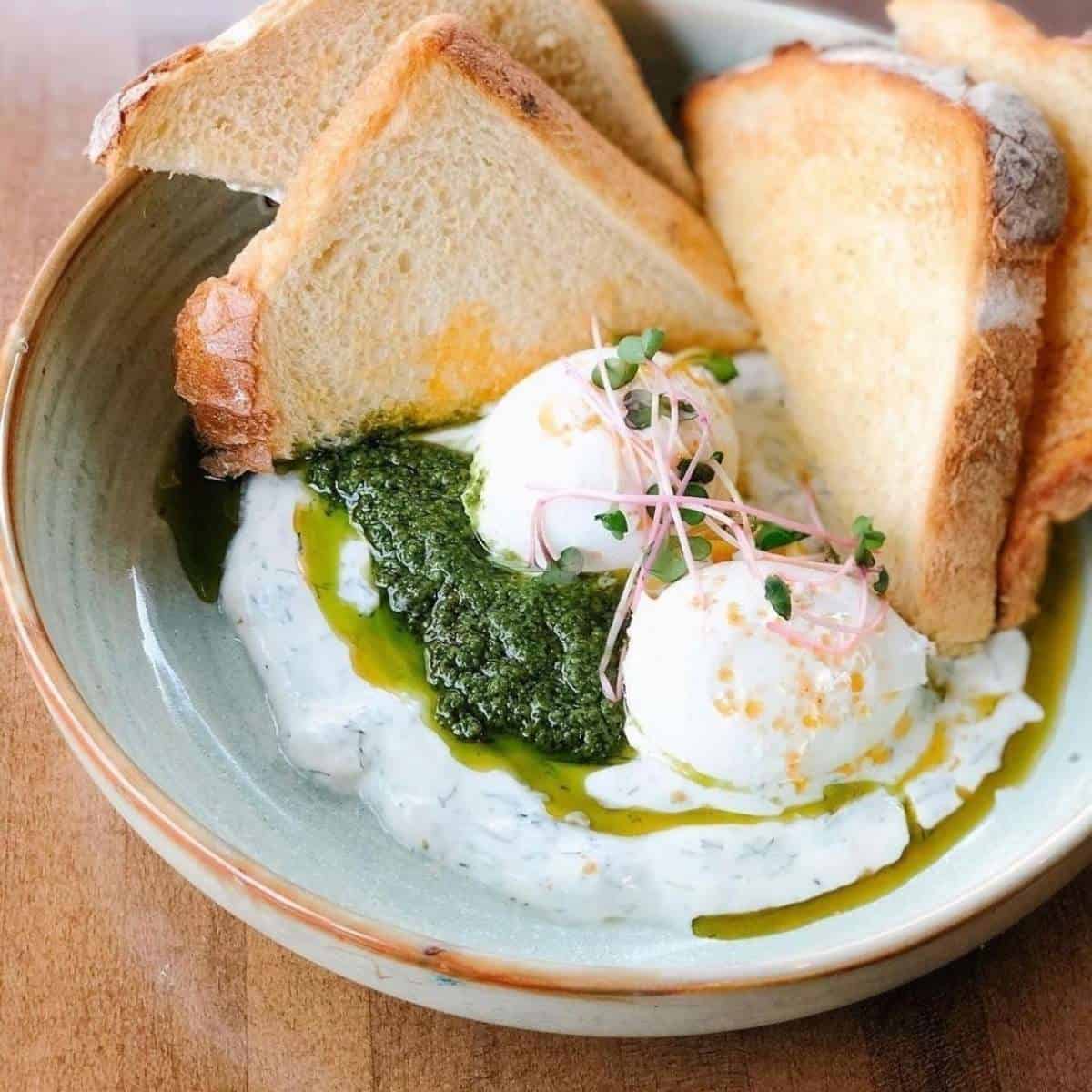 Other choices include the divine prosciutto and brie eggs Benedict, the chicken and waffles, or the cilbir, which is a Turkish dish of eggs and yogurt. You're sure to be satisfied after a visit to Starbelly, where all dishes are made fresh and with local ingredients in mind.
Blue Star Diner
Location: 809 1 Ave NE
With wonderful reviews across the board, customers have long believed the Blue Star Diner to be one of the best spots for brunch in Calgary. Sourcing most of their ingredients from local farmers, you know that every dish on the menu is going to be lovingly made, fresh, and incredibly tasty.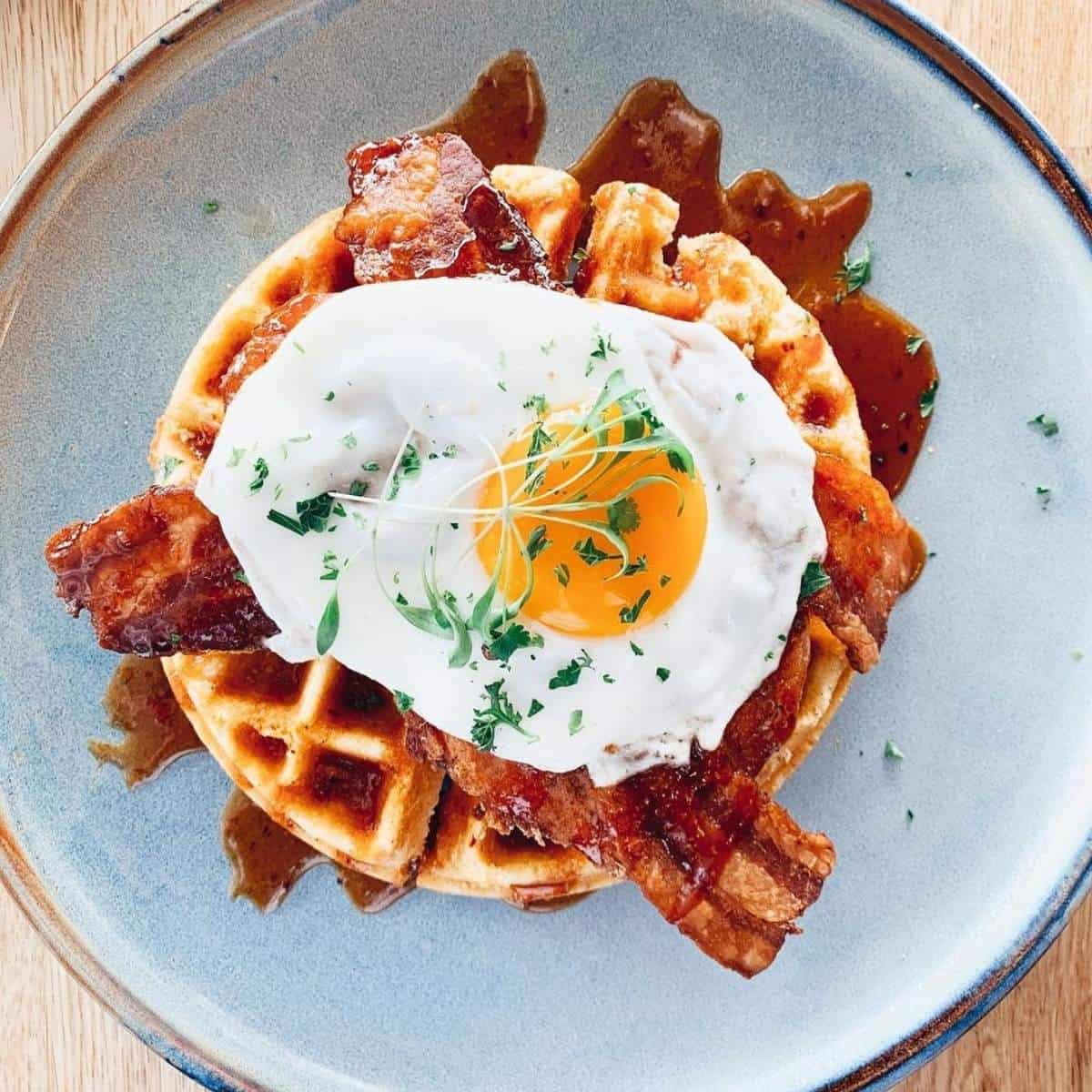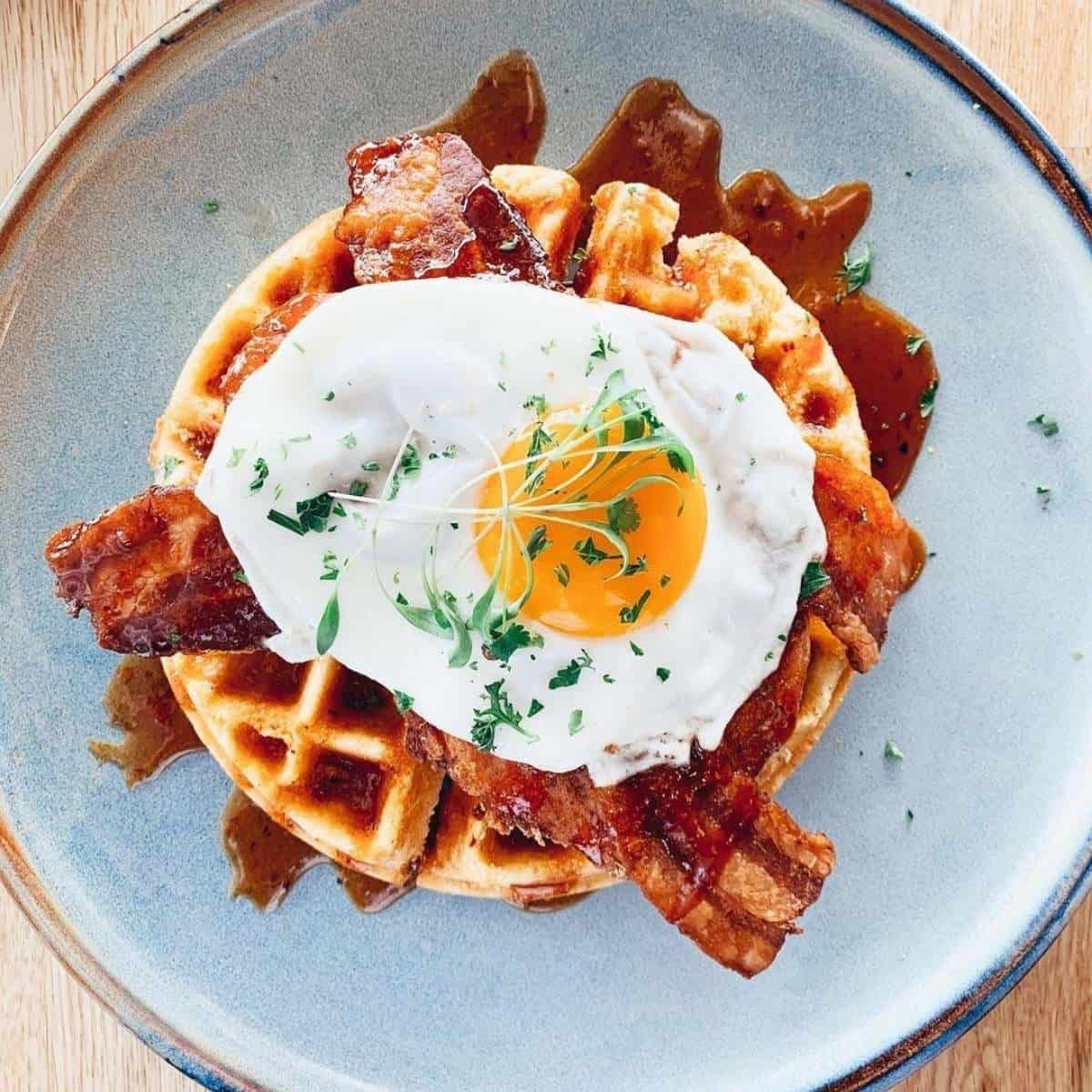 Try the Bluestar burrito, the steel-cut oatmeal, or the unbelievable breakfast grilled cheese, and don't skip the sides menu; there are excellent options like house-made cornbread, apple chicken sausage, and truffle fries that you can add to your plate. Add in the friendly staff and welcoming atmosphere and you have one of the most memorable meals in Calgary.
Orchard
Location: #134, 620 10 Ave SW
If you're looking for extraordinary, head to Orchard. This luxurious restaurant, open for brunch every day, has a jaw-dropping interior and a menu to match. With a focus on Asian Mediterranean fusion, the menu is unlike many you'll find anywhere else in Calgary, especially when it comes to your first meal of the day.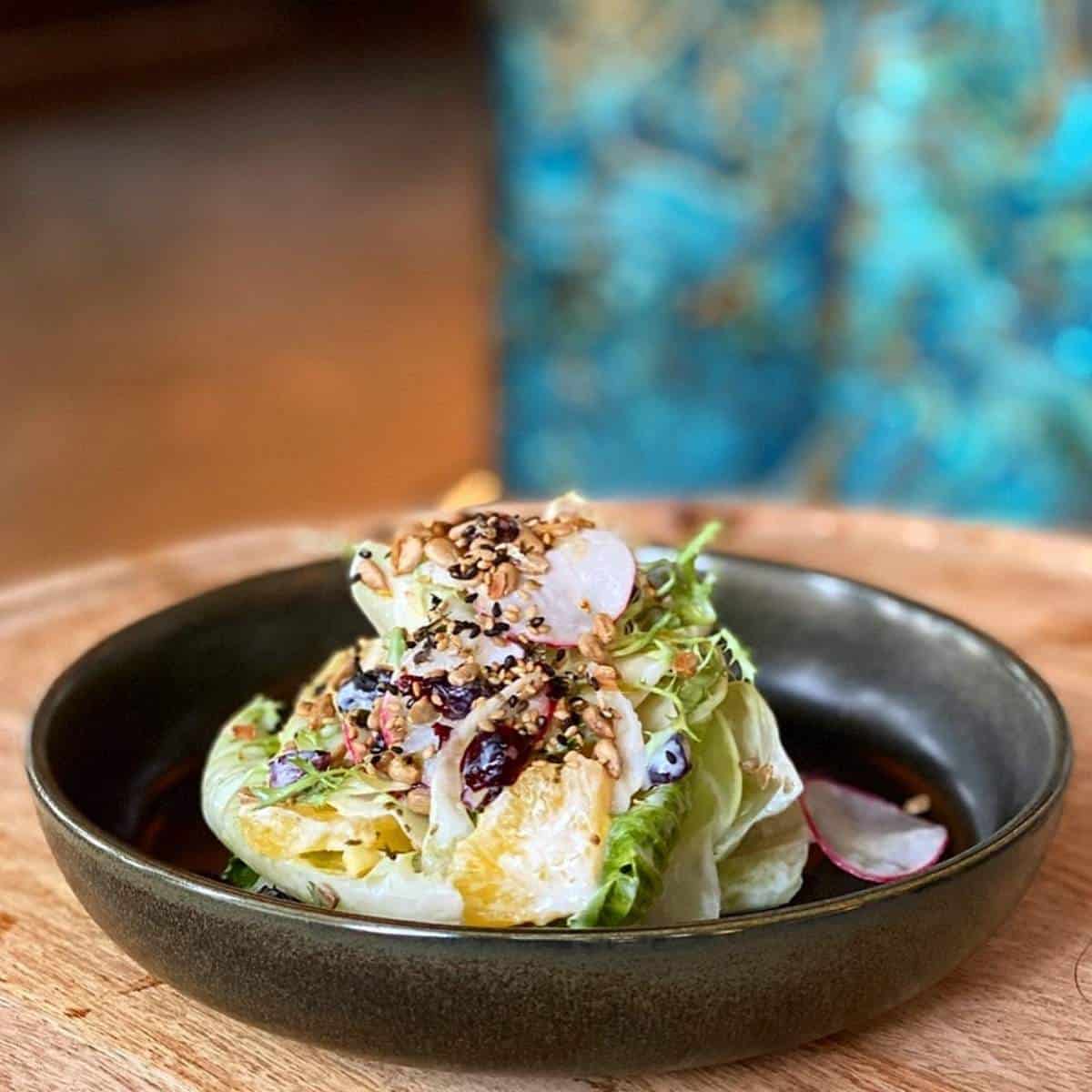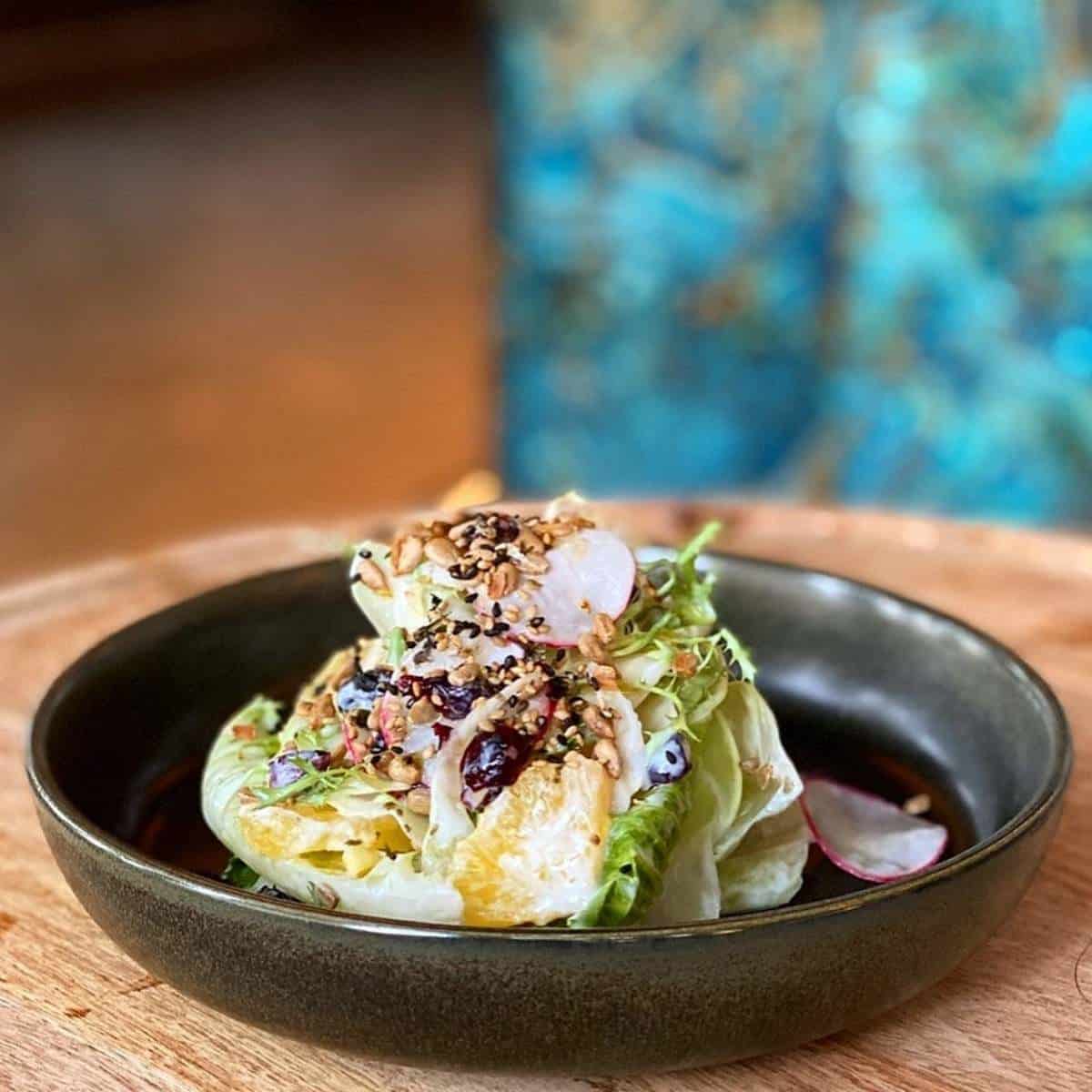 With mostly savoury options such as a halloumi bowl, yellowfin tuna sandwich, or the divine poached egg shakshuka, the high-end experience is definitely worth a visit when you're in downtown Calgary.
Red's Diner
Locations: 324 58 Avenue SE / 1101 8th Street SE / 286 10 Street NW / 1415 – 4th St SW
With four locations in Calgary, Red's Diner is known for its all-day breakfast and filling classics like the breakfast sandwich, the Southwestern omelette, and the traditional benny. But there are lots of what they call "alternatives", too… think a harvest breakfast bowl with roasted red peppers and quinoa, a vegan tofu scramble, and a Caprese eggs Benedict.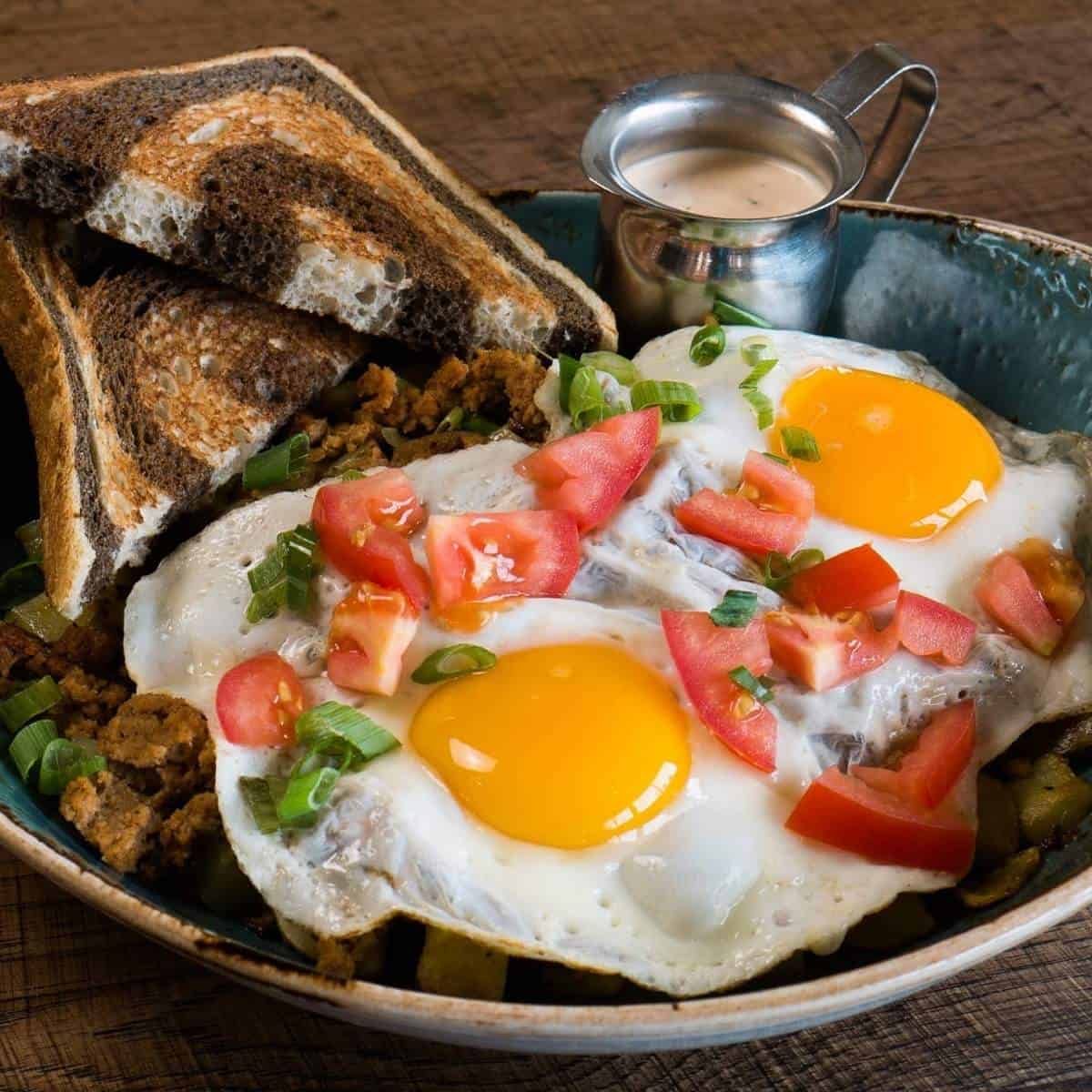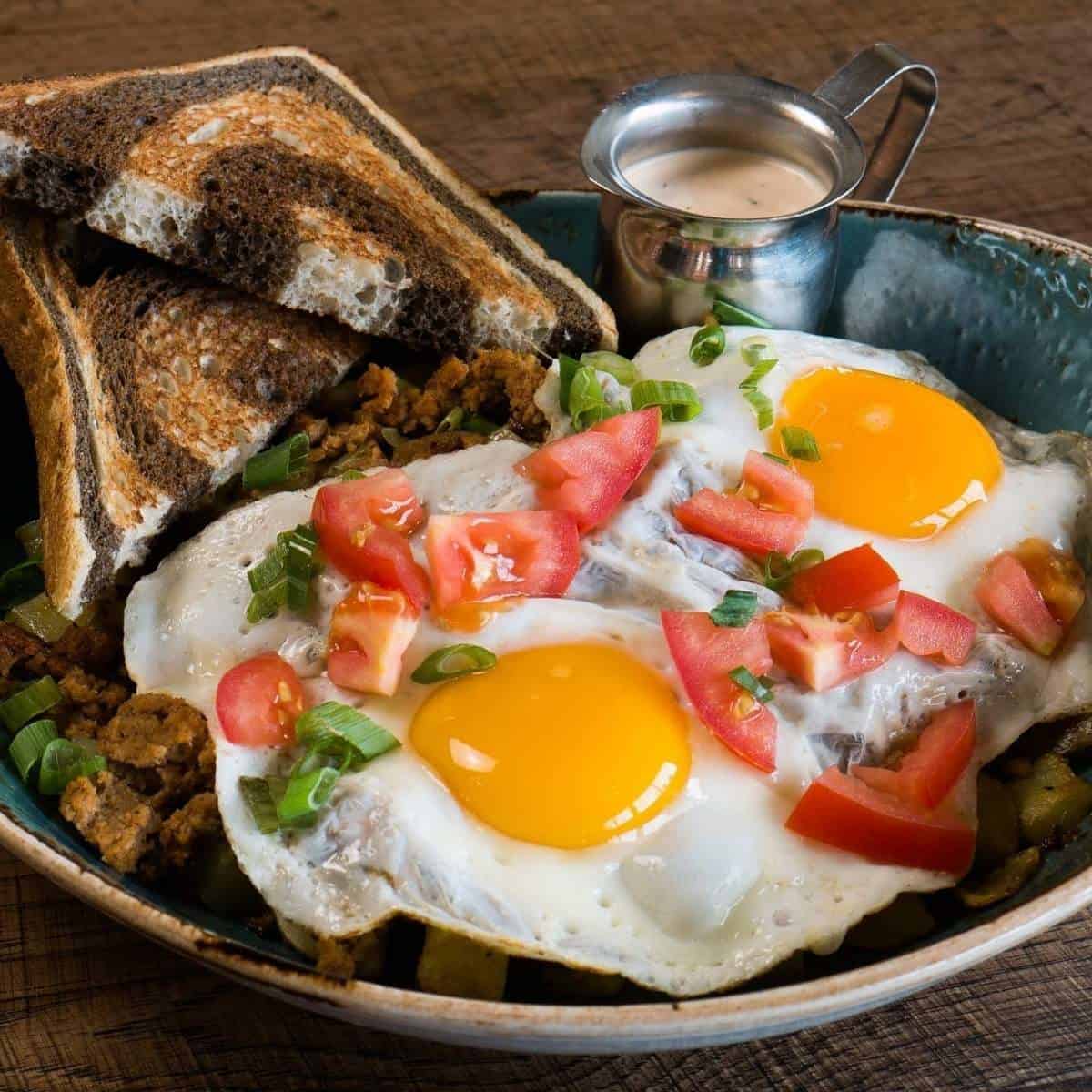 Known for their warm atmosphere, friendly service, and their dedication to farm-fresh ingredients, each of Red's Diners in Calgary are fantastic choices for brunch.
Bow Valley Ranche Restaurant
Location: 15979 Bow Bottom Trail SE
Bow Valley Ranche Restaurant is found in the heart of Fish Creek Provincial Park and is known for its upscale Canadian fare. Head here for brunch, or, if you're looking for a unique experience, afternoon tea. While the menu is small, it packs a real punch; try the steak and eggs using Alberta striploin, the honey butter French toast, or the avocado toast with a fried egg.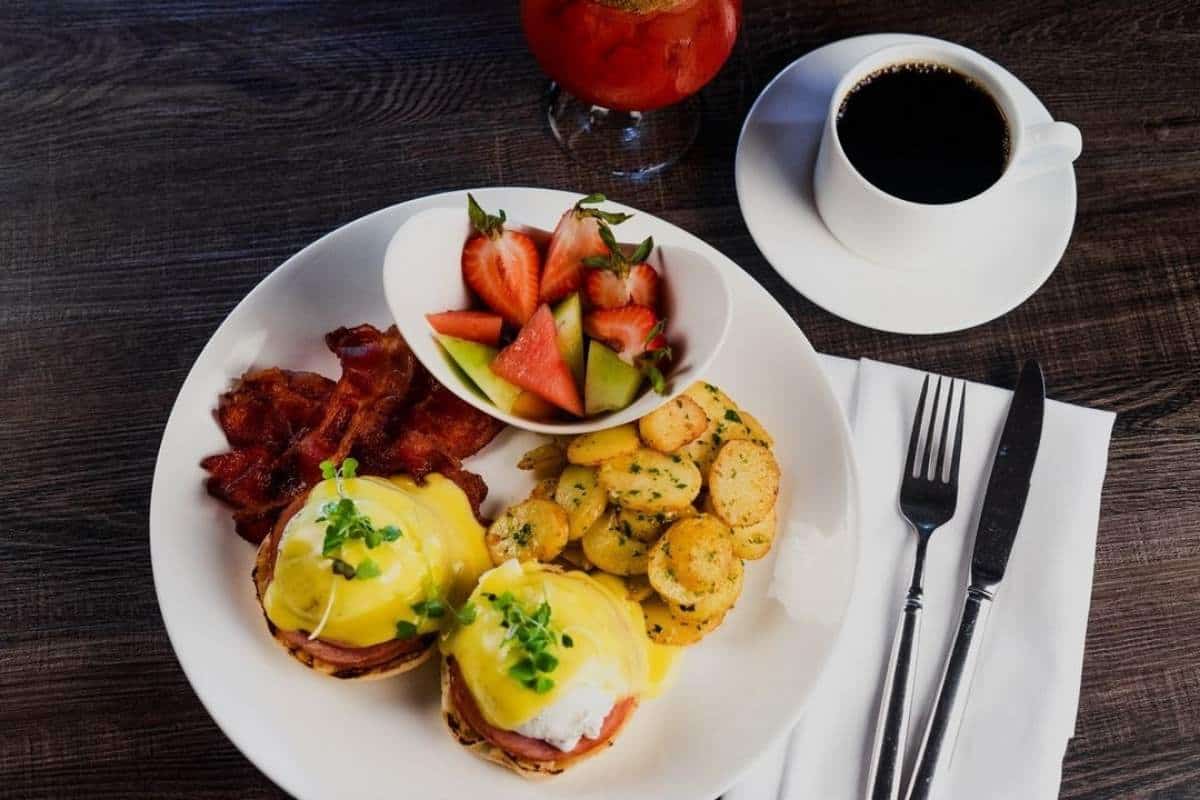 Elegant and welcoming, the restaurant is in a gorgeous house with a stunning veranda; you can also book the restaurant for special events.
For more on how to enjoy your time in Cow Town, read on: