Disclaimer: This page may contain affiliate links. Please review our full Terms and Conditions for more information and our Privacy Policy. Note that any pricing, operating hours, or other such information provided below may have changed since initial publication.
Compiled by the Road Trip Alberta team
Last updated on May 22, 2023
There are a variety of spots for brunch in Edmonton for all tastes and preferences. From the classic diners to French-inspired cafes, cozy and intimate spots to gastropubs, there is easily something for everyone. So whether you're searching for a hearty breakfast plate or a more creative brunch option, Edmonton has plenty of great choices to discover.
The Best Spots for an Edmonton Brunch
Sugarbowl
Location: 10922 88 Ave NW
Serving breakfast, lunch, and dinner every day, Sugarbowl is one of the best in the city when it comes to delicious meals. And for brunch? You know you're in for a winner! Often listed as one of the very best places to eat brunch in Edmonton, Sugarbowl is known as "the sweetest place in town". With an undeniably cool vibe and a patio for outdoor dining in the warmer months, don't be surprised if this place quickly becomes one of your faves, too.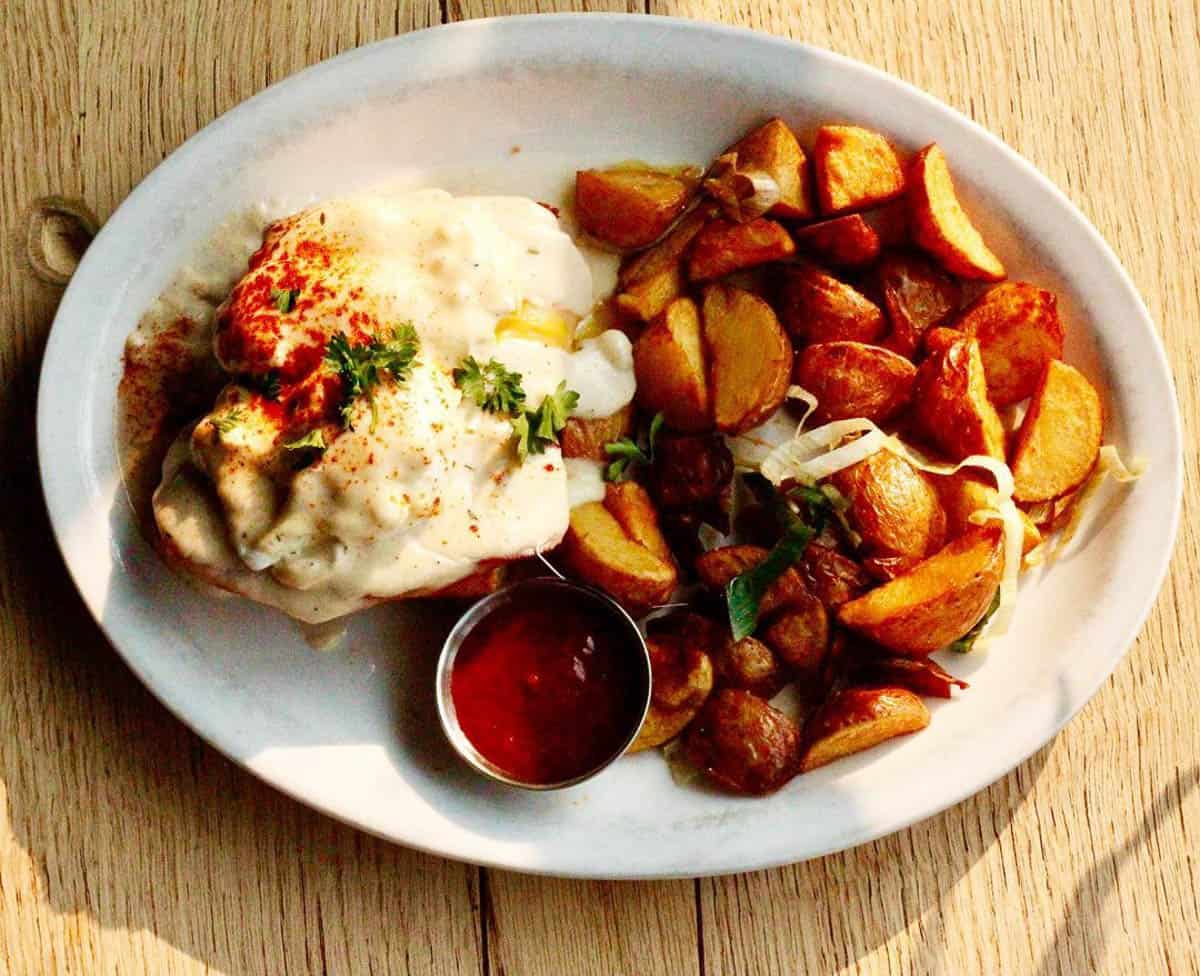 With a history that dates back to 1943, the restaurant is now a charming neighbourhood pub and full-service bistro. On the brunch menu (served from 9 am until 3 pm), you'll find simple but expertly-made classics such as huevos rancheros, a breakfast sandwich, and eggs Benedict. Our favourite is definitely the chicken and waffles, served with watermelon salsa and maple butter! Wash it all down with a mimosa, and you've got a fantastic meal.
Pip
Location: 10335 83 Ave NW
Found in Old Strathcona, Pip is a beloved spot for brunch in Edmonton. Serving brunch from 9 am to 3 pm every single day of the week, weekend brunch is first-come, first-served (and tends to fill up quickly). And while the food itself is excellent, we also love Pip for its beautiful decor, airy design, and sunshine-filled space. In short, you feel amazing as soon as you walk through the door at Pip, which is always a good sign.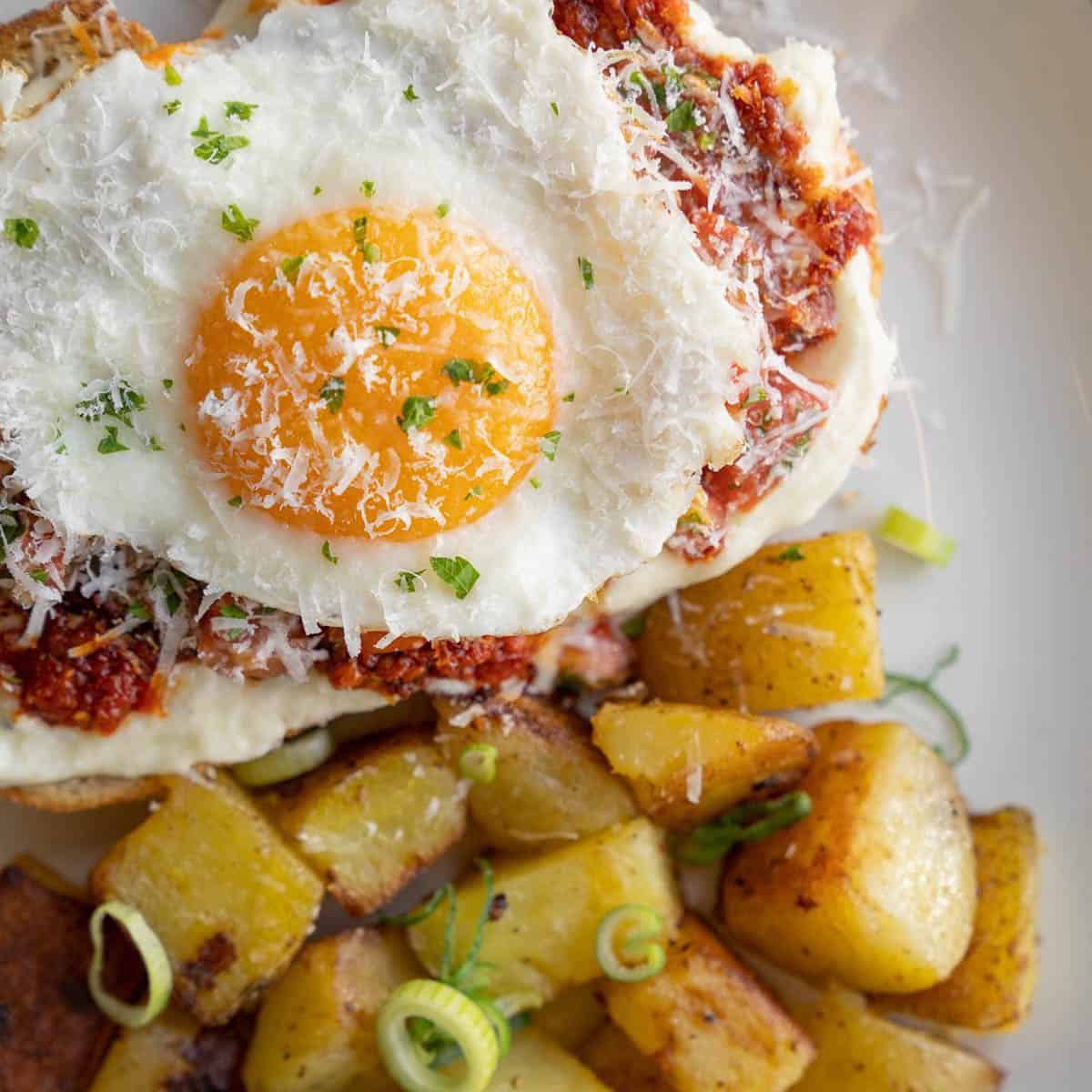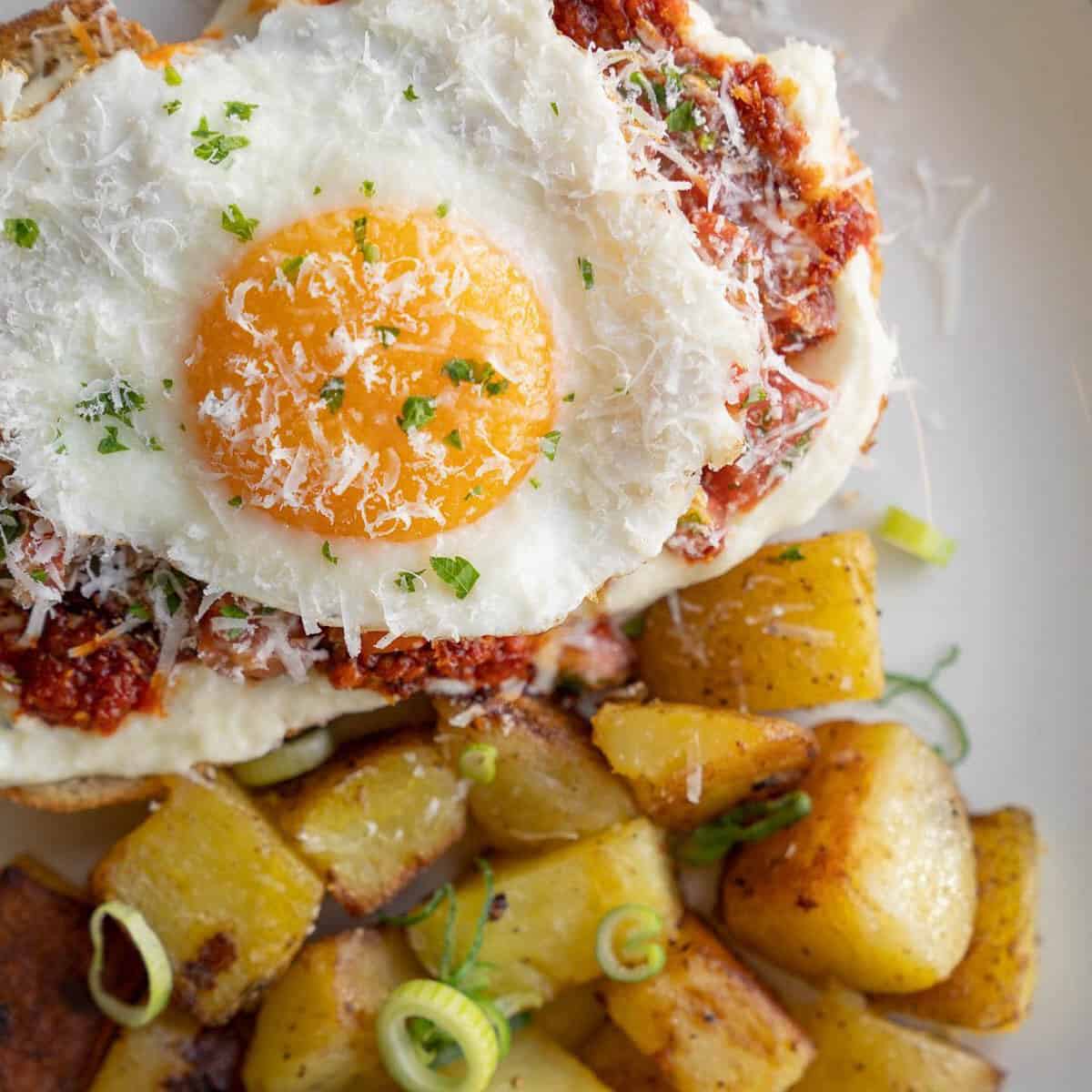 And as for the food, well, get ready to swoon. With a wonderful blend of classic recipes and innovative twists, choose from items such as a Sweet French Toast Bake, a Creamy Polenta Bowl with fried eggs, and even a Breakfast Bourguignon, which is a braised beef red wine stew with a poached egg, creme fraiche, and garlic toast. We also can't forget their terrific brunch cocktails, which include a Strawberry Aperol Spritz and a Breakfast Negroni (with pineapple!). It's very easy to see why so many people flock to Pip for an Edmonton brunch.
Highlevel Diner
Location: 10912 88 Ave NW
If a casual brunch is more your vibe, head to Highlevel Diner. Closed on Mondays but open every other day of the week from 8 am to 8 pm, the diner is known for its Canadian comfort food, outdoor patio, and welcoming atmosphere. With local art on display in the restaurant, too, it's safe to say that Highlevel Diner is proud to represent its community and neighbourhood, which is always a wonderful thing to see.
To eat, you can choose from a great list of breakfast and brunch options, including numerous Eggs Benedicts (our favourites are the smoked salmon or short rib), omelettes, pancakes, granola, and more; make sure to save room for a cinnamon bun, as they're some of the best in the city! There's also a "hygge comfort menu", where you'll find tourtieres, baked goods, and many other delicious options.
Rooster Kitchen and Bar
Location: 10732 82 Ave NW
Open from 9 am every morning (other than Wednesdays, when it is closed), Rooster Kitchen and Bar is one of the best brunch restaurants in Edmonton. With a homey, welcoming atmosphere and a friendly staff to boot, it's a brunch favourite of locals, especially families. And if you decide to head here early, there are breakfast specials until 10 am!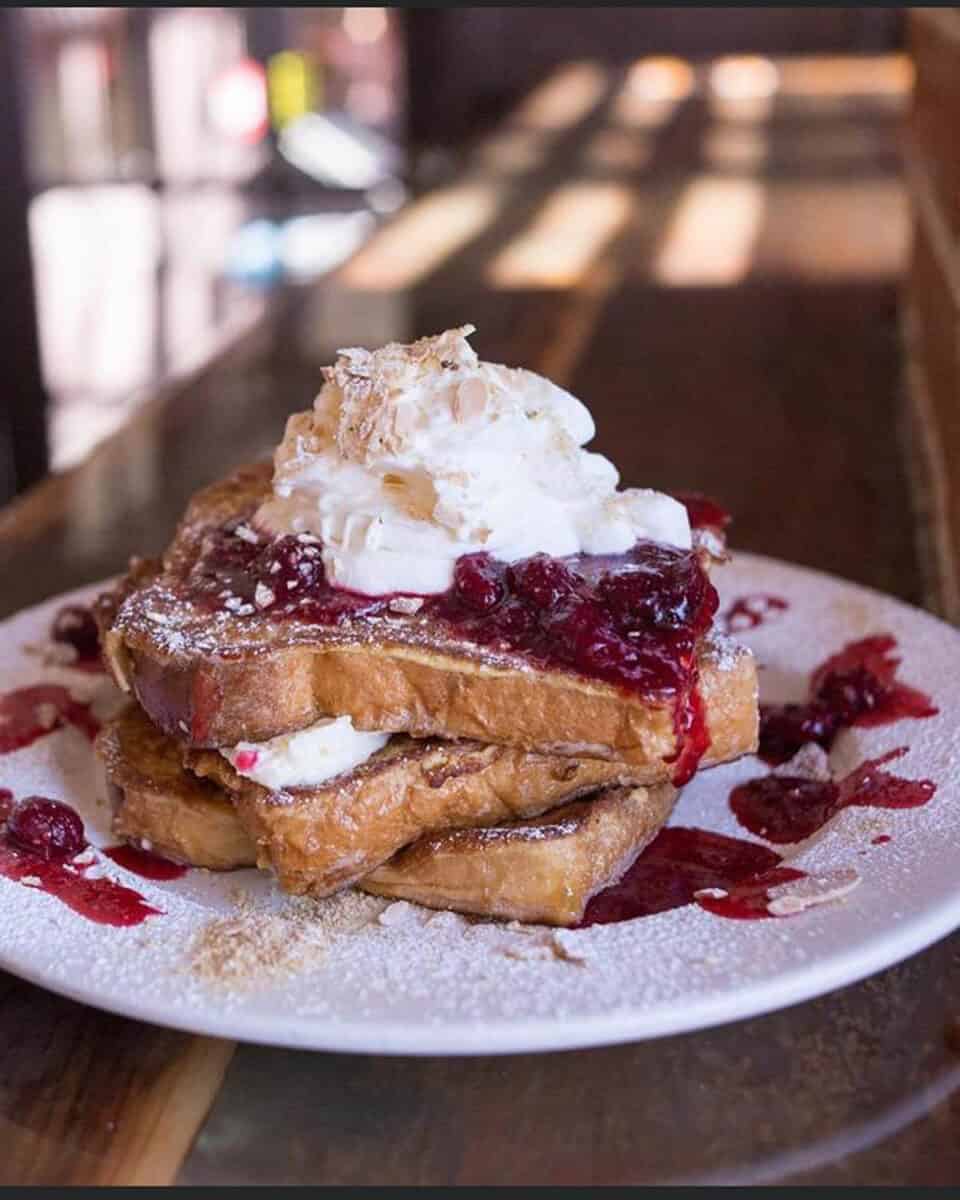 With a massive brunch menu to choose from, it's almost impossible to list all of the amazing options at Rooster. A few standouts for us include the Iron Brisket Skillet, Cheesecake Stuffed French Toast (seriously), and the Cowboy's Hangover. Another guaranteed crowdpleaser? The award-winning Rooster Polanchintas, two ricotta cream cheese-filled blintzes topped with sour cream and Rooster berry compote. If you're looking for a hearty and delicious brunch in Edmonton, look no further than Rooster Kitchen and Bar.
Café Bicyclette
Location: 8627 91 St (inside La Cité Francophone)
If you're on the search for delicious French and Quebecois dishes, head to Café Bicyclette for your next Edmonton brunch. During the week, you'll find coffee and pastries served from 9 am to 11 am, and then a lunch menu begins. But on weekends, you'll find a scrumptious brunch that is well worth a visit to Edmonton's La Cité Francophone!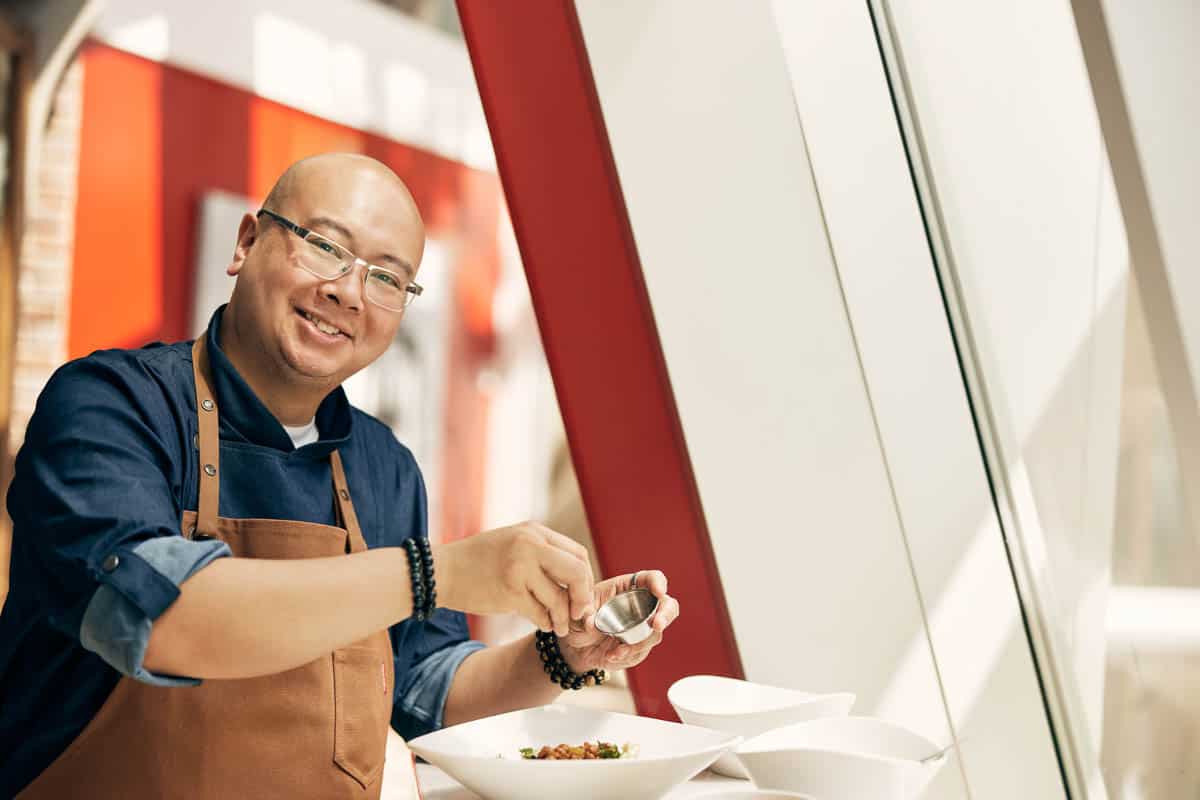 The brunch menu is filled with classic French and French-Canadian meals, including their fantastic tartines (we love the one with Brie cheese). There are plenty of rich, savoury dishes to choose from, such as the poulet croustillant Eggs Benedict (with crispy chicken, jalapeno Havarti, soft poached eggs, and brown butter hollandaise), a la viande fumée et boeuf (with soft poached eggs, cheese curds, Montreal style smoked meat, brisket, brown butter hollandaise, tomato confit, Dijon mustard, and a crispy cheese crumble), or, if you're after something sweeter, pain perdu (not your ordinary French toast, it's made with housemade cinnamon raisin brioche, wild blueberry compote, vanilla ice cream, orange lavender butter, and maple dulce de leche). Hungry yet? Oui!
Barb and Ernie's Old Country Inn
Location: 9906 72 Ave NW
This Edmonton restaurant is known for its unbelievably good Eggs Benedict made with a white wine hollandaise sauce. Low-key, welcoming, and with a sweet, friendly vibe as soon as you walk in, Barb and Ernie's Old Country Inn also specializes in German food as well as breakfast, brunch, and lunch; in fact, their motto is "Homestyle taste, German attitude"!.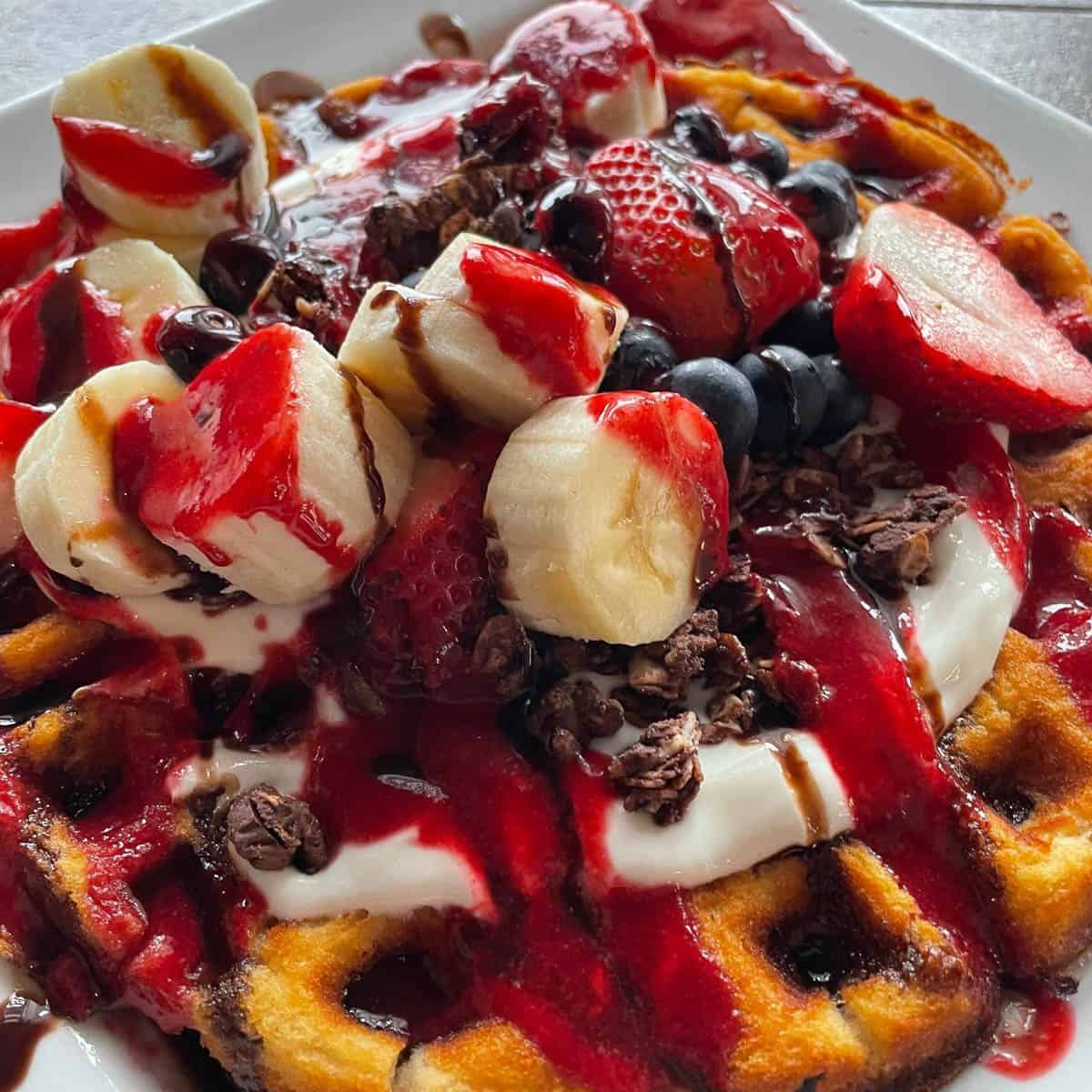 With a history that goes back to 1975, the food is both filling and tasty. Choose from a massive menu that provides options for just about any tastebuds, especially as there are so many delicious combinations! There are meat and potato breakfasts, hotcakes (apparently the biggest in town), omelettes, breakfast specials, and, as mentioned, a huge list of Eggs Benedict. We love the German Bacon Pancakes, the Eggs Benedict with either bratwurst or breaded pork schnitzel, and the Barb and Ernie's Special Breakfast. What's not to love about this place?
Tiramisu Bistro
Location: 10750 124 St
Open from 9 am every morning, Tiramisu Bistro is a casual and cozy spot for breakfast and brunch. With an aim to be your "home away from home", this restaurant is also a bakery and market, so you can pick up a few goodies to take home after your meal. There's a sizeable brunch menu that includes many classics and quite a few specialties; almost everything has an Italian twist or influence, so you can expect a lot of delicious options.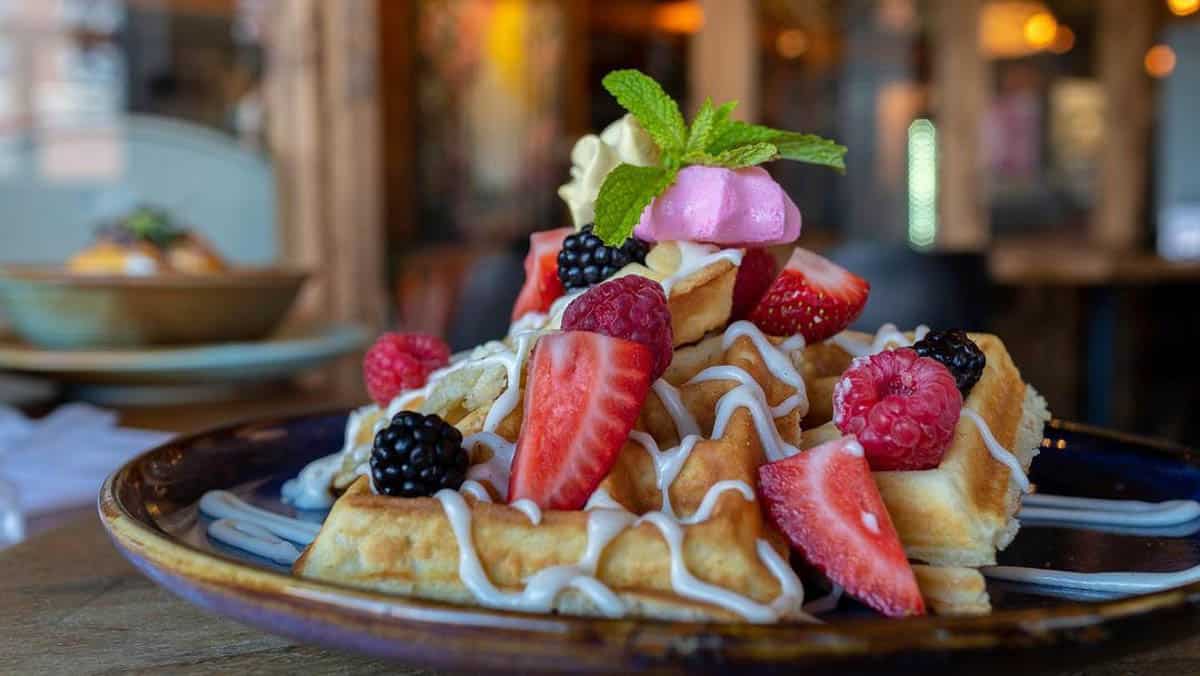 Choose from an interesting list of Eggs Benedict, including a Beef Briskey Benny, or, our favourite, the Spaghetti Benny, served with Italian sausage, bacon, eggs, garlic, and hollandaise on… yep… spaghetti! We also love the Cinnamon Bun French Toast, the Asparagus Risotto with poached eggs, the Ricotta Pancakes, and the Breakfast Pizza, which has pesto, roasted bell peppers, onions, mushroom, zucchini, mozzarella, and two eggs. There's also a "bambini" menu for the kids!
De Dutch
Location: 10030 Jasper Ave
Open early – from 8 am on weekdays and 7 am on weekends – De Dutch has been serving happy customers since 1975. The menu is full of Dutch cuisine with some subtle twists, and the Edmonton restaurant is very popular for breakfast and brunch, especially on the weekends. And if you've never tried one of their Dutch pancakes, or pannekoeken, you simply have to go!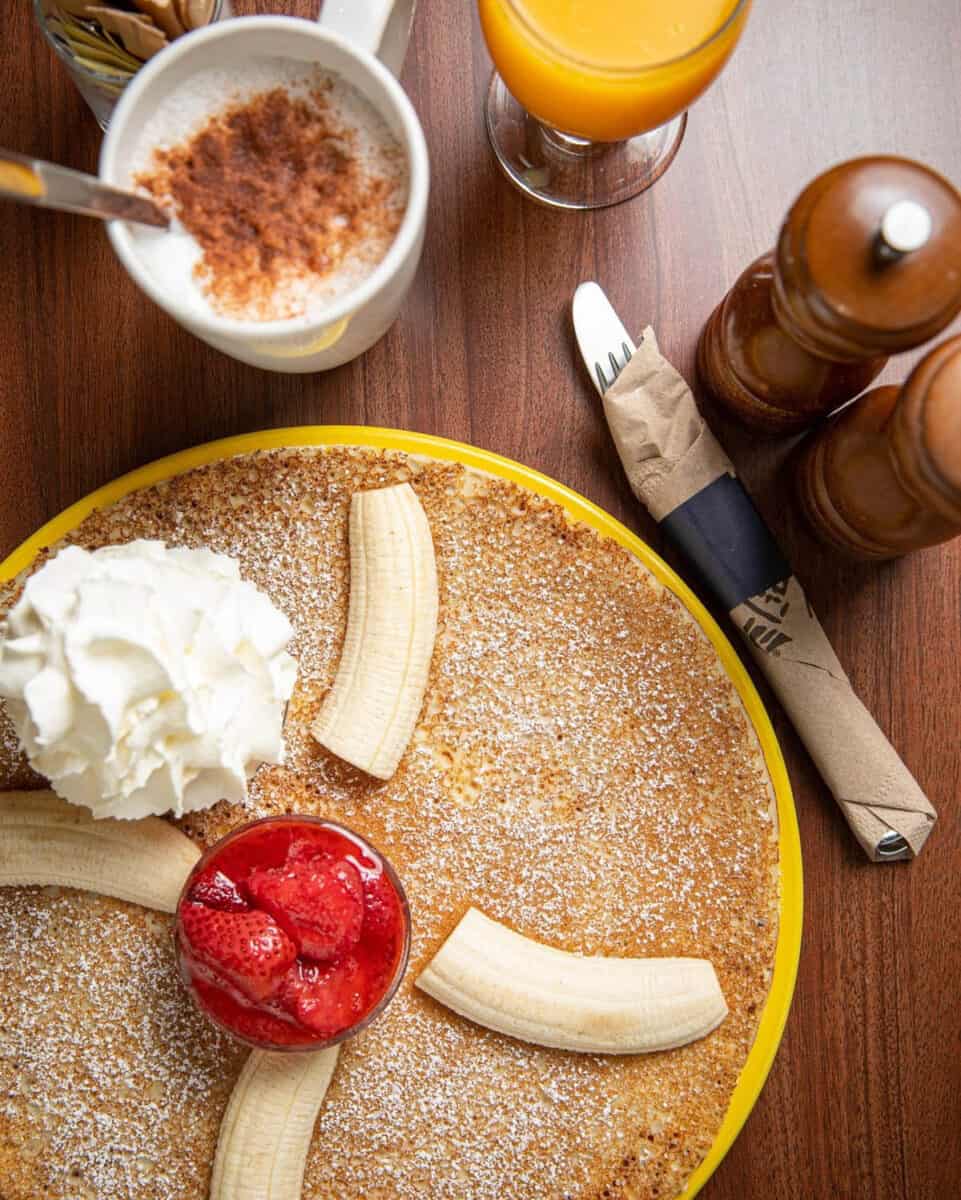 The menu features many pannekoeken, all prepared with a secret recipe. These huge, thin pancakes can be served savoury or sweet; there's everything from ham and eggs to whipped cream, fruit, and more. Try the stroop, a Dutch-style syrup, for an even more authentic taste. If you're not in the mood for pancakes, there are also terrific breakfast platters available served with your choice of protein, two eggs, hash browns, toast and one side.
The Bro'Kin Yolk
Location: 1641 102 St NW
We've written about The Bro'Kin Yolk before, as we listed it as one of the best spots for brunch in Calgary! Thankfully, there's a location in Edmonton, too, as it really is one of the tastiest spots for brunch in the province. Owned by two brothers, Jeff and Gil Carlos, The Bro'Kin Yolk opened its first restaurant in Alberta in 2015. Today, it's an incredibly popular spot for brunch in Edmonton, especially for those who love eggs… it's in the name, after all!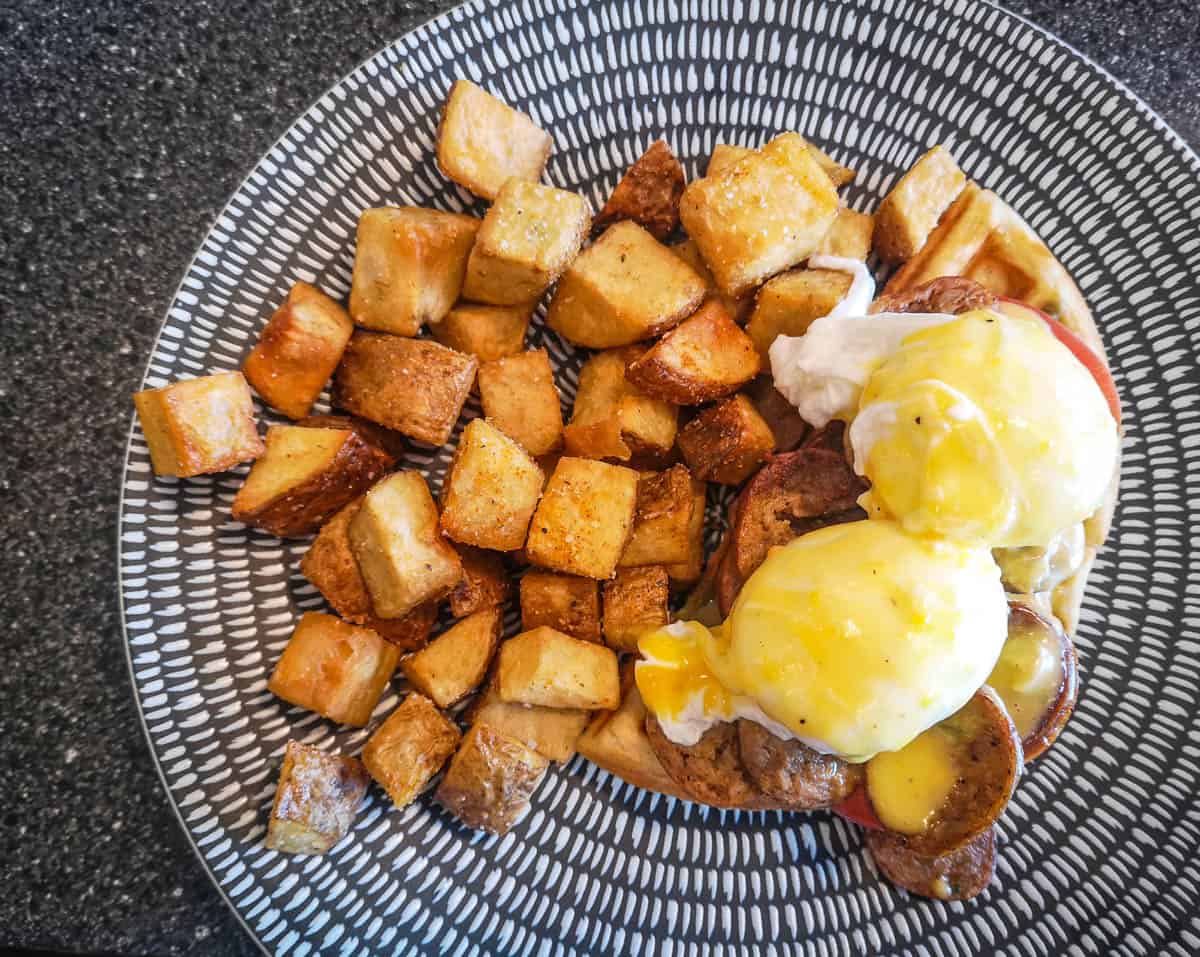 On the menu, you'll find an amazing selection of frittatas, breakfast poutines, and an Eggs Benny Bar. But you can also try one of their many breakfast classics, including chicken and waffles, vegan hash, and the Fili Breakfast Bowl, a bowl that highlights many Filipino ingredients. There's a great kids' menu, too, making this a fantastic choice for the entire family. And don't forget to try one of their coffee drinks, smoothies, juices, or breakfast cocktails!
Ampersand 27
Location: 10612 82 Ave NW
Ampersand 27 is only open for brunch on Sundays, but trust us, it's worth the wait. Usually known for its upmarket fare made with innovative and fresh ingredients, it makes sense that Ampersand 27 also serves up the best brunch around. With a modern and artsy vibe, this stylish restaurant wins major points in its food presentation and undeniable cool factor.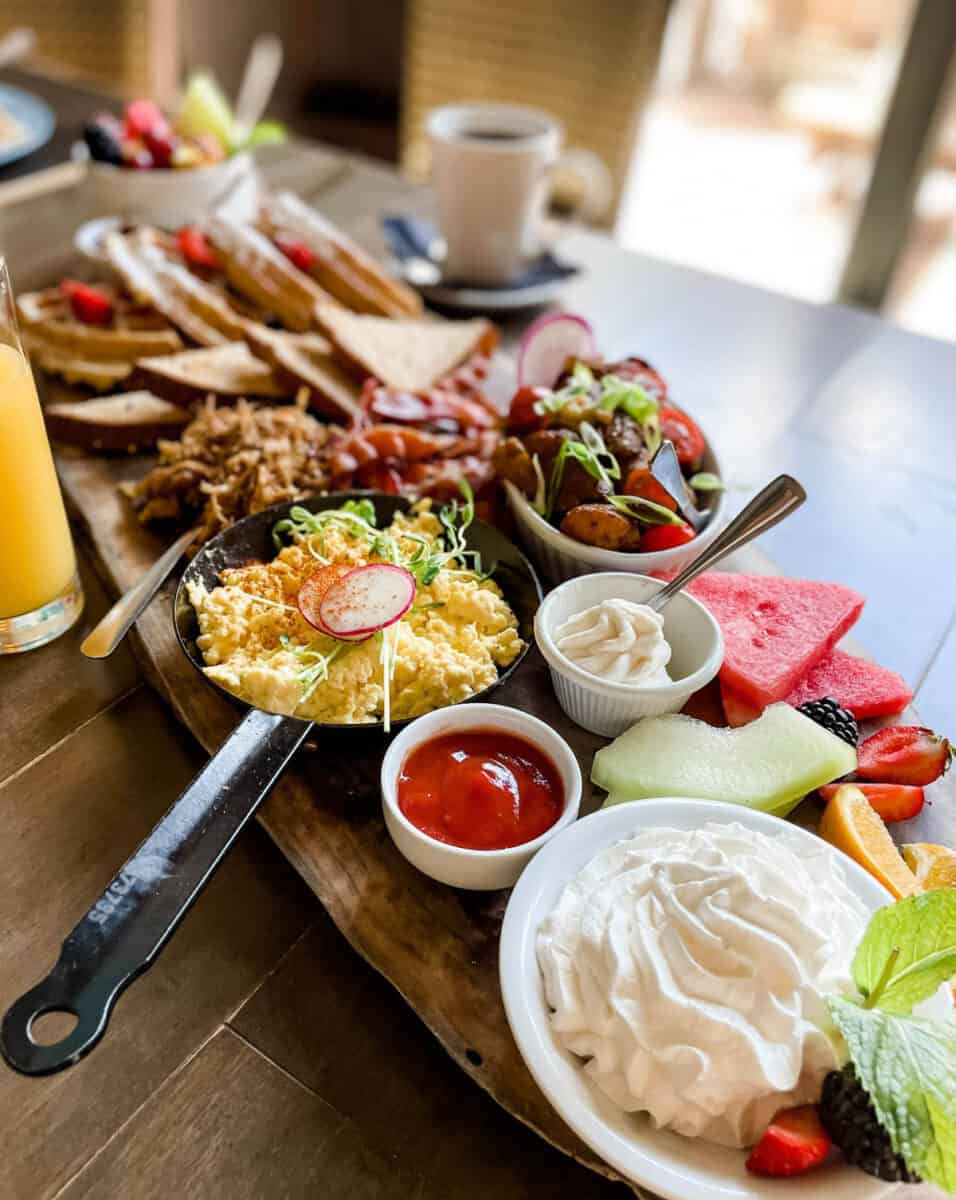 Case in point? The restaurant's much sought-after "Brunchuterie Board" is one of the most Instagrammable meals around. On the board, you'll find scrambled eggs, smoked bacon, pulled pork, smashed garlic baby potatoes, waffles, fruit, berries, toast, maple syrup, and more, all put together for two people. If that's not your (strawberry) jam, try the breakfast hash, eggs benny, chilaquiles with eggs, or one of our favourites, the "Hippy Toast" with avocado, arugula, Roma tomato, red onion, poached eggs, spicy aioli, garlic potatoes, and the option for smoked salmon, all served on freshly baked rye bread. Try the breakfast craft cocktails, too!
Under the High Wheel
Location: 8135 102 St NW
Found near the Old Strathcona Farmers' Market, Under the High Wheel is another fabulous choice for your Edmonton brunch. Enjoy locally-sourced Canadian food in a cozy, welcoming restaurant… bonus points if you can snag a seat on the flower-filled patio in summer! Open from 9 am to 3 pm daily, there's a lot to love about this Edmonton restaurant.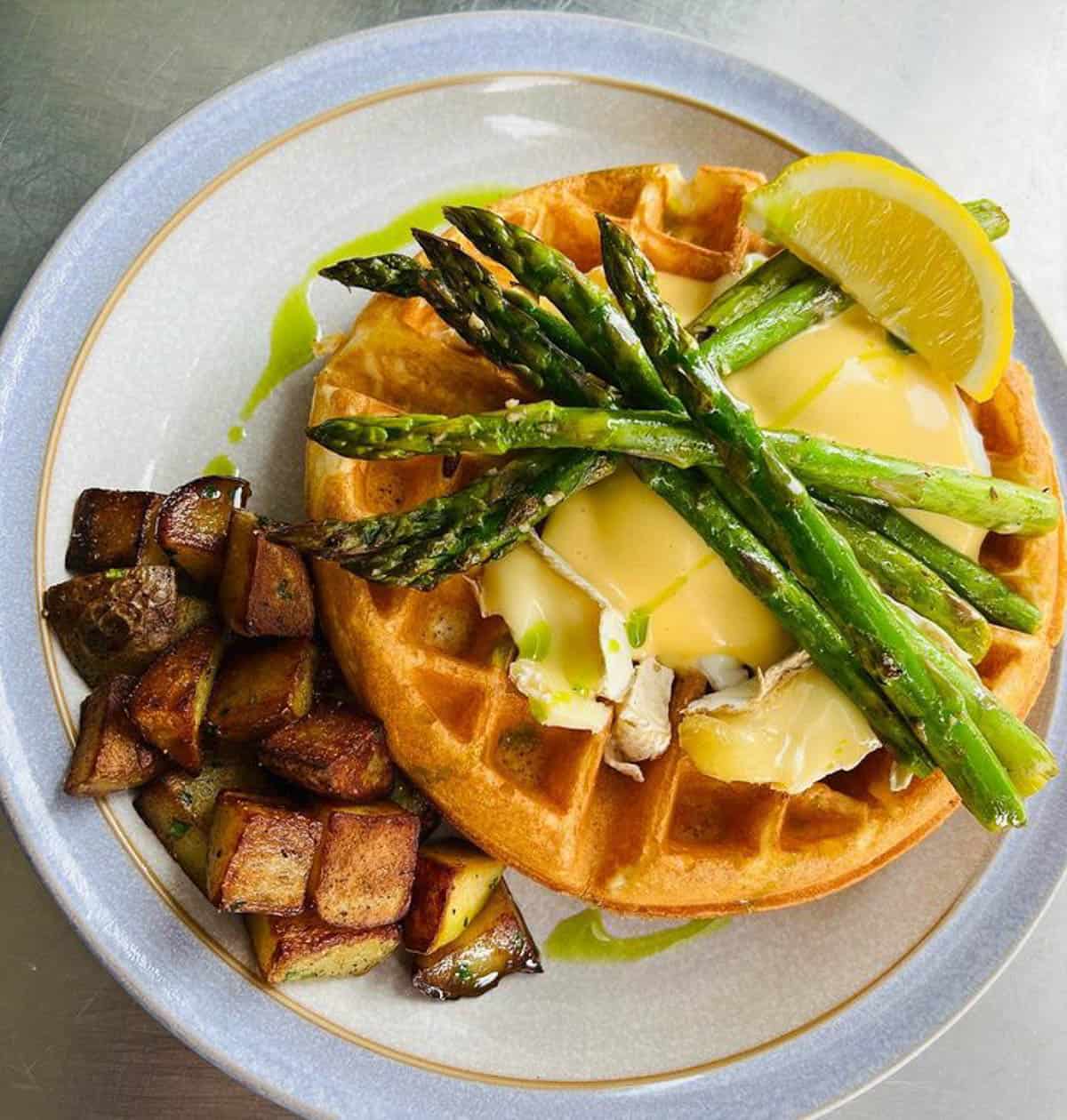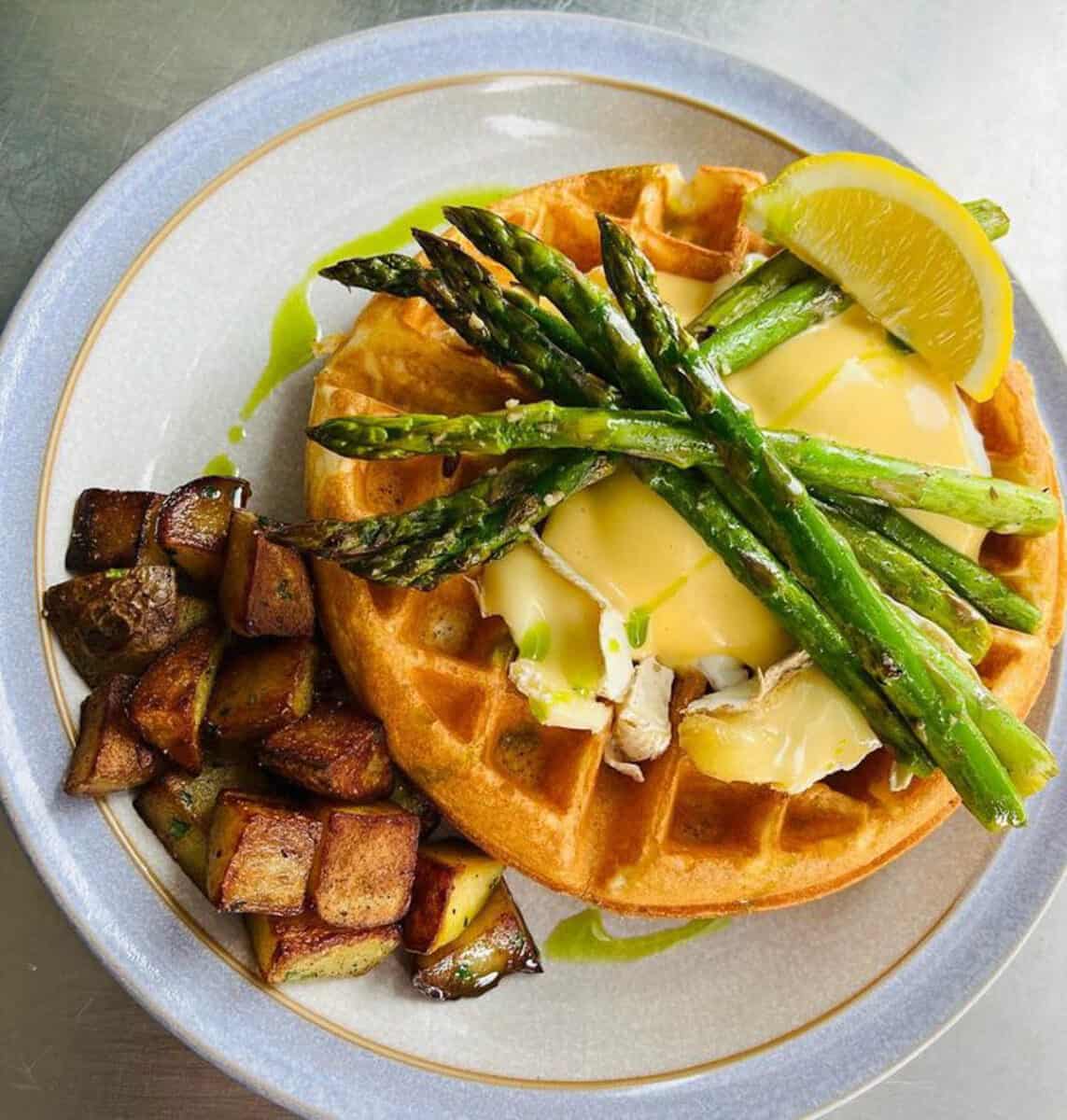 Community-driven and aiming to serve only the freshest, seasonal ingredients, expect to find items on the menu from Alberta farms, businesses, and producers. Brunch offers something for those with a sweet tooth, including Tahini Pecan Granola and Sweet Belgian Waffles. Prefer savoury? Go for the Bangers and Mash, the Traditional Breakfast with all the fixings, or the Huevos Under the Wheel, a gluten-free option with two sunny eggs, refried black beans, pico de gallo, an organic buckwheat crepe, feta, and avocado.
Hathaway's Diner
Location: 13225 132 St NW
Sometimes you just gotta keep it simple. Head to Hathaway's Diner for a nostalgic throwback to the breakfast diners we all grew up with (or at least grew up watching in movies). This snug spot has many vintage touches to get you in the mood, including a checkerboard floor and vintage signs. Closed on Mondays but open every other day from 8 am (except Sunday, when it opens at 9 am), the diner has long delighted locals and tourists alike; it was even voted one of Canada's top 100 places to eat according to Yelp!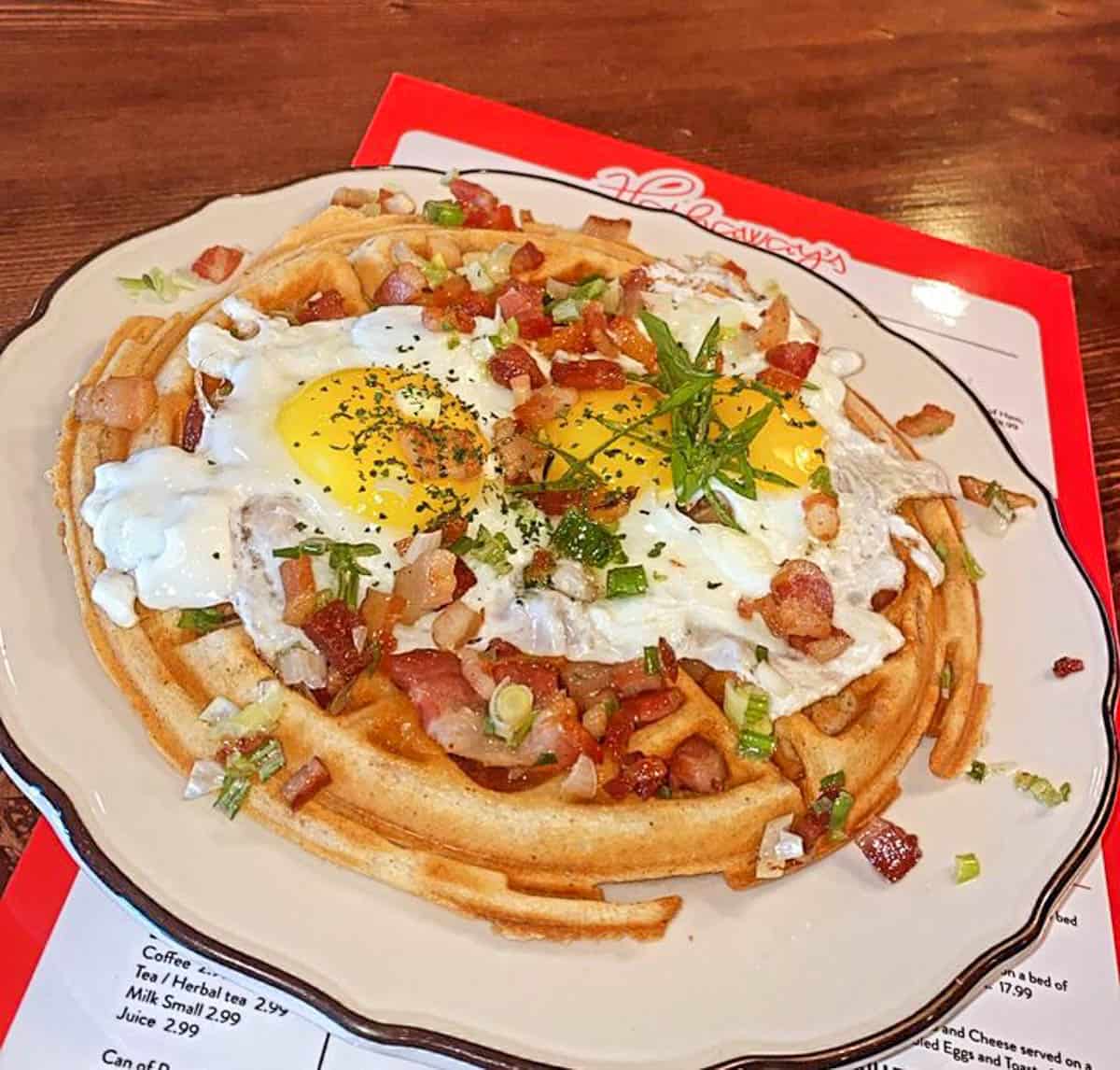 As for brunch, you'll find a ton of breakfast classics like steak and eggs, a breakfast burrito, and, of course, a few options for Eggs Benny (including a vegetarian option). There's also a good array of skillets, including a country skillet and a corned beef hash skillet. Always tasty and always filling, Hathaway's Diner is a great choice for brunch in Edmonton.
Toast Culture
Location: 11965 Jasper Ave (base of the Pearl Tower)
Open since the spring of 2019, Toast Culture has fast become one of Edmonton's top brunch restaurants. Open every day from 9 am, there's a fantastic list of fresh, satisfying meals to choose from, all served in a cozy, modern spot. Many of the dishes are connected to the community in some way, as many ingredients as possible are sourced locally and from businesses in the neighbourhood (such as its bread and coffee beans, for example).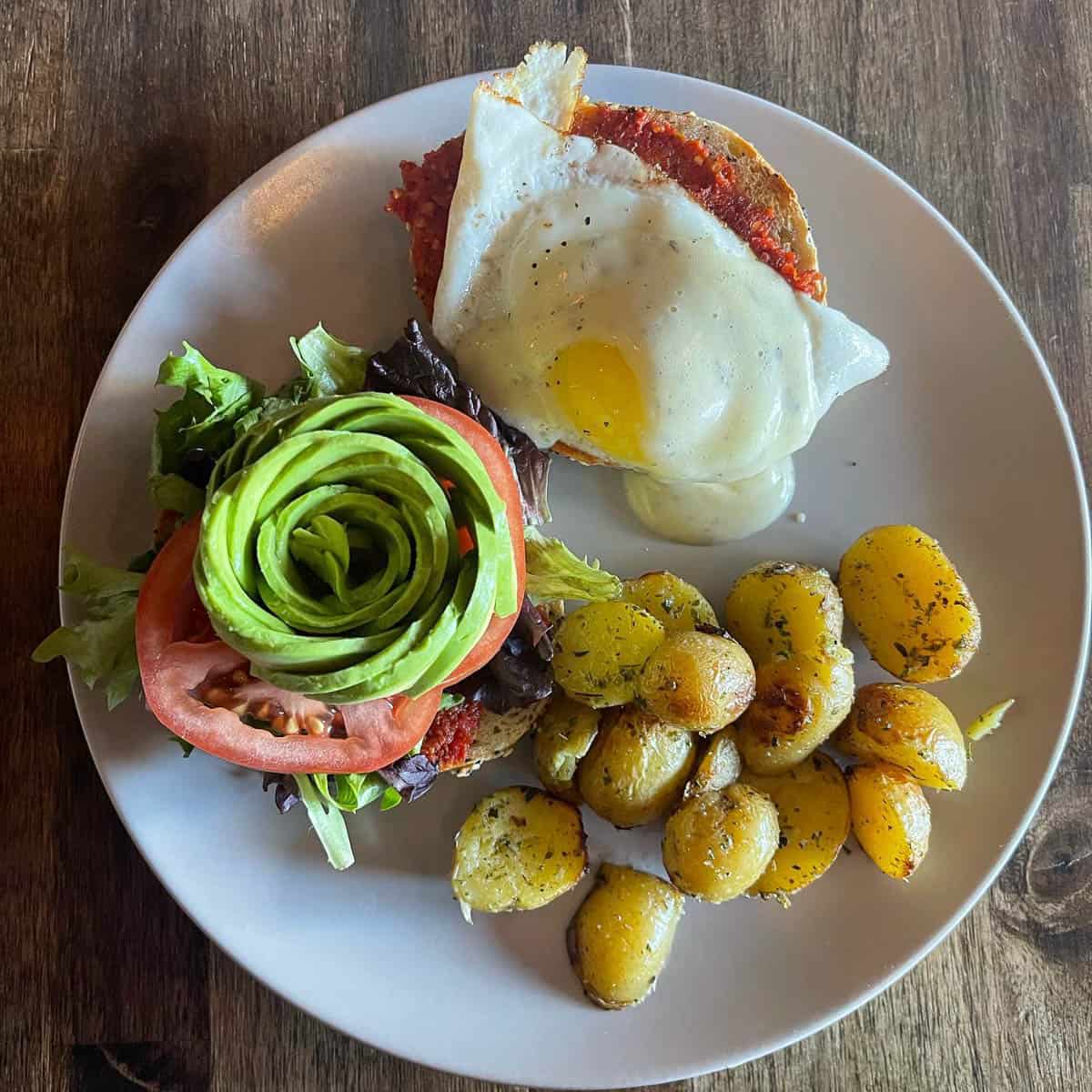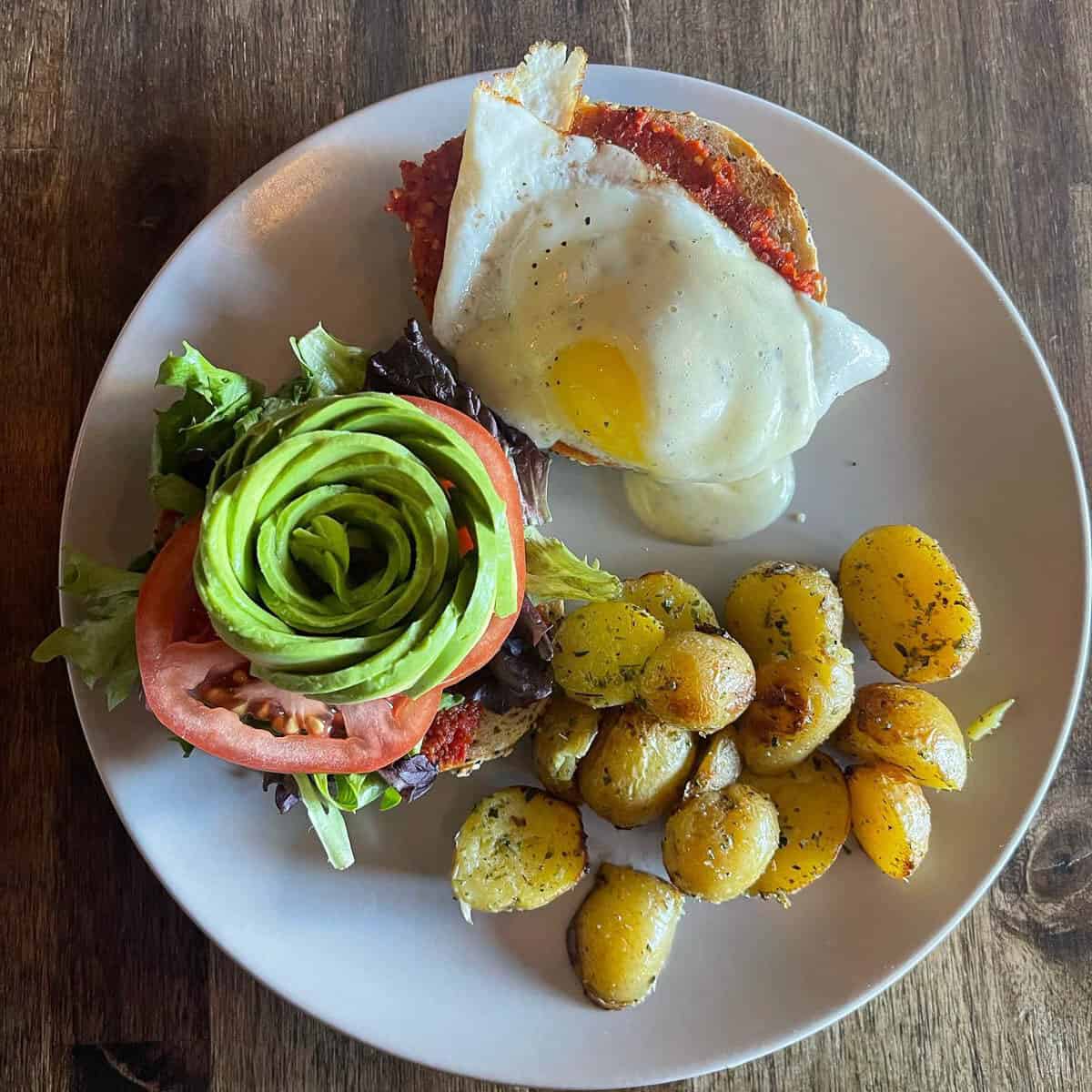 As for the menu, well, it's in the name! Expect many delicious variations of toast and bread, as their excellent "toast bar" has a huge list of options. We love the Ahi Tuna Poke Toast (with soy glazed Ahi tuna, fresh kimchi slaw, cucumbers, pickled onion, and basil aioli on multigrain), the Pink Pepper and Goat Cheese (with pumpkin seeds, rock salt, and thyme maple syrup on sourdough) and, of course, the good old Avocado Toast (with guacamole, pico de gallo, hemp hearts, and avocado puree on sourdough). There are also many other breakfast and brunch options on the menu if you don't feel like toast, including granola, wraps, sandwiches, waffles, and more.
Little Brick
Location: 10004 90 St NW
We've listed Little Brick as one of our top Edmonton restaurants, but we think it deserves its spot here, too! This counter-serve place has a wholesome, welcoming vibe, and the patio is a wonderful place to share a coffee and a pastry in summer. There's also a General Store filled with lots of fun, locally-made items to peruse, so set aside some extra time after brunch to do some shopping.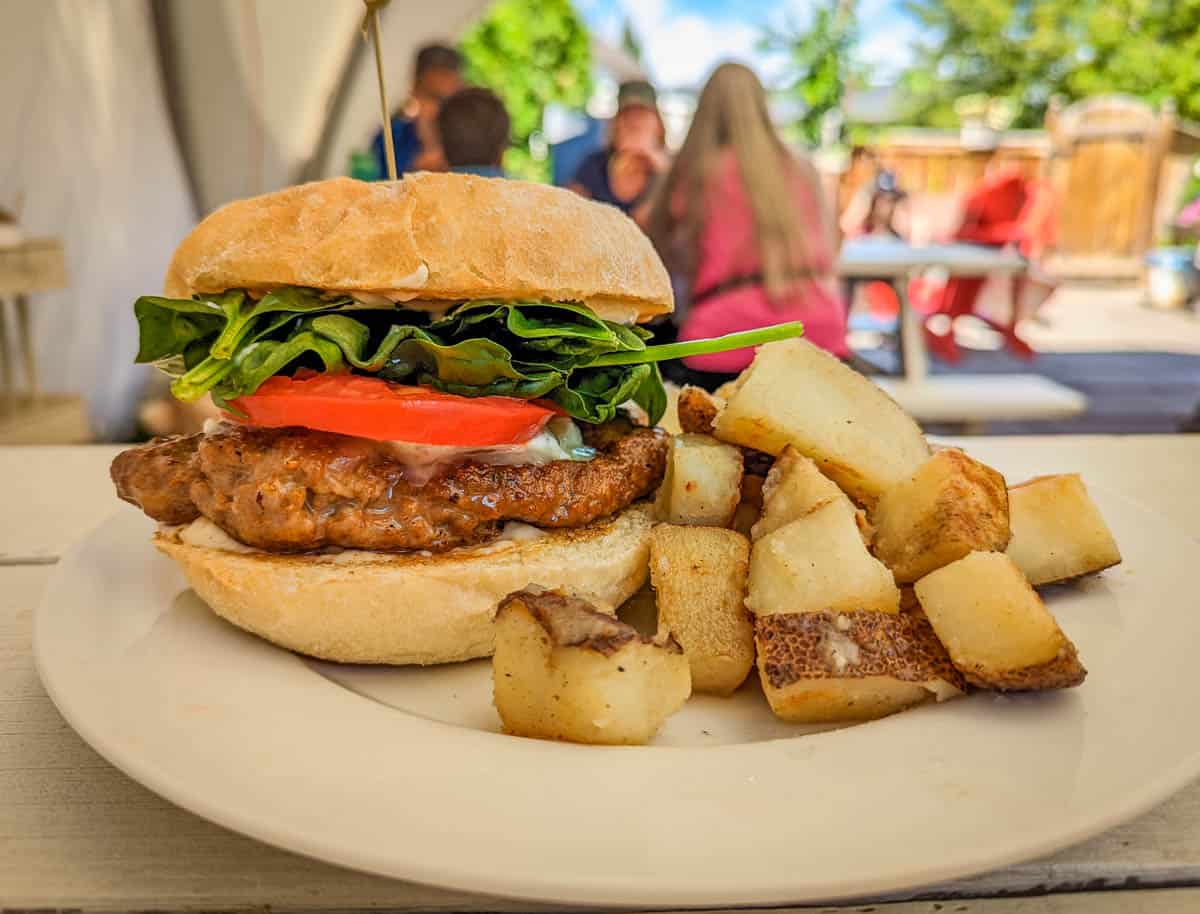 As for the brunch menu, Little Brick believes that "great food can be healthy, locally sourced and homemade", and we wholeheartedly agree! Enjoy meals such as the Little Brick breakfast (with eggs, sausage, toast, and roasted potatoes), a Vegan Hash, or, our favourite, the Hot Turkey Sandwich. All bread, buns, and pastries are baked fresh, and there's a rotating selection of some of the best coffee roasters from around the West Coast. All in all, brunch here is a massive win.
The Moth Café
Location: 9449 Jasper Ave
The Moth Café is also included in our list of the best Edmonton cafés and coffee shops, but its stellar brunch means it makes the cut here, too! Known for its many vegetarian and vegan options as well as its many gluten-free choices, The Moth Café is a beautiful space, with lots of plants, sunshine, and incredibly stylish decor. Serving seasonal food and drinks, you can expect this brunch place to always offer the freshest ingredients possible on its menu, most of which are sourced locally, too.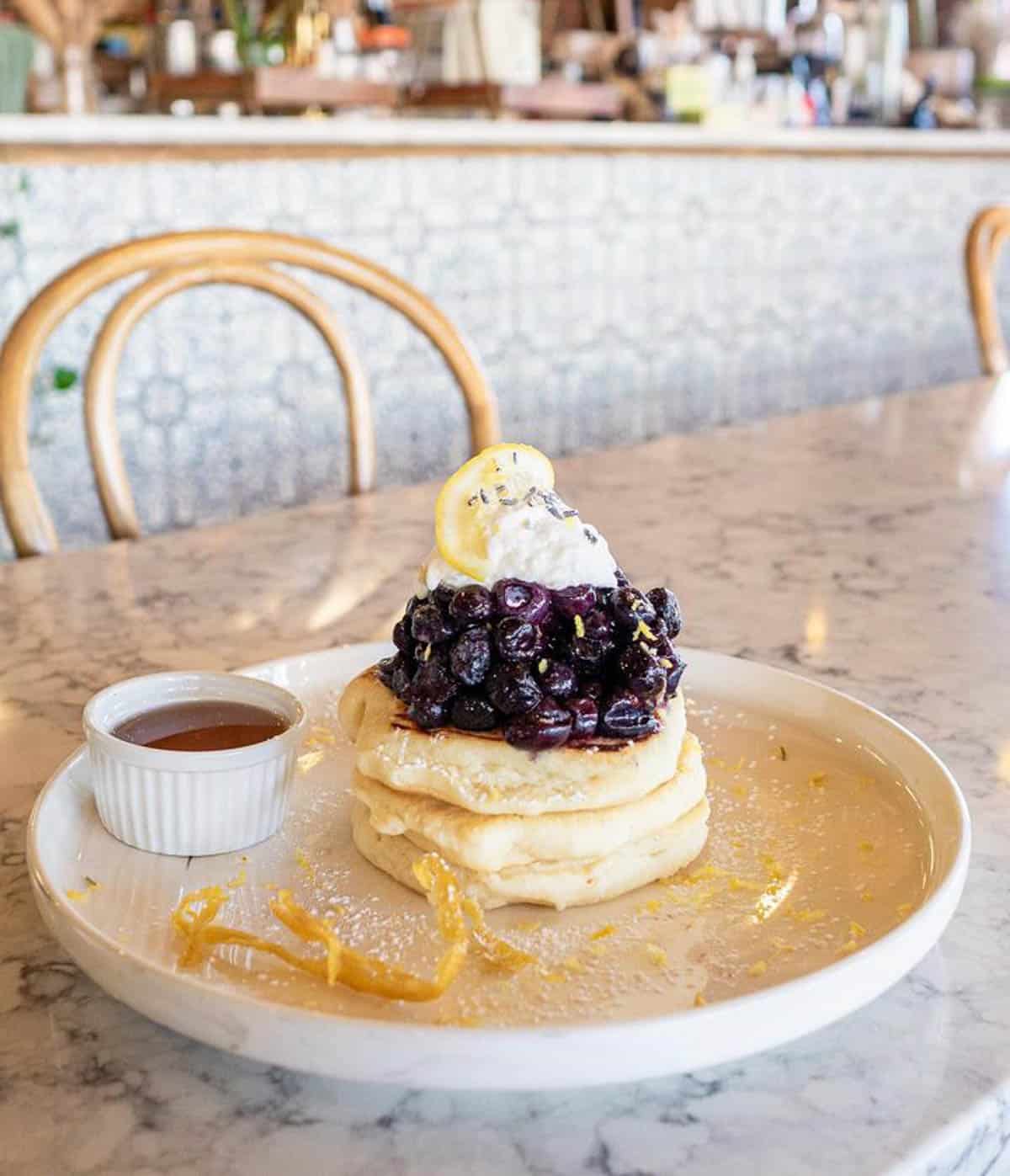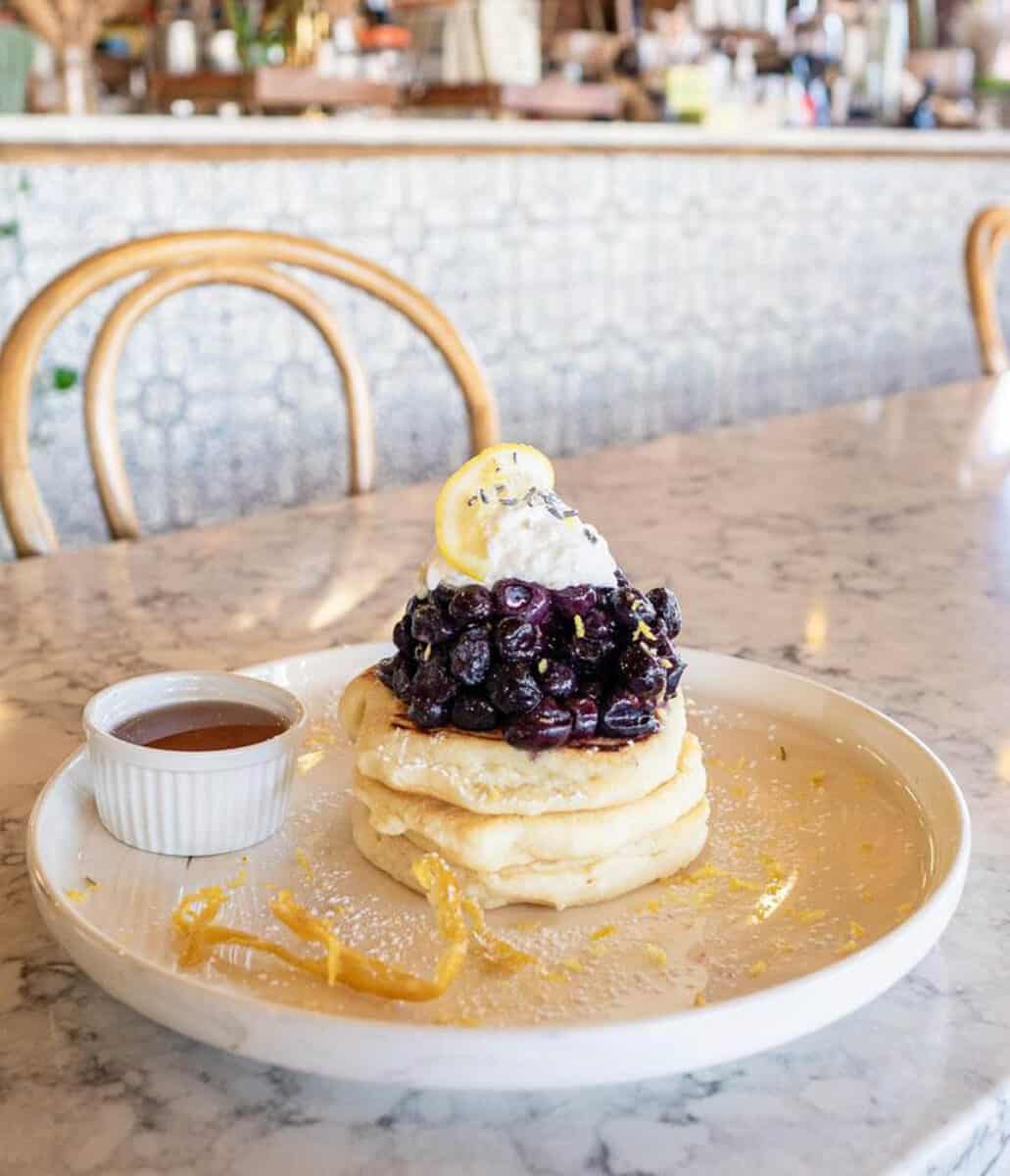 Open every day from 11 am, it's a perfect brunch option for that lazy day or sleepy morning. This relatively new restaurant has already made waves with its delicious pancakes, omelettes and bowls, not to mention its delectable coffees, teas lattes, medicinal teas, and cold drinks (the kombucha is always our choice). We're big fans of the Crab Cake Benny, which uses jackfruit in place of crab and a cashew-based hollandaise sauce.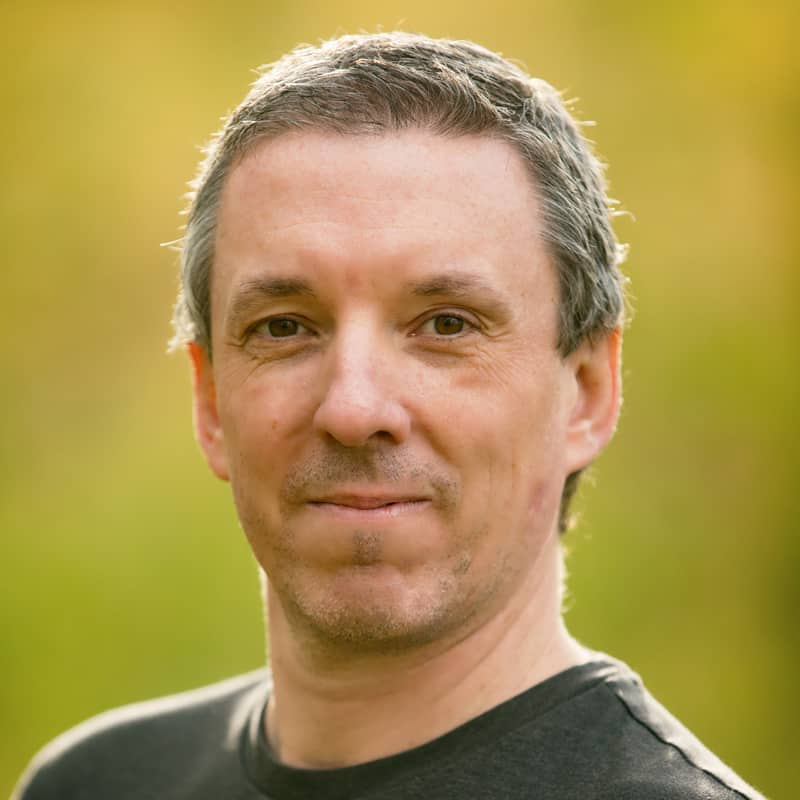 Pete is a co-founder of Road Trip Alberta. Growing up in Edmonton he has an extensive knowledge of Alberta and everything the province has to offer. He loves to eat good food, hike (especially in the winter), play tennis and curl. Apart from running Road Trip Alberta, he is a director with HMI, a digital media agency, half of the Hecktic Travels duo, and a co-creator of the popular card game Trip Chaser.