Disclaimer: This page may contain affiliate links. Please review our full Terms and Conditions for more information and our Privacy Policy. Note that any pricing, operating hours, or other such information provided below may have changed since initial publication.
Compiled by the Road Trip Alberta team
Last updated on February 24, 2021
One of the biggest appeals of living or visiting Alberta's third-largest city is the major attractions all within a short drive – like Waterton Lakes National Park. It's about an hour and a half drive from Lethbridge to Waterton, so you can easily find yourself in this scenic mountain paradise which is also a UNESCO-recognized site. And one of the best things is that because this national park is tucked in the soutwestern corner of the province, it is a farther drive for all other Albertans and thus usually less crowded with tourists.
This guide offers details on getting there plus some fun stops that should be made along the way!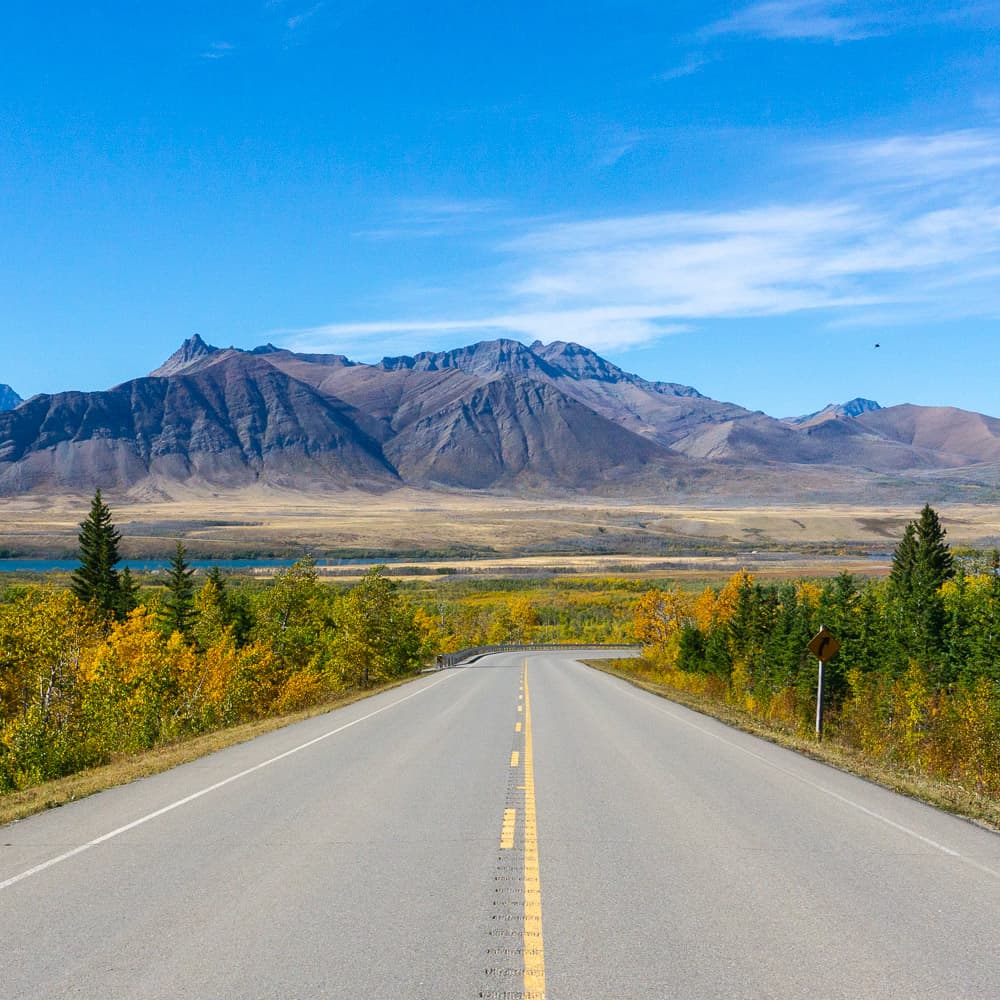 About the Route
Why not make it more of an adventure? Take one route there and another back to take advantage of seeing the Canadian Rockies from different angles. We personally recommend the first two outlined below, but the third one is also a cool option.
Fastest Route – All you need to do is hop on Highway 5 west and follow it for 132km. This is a relatively easy and scenic drive, and you'll spend just over an hour and a half in the car.
Alternate Route 1 – This one is a bit longer at 157 kilometers and takes a little more navigation skills but it is just as scenic and fun. For this one, you need to get on Highway 3 until you reach Highway 6 and south on it. The whole drive will last around 2 hours.
Alternate Route 2 – This is the longest one of them: it starts on Highway 3, but thenyou need to turn on Highway 2 until it reaches Highway 5 and follow it until you reach Waterton. This route takes a little over 2 hours.
IMPORTANT: Note that this route will require a pass in order to enter Waterton Lakes National Park. The current daily fees are:
Adult: $10.00
Senior: $8.40
Youth (up to 17 yo): FREE
Family/group (up to 7 people): $20.00
Commercial group (per person): $8.40
The daily passes expire at 4pm the following day.
Alternatively, a Parks Canada "Discovery Pass" can be purchased and used for multiple days and re-entry for one full year. The fees are:
Adult: $69.19
Senior: $59.17
Family/group: $139.40
The park gates are just before the town of Waterton, and passes can be purchased upon arrival. Alternatively, Discovery Passes can also be purchased online in advance.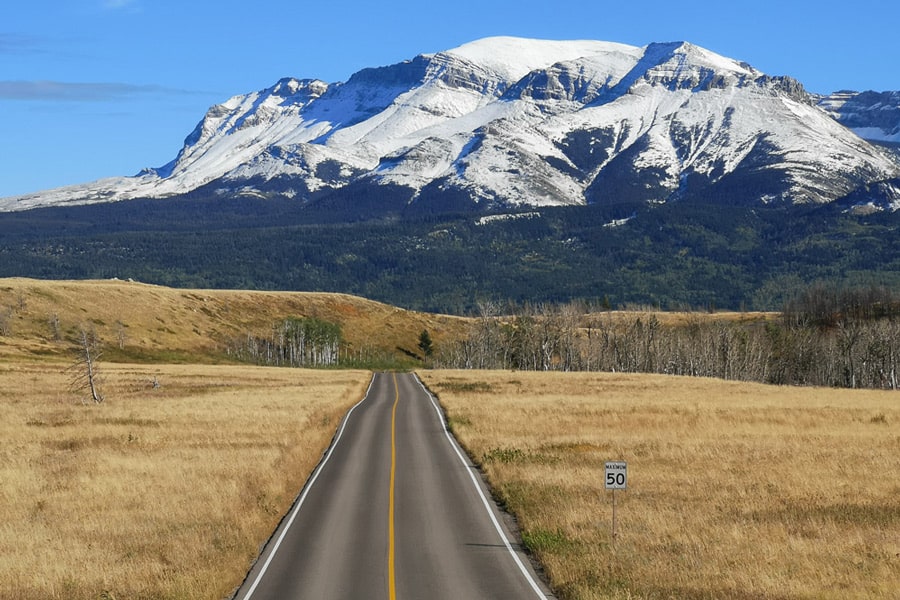 Lethbridge to Waterton by Car
If you're flying into Lethbridge, National Car Rental has an office at the airport, and we recommend booking in advance via RentalCars.com. With infrequent flights, we expect you may have driven from Calgary to Lethbridge, in which case we'll guess that you already have a set of wheels!
Please be mindful of driving conditions, especially in winter. While Alberta's highways are in great shape and well-maintained, snowstorms can wreak havoc for days at a time (especially as you are heading into the mountains), and construction can slow things down in summer. Learn more about Alberta's road laws and driving guidelines. In addition, check current road reports before you leave. Because of the strong eastward winds that come off of the mountains, it is not uncommon for the roads running west to be snow-blown and icy in winter.
Lethbridge to Waterton by Bus
As of right now, riding a bus on a direct line from Lethbridge to Waterton isn't an option.
Lethbridge to Waterton by Private Transfer
Taxis are always an option, of course, and we suggest calling Lethbridge Cabs or 5th Avenue Cabs for service. This can, given the distance, cost you a pretty penny.
There are a handful of Uber drivers in the area but you need to consider that drivers may not be willing or capable to make the drive and the price is close to what a taxi would cost for just one way.
You can also consider Poparide.com. There are options to select your driver based on your luggage and equipment requirements if you are traveling with skis, bikes, etc. Poparide charges per seat so you might not be solo.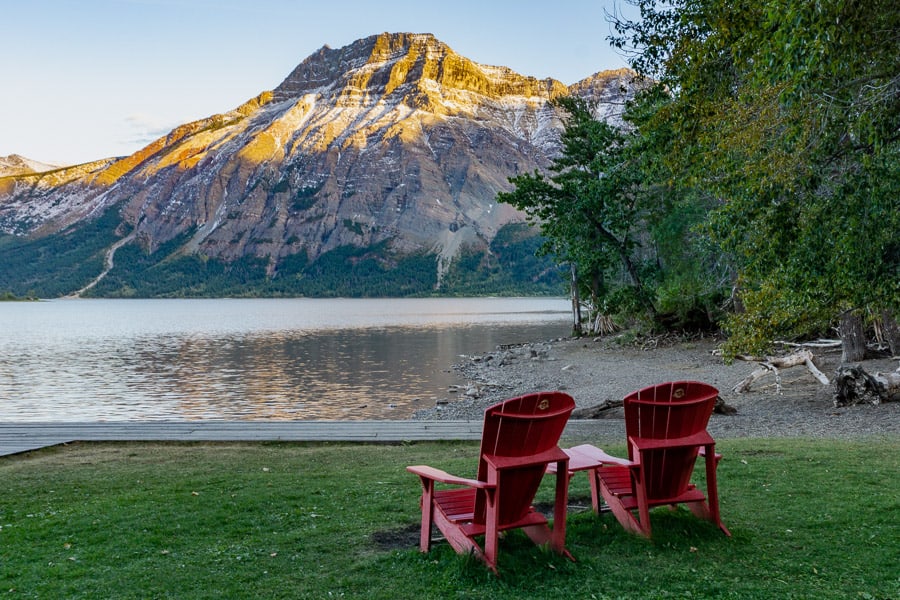 Fun Things to do Along the Way
Primary route
This one is a straight shot to Waterton with very little to do along the way. If you want to stretch your legs and have a hankering for some ice cream, then stop at the Barn Store in Mountain View.
Alternate route 1
Kootenai Brown Pioneer Village (at Pincher Creek) – This place is rich in history and a great way to learn about local culture. There is everything from a bakery, to barns, farms and particular homes to explore.
Twin Butte Mexican Place (at Twin Butte) – We wouldn't call this traditional Mexican food, but it is delicious nonetheless and very worth planning a stop for. Also don't miss stocking up on an array of their own hot sauces – we've tried many and they are all excellent!
Alternate route 2
Remington Carriage Museum (at Cardston) – This is another amazing opportunity to learn about the region's history. The largest museum of its kind in the world, the Remington Carriage Museum tells the story of horse-drawn transportation in North America.
Upon Arrival in Waterton
You made it!
We hope you've planned a few days for your stay. If you are a nature and adventure lover, there are so many ways for you to enjoy the great outdoors. See our guide on things to do in Waterton Lakes National Park to start filling your itinerary.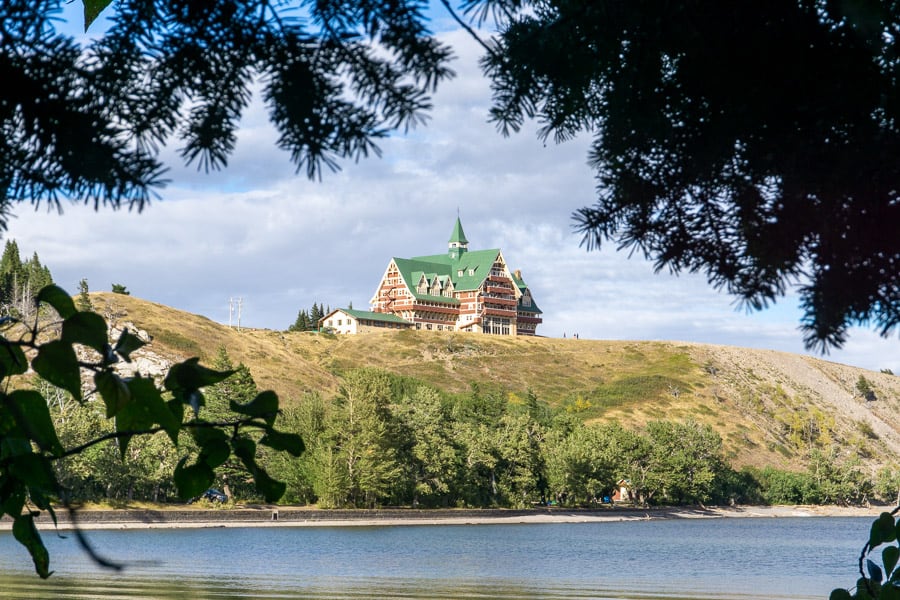 Where to Stay in Waterton
The town itself is a small one, so while there isn't a huge number of options, you will not be disappointed by quality!
Luxury Hotel in Waterton
Be sure to enjoy a quintessential 'afternoon tea' at the Prince of Wales Hotel, and then unpack your bags! Standing for almost 100 years, this iconic hotel in Waterton offers more than just a bed to sleep in – it's an actual historic experience. Enjoy the onsite bar and restaurant with views that can't be beat.
Read Reviews | Check Availability
Mid-Range Hotel in Waterton
The Waterton Glacier Suites is well-located and furnished to spoil. Enjoy your own fireplace, balcony, and spa bath right in your suite. Plus it's the only hotel that is open during the winter in Waterton.
Read Reviews | Check Availability
Budget Hotel in Waterton
About a 15 minute drive from Waterton, the Rocky Ridge Country Lodge offers an affordable and comfortable alternative. Choose from an attached room or your own cabin, and enjoy soaking in the outside tub and the gorgeous views around it!
Read Reviews | Check Availability
Airbnb in Waterton: There are no Airbnbs in Waterton Lakes National Park, but there are a number of nice options nearby.
Camping: If you are eager to become one with the beautiful natural surroundings, then consider putting up your tent in one of the national park campgrounds! There are also options nearby to camp for free and we have published an extensive guide to crown land camping in Alberta. Also, do you need something to sleep in? Yeah, we have a guide to RV rentals in Alberta too!