Disclaimer: This page may contain affiliate links. Please review our full Terms and Conditions for more information and our Privacy Policy. Note that any pricing, operating hours, or other such information provided below may have changed since initial publication.
Compiled by the Road Trip Alberta team
Updated on February 3, 2023
Planning an Alberta Badlands road trip can seem a daunting task. Given the 35,000 square km of dramatic landscapes, speckled with dinosaur remains and teeming with stories from the wild west days, the real question is where to even begin! There are many kilometres of road to be covered, and many possible stops to be made along the way.
There is a lot of good in the Badlands. And so after many trips down these roads ourselves, we've come up with six themed routes to help get you on your way.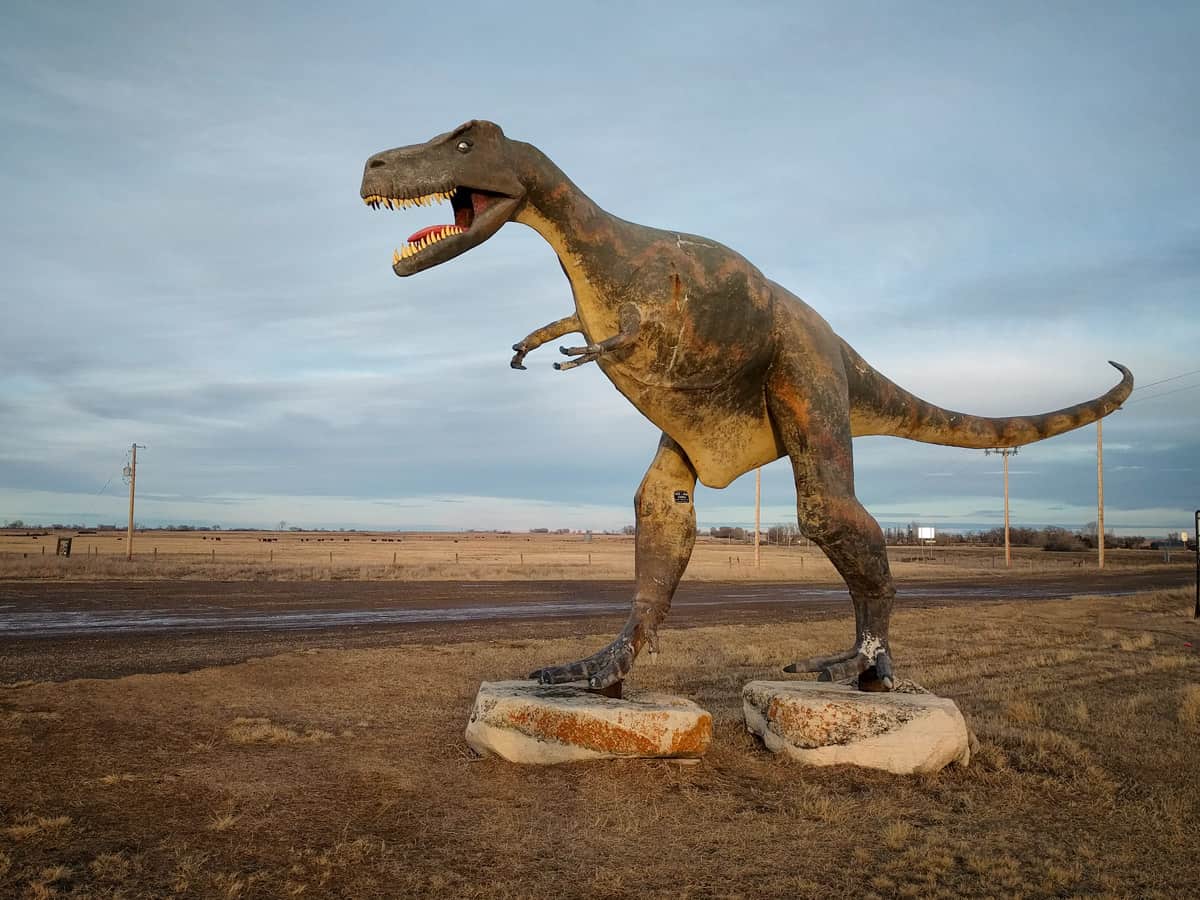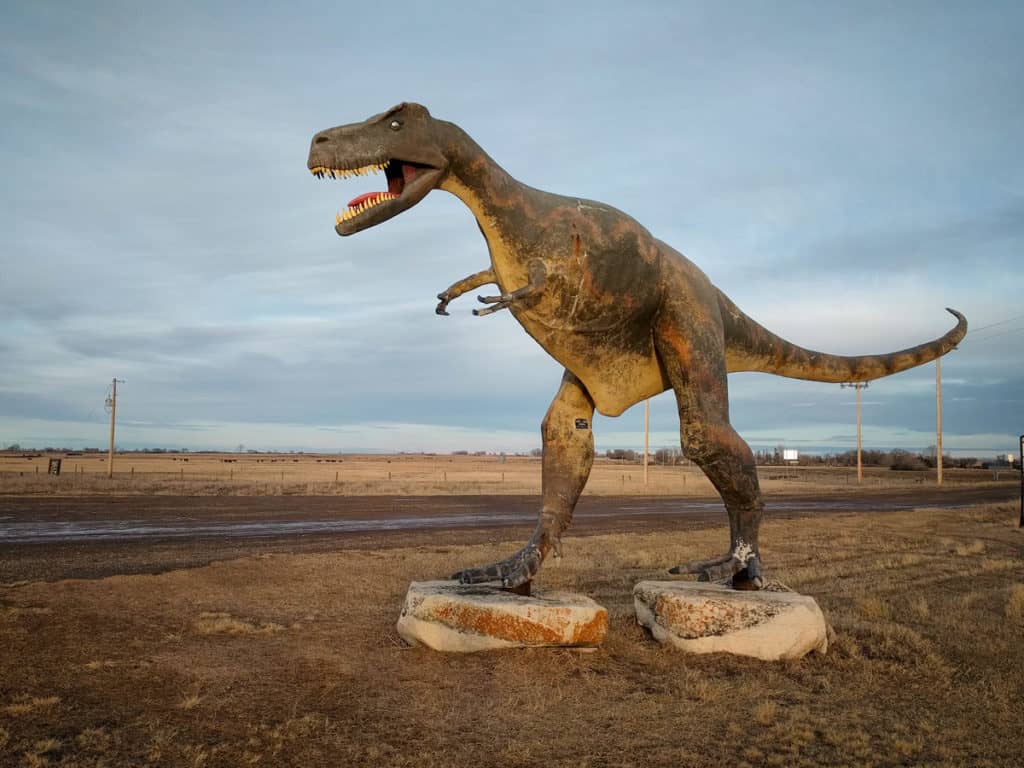 Alberta Badlands Road Trip #1: Dinos and Doughnuts
Calgary – Brooks – Dinosaur Provincial Park
Whether you're looking to get out of the city or just want to experience Alberta's Badlands first-hand, the 2.5 hours (one-way) drive to Dinosaur Provincial Park offers plenty to see along the way.
Start your trip by heading east on Highway #1. The scenery is typical Alberta prairies and farm-scapes, but after the one-hour mark, it shifts to the desert and painted coulees – the typical backdrop of the Canadian Badlands.
If you're a history buff and/or doughnut connoisseur, we recommend a small detour through Brooks. The Brooks Aqueduct, at 3.2 km long, 20 meters high, and over 90 years old, is a testament to the ingenuity of Alberta's farming past. Once you're done marvelling at the architectural wonder, head back to Brooks for a doughnut and coffee at the Prairie Cottage Bake Shop. We're not saying their doughnuts are worth the two-hour drive, but we're not not saying it either.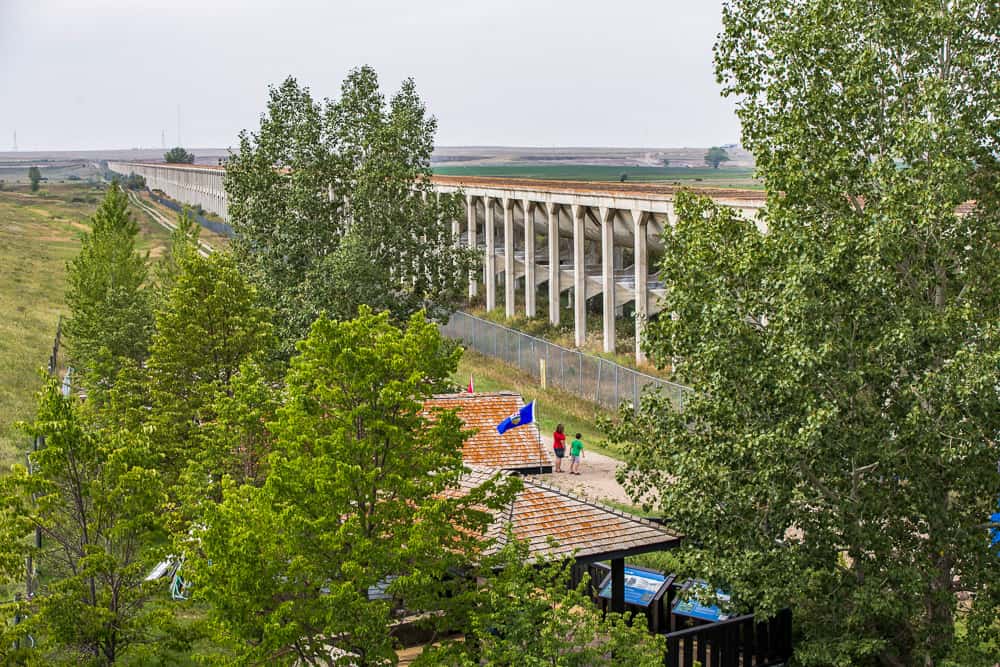 From Brooks, head north on Highway 873 and follow the signs to adventure (which in this case is known as Dinosaur Provincial Park). There are endless different paths and areas to explore within the park, and you may even find a real dinosaur bone (but don't touch it if you do).
After exploring the Park, you'll probably have your appetite back despite gorging yourself on amazing doughnuts. So, if you find yourself in need of a dinosaur-sized meal, head back south to Patricia and stop in for one of the "cook your own" famous steak dinners at The Water Hole Tavern in the Patricia Hotel.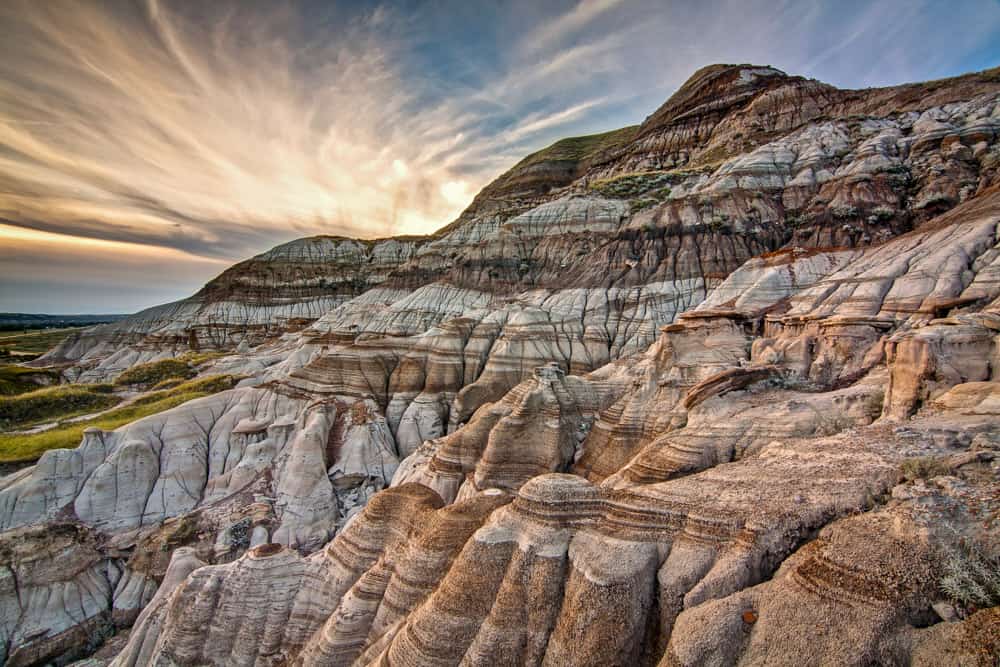 Alberta Badlands Road Trip #2: Live Your Best Cowboy Life
Red Deer – Donalda – Stettler – Dry Island Buffalo Jump
The Badlands are teeming with more than dinosaurs. The region has a rich history of cowboys riding through wildlands, tracking down cattle, and of course, the occasional outlaw. Starting from Red Deer, this road trip takes you through the rough and rowdy past of the area, so you can revel in a truly cowboy-esque experience.
To begin the day, head west to Heritage Ranch Red Deer. There's plenty to do and see at the ranch, but by far the most exciting experience there is the 'Ranch Tracker'. Just like on Mantracker, you get to channel your inner outlaw by avoiding a tracker on a horse, while you capture four flags strategically placed across the ranch.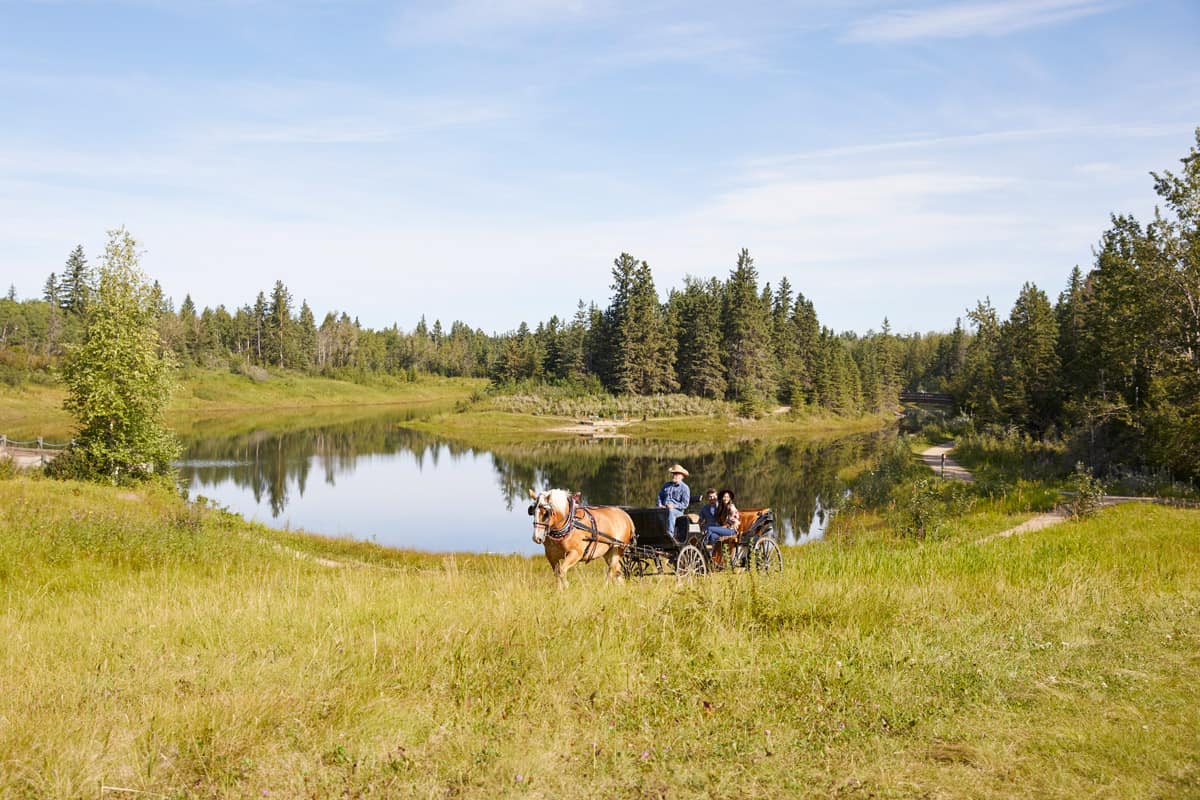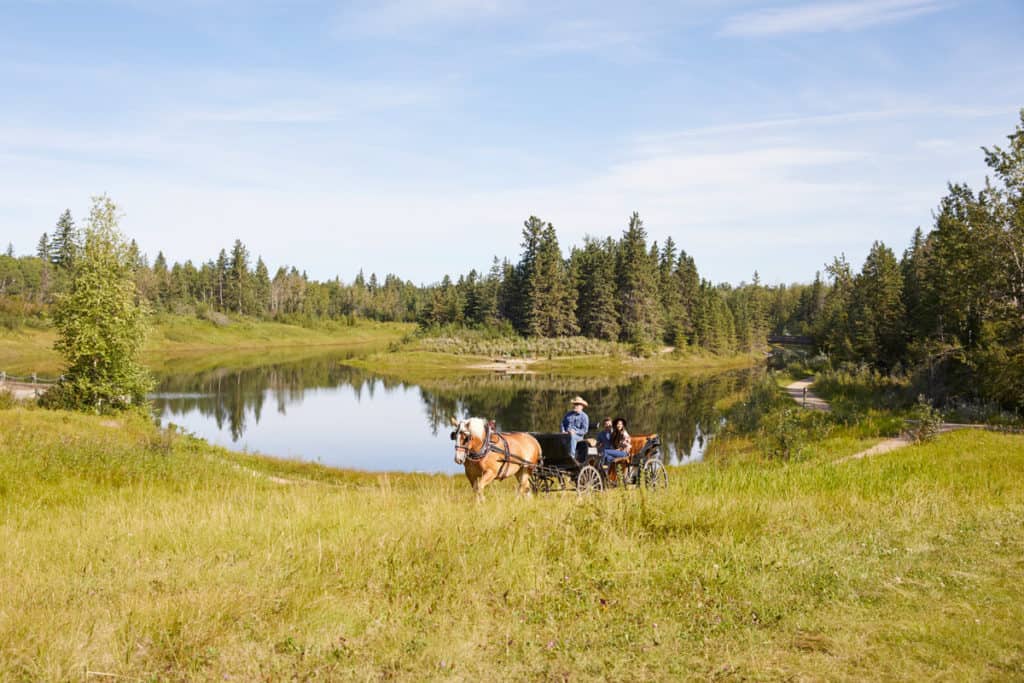 After tiring your entire party out, head north on Highway 2, otherwise known as The Cowboy Trail, towards Donalda. A quaint town of about 250 people, Donalda's got charm to spare, but the real draw here is their vast collection of old oil lamps at the museum, and the crowning jewel on top of it, the self-proclaimed 'largest oil lamp in the world' (one of many Alberta roadside attractions). Take an hour to poke around Donalda and see the museum, then jump back into your horse – er vehicle – and head south on Highway 56 heading to Stettler.
The Alberta Prairie Railway, starting in Stettler, draws road trippers from across the province to ride a variety of antique trains. But be careful, whether you're on winter's Polar Express Stettler, or on one of the summer engines, your train may just be hijacked by 'robbers'. Rest assured that local Métis hero, Gabriel Dumont, is sure to ride by to your rescue!
End the activity-packed trip with some bird-watching or paddling at Dry Island Buffalo Jump. This Provincial Park is vastly underrated (in our opinion!) and is as beautiful as it is historic. (Then consider returning to your starting point to enjoy a meal at one of these Red Deer restaurants!)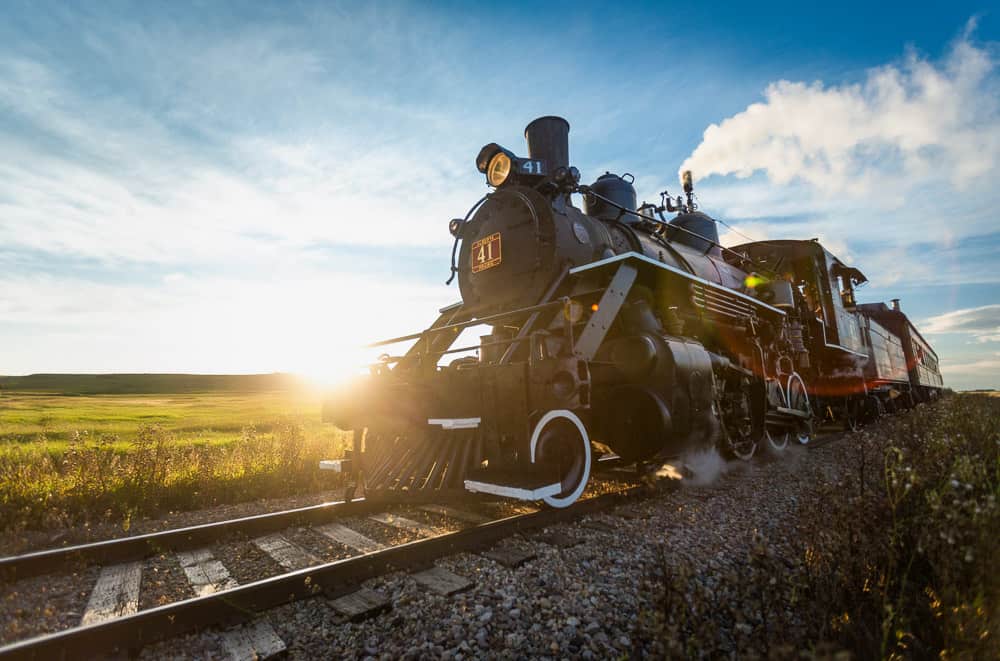 Alberta Badlands Road Trip #3: The Classic
Calgary – Drumheller – Wayne
This is the classic Alberta Badlands road trip, with plenty to do and see for the whole family. The easiest route to Drumheller is to head north from Calgary on Highway 2, then east on Highway 72, which should take you straight through to Drumheller. The trip only takes about an hour and a half, so it's doable in one run.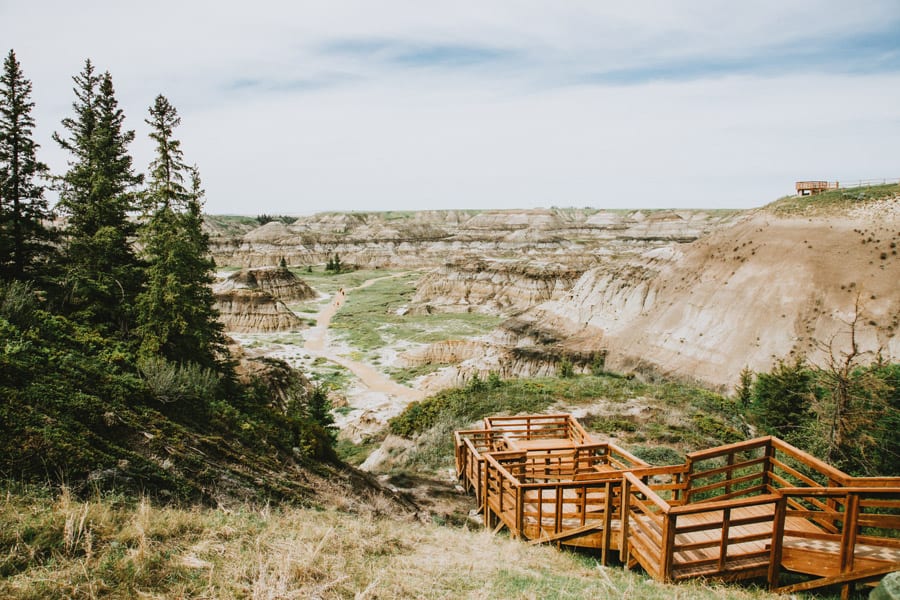 Once you've arrived in Drumheller, you're spoiled for choice. So, to help you choose let's go over some of our favourites:
Hiking Horseshoe Canyon or Horsethief Canyon – Both these hikes are low-effort, high-reward trips straight into the heart of the coulees. Pick one or do both – it's hard to go wrong.
Exploring the Royal Tyrrell Museum – With lots to learn and an amazing facility, The Royal Tyrrell Museum is a must-see for every visitor.
Visiting the Little Church – Exactly what it says on the label, the Little Church is a tiny, quaint church sitting alone in the desert. The picturesque setting is great for photo ops or just general exploring.
Heading deep underground at the Atlas Coal Mine – Open May to Thanksgiving, the Atlas Coal Mine gives visitors a brief trip back in time, from the train underground to climbing the tipple.
Checking out the Star Mine Suspension Bridge – Built for commuting miners, the Star Mine Suspension Bridge crosses the Red Deer River not too far from downtown, making it the perfect, simple side trip. Note that the Suspension Bridge is currently closed for repairs, but hopefully will reopen soon.
Catching a show at the Drumheller Badlands Amphitheatre – The gorgeous backdrop of the Badlands makes every show at Canada's largest outdoor stage, especially their world-renowned Passion Play. Check out the website for concerts or plays showing during your trip!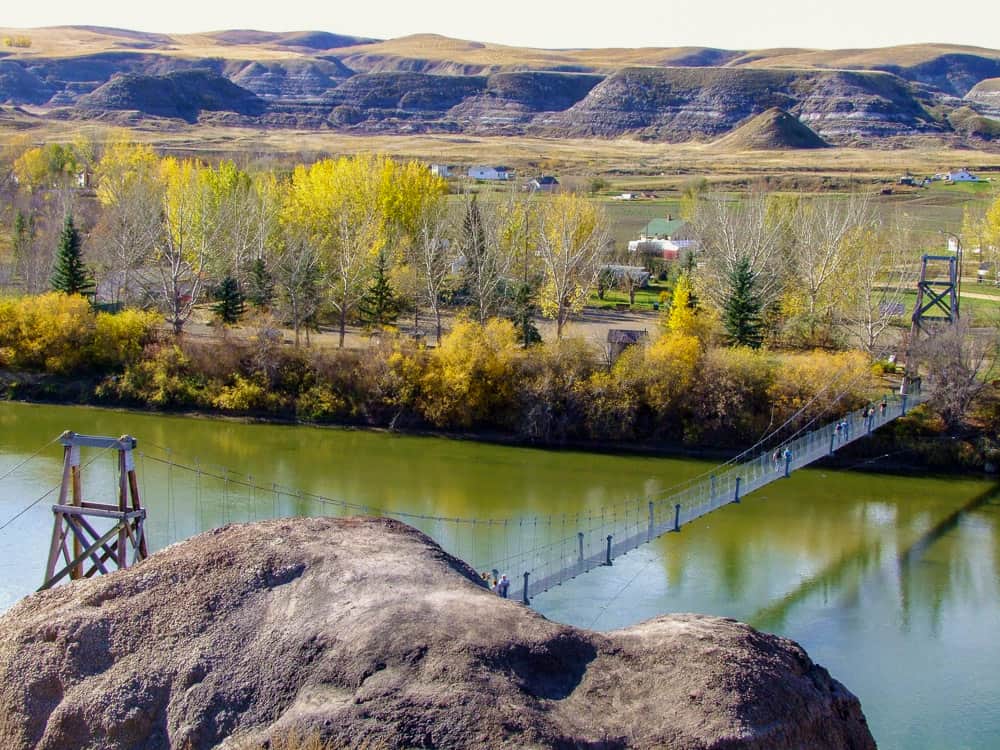 (Want to know even more about the area? Then check out our guide of things to do in Drumheller that includes where to eat, stay, and more.)
Once you've had your fill of Drumheller, head southeast along Highway 56, which slices right through town. Then take your time as you cross over 11 bridges on the scenic road to Wayne, heading to the Last Chance Saloon for a hearty, well-deserved supper. Open for almost an entire century, a visit to the saloon is an iconic Badlands experience if only to spot the bullet holes in the walls from its more rowdy days.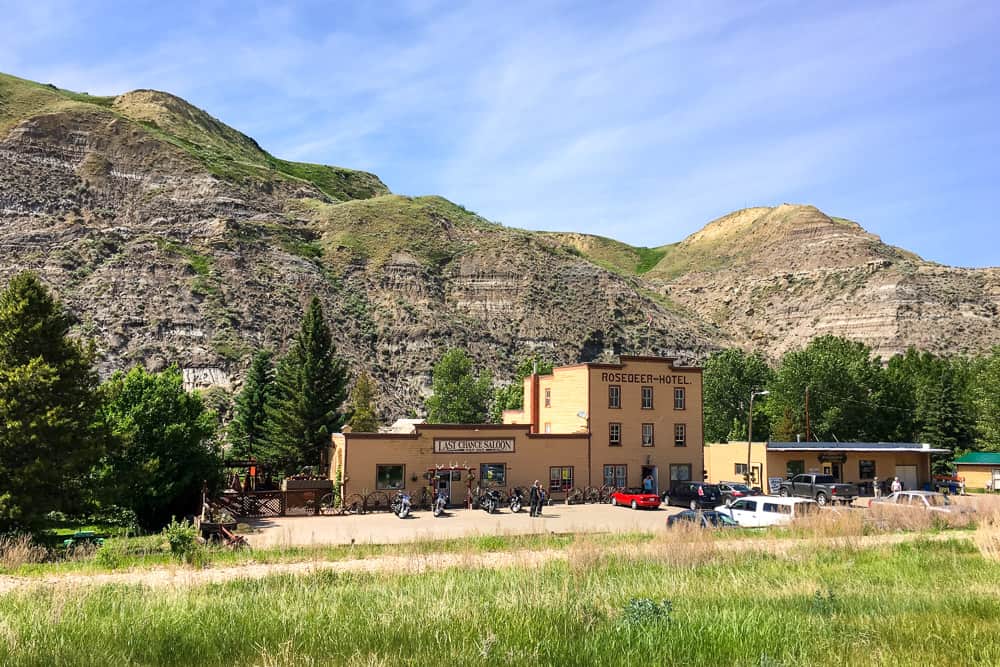 Alberta Badlands Road Trip #4: The Scenic Southern Route
Lethbridge – Stirling – Warner – Writing-on-Stone
If you want to explore the very south of Alberta, then Lethbridge is the perfect hub to base yourself. With easy access to many Badlands attractions (and a stunning coulee valley to brag about as well), you can find quick comfort here after this adventurous road trip.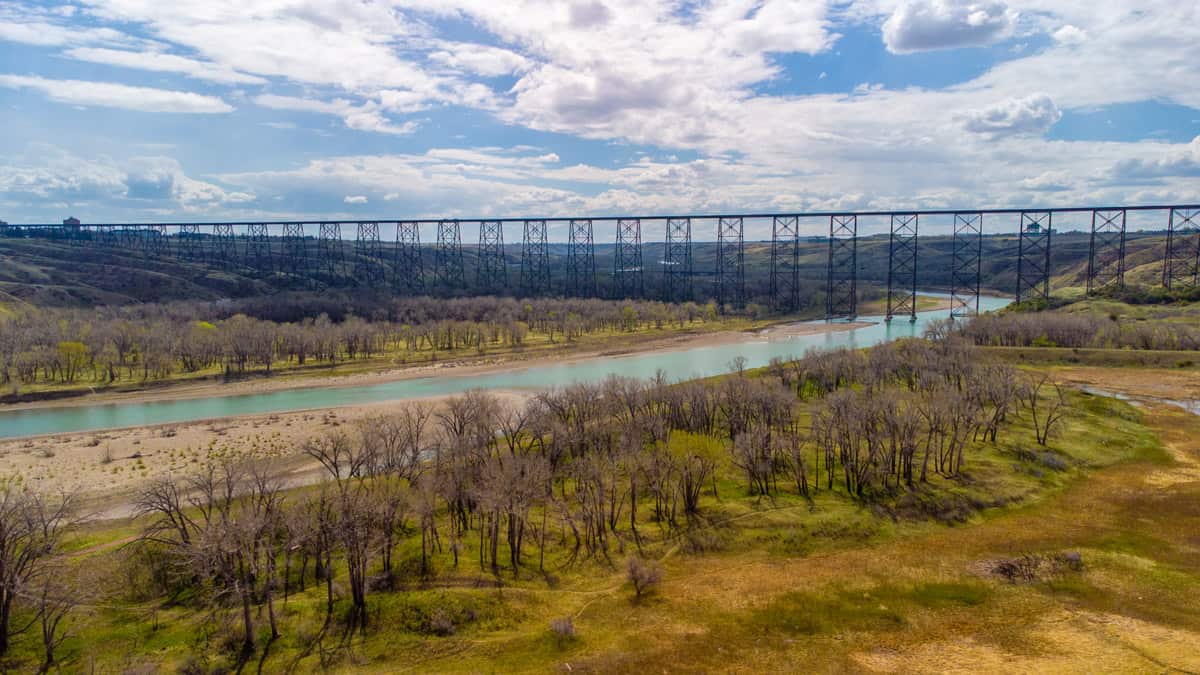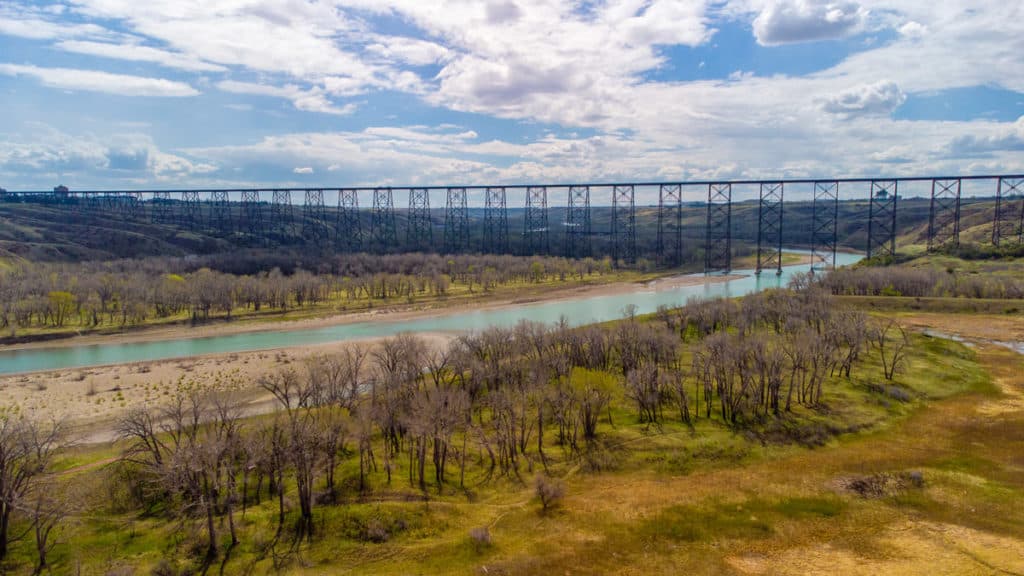 Start the trip by heading south from Lethbridge on Highway 4 towards the Sweet Grass border crossing. In about half an hour you'll hit the turnoff to Stirling, and if you've timed it right (and skipped breakfast) you should be about ready for an early lunch. And then you're in luck because Stirling has the best BBQ we've experienced north of the 49th at Hickory Street. If it's too early, or you're not in the mood, you should stop eating for the duration of the trip in preparation for your triumphant return.
After Stirling, point your car south again to The Devil's Coulee (cue ominous music) Dinosaur and Heritage Museum in Raymond. The big draw here is the dinosaur egg fossil, but Devil's Coulee is equally worth wandering through. Who knows, you might even find some fossilized eggshells yourself! Note that it is only open in warmer months, typically from mid-May to early September.
After you've seen the dinosaur egg fossil and enjoyed the coulees, head south again to Writing-on-Stone Provincial Park. Recently named a UNESCO World Heritage Site, it features thousands of rock art drawings and carvings by the Siksikaitsitapi (Blackfoot Nation), most of which date to 1050 BC. Be sure to take the informative tour offered by the visitor center, but also just plan for plenty of time to roam the hoodoos and enjoy the winding Milk River.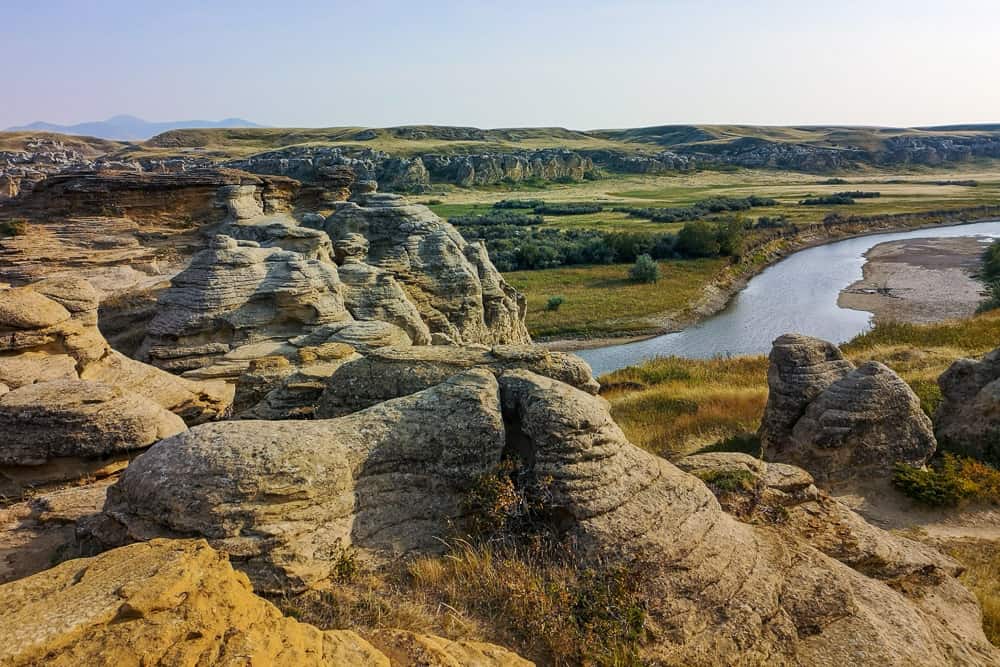 Alberta Badlands Road Trip #5: To the Great Outdoors and Beyond
Lethbridge – Red Rock Coulee – Medicine Hat – Elkwater (Cypress Hills)
Southern Alberta boasts some of the most unusual and fascinating geological formations on the planet, and this road trip is the perfect chance to catch all that natural beauty in one drive. For starters, head east from Lethbridge to Red Rock Coulee. Take a walk amongst the crimson moonscape filled with spherical boulders (aka concretions) and wonder as you wander at how amazing nature is.
Afterward, head back up north to explore all the things to do in Medicine Hat, from outdoor adventures and cultural events to the wonderfully touristy locales, like the World's Largest Teepee.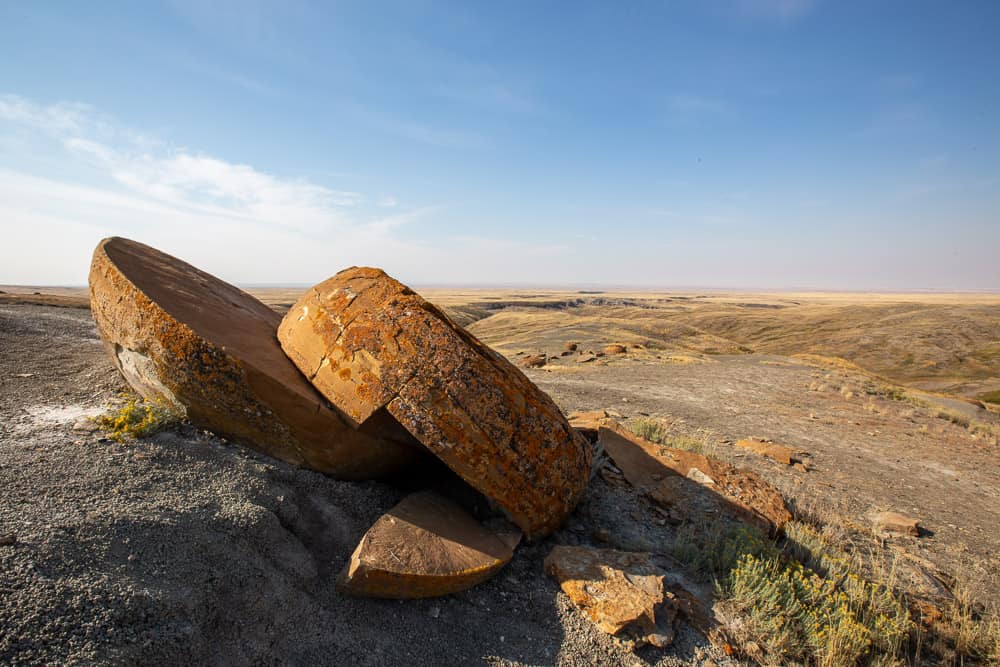 For an outdoor adventure, try your luck at geocaching in Medicine Hat (Police Point Park is a great spot to start) to search out treasures in the prairie city. However, if you prefer your fun indoors, check out Medalta in the old clay district. Then, keep that art theme going by visiting The Esplanade Medicine Hat.
To end off your outdoor adventure, turn south again to Elkwater in Cypress Hills Provincial Park. Try your hand at canoeing, kayaking, SUP-ing, and hiking before bedding down at the perfect camping spot – or, for comfort camping, head to the charming Elkwater Lake Lodge. If you choose to visit Cypress Hills Alberta during the winter, there's still plenty to do, including tobogganing, as well as downhill and cross-country skiing.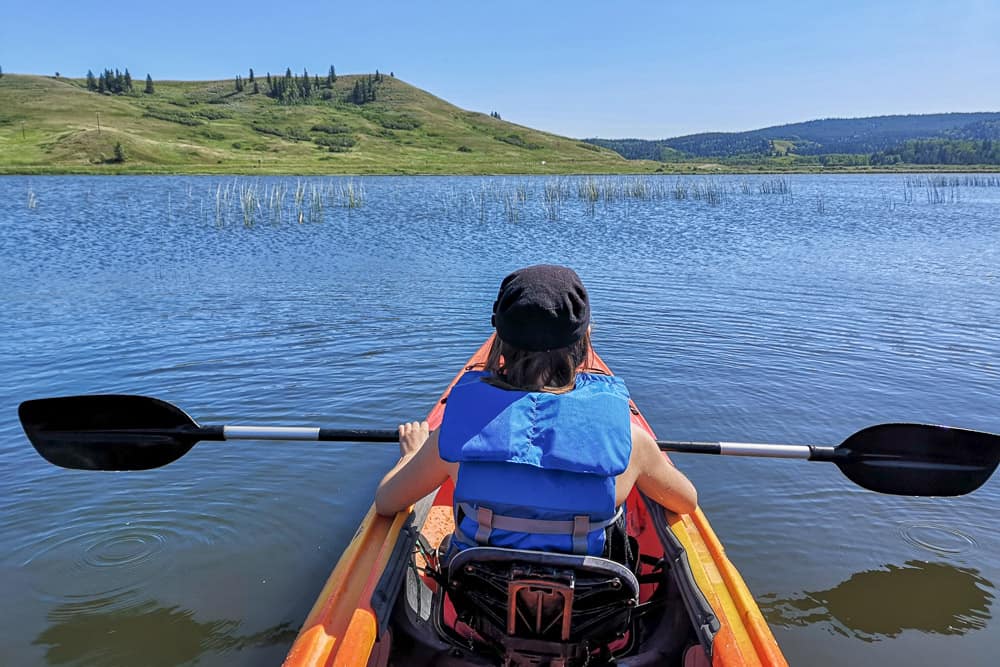 Alberta Badlands Road Trip #6: Blast to the Past
Calgary – Nanton – Head-Smashed-in-Buffalo-Jump – Fort MacLeod
If you're an antique-loving history buff, then this is the road trip for you. After heading about an hour south of Calgary (when you'll be ready for a bit of a break anyway), you'll hit your first stop where you can stretch your legs and search for treasures amidst Nanton antiques.
The town's Antique Art Walk features a variety of stores carrying everything from farmhouse-chic bits to mid-century modern bobbles that will satisfy even the most zealous relic-hunter in your group. After antiquing downtown, head over to the Bomber Command Museum to explore some wartime antiques of a very different calibre.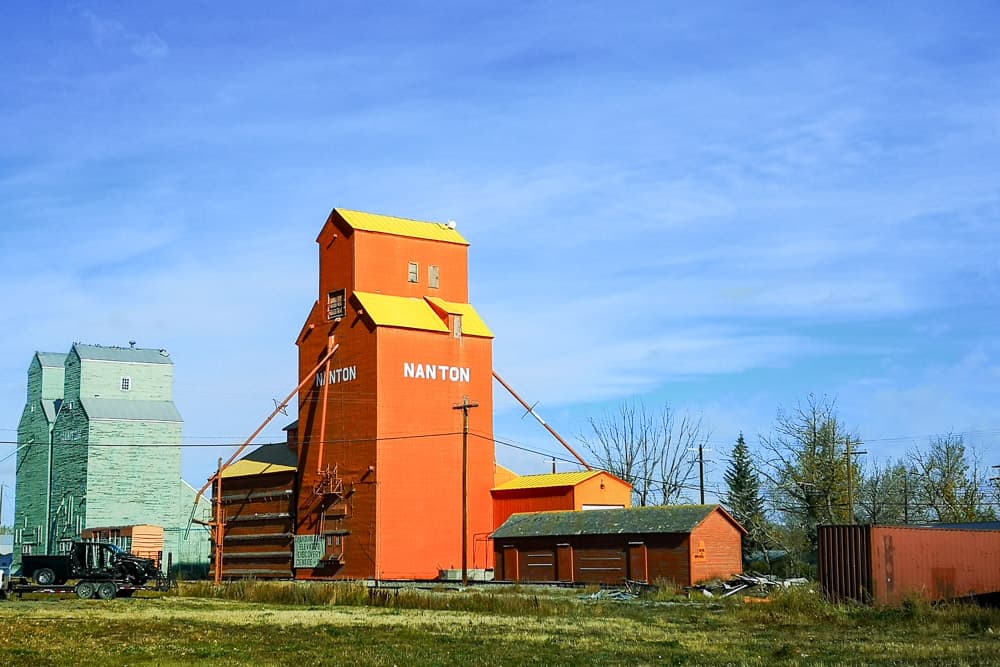 When you're all done in Nanton, jump back in the vehicle, venturing south and back through time as you head to Head-Smashed-in Buffalo Jump. This uniquely-named UNESCO world heritage site takes you back 6,000 years to when the Blackfoot hunted buffalo by driving them off cliffs. The building itself, which won the Governor General's Award for Architecture, is worth the visit alone, but the wealth of information and history inside makes this a must-see locale.
Just 15 minutes away, your next stop is a local Hollywood star – the town of Fort Macleod – with roles in major movies like Interstellar and the new Ghostbusters film. After all of that driving, stretch your legs with a walk down the main street. There are lots of things to do in Fort Macleod, but at the very least, pop into The Fort Museum for the NWMP musical ride, or take a tour through the beautiful and historic Empress Theatre – you can even catch a show there if the timing is right!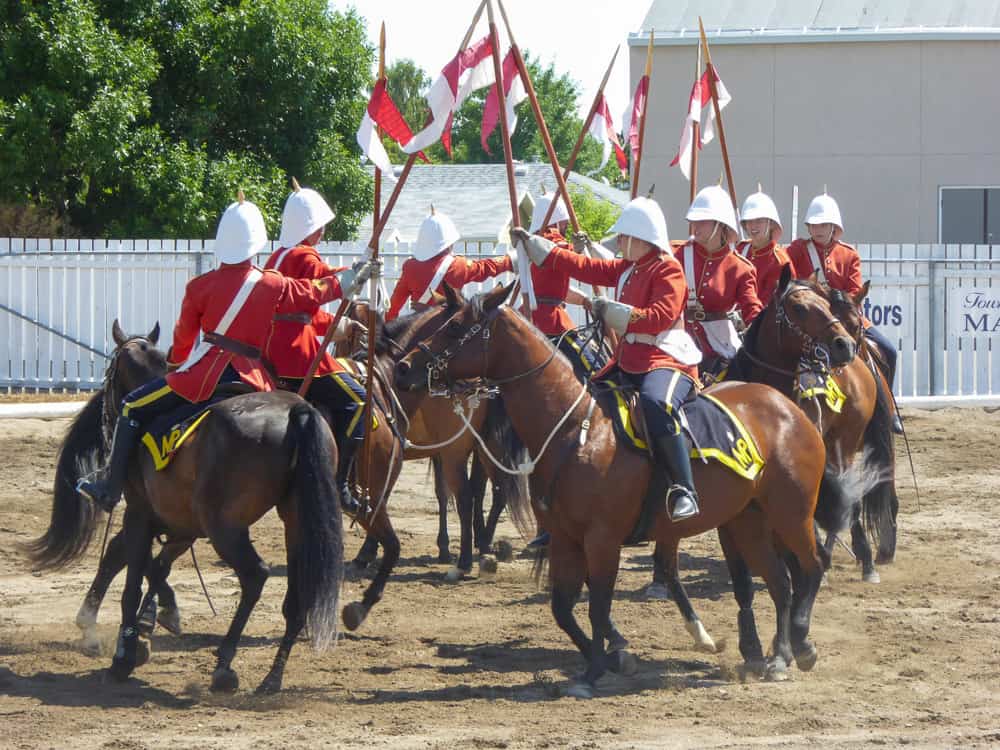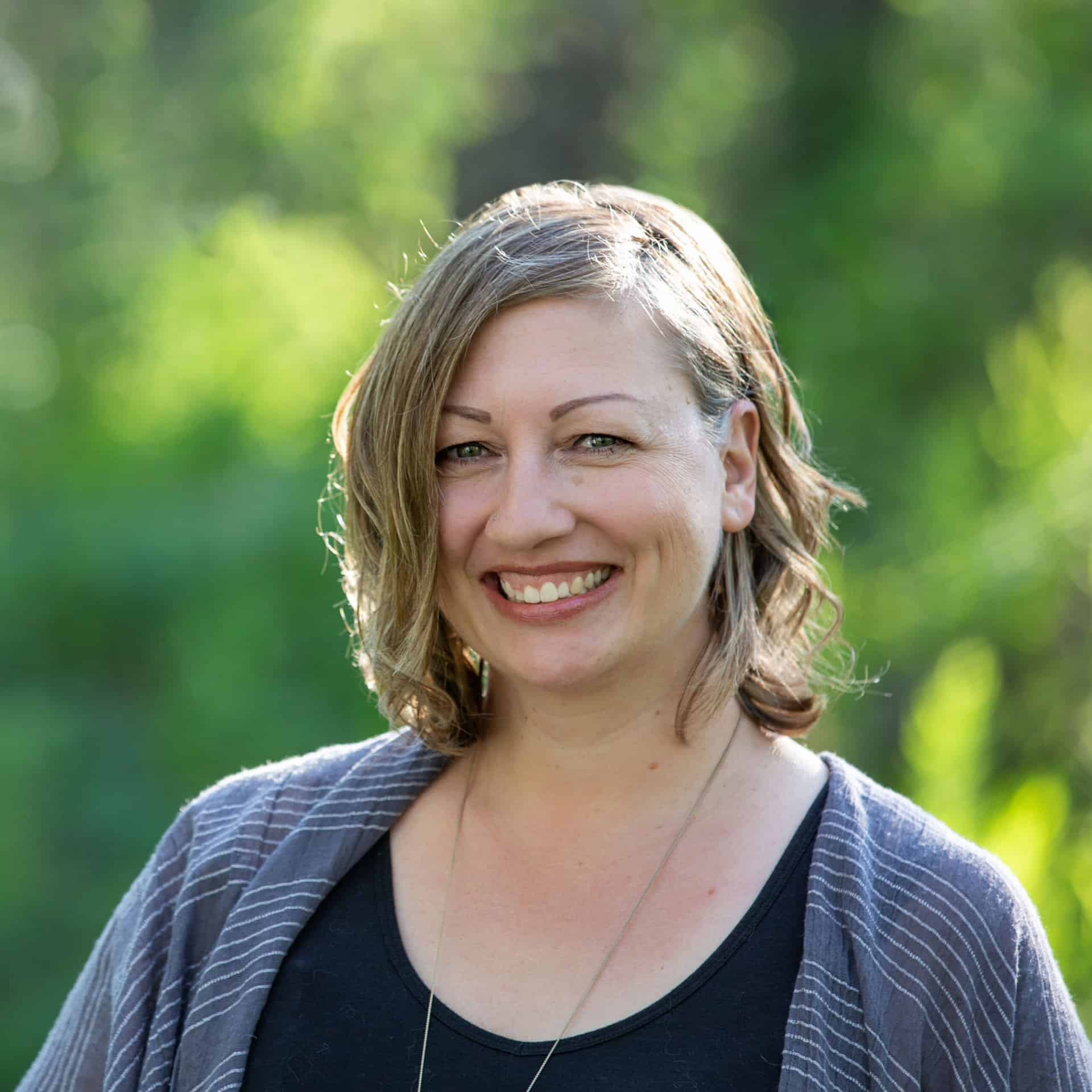 Dalene Heck is a co-founder of Road Trip Alberta. She was born in Edmonton, grew up in the Peace Country, and has ventured to almost every corner of Alberta and the world (she's travelled to 60 countries)! She is a serial blogger, the CEO of HMI Marketing, co-creator of the Trip Chaser card game, a leukemia-slayer, and cat whisperer.