Disclaimer: This page may contain affiliate links. Please review our full Terms and Conditions for more information and our Privacy Policy. Note that any pricing, operating hours, or other such information provided below may have changed since initial publication.
Compiled by the Road Trip Alberta team
Last updated on February 2, 2023
From serendipitous Alberta wildlife viewing moments to waking up to entirely new (and sometimes even alien) landscapes, there's no doubt about it: many campsites in Alberta offer some pretty unforgettable experiences.
Whatever part of the province you've got your road-tripping sights set on, Alberta is chock-full of neat places to pitch your tent, park your RV, and enjoy all the pleasures of that #camplife.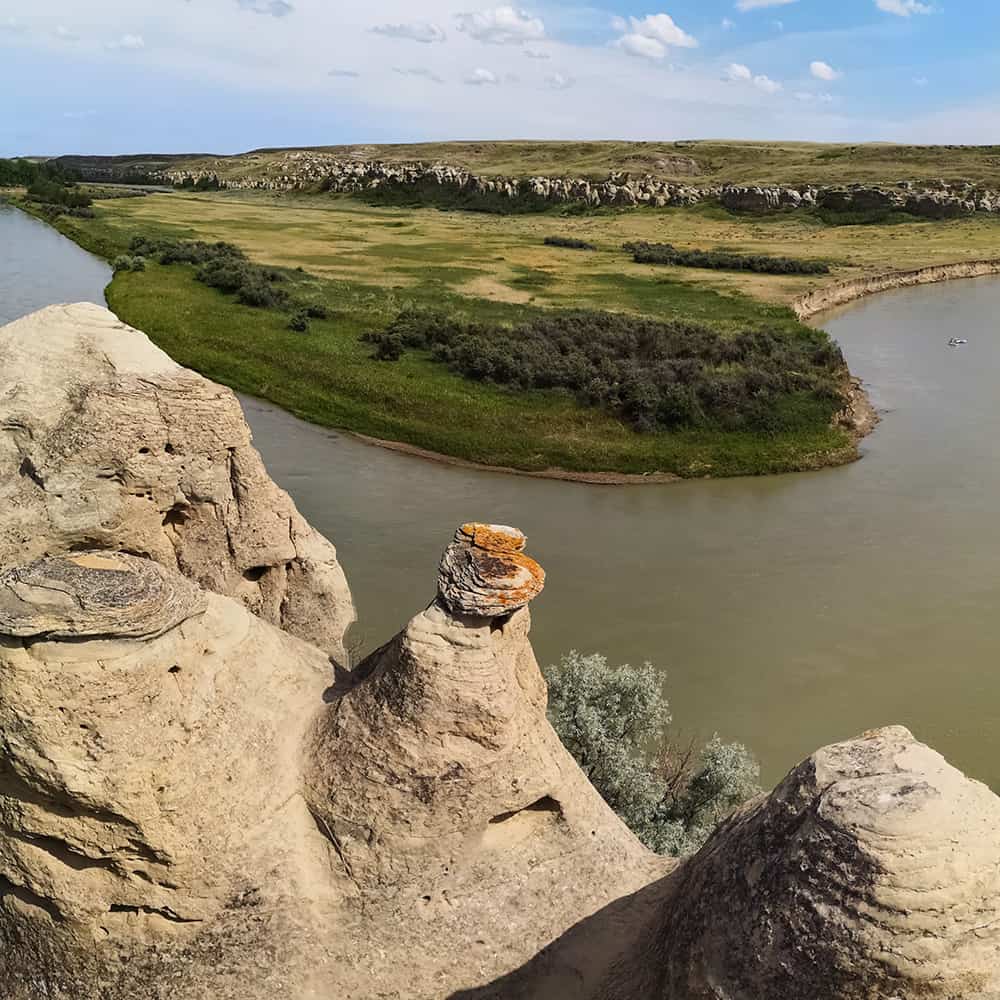 Throughout our travels, we've stayed at some truly cool campsites in Alberta (and lusted after others!), and we wanted to share them all with you. The best part is, you're probably closer to one of these gems than you might think. So unfurl that sleeping bag and brew up some cowboy coffee – it's time to imagine yourself in the Alberta campgrounds below!
Some Very Cool Campsites in Alberta
Sir Winston Churchill Provincial Park
This unique Alberta park is made up of a handful of islands located in the chilly waters of Lac La Biche. The largest island (aka The Big Island), sits like a sanctuary, with sandy beaches to roam and a 300-year-old forest to explore. It's here that folks can pitch their tents, plug in their RVs, or enjoy one of the island's 'comfort camping cabins'. Sir Winston Churchill is a renowned park for birding, fishing, paddling, and hiking. Though it's neatly tucked away, amenities are only a ten-minute drive away from the town of Lac La Biche.
Quick facts
Lots of family-friendly activities
Located 5 km east of Lac La Biche on Hwy. 881, and 2 km north on Provincial Park Rd.
Open year-round
Campsites are situated throughout the old-growth, mixed-wood forest
Canoe, kayak, and standup paddleboard rentals are available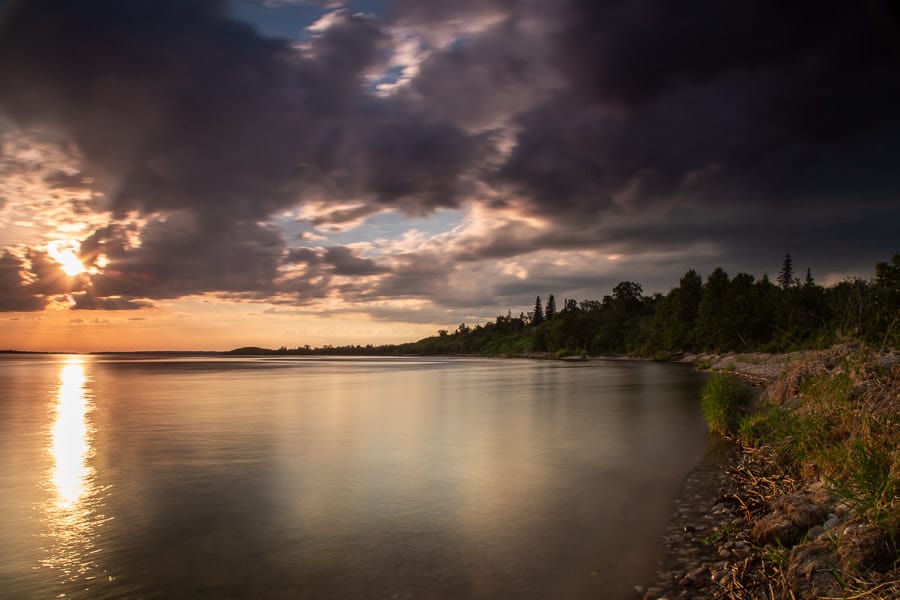 Burbank Campground
This cozy little campground is nestled at the junction where the Red Deer and Blindman Rivers meet. Burbank Campground offers guests scenic, quiet campsites just minutes away from the town of Blackfalds. There are 20 private, 30-amp powered (and 15 non-powered) camping spots, as well as 5 group sites with access to covered shelters for family gatherings – or for those trending, furious and frenzied spikeball tournaments 😉!
There's a baseball diamond, a basketball hoop and pad, and even a rustic log-cabin-style hall (100-person capacity) available for rent, complete with tables, chairs, and a full kitchen.
Quick facts
Located 0.8 km south of Blackfalds on Hwy. 2A, 0.8 km east on Hwy. 597, and 3.2 km south on Burbank Rd.
Open April 1 – Sept 30
Great spot for family reunions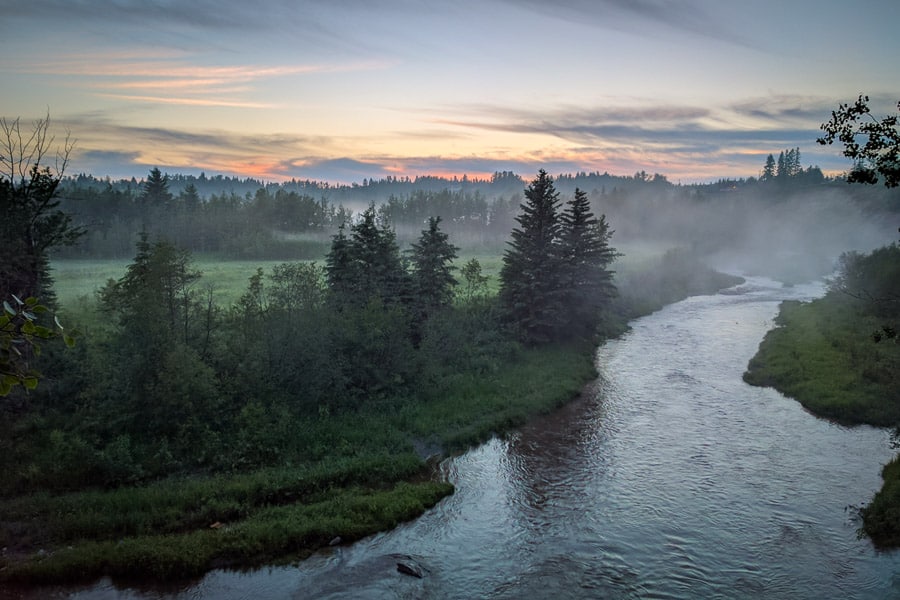 Dinosaur Provincial Park
When you're visiting the Canadian Badlands, it's hard not to be impressed, which is why this is easily one of our favourite campsites in Alberta. Between the towering, alien-like hoodoos and the historic dinosaur dig sites, Dinosaur Provincial Park offers tons of activities for the whole family.
There are powered and non-powered campsites available as well as group camp spots. This UNESCO world heritage site has some short and sweet hiking trails, as well as some places to escape the heat of the day, such as the Dinosaur Visitor Centre.
Quick facts
Because people often confuse the two – note that Dinosaur Provincial Park is NOT near Drumheller (it is actually almost 170km away)
It is located 48 km northeast of Brooks and 18 km from the village of Patricia (see driving directions)
Open year-round
Campsites are situated among big cottonwood trees and close to the Red Deer River
Tons of family activities are available here
BOOK RESERVATIONS HERE (or call 1-877-537-2757)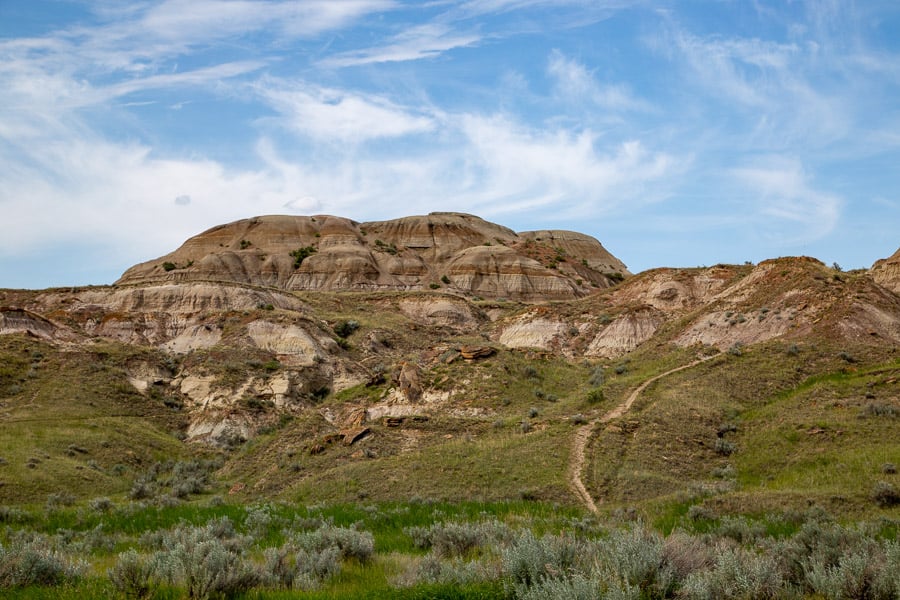 Icefield Tent Campground
Want the Athabasca Glacier as a backdrop when you open that tent flap in the morning? Then Columbia Icefield Campground is for you! With just 33 tent sites, you can enjoy a quiet and primitive, back-to-nature camping experience nestled among the trees (although if you're towing an RV, consider heading to Wilcox Creek Campground just 6 minutes up the road).
There are plenty of things to do to keep you entertained and occupied, such as visiting the Columbia Icefield Discovery Centre, hiking around the Icefields Parkway, or booking tickets for the breathtaking Columbia Icefield Adventure. And don't forget that even getting there by driving the Icefields Parkway is an epic adventure unto itself.
Quick facts
Located along the Icefields Parkway near the Columbia Icefields just over 100 km south of Jasper, and 100(ish) km north of Lake Louise
Open in summer, starting on June 15
Campsites are nestled among coniferous trees with beautiful mountain views
Lots of hiking trails in the area
BOOK RESERVATIONS HERE (or call 1-877-737-3783)
Pine Lake Campground
Nestled in the thick of Wood Buffalo National Park, where the Northern Lights sparkle bright, Pine Lake Campground awaits the hardiest road-trippers out there. It's the only campground accessible by road within the park (probably making it one of the most remote campsites in Alberta!), and campsites feature tent pads, picnic tables, and fire pits. Water is available (but must be boiled), as well as firewood, outhouses, and even a playground. A lakeside day-use area offers a cooking shelter, change rooms, and a charming sandbar with a swimming beach.
If you're headed here with the family, consider reserving Kettle Point Group Camp situated at the south end of Pine Lake, which features a cozy log shelter and a family-friendly beach fire circle.
Quick facts
60 km south of Fort Smith, NWT (see Google Maps location pin)
Open from May long weekend to September 30
Campsites are in among trees with fire pits, tent pads, and picnic tables
Hook-ups are unavailable at this location
Great spot for a secluded family getaway
**CAMPSITES ARE FIRST COME FIRST SERVED.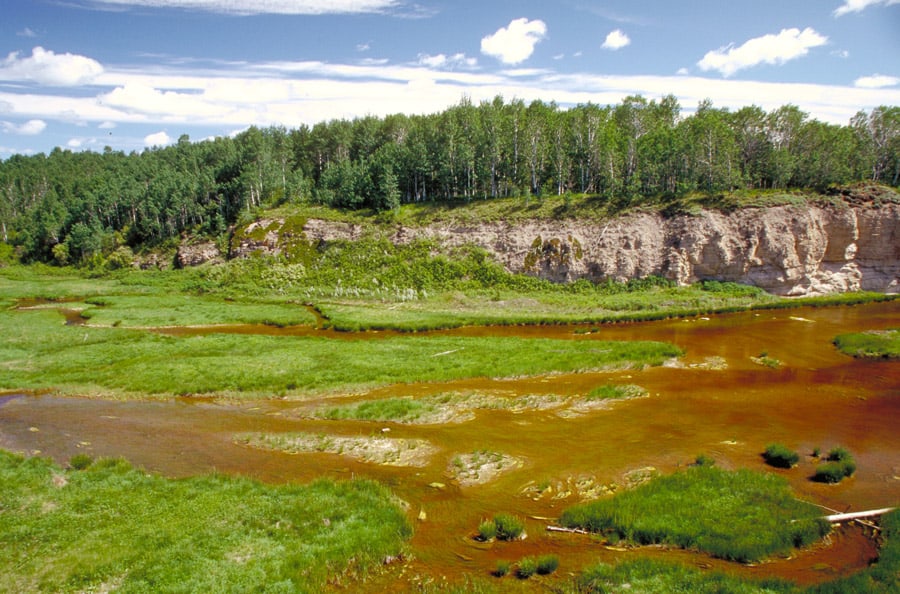 Writing-on-Stone Provincial Park
A true gem tucked away in the southeast corner of the province, Writing-on-Stone Provincial Park is a fascinating and often overlooked campsite in Alberta that is ideal for hot summer days. With both powered and non-powered tent and RV sites available, you're sure to find the perfect spot to set up among the shady cottonwood trees.
This little campground oasis boasts tons of family-friendly recreational activities, from bird-watching and kayaking to fishing and swimming. In the morning, venture out and explore ancient pictographs etched into sandstone rocks, or take a guided tour admiring local flora, fauna, and of course, those majestic hoodoos towering overhead.
In the afternoon, cool off with a lazy river float down the Milk River that winds along the campground shore. And here's an insider tip: there is a lot of backcountry hiking across the river, just be sure to bring your water shoes for crossing it, and stop in at the Visitor Centre to get a map.
Quick facts
32 km east of Milk River on Hwy. 501 and 10 km south on an access road (Range Rd. 130A)
Open year-round (reservation season open from June 1 – September 30)
Campsites are tucked into shady cottonwood treed spots and close to the Milk River
Lots of hiking opportunities!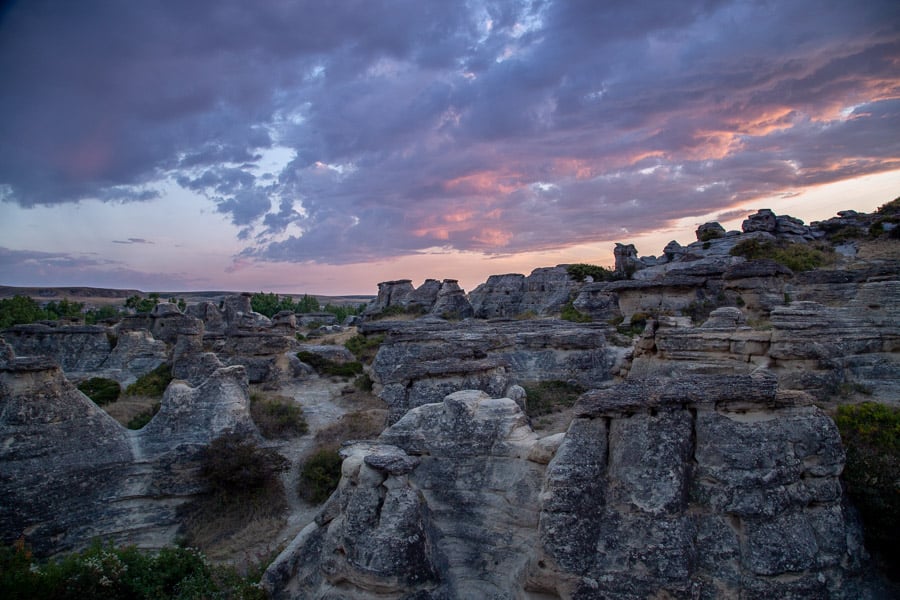 Two Jack Lakeside Campground
With tenting spots just steps from the shoreline, Two Jack Lakeside Campground is a tenter's dream for camping in Alberta. The 64 un-serviced sites offer easy access to the lake, to the town of Banff, and to an utter raft of amazing hikes in Banff National Park, including Johnston Canyon, Sulphur Mountain, and the Cory Pass Loop. Much calmer than the neighbouring Lake Minnewanka, Two Jack Lake is a serene spot for canoeing, trout fishing, and especially for kicking back and relaxing with loved ones next to an open fire!
Quick facts
Located on Lake Minnewanka loop road, 12 km from Banff townsite
Open June 26 – October 4
The lakeside camping spots offer some truly scenic mountain vistas
Quick and easy access to a variety of hiking trails for all skill levels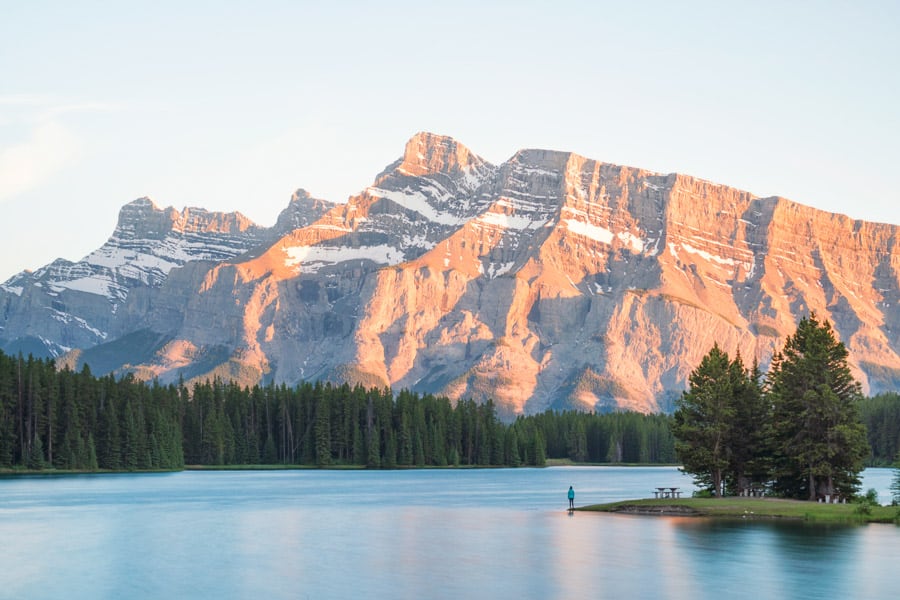 Marten River Campground
Slave Lake is one of the largest lakes in Alberta and fittingly is a hotspot for boating, canoeing, waterskiing, swimming, and fishing. Marten River Campground is located a half-hour north of the town of Slave Lake and features over 100 sites, most of which offer power hookups (and some choice spots with a gorgeous lake view).
One of the province's best beaches, Marten Beach is just a 12-minute drive away from the campsite, giving you and the family a prime spot to head to when the sun shines hot. While most of the fun in the area revolves around Lesser Slave Lake, there are a variety of trails in the area to hike or mountain bike along.
Quick facts
30 minutes north of Slave Lake, just off Hwy. 88
Open June 1 – Sept. 8
Close to Marten Beach – one of the best beaches in Alberta
Lots of fishing, boating, hiking and biking opportunities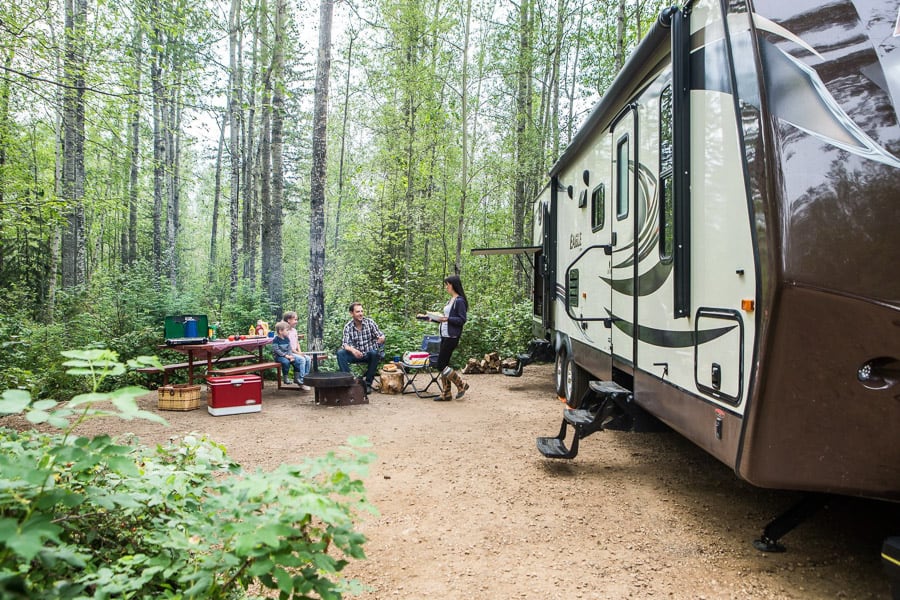 Interlakes Campground
The Interlakes Campground is snuggled into the pebbly shores of Lower Kananaskis Lake in Peter Lougheed Provincial Park. The campground is on the smaller side, with only 48 sites – all of which are unserviced. This makes it the perfect place to go and unwind away from the hustle and bustle of civilization.
Both lakes are home to a variety of trout species, so if you have no luck fishing at one, it's just a quick drive to try your chances again at the second lake! There's also a paved trail system for cyclists to explore both Upper and Lower Kananaskis Lake via their own 'pedal-power'.
Quick facts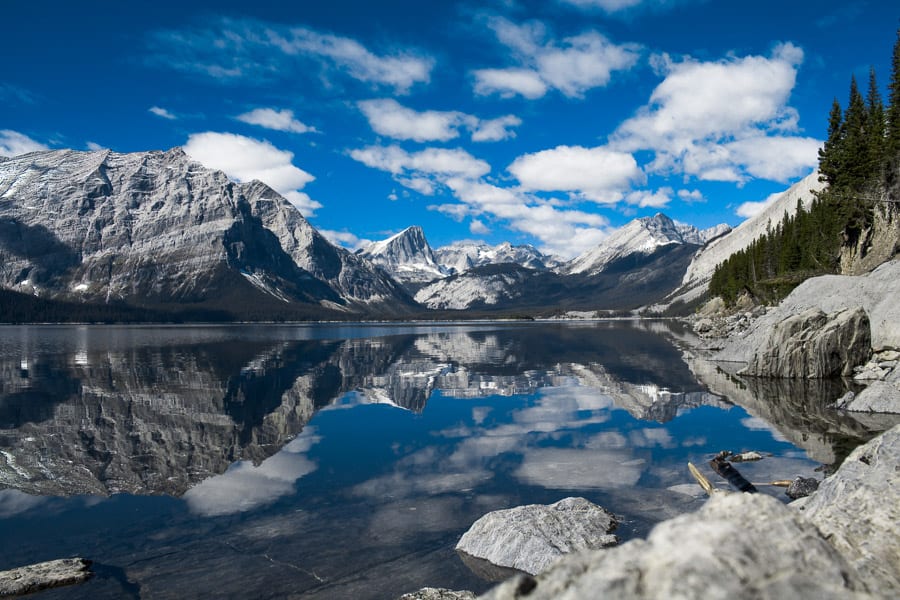 Rainbow Valley Campground
The only Alberta campground on this list within city limits, Rainbow Valley Campground sure doesn't feel that way! Snuggled into the White Mud Creek Ravine, the sights and sounds of the city quickly fade away as you approach the campground. However, its proximity to civilization means Rainbow Valley has access to nearly limitless amenities, meaning you can wake up to quiet, cozy wilderness – then zip to Starbucks for your favourite latté!
Onsite is a massive aerial park that is fun for the whole family (but will especially please the kids). And, with a ravine full of deciduous trees, Rainbow Valley is one of the most beautiful campsites in Alberta to visit during the fall, when the bright leaves give rainbows a run for their money.
Quick facts
Located at the south end of White Mud Park in Edmonton (See Google Maps location pin)
Open June 1 – September 27
Campsites are snuggled into the well-treed ravine
Snow Valley Aerial Park is right inside the campground
Close to West Edmonton Mall and many other cool things to do in Edmonton
Natural camping feel, with easy access to the city and public transit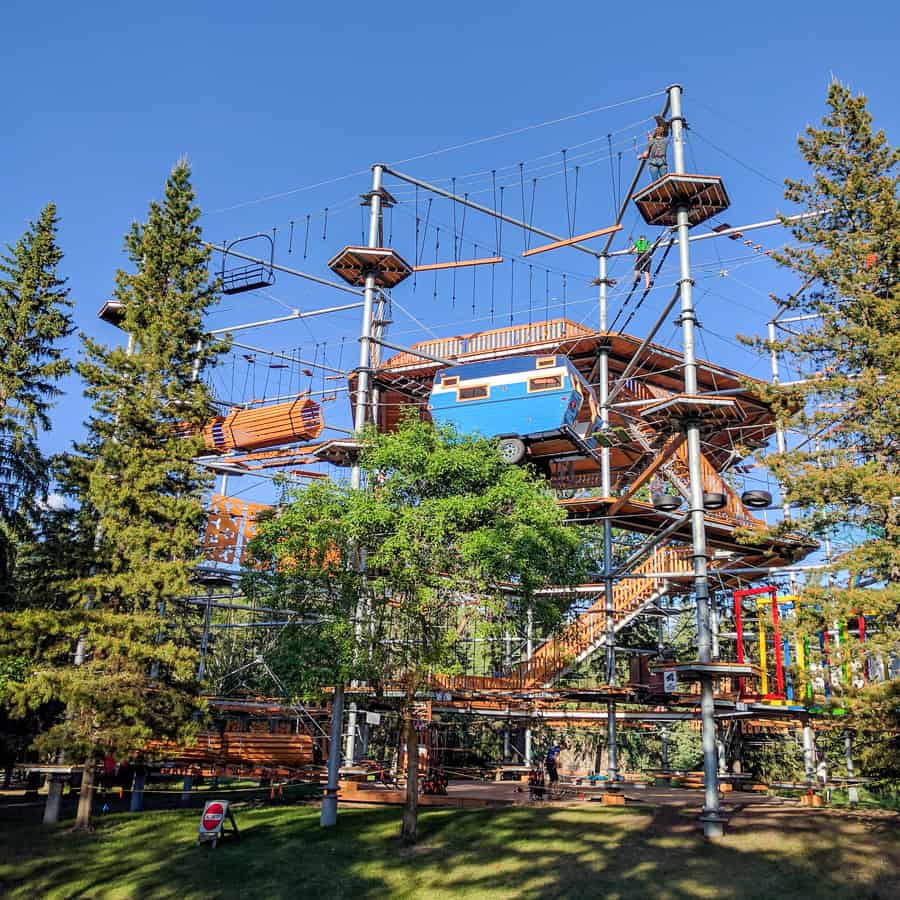 More campsites in Alberta
Haven't found what you're looking for above? We have more suggestions for these locations: