Disclaimer: This page may contain affiliate links. Please review our full Terms and Conditions for more information and our Privacy Policy. Note that any pricing, operating hours, or other such information provided below may have changed since initial publication.
Compiled by the Road Trip Alberta team
Last updated on July 7, 2023
Billed as the "Greatest Outdoor Show on Earth" – it is hard to dispute that the Calgary Stampede is exactly that. As one of the world's largest rodeos, this annual Calgary event in early July has happened every year since 1912 (except for 2020, due to COVID). It regularly draws over one million visitors from all over the world.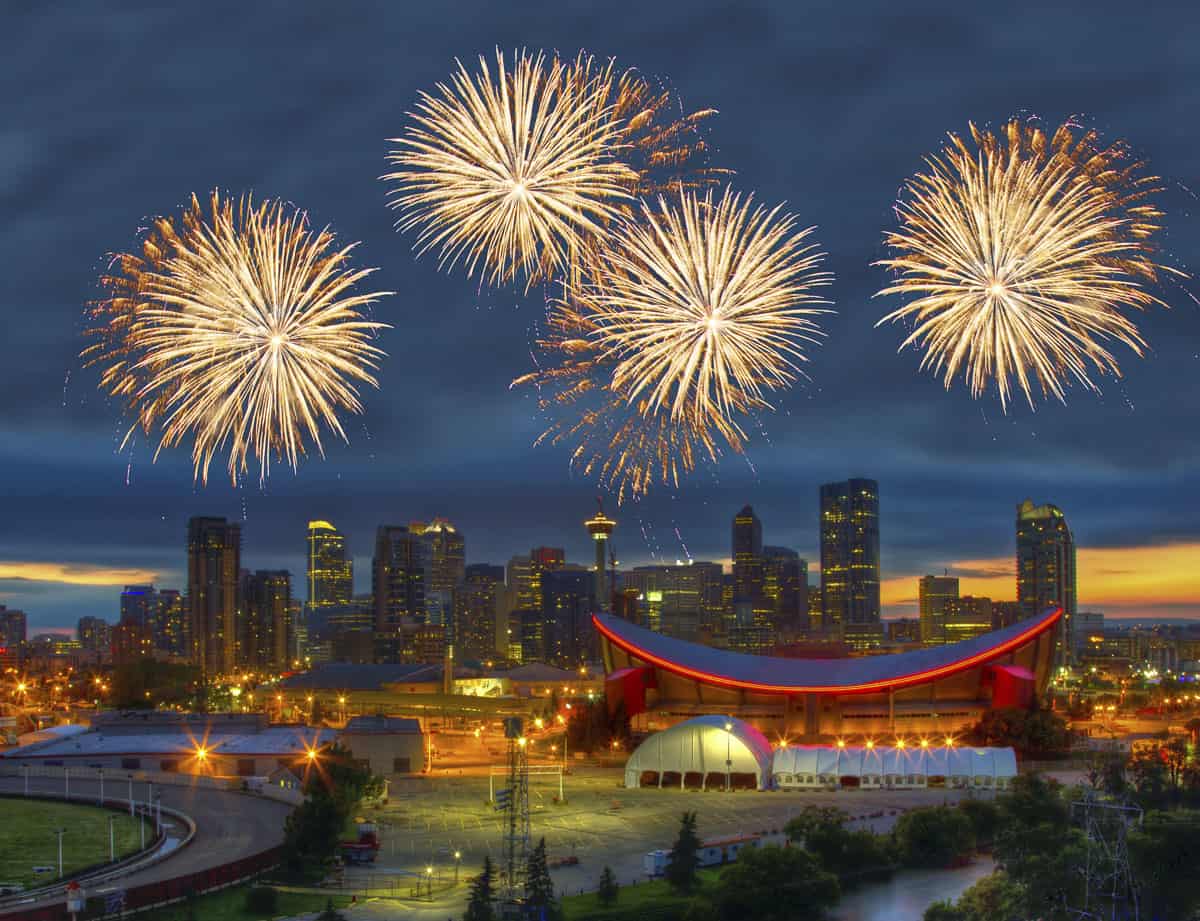 Originally bankrolled by 4 prominent ranchers in the area for $100,000 and steeped in traditional rodeo fanfare, the Calgary Stampede is now a multi-million dollar production that includes fairgrounds, beer gardens, eclectic food vendors, live concerts, free pancake breakfasts throughout the city, and of course, exciting rodeo events.
The Greatest Outdoor Show on Earth returns July 7-16, 2023! We've compiled all the best things to see and do at this one-of-a-kind event below. Get your cowboy swag ready and read on to find out more!
25 Things to do at the Calgary Stampede
Take in the Calgary Stampede Parade
The Stampede Parade is the official kickoff of the Greatest Outdoor Show on Earth, and always happens on the first Friday morning! Giving just a taste of what you can expect at the Calgary Stampede, the parade is full of colourful floats and proud cowboys and cowgirls astride horses, all walking to the beat of a joyous marching band in downtown Calgary. It is a great display of the community spirit that takes over the city during Stampede.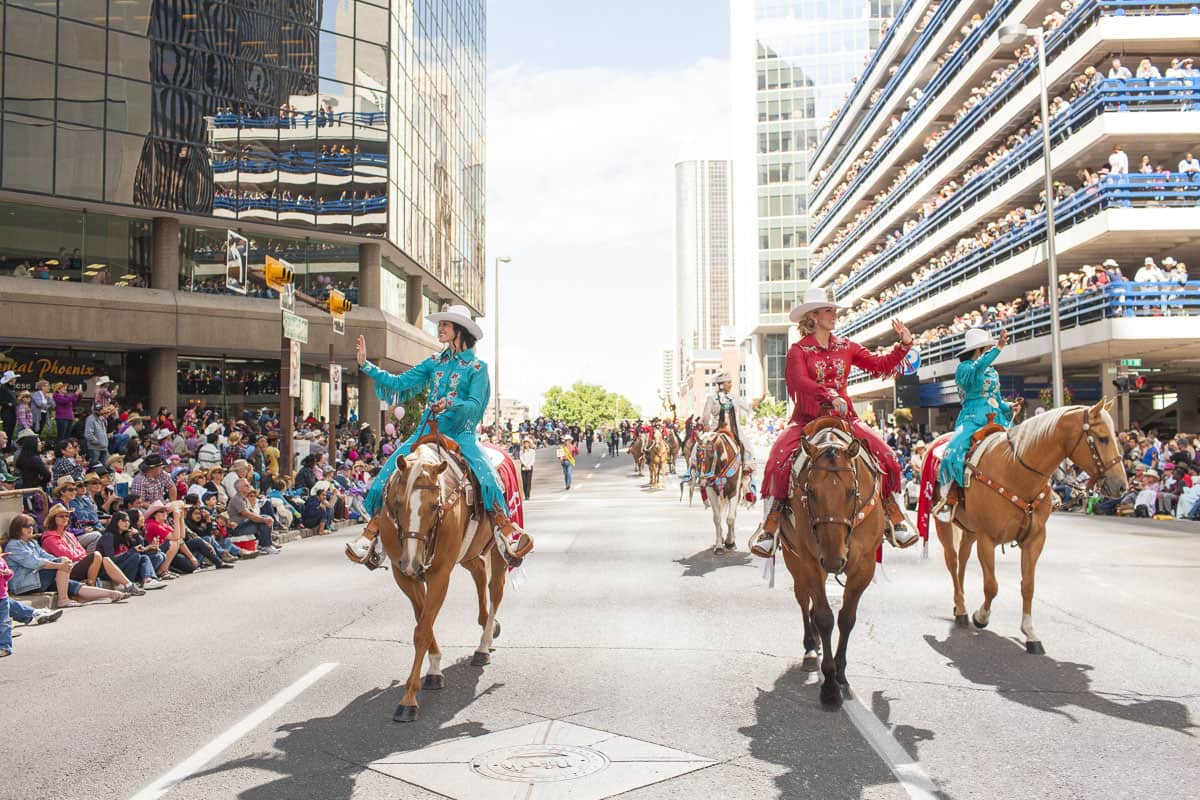 Parade Marshals of the Calgary Stampede Parade have included big names such as Walt Disney, Bing Crosby, Kevin Costner, and William Shatner. This year, it's astronaut Jeremy Hansen!
The parade route is very busy and typically packed with people – we suggest getting there early to save a piece of pavement, or pre-book bleacher seating along the route here.
Watch Rodeo Events
Seeing the World's Largest Outdoor Rodeo is a must during a visit to the Calgary Stampede. The Stampede Rodeo features the world's best competitors and animals. Every afternoon at 1:30 pm, watch cowboys and cowgirls face off in 6 different rodeo events, including barrel racing, bull riding, tie-down roping, steer wrestling, saddle bronc, and bareback. Every win builds towards Showdown Sunday, where competitors are looking to score their share of $1.5 million dollars in prize winnings to be had.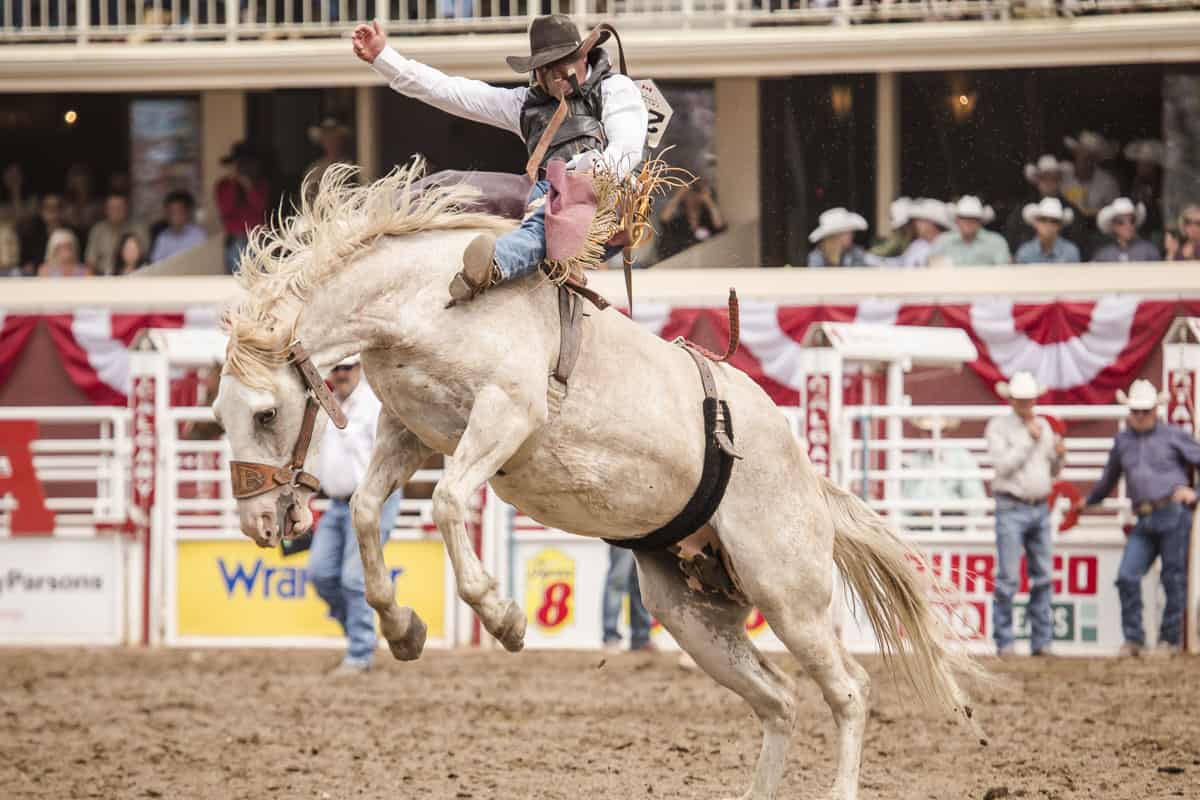 Ticket prices to witness one of the world's largest rodeos range from $24 to $312. Your Calgary Stampede Rodeo ticket includes admission to Stampede Park on the day the ticket is valid.
Rangeland Derby Chuckwagon Racing
Calgary Stampede is home to the world's premier chuckwagon racing event! The very best of the best chuckwagon drivers and a total of 162 horses come from all over the world to compete throughout the 10 days of the Calgary Stampede. Every night there are nine chuckwagon racing heats; races start nightly at 7:45 p.m. and are followed by the world-famous Bell Grandstand Show.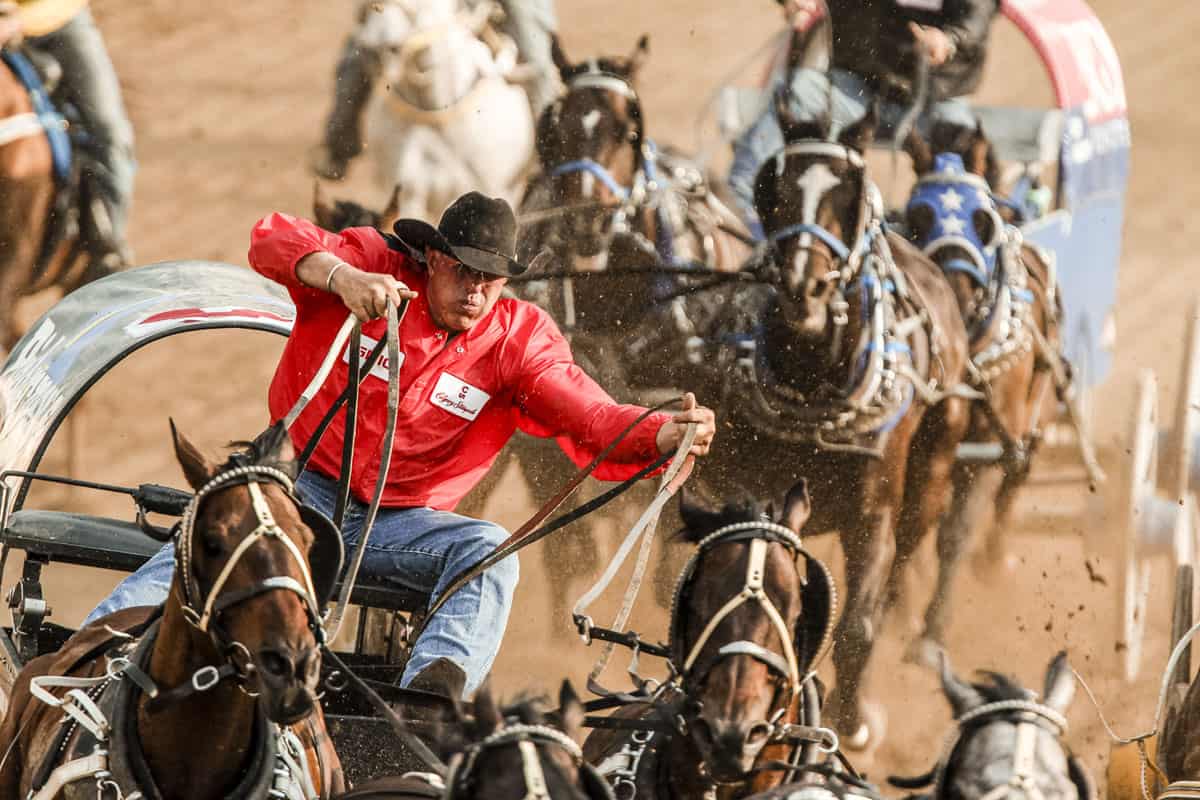 Bell Grandstand Show
The iconic Evening Show doubleheader returns for Stampede 2023, and this nightly event is always a spectacle! It kicks off with the Cowboys Rangeland Derby chuckwagon races, and when the last wagon crosses the finish line, the Bell Grandstand Show brings the heat with elaborate song and dance numbers, acrobatics, and a spectacular nightly fireworks display that lights up the night sky.
For 2023, the show includes Juno-award-winner Johnny Reid, a high-energy show from The Young Canadians, and special guest appearances by Swing Latino, the slackwire diva Tetiana, members of the Calgary Opera, and more. It includes a can't-miss drone show and even costumes made of water! (That, we have to see!)
Your ticket includes admission to Stampede Park on the day the ticket is valid.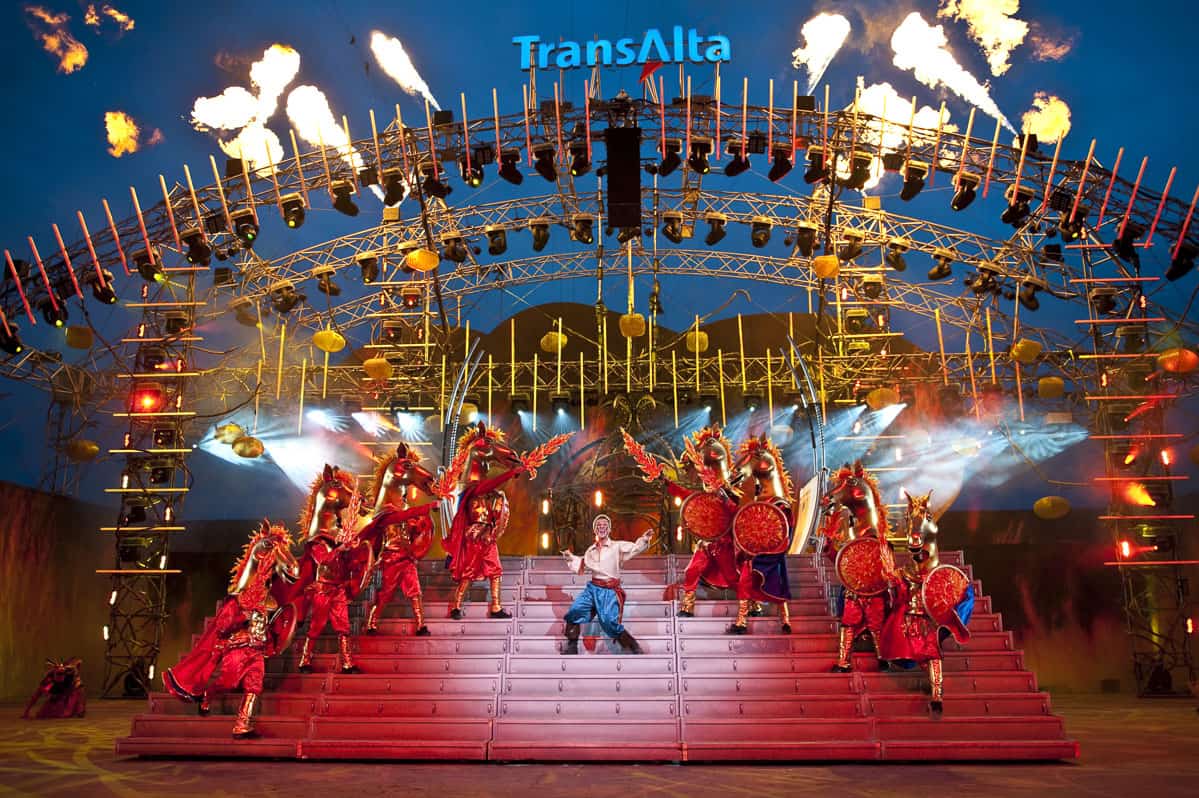 Watch the Calgary Stampede Powwow
This is a fairly new event for the Calgary Stampede and opens as one of the largest competitive powwows in Canada! This one-of-a-kind event will feature dancing, singing, and a showcase of other Indigenous performances. These three days of competition will feature the best Indigenous dancers and singers from all over North America, competing for $175,000 in prize money.
Sample Some Wacky Food
The food alone (especially the BBQ stations) is worth a trip to the Calgary Stampede! With great food vendors offering traditional midway fare to outlandish creations, it's definitely a must-stop foodie destination of the summer.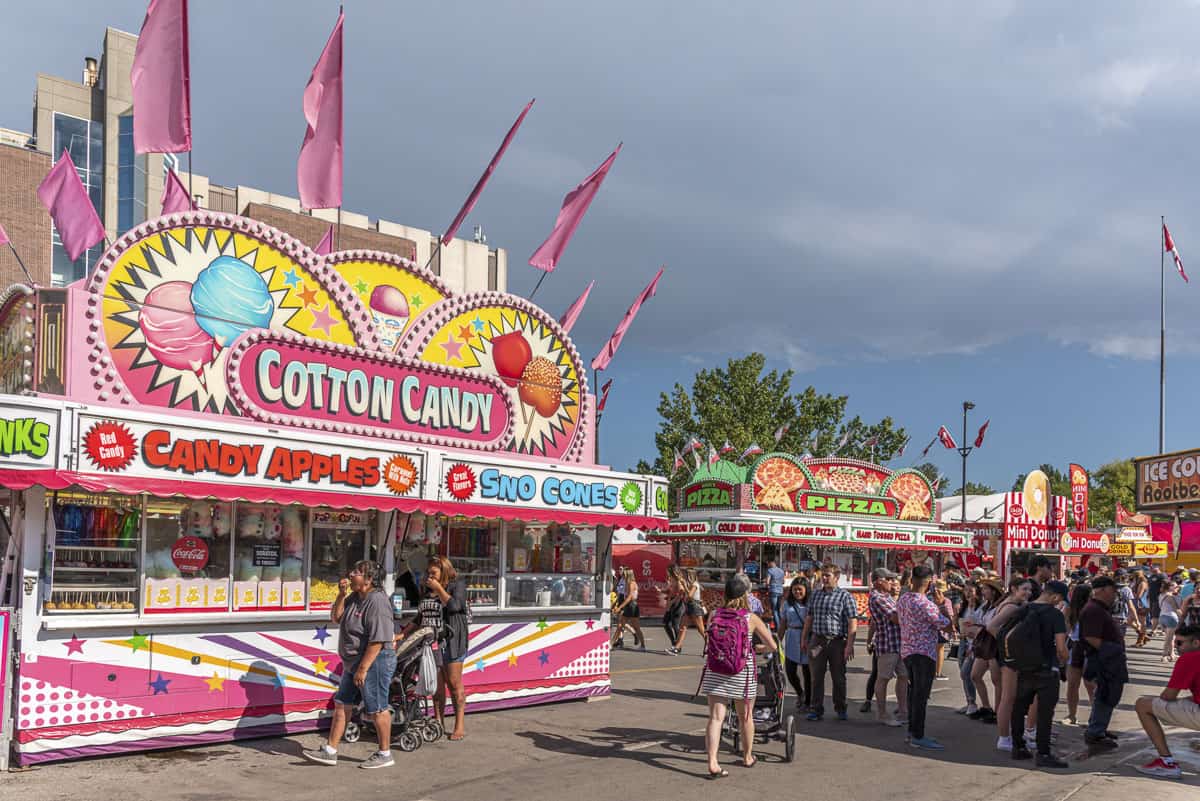 The list of adventurous foods for 2023 is a jaw-dropper, focusing on hot dogs you've never seen (or tasted) before. Besides other head-scratchers like a Kool-aid chicken burger and ketchup and mustard ice cream, you'll find neon-coloured hot dogs, a peanut butter pickle dog, and the star attraction: the $100 jalapeno-cheddar "gut buster". The dog itself is made of aged wagyu and elk meat marinated in wine, and is topped with melted cheese, imported German saurkraut, onions and banana peppers. (Would you pay $100 for that?)
Free Pancake Breakfasts
Rumour is that the Calgary Stampede has been associated with pancake breakfasts since 1923, when a local rancher began serving pancakes from his camp stove during the festivities to anyone who came by.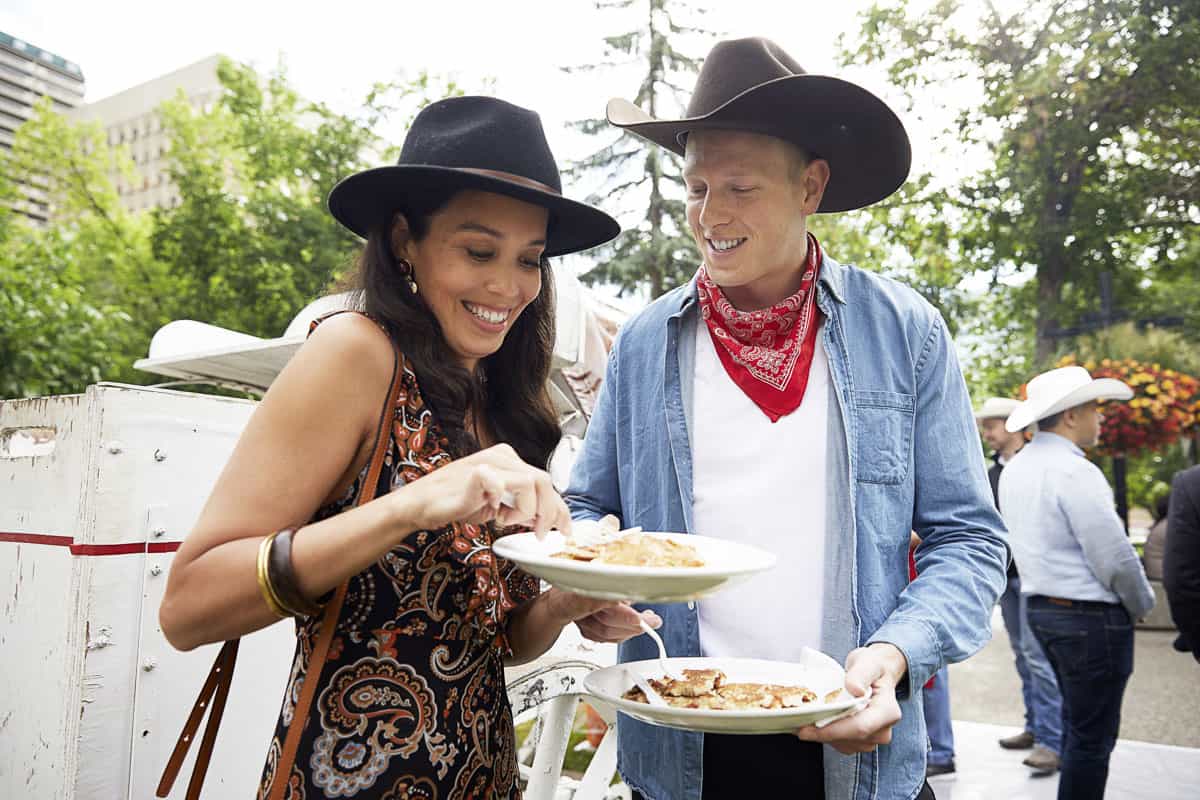 The tradition has continued and morphed into numerous local businesses and charities throughout Calgary hosting breakfasts for employees, customers, and others during the stampede. Check out StampedeBreakfast.ca or FreeStampedePancakes.com for a full list of pancake breakfast opportunities throughout Calgary during the 2023 Calgary Stampede.
Party at Nashville North
Free with general park admission, Nashville North is a legendary venue for live entertainment, regularly featuring famous country bands and solo artists. The tent is for adults only and brings live country music all day long with a foot-stomping party atmosphere and beer gardens aplenty. For 2023, enjoy two-stepping to Tenille Arts, James Barker Band, Eli Young Band, and many more.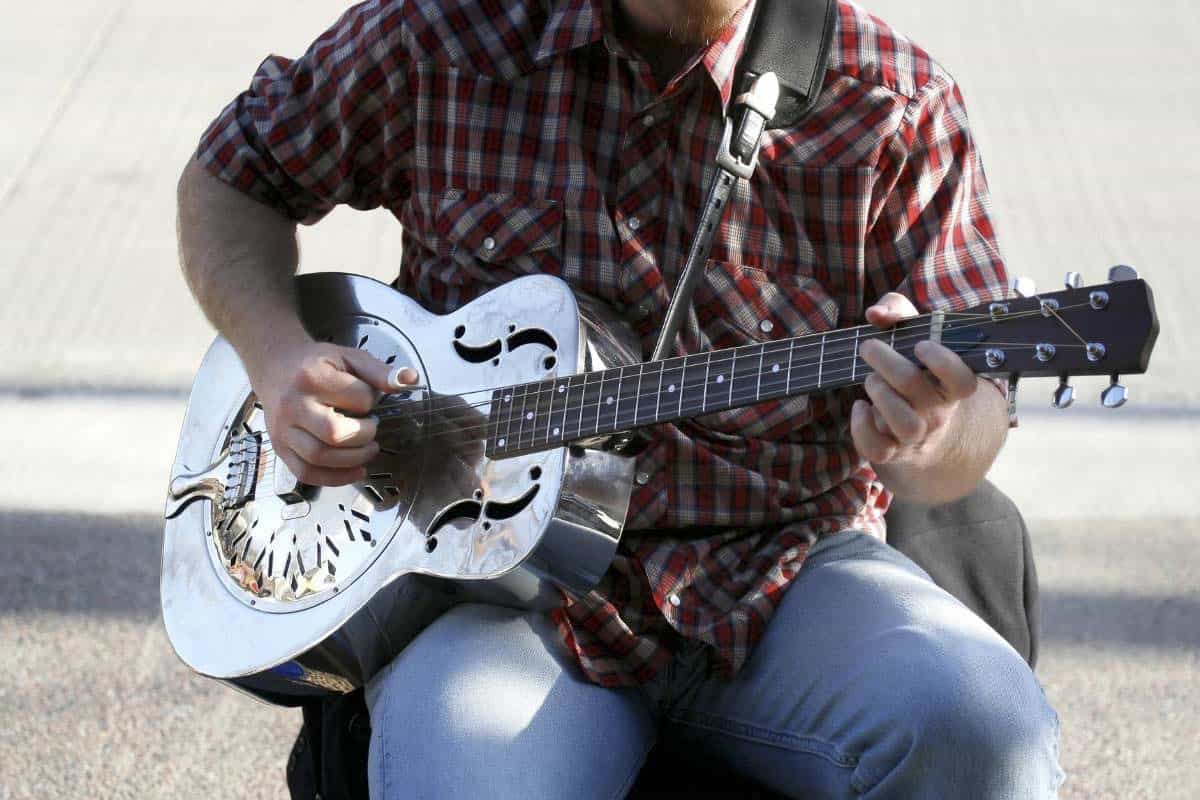 See Live Entertainment on the Calgary Stampede Coca-Cola Stage
The Stampede Summer (Coca-Cola) Stage is the ultimate outdoor live music experience and party atmosphere for all ages! Offering a multi-genre lineup including hip hop, rock, pop, and EDM, the experience is free with general park admission. For 2023, see hometown indie faves Tegan & Sara, Jimmy Eat World, Broken Social Scene, Mother Mother, and more.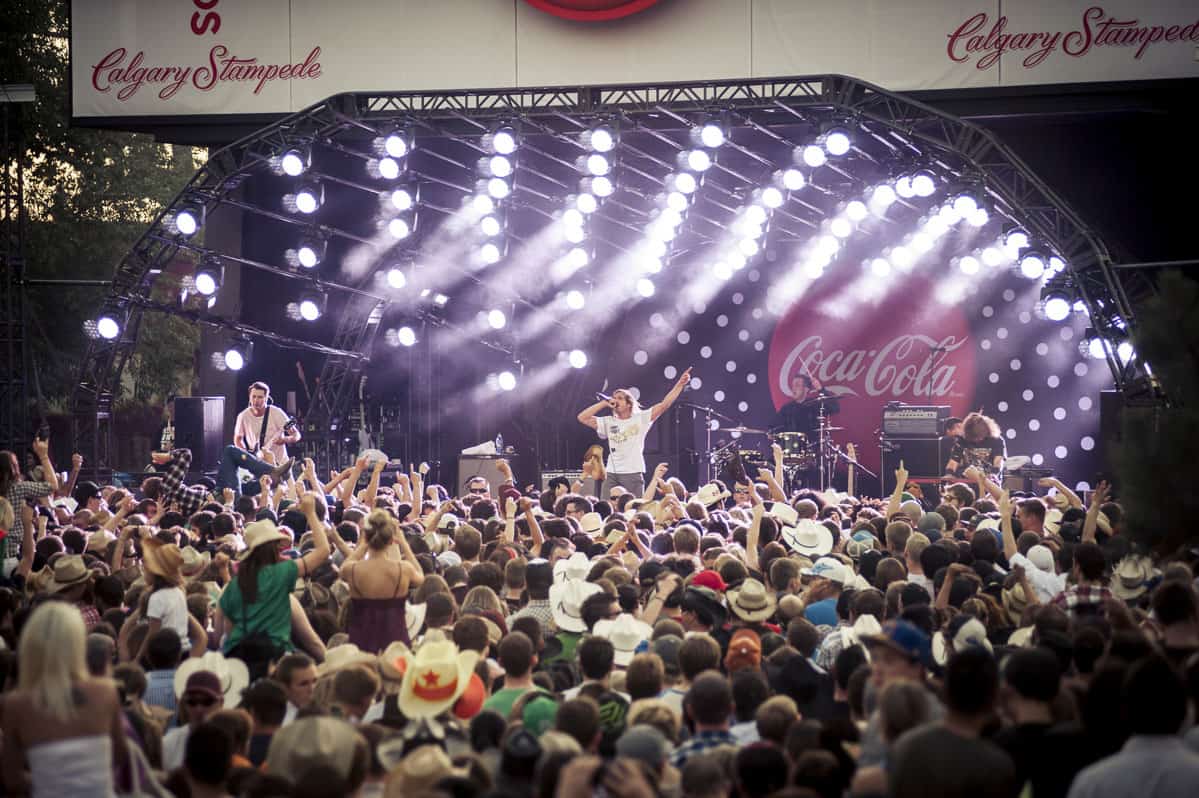 See Live Entertainment Around the City
Stampede fun isn't confined to the Stampede Grounds, as numerous establishments across the city get in on the action! So far this year, it has been confirmed that rapper Ice Cube and DJ Steve Aoki will be entertaining crowds at the Cowboy's Music Festival, along with Dustin Lynch, TLC & Shaggy, Jack Harlow, and more!
Watch the Showriders
The Stampede Showriders were originally formed to accompany the Stampede Showband but have since evolved in their own right and broadened the scope of their activities. They're a team of young equestrian riders that now travel all over North America performing routines and riding in parades representing the Calgary Stampede.
Their duties at the event are to perform musical rides several times a day and be part of the parade.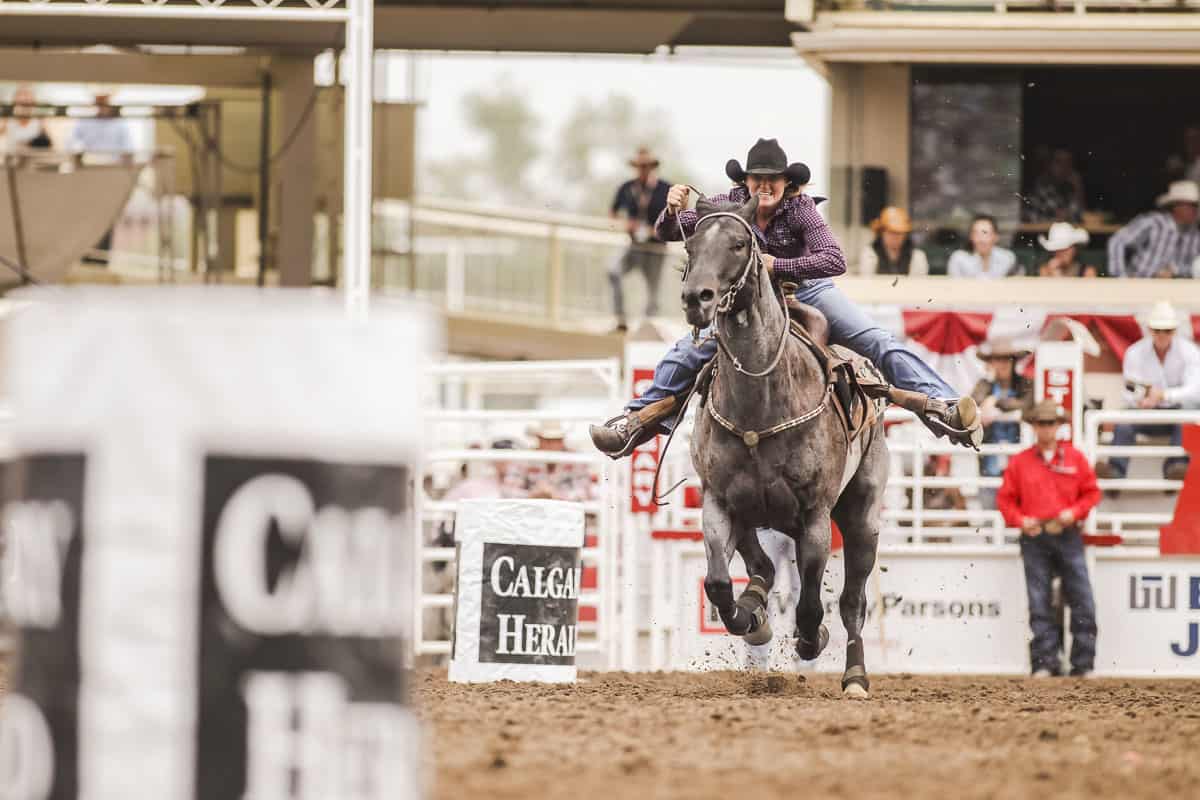 Calgary Stampede Showband
Be entertained by the 6-time World Champion, Calgary Stampede Showband! Comprised of 140 youth, this talented group is more than your regular marching bands, and they make an astounding 100 appearances over the 10-day festival. Featured twice daily on the Saddledome Steps, the Rodeo, and via many other pop-up performances throughout the park, keep your ears open to watch the Stampede band in action.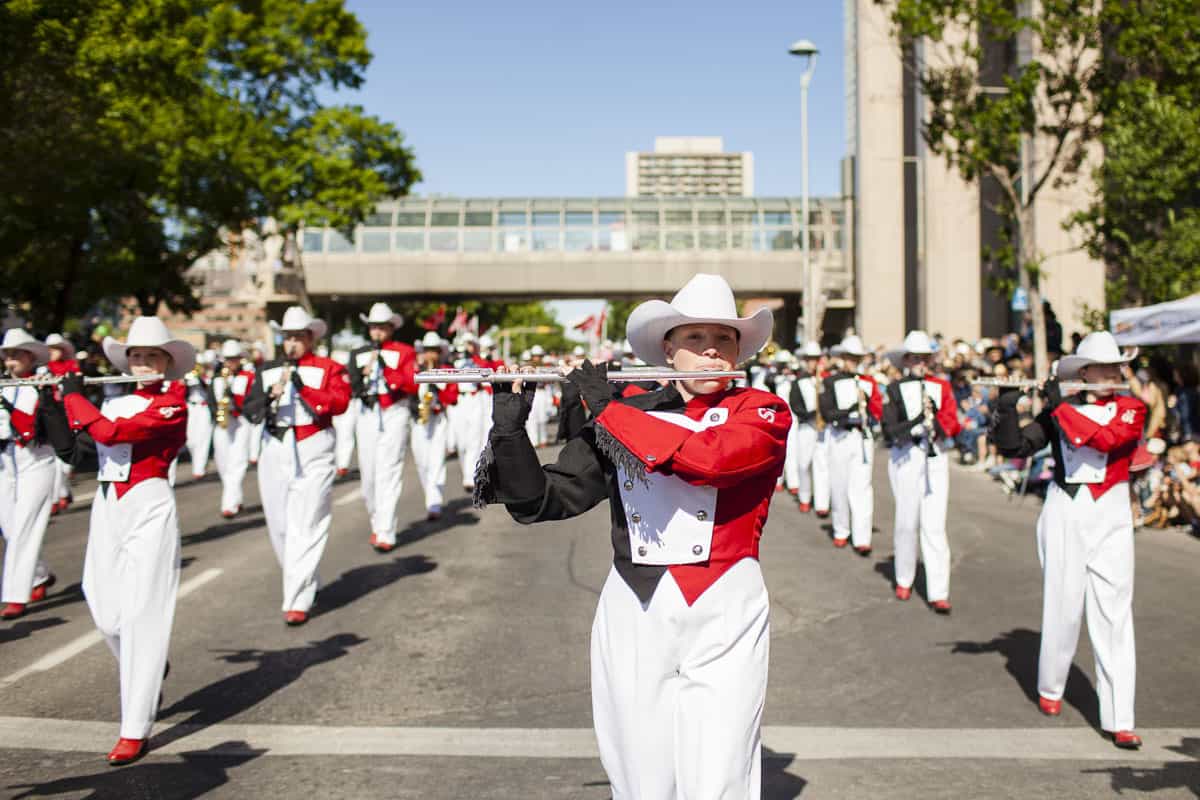 Games and Rides at the Midway
Including iconic carnival games and exhilarating rides, the Calgary Stampede Midway provides an endless amount of family fun (and a cheap teddy bear, if you're lucky)! Ride on favourites such as Crazy Mouse, Polar Express, Mega Drop, and the Zipper. You can also test your hand-eye coordination at the plethora of midway games to get a prize. There is even a kid ride zone for the littles called the Great FUNtier!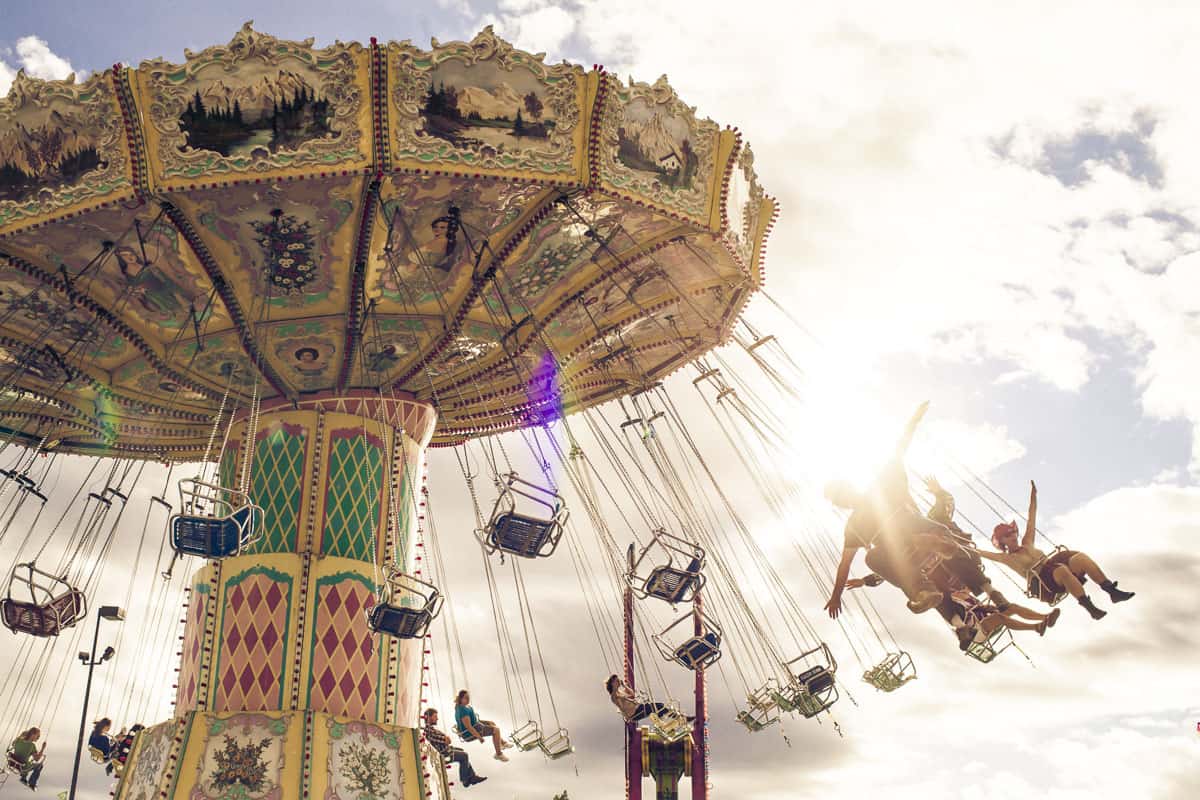 Ride and game coupons can be purchased at the kiosks throughout the main midway and FUNtier midway. Each ride or game has signage indicating how many coupons are required to ride or play and the 2023 pricing is as follows:
22 Coupons – $20
55 Coupons – $50
Ride All Day Wristbands – $58
Tip: To get a special gated entrance and skip the lines, purchase a Midway Express Access Pass. For only an additional $25, it's worth not waiting in all of the regular ride lines.
Experience the Elbow River Camp
Paying homage to the Indigenous people who have walked these lands for centuries, Elbow River Camp (previously called the "Indian Village") is an immersive experience of Indigenous culture and western heritage where visitors can experience the cultures of the Siksika, Piikani, Kainai, Tsuut'ina, and Stoney Nakoda First Nations.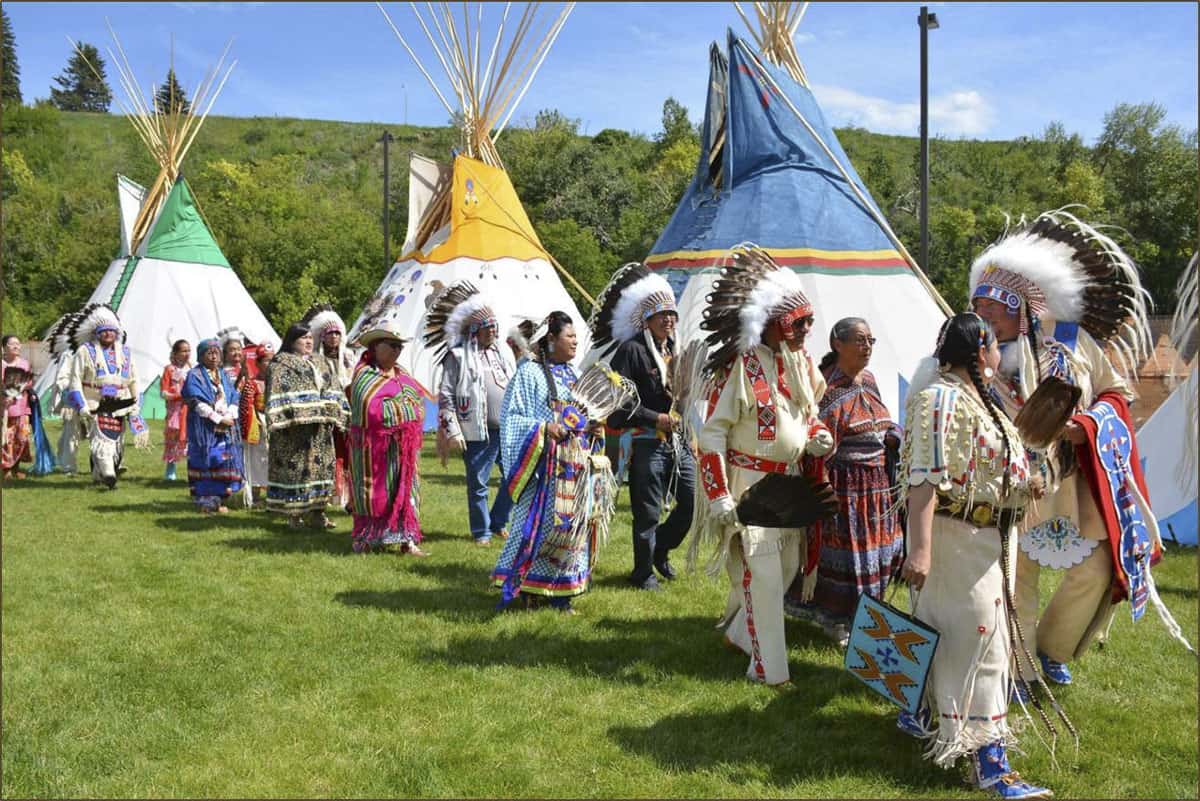 Throughout the 26 tipis to visit, you can find local artisans selling jewelry and art, bannock and saskatoon berry jam, and you can also witness traditional dancing. In addition, there are special events such as a Pow-wow competition, a meat-cutting competition, and special days for each of the individual communities during the 10 days of the Calgary Stampede.
Freestyle Motocross
Experience Calgary Stampede with a side of daring flips and tricks at the Freestyle Motocross event! Watch motocross athletes reach new heights and push the limits of physics by performing crazy tricks.
Take in Live Entertainment at the Big Four Roadhouse
See a little rock, a little country, and a little alternative at The Big Four Roadhouse! This year, rock out to Cypress Hill, Koffee, DJ Pauly D, Lord Huron, and many more.
Tickets start at $89.00 and include admission to Stampede Park.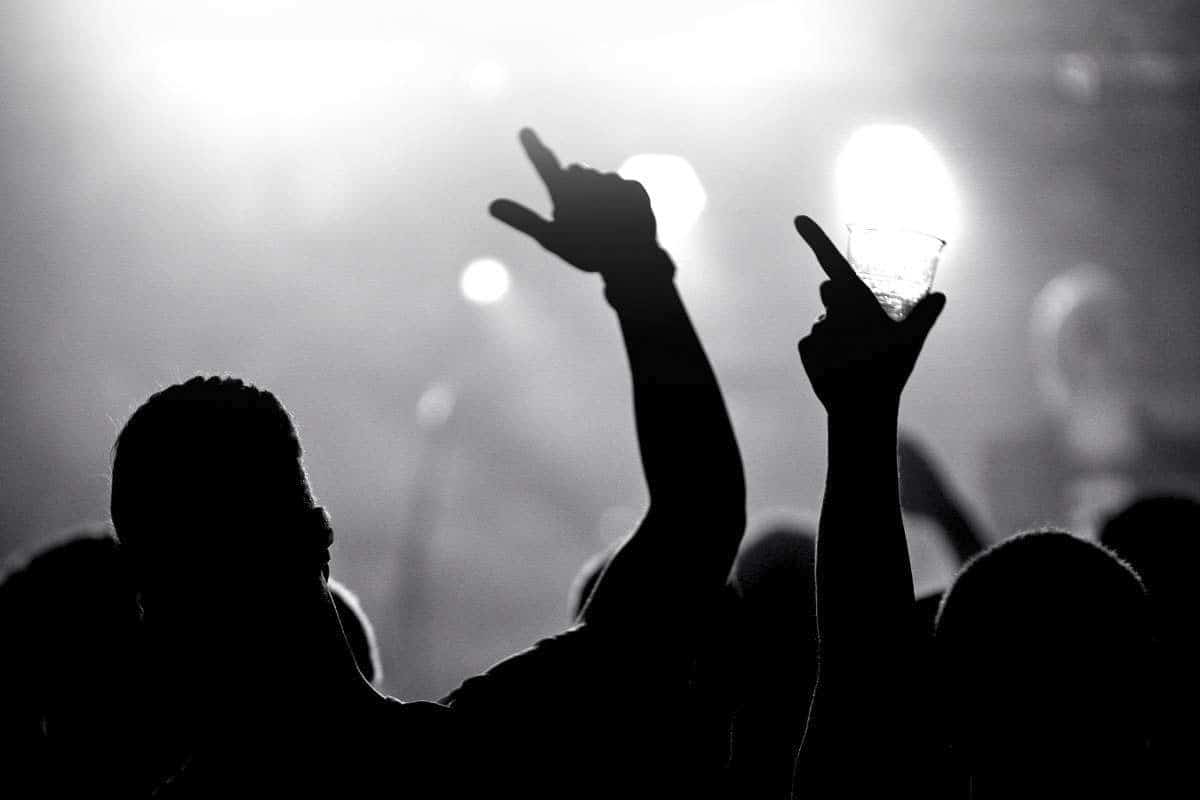 Don't Miss the Dog Bowl
Dog lovers, rejoice! The Dog Bowl is the show for you to witness a group of highly-trained canine athletes perform various skills for your enjoyment. Watch as they maneuver the agility poles and dock-diving, amazing frisbee catching, and even freestyle dancing! These dogs are sure to impress even the cat lovers in the crowd. Show days and times can be found here.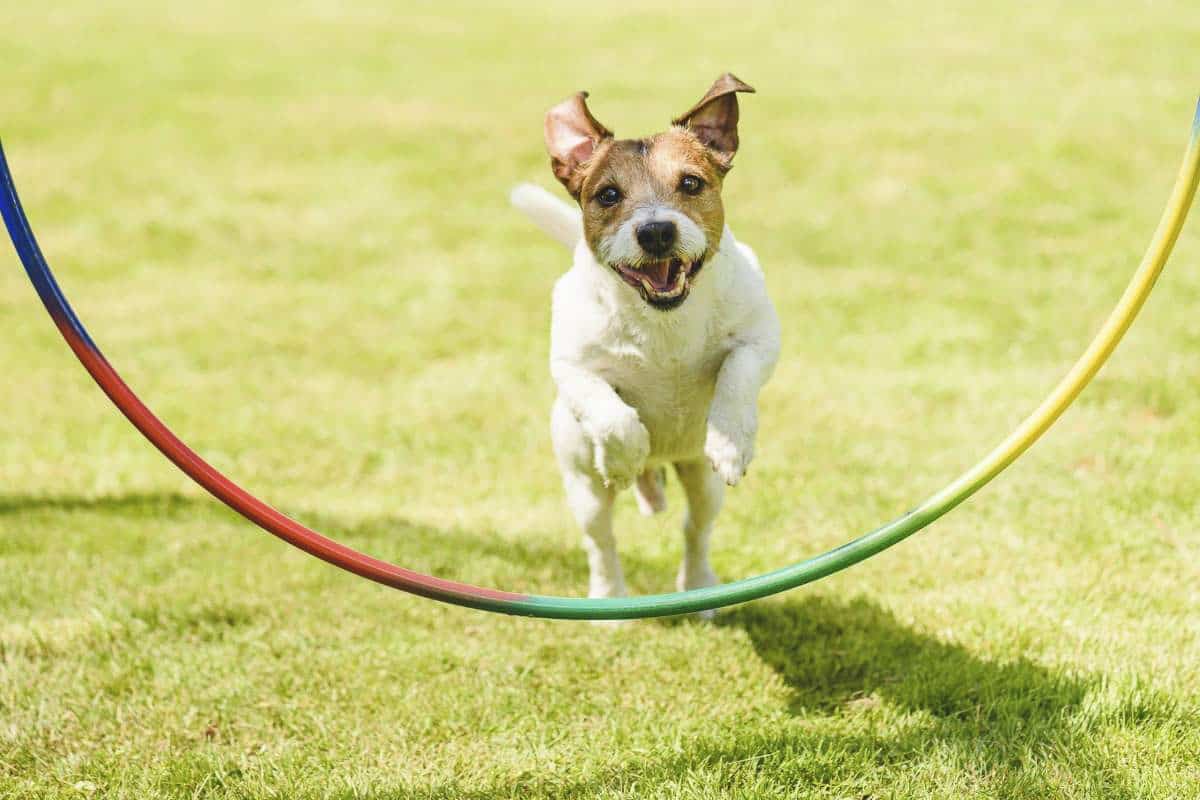 Enjoy the Calgary Stampede Art Show
Part of the Western Oasis, the Stampede art show tradition began in the 1930s and 40s. Offering a touch of class, the art show is touted as one of the finest art shows in Western Canada and includes some of North America's most celebrated artists from a variety of disciplines.
Sample the Wine Garden
Escape the cowboys and midway cacophony by relaxing in the peaceful garden oasis, also known as the Western Oasis. Indulge in some wine paired perfectly with a selection of meats and cheeses, pasta, and made-to-order paninis.
It's the perfect way to infuse elegance into your Calgary Stampede experience.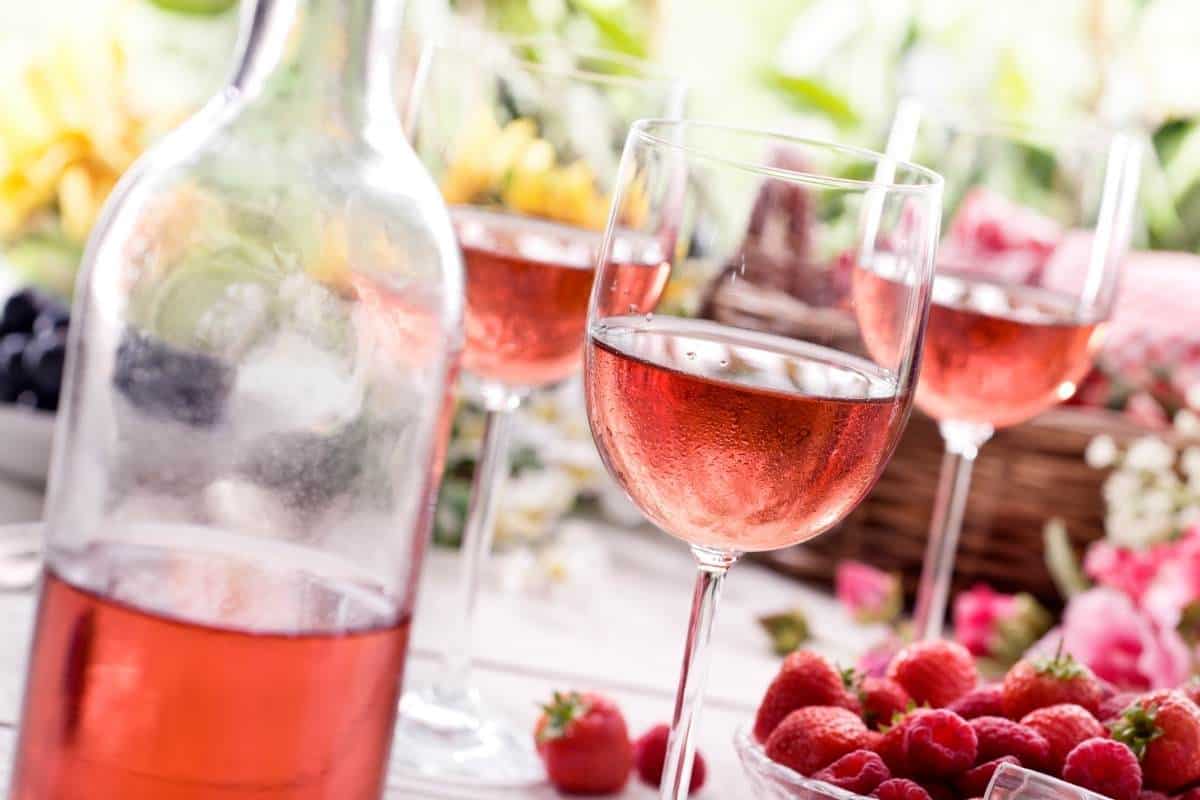 Window on the West Stage
Yet another location to enjoy live music and entertainment can be found at the Window on the West Stage in the Western Oasis! At the 2023 Calgary Stampede, live entertainment will run from 3 – 6pm, all 10 days of the event.
2023 Virgin Plus Stampede Concert Series
Take in a phenomenal evening show by some heavy hitters in the music industry at the Virgin Plus Stampede Concert Series. Previous acts have included names like Garth Brooks, Katy Perry, and Keith Urban.
So far for 2023, two GIANT acts have been announced to take the stage at the Saddledome:
Mr. Worldwide himself – PITBULL – on July 7th
The Grammy-award-winning band of ALABAMA on July 8th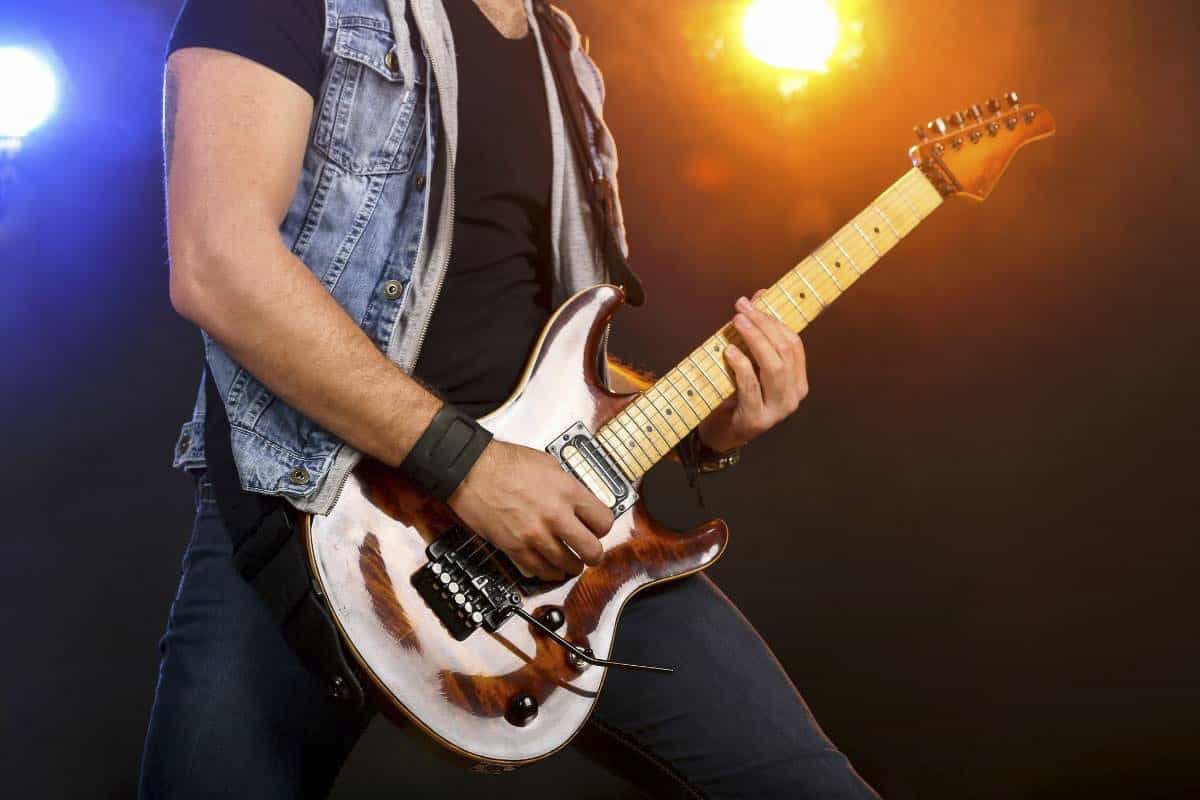 Learn at the Cattle Trail
See the journey from pasture to plate that Alberta beef takes. The Cattle Trail is an interactive exhibit located in the Nutrien Western Event Centre that takes visitors through the product lifecycle of beef. Everything from cattle breeding all the way to understanding the different cuts of beef that end up on your plate, producers and industry experts will be available all 10 days of the Calgary Stampede to answer any questions you have about Alberta Beef.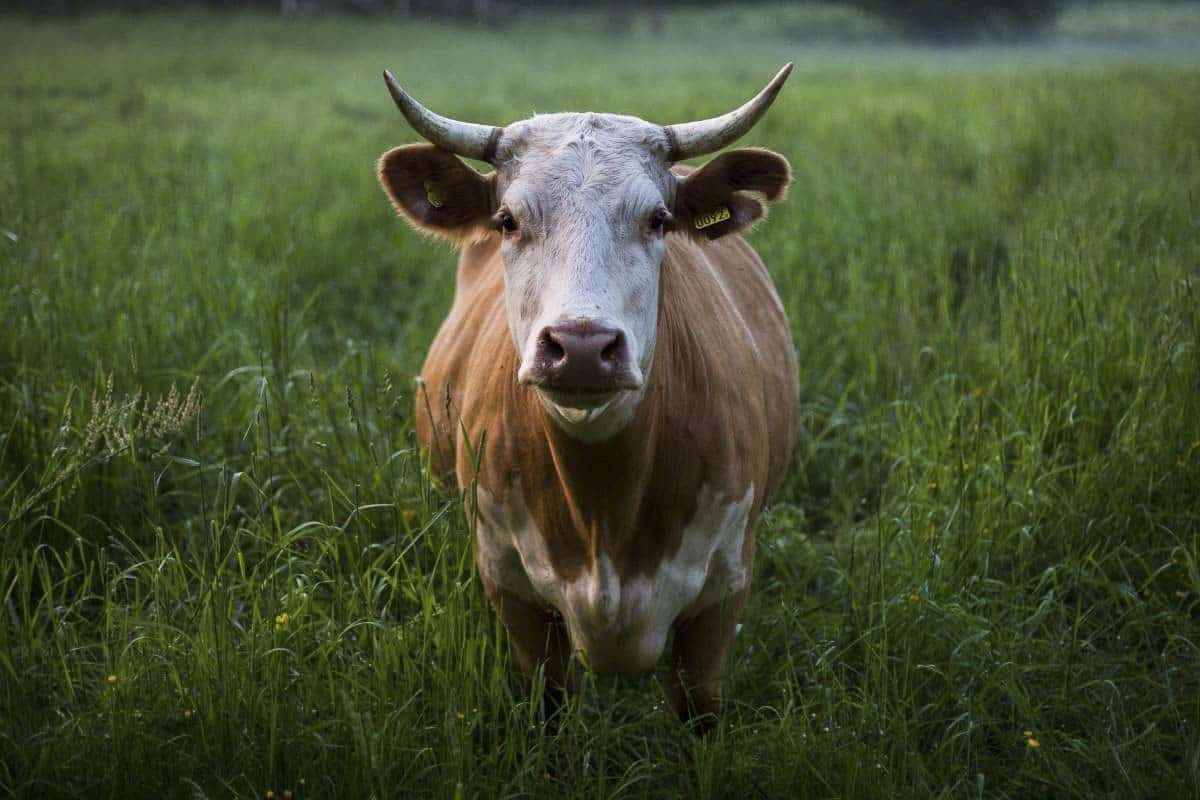 All Elite Wrestling
New for 2023, wrestling is returning to Stampede Park! On the second Saturday (July 15th), All Elite Wrestling (AEW)'s top talent will electrify wrestling fans. AEW is known for its industry-leading athletics and has captured audiences worldwide. Don't miss the chance to see it live!
Shop, Play, Explore, and Relax at the Market
Located in the BMO Centre, the Market is a dynamic mix of retail and entertainment that is open all 10 days of the Calgary Stampede. Perusing the Market is free with admission to the Stampede grounds and inside you can of course shop, but also play at a fun indoor playground that has interactive games and even some enticing food vendors. Note that the indoor playground is only open to adults from 6 pm until close.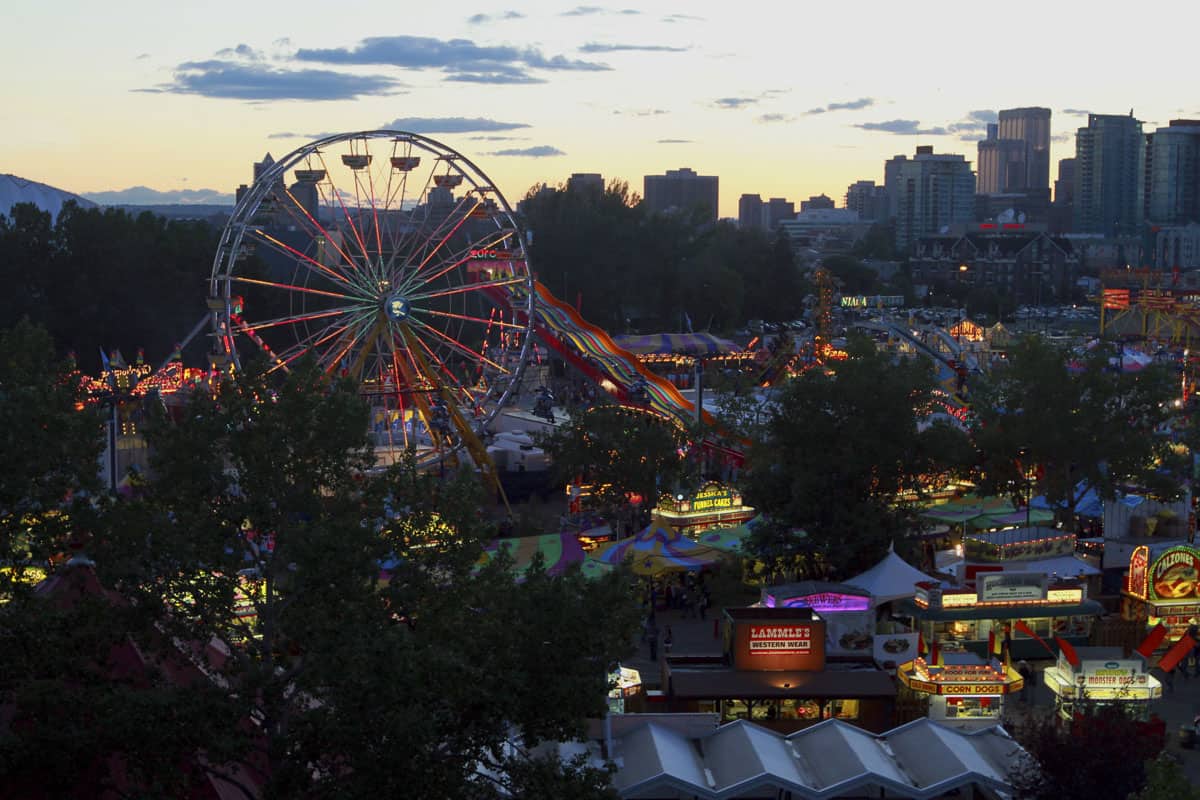 Feeling tense? Pop into the Relaxation Zone in the Market for a free 15-minute massage. You can also explore the creative and imaginative installations throughout and source a great background opportunity for a photo for the 'gram.
Horse Haven
Located in the northwest end of the Agriculture Barns, Horse Haven is a family-friendly venture into all kinds of horse information including learning about different horse breeds, daily horse demonstrations, learning everything you need to know about owning a horse, and conversations with horse breeders. There are tons of educational opportunities and interactive displays, with an "activity zone" for some hands-on learning!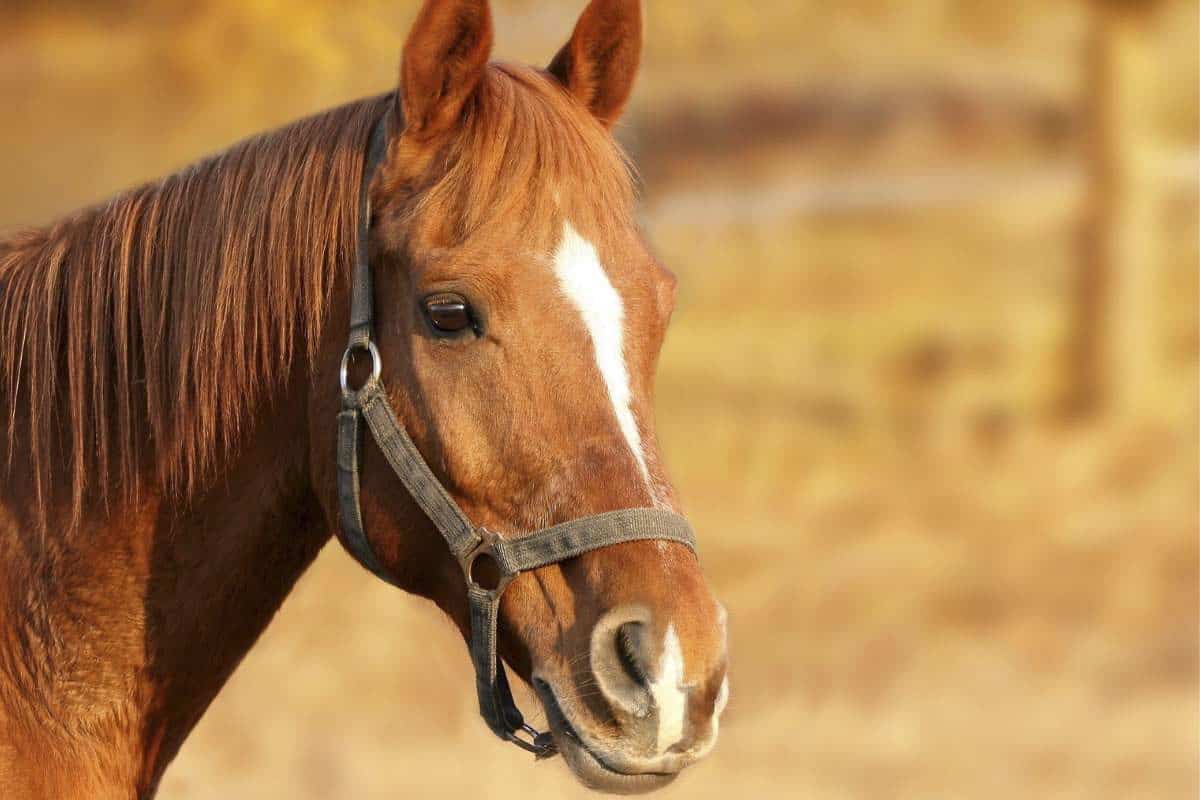 Calgary Stampede Tickets
The 2023 Calgary Stampede runs from July 7 – July 16, 2023. Tickets to the rodeo, evening show, Virgin Plus Stampede Concert Series, and The Big Four Roadhouse are available online now.
Stampede Park Admission Prices for 2023:
General (Age 13-64) . . . . . . . $23.00
Seniors (Age 65+) . . . . . . . $15.00
Child (Age 7-12) . . . . . . . $14.00
Child (Under 7) . . . . . . . Free
Stampede Superpass
If you can't get enough of the Stampede, this deal is for you. For only $49, buy yourself a Superpass which will grant you entry to the grounds for ALL of the 10 days! Buy it here.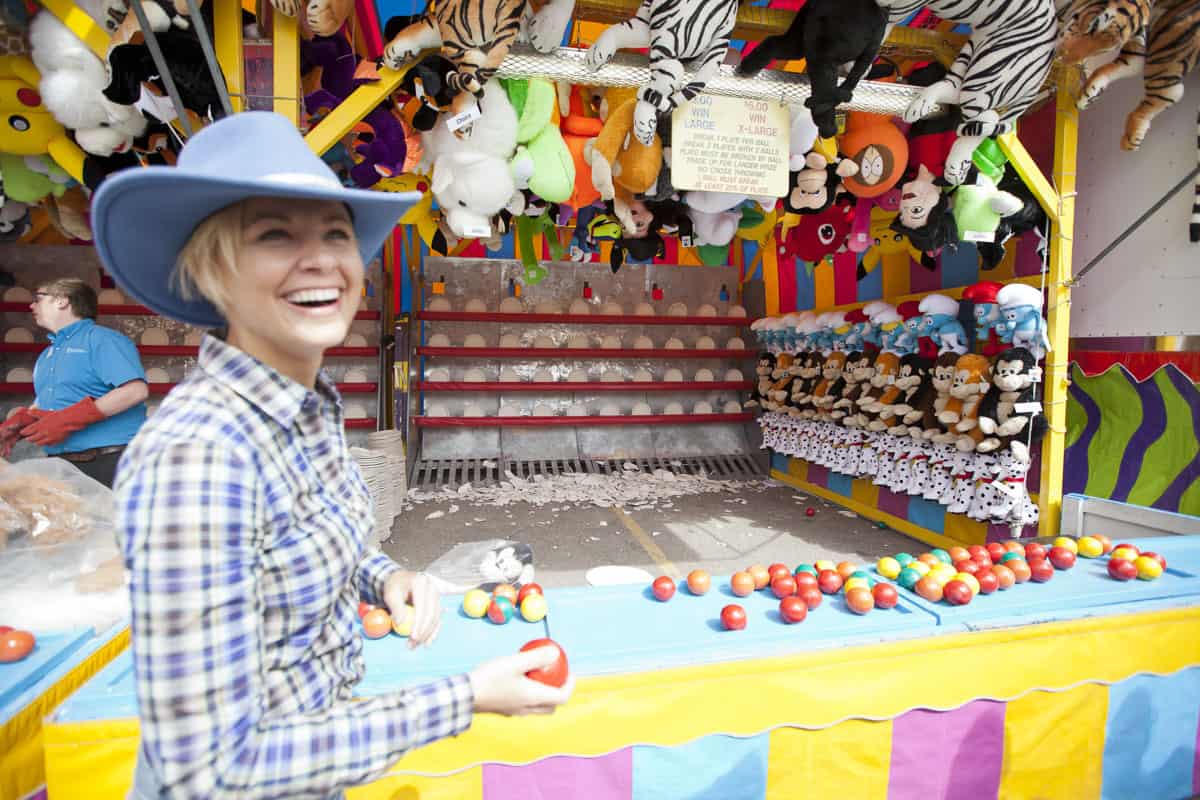 Where to Stay During the Calgary Stampede
People visit Calgary from all over the world to be part of the action at the Stampede grounds! The city is typically overrun during the Calgary Stampede so booking accommodations ahead of time is a must. We recommend allocating at least two full days at the Calgary Stampede to really get to see everything that it has to offer. Luckily between hotels, motels, and vacation rentals, there is plenty to choose from if you start looking early enough.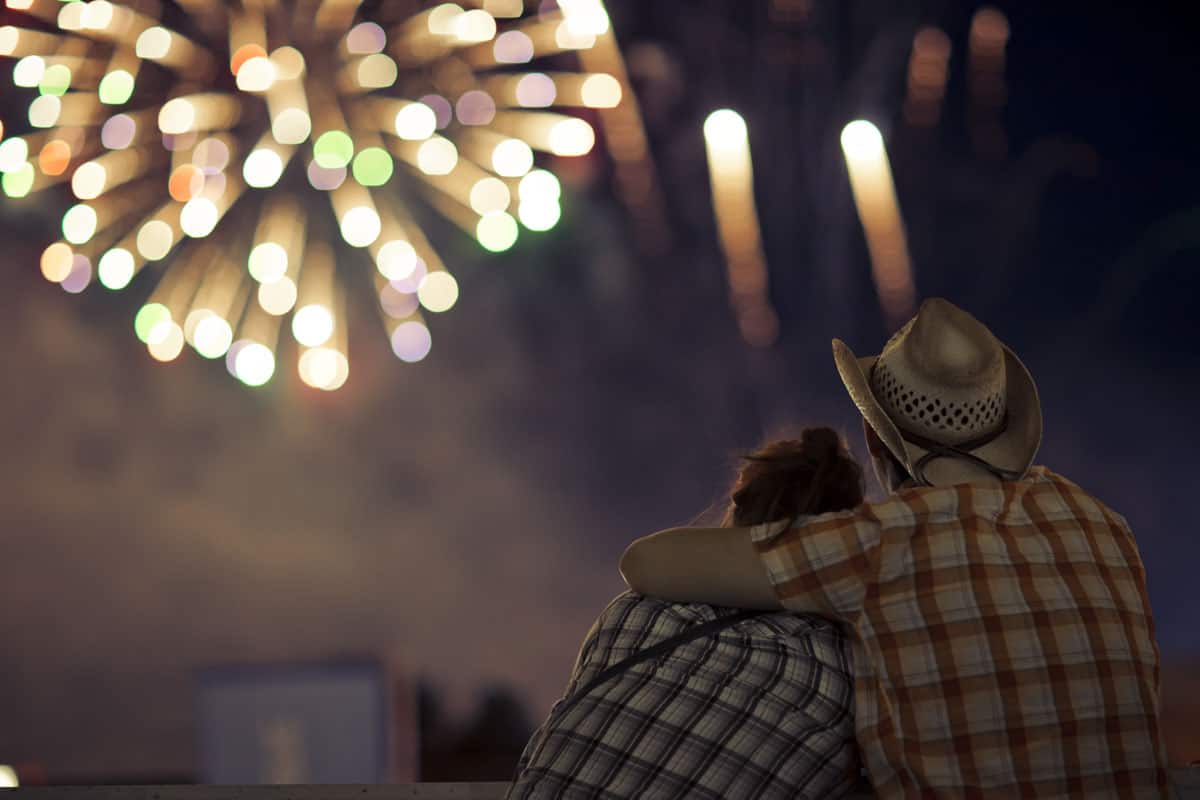 Luxury: Fairmont Palliser
Located in the heart of Downtown Calgary, the Fairmont Palliser is a luxurious place to unwind after a long day at the Calgary Stampede. Within walking distance to hip and trendy restaurants and tons of attractions, it is a great place to see everything else Calgary has to offer while also spending time at the Stampede. Either drive 6 minutes to get from the hotel to the grounds or skip the hassle of parking and walk 20 minutes.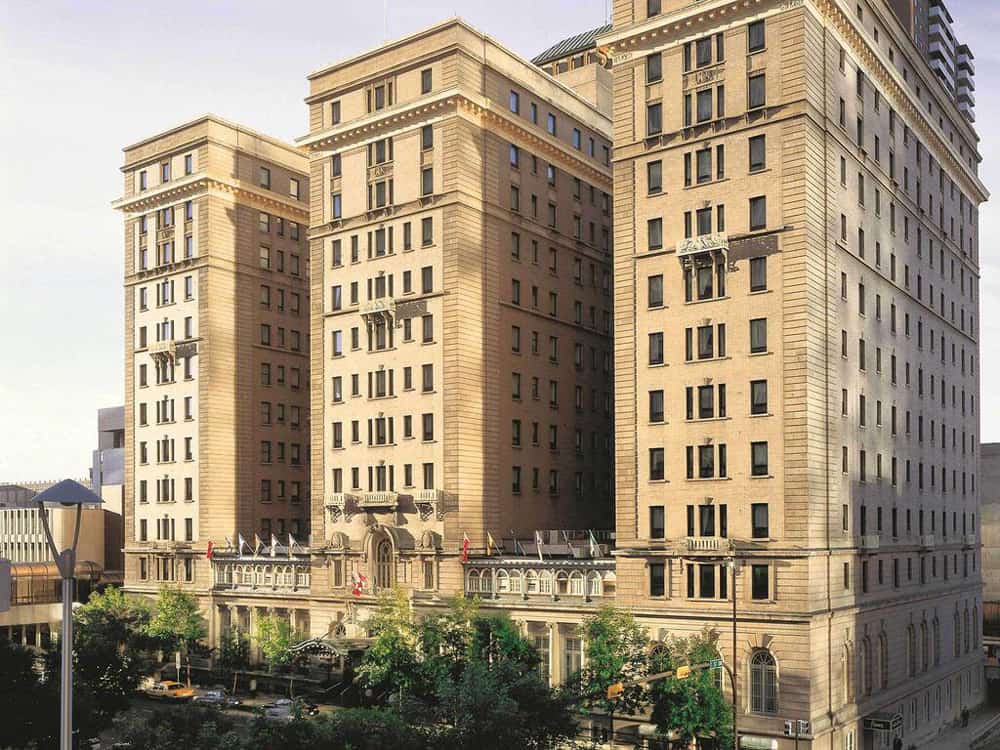 Mid-Range: Residence Inn by Marriott Calgary Downtown / Beltline District
In terms of location, the Residence Inn by Marriott gets an A++. Not only is it within 0.5 km of over 100+ restaurants, but it is also only 2km away from Stampede Grounds. Hotel amenities include complimentary breakfast, free Wi-Fi, and a 24-hour fitness center. Some hotel suites come equipped with dedicated kitchens and many rooms have floor-to-ceiling windows that look out onto downtown Calgary and/or mountain views.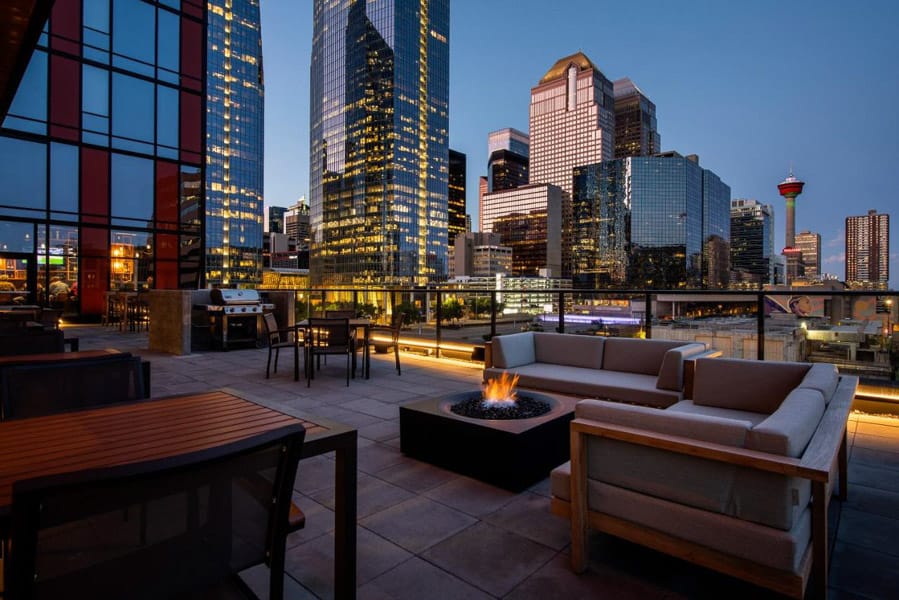 Budget: Comfort Inn & Suites South
Comfort Inn & Suites South is an economical option that has easy access to hop on the train for a quick zip over to Calgary's Stampede Park. With a free breakfast offered each morning, and an indoor heated pool (with a two-story waterslide!), this is a great family-friendly option for those wanting to spend more money at the Stampede than on accommodations.
Need more options? Read our exhaustive guide to Calgary hotels, or see the map below for live pricing during the dates of the Calgary Stampede.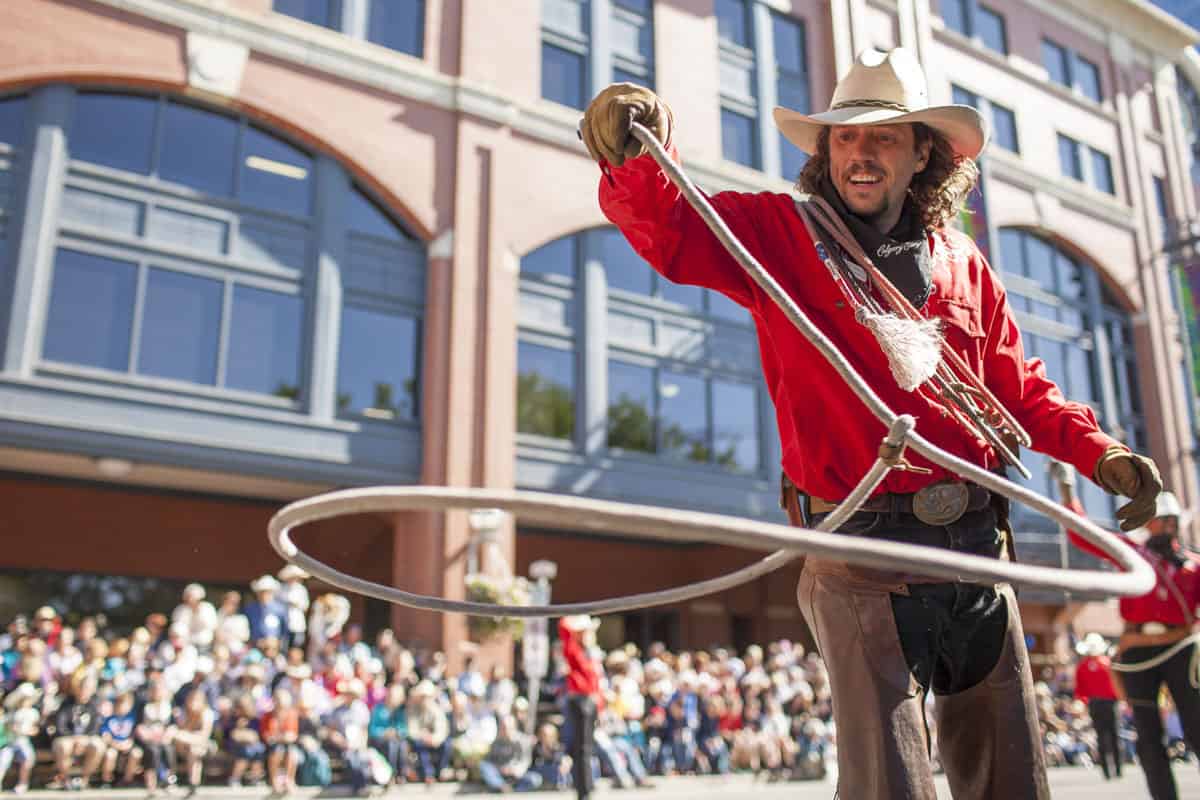 Want a break from all the Stampede action? Check out our guide of all the best things to do in Calgary And while you're in the city, don't miss out on sampling the best Calgary restaurants. If you want a break from the free pancake brekkies, vary up your morning nourishment by checking our post on the best spots for brunch in Calgary.
And you can't visit Alberta without spending a bit of time in the Rocky Mountains! Get yourself from Calgary to Banff and then enjoy all of the amazing things to do in Banff. If you want someone else to take you there, check out our article on Calgary tours that include trips to Banff and beyond.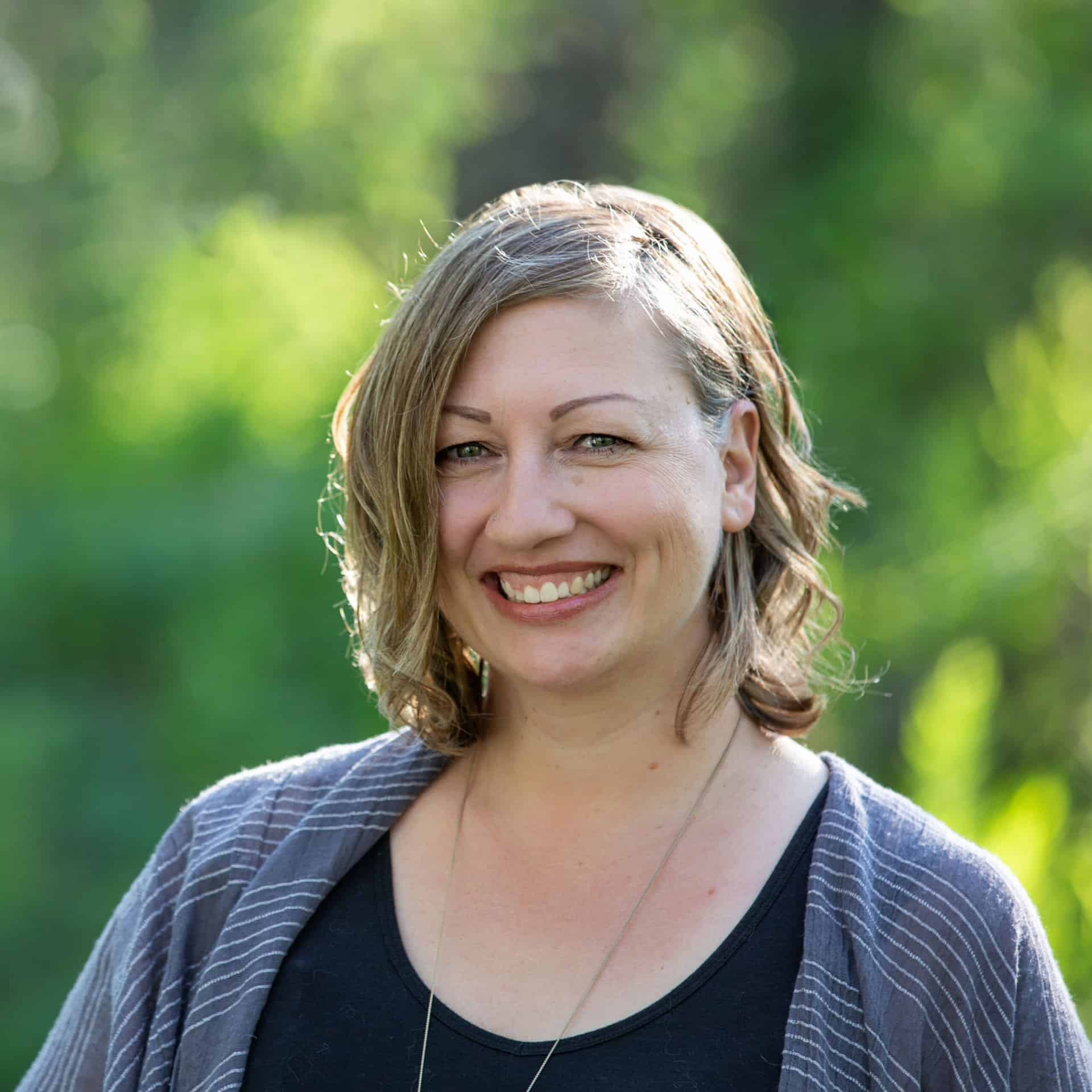 Dalene Heck is a co-founder of Road Trip Alberta. She was born in Edmonton, grew up in the Peace Country, and has ventured to almost every corner of Alberta and the world (she's travelled to 60 countries)! She is a serial blogger, the CEO of HMI Marketing, co-creator of the Trip Chaser card game, a leukemia-slayer, and cat whisperer.