Disclaimer: This page may contain affiliate links. Please review our full Terms and Conditions for more information and our Privacy Policy. Note that any pricing, operating hours, or other such information provided below may have changed since initial publication.
Compiled by the Road Trip Alberta team
Last updated on May 12, 2023
Heritage Park in Calgary takes guests on a remarkable journey through Western Canadian history. This living museum showcases life from the 1860s to the 1950s with over 180 exhibits, including historical buildings, a steam train, and an antique midway.
The park is open year-round and offers a variety of seasonal events. It's fun for all ages and makes for a exciting and educational day that's sure to be a memorable experience.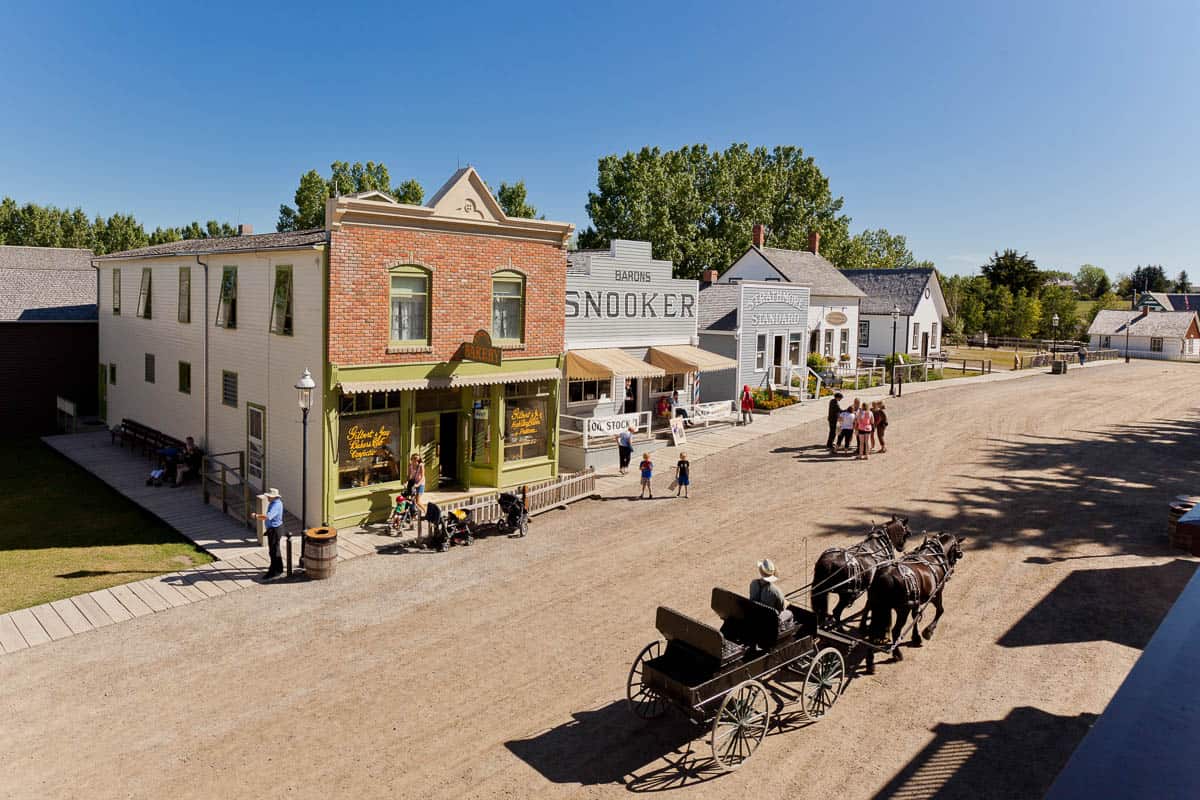 Guide to the Heritage Park Historical Village
What is Heritage Park Historical Village?
Known as Western Canada's largest living history museum, the Heritage Park Historical Village is one of the best things to do in Calgary. This massive park deserves at least a day of your time, as it's the perfect place to enjoy a wonderful blend of education and entertainment.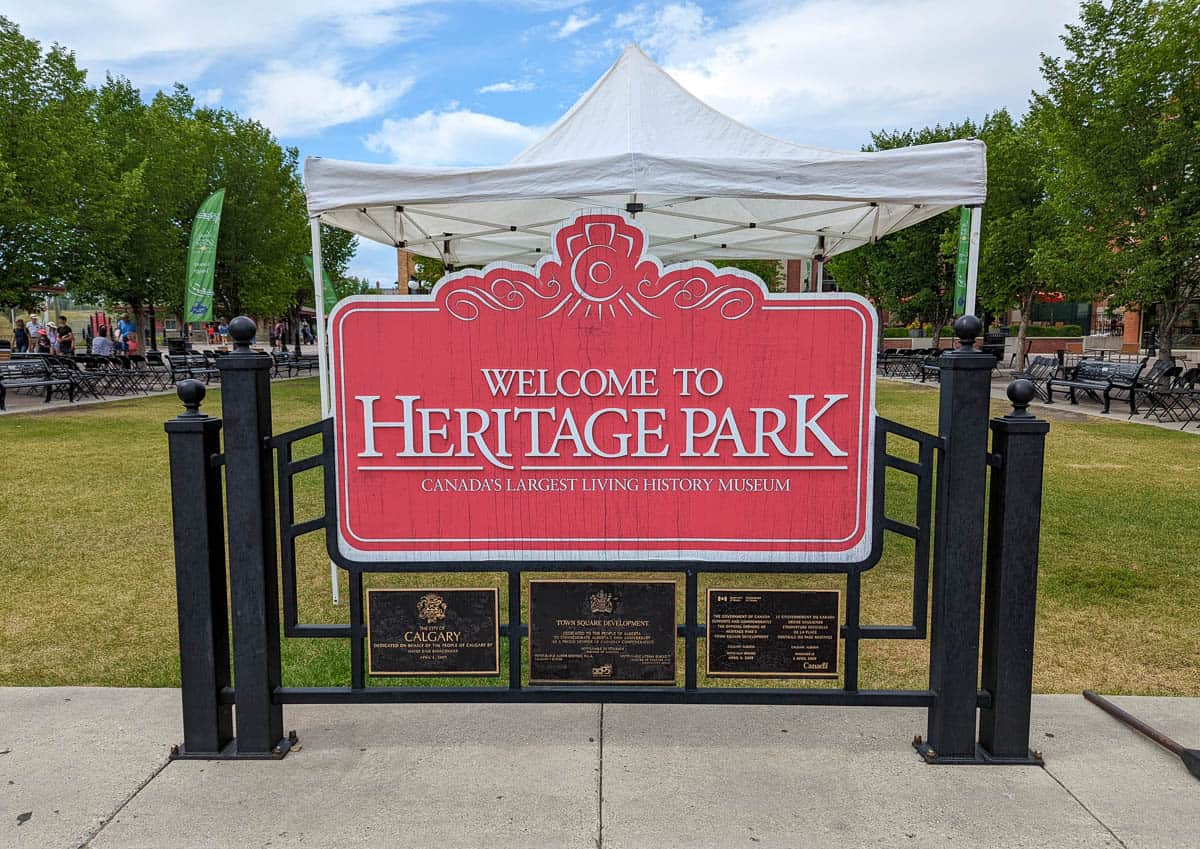 Found across 127 acres of land, the historical village showcases Western Canada's history, from the early 1860s of the fur trade to the automobile-dominated 1950s. With multiple preserved heritage buildings, costumed staff, restaurants, shopping, over 180 exhibits and 55,000 artifacts, Heritage Park Calgary has plenty to see and do.
History of the Park
First conceived as an idea in 1961, the park relied on generous donations from The Woods Foundation as well as interested Calgarians. With an aim to create a children's pioneer park where they could both learn and play, construction began shortly thereafter; the park was officially opened to the public on July 1st, 1964. At the time, it was operated by only 28 employees (22 of them part-time) and 100 volunteers.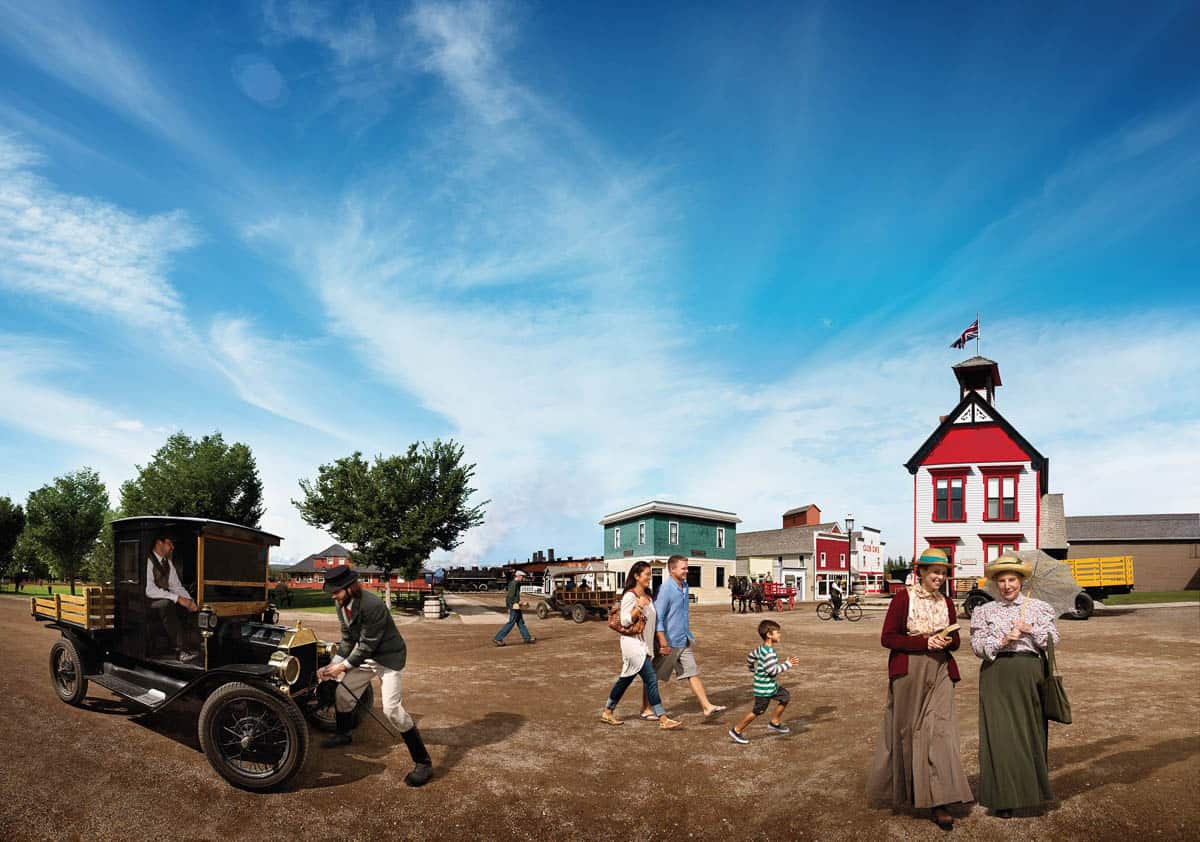 Today, after many additions and renovations over the years, it is one of the largest living history museums in the world and is one of the most visited tourist attractions in Alberta. It now employs over 500 people and relies on the help of over 1,800 volunteers every year.
Location and Parking
The Heritage Park Historical Village is located at 1900 Heritage Drive SW, Calgary, T2V 2X3. It is found on the Glenmore Reservoir, not far from downtown Calgary. You can easily get there by your own car or by public transportation; Calgary Transit runs the Route 502 bus between the Heritage LRT station and the front gate of Heritage Park.
There is a paid parking lot for Heritage Park, and you can pay through one of the ParkPlus machines or through various parking apps. The daytime cost is currently $8 for the first seven hours, and then $8 for every half hour after that (to a maximum of $32). If you plan on attending an evening event at the park, evening parking is currently a $3 flat rate, beginning at 5 pm (although cars must be removed by 9 am the next morning). None of these fees apply to members.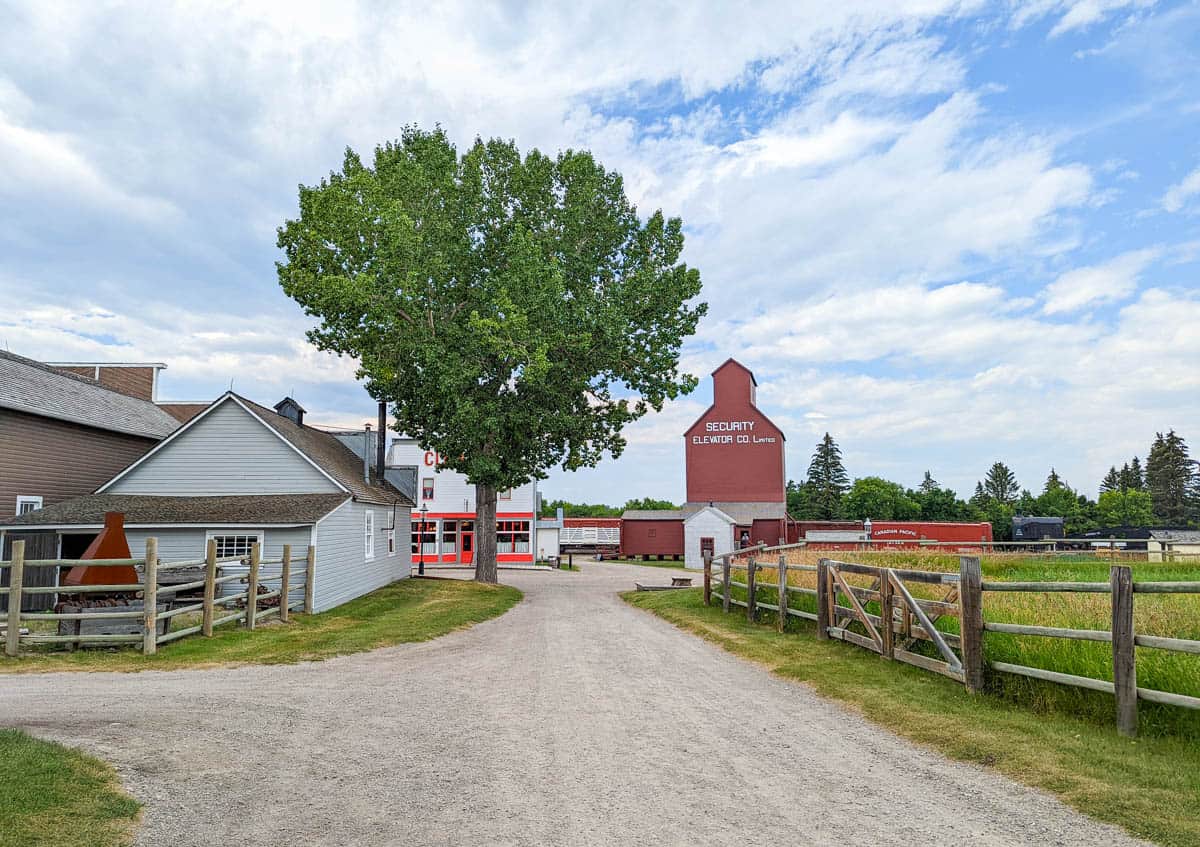 If you plan on shopping or dining in the Heritage Town Square free zone, there is complimentary parking for up to 90 minutes (although you still must register your licence plate into one of the ParkPlus machines).
Check out this handy parking map, which also shows you where the Calgary Transit stop is.
Heritage Park Calgary Opening Hours
Heritage Park Calgary is a somewhat seasonal attraction, as not every exhibit is open all year. The Historical Village is open from May long weekend until Labour Day and then weekends until Canadian Thanksgiving; it is always closed on Mondays. The Railway Café, Selkirk Restaurant, Gasoline Alley, and the Shops of the Haskayne Mercantile Block are open year-round in the Heritage Town Square.
This year, the Historical Village is open on May 20, 2023.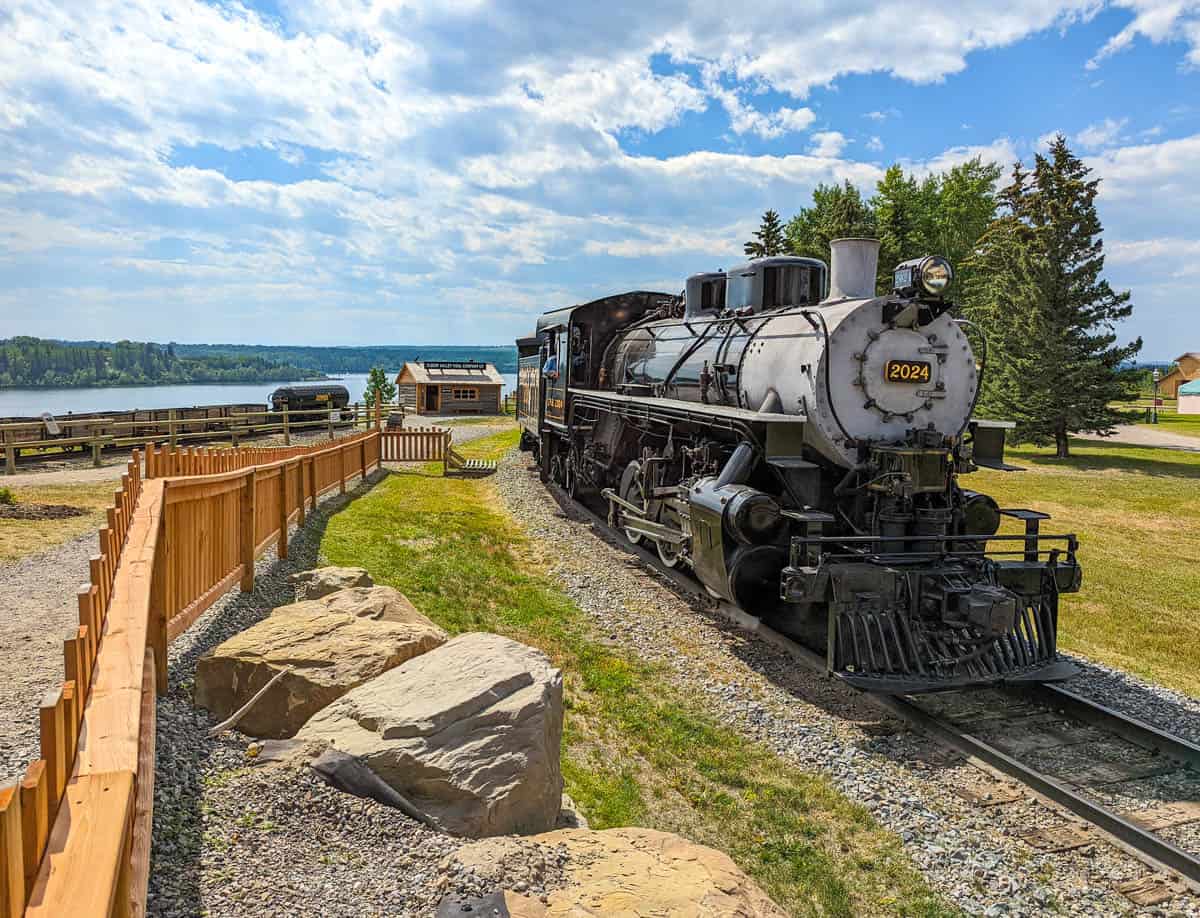 The hours of operation differ for each exhibit depending on the time of year. For a full list of the heritage park's opening hours, click here.
Prices of Admission
Currently, the price of general admission to the Gasoline Alley Museum is $14.95, while the price for those aged 3-15 is $8.95. Children under 3 visit for free.
If you plan on visiting the Heritage Park Historical Village a few times per year, it is definitely worth it to buy a membership. There are numerous membership options, including "Express" and "Escape"; to find out which membership might work for you and your family, click here.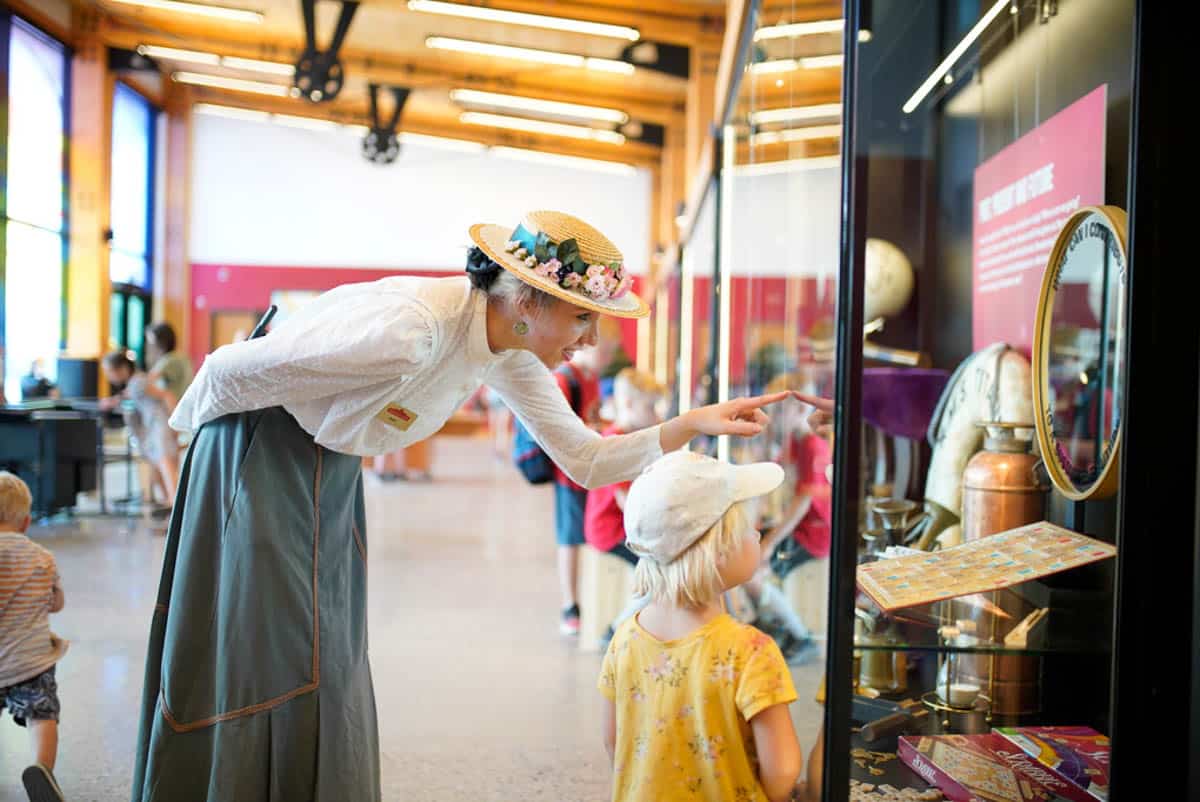 Accessibility
Unfortunately, not all areas of the Heritage Park Historical Village are accessible, especially when it comes to wheelchair users. While the Gasoline Alley Museum and Heritage Town Square are fully accessible, the historical village has gravel roads and boardwalks, which make it difficult for those in wheelchairs. Additionally, many of the buildings within the village are original structures from history, and so have not always been modified to accommodate wheelchair users.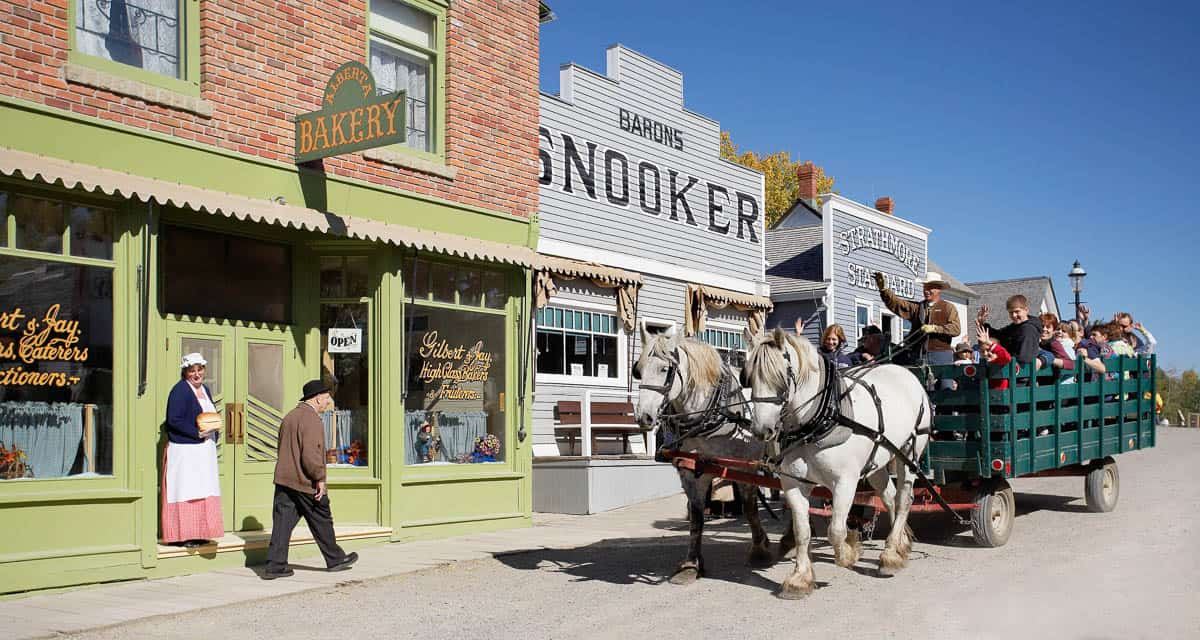 All exhibits that are indeed accessible by wheelchair are identified by a wheelchair symbol on the park's map (which you can get at the front gate). There is also the Heritage Park bus for those with special requirements, which you can inquire about at the front gate. Note that wheelchairs, motorized scooters, and strollers are not available to rent at the park.
Also worth mentioning, service dogs are welcome inside the park and all other exhibits.
Things to do at the Heritage Park Historical Village
Exhibits
With over 180 exciting exhibits and attractions at Heritage Park Historical Village, it would be impossible to list them all! The exhibits are found in four distinct areas, including the 1860s Fur Trading Fort and First Nations Encampment, the 1880s Pre-Railway Settlement, the circa 1910 Prairie Railway Town, and the 1930s, 40s and 50s Gasoline Alley Museum (a vintage car museum) and Heritage Town Square. Wander among the areas and spend your time exploring preserved heritage buildings, shopping in traditional shops, and even riding trains or a paddlewheeler.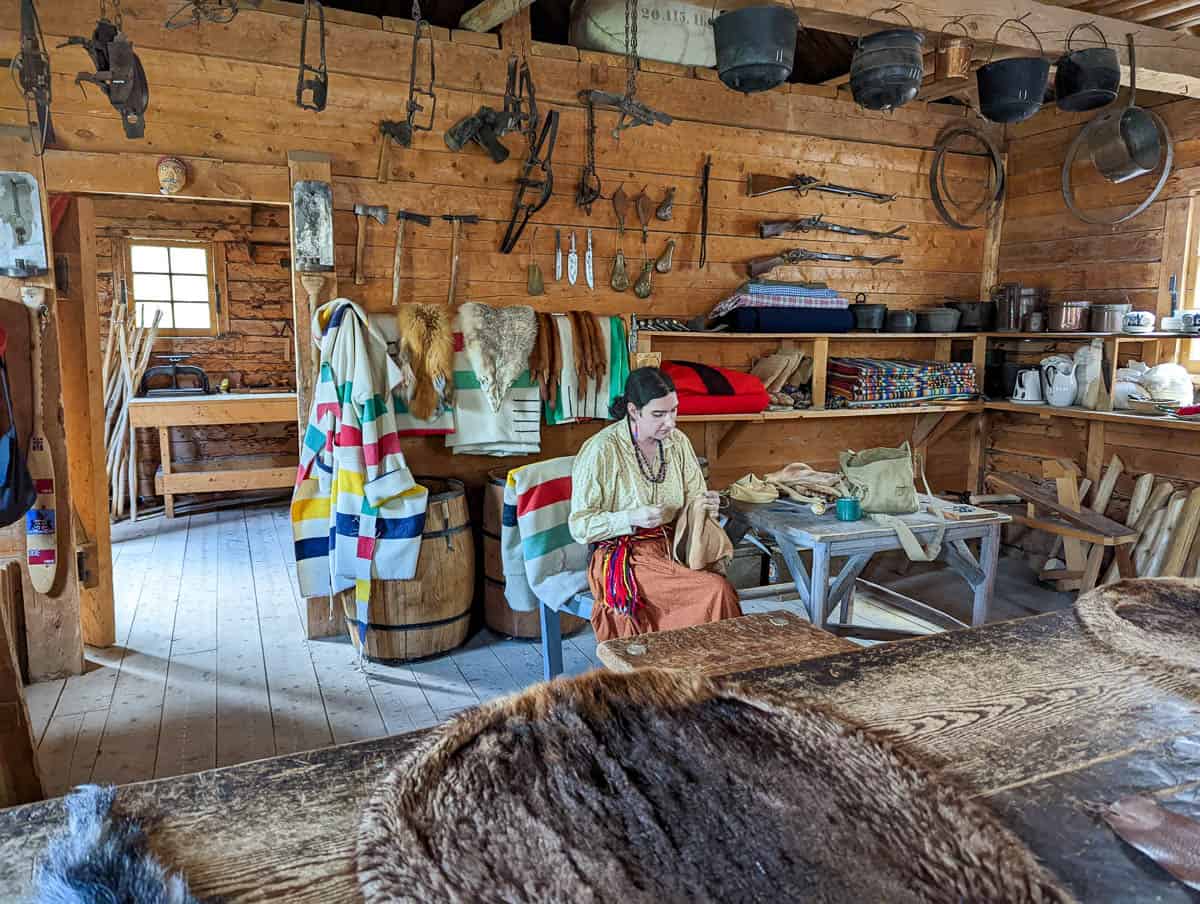 In the 1860s Fur Trading Fort and First Nations Encampment, explore the Hudson's Bay Company Fur Trading Fort, Laggan Station, Bowell Station, and the First Nations Encampment, where you can see traditional tipis.
In the 1880s Pre-Railway Settlement, you can find numerous exhibits, including the Railway Water Tower, the Livingston House and Barn, the Trapper's Cabin, and multiple locomotives.
The 1910 Prairie Railway Town is one of the largest sections, with many exhibits to explore. Find, amongst others, a Finnish Sauna, the Atlas Lumber Yard, Barons Snooker Parlour, Shonts Grain Elevator, Burnside Ranch House, and many more. There's also the Midway for rides and games, which we describe below.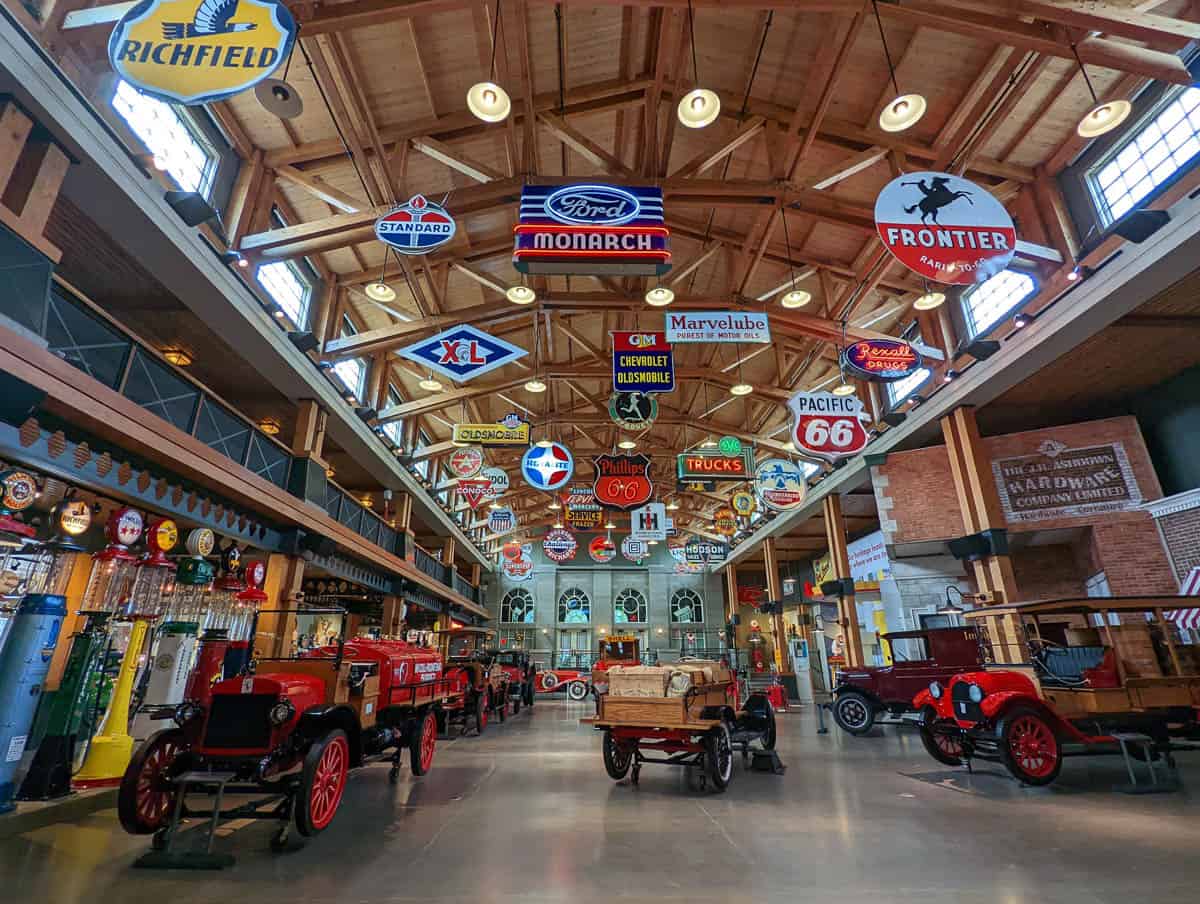 Finally, in the Gasoline Alley Museum and Heritage Town Square, you'll find dozens of classic automobiles, a bandstand, and a plaza with the Haskayne Mercantile Block shops, to name a few.
Midway
In our opinion, the Midway is one of the best parts of Heritage Park! Ride the antique Midway rides just as people did in the early 20th century, but don't be surprised if it turns out to be just as exciting as a modern-day fair. There's a Ferris wheel, children's boat swing, dangler swings, a carousel, and many more fun rides to enjoy.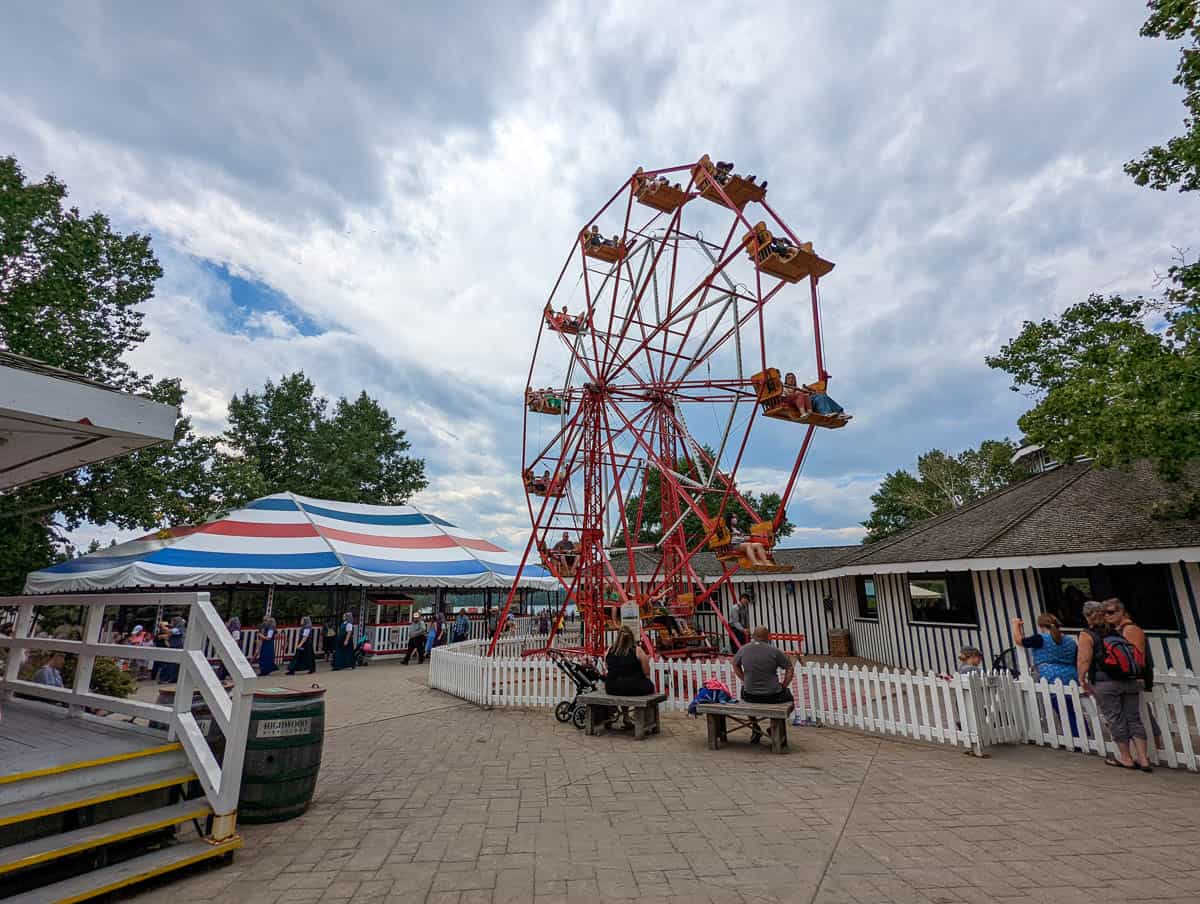 Wagon Rides
During the summer months, horse-drawn wagon rides are available. It's a unique and relaxing way to see the park!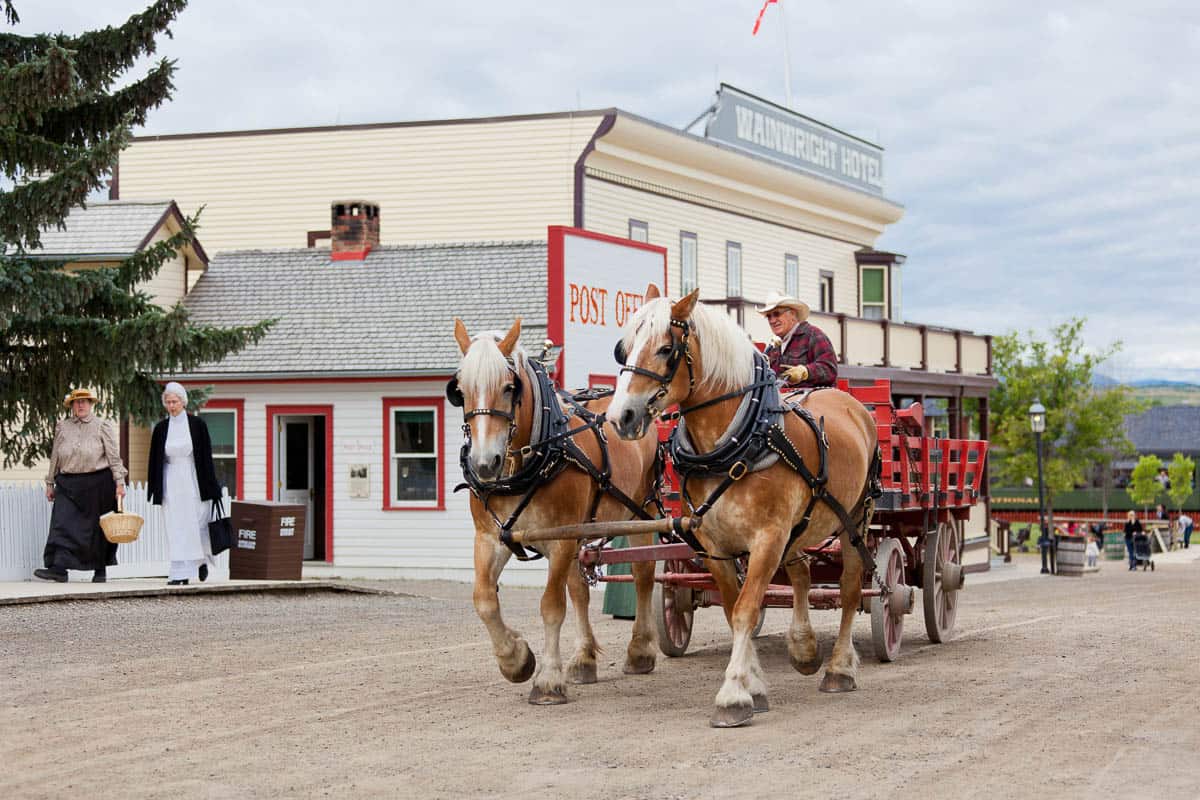 Train Rides
Have you ever wanted to ride on an authentic steam train? You're in luck! At Heritage Park Historical Village, you can do just that. Check the steam train schedule here.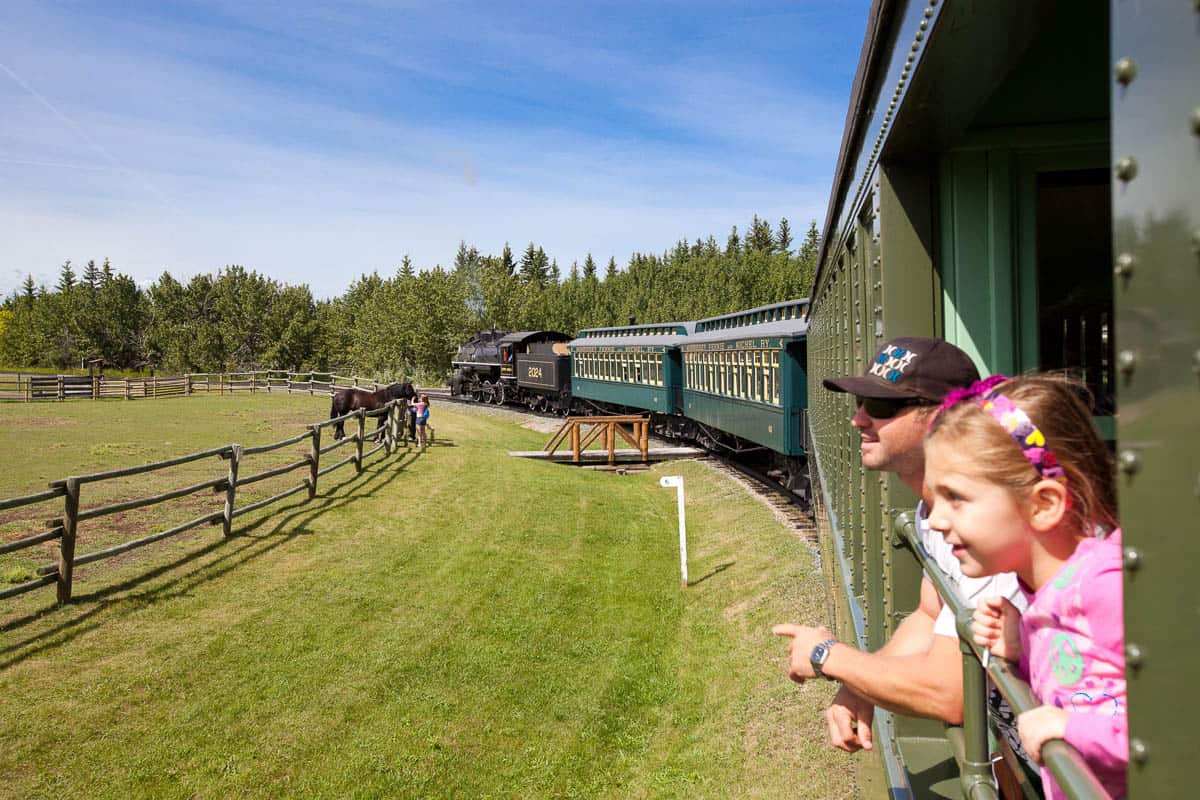 Paddlewheeler Rides
The S.S. Moyie Historical Paddlewheeler is part of Heritage Park, and you're able to take a ride on the boat during the summer months. It's a neat way to learn about the role that paddle wheelers had in the 19th and 20th centuries in Alberta and BC! Check the sailing schedule here for cruises on the Glenmore Reservoir.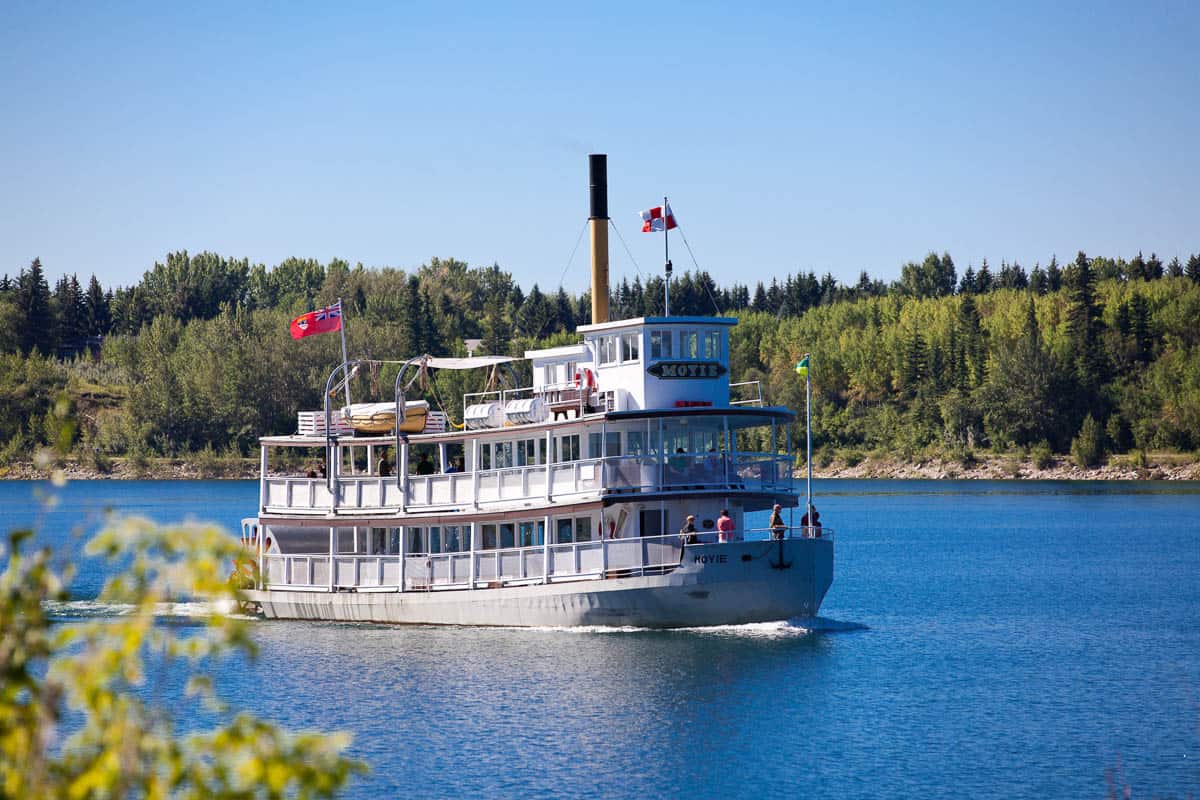 Shopping
There is shopping found inside and outside the historical village. Inside, buy traditional and old-fashioned goods at Botsford Harness Shop, I.G. Baker & Co. Store, Gledhill's Drug Store, and Claresholm General Store.
Outside the historical village, shop at the Haskayne Mercantile Block shops in the Heritage Park Town Square.
Events
There are numerous events that take place throughout the year at Heritage Park, including special exhibits, holiday festivals, tea parties, breakfast buffets, rallies, private functions, and more. Stay in the loop by checking the park's event schedule here.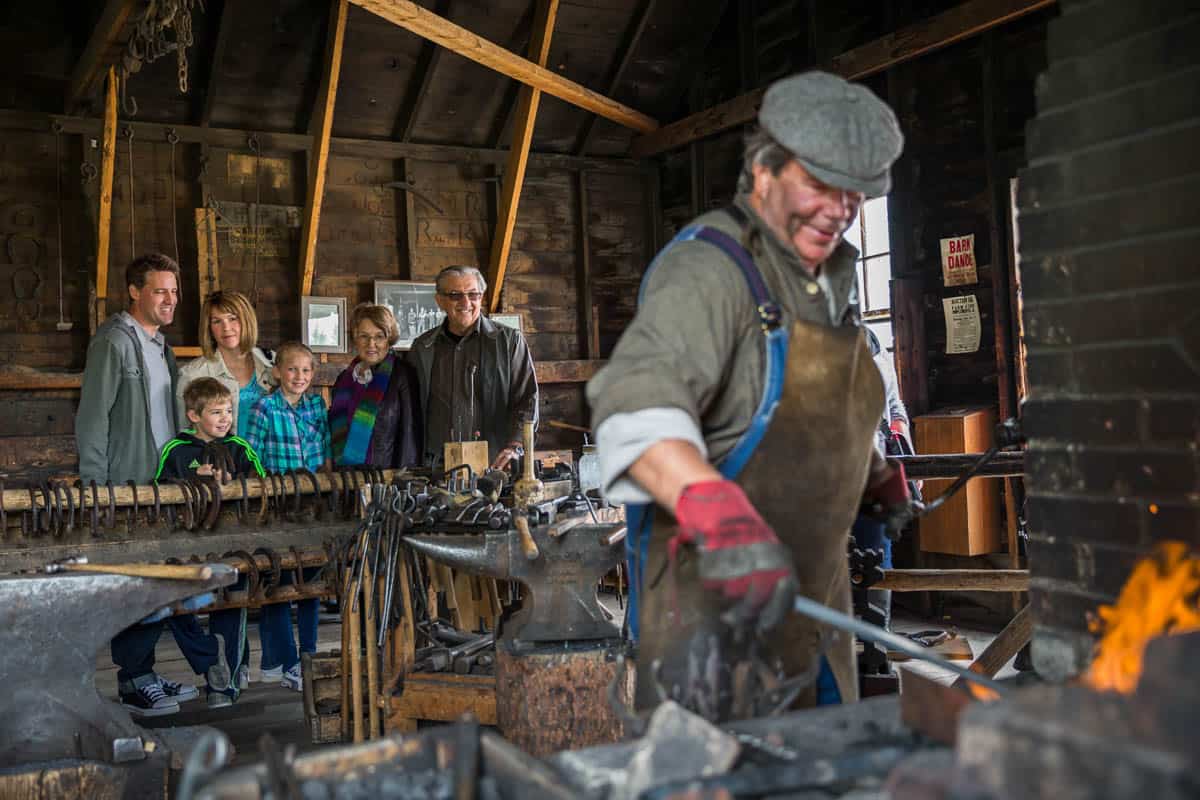 Programs
If you're like us, you want to know even more about the history of Alberta after visiting Heritage Park. Thankfully, there are plenty of programs at the park to keep you busy all year long! From school programs to storytime to adult educational programs, there's a solid list of ways you can learn more about the people who really lived this history. Check their website for plenty of programs and educational events to choose from.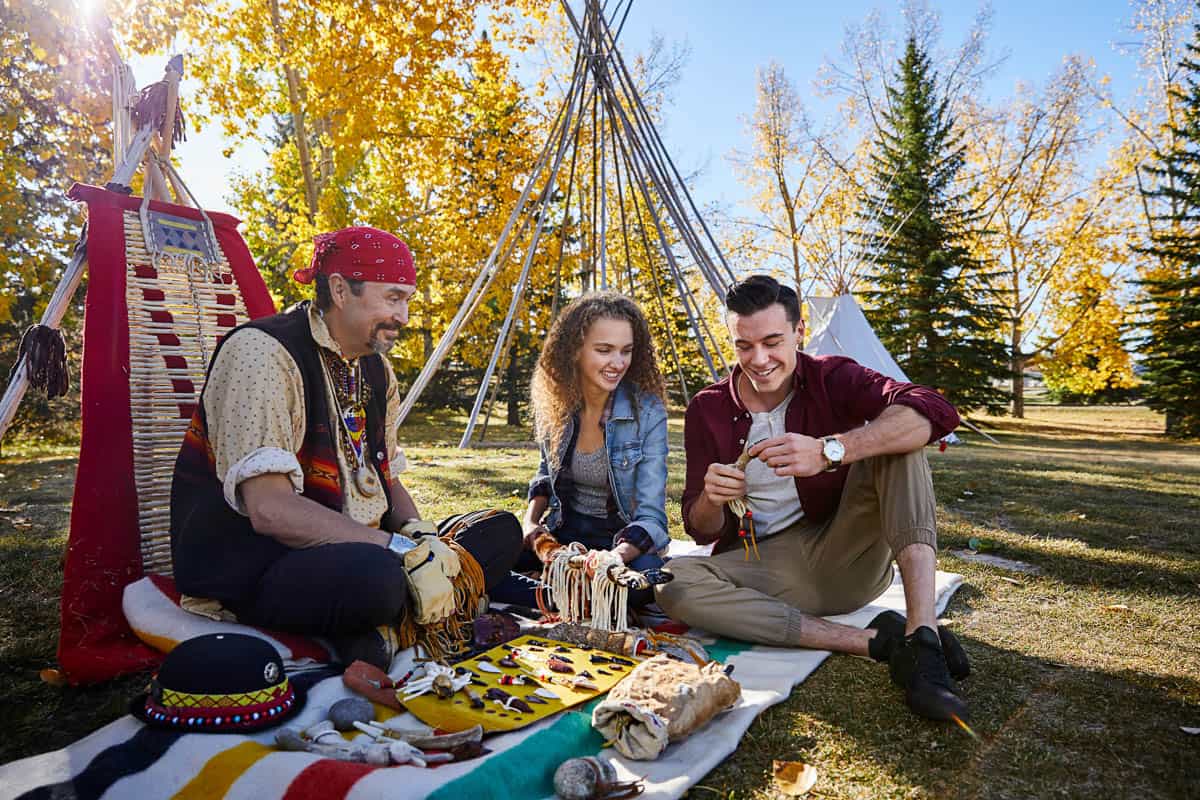 Heritage Park Calgary Tours
There are tours available of the park for large groups; make sure to book at least 10 days in advance if you'd like a complimentary tour for your group of 15 people or more.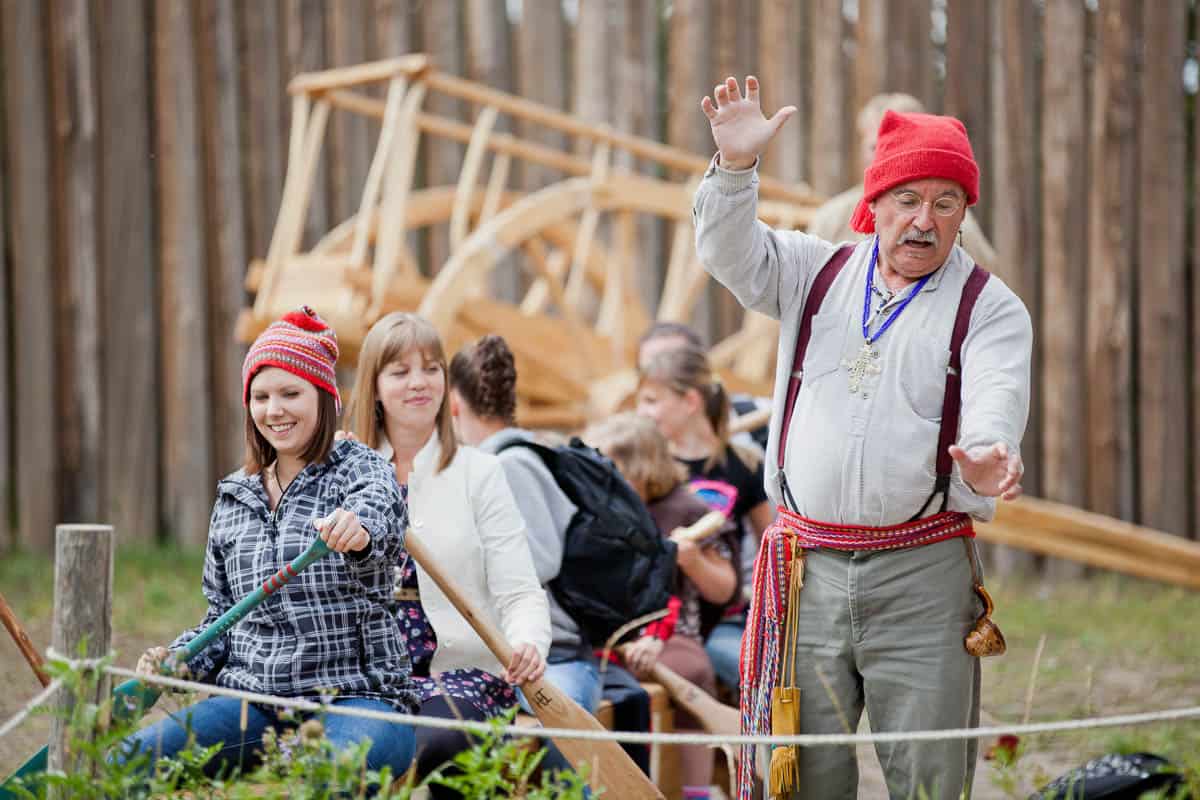 Otherwise, self-guided walking tours are encouraged, especially as there are many costumed interpreters and staff members along the way to help with any questions you may have. The self-guided walking tour maps are available at the front gate of the historical village.
Can you eat at Heritage Park Calgary?
Yes! There are plenty of places to eat at the Heritage Park Historical Village. There are multiple concessions throughout the park, all of which serve food that relates to the eras represented in the park. Think old-fashioned candy at Claresholm General Store, delicious bread and tarts at the Alberta Bakery, sodas at Harvey's Confectionary, and candy floss and other indulgent treats at the Midway Treatery. There are also hot dogs, snacks, cold drinks, and more available throughout the park at various concessions.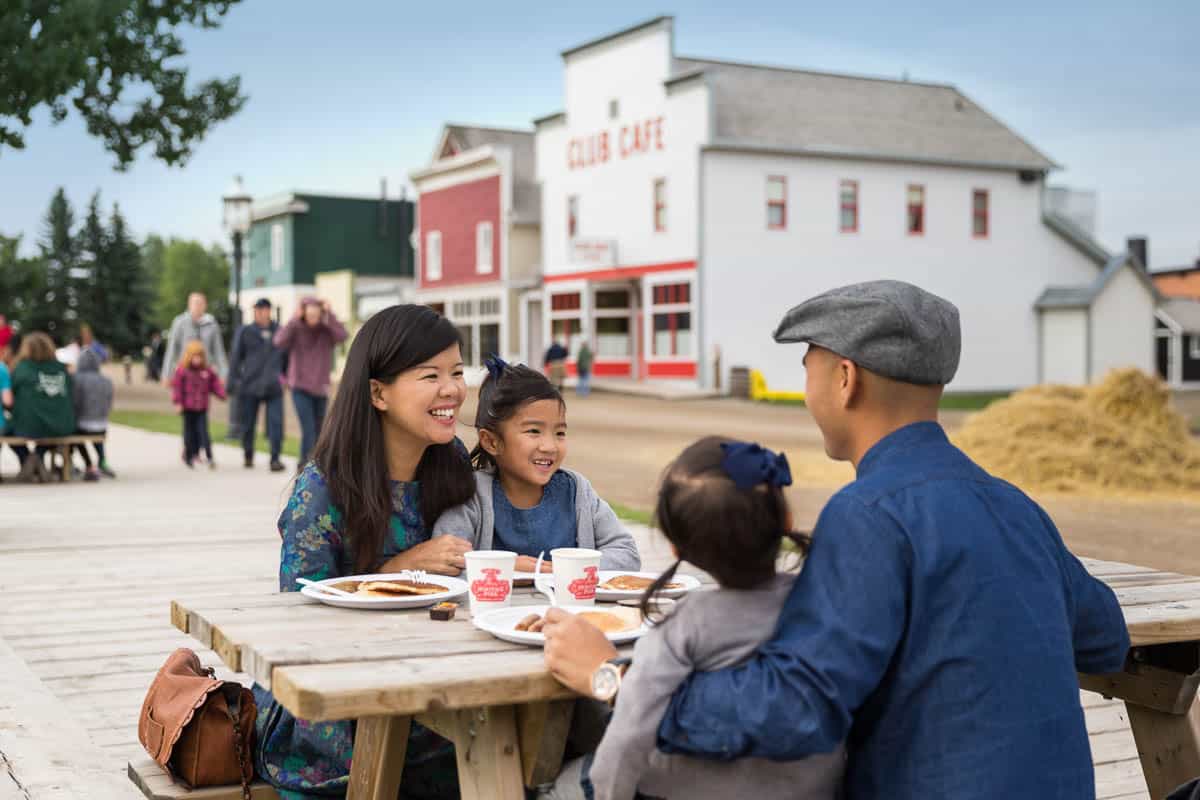 For a more substantial meal, try one of the restaurants or diners in the park, including Club Café, Gunn's Dairy Barn, Railway Café, or the Wainwright Hotel. All of these spots offer tasty food with a historical flair and original decor, transporting you back in time. Click here for opening hours for all of these locations, as some are only open in summer.
Finally, you can also visit The Selkirk Grille, which is found outside the park gates in the Heritage Town Square free zone. The Selkirk Grille is open year-round.
Can you stay overnight inside the Heritage Park Historical Village?
No, there is nowhere to stay overnight within the park. The Wainwright Hotel is for historical purposes only. Make sure to check out our list of the best hotels in Calgary!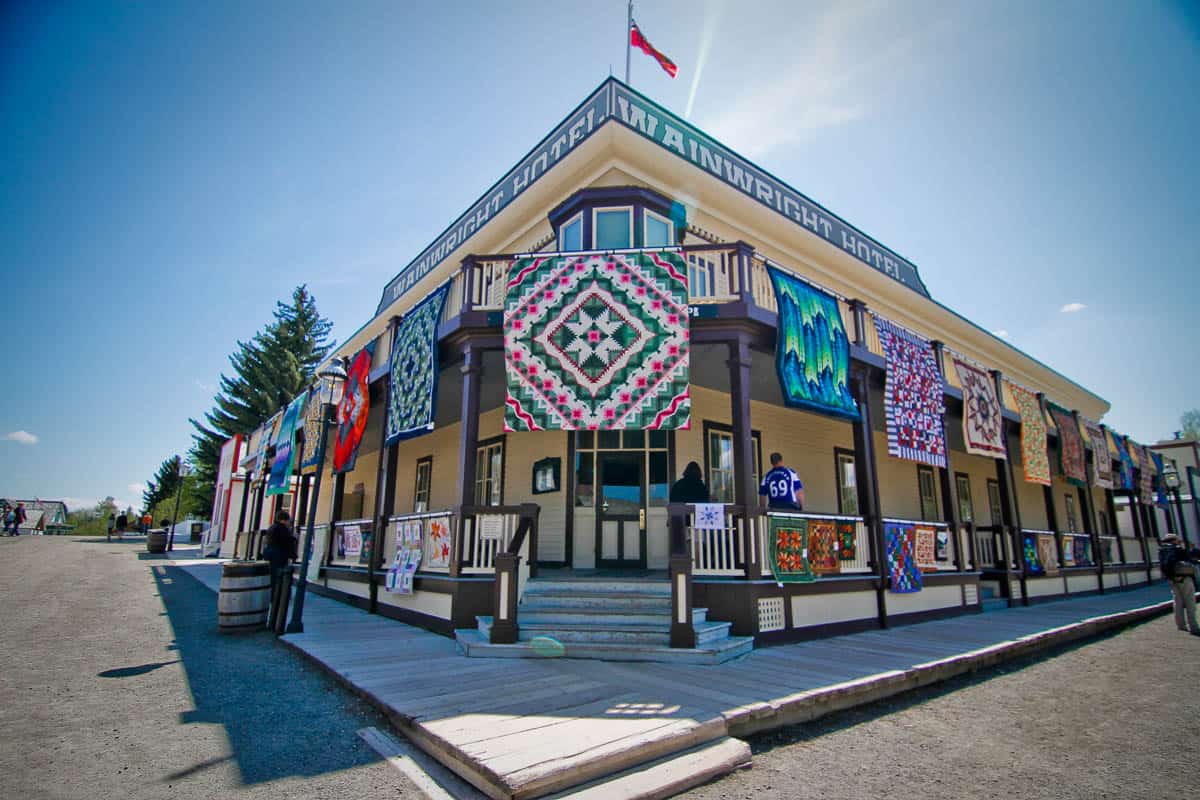 There's plenty more to do in Calgary!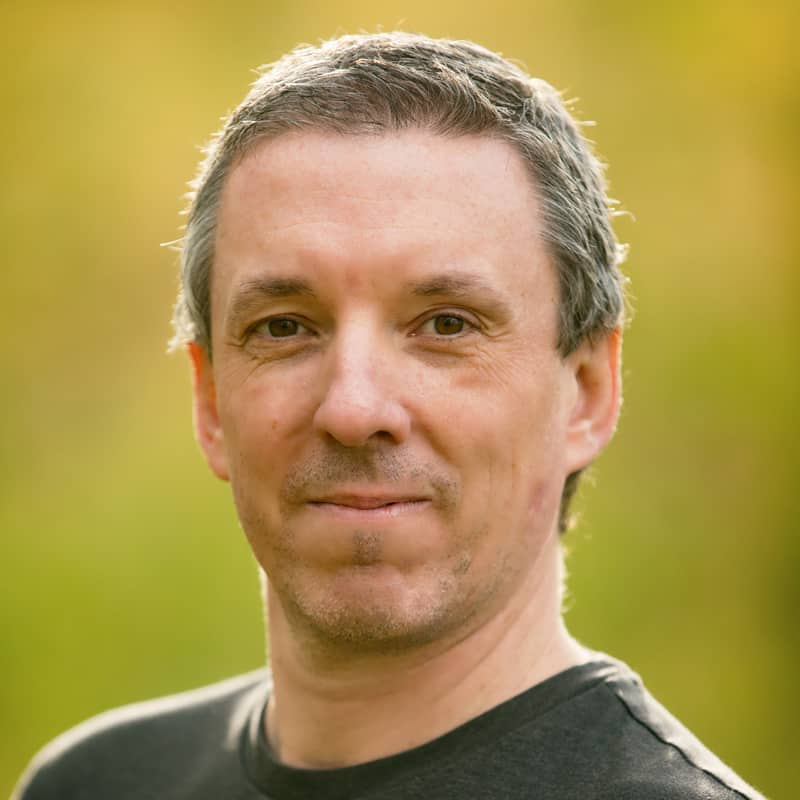 Pete is a co-founder of Road Trip Alberta. Growing up in Edmonton he has an extensive knowledge of Alberta and everything the province has to offer. He loves to eat good food, hike (especially in the winter), play tennis and curl. Apart from running Road Trip Alberta, he is a director with HMI, a digital media agency, half of the Hecktic Travels duo, and a co-creator of the popular card game Trip Chaser.