Disclaimer: This page may contain affiliate links. Please review our full Terms and Conditions for more information and our Privacy Policy. Note that any pricing, operating hours, or other such information provided below may have changed since initial publication.
Compiled by the Road Trip Alberta team
Last updated on February 25, 2023
Nestled in Edmonton's river valley is Fort Edmonton Park, where visitors can step back in time to see what life was like in Edmonton throughout its history. It's been a cornerstone tourist attraction in Alberta's capital for many years. It's still popular for school outings, family day trips, and for history-curious adults. There are plenty of things to do and see in the park, especially the newly added Indigenous Peoples Experience, which is a must-do for any visitor.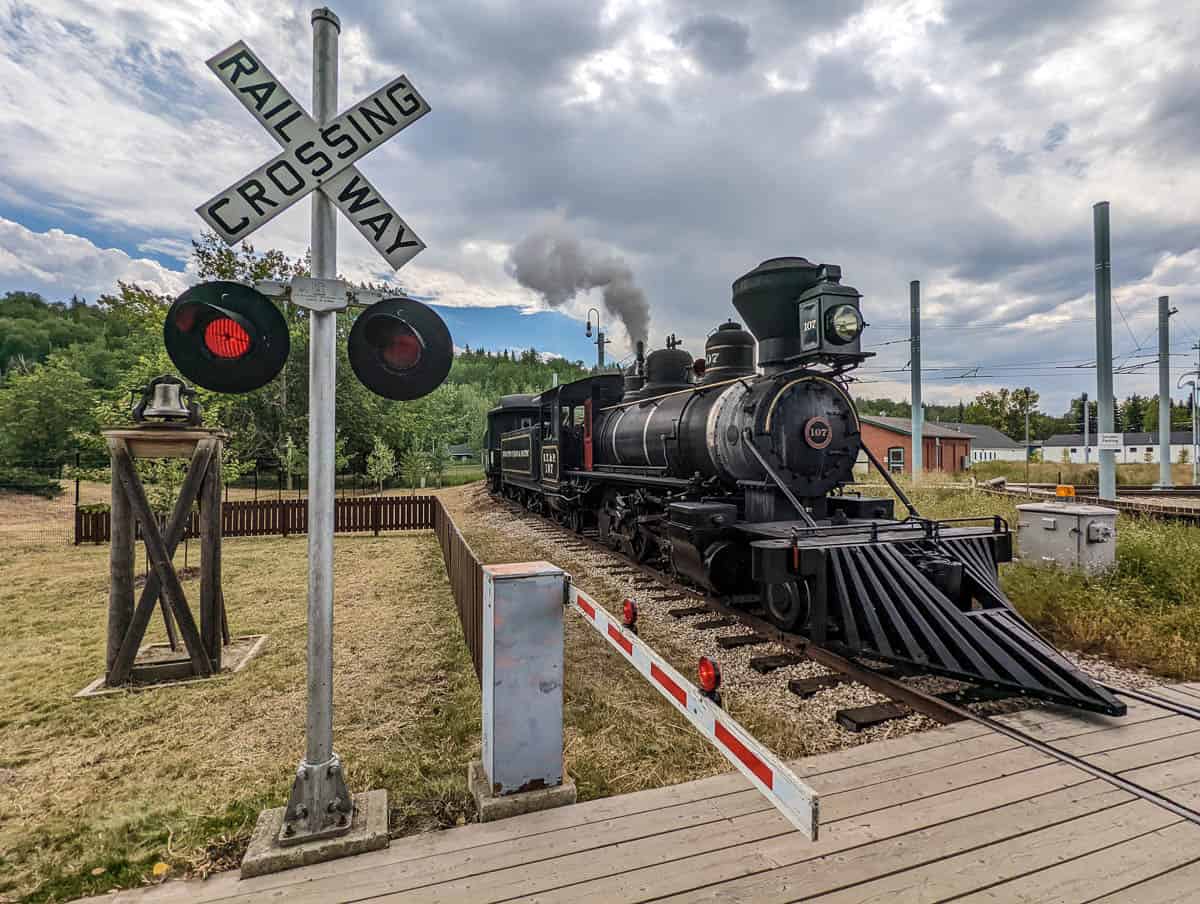 A Complete Guide to Visiting Fort Edmonton Park
History of Fort Edmonton Park
What began as a Canada Centennial reconstruction project in 1967 is now Canada's largest living history museum, complete with recreated architecture from 1885, 1905, and 1920 Edmonton, an Indigenous Peoples Experience, and other attractions including a functioning streetcar, train, fort, and midway.
The heritage park sprawls out over an impressive 64 hectares (158 acres) in Edmonton's River Valley and continues to change and add new features all the time. Owned by the City of Edmonton, the Fort Edmonton Foundation and the Rotary Club of Edmonton have provided continuing support to keep the tourist attraction up and running.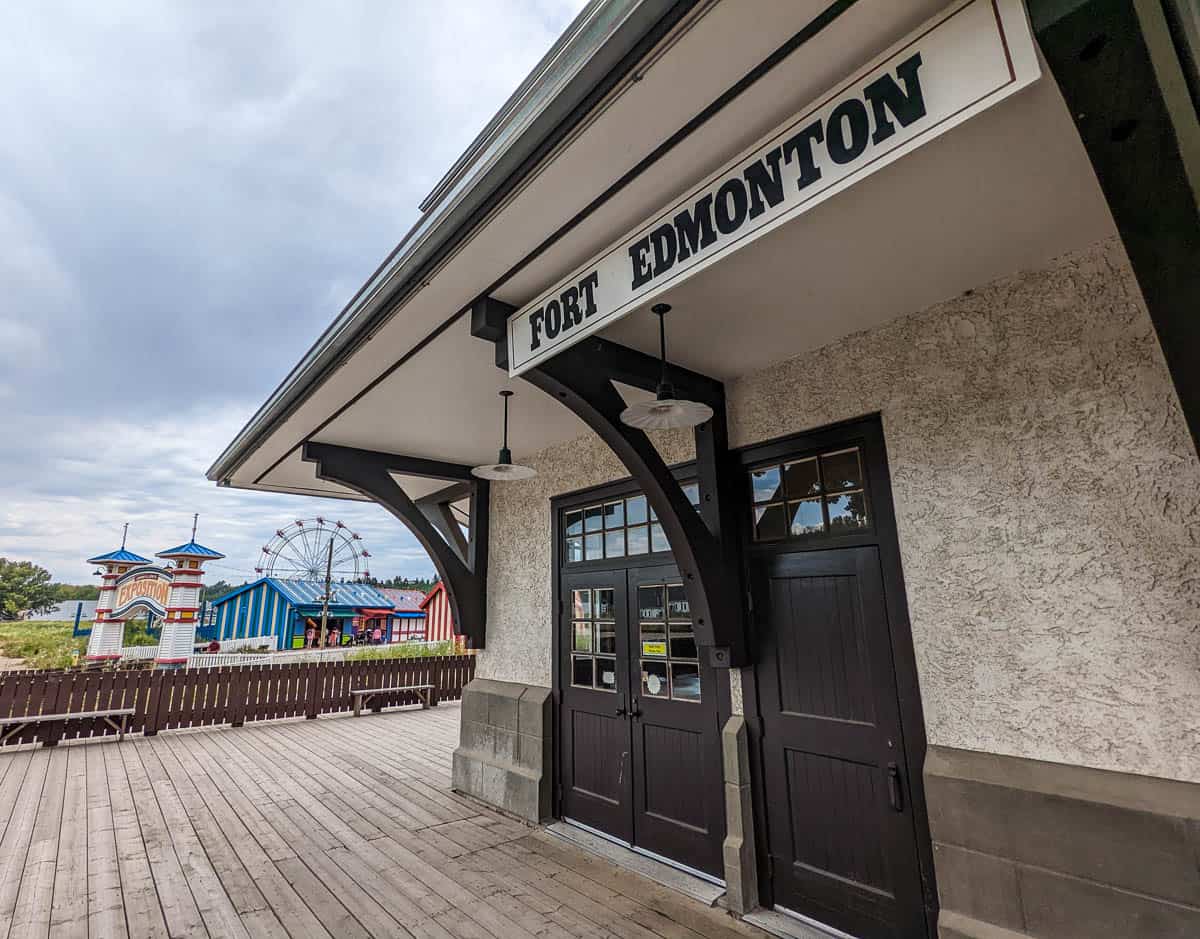 Extremely educational, interactive, and fun, the park is definitely one of the best things to do in Edmonton. Visit Fort Edmonton Park to learn, yes, but also to have a blast.
Location and Parking for Fort Edmonton Park
Fort Edmonton Park is located in southwestern Edmonton, about a 15-minute drive from downtown Edmonton. Its official address is 7000 143 St NW, Edmonton, Alberta, T6H 4P3.
Parking at Fort Edmonton Park is free, but it is limited; we recommend getting there as early as possible to secure a parking spot, or to travel there by public transportation.
Hours of Operation
It's important to note that Fort Edmonton Park is seasonal and not open year-round. The summer season is when the park is fully open and is usually open from Wednesdays to Sundays from 10 am to 5 pm (but closed on holidays).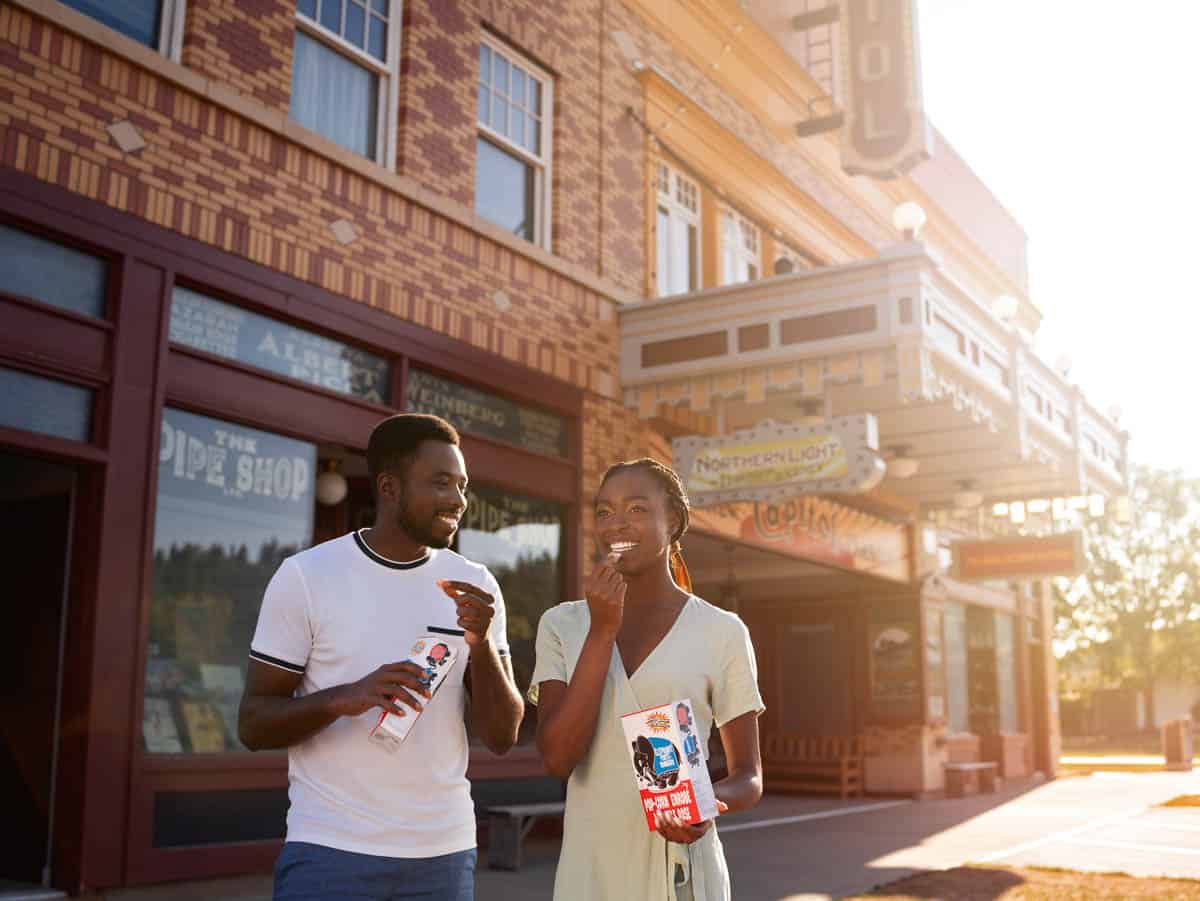 During the winter, Fort Edmonton Park is usually open on Saturdays and Sundays from 12 pm to 4 pm for the Indigenous Peoples Experience Exhibit (the rest of the park is currently closed). Paranormal tours are often offered and the Edmonton Christmas Market has certain hours to attend. Check the website for the latest hours!
Prices of Admission for Fort Edmonton Park
Tickets to Fort Edmonton Park are available online or at the gate. Admission includes access to midway rides and games, the train, and the streetcar.
Park admission is as follows, with tax added on top of these fees:
Adults (18+): $26.20
Senior (65+): $20.90
Children (2-17): $20.90
Children (under 2): Free
Family: $95.00
Summer passes also give you unlimited access to the park for the entire season. For special events and exhibits throughout the year, fees will vary.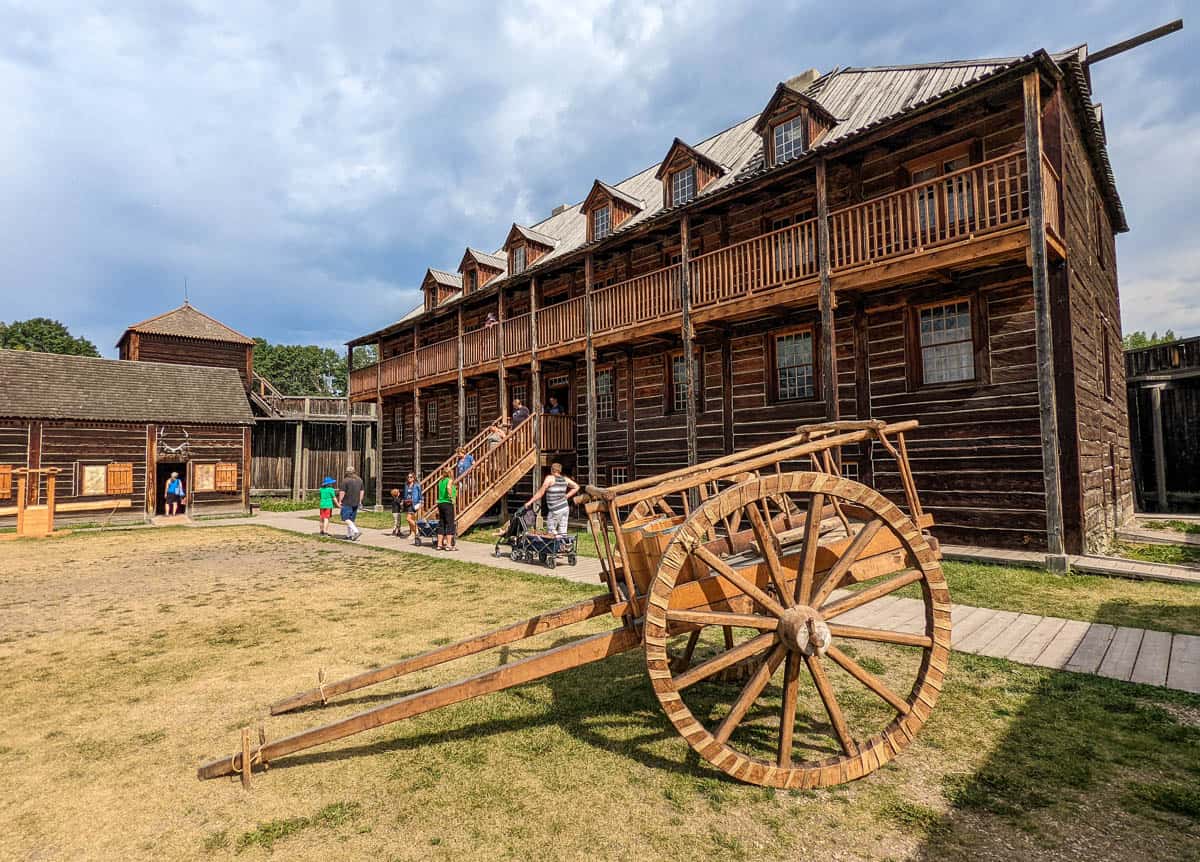 Accessibility
Accessibility at Fort Edmonton Park is fairly good, with wheelchair-accessible bathrooms and paths throughout the park. Wheelchairs can also be used on the train and carousel with assistance from the park staff. Unfortunately, wheelchairs are not permitted on the streetcars due to safety concerns.
Things to Do at Fort Edmonton Park
As far as living history museums go, Fort Edmonton Park is definitely one of the best. In fact, it's difficult to fit everything in one day! You'll want to keep a copy of the park's map handy to help you navigate and plan your visit. We personally recommend starting at the back, at the Indigenous Peoples Experience, and working your way through history until you get to the midway for amusement games and rides.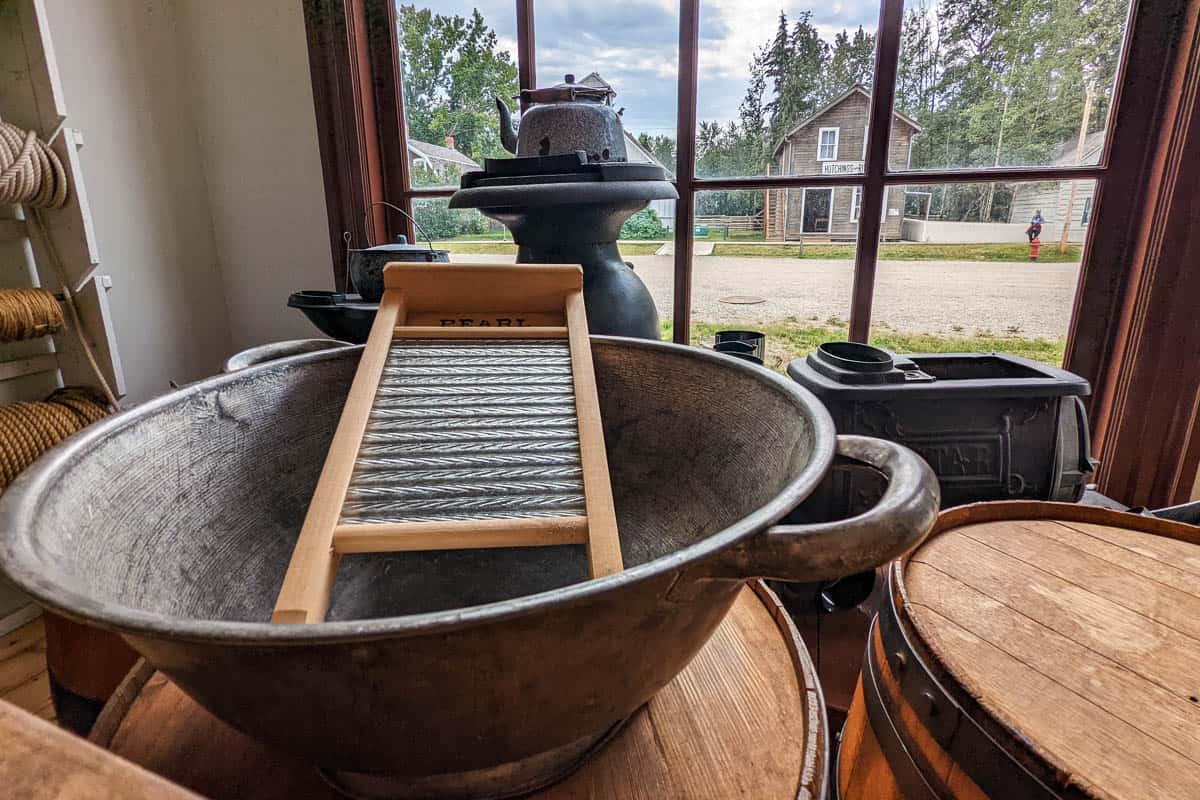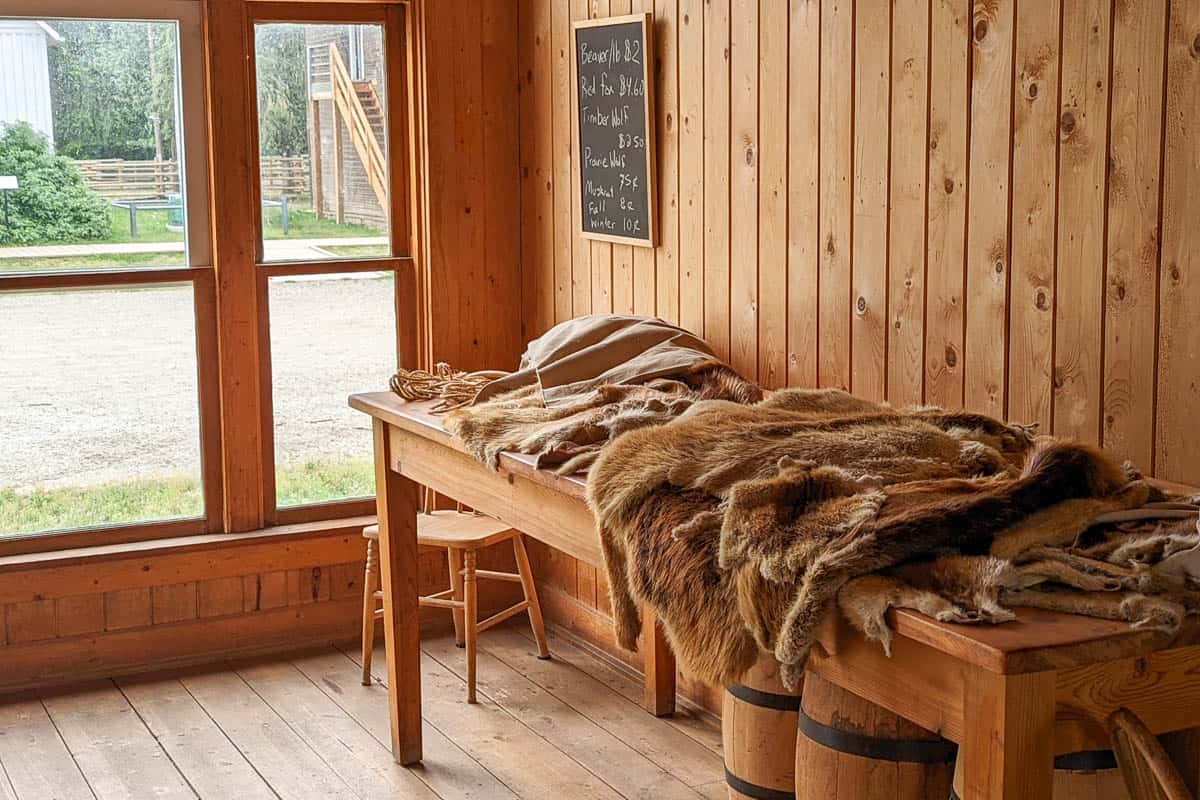 You'll find many recreated buildings, tons of information about the era you're exploring, and even many staff members in costume ready to guide your journey through the past.
Indigenous Peoples Experience
With knowledge from over 50 Indigenous Elders, historians, educators, and community members, the Indigenous Peoples Experience highlights the diversity of the Indigenous peoples who have lived on this land for generations. Explore the culture and history of the First Nations and Métis peoples from this area, including music, art, stories, and more.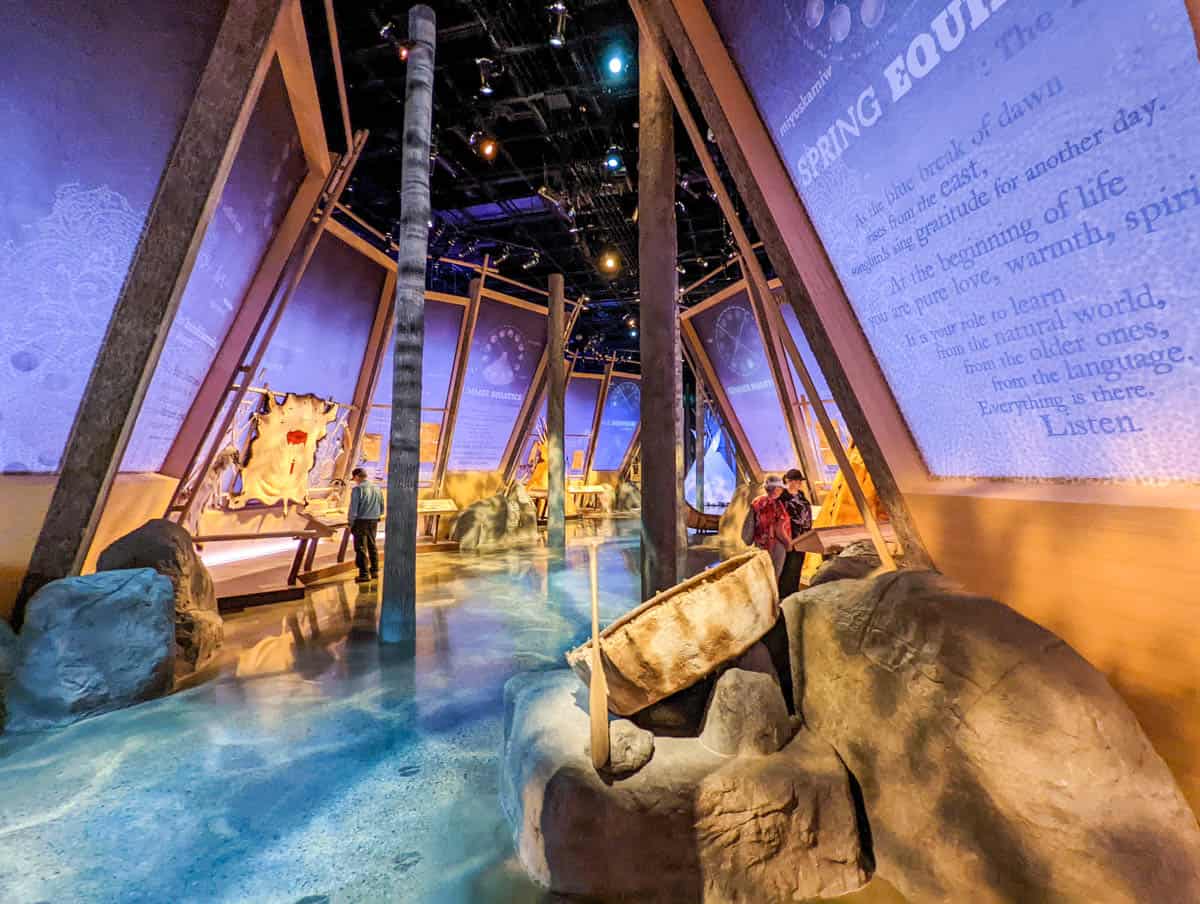 1846 Fort
Head to the 1846 trading post to learn all about why it was established (we'll give you a hint: beaver pelts), who lived there, and its influence on the Edmonton area. Highlights include the York boat, the men's quarters, and the Rowand House, which was once one of the largest homes in western Canada.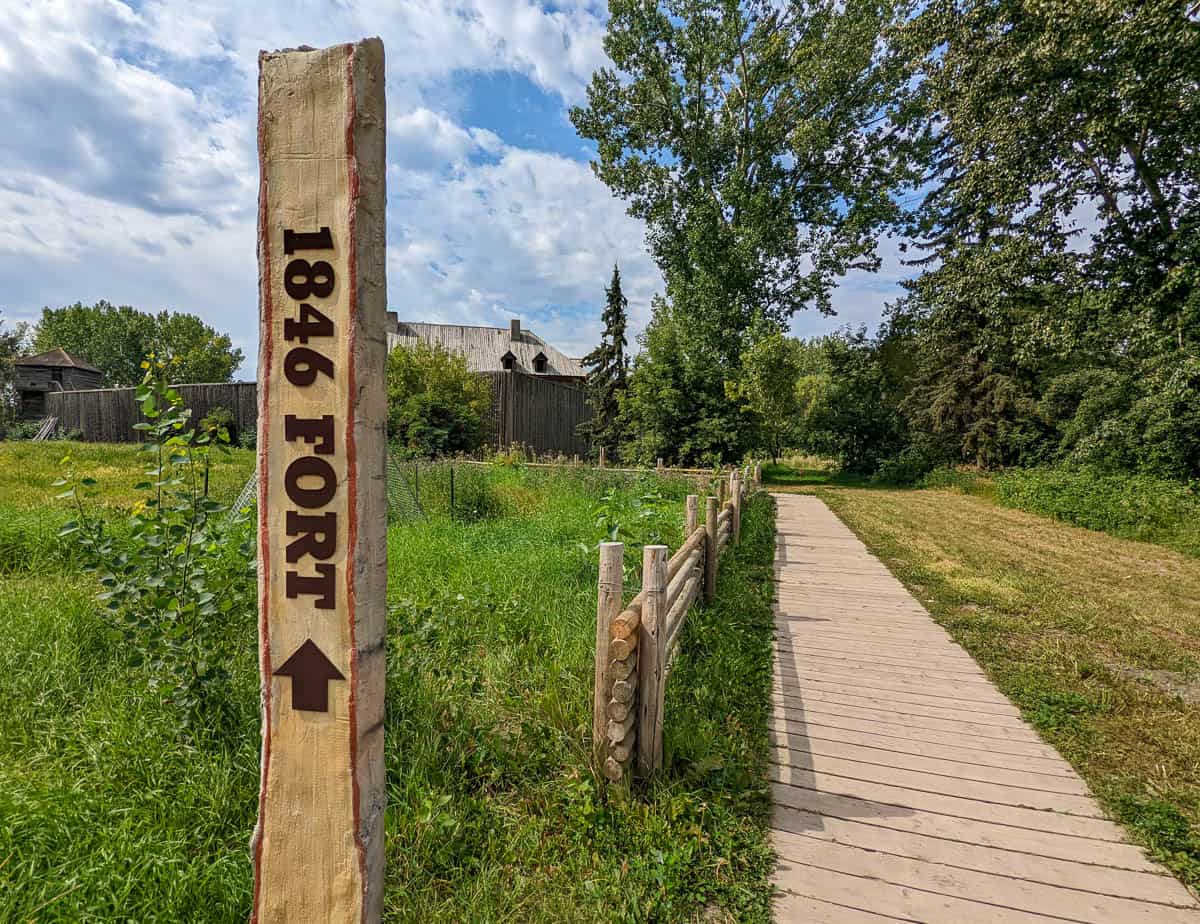 1885 Street
Imagine yourself in Edmonton in 1885… when it was still considered a fairly small town! Although there were only a few establishments (one of them the only brick building west of Winnipeg), it was clear that Edmonton was about to become a very important place in Canada. Learn all about it on the 1885 street, where highlights include the Ottewell Homestead, Jasper House Hotel, and a covered wagon.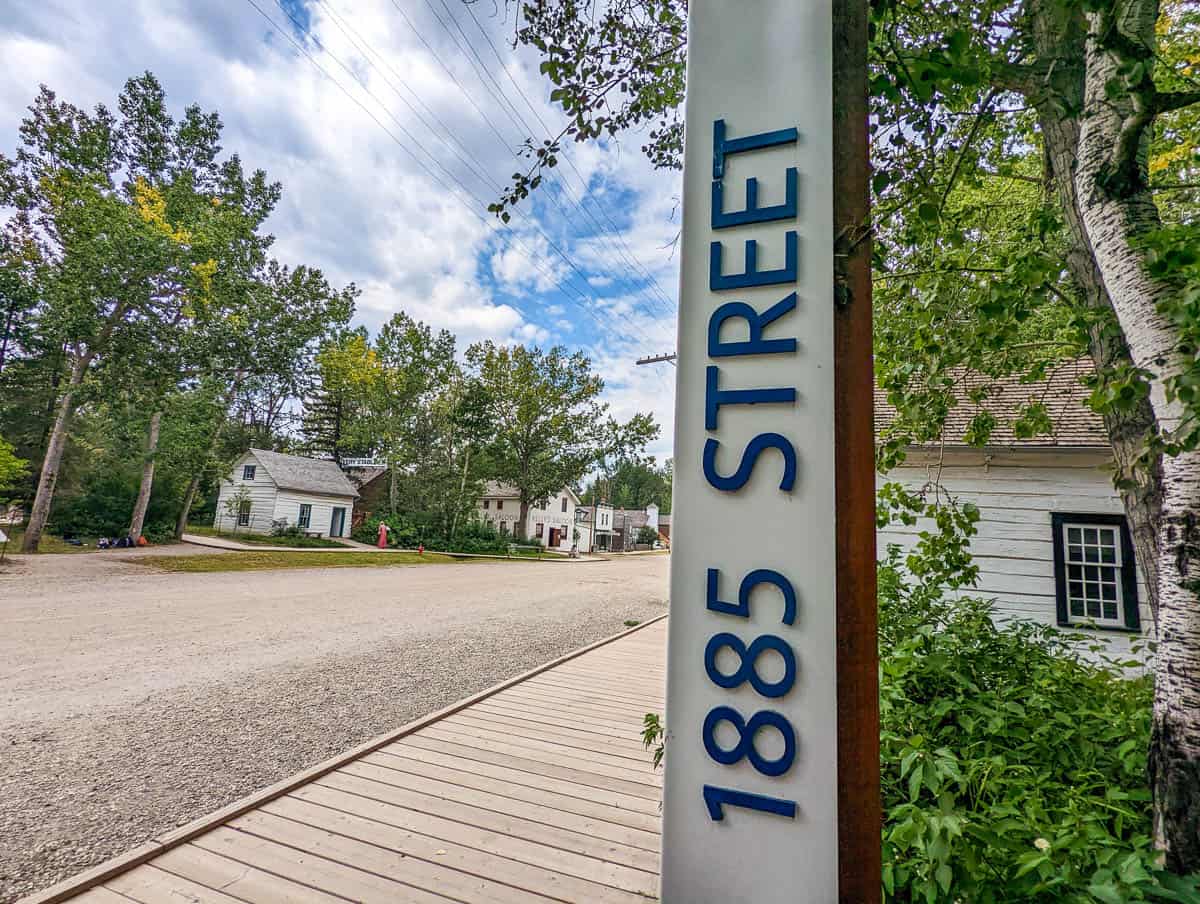 1905 Street
It's 1905, and suddenly Edmonton is starting to boom. Discover what life was like in the early 20th century in Alberta's capital, including the many highs and lows of the economy. Highlights include the Masonic Hall, Rutherford House, the penny arcade, and Reed's Bazaar and Tea Room.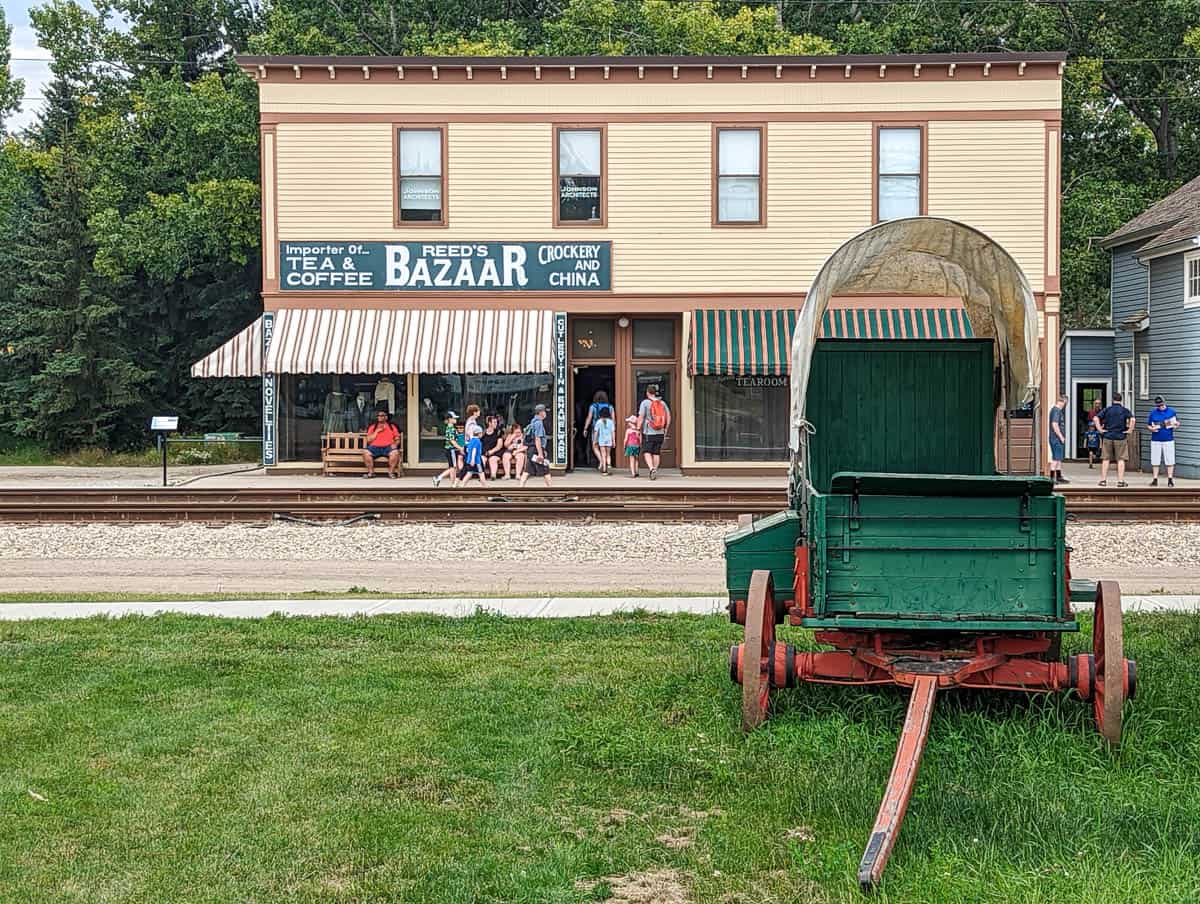 1920 Street
Make your way to the 1920 street to experience the modern world, including cars and radio. Many important changes were happening in Edmonton in the 1920s, and here's your chance to learn all about it. Highlights include Hotel Selkirk, the Blatchford Field Air Hangar, the Al-Rashid Mosque, and the 1920 Midway and Exhibition (more on that below).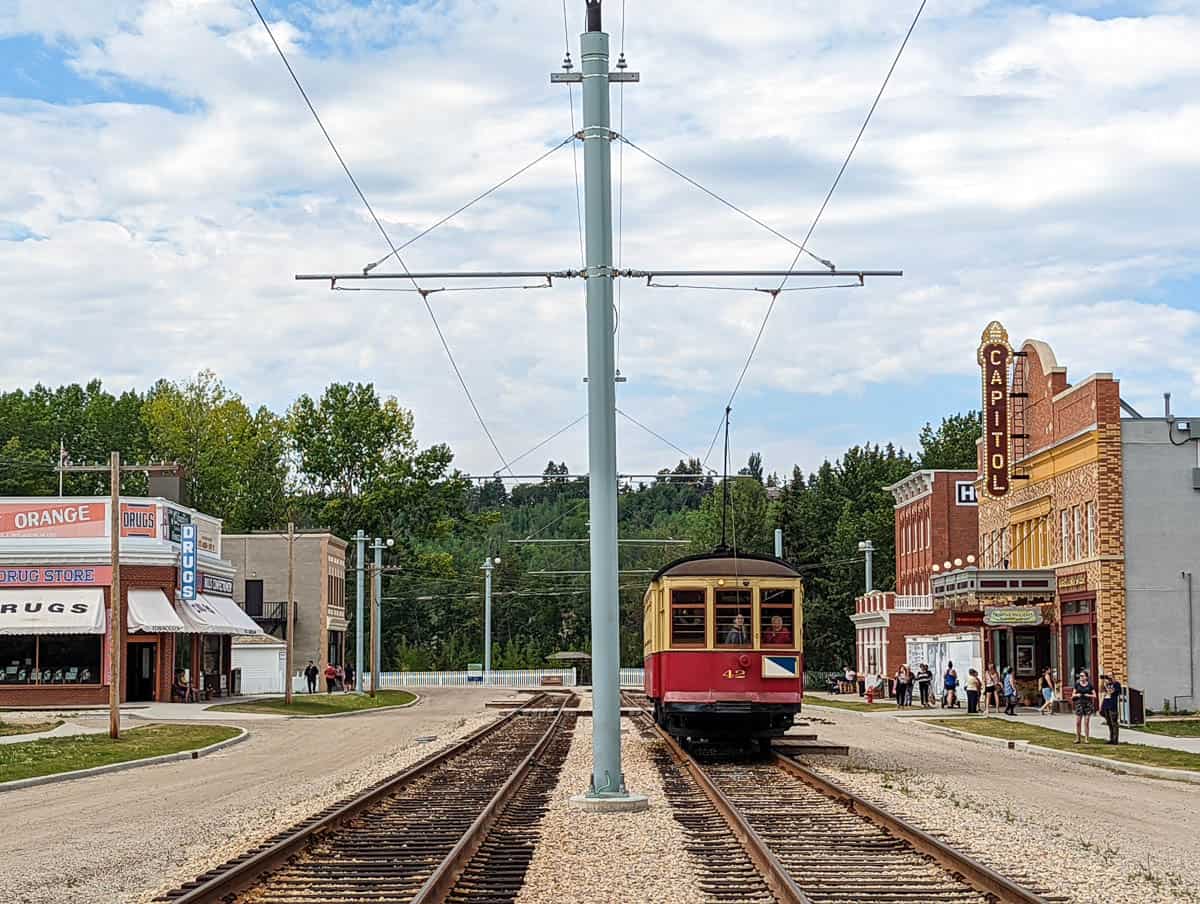 Midway and Exhibition
You'll want to save lots of time for the Midway and Exhibition, as there's so much to do… especially if you have kids in tow! Try out the 1920s-style Ferris wheel and games, navigate the maze, fill up on carnival food, visit the Cabinet of Curios, and so much more. It's an amusement park within the museum, and it's one of the highlights of Fort Edmonton Park.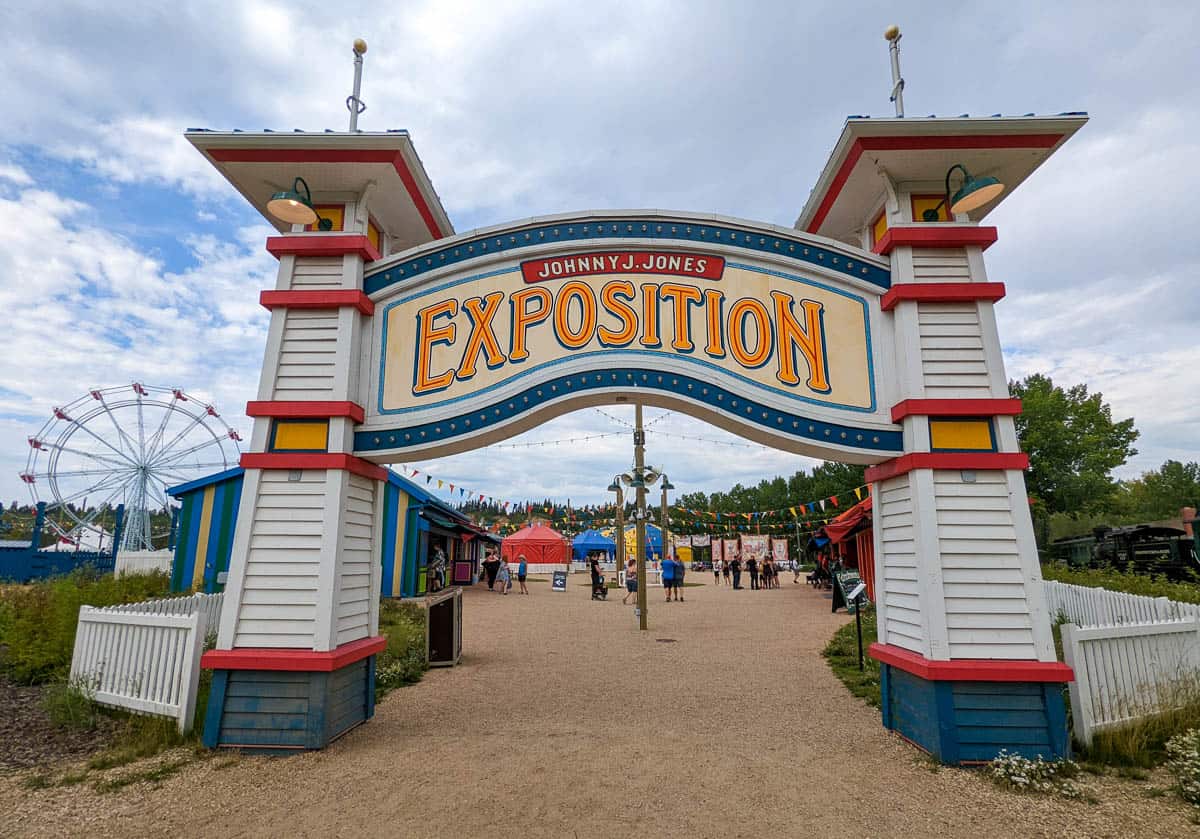 Capitol Theatre
Probably one of the most popular spots for a selfie in the park is a recreation of the original Capitol Theatre circa 1929. The facade is what the theatre looked like when it was on Jasper Avenue in downtown Edmonton. You can even have a peek inside to see what the seating and screen looked like.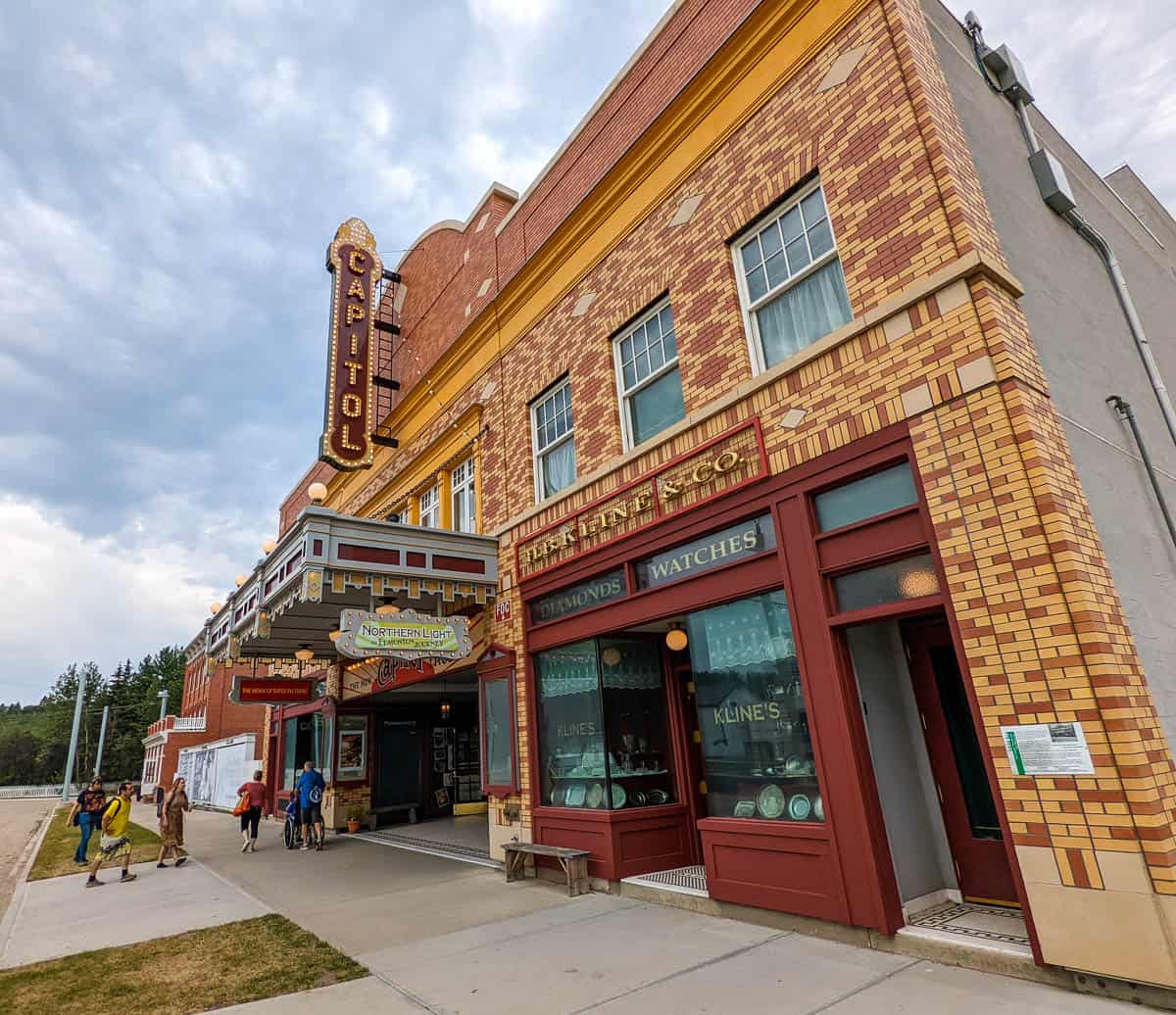 Train and Streetcar
Included in the price of admission, a ride on the 1919 Baldwin Steam engine and train is a must-do when you're visiting the park. The train also makes it a lot easier to get around the museum grounds.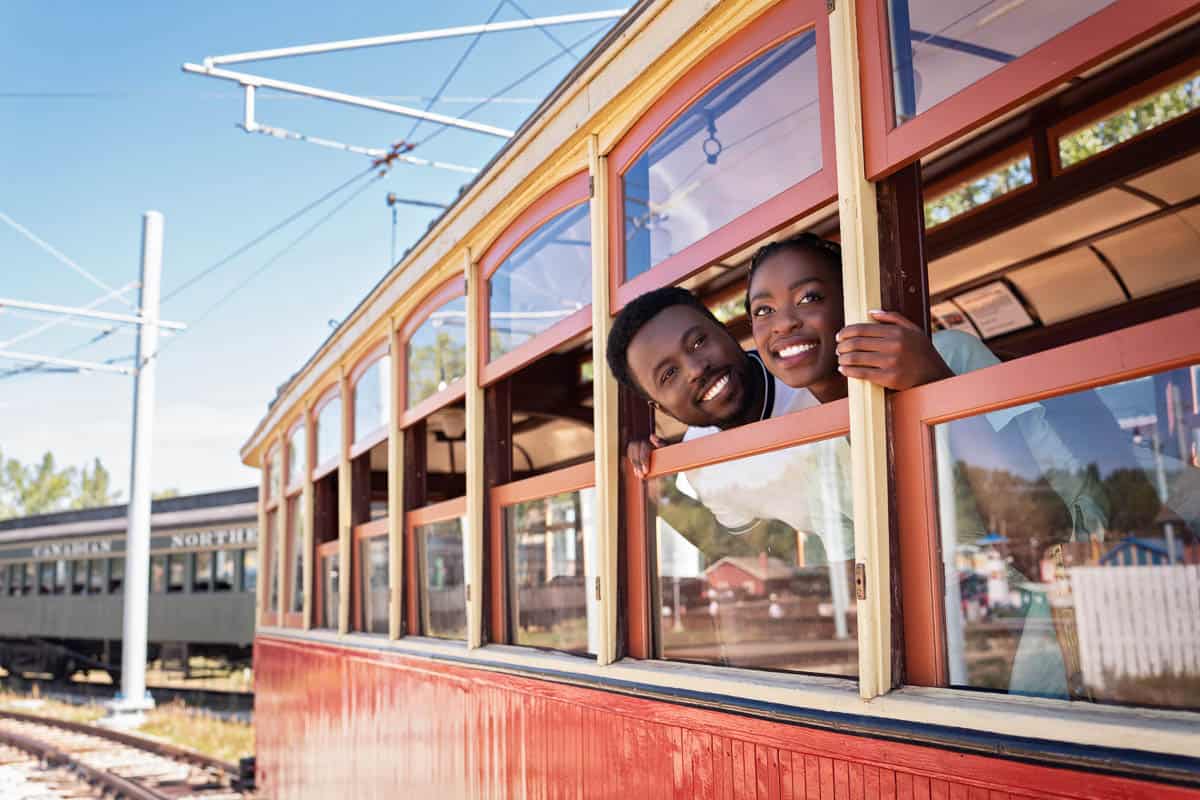 Maintained by the Edmonton Radial Railway Society, the streetcars from 1905 and 1920 are another fun way to get around the park. Please note that, due to safety issues, strollers, wheelchairs, and walkers are not permitted on the streetcars.
Wagon and Pony Rides
Take a ten-minute wagon ride around the park to imagine what life was like before Edmonton had motorized vehicles (starting at McDougall General Store on 1885 street). Little ones will also love the pony rides at the Ottewell Homestead farmyard (found on 1885 street). You can buy tickets for both online, as they are not included in general admission.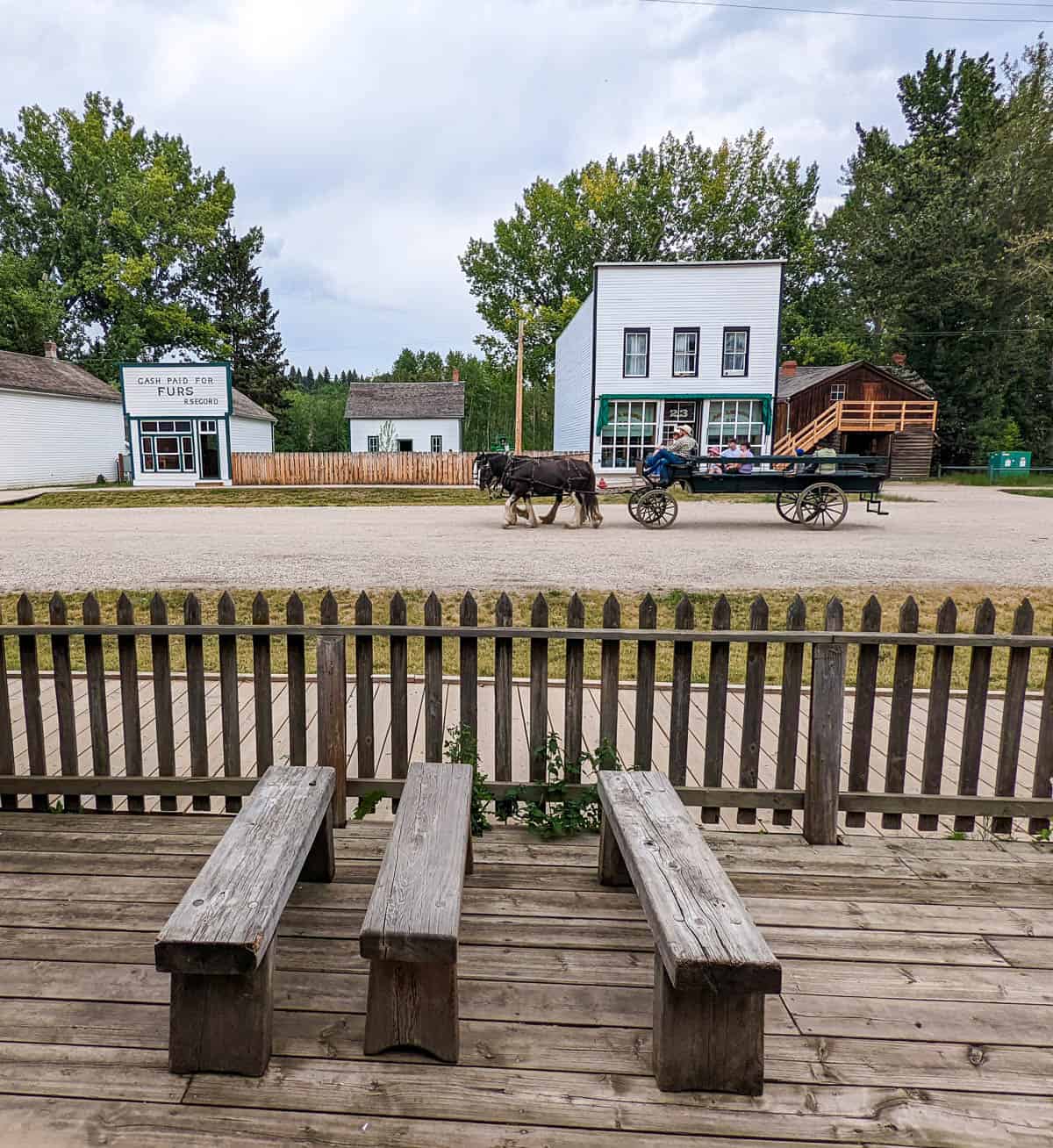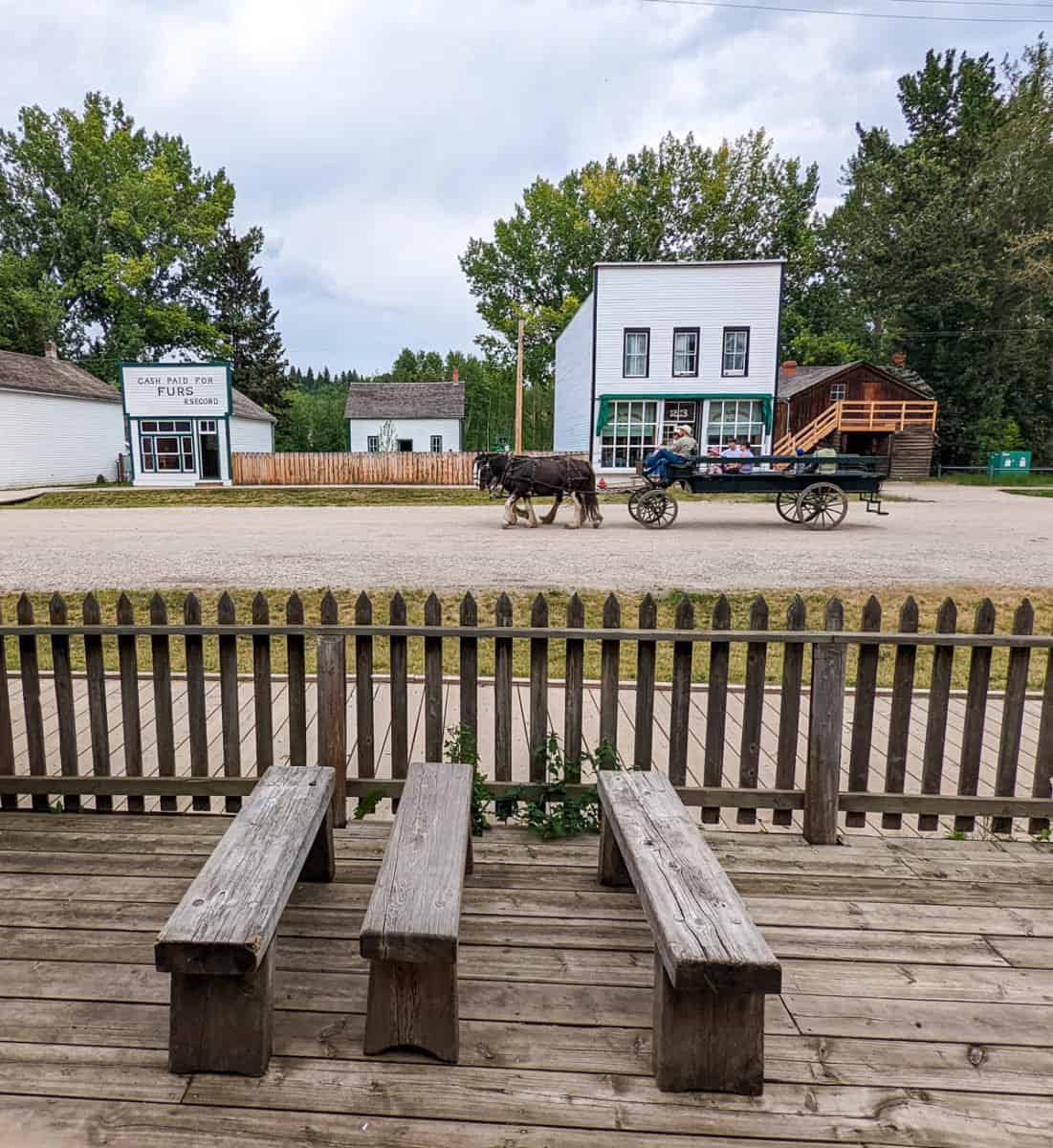 Book an Overnight Stay
It's not often that you get to stay overnight at historical sites, but Fort Edmonton Park does indeed offer the opportunity! Stay at the iconic Hotel Selkirk and choose from the Selkirk Suite, the Heritage Deluxe Room, or the Heritage Room, all decorated in the style of the 1920s. But don't worry, there's still modern-day wifi, air conditioning, and a full-service restaurant and bar! An overnight stay at Hotel Selkirk is a great addition to your time at Fort Edmonton Park.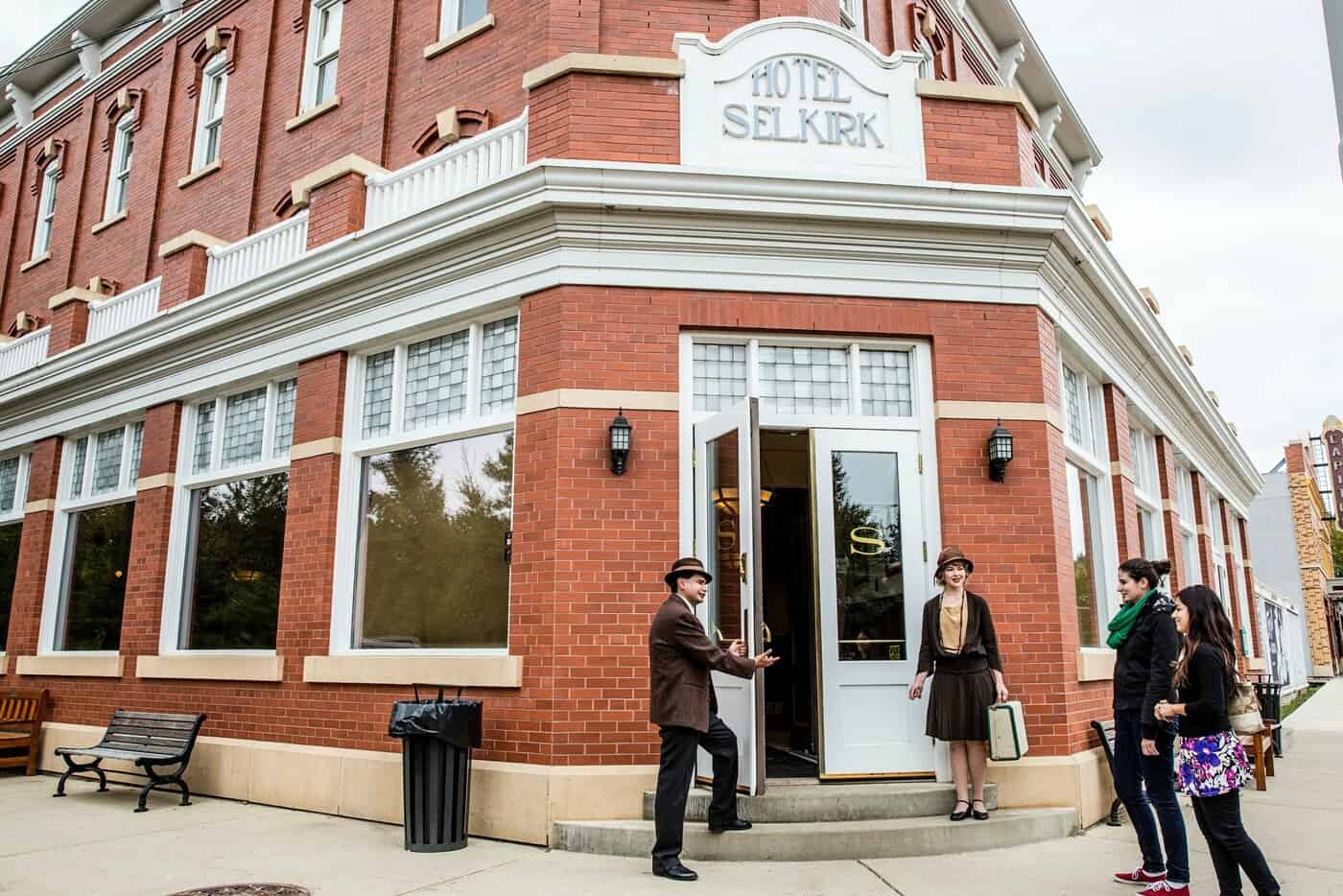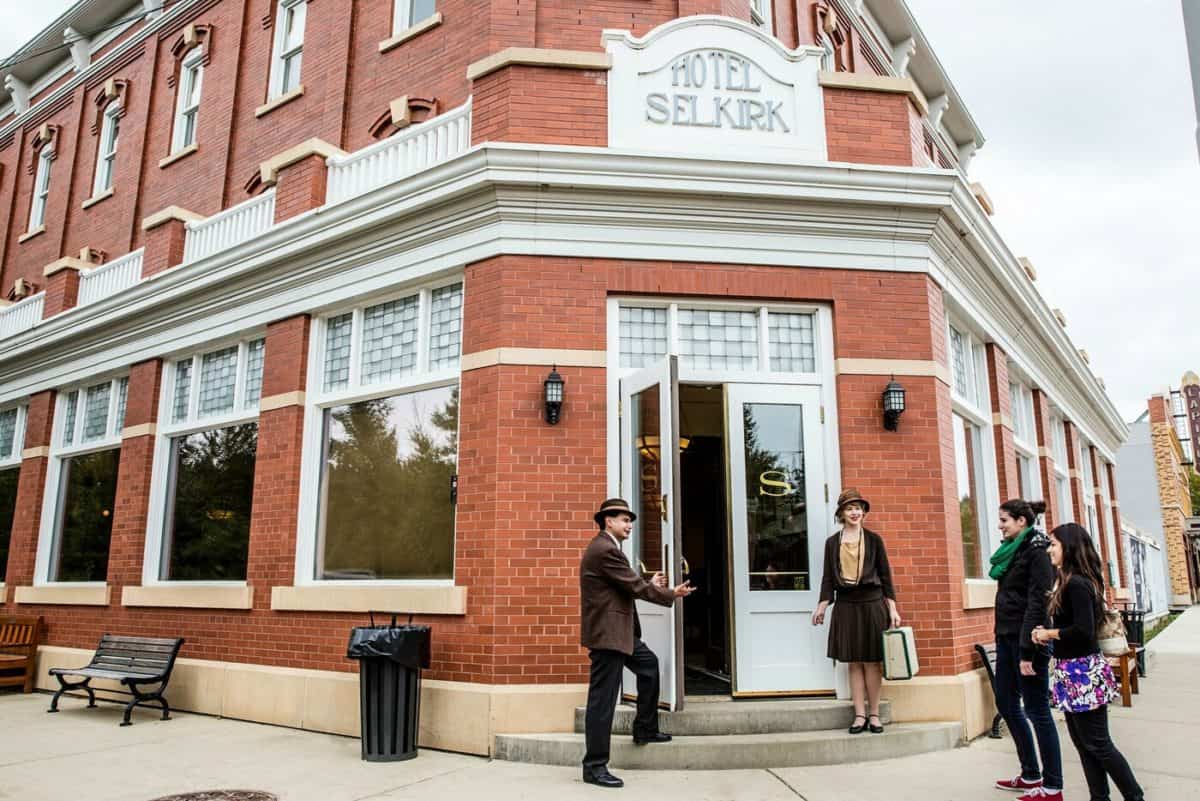 Can you take a tour of Fort Edmonton Park?
Yes, there are a few Fort Edmonton Park tours to take. Keep an eye out on the events calendar for more. Fans of ghost stories will especially love the Paranormal Tours in autumn.
Who are the interpreters at Fort Edmonton Park?
All throughout Fort Edmonton Park you'll see people dressed in traditional clothing from the time they're depicting, whether that be the late 1800s, the early 1900s, or the 1920s. These staff members aren't just there to look the part… they know the part, too! Ask them questions about their day and about what they're doing, and they'll answer as if you're truly back in time. They'll also be able to tell you all about the buildings and attractions that surround you.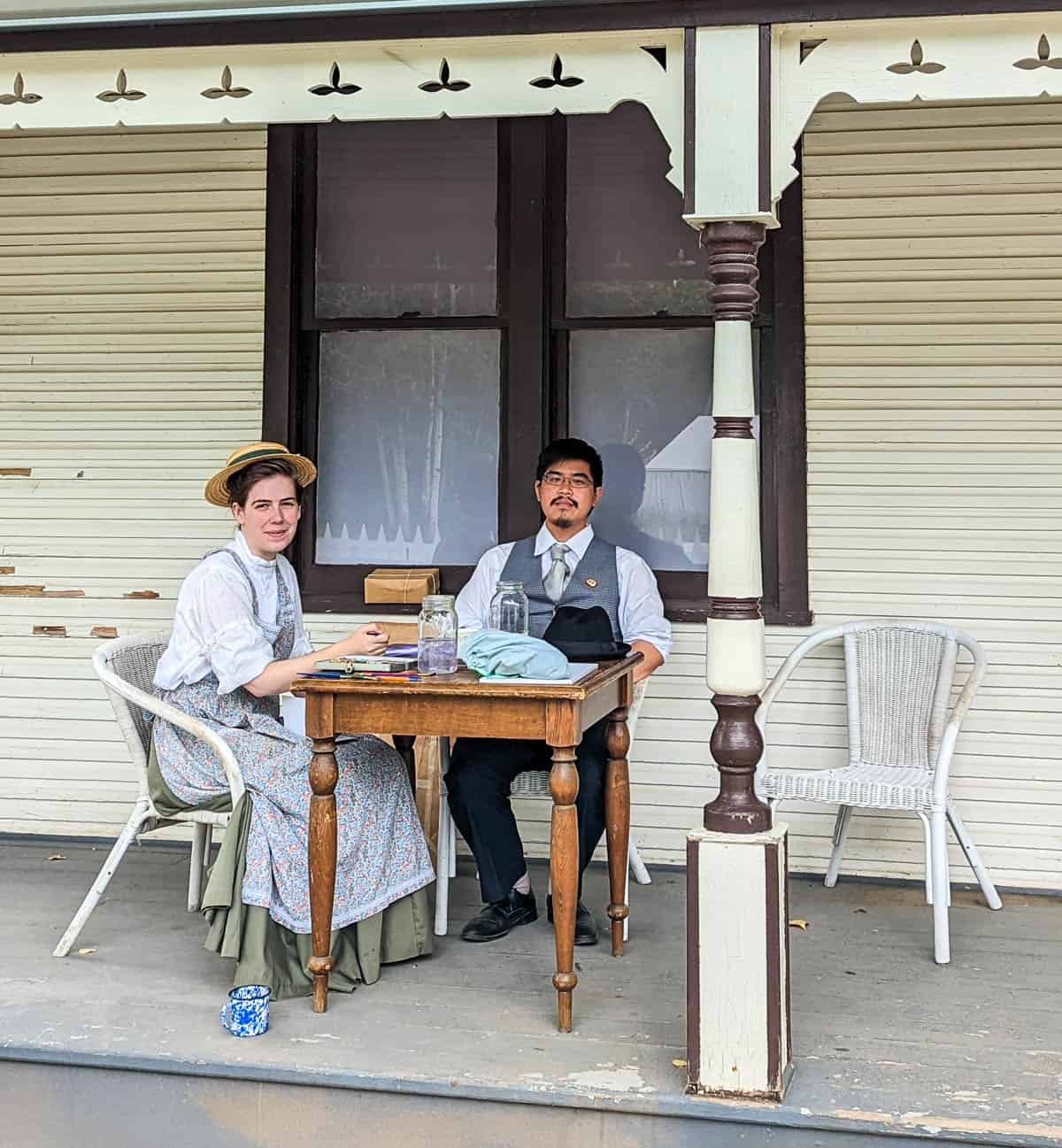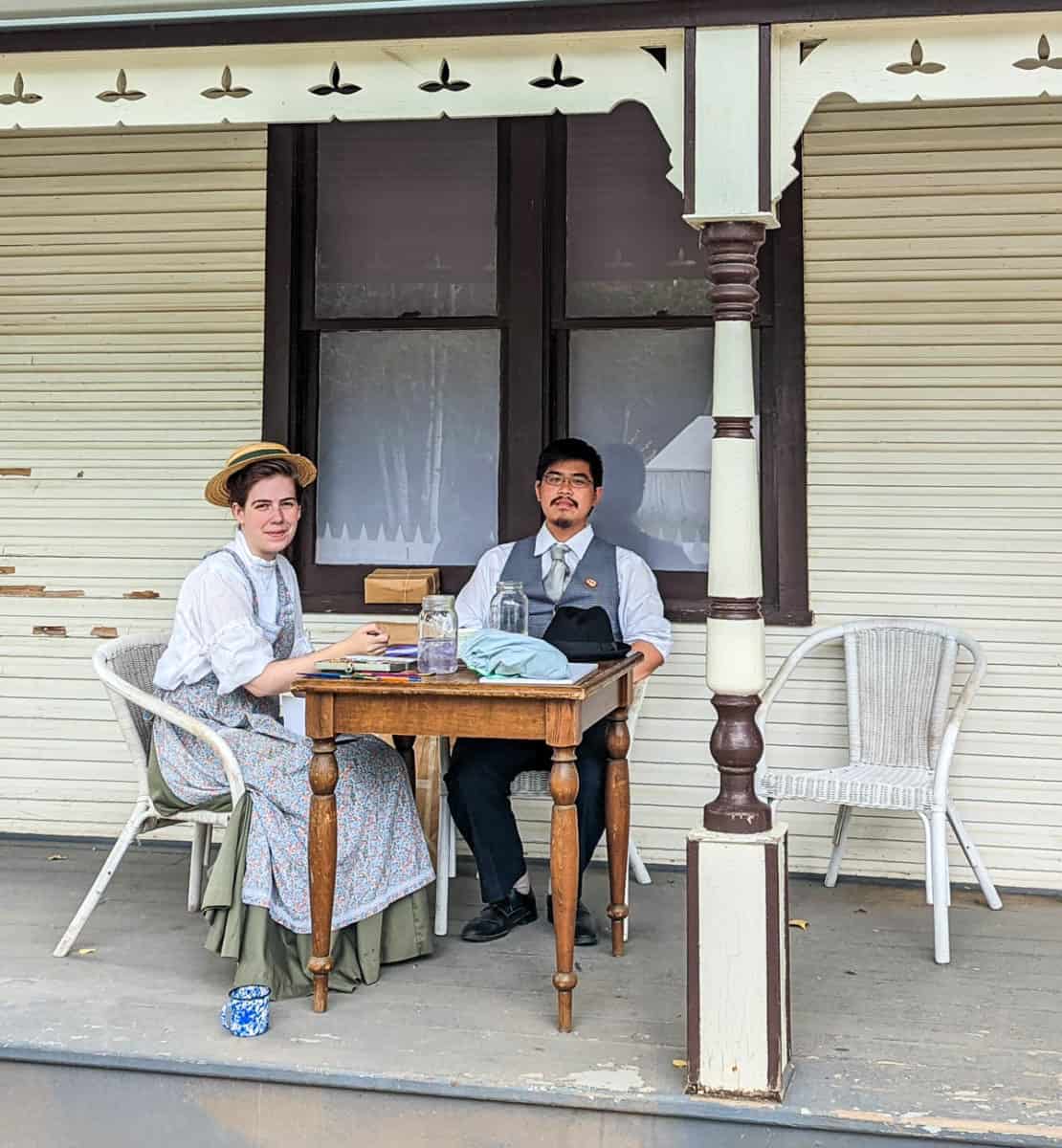 Please note: the park asks that guests do not dress in costume or regalia during your visit to Fort Edmonton Park in case other guests become confused!
Events at Fort Edmonton Park
Thankfully, there are quite a few events at Fort Edmonton Park to keep you busy throughout the year. The event calendar stays updated so that you can figure out what you'd like to do, including Christmas markets, special exhibits, summer fairs, winter wagon rides, and their legendary DARK events at Halloween (including horror-themed quiz nights, cocktail mixing, food trucks, DJs, haunted houses, and more).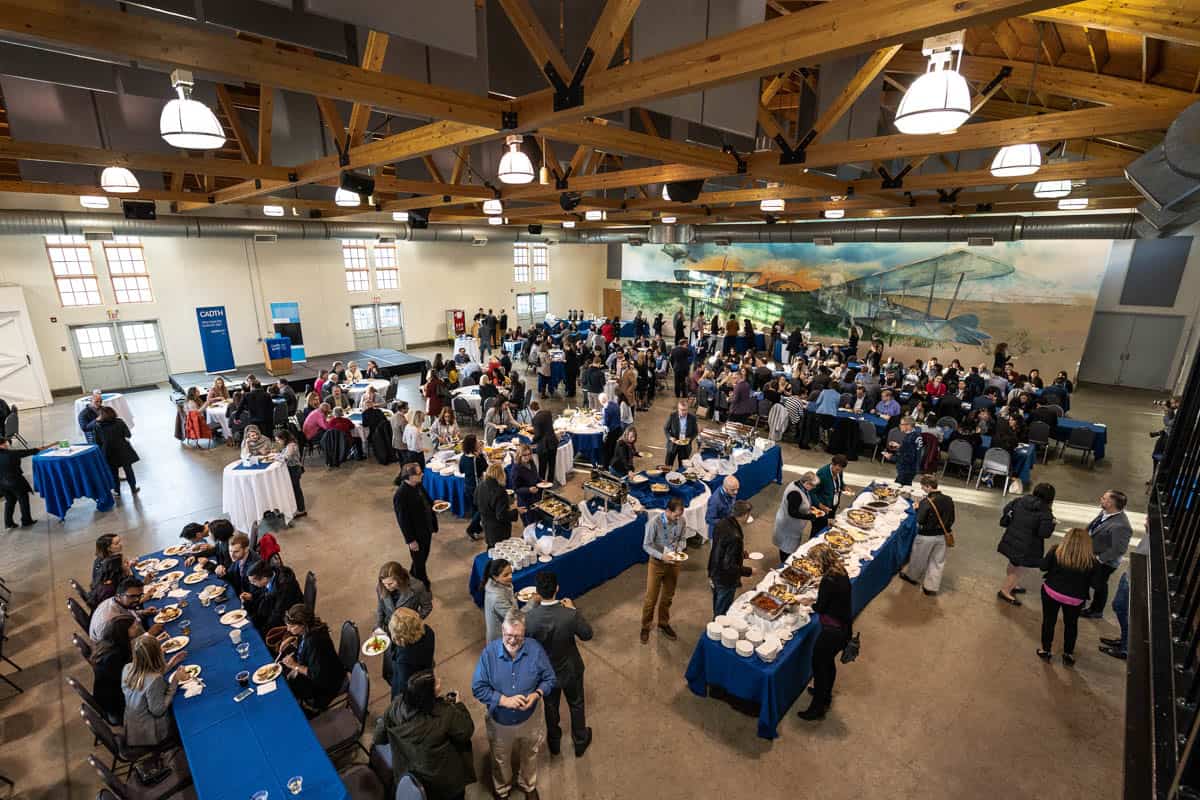 There is also the option for booking private events at the park, including weddings and corporate events. In fact, there are over 10 rental venues available, so there's always something that will fit what you're looking for.
What should you bring to Fort Edmonton Park?
As with many other outdoor museums, it's imperative to check the weather before you head out in order to dress appropriately. Plan on spending a lot of time outdoors, whether that means an umbrella, sunscreen, sunglasses, warm layers, etc. Most people spend the entire day at the park, so bring everything you might need (especially if you'll be attending with a young child or two).
We also recommend wearing very comfortable walking shoes, as you'll be exploring a lot of the park on foot.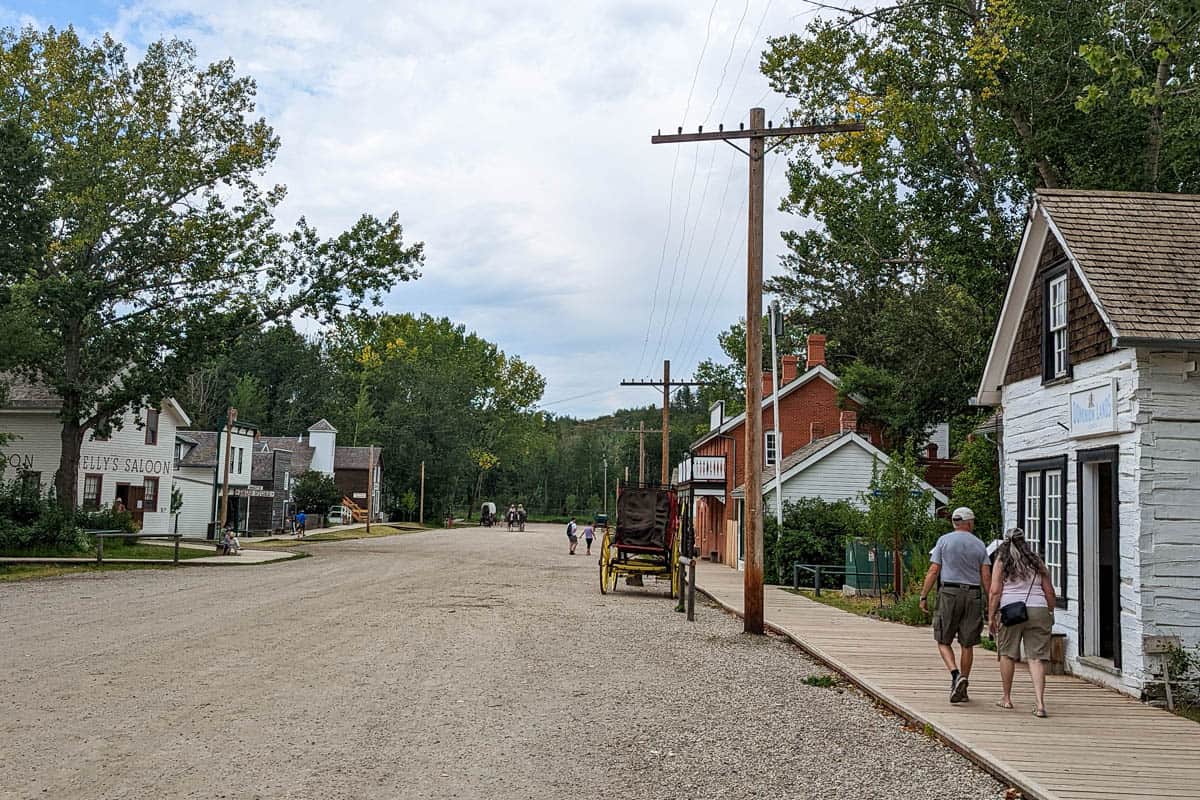 Can you eat at Fort Edmonton Park?
Yes! There are plenty of opportunities to purchase food throughout the park, and there are also many picnic tables available if you'd like to bring your own lunch.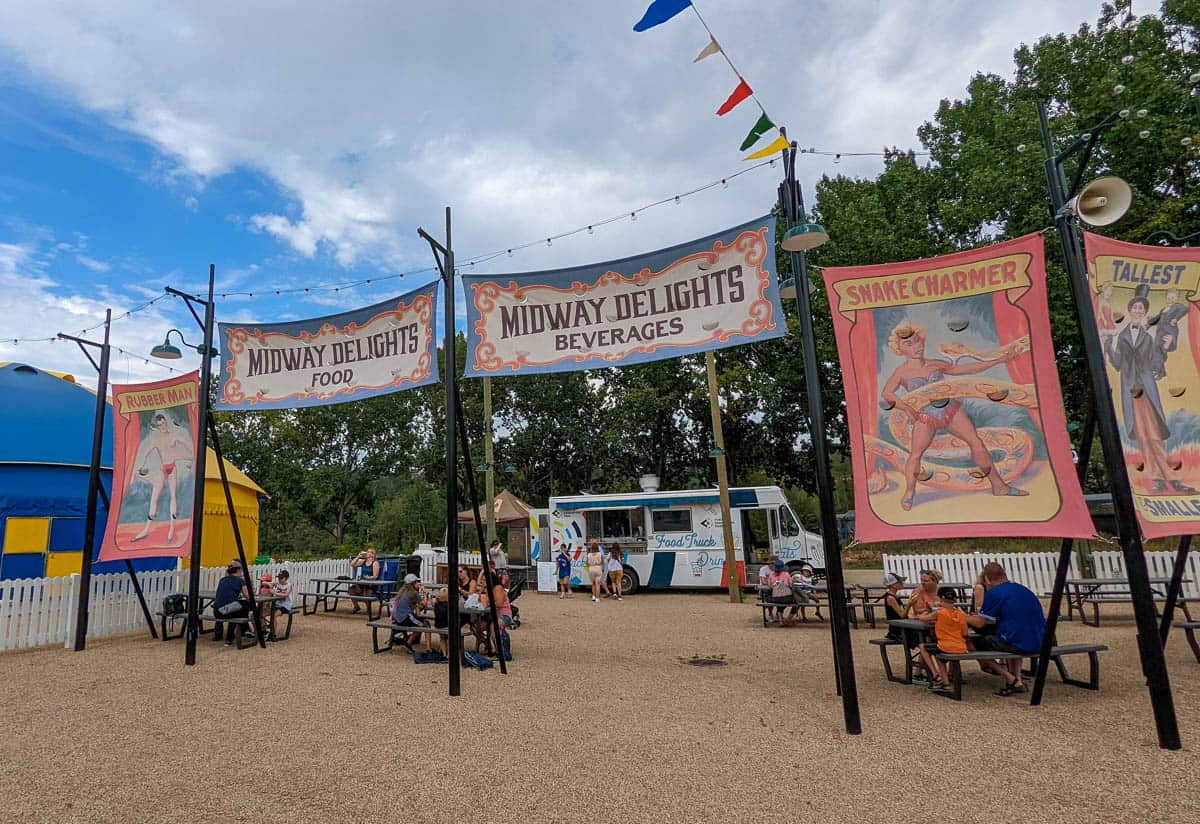 Looking for more to do in Edmonton?