Disclaimer: This page may contain affiliate links. Please review our full Terms and Conditions for more information and our Privacy Policy. Note that any pricing, operating hours, or other such information provided below may have changed since initial publication.
Compiled by the Road Trip Alberta team
Last updated on February 20, 2023
If you're looking for something fun to do in Edmonton, then this is the article for you. Edmonton has a number of spots to go 5 or 10-pin bowling. Whether it's a night out with friends, a fun outing with family, or you're by yourself and looking for something to do, you can try one of these popular Edmonton bowling alleys to toss some strikes and spares down the lane.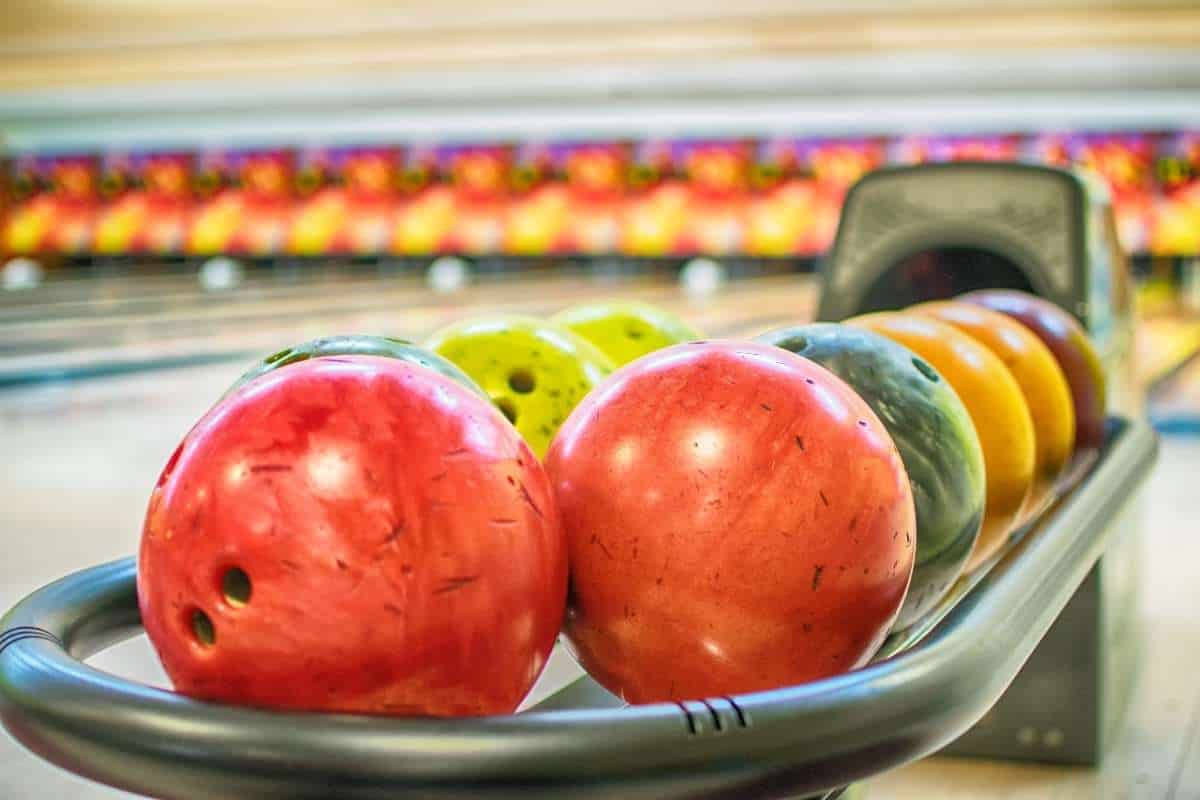 The Best Edmonton Bowling Alleys
Rec Room
Location: 1725 99 St NW, Edmonton, AB T6N 1K5
Located in the sprawling South Edmonton Common Mall, Rec Room offers plenty more than just bowling. With awesome music, great food and an amazing social atmosphere, Rec Room is your one-stop shop for an all-out party night. In fact, it is the perfect one-stop place for a fun adult night out. In addition to bowling, players can try their hand at billiards, axe throwing, ping pong or any number of video and arcade games. At the end of a fun night, you can hang out with friends at a table or booth while enjoying some delicious food and watching the action on one of Rec Room's huge TV screens. They also have party rooms that can be reserved and can accommodate over twenty people, making it perfect for corporate events.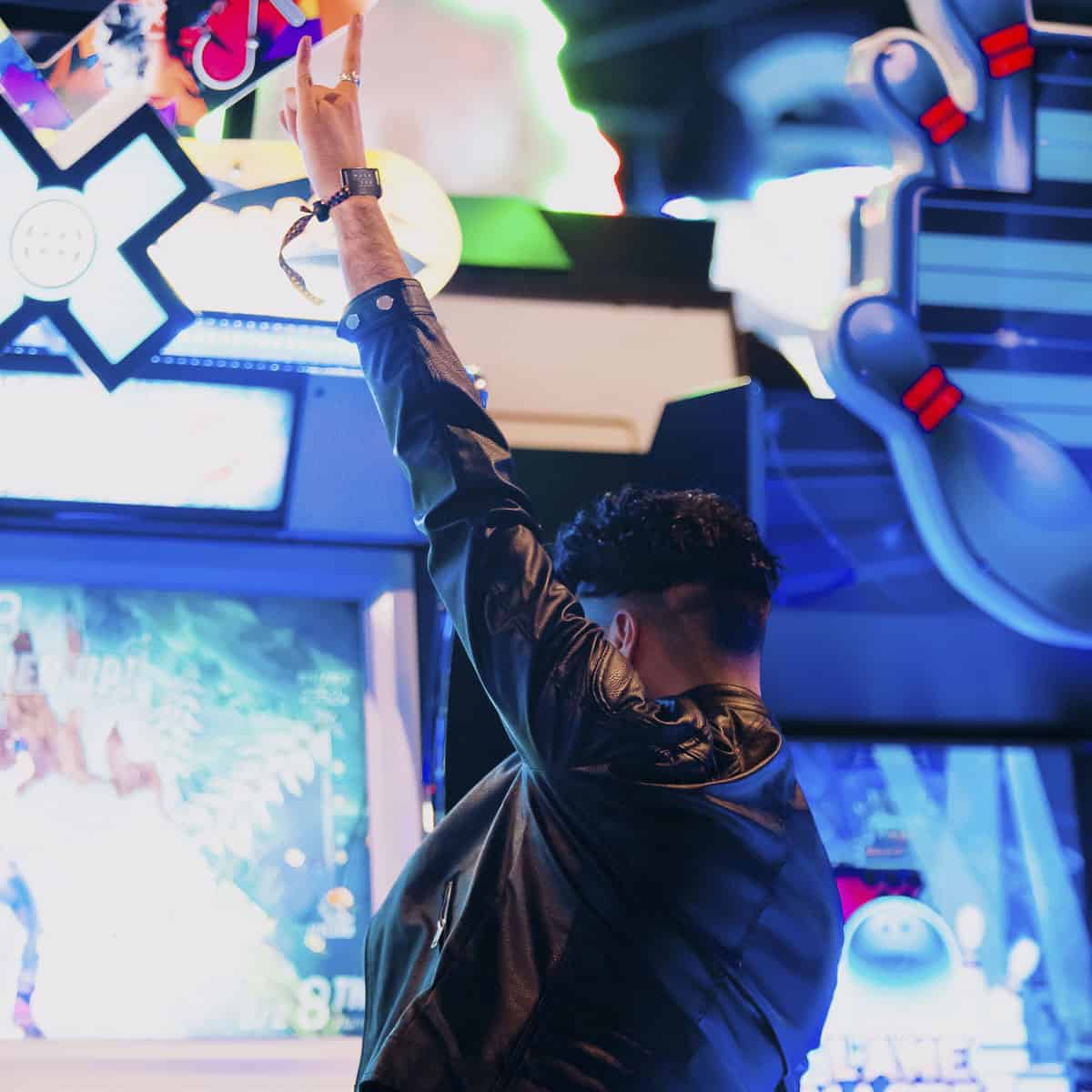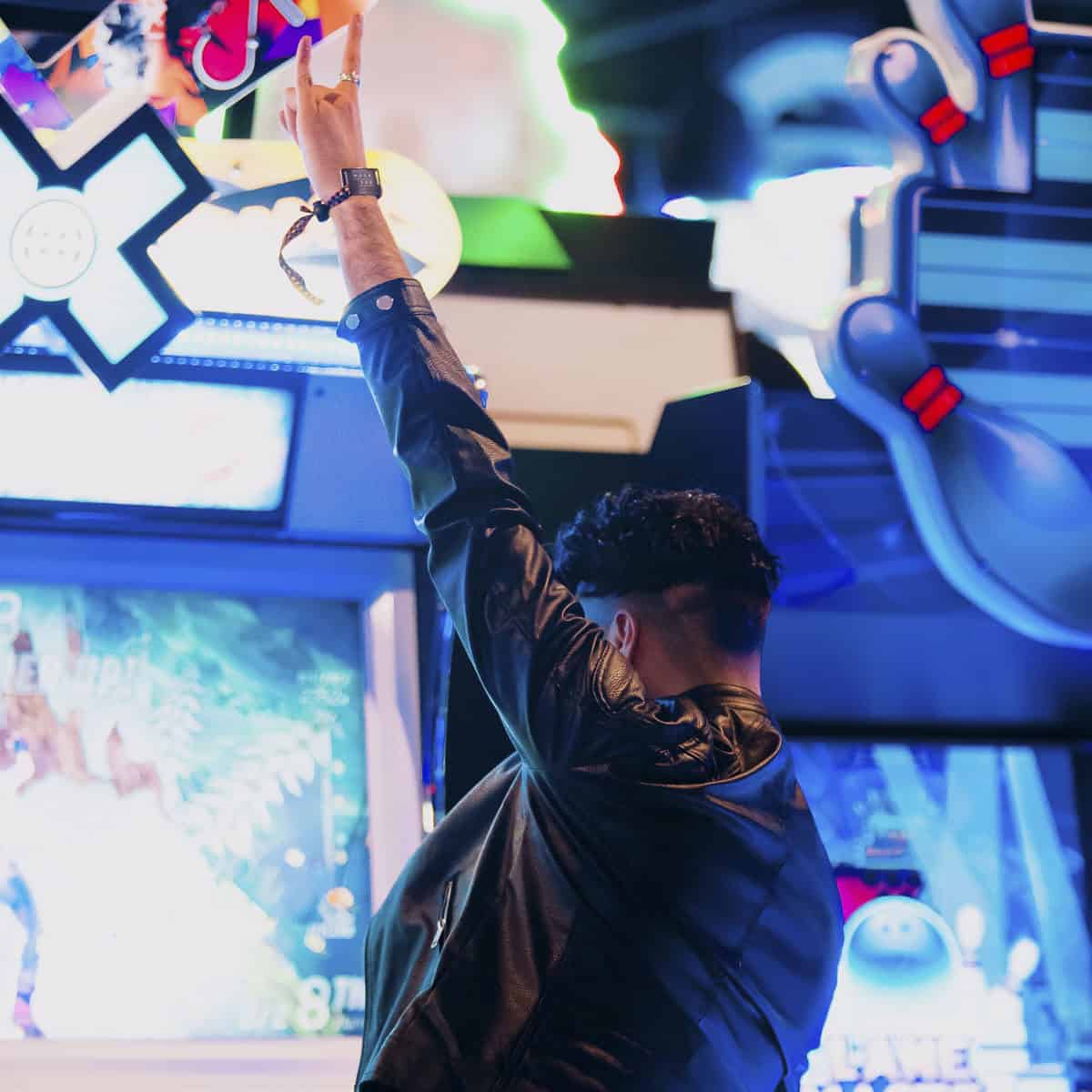 With so many choices, there is something for all your guests to enjoy at Rec Room. The standard rate for bowling is 40 credits per game per person from Sunday-Thursday and 45 credits per person per game on Fridays and Saturdays, which includes shoe rental. There is a maximum of 6 bowlers per lane.
Bowling at Rec Room cannot be pre-booked and lanes are available on a first-come, first serve basis.
Plaza Bowling Co
Location: 10418 118 Ave NW, Edmonton, AB T5G 0P7
Plaza Bowling Co is a family-owned bowling alley that's a staple in Edmonton. Since its opening in 1959, hardly anything has changed, including its decor. Conveniently located just around the corner from the North Alberta Institute of Technology, Plaza Bowling Co is a fun way for students of all skill levels to relax and get together for a perfect evening of bowling.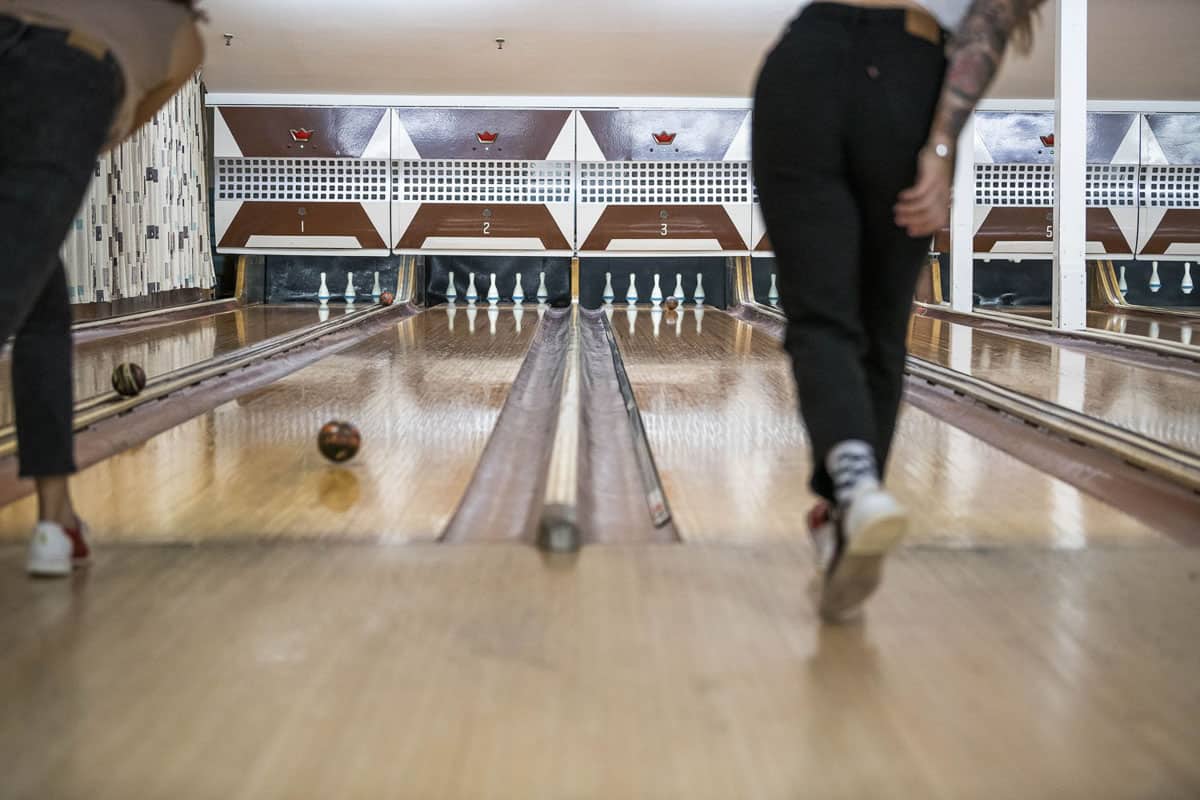 Regular bowling starts at 5 pm on the weekdays and runs all day on the weekends. Lane rates are $42/hour per lane and each lane can accommodate a maximum of 6 players. Shoe rentals cost you an additional $2.95. At less than $10 per person for a team of 6, bowling makes for a very affordable night out. Not only that, but Plaza Bowling Co also offers some great afternoon specials. Before 5 pm on weekdays, lane rentals cost only $35/hour, and sleeves of Alberta craft beer or cider are $1 off.
Interested in league bowling? Plaza Bowling's adult leagues, the Low Rollers, meet on Mondays, Tuesdays and Wednesdays at 7 pm. However, you'll have to wait until next year or add your name to the waitlist to join their bowling leagues, as slots are already filled for the fall of 2022.
Bonnie Doon Bowling Lanes
Location: 8330 82 Ave NW
Bonnie Doon Bowling Lanes proudly offers a night of fun the whole family can enjoy. They especially cater to kids through their youth bowling program, which gives kids the chance to bowl with coaches, attend learn-to-bowl clinics and even compete in tournaments. Bonnie Doon bowling lanes also offer a variety of leagues including a ladies league, mature adult leagues, or their 'just a group of friends' league bowling to stay active. Form your own team and let Bonnie Doon Bowling Lanes take care of all the details.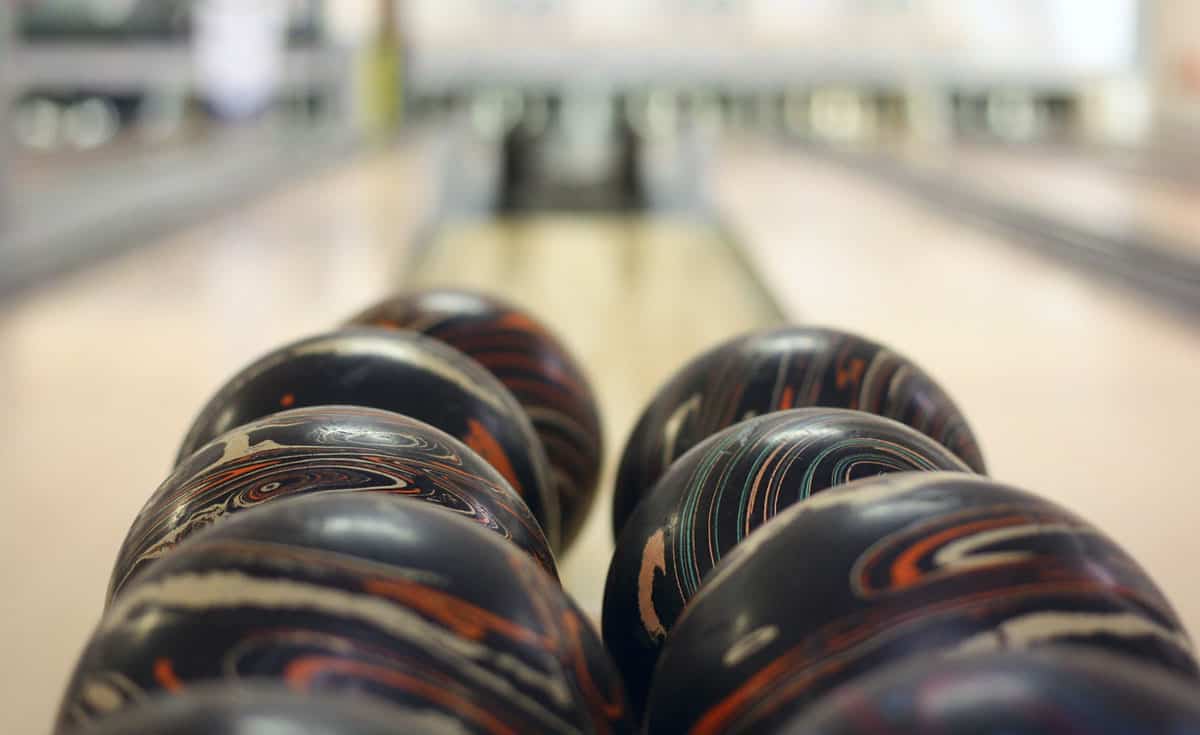 Public bowling is open especially late here, from 9 am – 9 pm 5 days a week, although you'll need a reservation from 6 pm onwards. Glow bowling starts at 6 pm on Saturdays. A game will cost you $7 ($6.50 for kids and seniors) or you can buy a 3-game special for $18.
K-J Bowl
Location: 12143 54th St. NW
The folks at K-J Bowl are experienced party professionals. Their North Edmonton location has hosted birthday parties, Christmas parties, and corporate parties. It's even one of the few bowling alleys to host a wedding! With a wide range of services to suit all ages, including dedicated time slots for youth and teens, and fun, retro decor, time spent at KJ Bowl is sure to be a memorable experience.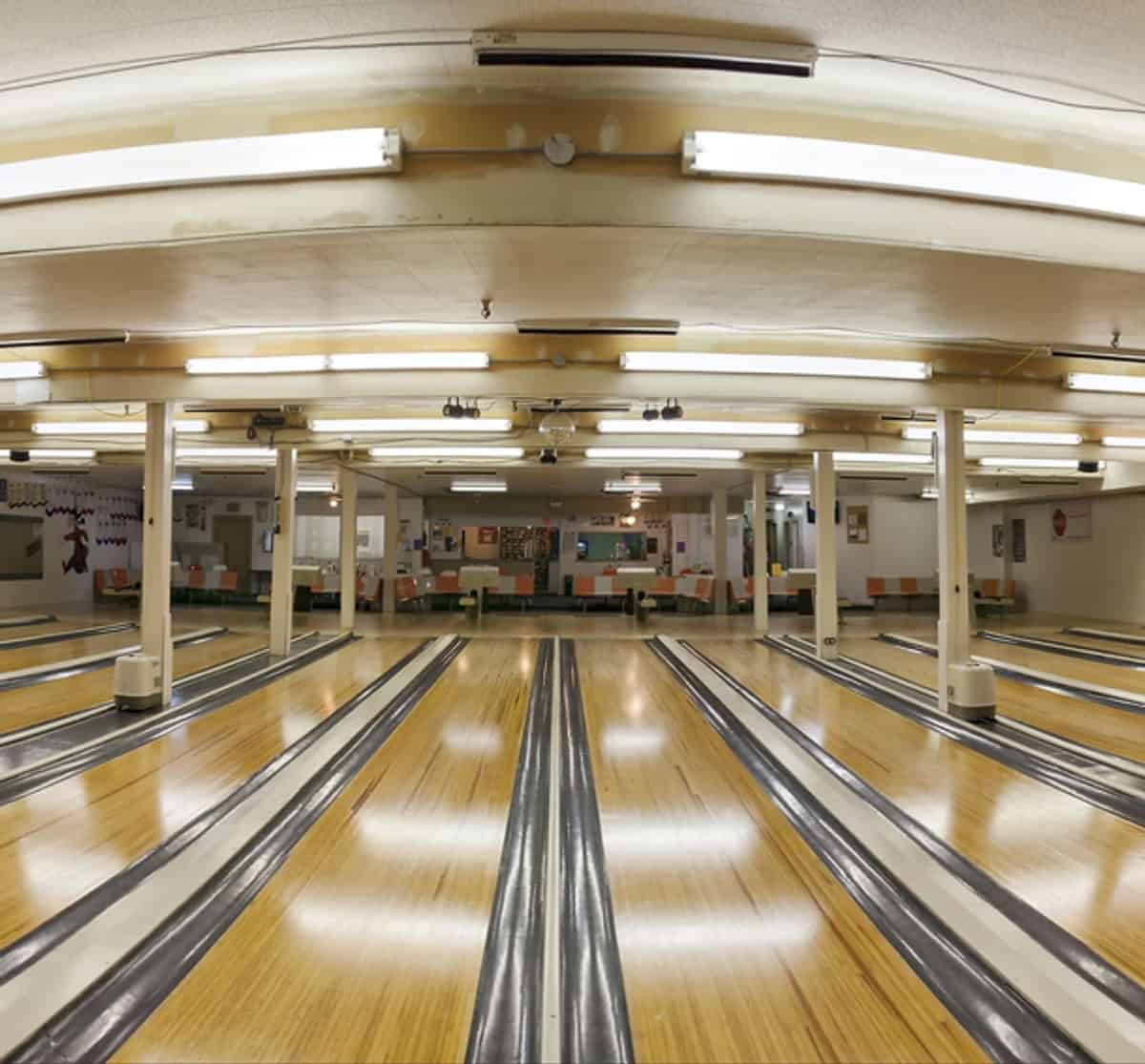 Because of league play, the hours are a bit scattered at this location and are subject to change depending on the season, but you can refer to their website for updates. Glow bowling runs from 7-9 pm on Fridays and 4-6 pm and 8-10 pm on Saturdays.
The super friendly staff are passionate about bowling, so call and book a lane today. Reservations are required at KJ Bowl.
Ed's Bowling
Location: 8882 170 St NW #2556
Ed's Bowling, located in the world-famous West Edmonton Mall, offers a night of fun for bowlers of all ages and abilities. For the first-timer ten-pin bowlers, the lanes come with the option to turn on bumpers, perfect for those just learning. For the more experienced bowlers, apart from individual games, they can join Ed's league, which runs from September thru June. For something different give their dark bowling a try, it's available most evenings but hours are subject to change so you'll need to check their website to make a reservation.

What's more, Ed's Kingpin Suite offers a more upscale experience for holiday parties, group functions or even a fun date night. Lanes are a bit shorter here and the seats are more comfortable, perfect for catching up in between games.
Bronx Bowling
Location: 12940 127 St NW
As one of the best bowling centres in Edmonton, Bronx Bowling offers a variety of reasonably priced bowling programs to suit all your needs, whether you want a night of fun or to join a league. Public bowling can be purchased in increments of 1, 1.5 or 2 hours, with the option to purchase an additional 15 or 30 minutes, and they have bowling leagues for youth, adults and mature adults.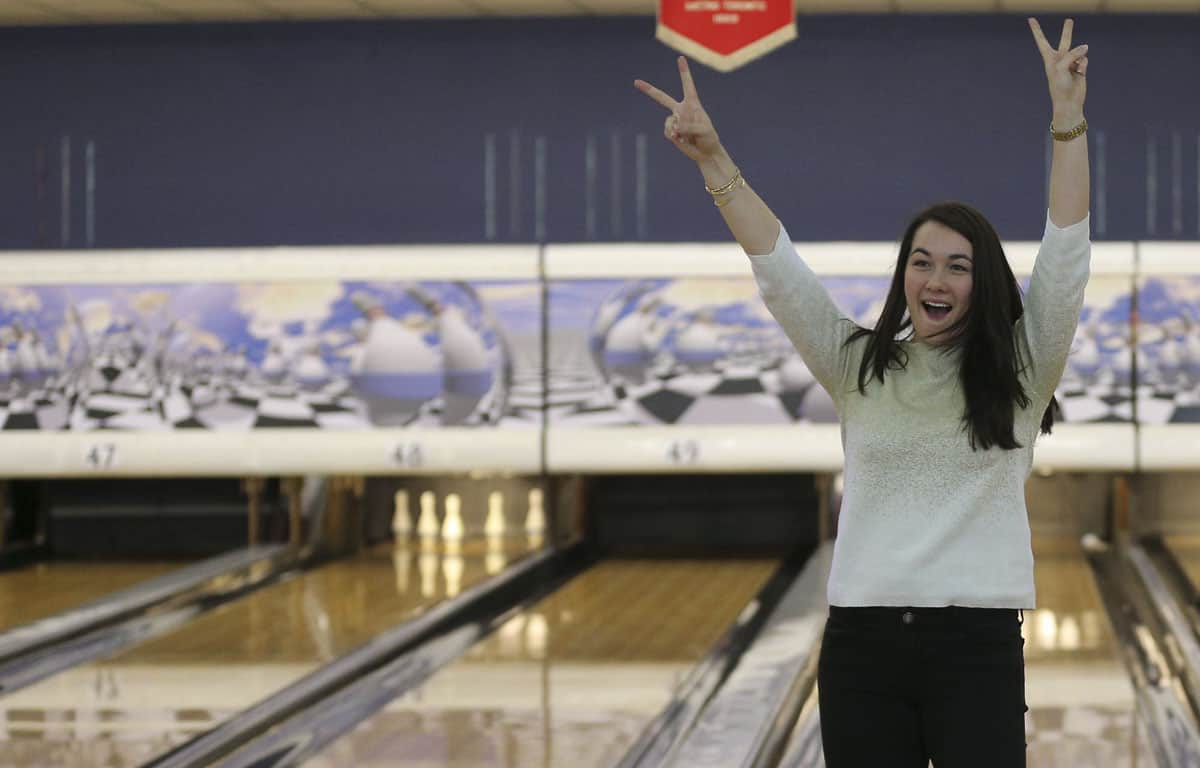 Bronx bowl also offers a few party packages, making it an easy choice for your next corporate event. Their birthday party package is flexible, so it's perfect for families on a budget. Let Bronx bowling coordinate your next party while you sit back and relax. They'll even take care of the cleanup.
Gateway Entertainment Centre
Location: 3414 Gateway Blvd NW
30 league-sanctioned lanes for bowling at Gateway Entertainment Centre is one of the most popular Edmonton bowling alleys on the south side of the city. They are a fully licensed facility with both a food and beverage service making it the perfect spot for a date night, corporate event, or party amongst friends.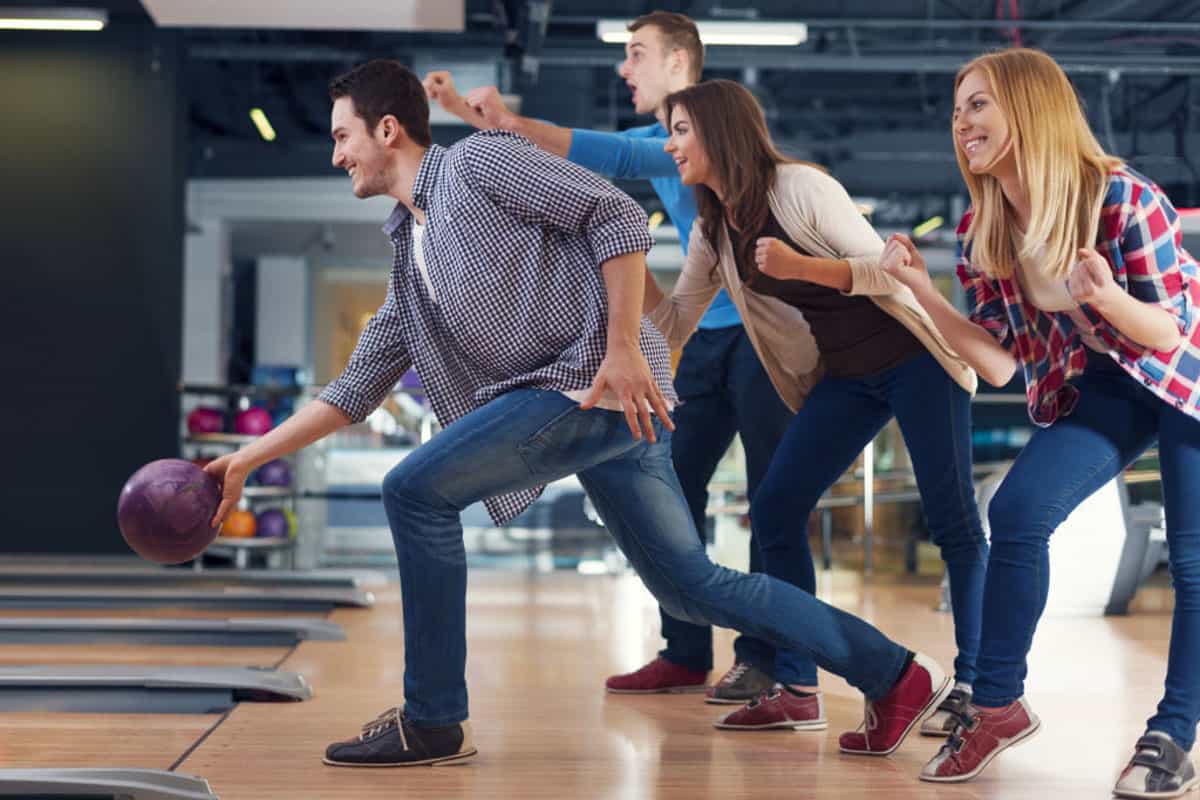 Gateway is perfect for families too! For the kiddos, there are lightweight bowling balls to make rolling (or bowling) it down the alley easier, and if necessary they can turn on the so they can score on every shot. We can deliver ramps to your lane for the really small ones. Looking for something a bit different? Tuesdays, Fridays, and Saturdays starting at 6:00 pm there is the best glow-in-the-dark bowling in Edmonton. The black lighting and special effects make it a fun night out!
Speeders
Location: 12808 170 St NW Unit 16
Let the good times "roll" at Speeders with their six lanes of duckpin bowling. Duckpin bowling is all the fun of bowling but with lighter balls and shorter lanes, making the game significantly easier. The 6 lanes at Speeders can accommodate up to 36 bowlers making it a perfect spot for a party or work function!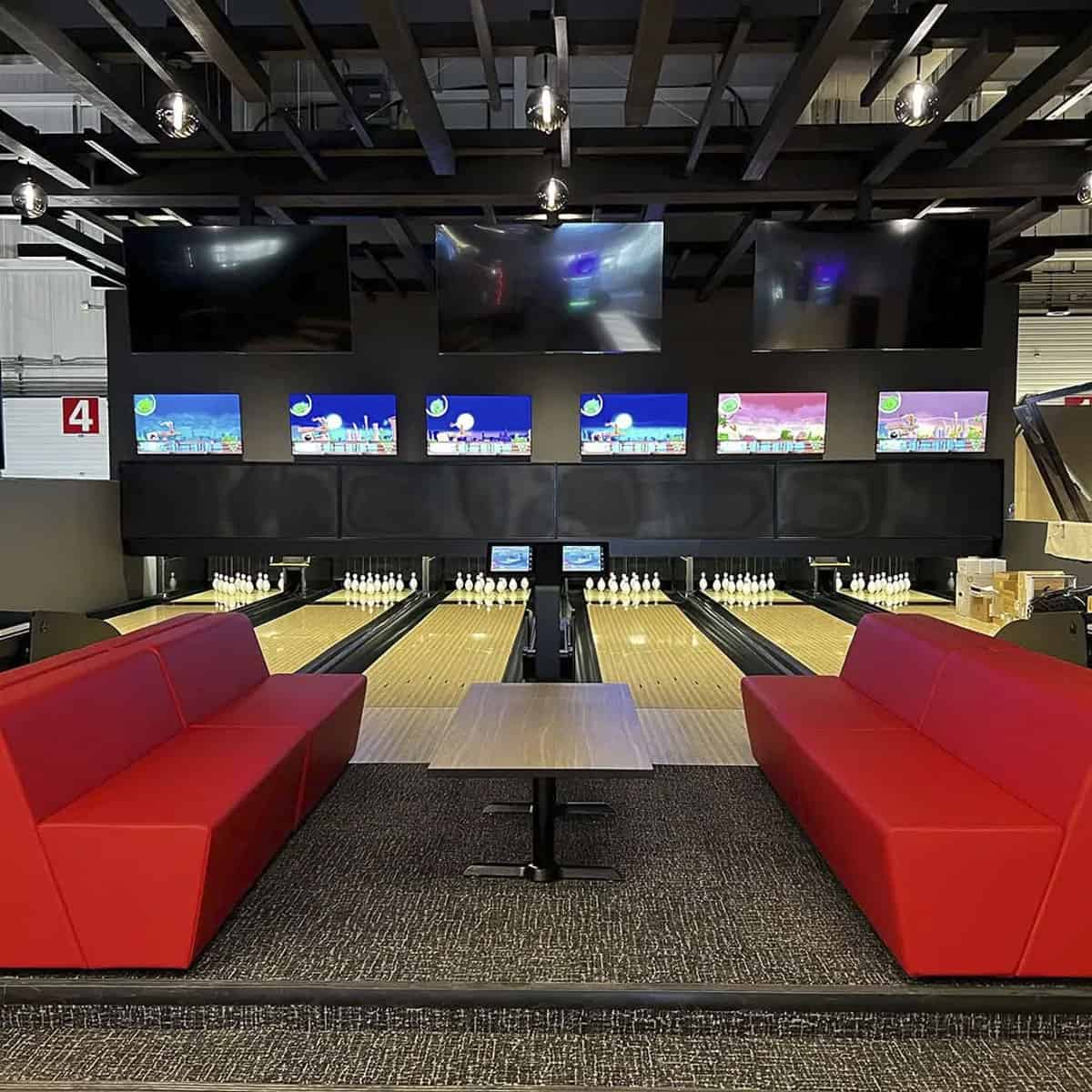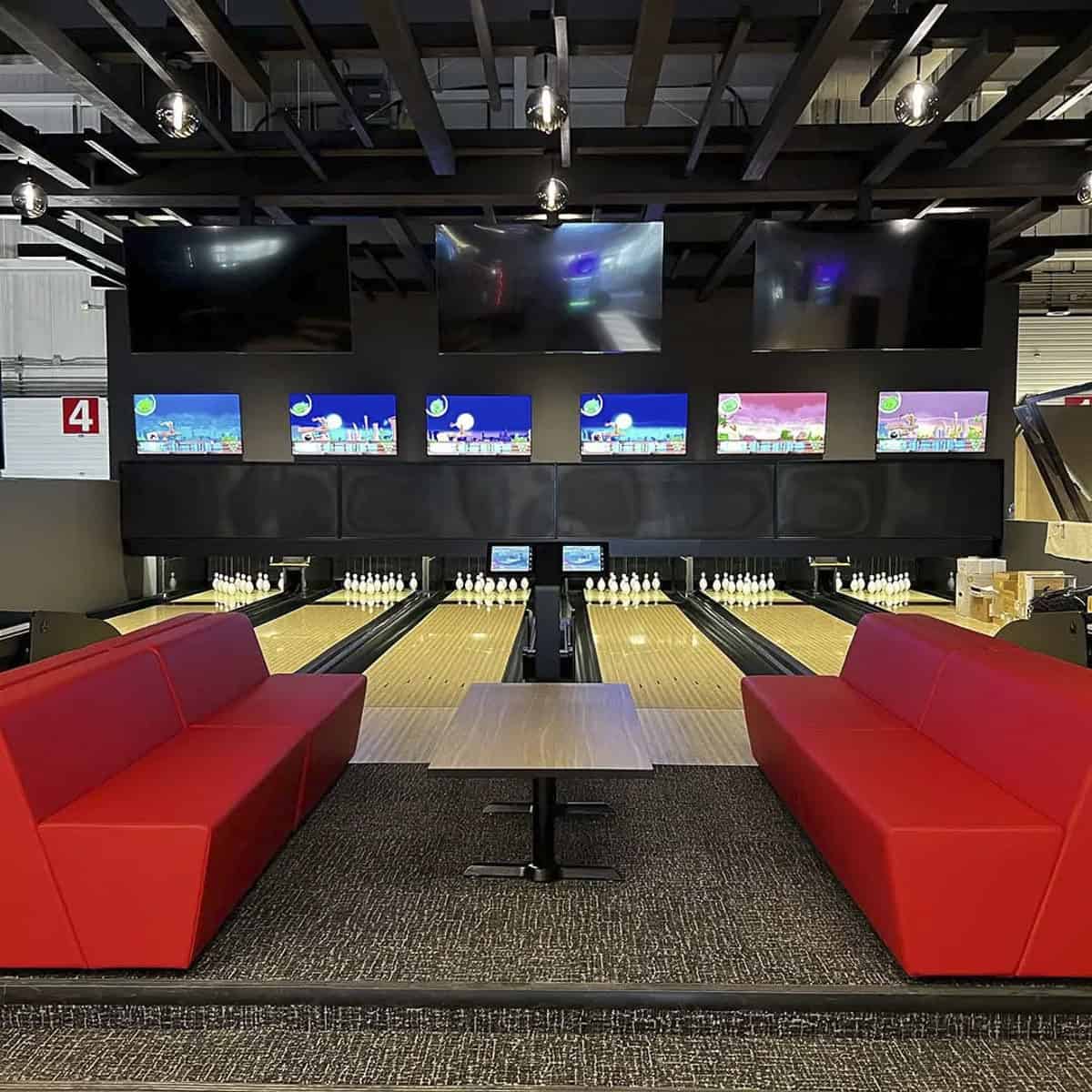 And the patrons at Speeders can keep fueled up by enjoying their drinks and food in the stylish lounge seating featured at every lane. And to keep you distracted from the bowling there are giant TV screens above the lanes so you won't miss the big game!
The Banquet Edmonton
Location: Ice District 10332 103 St NW #210
Coming October 15, 2022, to the Ice District in Edmonton is The Banquet – a premium dive bar featuring Duck Pin bowling. Their mantra, "Get Real. Play Hard.", is reflected in all you can do at The Banquet. Apart from bowling, there's ping-pong, cornhole, giant Jenga, and mini-putt plus a spin-to-win wheel where you can win amazing prizes to make your night even more fun! It's going to be a great spot before or after an Oilers game, so be sure to check it out!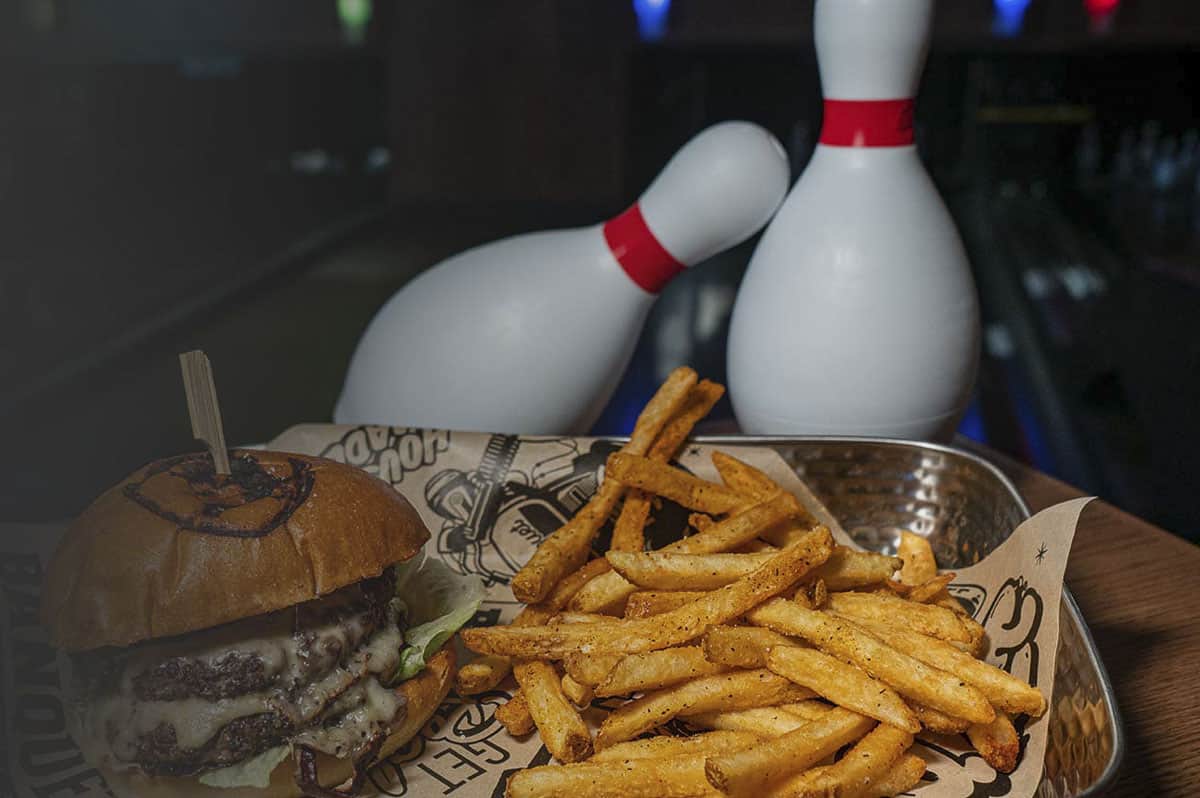 Looking for more to do in Edmonton? Here are some suggestions: