Disclaimer: This page may contain affiliate links. Please review our full Terms and Conditions for more information and our Privacy Policy. Note that any pricing, operating hours, or other such information provided below may have changed since initial publication.
Compiled by the Road Trip Alberta team
Last updated on November 19, 2022
Christmas in Calgary is a special time. Holiday lights are twinkling, carolers are out singing, skaters are gliding on Olympic Plaza, gift-givers are strolling through Christmas markets, and so much more. There are plenty of ways to enjoy the Christmas season in Alberta's biggest city.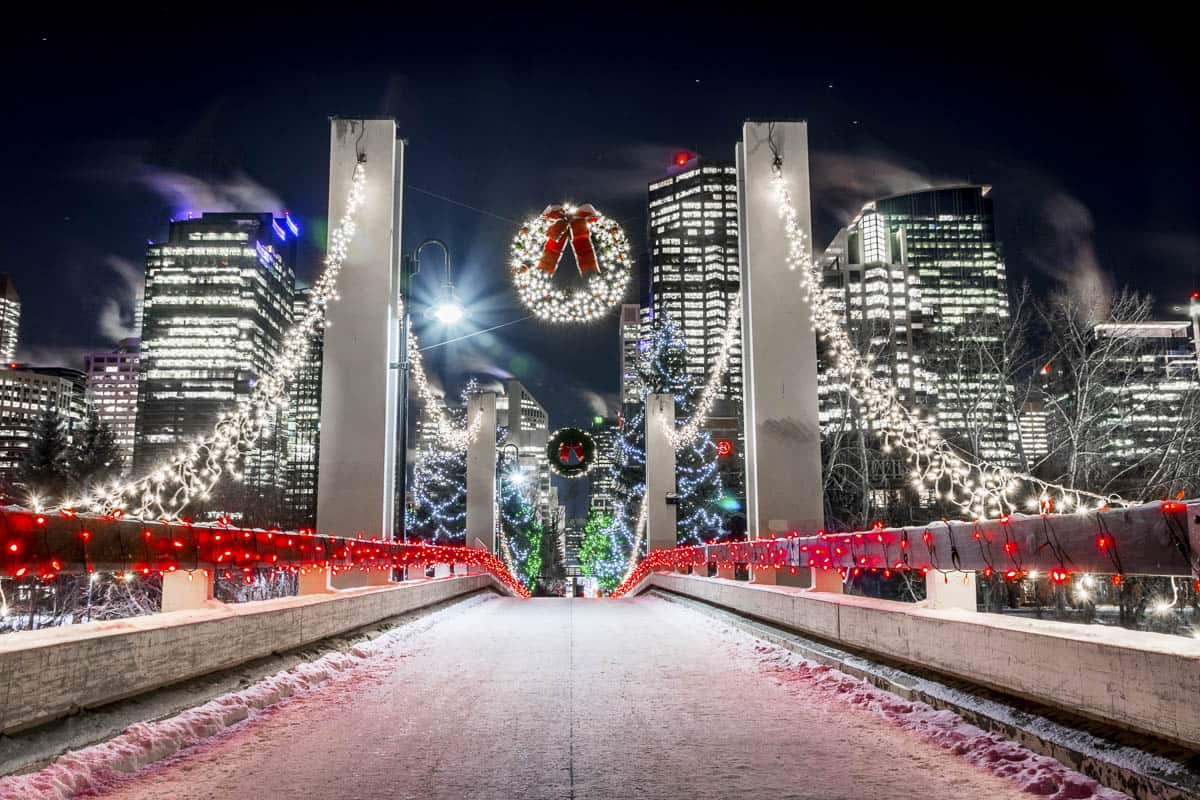 Celebrating Christmas in Calgary
Finding the Best Christmas Lights in Calgary
Admiring a breathtaking display of colourful lights is a surefire way to get in the holiday spirit, and there are plenty of places to see beautiful holiday displays all throughout Calgary. Smaller towns outside of the city limits become winter wonderlands from November through to December, too. The region's drier climate makes for a light, fluffy snow, giving the Christmas light displays a very magical feel! Get in the holiday spirit by checking out the one nearest you, or load the family into the car and make a day out of exploring someplace new.
Calgary ZOOLIGHTS
ZOOLIGHTS has been lighting up the Calgary Zoo for the past 26 years, and this year is no exception. Along with one of the most stunning light displays in the city, ZOOLIGHTS hosts plenty of fun events and performances for children, like a visit to Santa's Cabin and rentable snowglobes not to mention axe throwing and enchanted dinners for an older crowd. Warm up next to one of their many firepits. With proceeds going directly to help wildlife conservation efforts, it's one of the best outdoor activities Calgary has to offer during the holiday season.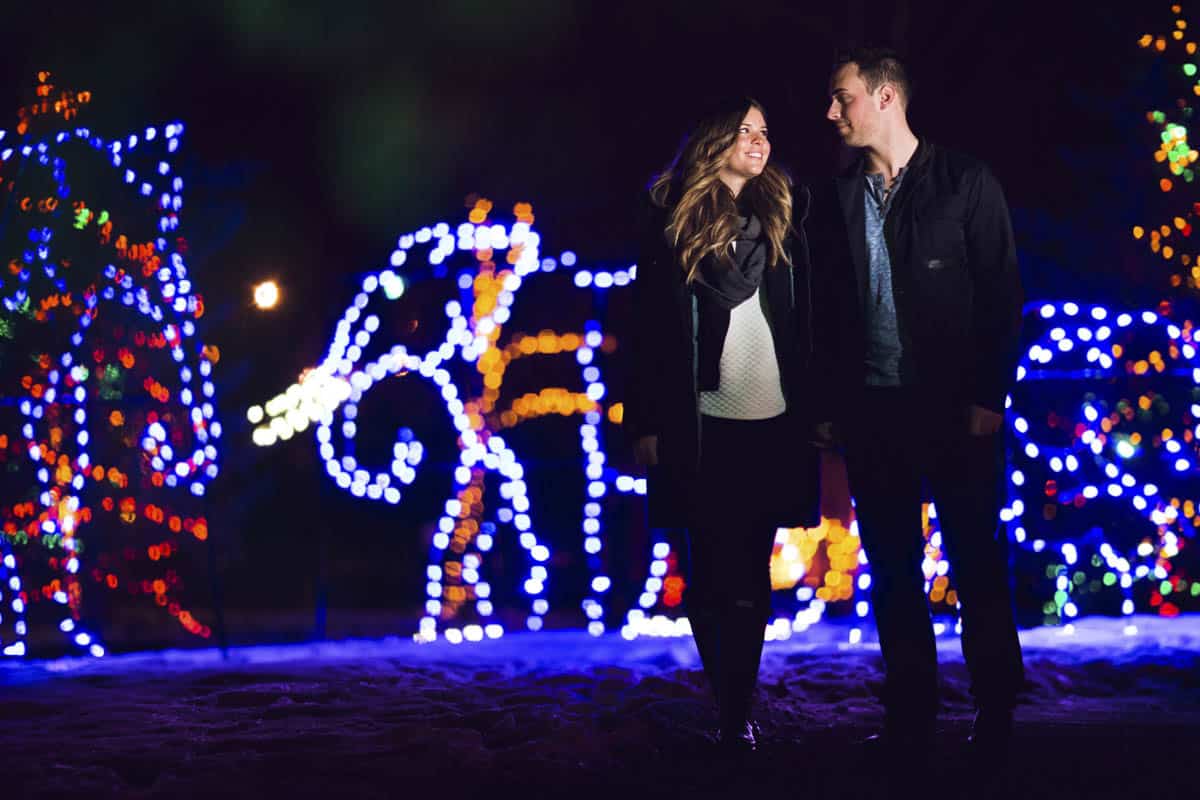 ZOOLIGHTS at the Calgary Zoo runs from November 18-January 8 and tickets sell out fast, so be sure to reserve your spot.
Legacy Community
Calgary's residential neighbourhoods come alive with displays each winter to get you in the holiday season, but one of them stands out above the rest. Located in the southeast quarter, the community of Legacy is one of the best spots to see Christmas lights for free in Calgary. A far cry from the hustle and bustle of downtown Calgary, Legacy is a quiet community teeming with green (or white) space and over 15 km of pathways for you to wander down with a warm drink in hand as you admire the holiday lights. The lights stay up all through December.
Downtown Calgary
Every year during the holidays the Calgary downtown core is lit! The Winter Light Festival comes to downtown Calgary to celebrate the festive season with the whole city. Interactive LED lights make for amazing displays, plus there is heaps of live entertainment and fun activities for the kids, not to mention a huge line of food trucks. Both Stephen Avenue and Olympic Plaza are decorated to the max. Olympic Plaza also happens to have the only refrigerated outdoor ice rink in the city with skate rentals available. And if you have the time, make your way over to Prince's Island and to the Jaipur Bridge for that perfect holiday photo in a gorgeous setting.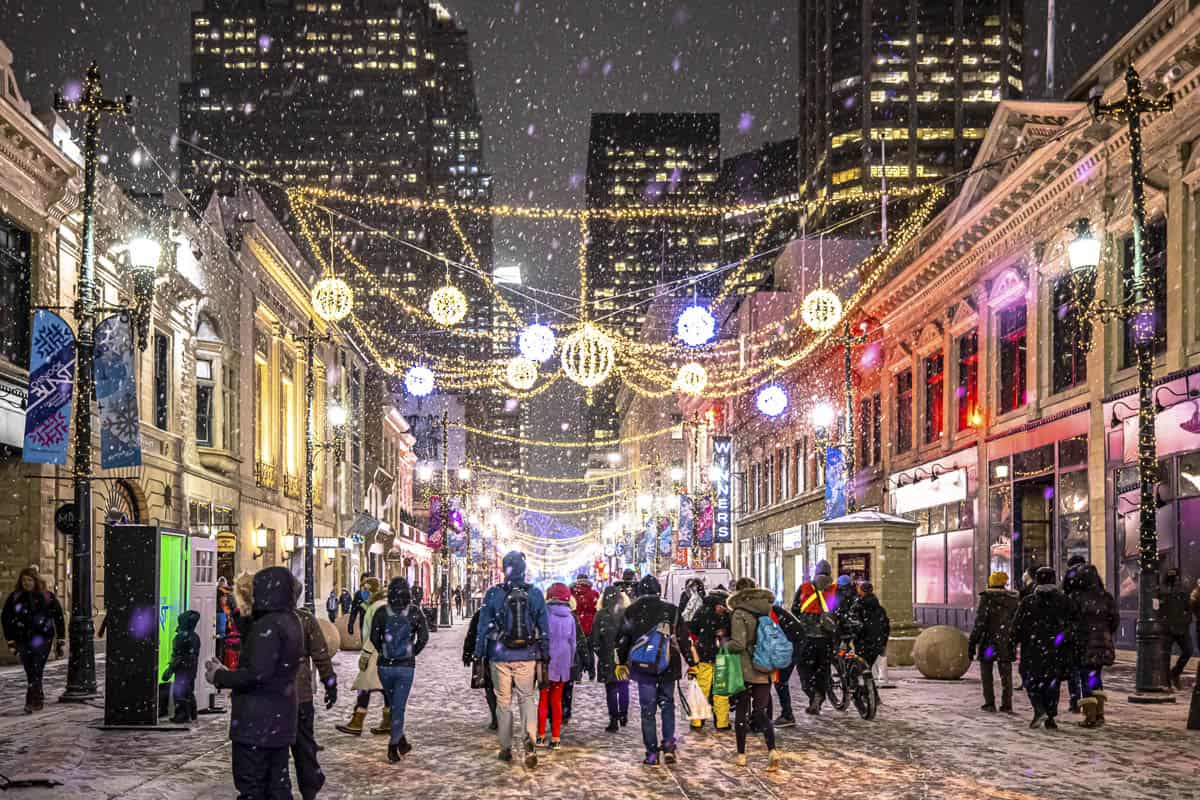 Lions Festival of Lights
The Lions Festival of Lights is held annually by the Lions Club of Calgary as a way of giving back to Calgarians. Admittedly, it is somewhat of a smaller display than other places on this list. However, it is free of charge, making it an affordable and inclusive option for anyone wanting to get into the holiday spirit. The lights will be turned on starting November 27 and run until the end of December.
CP Holiday Train
Greeting Canadian Pacific Railway's Holiday Train as it rolls through Calgary is an iconic way to enjoy the holidays, and this year will be no exception. Arriving on December 7th, the lit-up train will stop at the Anderson C-Train Station (South C-train parking lot) at 5:45 pm and in the hour following, will offer performances by country music star Tenille Townes and Oji-Cree songwriter Aysanabee. This is the 24th year for the CP Holiday Train and as always, donations collected onsite support food banks across the country.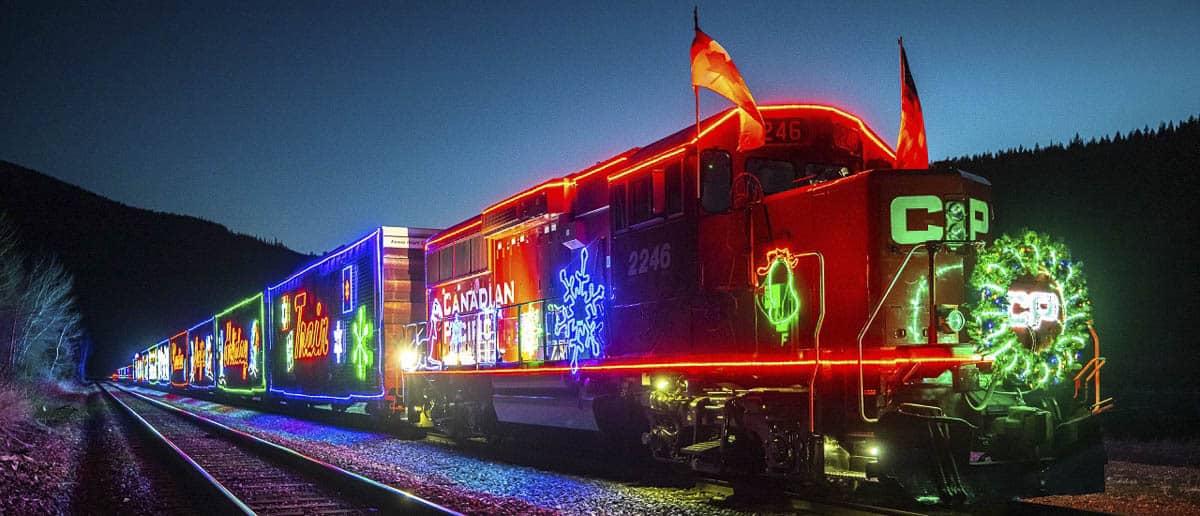 Where to See Christmas Lights Around Calgary
Of course, Calgary isn't the only place to get your fix of Christmas lights. The surrounding area includes smaller towns and suburban neighbourhoods with sprawling yards that are perfect for setting up a display during the holiday season.
Spruce Meadows Christmas Light Drive Through
Drive south out of Calgary to reach the town of Spruce Meadows and take in the sights from the comfort and warmth of your car. This event is drive-through-only, and visitors are asked to remain in the car for their and everyone else's safety. General admission to the Spruce Meadows Christmas Light Drive-Through is free of charge and it is open every weekend in December.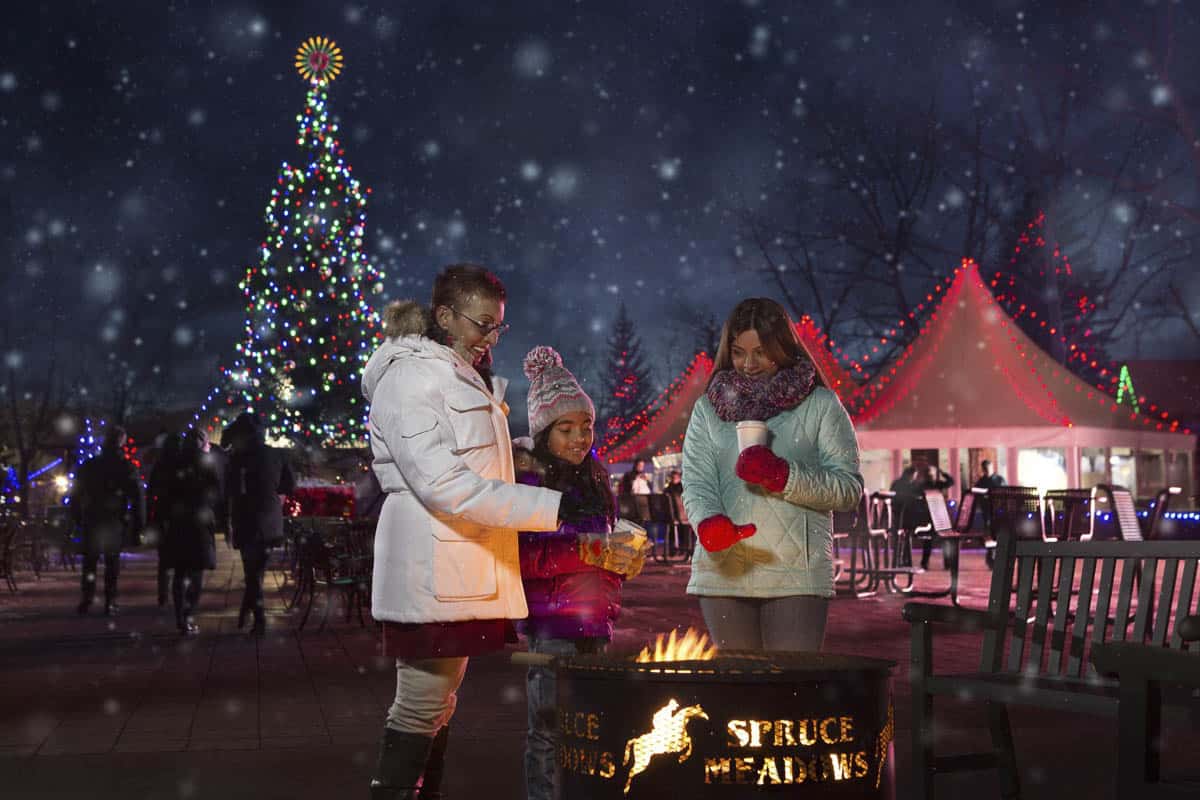 Cochrane Light Up
Cochrane Light Up is a huge holiday event that takes place just west of Calgary in the community of Cochrane. With the capacity to accommodate over 10,000 people, Light Up hosts events to suit the whole family sponsored by local businesses including a fire pot, gingerbread house display, and a local choir.
Light Up Okotoks
Light up Okotoks is a one-day-only event that kicks off the holiday season in Okotoks, located south of Calgary. The lighting of the community Christmas tree takes place on November 18 this year, but come down early to get a head start on your holiday shopping at the artisan market, take the children for a wagon ride or warm yourself by the fire pit.

Airdrie Festival of Lights
Airdrie is a family-oriented community north of Calgary that has the distinction of hosting Canada's largest free Christmas light display. Running all through December, events include the Santa Clause Parade, a performance by the Airdrie Sky Twirlers, choir singers, and other special events hosted by members of the community.
Visiting the Calgary Christmas Markets
Calgary's (sometimes) warm yet snowy weather makes wandering around a Christmas market on the weekend feel even more special. Whether you're looking for special gift ideas for your family, live entertainment, or want a taste of Christmas dinner, the Christmas markets in and around Calgary have got you covered.
Heritage Park Once Upon a Christmas
Once Upon A Christmas takes place throughout the historical village in Heritage Park Calgary, inviting visitors to step back in time and experience Christmas the way it once was. It runs all day, from 10 am to 4 pm, every Saturday and Sunday starting November 27 and goes until the weekend before Christmas on December 18. Help out local artisans and get your holiday shopping done at the same time, plus there are plenty of outdoor activities for everyone to enjoy like snow painting and wagon. Inside, kids can place a letter bound for the North Pole in their antique mailbox or enjoy a delicious Christmas breakfast at Gunn's dairy barn or the Wainwright Hotel.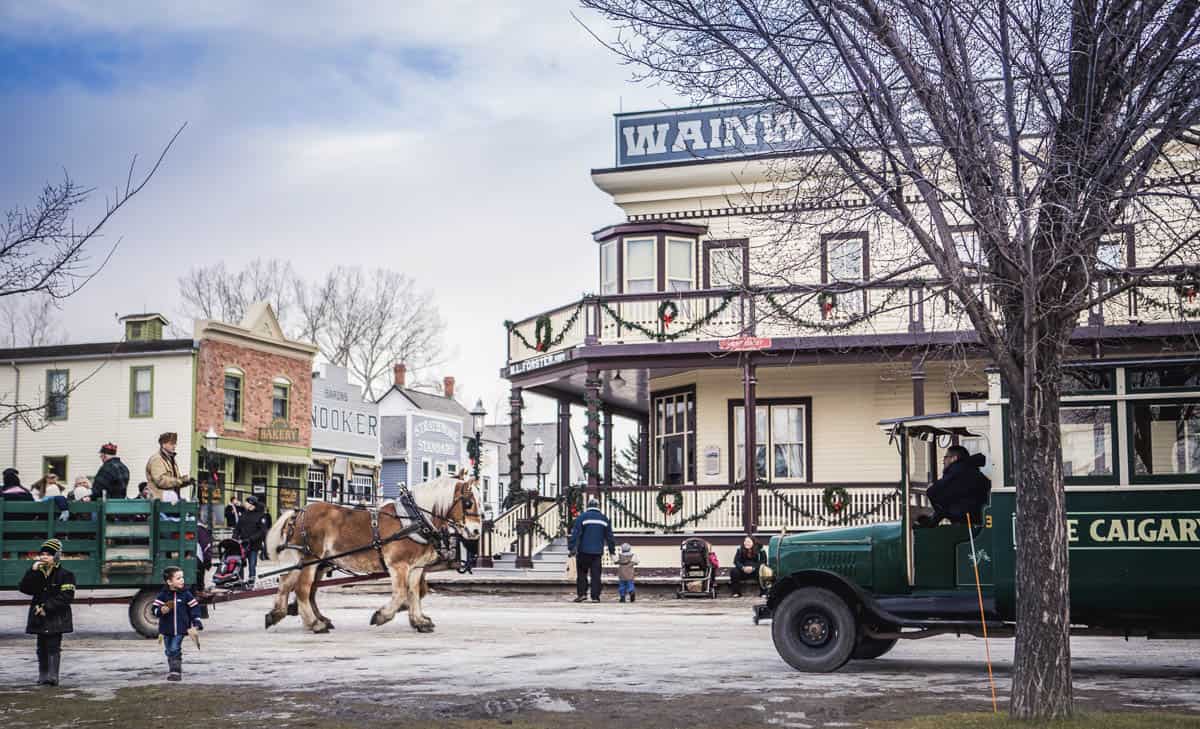 Inglewood Night Market
You'll know Christmas in Calgary has officially kicked off when the Inglewood Night Market heads indoors. This popular Calgary staple adds a holiday twist during the month of November, hosting an indoor event that includes delicious food from local hotspots, live music and entertainment, and vendors selling everything from homemade goods to electronics to antiques. The Inglewood Night Market is open every Friday and Saturday in December from 5pm – 10 pm. Tickets are just $5 and proceeds go to charities that operate out of the city.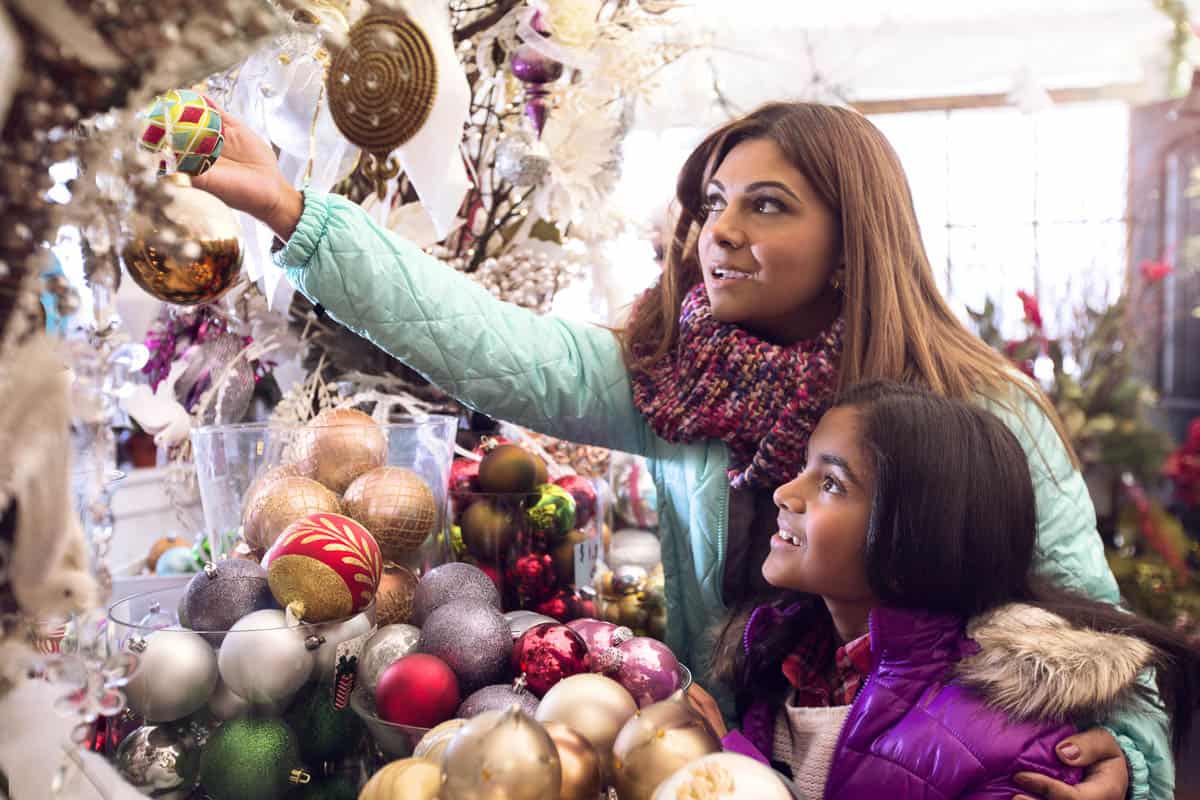 Authentically Indigenous
Established in 2015, the Authentically Indigenous Marketplace is where people of all walks of life can come to learn about and celebrate Indigenous culture and support local Indigenous creatives. Beadwork, jewelry, books, blankets, and paintings are just some of the treasures that are waiting to be found. The market is located at Kerby Centre in SW Calgary and is open from 10 am til 5 pm on December 10 and 11. There is a small fee of $5 for entry, but kids under the age of 12 are free and weekend passes are available for just $8.
Spruce Meadows International Christmas Market
One of Spruce Meadows' most special events, the International Christmas Market gives visitors a chance to sample staple Christmas food from all around the world. The Global Food Market & Concession hosts local vendors selling international delights from Canada to the Caribbean to Burma and beyond. Fill your belly, then head to the Riding Hall to meet Santa's reindeer. Note that the reindeer will be at the market every Sunday.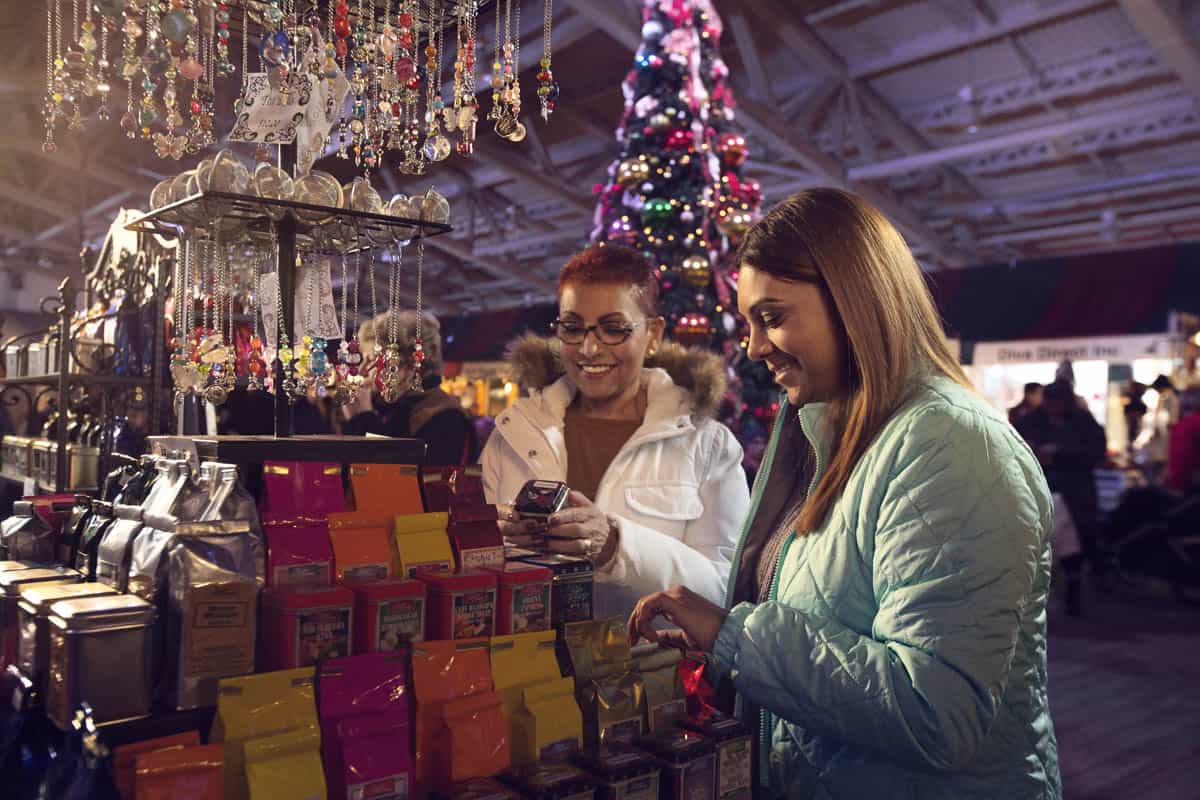 Where to Find Santa in Calgary
It's easy to find Santa in Calgary during the Christmas season! He'll be making appearances at every shopping mall throughout December and at various Christmas markets throughout town. If you're looking for a special spot for that annual family photo with Santa we recommend the following.
Homestead Market
Visit Homestead Markets in Airdrie for The 2022 Ultimate Santa Experience. During select weekends in the months of November and December, the farm becomes Santa's Workshop and your kids will get a chance to meet Santa and tell him exactly what they want this Christmas. Time slots are reserved in advance, and specially priced photo packages ensure that it won't be a moment they soon forget. Visit the craft table afterward and bring home a specially-made Christmas treasure.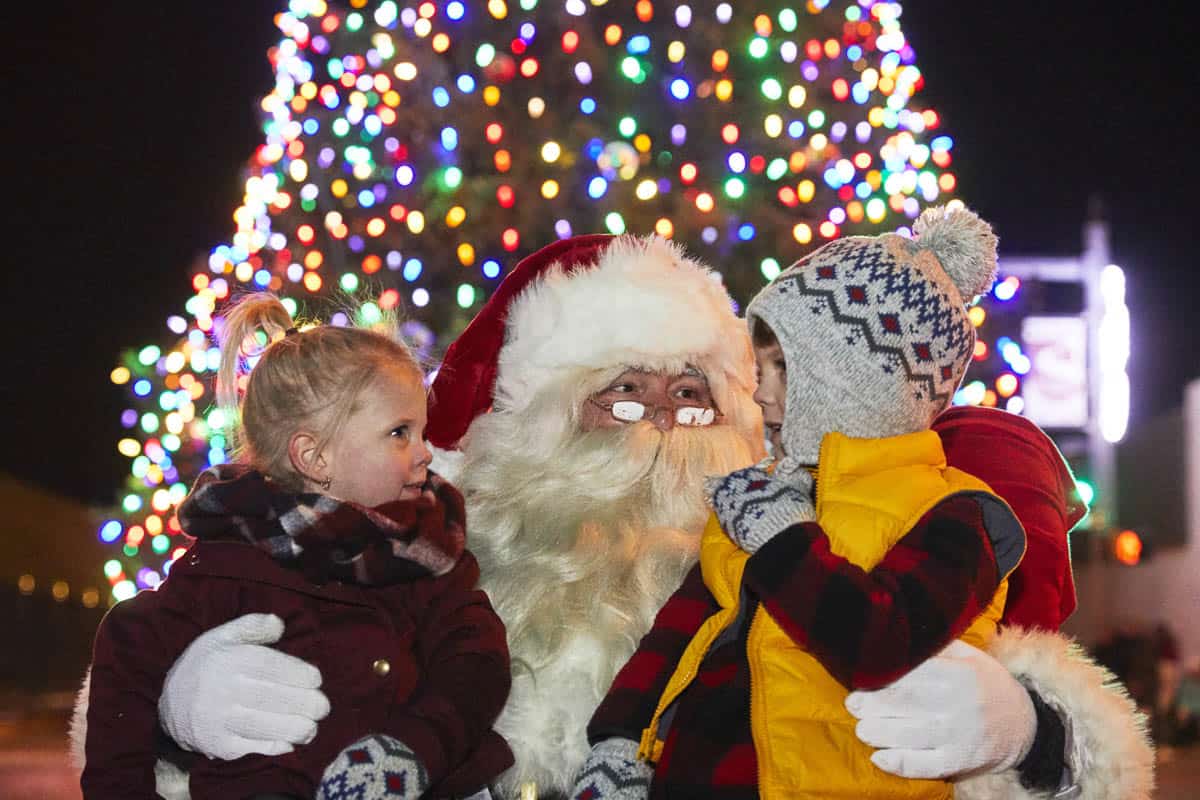 Granary Road Christmas Market
Granary Road's A Christmas to Remember' festival is the perfect place for photo ops with Santa. The expansive marketplace will be full of vendors so you can find that perfect gift, and there will be a wide range of fun outdoor activities like wagon rides, alpaca photo ops, and s'more making. A special breakfast with Santa will be held each weekend leading up to Christmas day at the market. Pre-registration is required for this and other activities, but entrance to the market itself is completely free. A day of fun is all but guaranteed, so be sure to reserve your spot.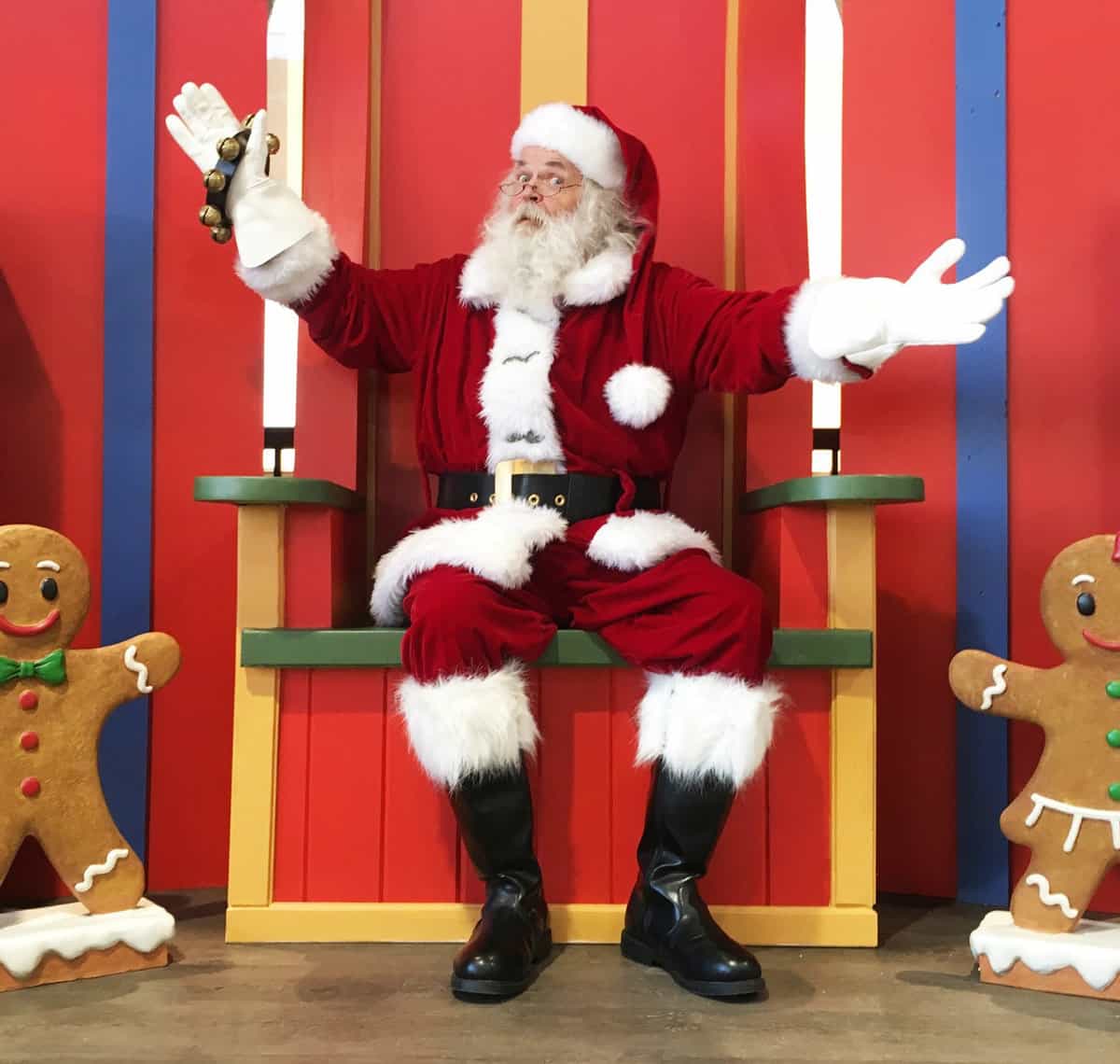 Christmas Carols, Plays, and Concerts in Calgary
The Immersive Nutcracker – A Winter Miracle
From the producers of the popular 'Immersive Van Gogh' comes 'The Immersive Nutcracker'. One of the most loved holiday tales is coming December 1 to the BMO Centre with over 500,000 cubic feet of wonder. Guests will be treated to the music of Peter Ilyich Tchaikovsky's and his iconic selections such as "The March of the Toys" and "The Dance of the Sugar Plum Fairy". There will be lots of special effects, a giant-sized Nutcracker, and plenty of chances for photos. Book tickets for this magical experience today!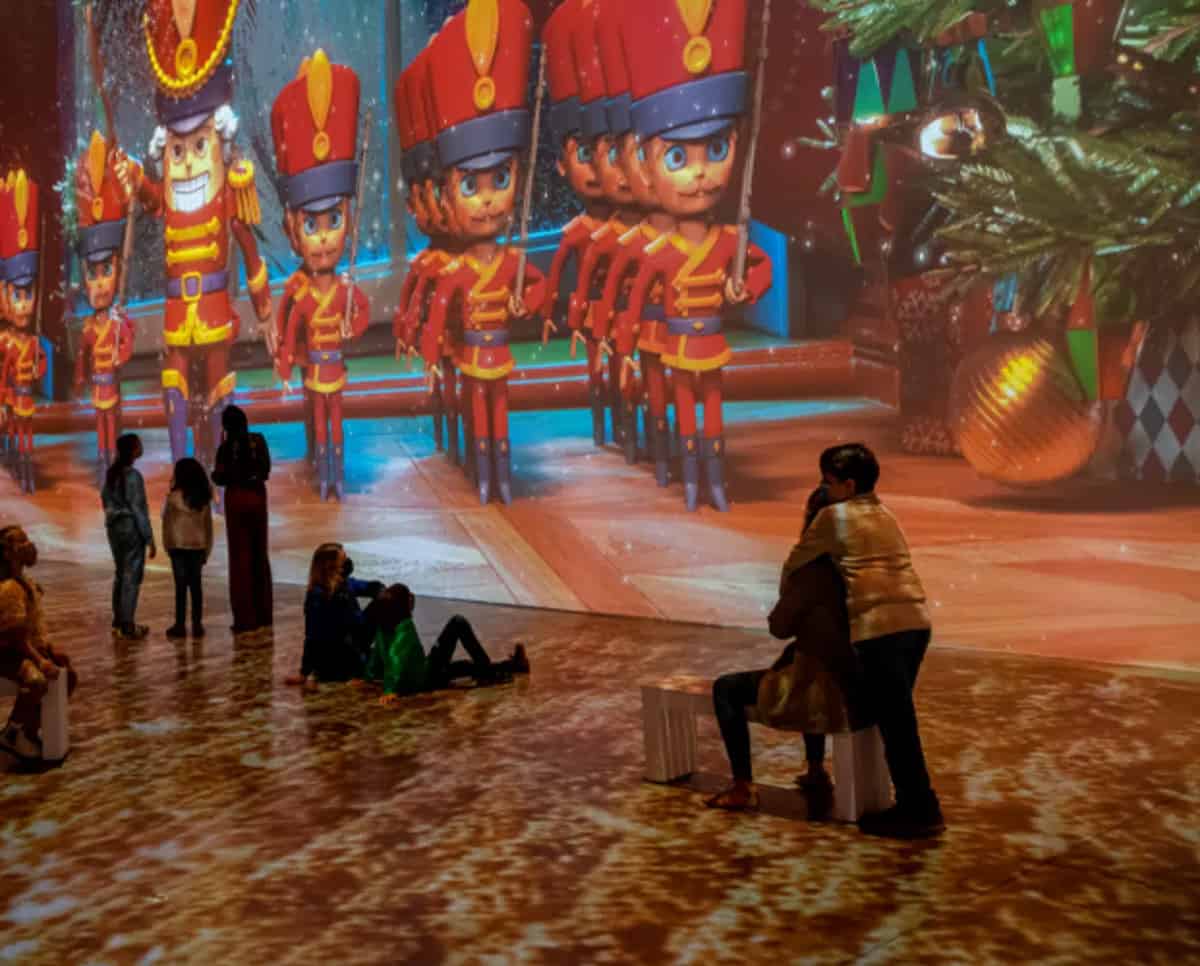 The Calgary Philharmonic Orchestra
Take in the soothing sound of Christmas carols sung by the Calgary Philharmonic and Calgary Girls Choir. First, watch the Christmas classic 'Home Alone in Concert' set to live music performed by the Calgary Phil on Friday, December 9th, or Saturday, December 10th. Ticket prices range from $24-$89. Or take in the 'Traditional Christmas' show during the week instead at the Grace Presbyterian Church and enjoy classic Christmas carols performed by the Calgary Phil and Calgary Girls Choir. This is one of the most popular events in the city, so be sure to get your tickets early.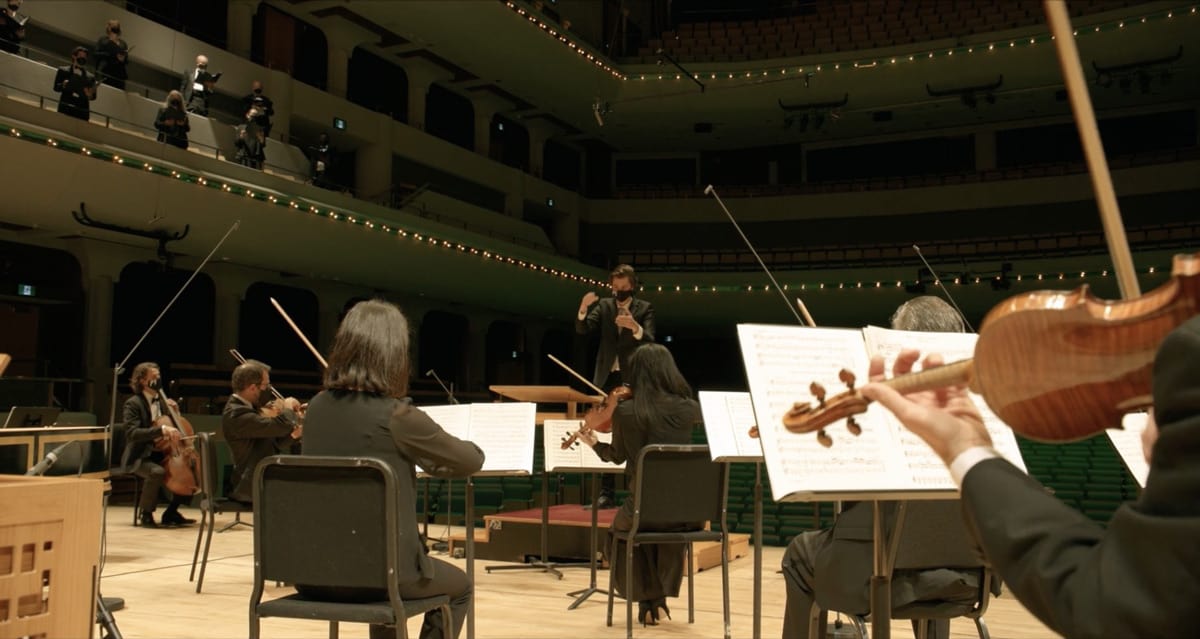 Max Bell Theatre
If you're looking for more suggestions than just Christmas-themed shows in Calgary, then you should check out this season's lineup at the Max Bell Theatre. Theatre Calgary has an impressive selection this winter, including a performance of Little Women that runs all through December starting on the 7th.
Alberta Ballet – The Nutcracker
Every year, the Alberta Ballet puts on a magical and fun performance of E.T.A Hoffman's Christmas classic, The Nutcracker. This year, fans are promised some new and exciting elements during Act 2's Kingdom of the Sweets. In Calgary, the Nutcracker will be performed at the Southern Alberta Jubilee Auditorium during the 3rd week in December, from the 16th-24th.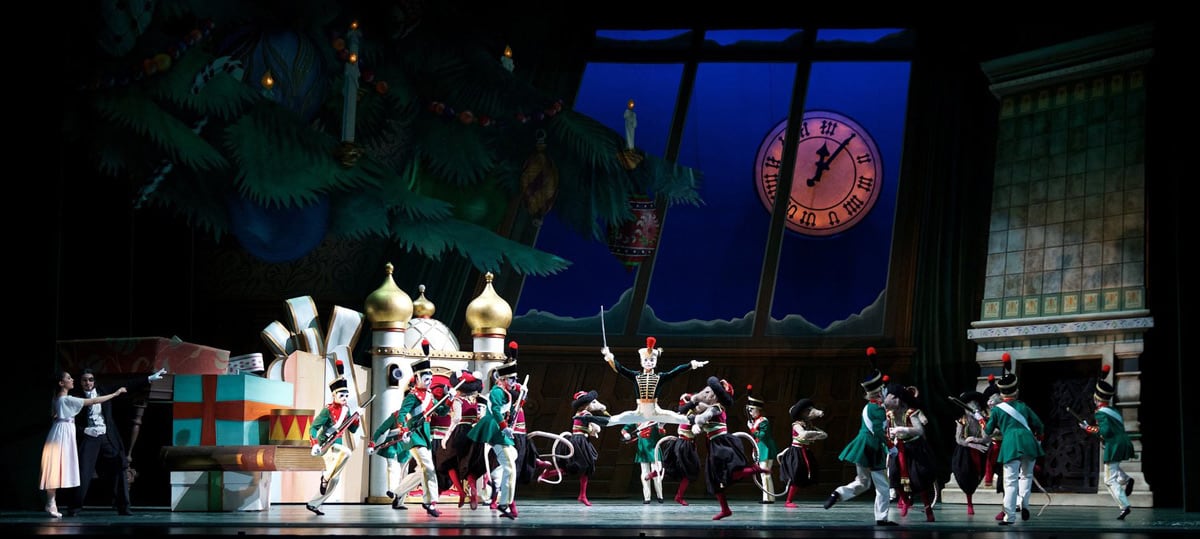 Christmas Shopping in Calgary
There are plenty of spots throughout Calgary to find that perfect Christmas gift. If you don't find what you're looking for at the Christmas Markets, check out these popular malls and outlets.
CF Market Mall
CF Market Mall, located in the northwest suburban neigbourhood of Varsity, is one of Calgary's largest malls. The mall is open from 10 am- 9 pm throughout the week, and with so many shops to choose from, they have everything you need to get a head start on your holiday shopping. Check the website for a full list of retail spaces available and to find out their extended holiday hours, including Christmas Eve hours for those last-minute shoppers.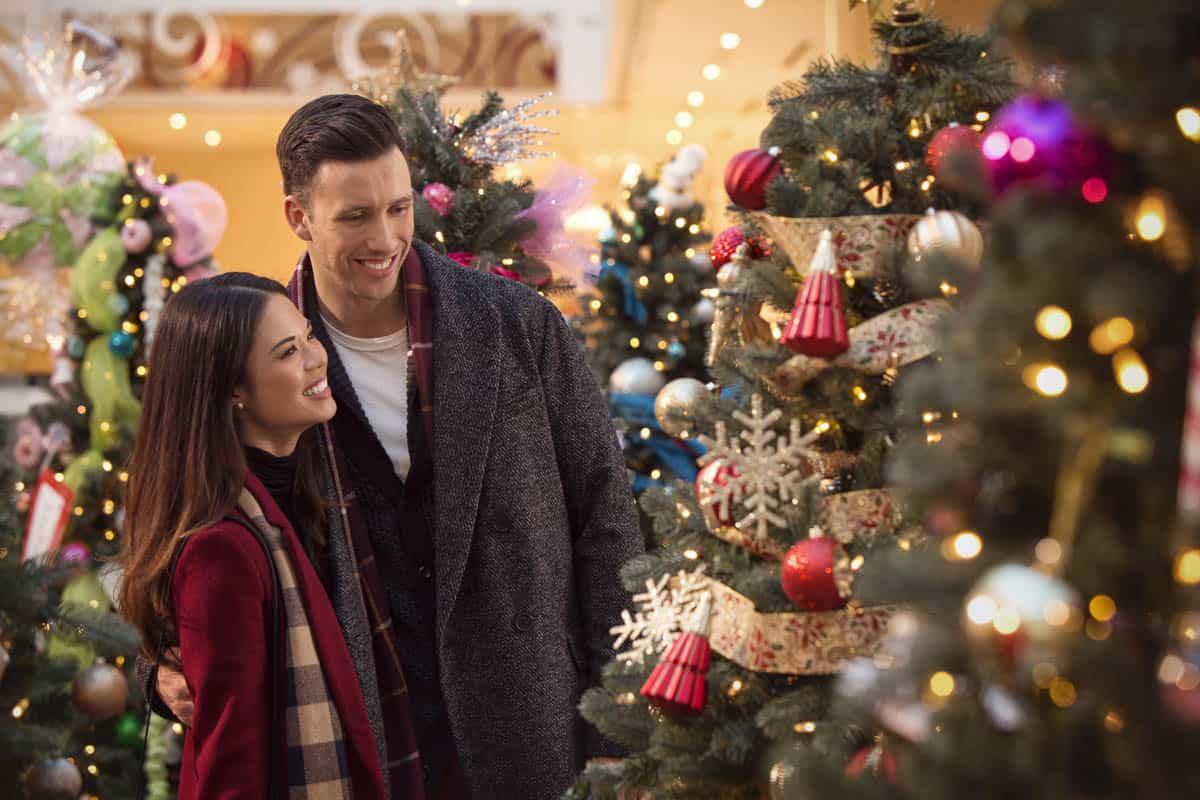 Deerfoot City Mall
Deerfoot City Mall is a huge outdoor shopping centre in Calgary's northeastern quadrant. With over 1 million square feet of retail space, the place is packed with retail shops, restaurants, specialty grocery stores, and more. You're sure to find something for everyone on your list in Deerfoot City.
CF Chinook Centre
Chinook Centre is Calgary's biggest and arguably most popular mall. Conveniently located in SW Calgary, just 5 km from the city centre and steps away from the C-Train, the shopping centre boasts hundreds of retail spaces to choose from. They really have it all here, from high-end department stores to seasonal pop-up stores and everything in between. It's also a local favourite for Boxing Day sales, but you'll need to be there well before opening hours to reserve your spot in line.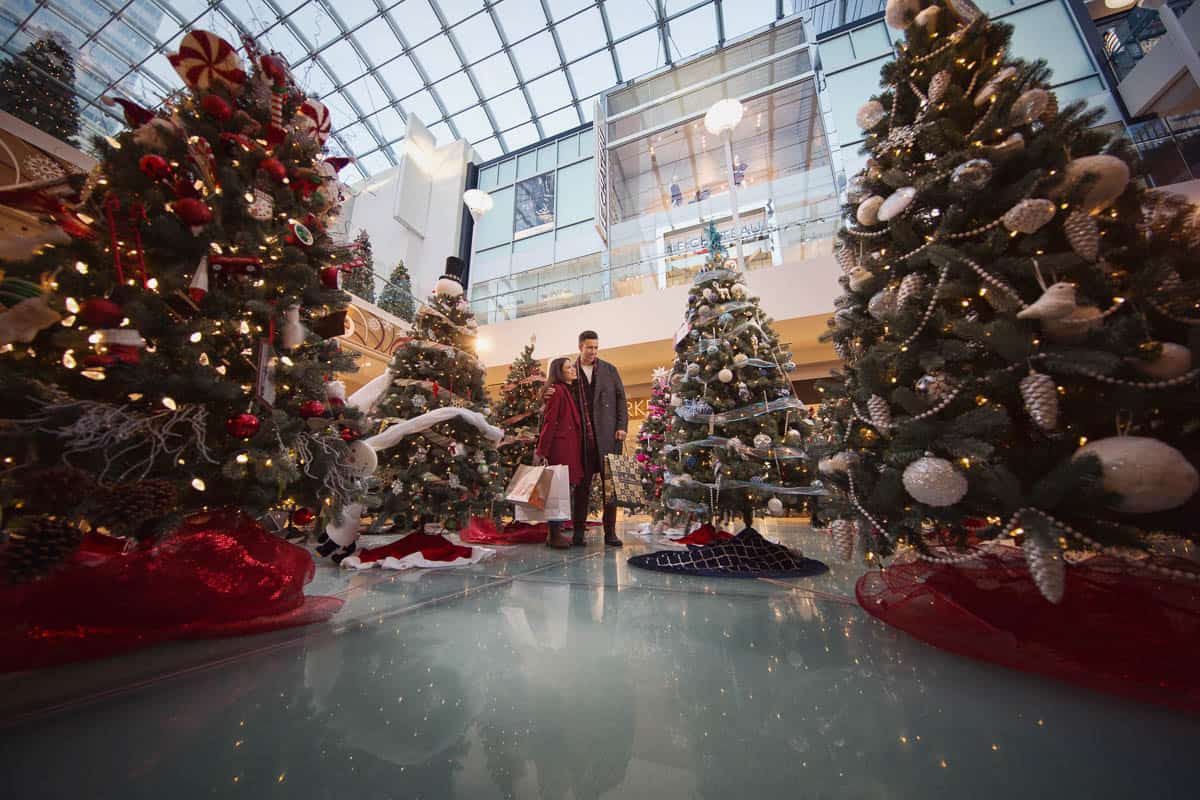 CrossIron Mills Mall
Finally, CrossIron Mills mall is a bit out of the way, located north of the city between Calgary and Airdrie. However, the abundance of shops, including brand names and outlet stores, make the trek well worth it. Visit their website to find out more about exclusive sales and promotions.
Other Christmas Events and Fun Winter Activities in Calgary
Telus Spark Science Centre
The Telus Spark Science Centre is hosting two events this winter to keep your spirits merry and bright. 'Twinkle Twinkle Little Spark' will give visitors of all ages a chance to witness a sparkling night sky from the warmth and comfort of the Infinity Dome Theatre. 'Sparkle Sparkle', open from December 1st-January 2nd, is where science meets Christmas. A completely immersive experience, Sparkle Sparkle aims to top up your dopamine reserves as we head into the dark days of winter.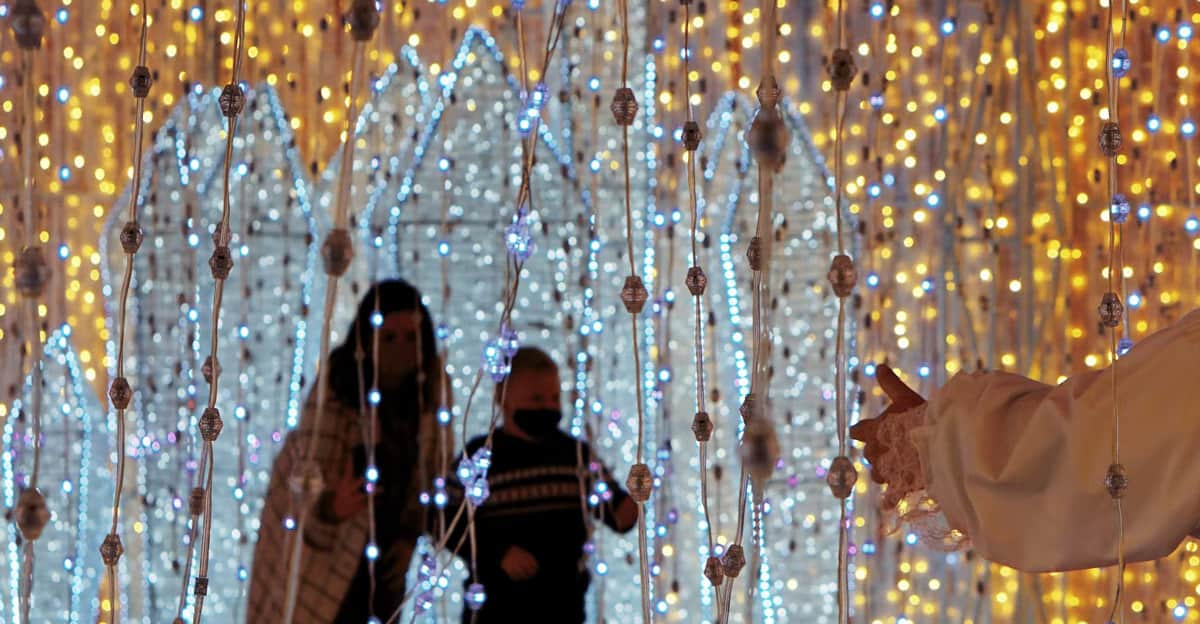 Skating
Skating is practically synonymous with winter, and there is no shortage of outdoor rinks in Calgary, so why not lace up your skates for a day of fun on the ice? No matter where you live, there's sure to be an outdoor skating rink nearby. Be sure to check out Olympic Plaza, Prince's Island, Panorama on the North end, or Shawnessy in SW Calgary.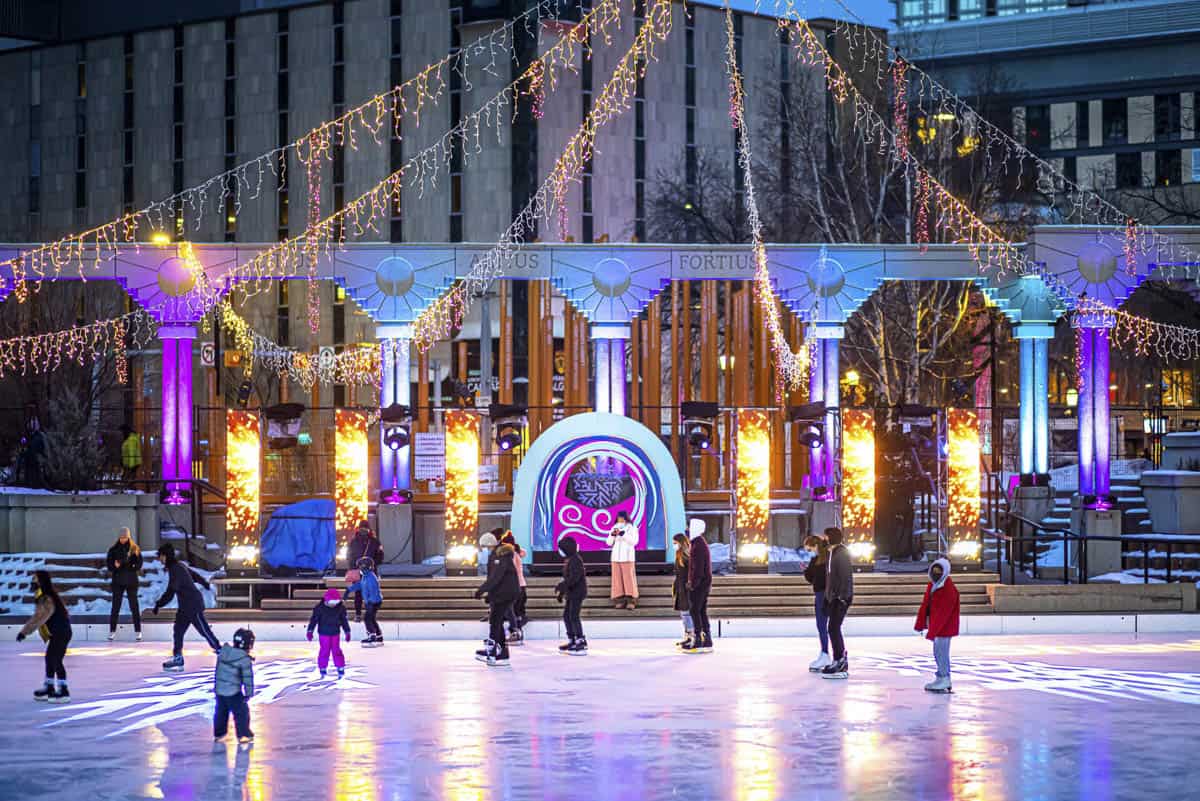 Sledding
Hands down, sledding is one of the best outdoor activities winter has to offer, and Calgarians know exactly where to once the snow starts to fall: Confederation Park. Located in Calgary's northwest quadrant, Confederation Park has more than one hill to choose from with varying steepness, so both toddlers and teens can enjoy this park. Far from busy streets, the park is also full of scenic walking trails and even a couple of outdoor skating rinks, completely free of charge.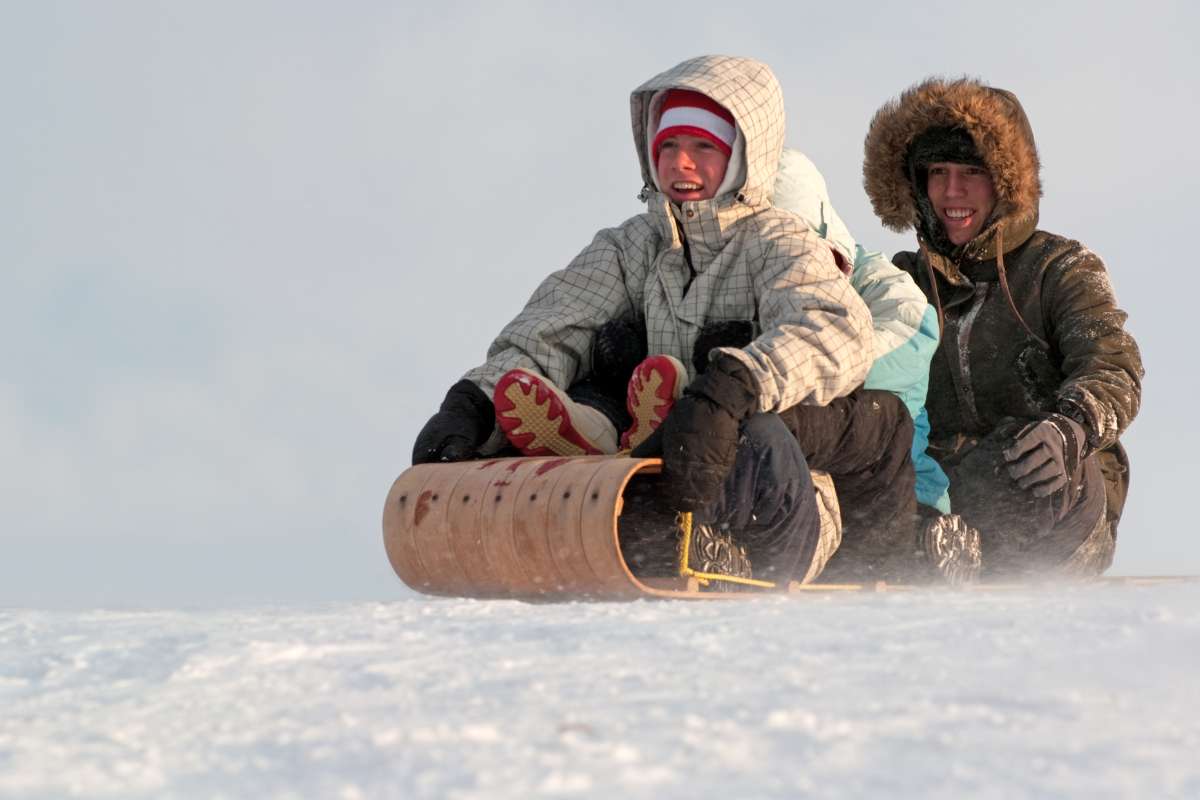 Looking for more holiday cheer?
And if you are going to be in Cowtown for the end of the year, don't miss out on these fun ideas for new year's eve in Calgary.