Disclaimer: This page may contain affiliate links. Please review our full Terms and Conditions for more information and our Privacy Policy. Note that any pricing, operating hours, or other such information provided below may have changed since initial publication.
Compiled by the Road Trip Alberta team
Last updated on November 19, 2022
With towering snow-capped mountain peaks, bubbling hot springs, and idyllic winter scenes everywhere you look, Banff National Park is a magical place to spend the holidays. Every year, Banff townsite is transformed into a winter wonderland complete with all kinds of activities that the whole family can enjoy including sleigh rides, Christmas markets, carol singers, Christmas crafts, and photo ops with Santa.
So why not mount those winter tires, head west, book one of the cozy cabins in Banff, and discover all that Christmas in Banff has to offer?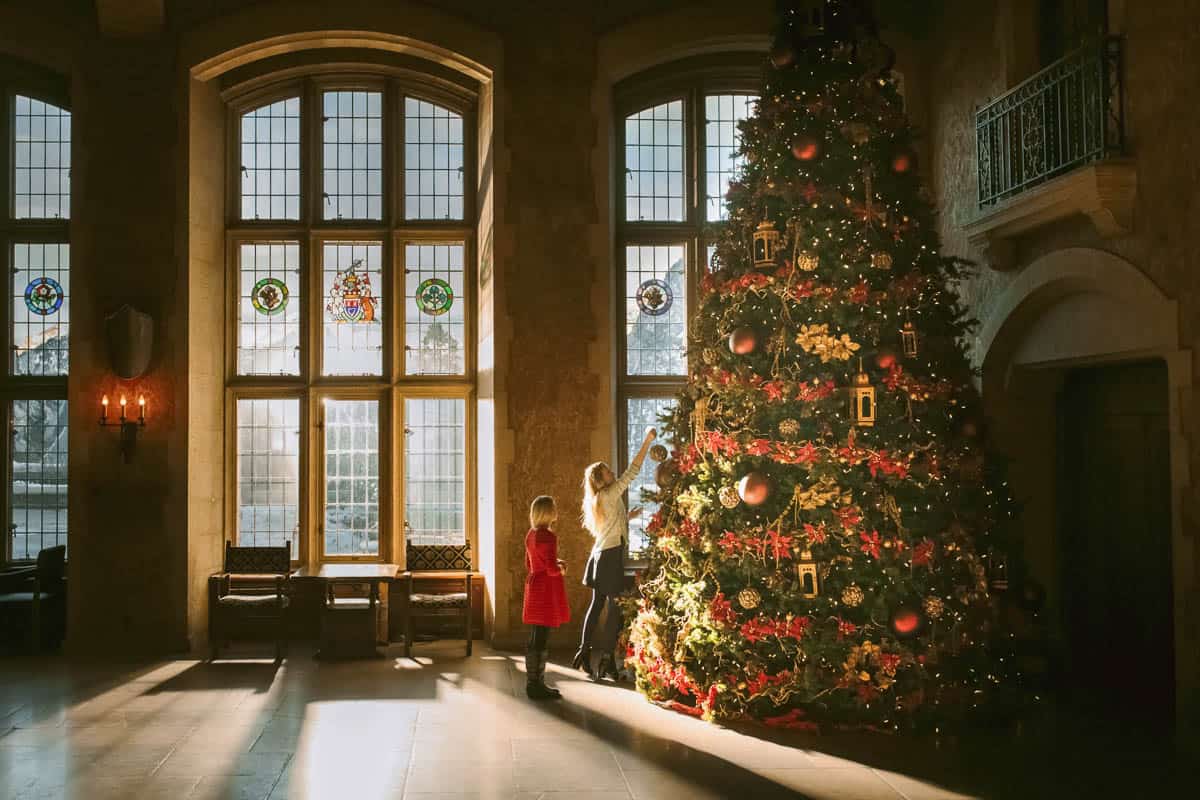 Celebrating Christmas in Banff National Park
Banff National Park is the crown jewel of the Canadian Rockies, and Banff at Christmas is a sight to behold. The ski resorts become virtually unrecognizable when the Christmas decorations come out, and there is a ton of extra special holiday magic in both Banff and the nearby hamlet of Lake Louise throughout the holiday season. How about taking a horse-drawn sleigh ride in both Banff and Lake Louise with that special someone?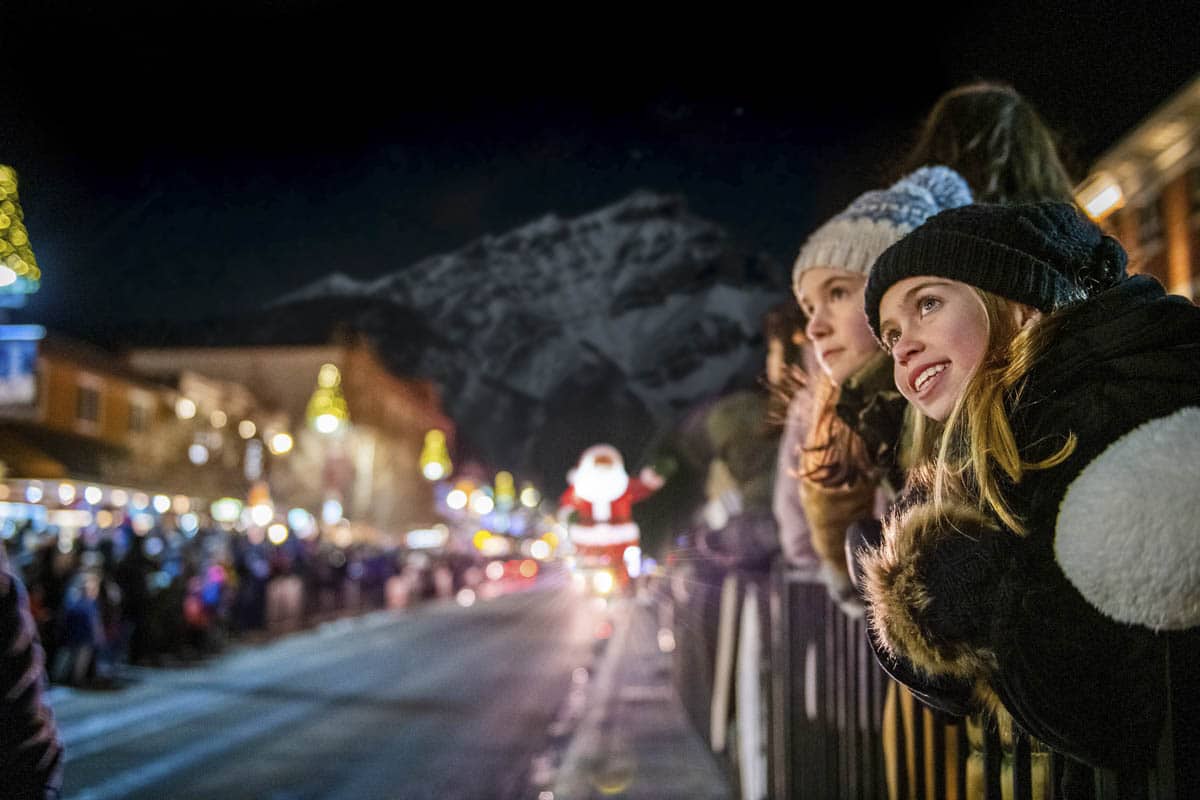 Try ice skating and visiting the ice castle on the iconic Lake Louise, or perhaps wander around downtown Banff, admiring the colourful decorations that adorn Banff Ave. How about some winter hiking? Many hikes in Banff are even more beautiful once they're covered in snow. And the perfect way to end the day? Take a soak in Banff Upper Hot Springs, or sip on a hot chocolate in front of a fire found along the Banff festive hot chocolate trail.
Whatever tickles your fancy, you won't be disappointed if you choose to spend this Christmas in Banff.
Finding the Best Christmas Lights in Banff National Park
Nothing screams Christmas more loudly than twinkling lights. Banff's Christmas lights can be enjoyed at dozens of locations, but anyone visiting Banff at Christmas can tell you there are a few places that stand among the rest. Here are just a few where places you can check out beautiful Christmas lights in Banff.
Cascade of Time Garden
The Cascade of Time Garden can be found along Cave Avenue in Banff town. During the Christmas season, an interactive holiday experience called In Search of Christmas Spirit descends upon the garden to tell a captivating story of appreciation told from the point of view of the wildlife that calls Banff National Park home. Illuminated sculptures, rows of lights, and realistic sound effects complete the experience. In Search of Christmas Spirit runs on select days from November 23 until the end of December, and tickets can be purchased online. Dress warm, as the event is completely outdoors.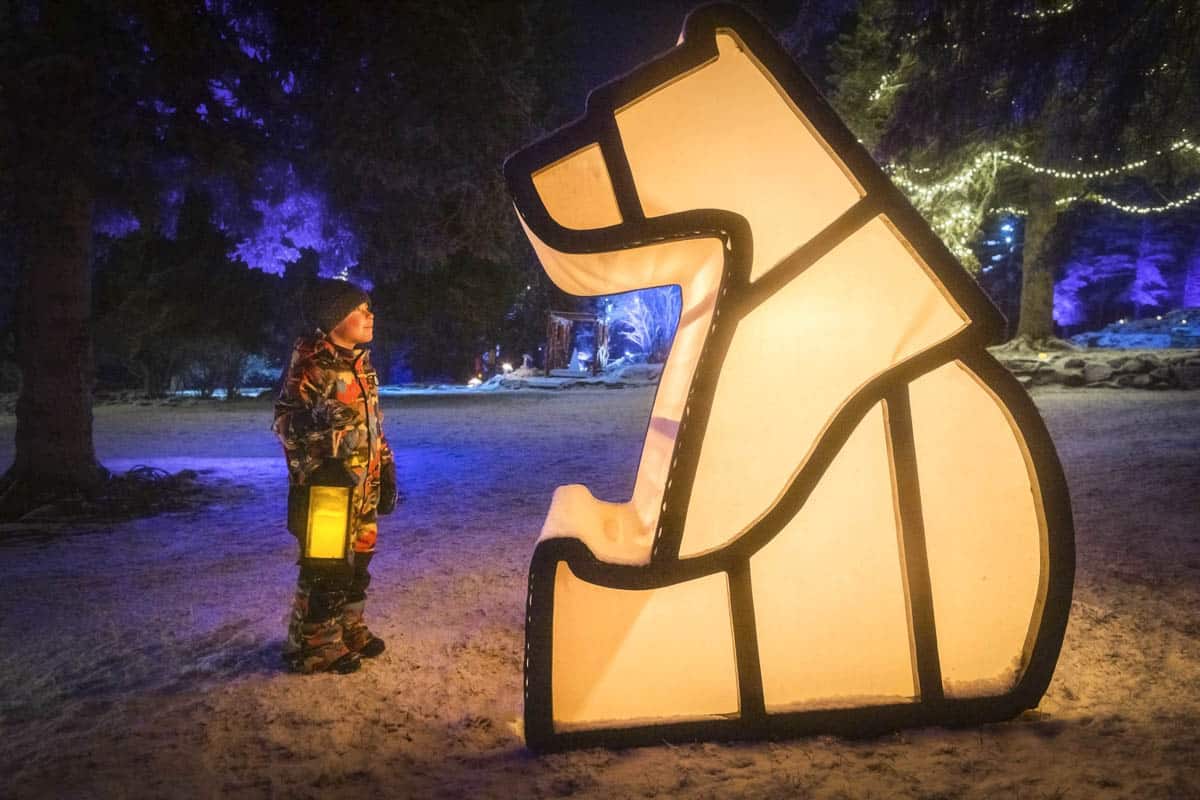 Downtown Banff
As the shops, restaurants, and hotels that line the streets of downtown Banff light up, so you will surely find your festive spirit as you wander up and down the lanes and avenues. Sip on a hot drink as you admire the twinkling lights, or munch on a Beaver Tail, a true Canadian classic. Banff Avenue is a great place to start.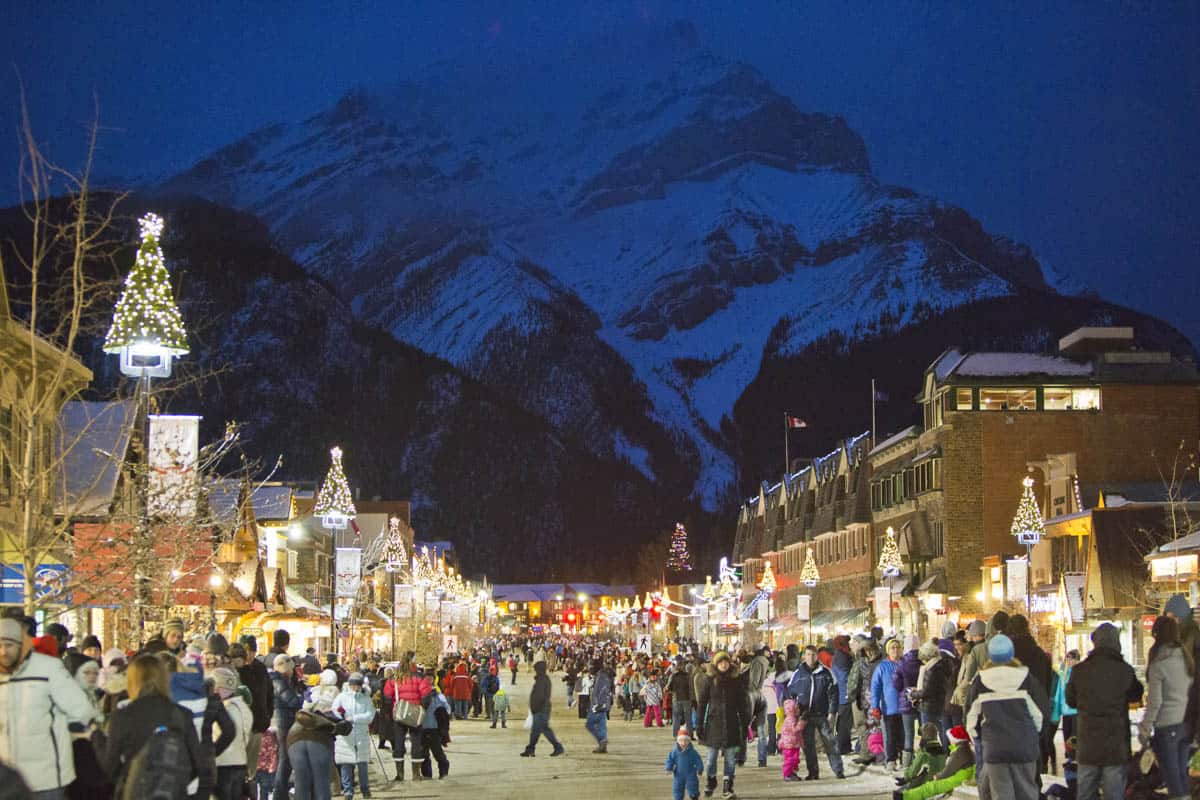 Fairmont Chateau Lake Louise
Nothing screams Banff Christmas more than the Fairmont Chateau Lake Louise, it lights up inside and out during the holiday season. On the lawn, towering trees sparkle in shades of blue, green, and red. In the main lobby, a gigantic, fully decked-out Christmas tree sits beneath a stunning chandelier. While spending the night can be a bit expensive, it costs nothing to visit the Chateau simply to admire the lights and it is a surefire way to get into the Christmas spirit. Fairmont's location right on Lake Louise just adds to its beauty and wonder.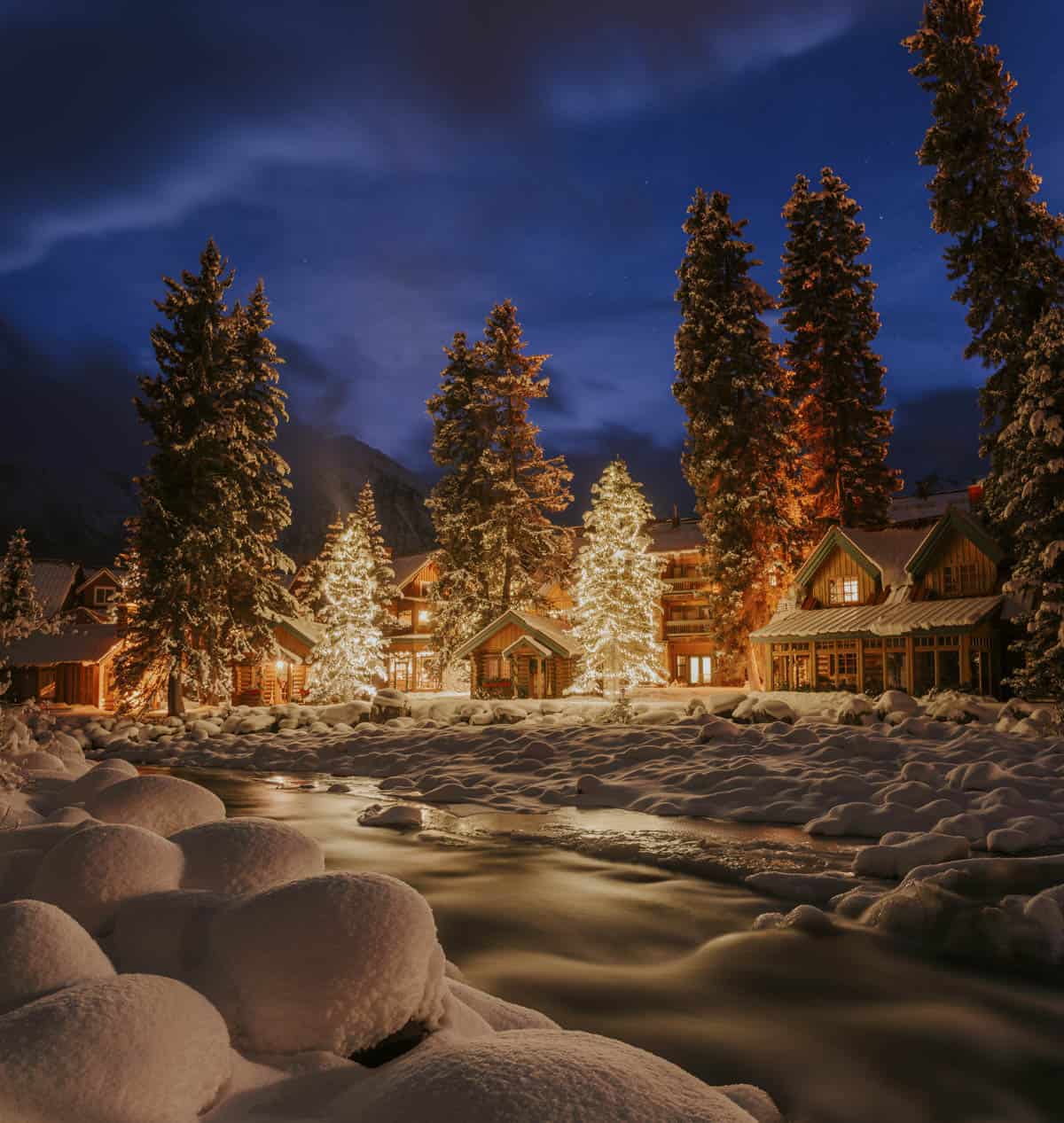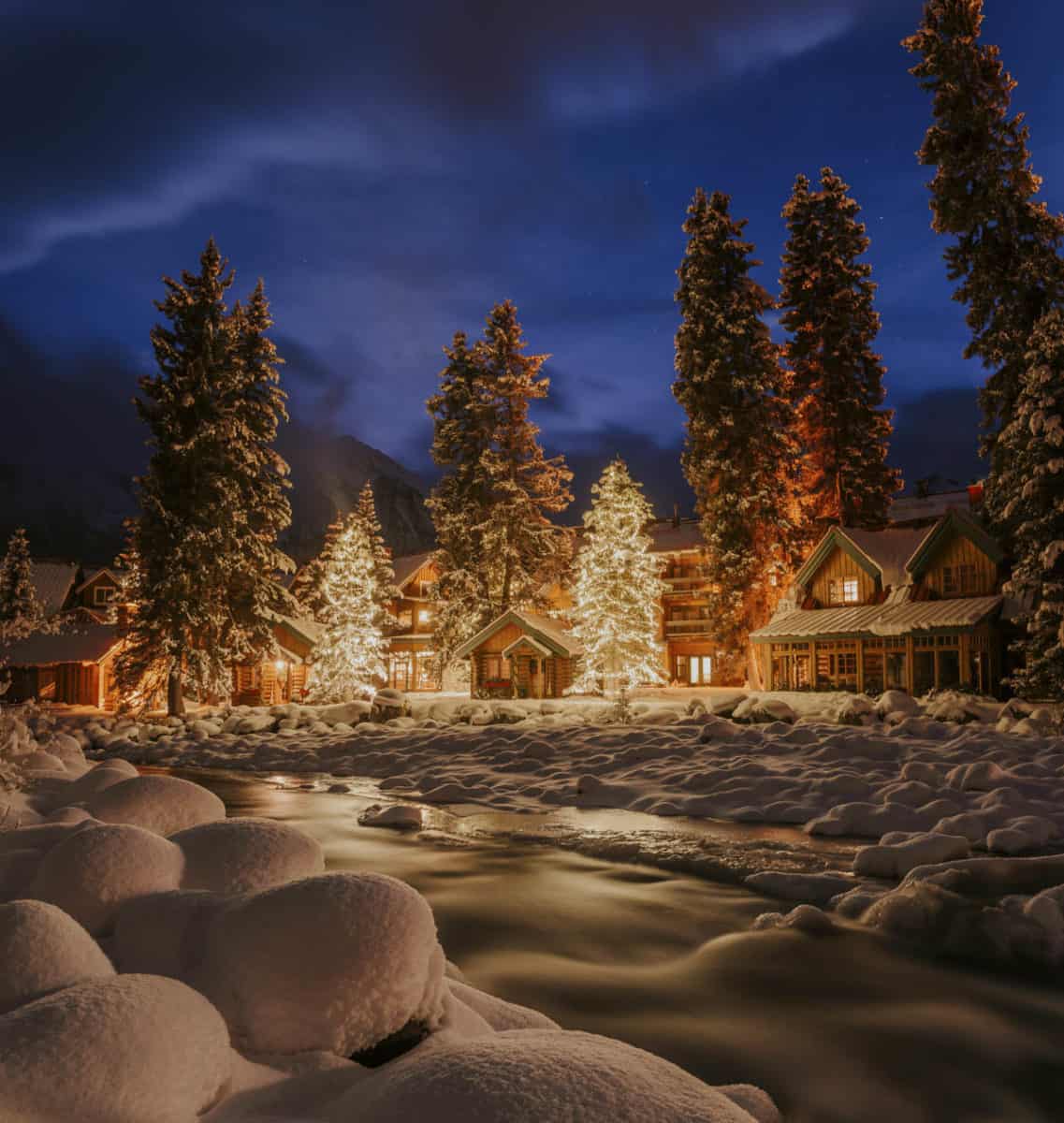 Fairmont Banff Springs Hotel
Similar to the Fairmont Chateau, the Fairmont Banff Springs Hotel transforms into an enchanted Christmas castle and features a spectacular light display during the Christmas season. If staying at the hotel breaks the bank, you can still enjoy the lights at the hotel's winter event, Christmas At The Castle.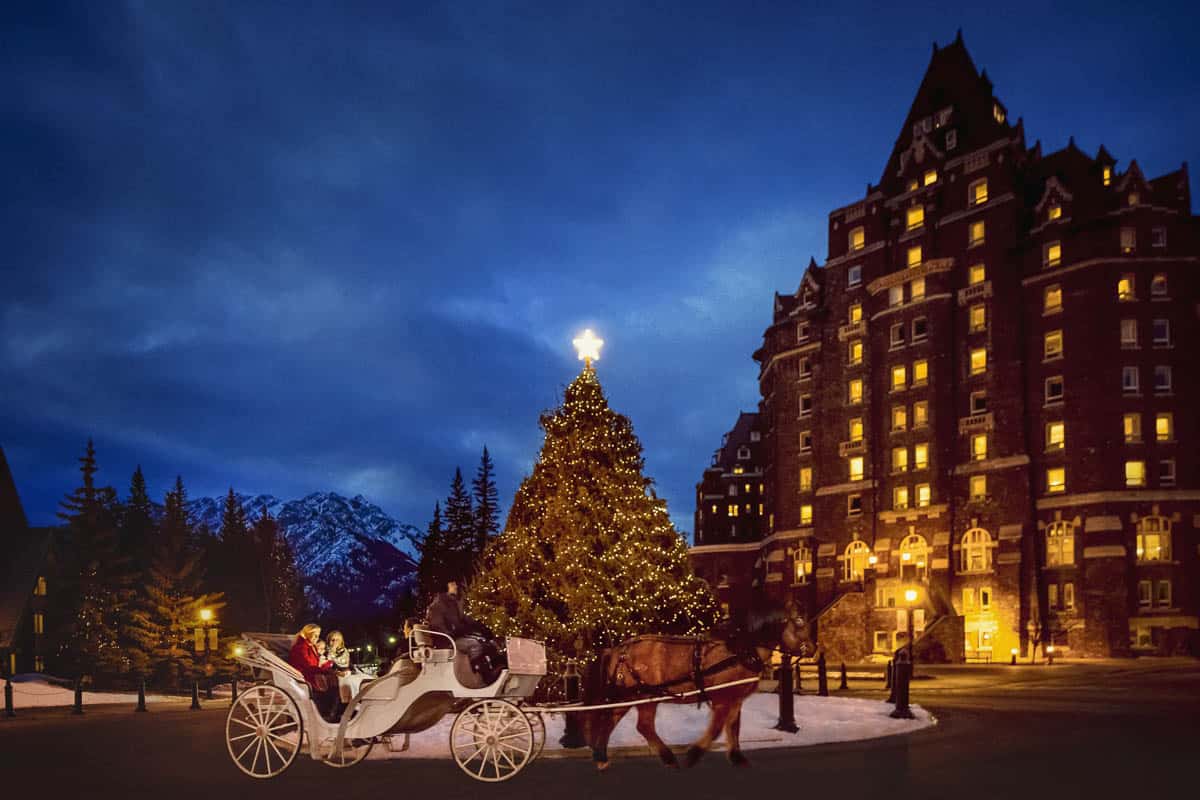 The CP Holiday Train
Seeing the lit-up CP Holiday Train is magical as it makes its way across Canada. The train departs Montreal on November 27 and heads west towards Vancouver, making dozens of stops along the way. The decked-out train strives to spread awareness and garner support for food banks across Canada. For 2022, the train stops in Banff on December 13th at 7:00pm at the Banff Train Station. Don't miss out on the free live entertainment from MacKenzie Porter and Virginia to Vegas.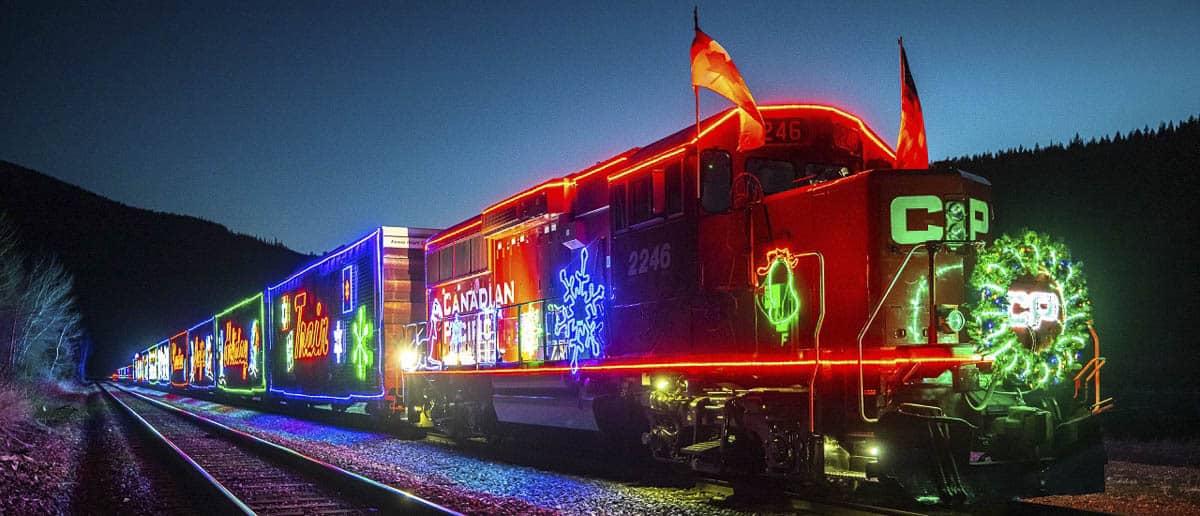 Visiting the Banff Christmas Markets
There are quite a few Banff Christmas markets to see during the festive season! If you're planning to spend Christmas in Banff, you can find that perfect last-minute holiday gift at any of these markets.
Banff Christmas Market
The Banff Christmas Market runs every weekend from November 18th until December 4th and is loaded with over 100 artisanal vendors, live entertainment, and plenty of Christmas treats to eat and drink around the outdoor fire pit. Tickets must be pre-purchased but are only $10 per person, and kids under 10 years old are free. The market grounds can be found at Warner Stables.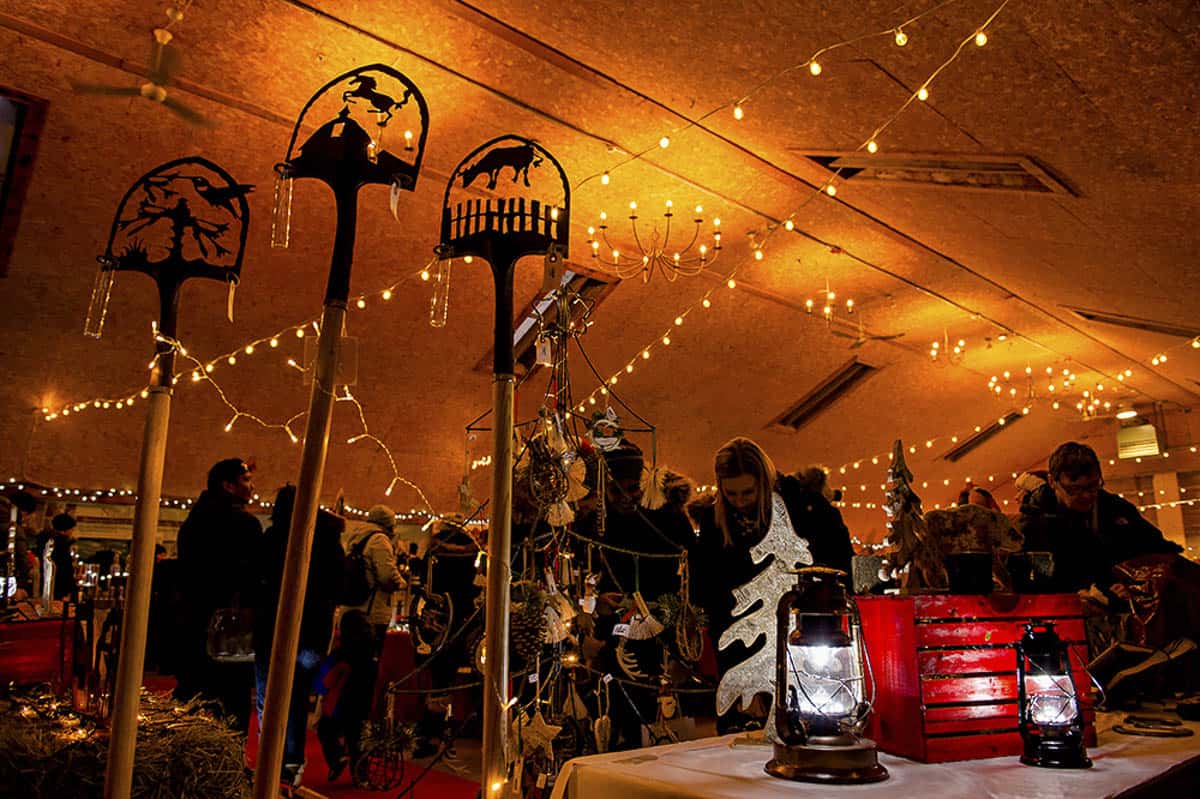 Bear Street Holiday Market
The Bear Street Holiday Market can be found right in the heart of Banff and is an essential slice of a Banff Christmas. Browse through the stalls and support local artisans and vendors to find the perfect gifts, sample signature Banff treats, and then top off your day by enjoying a delicious dinner at any of the restaurants that dot Banff Avenue. The Bear Street Holiday Market runs from December 10 – 31 on select dates, so check the link above!
Christmas Carols, Plays, and Concerts in Banff
Carols at the Park
There is nothing like Christmas carols to get you in the holiday spirit, and this extra special Christmas concert, held in Banff Avenue Square on several Saturday nights from November through to January (see the schedule here) promises not to disappoint.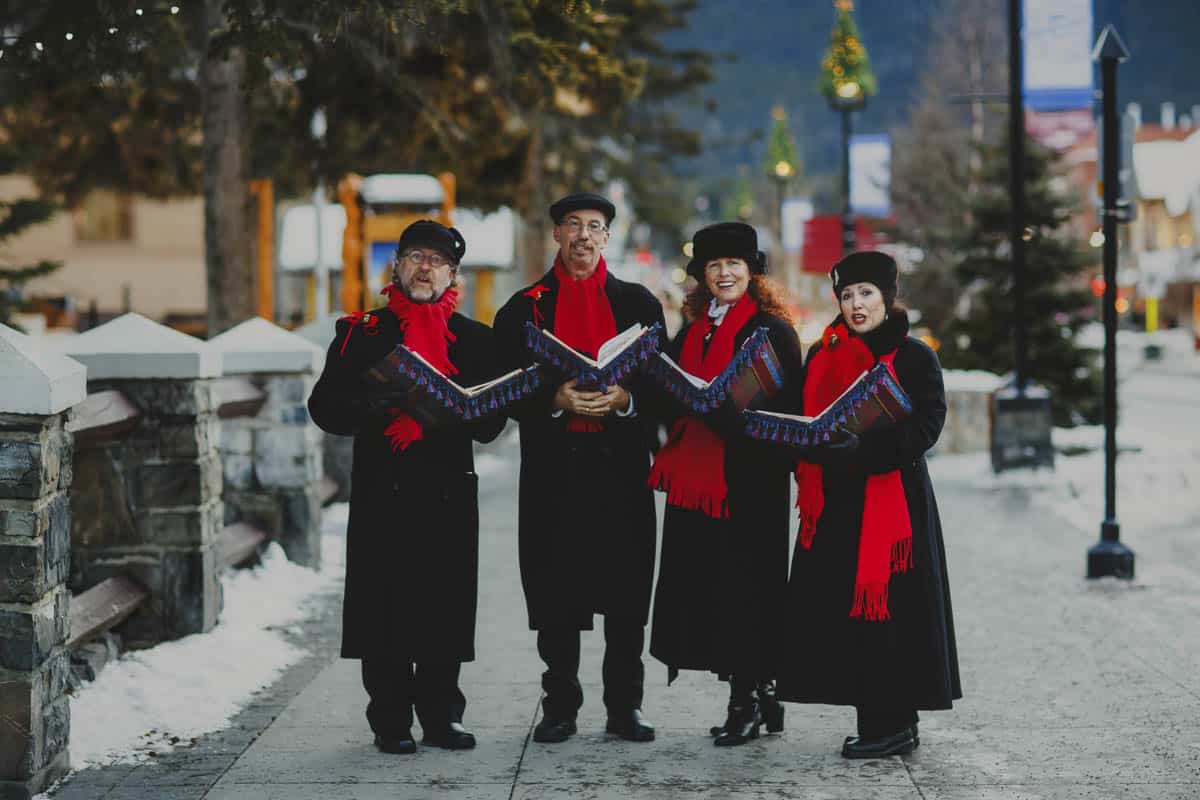 Country Christmas Dinner
The Brewster Country Christmas Dinner is a super fun way to experience Christmas cheer and the rustic country charm Alberta is known for. Guests begin at the Fairmont Chateau Lake Louise and climb aboard a horse-drawn sleigh for a magical ride to the barn where you will be greeted by a live band playing country Christmas music. Bring the whole family and enjoy a home-cooked Christmas dinner, and maybe even learn how to line dance. The dinner is being offered on December 23, 28 and 30th. Get your tickets before they sell out!
Where to Find Santa in Banff
Santa has been known to spend time at Lake Louise and Banff at Christmas. You can find him at the Banff Springs or the Chateau Lake Louise, but here are a few of his other favourite local hangouts where you might just be lucky enough to see him.
Atop Sulphur Mountain
How about a visit to Santa atop a mountain? Experience a Mountaintop Christmas by taking the Banff Gondola up Sulphur Mountain. A stunning hike during the summer months, the ascent is much easier during the cooler months thanks to the Banff Gondola. Take in the breathtaking scenery as you ride the gondola to the mountain peak, where you will find Santa's Bakeshop, photo ops, and plenty more for all ages to enjoy. The Banff Gondola to Sulphur Mountain runs on Saturdays and Sundays only during the month of November, but starts daily runs on December 19th and goes until the 30th.
Tickets are recommended in advance and can be booked online.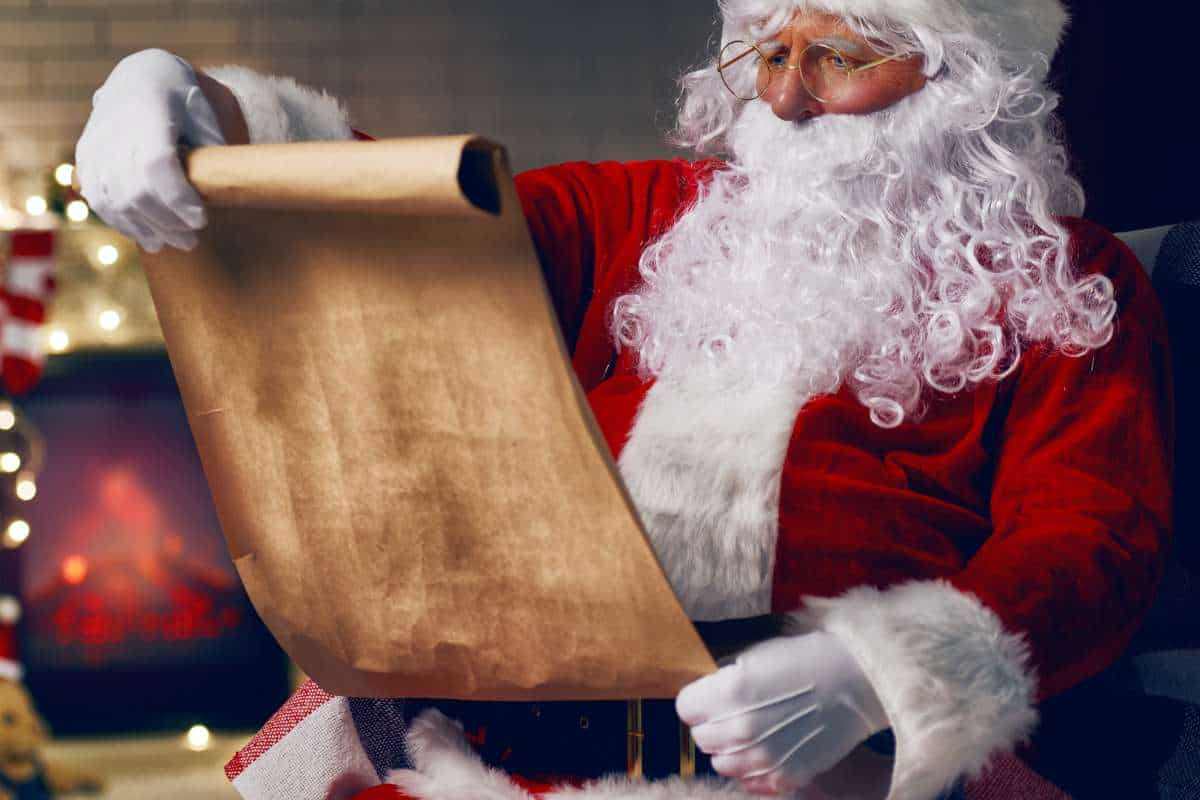 Santa's House and Reindeer Stables
A photo op with Santa is one of those must-do Christmas activities, and families visiting Banff at Christmas time head to Santa's House and Reindeer Stables to do just that. You can find him at Warner Stables during the Christmas Markets.
Santa Claus Parade
**Cancelled for 2022**
No Christmas in Banff National Park is complete without a visit to Banff town to see the Santa Clause Parade. Santa and his elves will be tossing candy canes down Banff Ave from Elk Street to Buffalo Street. Kids will even get the chance to take their picture with Santa and tell him all their Christmas wishes. It's one of those perfect Banff Christmas activities.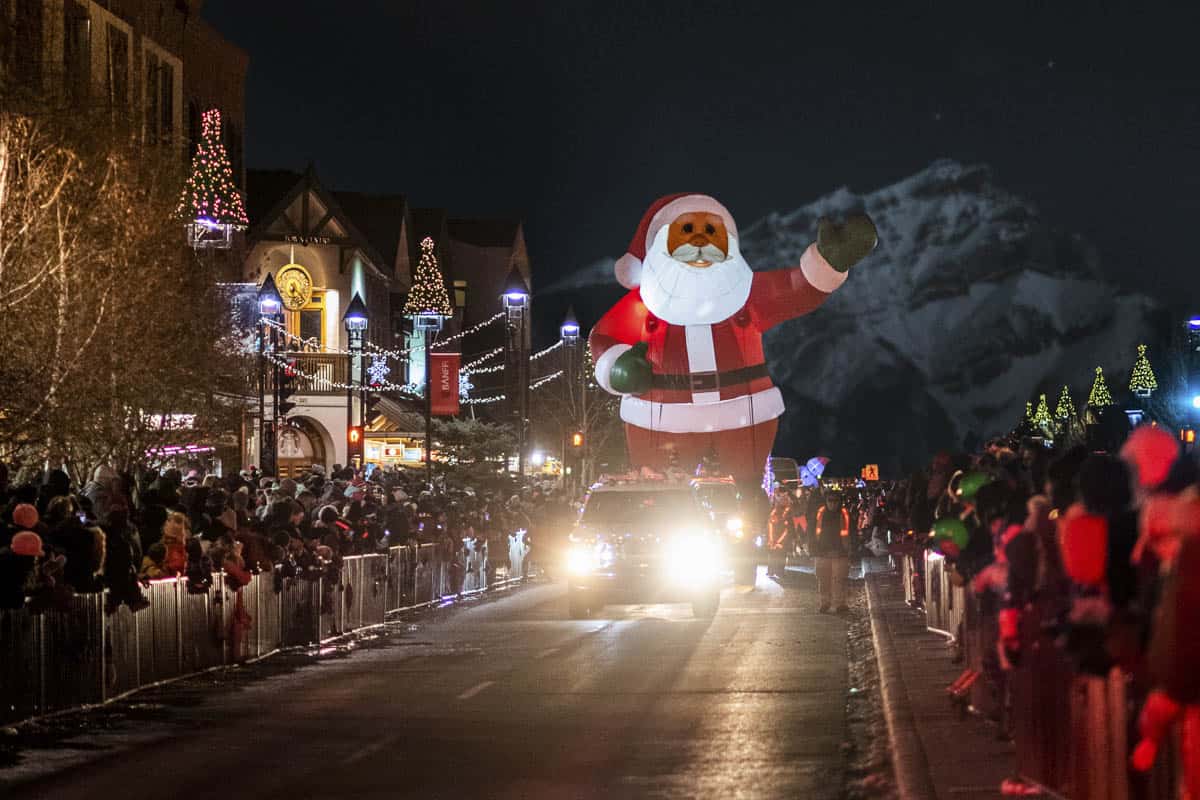 Santa on the Slopes
If you're planning to hit up a ski resort during your Banff Christmas, you might just be lucky enough to spot the Big Guy among hundreds of other Santas hitting the slopes on the days leading up to Christmas Day, even on Christmas Eve. You also may catch him and Mrs. Claus giving away candy canes near the chairlifts or throughout the resorts.
Santa on the Slopes is a traditional part of a mountaintop Christmas, taking place every year at Sunshine Village.
Christmas Shopping in Banff
It should be easy to find that perfect gift at Christmas at any of Banff's picturesque holiday stores. Simply wander downtown and pop into all the different shops and markets.
Spirit of Christmas Store
Anyone in search of Christmas spirit and those perfect Christmas gifts can find them at Banff's famous Christmas store, The Spirit of Christmas. Located on Banff Avenue, here you can find those perfect festive dishes for Christmas dinner, adorable trinkets that invite the holiday spirit into your home, and that special gift for your loved one to unwrap on Christmas Day.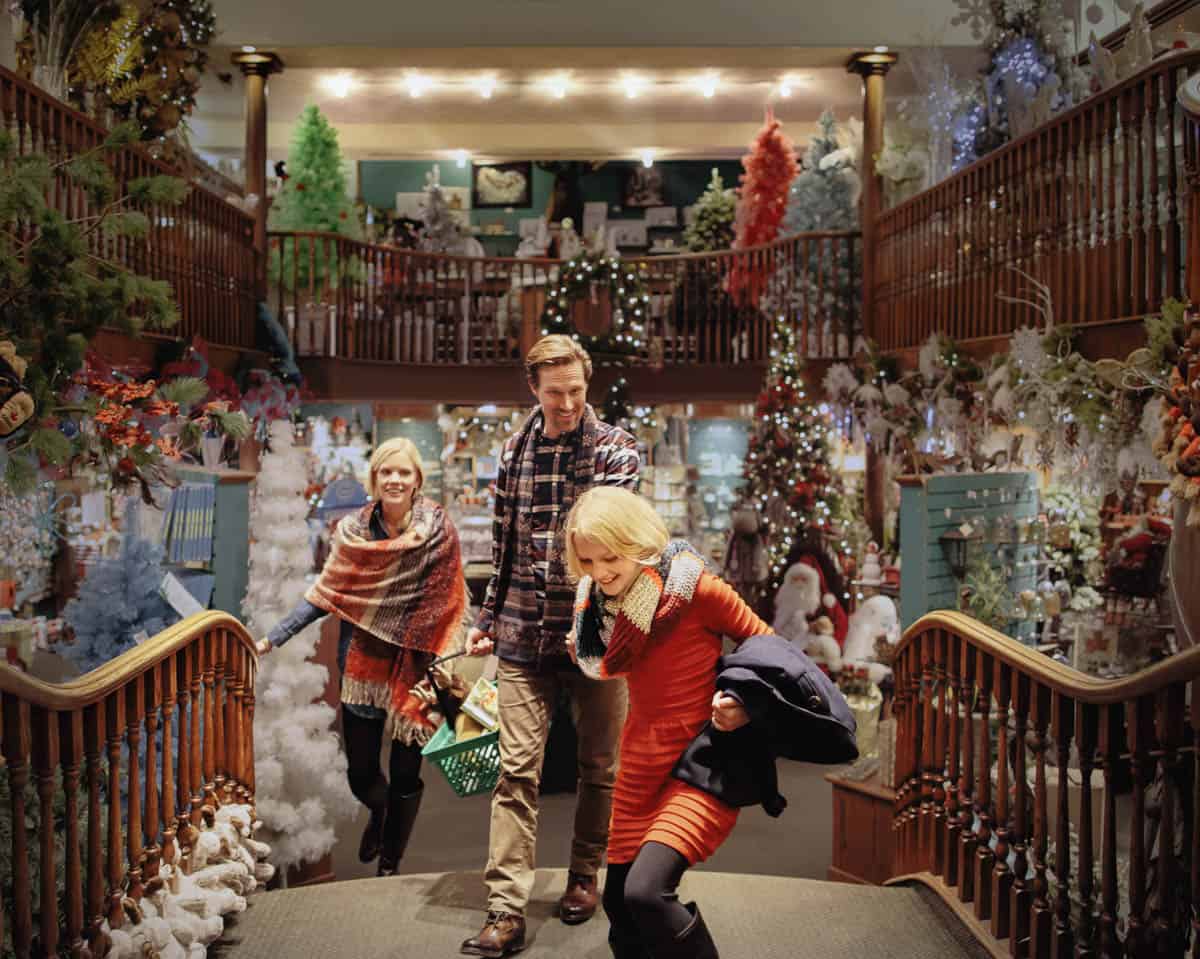 Other popular shops for Christmas shopping in Banff are:
Cool as a Moose – They're Canada's #1 Souvenir store and have unique clothing and gifts for all ages.
Branches – Looking for the perfect authentic handmade Banff souvenir? You'll surely find it here. Branches have art, cards, stickers, mugs, gift sets, and anything else you're looking for.
Rocky Mountain Soap Company – Walking in you'll love the smell. Here you'll find natural soaps and other skin care products made right in the Canadian Rockies.
Other Christmas Events and Activities in Banff
There's so much to do in Banff during the Christmas season. Be sure to check out these other suggestions that will surely bring holiday cheer.
Sleigh Rides
A private horse-drawn sleigh ride with your loved one is the ultimate way to celebrate Christmas in the Canadian Rockies. Wrap yourself in a warm blanket and take in the scenery of the magical winter wonderland that is on the Banff valley side during a 40-minute tour.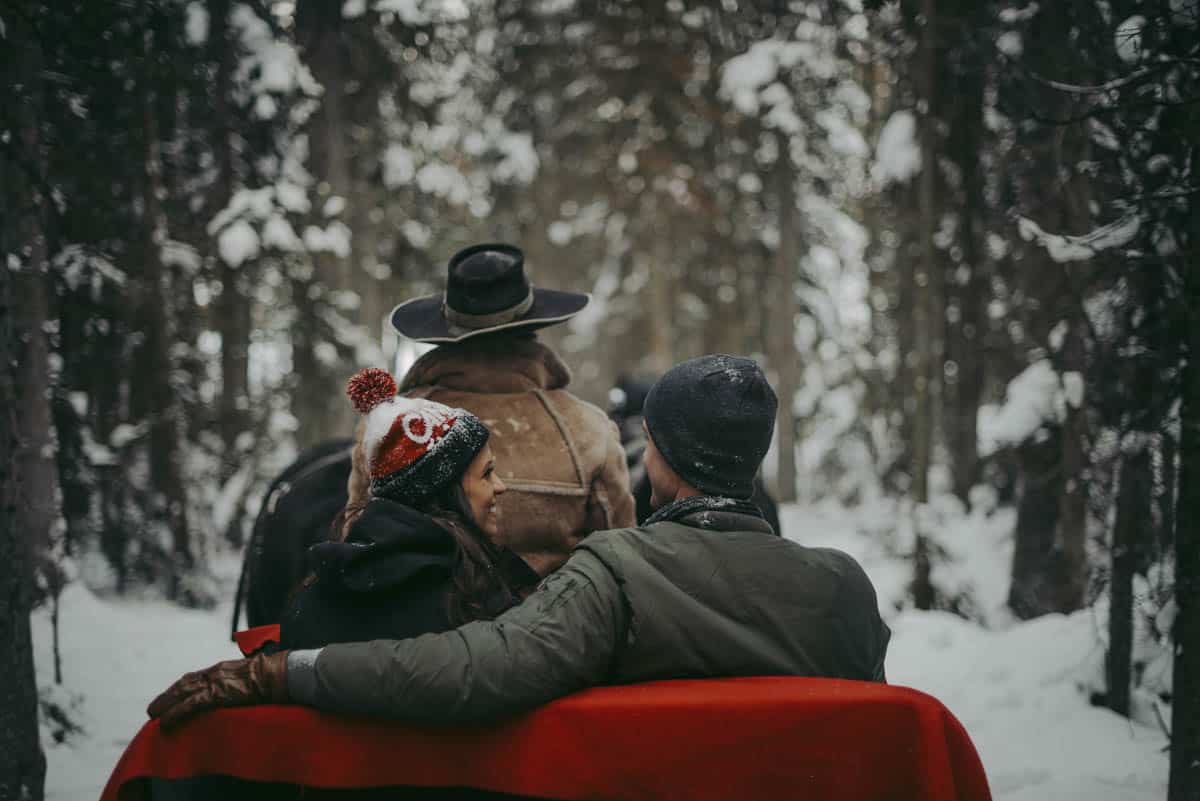 Cross Country and Downhill Skiing
There are 3 main ski resorts in Banff National Park which are some of the best for Alberta skiing and are renowned around the world. But also the cross country skiing is one of those Banff winter activities that just don't get enough credit. What better way to get your heart rate up than admiring the beauty of your surroundings on a quiet forest trail?
Skating
Did you know that you can ice skate on Lake Louise? Ice skating is the quintessential winter activity, and during the winter months, the iconic blue Lake Louise, just outside the Fairmont Chateau, freezes solid, allowing visitors to spend Christmas day ice skating, surrounded by towering peaks. Another popular skating choice is Lake Minnewanka or Spray Lakes Provincial Park (20 minutes from Canmore).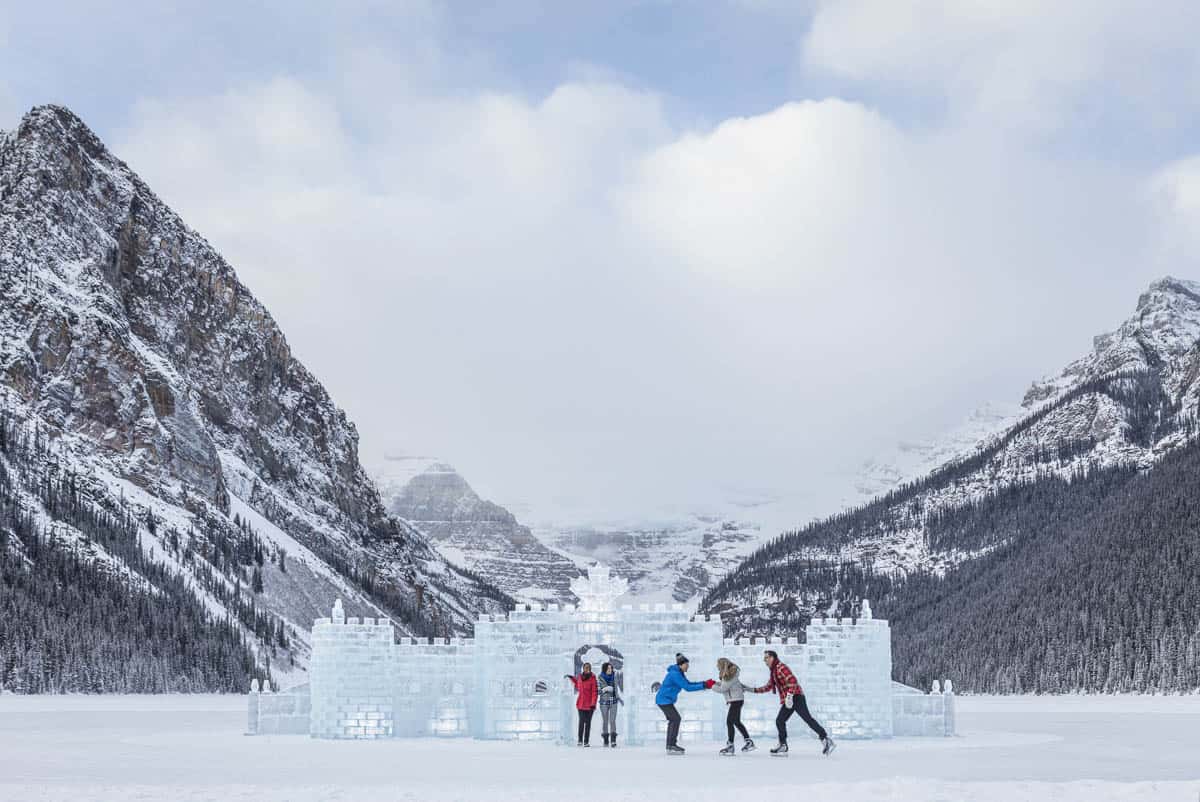 Hike Tunnel Mountain
There's no shortage of hiking trails in the Canadian Rockies, and hiking during the winter offers an entirely new perspective on the beauty of Banff. Tunnel mountain is one of Banff's most popular hikes, and is usually accessible during the winter as well.
Dog Sledding
It's exhilarating to be whisked through the snow and trees being pulled by a team of dogs. Banff at Christmas is the perfect opportunity to give dog sledding a try if you've never done it before.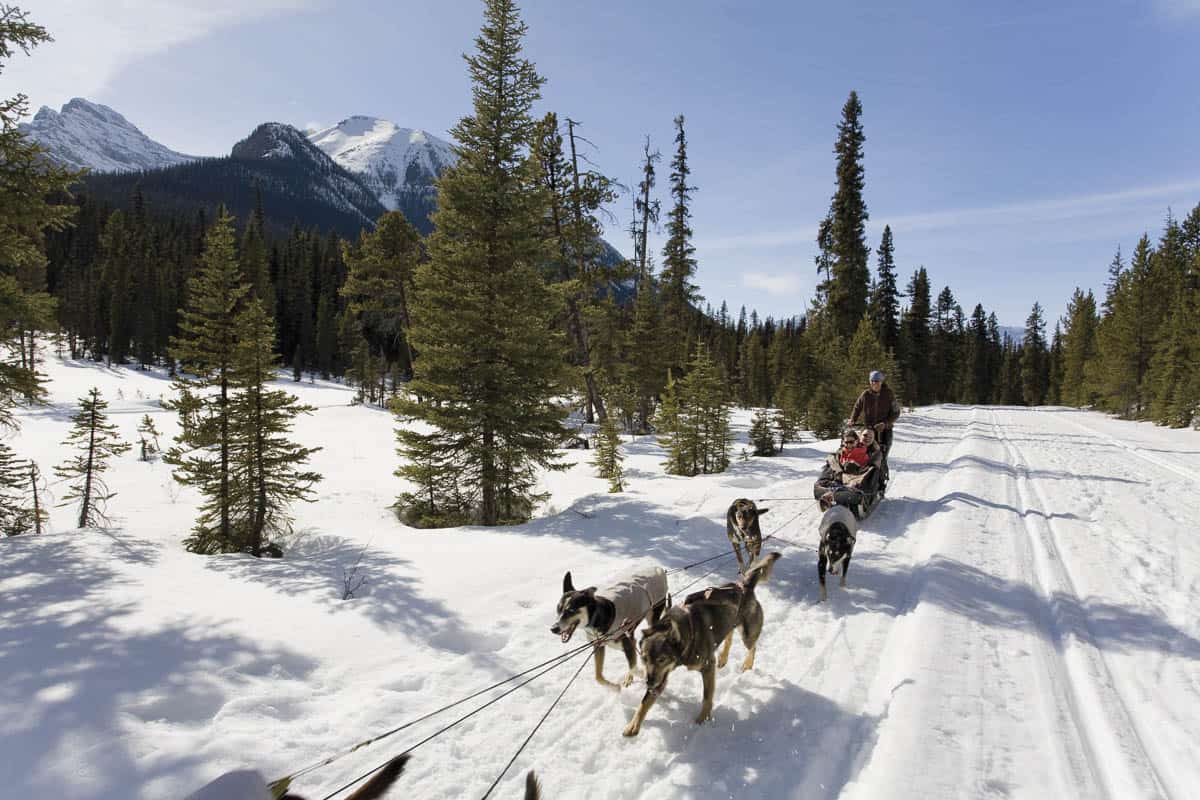 Hot Chocolate Trail
Speaking of hot chocolate, Banff and Lake Louise's hot chocolate trail is an absolute must-do for anyone spending Christmas in Banff or Lake Louise. From November to January 1, Christmas-themed hot chocolate treats can be found for a limited time at over 20 restaurants spread out across Banff town and Lake Louise, including a few 'adult' boozy hot chocolate choices. Why not try them all?!
Banff Upper Hot Springs
Finally, no visit to Banff National Park is complete without a soak in the world-famous Banff Upper Hot Springs. Marvel at the surrounding scenery and breathe in the crisp mountain air while you soak in the natural spring water.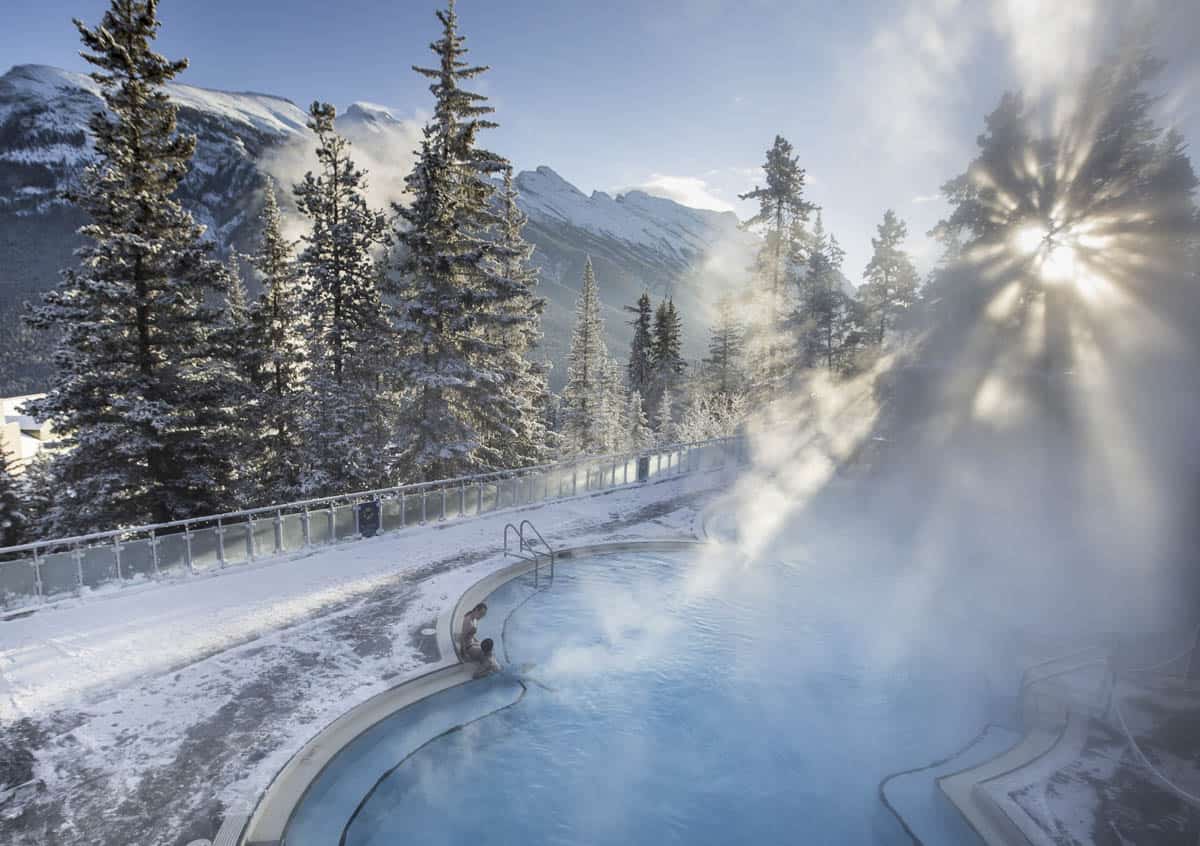 Looking for more holiday cheer?
While you're in the mountains enjoying all the holiday cheer, don't forget to eat well! Check out our guides to brunch in Banff plus all the best Banff restaurants for every meal.