Disclaimer: This page may contain affiliate links. Please review our full Terms and Conditions for more information and our Privacy Policy. Note that any pricing, operating hours, or other such information provided below may have changed since initial publication.
Compiled by the Road Trip Alberta team
Last updated November 24, 2022
So you've booked a few nights at one of the great hotels in Calgary, but still want to plot to escape the hustle and bustle of city life for a day? No problem. Whatever direction your compass is pointing you, there are plenty of unique day trips from Calgary, our Southern Alberta metropolis.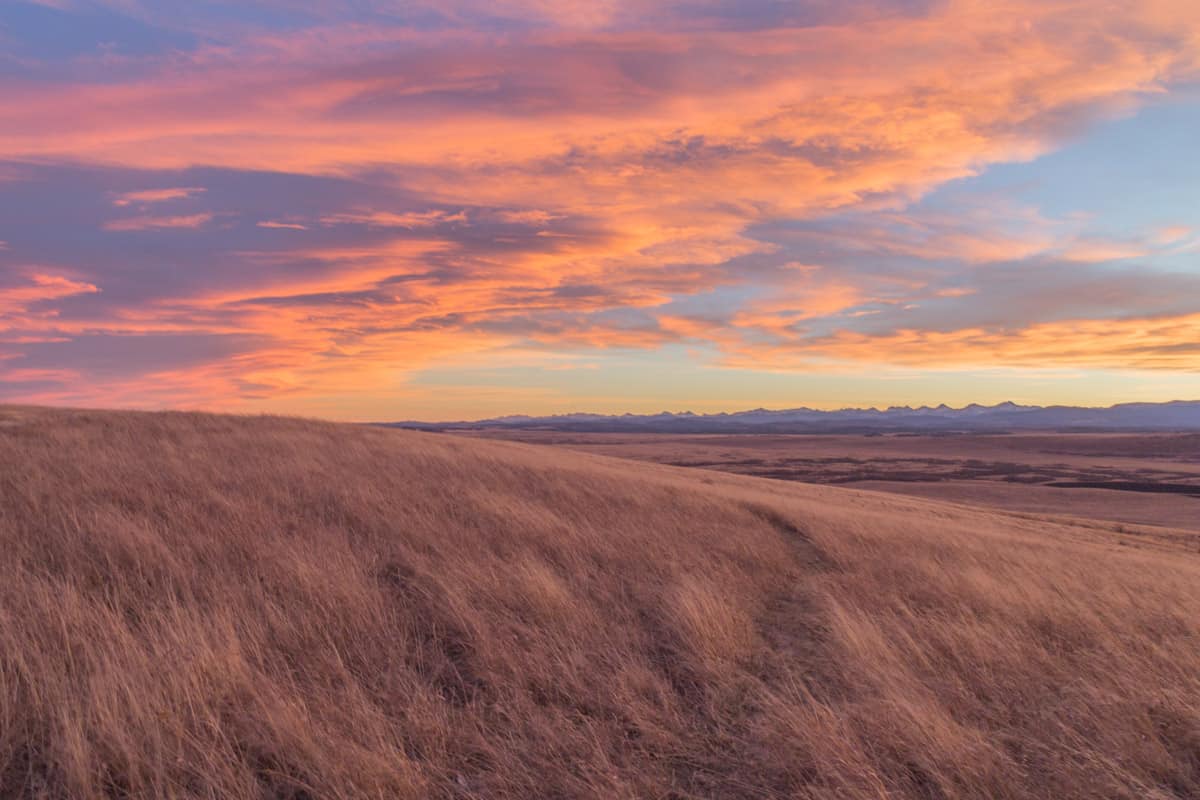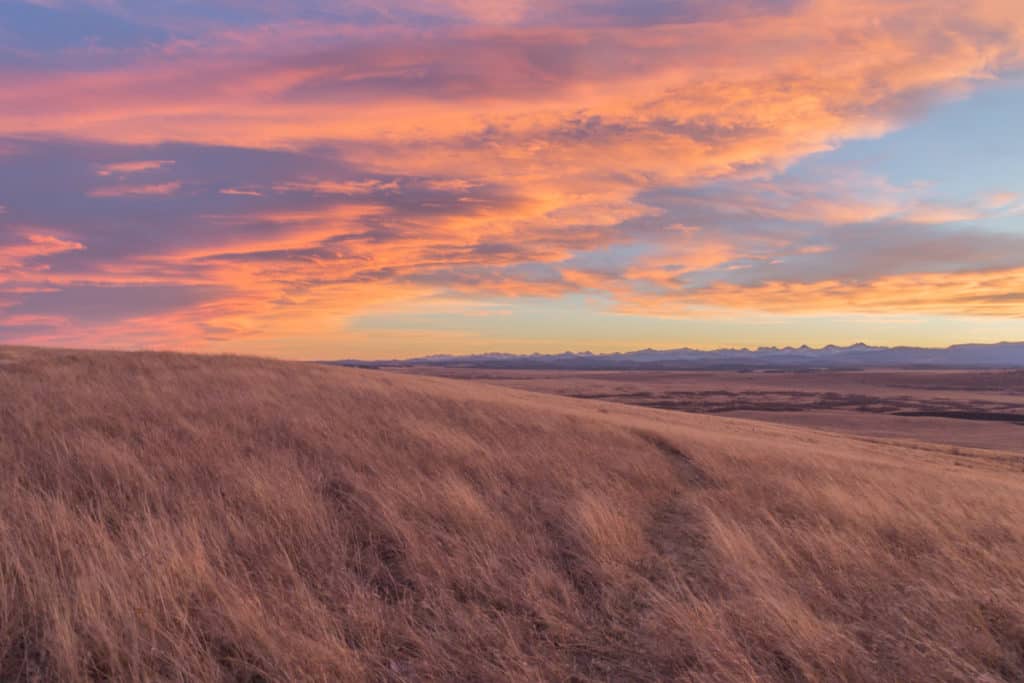 While there's too much to see and do in a single-day trip, with a well-designed schedule, you can hit the highlights of some great destinations, and get some ideas for your next trip to the area.
Be sure to pack plenty of water and snacks, a pair of good walking shoes, and a thermos full of coffee (or pencil in a stop for that double-double) because from 8:00 am to 8:00 pm, your day will be chock-full of exploration and new adventures, whatever corner of Cowtown you choose to depart from!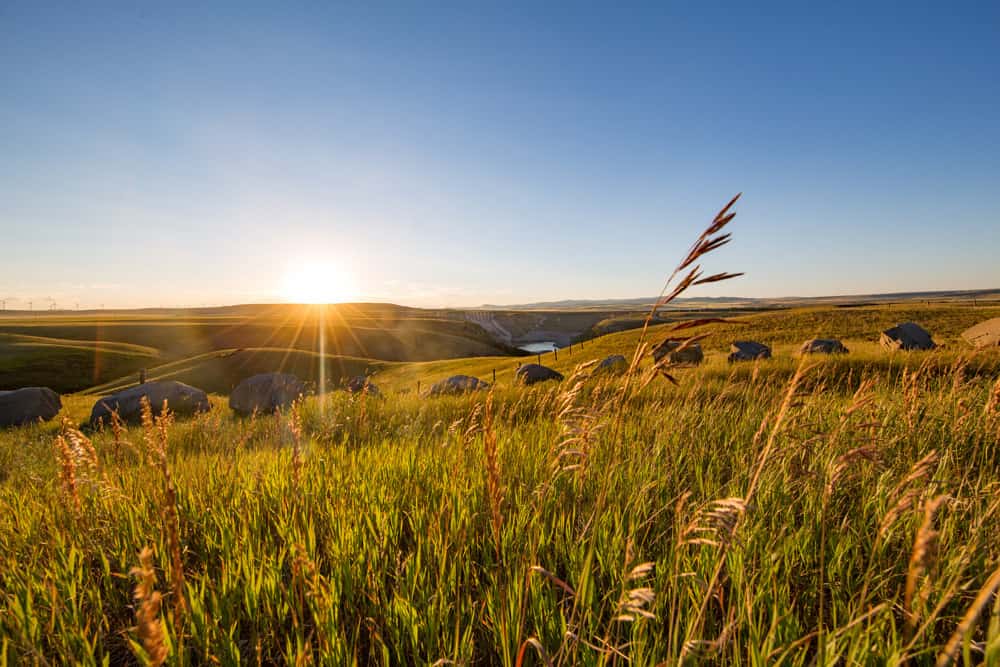 Guide to Unique Day Trips From Calgary
NORTH DAY TRIP: Calgary to Sundre
If it's an action-packed adventure you're after, head north, where wild horses roam free, and hikers explore the surrounding trails galore. With an activity for everyone – from whitewater rafting to archery – to even just practicing your golf swing – Sundre makes a great base of operations. It also happens to be one of the very underrated day trips from Calgary where you can escape the crowds!
The neighbouring landscape is a beautiful, contrasting mixture of colourful rolling prairies and the distant mountains of the northwestern edge of Banff National Park in the Canadian Rockies.
What to bring on your day trip to Sundre:
Water
Coffee
Snacks
Sunscreen
Hat
Hiking boots/shoes
A change of clothes
A good road trip book and a picnic blanket
A killer road trip music playlist
Morning options in Sundre
Depart around 8:00 am and head for Sundre, just over an hour drive from Calgary. Once you arrive in this charming little town, it's coffee time! Head to Backwoods Bakery for some caffeine and delicious baked goods.
Walkthrough Sundre Museum and Pioneer Village
After your coffee, pop over to the Sundre & District Museum where you can wander among eight heritage buildings including an old schoolhouse, a trapper's cabin, a chapel, and more. Inside the museum, you'll find archaic treasures from Sundre's past, and learn about the culture and history of this tiny community on the prairies.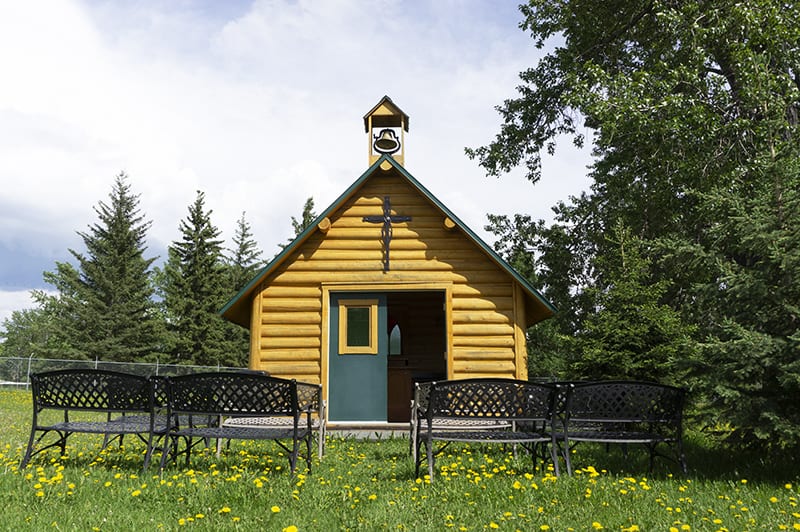 Next: CHOOSE ONE of the below: Hike around Snake Hill Recreation Area or raft white caps on the Red Deer River!
Meander through Snake Hill Recreation Area
With 17 km of hiking trails, Snake Hill Recreation Area is a little oasis where you can wander to clear your mind and enjoy the serenity of nature. It's also a great spot to bring a blanket and a good book if the sun is shining!
The entrance to Snake Hill Recreation Area is located straight east of Sundre Hospital and Care Centre on 6th Avenue NW.
Ride the rapids with Mukwah Rafting Tours
Enjoy the rush of water and adrenaline as you take on the wilds of the Upper Red Deer River with Mukwah Rafting Tours. There are a number of rafting packages available at Mukwah, ranging from 2 ½ hours to all day.
Mukwah Rafting Tours is located about a 50-minute drive west of Sundre, so this activity may take most of your day, driving time included.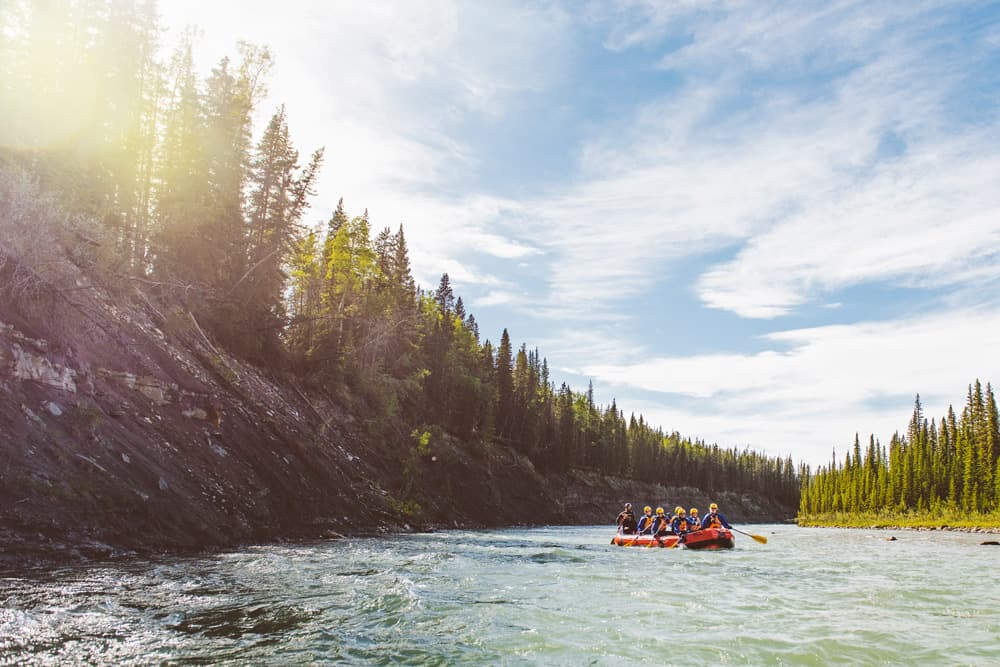 Afternoon options in Sundre
After all that activity, it's time for some lunch! Head to the Kodiak BBQ and Deli in Sundre for a heaping plate of naturally-smoked BBQ that will stick to your bones. We recommend the mouth-watering half-rack of ribs with fries and coleslaw, mmmm – good!
Take an archery class at the Painted Warriors Ranch
After lunch, it's time for a new adventure pulled straight from the history books. A quick 25-minute drive south of Sundre, you'll find the 82-acre Painted Warriors Ranch, which hosts a number of traditional indigenous outdoor programs for the public. Spend the afternoon shooting a bow and arrow and learning about local plant life and the traditional methods of cooking. Depending on which activity you choose, you can spend the rest of the day here, ending your time off with a traditional aboriginal meal. (This is one of many exceptional Indigenous experiences in Alberta.)
Unwind on the green at the Sundre Golf Club
Another activity that may soak up the majority of your day, you can head for the beautiful rolling greens of the Sundre Golf Club, a 4-minute drive east of Sundre. Relish in a nice, relaxing round of golf after your day of adventure on this gorgeous 6778-yard course speckled with delicate water features and beautiful trees. This 18-hole, par 72 golf course will keep every skill-level challenged and having a ball – a golf ball, that is.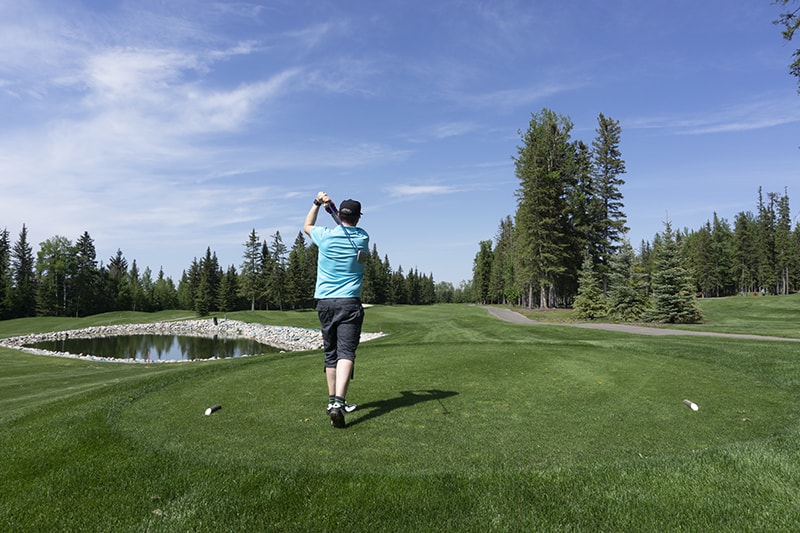 Evening options in Sundre
After all that activity, it's time for a hearty meal and some refreshing beverages at The Twisted Pantry Bistro known for their yummy pub-style food.
To top off that meal and for a sweet treat for the drive back home, stop in for a quick milkshake or ice cream at the local Burger Baron!
On the way home, take Highway 22, the Cowboy Trail, and enjoy the sunset and the scenery of the mountains towards the west.
SOUTH DAY TRIP: Calgary to Fort MacLeod
If you're looking for an eclectic journey into the past, take a day trip down Highway 2, past the fields Albertans have farmed for decades, and into the Fort MacLeod area.
Once the crown jewel of southern Alberta, Fort MacLeod is a town teeming with a rich and living history. Whether you prefer taking a trip all the way back to learn about early Indigenous cultures or discovering the past inside an antique shop, this area offers history you can experience first-hand.
What to bring on your day trip down south:
Water
Coffee
Hat
Snacks
Good walking shoes
An empty beer growler
A killer road trip music playlist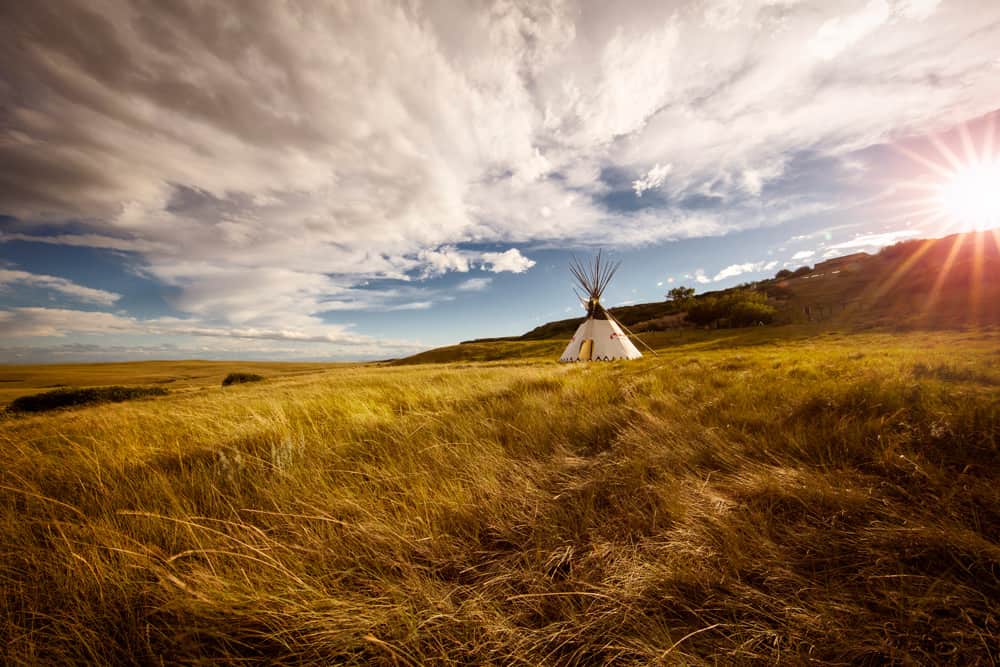 Morning Enroute to Fort MacLeod
A day trip from Calgary doesn't start off much more unique than this. Get on the road at 8:00 am and head for Fort MacLeod, just under 2 hours away. A great natural stopping point is Claresholm, where you can grab something hot and caffeinated at Blackwood Coffee Co. This little shop offers Calgary's own Fratello coffee and some baked treats to keep your stamina up for the last leg of the drive.
Explore Head-Smashed-In-Buffalo-Jump
Just a ½ hour south Claresholm you'll find Head-Smashed-In-Buffalo-Jump, a UNESCO World Heritage Site and the proud bearer of one of the most unique names in the country. The interpretive centre's unique architecture is built into the side of an ancient buffalo jump, offering visitors a glimpse back in time at how indigenous people lived and thrived on the prairies. There's tons of local history and lore to learn about, as well as a walking path to a lookout of the buffalo jump.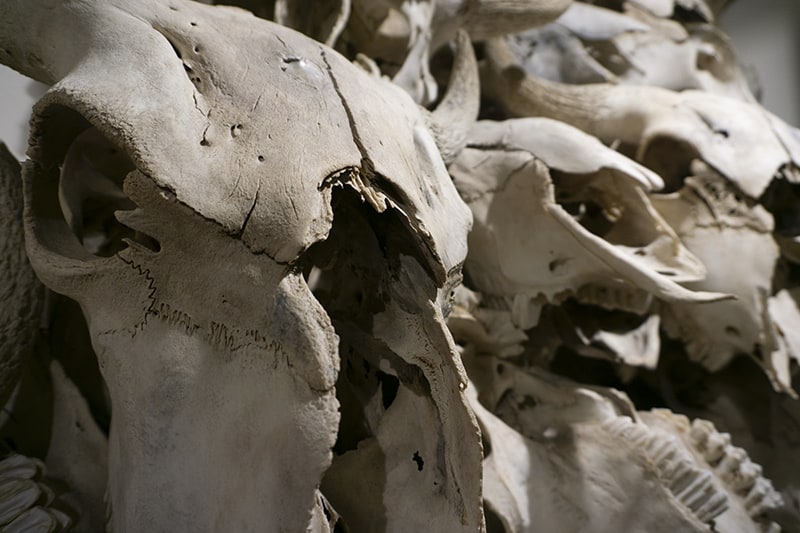 Afternoon options in historic Fort MacLeod
Once your brain is full, head east to Fort MacLeod for a light lunch and hot coffee at Digbee's Diner. Relax for a while in this trendy space, enjoying the bustle of this charming little town.
Antique on Main Street
With coffee in hand, it's time to meander down Main Street, and take in all the fascinating old architecture – most of which was built around the turn of the last century – and pop into the unique little antique shops to scour for gems from the past. It's easy to imagine how the town looked back in the old Wild West when Main was just a wide dirt road with horses, saloons, and well, you know, the occasional shoot-out.
You may even recognize some of the buildings from the movie Interstellar, as there were scenes filmed on Fort MacLeod's Main Street. And more recently, the newest Ghostbusters movie crew filmed scenes here over the summer of 2019. And even MORE recently, Fort Macleod hosted many The Last of Us filming locations for season one of HBO's blockbuster hit! (In fact, Fort Macleod would also be a popular stop if you wanted to design a whole road trip around Alberta movie locations!)
For more antiquing, be sure to stop in nearby Nanton, as there are plenty of antique shops here, and even an authentic blacksmith!
Enjoy a pint at Stronghold Brewing
After your wanderings, imaginings, and antiquing, it's probably time for a refreshment. Lucky for you, Stronghold Brewing is located right on Main Street, and can quickly quench your thirst. Sample a beer flight, fill up that empty growler you brought with you and enjoy chatting with the friendly waitstaff as you look around at the newly-renovated space, complete with a gorgeous, one-of-a-kind door imported from a cathedral in Spain.
Step back in History
Or for those history buffs who can't get enough, The Fort Museum offers tours through the old NWMP fort, and even a musical horse riding show during summer!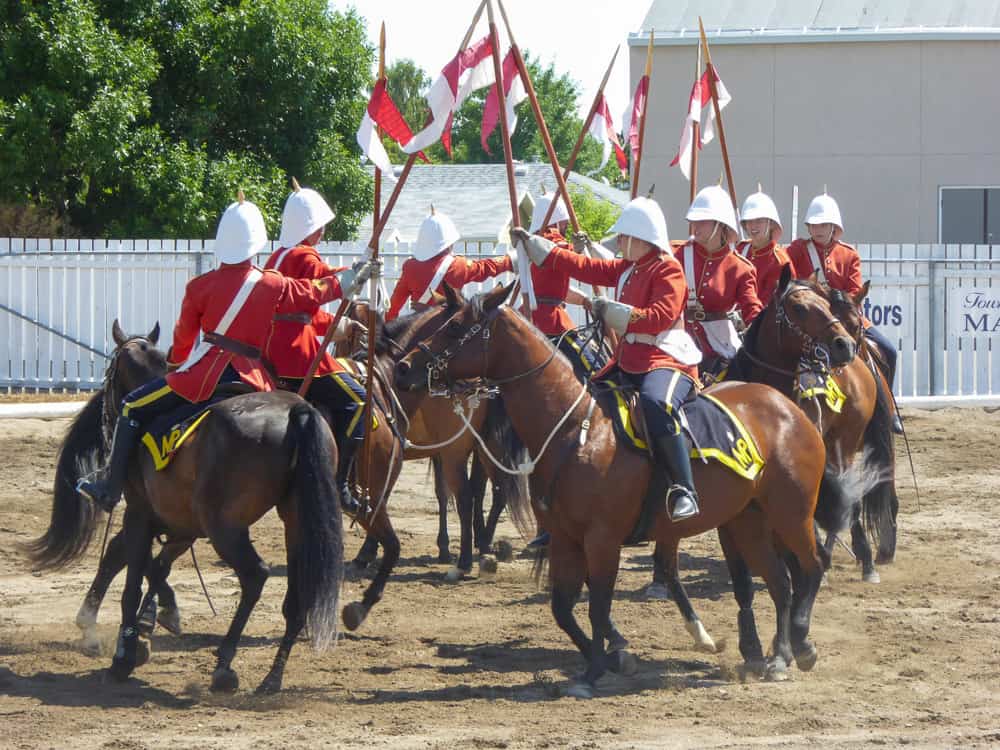 Evening in Fort Macleod
The Empress Theatre, an old art deco building that's been in continuous operation for over a hundred years is still hosting shows – everything from the latest Hollywood blockbuster to the talented singer-songwriters who pass through the town. There's always an upcoming show, or even a tour of the building if you call ahead. You might even catch a glimpse of Ed, the old ghost who's rumoured to wander the halls of the theatre!
EAST DAY TRIP: Calgary to Drumheller
1 ½ hours east of Calgary, and smack dab in the middle of the ominous, alien landscape of the Canadian Badlands, lies Drumheller – where the ghosts of horse thieves and dinosaurs still haunt the 'hoodoos". (Don't confuse it with Dinosaur Provincial Park, which is actually over a two-hour drive and a bit further south.)
Whether you're looking to enjoy Drumheller hikes through the twisting coulees (valleys) to see the towering hoodoos or are hoping to say hi to your favourite dinosaurs at the Royal Tyrrell Museum, Drumheller is the perfect place to stir your imagination and one of the most popular day trips from Calgary.
What to bring on your day trip to Drumheller:
Water
Coffee
Snacks
Sunscreen
Hat
Hiking boots/shoes
Change of clothes and layers
A killer road trip music playlist
Bicycles/E-bikes (optional)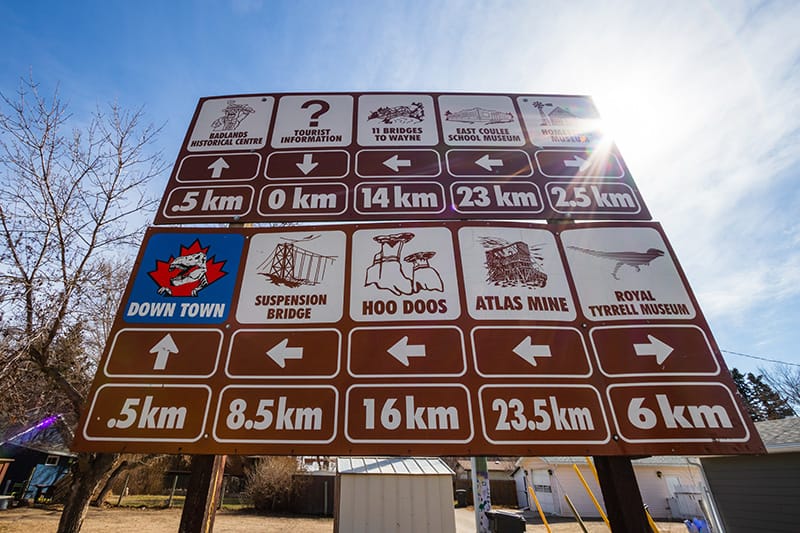 Morning options in Drumheller
Depart for this one-of-a-kind day trip from Calgary at 8am, and when you arrive, head for (you guessed it) COFFEE! Black Mountain Roasters brews a mean cup of locally-roasted joe and slings it alongside some baked goodies for those feeling peckish.
Now, you might be tempted to head directly for the world's largest dinosaur (a fun Alberta roadside attraction!) lording over the visitor centre, but with the spiking heat of summer (that can rise to 40+ °C), it's better to tackle some sight-seeing and trails in the morning while it's still cool.
Hike Horsethief Canyon and the Hoodoos Trail
First, head for Horsethief Canyon, a scenic 20-minute drive northeast of town. This easy, out-and-back trail is only 0.8 kms with 22 ms of elevation gain and is a perfect morning jaunt to experience the colourful, rugged terrain of the surrounding area.
After this short hike, head back toward and through Drumheller to the Hoodoos Trail, a 30-minute drive from Horsethief Canyon (a 10-minute drive from Drumheller). Here, you'll wander through towering extra-terrestrial-looking rock formations called 'hoodoos'. This walking loop is another easy hike, just 0.5 km with 9.75 ms of elevation gain.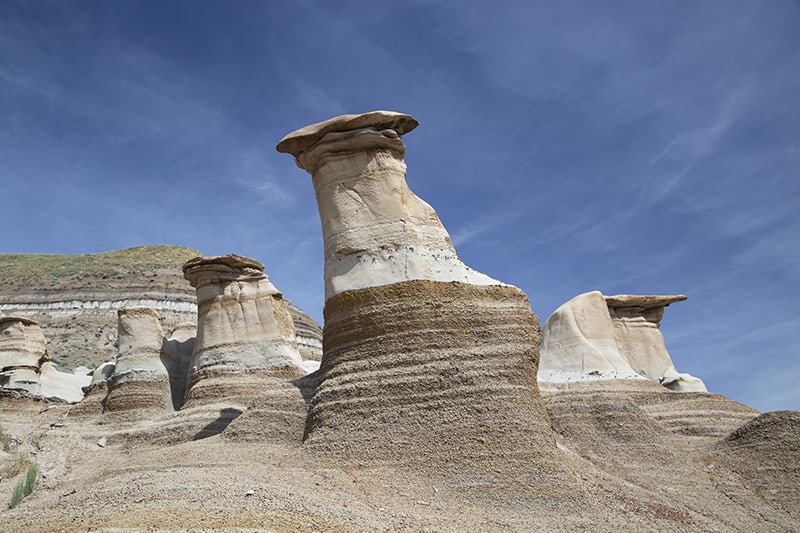 Afternoon options in Drumheller
After all that walking, it's time to eat! Head for 'You Gotta Eat Here'-approved Bernie and the Boys Bistro for a 'dino-sized mammoth burger', or settle for an equally-delicious human-sized burger. To cap off your lunch, head to Valley Brewing for a pint or two of some refreshing and delicious local beer!
Bicycle along Drumheller's Pedestrian Loop
After lunch, you can work off that food belly with an e-bike rental from Red Deer River Adventures.
Once you hop on your bike, head for the Royal Tyrrell Museum along Drumheller's Pedestrian Loop, connecting the visitor centre (where the giant T-Rex stands) with the museum. Be sure to climb to the top of that T-Rex for a beautiful lookout and some great photo ops!
Visit the Royal Tyrrell Museum
Once you arrive at the Royal Tyrrell, you can visit the museum, and/or take a leisurely walk around the Badlands Interpretive Trail, an easy walking-loop right next to the museum and a great place to spot fossils. Once you feel 'dinosaur-ed out,' hop back on your e-bike and head back into town for a well-deserved break.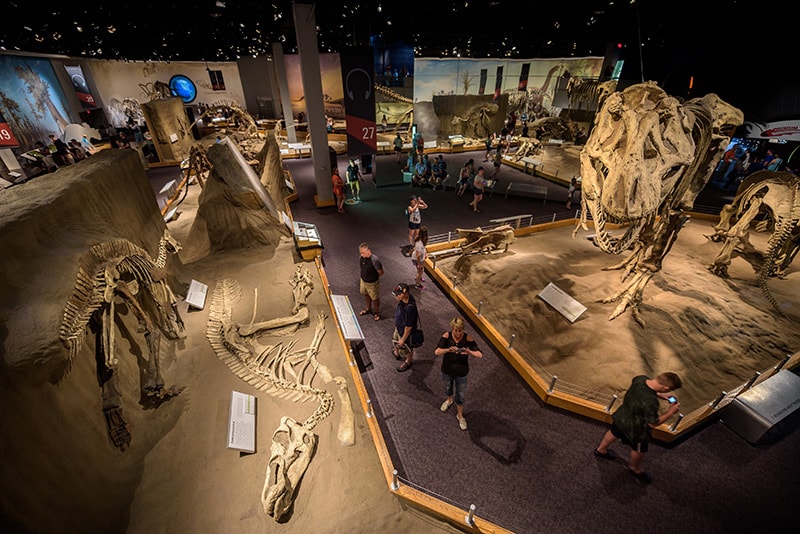 Evening in Drumheller
As the day winds down, it's time to relax with some great food and drink. Sublime Food and Wine offers some delicious options and great cocktails with a classy bistro feel. However, if you're in the mood for some rustic pub fare, head to the small nearby town of Wayne to hit up the Last Chance Saloon for some rich food and crisp, refreshing beer.
On your way back to Calgary, be sure to stop off at Horseshoe Canyon for a gorgeous lookout view of the badlands at sunset!
WEST DAY TRIP: Calgary to Bragg Creek
When many people think of day trips from Calgary, they immediately think of the many things to do in Canmore and Banff like visiting Lake Louise or taking the Banff Gondola. And as breathtaking as those locations are, there's more to experience when you head west of Calgary for the day. Just a ½ hour drive from the city, the rugged and beautiful Kananaskis Country begins to unfold, allowing visitors to get lost amid lush forests, and quaint, cozy little country towns like Bragg Creek.
What to bring on your day trip to Bragg Creek:
Water
Snacks
Hiking boots/shoes
Crampons (weather depending)
Your favourite classic country CD or playlist
Picnic fixin's – bread, cheese, wine, a blanket (or you can purchase it at Bragg Creek Foods)
Firewood (optional)
Cowboy boots and hat (optional)
A rough and tumble cowboy spirit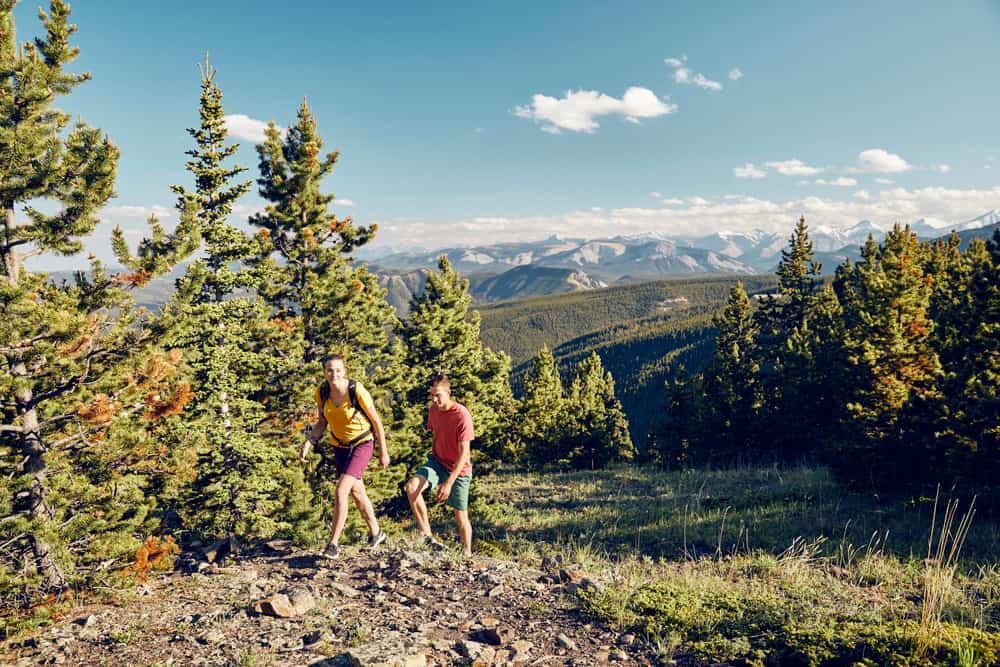 Morning options in Bragg Creek
Depart at 8:00 am from Calgary, and whether you take Highway 1 or 8 out of town, you'll eventually need to turn down Cowboy Trail (Hwy 22) to get to Bragg Creek. When you hit the Cowboy Trail, take this as your cue to throw on some old Merle Haggard, Johnny Cash, or Loretta Lynn to set the tone for the day. 😉
Bragg Creek is a small town, barely more than an outpost, so make sure you don't miss the turnoff. Park at one of the two strip malls and settle in with some coffee and sweet treats at Cinnamon Spoon, or the Sugar Shake Bakery – both within easy walking distance of each other.
Take a ride with Moose Mountain Horseback Adventures
Once you're properly caffeinated and ready to hit the trails, channel your inner cowboy spirit into a morning horseback ride through beautiful Kananaskis Country. If you happened to bring along your own horse, Bragg Creek has a variety of multi-use trails for you to amble along.
For those city slickers without access to cowboy boots, belts, and buckles – or most importantly, your own horse, Moose Mountain Horseback Adventures, a 13 min drive away from Bragg Creek on Hwy 762, has a variety of guided packages available. Choose from packages like the 3-hour City Slicker Package, or a shorter, 1 ½ ride through the rugged terrain and beautiful filming locations of hit shows like Lonesome Dove, Brokeback Mountain, and The Unforgiven.*Be sure you book your day ride in advance.
Hit the Mountain Bike Trails
There is plenty of epic mountain biking trails for all levels to take advantage of near Bragg Creek. For the casual peddlers follow 8km west of the Trans-Canada trail, west of Bragg Creek, and full of beautiful scenery. For the more advanced riders consider Moose Mountain or Bluerock Creek (check out the Bragg Creek website for all trails permitting bikes).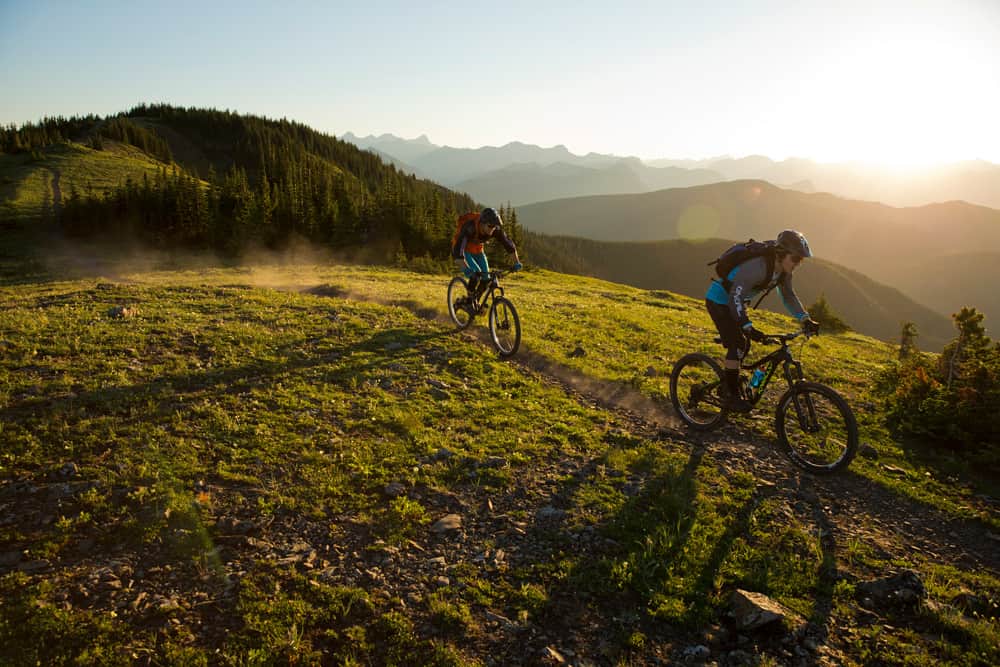 Afternoon options in Kananaskis Country
If you didn't have lunch on the trail, it's time to retrace your steps back to Bragg Creek and stock up on everything you need for a great picnic – including wine and firewood, if you're so inclined. Once you're ready, head west on Hwy 66 to the Cobble Flats Picnic Area or Forgetmenot Pond and set up for a little bit of downtime before adventuring once again.
Picnic at Cobble Flats
Light a fire and recount your tales from the trails as you relax and take in all the gorgeous scenery Kananaskis has to offer. If the horse ride didn't tire you out, there are still plenty of hikes and nature walks around the area. Little Elbow Campground next to Forgetmenot Pond has some great trails nearby!
Hike up Prairie Mountain
A 10-minute drive from Cobble Flats will land you at Elbow Falls, and across the road, the trailhead to Prairie Mountain. This 7.5 kilometer (round-trip) hike is a fantastic 3-hour workout or 5-hour stroll, depending on how fast you want to do it.
The rewarding views start about three-quarters of the way up and continue to the top with the Rockies and Kananaskis on full display. As you reach the top, be prepared to be hit with a face full of wind, but that shouldn't stop you from getting a selfie with the Canadian flag that's been placed at the peak. Going down is fairly easy but depending on the time of year, consider bringing crampons as the trail can get very icy. (Check out our guide on hikes in Kananaskis if you want more options!)
Would you rather relax your sore horse-riding muscles instead? The Kananaskis Nordic Spa is a great way to soothe every inch of you.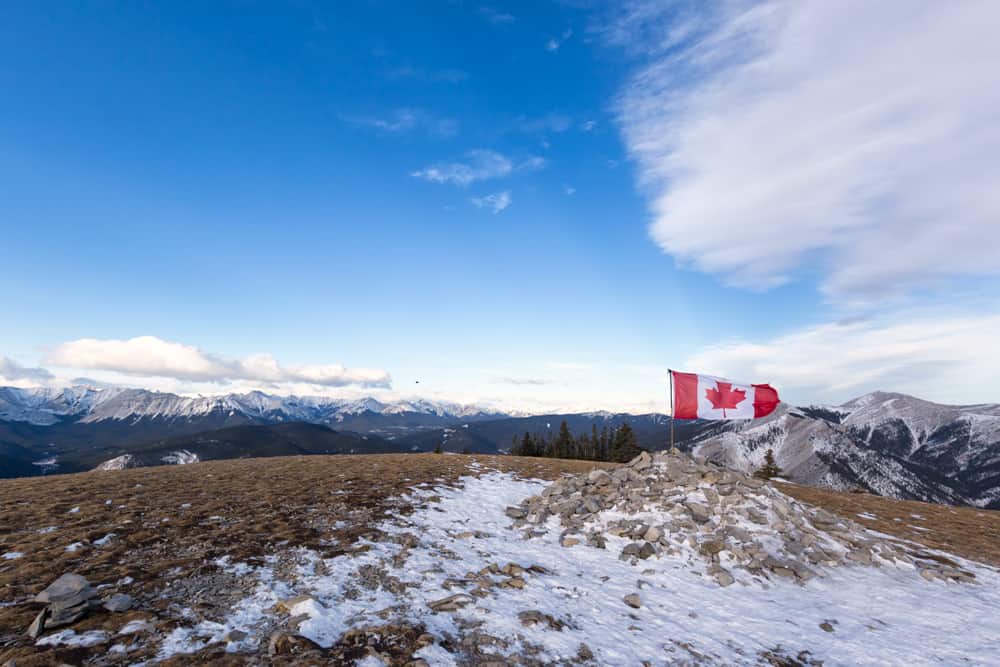 Evening in Bragg Creek
Before heading back to Calgary, grab some dinner in Bragg Creek. To live your #bestcowboylife, head for the Cowtown Beef Shack for mouthwatering pub-style dishes that will refuel your tank from that day of trail-riding and hiking. However, if you're ready to hang up your cowboy hat and switch to a more refined menu, try out The Bavarian Inn or The Italian Farmhouse for a meal that is seasonal, handcrafted with local ingredients, and made with love.
Don't Forget!
Visiting other spots in Alberta? Check out our extensive guide for all the things to do while visiting Banff, Edmonton, or Drumheller!
ALSO, don't forget that while you're on the road, you can download our FREE Road Trip Alberta bingo cards, to make it just that much more fun!