Disclaimer: This page may contain affiliate links. Please review our full Terms and Conditions for more information and our Privacy Policy. Note that any pricing, operating hours, or other such information provided below may have changed since initial publication.
Compiled by the Road Trip Alberta team
Last updated on July 7, 2023
Kananaskis Country is known for its rugged outdoor beauty framed by the Canadian Rockies – it's no wonder this region is a desirable destination for hiking, camping, and other outdoor adventures. But when the Kananaskis Nordic Spa (also known as the Knordic Spa) opened its doors in 2018, the region added a new way to enjoy this scenic alpine sanctuary: via pure and absolute luxury.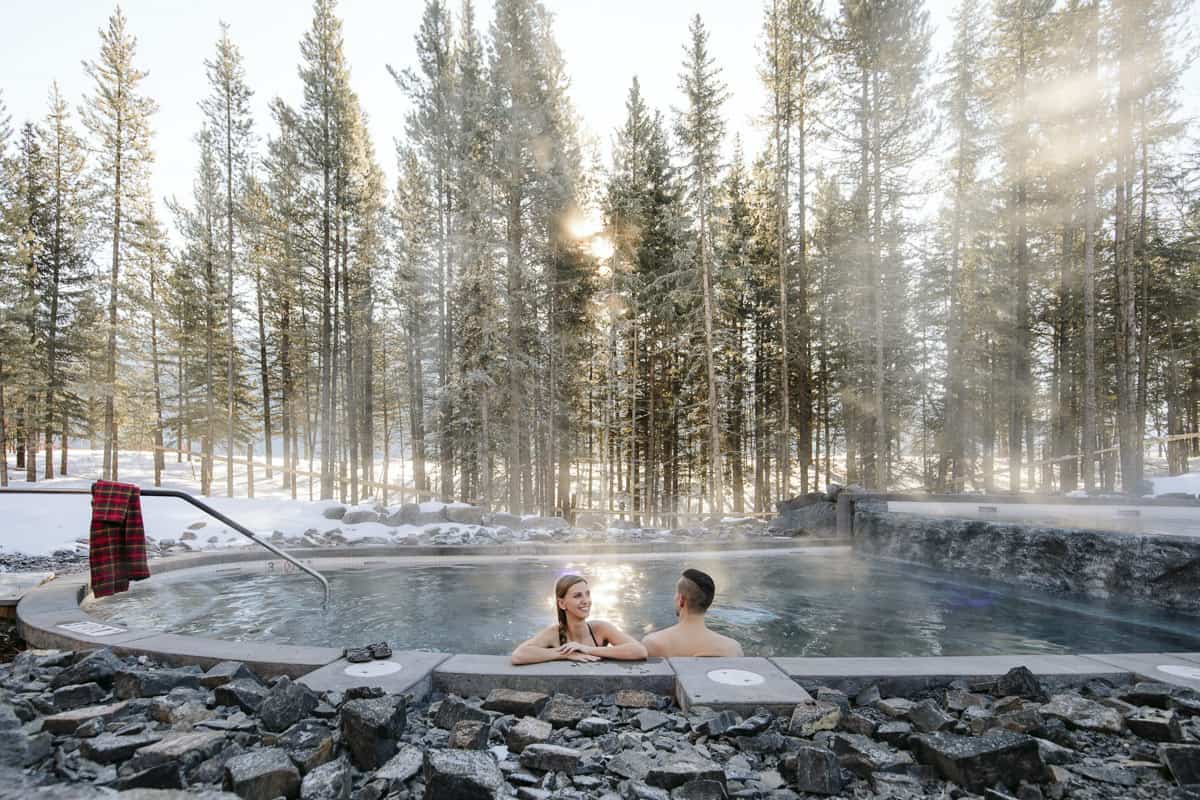 A part of the Pomeroy Kananaskis Mountain Lodge, the Kananaskis Nordic Spa offers a unique Scandinavian hydrotherapy experience, the first of its kind in Alberta, all set among rugged mountain peaks. Open year-round, visitors (adults only) can cycle through five outdoor pools, saunas, steam cabins, winterized hammocks for relaxation, and much more. So if you've spent your vacation days enjoying all the hikes in Kananaskis or the nearby Nakiska Ski Hill in winter, the spa will be the perfect way to unwind and cap off your adventures.
Where is the Kananaskis Nordic Spa?
Located about an hour west of Calgary, the spa is attached to the Pomeroy Kananaskis Mountain Lodge. Get there by taking Highway 1 (the Trans-Canada) west, and turning south onto Highway 40. Watch for signage to guide you the rest of the way.
Kananaskis Conservation Pass
Note that visitors to the area must purchase a Kananaskis Conservation Pass ($15 per vehicle per day, or $90 for an annual pass). You can purchase the pass in person at the Kananaskis Visitor Centre, or in advance online.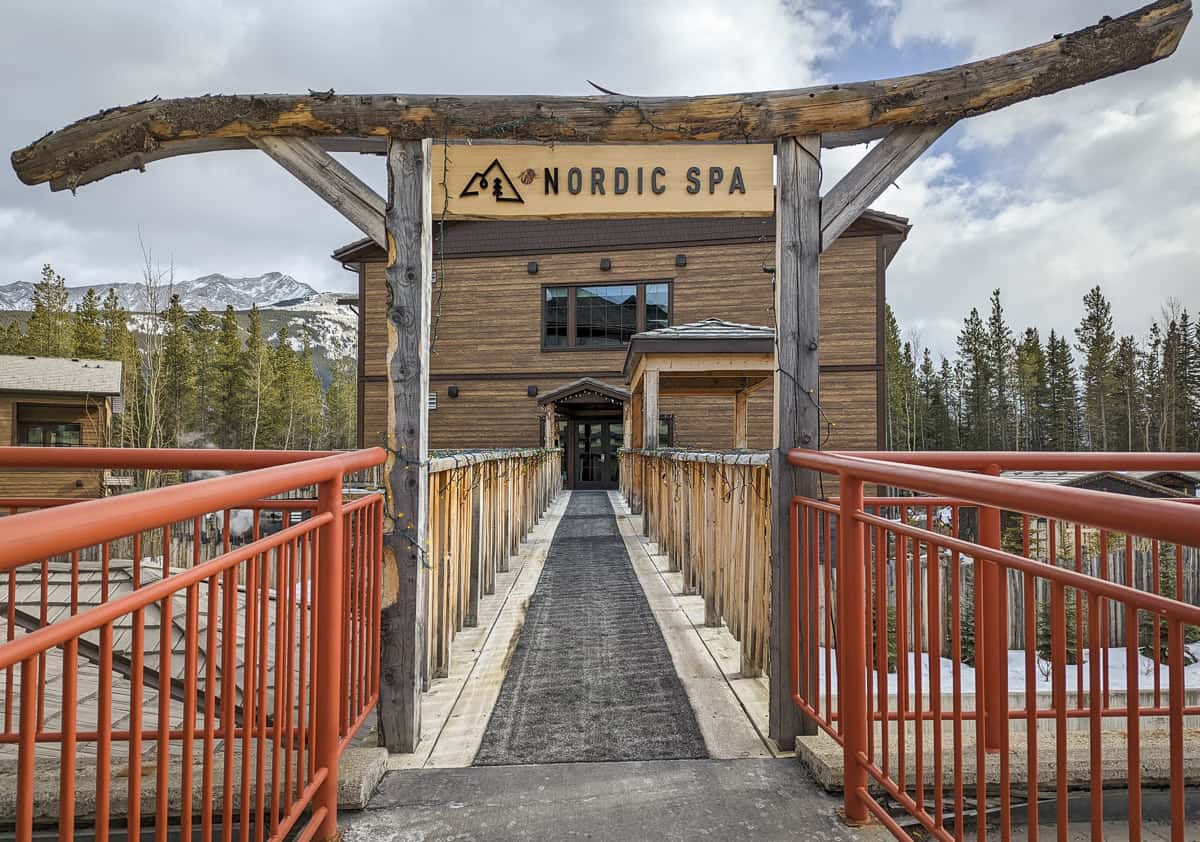 Access to the Kananaskis Nordic Spa
There are several ways for visitors to partake in this unique spa:
Direct hydrotherapy access: Book online to reserve your spot at the Kananaskis Nordic Spa, and you can get in any time from 9 am to 9 pm on that day. Note that re-entry is not allowed. If you decide to go last minute but it's booked up, add your name to the hydrotherapy online waitlist and keep your fingers crossed!
Via a massage booking: Book one of the massage treatments and hydrotherapy access is included. As all massage therapists are registered, a receipt is obtainable for insurance purposes.
Include an overnight stay: Packages are available to amp up the romance with an overnight stay at the adjacent Pomeroy Kananaskis Mountain Lodge.
Soak + sleep: Show up during the last two hours of the day (after 7 pm) and enjoy the spa at a highly discounted price (even more so if you're staying at the hotel). Note that advance reservation is not available, and it's on a first-come, first-served basis.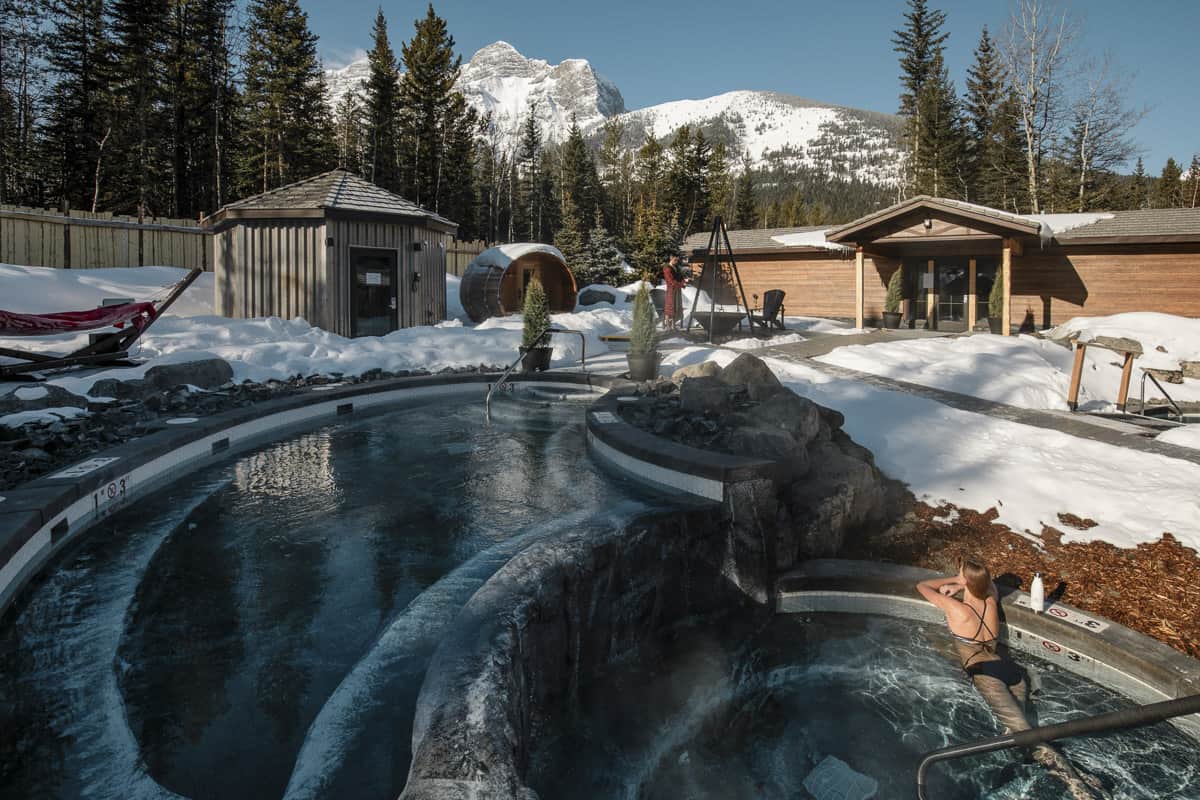 Kananaskis Nordic Spa Cost
At the time of publishing this piece, the following are the prices relative to the access points outlined above (not including GST):
Direct hydrotherapy access: Enjoy a discounted rate of $109 per person on Tuesdays, $129 on Wednesdays and Thursdays, and $149 per person on Fridays through Mondays. On holiday weekends, the price goes up to $169 each.
Via a massage booking: There are several massage options available (relaxation, prenatal, couples, deep tissue, and aromatherapy), and all include access to the hydrotherapy experience. All massages (except for couples) are 60 minutes long and cost $239 per person on Tuesdays through Thursdays, $259 on Fridays through Mondays, and $279 on holiday weekends. Couples massages are $579 on holiday weekends and winter holidays (Dec 23 – Jan 9, 2022).
With an overnight stay: Stay + spa packages can vary; the current offer is for a $100 gift card to the spa with a 2-night stay.
Soak + sleep: If you want to just pop in for the last couple of hours (after 6 pm), the rates are $79 per person, or $69 per person if you're also staying at the Lodge. If you are Bonvoy Elite, the rate drops further to $59 per person.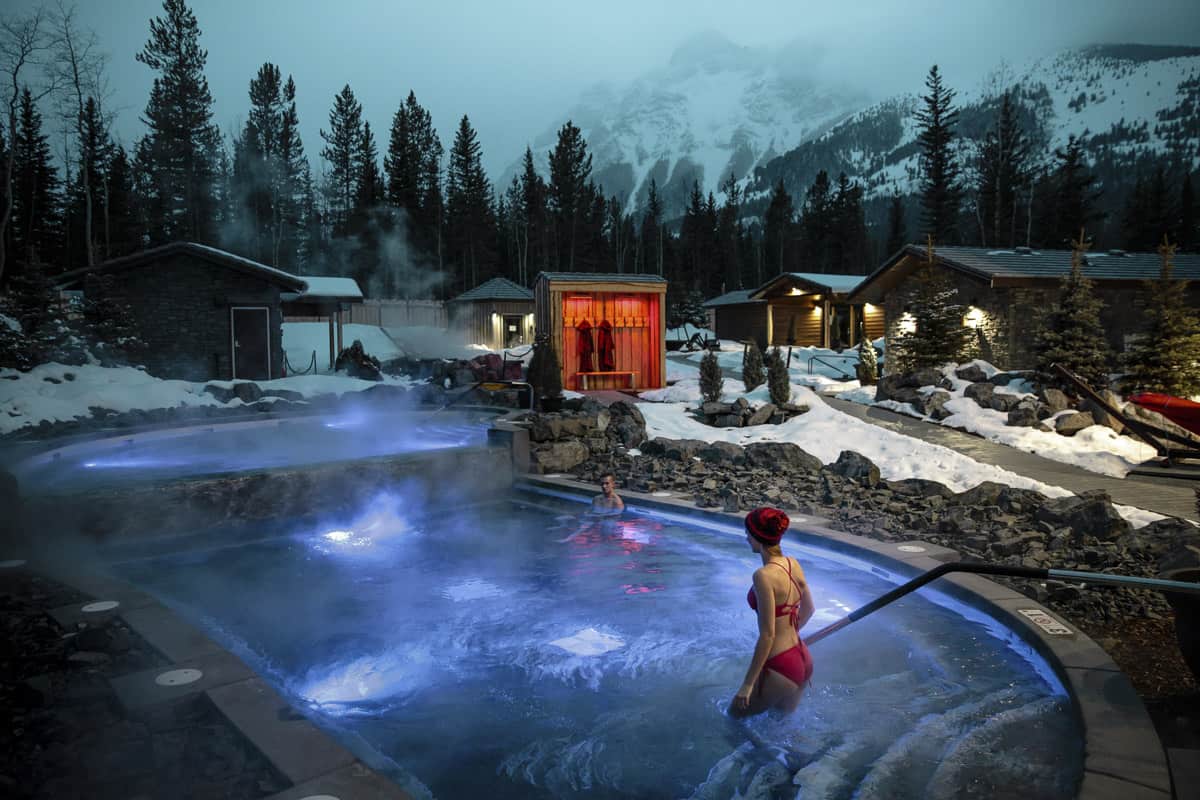 Upon Arrival at the Kananaskis Nordic Spa
Parking is free on-site, and from the lot, it is a quick walk to the spa through (or around) the hotel. Once you check in at the spa desk, you will be given a bracelet to wear throughout the stay that also gives you access to a locker in the change room to hold your personal belongings. Inside the locker you will find:
A luxurious tartan robe to use in between treatments.
Plastic spa shoes.
A small container of exfoliant to use in the exfoliation room.
A towel.
Additional towels (and spa shoes, if someone literally walks away with yours – as they did with ours!) are available at the entrance.
Note that cell phones and cameras are not allowed inside the Kananaskis Nordic Spa, so either leave them locked in your vehicle or safely in the locker.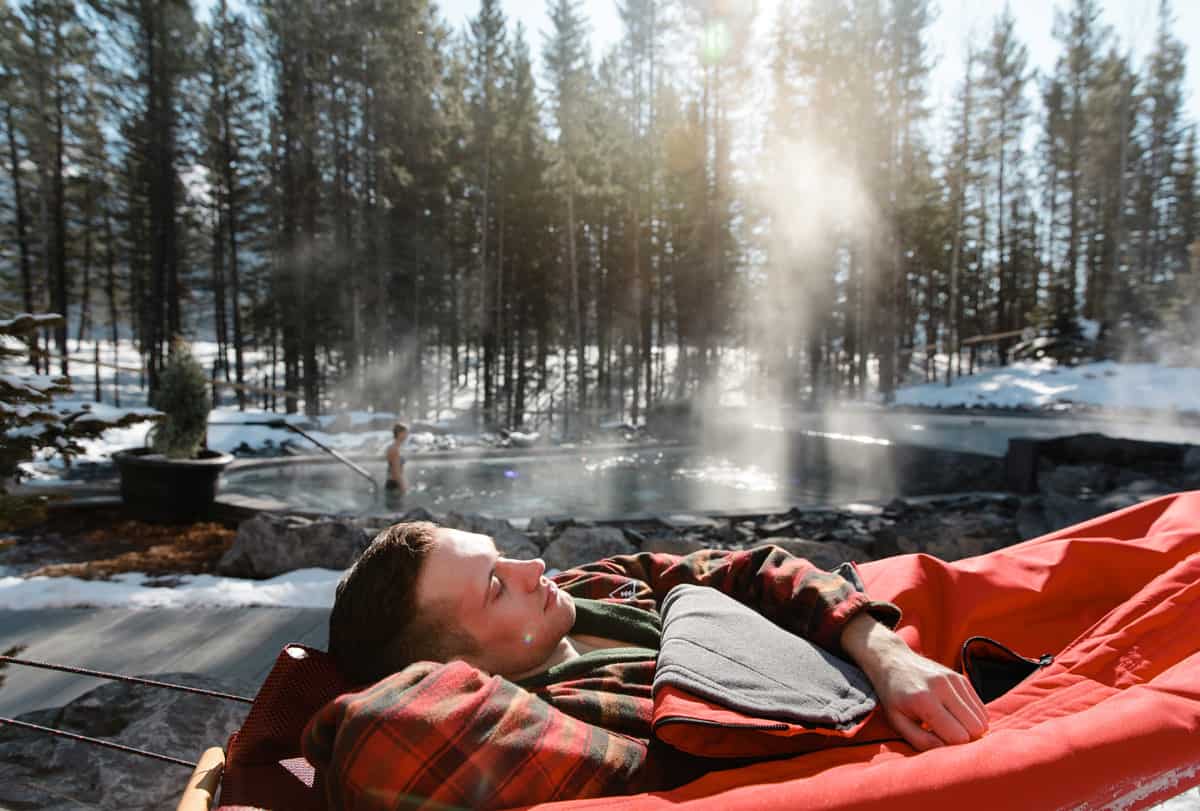 What to Bring
While the on-site shop sells everything you would need to enjoy the Nordic Spa, it is recommended that you bring your own bathing suit, plus a toque (wool hat) if the weather is particularly cold. In addition, we suggest bringing your own water bottle to refill on-site instead of using the disposable cups available.
And while you are welcome to bring your own, note that the change rooms also have complimentary soap, shower gel, shampoo and conditioner, shaving gel, disposable razors, and moisturizer. Hairdryers are also available for use.
Kananaskis Nordic Spa Features
The Hydrotherapy Cycle
From the moment you enter the Knordic spa, you'll see signs introducing the hydrotherapy cycle (as seen below). This is the recommended way to maximize the benefits of the Nordic spa and ensure exhilarating restoration and rejuvenation.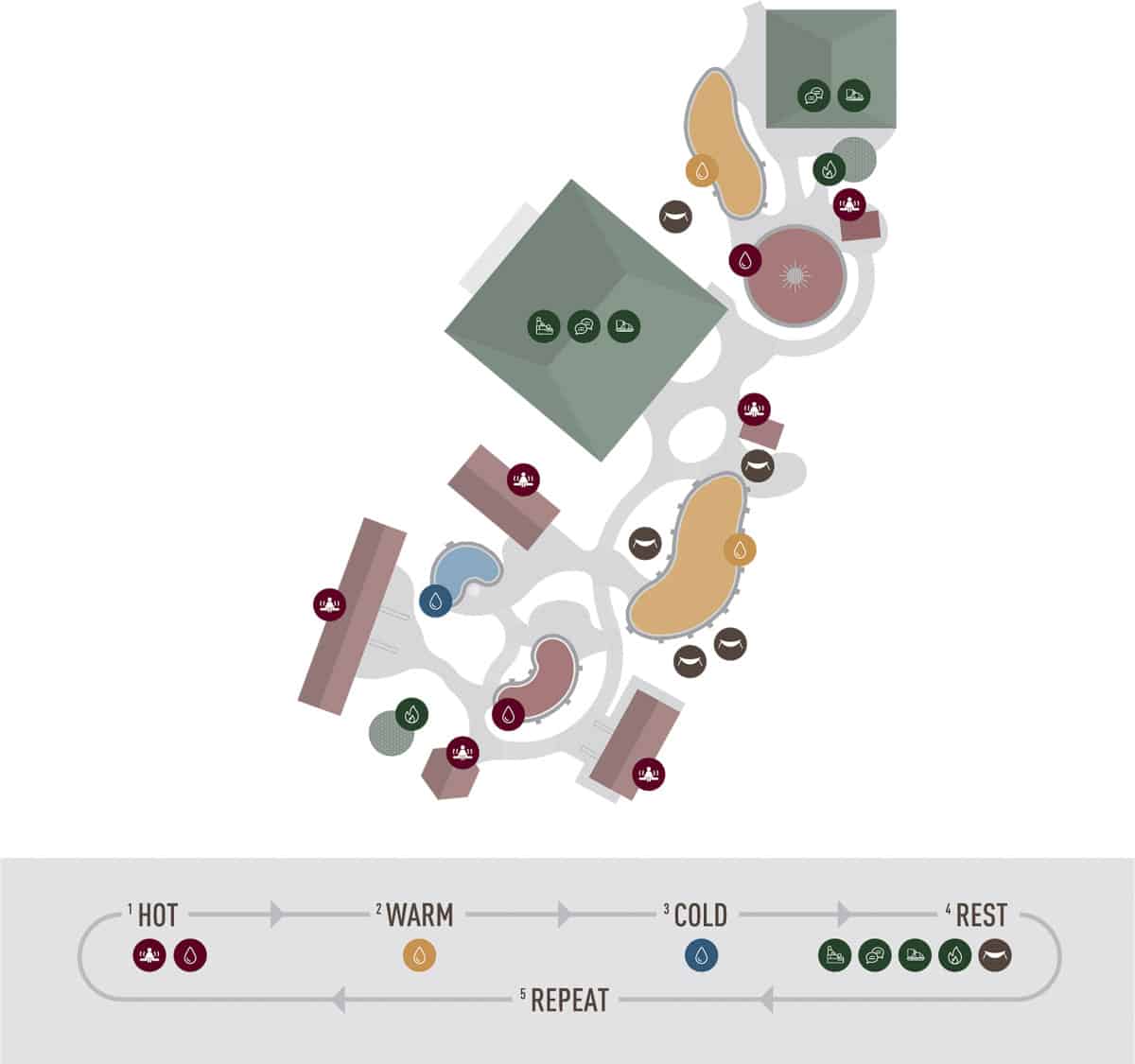 Essentially, visitors are encouraged to go from hot spots (like steam rooms, sauna cabins, or a hot tub), to enjoying moderately warm temperatures in a pool, and then finally to the cold plunge pool, before allowing some time for the body to rest before starting again. 3 to 4 circuits are recommended, but you can do as many as you desire. The different locations that vary by temperature are categorized as follows:
Hot Spots
There are 7 different options to enjoy some lovely warmth, ranked below in the order in which we enjoyed them.
Exfoliation Cabin: Our skin never felt better after using the exfoliant provided to buff our skin. You can set the temperature of the shower to your liking, but because we visited on a cold day, we set it to hot, hot, hot.
Eucalyptus and Alchemist Saunas: While the eucalyptus infusion was slightly too strong for our liking (our eyes burned a little), there is no denying how soothing the scent is and how good that hot, humid air felt. Plus there is a plunge bucket in the Alchemist steam cabin to cool down if you need it.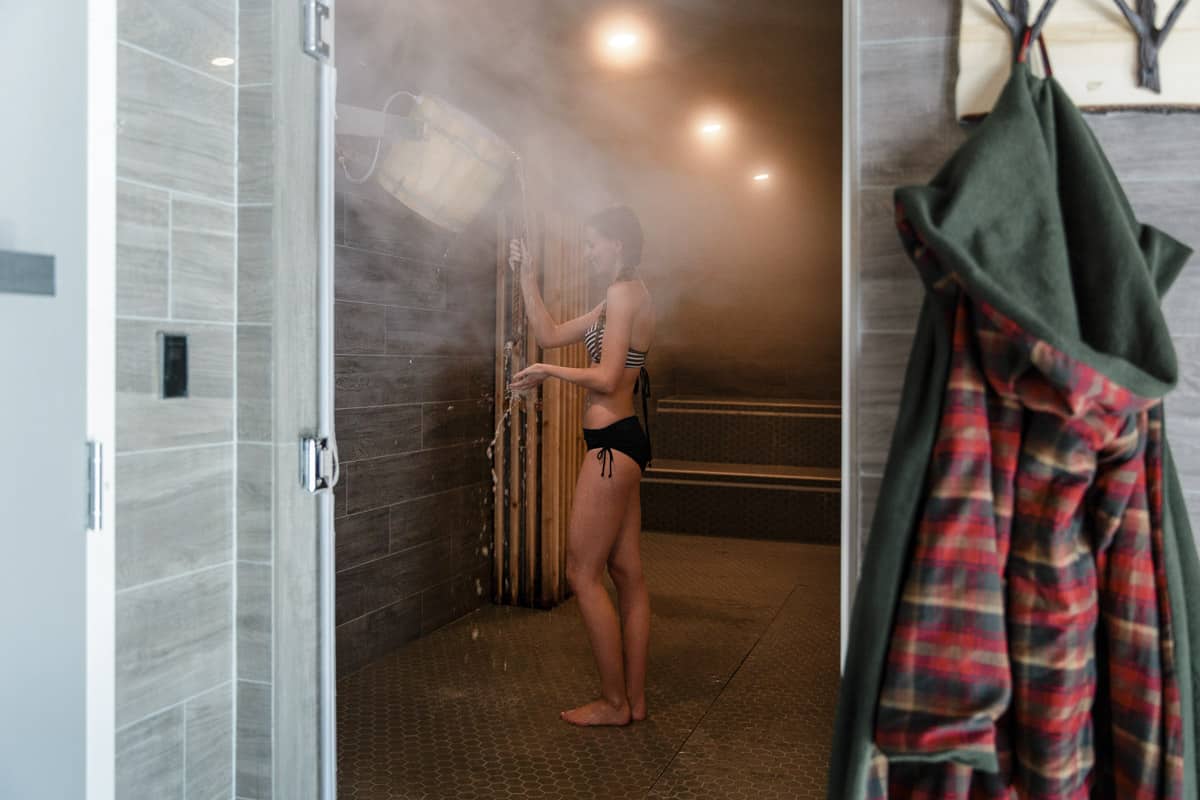 Hot Pool: Of course, hot pools always feel good.
Elements Pool: The water isn't quite as hot as the hot pool, but it is no less pleasant. And, perhaps even slightly better because the noise from the fountain in the middle helps drown out fellow visitor chatter and makes for a more relaxing experience.
Barrel Saunas: There are two of these onsite, and while they are quite small, they provide a quick and quieter escape if other spots are busy.
Banyan Sauna: If you want a very humid heat, spend some time in the Banyan sauna cabin and toss hot water on the rocks.
Finnish Sauna: If you prefer drier heat, this one is for you.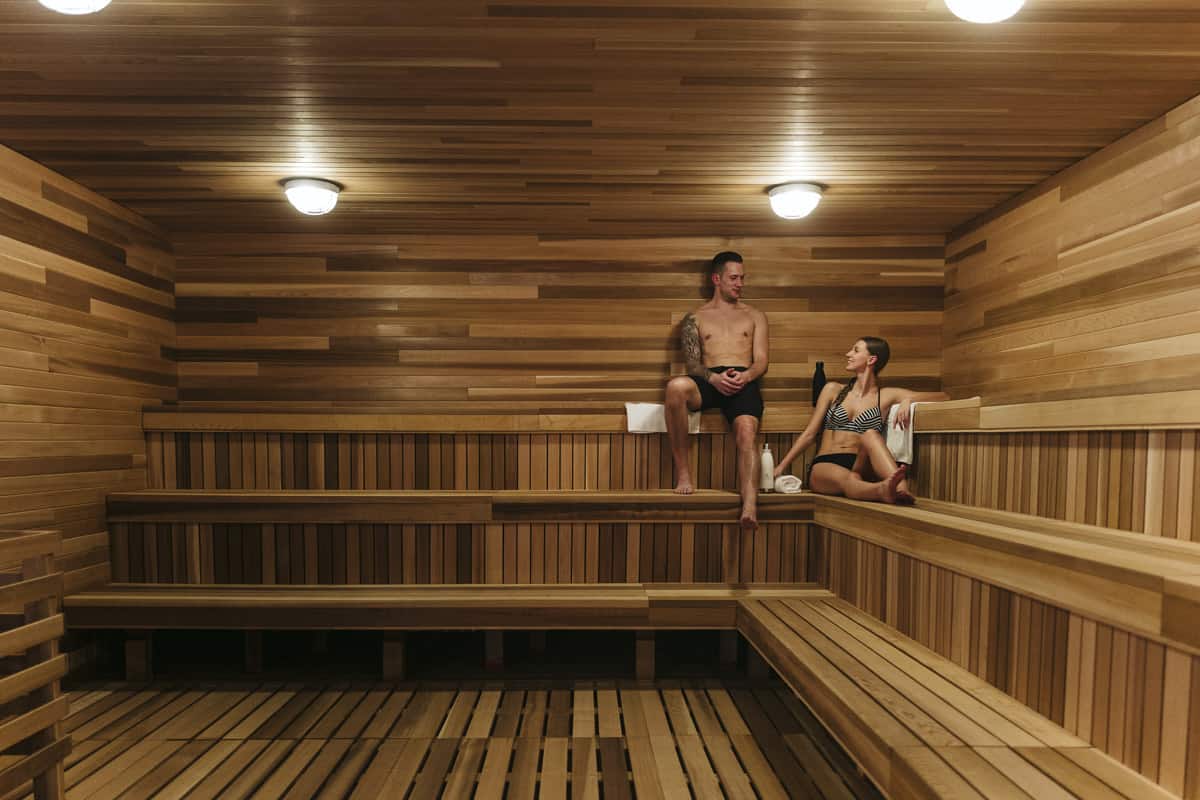 Warm Pools
The Reflection Pool: Set back a bit from the other amenities, this warm pool may be the most tranquil on the property, and is a few degrees cooler than the hot pools.
The Gathering Pool: This is the biggest pool on-site, right in the middle of it all.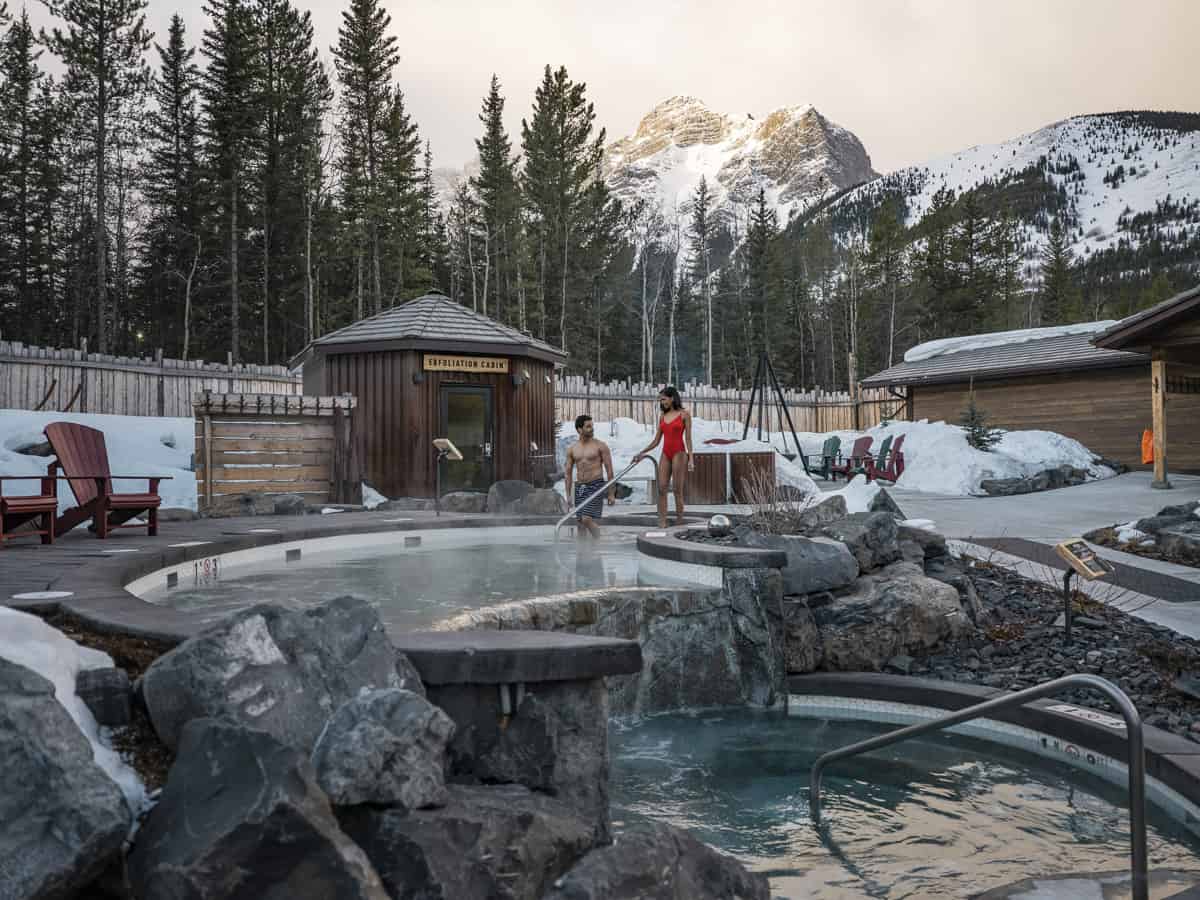 Cold Plunge Pool
Feeling brave? Then after spending 15-20 minutes in any of the hot spots above, then in true nordic spa tradition, take a plunge in the cold plunge pool (~5 – 10 degrees C). While the benefits of cold water therapy are well known (like increased blood flow), be prepared for a startling shock to the system.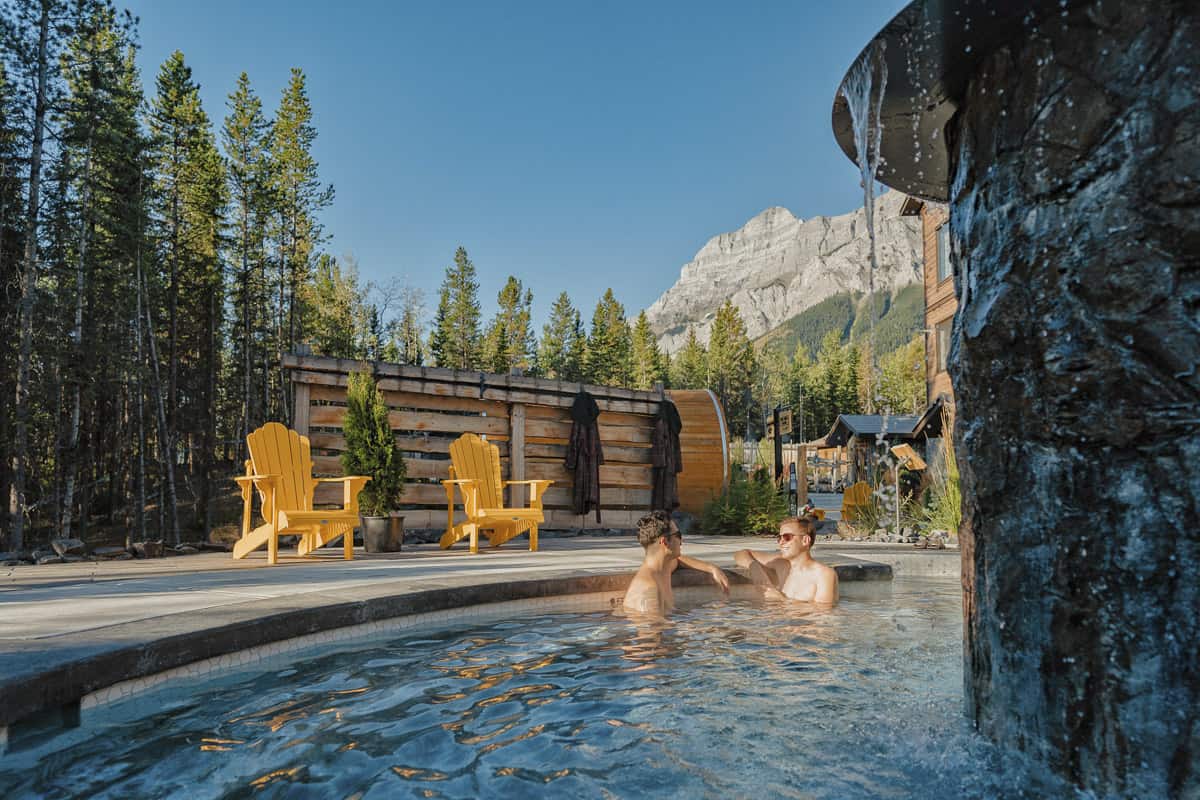 Rest Spots
Before you begin the circuit again, take another 15-20 minutes to relax at a number of spots on the property.
Fire Cauldrons: Enjoy the Canadian outdoors to the fullest by pulling up a chair at one of the two large fire cauldrons, situated on each end of the spa.
Winterized Hammocks: Sadly, we did not get to experience the hammocks as we visited on a fairly windy day and they were taken down. Love the idea, though!
Two Trees Bistro
Where else can you show up in a robe and sandals to enjoy indulgent food? The Two Trees Bistro, open only to spa guests, offers healthy yet luxurious food and is a great way to rest and fuel up between cycles. We sampled the chocolate tart with a berry coulis and ended up fighting over the last bite.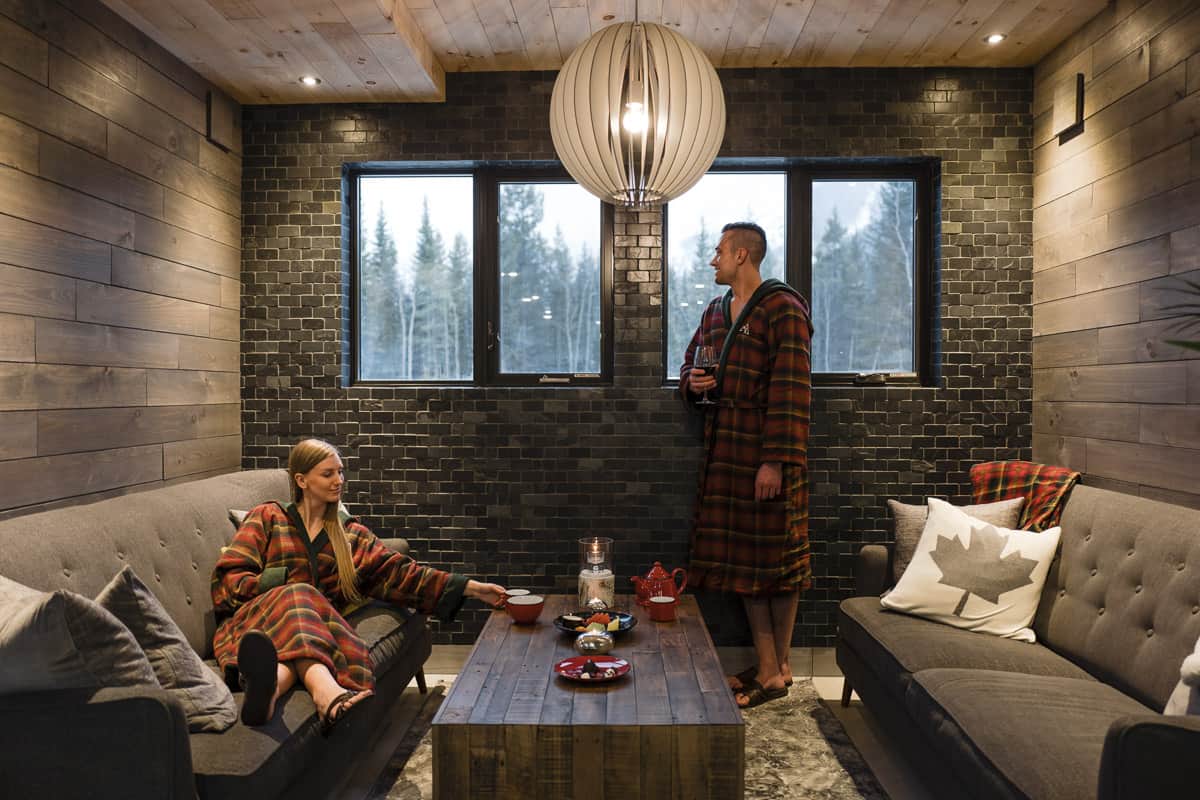 Tips on How to Best Enjoy the Kananaskis Nordic Spa
After our recent experience at the Knordic Spa, we have the following suggestions to enhance any visitor experience:
We were advised that to avoid the big morning rush, arriving in mid/late afternoon was best. After our visit (we arrived just after lunch), we wished we had gone later in the day for a more tranquil experience and to get the full ambiance of the twinkling lights placed throughout. When we left – around 4:30 pm – the changing rooms were jam-packed with people leaving.
We were also told that most people stay around 2-4 hours. We left after 3 and were satisfied with that amount of time.
If you want to enjoy the Two Trees Bistro in the afternoon, be prepared to wait as the seating is limited. Pagers (in a waterproof bag) are handed out so you can still enjoy the spa while you wait for a table.
Coming from Calgary and looking for some alternate routes to spice up your drive? We've got ideas in our Calgary to Kananaskis route guide.
Also! Don't forget to download our FREE Road Trip Alberta bingo cards to amp up the fun on any journey in the province!