Disclaimer: This page may contain affiliate links. Please review our full Terms and Conditions for more information and our Privacy Policy. Note that any pricing, operating hours, or other such information provided below may have changed since initial publication.
Compiled by the Road Trip Alberta team
Last updated on January 11, 2023
Unplug, unwind, and relax by pampering yourself in a Calgary spa and with some Calgary-style TLC.
When you think of Calgary, the Canadian Rockies, the Calgary Stampede, or even 17th Ave (for those avid Red-Mile fans) likely pop to mind. For all its wild beauty, all its energy, all its small-city/big-heart vibes – Calgary also offers its fair share of R&R for the mind, body and soul (or is that soles?)!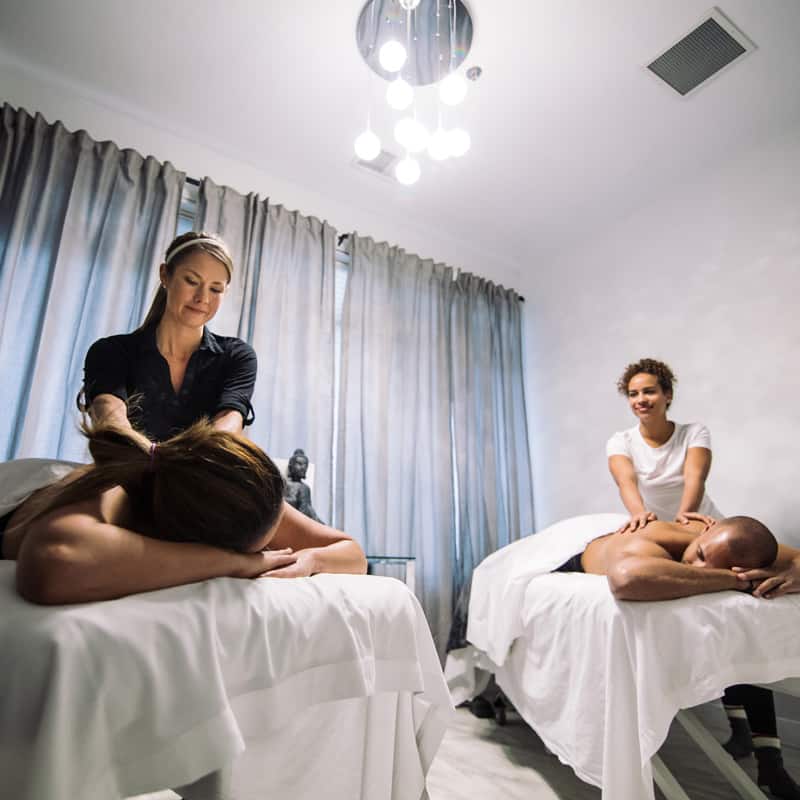 If you're arriving in Alberta's biggest city after a long and cramped road trip, then your body may be screaming for some relief. Do yourself a favour, by planning a day at a Calgary spa or exploring everything that Calgary has to offer for wellness. From quiet biking paths winding through the Bow River Valley to massages, facials, healthy restaurants, yoga, and full-on meditation retreats, Calgary is equipped to be your next stop for some serious rest, relaxation, and rejuvenation!
Best Calgary Spas
In the list below, you'll discover some ultimate R&R(&R) locations in the city, whether you need some solid meditation/rejuvenation time, hydrotherapy, healthy food options, or the social recharge of a yoga class full of like-minded people.
Leela Eco Spa
This modern-meets-bohemian spa offers three beautiful locations in downtown Calgary. Multiple locations mean there's a little something for everyone at Leela, depending on what your body is yearning for. Choose from a variety of spa packages including Eminence Organics facials, jade stone or hot stone massages, acupuncture, osteopathy, reflexology – or some reiki for a more meditative experience.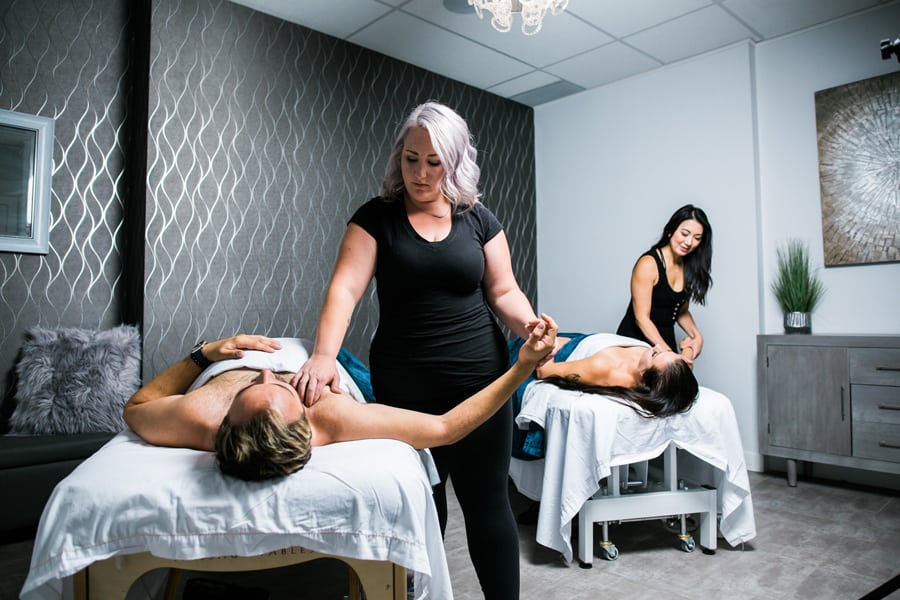 Every experience will unravel every ounce of tension. To make things even better, Leela Eco Spa is proudly earth-friendly, offering cruelty-free products produced by natural methods and from all-natural sources.
Check out the Leela Eco Spa at one of its three locations: Bridgeland, Downtown, and on 17th Avenue.
Ska Thermal Spa
Location: 638 11 AVE SW
Opening in 2022, SKA Thermal Spa is the first thermal spa to open its doors on the Beltline in Calgary. When visitors enter SKA, they are surrounded by the feeling of wellness. Whether it's their warm and calming space or their mantra of "Self-Kindness Amplified", you'll surely be able to find some zen. And did we mention there are no kids allowed? It's 18+ only here.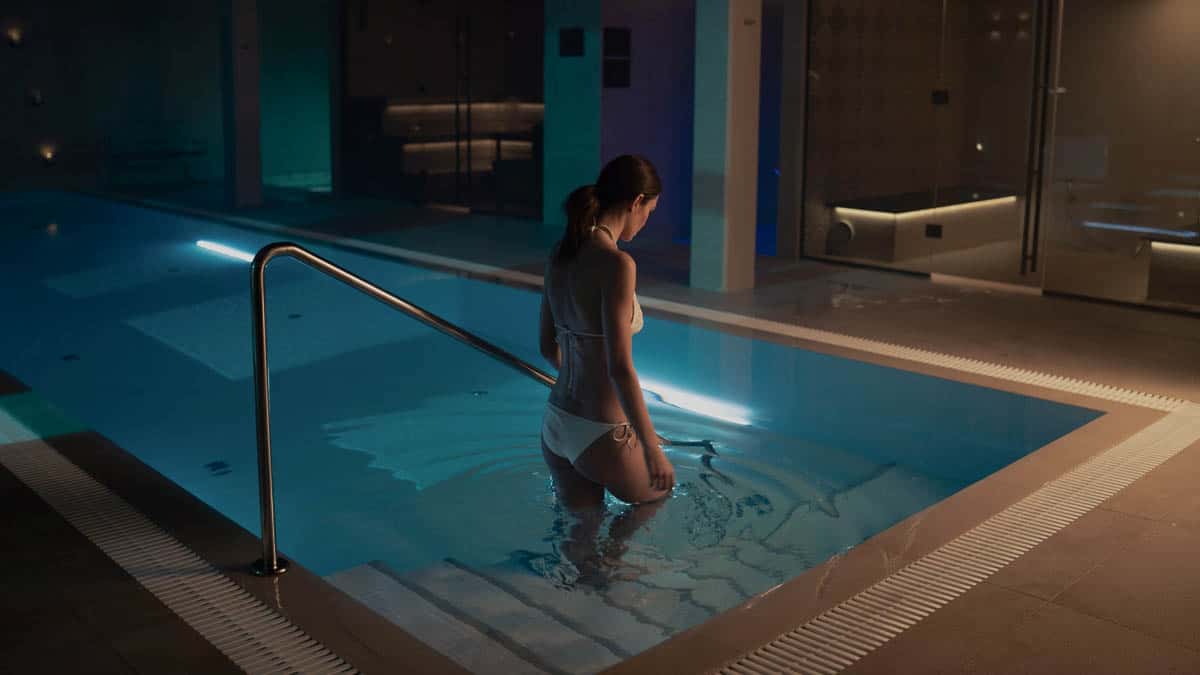 For the hydrotherapy treatments, there are both hot and cold plunge pools, dry and infrared saunas, a steam room, and a lounge area including a bar. Apart from hydrotherapy, there's a menu of other services including massages. Visiting SKA is finding an oasis in Calgary without having to leave the city.
Hammam Retreat and Spa
Location: 167N – 8500 Macleod Trail SE
Feel like Arabian royalty at Hammam Retreat, which brings the extravagance of the middle east to a Calgary spa. Hammam means 'bringer of warmth', which accurately describes the experience at this wonderful day spa.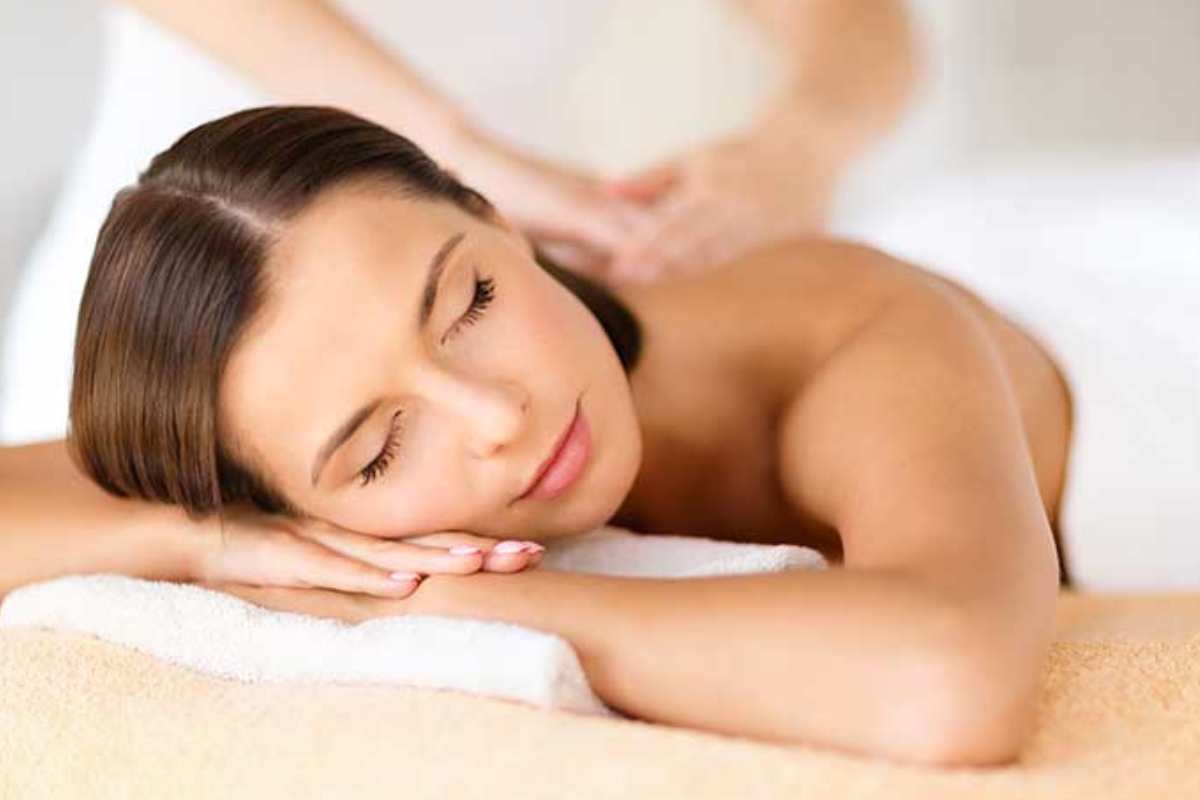 Covering various Mediterranean styles, from Morrocan to Turkish, Hammam treatments involve sitting in a sauna, with a personal masseuse bathing and scrubbing away dead skin cells, then moisturizing with argan oil, coconut oil, or other natural ingredients to help replenish and restore your skin. At the end of your spa package, you can relax in the cozy 'Soğukluk' with some Middle Eastern tea and treats!
Kananaskis Nordic Spa
Location: Kananaskis Mountain Lodge
Ok, it's technically not a Calgary spa, but it's nearby and worth the drive. The Kananaskis Nordic Spa experience is the alpine meditation retreat you've been craving. With over 50,000 sq. ft. of glorious grounds, including five pools, a sauna, steam cabins, bistros and even winterized hammocks, you won't be short on spaces to relax and become one with nature.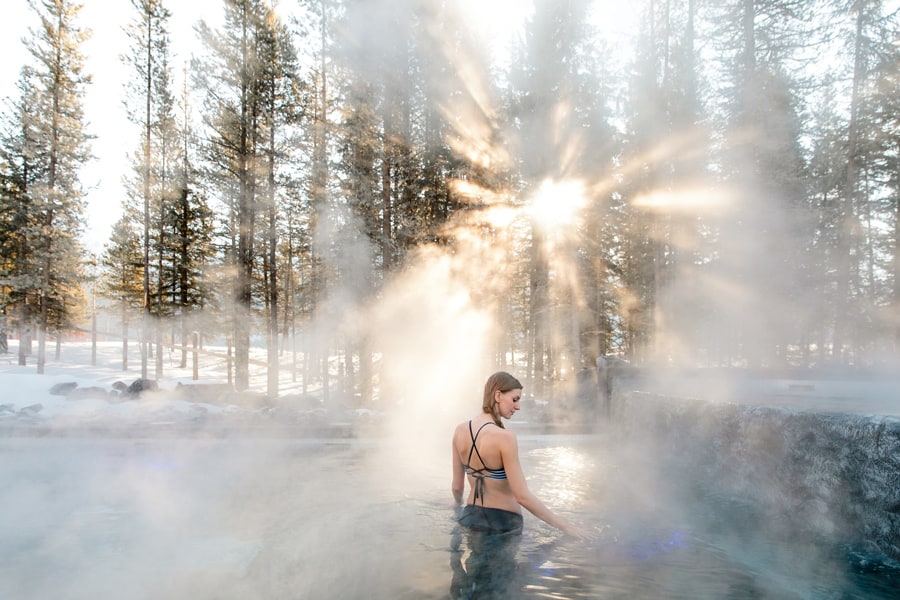 Enjoy the hot and cold stimulation of hydrotherapy, relaxation or deep-tissue massages, or simply meditate in that pristine mountain air on the grounds. We're not meditation experts or anything, but we can safely say: mountains are good for the soul.
Calgary Biking and Walking Paths
Take a beautiful walk or bicycle ride along one of the natural and gorgeous paths that Calgary has to offer. There are so many options and countless kilometres of trails to explore.
Bow Valley River Pathway + River Walk
Starting in East Village (at Rath Bicycle), and heading northwest along the Bow River, you'll happen on Prince's Island Park, a beautiful little picnic and resting area prime for a pleasant summer day. If you're craving interesting older city sites/sights, (starting from Rath Bicycle) head east along the River Walk.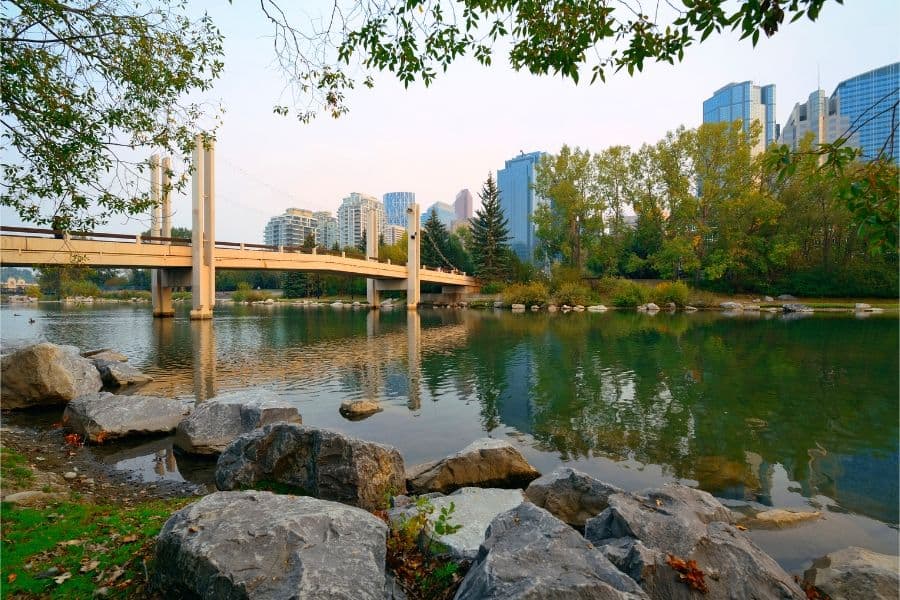 Keep wandering east and you'll eventually find yourself in the up-and-coming neighbourhood of Ramsey, and in Inglewood, one of Calgary's oldest neighbourhoods. You'll find tons of charm and a bunch of old character buildings. And while you're in Inglewood, discover new and unique spices to keep your healthy cuisine interesting at The Silk Road Spice Merchant!
Nose Hill Park
With breathtaking views of the Calgary skyline, you're bound to get some quality alone time at Nose Hill Park in Northwest Calgary. Perfect for biking or walking, this trail covers 11 square kilometres, and with plenty of benches to stop and enjoy the quiet and the view.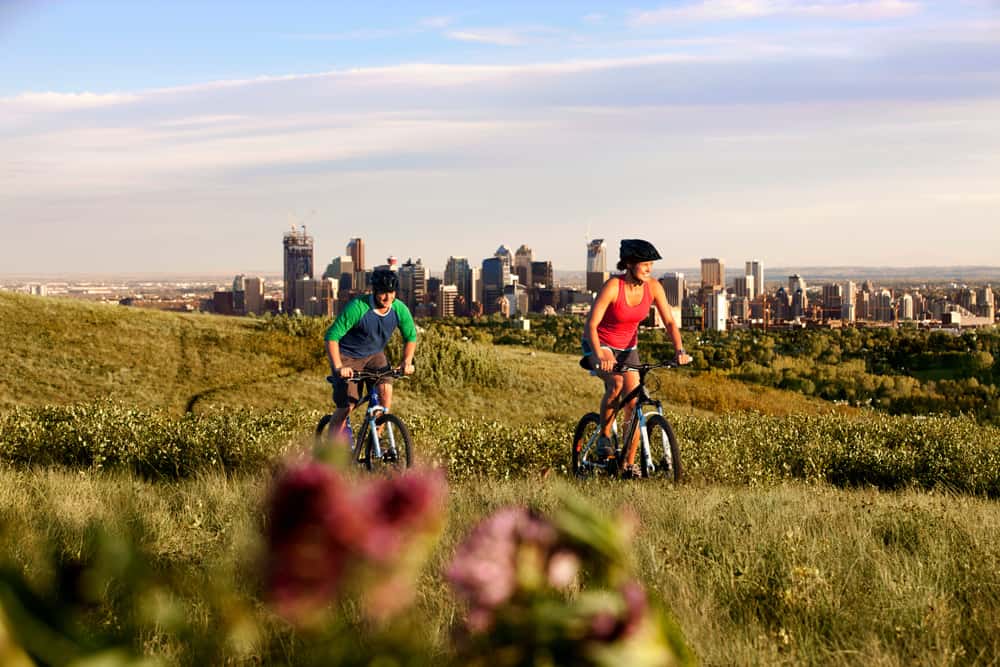 Enjoy a meditative walk through native grasslands that wave in the warm summer breeze, or bring your favourite pupper-pal along and explore the trails together!
Fish Creek Provincial Park
Unbroken nature can be hard to find in Calgary if you don't know where to look, and that's what makes Fish Creek Provincial Park such a treasure. Fish Creek offers a little slice of nature carved into the centre-south of Calgary, making it super accessible from wherever you happen to be.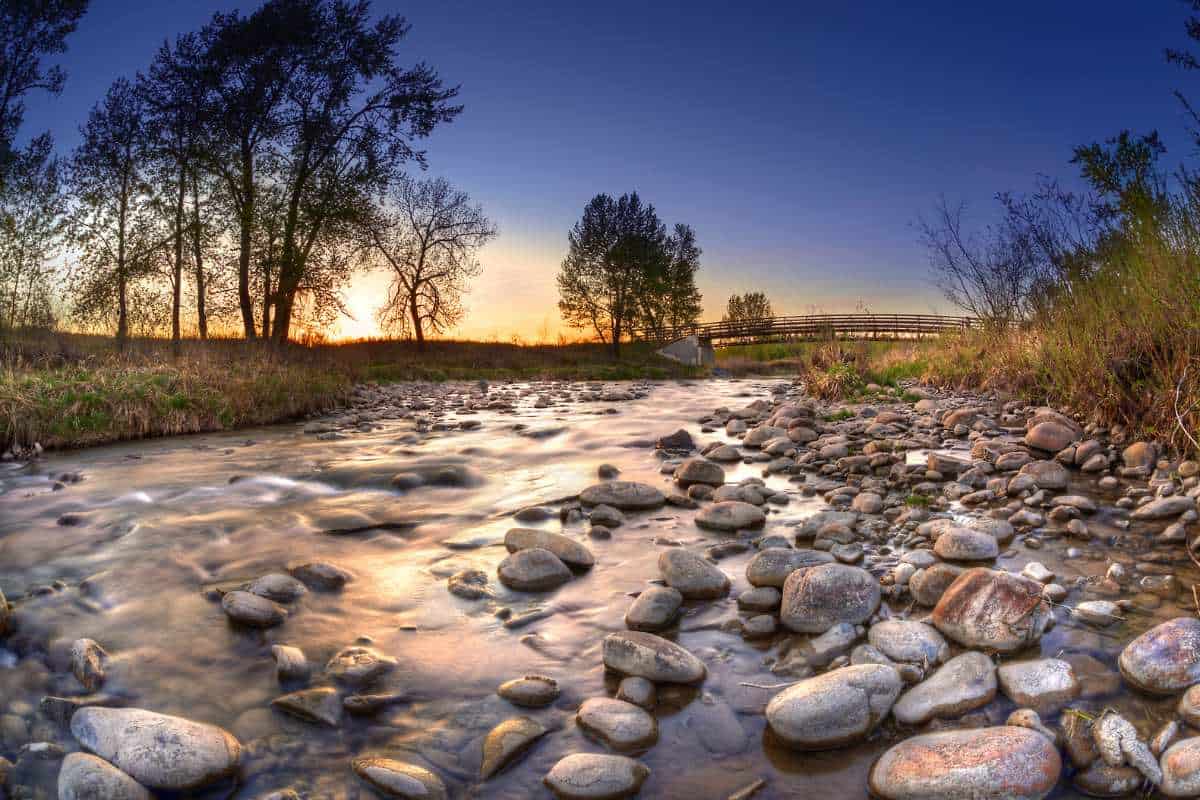 At 13.5 square kilometres, you can spend the whole day exploring the diverse trails winding their way through this gorgeous provincial park. Though there are plenty of walking paths, there are plenty of municipal hiking trails to explore alone or with your favourite people – or critters.
Calgary Yoga Studios
Before you call it a (relaxing) day and head home, cap it all off by 'namaslaying' any leftover blues away! There are a number of great Calgary yoga studios where you can come to rinse out your soul from the daily frustrations of life.
Outdoor Yoga Calgary
Your ideal weekend meditation retreat in Calgary might just be the pay-what-you-want outdoor yoga class in the park (warmer months only – typically starting in May)! Listen to the birds sing, feel the warmth of the sun, and breathe fresh air as you practice yoga outside, with other participants distanced from you.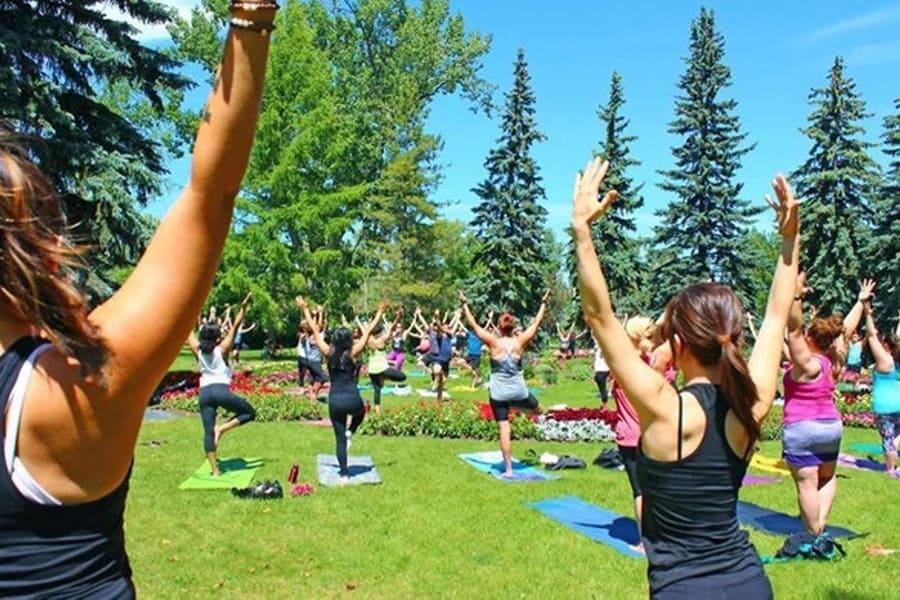 Classes are limited to 30 participants, so be sure you plan ahead for your outdoor yoga sesh! Classes run only on Sunday at both Stanley Park and Mahogany Park.
The Yoga Shala
Featuring a yoga instructor with a heart of gold, The Yoga Shala is well-known in Calgary as one of the best places to melt away stress, and reconnect with yourself through power, and restorative yoga.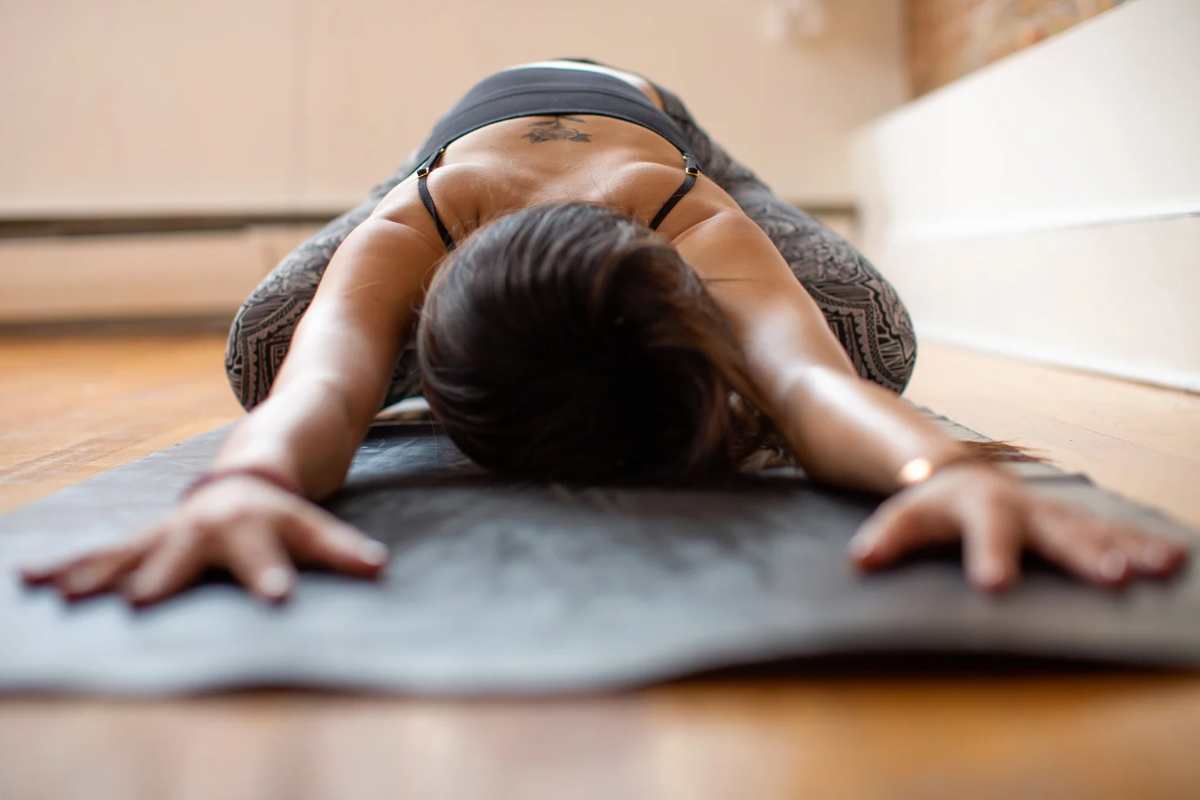 If you're just getting into yoga, or simply feel uncomfortable contorting in crowds, Yoga Shala's Mysore-style yoga, where you can enjoy one-on-one instruction, is a great option to ease your anxiety while getting personalized instruction.
Breathe Hot Yoga
If you can't get enough heat, try some soul-rinsing hot yoga at one of the two Breathe Hot Yoga locations in Calgary. Voted Best of Calgary for Yoga Studios, Breathe Hot Yoga is a perennial favourite for locals and a must-visit for travelling yogis. But, after a long day filled with activity, you might be even more interested in their wellness services at the McKenzie Towne studio, including massages!
Check out each of the Breathe Hot Yoga studios in either Avenida or McKenzie Towne.
Healthy Restaurants in Calgary
Wellness starts on the inside, and with the most wholesome ingredients to feed your body and soul. With these healthy Calgary restaurants, you'll find menus that include delicious, nourishing food no matter what dietary restrictions you may have.
The Coup
Fuel up on ethical vegetarian dishes sourced from local ingredients at this charming little street-side cafe on 17th Avenue. With a major focus on health and sustainability, The Coup serves up tasty, granola-culture treats from the wee morning breakfast hours to those intimate late-night dinners and cocktail chasers. Whatever your fuel, be it an organ-detoxifying Shrub-Shot, some Coup Tacos, or a nourishing, all-out Magic Dragon Bowl, you'll eat healthy and happy at The Coup!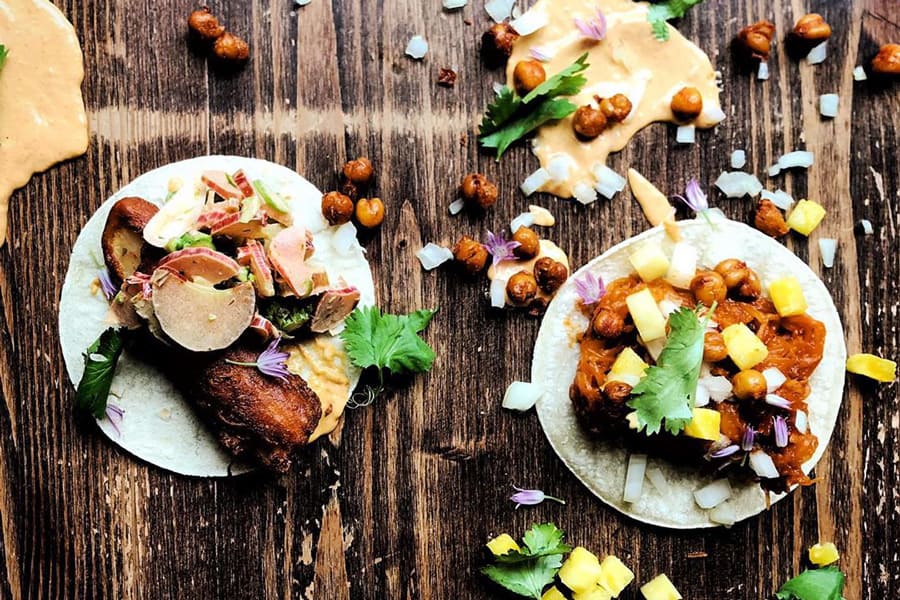 SaVeg Cafe
Nutritious and divinely delicious, this trendy little cafe, SaVeg (pronounced, 'savage') offers up some supremely fresh ingredients with a Korean twist. Try their 'No Eggs Benedict' for a stick-to-your-bones breaky, or some fresh and savoury Japchae (Korean glass noodles with veggies and bean curd slices). Or, for a refreshing energy-packed treat, dive into their all-the-colours-of-the-rainbow smoothies! Whatever you choose, you won't be short on nourishment – or flavour for that matter.
Marko's Kitchen
Marko's Kitchen caters to every dietary concern, from the animal-friendly vegans to the meat-devouring 'keto-ers'! Fresh, wholesome, and homemade are Marko's three pillars, which are applied to every dish – from comfort foods like gourmet hamburgers, cordon bleu, and 'chevapi' (mini seasoned beef sausages served with onions on a traditional bun with dips), to fresh summer and cabbage salads! There are also low-carb pasta alternatives such as spaghetti squash and organic black bean noodles to satiate the gluten-free crowd.