Disclaimer: This page may contain affiliate links. Please review our full Terms and Conditions for more information and our Privacy Policy. Note that any pricing, operating hours, or other such information provided below may have changed since initial publication.
Compiled by the Road Trip Alberta team
Last updated November 25, 2023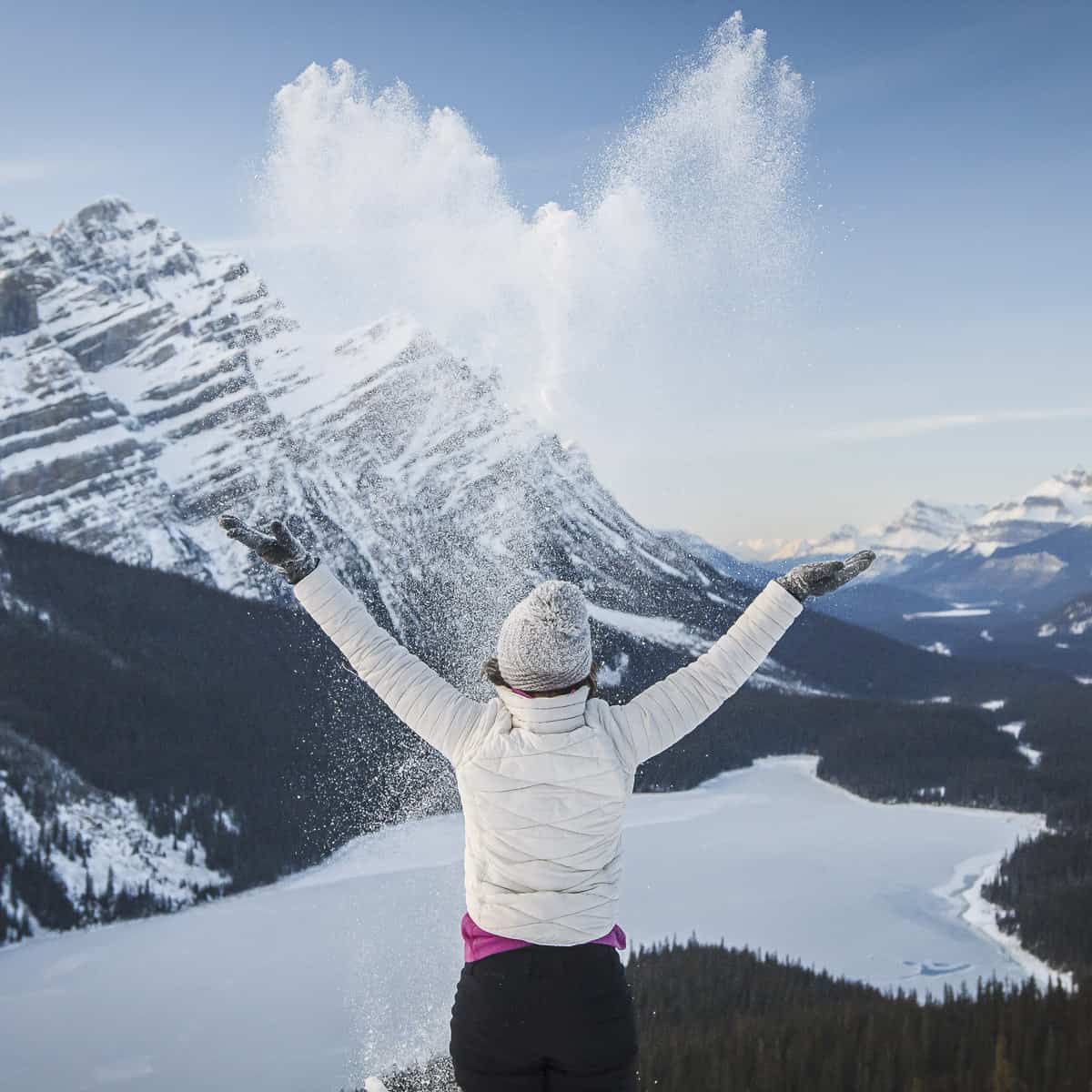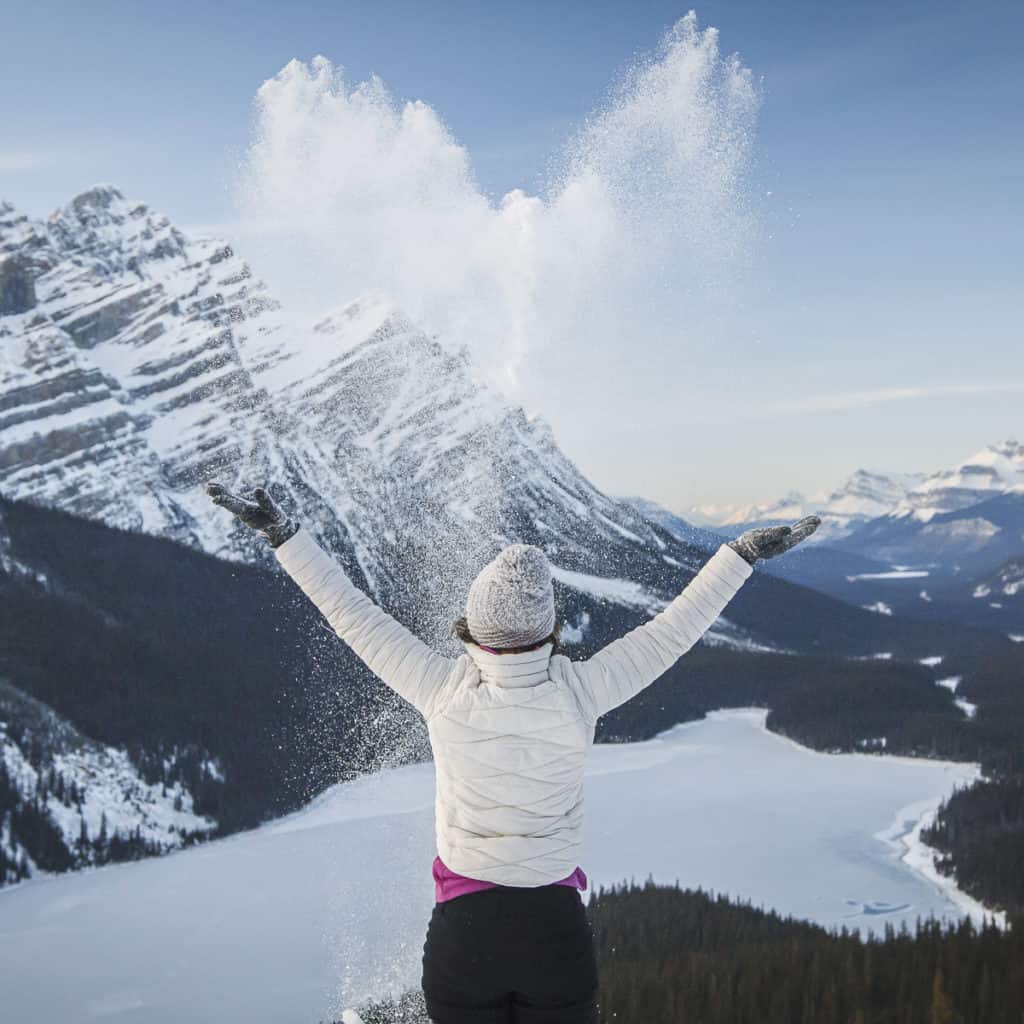 Some eschew the snowy season, while others revel in it. For those who can't find a way to have fun during winter in Alberta, then you aren't doing winter right!
But we've got you covered here with tips about everything like what to wear (ummm, LOTS) and where to go to create your own winter-wonderland moments.
Tips for Exploring Alberta in Winter
With so many awesome places to visit during winter in Alberta, it can be hard to narrow down where you should go! If it's your first time exploring Alberta in the colder months, we recommend choosing two or three main winter activities to try, and then plan your trip around them. For example, if you're interested in downhill skiing and ice skating, head to Banff or Lake Louise in the Rocky Mountains. Are you a city-lover who is also into ice fishing and cross-country skiing? Base yourself in Edmonton or Canmore for lots of snowy adventures.
With so many domestic and international tourists coming to visit Alberta in winter, you can rest assured knowing that there are dozens of places to rent the necessary equipment for all your winter activities. While you're welcome to bring your own skis, snowshoes, and ice skates with you, almost all tourist spots and national and provincial parks will have equipment rental shops. The same goes for purchasing winter gear and clothing; if you forgot to pack a scarf, don't worry, there will be a shop for all your needs close by.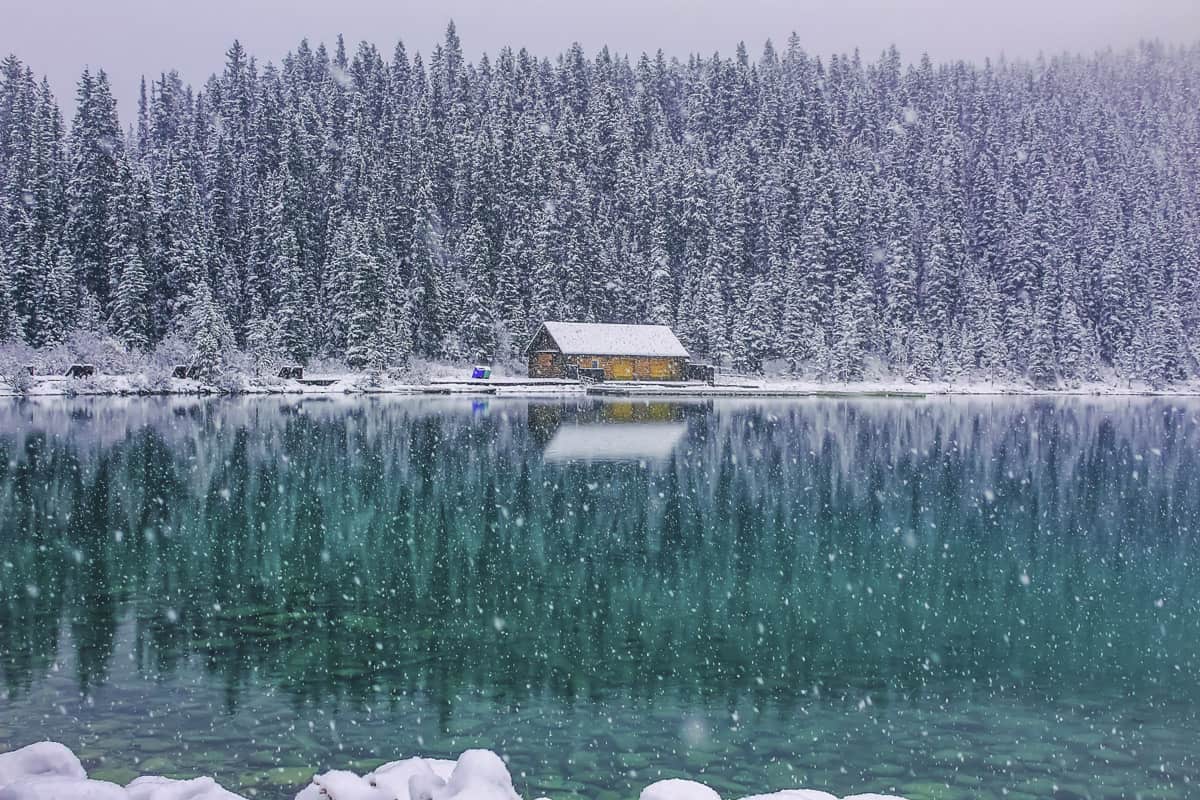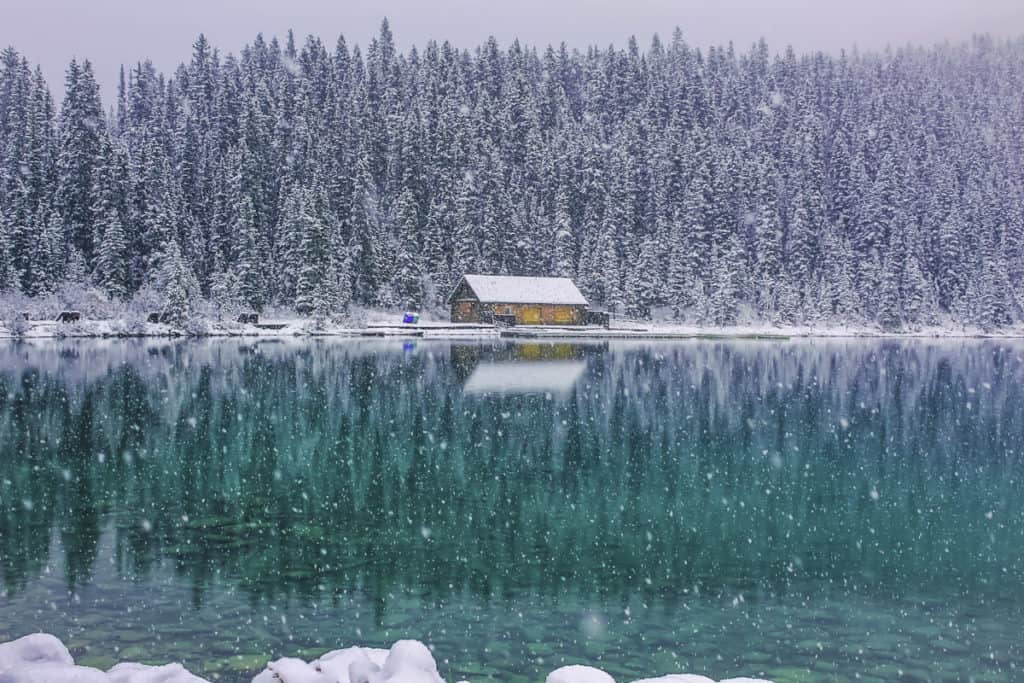 Weather in During Winter in Alberta
Thankfully, Alberta is quite a sunny province, even in winter! In fact, Alberta has 312 days of sun per year. That doesn't mean it doesn't get cold, however, so it's crucial to check the weather for your destination before you visit. In the coldest months of the year, usually January and February, daytime temperatures can range between -5°C to -15°C (23° to 5°F). But be warned: at night, the temperature can drop well below that, with some spots recording temperatures in the -30°s and even -40°C (-22 to -40°F).
Be prepared for snow all over the province, as well as lots of frozen lakes. The mountains can see up to 10 metres or 33 feet of snow every winter!
What to Wear in Alberta Winter
It's no secret… Alberta can get cold! You'll want to dress appropriately for the weather by packing warm, high-quality items that can easily be layered. Merino wool is particularly fantastic for staying warm; denim, not so much.
If you plan on spending a lot of time doing winter activities such as skating, snowshoeing, cross-country skiing, and so on, you'll need warm layers underneath waterproof outer layers; think wool sweaters, flannel shirts, etc. to layer under your jacket and snow or ski pants. A good quality parka is absolutely essential for staying warm during Alberta's winters.
You'll also need fantastic mittens/gloves, a neck warmer and/or scarf, a warm hat (called a toque in Canada), and waterproof winter boots. Long underwear and thermal layers are also recommended, as are wool socks. A tip for buying the right pair of boots: make sure you can still wiggle your toes while you're in them… this will keep your feet toasty warm!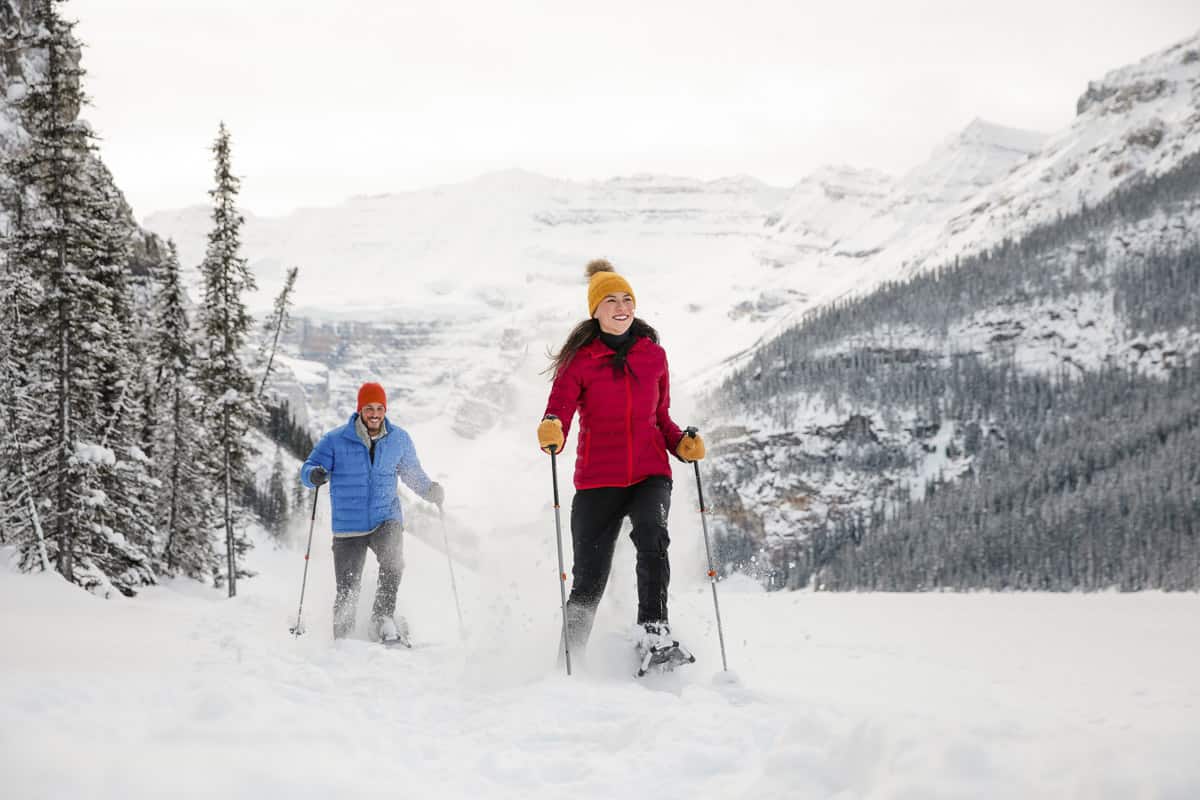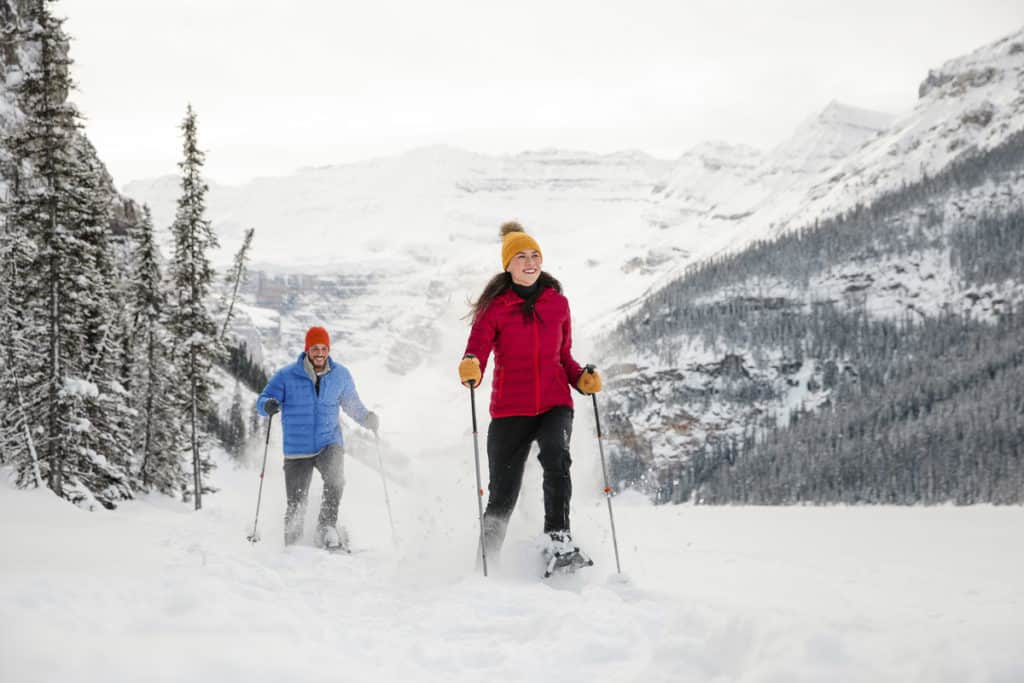 Alberta Roads in Winter
If you plan on driving in Alberta in winter, make sure you have the proper winter tires or chains that can handle ice and snow. Also pack a map (in case you lose service or power on your phone), spare warm clothing and blankets, snacks, a flashlight, and a shovel (in case of an emergency where you're snowed in or your car stalls in a blizzard). You should also aim to keep your car fuelled as often as possible, especially in more remote areas where gas stations are further apart.
No matter what, if there's a severe storm or blizzard, stay off the roads. Always check for seasonal road closures; there are some parts of the Rocky Mountains that close for winter. The popular route up the Icefields Parkway can sometimes close if there are avalanches, so again, always check for closures before you head out on the road. And if you've never driven in winter before, read up on tips for managing the ice while driving!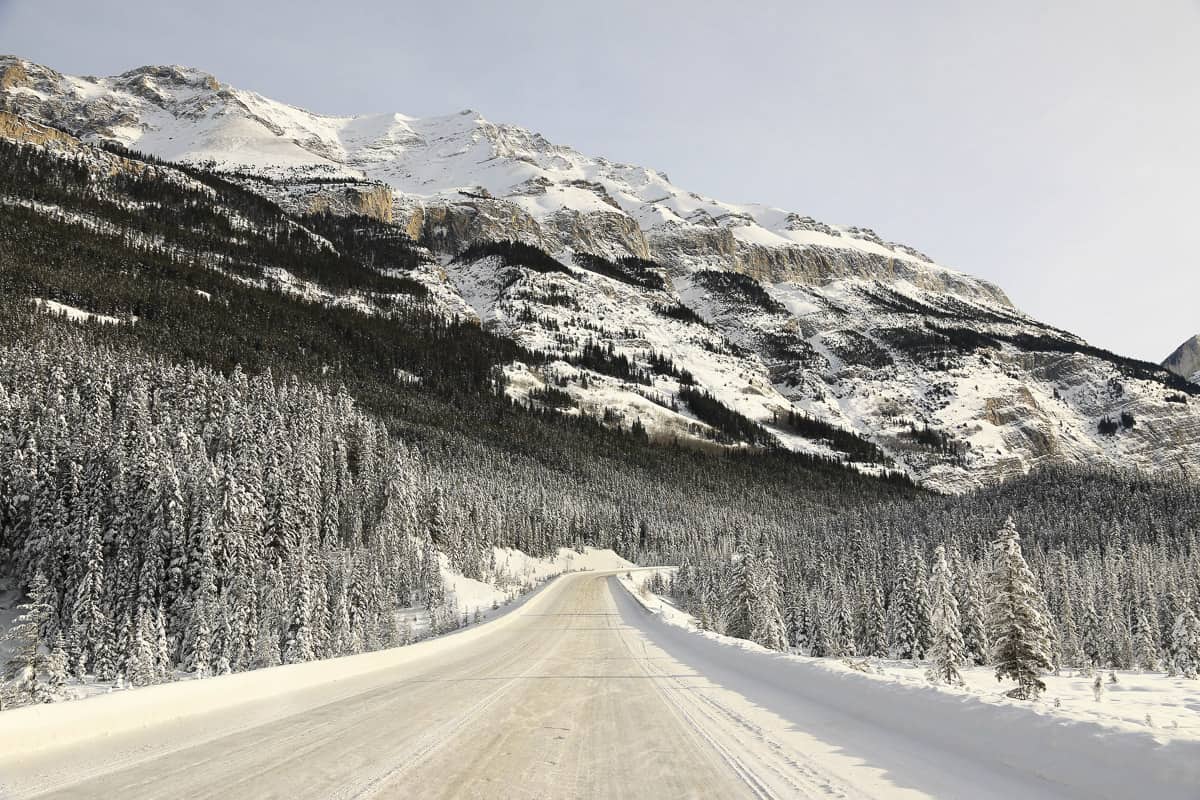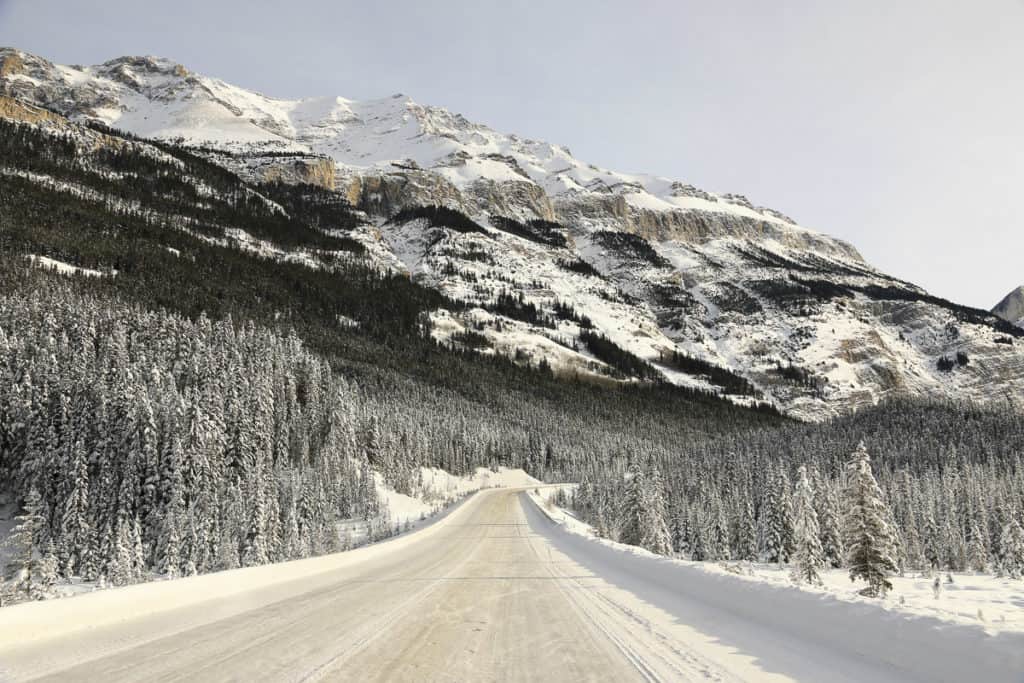 Best Things to Do in Alberta in Winter
Ice Skating in Alberta
Yes, lots of skating rinks pop up in winter months, but winter in Alberta also brings an abundance of frozen lakes, and that brings lots of wild ice skating around the province. Lake Louise, Lake Minnewanka, Two Jack Lake, and Spray Lakes are all extremely popular spots for skating in Alberta. We urge you to exercise extreme caution when skating on an open lake. Check the ice thickness to ensure it is safe to skate and be out in the open area.
One of the most beautiful places to visit for skating is also Abraham Lake, a man-made lake found in the foothills of the Rocky Mountains. Here you can find frozen methane bubbles trapped below the ice's surface, making for an absolutely stunning sight (and a skate you'll never forget).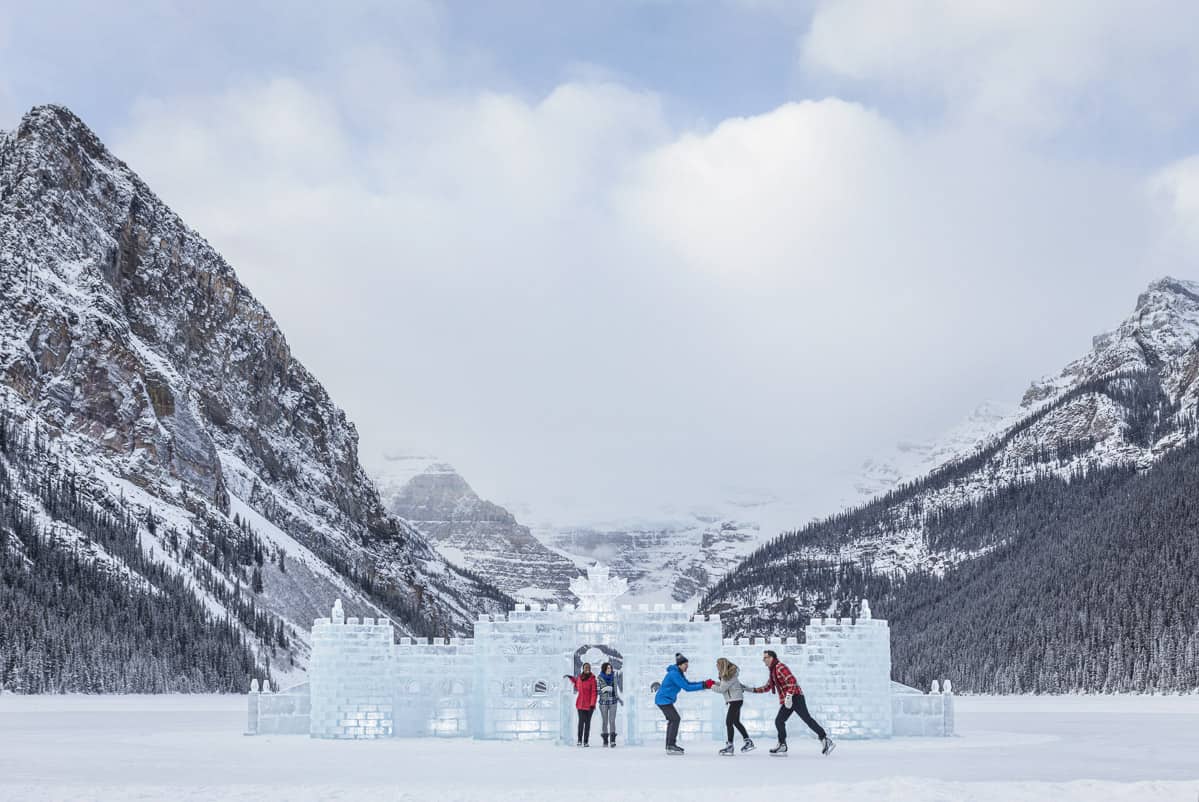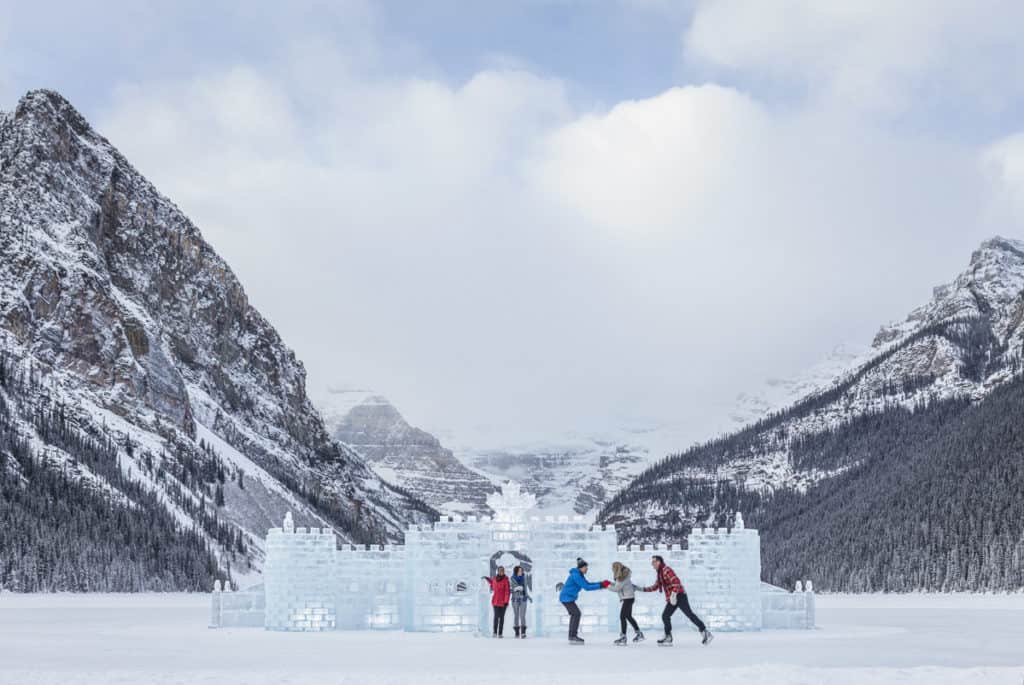 Dog Sledding in Alberta
For thousands of years, humans have relied on sled dogs to make their way across the frozen lands of Canada. Snuggle into the sleigh and let the team of wolfdogs take you through the winter wilderness. It's an incredible experience for you and your family! Popular tours to take are: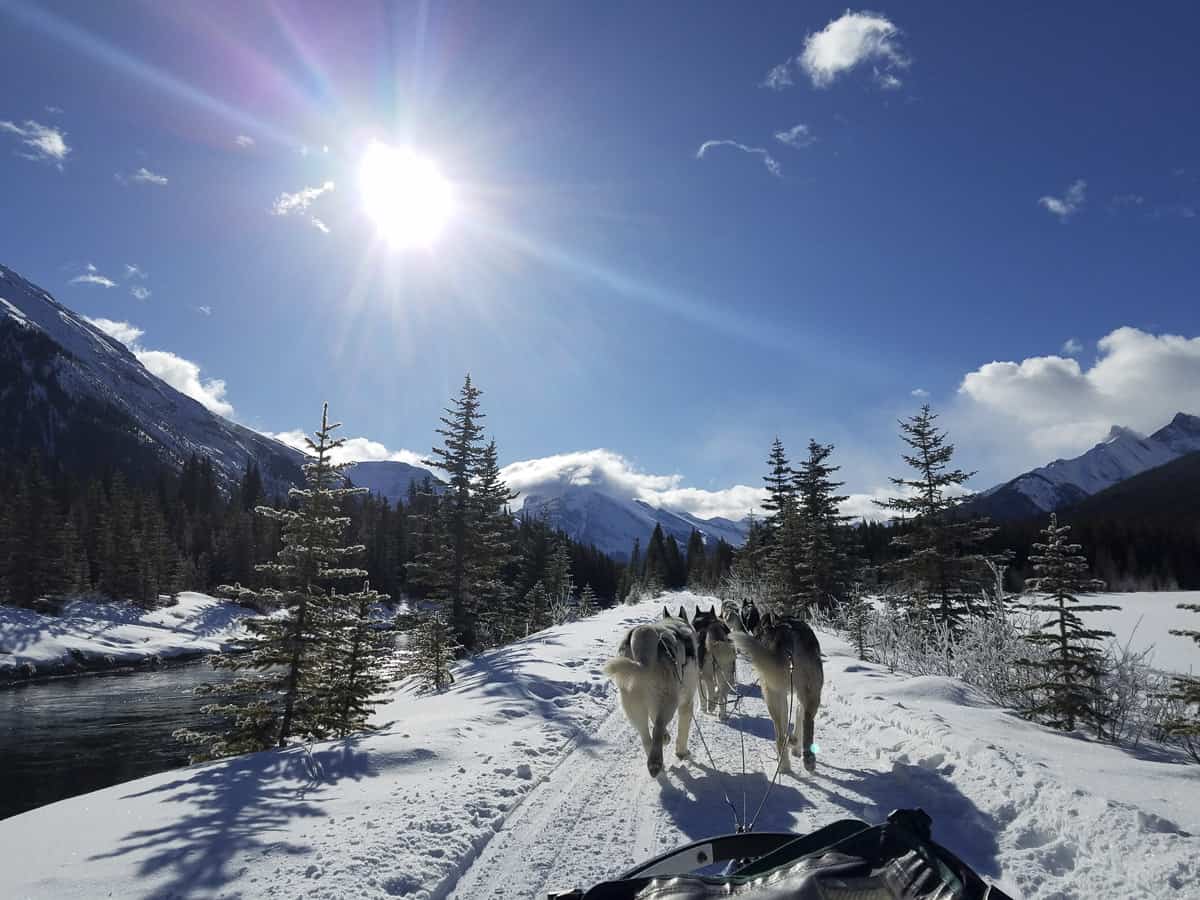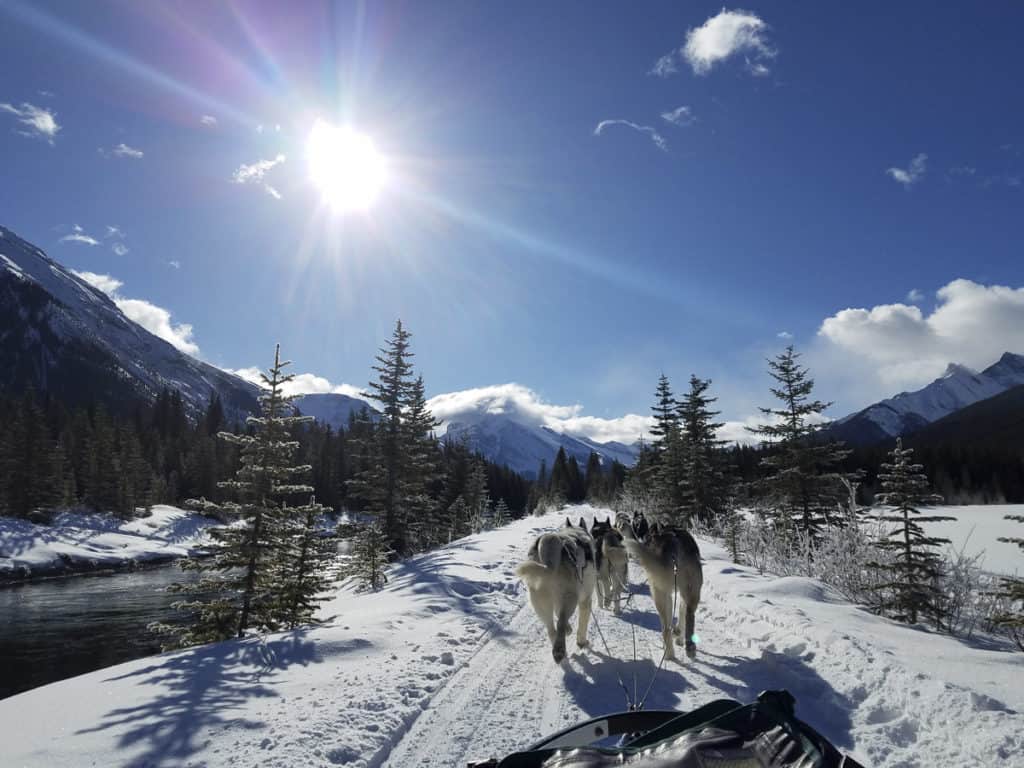 Skiing in Alberta
If you love skiing, you've come to the right place. With world-renown ski hills, the only difficult part of skiing in Alberta is choosing which mountain you want to tackle first. Alberta is also a cross-country skier's dream, with tons of trails to explore. Here are a few of our favourite spots for both downhill skiing and cross-country skiing in Alberta.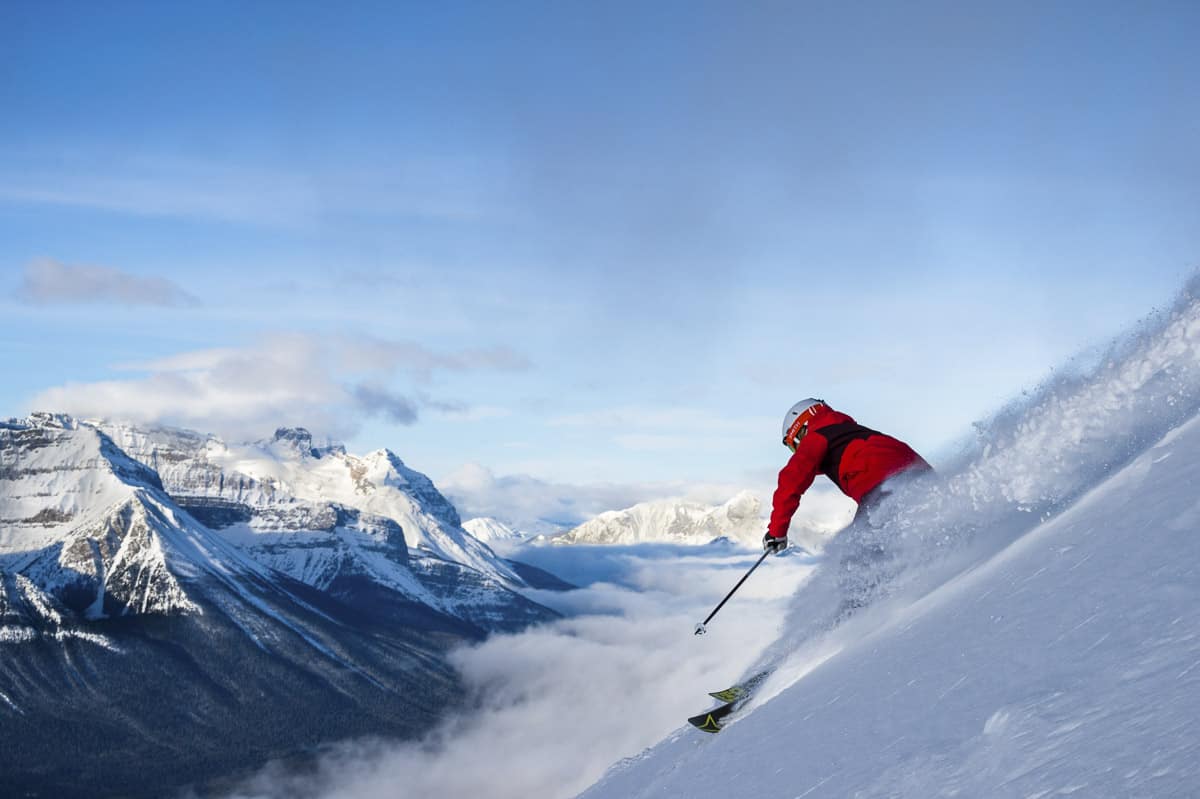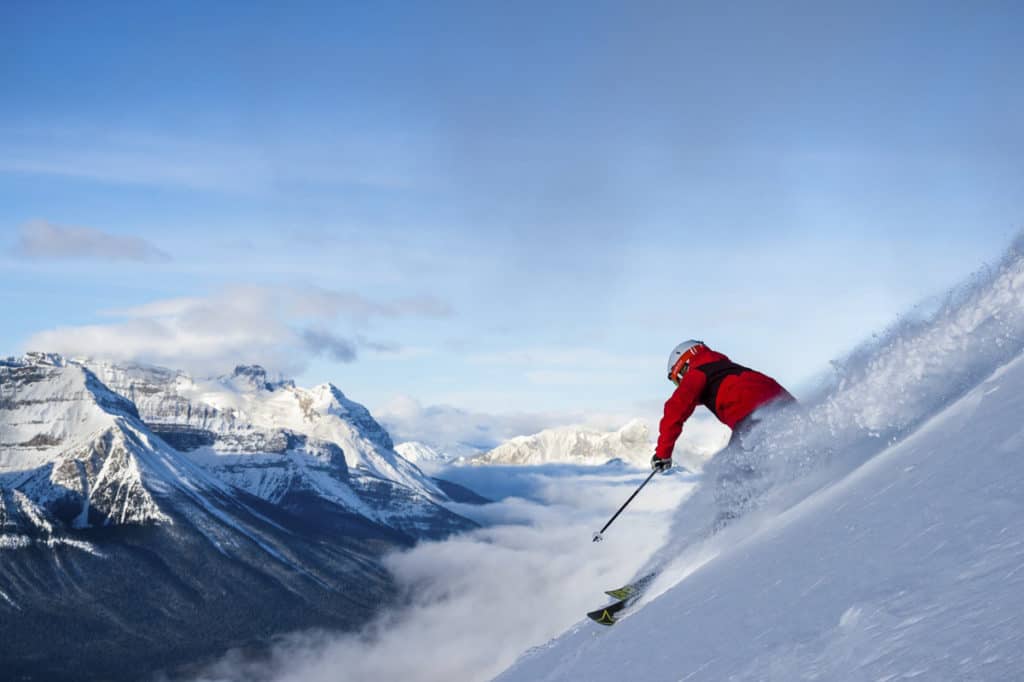 Downhill Skiing
When it comes to downhill skiing in Alberta, you'll most likely head to the Canadian Rockies. Here you'll find two major ski areas: Banff National Park and Jasper National Park.
In Banff, choose between Sunshine Village (139 runs), Mount Norquay (60 runs), and Lake Louise Ski Resort (160 runs). Together, they make up the world-class resorts known as the "Big 3". It's worth it to spend some time skiing and snowboarding in Banff National Park to get to know all three resorts!
Further north in the Rocky Mountains, along the Icefields Parkway, you'll find Jasper National Park. Jasper is home to Marmot Basin (91 runs), which holds the record for the highest base elevation of any ski area in Canada.
Other popular ski resorts in Alberta are Nakiska Ski Resort in Kananaskis (79 runs), Castle Mountain Ski Resort in Castle Provincial Park (94 runs), and Pass Powderkeg Ski Resort in Crowsnest Pass (27 runs). There's also Winsport at Calgary Olympic Sport (13 runs). In Edmonton, head to Snow Valley Ski Hill (8 runs) and in Red Deer, spend the day at Canyon Ski Resort (23 runs).
And for even more information, make sure to check out our complete guide to skiing in Alberta.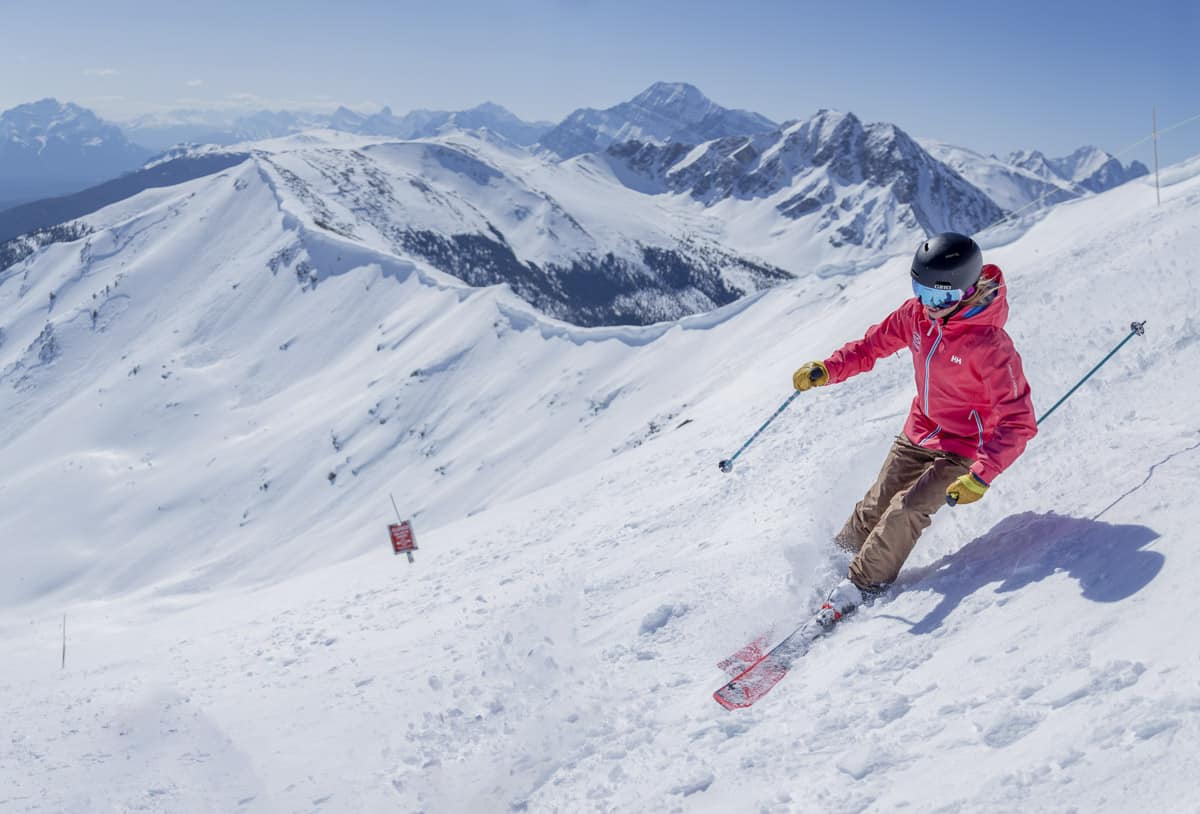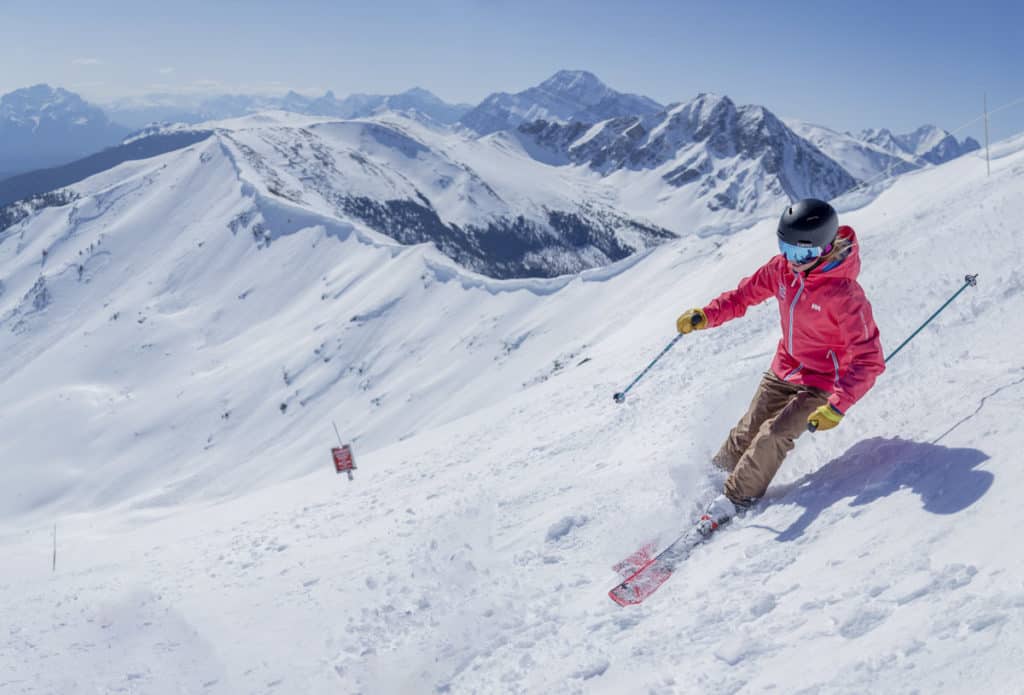 Cross-Country Skiing in Alberta
Winter in Alberta wouldn't be complete without one of the classic winter activities: cross-country skiing. The good news? There's fantastic skiing all over the province, so you're never far from a great trail!
Popular spots include the trails through Canmore Nordic Centre (the cross-country skiing Canadian Olympic team trains here!), Kananaskis Country, the Maligne Lake Road in Banff National Park, Cypress Hills Provincial Park, Vermilion Provincial Park, William A. Switzer Provincial Park, and Cooking-Lake Blackfoot Provincial Recreation Area.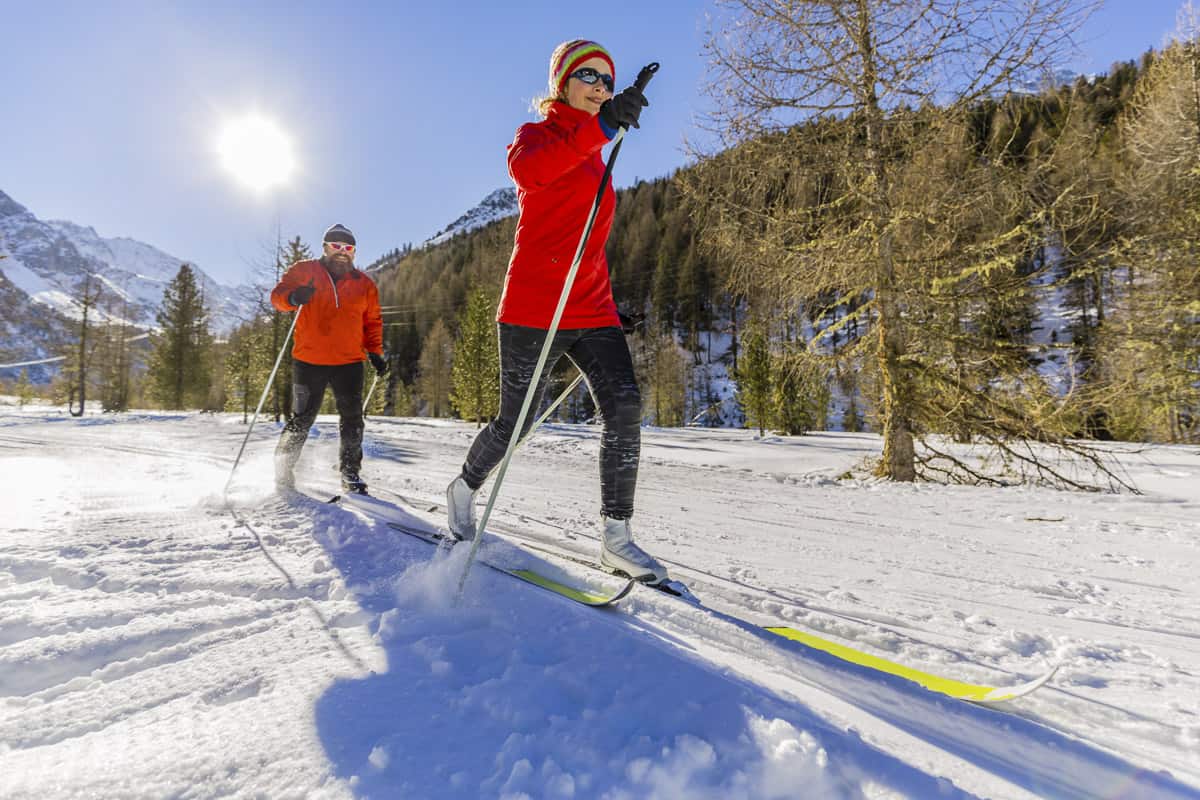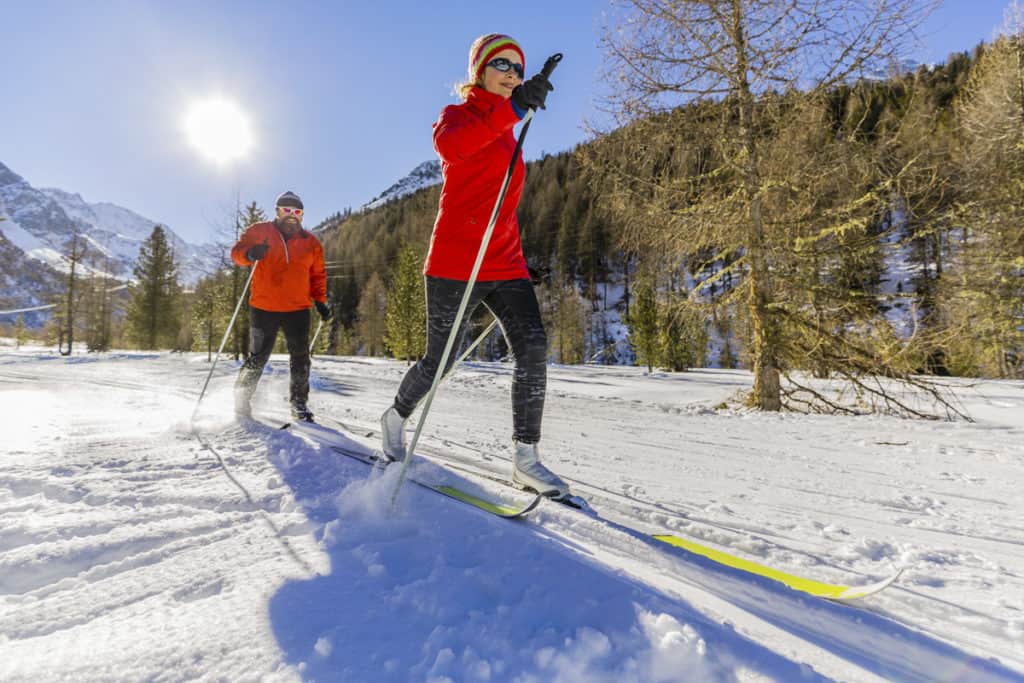 Snowshoeing in Alberta
One of the best ways to experience winter in Alberta is to go snowshoeing. Take your time snowshoeing through the national parks, forests, and snowy landscapes of the province; your snowshoes will allow you to explore areas you couldn't in boots alone. If you're lucky, you'll even be able to spot some wildlife.
Some of the most popular places to visit for snowshoeing in Alberta include Elk Island National Park, Spray Valley Provincial Park in Kananaskis Country, and Banff National Park. Wakasoo Park in Red Deer is also known for its 100 kilometres of gorgeous snowshoeing trails.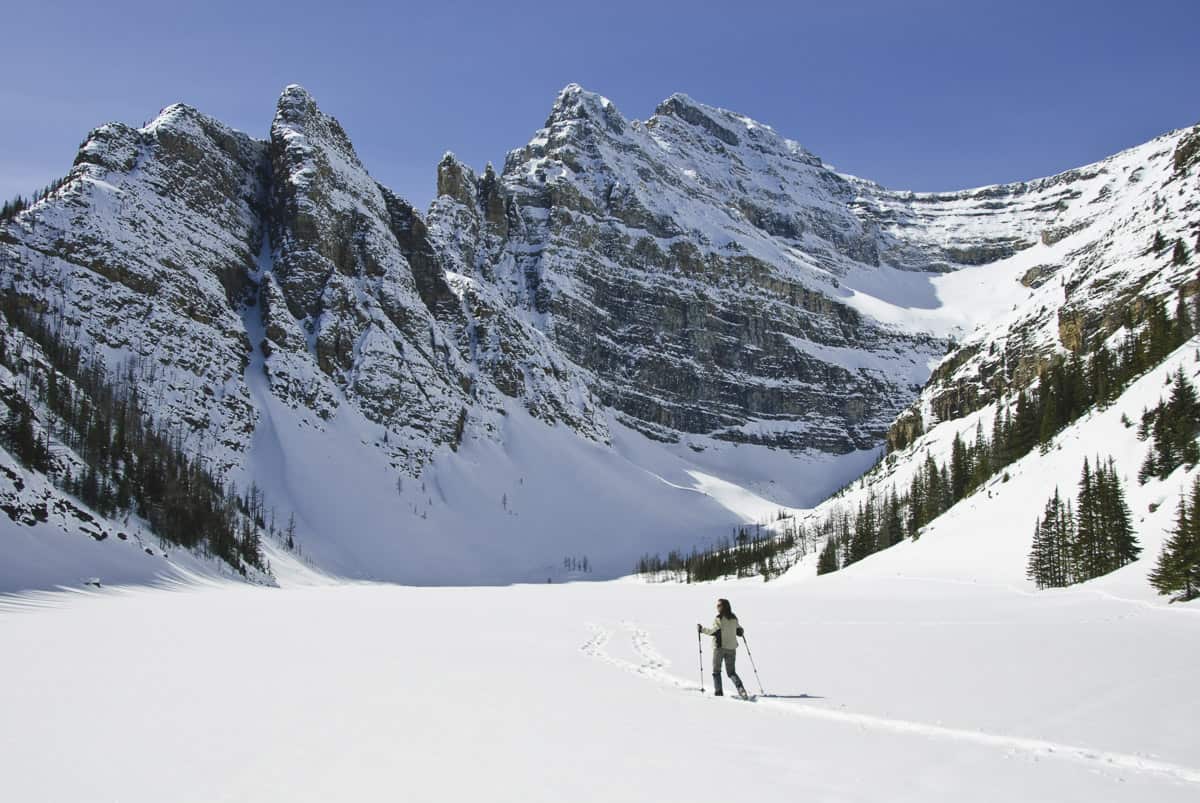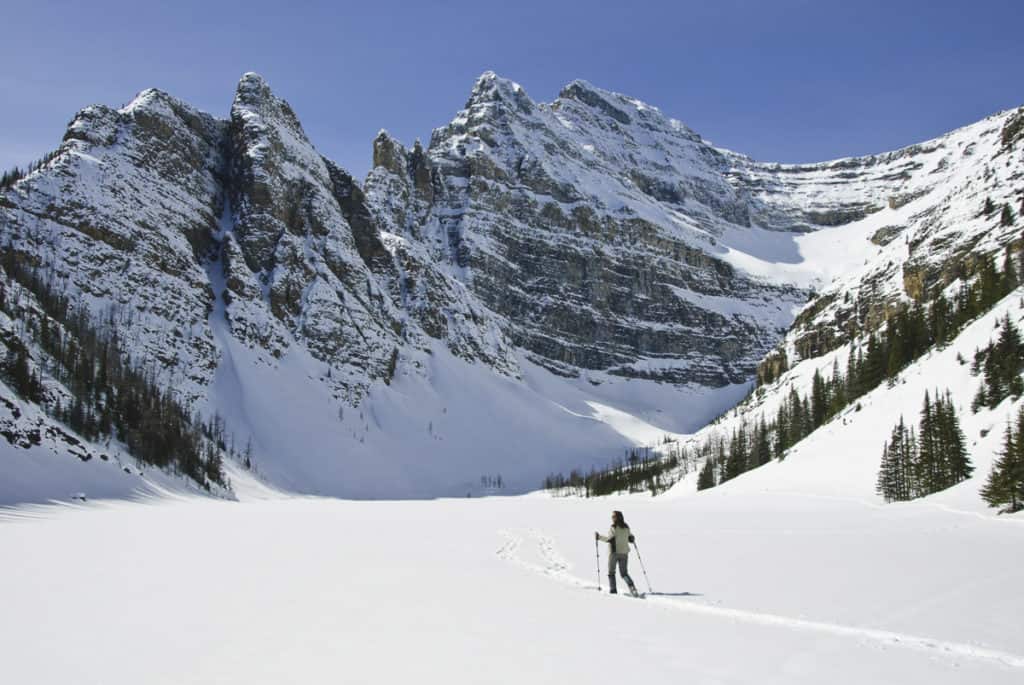 Ice Climbing in Alberta
Have you ever seen a frozen waterfall before? Ice climbing is an incredible way to take advantage of winter in Alberta. With so many frozen waterfalls all over the province, it's surprisingly easy to find the perfect spot for you. If you're unfamiliar with ice climbing, there are fortunately many tour operators that will show you the ropes (pun intended).
Popular spots for ice climbing include Crescent Falls (near Nordegg), Siffleur Falls (David Thompson Country), Panther Falls (Banff National Park, found off of the Icefields Parkway), and Lundbreck Falls (Crowsnest Pass). Maligne Canyon (Jasper National Park) is also fantastic for more experienced ice climbers.
If you are ice climbing without the assistance of a guide, please exercise extreme caution.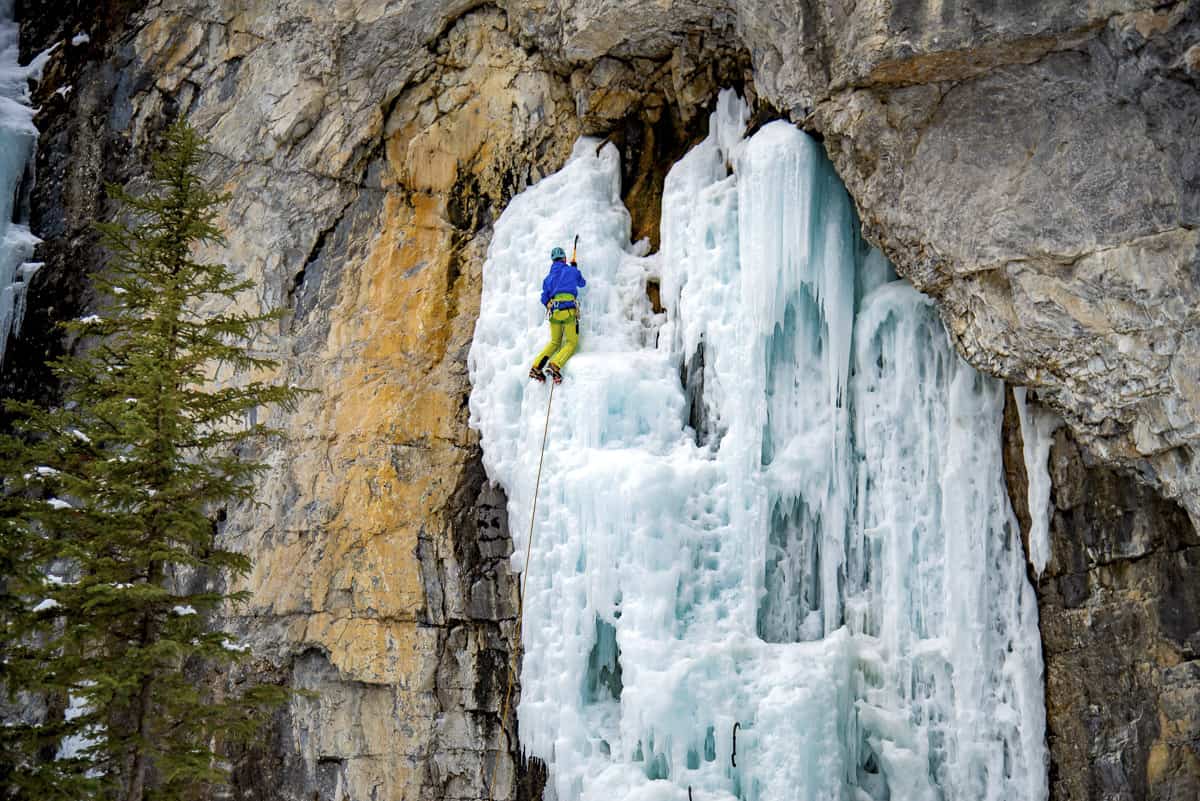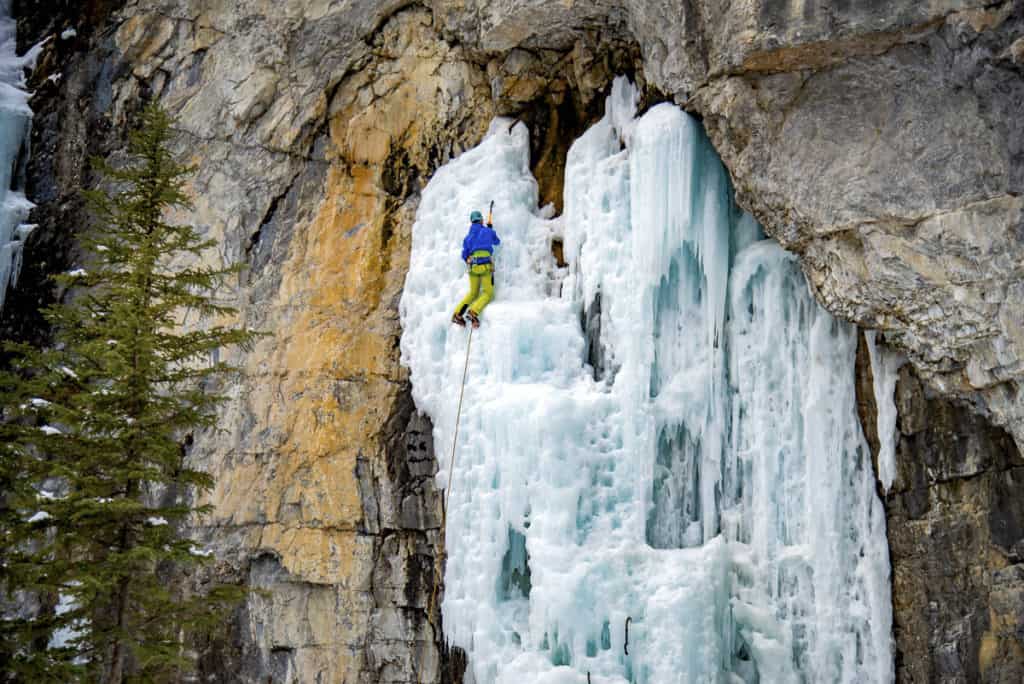 Winter Hikes in Alberta
Hiking in winter? Absolutely! Alberta in winter is a fabulous hiking destination, and there are plenty of trails to explore around the province. Some of our favourite winter hikes include Johnston Canyon (Banff National Park), Bears Hump (Waterton Lakes National Park), Crescent Falls (Nordegg), Star Creek Falls (Crowsnest Pass), Grotto Canyon (one of the most interesting Canmore hikes), and Troll Falls (Kananaskis). These are also great trails to snowshoe, especially after a nice snowfall! Maligne Canyon (Jasper National Park) is also gorgeous in winter, but we definitely recommend ice cleats and, for inexperienced hikers, joining a guided tour.
Make sure to check weather conditions before you hike, and dress in lots of layers that you can easily remove if you get warm. You might also want to consider using ice cleats for your boots and/or use walking sticks to help you on your winter hike. Who knows, hiking might become one of your favourite winter activities!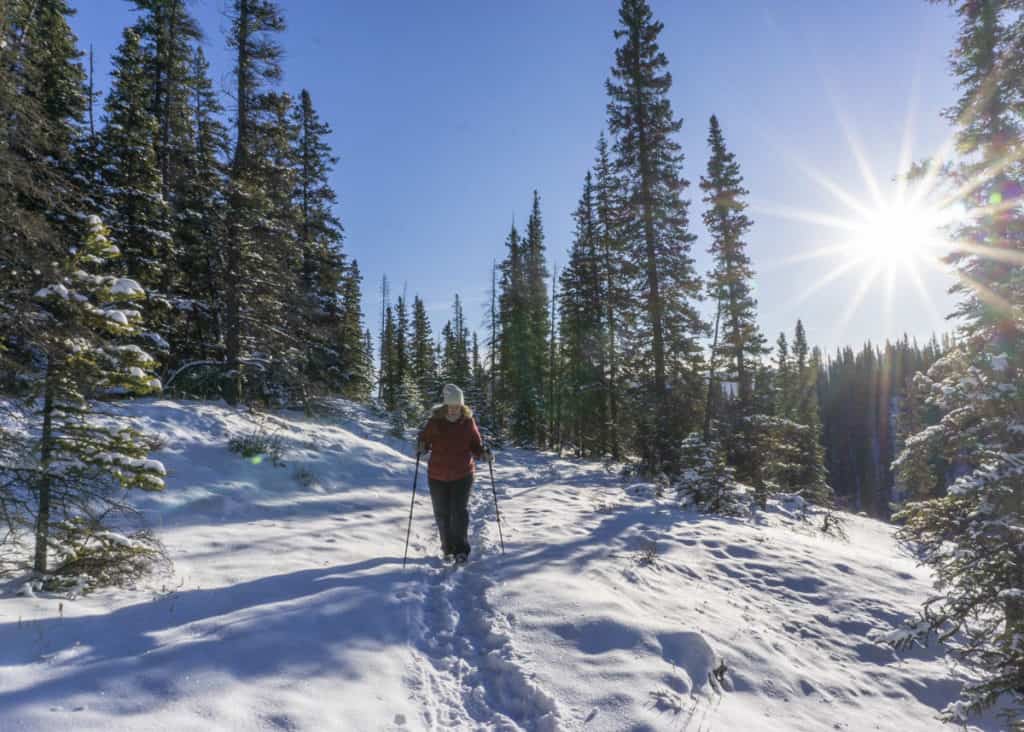 Ice Fishing in Alberta
Ice fishing is one of the most popular winter activities in Alberta; it's a peaceful, quiet activity that encourages contemplation and connection with the land. Thankfully, there are plenty of lakes to choose from. It's also easy to rent the necessary equipment for ice fishing in most of the popular spots. Local favourites include Slave Lake, Upper and Lower Kananaskis Lakes, Spray Lakes Reservoir in Canmore, Sylvan Lake, and Pigeon and nearby Wizard Lake for spots near Edmonton.
Remember, you'll need a fishing licence before ice fishing in Alberta, and you'll also need to be aware of all rules and regulations of which fish to catch and how many you can keep! Check out our guide to fishing in Alberta for more information.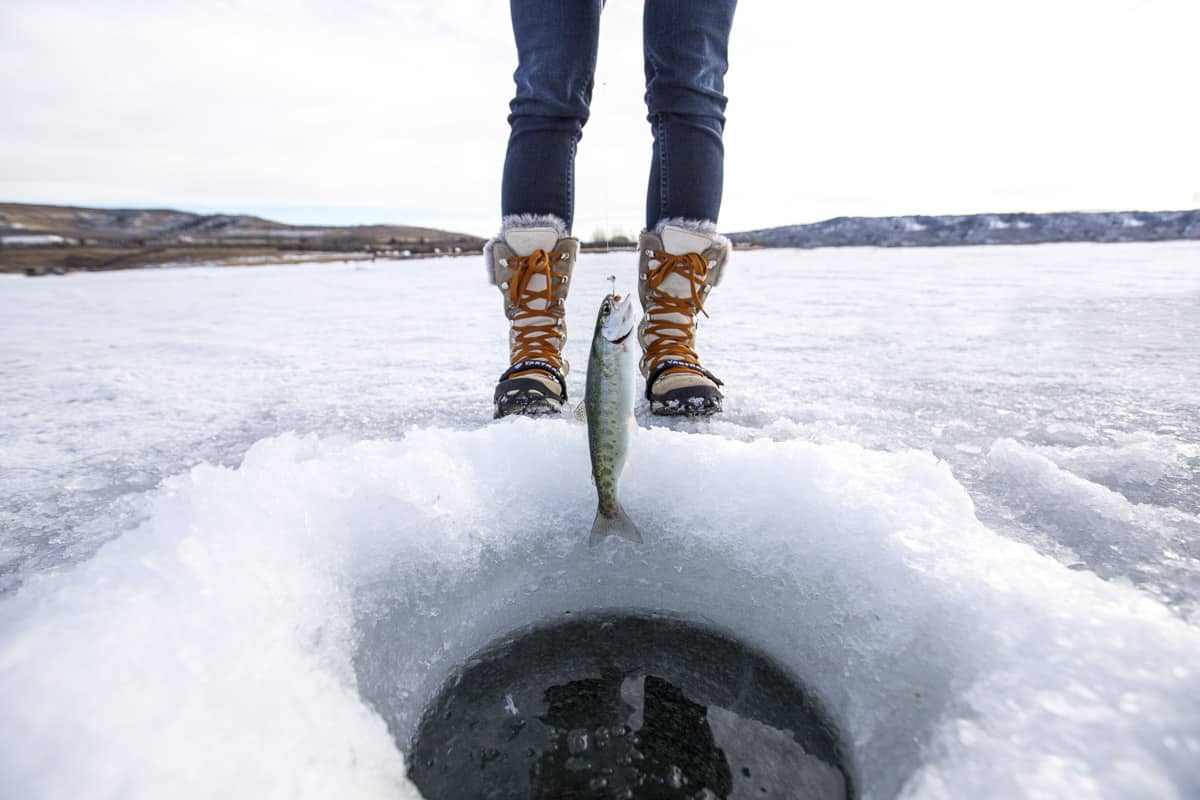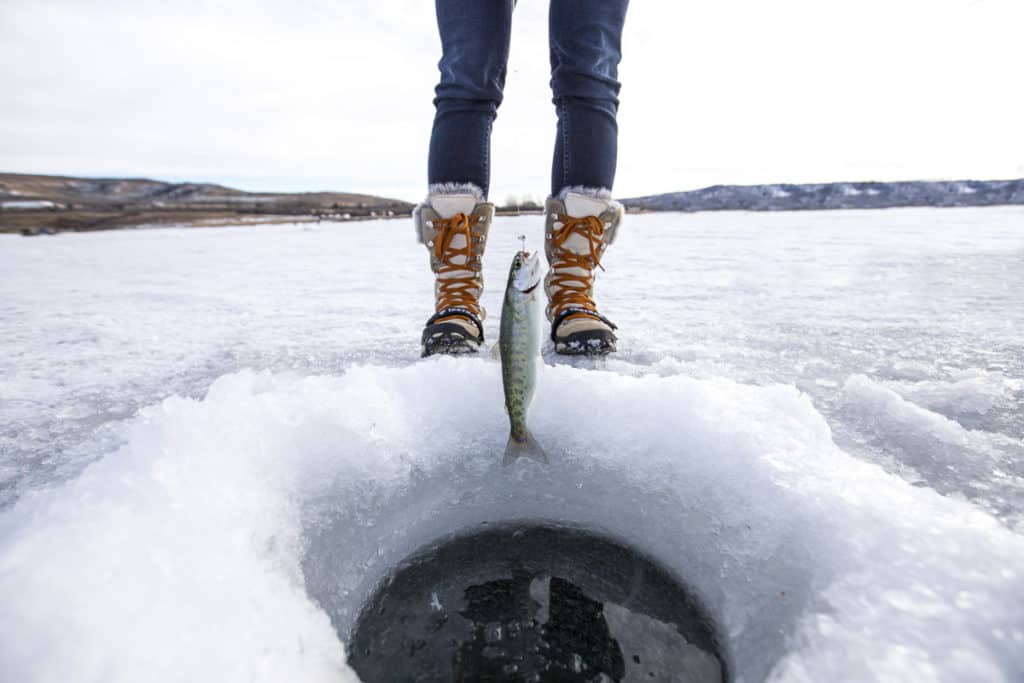 Snow Tubing in Alberta
If you've never tried snow tubing, we highly recommend it! Add it to your list of winter activities to try in Alberta. Thankfully, there are lots of places to go snow tubing around the province, including Nighthawk Adventure Park Snow Tube Zone (near Grande Prairie), Edmonton Ski Club Tube Park, Tawatinaw Valley Tubing (one hour north of Edmonton), and Winsport Tube Park (Calgary).
Of course, you can also try snow tubing at one of the ski resorts in Alberta, including Mount Norquay in Banff National Park, Sunny Tube Park at the Lake Louise Ski Resort and the Tube Park at Nakiska Ski Resort.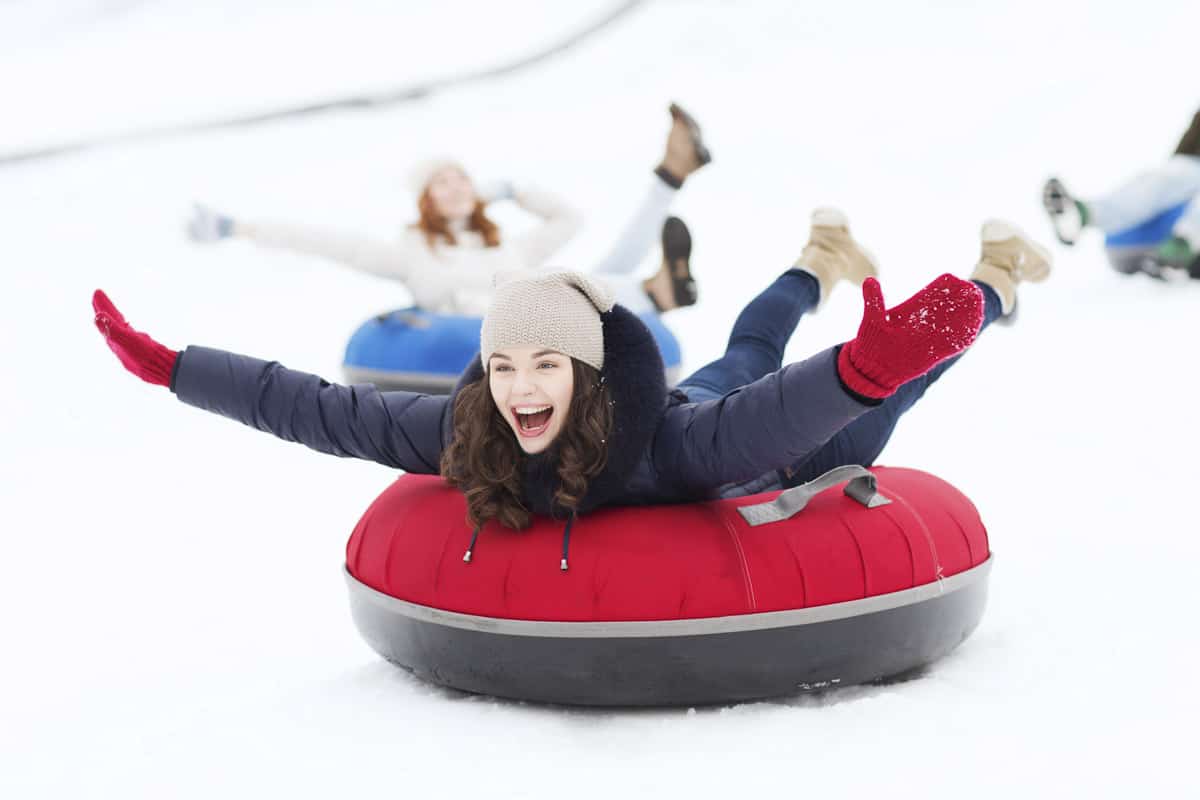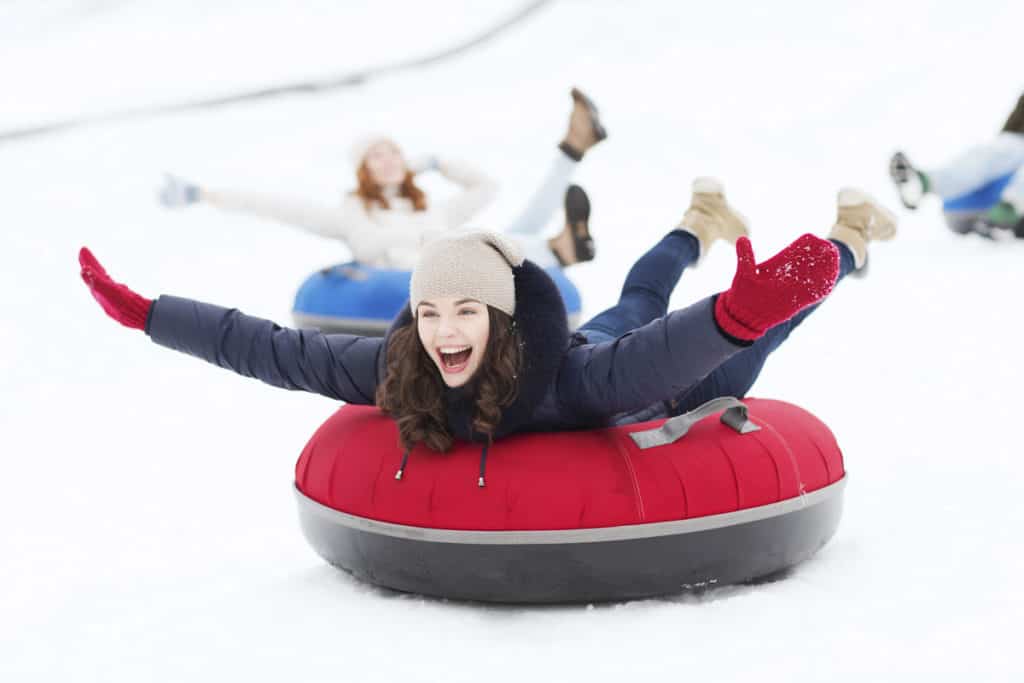 Snowmobiling in Alberta
The great thing about snowmobiling in Alberta is that there is a vast variety of terrain to try. While the mountains may be the first choice for more adventurous riders (after checking avalanche conditions first!), there are plenty of open spaces and backcountry across the province to rev your engine.
The small city of Whitecourt (less than 2 hours drive northwest of Edmonton) has become known as quite a snowmobiling hot spot in Canada. With hundreds of kilometres of trails available and typically fantastic snow conditions, it is also one of the only towns to allow snowmobile use within city limits. The legendary Golden Triangle starts here, a 350 kilometre trail that offers a variety of terrain and warm-up huts along the way. Most sledders do it over 2 days.
Other great spots include Fort McMurray (the north-er you go, the more snow usually!), the Crowsnest Pass for mountain riding that is probably less crowded, and Yellowhead County for the fantastic scenery as it is just shy of Jasper National Park.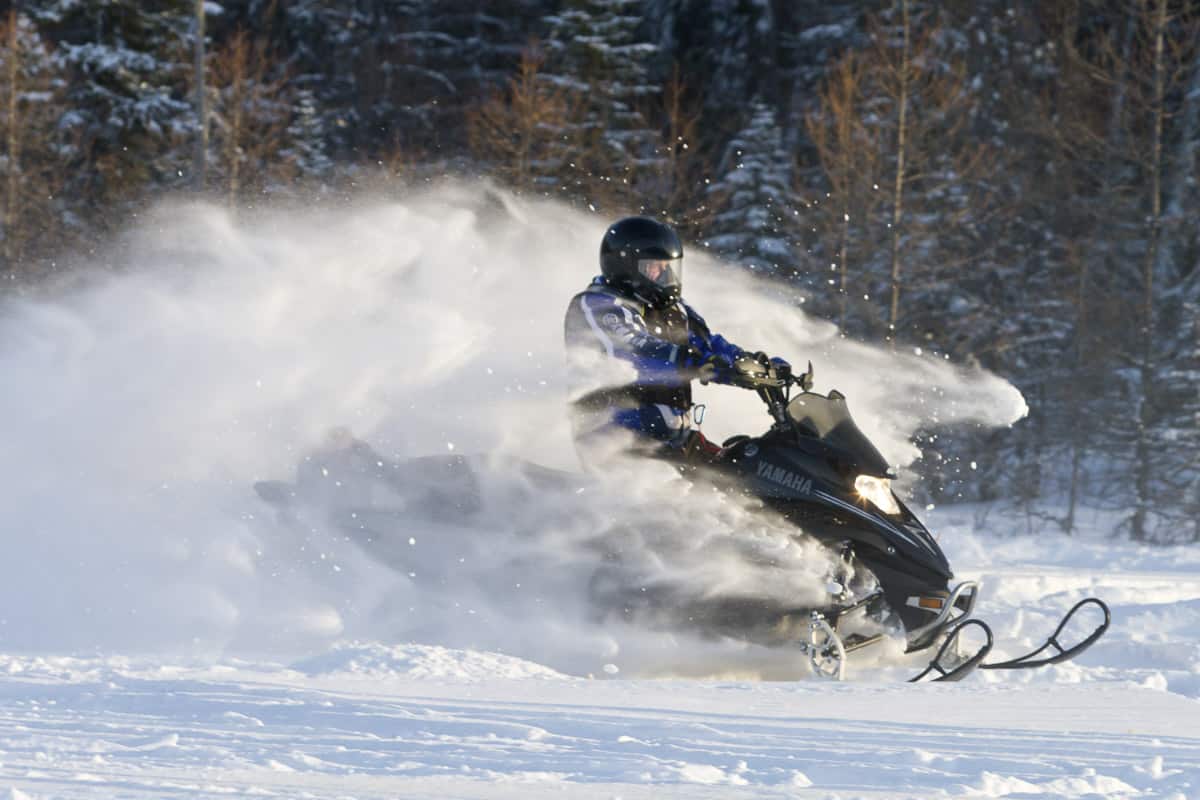 Fat Biking in Alberta
Why yes, Alberta has not been immune to the fat biking craze! Cruising snowy city streets or tackling mountain trails and more are all options for several months of the year. The combination of big tires and low pressure allows for more traction, which makes fat bikes great for exploring new places to ride that otherwise may have seemed inaccessible in winter.
Kananaskis is a hotbed for fat bike experiences in nature, with plenty of trails for beginners all the way to experts. Jasper is also super popular for fat biking, and during their Jasper in January festival, there is even the Frosty's Fat Bike Race Series. Check for fat bike rentals at any bike shop, and as with all winter sports, check conditions before attempting.
Christmas Lights in Alberta
Alberta truly becomes a winter wonderland every year, and there's nothing better than spotting the beautiful Christmas lights (preferably with a hot chocolate in hand).
Some of the best spots for seeing the bright sparkly Christmas lights in Alberta include the Nikka Yuko Winter Lights Festival in Lethbridge, Zoolights in Calgary, Airdrie Festival of Lights, Winter Wonderland Forest in Edmonton, and Luminaria at the University of Alberta Botanic Garden near Edmonton.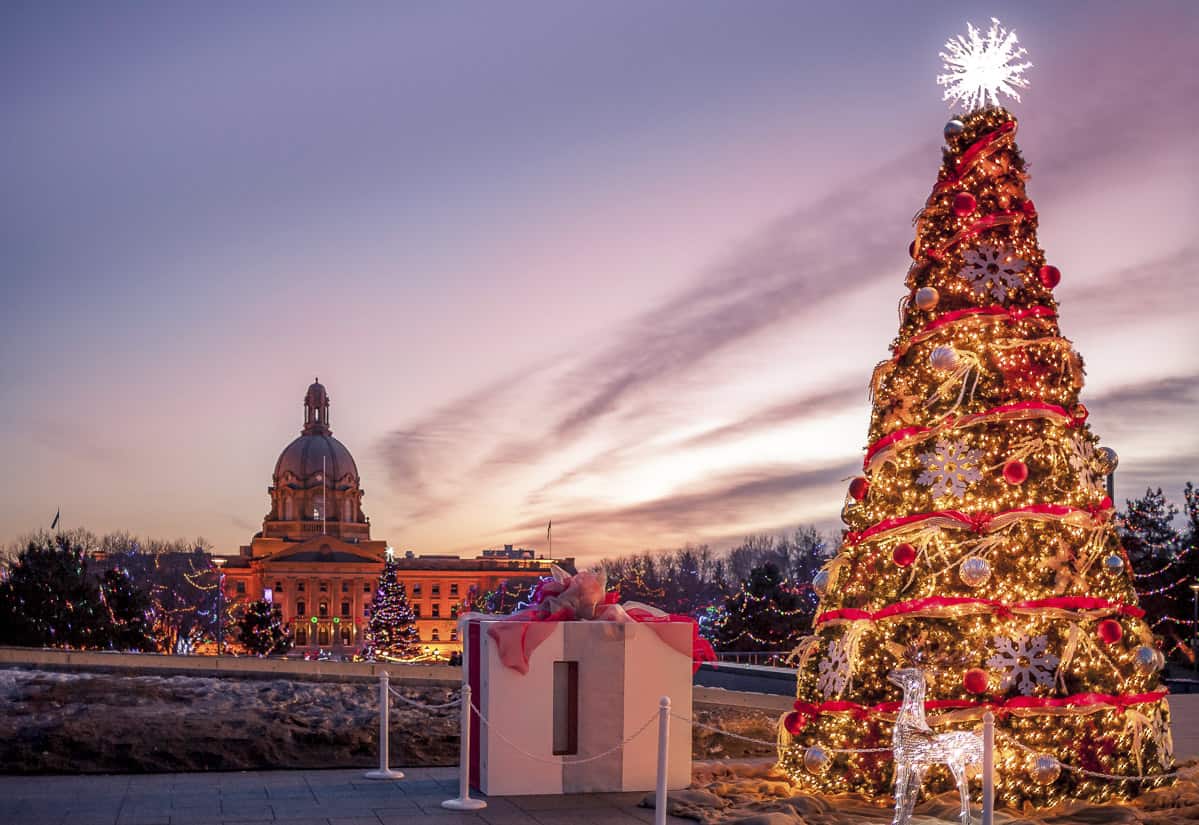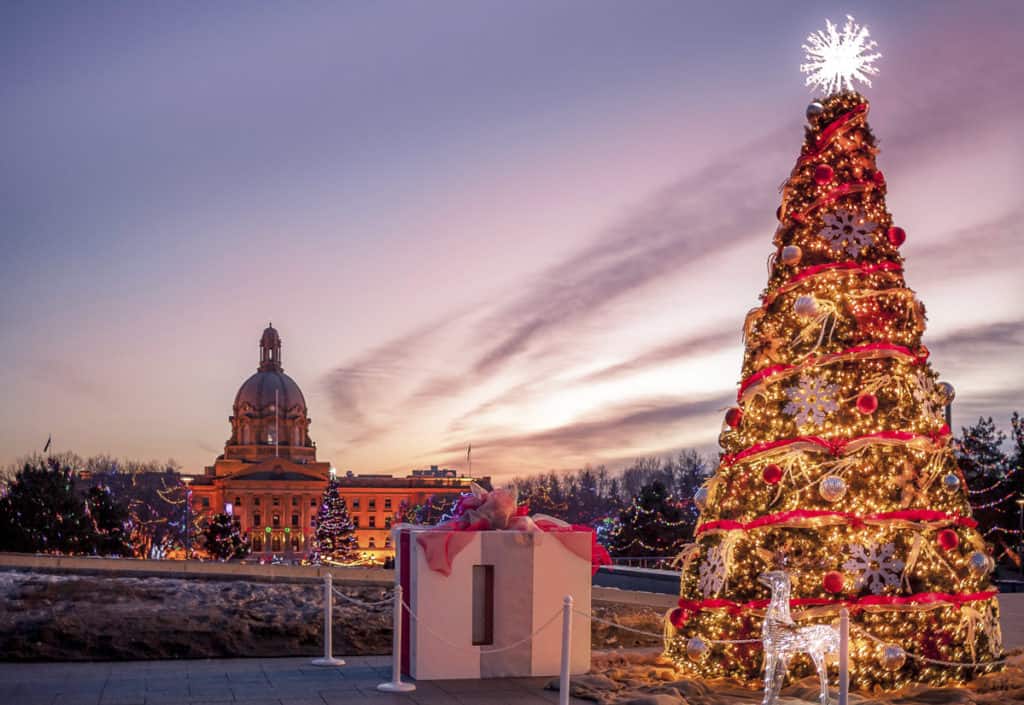 See the Northern Lights in Alberta
With the extended hours of darkness, chances are much better of seeing the northern lights in Alberta during the winter months. Chances are much better the further north you are and with clear skies and a bit of luck, the Aurora Borealis can dance in shades of green, red and yellow across the sky.
Prime locations to see the northern lights include Elk Island National Park, Banff National Park, Jasper National Park, Fort McMurray, Peace River, and basically anywhere where there is no light pollution. For more information see our guide for the best spots to view the northern lights in Alberta.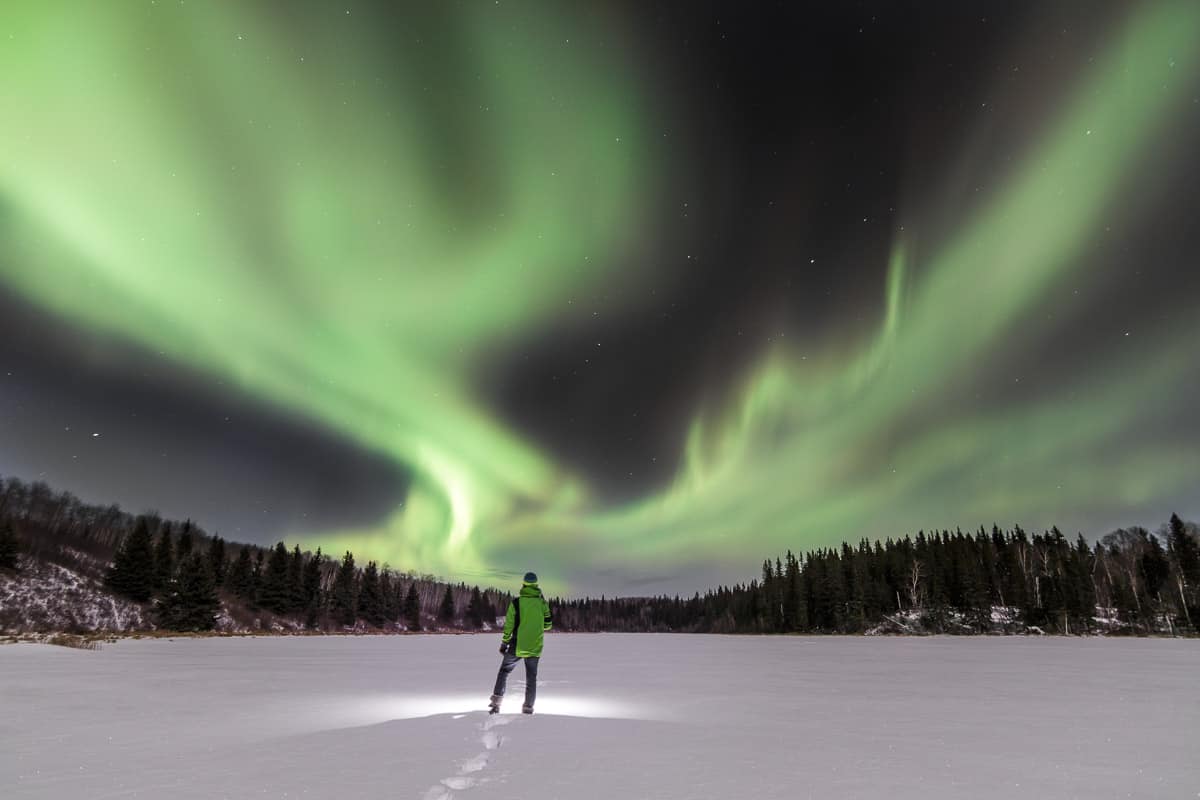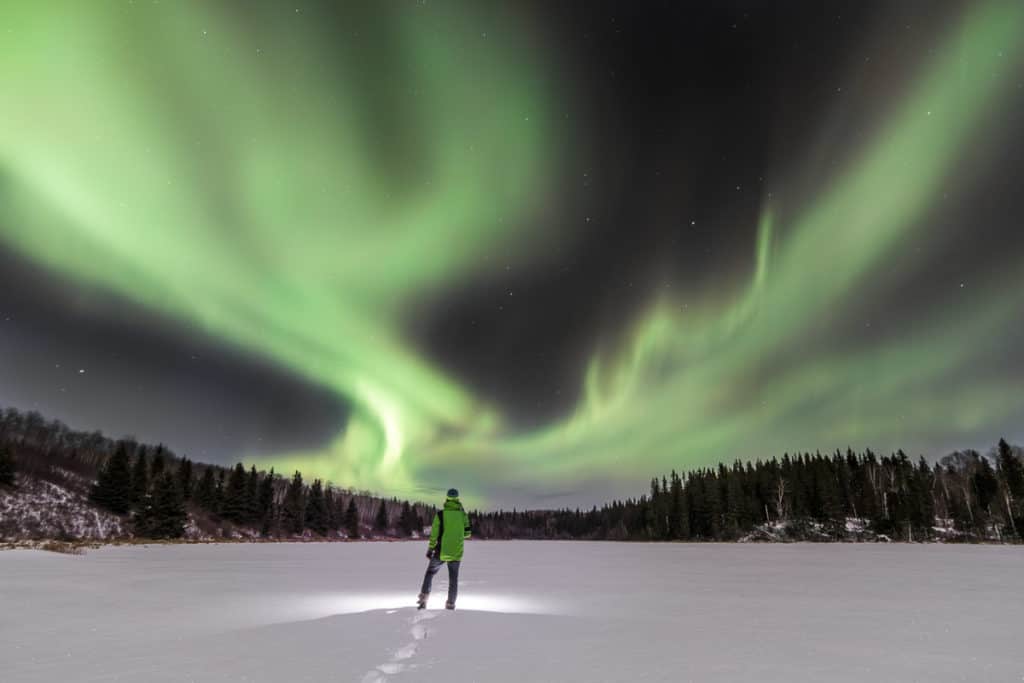 Winter Festivals in Alberta
Winter in Alberta brings lots of fun festivals around the province. Festivals are a great way to get to know the local community, learn about the area's traditions, and, let's face it, have a lot of fun.
Popular winter festivals in Alberta include the Lake Louise Ice Magic Festival, Ice on Whyte in Edmonton, Silver Skate Festival in Edmonton, Sylvan Lake Winter Fest, Jasper in January, and SnowDays Festival in Banff National Park. Expect such fun things as ice sculptures and of course, lots of hot chocolate!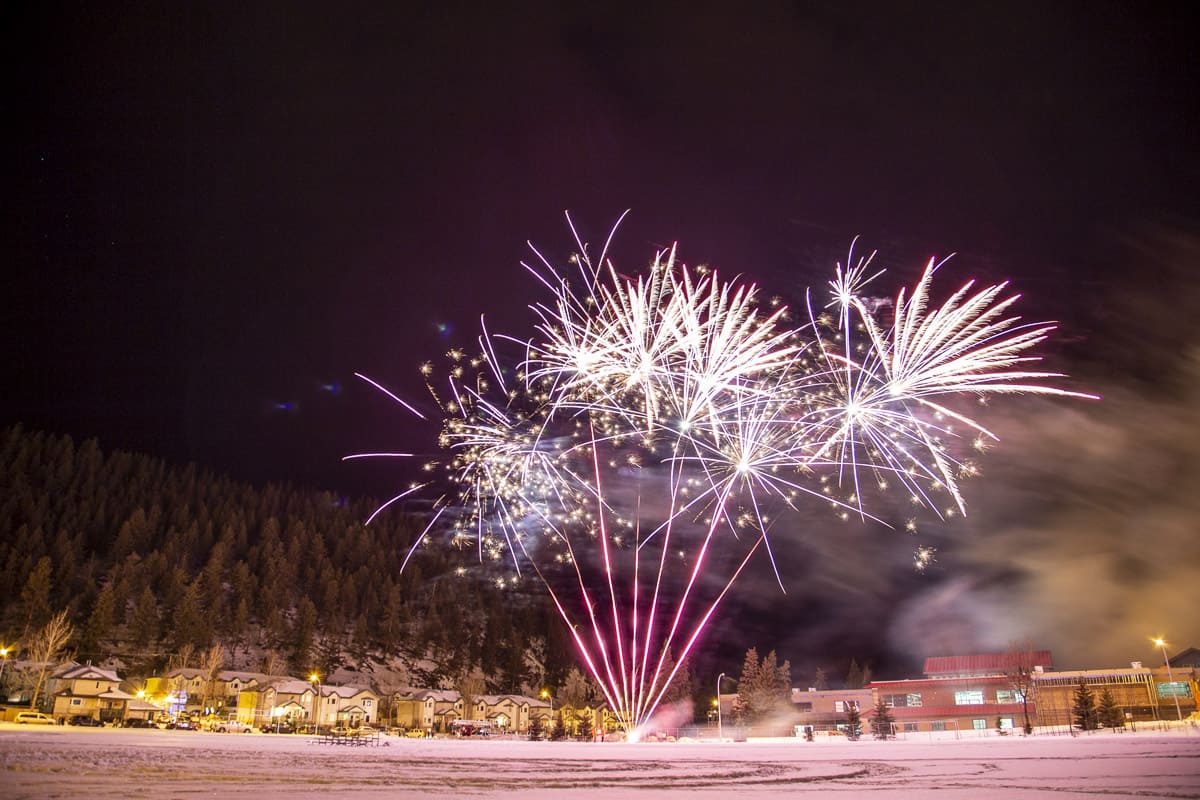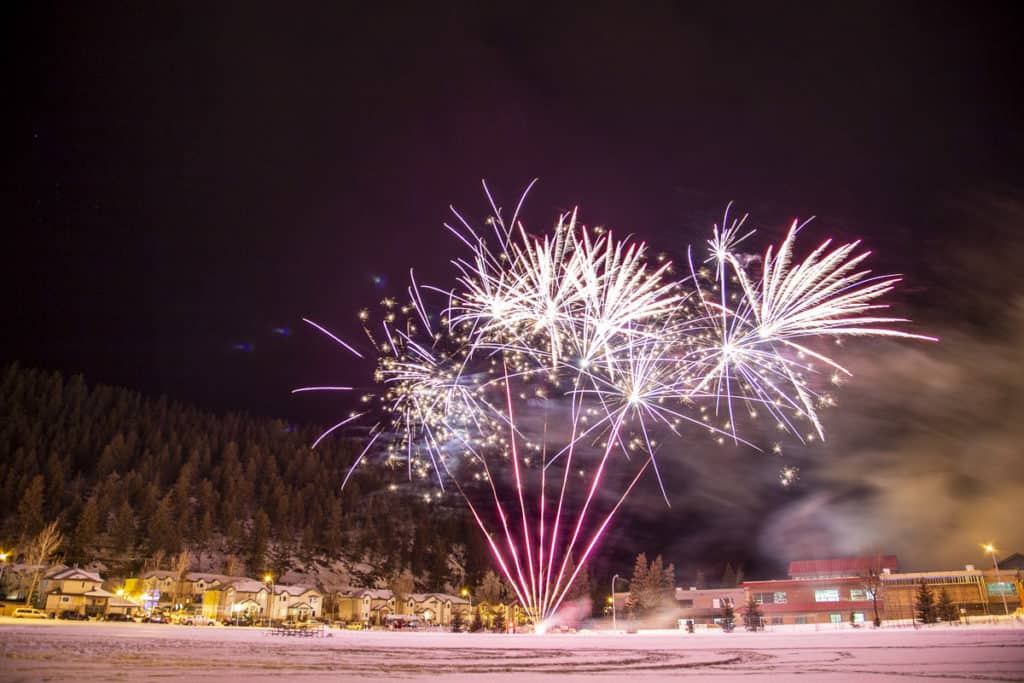 See the Ice Bubbles in Alberta
Seeing the ice bubbles on a frozen Alberta lake is one of the coolest things to do in winter. This natural phenomenon occurs when bacteria feeds on decaying plants on the bottom of the lake beneath the frozen ice surface. Methane gas is then released forming thousands of bubbles and when they float to the surface they are trapped in frozen, suspended stacks. The result is lava-lamp like effect on the ice surface making for incredible photographs.
This phenomenon can occur in any lake, but the most popular spots to see the ice bubbles are at Lake Abraham and Lake Minnewanka. The best time to see the ice bubbles are from December – March.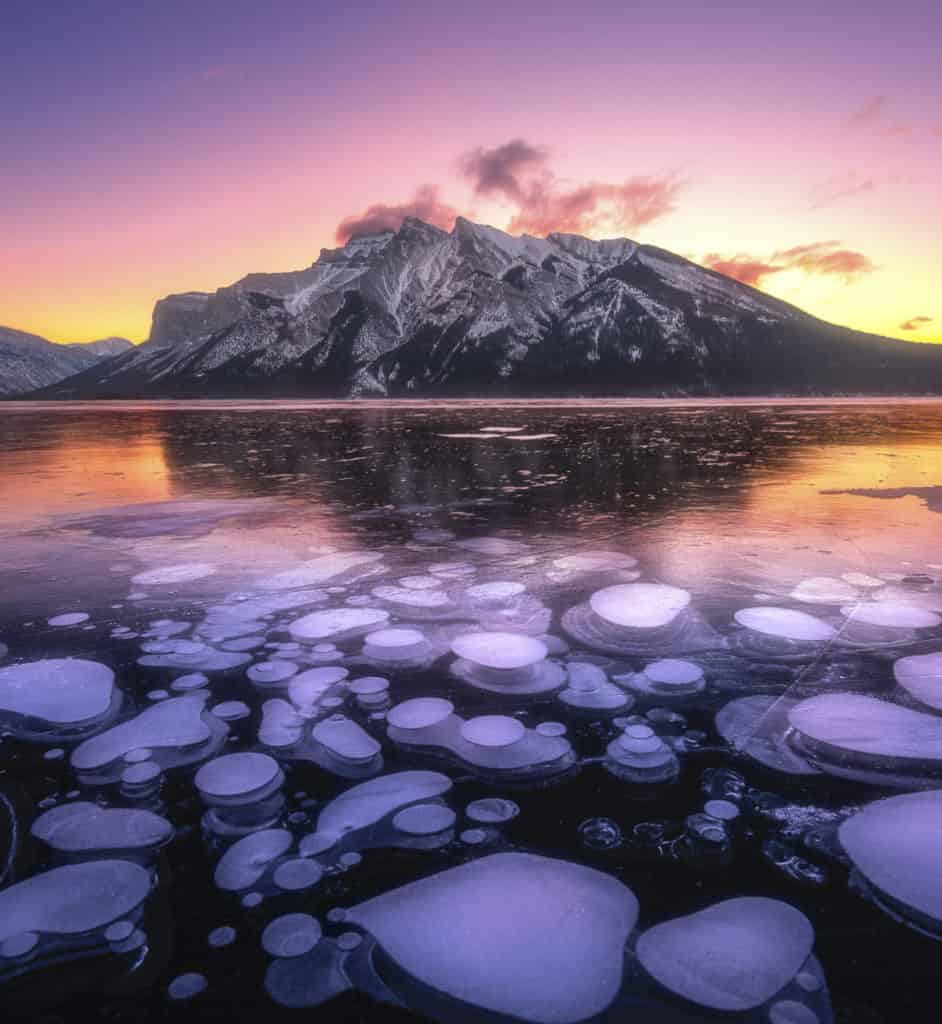 Winter Camping in Alberta
Camping? In winter? Absolutely! Alberta in winter is an amazing place to set up a tent and get to know the land up close and personal. Imagine waking up in a winter wonderland, surrounded by snow-laden trees. At night, try to spot the Northern Lights as they dance in the sky. Trust us, there's something so incredibly peaceful about camping in winter!
We have an entire article dedicated to winter camping in Alberta, as there are dozens of campgrounds around the province that remain open year-round. Some top spots include Beauvais Lake, Cypress Hills, Dinosaur Provincial Park, Writing-on-Stone Campground, and Lake Louise Trailer Campground.
While we all have visions of winter camping in the gorgeous Rocky Mountains, keep in mind areas with flat land will be much warmer in winter. No matter what, make sure to research your winter camping trip thoroughly and bring lots – and LOTS – of warm clothing to layer.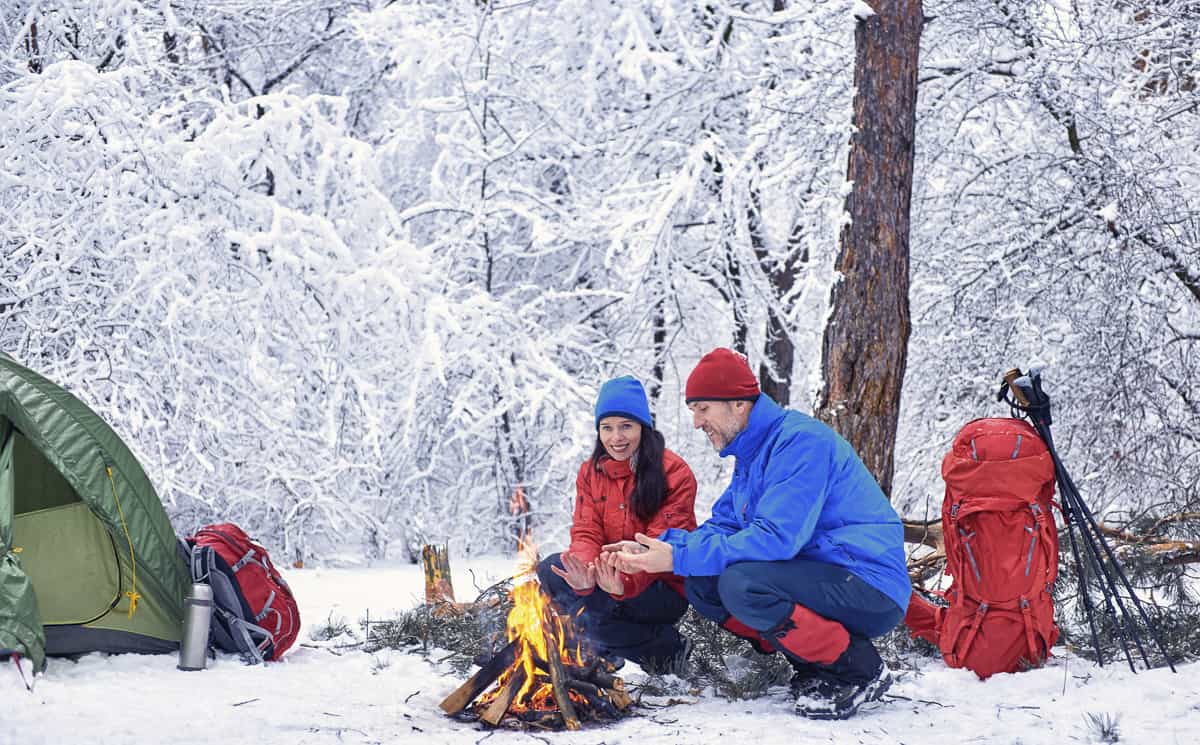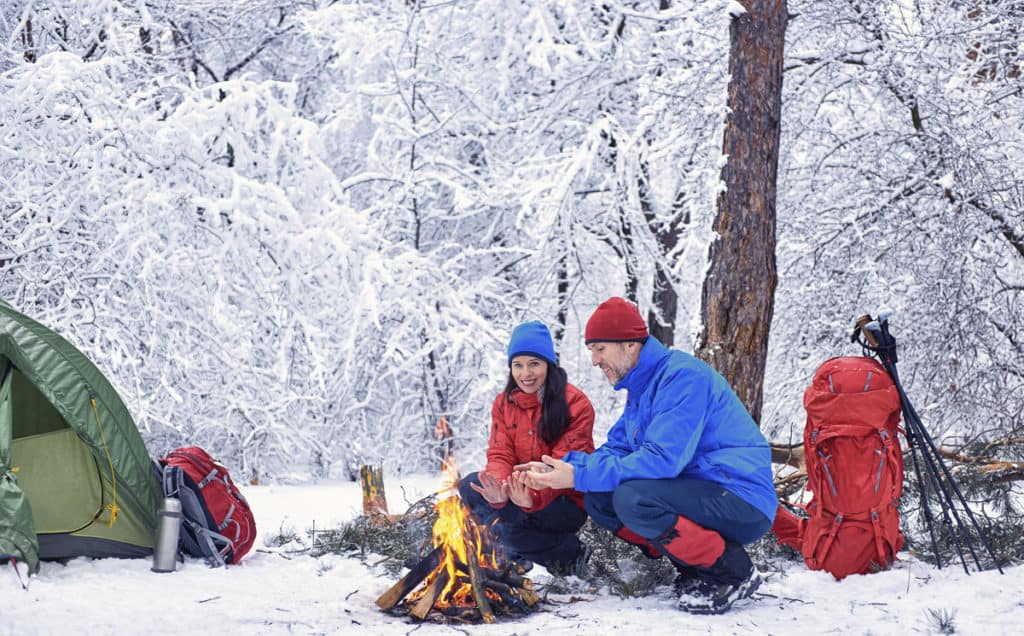 Warm Up Your Alberta Winter With Some Amazing Hot Springs
Tired and chilled after all of your winter pursuits? There are some amazing natural and man-made hot springs in Alberta to help you regain some inner warmth. Whether it's at the Banff Upper Hot Springs, the amazing outdoor Kananaskis Nordic Spa, or others, not only will you heat up, but you'll also feel extremely relaxed, rejuvenated, and ready for more adventures!
If your winter travel plans in Alberta fall over the holiday season, we have lots of ideas for festive fun: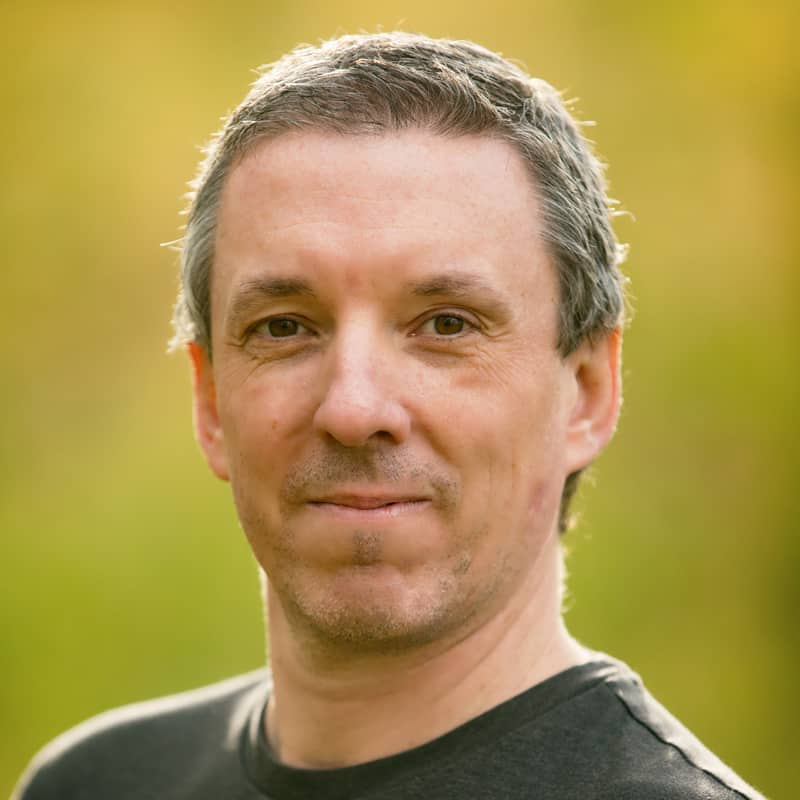 Pete is a co-founder of Road Trip Alberta. Growing up in Edmonton he has an extensive knowledge of Alberta and everything the province has to offer. He loves to eat good food, hike (especially in the winter), play tennis and curl. Apart from running Road Trip Alberta, he is a director with HMI, a digital media agency, half of the Hecktic Travels duo, and a co-creator of the popular card game Trip Chaser.