Disclaimer: This page may contain affiliate links. Please review our full Terms and Conditions for more information and our Privacy Policy. Note that any pricing, operating hours, or other such information provided below may have changed since initial publication.
Compiled by the Road Trip Alberta team
Last updated April 23, 2021
If you've only got three days in Banff, this 6,641 km² National Park can be intimidating. Even in winter, when snow covers the mountains and the valleys thick like icing, deterring all but the hardiest, most prepared hikers out there, Banff remains a bubbling wealth of breathtaking views, snow-adventures, townsite activities – and of course, hearty food and drink to warm you from the inside, out!
To help narrow down your myriad of possibilities and ensure you experience the must-sees in this charming mountain park, we've put together a 3 day Banff itinerary that packs in the best the area has to offer for your long-weekend.
Banff Winter Itinerary: What to Pack
Canadian winters offer a lot to love, but shivering and wishing you were inside the whole time can suck all the joy out of a fun trip. By making sure you're properly equipped, you can make your 3-day trip to Banff and Lake Louise 1000% better.
With that in mind, we recommend bringing:
Winter Boots – Snow and slush will chase you back inside with wet socks if you have inappropriate footwear. And no one wants to spend their Banff vacation inside a hotel. Here are some mens' boots and womens' boots that we'd recommend to keep your feet warm and dry.
Microspikes – If you plan to go on any ice-covered hikes at all, including Tunnel Mountain or Johnston Canyon, pack a pair of microspikes for your boots to avoid slipping and sliding your way around the trail.
Winter jacket – Warmth = happiness, that's a well-known fact. 😉 Be sure that your winter coat is rated to plummeting temperatures and offers excellent wind protection. Here are a recommended mens' jacket and womens' jacket to keep you warm.
Chunky, comfy sweaters – Aside from winter-style points for an Instagrammable hot chocolate shot, sweaters keep you snug as a bug.
A toque (AKA, a beanie) – Not only do toques keep your head and ears cozy, but they're a Canadian icon, eh?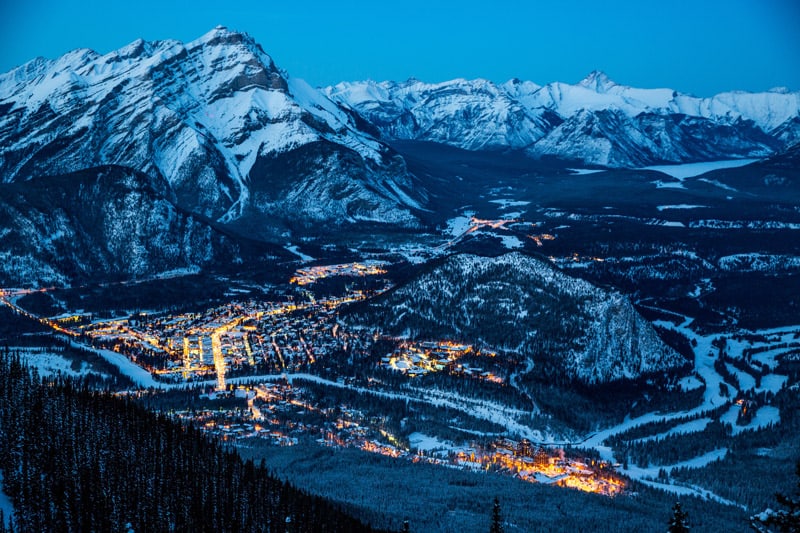 Alberta winter road conditions
The roads to Banff are well-travelled by locals and tourists alike, so they're usually well-kept. However, winter road conditions in Canada are still… well, winter road conditions, which means a sudden snowstorm can blanket the road and make it very difficult to navigate. Before setting out, always check:
The weather forecast
Current road conditions (for current Alberta road conditions click here)
That your vehicle is properly outfitted with winter tires as well as an emergency kit. That includes bringing extra blankets, food and water in case you get stuck.
Where to stay in Banff
There are plenty of options including all budget ranges for hotels in Banff over your three days. Here are our top picks:
Luxury –  If you have ever looked up Banff, chances are you have come across photos of the Banff Springs Hotel.  Majestic, luxurious and classy are just a few ways to describe this castle-like structure.  If your budget allows, we recommend taking this once-in-a-lifetime kind of stay that is totally worth the experience.
Mid range – If you are looking for a place to stay that won't break the bank, the Canalta Lodge is the perfect option.  This casual hotel which features woodsy elements, has been recognized as the best value in Banff.  Perks include a complimentary hot breakfast, fitness centre, bicycle rental and ski lockers as well as underground parking.
Budget – If you would rather put money towards activities instead of accommodations, Banff International Hostel is the perfect place to rest your head after a long day of exploring.  Free breakfast, great location and free use of a fully equipped kitchen are just some of the perks of staying at this popular lodging.
Splurge – If you feel like going all out, take this opportunity to stay at the incomparable Fairmont Chateau Lake Louise.  Along the shore of Lake Louise sits this high-end, 4 star  mountain resort which can be dated back to 1890. The view, the location, along with the plentiful amenities, makes this one of the most amazing places in North America.
*Note that it is located in the town of Lake Louise and is 61.3 kms from the Banff townsite.
Now, onto the fun stuff!
Banff Itinerary Day 1: Check out Banff Townsite
Morning of arrival
Banff townsite is beautiful in its own right. So, once you've checked in and dropped off your luggage, take some time to breathe in the crisp mountain air, relax, and get your bearings. Our 3-day Banff itinerary starts by heading to Banff Avenue to acquaint yourself with this charming little mountain town.
As long as you're properly dressed and sporting that toque you brought (or just bought) winter temperatures should be bear-able (no pun intended) – especially with a hot drink in hand. If this is your first time in Canada, we recommend heading into Hudson's Bay, a department store that has been around longer than Canada's been a country! Check out the famous Point Blankets with their signature yellow, red and black stripes, along with all the other souvenirs sporting similar colouring.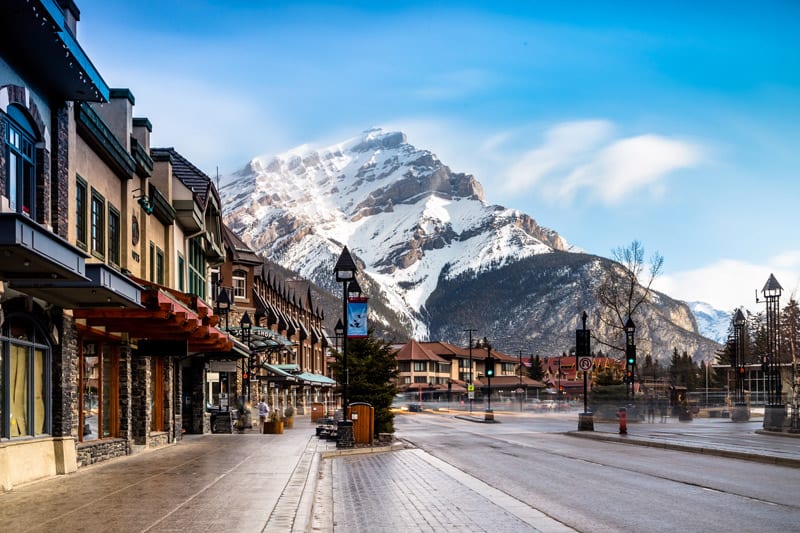 Afternoon
There are so many beautiful spots in Banff, so let's start the afternoon with your camera in hand and a scenic walk by following the Bow River Trail (be sure to dress warm!) We start with an epic view of the Banff Springs Hotel by going to the 'Surprise Corner Viewpoint'. From this photo spot not only will you rewarded with an iconic view, you'll be able to hear the roaring Bow Falls below. That's where you'll head next by walking back along the River Trail, crossing the Banff Pedestrian Bridge (make sure to get a selfie) and follow the river trail on the opposite side to the Bow Falls Viewpoint. Depending on the time of year the falls may be frozen but you can still hear the water rushing underneath.
After your walk, you'll be hungry for lunch, we recommend the Rocky Mountain Flatbread first, then cross the street for a warm beverage from Good Earth Cafe or head over to Beaver Tails for a sweet, Canadian treat. When you get chilly from cruising around outside, head over to Whyte Museum to warm up and get a taste of the local culture and history of the area.
Evening
Now that you've got a general feeling of what the town's like, it's time to catch the sunset, which can turn the sky and the surrounding mountains brilliant pink, purple and blue – all the colours of a cotton candy rainbow!
The Sulphur Mountain Gondola whisks visitors to the very top of Sulphur Mountain with absolutely breathtaking views and the delicious Sky Bistro, which we recommend for dinner. Stay past sundown, which comes early this far north, and you can enjoy stargazing from the rooftop patio. Book your tickets for the Gondola here
If you prefer to see the tops of mountains under your own steam, head up the easily accessible Tunnel Mountain Hike from the lower trailhead (the road to the upper trailhead is closed in the winter). Because it's so highly trafficked, a path is usually tramped into the snow, which means you don't even need snowshoes to get up there (microspikes, however, are recommended). After getting down from the clouds, head to Banff Brewing for a hearty meal and some locally-brewed beverages
That's a day to remember, and no one would look down on you for making your way back to the hotel to rest up for tomorrow's big Lake Louise trip. But if you're not ready for TV and bed, head downstairs from Banff Brewing to High Roller's Bowling for pizza, pints and pins! Or, if you really want to stay ultra-Canadian, head over to the Fairmont where you can play the uniquely Canadian 5-pin bowling.
Now, go to bed – tomorrow's a big day!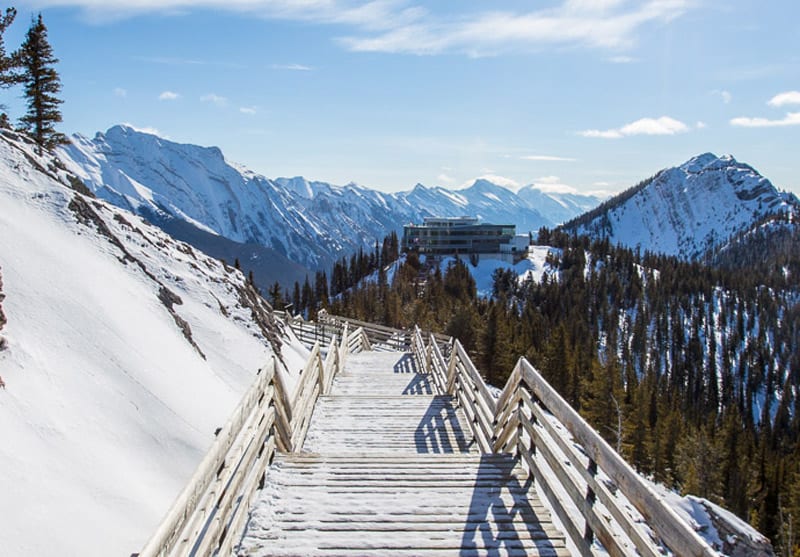 Banff Itinerary Day 2: Explore Lake Louise
Morning
If you're up early enough, go catch the sunrise at Two-Jack Lake. It's about a 15 minute drive from Banff, and if the sky is clear, the colours are glorious! And, if the conditions are right, you might be able to snap some pics of the famous frozen bubbles in the lake-ice too!
Once you're sufficiently chilled, head back to town to start the day off right with a hearty breakfast from The Juniper Bistro, with unique dishes you won't find anywhere else.
After breakfast, pile into the car for a road trip to see beautiful Lake Louise in winter. Take your time as you soak in the view, then make your choice: cross-country skiing or skating – both can be rented locally from Chateau Mountain Sports, right inside the Chateau.
If you need a hot drink to warm you up after or even during your activity, head over to the historic Lake Louise Chateau, where you'll find a neat little cafe with all kinds of scrumptious drinks and treats.
Whether you're playing a little shinny hockey or just gliding in the shadows of mountains, skating Lake Louise is magical. There's even a big ice castle on the shore of the lake, offering great photo ops! Cross-country skiers are just as spoiled, with a variety of easy to difficult trails near the lake, as well as throughout town. For those feeling particularly adventurous, you can even book a dog sled trip from Kingmik Dogsled Tours.
Afternoon
Next on the 3-day Banff itinerary is to head back to the Fairmont Chateau Lake Louise for afternoon tea. With food and tea fit for 'royal-tea' (wink wink), the experience offers a gorgeous view of the surrounding mountains. It's the perfect juxtaposition – a polished dining experience united with rugged nature!
If you find yourself in Lake Louise in January, make sure to check out the Ice Sculpture Competition for some truly breathtaking and ephemeral art.If you're feeling ravenous on your way out, stop in at The Trailhead for some delicious and hearty homemade wraps before you hit the road back to Banff. There's also a candy store neighbouring The Trailhead, so you can finish off your wrap with sweets if you're in the mood, too!
Evening
If you're still ready for some outdoor activity, you can check out Vermillion Lake or Two Jack Lake/Lake Minnewanka on your way back to Banff and capture their famous ice bubbles on camera (as long as the ice is clear)!
Back in Banff, try Touloulous, a local Louisiana-Canadiana dinner, for supper, then cap off your adventurous day with a relaxing soak in Banff Upper Hot Springs.
Once you're warmed through, and utterly relaxed, head back to the hotel for a long winter's nap.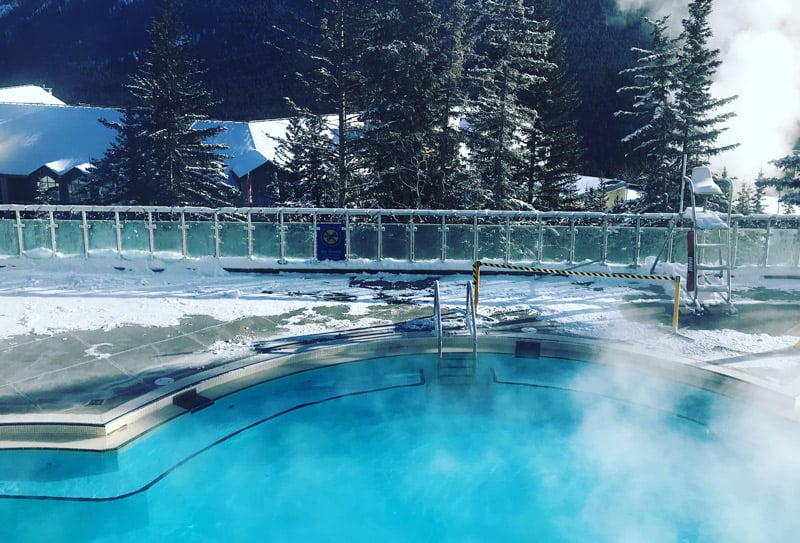 Banff Itinerary Day 3: Hit the Slopes
Today is the day to hit the slopes! Stop off at Wild Flour Bakery on the way out of town for a quick breakfast and hot coffee, then make your way to one of three(!) ski resorts in the area.
Norquay – This is a great hill for beginners and the budget option in the area.
Lake Louise – Offers a ton of options from difficult to easy, as well as a tubing hill for those who prefer to take things a little easier.
Sunshine Village – The biggest and most expensive of the three hills, Sunshine Village has a little bit of something for everyone!
For more information on these resorts, see our full guide about skiing in Alberta.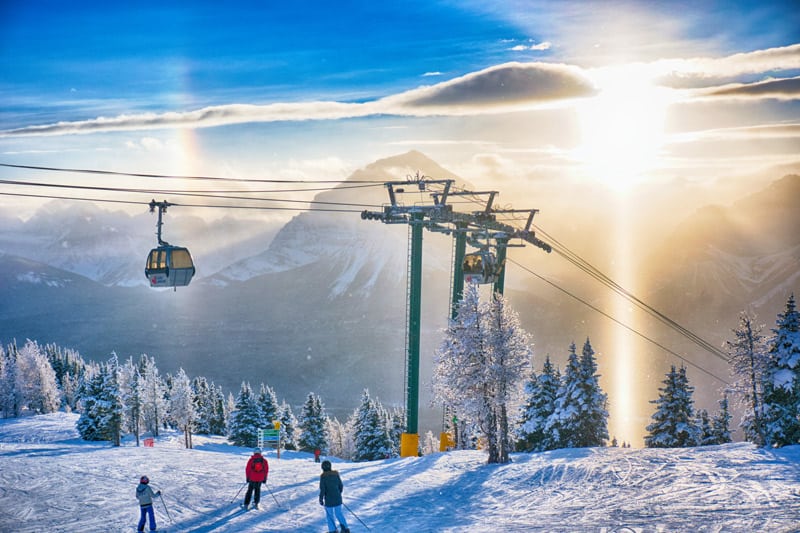 After a full day on the hill, it's time to return to real life, or at least to your hotel. 😉 On your way out of Banff, be sure to grab a bite at The Grizzly House, and if you're heading east, and happen to go through Canmore on your way back, be sure to stop in at Communitea for some delicious drinks (with tons of tea to choose from), as well as some super healthy food options.