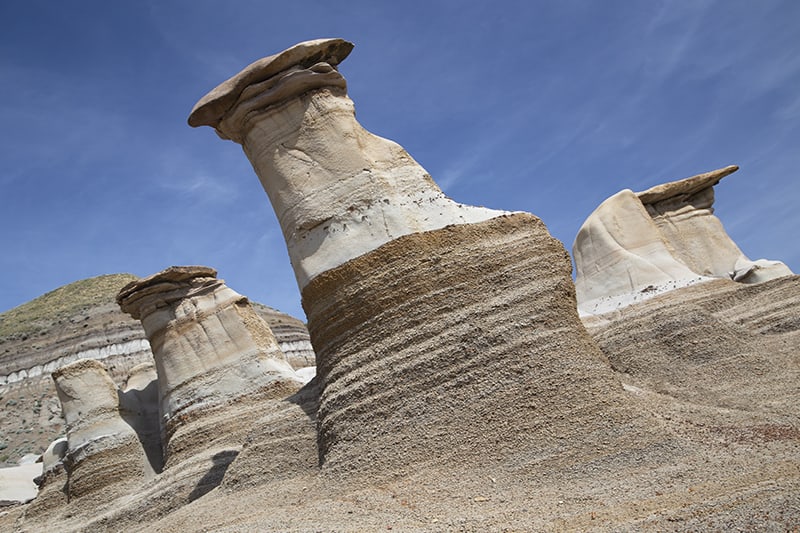 Compiled by the Road Trip Alberta team
Last updated on August 15, 2019
Drumheller is the intriguing hub for all things dinosaur. A part of the Canadian Badlands, it is steeped in history that dates back millions of years. This small city is home to the world-famous Royal Tyrrell Museum, is a part of the Hoo Doo Trail, and offers plenty of hiking and other outdoor activities across its dramatic landscape. The Drumheller-Badlands area is not always the first choice for visitors to Alberta (being in the opposite direction of the famed Rocky Mountains), but is a very worthy destination that offers something completely different.
It can be done via a day trip from Alberta's main hubs of Calgary and Edmonton, and is also frequently visited by travelers from the smaller cities of Lethbridge and Medicine Hat. Directions to Drumheller are highlighted below via the many possible ways to get there.
About the Route
Calgary to the Drumheller
By Car
The distance from Calgary to Drumheller is 135km which means that you are only about an hour and a half away from the ultimate dinosaur experience! Although there are plenty of Drumheller tours from Calgary, the quick drive from Calgary is easily done. As a bonus, during the drive, you will be able to figure out what to do in Drumheller and view the hoodoos Drumheller is known for as they appear in the landscape!
From Calgary to Drumheller-Badlands, directions are quite easy and the route shows off the quintessential Alberta landscape but slowly transforms into the iconography that the Canadian Badlands is known for. Take Highway 2 (Deerfoot Trail) north out of the city until you hit township road 566 east. You'll soon meet up with Highway 9 north and east into Drumheller. In typical prairie fashion, the roads are generally straight and easy to navigate, however, we always recommend checking the road conditions before you depart.
If you flew into Calgary just to road trip around and see the sights, there are plenty of car rental options at the Calgary airport. Book in advance to ensure less hassle:
If you are not interested in a traditional car rental through an agency, you can also rent a car through Turo which operates similar to AirBnB but for car rentals. The Calgary International Airport is a frequent pick up/drop off point.
If you are not in a rush, or want to spend an extra night in Calgary because you arrive late, there are plenty of hotels in the area. Those right onsite at the airport tend to be more expensive, so we prefer these options:
Hotel Clique is a super chic and affordable hotel that has free parking, free WiFi, and a great restaurant onsite. It is a quick shuttle ride from the airport, and we have stayed here several times when we have an early flight out of Calgary. Bonus: it has two rooftop pools!
Want to start the journey and cut down on the drive the next day? Book a night at the Days Inn in Balzac just north of Calgary, take a swim and spin down the waterslide in the morning, and find yourself just an hour away from Drumheller.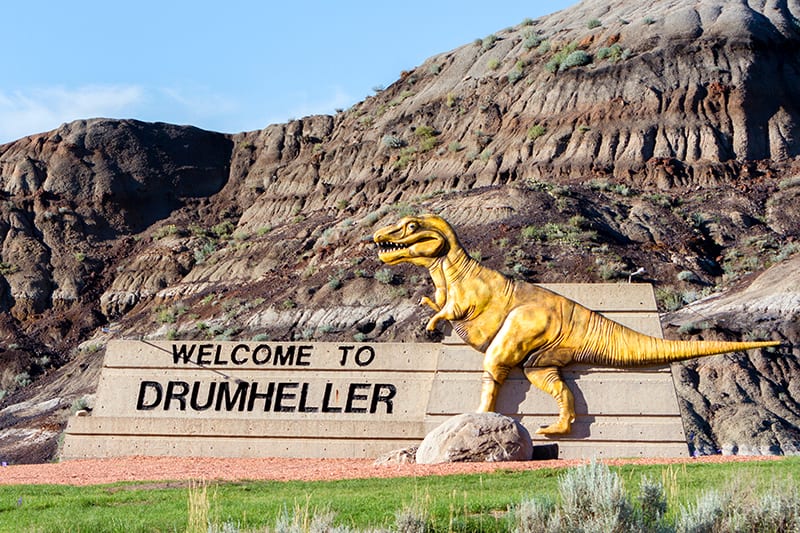 By Private Transfer
If available in your budget, a private transfer from Calgary to Drumheller allows you to arrive in style for your dinosaur adventure! There are a few companies offering this service, some options are:
By Bus
There is currently no direct bus route to go from Calgary to the Drumheller-Badlands area. There is an option to bus from Calgary to Strathmore on either the Prairie Sprinter or J & L Shuttle and take a taxi from Strathmore to Drumheller which would cost upwards of $150 for the one hour and 15-minute drive.
By Other Options
Fun Things To Do Along the Way
Edmonton to Drumheller
By Car
From the south of Edmonton, Drumheller is roughly a three-hour drive. It's always a good idea to check the road conditions before you leave in case of bad weather or traffic due to an accident. Especially as the beginning of your drive south is on the QEII (also known as Queen Elizabeth Highway or Highway 2) and accidents are common on that major highway.
From Highway 2, take Highway 42 east until you can get on Highway 21 south. From there, take township road 575 east into Drumheller.
If you are coming from central or northern Edmonton, the quickest route is to stay off of the QEII. The ring road will get you to Highway 14 east, then take Highway 21 south. That merges with Highway 53, and then get on Highway 56 going south right to Drumheller.
If you are in need of a car rental, there are many shops around Edmonton.
If you are not interested in a traditional car rental through an agency, you can also rent a car through Turo which operates similar to AirBnB but for car rentals.
If you need a night in Edmonton, we recommend staying in the southern part of the city as it will give you a jump start on your trip.
Wingate by Wyndham (near the Edmonton International Airport) includes breakfast in the morning and even has a spa for the ultimate relaxation before your drive to Drumheller.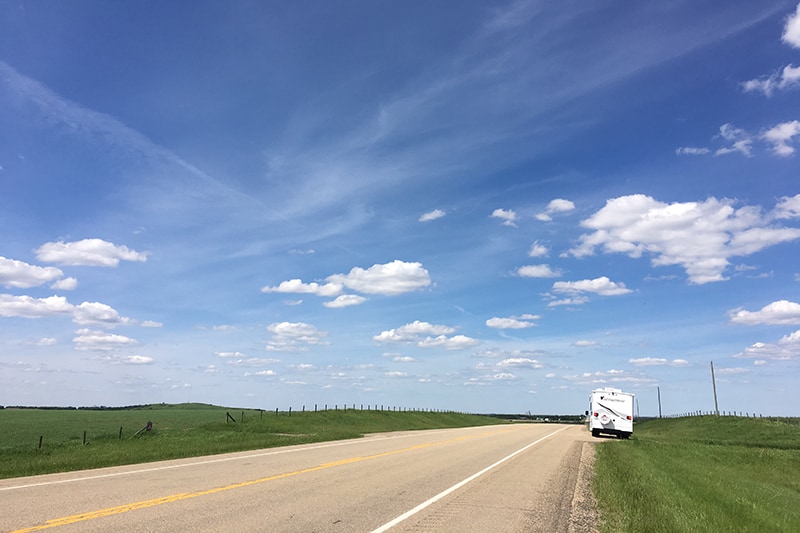 By Private Transfer
Limo To Go – Limousine service provider for limos, private car service sedans, luxury SUVs in Central and Southern Alberta.
By Bus
Unfortunately, as of 2019, there is no direct bus going from Edmonton to Drumheller. There is an option to bus from Edmonton to Airdrie and then taxi the rest of the way to Drumheller which would cost approximately $200 for the one hour and twenty-minute drive. Red Arrow buses will also get you from Edmonton to Calgary, which will get you a little bit closer.
By Other Options
Finding a taxi or Uber driver may be difficult as many will not be willing to make the drive to Drumheller. Also, note that it can cost approximately $400 for a one-way journey.
Fun Things To Do Along the Way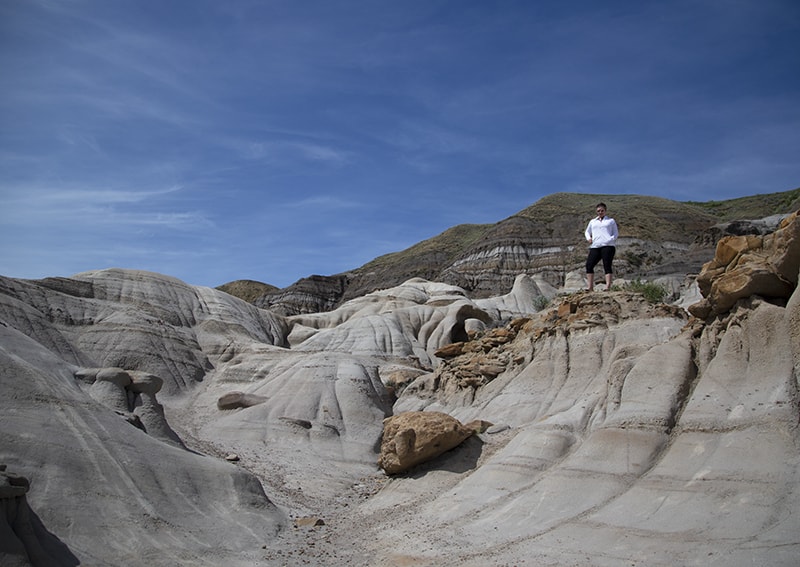 Upon arrival to Drumheller-Badlands area
Whether you are coming from Calgary or Edmonton, we hope you enjoyed your picturesque Alberta road trip to Drumheller! Due to its size and the seasonal nature of tourism to Drumheller, the options for accommodations are definitely limited in comparison to a bigger city. However, there are some bigger hotel chains, motels, and some B&B options for you to choose from. Keep in mind that if you are coming in the busy summer months we highly recommend booking your accommodations ahead of time.
Where to stay in Drumheller
Pin me!