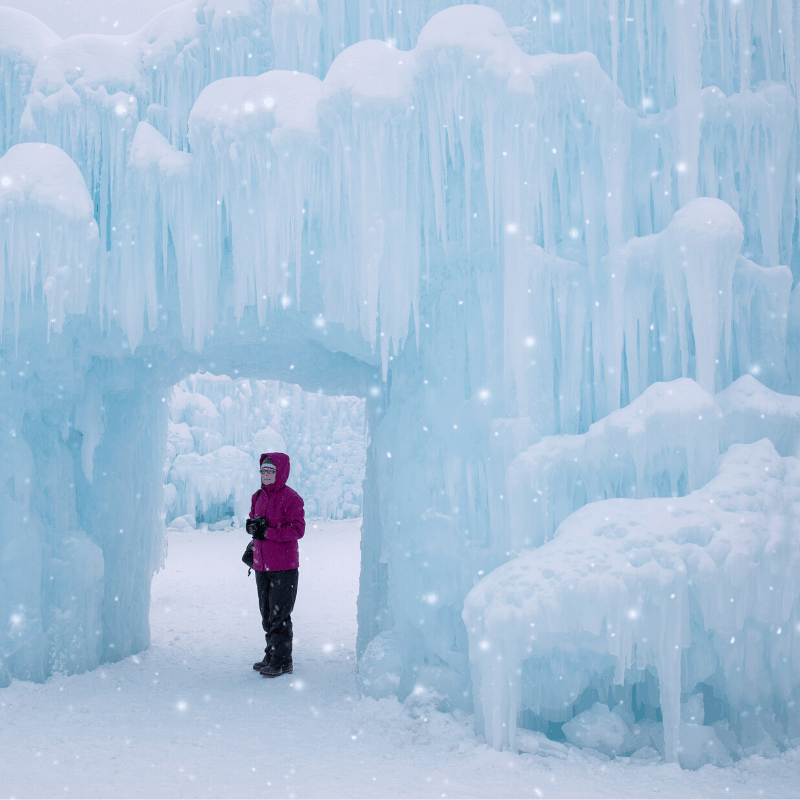 Compiled by the Road Trip Alberta team
January 16, 2020
Things to do in Edmonton's Winter Wonderland
Looking for things to do in Edmonton during the dead of winter is daunting. With temperatures that may plummet well below -30°C and hover there mercilessly until spring, Edmonton can chill the heart of even the most hot-blooded winter warrior.
It's easy to hide out from old man winter at an inviting and exciting place like West Edmonton Mall. You can splash, surf, and slide at the World Waterpark (where it's always +31°C) or jump on all the rides at Galaxyland. Or you can shop until you drop on BRBN St. and stuff your face until closing time – and did we mention there are sea lions to kiss and indoor ice to skate on?
But, there's so much more to Edmonton than a sprawling mall that stays the same temperature no matter the season.
Things to do in Edmonton Winter
For those who are looking for a more truly Canadian experience, Edmonton's winter activities can light up even the coldest, humbug-heart. With tons of winter attractions, the city's packed (as tight as a snowman) with some great snowy-fun!
Check out the list below for some great things to do in Edmonton this winter, and keep that snow spirit stoked and glowing, from when the first deep freeze hits, all the way to the next spring thaw!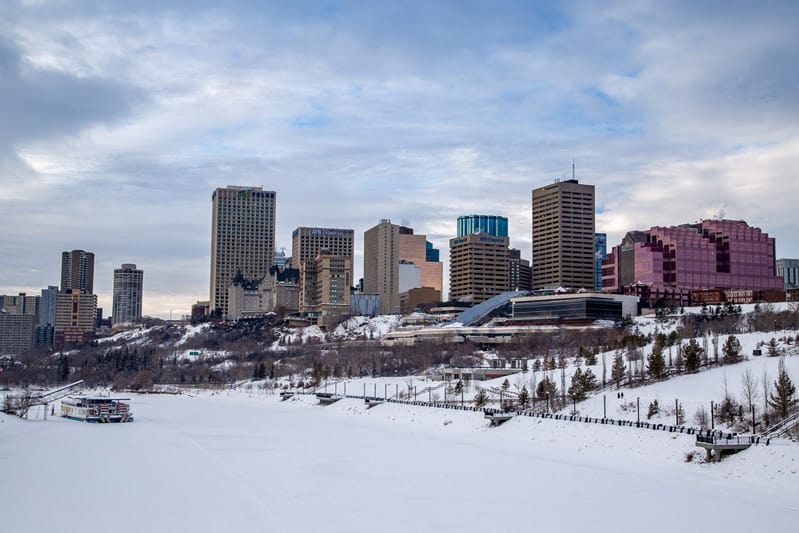 Glide Along Edmonton IceWay Skating Trails
Created to bring people together and to help stir up a love of winter, Edmonton's most colourful Freezeway juts off the 400m Victoria Park Oval. Designed by artist Dylan Toymaker, the ice path is lit by solar-powered lanterns that cast rainbow colours onto the stark white ice and snow below. Combining an Alice in Wonderland-like ambiance with some 70's disco flavour, the Victoria Park IceWay is a perfect Edmonton winter activity for the kids, with some good friends, or as a romantic night out with your special someone!
Explore Edmonton Ice Castles
Something of an ice-circus, Ice Castles is a company of ice-sculpting artists who build staggering, 20 million pound ice castles from hundreds of thousands of hand-placed icicles. Each year, the castles' boast a different theme, and in the past have featured LED-lit ice sculptures, fountains, slides, fire-pits, thrones, caverns and more! Ice Castles operates in six cities across North America, with Edmonton being the very first Canadian city to join the Ice Castles 'kingdom.' It opens in January in time for the Silver Skate Festival.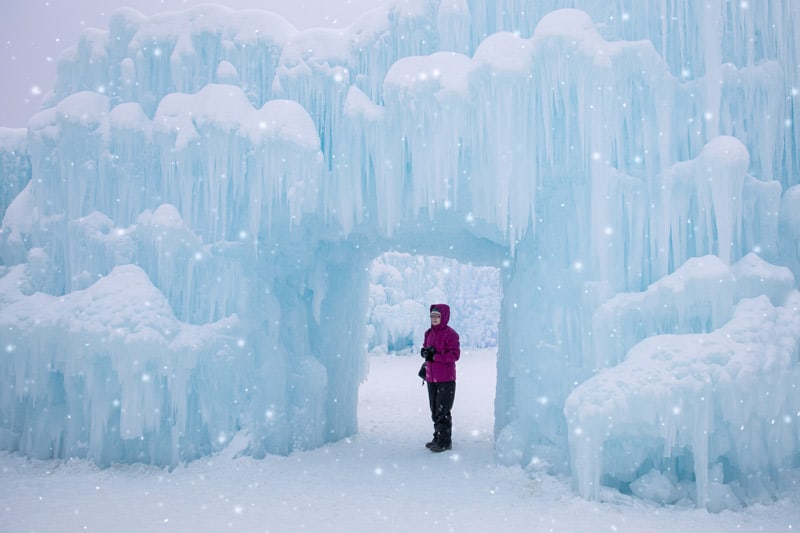 Walk the Alberta Legislature Grounds
This one may not have crossed your mind, but Alberta's Legislature Grounds offer a tranquil and scenic year-round walk. Admire the impressive, Beaux-Arts architecture of the Alberta Legislature Building as you wander among trees lit by colourful lights – perfect for some great photo-ops. Once you're done, you can head inside the legislature building for a warm-up, more beautiful architecture, and some interesting historical information about the city.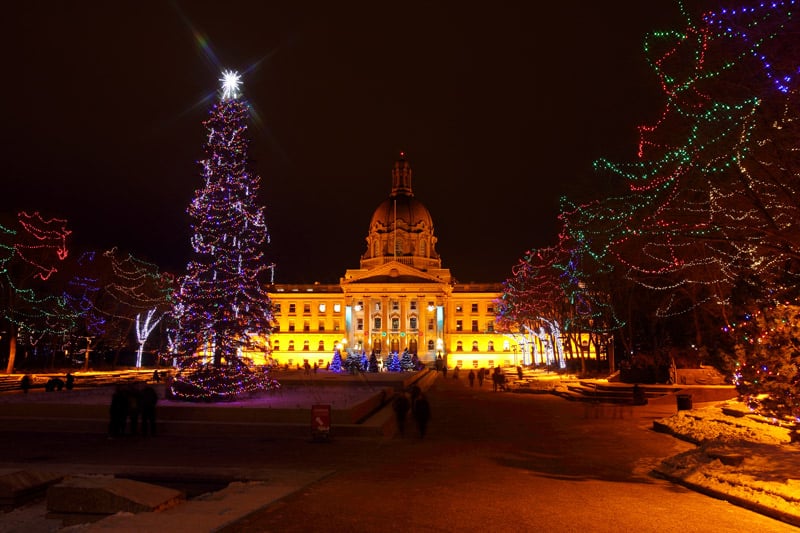 Tube at Sunridge Ski Area
Most of us have fond memories of tubing down a snowy hill on a bright winter day, our faces tucked tightly into a scarf to avoid wind-chilled, watery eyes! For a laid back day of tubing, skiing or snowboarding, you can have it all in Edmonton's Sunridge Ski Area. Located right inside the city, Sunridge sports six lifts, two carpet lifts, and a terrain park for a packed full or half-day of wintery fun!
Ski at Snow Valley or Rabbit Hill
There's no need to take a long drive to the mountains to catch some POW! Edmonton's Snow Valley Ski Club or Rabbit Hill Snow Resort are both located within city limits, offering you and the family a chance to hit the slopes without spending much time driving. Just 20 minutes (Snow Valley) or 40 minutes (Rabbit Hill) southwest of Edmonton, take a full or half-day to enjoy skiing, snowboarding – and even a few terrain parks!
Edmonton Winter Festivals
Edmonton is nicknamed the Festival City for a reason. No matter the weather, from summer to winter, there's a festival happening nearly every weekend. Listed below are some great winter festivals you can bundle up and go enjoy the energy, the spirit – and the hot chocolate, of course!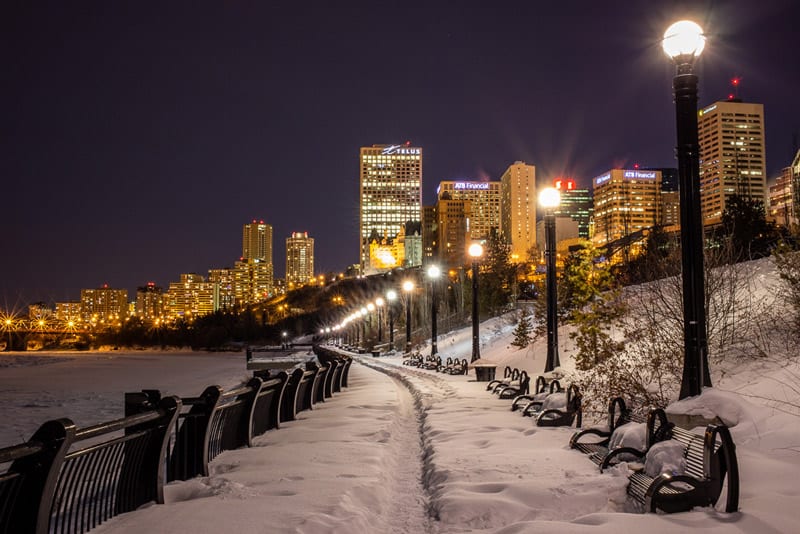 Deep Freeze
Meant to bring together and celebrate the melting pot of cultures in Canada, this Byzantine Winter Festival is a true and hearty celebration of winter. Festival-goers can enjoy everything from musical performances and short films to log-sawing, blacksmithing, and of course, the hilarious, deep freezer race that will have everyone roaring with laughter. There's even a fireworks display to kick-off the first night of the event! And, here's a sneak peek at the mouth-watering Deep Freeze Festival Menu you can start salivating for!
Check out Deep Freeze FAQ for more details!
Ice on Whyte
Nothing celebrates Canadian winter like a good ice-carving competition. Ice on Whyte is an icy celebration that happens on one of Edmonton's busiest avenues and offers the chance to learn how to carve and sculpt ice, a voter's choice 'stew-off', an ice bar, ice games and more! It's the perfect outing for you and some good friends, or the whole family as there's even a 'lil chippers' ice sculpting lesson for children.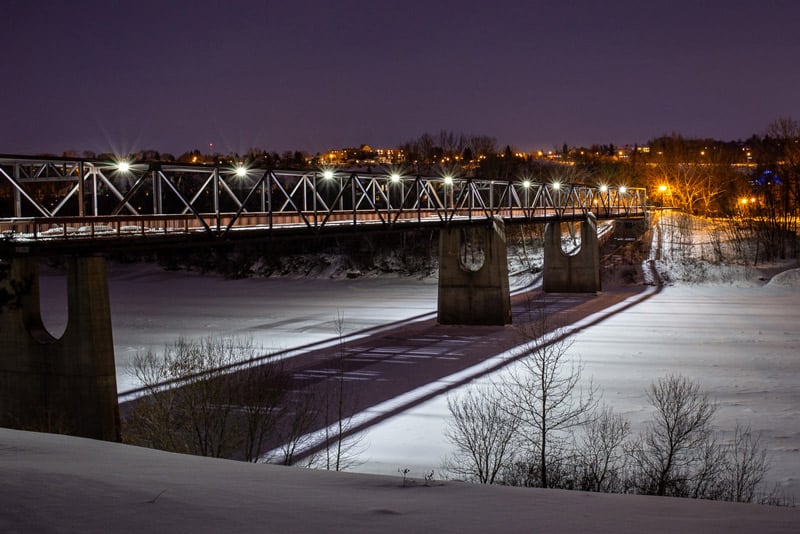 Flying Canoë Volant
Rooted in a French legend shared with First Nations/Metis peoples around Edmonton, this high-energy evening outdoor festival is a must-do if you appreciate local Canadian folklore and great story-telling. Lit by the glow of colourful LED lighting, festival-goers wander among tipis and enjoy performances with music and dancing, experience Indigenous art, hot drinks, bannock-roasting, and fire-pit conversations with new and old friends. There's no shortage of good cheer at the Flying Canoë Volant – and it will warm you to your very soul!
Check out Flying Canoë Volant FAQ for more details!
Silver Skate Festival
Starting in February, this 10-day family-oriented Edmonton winter attraction is the longest-running winter festival in the city. With roots in Dutch winter traditions, the Silver Skate Festival combines arts and culture with sports and recreation where you and your family can take part in public skating, music, bannock-making – even a horse-drawn sleigh-ride! There's plenty to enjoy at the Silver Skate Festival, including ice sculptures, speed-skating events, theatrical performances and more! The trick is, trying to fit it all in.
Need more ideas of what else to do or where to stay in Alberta's capital? Be sure to check out our full Edmonton travel guide!
ALSO, don't forget that while you're on the road, you can download our FREE Road Trip Alberta bingo cards, to make it just that much more fun!