Disclaimer: This page may contain affiliate links. Please review our full Terms and Conditions for more information and our Privacy Policy. Note that any pricing, operating hours, or other such information provided below may have changed since initial publication.
Compiled by the Road Trip Alberta team
Last updated on December 19, 2022
The drive from Calgary to Waterton is a gorgeous journey that not too many people make. Although we believe that there is no such thing as a "hidden gem" anymore, this one for many Albertans, to the far south-western destination of Waterton Lakes National Park, hasn't typically been high on their radar. And certainly, we get it – why make the drive from Calgary to Waterton when Banff is right next door? But believe us, it's worth it. For both the scenic drive and the variety of things to do in Waterton, read on for the best ways to make the venture there.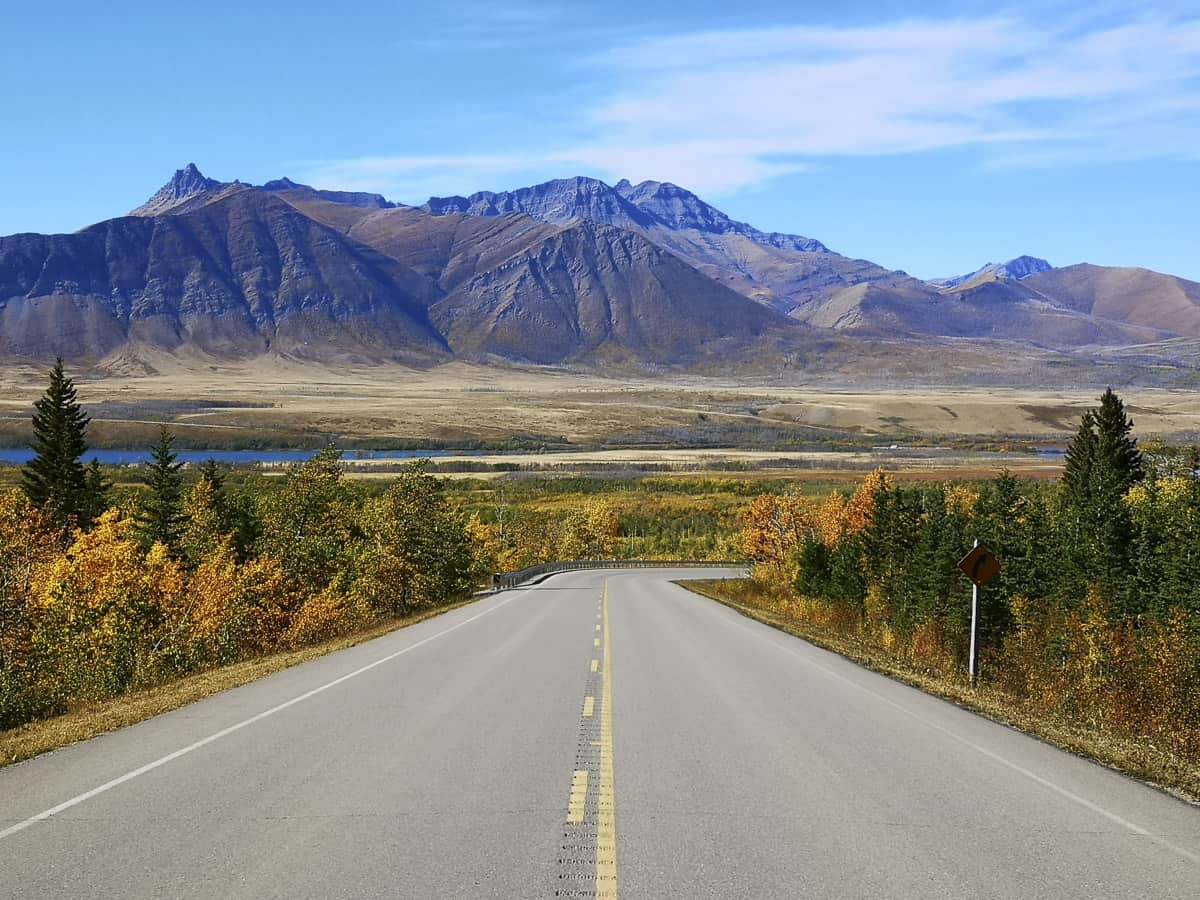 About the Route
Most likely you'll be making the trip with your own vehicle, given the scant options available otherwise. We've got a couple of different routes to suggest, and if you scroll down, you'll also find fun things to do along the way.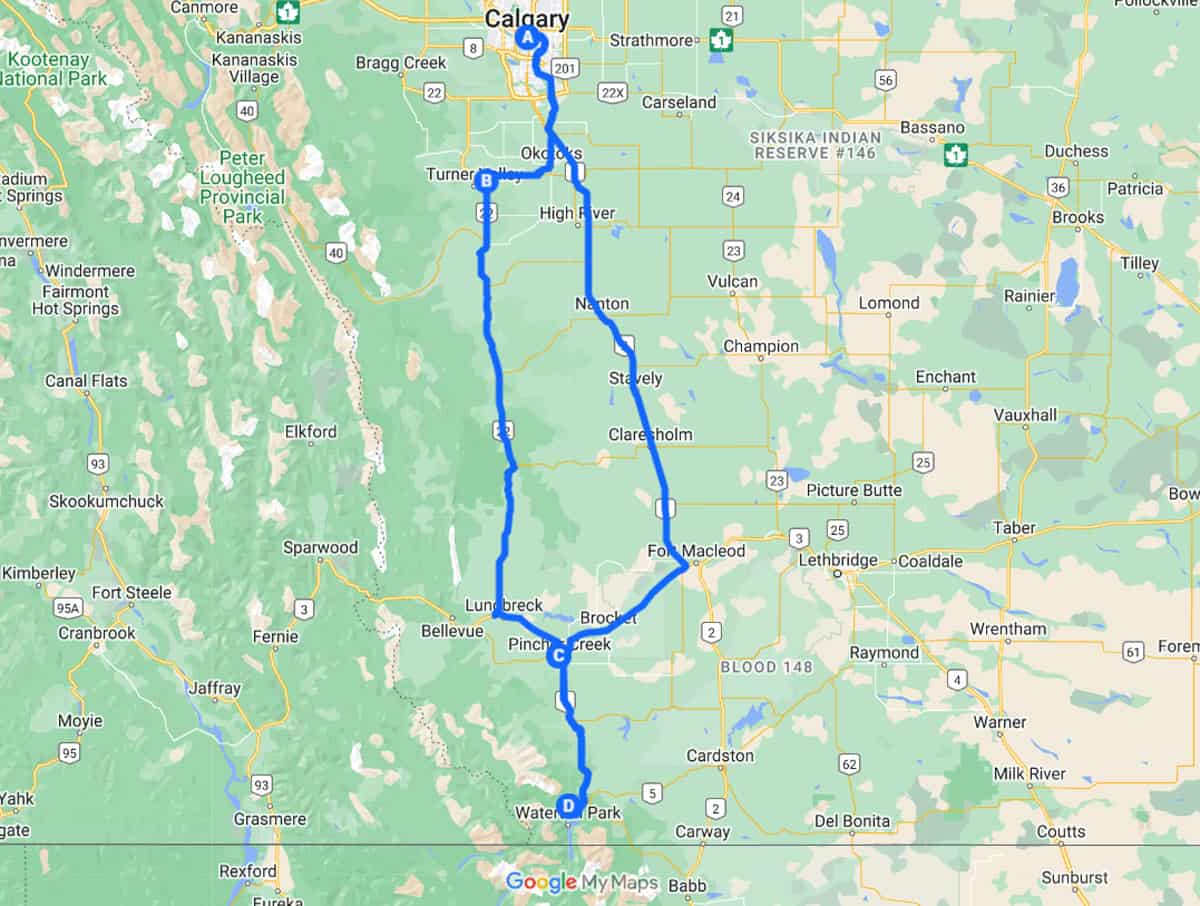 IMPORTANT: No matter which way you go, it will require a National Park Pass in order to enter Waterton Lakes National Park.
Effective January 1, 2023 Waterton Lakes National Park daily pass fees are:
Adult: $10.50
Senior: $9.00
Youth (up to 17 yo): FREE
Family/group (up to 7 people): $21.00
Commercial group (per person): $9.00
Annual Waterton Lakes National Park pass fees:
Adult: $52.25
Senior: $44.50
Youth (up to 17 yo): FREE
Family/group: $104.50
The daily passes expire at 4 pm the following day. If you're looking to enter multiple times or staying longer, consider the Parks Canada Discovery Pass. It gives you unlimited admission for a year to all the national parks in Canada.
Discovery Pass fees are as follows:
Adult: $72.25
Senior: $61.75
Family/group: $145.25
Fastest Route
This is the fastest route of the two (by about 5-10 minutes) and will take you 274 km in roughly 2 hours and 55 minutes. You will start your journey off by travelling south on Highway 2 out of Calgary. Shortly after crossing the Old Man River near Fort Macleod, you will merge onto Highway 3, heading west towards Pincher Creek.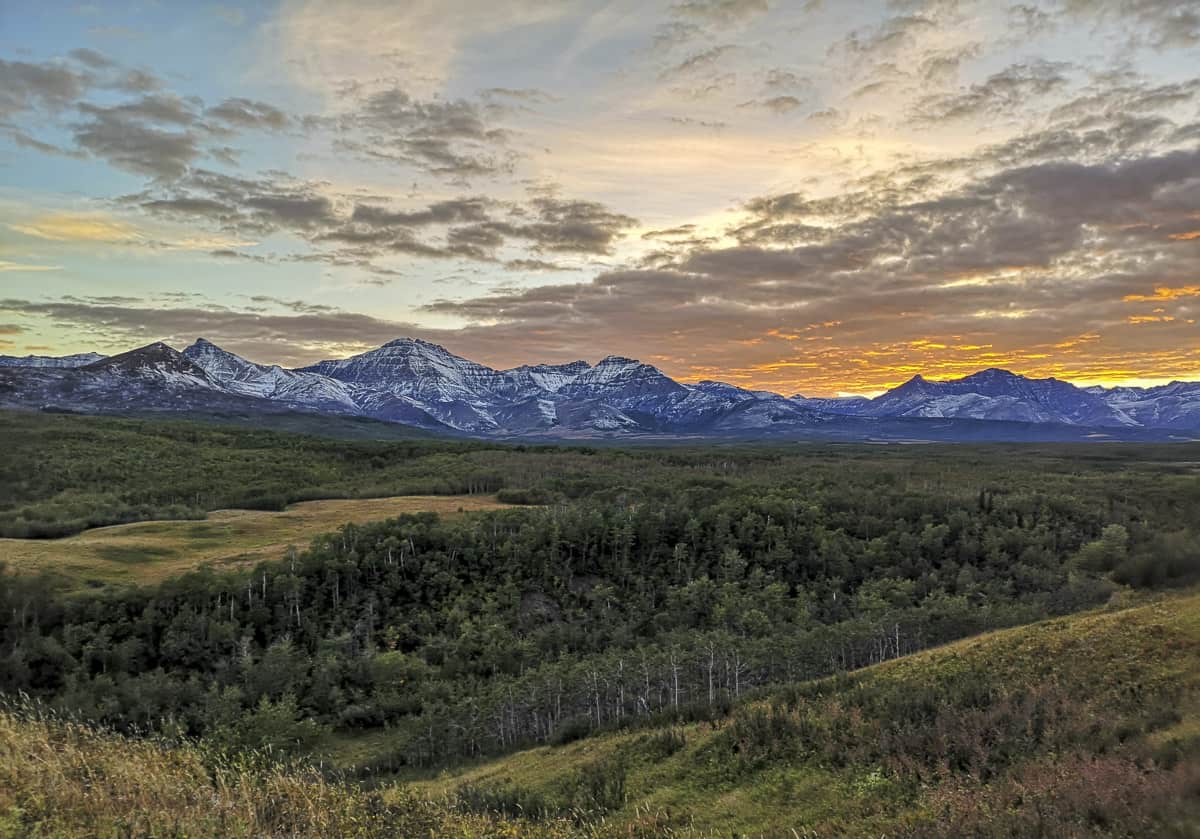 You'll stay on Highway 3 for another 30 minutes, eventually turning onto Highway 6 and heading towards Pincher Creek. Highway 6 will take you the rest of the way to Waterton.
Alternate Route
The secondary route is more scenic and involves driving 277 km in just over 3 hours. Starting off on Highway 2, take highway 2A into Okotoks turn onto Highway 7 west. Highway 7 will take you through Black Diamond, where you will then get onto Highway 22 (The Cowboy Trail).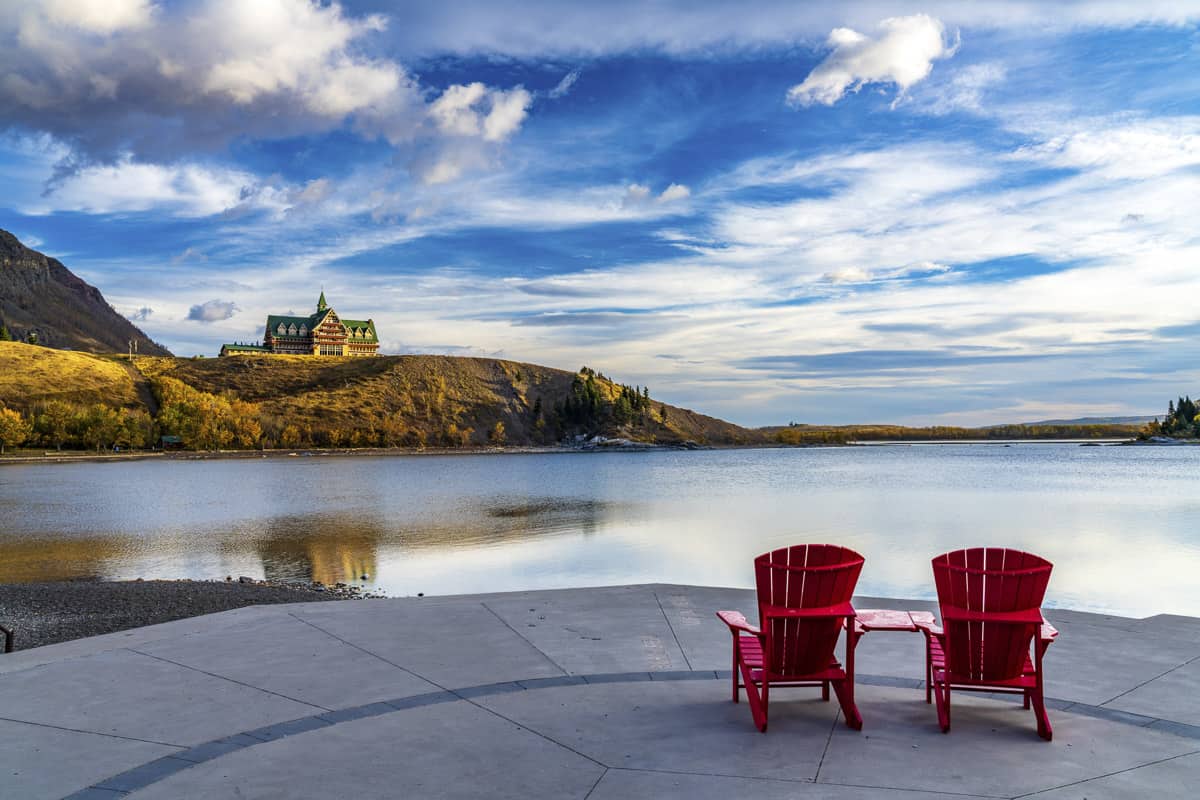 You'll stay on this for an hour and 20 minutes, turning left and heading east on Highway 3 toward Pincher Creek. Follow highway 3 and make the turnoff at Pincher Creek heading south along highway 6. This will take you the rest of the way just keep your eyes peeled for the Waterton Lakes National Park entrance.
Calgary to Waterton by Car
This is by far the easiest and fastest way to get to Waterton from Calgary. If you don't have your own wheels, there are plenty of car rental options in Calgary. We highly suggest booking in advance to ensure less hassle, and we recommend booking via RentalCars.com to pursue the cheapest rate or booking with whichever company you prefer.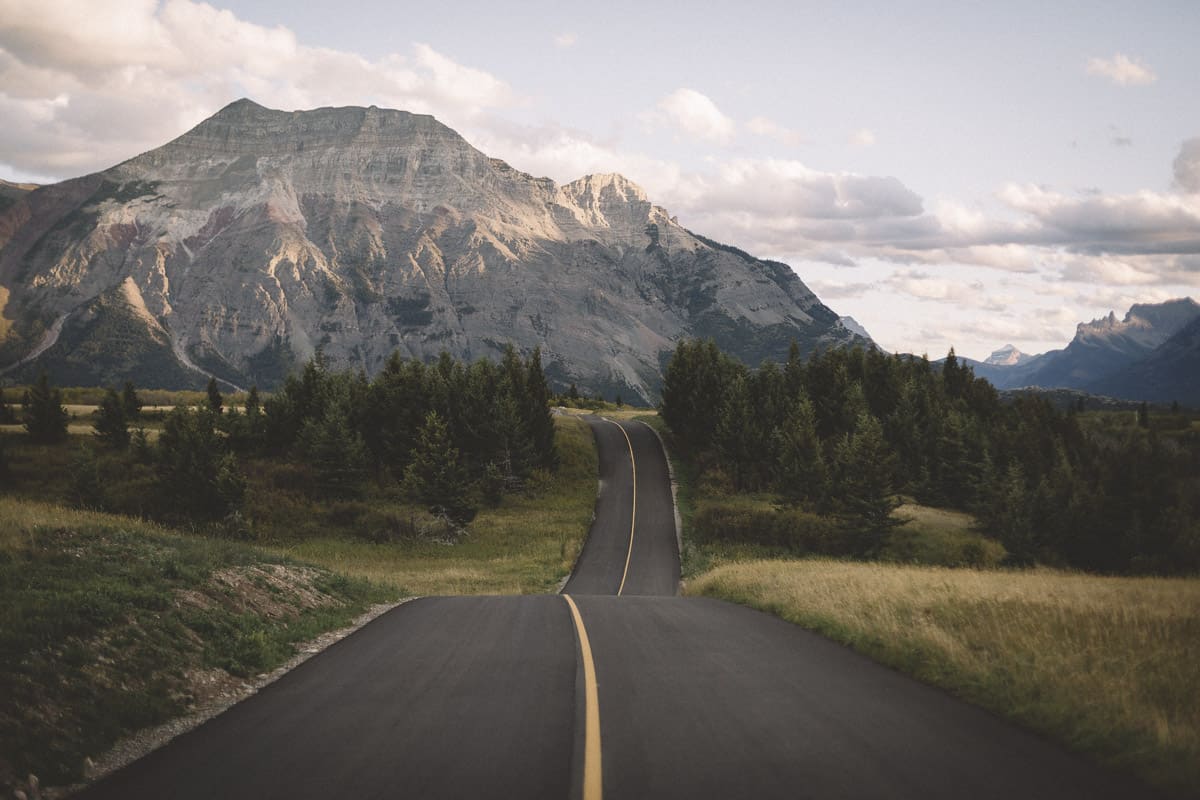 If you'd rather stay away from a traditional rental car agency, you can also rent a car through Turo, which operates similarly to Airbnb but for car rentals.
Calgary to Waterton by Bus
There is currently no bus company covering this route at this time.
Calgary to Waterton by Private Transfer
Limo To Go: This is a family-run limo service. They offer limos, private car service sedans and luxury SUVs in Central and Southern Alberta.
Quest Limos: They offer transportation for 3-12 passengers from the Calgary Airport to Waterton Lakes National Park. Choose between a luxury sedan, SUV or shuttle bus with rates ranging between $529 – $799.
Calgary Shuttles: Travel in the utmost luxury and comfort in high-quality vehicles. This is an excellent option if you're travelling with a group as the smallest vehicle holds 15 passengers.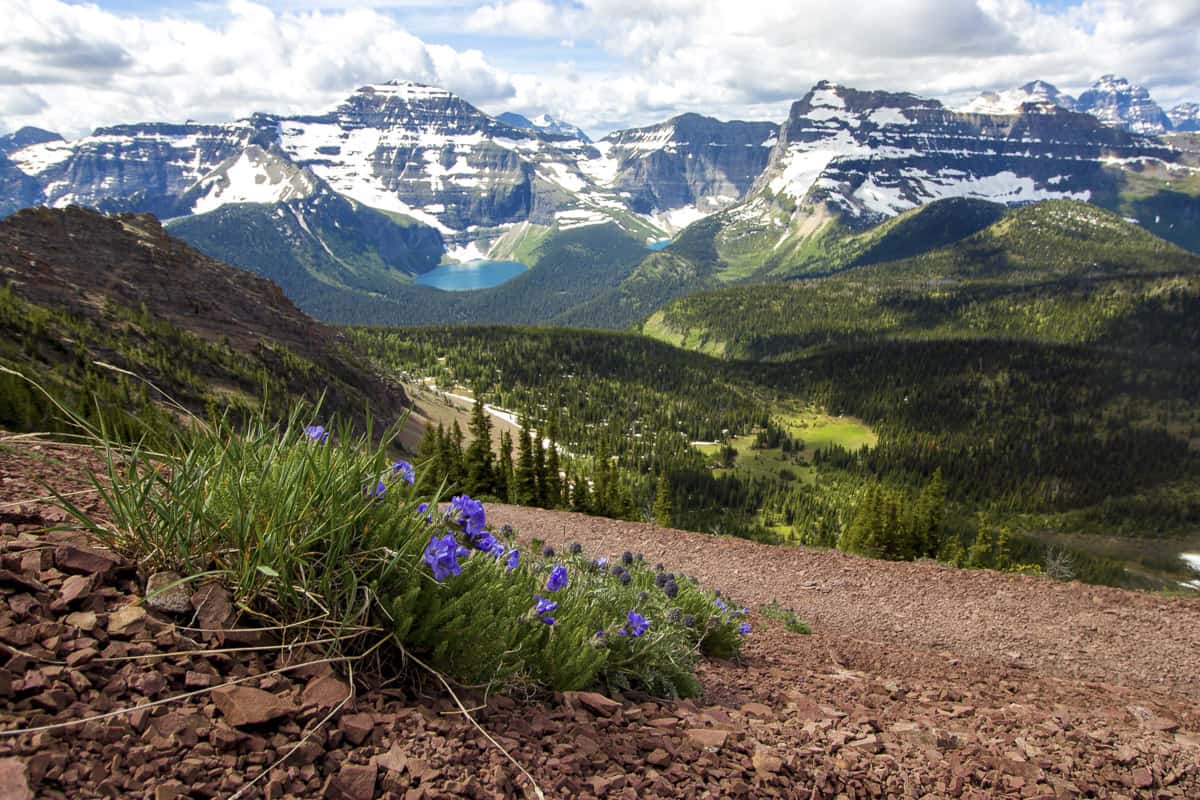 Calgary to Waterton by Other Options
Taxi: This is a convenient but costly option to get from Calgary to Waterton. Expect that it could cost you upward of $300.
Uber: Uber is in Calgary but not in Waterton, so you would need to find an alternative to return from Waterton to Calgary. Be sure to consider that drivers may not be willing or capable to make the drive and the price is close to what a taxi would cost for just one way.
Fun Things To Do Along the Way
Fastest Route
Nanton: Just a half-hour south of Calgary, Nanton should be your first stop! Have fun hunting for unique trinkets and relic spotting/shopping along the Antique Art Walk. For those that have a sweet tooth that needs soothing, there's also a big candy store on the main street through town that you can't miss!
Head-Smashed-In-Buffalo-Jump: You can't pass by Head-Smashed-in-Buffalo-Jump without a stop. It is located 18kms northwest of Fort MacLeod, where Highway 2 and Highway 3 meet. This is one of the oldest and best-preserved buffalo jumps in the world and was used by the Plains Buffalo People over 6,000 years ago. This is a historic and cultural marvel that has easily earned its UNESCO World Heritage Site designation.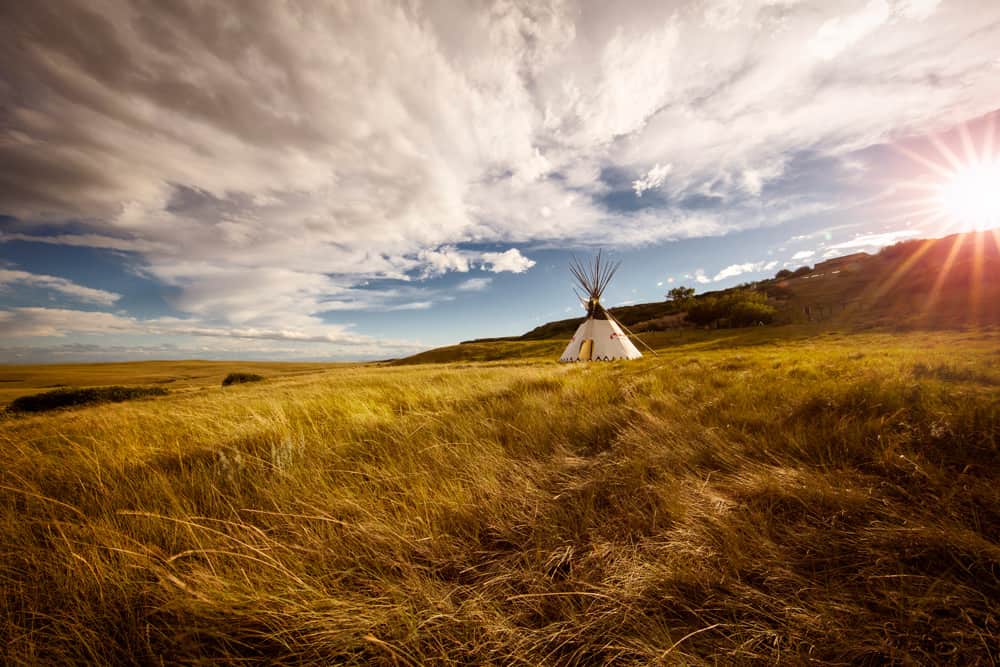 Fort Macleod: After your visit to Head-Smashed-In Buffalo Jump, head to the nearby southern Alberta town of Fort MacLeod. There's plenty to keep you busy here, so plan accordingly! Stop at The Fort Museum of the North West Mounted Police and First Nations Interpretive Centre to view their extensive collection of artifacts. If you're in the mood for some entertainment, check out the Empress Theatre, one of Canada's most beautiful heritage movie theatres.
Alternate Route
Okotoks Erratic: This 16,500-tonne boulder is a must-see site. The massive rock that was originally part of a mountain in what is now Jasper National Park lies on the otherwise completely flat prairie landscape.
Bar U Ranch National Historic Site: Have an authentic cowboy experience with a visit to Bar U Ranch. Wander through the rustic and authentic buildings, enjoy wagon rides and learn about authentic ranching tools and techniques, all while being encompassed by the Rocky Mountain foothills.
Lundbreck Falls: Lundbreck Falls makes for a very worthwhile addition (and quick stop!) to your road trip. With two stunning waterfalls side by side, we're sure that you'll enjoy a beautiful view of this natural wonder. You can view the falls from the parking lot, or after a stroll across a bridge, or from viewing platforms below.
Upon Arrival in Waterton
You made it!
You've made it to your destination, now get ready to take in the beauty of Waterton. The tiny town at its heart packs more activity than imagined, with a small-town charm you won't find anywhere else along the Canadian Rockies. We promise you won't run out of things to do. For an extensive list of options on how you can enjoy your time in Waterton, read our guide on the best things to do in Waterton Lakes National Park.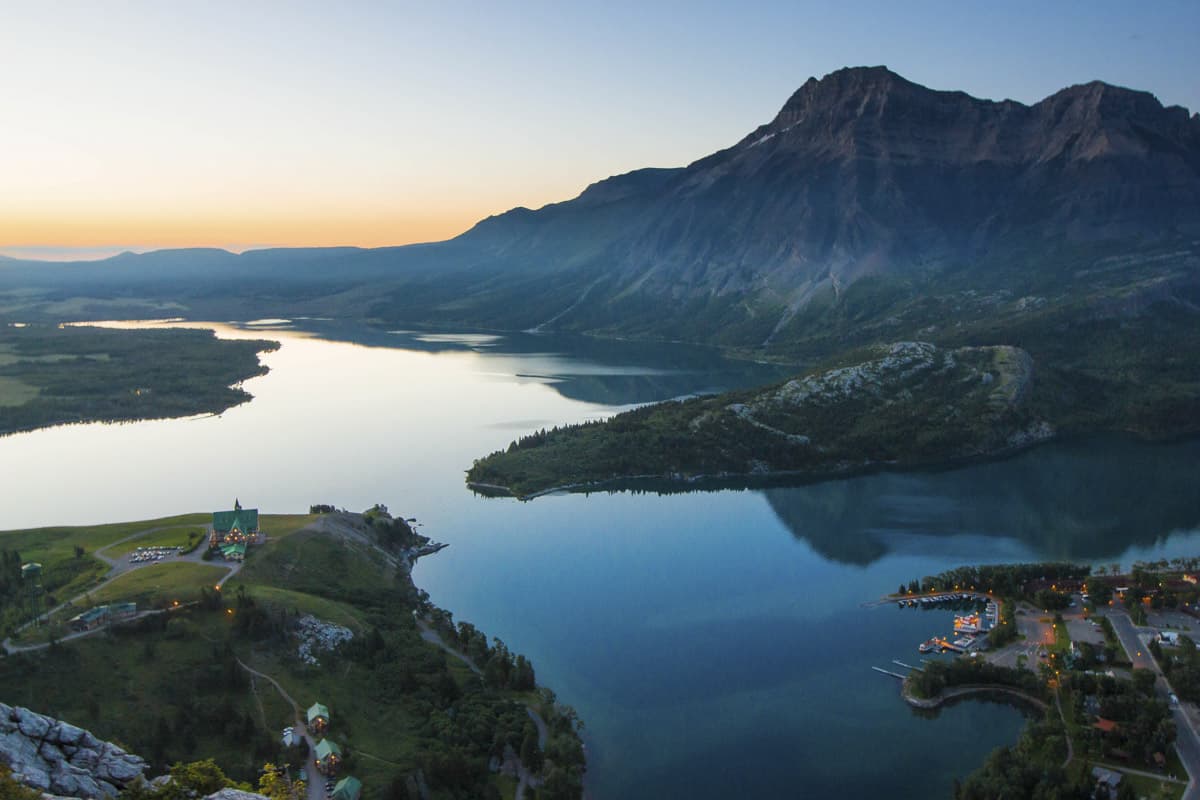 Where to Stay in Waterton
Luxury – The Prince of Wales Hotel is unlike any other hotel in Waterton. Standing for almost 100 years, this iconic hotel offers more than just a bed to sleep in – it's an actual historic experience. Appreciate the onsite bar and restaurant with views that can't be beaten and be sure to enjoy a quintessential 'afternoon tea.'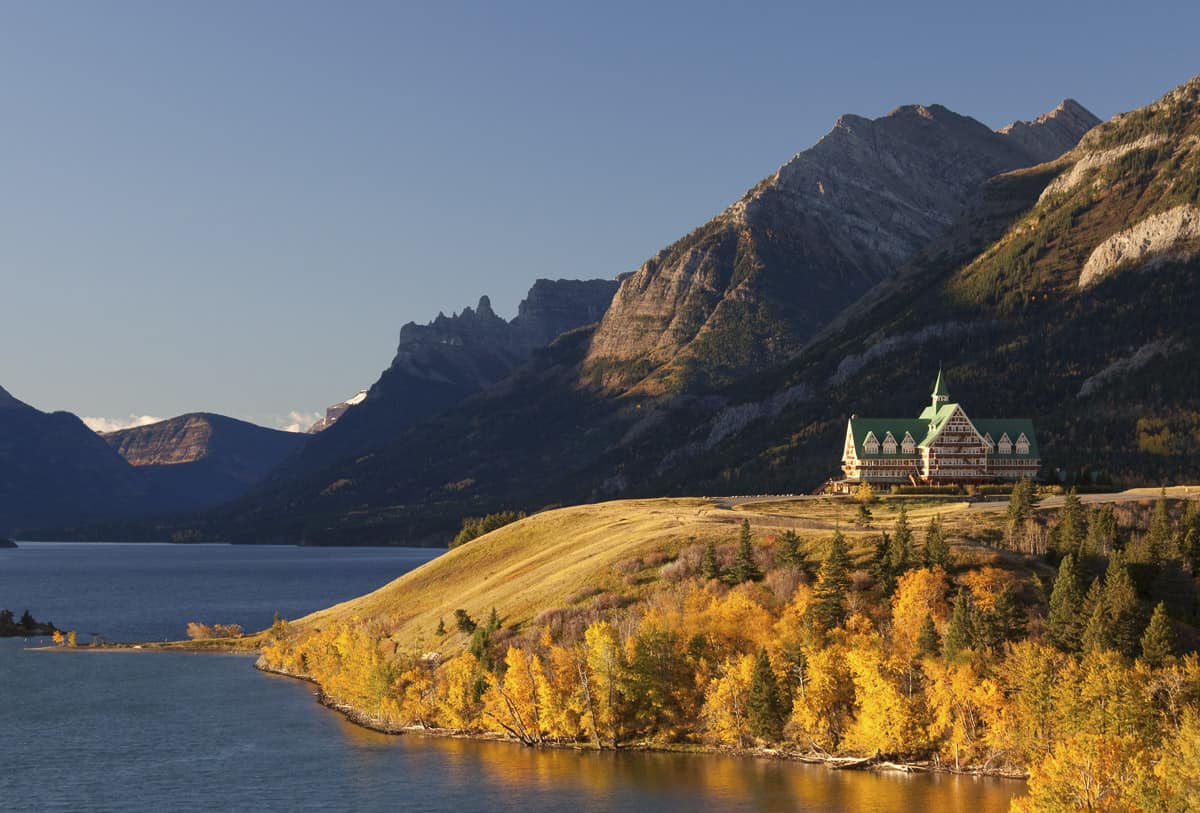 Mid Range – The Waterton Glacier Suites sits in a fantastic location and is furnished to spoil. Enjoy your own fireplace, balcony, and spa bath right in your suite.
Budget – The Rocky Ridge Country Lodge offers an affordable and comfortable alternative. Choose from an attached room or your own cabin, and enjoy soaking in the outside tub and the gorgeous views around it! It's located about a 15-minute drive from Waterton.
Want to see more options? Check out our exhaustive guide to Waterton hotels and other accommodations.
If you want to spend some time in Cow Town before heading out to Waterton, read through our extensive guide on the best things to do in Calgary!
Want to make this journey over a few days in order to see EVERYTHING along this fun route? Check out our itinerary for a southwest Alberta road trip.
Also, don't forget to download our FREE Road Trip Alberta bingo cards to add lots of fun to any road trip!